The Best Beaches in Spain in 2023 (+ Map)
Nadia Podrabinek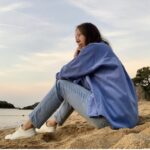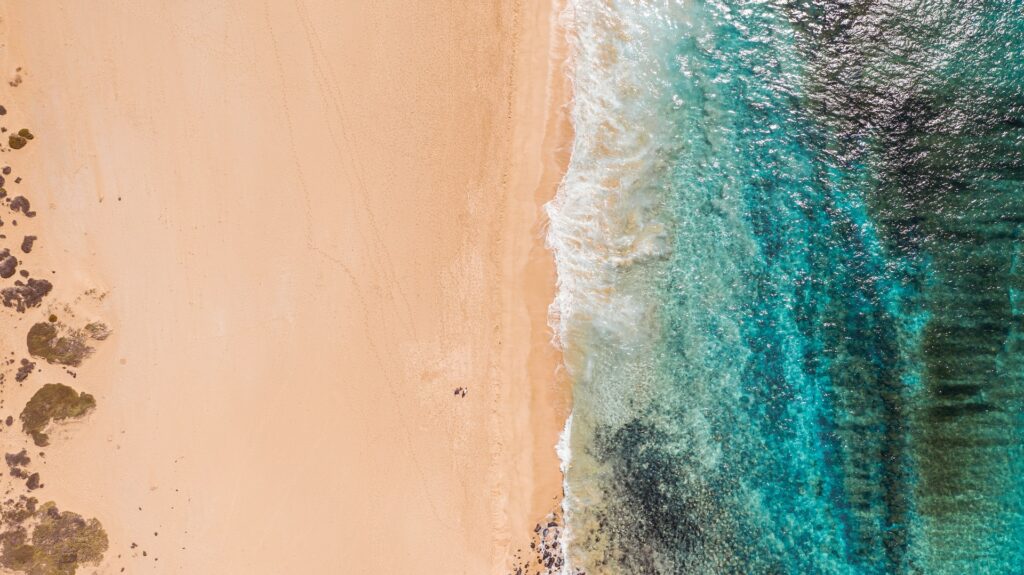 Spain is a beautiful land for people who love the sea and beaches. With a coastline that stretches for more than 5,000 miles, you can be sure that there are hundreds of perfect Spanish beaches to explore and enjoy. Some of the best beaches in Spain rank among the greatest in the world.
The temperate north offers charming fishing villages and pristine beaches; in the south, you'll find wonderful white-sand beaches with crystal clear waters; and in between lies everything from bustling cities to sleepy towns with great food and excellent hiking trails.
Read also: 9 Best Beaches Near Madrid
What You Need to Know About Beaches in Spain
In Spain, there are many types of beaches, falling into the main three categories:
Sandy beaches. These are the most popular ones. They are perfect for swimming, sunbathing, and sports activities. The sand is usually tiny and close to white.
Rocky and pebble beaches. These are deeper than sandy beaches. And don't forget to bring your swimming shoes.
Cliff beaches. Mostly to walk around and enjoy the views. Sometimes inaccessible to get to the water.
All of them are free to visit, with limitations in a few cases.
If you're traveling with a dog, check my new post on dog-friendly beaches in Spain.
10 of the Best Spanish Beaches In 2023
1. La Playa Poo (Llanes, Asturias)
Best for families
Don't laugh at naming; it can be weird in Spain sometimes. The beach is a gem!
Pros Great beach for spending the time with family. Beautiful views, excellent for walking and swimming with children. Green forested capes reliably protect the coast from strong waves, and the entry into the water depths is long. There are fascinating caves and pools fenced with stones in the beach area.
Cons frequent low tide, long entry into the depths. If you come to dinner in the high season, it isn't easy to find a table.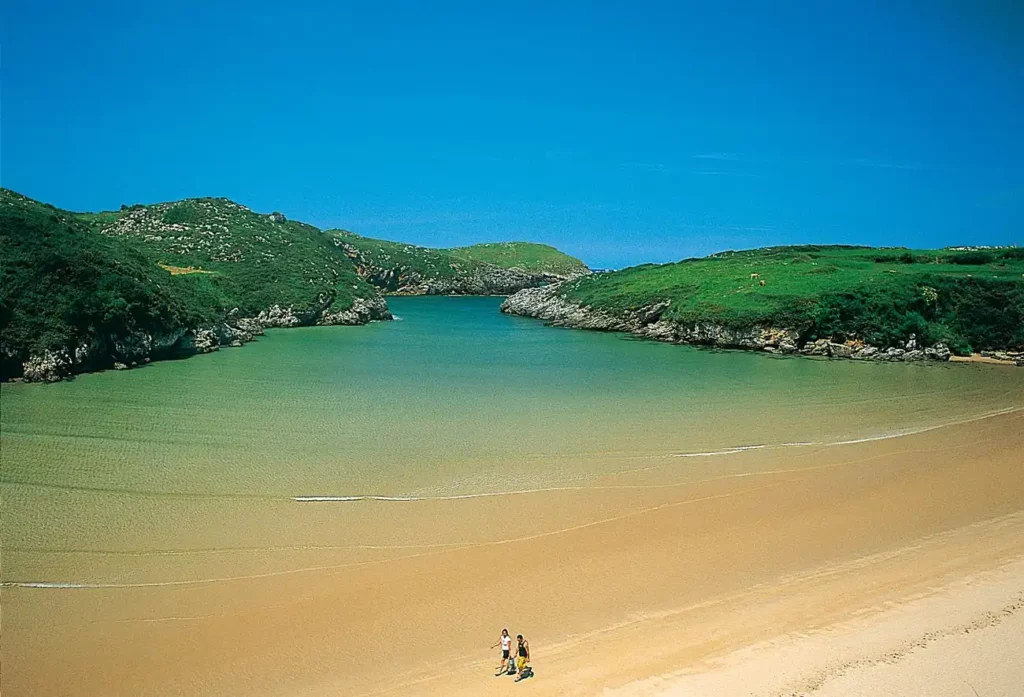 Facilities: the beach parking(~$5), two restaurants with lovely Mediterranean food.
How to get to the Poo Beach (Interactive map)
The beach is ~2 miles from the center of Llanes town. It will take about 6 minutes by car to get there. If you come in winter, you can take a walk for ~30 minutes to get there by foot. See the map.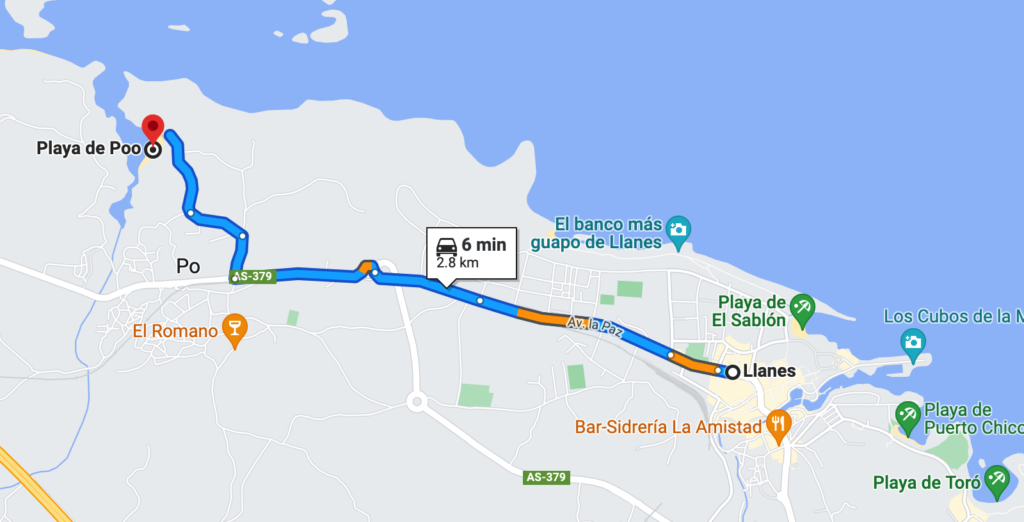 2. Pechón Beaches (Cantabria)
Best for hikers
Actually, you will find many beaches here. Pechón is the coastal town of western Cantabria, and the best way to explore these rugged terrain beaches is either by car or by walk. The noteworthy ones are El Pedrerú, Las Arenas, Aramal, Playa de Amio, and Playa del Sable.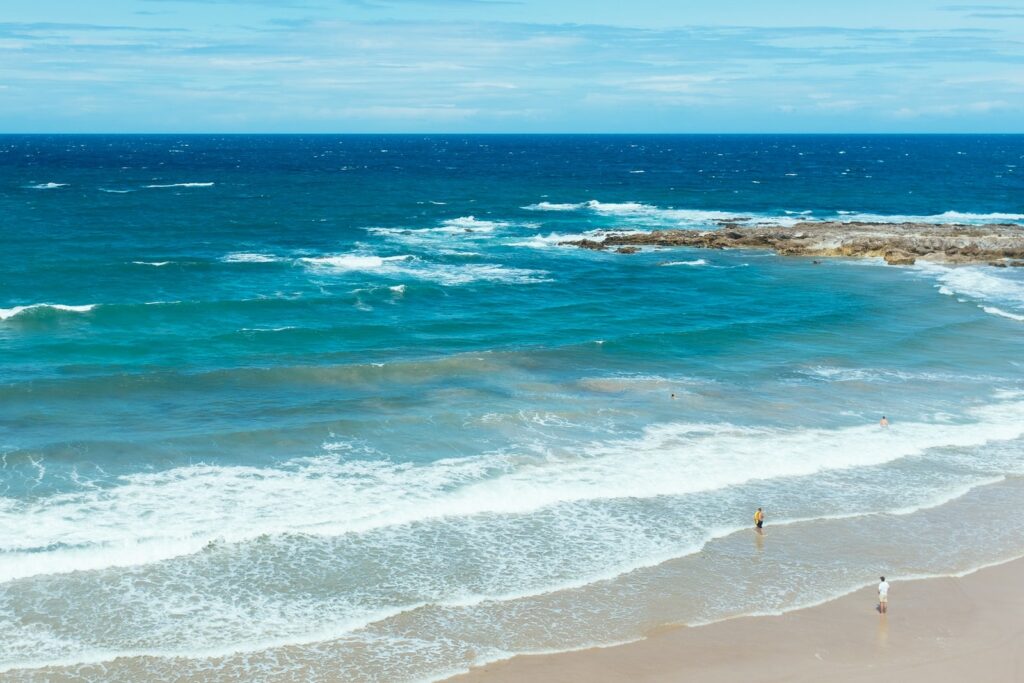 The most impressive to me was El Pedrerú beach, with clean and remarkably quiet water. Outdoor enthusiasts can rent a kayak and go down to this beach along the Unker River.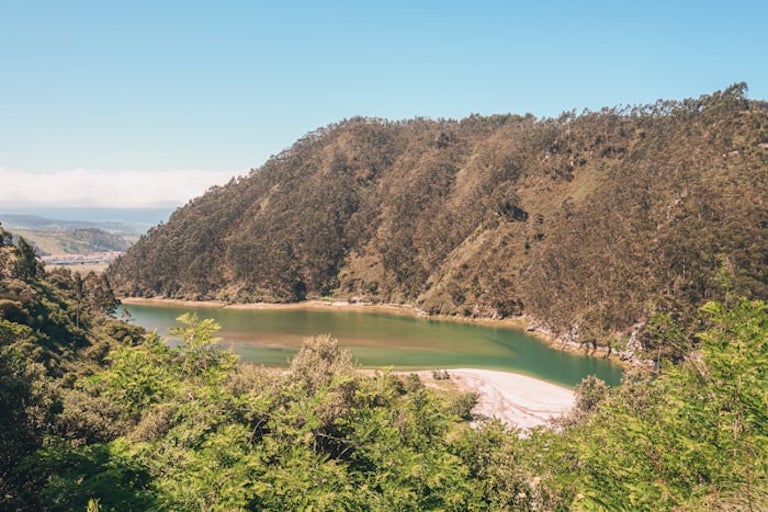 For dinner or at midday, you can stop at La Cambera restaurant in the town. The opening hours are 12:30-24:00, except Tuesday (their day off).
How to Get to Beaches of Pechon (Interactive map)
It is in Catanbria, the western part. See the map.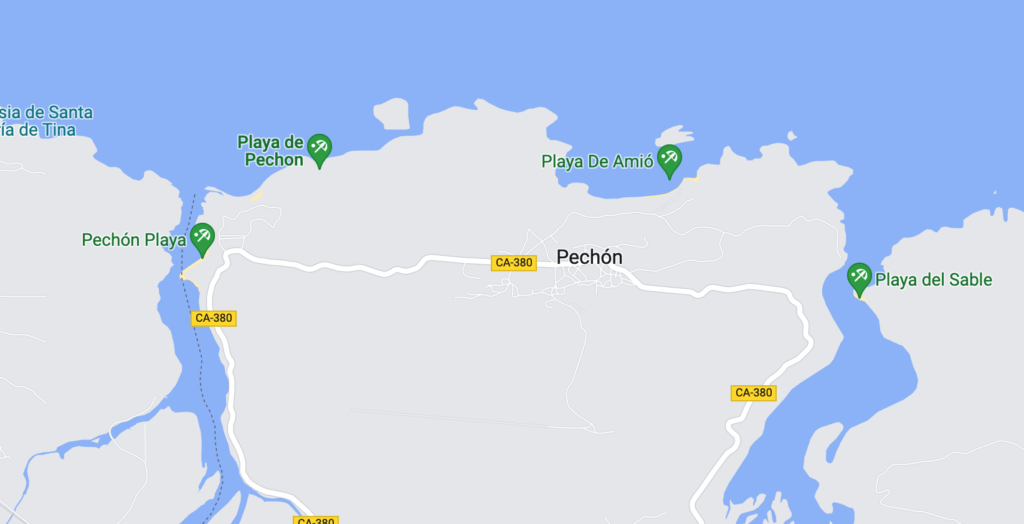 3. Aiguablava Beach (Costa Brava)
Best for couples
This small bay has all the features that made the Costa Brava famous: cliffs, dense pine forests, and crystal clear turquoise waters. The length of the beach is only 100 meters long, but it is all covered with fine golden sand. It is one of the most famous beaches in the Catalonia region. The beach is well equipped and accessible to different groups of people.
From June to October, you need to remember that the earlier you come to the beach, the more likely you will find the most convenient place. By lunchtime, the entire beach is crowdy, and it becomes less enjoyable.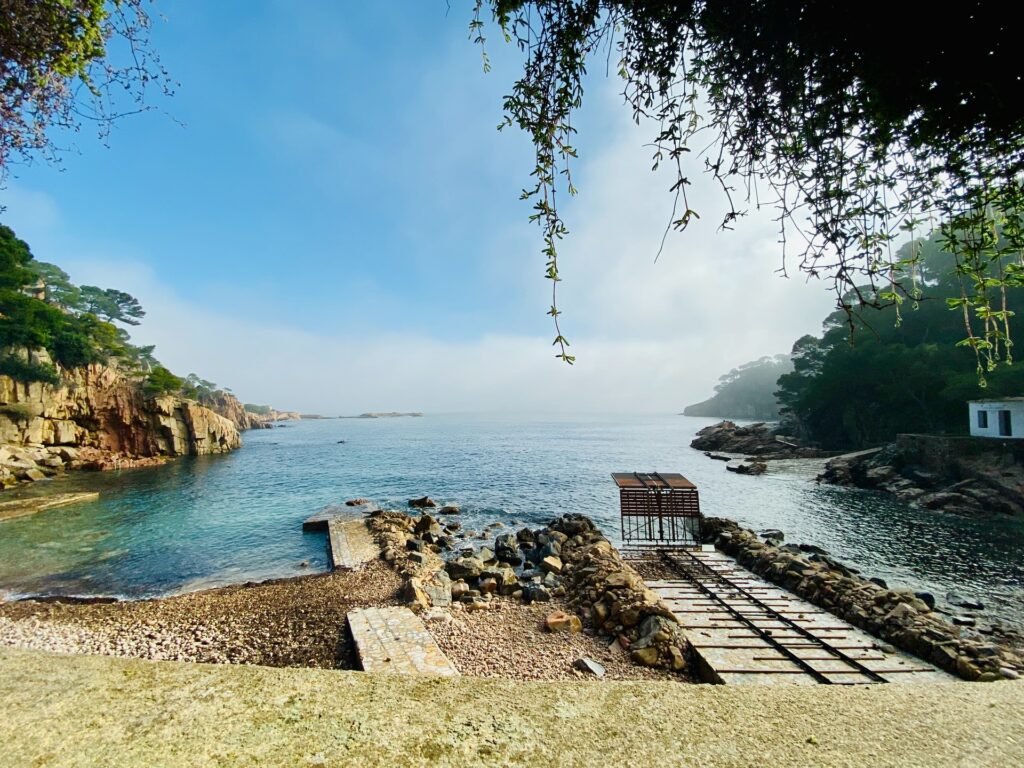 What people say on Twitter about Aiguiblava:
How to Get to Aiguablava (Catalonia)
I recommend you stay for the night at the beautiful hotel Parador de Aiguablava, which sits on top of a cliff with a superb view of the endless sea. See the map.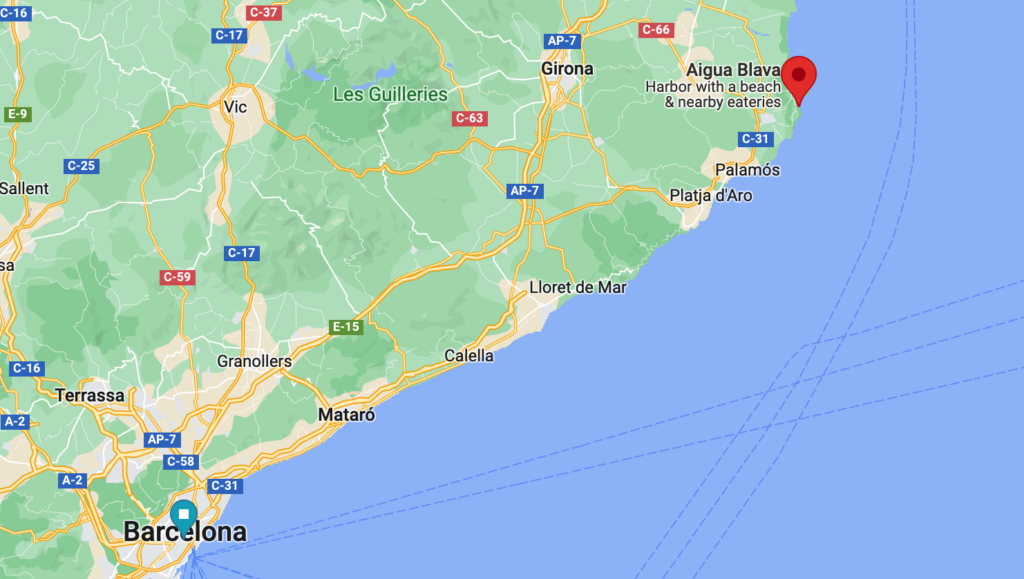 4. Cathedral Beach (Galicia)
Best for bloggers and tourists in general
This beach is remarkable for its bizarre rocks and fantastically shaped 30-meter high arches, reminiscent of the ancient temples. An unusual feature of the beach: at high tide, the water covers almost the entire area, leaving only a tiny piece of ​​land. Thanks to this, you can take unusual photos of the site. Also, watching the water flow at the ebb or high tide is still satisfying in 2023.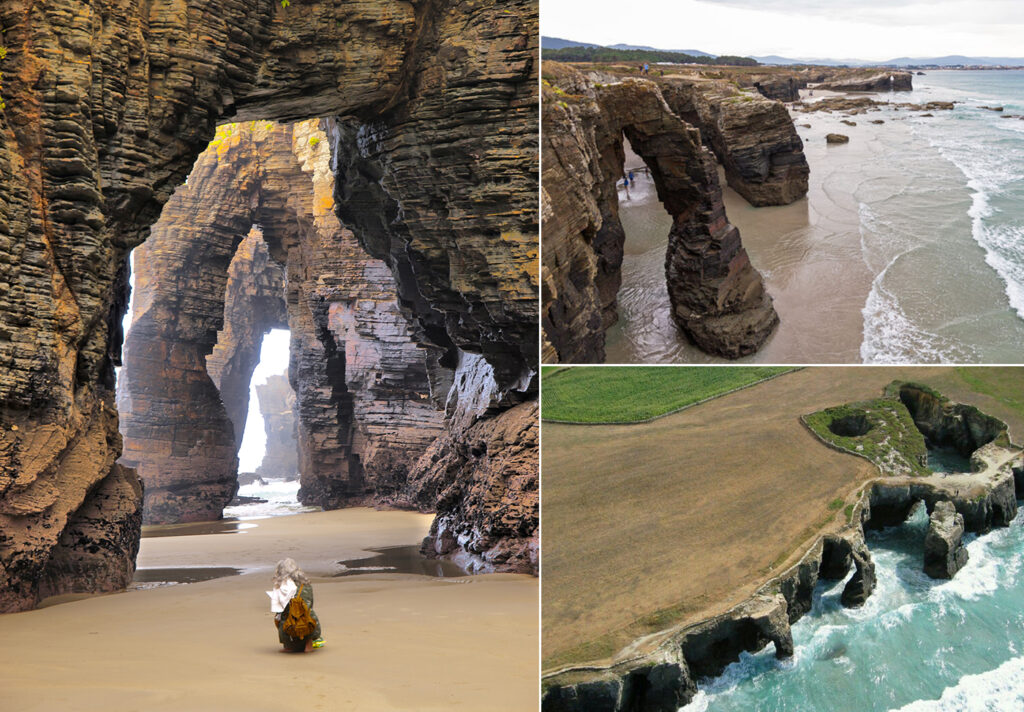 Important notice: to enter the area, you must obtain permission at the official website. While booking, you must specify your passport details and select the desired visit date. The reservation is valid throughout the day. Your passport will be checked at the entrance, so be prepared for the procedure. Also, bringing your food and drinks to the beach is prohibited. There is a food court and toilets, though.
How to Get to the Cathedral Beach (Playa de las Catedrales)
The Beach of the Cathedrals is in Galicia, almost bordering Asturias. If you are in the Cudillero, Luarca, or Taramundi area, you have this beach practically a stone's throw away. What's more, if you're wondering how to get from Santiago de Compostela to Playa de las Catedrales, I'm sorry to tell you that you'll arrive earlier if you go from Gijón.
To give you an idea, look at the distance from Cathedral Beach to other places of interest in Galicia and Asturias:
From A Coruña: 90 miles, 1h30m drive.
From Cudillero: 55 miles, 50m drive.
From Santiago de Compostela: 114 miles, 1h50m drive.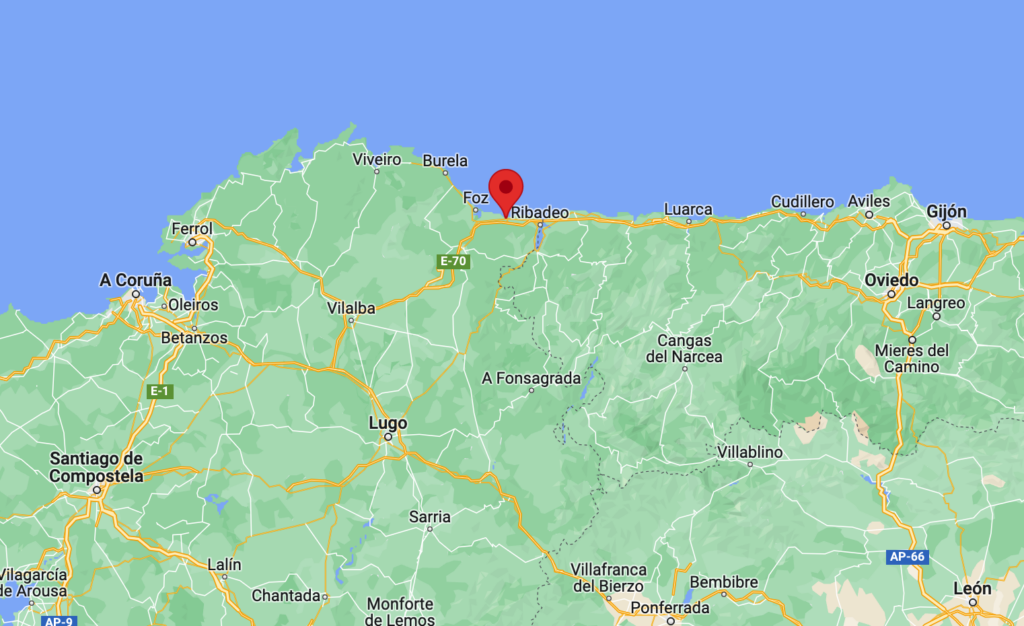 5. Maro Beach (Nerja, Malaga)
Best for adventurers
The best beaches in Malaga are in the Nerja area, and you can find one of them, the Maro beach, in the bay of a suburban park.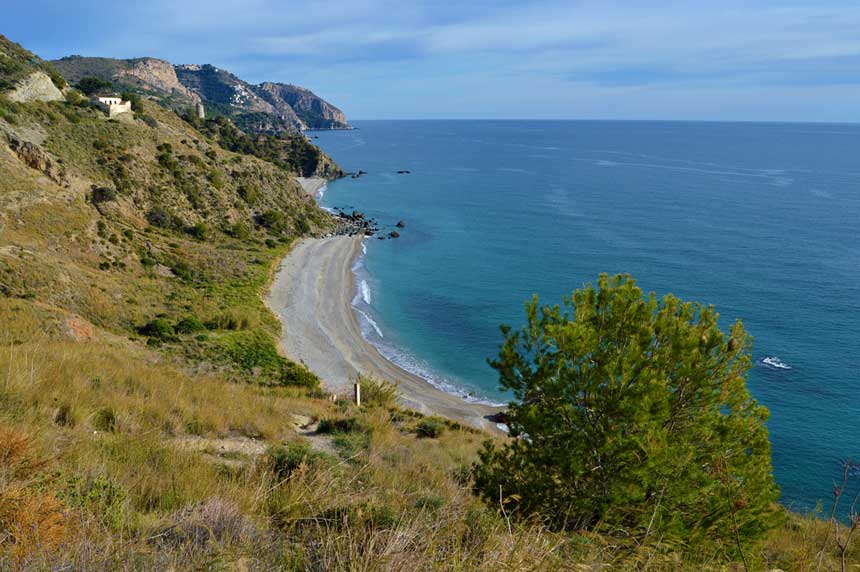 What's so special about Maro beach?
You can observe the unique underwater world there (the fishing is prohibited in the area). Then, rent a kayak and swim to the nearby caves and waterfalls. So much beauty there! Also, explore a Moorish watchtower, so you will also get a little history lesson between swimming sessions.
How to Get to the Maro Beach (Playa de Maro)
By car, it is 37 miles away from Malaga. See the map.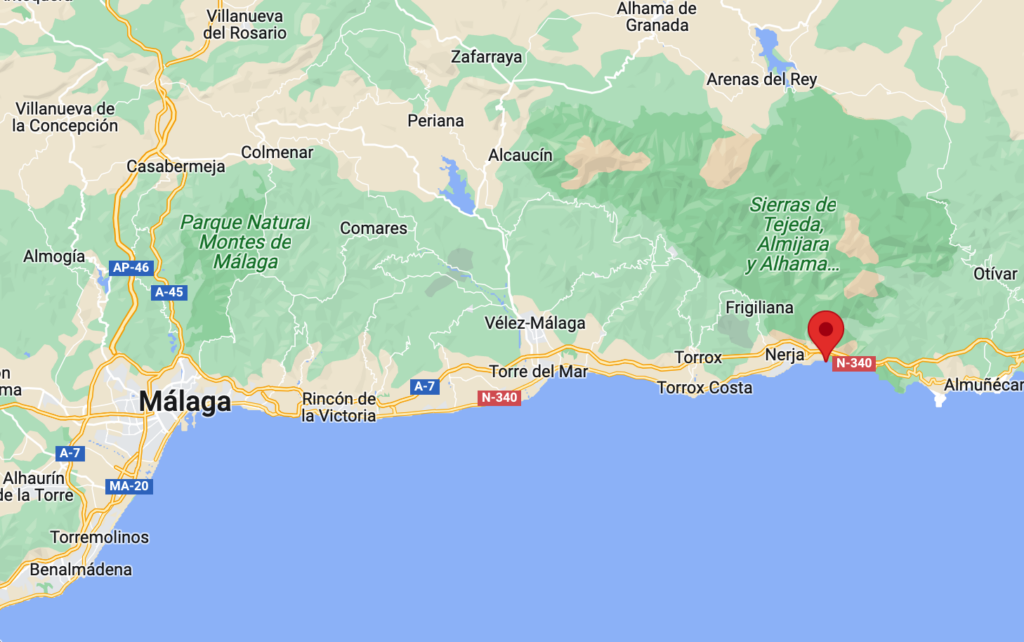 6. Las Teresitas Beach (Tenerife, Canary Islands)
Best for relaxed vacations
Not for water sports
Las Teresitas beach stretches for 1,500 miles in the north of Tenerife near the village of San Andres. It stands out from all of the black volcanic beaches of the island with white sand brought from the Sahara desert.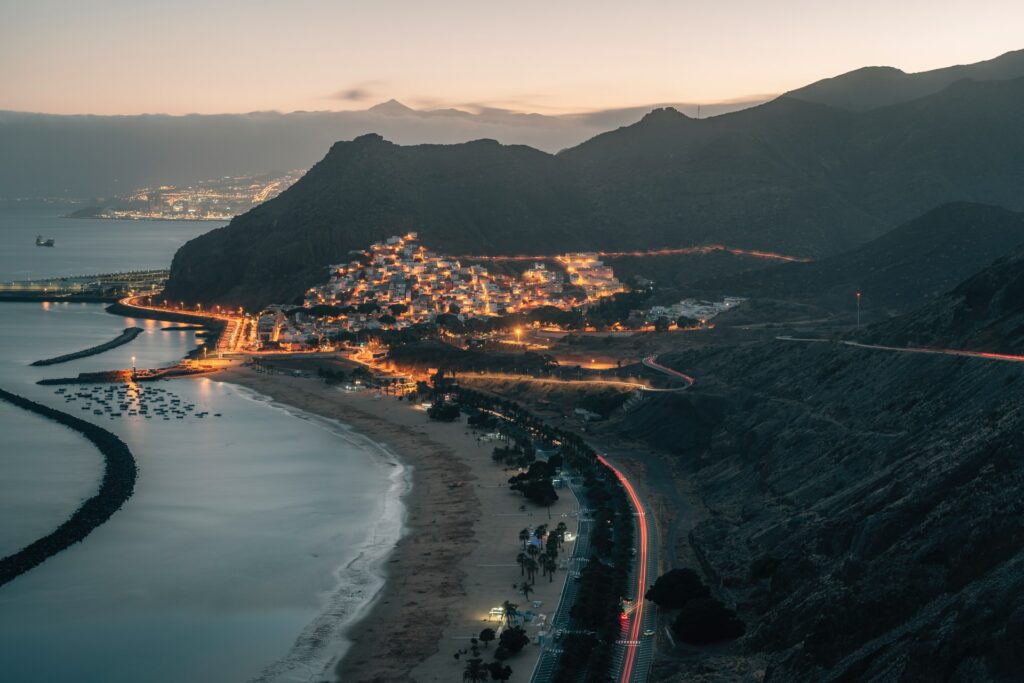 The sand is smooth and comfortable.
Facilities: public showers, changing rooms, restrooms, and sun loungers.
Due to the nature of the beach, it is challenging to practice water sports here. There are practically no waves on it, so surfers have to go to other beaches. It is also not recommended to go snorkeling here because the sea is quite salty, causing skin irritation if diving for a long time. There are a lot of stones under the water, which also hinders diving.
What people say on Twitter:
How to Get to the Teresitas Beach (Playa de Las Teresitas)
First off, you need to get to Tenerife Island. It is one of the busiest tourist destinations in Europe. Thanks to this, it has many flight connections both with Spanish cities and with international issuing destinations. Flight time is ~2 hours.
The ferry boat is the other obvious alternative to get to Tenerife. There are frequent routes between islands and some from the mainland. There are several ports, the most important being Santa Cruz de Tenerife in the north. It will take you less than 4 hours to get there from Spanish Peninsula.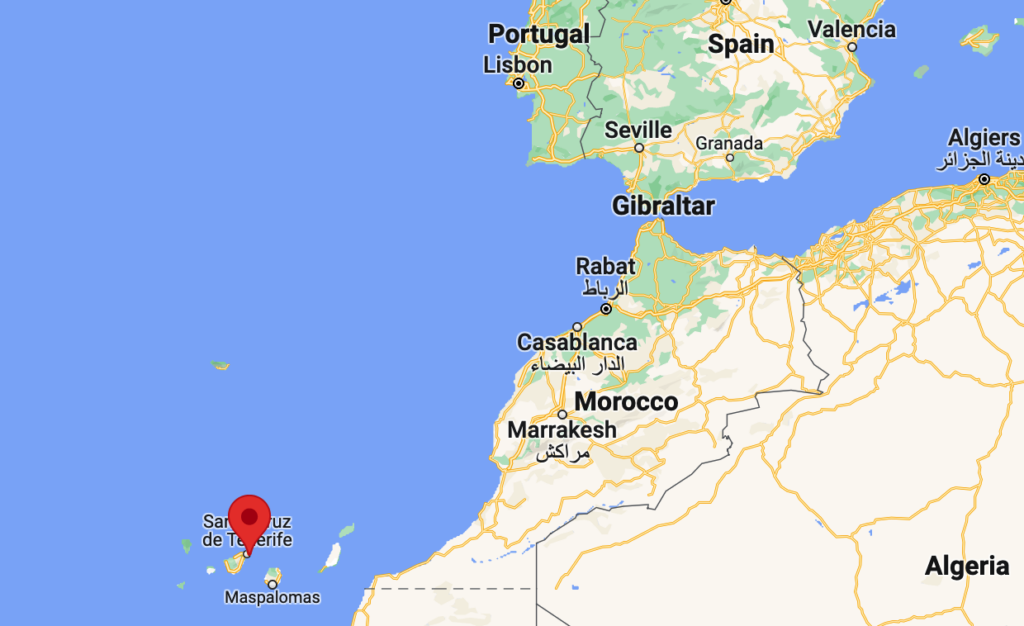 7. La Concha Beach (San Sebastián, the Basque Country)
Best for tourists
It is one of the most famous urban beaches in the North of Spain.
La Concha is a crescent-shaped beach with immaculate golden sand and beautifully colored water. This beach is relatively small and well equipped, and it is at the foot of the Bar del Balneario de la Concha, perfect for a snack. In the afternoon, I especially recommend the Terraza del Bns in summer, which is ideal for watching the sunset from here. The prices on the terrace are somewhat high, but the truth is that the bar deserves it.
After lunch, the water slowly recedes from the shore, and the sandy part increases and immediately fills with people. The best time to visit is June-September.
How to Get to the La Concha Beach (Playa de La Concha, Donostia)
Basically, you need to get to San Sebastian (Donostia in the Basque language) and go to the beach. The city is small, and there are many apartments within a 5-10 min walk to the coastline.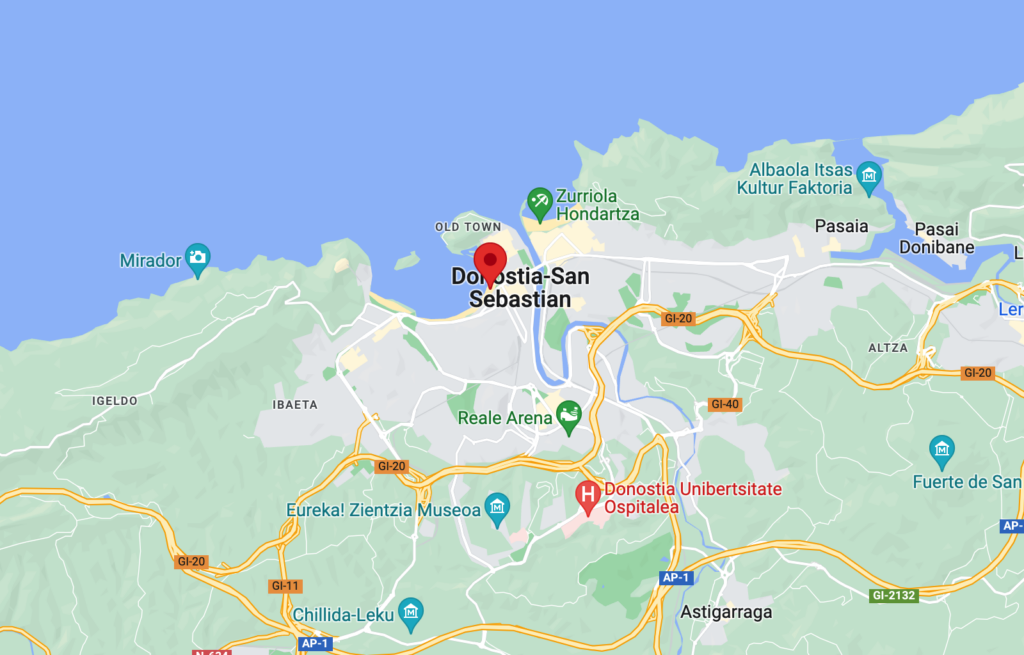 8. Cala Macarelleta and Macarella Beaches (Menorca)
Best for adventurers and Spain lovers
Macarella and Macarelleta are first cousins. Between the two they can proudly hold the crown of the most beautiful coves in Menorca. Coves that seem to be taken from a catalog of the English Court. But beware that these beaches exist in Spain.
Read also: Things to do in Menorca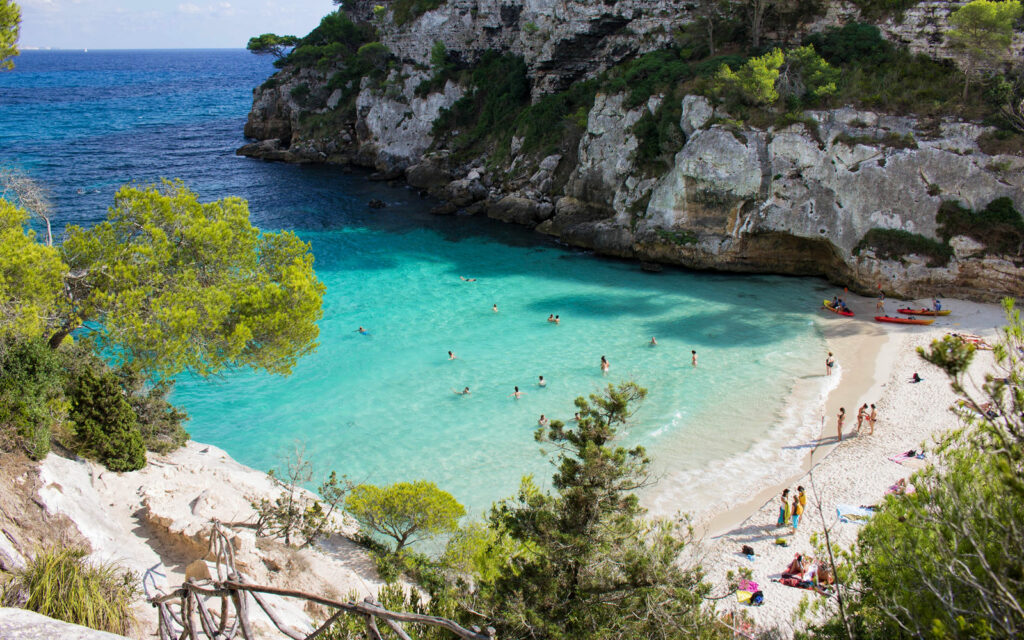 Macarella and Macarelleta can proudly hold the crown of the most beautiful coves in Menorca between the two.
Macarelleta is the older sister, and she has a crescent shape, is sheltered from the wind, and has such crystal clear water that it seems you are in a pool. Literally. Right in front, 300 meters away, is her little sister, Macarelleta. More petite, shyer, but just as pretty. You have to cross a path that makes it a little more inaccessible to get to the latter. Which of the two is my favorite? The truth is that I can't tell you. Choosing between two sisters is complicated, maybe Macarelleta? They are both tops. But to taste the colors. And if those colors are the turquoise blue of Menorca, I would sign up if you were me.
Facilities: two equipped parking lots. One near the beach, the other further, you have to walk up the hill. Seafood restaurant, restrooms.
How to Get to the Macarelleta Beach (Menorca)
There are non-stop flights (7-8 per day) from Barcelona no Menorca Island airport. It will take ~55 minutes of flight time to get there for the cost of ~$35 (Vueling, Ryanair).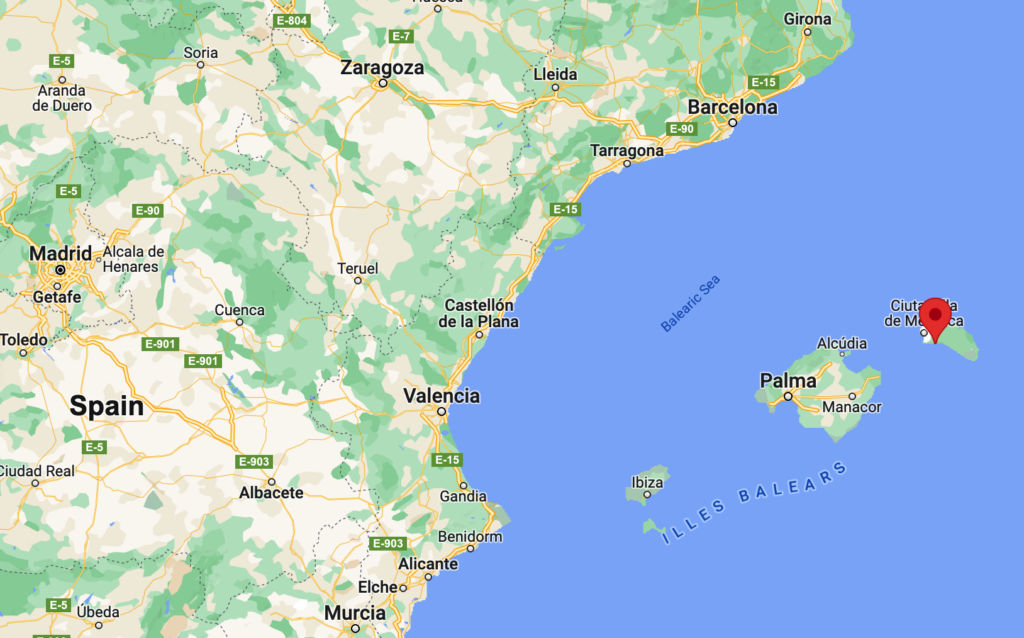 9. Beaches of Formentera (Balearic Islands)
Best for the young people
What are the best beaches in Formentera? I'm going to say it loud: ALL OF THEM.
If you are only going to visit Formentera for one day, I recommend you select a couple of beaches and spend your morning at the first one and the afternoon at another. Or directly choose one and not move from there all day.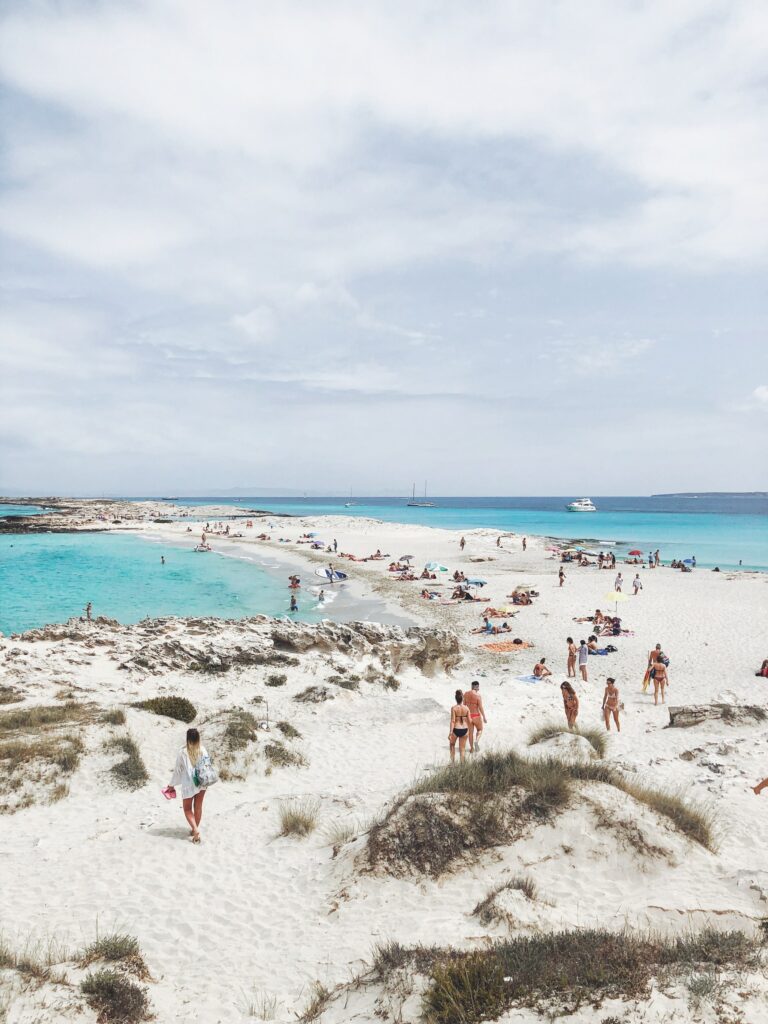 In one day, I was on these two beaches that I consider essential to visit in Formentera:
Ses Illetes Beach. It is the most famous coastline area in Formentera, and it is very close to where the ferry arrives. If you have to select only one, I recommend this beach. It is quite long, and right next to it there is the Ses Salines Natural Park.
Cala Saona. It is a cove located about 13 minutes by car from La Savina, the place where the Formentera ferry leaves you. The beach is small, but it is another of the best beaches in Formentera
How to Get to Formentera Beach?
Unlike the rest of the Balearic Islands, there is no airport in Formentera. Therefore, the only way you have to get to this blue paradise is by ferry. Here are the options:
A. Fly directly to Ibiza and take a ferry to Formentera from the Port of Ibiza. It would be your best travel option which takes ~30 minutes, and the price is around $25 round trip per person.
B. From the Spanish Peninsula, you have direct ferries to Formentera from the following locations:
From Valencia. The ride is 2h30m, and the price is around $72 round trip per person.
From Denia. The ride is also 2h30m. The price is around $75 round trip per person. (*prices updated to 2023).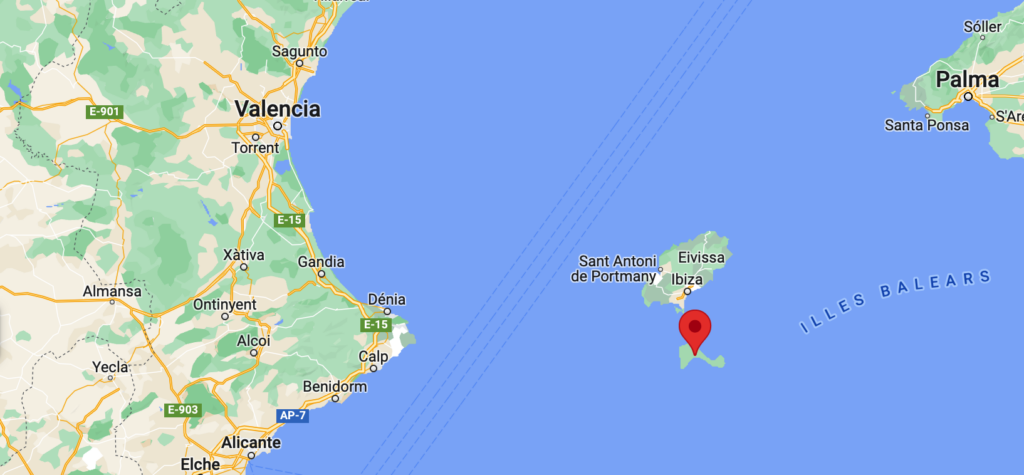 10. Cala Mesquida Beach (Mallorca)
Best for the surfers
It is a secluded beach in the north of Mallorca near the town of Capdepera. It is 300m long and 100m wide, surrounded by natural dunes and pine trees. You can find a wooden path leading to the beach through the dunes. The coastline is covered with white sand, shading the clear turquoise water of the sea with moderate waves, which do not interfere with children's activities.
Read also: The Best Beaches in Mallorca in 2023 and Things to do in Palma, Mallorca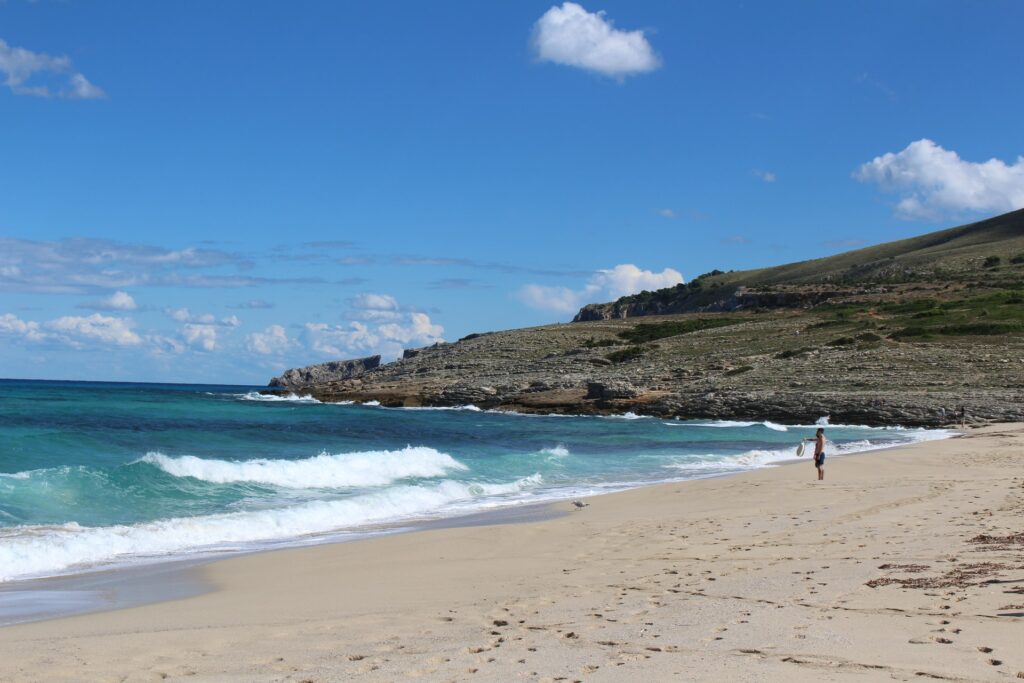 During the windy season, the sea waves intensify, inspiring surfers. To vacationers' services: sunbed and umbrella rental, water bicycles, windsurfing equipment.
How to Get to Cala Mesquida Beach?
You can fly to Mallorca Island from Barcelona; there are many cheap flights each day.
See the interactive map.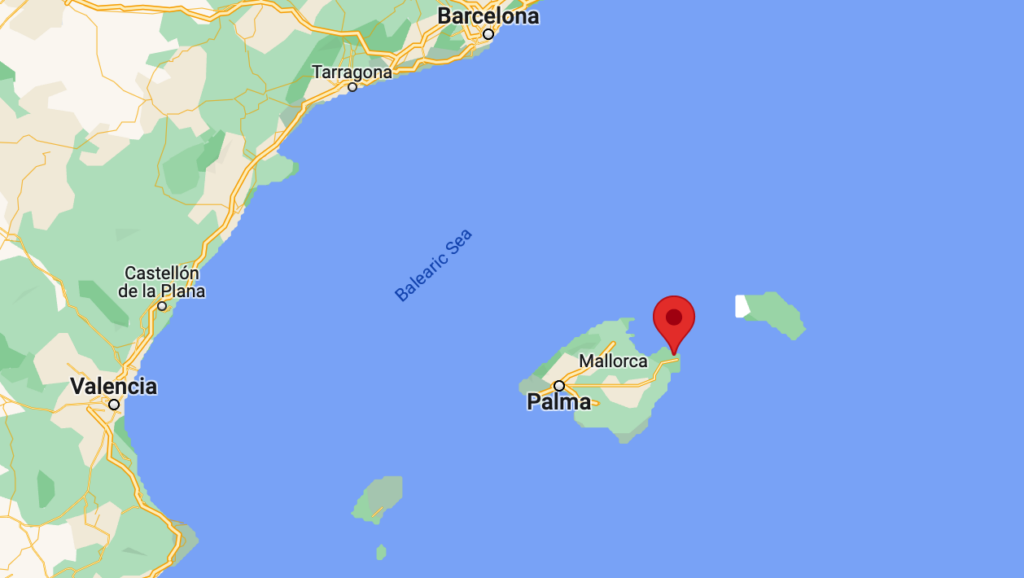 That's it! I've struggled to make this top list of only ten items. I hope you will enjoy at least some of these beaches.
You might also want to check the best beaches in Valencia guide.
What is the best time to visit Spanish beaches?
The best time to visit the beaches in Spain is from May to October when the weather is warm and sunny. However, keep in mind that these months are also the busiest, so you may want to consider visiting during the shoulder season (April or November) for a more relaxed experience.
What to grab for a day at the beach in Spain?
First and foremost, don't forget your sunscreen. The sun in Spain is powerful, so make sure you're protected. Other than that, pack your usual beach gear – swimsuit, towel, sunglasses, etc. Also, check my travel items under $100 list.
What are the most beautiful beaches in Spain?
There are so many beautiful beaches in Spain, and it is hard to choose just one. Some of my favorites are Cathedral Beach (Galicia), La Concha Beach (San Sebastian), and Formentera Beach (Mallorca).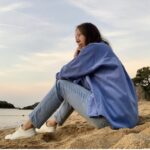 Hello, my name is Nadia.
I usually write about traveling (there are so many places to fit all the lifestyles), relocation (finding a job overseas or moving without losing an income), and living in a foreign country (adapting to a different culture and mentality). Follow me on Twitter, Facebook, Instagram, or LinkedIn!
This post might include some affiliate links. If you make a purchase through these links, I may earn a small commission at no additional cost to you. I appreciate it when you use my links to make purchases.