My Favourite Beaches in Mallorca, Spain
Nadia Podrabinek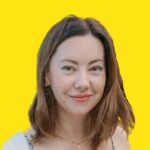 Written by Nadia Podrabinek
Hello, my name is Nadia. I usually write about traveling (there are so many places to fit all the lifestyles), relocation, and living in a foreign country (adapting to a different culture). My travels stretch beyond Spain, with journeys to the US, Italy, Norway, Portugal, and France. Relocating to Spain in 2018, I lived in cities from Barcelona to Madrid, currently calling Valencia home.  Follow me on Twitter, Facebook, Instagram, or LinkedIn! ... show more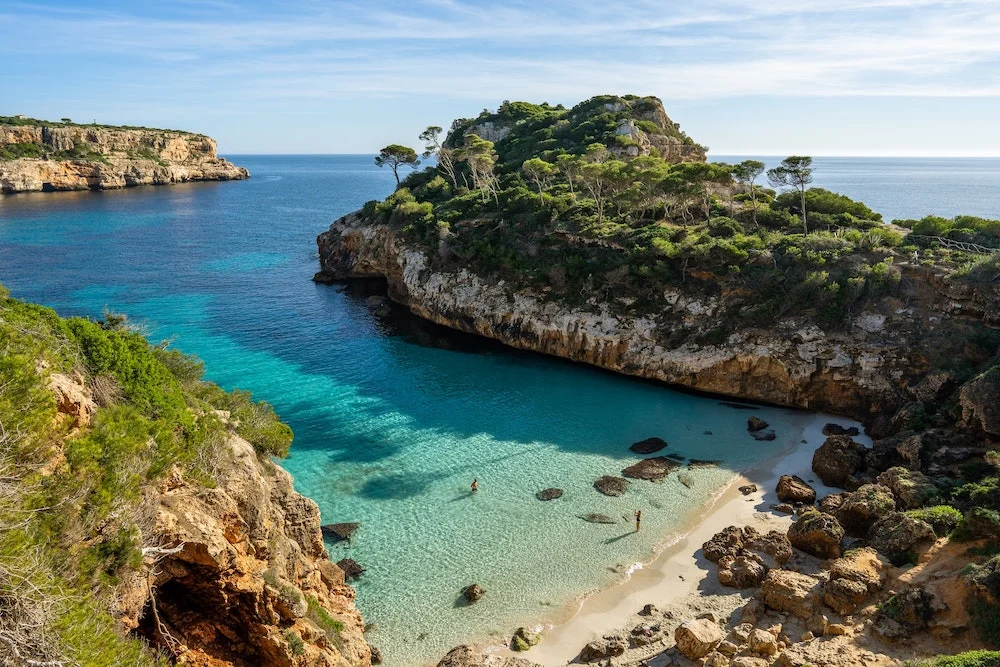 Mallorca is one of the most beautiful Spanish islands in the Mediterranean. It is a top-rated tourist destination due to its proximity to mainland Europe. And of course, due to all of its beautiful beaches.
But what really makes Mallorca's beaches so good?
One reason is that they are very different. You will find numerous tranquil, relaxing spots, adventurous coastline sweeps, secret coves, and buzzy marinas.
You can find just about any beach you are looking for in Mallorca, from a fine white sand beach to rocky shores and ones perfect for snorkeling. Mallorca has around 250 beaches, so you will surely find the perfect one.
Another contributing factor is the year-round warm weather. It helps, you know!
What people say on Reddit
If you want to drive around in the rental car I would suggest Palma, it's the best connected. If you want to walk to the beach from your hotel and be a lizard all day long, then Cala Ratjada would do the trick. Port de Soller is very nice too, but you need to go through Palma to go anywhere else in the island, except for the other villages in the Serra, of course. It also depends if what you like visiting, museums? Vineyards? Archeological sites? Have fun!

Trabuk
If you really like beautiful beaches avoid Palma and go to the northeast part of the island, Cala Ratjada, that's actually where I'm from. You'll find cute restaurants, modern ones, and more traditional ones, they're not crazy expensive and the food is good.

Also there's plenty of possibilities for hiking in Cala Ratjada and the surrounding areas, there are caves as well not far from there that you can easily reach by car. You can find all the booklets and information online.

Cala Ratjada is more oriented toward a more German speaking public, but if you're from some other European country, English will be more than fine. You should visit Cala Agulla, Cala Mesquida, Son Moll, Cala Gat and Font de Sa Cala, there's also Canyamel and little beaches hidden along the coast, google them, look on YouTube how they look like to have a better idea.

Enjoy Mallorca!

kelopons
I would say Puerto de Soller is more chill than Cala Ratjada, that has a lot of party-oriented offer but beaches are really good. Take in mind that there are going to be a lot of young germans partying at night, but you should be able to chill there too. Nevertheless, the answers here are really good.

tolofanclub
As a local, I would recommend you Cala Rajada! Many small and cute beaches and the people are awesome. Lots of small towns near to visit (Arta, Cala Millor, Colonia de Sant Pere, Son Servera, etc) and many natural zones to hike.

In addition, I would recommend you Hostal Marina: a nice and friendly familiar small Hostal with great prices. The owner (Vicens) is the friendliest nicest guy in the zone!

josepbernad
So, this is my list of the best beaches in Mallorca that you definitely need to visit on your holiday:
Top picks for beaches in Mallorca
1. Cala S'Amarador – the best beach for families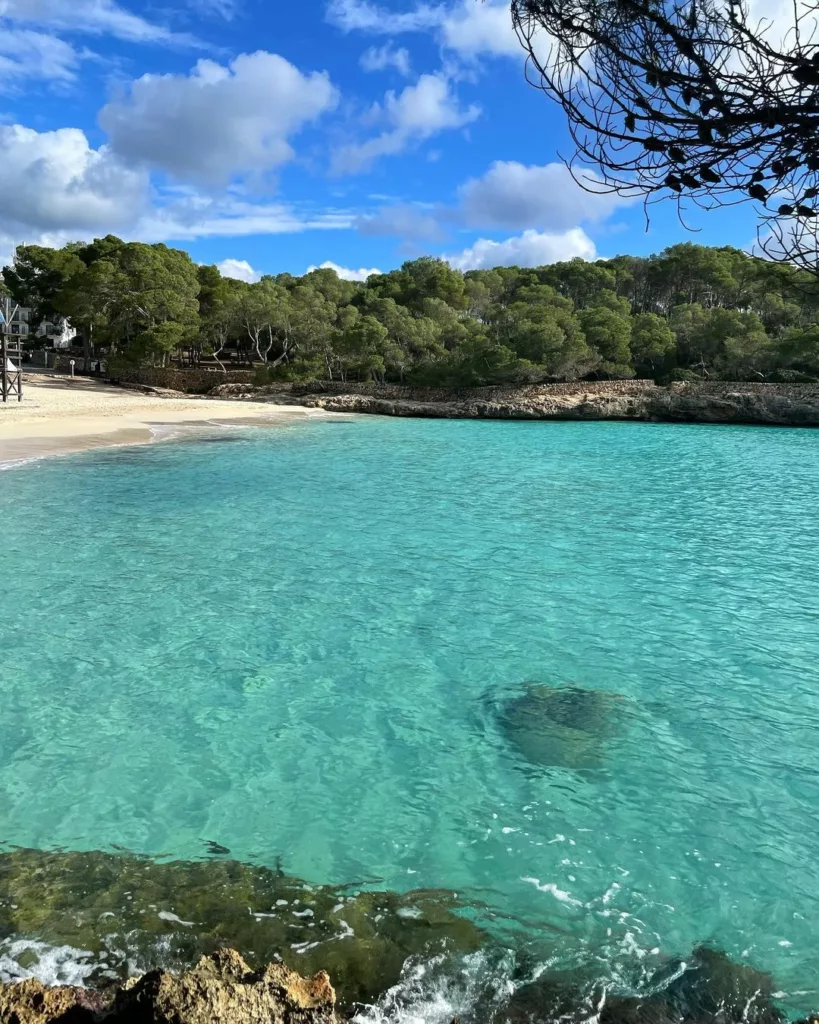 You will find this beach in the Cala Mondragó Natural reserve on the southeast coast of Mallorca.
The beach is protected as it is inside a bay with tons of sand, and the water is relatively shallow, making it an excellent spot for children. It is also a good spot for snorkeling and is awarded the Blue flag mark.
You can easily reach the beach from the parking area and go off and explore the sand dunes and parks forests. If you are up for beach hopping, you can visit two other nearby beaches on the site – Cala d'en Borgit and Cala Mondragón are a few steps away.
Additional information:
"Cala" is the Spanish word for cove, creek.
2. Caló des Moro – the most romantic beach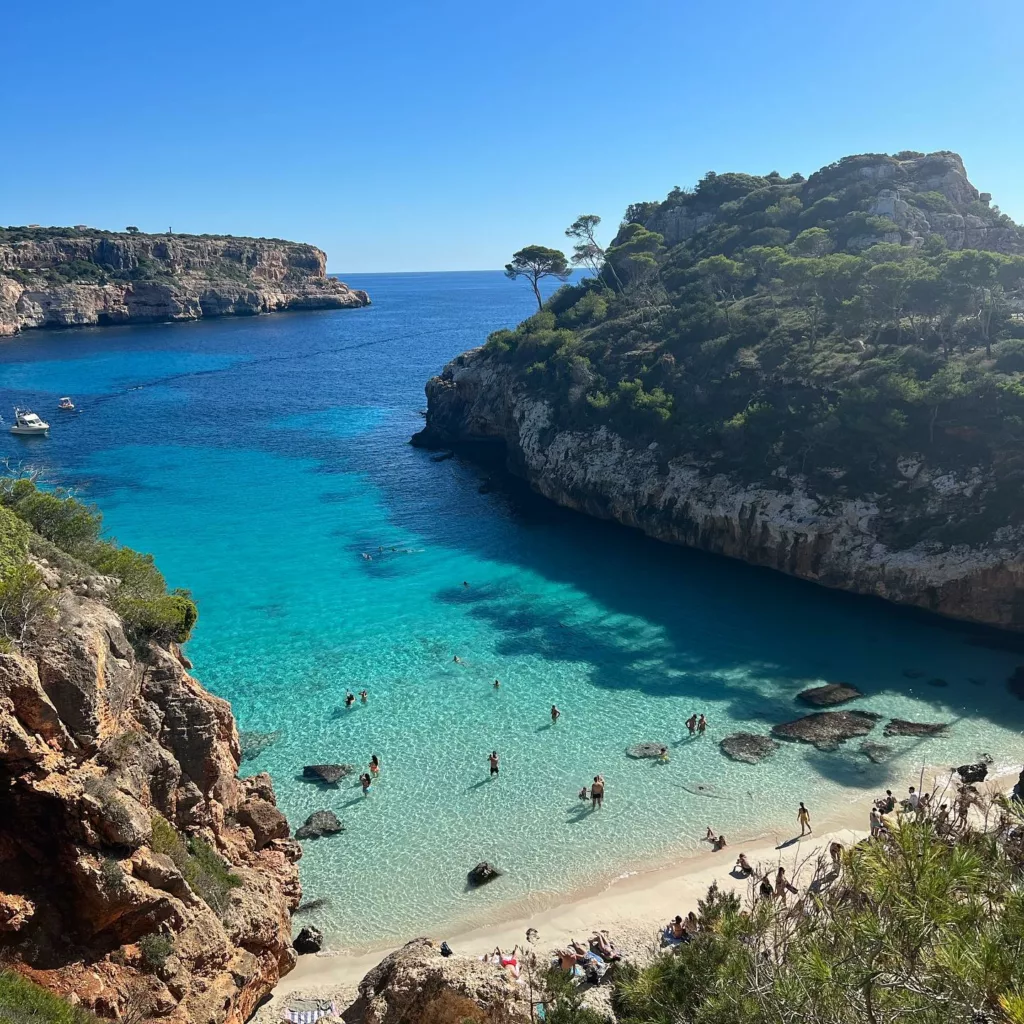 Any beach can be romantic, but what is more romantic than a beautiful, secluded seaside? Calo des Moro is about 3.7 miles (6 km) from Santanyi in the southeast.
This beach can be tricky to find, and many locals fool you into thinking that the beach is private. Just follow the road down to the beach from the car park to get there, and that is it.
Calo des Moro is spectacular! It is a deep bay surrounded by vertical cliffs. The beach is fairly small, but the fantastic 40 meters of the beach is covered in bright fine-grained sand.
The water has the most beautiful turquoise shades and is crystal clear. It is the best spot to swim between all the cliffs. It is a walk from the parking lot, and there are no facilities on the beach or nearby. So do not expect sun loungers, snacks, or anything.
But this also means it is quiet, making it the perfect spot to set up a romantic beach picnic for you and your partner. It may just be the two of you, the sound of the waves, the ocean breeze, and of course, a lot of love.
Some downsides
After being mentioned on many travel blogs, Calo des Moro can be overcrowded by Instagrammers and feels like a tourist trap. It is worth going there only in the off-season (basically, every season except for the summer)!
There are many other beautiful and less crowded beaches – check out Platja des Caló beach, located near Betlem. It is a real hidden gem if you are looking for something quieter. Yes, it is a 30-40 minute walk in the sun to get there, but it is worth the effort. There is this beautiful cove under pine trees. You can also stay overnight with a hammock and dip in cool water at sunrise.
If you decide to see Caló des Moro:
Once parked, you must continue along a paved road surrounded by chalets to take the path to the beach.
The route is relatively easy, but I recommend bringing a hat and water because there is hardly any shade, especially for the return. As for footwear, the path is only 15 minutes walk, and many people bring sandals. Although I recommend you to wear closed shoes or sandals that hold your foot well.
Once the road ends, there is a path along the cliffs until you reach Caló des Moro. And there is no better place to contemplate the beauty of this beach than from above.
The thing twists a little when you reach the access to the beach itself. Here you have to go down some small rocky stairs with quite a steep slope. They are far from being dangerous, but they require some concentration. It never hurts to be careful 🙂
Additional information:
3. The beaches of Cala Ratjada – the best for sunrise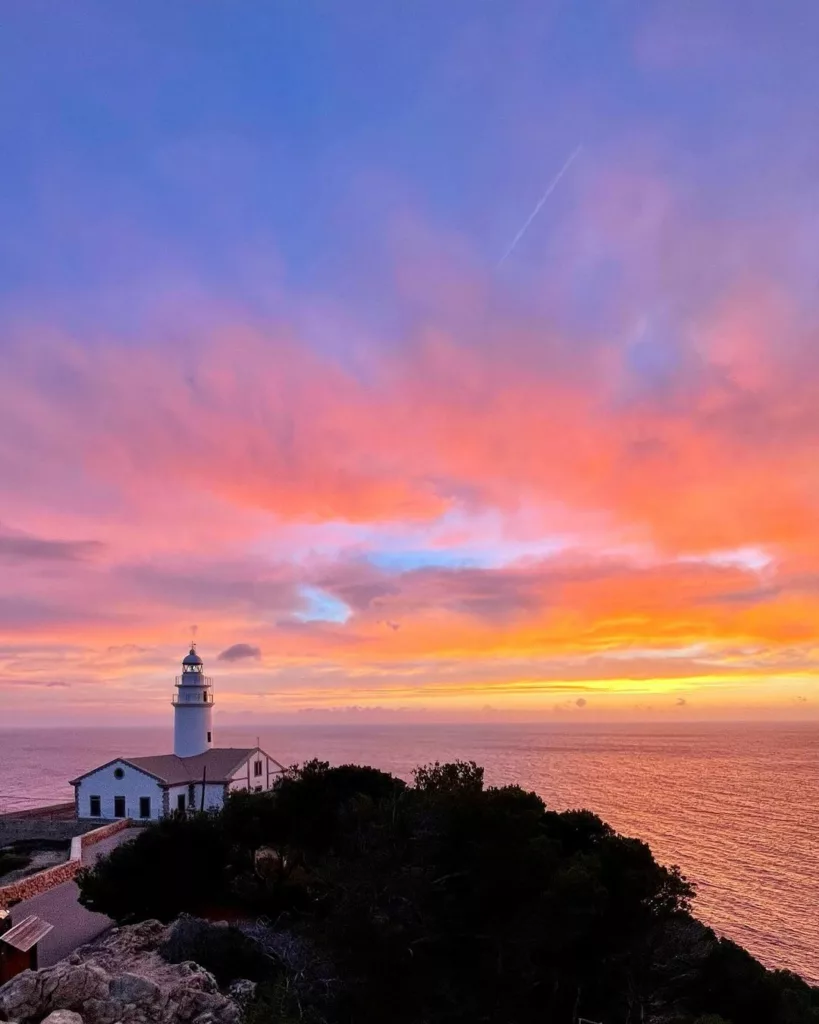 Watching the sunrise on your holiday is a must. The best sunrise spot can be found near the lighthouse. The sun rises between 6:45 and 7 am, so get there in time to witness the most incredible views and colors. It also has the nickname of First Sun of Mallorca, along with other beaches in this area.
Cala Ratjada comprises the beaches of Son Moll (or Cala Moll) and Cala Gat. These are small sandy beaches perfect for families. The first one is more crowded, and the second is somewhat quieter. Following Son Moll, you will get to Cala Pedruscada, a small cove mainly of rocks.
Surrounding the tip of Capdepera (or crossing to the north of Cala Ratjada) is the beach of Cala Agulla, the largest sandy beach of Capdepera. You can also find L'Olla and Na Lliteres, two secluded rocky coves.
Additional information:
4. Platja de Palma – The best beach for sunset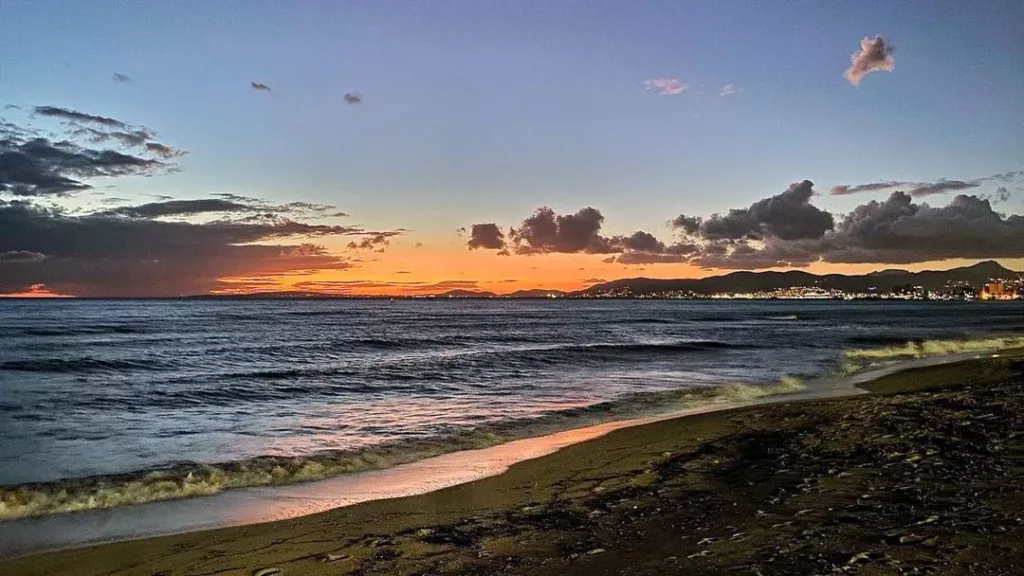 Playa de Palma is the name of the huge part of the bay found near Palma, the capital city of Mallorca, between two holiday resorts (s'Arenal and Ca'n Pastilla).
This stunning beach is about 3 miles (5-6 km) long and has several broad spots. The water deepens quite slowly, and the sand is magnificent.
It is the perfect spot to go if you want to see the sun go down, and you will have the most incredible sky and horizon views. The beach also has many amenities, like sunshades, loungers, showers, lifeguards, toilets, and more.
Yes, the beach does get quite busy, but it is spacious, and there is lots of room for everyone. You can also head to a beach bar once the sun has gone down. The seafront just behind has many shops, beach bars, cafes, and restaurants.
Additional information:
5. Playa de Muro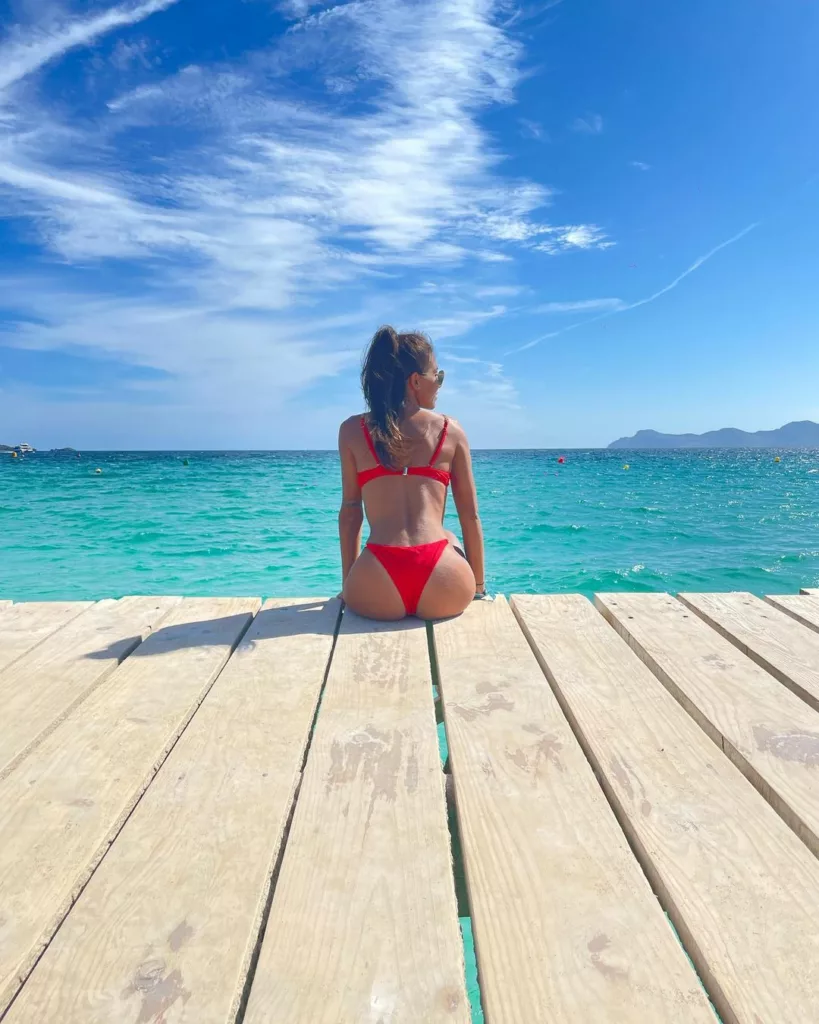 This is my favorite long beach in Mallorca. It is also one of the best Blue Flag beaches I have ever seen. On Playa de Muro, you can put your towel without being surrounded by people. Not to mention the color of the water – it looks like the Caribbean!
Clear and shallow waters, perfect for children. Free parking right next to the beach. Mountain views in the distance. A real blast!
To end the day at the beach, I recommend you to go to the old town of Alcudia. This is the oldest city in Mallorca. It is known for its historical heritage, medieval walls, archaeological remains of the Roman town, and charming narrow streets.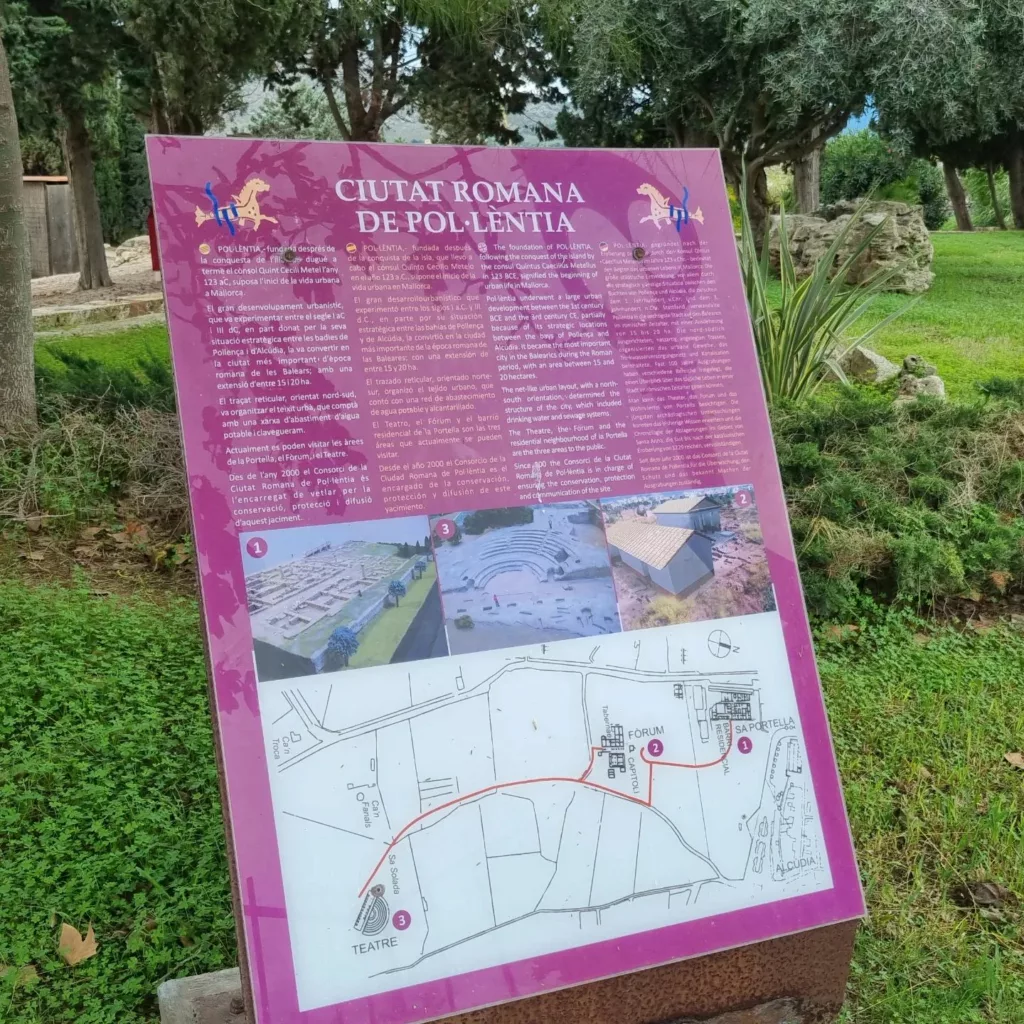 Helpful tip: If you want to travel to Menorca island, ferries depart from the Port of Alcudia. The trip takes about an hour and a half.
Additional information:
6. Cala Mesquida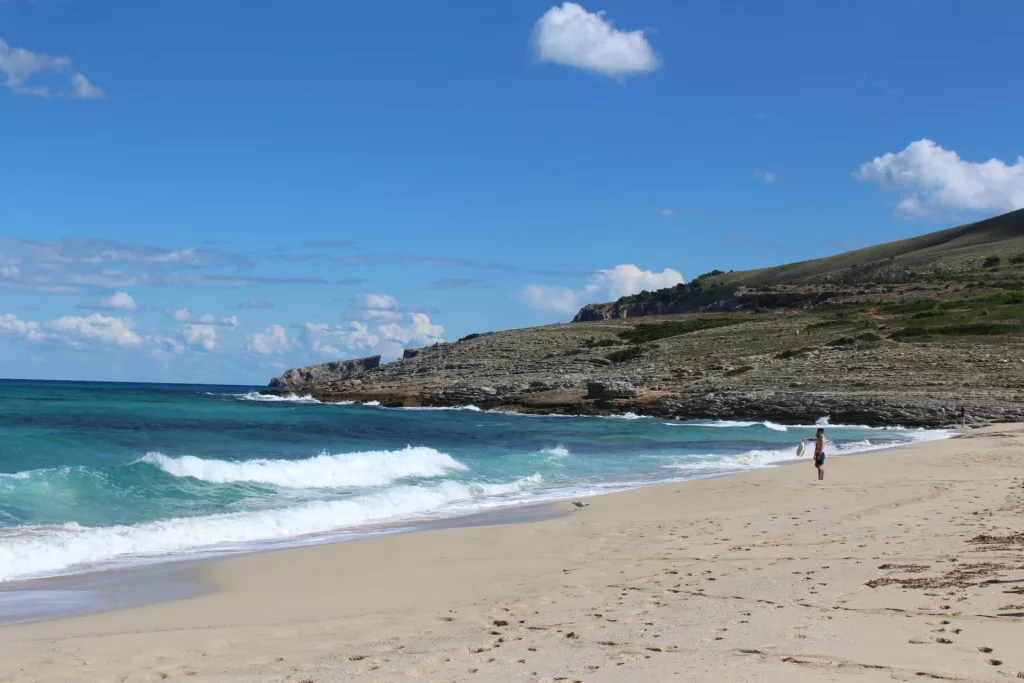 Cala Mesquida is a long, broad beach of fine white sand located in the northeast of Mallorca, in the municipality of Capdepera. It is also close to Cala Ratjada, about 1.5 miles (4 km). There are dunes with pines at the back of the beach.
Additional information:
7. Magaluf beach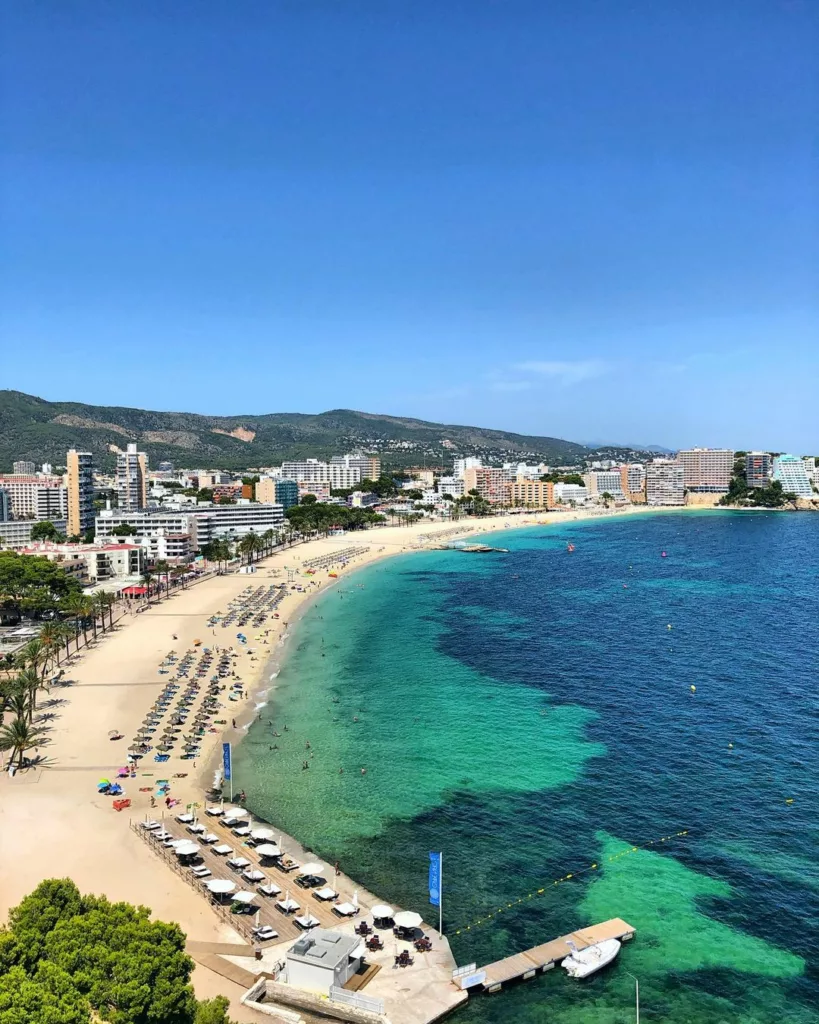 Sometimes it is nice to go where it is a bit busier, right? Magaluf may be the best beach for you if you are on the more social side of things. This resort is trendy among tourists, with a busy, vibey promenade that fronts the long fine-sand stretch.
The promenade is full of restaurants, shops, and cafes. It is a lively and fun alternative to some of the more secluded and remote beaches on this list. The water and the beach are very clean, and there are many available amenities.
You can spend your day lounging at one of the beach clubs and rent an umbrella or beach chairs to make yourself more comfortable. There are also servers so that you can order food and drinks – this is absolute luxury holiday living.
Additional information:
8. Platja de Formentor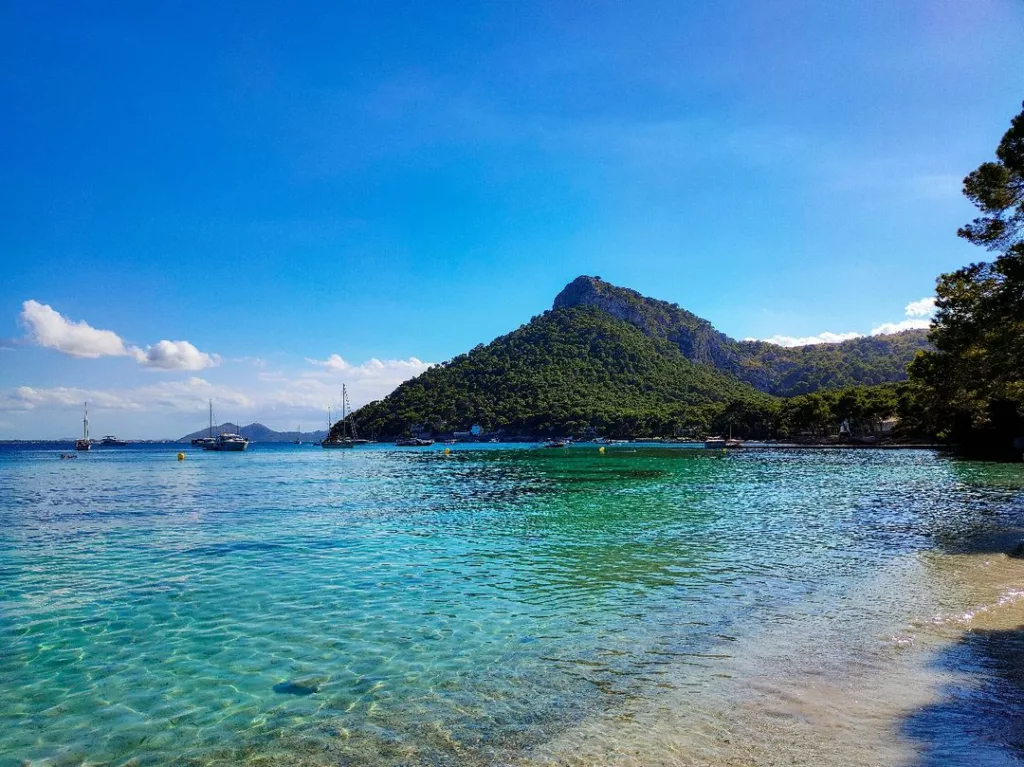 This broad, flat beach sits on Mallorca's northern shore, at the southernmost point of a peninsula. Given that the region is a protected bay, the water is calm and warm.
It is the perfect spot to unwind on the beach and enjoy the view of the tiny boats anchored nearby. This beach promises peace and tranquility.
Seeing as it is in a wonderful bay, the setting is perfect.
The rear side of the beach is lined with a stunning pine forest, and the trees provide ample shade, so you do not have to sit in the sun the whole day. There are restrooms, lifeguards, changing rooms, and a few cafes and restaurants on the beach.
After getting that tan and spending enough time in the sun, head to Faro de Capdepera, the stunning lighthouse on the easternmost point. You can watch the sunset there, which is the perfect way to end the day.
Additional information:
9. Sa Calobra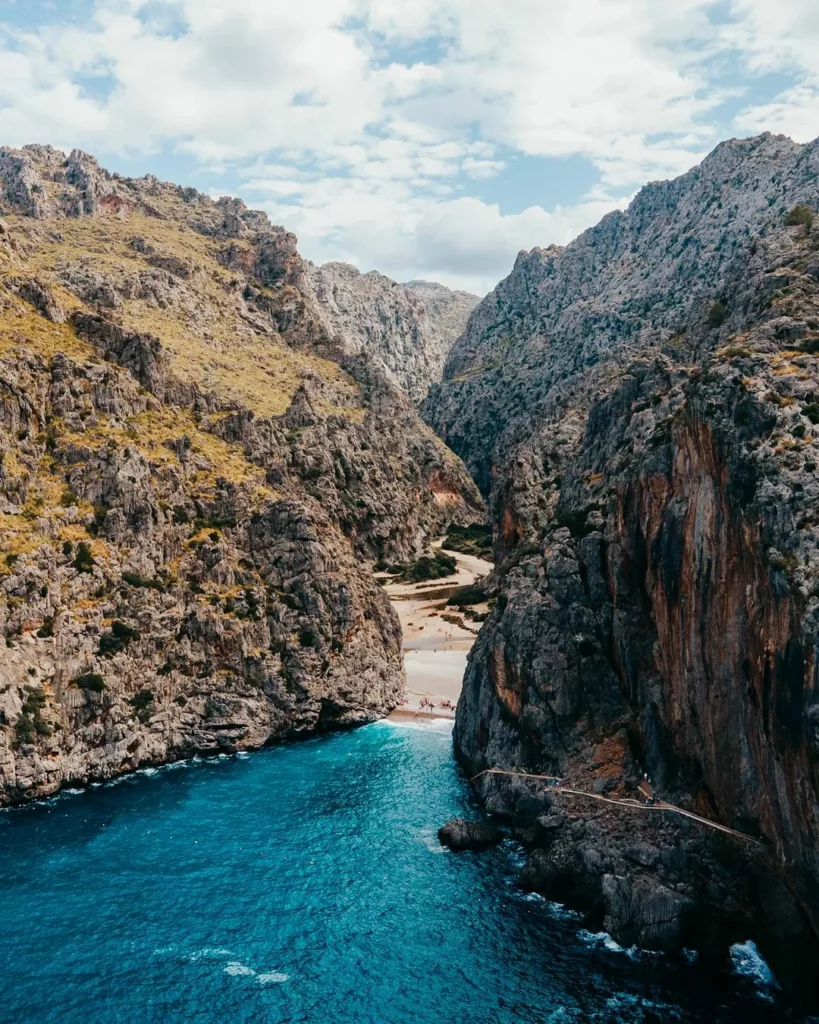 Sa Calobra is one of the most spectacular beaches of the Sierra de Tramontana on the island's western shore. It is perfect for swimming, hiking, and contemplating nature.
The first thing you must know is that it is pretty far from any town – a little more than an hour by car, and the road is curvy and full of cyclists.
On the other hand, the access to the beach is easy – you get there walking along a well-conditioned path. In addition, the views from the course are majestic.
Also, it is the pebble beach, and I am sorry that if you go in summer, Sa Calobra will be crowded.
Additional information:
10. Cala Banyalbufar – quiet rocky creek with a small waterfall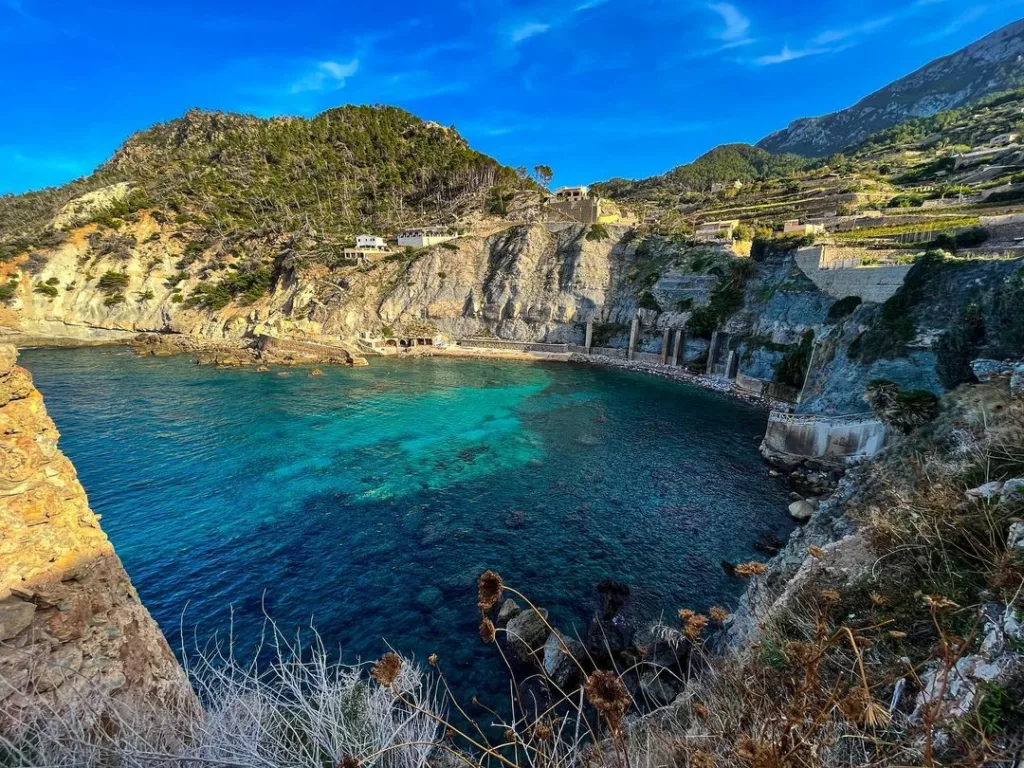 Cala Banyalbufar is one of the most beautiful and scenic beaches on the northwest coast of Mallorca, an amazing spot to relax for the day.
There are two main beach areas, one is a sandy beach, and the other is a sandy platform that is protected by rocks. The sea floor is quite rocky, so I recommend bringing water shoes.
In the middle of the cove, there is a small waterfall that serves as a natural shower, and it is the only "facility" available.
Despite the lack of facilities, the place is of incomparable beauty.
The waters are pristine and colorful, making it a fantastic place for snorkeling.
However, the waves do get pretty tough, so be cautious. There are no bars or restaurants nearby, so be sure to bring some snacks and drinks.
Additional information:
11. Cala Pi, a beautiful and quiet cove between cliffs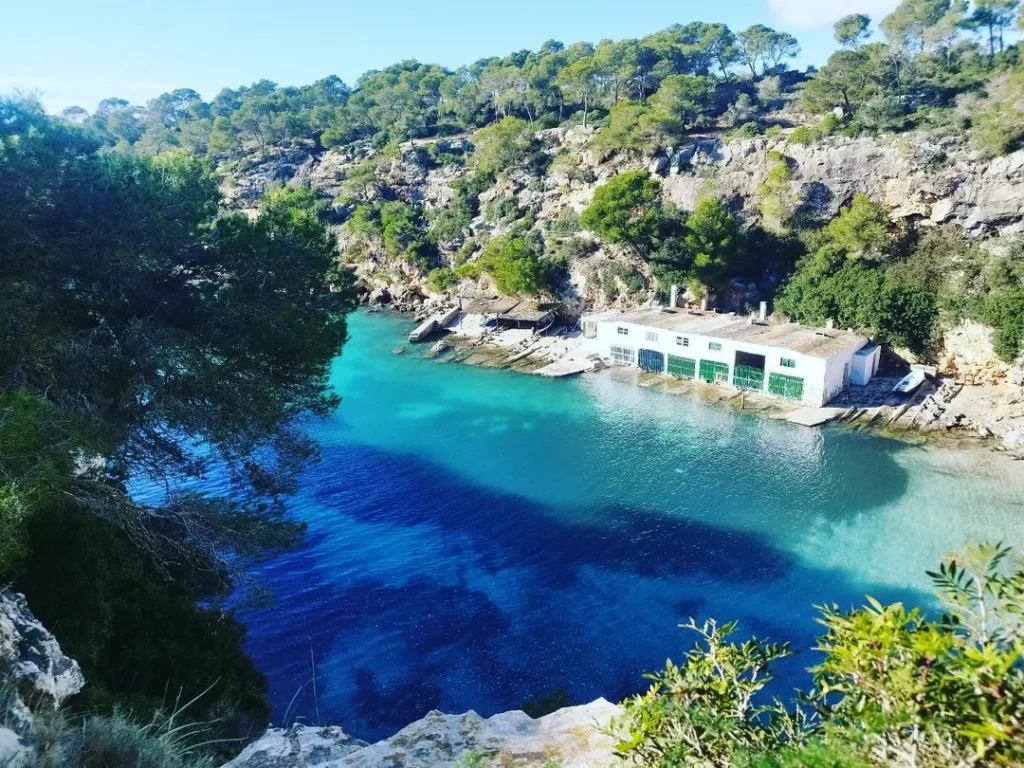 Cala Pi beach is the spot for you if you want a secluded place. This fabulous beach ticks every single box. It is pretty remote but still easy to find and get to, and there is a car park and incredible scenery. It also does not tend to get as busy as some of the other beaches do during the summer.
Since the Bronze Age, this cove was used as a shelter for the boats of the first settlers of Mallorca.
Although the beach is not very large, it is deep and stretches far from the water. The sea is a stunning shade of turquoise, and the sand is silky and white.
The sea is shallow for a considerable distance out, making it ideal for water sports. In addition to a tiny beach shack offering meals, there are restrooms and changing rooms.
Additional information:
Frequently Asked Questions
What part of Mallorca is best for beach leisure?
Palma (the best connected area), Santanyí (Caló des Moro & Cala Mondragó beaches), Cala Ratjada, Puerto de Soller.
What are the best Mallorca's beaches for families?
Mallorca has beautiful beaches with fine white sand, fantastic swimming spots, and great amenities to ensure that you and the family will be comfortable for the whole day. The following are some of the best Mallorca beaches for families: Cala S'Amarador, Son Moll, Cala Gat, Cala Pi, Playa de Muro, Magaluf.
What are the most secluded beaches in Mallorca?
Not everyone loves a busy beach, so if you are looking for something quiet, more secluded, or less popular, then the following may be for you: Arenalet Aubarca, Cala Beltran, Cala Varques, Cala Boquer, and Cala Magraner.
Conclusion
That is it for now! I hope you find the best beach for you. As always, if you have something to say, leave the comment below.