Where to Stay in Mallorca in 2023: 13 Best Places, Hotels & Towns
Nadia Podrabinek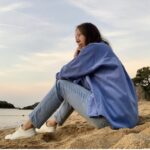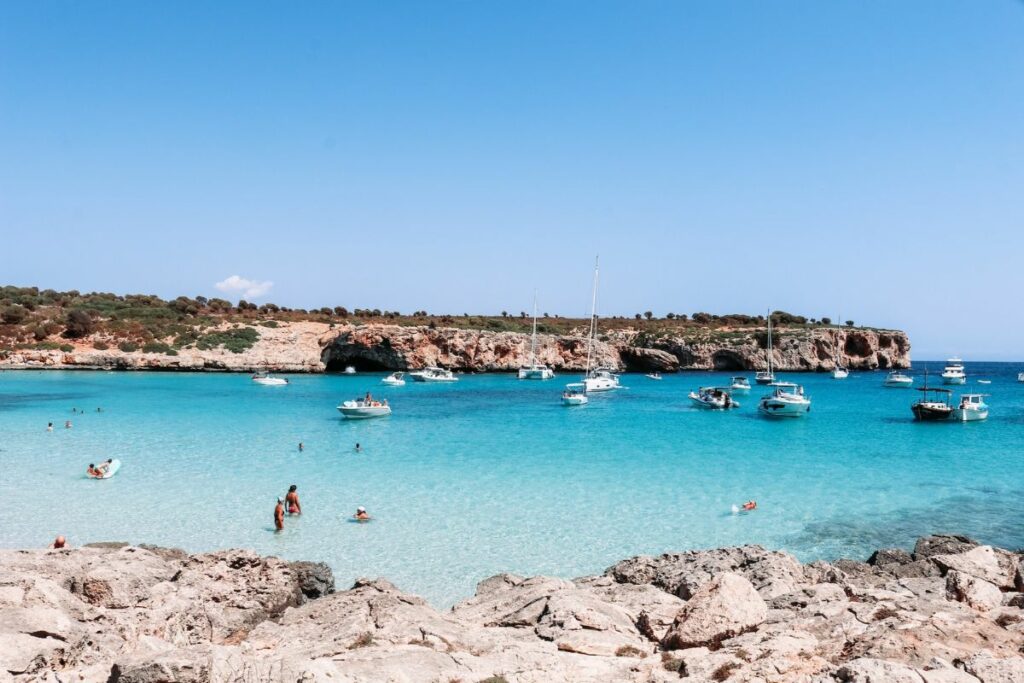 Mallorca is a tourist hotspot – and for good reason. This Spanish island has a variety of landscapes – rocky coves, sandy beaches, and mountainous cliffs. Combine pockets of serenity, a bustling nightlife, a rich culture, and amazing food and you have a recipe for the ultimate vacation.
But where should you stay when visiting the island?
Through my travels to Mallorca, I have explored budget stays and luxury escapes, walked through hallowed cathedral halls, and gone on snorkeling trips. So, indulge me as I share my top 13 places to stay in Mallorca with you. There really is something for every kind of traveler!
---
Key Takeaways
Palma de Mallorca is the perfect place to explore the entire southern coast.
History buffs and those interested in culture should visit the old town of Alcudia.
Mallorca has a variety of accommodation options, from luxury resorts to hostels.
Valldemossa is the highest town and is worth a visit for the views.
Couples will love the peace and quiet of Porto Cristo.
---
A Map of Where to Stay in Mallorca
Top Places & Towns to Stay in Mallorca
Let's first begin with the best spots on the island (including some of my favorite hotels) and the pros and cons of each area.
Palma de Mallorca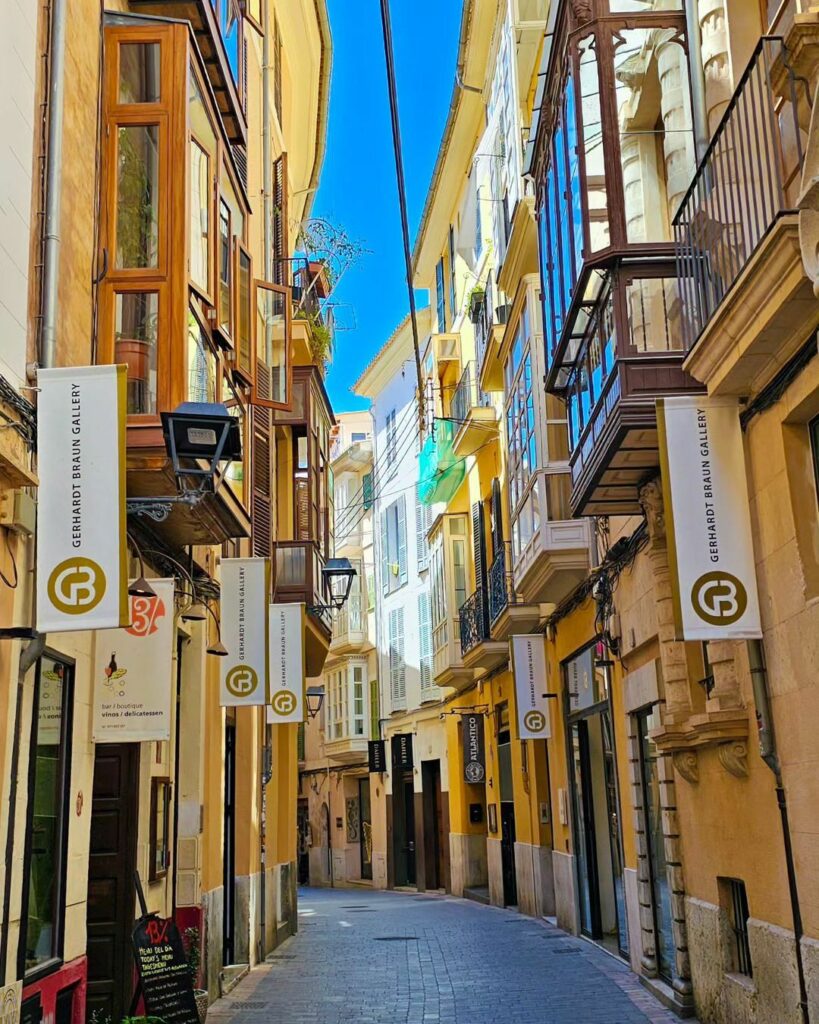 Palma de Mallorca is the capital of the island, and a must for any visitors. It is probably the single most popular tourist destination because of its location. Palma is on the southwestern coast of the island, with plenty of beaches, accommodation options, restaurants, and things to do.
It is also the home of the international airport, making it the first stop for most travelers on their Baelarian Island adventure.
Palma de Mallorca is a great base to explore the rest of the island, but you'll also have plenty of activities right on your doorstep.
Things to do in Palma de Mallorca
Catedral de Mallorca
The Gothic cathedral in the heart of Palma de Mallorca is a must-see. Construction started in the 13th century and was only completed in the 1630s.
Castell De Bellver
Bellver Castle is the most-visited attraction in Mallorca. This round structure (complete with three turrets) was commissioned in 1300 and took 11 years to finish.
Luxury Catamaran Tour
There is no better way to explore the beaches and coves surrounding Palma de Mallorca than on a luxury catamaran. Book a half-day or full-day excursion and marvel and Mallorca from the turquoise sea.
Food Tour
I can't recommend a food tour enough! A couple of tasting and walking tours are available that allow you to interact with locals, eat delicacies not found at mainstream restaurants, and even make a friend or two along the way.
Where to stay in Palma de Mallorca
This 5-star luxury hotel has a rooftop pool and spa (with a plunge pool), and the rooms include toiletries, fluffy robes, slippers, hairdryers, and hair straighteners. I'd go so far as to say it is one of the best luxury hotels on the Spanish island!
Price: $280 – $320 (2-night minimum)
Look no further than Lonja Suites Apartments for a relaxing holiday in the capital city. These self-catering apartments are close to everything, affordable, and give you some privacy. Relax on the private balconies or head to the nearby Palma Port for people-watching and fresh seafood.
Price: $40 for a dorm bed
Not everyone wants to stay in a hostel, but if you are a budget traveler and want to know where to stay in Mallorca for cheap, then The Boc Hostel in Palma is perfect. Complete with an outdoor swimming pool, gym, and bar, you are guaranteed to make friends and memories here.
Pros and cons of staying in Palma de Mallorca
Pros
Easy to explore the rest of the island
Lots to do
Plenty of accommodation and food options
Cons
Port de Pollença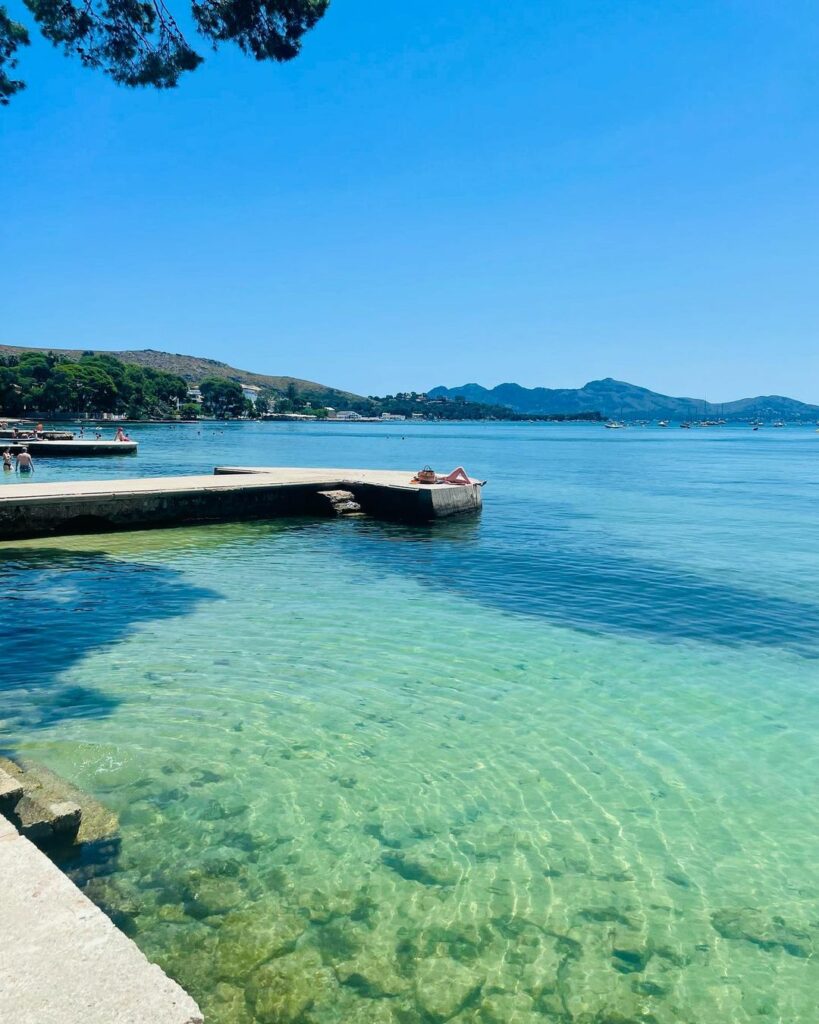 Port de Pollença is smaller and less busy than Palma de Mallorca, but that just adds to its charm. The beaches are less packed, it is easier to score a great table at a restaurant, and it caters to travelers with varying budgets.
If you are traveling with your partner, you will definitely love this spot. It just oozes romance, with a small fishing village atmosphere, postcard-perfect beaches, and amazing food!
Things to do in Port de Pollença
Beach day at Playa del Porto de Pollensa
Looking for a relaxing beach getaway? Look no further. Playa del Porto Pollensa has white sands, water so clear you can see tropical fish darting around your toes, and none of the Palma crowds!
Stroll along Pine Walk
The Pine Walk is the perfect afternoon activity. This coastal walk, in the shade of pine trees, will take you past shops and restaurants and afford you the opportunity to dip into the ocean to cool down.
Dine at Himalaya Indian Nepalese Restaurant
Who knew you had to come all the way to Mallorca for the best Indian cuisine? Every time I've been here the staff has been welcoming, the service speedy, and I keep coming back for the Tikka Korma!
Where to stay in Port de Pollença
Have you always dreamed of owning your own holiday home in Mallorca? With Can Cuarassa you can feel like you do! Rent this entire villa with sweeping sea views and Spanish charm and feel like you own a bit of the island. It sleeps up to eight people!
This hotel is located on Pine Walk, meaning it is right on the beach! Settle into a sun lounger, sip on a cocktail, or tuck into Italian cuisine at the on-site restaurant.
Price: $165 (2-night minimum – works out at ~$80 per night)
Just because you are traveling on a budget doesn't mean you have to skimp on luxury. I loved my stay at Aparthotel. It's about a mile from the beach, so the outdoor swimming pool is ideal for hot days.
Hot tip If you are on a tight budget, stay in the one-bedroom apartment without the pool views. It is still wonderfully comfortable and you'll save a few bucks.
Pros and cons of staying in Port de Pollença
Pros
Away from tourist crowds
Very romantic and idyllic beach
Cons
Alcúdia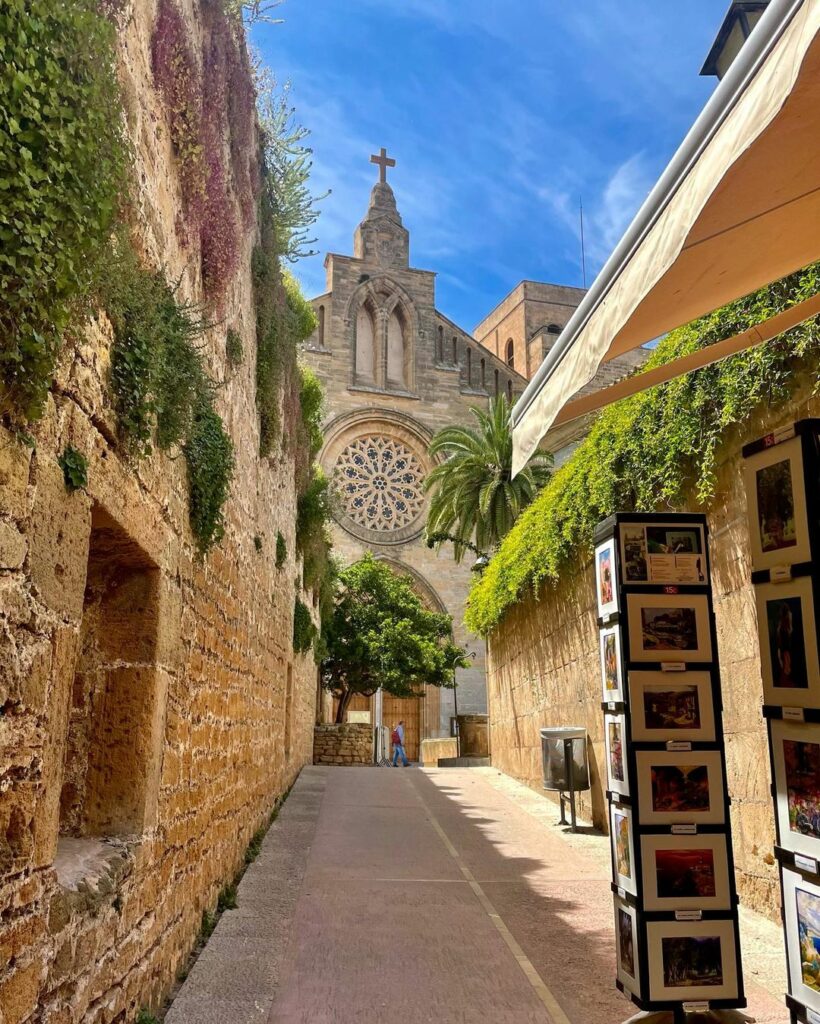 Alcúdia is one of the more cultural and historical areas of the island. Located in North Mallorca, Alcúdia is surrounded by cliffs and ocean views. It is a historic fishing village that still retains its authentic Spanish charm.
You will be welcomed by ancient stone houses, cobblestone walkways, and friendly locals. One possible downside is that there isn't exactly a vibey nightlife, but for me, it was the perfect spot for much-needed solitude.
Things to do in Alcúdia
Alcúdia Old Town
Get transported back to days past within the ancient city walls of the old town. If you happen to visit on Tuesdays or Sundays, make sure to stop in at the Old Town Market.
Museo Sa Bassa Blanca
Two artists founded this local spot and is a meeting place for art, nature, history, and architecture.
Eat at Sa Roqueta Wine and Food
My favorite restaurant in the area! Serving Italian and Mediterranean cuisine, you can't go wrong here with the delicious yet unpretentious food. Even vegetarians won't complain. And the wine list is simply incredible.
Where to stay in Alcúdia
This home sleeps up to 12 people, so either come with a group or prepare to have plenty of space for yourself. It has an outdoor pool, killer views, a garden, a fully equipped kitchen, and six bedrooms. Sure, you can splurge on some fancy Mallorca hotels, but why not rather rent an entire Spanish villa?
There are plenty of nice boutique hotels in Mallorca, but the best I have stayed at is Fonda Llabres. It is perfectly located in Constitution Square, close to everything. If you don't want to venture too far, the on-site restaurant has scrumptious Mallorcan and Spanish dishes.
Budget hotels don't mean your stay in Mallorca has to be grimy! Prinsotel Mal Pas is affordable but classy, with contemporary rooms, a swimming pool, and a fabulous breakfast.
Pros and cons of staying in Alcúdia
Pros
Very walkable town
Medieval old town
Cons
Less to do than at the beach resort towns
Port de Sóller and Sóller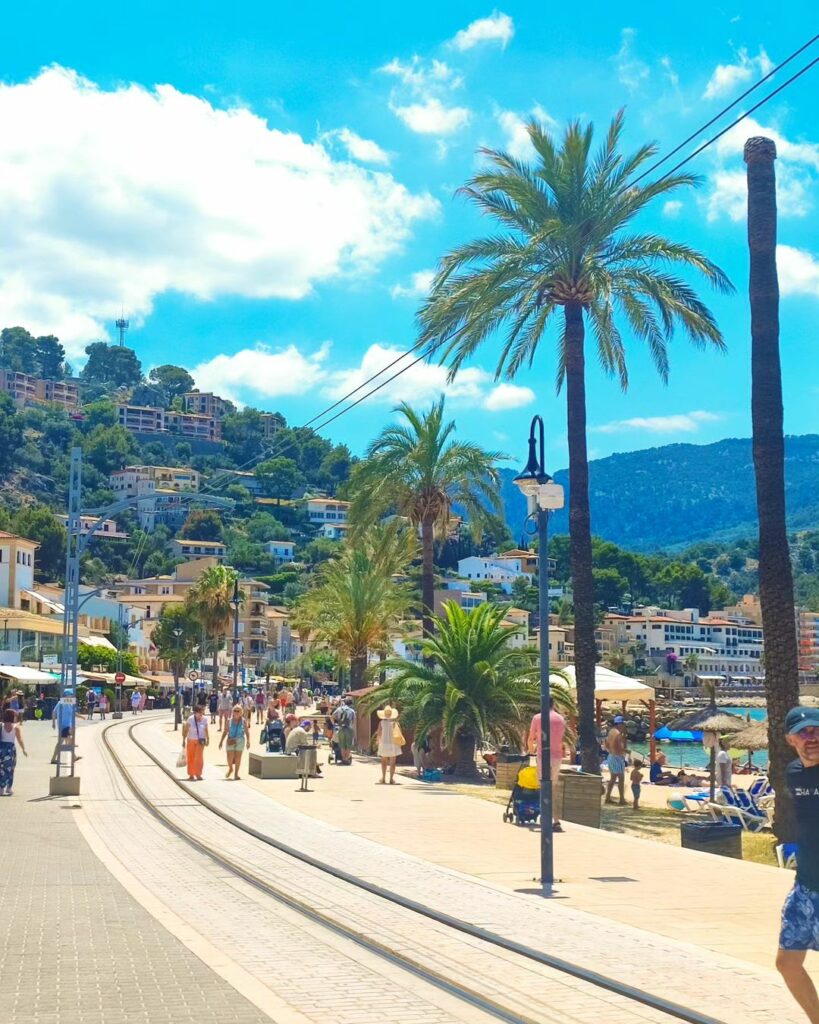 Port de Sóller and Sóller (just 10 mins apart from each other) are great options for adventure seekers. They're not as busy as some of the other villages – honestly, people that end up in this area are mostly here because they love nature.
There are a couple of nice beaches, reliable public transportation, and, of course, some amazing nature surrounding the towns.
Things to do in Sóller
Attune to nature at Ecovinyassa
This citrus farm is great for people who want to try the mouth-watering fresh fruits of Mallorca. Book a tour, learn about the history of citrus farming, and sip freshly-squeezed juice!
Indulge your sweet tooth at Petit Cafe Frozen Yogurt
Even if you don't like ice cream, I bet you will find something you love at Petit Cafe.
Hot tip Try the frozen yogurt with fresh orange juice – people have been raving about it for years.
Platja de Soller
Relax in the sun, snorkel in the clear waters, or go for a hike in the surrounding area. Make sure to make your way to the lighthouse too!
Where to stay in Sóller
This five-star luxury hotel will make you feel like a celebrity. Don't let the 19th-century facade facing the small coastal town fool you – inside you will find world-class amenities including a spa center, two swimming pools, and the gourmet C'an Blau Restaurant.
This gorgeous townhouse lives up to its name. Stay in Mallorca surrounded by bougainvillea flowers and enjoy the floral scents floating in through your balcony doors.
This hostel is clean, contemporary and has a lovely terrace bar. It is just 10 minutes from the beach, close to Plaza de Soller Square.
Pros and cons of staying in Port de Soller and Sóller
Pros
Surrounded by nature
Great public transportation
Amazing, quiet beach
Cons
Valldemossa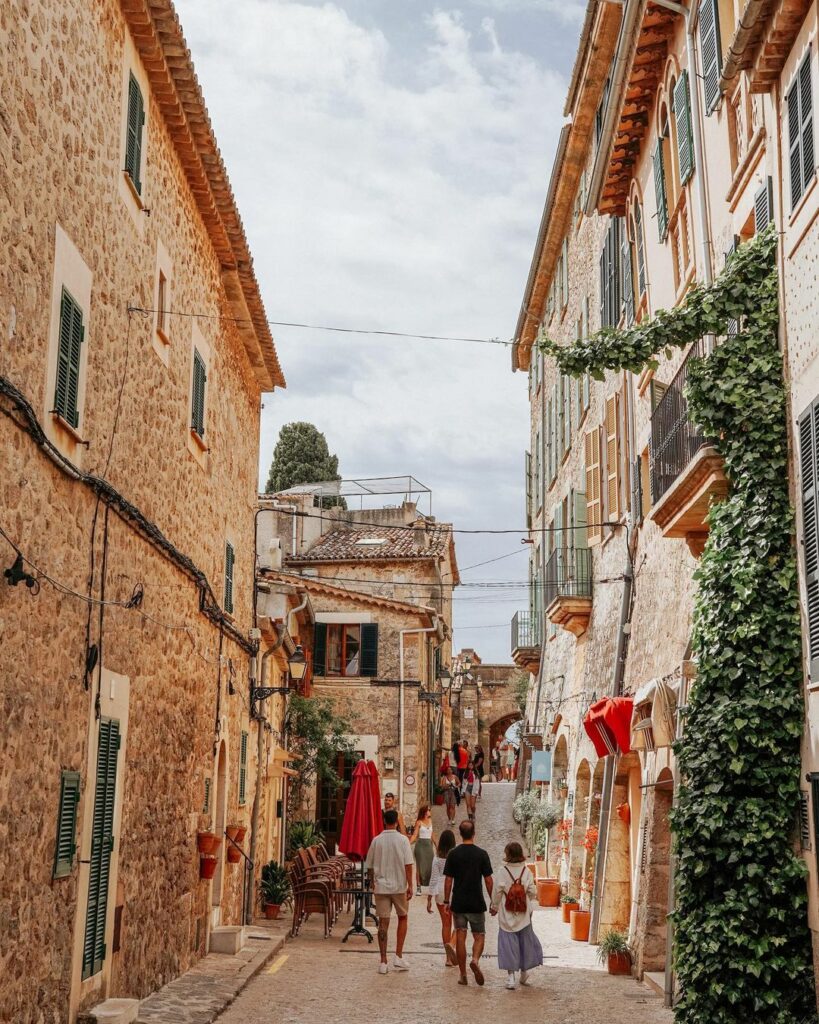 Valldemossa is in the hills north of Palma. If you are wondering where to stay in Mallorca, Spain, away from the rowdy crowds, then this charming town is it! It is the highest town in Mallorca. Here you will experience authentic Mallorcan generosity. The small village is surrounded by nature, making it the perfect romantic escape.
Hot tip Because there is not so much to do here, kids might get a bit bored.
Things to do in Valldemossa
Cartoixa de Valldemossa
The Valldemossa Charterhouse (Cartoixa de Valldemossa) is a palatial building with gorgeous gardens, a chapel, and ancient architecture. It was once the house of King Sancho of Mallorca.
Path of the Archduke
Put on your hiking shoes and be prepared for astounding views! Scramble over rocks and be prepared to get a bit lost when you miss the path, but it is well worth it.
Tuck into small plates at QuitaPenas Valldemossa
This rustic restaurant has some of the best bread (with toppings) on the whole island!
Where to stay in Valldemossa
If you are looking for luxury, this hotel is a must! Wake up in your comfy bed and tuck into breakfast with a view over the village.
Best mid-range: Marton Hotel Valldemossa
There might not be a rooftop pool or fancy spa, but the Marton Hotel is comfortable and located within walking distance of many of Valldemossa's attractions.
Stay in budget luxury at Son Niu Vell-la Hermossa! This authentic Spanish hotel has an outdoor pool (seasonal) and a lovely picnic area with mountain views.
Pros and cons of staying in Valldemossa
Pros
Quaint village surrounded by nature
Just 20 minutes from Palma
Cons
No access to the beach
Public transport is lacking
Portals Nous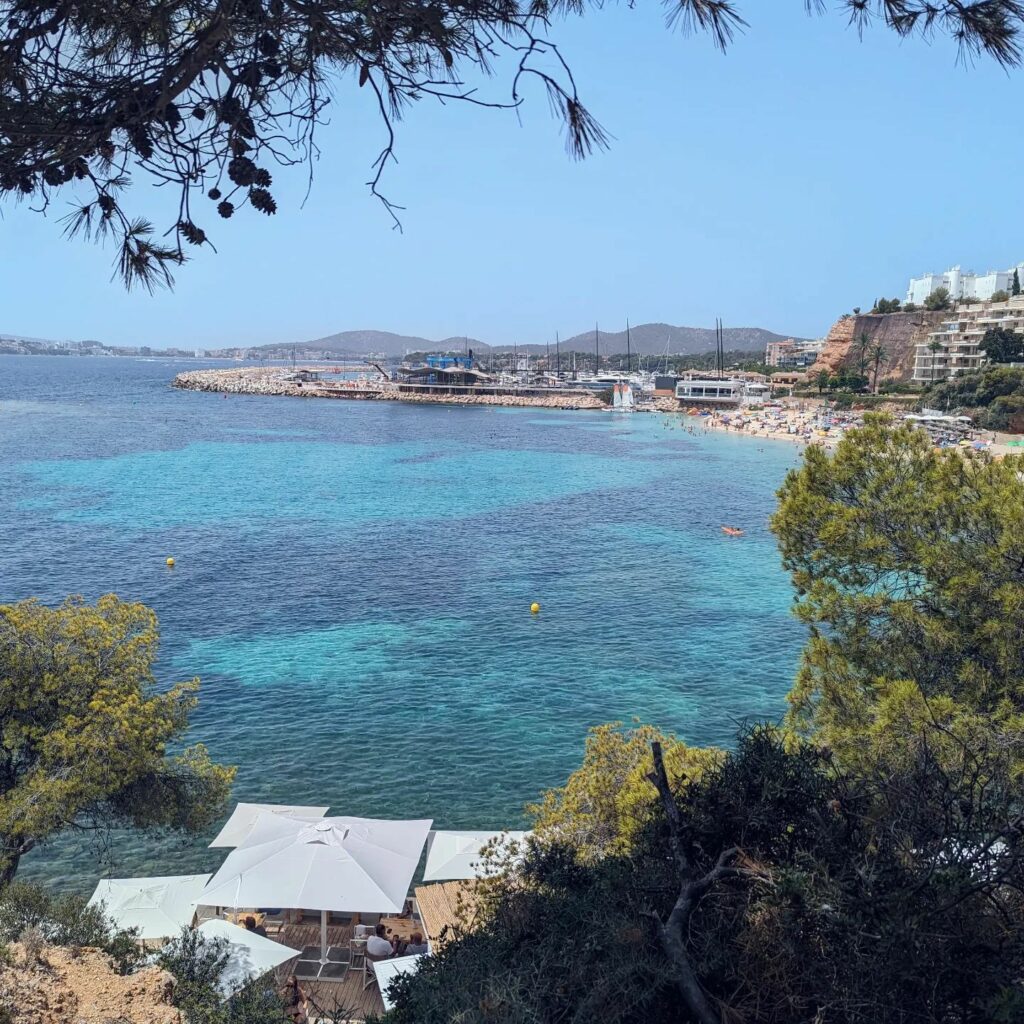 Portals Nous is a stone's throw from Palma de Mallorca (15 minutes by car, to be exact) but is much more relaxed. You can drive into Palma for yacht parties and restaurants but then retreat to your hotel or villa in Portals Nous for some peace and quiet.
Things to do in Portals Nous
Platja De s'Oratori
This beach is clear, calm, and carefree! Don your snorkel and explore life under the surface, or rent a beach umbrella and settle in for the day.
Puerto Portals Marina
Book boat trips, watch the ships come and go, and make sure to stop in at the sunset market on Wednesdays and Thursdays (only during July and August). There are also lots of little shops and restaurants.
Where to stay in Portals Nous
The Portals Hills Boutique Hotel is class at its best. Float in the infinity pool or unwind at the pool bar and nightclub in the evening. This five-star beach resort has everything you could wish for!
You feel like you are staying at a 5-star hotel when you book at Playas Ca's Saboners! This hotel has a huge outdoor pool, air-conditioned rooms, and views over the town.
This traditional hotel is located within walking distance from the beach. It has three swimming pools (indoor and outdoor) and you get free access to the spa if you stay here!
Pros and cons of staying in Portals Nous
Pros
Easy access to Palma de Mallorca
Opportunity to interact with locals
Cons
Slightly less affordable than other towns on the island
S'Arenal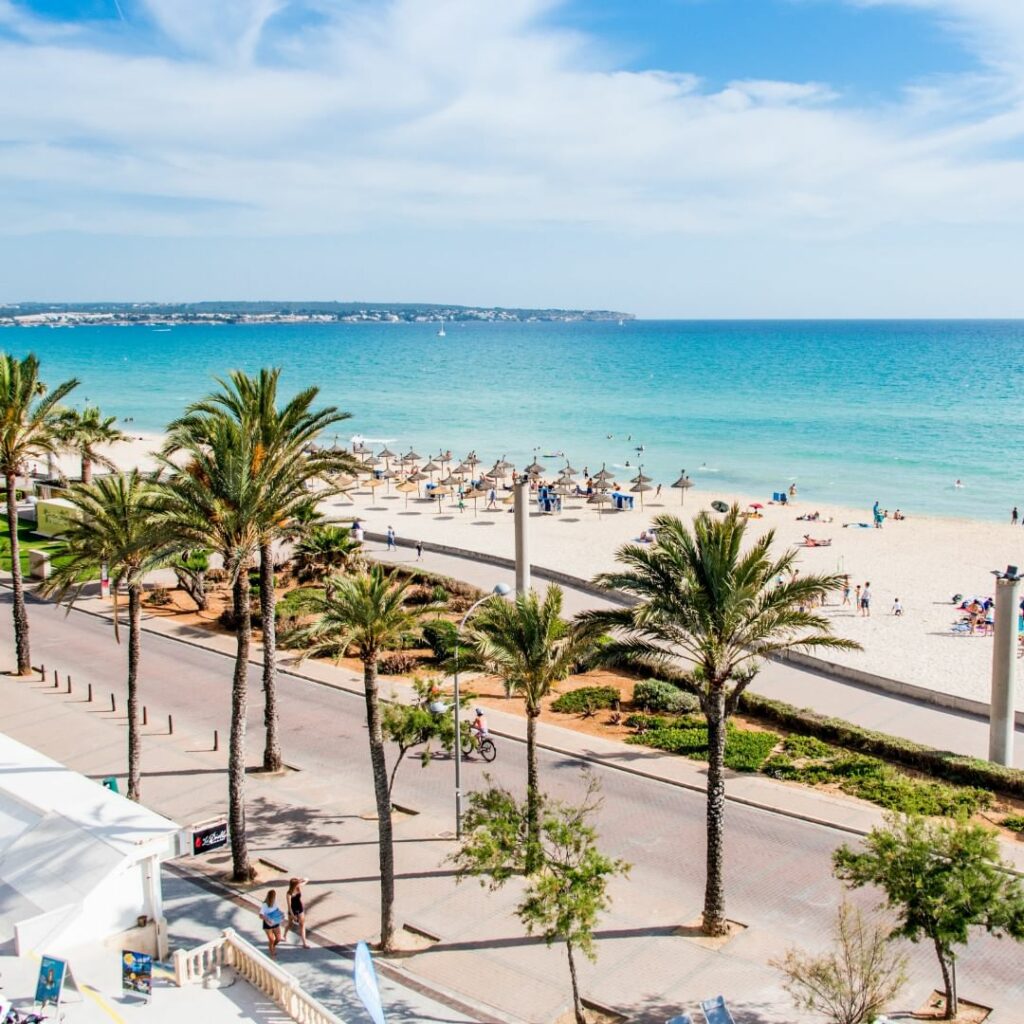 S'Arenal is a great place if you want to experience Mallorca on a budget. There is still plenty to do, with amazing beaches and a vibing nightlife, but it is much more affordable than the other popular tourist destinations.
Things to do in S'Arenal
Dine at Restaurant Del Sol
If you are missing some food from home, Restaurant del Sol has some of the best steak in Mallorca! The tapas and Spanish prawns are also well worth a bite.
Aqualand El Arenal
Have you got the kids with you? Make sure to take them to Aqualand El Arenal. Recently it got some slightly poorer ratings – but if you have the kiddos by your side, you won't hear any complaints!
Where to stay in S'Arenal
This five-star resort is the ultimate in luxury. Treat yourself at the spa, order room service to your spacious room, and enjoy the amazing location in the heart of town.
Planet One is a short walk from Playa de Palma beach, and is great for a stay in Mallorca that is affordable, comes with a swimming pool, and is close to restaurants and eateries.
Wondering where to stay in Mallorca for cheap? You won't go wrong with Das Hostal. The hostel is a couple of feet from the beach, bars, restaurants, and all the action!
Pros and cons of staying in S'Arenal
Pros
Affordable
Close to parties and beaches
Cons
Best Places to Stay in Mallorca for Your Travel Type
Best for first-timers: Palma Nova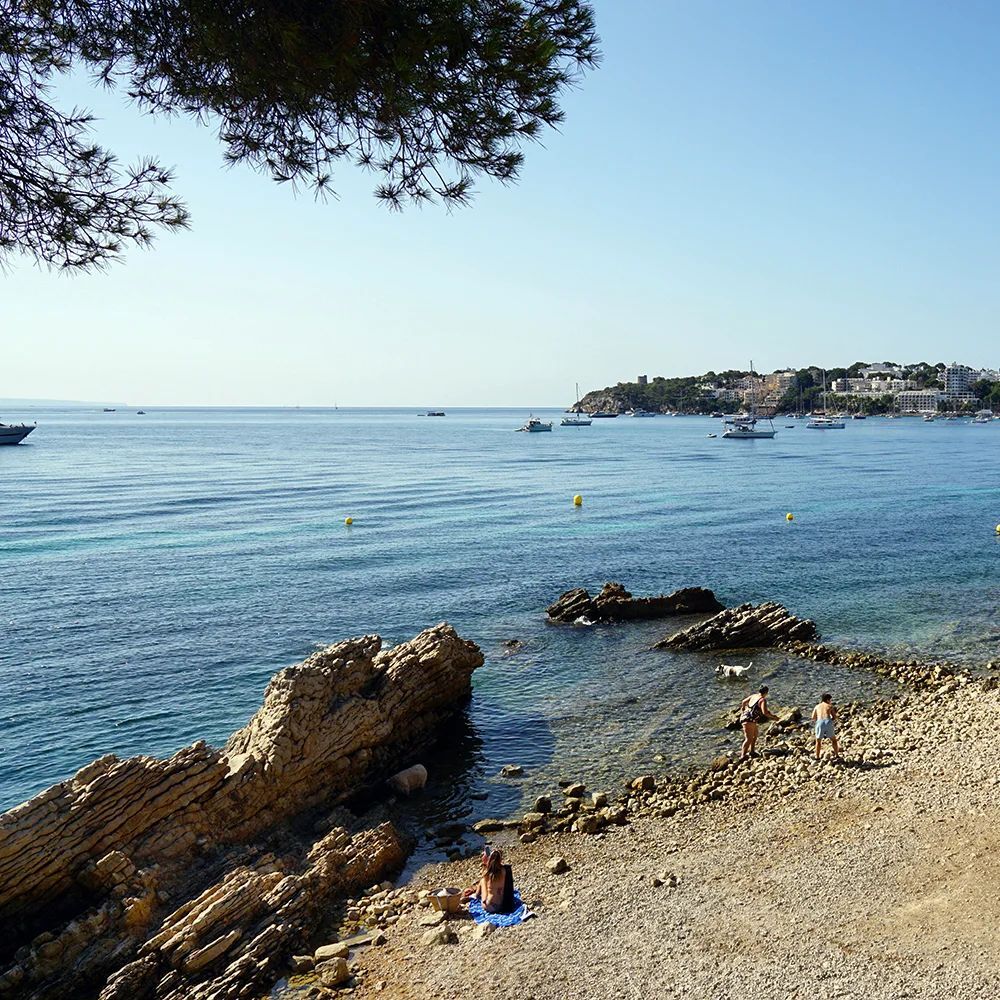 Palma Nova is just 25 minutes from the airport but is far enough away from the bustle to allow you to settle down and unwind. Find your feet at the gorgeous beaches, knowing the restaurants and pubs of Palma de Mallorca are just a short drive away.
Palma Nova has reliable transport that can connect you to the rest of the island, making it the best place to stay in Mallorca for first-time visitors.
Best for families: Port d'Alcúdia
If you are looking for the best area to stay in Mallorca with your family, make your way to Port d'Alcúdia in the north.
There is so much to do and many places to stay! Some great family-friendly activities include:
A beach day at Playa de Alcúdia
Renting jet-skis
Visiting the Hydropark Alcudia
Speeding around at Kartingmania
Riding horses as Ranxo Ses Roques
Best for couples: Porto Cristo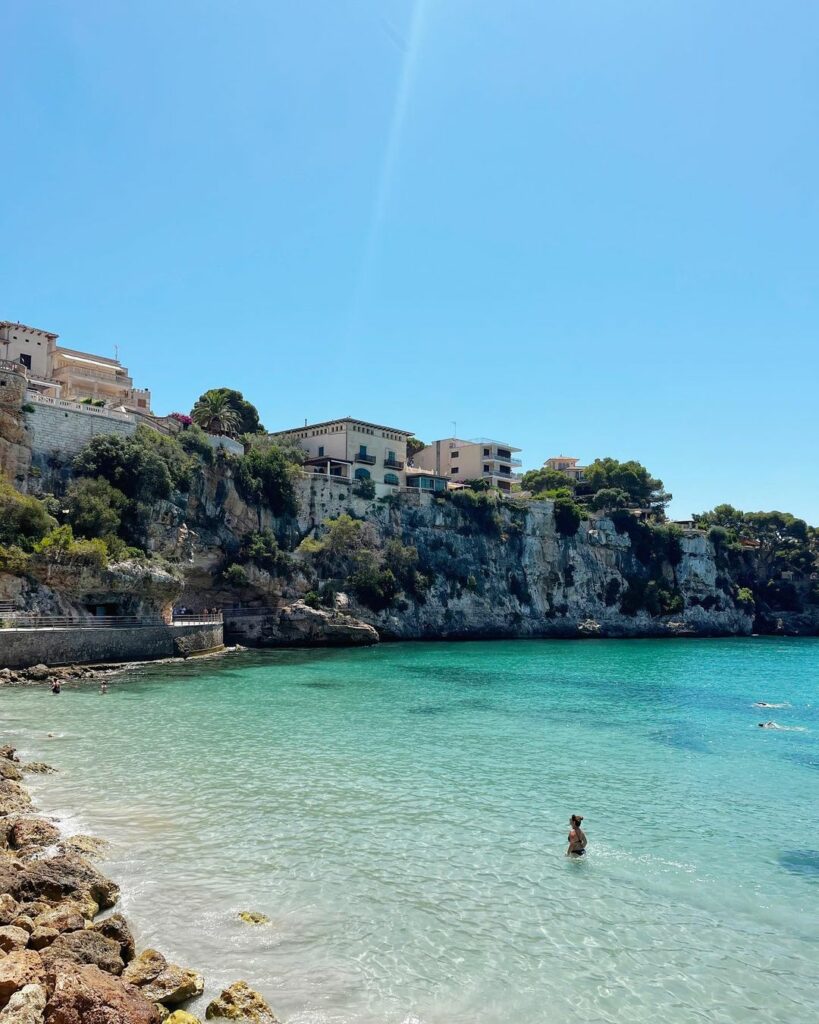 Porto Cristo is a resort town on the east coast. Couples looking to stay in Mallorca will love this secluded spot. There are lots of beaches nearby, sandy coves, and an absolutely adorable waterfront!
Stroll hand-in-hand past ancient stone homes, white-washed villas, and historical buildings. There are even some mythically named Dragon Caves to explore!
Best for adventure seekers: Cala San Vicenc
This resort town in the north has three small beaches to explore. Jump into the sea off of the coastal rocks, snorkel and dive in the clear waters, or head inland to the Cala San Vincenc hiking route to work up a bit of a sweat.
The Cuevas de l'Alzinaret caves are located here if you want to put on your exploration hat.
Best for nightlife: Magaluf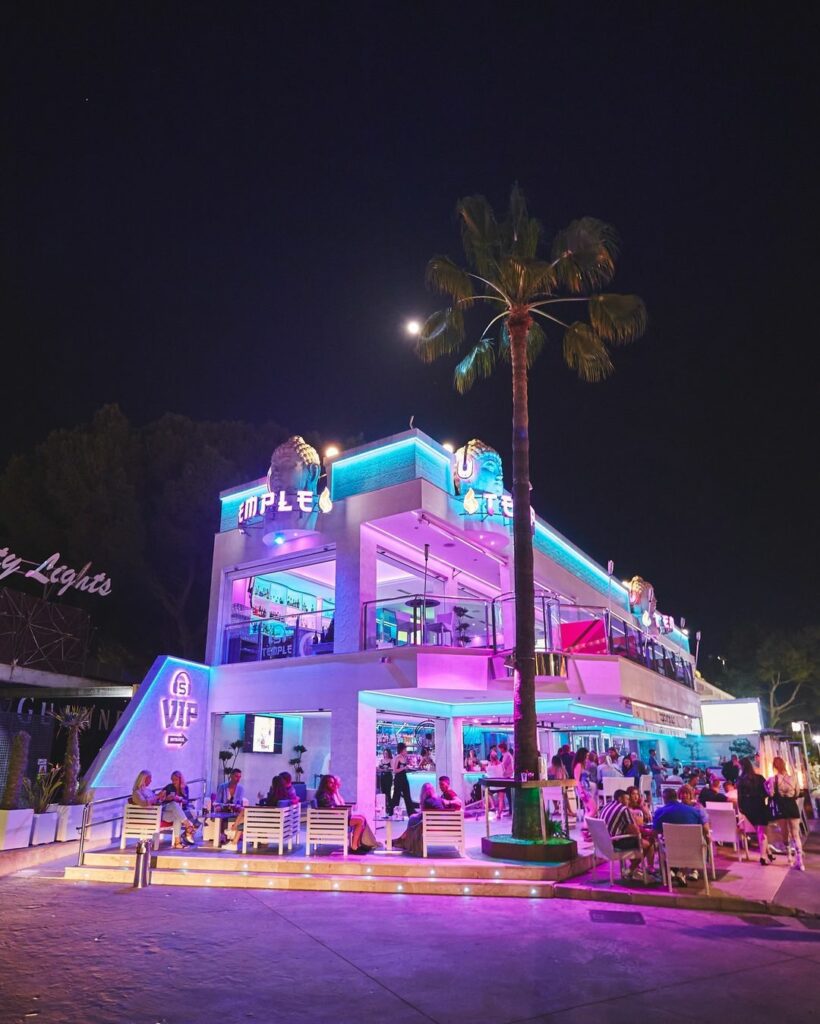 The best area to stay in Mallorca for parties that almost never end is Magaluf.
Magaluf is the party hotspot on the Balearic Sea. Day or night, you will find something happening here. Get ready for rowdy tourists, pumping music, flowing drinks, beach bars and a lot of feet stomping! Of course, you can also relax at the beach or at your swimming pool – it is not just go, go, go 24/7.
There are mostly only beach resorts to stay in, which can get pretty pricey, especially during summer.
Where to stay in Mallorca for best beaches: Illetes
Everywhere in Mallorca pretty much has the best beaches! But Illetes stands out from the rest.
Illetes is 20 minutes south of Palma de Mallorca. This ideal location means it benefits from the calm waters of the bay, but has plenty of upscale beach resorts and clubs.
There are three main beaches here:
Playa de Illetes: A wide, sandy beach with rocks on either end
Cala Oli: A small rocky cove
Cala Comtesa: Another rocky cove with some swimming spots
Overview of Accommodation in Mallorca
There are so many different places to stay in Mallorca. You can find accommodation for any budget and type of traveler. Let's check it out:
Hotels: Mallorca hotels are world-famous. There are so many beachfront hotels and resorts, with swimming pools, spas, bars, and some of the best dining on the island. From budget hotels to 5-star luxury resorts, there are hotels for solo travelers, digital nomads, families, friend groups, and couples.
Villas: Enjoy the beautiful beaches from your own private villa! If you are looking for privacy for your group or family, these Spanish villas are brilliant (but expensive).
Apartments: Apartments almost offer you the same privacy as a villa, but they're much more affordable. From beachfront apartments to flats in the city center or in an apartment complex – travelers who want their own space or to stay a bit longer will benefit from booking an apartment.
Airbnbs: It will come as no surprise that Mallorca has dozens of Airbnb options. From entire villas to single bedrooms – there are budget and luxury options available and it affords you some privacy too.
Hostel: Budget travelers will be happy to hear there are backpackers and hostels on the island. You can check into a dorm for low, low prices or book a private room in a hostel and make use of the shared spaces.
Conclusion
Mallorca is an absolute gem off the coast of Spain. This island in the Mediterranean Sea receives thousands of tourists every year, and they all need somewhere to stay!
With my guide to the best places to stay in Mallorca, I am sure you and your travel partners will have an amazing time on the island. Whether you stay in a luxury five-star beachfront resort or opt for a dorm bed in a hostel, you really won't be disappointed.
Frequently Asked Questions
Which part of Mallorca is the best to stay?
There isn't a single "best part" of Mallorca! Magaluf is great for partying, Palma de Mallorca allows you to explore the island, Alcudia is perfect to experience historic sites, and in between you will find quaint towns and villages with hidden gems and hiking trails.
Should I book an apartment or a villa? 
It really depends on your budget. If you are a small family looking to stay affordably, opt for an apartment. Villas can cost thousands of dollars a night but are perfect if you are a larger group looking to splurge.
Which hotel to choose for my honeymoon?
Here are some of my top picks for honeymooners:
– Iberostar Selection Jardin del Sol Suites
– Hotel Illa d'Or
– Nakar Hotel
– Hotel Astoria Playa (adults-only hotel)
Are these hotels pet-friendly?
There are several pet-friendly Mallorca hotels, including:
– Blue House Mallorca
– Nakar Hotel
– Palma Riad
– Niva Born Boutique Hotel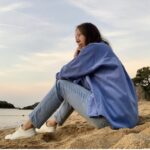 Hello, my name is Nadia.
I usually write about traveling (there are so many places to fit all the lifestyles), relocation (finding a job overseas or moving without losing an income), and living in a foreign country (adapting to a different culture and mentality). Follow me on Twitter, Facebook, Instagram, or LinkedIn!
This post might include some affiliate links. If you make a purchase through these links, I may earn a small commission at no additional cost to you. I appreciate it when you use my links to make purchases.