17 Best Castles in Spain You Should Visit in 2023
Nadia Podrabinek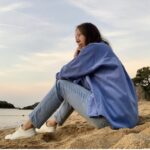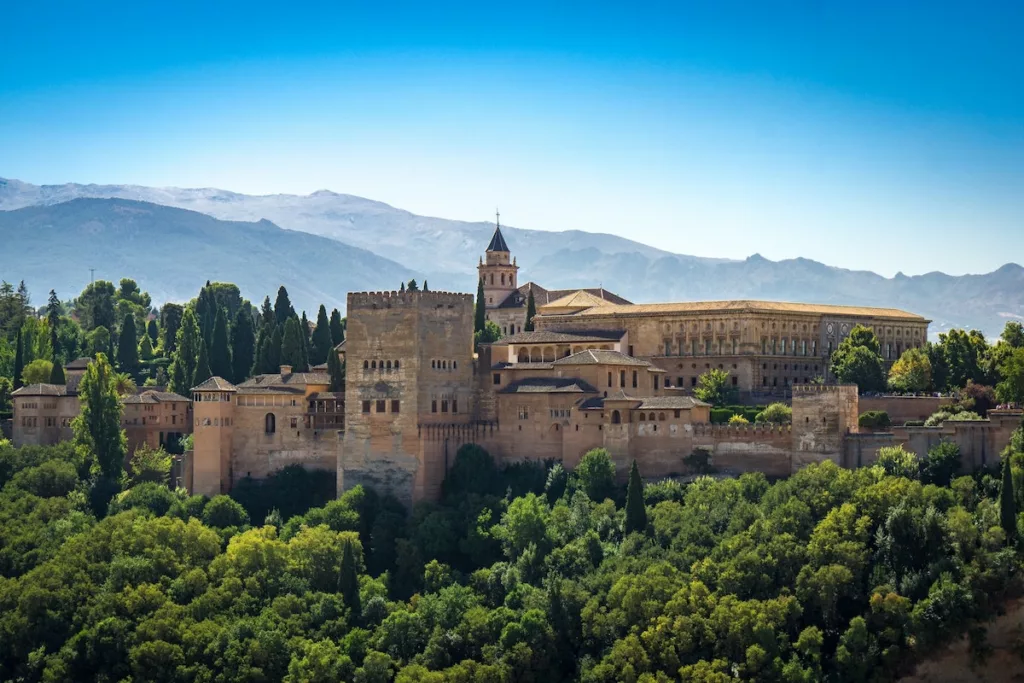 Spain is home to the largest number of European castles. There are about 10,300 fortified structures, mostly in the autonomous communities of Castile y León, Castile-La Mancha, Catalonia, Aragón, and Jaén.
From the early Middle Ages, when the Holy Reconquista began, local rulers built fortresses and other defenses to protect the lands they had recaptured from Muslims. Later, during internecine feudal strife, these rulers had to defend themselves against their neighbors. The ongoing struggle for royal power also caused many wars throughout Spain's land.
It is that century after a century has created the magnificent architectural heritage of what would become the great Spanish Empire.
Best Castles in Spain Map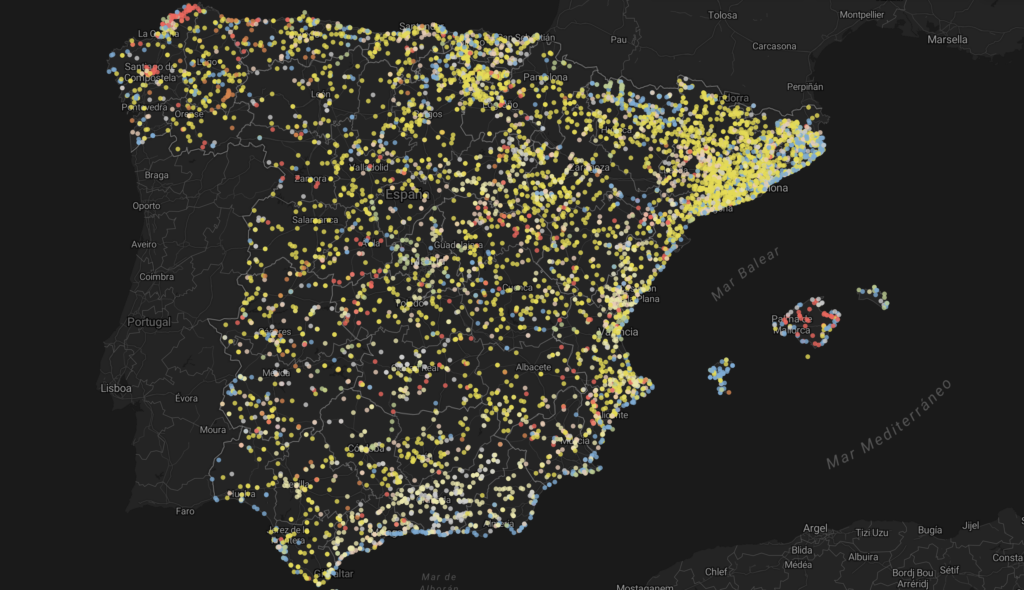 Fortunately, World War I and II passed by Spain at its leaders' behest, allowing them to preserve much of this rich cultural legacy.
Interesting fact The Spanish Ministry of Culture does not offer any number of castles in Spain. So, the Spanish Association "Friends of the Castles" has made an effort and has put the number at 10,342 but recognizes that there are still many to be collected.
Read also: 19 Abandoned Castles & Sights in Spain
Best Spanish Castles to Visit Map
The Best Spanish Castles to Visit in 2023
1. Castle of Coca, Segovia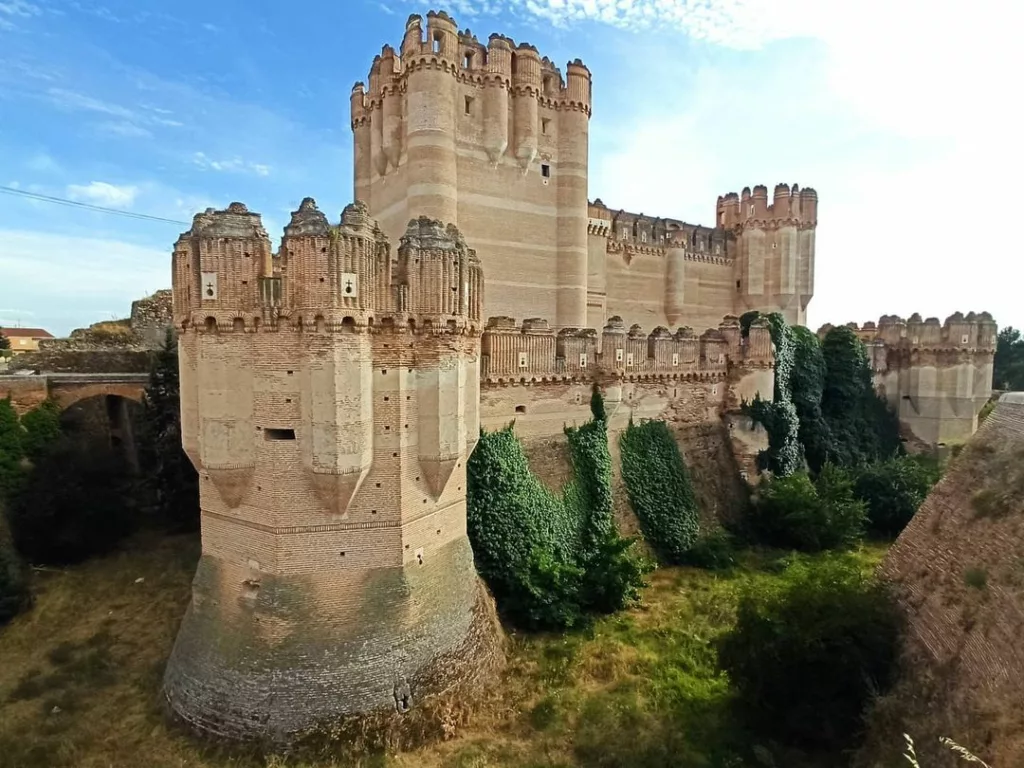 Close your eyes and imagine a fairytale castle with towers, turrets, high walls with battlements, and a defensive moat teeming with crocodiles. Now open them to marvel at the Castle of Coca on the Voltoa River in Coca municipality, central Spain – one of the most spectacular castles in the country!
There are many reasons for this title: Its construction began in the 5th century, combining all that was best from Medieval architecture styles; it is an example of Spanish Gothic and Mudejar style; furthermore, it has been declared as National Monument by the state authorities due to its impressive defensive system.
In Spanish, "сastillo" translates to "castle".
2. Caudilla Castle, Toledo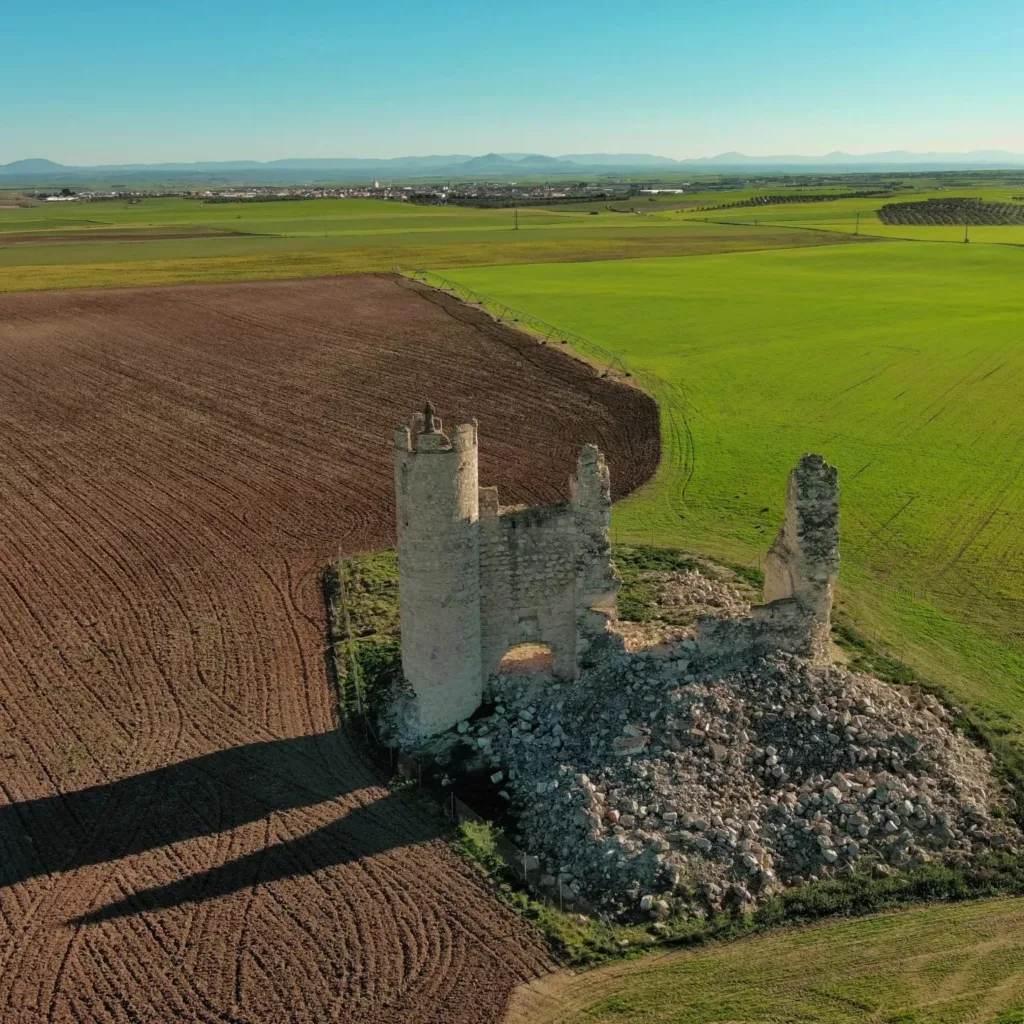 The Caudilla Castle is one of the most photographed places in Toledo, thanks to its decadent charm evident from ruins that can be seen all over the region. These have been featured on hundreds of Instagram accounts. Despite this attraction for tourists and curious onlookers alike, it has not generated wealth for the area, nor has a single business established itself nearby.
The building was erected during the 15th century by Hernando de Rivadeneyra, who bought Caudilla's village and municipal district from Fernando Álvarez de Toledo (first Count of Alba) in 1447, making it part of 'the big five' palatial dwellings within Toledo with machicolations and sentry boxes around each side but without military character.
3. Manzanares el Real, Madrid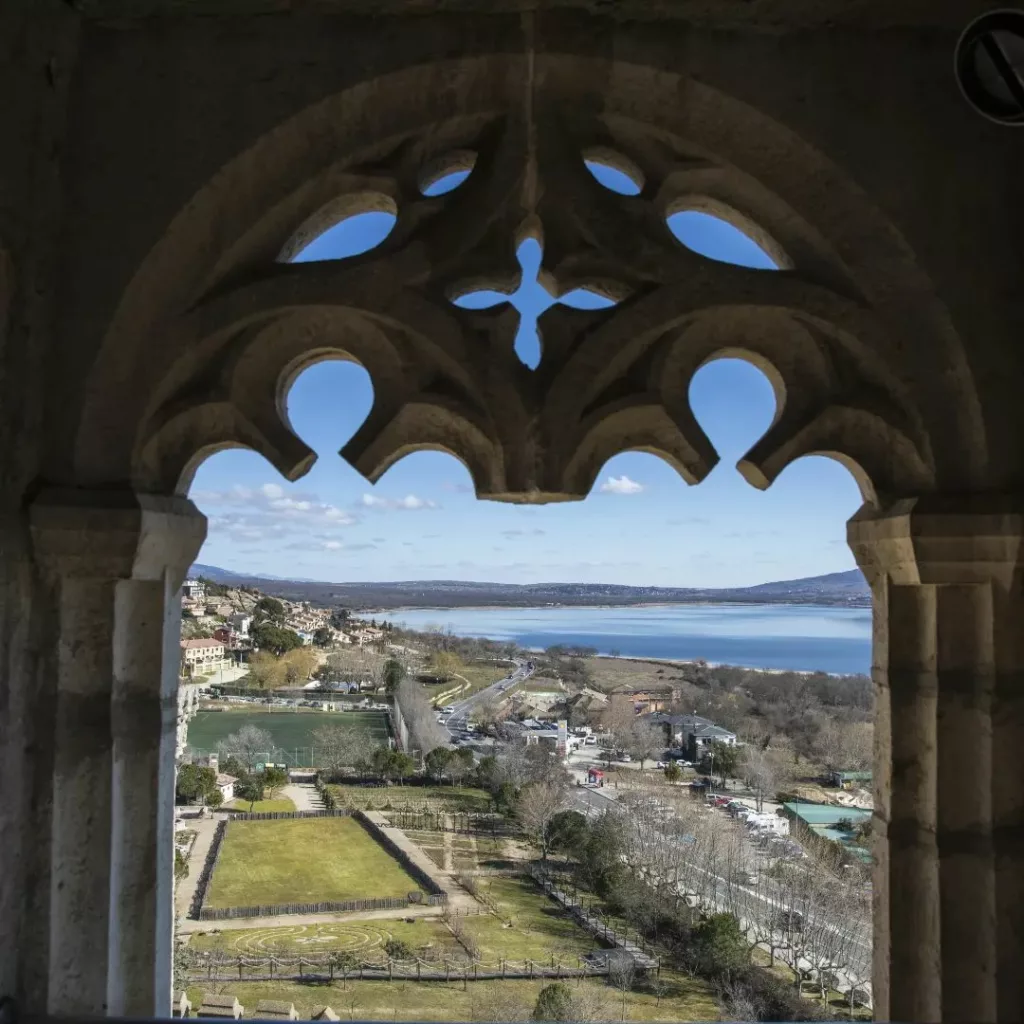 As you approach Manzanares el Real, with the reservoir, river greenery, and Pedriza mountain range in the backdrop, you can understand why the Mendoza family held power over this area for centuries.
Sitting atop a small hill near an old church built in 1479 stands Manzanares el Real – one of Spain's best-preserved castles to date.
It is a major tourist attraction bringing hundreds of thousands of euros into town each year; indeed, it serves as proof positive that things can be done well when people put their minds to it – if you're envisioning what your quintessential castle should look like than think no further than Manzanares el Real!
4. Alcázar de Segovia, Segovia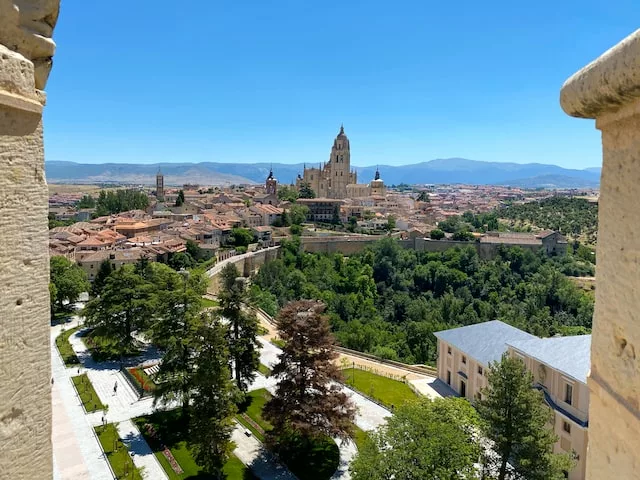 Segovia Castle has long witnessed the history and destinies of many Spanish royals. Built by Christian monarchs, it stands on top of a rocky perch at the western end of the old town, overlooking its beautiful countryside.
Archaeological excavations suggest its first construction began during the Roman Empire, with mention of it in documents since the 12th century.
Over time, King Philip II extensively renovated and expanded this castle into one of medieval Spain's most luxurious strongholds. Nowadays, The Fortress is recognized as a Historic and Artistic Monument by Spanish authorities.
The Spanish word "alcázar" has Arabic roots and stands for "citadel" in English.
Throughout history, it has served many purposes, including being used as a fortress, palace for twenty-two monarchs, military academy, prison, and even Royal Artillery College.
One unique feature that draws travelers to this site is its aqueduct which Romans constructed to bring water from the Acebedo River into the city.
The shape of this castle resembles that of an ancient ship bow due to intricate architecture crafted during the Medieval period without any use of cement or mortar, yet standing solidly today!
5. Templar Castle, Ponferrada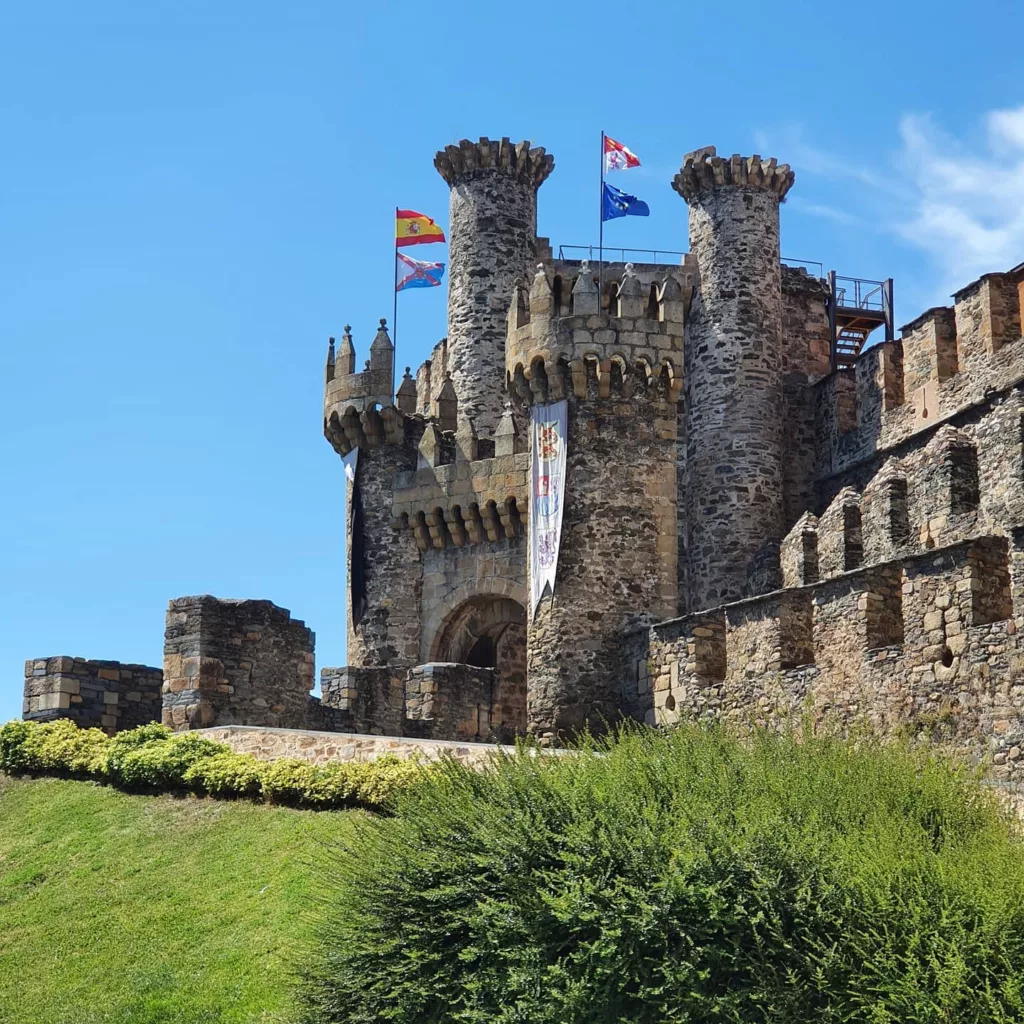 This Templar Castle looks like it was taken from a chivalric movie. It is situated in Ponferrada, atop a hill at the convergence of the Sil and Boës rivers, in the Castile and León region of northwestern Spain.
The origins of this castle date back to a pre-Roman Celtic fortified settlement built atop the same hill; however, its fame was brought about by Templars, who owned it until the 14th century.
Read also: 13 Best Palaces in Spain
Templar Castle in Ponferrada is absolutely unique due to centuries of modifications and extensions.
I recommend visiting this castle to admire its armory and view what remains around its main entrance with two towers – embrasures preserved!
6. Loarre Castle, Huesca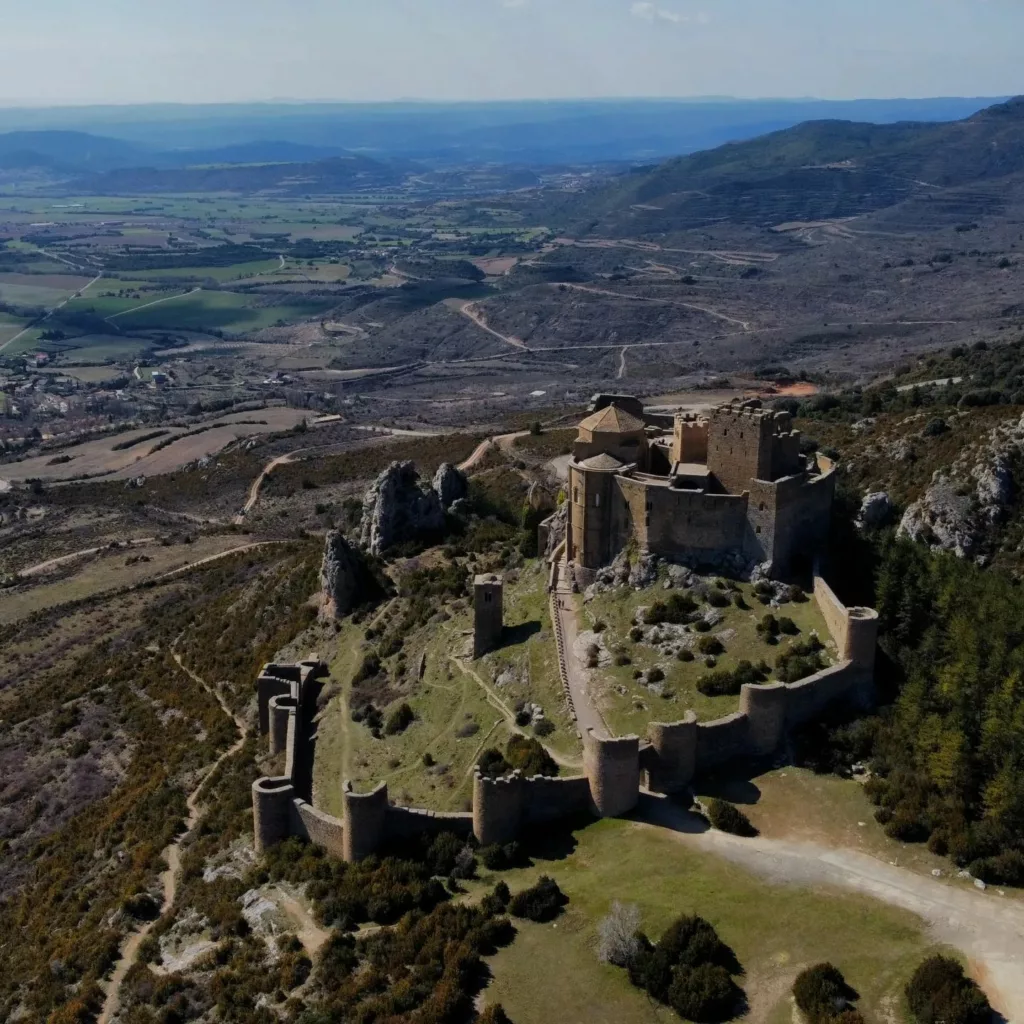 The ancient Kingdom of Aragon is associated with medieval castles and fortresses for many tourists traveling through Spain.
In fact, it has something to surprise its guests! The silhouette of the Castle of Loarre can be seen from a distance – situated on top of a limestone rock surrounded by deciduous forest – giving it an extra charm and drama.
This Romanesque castle was built in the 11th century and remains very well-preserved; its atmosphere is so impressive that you almost feel monks still living there according to their ancient canons.
No wonder Ridley Scott chose this castle for his "Kingdom Of Heaven" movie. "Game of Thrones" was also filmed here!
Its 172-meter wall encircles the perimeter, and just after you pass through the gates, you'll find St. Peter's Church which gives insight into life during jousting times.
Climbing up towards the tower offers expansive views over Huesca – sure, you won't want to miss out!
7. Olite Castle, Navarra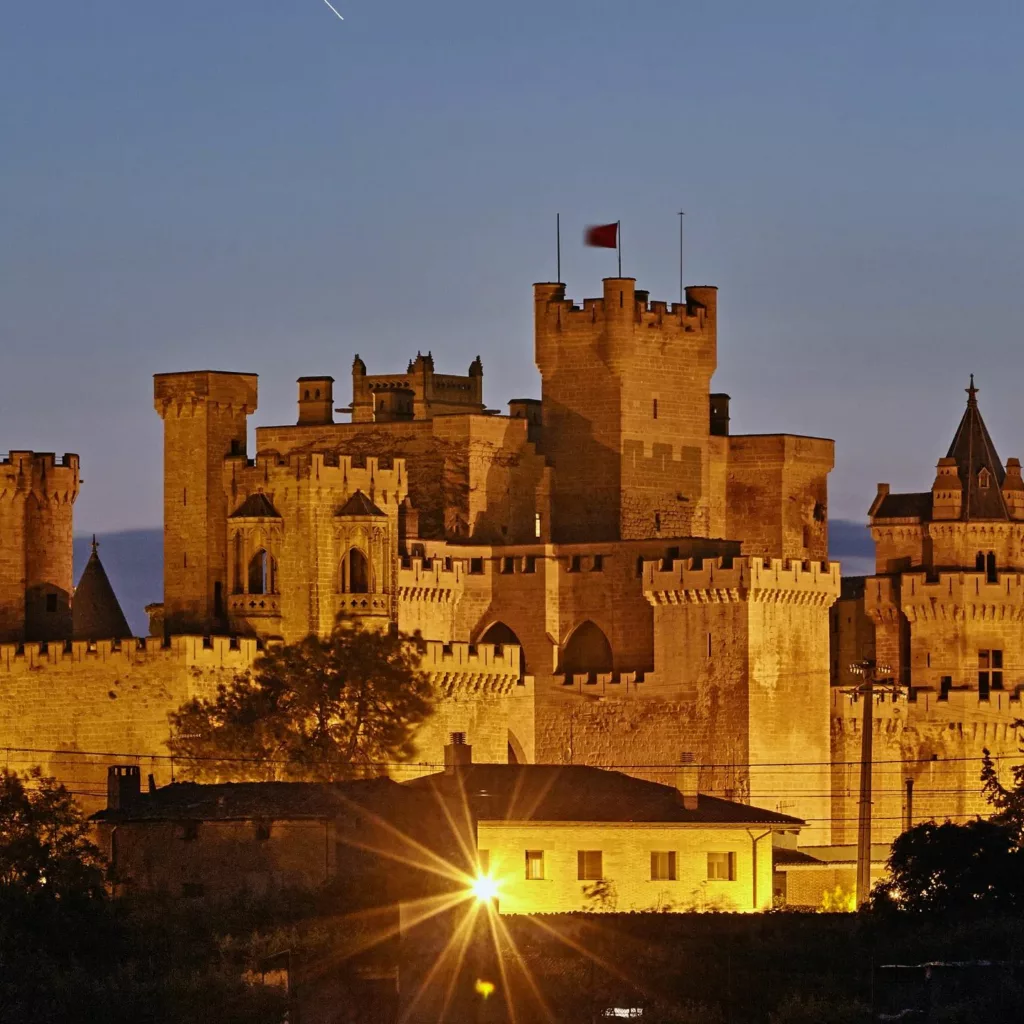 The full name of the castle is "Royal Palace of the Kings of Navarre in Olite." Built between the 13th and 14th centuries, it served as the principal residence for Navarra's kings.
Today, this perfectly-preserved castle boasts both restored elements and those secrets from its medieval inhabitants. Its towers, inner courtyards, and passages are all open to tourists from around the Kingdom of Navarra to see it.
Read also: Things to do in Olite & Hondarribia, Spain
An interesting addition adjacent to the palace is an egg-shaped building used as a refrigerator during Middle Ages – its ice never melted, even in summer!
During the prime of the Kingdom of Navarre (13th-14th centuries), Olite Castle was renowned for its beauty and luxuriousness throughout Europe; it boasted 365 rooms, one for every day in a year.
The castle underwent serious reconstruction in the 20th century. Part of it became a Parador hotel chain where people can stay overnight amidst royal chambers and explore court intrigues through meandering along its labyrinths.
8. Peñafiel Castle, Castile and Leon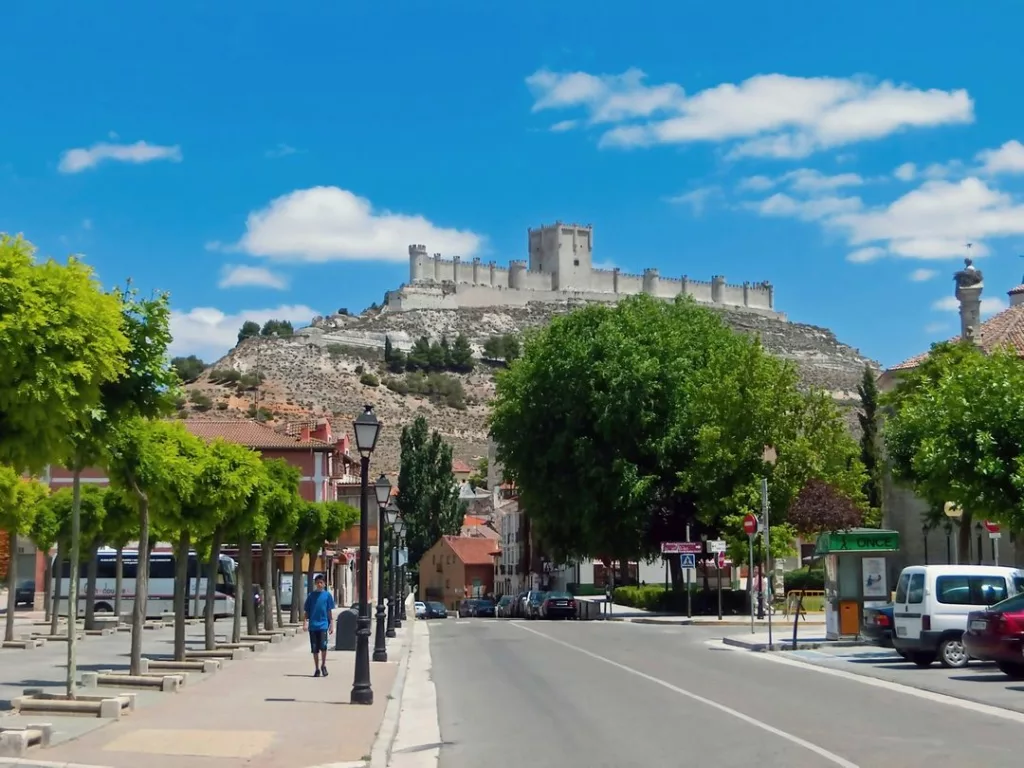 Have you ever seen a fortress in the shape of a ship? If not, you should definitely visit Peñafiel Castle near Valladolid. It stands 35 meters wide and 210 meters long atop an elevated ridge with a whimsical, elongated form on top.
King Leon Ramiro II declared this white stone fortification an official National Monument in 1917. Later, the castle was remodeled for its modern look by Infante Don Juan Manuel.
A true marvel of medieval architecture, it boasts one watchtower as well as the Wine Museum within one of its halls – both making incredible additions to your castle-hopping journey through Castles and Palaces across Spain!
9. Castle of La Mota, Castile and Leon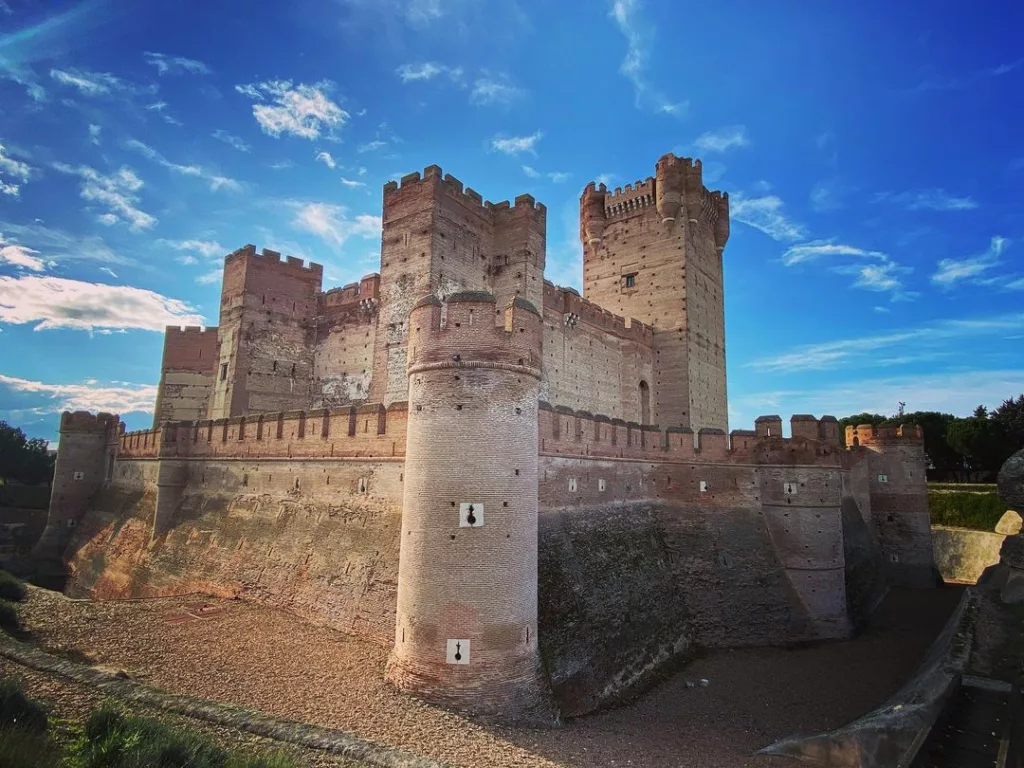 Another witness to the major historical events of Spain is the Castillo de la Mota in Medina de Campo, Valladolid.
Its observation decks provide a sweeping view, allowing you to enjoy the beautiful surroundings. An impressive wall of red brick – typical for this area – encircles the castle, which was registered as part of Spain's Cultural Heritage in 1904 and today enjoys protection from the state government.
The castle has a tough and long history; it endured numerous wars that left their mark on its walls, telling us now about the Spanish heroic past. In addition, some famous characters, such as Cesar Borgia, were held captive within these walls only to escape by descending with a rope from one of the towers' windows.
10. Bellver Castle, Mallorca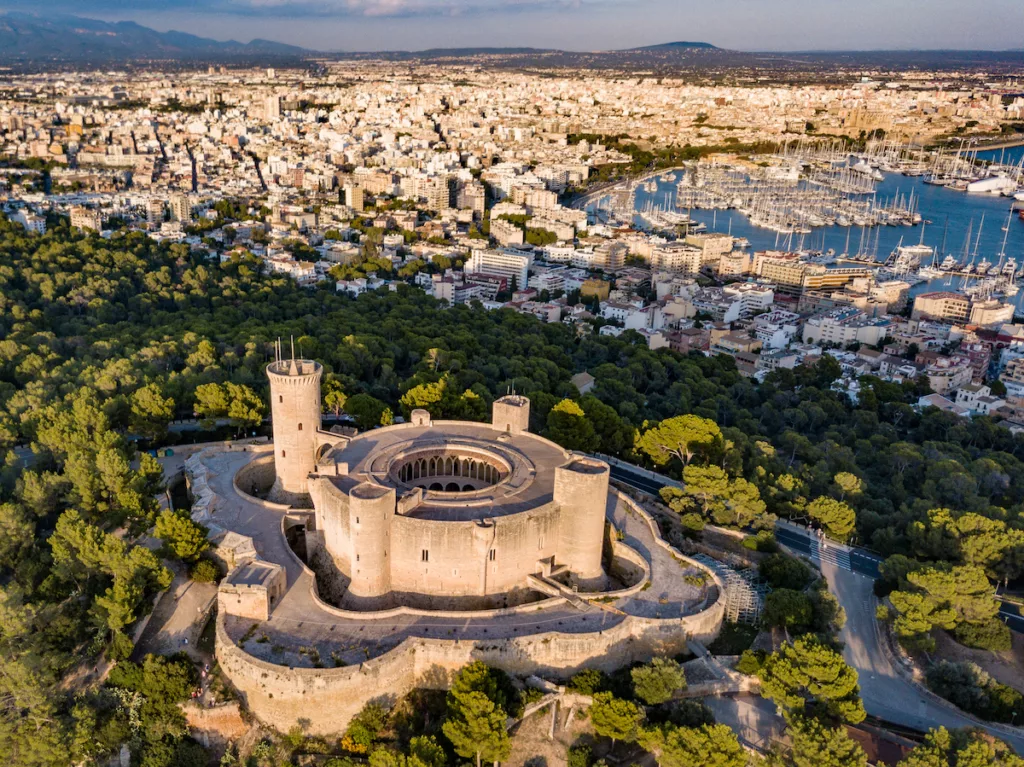 Bellver Castle, a rounded fortress built for King Jaime II between 1300 and 1311 as his residence, stands atop a mountain 368 feet (112 m) high overlooking Palma de Mallorca.
Read also: Things to do in Palma de Mallorca
This sandstone structure served various in the 18th century as a jail for political prisoners before being taken over by Majorca's municipality in 1931, transforming into a museum and prison again in 1936.
Since 1976 though, it finally returned to its original purpose – acting as an introduction to ancient historical dynamics of Palma de Mallorca while occasionally hosting cultural events such as classical music festivals.
11. Butrón Castle, the Basque country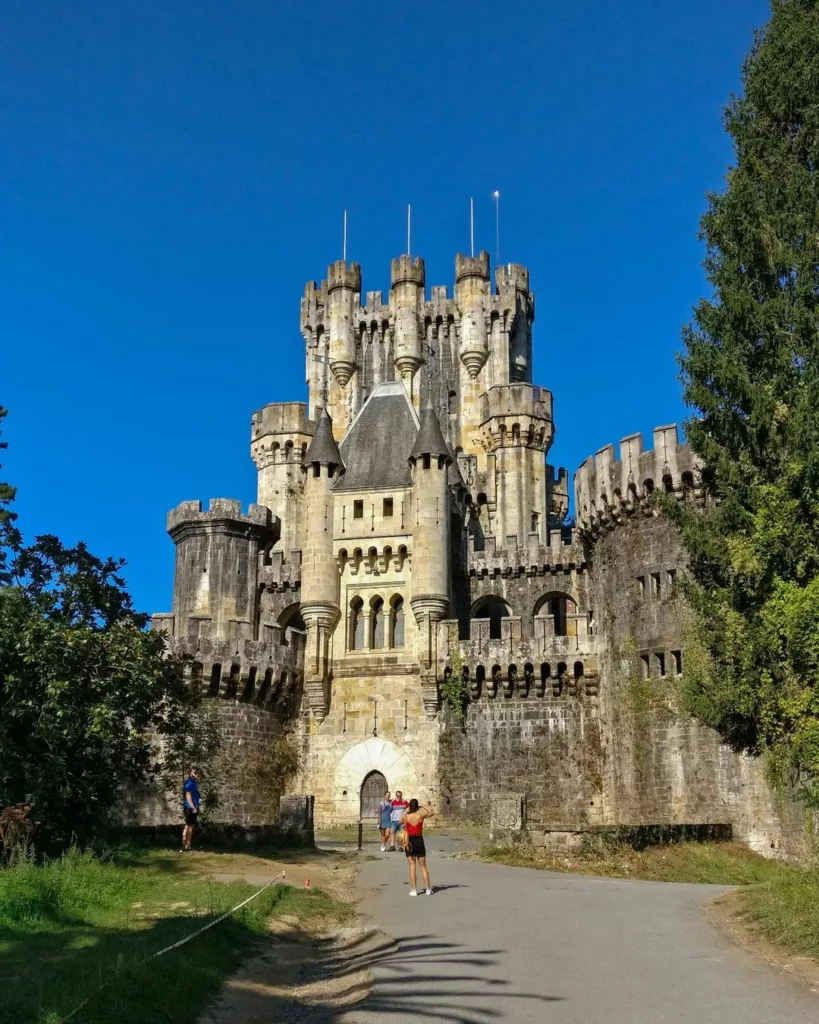 Butrón Castle, often called the "Spanish Walt Disney castle," originated in the 13th century amidst internal struggles among the Biscayan nobility.
You will find it 7 miles (10 km) north of Bilbao, in the Basque Country. You'll immediately notice its unusual architectural features that remind you of 19th-century German castles (although some say it was an extravagant undertaking by the Spanish architect Francisco de Cubas).
The last characteristic this remarkable building boasts today is that it's for sale – although many of its towers lack livable space!
Overall, it is a photogenic castle buried under extravagant history and grandeur!
12. Belmonte Castle, Cuenca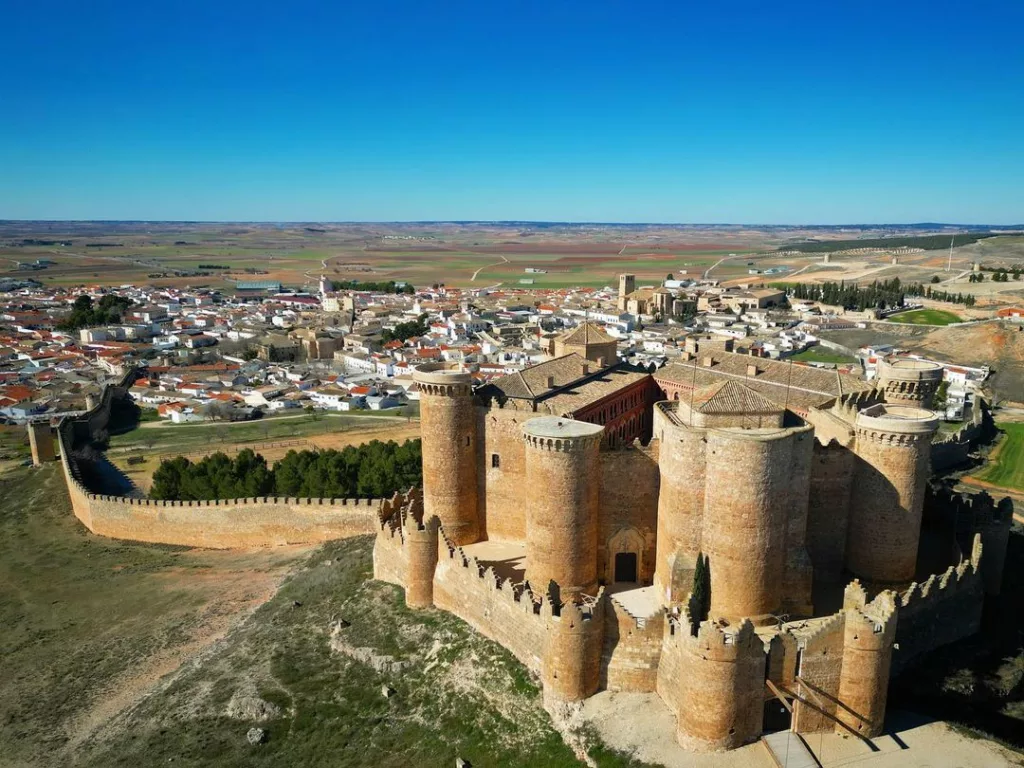 On the hill of San Cristobal stands the Castle of Belmonte, a National Monument. Constructed in the 15th century – before America's discovery – it became the property of Empress Eugenia de Montijo, who married Napoleon III.
For five years now, this castle has been home to International Medieval Combat Federation competitions, hosting annual events for more than 500 medieval fighters from around the world.
The International Medieval Combat Federation is dedicated to recreating full-contact historical fighting. Competitors wear historically accurate replicas of medieval armor and weapons while participating in contests according to genuine tournament regulations.
13. Peniscola Castle, Castellón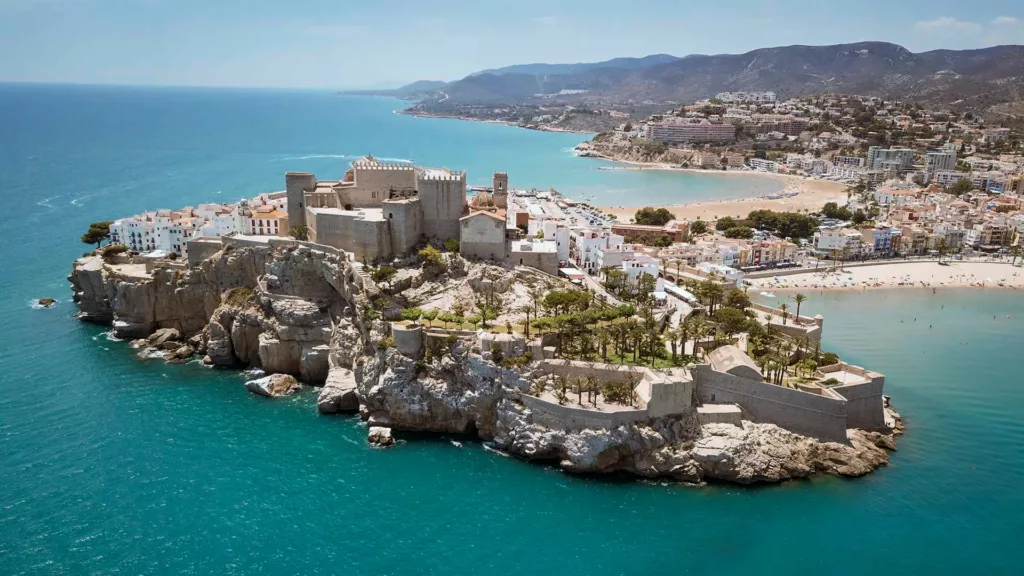 Constructed in the 14th century, the castle of Peñíscola stands atop a rocky hill near Castellón. It was originally built by members of an order known as The Templars, and their design followed that seen on fortresses in the Holy Land.
After falling into disuse following its abandonment by The Templars, it became home to Benedict XIII or "Pope Luna" for some time. Then, Peniscola Castle underwent multiple remodels over the centuries, most notably during the War of Independence (1808-1814) when French forces occupied it.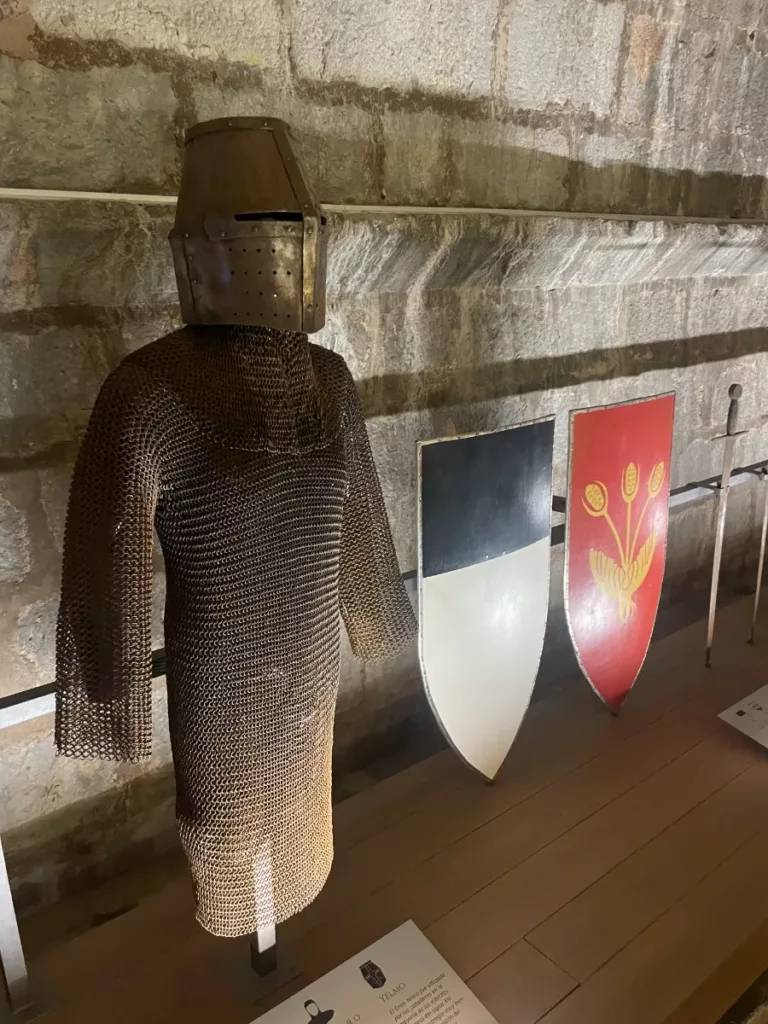 Nowadays, fans of Game Of Thrones will recognize this impressive structure from episodes featuring Meereen!
14. Castillo de Almodóvar, Córdoba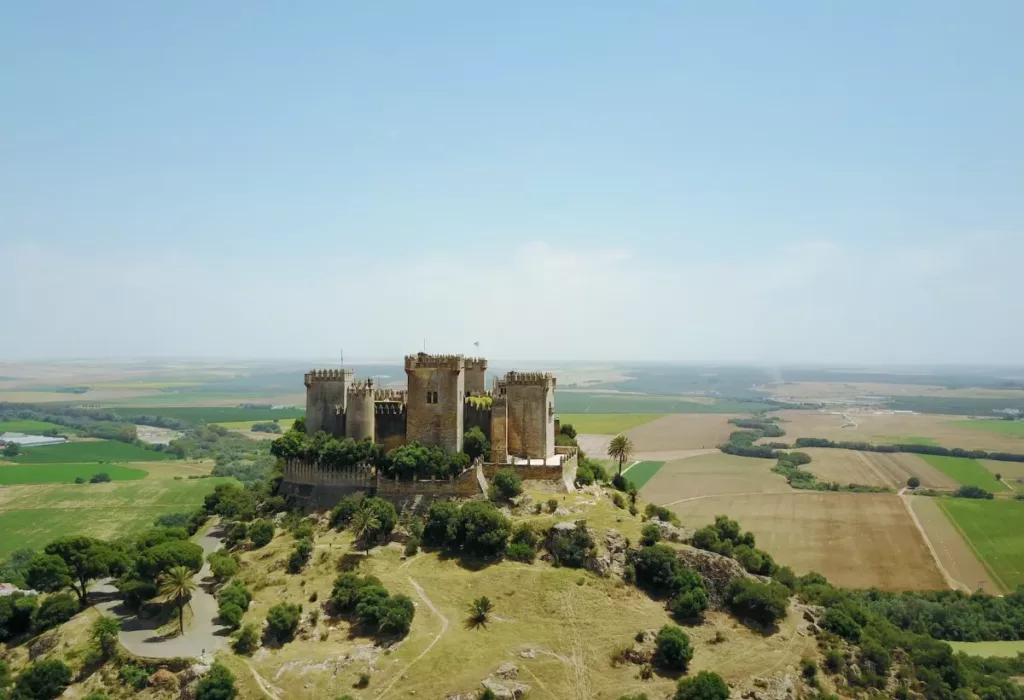 Situated atop La Floresta Hill in Córdoba, Spain, the Castle of Almodóvar is among the most imposing castles in the southern Iberian Peninsula.
Dating back to the 8th century and built in Muslim style, it underwent several reforms during Middle Ages. Its impressive features include towers with battlements and numerous patios.
The beauty of its gardens didn't go unnoticed by David Benioff and Daniel Weiss, creators of "Game Of Thrones," who used its patio as a setting for House Tyrell kingdom – Highgarden. It wasn't only this scene that was filmed here; dungeons at the castle were also part of Roca Casterly's realm.
Read also: Game of Thrones filming locations in Spain
15. Zafra Castle, Guadalajara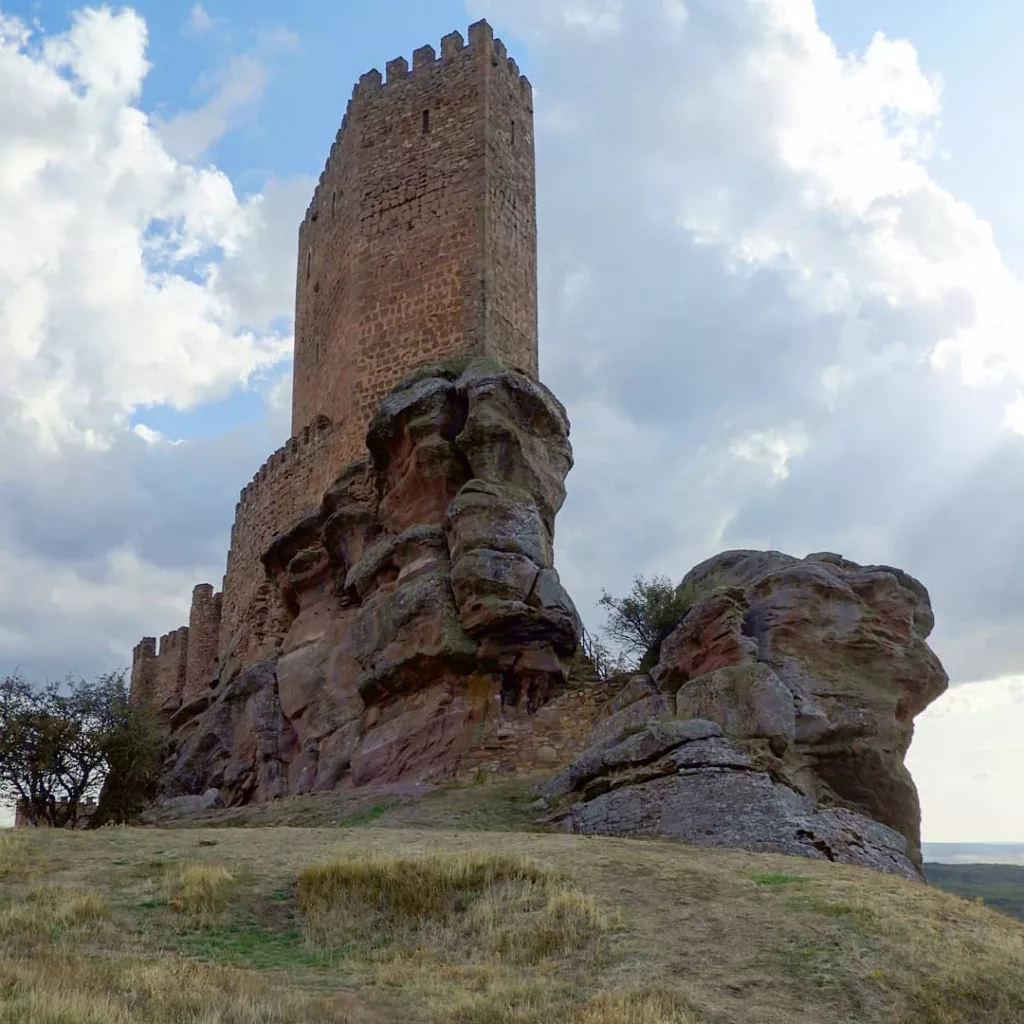 Nestled in the middle of Spanish Siberia – so named for being one of the coldest areas in Spain and among its least populated regions – stands Zafra Castle, a 12th-century fortress perched atop a rocky mound featuring its keep tower.
Once renowned for difficult access, today it doubles as Tower of Joy in Game Of Thrones (Season 6, Chapter 3).
Unfortunately, due to private ownership, visitors are only allowed to explore exterior grounds: 16,145 square feet, which feature walls surrounding the castle complemented by four defending watchtowers.
16. Burgalimar Castle, Jaén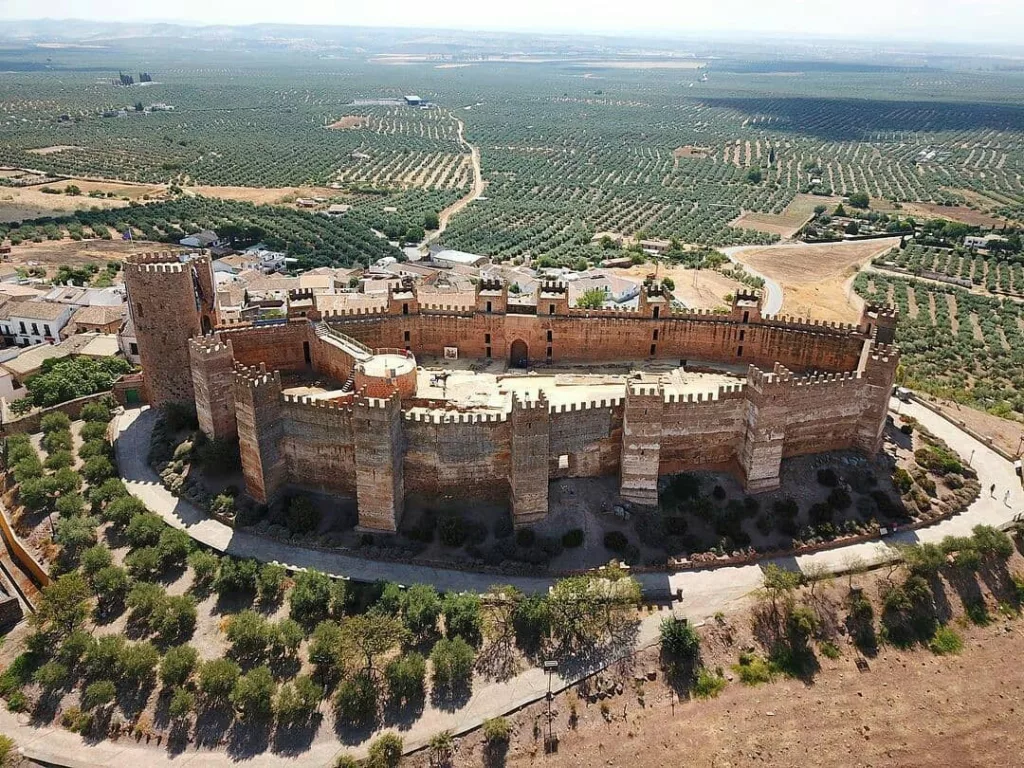 Constructed in the 10th century, Burgalimar Castle is located upon a hill in Baños de la Encina, Jaén. It is also known as "Castillo de Baños de la Encina o de Burgalimar."
This Umayyad-origin structure is considered Europe's second oldest castle. It features 14 defensive towers and one Tower of Homage erected by Christians.
The Fortress has been remarkably preserved since its initial construction during the Muslim conquest and remained home to seven Spanish kings; Alfonso VII, VIII, IX; Pedro II; Sancho VII; Fernando III & Fernando Catholic.
Established in 661 AD in Damascus, Syria, the Umayyads were the first Muslim dynasty to have ruled for 89 years before ending in 750.
17. Ampudia Castle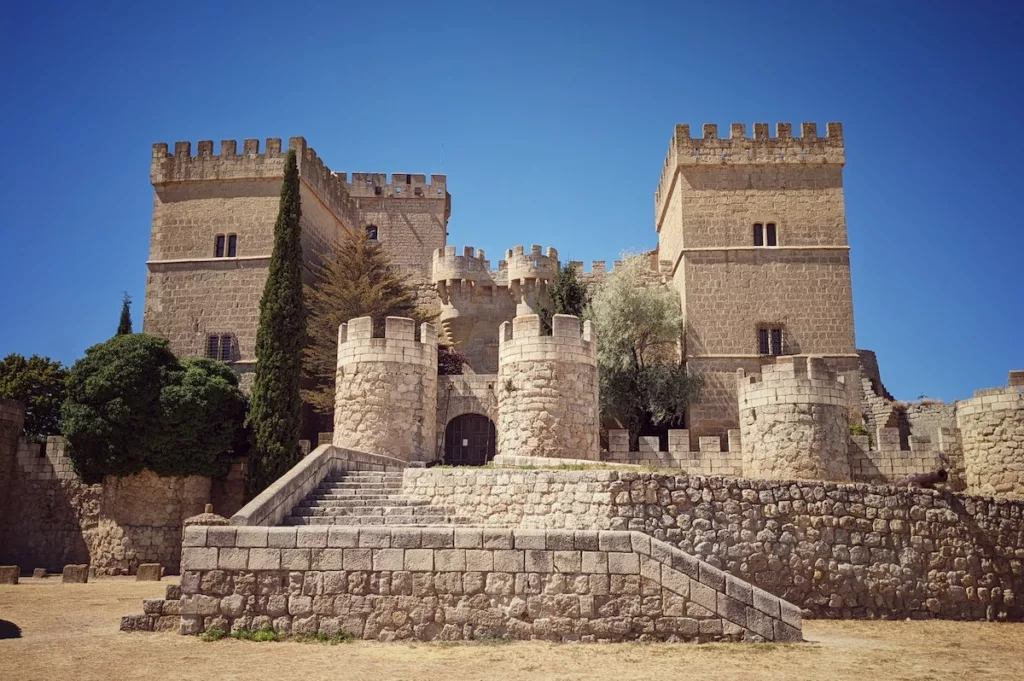 This castle, the best preserved in all of Palencia province, dates between the 13th and 15th centuries. It was also declared a national monument in 1931.
The castle showcases an eminently Gothic architectural style. Many nobles have owned it throughout history, such as Counts of Salvatierra, D. Juan de Alburquerque (1280-1354), Ducal House of Alba, or Counts of La Granja. Prominent figures like King Ferdinand the Catholic and Charles V have also visited this palace.
When inside, you can admire an extensive collection of antiques, such as famous art pieces and weapons.
Bonus: The Alhambra, Granada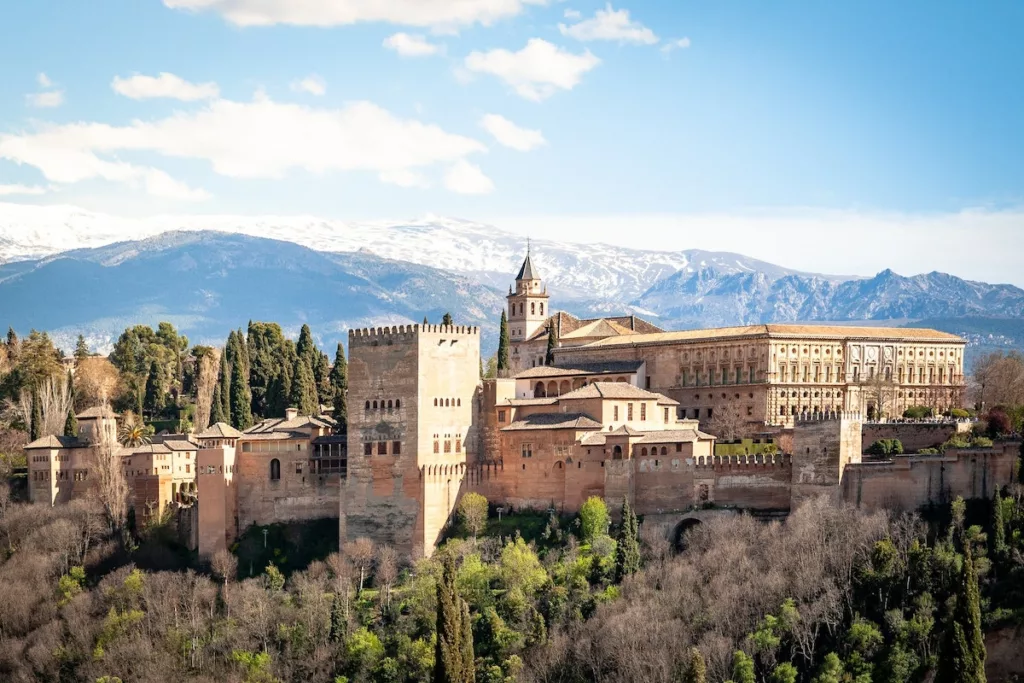 I definitely haven't forgotten about the Castle of Alhambra in Granada, Spain.
This impressive complex was built from 1362-1390 by King Boabdil and his court to serve both religious and military functions.
It's most remarkable feature is its intricate Moorish architecture including horseshoe arches, domes with muqarnas (decorative plasterwork) designs on their ceilings, ornamental pillars and other embellishments throughout the building as well as defensive towers providing views over the city below – a reminder of when they were used against Christian invaders during Spain's Reconquest period.
The name Alhambra has its origins in an Arabic word meaning "red or vermilion castle," perhaps due to the color tone of the towers and walls that surround the hill of La Sabica, which under the light of the stars is silver, but under the sunlight acquires a golden hue.
Located nearby are two conical peaks known locally as "horns," symbolic guardians that have been part of local legend since at least medieval times believed to ward off evil spirits coming through open gates in fortress walls!
You can explore many parts today such as gardens where fountains spray water into reflecting pools surrounded by orange trees bearing ripe fruit; courtyards lined with roses walking up towards terraces offering spectacular panoramas across Granada all year round: truly this is not one to be missed when visiting southern Spain!
Castles in Spain FAQ
Is it possible to buy a castle in Spain?
Yes, it is possible, and they aren't too expensive. You can buy a castle in Spain for around €20,000; however, it will most likely be in ruins. On the plus side, though, castles are exempt from property taxes!
What is the oldest castle in Spain?
Located in the north of Jaén Province, nestled within Sierra Morena, Baños de la Encina is home to the oldest castle in Spain. The Castle of Baños de la Encina (a.k.a Burgalimar Castle or Bury al-Hammam) dominates this stunning location's rural landscape. Built in 968 for Al-Hakan II, the second Umayyad caliph of Cordoba and son of Abderraman III, it seems that the passage of time has not dented it, as it has hardly suffered any damage.
In which Spanish castles can I stay?
There are about 100 castles in Spain where you can stay. They are called "Paradors." Paradors are a chain of hotels in Spain with an extraordinary concept, located inside some of the country's most beautiful castles. You can stay in historic buildings perched atop mountains overlooking countryside valleys (such as Parador de Granada), find yourself deep within green forests (like at Parador de Soria) or a medieval town atmosphere at Parador de Oropesa.
Which castle is the most beautiful in Spain?
The Alhambra in Granada is widely considered to be the most beautiful castle in Spain. The incredible palace was originally constructed as a small fortress by Islamic rulers of al-Andalus, and has been extended over time into an iconic building with picturesque gardens, towers, fountains and courtyards surrounded by high walls.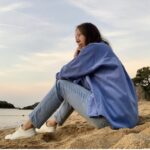 Hello, my name is Nadia.
I usually write about traveling (there are so many places to fit all the lifestyles), relocation (finding a job overseas or moving without losing an income), and living in a foreign country (adapting to a different culture and mentality). Follow me on Twitter, Facebook, Instagram, or LinkedIn!
This post might include some affiliate links. If you make a purchase through these links, I may earn a small commission at no additional cost to you. I appreciate it when you use my links to make purchases.