Discover Hondarribia and Olite, Spain
Nadia Podrabinek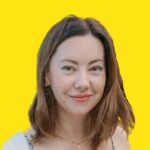 Written by Nadia Podrabinek
Hello, my name is Nadia. I usually write about traveling (there are so many places to fit all the lifestyles), relocation, and living in a foreign country (adapting to a different culture). My travels stretch beyond Spain, with journeys to the US, Italy, Norway, Portugal, and France. Relocating to Spain in 2018, I lived in cities from Barcelona to Madrid, currently calling Valencia home.  Follow me on Twitter, Facebook, Instagram, or LinkedIn! ... show more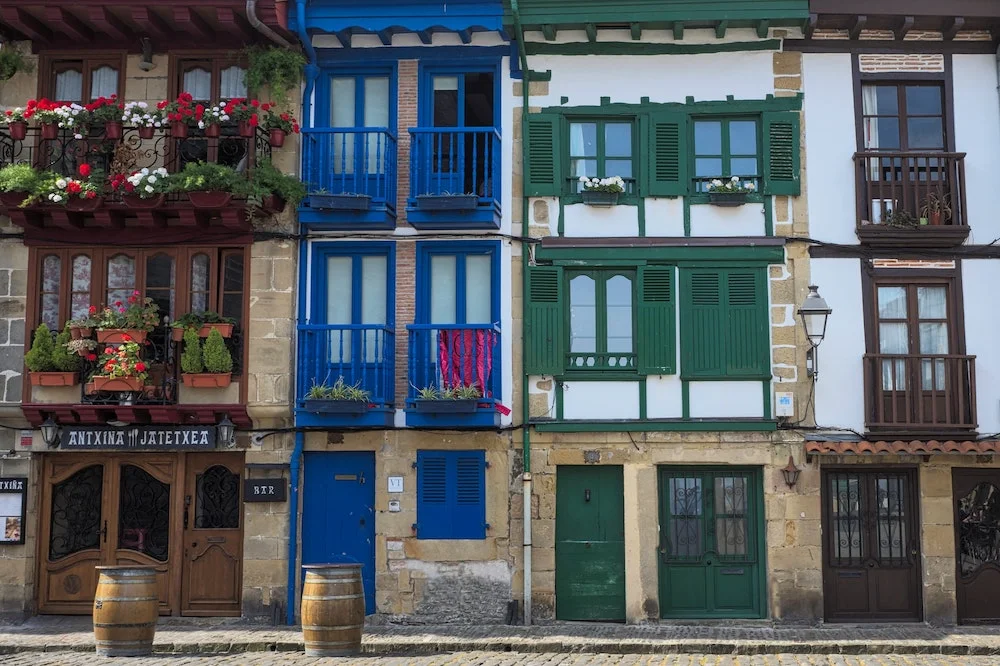 Hondarribia and Olite are two charming small villages in the north of Spain. They have rich historical heritage, unique and well-preserved old quarters, "to die for" food, and awe-inspiring accommodation options.
Setting up for the trip
I love traveling by car as it gives you a lot of advantages. A part of being able to take half of your apartment for a weekend trip – just in case you are flexible in choosing non-obvious routes. Before a long car trip, I usually ask my Spanish friends for opinions and suggestions. I drew an itinerary based on the survey, marking places for short and overnight stops.
As you already guessed, Hondarribia and Olite were two must-visit towns on my Christmas itinerary to San Sebastian in the Basque Country.
While Hondarribia is a Basque village just 30 minutes drive from San Sebastian, Olite is a tiny medieval town in the center of the Navarra region. The distance between them is 90 miles (144 km), about an hour and a half drive heading to the south.
Let's begin with Hondarribia (in Euskera, the Basque language) or Fuenterrabía (in Spanish).
Hondaribbia, Spain
It is the most beautiful fishermen's village, according to the unanimous opinion of Spanish people and tourists alike. Also, the world-famous pilgrimage route "Camino de Santiago" starts here.
The village is located at the mouth of the River Bidasoa, overlooking Txingudi bay, which serves as a border between France and Spain. On the other bank of the river, there is a French village, Hendaya. This proximity to France explains a lot of French speech in Hondarribia.
Mildly interesting In the middle of the Bidasoa river, there is a small island of no more than 32,000 sq feet (3,000 sq m) which swaps countries twice a year. For 6 months, it is owned by Spain and another 6 months – by France.
How to get to Hondaribbia from San Sebastian (Donostia), Spain
By bus: There is a direct bus route by from the underground bus station in San Sebastián to Hondarribia (the station name is "Aeropuerto San Sebastian", which is a bit confusing). The bus will get you to Hondarribia in 20 minutes.
By car: To get to Hondarribia from San Sebastian by car, take the A-8 highway. You will take this road for roughly 18 miles before you reach Hondarribia and arrive in 19 minutes. Getting to Hondarribia by taxi is also an option.
How to get to Hondaribbia from Hendaya, France
There are ferries and boat tours between Hendaya and Hondarribia. They run for every half an hour and cost about $2 (from 10 am to 5.30 pm).
Boat tours around Hondarribia
If you want to explore more French parts of the Basque country, I recommend visiting San Juan de Luz, another picturesque village with colorful houses overlooking the Bidasoa river. The distance from Hondarribia is 12 miles (20 km), within a 30-minute drive.
Fro the best experience, you can get is to take a boat tour from Hondarribia to San Juan de Luz to enjoy the exceptional natural beauty of the coastline. The journey varies from 1.5 hours to 8 hours, depending on the season, the tour company, and the program. You can swim on the summer boat tour or have lunch with a glass of wine and some pintxos. I prefer walking to sailing, so a 1.5-hour trip is enough to get this unforgettable experience.
If you have the soul of a sailor and a 4-hour boat ride does not scare you off, take a boat tour from San Sebastian to Hondarribia. But bear in mind that it is only a summer season's offer, as the sea and the weather may be rough during winter.
Remember that the boats are small enough to fit only 12 people, so book in advance if you travel with a big company. The tickets range from $60 to $80. I would not recommend taking this tour with infants as it could be very exhausting for them.
Best things to do in Hondarribia
1. Wander through the Old town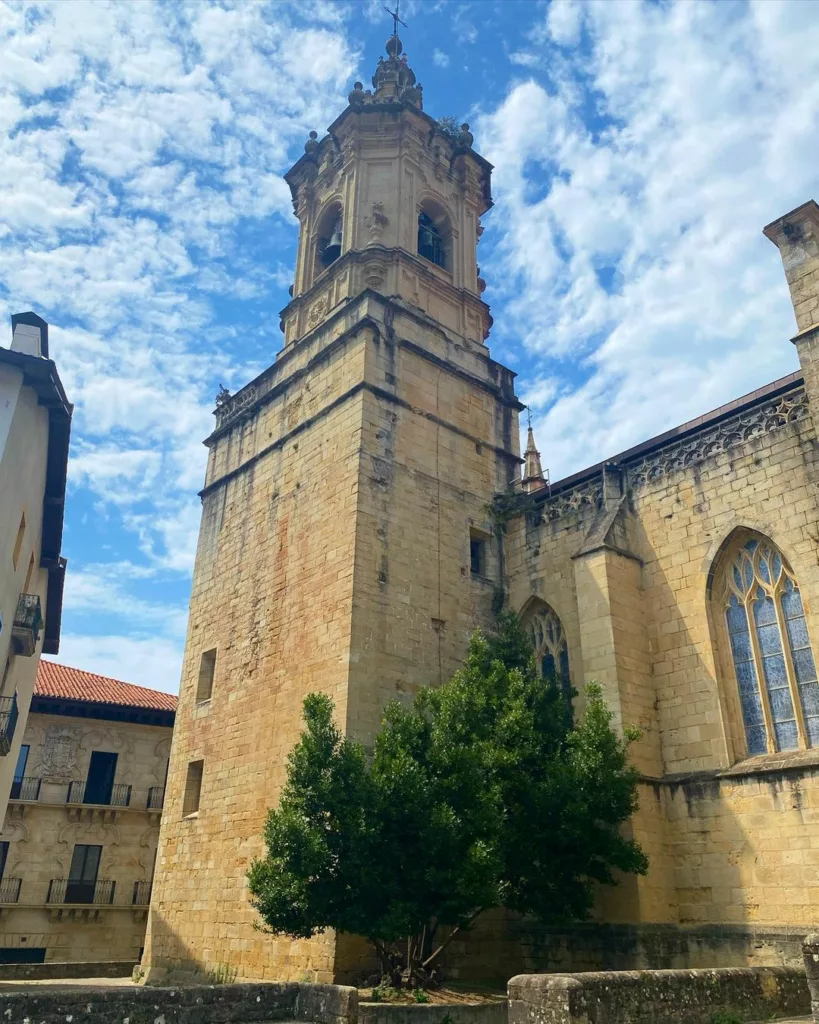 The historical quarter is surrounded by a well-preserved medieval wall built in the Middle Ages.
Puerta de Santa Maria is the best starting point for exploring Old town. It is an arched gate with an emblem of the town dating back to 1694 and the sculpture of the soldier who opened the gates to the Spanish troops.
Once you step into the narrow street of Kalea Nagusi, you will be surrounded by beautiful houses painted in vibrant colors with baroque facades and wooden balconies adorned with flowers and foliage.
See the 16th-century Casadevante House and 17th-century Zuolaga Palace. These are humble but lovely examples of baroque architecture.
Check out Church Santa Maria de Asuncíon y del Manzano, just a few meters from Casadevante House. This beautiful gothic church was built between the 15th-18th centuries and incorporated architectural details of the Baroque and Renaissance.
Kalea Nagusi ends with Plaza de Armas (Weapons square), home to all local celebrations and festivals. You can also admire the stunning views of the bay from there. However, the main attraction is the monumental Castle of Charles V, which looks like a fortress. Initially, the castle was built in the 10th century by King Sancho of Navarre and renovated by Charles V during the Renaissance. Today the castle is converted into Parador Hotel.
Spanish paradors are hotels built on the sites of historically and culturally significant buildings, such as castles or monasteries. Paradors are usually located in rural areas and offer guests an opportunity to experience the country's culture firsthand.

The rooms often feature traditional decor and furnishings, though some may also provide modern amenities for comfort. Many paradors serve local cuisine or specialties from their region as part of their dining service.
See also: Spanish Castles to Visit in 2023
2. Stroll through tree-lined Calle San Pedro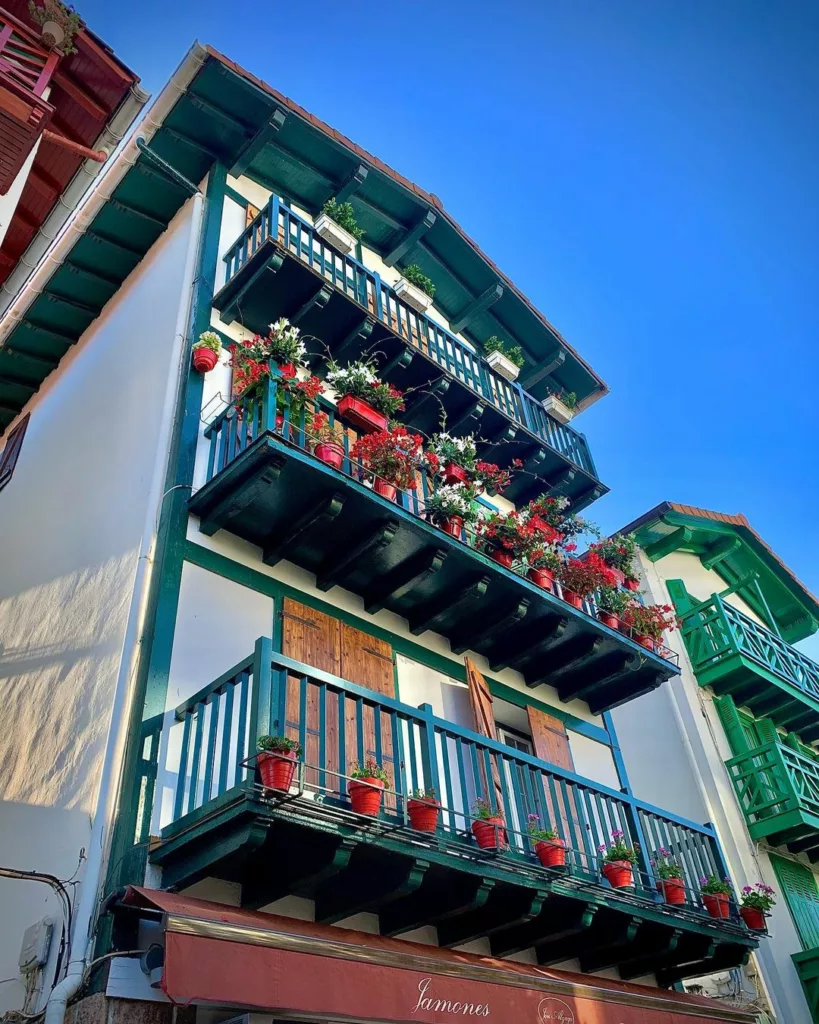 It is a pedestrian street in the marina neighborhood, with colorful cinematic houses and many bars and restaurants. Foodies come here for famous pintxos and fresh oysters.
In terms of gastronomic experience, Hondarribia can compete with San Sebastian. Try the emblematic local dishes like "chipirón de Hondarribia" (baby squids), oysters, and "el Txakoli" wine, elaborated from Hondarribia Zuri white grape.
3. Relax on the splendid urban beach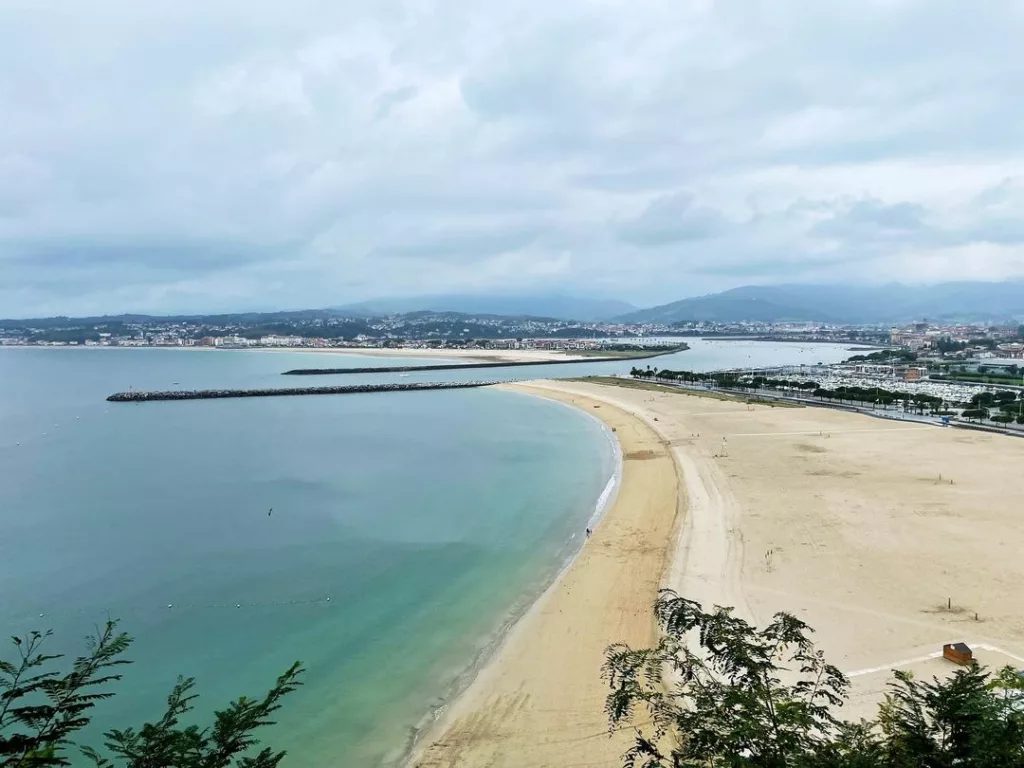 It is a wide sandy beach with a safe swimming area, which makes it appealing to families with children. The water is clean, blue, and usually calm, as the bay is protected from open waters.
4. Visit Zugarramurdi Caves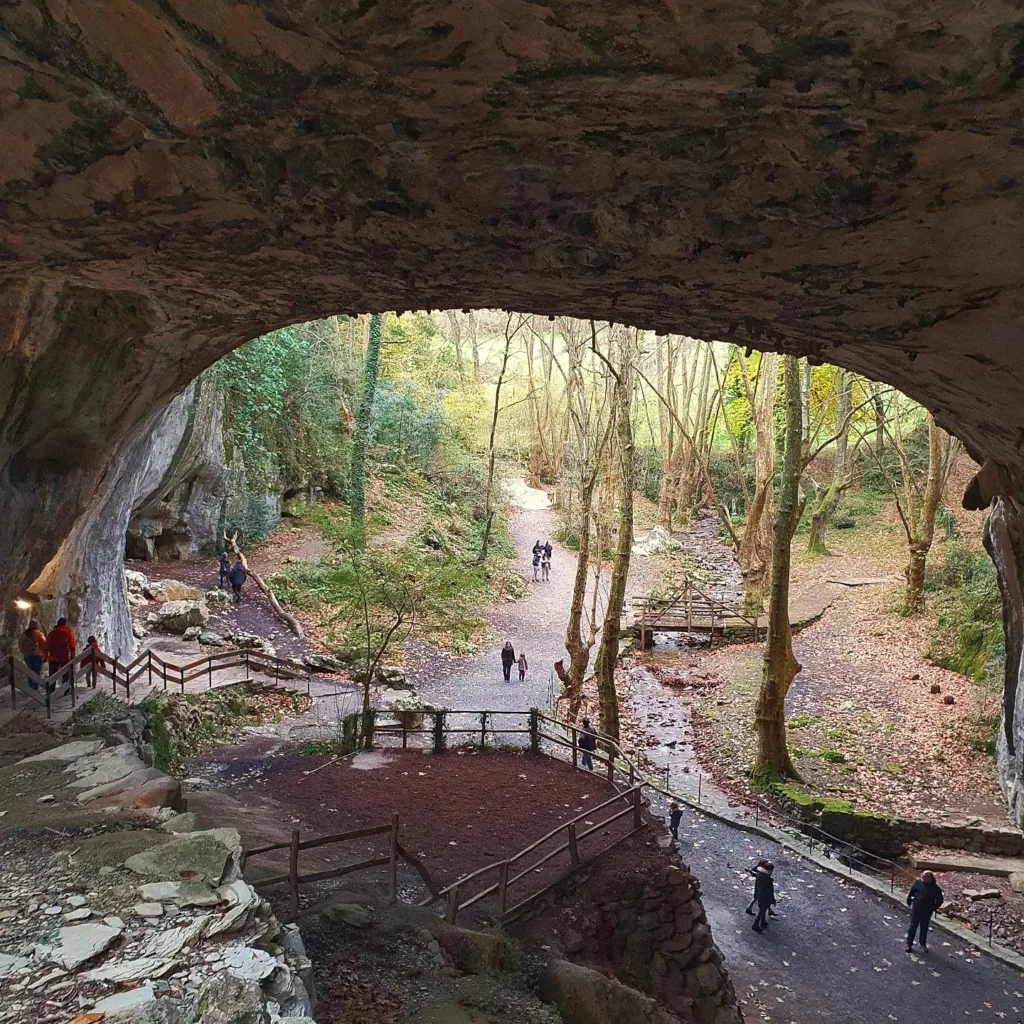 Suppose you have some spare time and stay in Hondarribia for a couple days. In that case, I recommend exploring the Witches' cave in Zugarramundi.
Besides the beautiful scenery surrounding the place – chestnut forests and vivid green meadows, Zugarramundi is a village of legends inspired by history.
In the times Great Inquisition, dozens of people were accused of witchcraft and exposed to mortal challenges in the Caves as proof of their innocence.
Nowadays, this theme is well exploited to attract tourists, so you can visit the Museum of Witchcraft in the town of Zugarramundi. But the best attraction is the witch cave. It is an impressive natural tunnel of 400 feet (120 m) long and 39 feet (12 m) high. It makes your imagination run wild, inspired by all the witch stories. After the main Zugarramundi cave, you take the path of Pottoka Azul and investigate smaller caves with limestone stalactites and stalagmites.
Where to eat
Pintxos
Bar Gran Sol: A prize winner in numerous local country-level gastronomic contests.
Sardara: A nice place with an excellent design and a great choice of pintxos.
Fine dining
If you are in the mood for a Michelin star restaurant, book a table in Alameda run by two chef brothers Txapartegi.
Where to stay in Hondarribia
I recommend staying in Parador de Hondarribia, a 4-star hotel in a castle with amazing views from the terrace. The prices are reasonable, about $110 per night in the off-season and $260 in the high season.
Olite, Spain
Traveling down south from the Basque country, you enter Navarre province. I did not stay in Pamplona, the capital of Navarre (it deserves special attention), and I only had one day for Olite, a medieval village with a 13th-century Royal Palace (Palacio Real de los Reyes de Navarra).
Olite is a tiny town (or a big village, as there is almost no difference for Spanish people), so staying there overnight will be enough.
What to do and see in Olite, Spain
1. Royal Palace (Palacio Real de los Reyes de Navarra)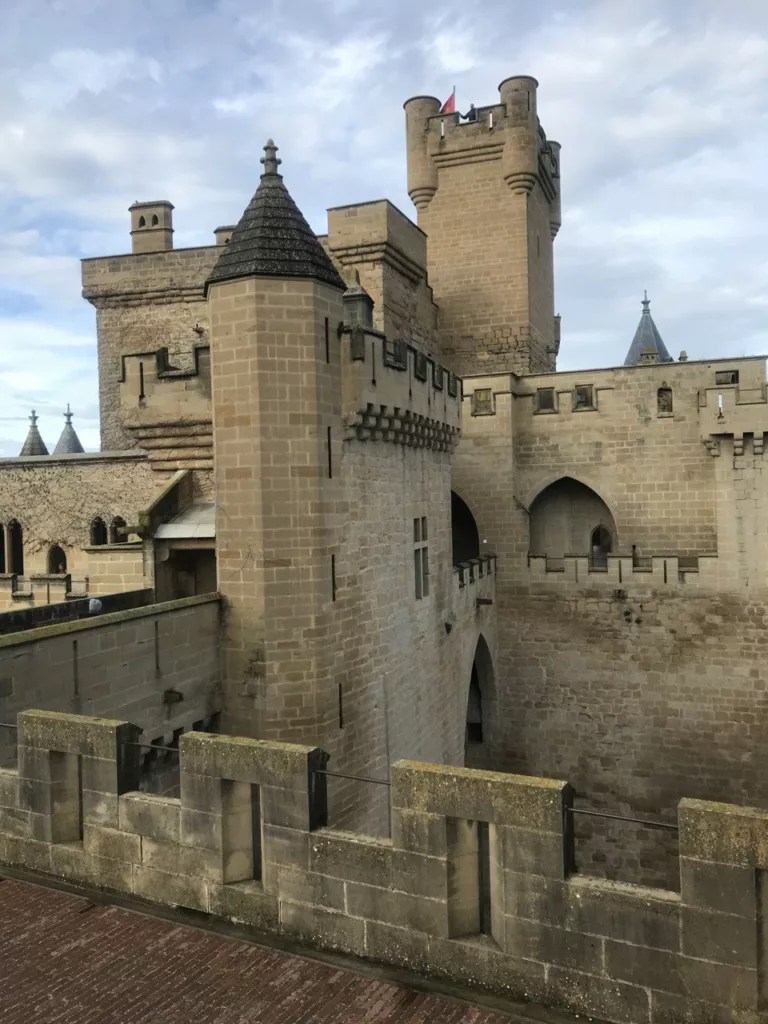 It is the main attraction in the area and one of the most beautiful palaces I have ever seen. Built over the remains of a Roman fortress, it lived through many changes till the 13-14th centuries to experience its heydey when King Carlos "Noble" invited the best architects to make a Royal Palace.
The Palace was partially ruined by devastating fire during the French troops' siege in 1813. The outer wall and towers of Old Castle "Palacio Viejo" (now Parador hotel) have survived.
Today you will see the result of impeccable restoration works, which show the original magnificent appearance of the Royal Palace.
Helpful tip I strongly recommend taking a guided tour (or an audio guide, at least), as every room, every inner garden, and every tower of the Palace has its own story behind it. That way, you will get the whole picture of the everyday life of the Royal family. Guided tours in Spanish are carried out 4 times a day and cost $7 per person. Opening hours: Monday to Sunday, 11-12 am, 1-4 pm.
2. Iglesia de Santa Maria la Real
Santa Maria Church, along with Old Palace, is the architectural ensemble flowing into each other. Going out of the Castle doors, you will find yourself at an incredible doorway of the Santa Maria Church, the 15th-century gothic beauty. It reminded me of Notre Dame de Paris due to the huge rosette and bountifully decorated facade. The place used to witness the solemn ceremonies of the Navarre royal family.
Opening hours: I recommend checking the schedule in advance as the opening hours are limited to one hour per day in winter. Monday–Saturday, 10.30 am-1.30 pm, 4 pm-7 pm.
3. The Convent of San Francisco
The legend is that it was founded by Saint Francis of Assisi, the founder of Franciscans, during his pilgrimage to Santiago de Compostela in the 13th century.
The convent is just a 5-7 minute walk from the Castle (as I mentioned, Olite is a tiny village, so you can easily cover this historical route in one day).
4. Go to the local winery
A wine tour and degustation session is always a good idea in Spain. I recommend Bodegas Ochoa Winery, just 1 mile (1.5 km) from Olite. The guided walk through the winery is delightful, and the tasting part is even better.
Helpful tip If you are a real wine lover, schedule your visit to Olite at the end of August or the beginning of September, when the Wine Festival is taking place. It includes a Harvest Parade, grape-treading (the most "Instagrammed" part), funny contests, lots of wine, and various gastronomic pleasures. 
Where to Eat in Olite
Speaking of gastronomic pleasures, Olite offers a bit different gastronomic experiences: abundant meat dishes, intensely flavored cheese, river fish, mushroom stews, etc. And you will only find a table with a reservation, so book in advance!
Merindad de Olite
What people say on Google: 4.1 stars, 993 reviews
C. Rúa Judería, 11, 31390 Olite, Navarra
Restaurante Parador de Olite
What people say on Google: 4.0 stars, 12 reviews
Pl. Teobaldos, 2, 31390 Olite, Navarra
Vidaurre House (cake shop)
What people say on Google: 4.3 stars, 331 reviews
Calle de la Estación, 3, 31390 Olite, Navarra
Where to stay in Olite
Parador de Olite. Yes, it is another Parador worth staying, situated in the walls of the 15th-century castle (Palacio Viejo). As with every Parador accommodation, it will make your stay truly memorable. The prices range from $110 per night in the off-season to $170 in the high season.
Atalaya Bed and Breakfast is a more budget option for a short stay with jaw-dropping views of the medieval square, Royal Palace, and Santa Maria Church. The prices range from $60 to $100 per night.
Conclusion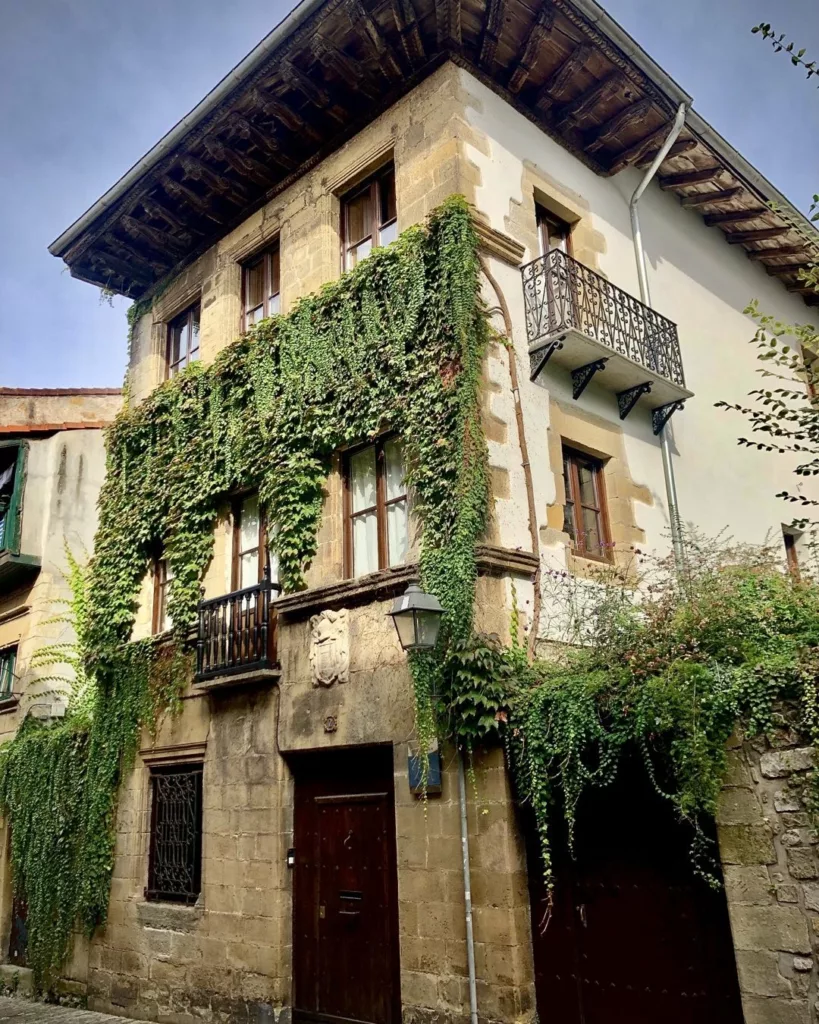 Traveling through the Basque and Navarre villages – Hondarribia and Olite – is just one of the itinerary ideas.
I am sure my trip will inspire you to discover the French part of the Basque country, explore the "Kingdom of Navarre," or even take a pilgrimage to St James (Camino de Santiago). I am inspired for sure! Cannot wait to pack the bags again!