Things to Do and See in Pamplona, Spain
Nadia Podrabinek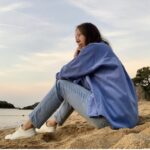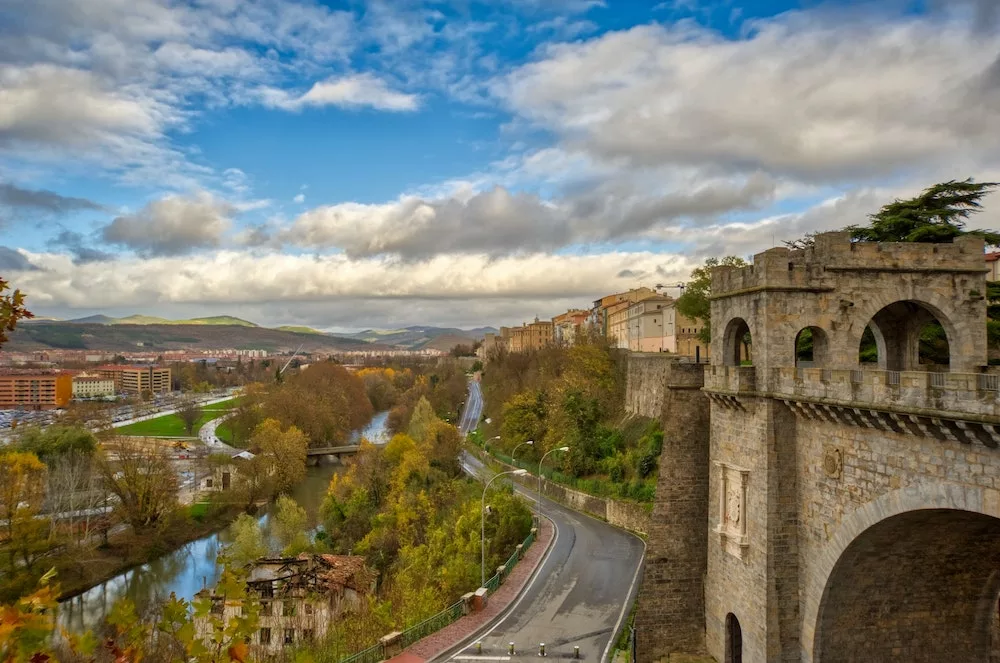 Pamplona is a city in northern Spain, famous for its charming medieval quarters, the Gothic cathedral, the running of bulls festival, and its atmosphere of "joie de vivre" (French, joy of living).
It is also one of the oldest cities in Spain: Founded in the 70s BC by the Roman general Gnaeus Pompey (hence the city's name), it is still partially surrounded by ancient walls filled with architectural gems.
---
If you are going to visit Pamplona, you have to decide first:
You genuinely dislike bullfighting and wish to enjoy the city and its history and avoid crowds.
You want to see the running of bulls and celebrate the weeklong festival of San Fermin.
You are actually going to run with the bulls.
---
Here is my guide for all types of activities in Pamplona:
1. If you wish to enjoy the city and avoid crowds
First of all, skip July with San Fermin festival, and you will be all good.
The city is a major industrial and cultural center in the Navarra region, Spain. However, despite the busy life, Pamplona has still preserved the spirit and mood of a medieval Spanish town where monuments of the past show up here and there.
Best things to do in Pamplona outside San Fermin:
Visit Navarra Palace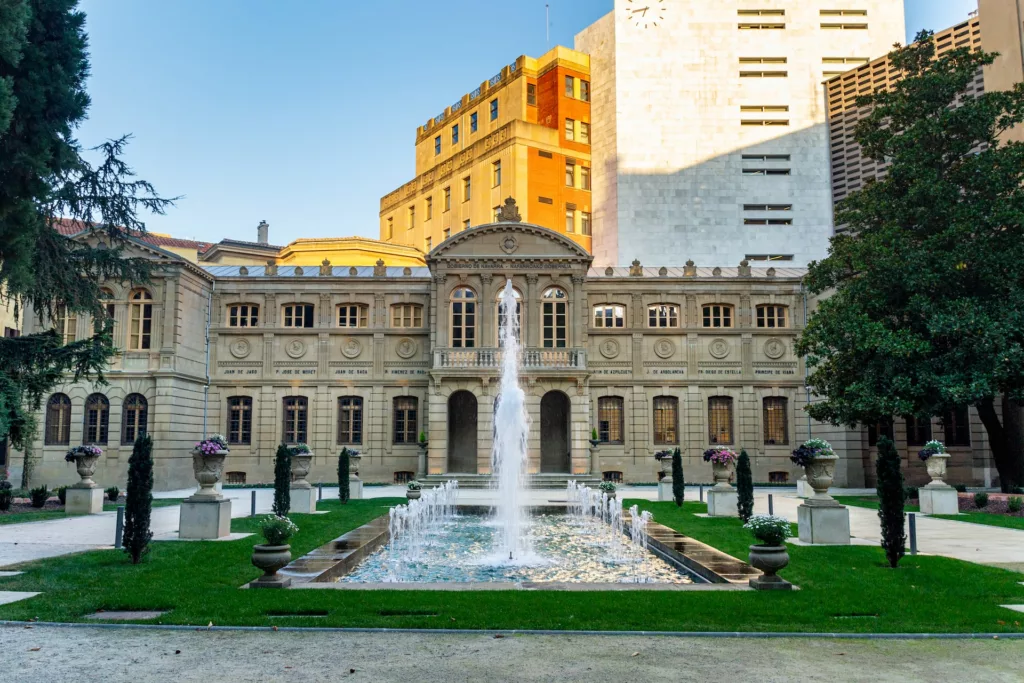 The Palacio de Navarra, the home of the regional government of Pamplona, is a three-story building designed by José de Nagusia in 1840 and characterized by its neoclassical facade. It is worth coming to this spot around noon to listen to the palace clock playing the Anthem of Navarra.
See Plaza del Castillo (Castle Square)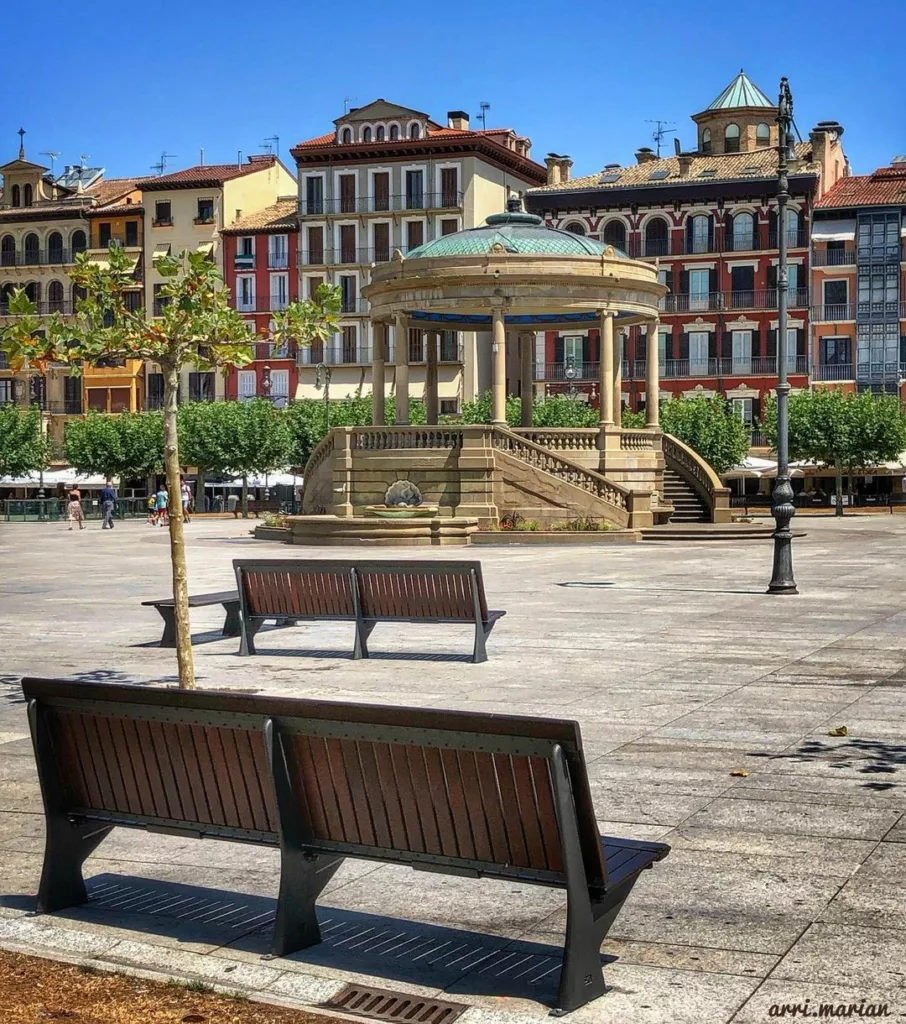 For many years, the Plaza del Castillo has been home to various events, ranging from political demonstrations and military parades to bullfights (which ceased in 1843).
People come here for coffee at one of the cafes under its arches. One such cafe is Café Iruña – believed by some to have served as Hemingway's writing spot for part of his novel "The Sun Also Rises," which takes place mainly in Pamplona.
Walk around the Old Town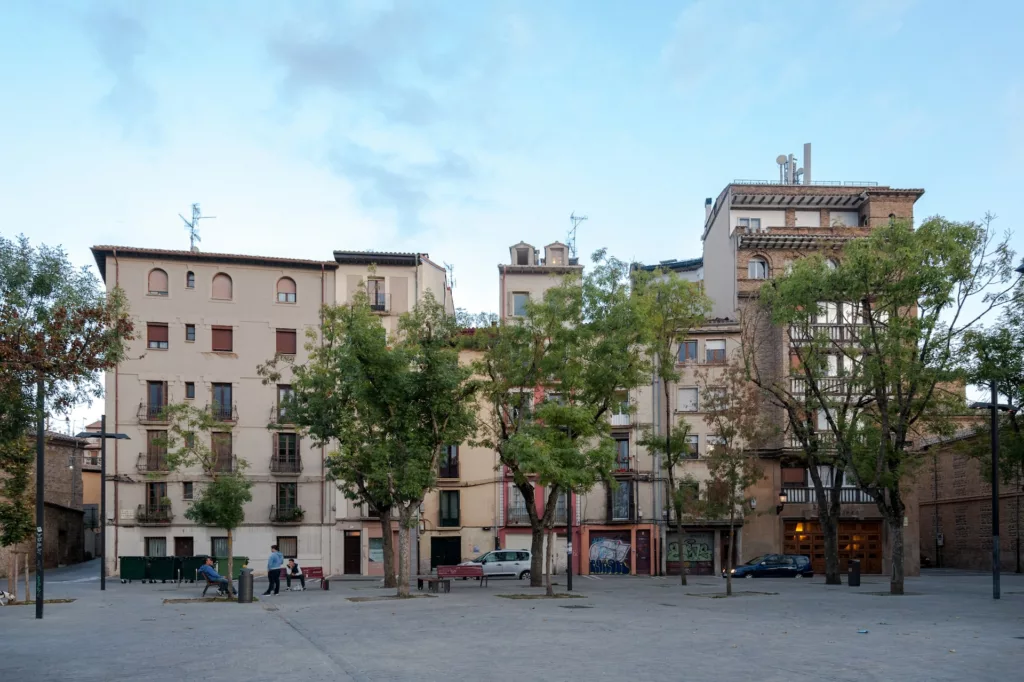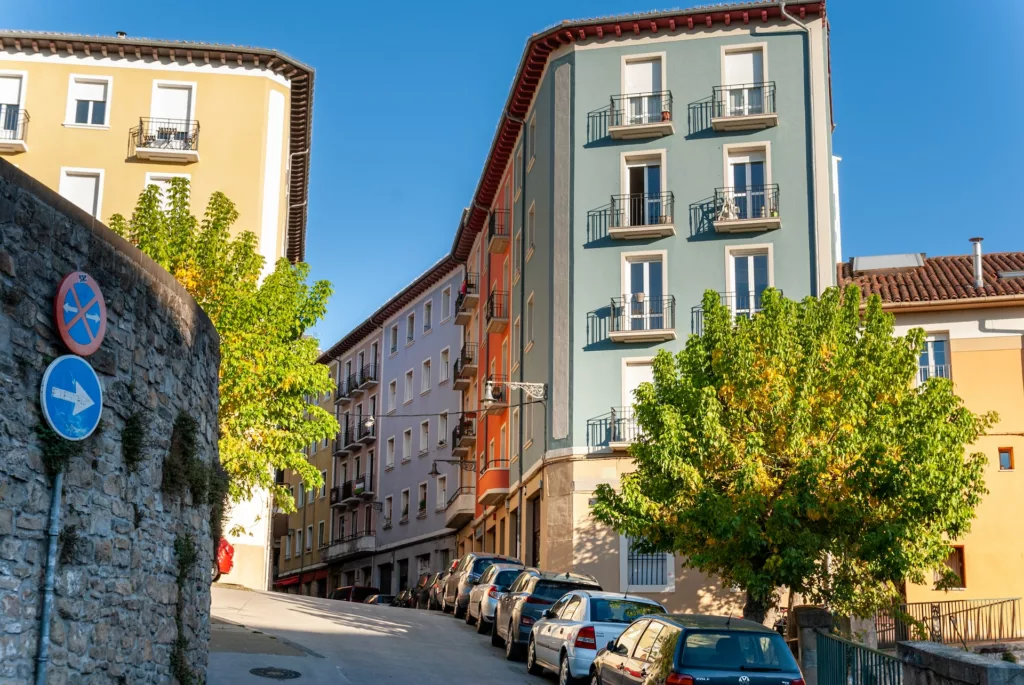 The charming streets of Pamplona's Old Town, also known as Casco Viejo, are perfect for leisurely strolling. There are many spacious squares with a warm atmosphere and inviting cafes all around.
Santa Maria la Real cathedral is the city's true heart; it boasts the largest functioning bell in Spain and features an unconventional facade that conceals its Gothic roots as part of a unique cathedral complex, including service buildings from centuries past and a fourteenth-century cloister.
You should also see some ancient churches located throughout Pamplona – such as San Nicolas church, which has military-style gothic architecture, the chapel at San Lorenzo church dedicated to Saint Fermin, or even the fortress-like structure of St Saturnino Church.
Visit Plaza de Toros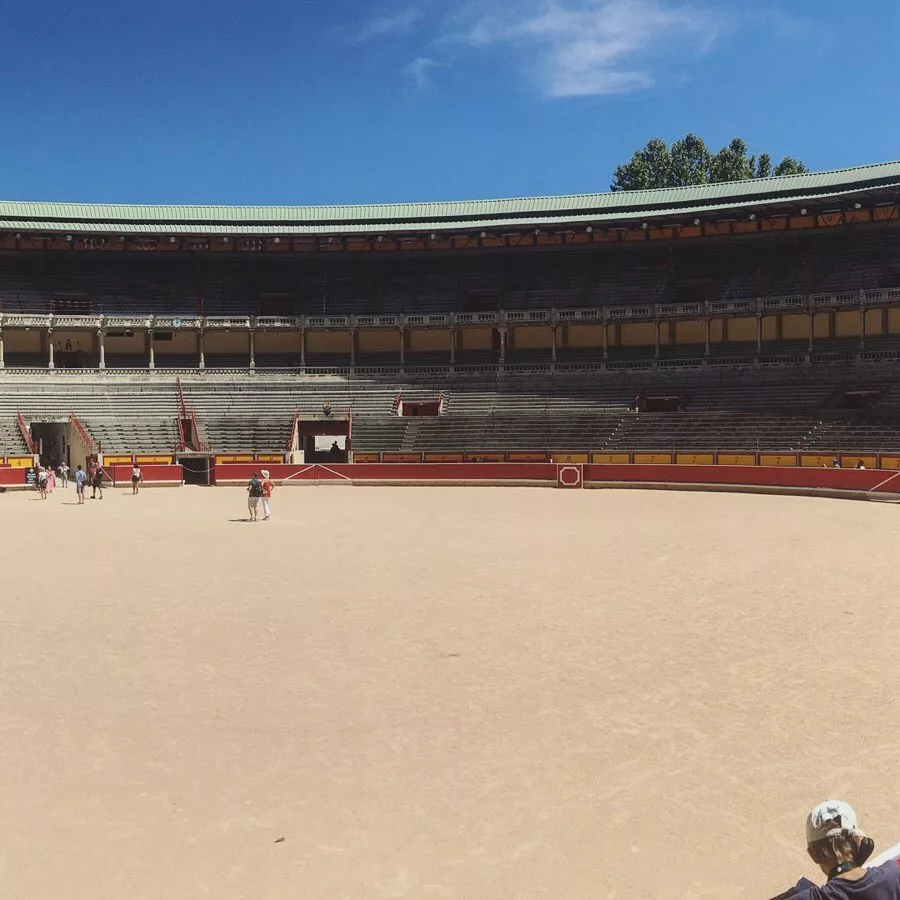 Located in the historic old town, it is a stunning architectural example of a Spanish bullfighting arena. This bullring was built in 1883 and boasts a capacity of nearly 17,000 people. It is the home of the annual running of the bulls, one of Spain's most iconic festivals.
Assuming you do not attend the San Fermin festival, it is a great place to learn more about the history of bullfighting. The bullring itself is also open to visitors.
You will also see the bust of Ernest Hemingway close to the arena. In 1923, he visited Pamplona as a Toronto Star newspaper reporter. He quickly fell in love with the San Fermín festivities and wrote his first successful novel, "The Sun Also Rises," about the experience. Hemingway became an iconic guest of Pamplona, and the city honored him by recreating his favorite hamburger, "Papa's Favourite Hamburger."
Enjoy the views from Mirador del Caballo Blanco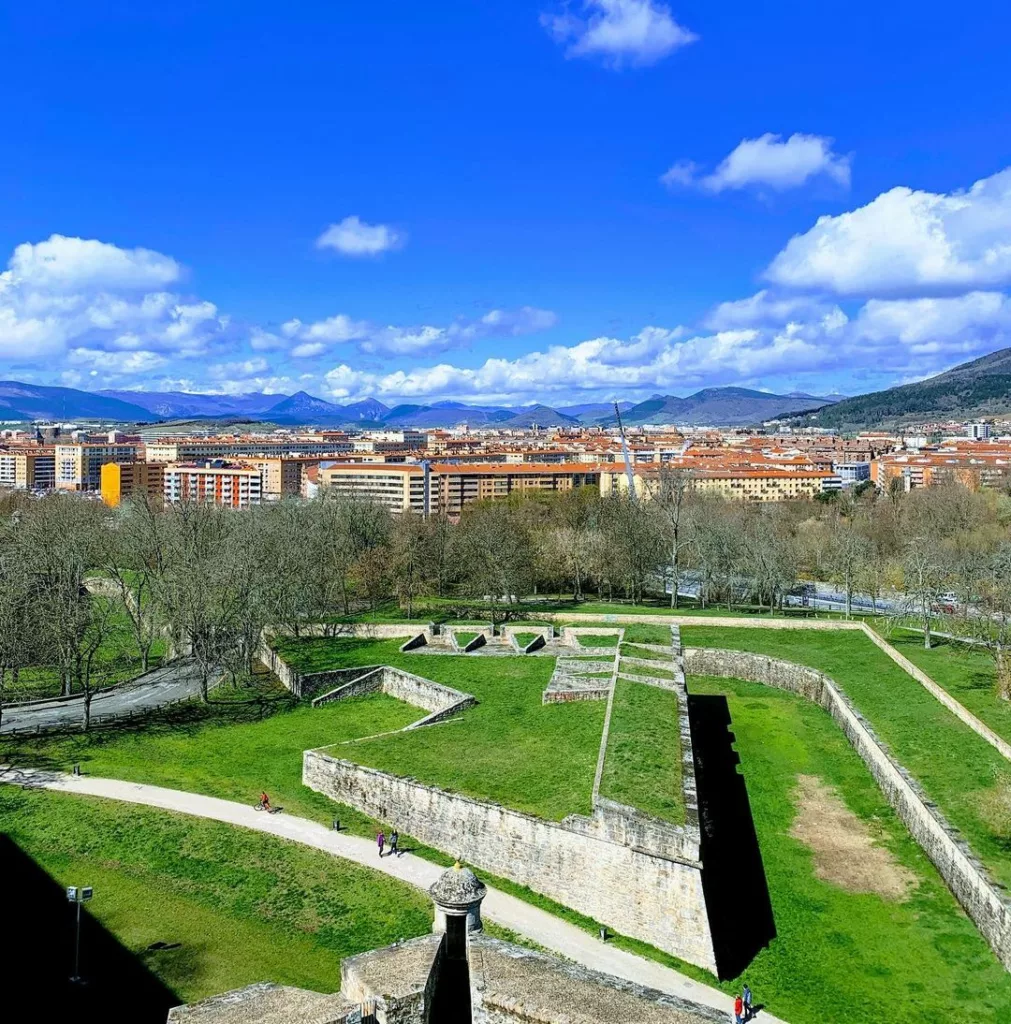 You can take in the breathtaking mountain and Arga river landscapes at the Mirador del Caballo Blanco viewpoint. Additionally, there is an open bar where you can stop to enjoy a drink while admiring the surroundings.
Other notable things to visit and see in Pamplona:
Catedral de Santa María
Museum of Navarra
Plaza Consistorial
Iglesia de San Saturnino
Plaza San Francisco
San Nicolás Church
La Ciudadela stronghold (on the outskirts)
The map of attractions in Pamplona
2. If you want to see the running of bulls/celebrate San Fermín
From July 6 to the 14th, Pamplona hosts the yearly San Fermin festival, which draws crowds of people due to the festivities and running of the bulls.
The celebration begins at noon on July 6 with a rocket shot (or "chupinazo") fired off from the mayor's office balcony signaling the start of all activities. All participants must wear red and white clothing that corresponds to Basque festival attire.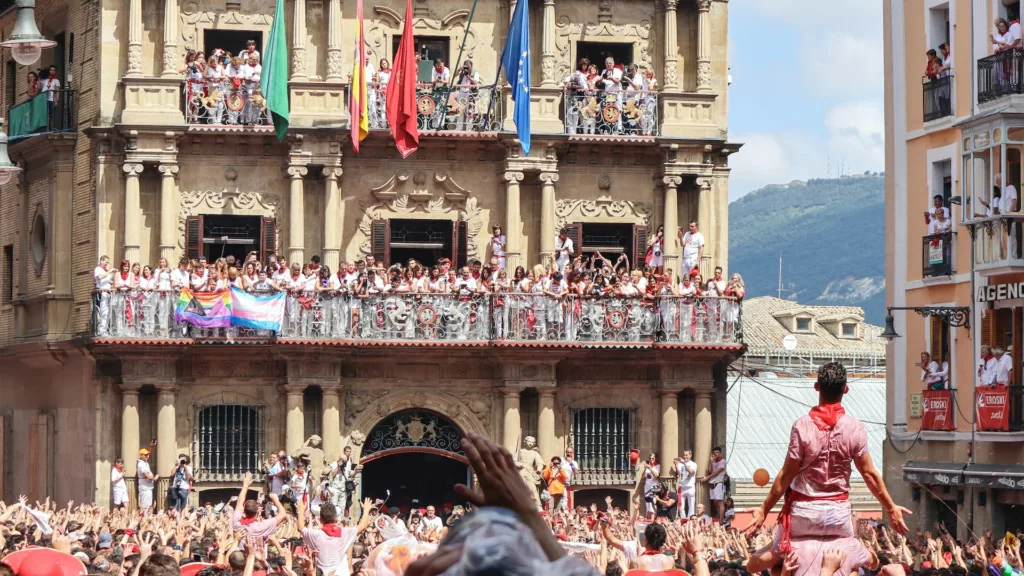 The highlight event during the San Fermin Festival is Encierro – commonly called Bull Run – occurring every day from July 7 through 14th at 8 am and lasting 2-3 minutes long.
The day before the bull run, bulls are brought to corrals behind the mayor's office of Pamplona. At 7 am, participants assemble. After inspection by police and mayor personnel, they position themselves along all parts of the route. Experienced runners never travel more than 50 meters – instead, they sprint a stretch before jumping over barriers to get away from the bulls.
Watching the bull run
The best way to experience a bull run without putting yourself in danger is to rent a balcony along the route.
You can secure your spot with international intermediary services (this, or this) that allow you to pay with your bank card and receive confirmation.
Otherwise, you can negotiate directly with the owners of the apartments with balconies on a Spanish forum. You can enjoy the event from the best point for only 55$. I recommend reaching your balcony seats in advance, as the nearby streets are closed from 7 am to prepare for the run.
Before the bull run in the streets of Pamplona, participants request the patronage of Saint Fermin by praying to its statue next to the town hall, singing songs in Spanish and Basque, and waving folded newspapers – an inevitable attribute for those taking part in the Encierro.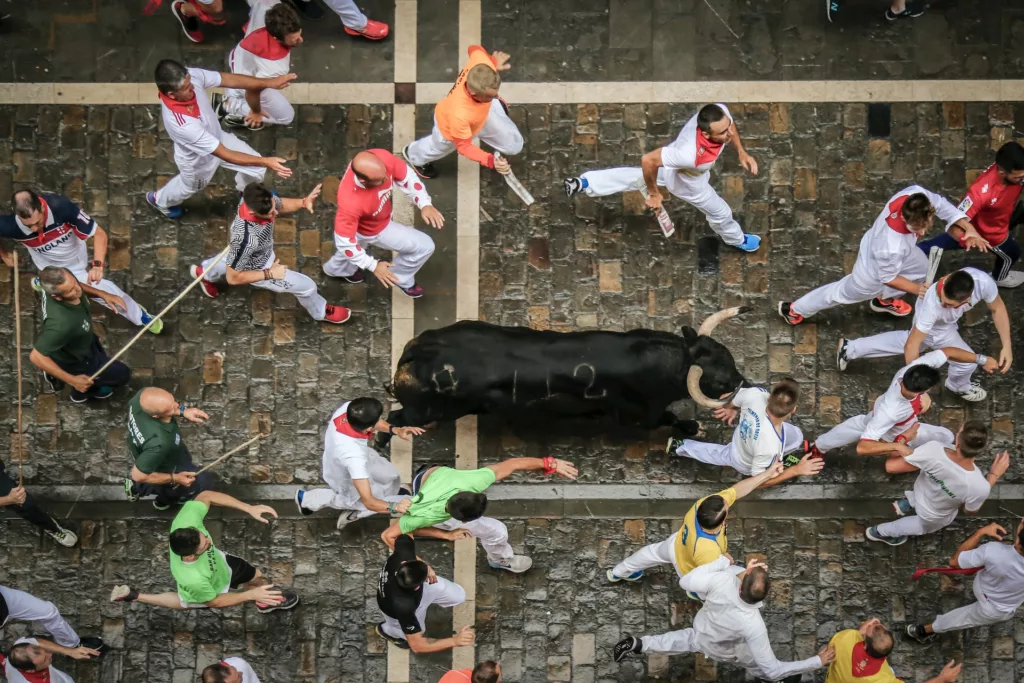 At 8 am, a signal rocket is sent up into the sky above the pen gates to signify that the race has begun. The gates swing open, and 12 fiercely determined bulls are unleashed onto cobbled narrow streets in Pamplona's old city center, with herdsmen – wearing green polo shirts – chasing after them and accompanied by shouts from an audience of thousands.
Along their route, these "pastors" take turns, so each section only has one person running alongside it; their mission is to ensure that all goes as smoothly as possible for both runners and herd alike.
The most hazardous sections of the Encierro are the outer corners of its curved relay, where bull-related incidents occur regularly. Additionally, the last few meters before entering the arena pose a risk due to their sloping terrain, which can cause people to become victims of tumbling over in front of bulls. Lastly, upon arriving at the gates leading into a bullfighting arena, there is often an abundance of runners, which creates another dangerous situation.
The most affected are foreigners who are not as well-acquainted with the city and its nuances. They are often immersed in an atmosphere of unrestrained fun and drinking, forgetting about safety standards. As of 2022, there were dozens of injuries and deaths due to hefty bulls across Spain.
After the morning run through the city, begin festive parades, walks with musicians and giant puppets, fairs, and drinking a sea of wine – an integral attribute of all Spanish holidays. In the evening at the bullfighting arena, there is a corrida featuring bulls brought in that morning and professional toreros.
Another favorite pastime of young people during the San Fermin festival is jumping into the crowd from the Santa Cecilia fountain. If a girl is going to make such a risky move, she must show her chest to the public.
The festival ends at midnight on July 14 with the song "Podre de mi." And an electronic clock on a building, which serves as the last stop for Encierro, begins counting down to next year's holiday.
3. If you are actually going to run with the bulls
Danger zone! You are risking your life. You might be gored or trampled to death by the bulls.
If you are still going to risk that, here are practical tips on how to run with the bulls in Pamplona:
You do not have to sign up; running with the bulls is free. Be present on Santo Domingo street near the Town Hall (Ayuntamiento) by 7:30, when the police will let you go and run anywhere along the route.
If you want to see which bulls you will be running with, visit the corrals outside Casco Viejo. Admission is approximately $3, and you can view the bulls through glass windows.
Before the race, make sure to get a good night's sleep and abstain from consuming alcohol or any drugs.
Don't participate on your first day of arrival and avoid running during weekends as there are more people then.
You cannot bring extra items, such as cameras or backpacks, with you; you can only hold a newspaper.
Before the Encierro (the running of the bulls), the street is cleared and may be wet; thus, wear appropriate footwear and stretch a little before beginning your race.
It is physically impossible to run the entire distance; therefore, choose a section for your run ahead of time and know when it is time to leave it.
Additionally, when running, ensure that you stay in line and do not push other runners or attempt to run in front of them at any point during this event.
Hiding in corners, at exits, or in stairwells near the running area is prohibited. The corner is the most dangerous place because the bulls don't stop and may collide with you.
Do not tease the animals; do not touch them on their sides or tails, nor attempt to push, grab or ride them.
Avoid running through dense crowds. If you fall, put your hands around your neck so that if a bull steps on it, there won't be a severe injury (they usually jump over people lying down instead of stepping on them).
Be wary of solitary bulls as they can become scared and hence more dangerous when separated from their herd. Additionally, do not stand on fences or stay as a spectator within the racecourse – this will block others' paths and thus endanger their lives.
Upon arrival into the arena, take cover quickly behind barriers to clear the way for others.
Where is Pamplona
The city has an airport with flights to the rest of Spain and Europe. It is conveniently located between Bilbao and Zaragoza, two bigger cities that can be reached in a short time by bus.
What to eat in Pamplona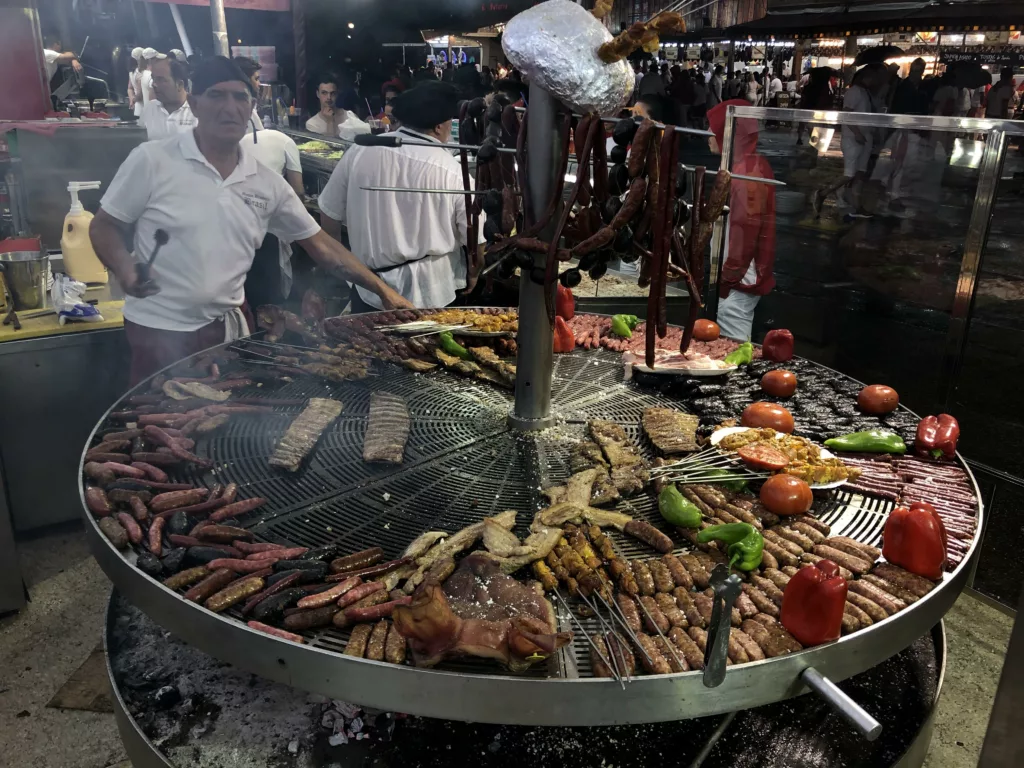 Pamplona's cuisine shares some common characteristics with Basque cuisine but also has its own unique dishes.
Try cod in ajoarriero sauce (Bacalao al Ajoarriero), rice pudding (widely considered a Spanish national dessert), and stuffed pepper "Piquillo" (Pimientos de Piquillo con relleno), which grows about 40 miles (70 km) away from Pamplona and is often referred to as the "red gold of Navarra," and contains bacon, fat rice, onions, spices, and cod or another type of seafood as its main ingredient.
Another famous food is Chorizo de Pamplona, a sausage with equal parts of beef, pork, and smoked paprika. The sausage has a red-orange color due to the paprika and is at least 1.5 inches (40 mm) in diameter.
On Thursdays, many bars offer Juevintxo, which means you will get pintxos (tapas) at a discounted rate for ordering a beer. Do not forget to sample the regional liqueur Pacharán; it's a red digestif with the flavor of juniper berries.
Where to eat in Pamplona
Bar Gaucho
Located near the Plaza del Castillo, Bar Gaucho offers a variety of delicious and creative pintxos. The menu includes unique dishes like sea urchins and truffled eggs that you will not find at other tapas bars.
What people say on Google: 4.5 stars, 5,688 reviews
C. Espoz y Mina, 7, 31002 Pamplona, Navarra
Europa
This fine-dining restaurant in Pamplona has been awarded a Michelin star since 1993. Its main dishes include roasted pigeon, artichokes confit, and roasted Norwegian salmon.
Michelin stars: ⭐
Tasting menu: from $99 (not served during San Fermin festival)
What people say on Google: 4.7 stars, 298 reviews
C. Espoz y Mina, 11, 31002 Pamplona, Navarra
Herriko Taberna
What people say on Google: 4.5 stars, 1,312 reviews
C/ del Carmen, 34, 31001 Pamplona, Navarra
This traditional tavern is just a few steps from the cathedral, where you can savor delicious homemade dishes in the Basque style. Additionally, this tavern offers vegetarian menu options.
You can also sample some local delicacies at Mercado Santo-Domingo. This market offers seasonal produce, fruits, liqueurs, and homemade wine.
Shopping in Pamplona
Caramelos Artesanos Garrarte: For the sweets.
Vinoteca Honestus: The best place for delicious wines and spirits in various price categories and other regional products.
Avenida Carlos III: For some luxury brand stores and designer boutiques.
Day trips from Pamplona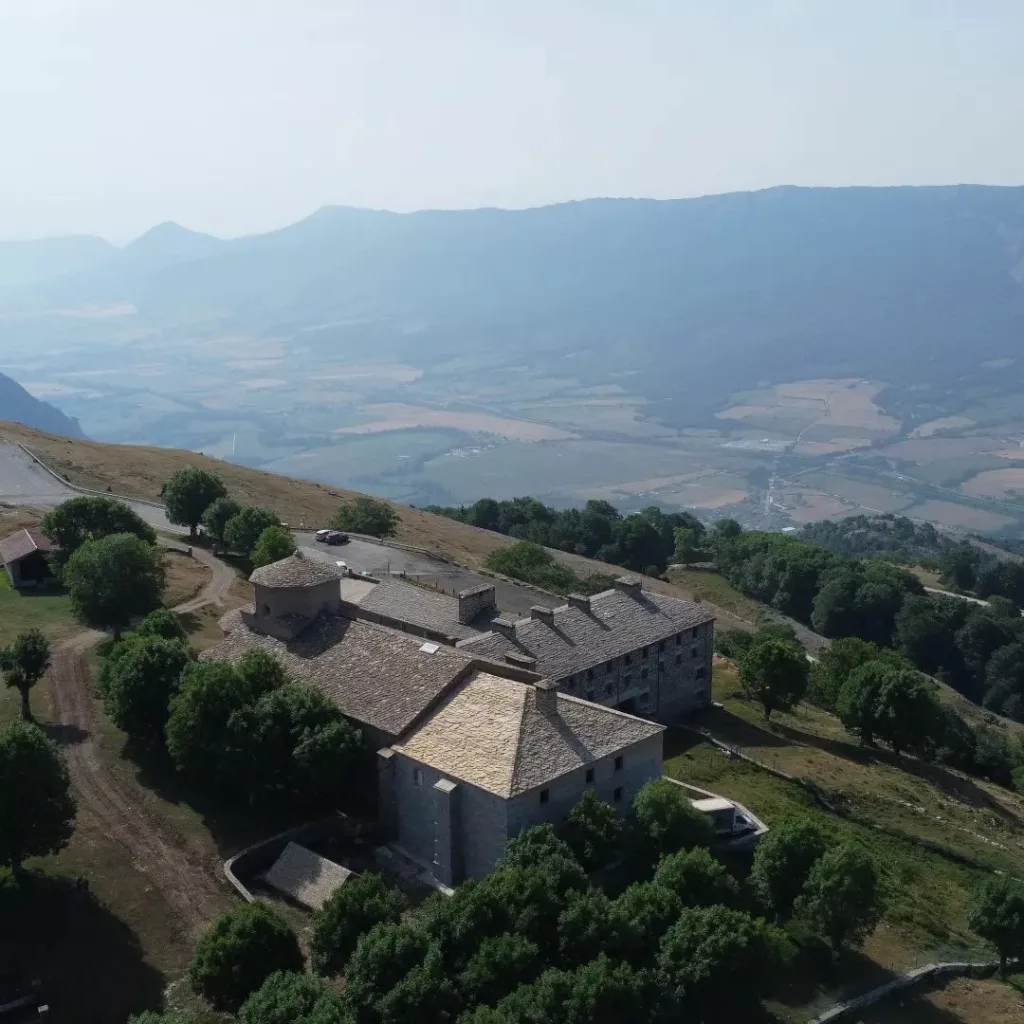 1. San Miguel Sanctuary in Excelsis: A pilgrimage site in the mountains featuring an observation deck, a restaurant, and a 12th-century church (San Miguel de Aralar). Spectacular views of the Pyrenees and the surrounding countryside. How far: 26 miles (42 km).
2. The Caves of Zugarramurdi: A trail through the woods to a series of limestone caves decorated with stalagmites and stalactites and a place of legend and superstition. How far: 47 miles (75 km).
3. Estella-Lizarra: A charming small town located in the Navarra countryside, known for its cobbled streets and old town square. How far: 26 miles (42 km).
4. Monastery of Leyre: An ancient Benedictine monastery in the foothills of the Pyrenees with a beautiful Gothic cloister and Romanesque Crypt. How far: 32 miles (52 km).
Read also: Things to do in Hondarribia and Olite and What to do in San Sebastian
Accommodations in Pamplona
Thanks to its small size, it is convenient to stay anywhere in Pamplona; however, the most logical choice would be in the historical center, where there are a variety of hotels and apartments.
Alternatively, you can stay in the university district, which offers both budget hostels and business hotels. It will take 20-30 minutes on foot from this area to get to the historical center. Prices for cheaper lodging are more attractive here than in closer locations around town.
Remember, the hotel rates go up for San Fermin: a room for $60 can be as high as $190.
Gran Hotel La Perla
La Perla is the best option if you search for a luxurious holiday in Pamplona. This 5-star hotel has been host to many notable figures over the years, including Ernest Hemingway, Charlie Chaplin, and Orson Welles. The property features a restaurant and lounge with a piano.
Hostel Acella
Hostel Acella is situated nearby Yamaguchi Park, a mere 15-minute walk from the center of Pamplona. The rooms and apartments are decorated with Mediterranean colors and ethnic furniture for an affordable $50 per night.
El Roblón de la Estafeta Apartments
It is 1.8 miles (3 km) away from the Pamplona Cathedral at around $125 per night; they come complete with 3 bedrooms, 2 bathrooms, bed linens, towels, a flat-screen TV, a dining area, a fully furnished kitchen as well as stunning views over the city from its balcony.
Frequently asked questions
Do Spanish people like bullfighting?
It is a highly divisive topic, with older and more traditional folks viewing it as part of Spanish culture. Left-wingers tend to be against it, while most young people have little interest in the activity. Bullfighting is seen by many as an outdated relic that will eventually fade away due to a lack of interest from younger generations.
Is it cold in Pamplona?
No, it is not. The weather in Pamplona is usually mild and pleasant, with temperatures ranging from the mid-50s Fahrenheit (10-12°C) in the winter to the mid-80s Fahrenheit (26-30°C) in the summer. Rainfall is typical from October through May, while June through September is usually dry and hot. The best time to visit Pamplona is from late June to mid-September.
What is Pamplona known for?
Pamplona is best known for the annual Running of the Bulls festival (San Fermin), which takes place in July. The event features a daily running of bulls through the streets of Pamplona and attracts thousands of people from around the world each year. The city is also known for its historic architecture and cuisine, such as tapas (pintxos).
How to get bullfight tickets in Pamplona?
Sadly, it is no easy task – tickets might be available only at the box office of the bullring and will be scarce due to the fact that the bullring is almost entirely sold out to locals. You can try your luck here.
Conclusion
Pamplona is a laidback city that invites you to take leisurely walks along ancient streets, rest in parks, and get acquainted with the local cuisine.
However, during the San Fermin festival, it becomes an overflowing source of adrenaline and emotions full of multi-ethnic crowds.
If you ask me if Pamplona is worth visiting: Yes, you should visit Pamplona at least once during your lifetime, just like Ernest Hemingway, who was inspired by this beautiful city and its annual celebration of San Fermin.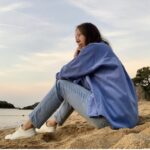 Hello, my name is Nadia.
I usually write about traveling (there are so many places to fit all the lifestyles), relocation (finding a job overseas or moving without losing an income), and living in a foreign country (adapting to a different culture and mentality). Follow me on Twitter, Facebook, Instagram, or LinkedIn!
This post might include some affiliate links. If you make a purchase through these links, I may earn a small commission at no additional cost to you. I appreciate it when you use my links to make purchases.