What to know about traveling in Spain
Nadia Podrabinek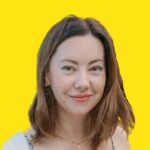 Written by Nadia Podrabinek
Hello, my name is Nadia. I usually write about traveling (there are so many places to fit all the lifestyles), relocation, and living in a foreign country (adapting to a different culture). My travels stretch beyond Spain, with journeys to the US, Italy, Norway, Portugal, and France. Relocating to Spain in 2018, I lived in cities from Barcelona to Madrid, currently calling Valencia home.  Follow me on Twitter, Facebook, Instagram, or LinkedIn! ... show more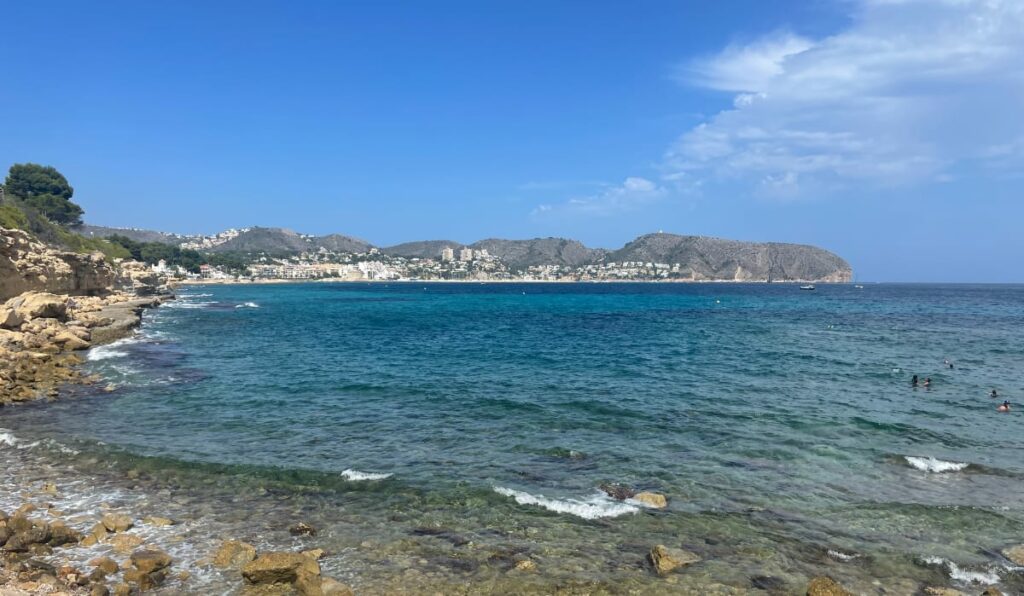 First off, let's start with the accomodations. And don't forget about paradors – the Spanish state-owned chain of beautiful hotels, often located in historic buildings such as castles, palaces, convents, monasteries, and other significant structures.
What people say on Reddit
I found the train to be very easy to take from Seville to Madrid and also from Madrid to Toledo. I used the Trainline app to book, and booked my tickets ahead of time. Also, make sure to book ahead of time for the train from Madrid to Toledo because it can be crowded. I didn't find getting through security to be an issue – it seemed to be quick and efficient to me.

leanotlee
You will be fine with little to no Spanish. Spanish is Granada has a thick accent anyway. I saw a really good flamenco show in Granada, but you can find good shows in any of those cities. Make sure to check out Retiro Park in Madrid and Casa de Campo. Granada has the Alambra which is incredible! Sevilla is just an all around cool city 🙂

Just ask if they have a menu en ingles. Also, I was fluent in Spanish and lived there for 6 months. Me and the people from Granada had a really rough communicating because of the accent.

meganelise724
Book your accoms early because that will truly eat into your budget.

I would recommend Madrid because of its efficient transport, if you're flying from your country. The airport is pretty well connected to the city center. You can visit the old capital Toledo under an hour by a high speed train. Also there are quite a few free things to do in Madrid, and it's rather varied as well.

Spain is extremely varied from north to south and I have no idea what really counts as a traditional experience, sorry. But basically if you like super early Spanish history (moors), visit the Andalucia region. If you are interested in the history of the monarchy, visit Madrid. If you like neither and you like architecture, Barcelona does it best.

sadvodka
I recently travelled to Spain for just under €400 for a week (not including flights), I stayed in Sevilla and Granada. Accommodation might be more expensive in the summer but your budget should be completely ok. I only ate out properly once but I had beers/coffees/tapas daily, I visited several paid attractions, and I bought a few souvenirs. If you stick to hostels, travel from place to place by bus and don't splurge on private tours etc you'll be totally fine.

chickpeasandspinach
Best websites for finding accommodations
The short answer: Booking.com, Flatio.com (for longer stays), and Hostelworld.
So, when it comes to finding a spot to stay in Spain, there is no surprise.
I have a few go-to websites that never disappoint. First up is Flatio.com. It's great for students or anyone planning a longer stay. They've got a decent selection of places and have been around since 2016, making them a reliable choice​.
If you're on a tighter budget or perhaps looking for a more social lodging experience, Hostelworld is your buddy. It's got a vast inventory of hostels, and I find the search interface pretty user-friendly​.
For the best deals and user experience overall, you'd want to stick to Booking.com. It's my all-time favorite, and I've got the top level of their loyalty program unlocked (Genius 3)!
Another option would be Trivago or Kayak. These are excellent for comparing prices across different platforms, ensuring you get the most value for the money.
Lastly, for a more local vibe, I sometimes browse through Airbnb. It's a great way to find unique places and connect with local hosts, although can be quite expensive.
How to travel within Spain?
The best way to travel within Spain largely depends on the distances involved and personal preferences. Here are some options for getting around in Spain:
Flights

Air travel is especially useful for reaching Spain's outlying islands like the Balearic Islands and the Canary Islands​.

Trains

For long-distance travel between major cities, the high-speed train, or AVE (Alta Velocidad Española), is a popular and efficient choice. For instance, the train ride from Barcelona to Madrid covers around 500 km (311 miles) in just 2 hours and 40 minutes​.
As for buying train tickets online, I suggest using Omio, which is the best app to do that, in my opinion.

Buses

This is a cheaper alternative to traveling by train, although a bit less comfortable. For the tickets you might want to use Omio as well.

Road trips

Surprisingly, Spain has a well-maintained road network, which makes traveling by car quite a pleasant option. Road travel can be a good choice for those wanting to explore rural areas and smaller towns at their own pace.

Ferries

For the Canary or Balearic islands (such as Ibiza), ferries and other sea connections are available​
The cheapest way to travel between cities in Spain
These can vary depending on the circumstances:
Buses

Buses are often cited as the most budget-friendly way to travel between cities in Spain. They are a preferred method of travel for both locals and budget-conscious travelers due to their economical ticket prices, even though they might take longer compared to other methods of transportation​​.
In 2023, the Spanish government has taken a step further by making 42 long-distance bus routes free, allowing travel between most cities in Spain at no cost with a regular commuter season ticket​.

Carpooling

BlaBlaCar is quite popular here, and is often highlighted as an affordable way to travel between cities.

Lowcost train services

While high-speed trains might be on the pricier side, there could be low-cost train services or offers that provide a more economical option for inter-city travel. I also recommend buying train tickets far in advance.
Are Airbnbs good in Spain?
Airbnb has a significant presence in Spain, with a large number of properties listed on the platform. Even though the Covid-19 pandemic caused a decline in tourist rentals, the number of properties available is still notable.
In my experience, the quality of your stay largely depends on the owner and/or service management, and often it's a matter of luck whether you'll have a pleasant stay or not.
Even though Airbnb tends to filter out some low-quality accommodations, you can still be surprised by a significant discrepancy between the promoted pictures and reality.
Madrid or Barcelona?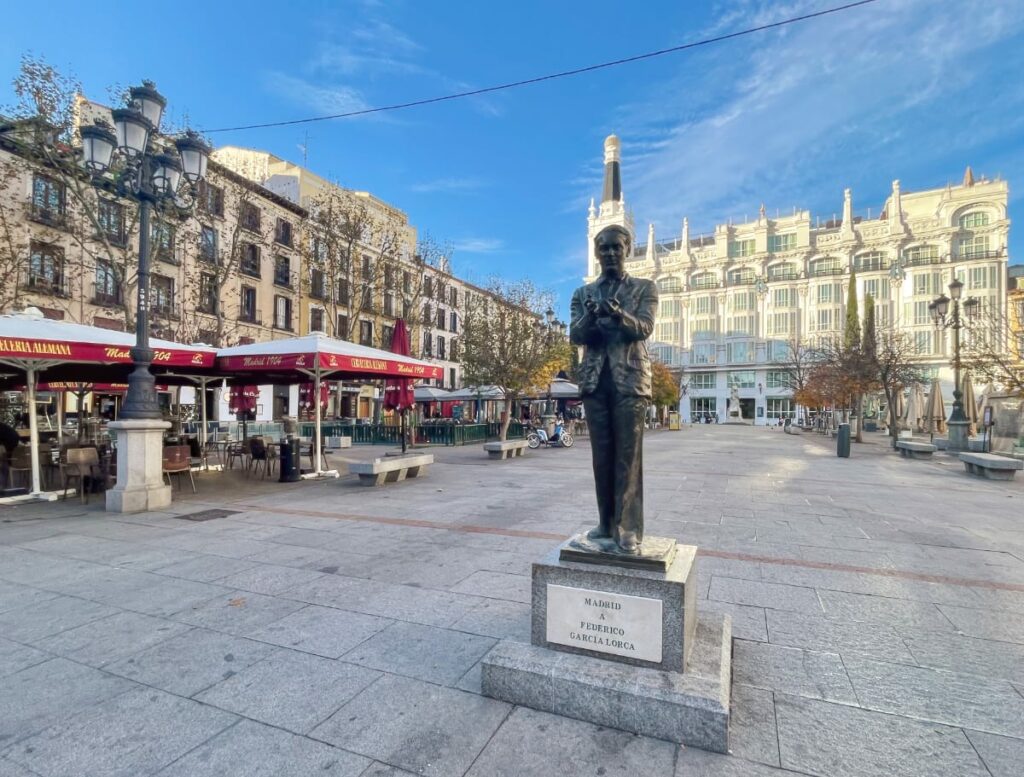 Choosing between spending more time in Madrid or Barcelona can be challenging, as both cities have a lot to offer. Here are some factors to consider when making your decision:
Madrid is more representative of what you would expect from Spain.
Barcelona is more touristic, but will be easier to get around and has tons of things to do.
Madrid has better & cheaper public transportation
Barcelona is humid and crowded in summer
Madrid is often much hotter in summer, with no beaches.
Much more tourists in Barcelona
Antonio Gaudí is the best with a symbol of Barcelona, unbeatable Sagrada Familia!
The architecture is more diverse in Barcelona
Nightlife is more interesting in Barcelona, too.
What is the cheapest city to stay in Spain?
According to my previous research, the cheapest ones are the following towns:
Alicante
Valencia
Malaga
Granada
Seville
Gran Canaria (the Canary Islands)
Murcia (region)
Cordoba (region)
A Coruña
Why is Airbnb so expensive in Barcelona?
Huh, it's not only that, but the prices for hotel stays have skyrocketed this year too.
The explanation doesn't offer a single answer. Rather, it's a combination of factors like expensive touristy city, inflation, businesses wanting to earn money, high taxes, the complexity of getting a renting license, etc.
In terms of prices, September-October and March-April would be the best months to travel there.
Where do locals travel in Spain?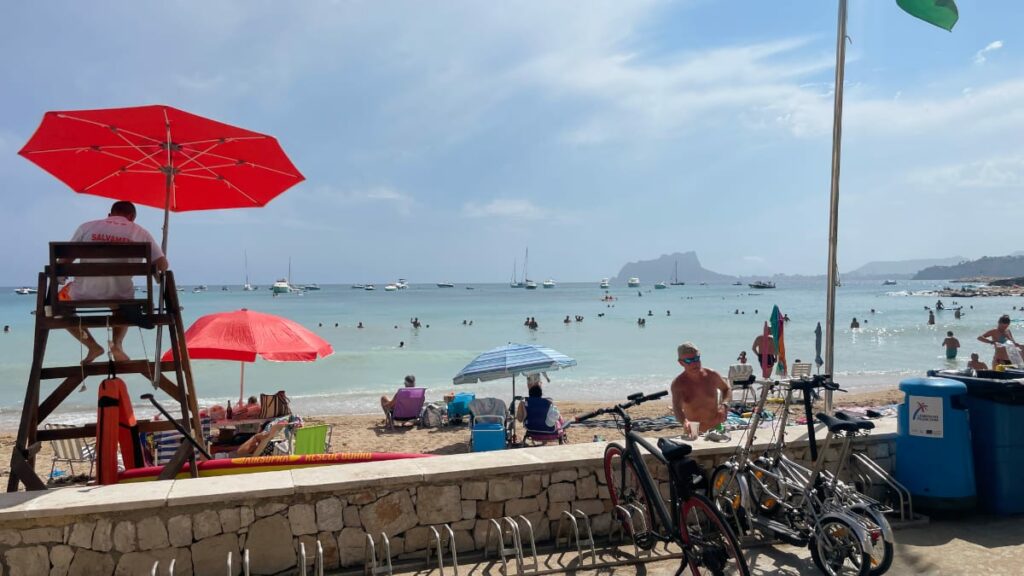 Locals are very proud of their country and they rarely travel abroad, Spain has lots to offer in terms of local tourism. Here are the most popular destinations among locals:
Lanzarote (the Canary islands)
Pyrenees
Sierra Leone
the Basque country
Galicia
Moraira (Alicante)
Palma de Mallorca (the Balearic islands)
Additionally, affordable stays in destinations like Torrevieja, Reus, Guardamar del Segura, Roses, Santa Pola, and Torre del Mar are also popular, allowing locals to enjoy Spain without a hefty price tag
Is Italy or Spain cheaper?
Compared to each other, Spain is generally cheaper than Italy for travelers. Here's a quick overview of how their costs compare:
Housing/Accommodation: Accommodation in Spain tends to be cheaper than in Italy. For example, you can find budget hostel dorms in Spain for around €15-25 per night, while in Italy they are more likely to be €20-35. Mid-range hotels are also usually cheaper in Spain.
Food: Dining out and grocery shopping in Spain is noticeably cheaper than in Italy. You can get a three-course meal in Spain for €10-15 in an average restaurant, while in Italy it's more like €15-20. Groceries like bread, produce, meat etc. are all a bit lower cost in Spain.
Public transportation: Trains, buses and taxis are less expensive in Spain. For example, intercity high-speed trains are roughly 30-50% cheaper in Spain than in Italy.
Activities/Sightseeing: Entrance fees to museums, landmarks and attractions tend to be a bit lower in Spain. But both countries have many excellent free sights and activities too.
In general, Spain's lower cost of living and tourism infrastructure makes it more budget-friendly for travelers. Italy certainly has affordable options too, but is relatively pricier overall. The difference is noticeable on a daily basis spending on things like meals, hotels and transportation.
How long is the high-speed train from Madrid to Seville?
The duration of the high-speed train journey from Madrid to Seville is approximately 2 hours and 40 minutes to 3 hours, depending on the specific train service.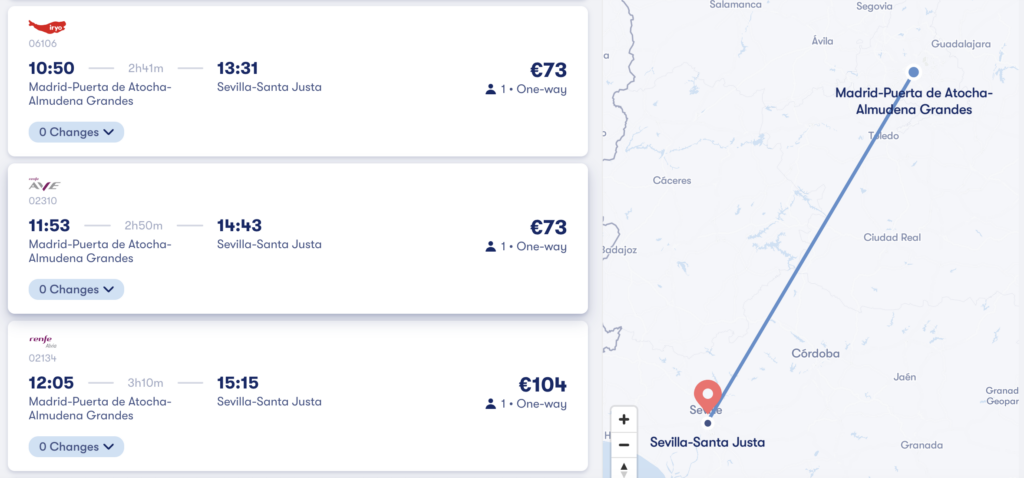 How long is the high-speed train from Madrid to Barcelona?
The duration of the high-speed train journey from Madrid to Barcelona is approximately 2 hours and 45 minutes to 3 hours and 15 minutes.
Prices are for the round trip: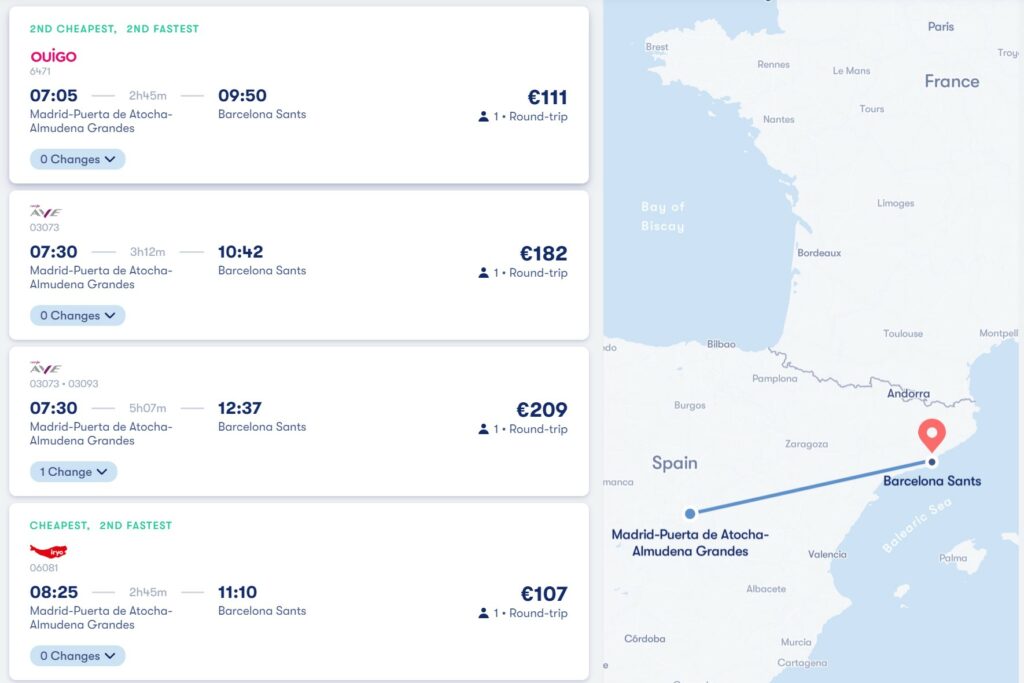 How long is the high-speed train from Madrid to Valencia?
The duration of the high-speed train journey from Madrid to Valencia is approximately 2 hours.
Prices are for the one-way trip: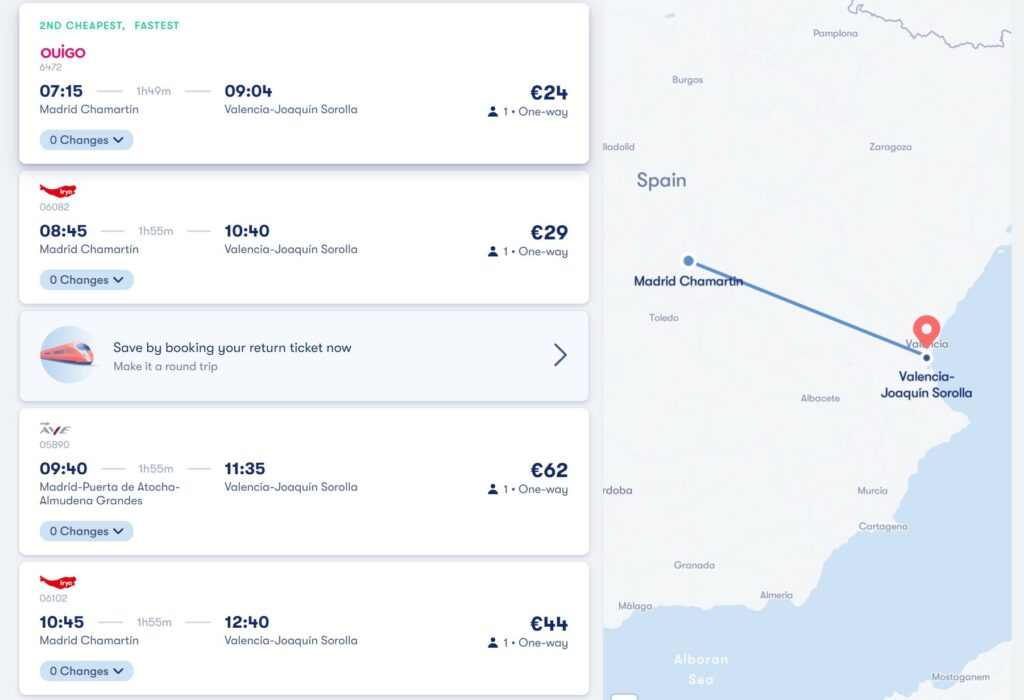 Helpful links