Portugal or Spain? A Detailed Comparison
Nadia Podrabinek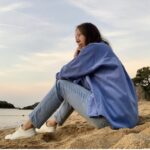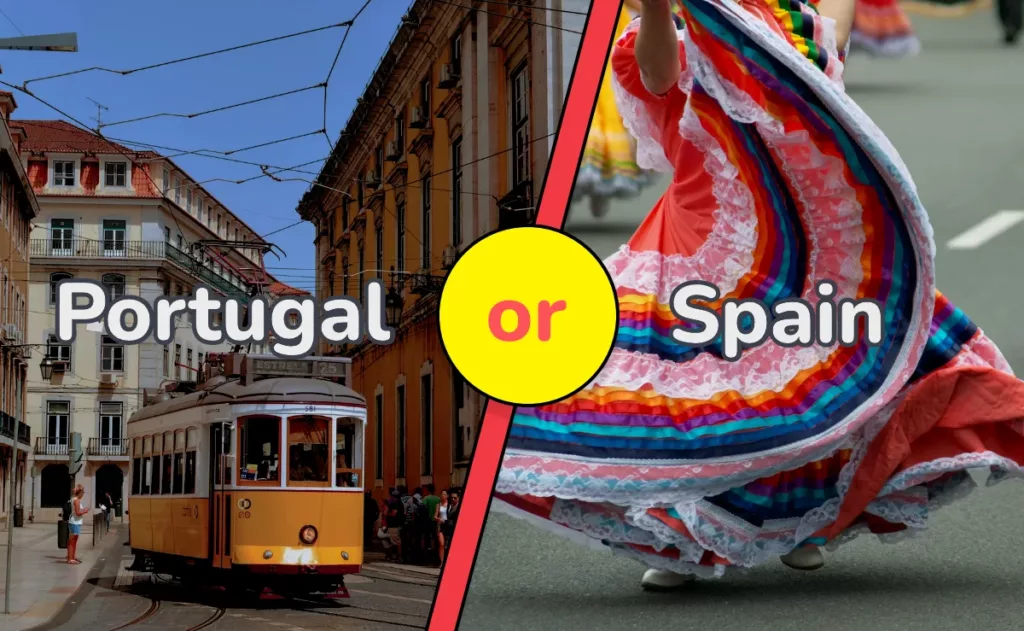 When it comes to relocation and long-term living in Europe, few destinations can rival the beauty of Portugal and Spain. Both countries offer stunning landscapes, welcoming locals, authentic cities, and a wealth of cultural attractions.
But which one is right for you?
In this blog post, I will be taking an in-depth look at both countries side by side to help you decide whether Portugal or Spain should be your destination of choice.
I'll explore all aspects ranging from climate, cost of living, taxes, and lifestyle – giving you everything you need to make an informed decision.
---
Key takeaways
Spain vs. Portugal is a hugely debatable topic, and you will encounter many politically charged opinions when researching.
Portugal is smaller and cheaper (except for Lisbon). Spain is bigger, offers more variety, with many regional differences, feels more international, and has more cultural stuff.
Portugal offers the non-habitual resident (NHR) program, which can significantly reduce taxes compared to Spain. Spain also has a wealth tax (depending on your net worth).
Spanish is easier to learn than Portuguese, however there are a lot more English speakers in Portugal.
Local job markets in Spain and Portugal are really tough.
Both countries are great and surprisingly different: You can't go wrong with either.
---
Climate differences
Let's start with the weather.
Portugal and Spain share similar climates (mostly Mediterranean), though they differ somewhat in their temperatures, winds, and rainfall.
Portugal
The ocean breeze in Portugal makes the summer heat more bearable, keeping temperatures from getting too high. Winters tend to be quite humid, yet summers remain relatively dry due to the windy conditions that help dissipate humidity and keep temperatures cooler.
Interior Portugal and the north coast are different, with a cooler climate and more yearly rainfall.
In contrast, southern regions are relatively dry during summers, with the average annual temperature range between 50°F (10°C) and 75°F (24°C).
Spain
In Spain, the climate is generally hotter and less windy with warmer water.
The central regions experience a more continental climate characterized by intense summers and cold winters (for instance, Madrid in July-August can be unbearably hot due to the lack of sea breeze).
Northern Spain tends to be colder; it often serves as an escape for those from southern parts who need respite from the sweltering heat of summer months.
Southern Spain is the hottest but has pleasant winters (although it might be quite rainy and windy).
If you are coming from the US Coastal southern Europe is much drier than the American southeast.
Weather patterns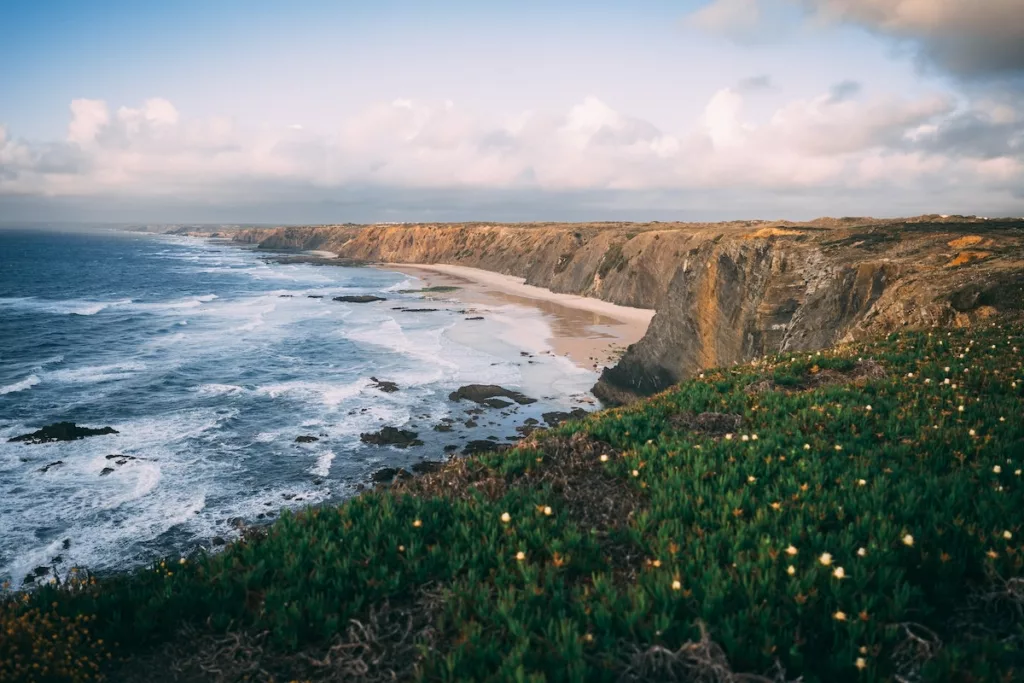 If you want to learn more about their climate, the best time to visit Portugal and Spain is typically from April to June or September through October. The weather is milder, and days are longer, with temperatures ranging between 60-75°F (15-24°C).
Daytime temperatures in July and August can reach well into the 90-100s Fahrenheit (35+°C), making it more uncomfortable for sightseeing (not to mention that Spanish people go on vacations in August).
Cost of Living
Read also: Cheapest Places to Live in Spain and Cheapest Places to Live in Portugal
It seems almost impossible to be objective on this topic, so I decided to compare the prices of two major cities: Lisbon and Barcelona. The data speaks for itself, so I'm presenting it in a tabular format.
| | |
| --- | --- |
| The cost of living in Lisbon, Portugal | Budget |
| Rent (2-room apartment, fully furnished) | $1,200 |
| Utilities (Electricity, Gas, Water) | $200 |
| Internet (Cable, Mobile) | $75 |
| Groceries | $300 |
| Public Transportation | $50 |
| Eating out | $250 |
| Gym | $50 |
| Health Insurance | $200 |
| Occasional Shopping / Clothes | $150 |
| Total | $2,475 |
Outside of Lisbon, you can save a lot on housing and services (other than utilities). Keep in mind that $2,000 per month is the absolute minimum; living there with less money is not advisable.
As for your children, you will have to pay between $600-800 monthly for private school per child.
You should also budget classes for Portuguese and other unexpected expenses if you are going to stay long-term.
| | |
| --- | --- |
| The cost of living in Barcelona, Spain | Budget |
| Rent (2-room apartment, fully furnished) | $1,400 |
| Utilities (Electricity, Gas, Water) | $250 |
| Internet (Cable, Mobile) | $75 |
| Groceries | $400 |
| Public Transportation / Taxis | $50 |
| Eating out | $500 |
| Gym | $50 |
| Health Insurance | $200 |
| Occasional Shopping / Clothes | $200 |
| Total | $3,125 |
Helpful tip Keep in mind that to rent an apartment for $1,000, you will need to spend between $4,000 and $5,000 (current month's rent + two months' deposit + sales tax + agency fees).
Additional links: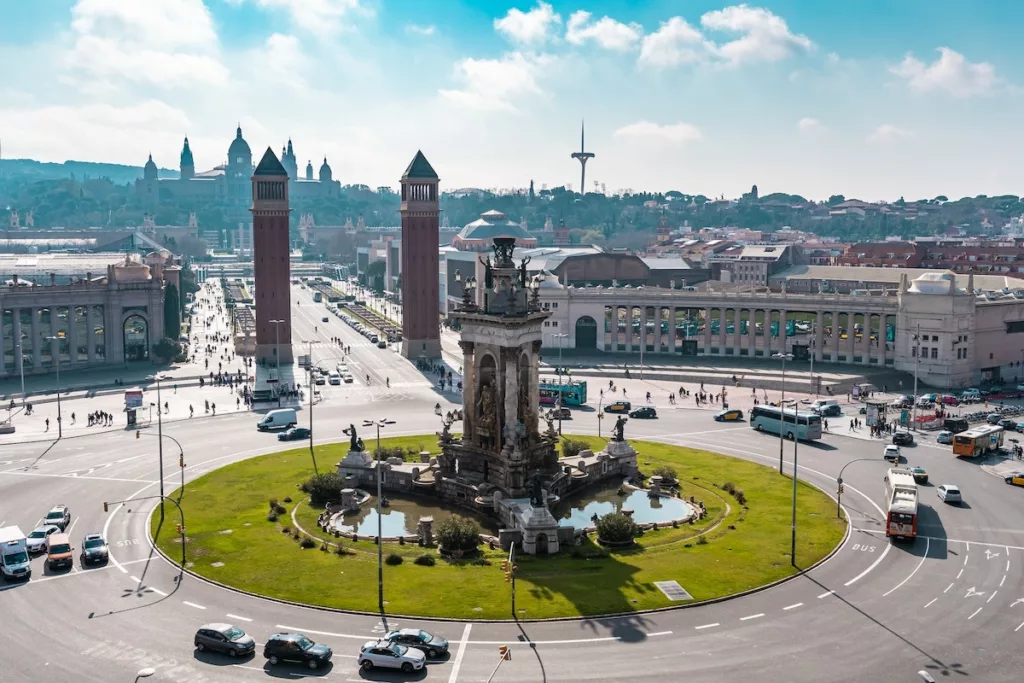 After all, living "cheap" is really a matter of perspective and depends on what you're comparing to.
Living in a big city in Spain or Portugal will have higher costs than in a smaller town. Still, you probably will not like to live in the smaller cities the way the locals do (for example, central heating isn't common, and locals are accustomed to suffering from colder days because of electricity prices).
On the flip of the coin, the healthcare system is more than affordable in both countries compared to the US.
Taxes and Immigration Laws
First, I strongly recommend hiring an immigration attorney, as it may save you money in the long run (in terms of tax status) and make the process much less painful.
How to get a residency permit in Portugal
EU citizens: Depending on the length of your stay, you may need a residence permit for Portugal. If your stay is longer than three months, you must apply for a Residence Certificate from the local Foreigners and Borders Service (SEF).
Non-EU citizens: All non-EU citizens must obtain a visa before entering Portugal and apply for residency permits at their local SEF office once in the country. The types of visas available depend on why they want to live in Portugal – work-related, study-related, family reunification, etc. Once they have obtained their visa, they can start the process to apply for permanent residency after five years of continuous legal residence in Portugal as long as specific criteria are met, such as having sufficient financial means or being employed full-time with a valid contract of employment amongst others depending on which type of visa was issued initially
Golden Visa Program: This program applied specifically to wealthy investors looking to move into Portuguese territory without obtaining other paperwork necessary like those mentioned above but requiring significant investments instead in areas such as real estate purchases over €500,000.
Update: The Portuguese government has decided to discontinue the Golden Visa Portugal program, which allowed foreigners to obtain residence permits in exchange for investment. Current "golden visas" will only remain valid if they are used towards permanent residency or long-term leasing of property by investors or their descendants.
Between October 2012 and January 2023, 11,628 "golden visas" were issued, with 10,668 being attributed to home purchases worth over six billion euros; most recipients were Chinese, Brazilian, and American citizens.
Hot to get a Spanish permanent residence visa:
Buy a golden visa and invest €500,000 with either housing purchase(s) or investing.
Be hired by a Spanish company.
Get a non-lucrative visa (NLV) and transfer the funds to a Spanish bank account.
Apply for a DN (digital nomad) visa, which has become available since Jan 2023.
Digital Nomad Visa in Spain
Non-EU nationals can live and work in Spain for up to five years with the new remote work visa, which became available for application starting January 2023.
The visa was designed to attract entrepreneurship and improve Spain's tech scene and offers an excellent opportunity for digital nomads outside the European Economic Area.
When applying, they must prove that their job can be done remotely and demonstrate qualifications or experience in the field, along with other requirements (e.g., an income of $2,400 and at least five years' existence of the company they are working in).
I am not advocating for any visas or working as a lawyer; therefore, you should investigate the topic further.
Citizenship in Spain
You can apply for Spanish citizenship after 10 years. Also, you do not need to give up your US citizenship.
When you become a naturalized citizen of a country, renouncing your birth citizenship is typically only a verbal declaration of allegiance to your new country. Despite common misconception, these words don't actually revoke your birth citizenship (which can be a difficult and expensive process).
The key issue lies in the fact that the country where you gain naturalization may not recognize dual citizenship. For example, Spain doesn't verify with the U.S. whether someone has truly renounced their American citizenship.
Taxes in Portugal
Taxes in Portugal are relatively low, with a flat tax rate of 23% (or 14.5% for those earning less than €7,100 per year). Compared to Spain, which has progressive taxes ranging from 19-45%, Portugal's rates are generally lower.
In Portugal, foreign-sourced income is generally exempt from taxes, including crypto gains derived from spot transactions and dividends taxed at 0%.
There is also no wealth tax in the country, while pension and self-employment (freelancing) activities that fall under high-value professions are taxed at 10% and 20%, respectively.
This residency prerequisite does not require EU citizens to spend minimum time in Portugal to qualify as tax residents.
There is also a relatively low corporate income tax rate of 21% for companies operating in the country.
Taxes in Spain
Here is the basic information, but please, don't take your advice here, consult a tax professional.
Spain has a progressive tax system with higher rates for those earning more. The personal income tax rate starts at 19% and goes up to 45%. Taxes on foreigners/digital nomads depend on their status as either residents or non-residents in Spain, but generally, they are subject to the same rules and regulations as Spanish citizens regarding taxes.
Residents (those who spend 183 days or more per year) are taxed based on their worldwide income, while non-residents only pay taxes related to activities performed within Spain's borders.
In addition, digital nomads may be required to register themselves as self-employed individuals (autónomo) if they intend to perform paid work digitally from the country. Another option would be applying for a Digital Nomad Visa.
In Spain, residents must file taxes on all worldwide income exceeding €22,000 if they have lived there for more than 183 days per year. The United States also requires that its citizens who live overseas pay taxes to them.
Fortunately, due to a no-double tax treaty between these two countries, you can pay either the US or Spanish government and receive a foreign tax credit from their other nation of residence for what was already paid.
To ensure compliance with both countries' regulations, you can submit your American income information to your Spanish accountant by late May to determine how much is owed before filing with both governments; Americans abroad are granted an automatic extension until June 15th each year.
Public Transportation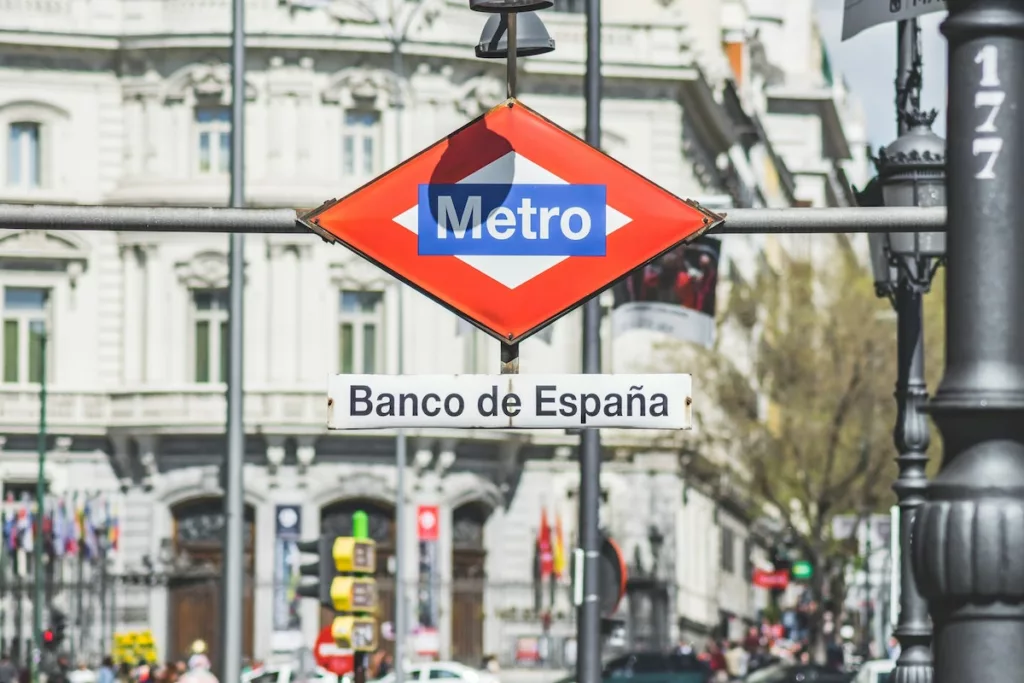 Both countries are well developed in terms of transport means – subways in major cities, urban buses, high-speed trains, taxis, and even trams (in Lisbon).
The public transportation system is reliable and very well thought out. Trains and buses are also very clean and comfortable.
In Portugal, most intercity travel is done by bus (Rede Expressos) or train (Comboios de Portugal). The main type of public transport in the major cities are the electric tram networks known as Metro do Porto and Lisbon Tramway Network.
These systems operate within their respective city limits and connect to nearby towns like Coimbra or Sintra.
Spain has an extensive rail network with high-speed AVE trains connecting major cities such as Madrid-Barcelona-Valencia-Seville. At the same time, slower regional services provide access to smaller places throughout the country.
Buses operated by Alsa serve many destinations across Spain providing excellent coverage even for remote regions not serviced by railway lines, e.g., Galicia or Andalusia.
Urban areas typically feature well-developed metro networks, which usually integrate with city bus routes.
Read also: Is there Uber in Spain?
Travel Attractions
Spain and Portugal are stunning countries and share a lot of history, culture, and natural heritage.
I think Spain offers more and thus has more tourists, as it is larger and has the Canary Islands. Okay, you might argue that Portugal has the Azores Islands; however, Spain still wins by quantity, including outdoor activities.
Also, it is a too big topic to cover completely in this post, so I'll briefly mention some historical landmarks, cultural experiences, and natural wonders.
Portugal
Jeronimos Monastery
Quinta da Regaleira
Castelo de Sao Jorge
Fado Music
Douro Valley
Sintra (as a day trip from Lisbon)
Cabo Da Roca Cliffs
Estoril Coastline & Beach resorts on the Portuguese Riviera (the Algarve)
and many more
Spain
Alhambra Palace and Gardens
Sagrada Familia Cathedral
Flamenco
Tapas
Picos De Europa
White Villages of Andalusia (e.g, Frigiliana)
the Canary Islands
and many more
Cuisine
Oh god! I don't want to compare their cuisines thoroughly. If I did that, you could even get mad at me 🙂
The main similarity is that they use lots of seafood.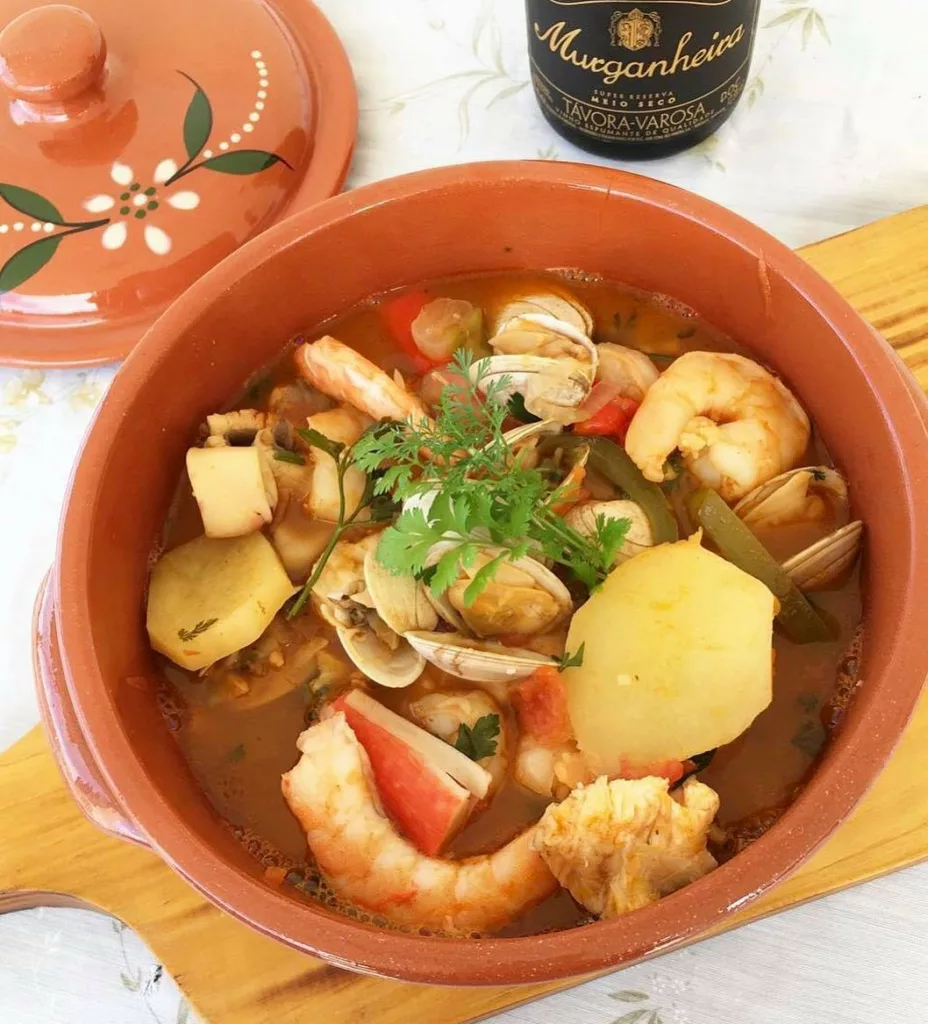 Portugal has an extensive coastline on the Atlantic Ocean which provides an abundance of fish and shellfish to create traditional dishes such as Caldeirada (a stew made with cod or other types of fish), Arroz de Marisco (rice cooked with clams, shrimp, squid, etc.), Bacalhau com Natas (cod served with cream sauce) and Polvo à Lagareiro (octopus roasted over a fire, olive oil, potatoes, and garlic).
Spain also has access to plenty of seafood from its Mediterranean Sea. Popular Spanish seafood dishes include Paella de Mariscos, Gambas al Ajillo, Pulpo Gallego, and Caldero Murciano.
The main differences:
Portugal: Pasteis de Nata (egg custard tart pastry), Presunto (smoked cured ham), Sardinhas assadas (grilled sardines), Francesinha Sandwich (bread, ham, sausages, and steak covered with melted cheese and topped with an egg), Caldo Verde (cabbage & potato soup).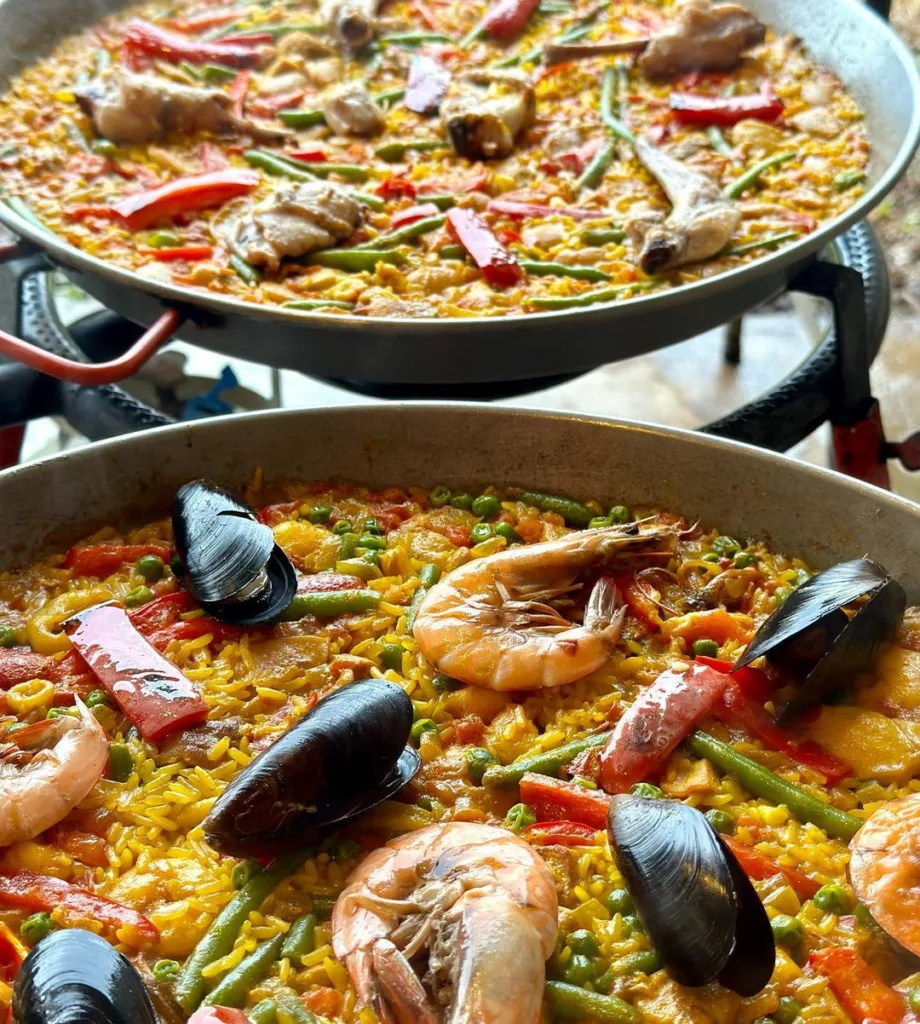 Spain: Jamon (cured ham), Patatas Bravas, Tostada con Tomato (tomato toast), Churros con Chocolate (sweet fried dough), Gazpacho (a cold tomato soup or drink), Padrón peppers, Tortilla de Patatas (Spanish omelet), Salmorejo (a soup made of tomato and bread), Croquetas (deep-fried rolls with a filling).
Read also: The Most Popular Food in Spain
Culture
If I were to summarize in a paragraph, I would say that Portugal's culture appears somewhat "sad," marked by its melancholic fado music and the concept of "saudade" (nostalgia). On the other hand, Spain boasts a happy culture, filled with numerous fiestas and even flamenco music feels happier than you might think.
Living in Portugal vs Spain FAQ
Moving to Portugal vs. Spain as a Digital Nomad
Although Spain recently introduced the digital nomad visa, I would still bet on Portugal. Portugal is cheaper, cleaner, calmer, and friendlier than Spain; however, the latter offers warmer temperatures, better beaches, and larger cities.
Where are the best beaches, in Spain or Portugal?
In Spain, definitely. There are many beautiful beaches not only on its Mediterranean coast but also in the Canary Islands (which are quite different from each other – tropical, volcanic, pebble, sand) and Mallorca, Ibiza, or Menorca. Portugal has most of its coastline shared with the Atlantic Ocean, which brings colder waters, winds, and big waves.
Which food is better, Portuguese or Spanish?
It is difficult to say since both countries have many dishes based on seafood. The only major difference is that the portions are larger and more affordable in Portugal.
Which country should you choose for your vacation: Portugal or Spain?
Spain is better for beach leisure, and it's easier to travel to France and Italy from there. In terms of historical sites, nature, and authenticity, both countries are perfect choices. By the way, Portugal may be a bit more cost-effective.
Is Portugal hotter than Spain?
Well, it's not a straightforward answer. The average annual temperature in Portugal's southern region, the Algarve, sits at around 17.4°C (63.3°F). Meanwhile, in Andalusia, Spain's hottest region, the average annual temperature tends to be slightly lower, about 16.9°C (62.4°F), because of its colder winters. Despite this, when considering the countries as a whole, Spain is typically hotter than Portugal.
The bottom line
Even though I tried to make this post a comprehensive guide, I quickly realized how presumptuous I was in my attempt.
Nevertheless, you now have a clearer picture of the key differences between these two beautiful countries.
If you've never been to Portugal and Spain, I highly recommend you visit both to decide which one you like best!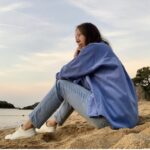 Hello, my name is Nadia.
I usually write about traveling (there are so many places to fit all the lifestyles), relocation (finding a job overseas or moving without losing an income), and living in a foreign country (adapting to a different culture and mentality). Follow me on Twitter, Facebook, Instagram, or LinkedIn!
This post might include some affiliate links. If you make a purchase through these links, I may earn a small commission at no additional cost to you. I appreciate it when you use my links to make purchases.