My Guide to Pico Island, Azores
Nadia Podrabinek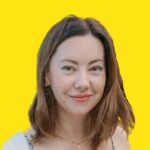 Written by Nadia Podrabinek
Hello, my name is Nadia. I usually write about traveling (there are so many places to fit all the lifestyles), relocation, and living in a foreign country (adapting to a different culture). My travels stretch beyond Spain, with journeys to the US, Italy, Norway, Portugal, and France. Relocating to Spain in 2018, I lived in cities from Barcelona to Madrid, currently calling Valencia home.  Follow me on Twitter, Facebook, Instagram, or LinkedIn! ... show more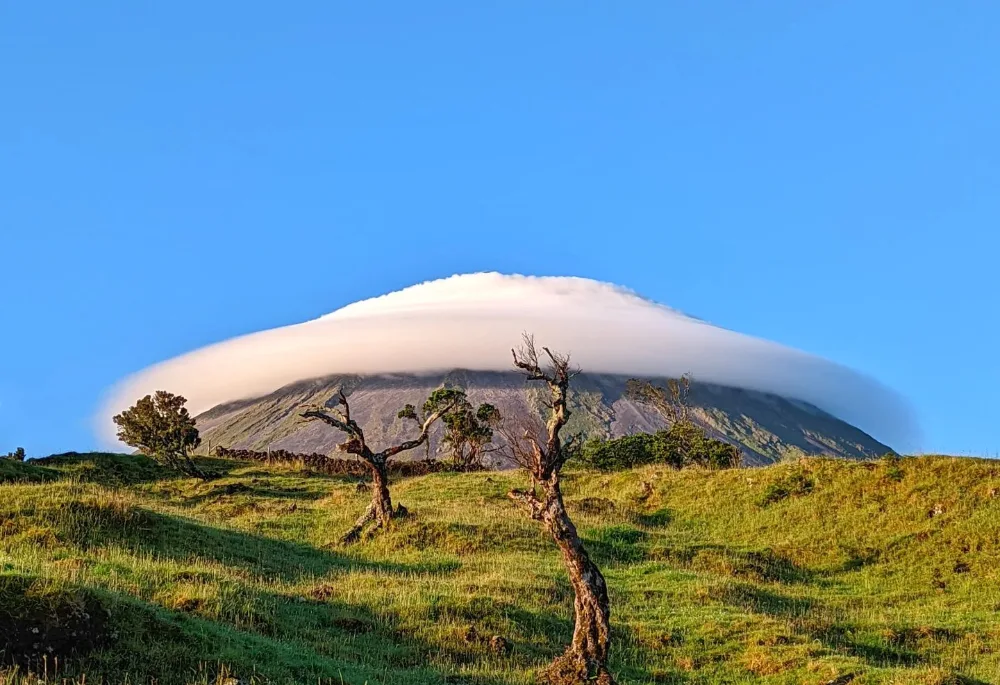 Pico Island, Azores, is a Portuguese island most well-known for its Ponta do Pico volcano, Portugal's highest mountain.
The Portuguese poet Raul Brando called Pico Island the "Black Island" (Ilha Preta). Brando's nickname for Pico Island stems from the nutrient-rich black soils responsible for the island's thriving vineyards. These vineyards are why Pico Island was given a Unesco World Heritage Site designation. Pico's wine industry forms a large part of the island's economy.
---
Key takeaways
Pico is a ridiculously beautiful island.
Hike the nature paths between old volcanic walls.
Do whale-watching and a wine tour.
It is not a beach leisure destination.
---
What people day on Reddit
There's a lot of nice things to do on Pico, no need for boredom. You don't have to rent a car for most parts of the island, because there are buses going to the major points, but if you want to visit the more remote regions like the Caldeira it's better to rent a car for a day. If you've never been there then the vineyards are always worth a visit as well as the volcano and the area surrounding the mountain house. Many people like the wine museum in Madalena as well.

jellyb345
São Jorge is my favourite of those 3 for hiking – the descent to Caldeira do Santo Cristo is a must. Climbing to Pico is not for the faint hearted, I would recommend hiring a guide and pray for good weather before climbing up there.

pcastro47
For hiking any island is great. Any island has such a montain as Pico. But a good choice would be São Jorge. The fajãs are one of the most astonishing landscapes ever created by Nature. São Jorge is a one hour ferry trip from Pico. Why not both? The ferry runs daily so give it a chance if you have time.

carlosjsilva
No idea whether they're open evenings, but I went to Pico Wines with only an hour or so to spare and left very happy indeed, wonderful woman who walked us through the excellent wines they make there.

biwster
There is much to do on Pico Island. As such, it is a popular destination for tourists interested in sampling some Pico wine, hiking, and whale watching.
You can also take in the authentic natural beauty of Mount Pico and a host of other island attractions. In this post, I will mention some of these and my other top picks of the best things to do on Pico Island, Azores.
The island reminds me of the Big Island of Hawaii. I also think that the Azores should be called the Hawaii of the Atlantic!
Where is Pico island?
Pico Island, or Ilha do Pico in Portuguese, is an island that forms part of the North Atlantic Ocean Portuguese Azores archipelago, which lies about 780 miles (1,250 km) off Portugal's mainland coast.
The island is about 10 miles (17 km) south of São Jorge Island, with Faial Island 4.3 miles (7 km) to its west. These three islands form the Central Group of the Azores, a region known as The Triangle. São Jorge Island is approximately 930 miles (1,500 km) west of the Portuguese mainland.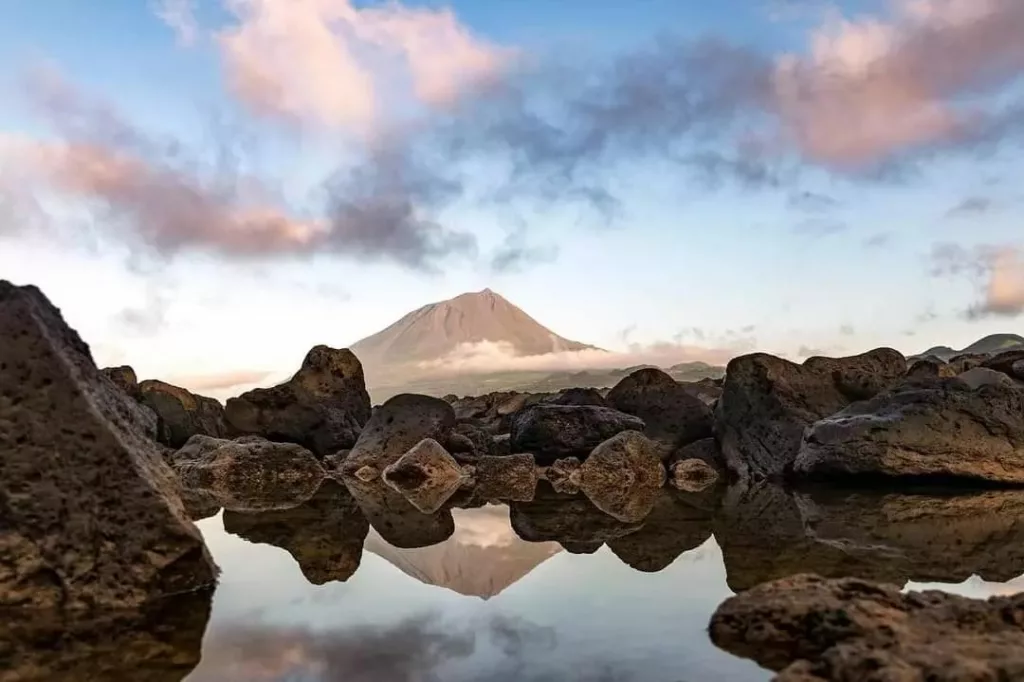 How to get
By plane. There are two weekly flights from Lisbon to Pico island (with a stop at San Miguel island), on Saturdays and Mondays. The flight duration is 2 hours and 45 minutes. The ticket price is $50-$150 one way.
Important You cannot take a ferry from San Miguel to Pico. Do not believe what people tell on their blogs!
Another option is the direct flight from Lisbon to Faial island (four weekly flights by Azores Airlines), and get the ferry to Pico from there.
From the United States, you can fly to the Azores via New Your City or Boston, but these are not direct flights – you will be destined to land on San Miguel island first. Then, it will take another hour to fly to Pico.
The 9 Best Things to Do in Pico Island, Azores
Hike to the top of Pico Mountain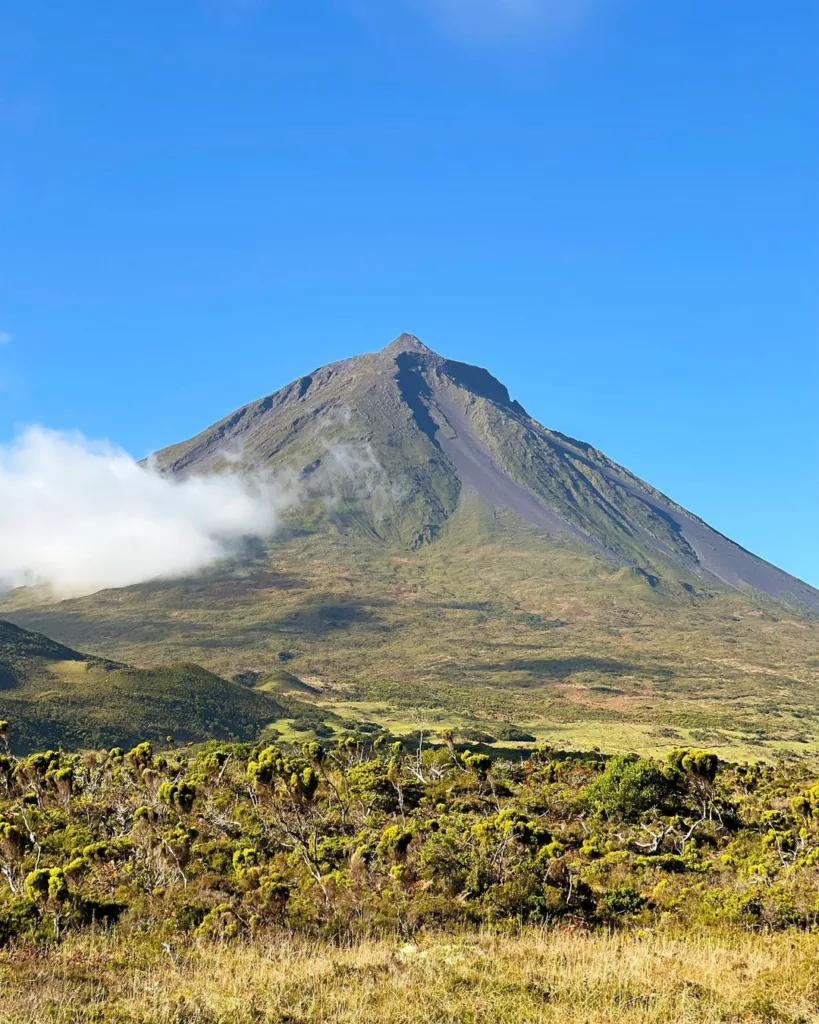 The hike up Mount Pico is undoubtedly not easy. The varying weather conditions and steepness of the ascent make it a challenging hike. You will feel a real sense of accomplishment upon reaching the summit.
Hiking boots will be necessary. I also recommend larger training before starting the hike, which is about 7-8 hours round trip.
During the hike up Mount Pico, you can expect the weather to change several times, so take a raincoat. Even if there's bright sunshine as you depart the mountain house, you're not assured of staying dry for the duration.
If you reach the pinnacle, Pico Pequeno, you will feel the still-existing volcanic activity. Steam filters from between the rocks, and you'll feel the heat of the Pico Mountain volcano on the surface as you clamber to the top on all fours. This hike is challenging but exhilarating!
The round-trip hike takes about nine hours, so reserve an entire day for the experience. Alternatively, if you book beforehand, you can spend a magical night at the crater on Mount Pico. Only 32 hikers are afforded this opportunity daily, so make inquiries early!
Climbing Pico Mountain has its share of risks, so many hikers employ a guide to help climb Portugal's highest mountain. It's the safest way to ascend to the highest peak of Mount Pico for several reasons:
The route up Pico Mountain consists of 47 markers, with no actual trail to speak of. It is sometimes not obvious where the next marker is, so choosing the easiest and safest path can involve some guesswork. A guide eliminates your need to guess a route.
The inclement and changeable weather I mentioned earlier means Pico Mountain can be enveloped in thick mist, fog, or clouds. In no time, the markers can be hidden altogether.
If you're with a guide, you can stay at the Mount Pico summit for a whole hour, as opposed to only 20 minutes if you're on your own. You also needn't make a reservation, as a guided tour has its own allotment.
Go whale watching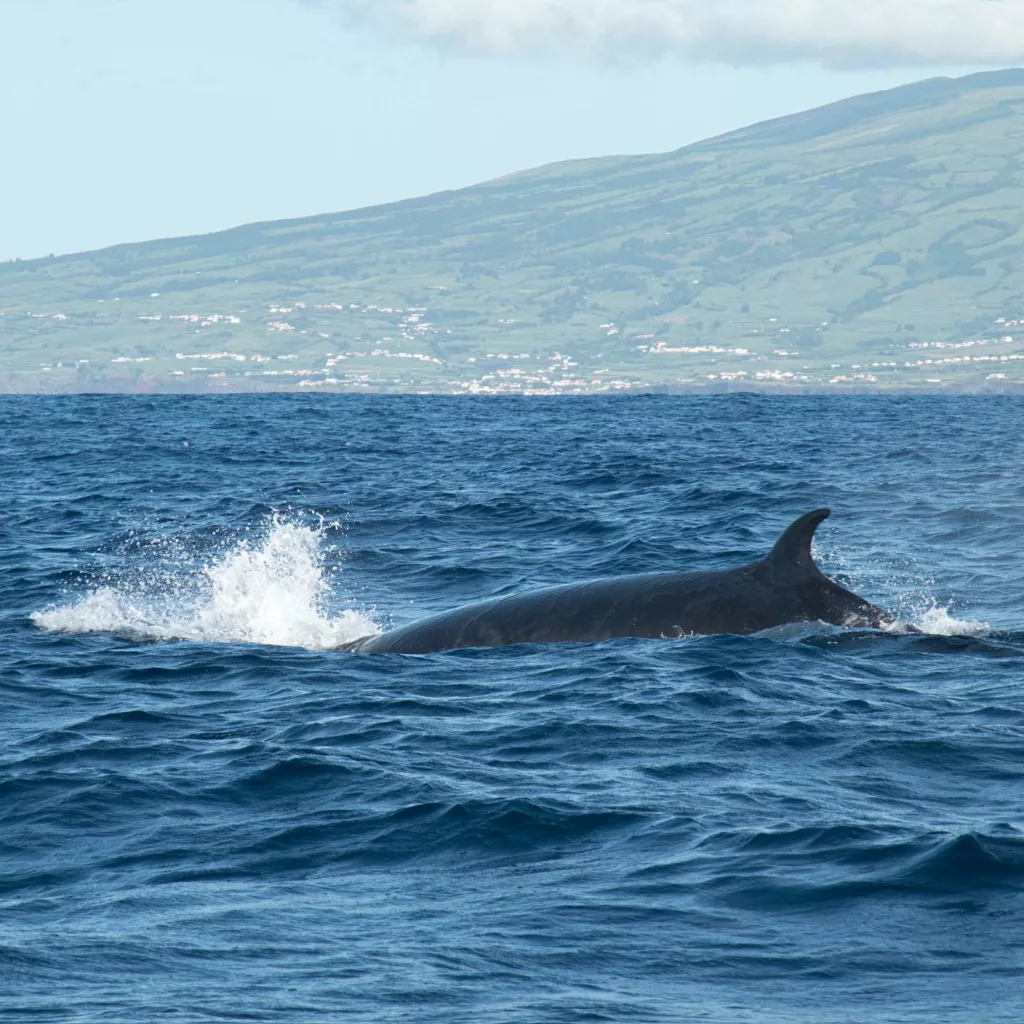 Over 20 types of dolphins and whales live in the North Atlantic Ocean around the Azores. Many of these are visible through a guided whale-watching tour off the beautiful Azores island of Pico. A professional skipper and crew with first-class local knowledge will take you on a boat trip you're not likely to forget.
Before you set out from Pico along the Atlantic's north coast, you'll be briefed about what you should watch for and what you can expect to see. Not only will you get to see the cetaceans, but the gorgeous views of Azore's second-biggest island from the boat deck are breathtaking.
Booking a guided whale-watching tour can be done online. This can be one of the easiest ways to ensure you get the best deal too.
Visit the Pico Island Vineyard Culture Landscape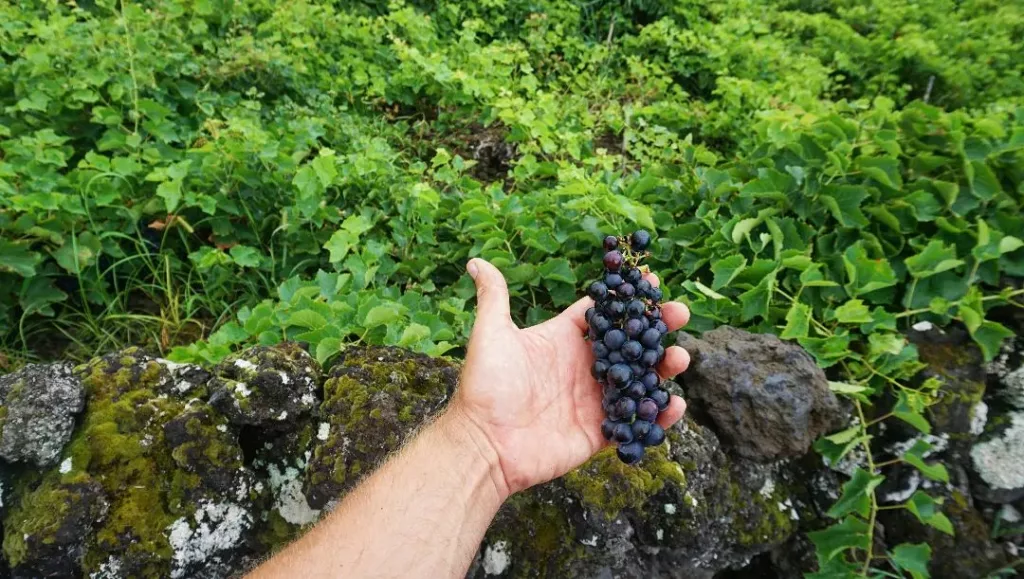 Pico Island's Landscape of the Vineyard Culture is a Unesco World Heritage Site. You will locate it on most of the island's southwestern, northwestern and western coastlines within the Madalena and São Roque do Pico municipalities.
This landscape's evolution over five centuries has seen a comprehensive network of black basalt stone walls erected. These run alongside the coastline and jut inwards towards Pico's interior. Erected to protect the vineyards from the wind, these long walls also keep out a large proportion of the damaging sea salt spray coming off the ocean.
The vines themselves get planted in "currais," rectangular enclosures designed for optimal vine growth. The Pico Landscape of Vineyard Culture also includes wine cellars, warehouses, churches, manor houses, and regular dwellings in the region. Also included are the ports, ramps, pathways, and wells built over many farming generations to ease wine production.
Hike the Criação Velha vineyards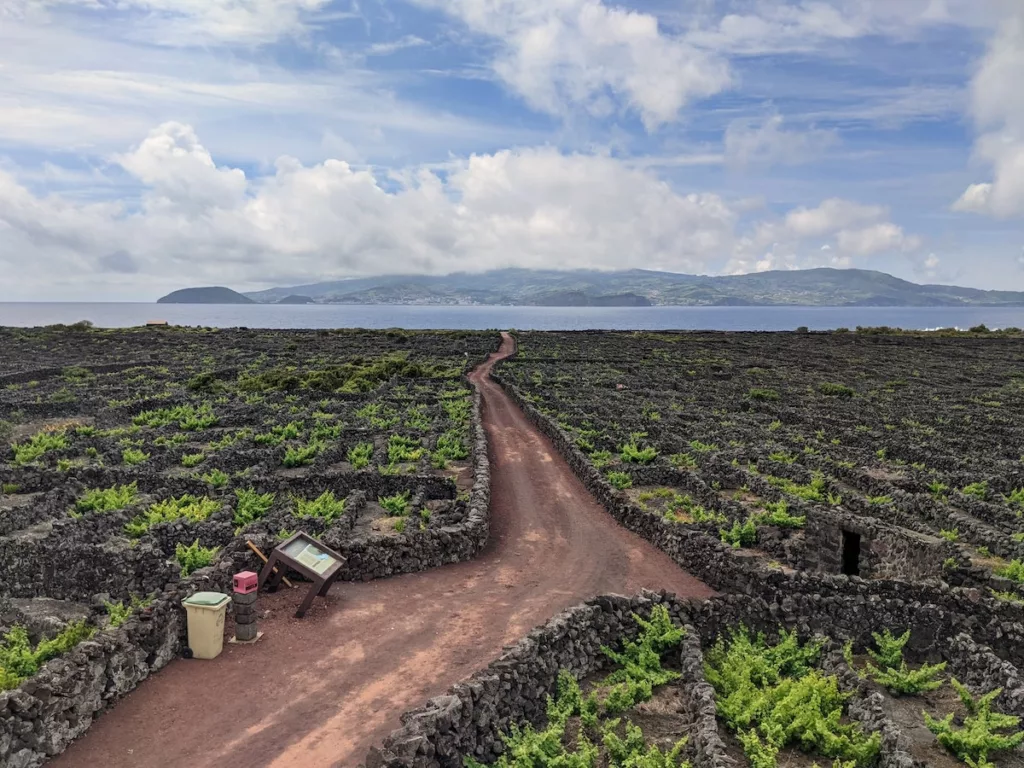 The Criação Velha volcanic vineyards received their World Heritage Site designation in 2004. You can hike on the PR05PIC trail between the vineyards in a truly unique experience. Between Criação Velha's many volcanic walls, you will find wine cellars steeped in history, shelter houses, and a natural swimming pool.
You will also see Moinho Do Frade, the red windmill, holding pride in place over the area. You might find the well-preserved, traditional windmill souvenir shop open if you are lucky enough. I cannot give you any operating times, though, as the owner does not run the shop to standard working hours. If you are fortunate with timing, you can buy souvenirs like trinkets as keepsakes.
The red mill contrasts with the surrounding landscape and offers a spectacular photo opportunity. Not only that, but you can climb the ladder and see the vineyards stretching out for miles. If you get the chance, take it – the view is spectacular.
Visit the Pico wine museum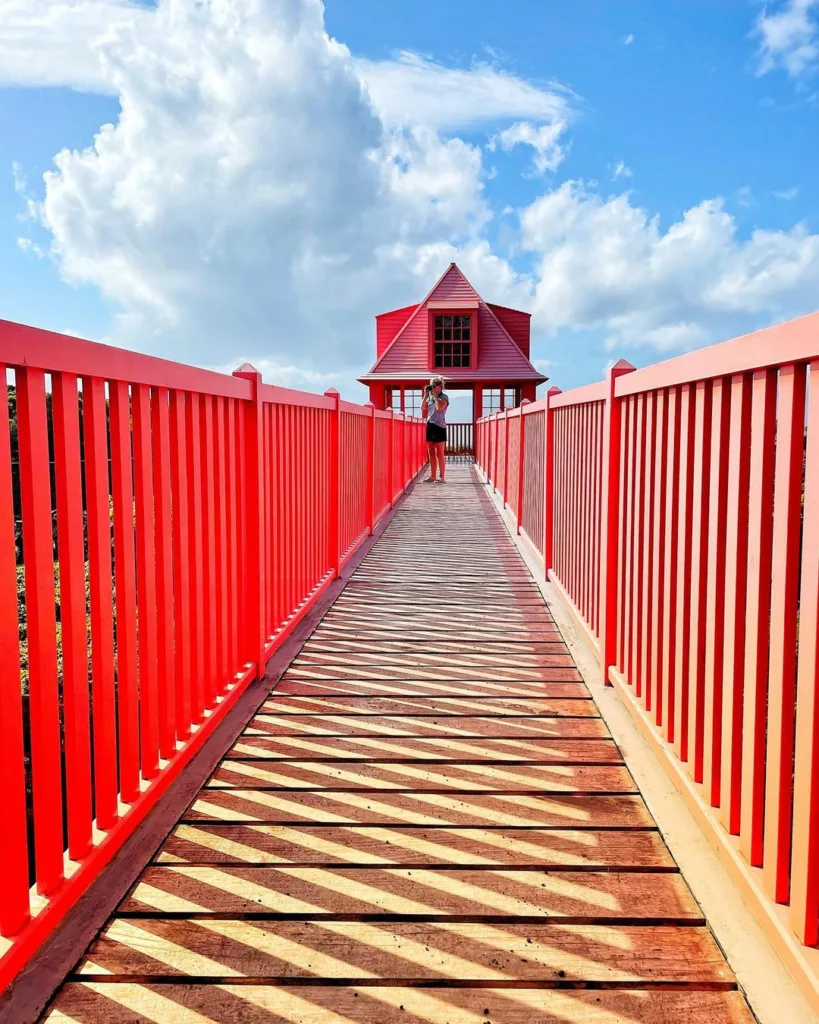 An excellent venue to educate yourself on Pico's wine industry (and the wine itself) is the Museu do Vinho do Pico, or Wine Museum, in Madalena. The site of the Museu do Vinho do Pico in Madalena was once owned by the Convent of Our Lady of Mount Carmel in Lisbon. It is an old, well-kept building with lots of history.
In the wine museum, you will find a wine press and several antique implements and documents. These depict part of the historical winemaking culture of Pico. The grounds of the Museu do Vinho do Pico include various fountains and an operational vineyard. A host of Dracaena draco, the island's iconic 'Dragon trees' from ancient times, grow in the gardens.
The wine museum is an exceptional experience for all wine lovers. It provides a history and background of the unique Pico vineyards on the island and has been open since 1999. It operates on weekends and every day of the week besides Mondays. An added bonus is the view of Pico Mountain from the museum.
Sign up for the wine-tasting tour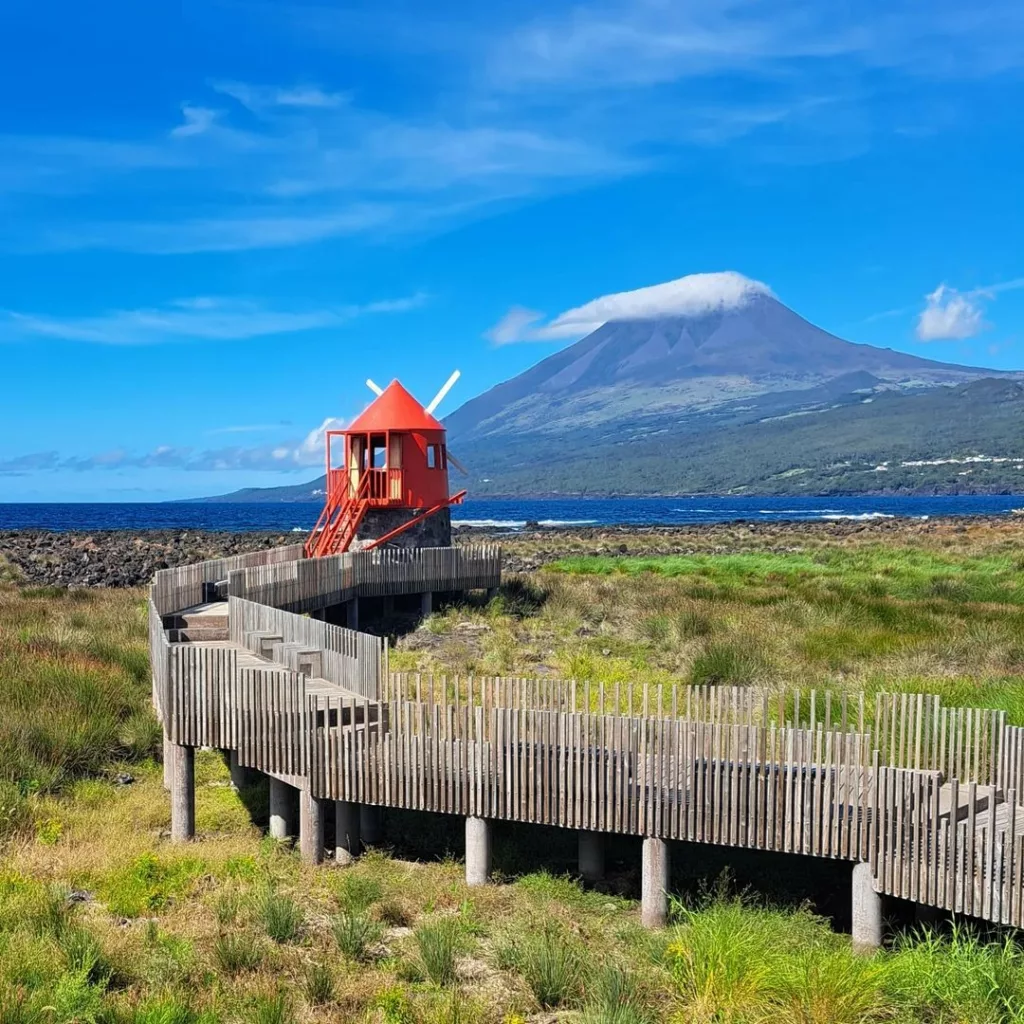 Signing up for the guided wine tour of Pico allows you to visit all the best vineyards and wineries on the island. This tour includes lunch and transportation. You'll get several wine tastings and information on winemaking over its eight-hour duration.
On the route, you will meet some of the winemakers themselves and receive an education on the winemaking and blending processes. You should book in advance, as early as possible, to avoid disappointment. If you require a special diet at lunch, contact the tour group, and give them at least 48 hours before the tour to accommodate your requirements.
Visit Praia do Canto da Areia Beach
Check the availability on Google.Maps, the beach can be closed to the public.
The island of Pico is not renowned for its beaches. Still, Praia does Canto da Areia scores highly among beaches in the Azores. This sandy beach stretches around 160 feet (49 meters) beside the lapping waves. It is a relaxing setting that provides scenic views of the neighboring São Jorge beyond the breakers.
You will find a mix of boats lining the beach, ready for you to charter on a fishing expedition. The sea life is plentiful, and you could reel in a few unique, exotic-looking fish if you're lucky. You might also spot a whale or dolphin from the beach as there is no shortage in the waters around the island.
Gastronomically speaking, Pico may be small, but it has a wealth of excellent restaurants where you can savor the delicious local cuisine. A few of these are close to Praia do Canto da Areia. Handily, there's a freshwater shower on the beach to freshen up before you visit a restaurant.
Take a boat tour
I have already mentioned taking a whale and dolphin-watching tour or chartering a fishing boat. There are other boat tours are also available on the island of Pico, though. You can enjoy a morning or evening of luxurious sightseeing while cruising off the Azores' Triangle Islands of São Jorge, Faial, and Pico.
These tours allow visitors to call on Pico and the other two islands and see them from a fresh perspective. The boats ride smoothly on the ocean and are suited to large and small charters. There's no fixed route, although guests typically leave this in the skipper's capable hands. You choose to stop where and where you want to, including on the islands themselves.
You get the full package, with washrooms and a private room included. Not only that, but the crew will advise you of the best sights and places for activities like snorkeling, where you can stop and give it a bash if you like.
Visit the whaler's museum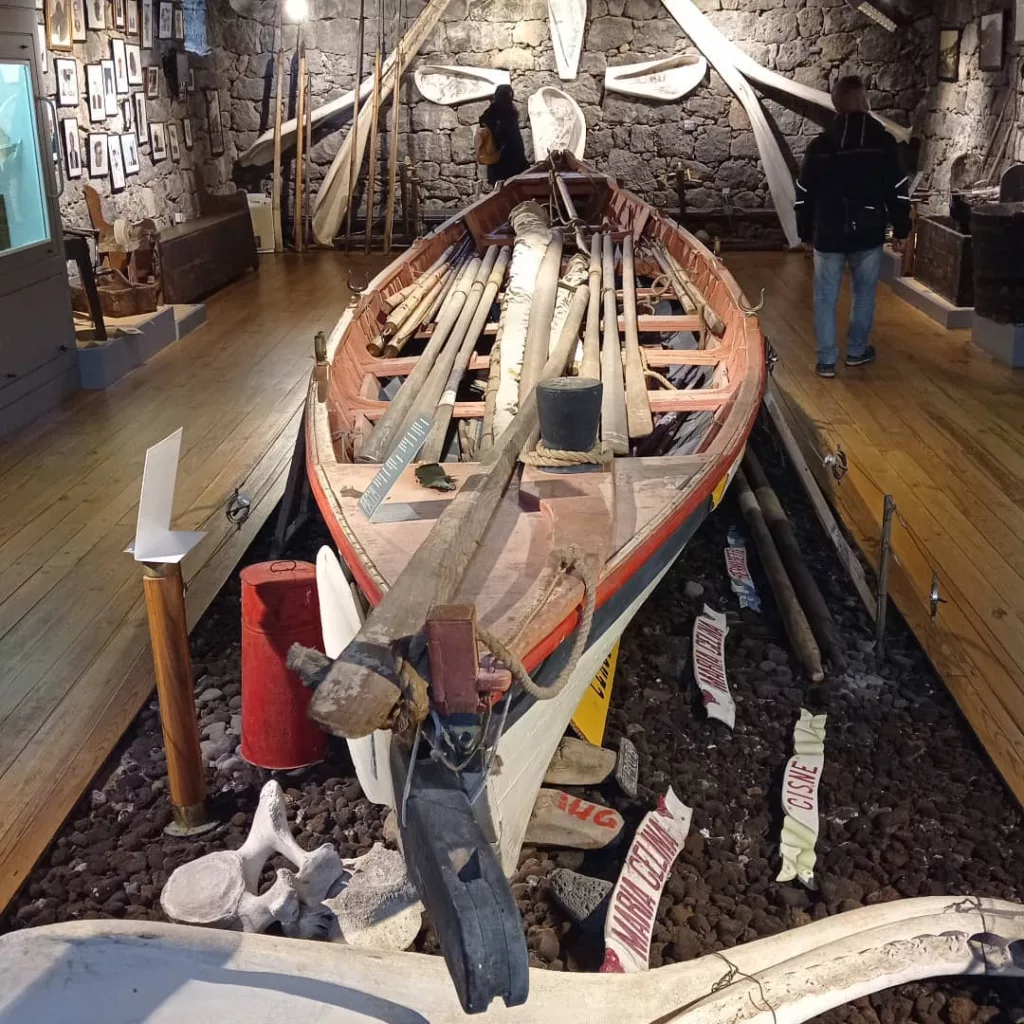 After heading out to watch the whales, you should call past Museu dos Baleeiros in Lajes do Pico. This museum will provide valuable information on the time when whaling was a burgeoning and everyday activity on the islands.
This whalers museum is the place you want to be to learn about historical whale hunting on Pico Island. It's a small museum with interesting exhibits and information for island visitors. It's also very close to the point where you'll climb aboard the cruise for your experience of watching these enigmatic sea mammals.
At Museu dos Baleeiros in Lajes do Pico, you will learn the origins of whaling on Pico, how important it was in the island's economy, and how the whalers used to hunt these massive sea creatures.
Whaling was an art form, with the crew of the sloops working in conjunction with spotters on the shore. These spotters positioned themselves strategically on the island's volcanic soil. From there, they signaled directions to the hunters at sea when spotting a whale. Although whale hunting was outlawed in 1986, it remains an integral part of Pico's culture.
Visit Cella Bar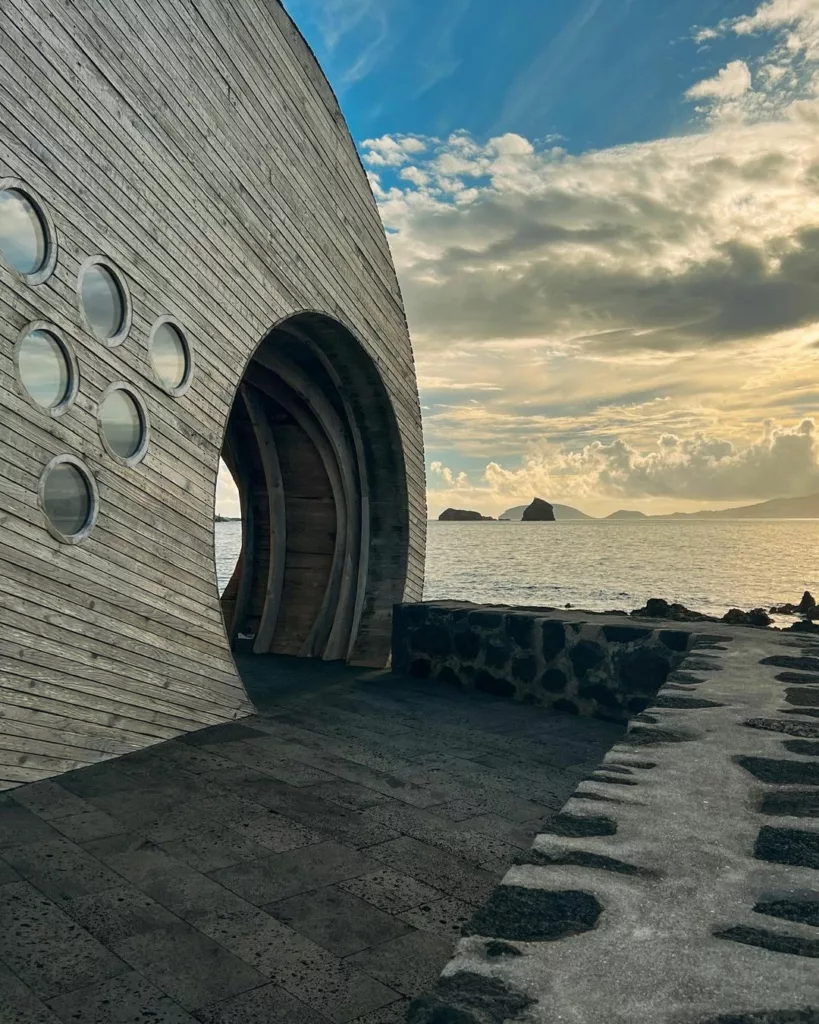 Cella Bar is a unique bar on the beach in Madalena, on Pico's west coast. Part, but not all, of the uniqueness of Cella Bar is its one-of-a-kind architectural design. The bar is designed to appear like a whale's back, made entirely from wood. This architectural prowess won Cella Bar the Arch Daily "Building of the Year" award in 2016.
Besides the architecture, Cella Bar is incredible in other ways, not least for its food. The fish soup (Sopa de peixa) is worth writing home about, and the local Pico cheese is a delight, soft with some delicious flavors. Sample the local brandy wine, too, if you get the chance, and finish off dinner with Cella Bar's famous Chocolate Mousse.
This friendly, vibrant bar/restaurant is inviting for both locals and tourists. The view of neighboring Faial Island is exquisite, and watching the sunset over the ocean is a perfect end to a day in Pico paradise.
What people say on Google: 4.3 stars, 1,725 reviews
Rua Da Barca, 9950-303 Madalena, Portugal
Explore Pico's natural pools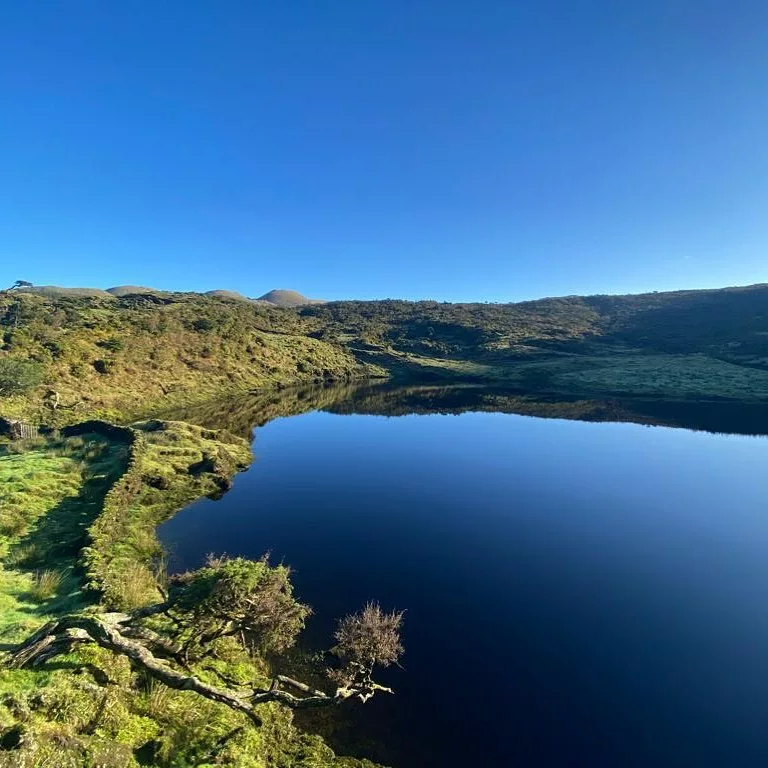 Natural pools are scattered along every volcanic island's coastline, and Pico Island is no different. After a volcanic eruption, new formations get created from molten rock, sometimes shaping them as natural pools. Several of these are so secluded that they only fill with seawater when the waves are exceptionally rough, while others are always full.
The São Roque do Pico natural swimming pools are among the most frequented on the island, but there are many more on Pico. They are 100% natural in formation, but islanders have since added handrails and ladders to some to aid with entering and exiting the pools.
You can also visit Cabeço dos Grotões lake, which is definitely worth a hike!
Explore Portugal's largest lava tube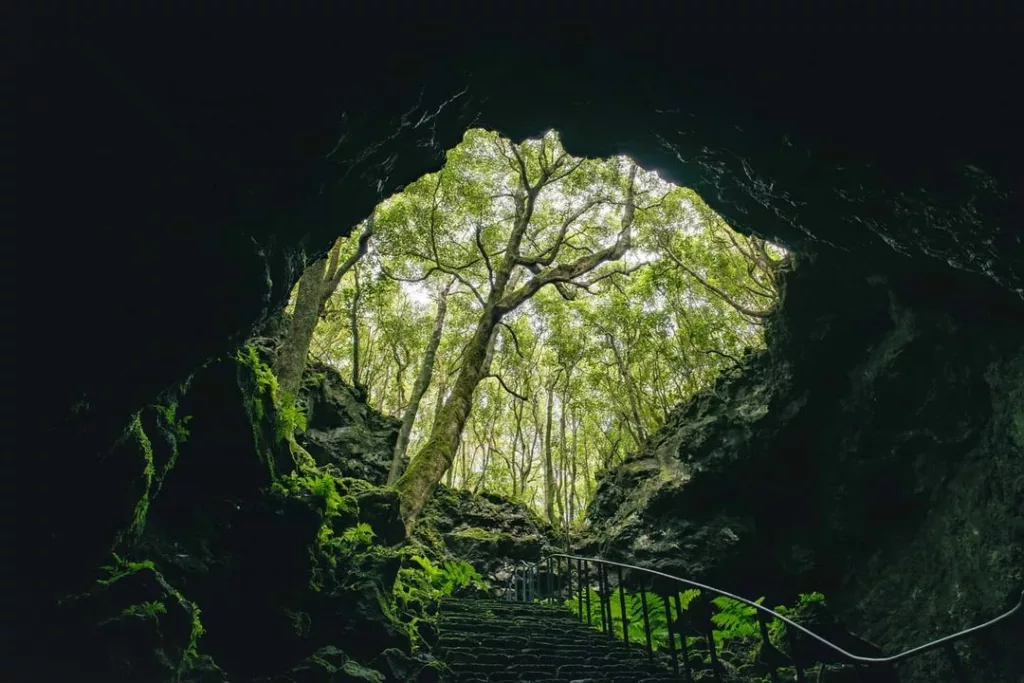 At more than 3 miles (4.8 km) long, Gruta das Torres is the largest lava tunnel in Portugal. It is also the largest cave in the archipelago, with parts of the tunnel still unexplored. Analysis of the existing lava dates the tunnel at over 15 centuries old.
You will need a guide to enter the tunnel. Wearing a head beam, you and the guide will explore the first 500 yards (457 meters) before turning back. The guide will explain much about the island's history and the lava tube itself and point out the different lava types you're seeing. You won't see this kind of tunnel every day, so I suggest grasping the opportunity.
What people say on Google: 4.5 stars, 744 reviews
Caminho da Gruta das Torres Criação Velha, 9950-000 Madalena, Portugal
Frequently Asked Questions
What is the best time of year to visit Pico Island?
If you are looking for dry weather, consider visiting Ilha do Pico between May and August. There is the least chance of significant rainfall during that period.
What clothes & accessories should I bring when visiting the island?
Don't pack too much, as you can wash and dry clothes quickly on Pico. If it is summer, bring clothes made from breathable, lightweight fabric as it gets sweltering. You can wear smart shorts in restaurants on the island. Don't forget your outdoor clothing and hiking boots if you plan to walk the island or visit the volcanic crater. And deodorant is vital!
How many days for the visit to Pico Island?
Here is the thing: The weather is unstable on Pico Island, and you may encounter lots of rain, wind, and clouds. So, I would plan at least 5 days to secure the best weather window and to make the most of the trip. But you will probably feel rushed. So, 10 days is much better. And if you have more time, check out São Jorge island, it is well worth it!
Conclusion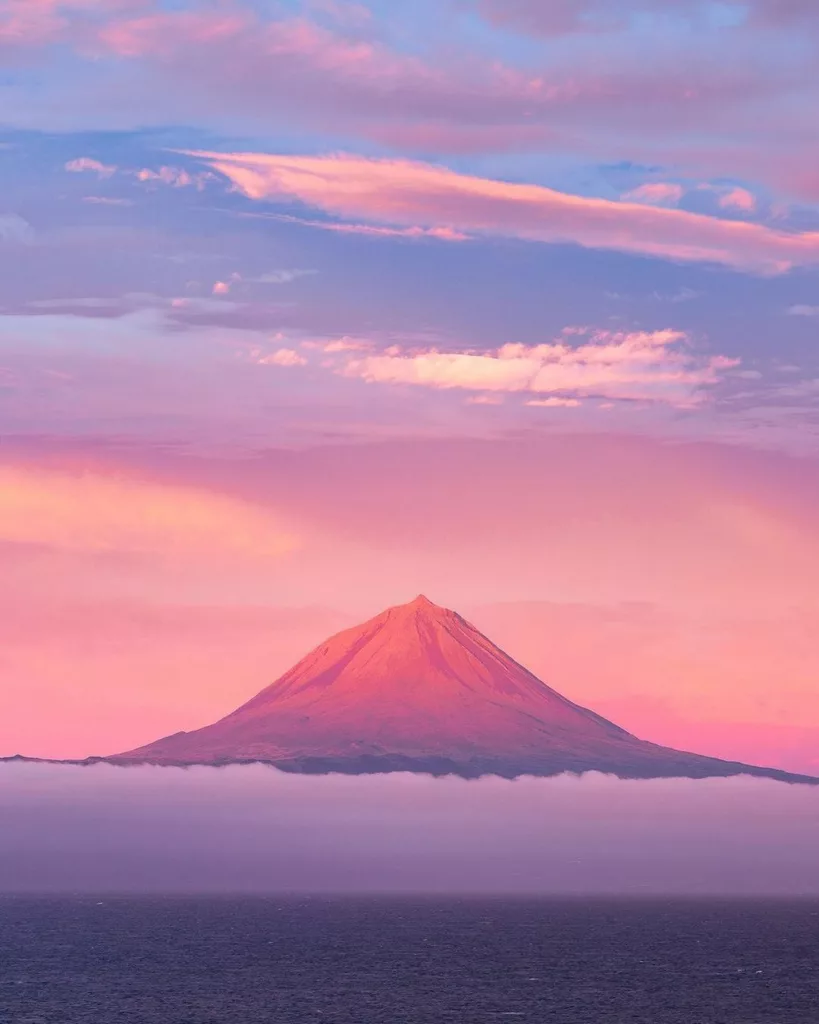 This destination is a delight to visit. There are many things to do on Pico Island, and you don't have to travel much in between. I recommend Pico, Azores, as a vacation destination for wine lovers and those who enjoy the great outdoors.
The views of the island, the ocean, and the other islands from Mount Pico are better than you can imagine! This little island on one corner of the Azores' Triangle is worth the airfare and more. Give it a try for an unforgettable vacation!