15 Best Lightweight Hiking Boots in 2023
Nadia Podrabinek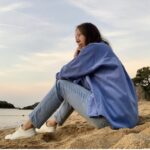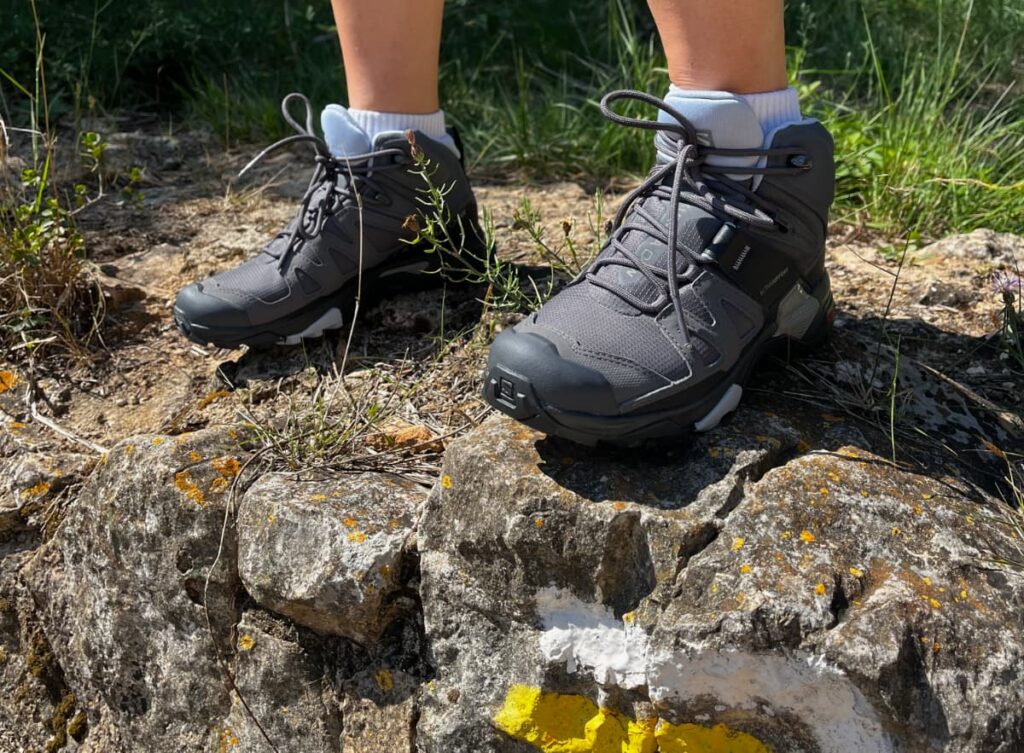 Choosing lightweight hiking boots can be overwhelming, as there are many options available on the market from a variety of different brands such as Salomon, Altra, La Sportiva, Merrell, Columbia, and more. After hours of testing, backpacking, and trekking, I have some advice to share to help you find what you need.
Why lightweight? Lightweight hiking boots/shoes, or even trail running shoes provide a comfortable and enjoyable introduction to hiking, allowing you to move easily and freely on the trails while still offering a reasonable level of protection and support for your feet.
Why trust me? Apart from hiking, with these types of blog posts, I spend significant time researching products, purchasing them, testing and trying to provide unbiased reviews. On the rare occasion when I'm unable to procure an item, I ask my fellow travelers to share their thoughts on the products they've used. 😇
So, here are my recommendations for hiking boots, which are based on my personal experience and preferences (and may not necessarily align with everyone's needs or tastes).
---
Key takeaways
---
Top lightweight hiking boots for Men and Women
1. La Sportiva Spire GTX Waterproof Light Hiking Shoe
The La Sportiva Spire GTX hiking shoe is one of the best lightweight footwear for its durability, waterproofness, breathability, and exceptional traction on various terrains due to its rubber compound outsole.
It's a versatile shoe, suitable for different weather conditions, with a comfortable design, providing agility for extended treks. A standout feature is its lace-up closure system, offering a precise fit, and a supportive footbed ensuring comfort during prolonged use.
However, there are some areas for improvement, such as the marginal insoles and the potential premature aging of the laces. The Spire GTX is seen as a preferred choice compared to the La Sportiva Raptor 2's, and are highly sought after and sometimes challenging to find in stock due to their popularity among hikers.
Overall, despite the relatively high price tag, the Spire GTX's quality and functionality make it a worthwhile investment.
2. Salomon X Ultra 4 Mid GTX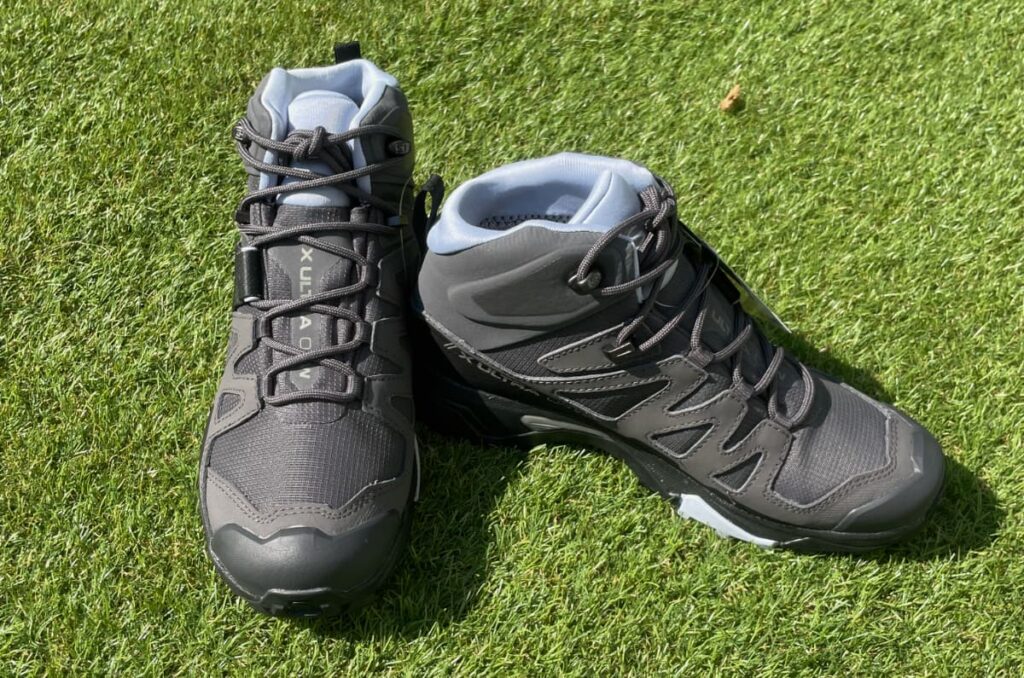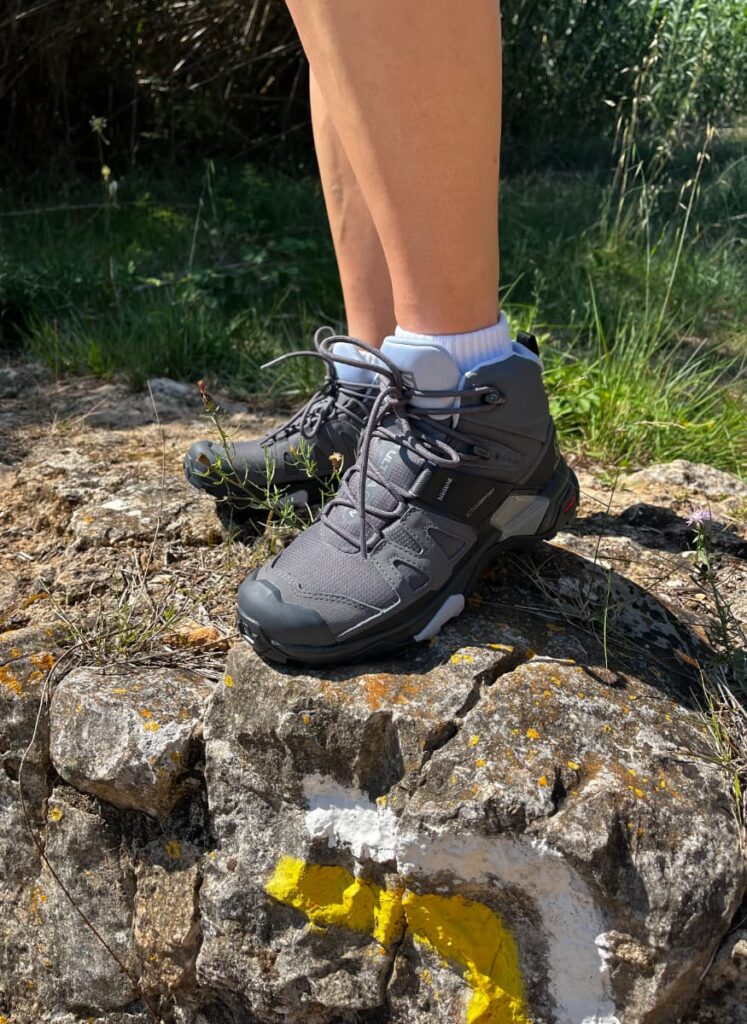 The Salomon X Ultra 4 Mid Gore-Tex hiking boots combine the agility of trail running shoes with the stability and grip required for technical hikes. Its notable features include a synthetic-and-rubber construction, a rubber sole, waterproof design, and a Contagrip MA outsole for all-terrain grip.
I really like these boots for the comfort, lightweight design, and the fact that they require no break-in period. The shoes offer a wide toe box, and may seem to run slightly larger than other Salomon shoes of the same size.
The only thing that is bothering me is the flaw with the upper lace open hooks (I don't know if it's only my pair or not). This issue might require a fix or replacement of the hooks by a shoemaker.
Overall, the boots are seen as well-rounded and extremely comfortable, and I loved them from the first walk.
3. Salomon Speedcross 6 / Cross Over Hiking Shoes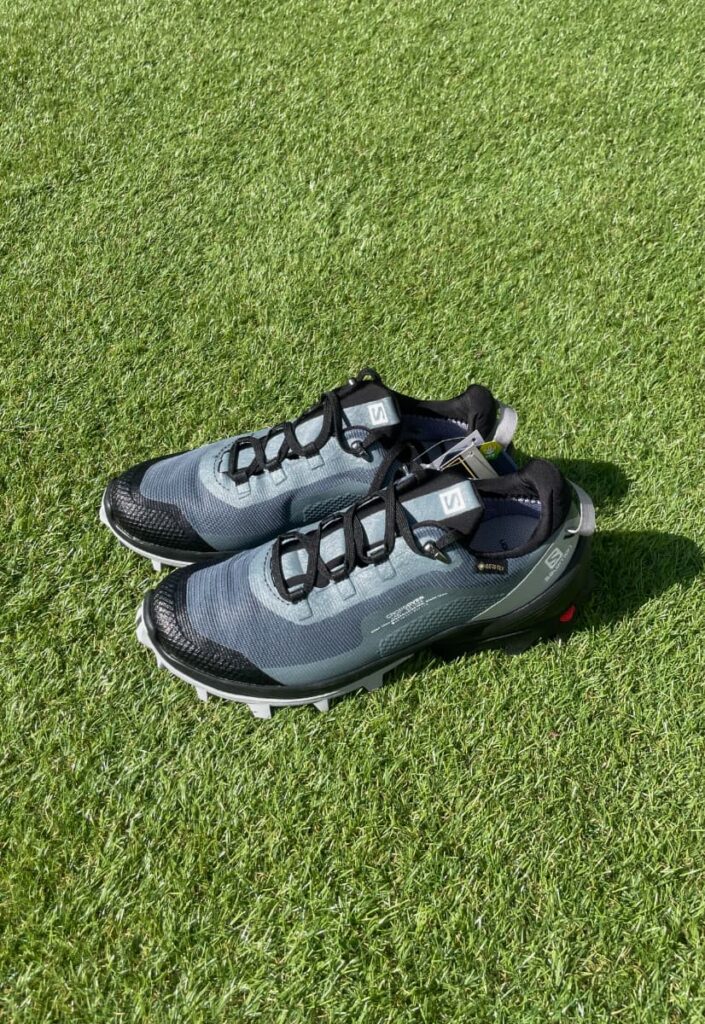 The Salomon Speedcross 6 boots, designed with a legendary trail shoe status, are lighter and offer efficient ground contact. They feature a rubber sole, an anti-debris mesh upper to prevent dirt from entering, a snug-fitting Sensifit technology, a hook-and-loop strap with lace pockets, a Quicklace system for a customized fit, and a protective rubber toe cap with a mudguard.
I liked these boots for their immediate comfort, negating the need for a break-in period. They seem practical and stylish, with solid waterproofing and traction. Another positive note is that the ordering and shipping process from Salomon is efficient.
Helpful tip I tested the European version which is called Salomon Cross Over Gore-Tex. 
4. Columbia Women's Newton Ridge Lightweight Waterproof Shoe Hiking Boot
This hiking boot combines durability and comfort in a lightweight and stylish package. Its features include a waterproof mesh and leather exterior, an advanced traction outsole for grip, and a lightweight midsole for long-lasting comfort and superior cushioning.
These boots are highly comfortable, with accurate sizing, enough room for good socks, and ample toe space.
However, a common issue might be the boot's durability, as some people report visible wear and wrinkles after two years of use. For this, I suggested that you might want to use a specific shoe care kit for leather boots.
Also, keep in mind that the boot sizing tends to run small and narrow, which could require trying several pairs before finding the right fit.
Overall, the boots are generally comfortable and well-rounded, value for money 100%.
5. Merrell Men's Moab 2 Mid Gtx Hiking Boot
TL;DR: Durable and practical hiking footwear.
These faux leather and mesh boots have a rubber sole and are fully waterproof with a breathable lining. They provide excellent protection with a molded nylon arch shank and a rubber toe cap, and a bellows closed-cell foam tongue that keeps moisture and debris out.
One aspect I particularly appreciate is the Gore-Tex membrane, which provides waterproofing up to about mid-foot. However, it's better to avoid deep puddles and streams as they can let water seep inside.
Despite being mass-produced and costing under $160, they offer remarkable comfort right out of the box, no break-in period required. Suitable for a variety of climates, from hot and rainy summers to cool winters. Yet, it's important to be mindful that the soles wear down over time, and while the shoes are quite durable, they might not be suitable for a long, rugged hike or heavy-duty work.
Overall, perfect boots even for everyday wear and moderate hikes, pair well with jeans or shorts, making them not only functional but also stylish.
6. La Sportiva Men's Ultra Raptor II Mid Leather GTX Hiking Boots
The boots, characterized by their lightness and support for light to medium loads, are designed with a trail running influence. Also, extremely comfortable with arch support and easy to break in. Their waterproof and breathable Gore-Tex lining will keep your feet dry, and the anti-shock rubber toe cap has been useful for protecting against unexpected trail obstacles.
Additionally, the Frixion XT 2.0 Outsole offers excellent traction and stability, even on difficult terrains, though can be perceived as too soft. However, the sizing runs small and could potentially be a problem for some.
Overall, if you value a good blend of comfort and durability, these boots might be the perfect fit for your needs.
7. La Sportiva Womens TX4 Approach/Hiking Shoes
Speaking from personal experience with the La Sportiva Womens TX4 Approach/Hiking Shoes, they're a well-constructed footwear option designed for rugged terrain. With an abrasion-resistant leather upper that provides foot protection and stability, these shoes manage to look good both on and off the trail. They offer a true-to-size length with a wide forefoot fit for all-day comfort, and an uber-sticky Vibram Mega-Grip outsole that provides reliable traction.
However, it's important to note that this model is primarily an "approach" shoe rather than a traditional "hiking" shoe, which means it has a narrower toe box designed for scrambling sensitivity. Thus, they could be less comfortable for long backpacking trips due to foot swelling over long distances.
On the plus side, these shoes give you immediate comfort and have the potential for the leather to mold to your feet over time. They also accommodate wider feet while still working fine for those of us with narrower ones. Yet, some size adjustments might be necessary to avoid hitting your toes when walking downhill.
Despite the sizing challenge, the hope is to put hundreds of miles on these shoes before needing to replace them.
8. Altra Lone Peak 4.5 Trail Running Shoe
Great shoes, ALTRA Lone Peak offer a simplified lacing system and a trimmed down design for enhanced flexibility and comfort. They retain the brand's classic features such as the StoneGuard for rock protection and MaxTrac for multi-directional traction, in addition to the FootShape toe box and Balanced Cushioning, making it a solid choice for the light hiking and running shoe.
Keep in mind, I've noticed that these shoes can be quite susceptible to heat, so you should be careful when hanging around a campfire to avoid any damage to the upper material.
On the plus side, they provide a perfect balance of lightweight construction and ankle support, which is a great benefit on the trail.
It's also worth mentioning that these shoes are wide enough for those with broader feet and can comfortably accommodate foot conditions like neuromas.
9. Scarpa Zodiac Plus GTX
These boots are amazing right from the start and don't need much break-in time, although you might experience some rubbing on the heel.
If you have flat feet, the wide toe box is a boon and offers great protection on very rocky terrain. Ankle support: Fantastic, preventing any twists or tweaks while hiking. On both dry and wet rocks, these boots proved stable and grippy. Furthermore, they perform excellently on steep slopes filled with sand, dirt, and small rocks, providing a grip akin to a goat's feet.
As for materials, these hiking boots are constructed with 100% suede and a rubber sole, they are durable and well suited for mountain travel, and the Gore-Tex offers waterproof protection without compromising on breathability.
And if you've got wide feet, don't worry about getting an extra-wide size; these boots are wide enough to accommodate "duck feet" and neuromas comfortably. However, one potential drawback is that if you have high arches you might find these boots unsuitable.
10. Asolo Landscape GV Lightwear Thru-Hiking, Weekend, Day Hiking Boots
Really lightweight, perfect for day hiking, overnight trips, and mixed trail conditions. These boots come with a water-resistant, suede and polyester mesh upper, and a Gore-Tex lining that keeps feet dry. The anatomic footbed offers underfoot support and comfort, and the Vibram outsole provides reliable grip.
A Vibram sole is a type of durable, high-performance rubber outsole often found on hiking shoes and boots. It's known for providing excellent grip on various surfaces, from muddy trails to rocky terrains, which makes it a popular choice for outdoor footwear.
Overall, these are the boots ideal for light hiking, walking the dog, or landscape work, and they don't weigh you down.You will appreciate their look, construction, and the lacing system, proving that they live up to the Asolo reputation.
11. Adidas Terrex Swift R3 GTX Hiking Shoes
This shoe has a hard rubber compound sole that provides excellent protection and traction. It performs well in stability but loses out to the Salomon X Ultra 4 due to its weight and less refined design.
Pros: Excellent protection and traction, good stability.
Cons: Heavier and less refined than some other options.
12. The North Face Vectiv Exploris Futurelight
This shoe is great for walking and is one of the lighter shoes tested. It has a Cordura mesh upper and a TPU overlay for protection. However, its rockered sole design may feel unstable to those not used to it.
Pros: Lightweight, good for walking, well-constructed.
Cons: Rockered sole design may feel unstable to some.
13. Salewa Mountain Trainer Lite Mid GTX
This Italian shoe is the most comfortable shoe tested. It has a hybrid approach with laces going all the way down to the toe and a flat rubber surface for better grip on rock. However, it is also the heaviest shoe tested.
Pros: High comfort level, good grip.
Cons: Heavier than other options.
14. Merrell Moab 3
This shoe is the best value option. It has all the characteristics of a modern quality hiking shoe but doesn't excel in any particular area. It is significantly cheaper than the other shoes tested.
Pros: Good value, capable hiking shoes.
Cons: Doesn't excel in any particular area.
15. Columbia Women's Redmond III Waterproof Hiking Shoes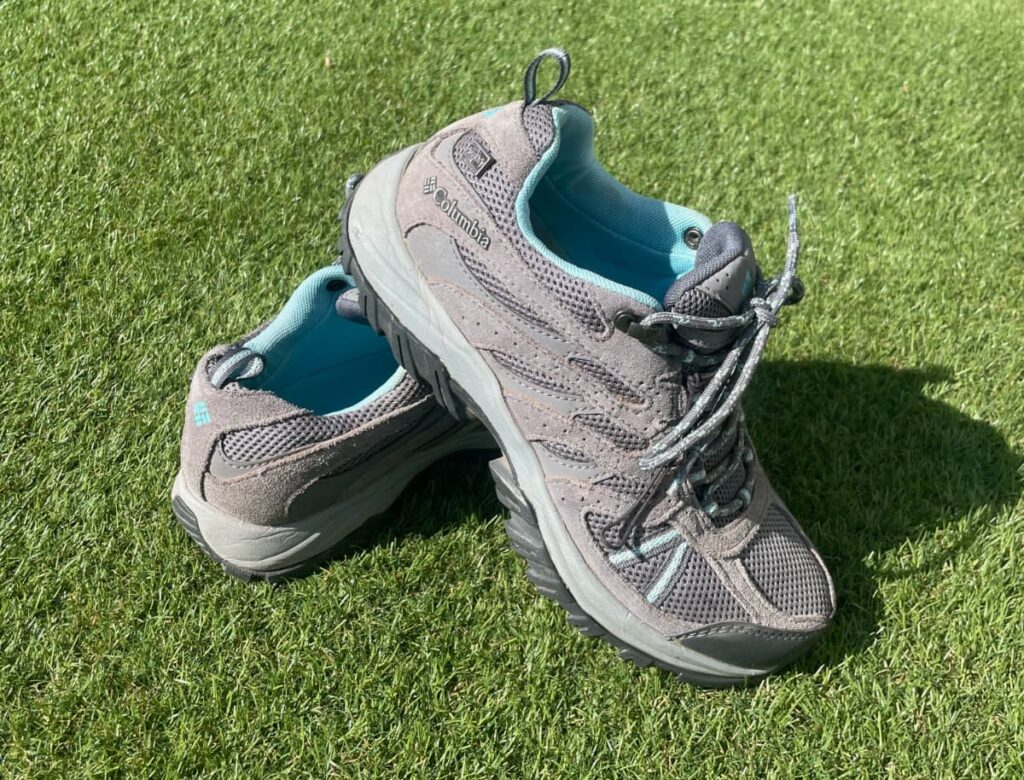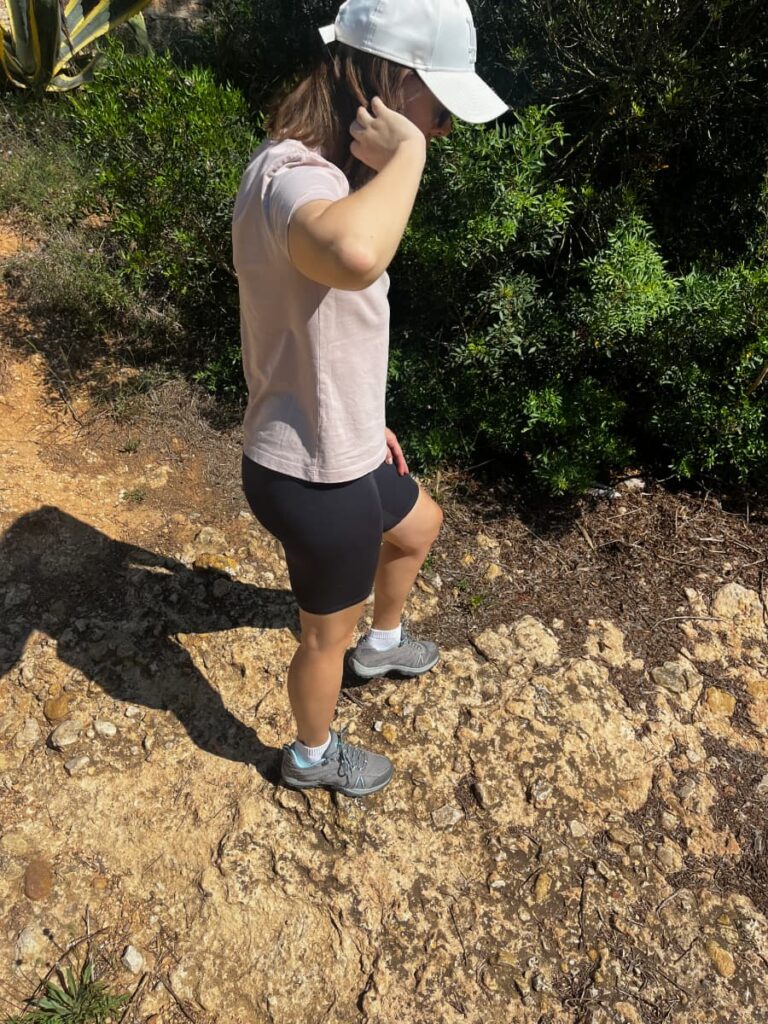 This was my first pair of hiking boots, and I still use them! They are very grippy, light, comfortable, and durable. I haven't had the chance to test their water resistance, and I don't feel like doing that in serious rains. Also, they offer little to no arch support.
Apart from that, they're a steal!
Breaking in
The break-in period for hiking boots refers to the time it takes for the boots to adjust to the shape of your feet and become comfortable to wear. When you first purchase a new pair of hiking boots, they may feel stiff and potentially uncomfortable because they are designed to be durable and supportive, which often involves rigid materials.
During the break-in period, the materials of the boot, particularly the leather, will gradually soften and mold to the shape of your foot. This process helps to prevent blisters and discomfort that can occur when wearing new boots for extended periods.
The length of the break-in period can vary depending on the specific boots and the materials they are made from. Some boots may feel comfortable after a few short walks, while others, particularly those made from thick leather, may require several longer hikes before they fully conform to your feet.
So, with your new pair of hiking shoes, I recommend starting with short walks and then to gradually increase the distance and duration as the boots become more comfortable. This allows your feet to adjust to the boots and can help to prevent blisters and other discomfort.
The good news is that many hiking shoes now don't need any break-in period!
Lightweight Hiking Boots FAQ
This post might include some affiliate links. If you make a purchase through these links, I may earn a small commission at no additional cost to you. I appreciate it when you use my links to make purchases.