My Favourite Hiking Routes in Portugal
Nadia Podrabinek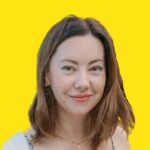 Written by Nadia Podrabinek
Hello, my name is Nadia. I usually write about traveling (there are so many places to fit all the lifestyles), relocation, and living in a foreign country (adapting to a different culture). My travels stretch beyond Spain, with journeys to the US, Italy, Norway, Portugal, and France. Relocating to Spain in 2018, I lived in cities from Barcelona to Madrid, currently calling Valencia home.  Follow me on Twitter, Facebook, Instagram, or LinkedIn! ... show more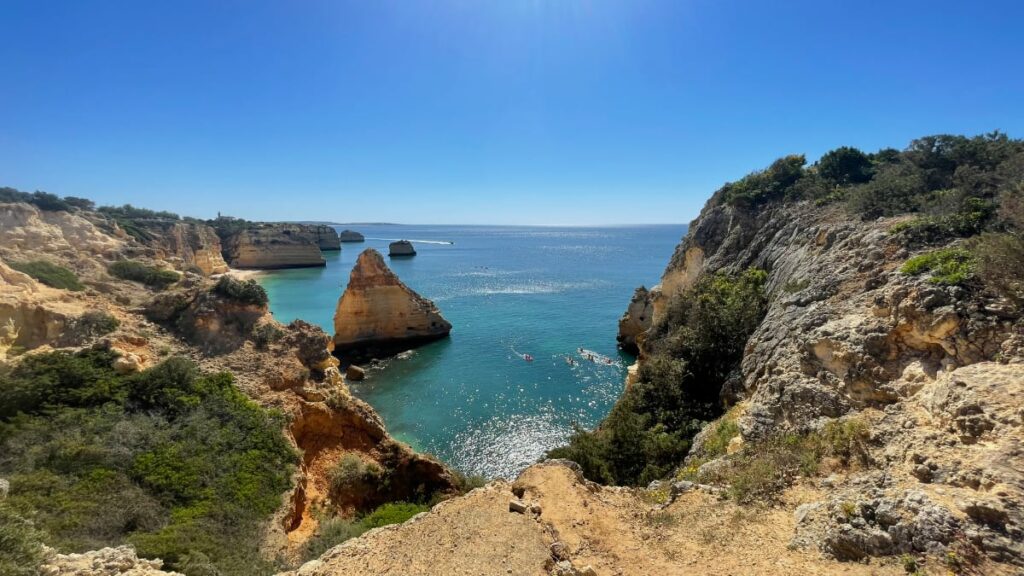 Portugal is fantastic! It boasts a diverse array of attractions, welcoming locals, and pleasant weather. It also offers some of the finest hiking experiences, including those in the Azores and Madeira – hiking universes in themselves!
Hiking in Portugal reflects the laid-back lifestyle of the country, offering leisurely walks to admire natural beauty, tranquility, and moderate excitement. There is no rush for material gains, as everyone selects their own path and pace.
Portugal boasts thousands of captivating sites, with numerous well-maintained hiking routes (more than 5,668!) featuring marks, parking lots, and cafes. These carefully planned routes lead to stunning viewpoints, cliffs, lakes, and waterfalls.
Did you know? In order to hike the entire length of Portugal, from north to south, you will need about 35-40 days and walk 500 miles (approx. 800 km). And you'll only need basic gear to do that: a backpack, tent, inflatable mattress and pillow, sleeping bag, headlamp, Swiss Army knife, soap, clothing, and personal hygiene items.
What people say on Reddit
Madeira is a dream island, not only for Hikers, but also for Mountainbikers and Divers! Totally loved the Levada walks, the great food, the ocean surf and the very friendly people on the island. If you like the island I would also recommend to go see the Azores as they are something like a "splitted Madeira" spread over several islands. And it's your chance to climb the highest mountain of Portugal, the Mt. Pico on Pico!

AlexWayhill
About the finding water part, depends where you are. Pretty easy in Gerês, not so much in the middle of Alentejo. I've also drank straight from the river while in the mountains in Gerês, but I wouldn't do it in the Tagus…

Wild camping is illegal AND dangerous. The country has a tendency to spontaneously combust during summer, so you risk being caught in a fire.

HRamos_3
There's so many! The heavy hitters are Sete Cidades rim hike, Salto do Prego waterfall hike in Faial de Terra, Trilho dos Graminhais hike up to Pico da Vara (highest point on the island). Some of my personal favourite hikes are Moinhos e Ladeira da Velha in Porto Formoso, Cascata das Lombadas that's behind Lagoa do Fogo and there's a great back country hike that goes from Lagoa Seca (near Furnas) to Ribeira Quente, very seldom used.

billy_bones21
Hello if you want find quick trails or walks I recommend this site https://www.wikiloc.com/

This is a wiki community site built to compile trails, walks, mountaineering, and a lot of other outdoors activities at global level. Just search the city/location you want or use the built in Google maps to find a specific trail.

Being local from Porto I can tell you straight away it's difficult to find the trail you want around Porto. I would sugest spend at least 2 days in Peneda-Gerês.

Hengie
Best Hikes in Portugal Map
Best Hikes in Northern Portugal
7 Lagoons Trail, Peneda-Gerês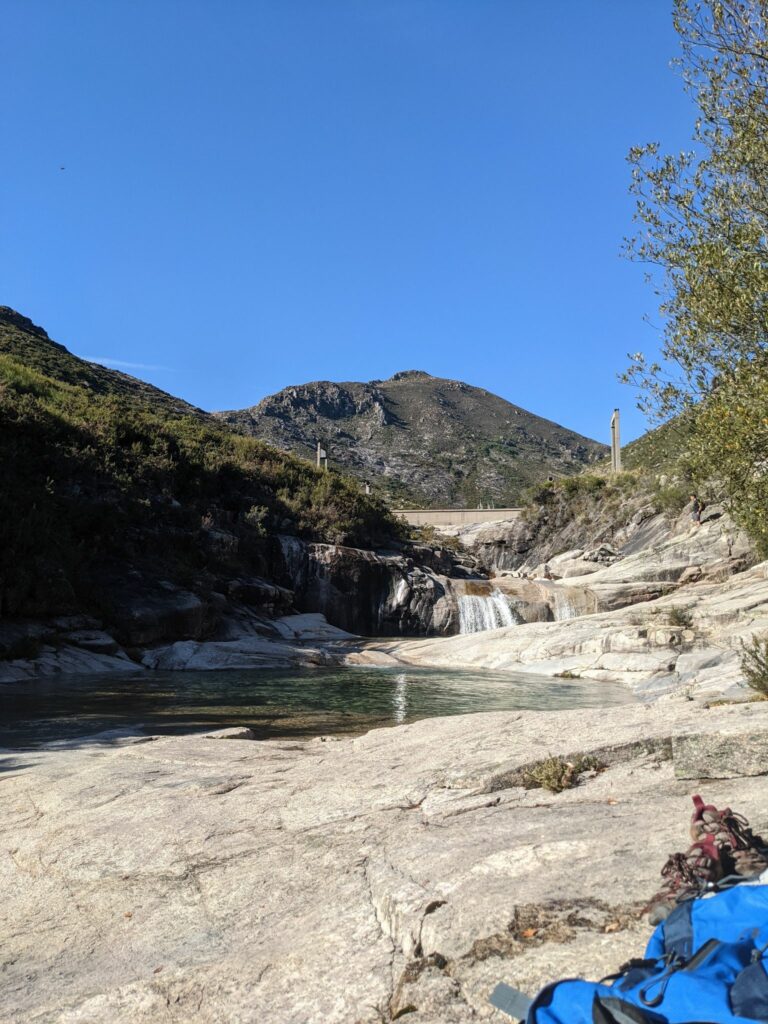 The Rota de Xertelo e as 7 Lagoas trail in Northern Portugal's Peneda-Gerês National Park offers a spectacular hiking experience, featuring picturesque villages, the Cabril river, and the enchanting Seven Lagoons with their clear waters and magnificent waterfalls.
You can also enjoy swimming in the lagoons and exploring the park's rich natural heritage.
The trail is relatively flat and suitable for families with children.
Parking is available near Sete Lagoas bar, but the café may be closed during the off-season, so plan accordingly.
Helpful tip Follow the yellow and red markers with equal signs, and avoid paths marked with an X.
Passadiços do Paiva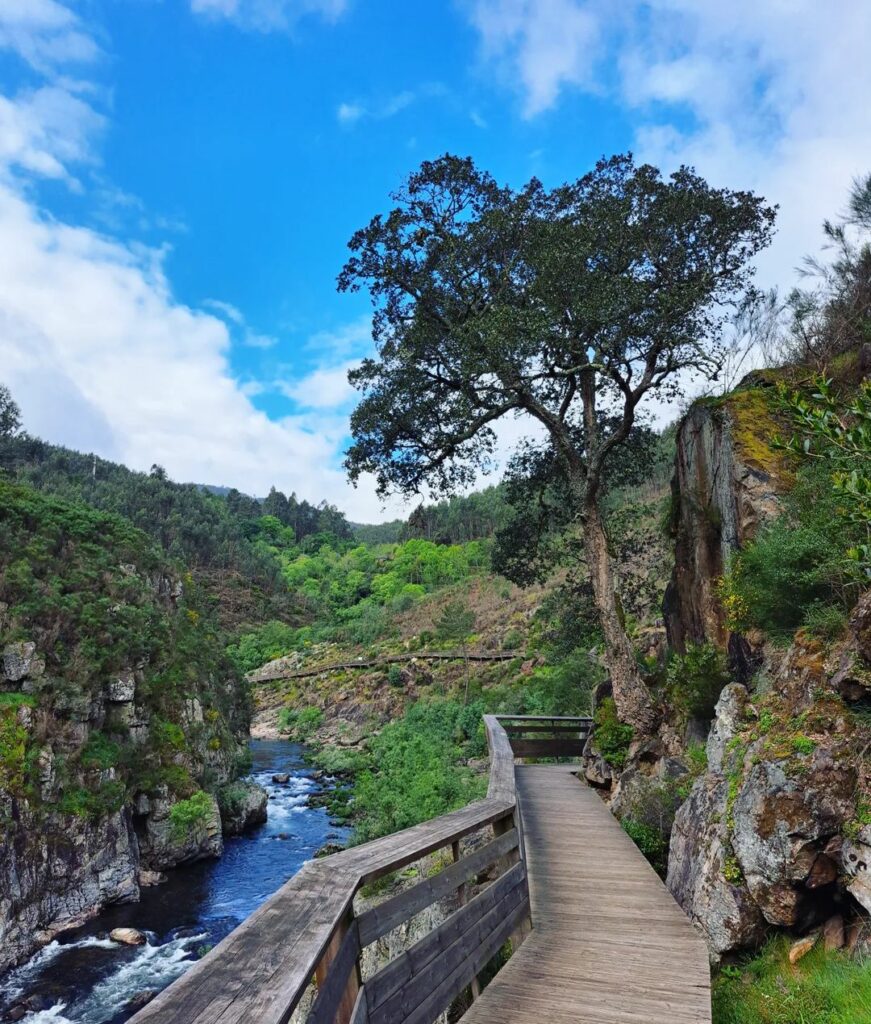 Passadicos do Paiva is a unique place in Portugal, a must-visit for all Northern Portugal travelers. A 5-mile (8-km) walk along the wooden stairs and suspension bridges along the Paiva River is considered the most beautiful spots in Portugal.
The trail features a wooden footpath through the Paiva River gorge, offering stunning landscapes, suspension bridges, and stairs carved into rocks.
Start at Areinho to descend outside of the first steep climb, making the hike less difficult. Reserve tickets online for €1 per person, as the trail is often closed due to high visitor numbers. A taxi ride back to the starting point costs around €18.
The trail is highly recommended for its beautiful scenery and unique experience.
Hiking in Central Portugal
Route of the Loriga Gorge, Serra da Estrela Nature Park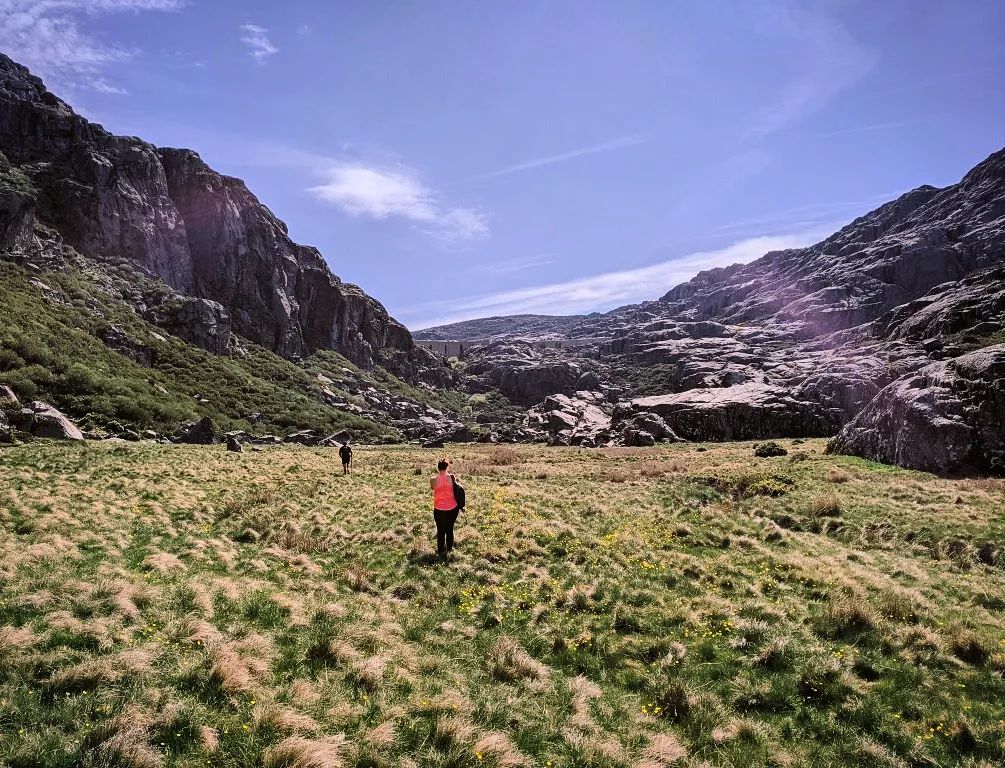 The Route of the Loriga Gorge is a 10.6-mile (17.1-km) challenging out-and-back hiking trail in Serra da Estrela Nature Park near Loriga, Guarda, Portugal. Taking 6-7 hours to complete, it is best visited from May to December. The trail offers beautiful river beaches with natural pools and crystal-clear water, ideal for swimming during summer. In winter, snow and ice create a picturesque landscape.
The trail can be partially frozen in winter, so crampons and ice axes may be needed. It is well-marked with orange ribbons and yellow flags but has some thick bushes and steep, technical sections requiring careful footing. Waterproof footwear is essential due to swampy areas from ice melt.
Despite these challenges, the trail offers stunning scenery, meadows, lakes, and abundant butterflies, making it a rewarding experience.
Rota do Poço do Inferno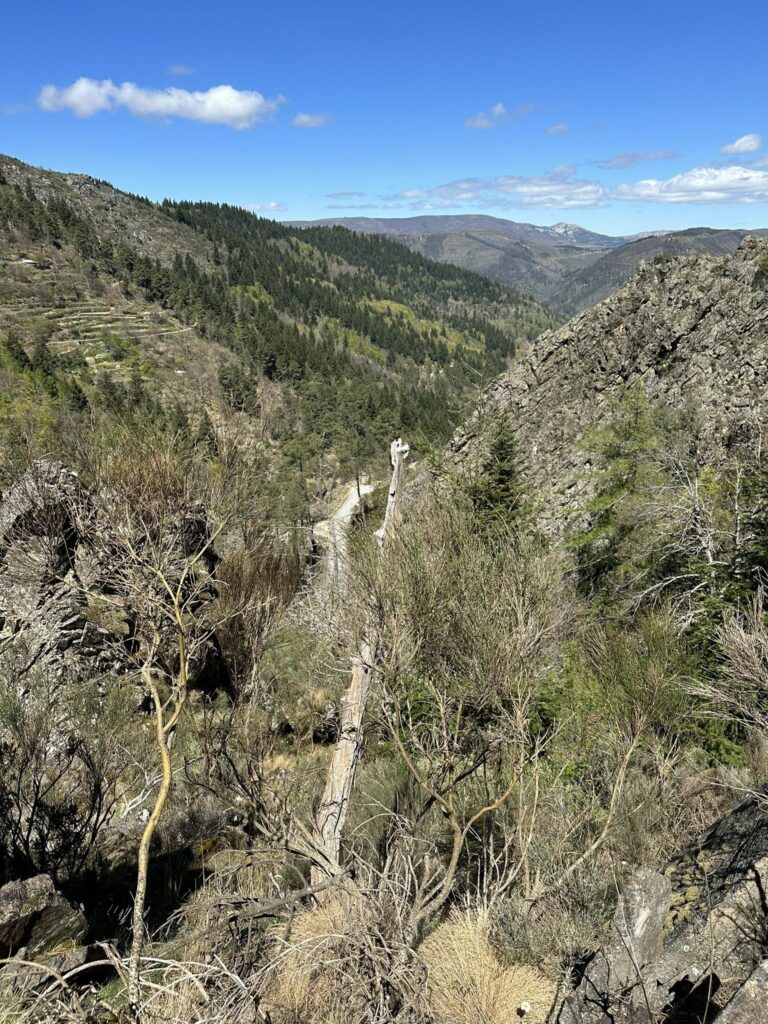 The Rota do Poço do Inferno is a 1.7-mile (2.7-km) moderately challenging loop trail near Manteigas, Guarda, Portugal, taking approximately 1 hour to complete. Open year-round, it features diverse landscapes and vegetation types, with the Poço do Inferno waterfall as a highlight.
The trail offers stunning views over Rio Zêzere and the Ribeira de Leandres valleys, as well as a variety of fauna, including wild rabbits, foxes, bush lizards, salamander-Lusitania, kingfishers, and kestrels.
While some sections of the trail are steep and have loose rocks, which may not be suitable for the elderly, young children, or those with mobility issues, the shorter length of the hike and the beautiful views of two waterfalls make it worthwhile.
Helpful tip Go counterclockwise for a more challenging first half, followed by an easier second half. Be cautious during or after rain, as rocks may become slippery.
Hiking Trails near Lisbon
Some of the best hiking areas near Lisbon include the Arrábida mountain, located west of Sesimbra. A popular route is hiking to Formosinho, the mountain's highest point, and descending to Lapa de Santa Margarida, a small chapel inside a cave with stunning sea views. However, be prepared and cautious as Arrábida can be dangerous.
Another great option is Sintra, offering countless paths to explore. A popular trail runs between Praia Grande and Cabo da Roca, providing beautiful coastal views and sights like the dinosaur marks at Praia Grande. Alternatively, you can hike through the forest around the village of Sintra without visiting any palaces or parks.
Praia das Maçãs – Cabo da Roca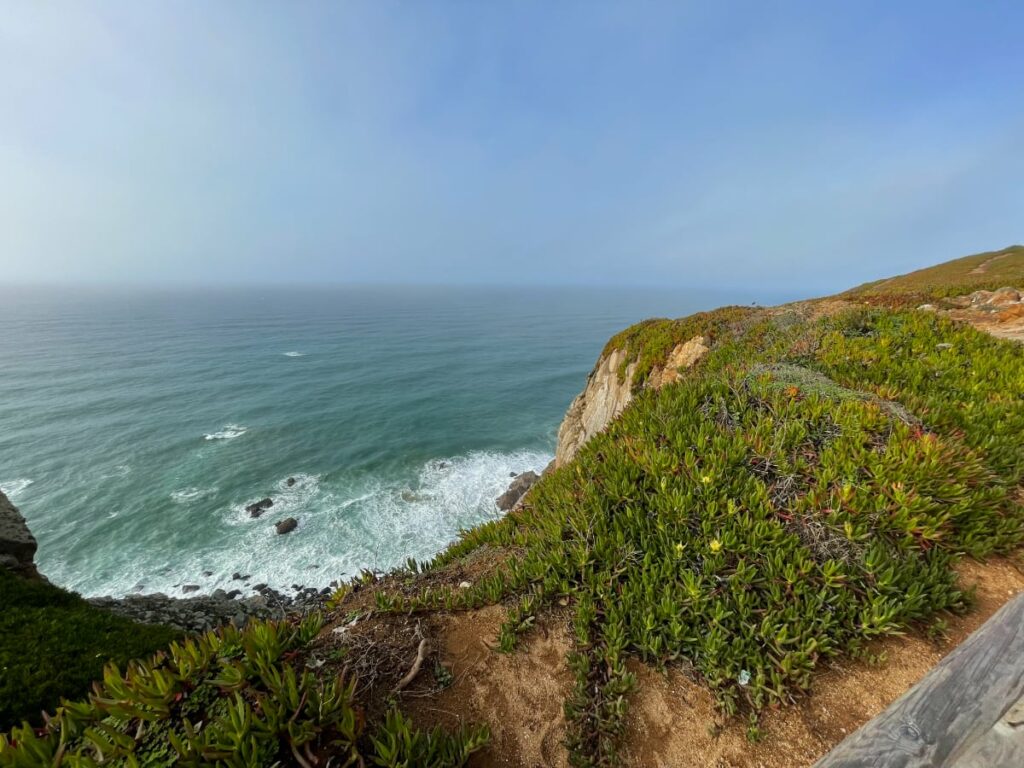 This is a 10.4-mile (16.7-km) challenging out-and-back route with an average completion time of 5 hours. The trail is quite popular due to mezmerizing views of the Atlantic and the cliffs, open year-round, and is perfect for outdoor enthusiasts and photographers.
I strongly recommend wearing mountaineering shoes due to the steep ascents and descents, as well as loose rocks, and a windbreaker jacket.
The trail is not recommended for children!
Despite the challenging sections, hikers enjoy the reward of stunning landscapes and deserted beaches.
Trilho da Viúva – Peninha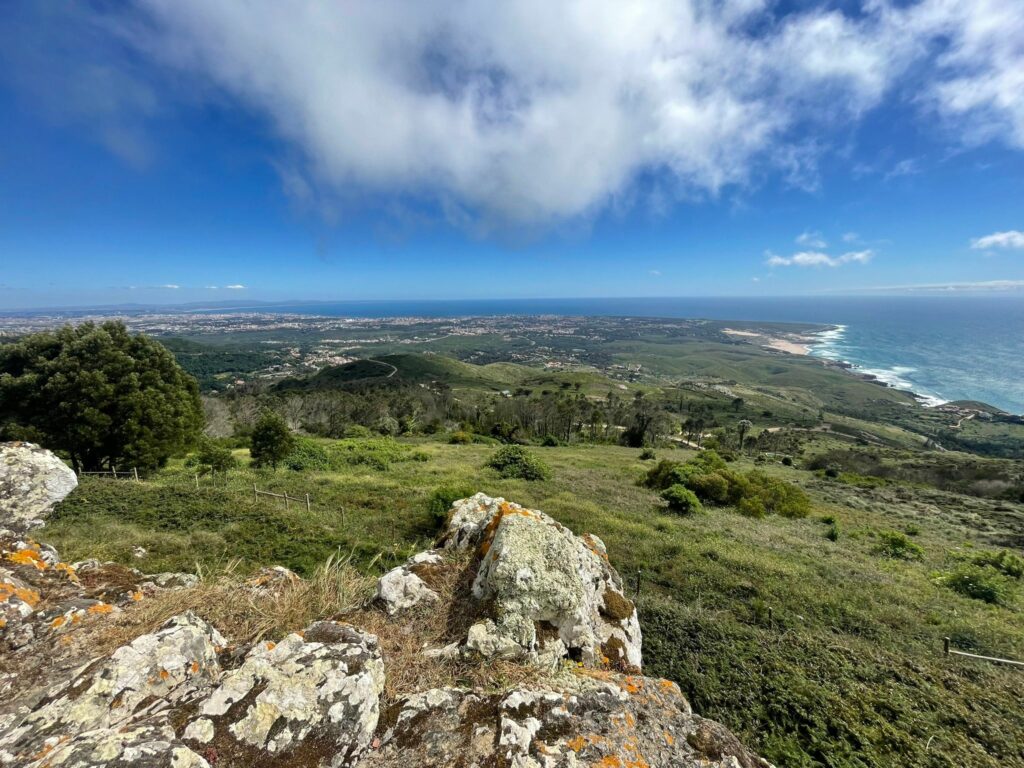 The "Trilho da Viúva – Peninha" is an easy 2-mile (2.9-km) loop trail near Colares, Lisbon, taking an average 1 hour to complete. This route is popular for hiking and mountain biking, and is located in the beautiful Sintra-Cascais Natural Park, open year-round.
The trail features technical segments, natural obstacles, and some steep descents, which can be more challenging when wet and slippery. The trail is suitable for most people and is particularly enjoyable in September with dry weather or on foggy days for a really unique experience.
You will also get to Sanctuary of Peninha, look into chapels, and enjoy the astounding views of the surroundings.
Trail of the Mills (Serra do Louro)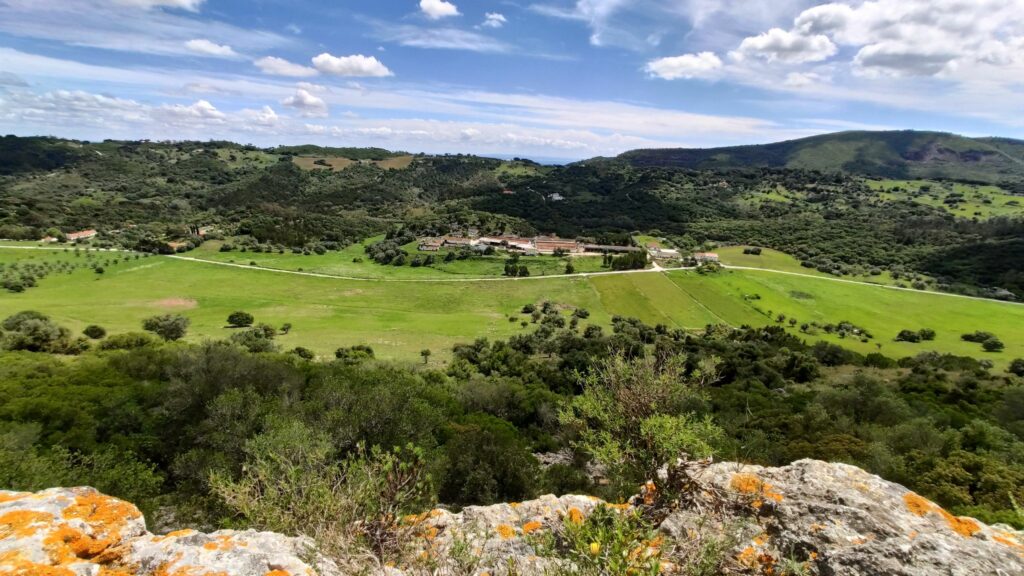 The Trail of the Mills is a 6.7-mile (10.9-km) out-and-back hike near Palmela, Setúbal, offering beautiful views of Lisbon and the mountains. Rated as moderately challenging, it takes around 2.5 hours minutes to complete and is popular for backpacking, birding, and hiking. The trail is open year-round and dogs are welcome.
Part of the trail was affected by a fire in 2022, but it is slowly recovering.
I also recommend stopping at the bakery near the beginning of the trail to support the local business and enjoy their delicious bread.
Other notable hikes around Lisbon
Alentejo
Alentejo is one of Portugal's best-kept secrets, which is often overlooked by people who come to Portugal. It covers the vast region in central Portugal and contains rice fields, vineyards, cork plantations, and marble mines. The picturesque lanscapes, medieval towns, and villages are scattered across the Alentejo, making it a perfect location to hike in. Alentejo can also be a nice weekend trip from Lisbon.
Rota Vicentina
Rota Vicentina a long coastal hiking trail that extends from Lisbon to the southwesternmost point in Portugal, Cape Saint Vincent, Sagres.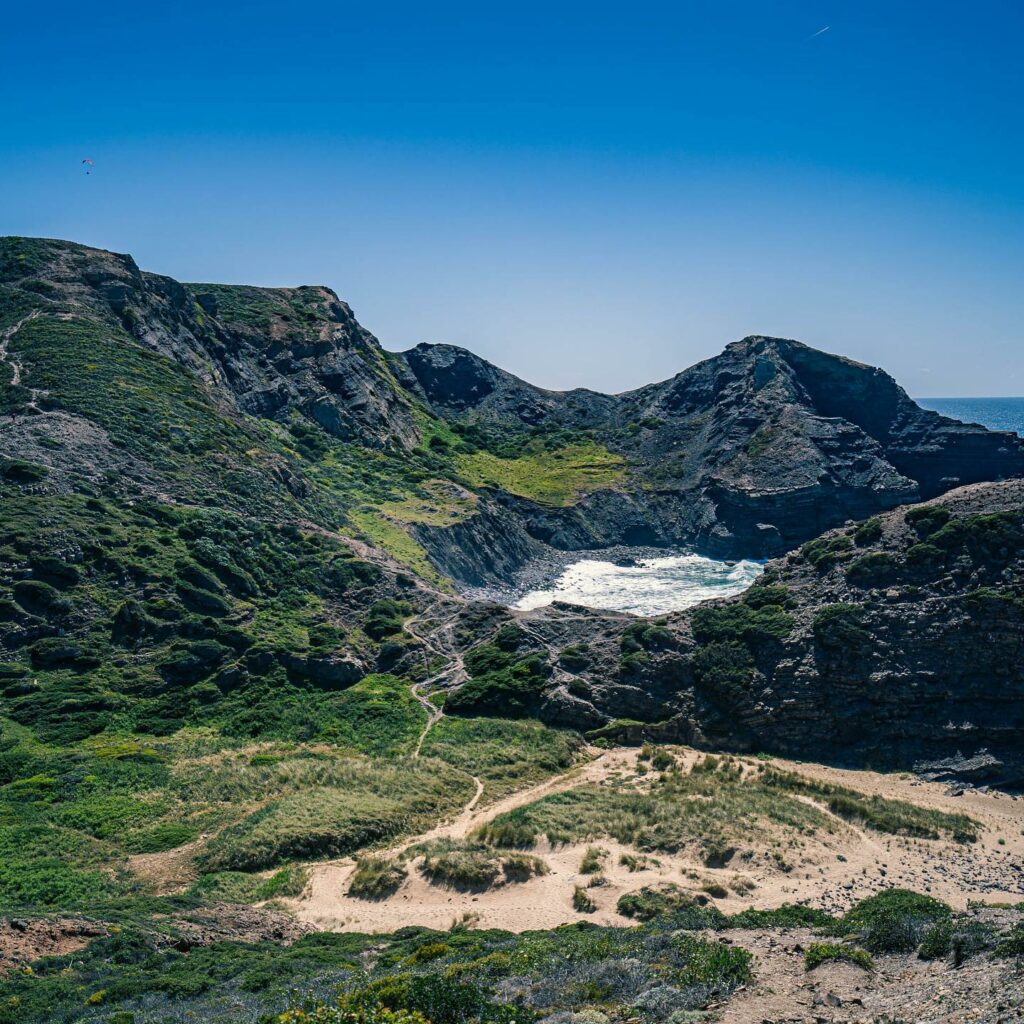 The route primarily consists of the Historical Way and the Fishermen's Trail, passing through various towns, villages, beaches, forests, and mountains. In the northern section, both trails run north to south, converging in Odeceixe, Portugal, and continuing through the Alentejo region.
The Fishermen's Trail features numerous detours and loops leading to the coast. Walking on the Fishermen's Trail can be challenging due to sandy terrain and limited shade. Although most hikers travel from north to south, the trail can also be explored in the opposite direction.
The authorities have done a tremendous job organizing the website and all of the information related to this trail.
Rota Vicentina: Historical Way
The Historical Way spans 13 sections and covers a total distance of 163 miles (263 km). It is designed to be enjoyed at a leisurely pace, in tune with the rhythm of country life. The route passes through major towns and villages, offering a rural journey that is steeped in centuries of history.
Primarily consisting of rural trails, the Historical Way is a classic Grand Route (GR), featuring diverse landscapes such as cork tree forests, mountain ranges, valleys, rivers, and creeks. The journey allows travelers to explore local culture, history, and nature.
In both 2016 and 2020, the Historical Way of the Rota Vicentina received the "Leading Quality Trails – Best of Europe" certification from the European Ramblers Association (ERA). This prestigious recognition places it among the best walking destinations in Europe.
Rota Vicentina: Fishermen's Trail
The Fishermen's Trail consists of 13 sections as well, with a total distance of approximately 140 miles (226 km). Regarded as one of the world's finest coastal trails, it closely follows the shoreline, tracing the paths used by locals to reach beaches and fishing areas.
The trail is exclusively for walking, featuring rugged cliffs and sandy terrain, which also make it physically demanding.
The Fishermen's Trail presents a challenging experience with constant exposure to ocean winds, the stark beauty of the coastal landscape, and the presence of wild, persistent natural surroundings.
Algarve
Algarve is a beautiful region in southern Portugal, well-known for its spectacular beaches, scenic cliffs, and lovely small towns and villages.
Read also: Getting to the Algarve from Lisbon
Algares e Praias do Algarve Trail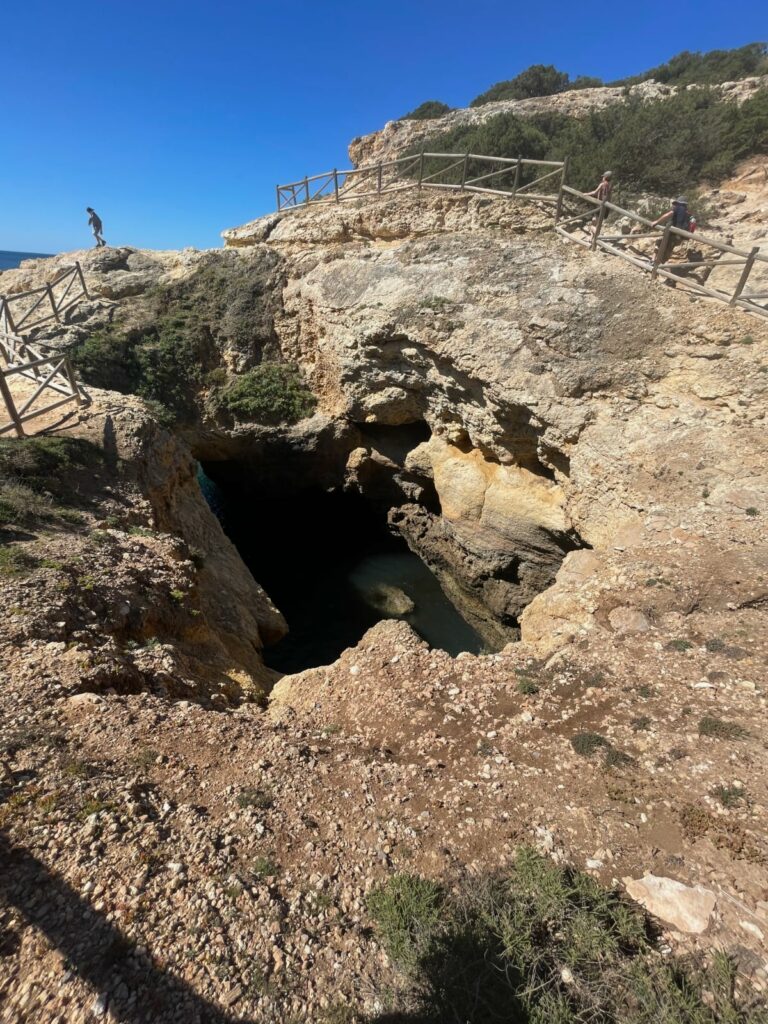 This 4.2-mile (6.8-km) near Porches, Faro, is an easy and popular route for "clliff-watching," featuring beautiful views, caves, beaches, arches, and sinkholes along the cliffs.
I recommend you to wear lightweight hiking boots (but runners are also acceptable), and to hike early in the day to avoid the afternoon crowds.
The trail can be sometimes slippery and rocky, with little shade, but the stunning scenery makes it well worth the effort.
Seven Hanging Valleys Trail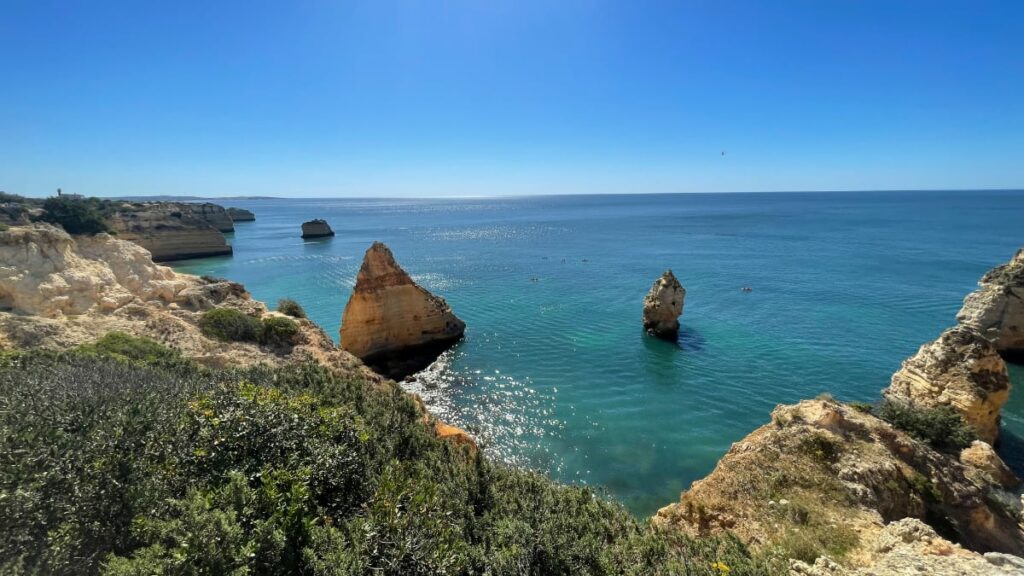 The Seven Hanging Valleys Trail (Percurso dos Sete Vales Suspensos) is a moderately challenging 7.4-mile (11.9-km) out-and-back hike in the Algarve, taking approximately 3-4 hours to complete.
The trail offers a mix of stunning views, easy and rocky paths, and beautiful beaches and caves to explore.
I recommend starting at Praia da Marinha, going early to avoid the busy times and secure the spot on a parking lot (which is what I did and was really happy about that).
Bring water and wear sunscreen, as there are some climbing areas along the trail. If you forget your SPF or need additional water supply, there are two kiosks at the starting point where you can buy the basic stuff or even take a sip of the Algarvian coffee. 🙂️️️
Overall, the breathtaking scenery makes this hike one of the most beautiful in the Algarve region
Cerro da Cabeça Trail, Moncarapacho, Faro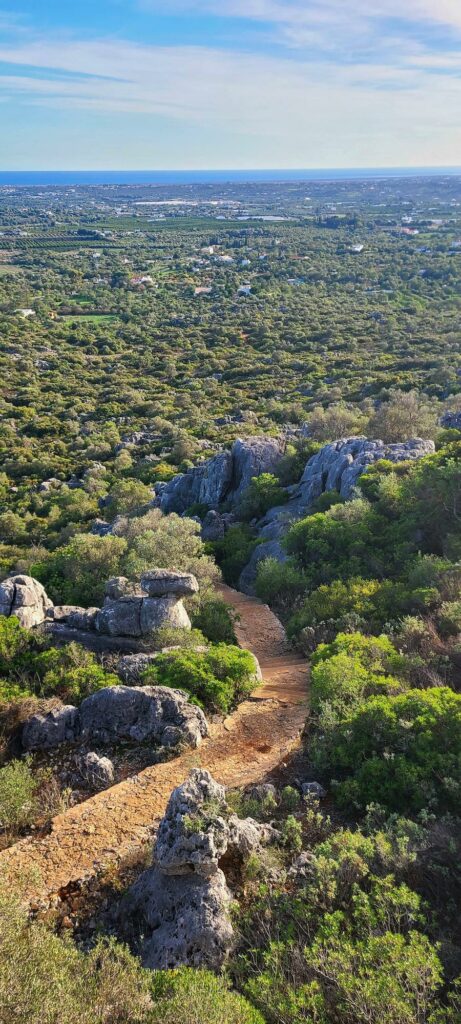 Are you ready to do some coastal hiking near the Benagil Caves?
The Cerro da Cabeça trail is a 2.7-mile (4.3-km) loop near Moncarapacho, Faro, and is considered an easy hike. The trail offers wonderful views over Tavira and Olhão and features limestone rocks along the route.
I recommend wearing hiking shoes due to the rocky terrain and starting the trail by going right at the first fork to avoid stairs. Be prepared for minimal trailhead parking and signage, and consider continuing from the government summit marker to create a loop for a more enjoyable experience.
Post-hike refreshments in Moncarapacho are a welcome treat after exploring this scenic trail.
Hiking in Madeira
Madeira is a group of islands in Atlantic Ocean, not far from Portugal (but also not too close, 620 miles from the continent). It's a part of Portugal, but it's like its own little place with islands. The main island is also called Madeira. It's capital, Funchal, is on the southern coast of the main island.
Madeira is known for its subtropical climate and spectacular landscapes, making it a popular tourist destination.
Also, Madeira has to be on your bucket list of places to hike! Why? Read on!
Levada do Caldeirão Verde PR9 Trail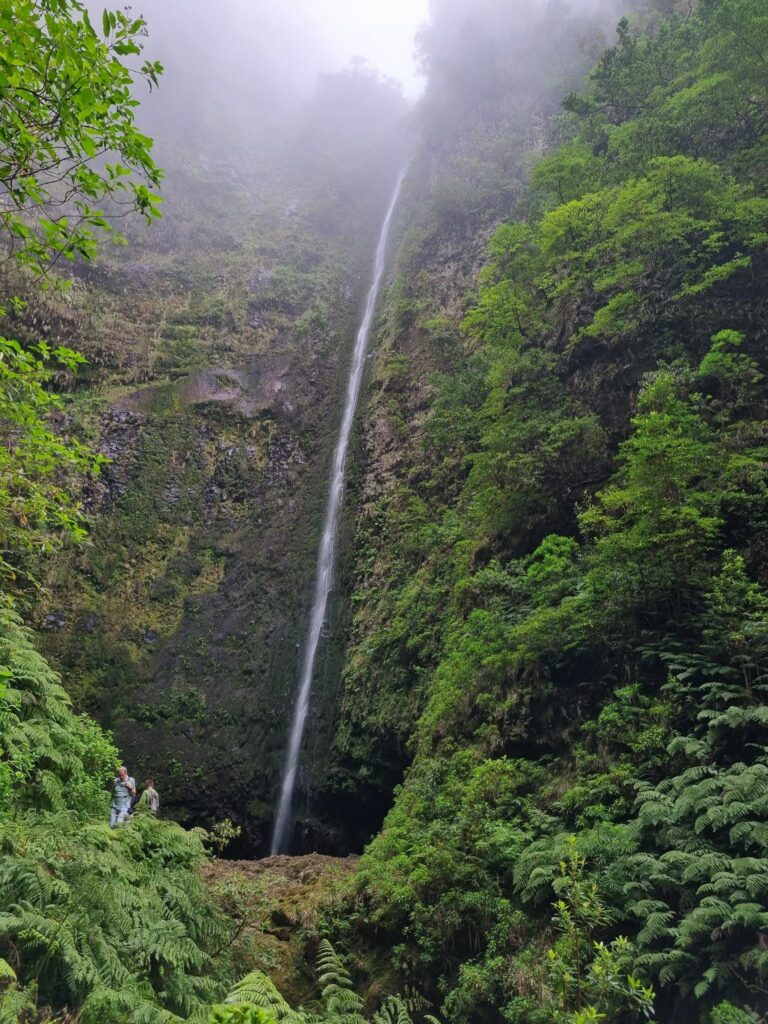 Levada do Caldeirão Verde is a stunning 7.4-mile (11.9-km) out-and-back trail in Madeira Natural Park near Ilha, taking around 3.5-7 hours to complete. Starting at Casa das Queimadas, it leads through a lush green paradise, tunnels, and ends at a majestic waterfall.
The trail is accessible year-round, but be prepared for wet conditions and wear a waterproof jacket and hiking boots. Despite the elevation gain data, the actual elevation gain is about 394 feet (120 meters). Enjoy breathtaking views of São Jorge village, mountains, and waterfalls, while having the opportunity to relax and picnic at the Caldeirão Verde waterfall.
Note that access to the lagoon and waterfall is prohibited due to falling rocks. Also, be ready for sizable crowds, or consider starting early in the morning!
Helpful tip Bring a flashlight and head protection for the tunnels.
Pico do Arieiro – Pico Ruivo PR1 Trail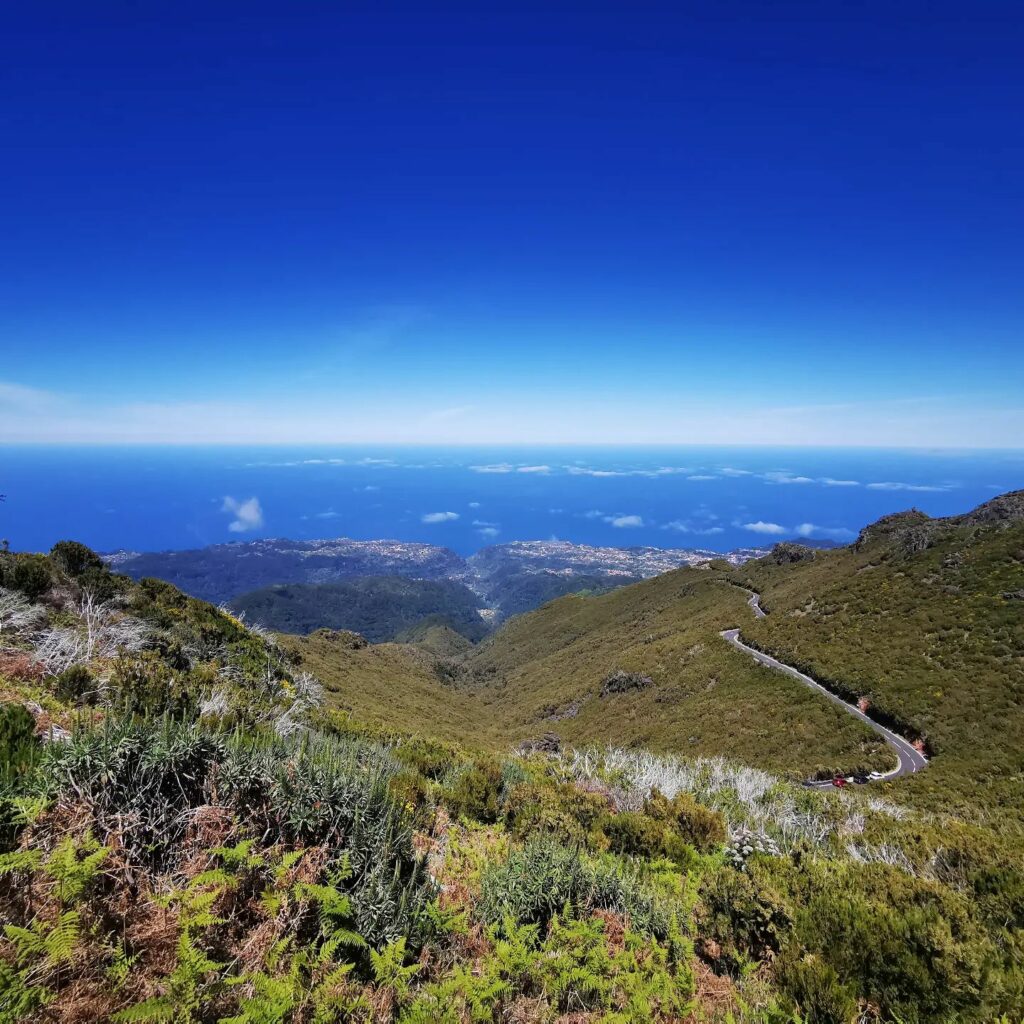 The "PR1 Pico do Arieiro – Pico Ruivo" trail, partially closed at the eastern part near Pico das Torres, takes you through Madeira's stunning mountains, offering extraordinary views and the chance to visit its three highest peaks. However, the mountain trail requires physical preparation, stamina, and is not recommended for those afraid of heights.
Access to Pico do Arieiro is easy with a free car park. When at Pico Ruivo, you can relax, have a snack, or visit the shelter before enjoying breathtaking views.
The trail is challenging but not technically difficult, featuring mostly stone pavement. You can spend up to 7 hours on the trail, with breaks for picnics and photos.
I suggest starting at sunrise for amazing views, less crowded conditions, and securing parking spots at the top. The return trip can be physically challenging, but doable with regular breaks. Proper footwear, a torch, water, and food are recommended.
Helpful tip Consider going 80% of the way for incredible views without the most challenging part, especially if you are a less experienced hiker.
Levada do Caniçal – Vereda do Larano trail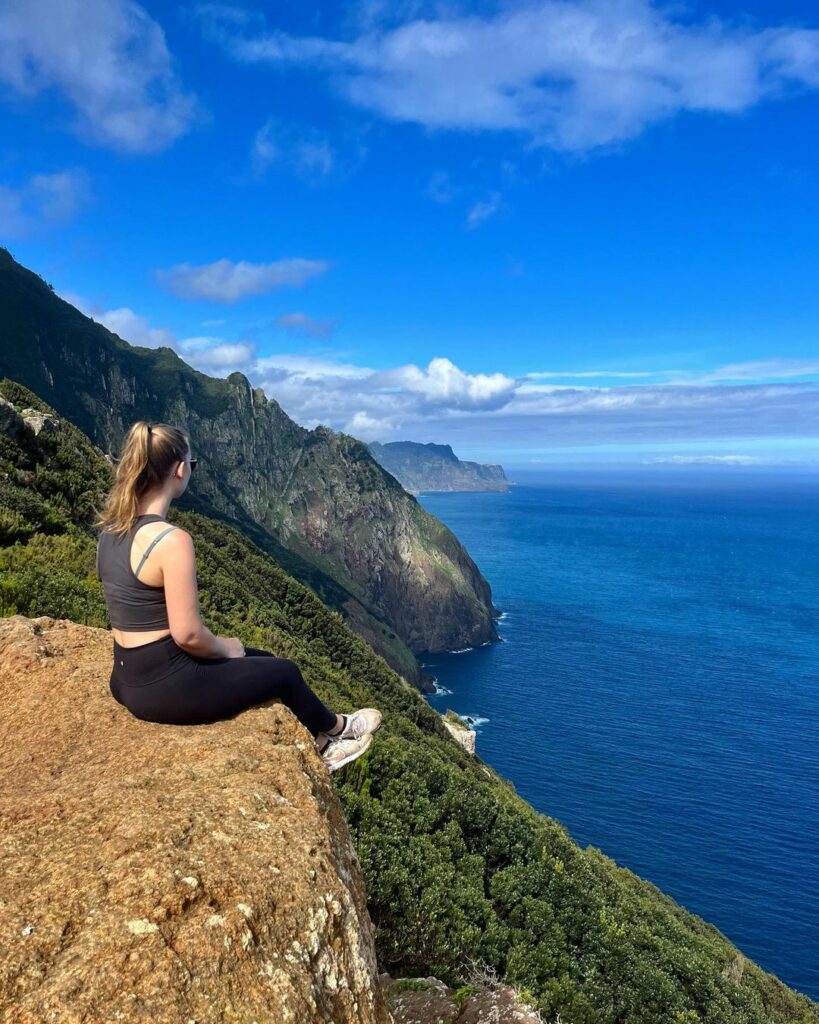 It is one of the most impressive hikes on Madeira Island that lets you walk along a trail practically carved out of a steep hillside facing the sea. This is a trail you shouldn't miss while visiting Madeira Island!
The 15-miles (24 km) Levada do Caniçal – Vereda do Larano route takes around 11 hours to complete. Open year-round, this popular trail offers breathtaking coastline views and a taste of local culture. Starting at a small bar without parking, the trail leads through small levadas and rural villages until reaching Porto da Cruz.
The Levadas, named after the Portuguese verb "levar" meaning "to carry," are an extensive network of channels or aqueducts spanning numerous miles. They primarily run along mountain edges and even pass through them, traversing various rugged terrains to transport water from multiple sources to intermediate or final destinations.
The coastal cliff segment is among Madeira's best, with safety rails in place where needed. If short on time, starting at Ponta da Cruz is a great alternative for enjoying the beautiful north coast. Upon reaching Porto da Cruz, don't miss the sugar cane factory (Engenhos do Norte) and delicious poncha on the beach.
Finally, celebrate the completion of the trail with a meal at one of the local beachside restaurants.
Helpful tip I recommended doing the trail one-way, starting at Machico and ending at Porto da Cruz, as this way involves mostly downhill terrain.
Hiking in the Azores
Halfway between the Old and New Worlds, in the middle of the Atlantic Ocean, lies the beautiful Azores archipelago (780 miles off Portugal's mainland coast.).
The nine islands are entirely distinct from one another, yet they share volcanic landscapes and evergreen subtropical forests. Mass tourism has not yet arrived here, so you can enjoy not only the stunning scenery but also the tranquility of a remote corner of the earth.
You can begin your adventures on São Miguel Island, as it is the only island that accepts flights from the mainland. To reach other Azores islands, you will need to take local flights or travel by ferry.
Miradouro da Boca do Inferno Hike, São Miguel Island
Many hiking routes in São Miguel Island, the Azores, Portugal, revolve around the Sete Cidades protected area because of its exceptional natural beauty, unique landscapes, and rich geological features. The Sete Cidades area is home to a large volcanic caldera with twin lakes, Lagoa das Sete Cidades, which are known for their strikingly different colors – one blue and the other green.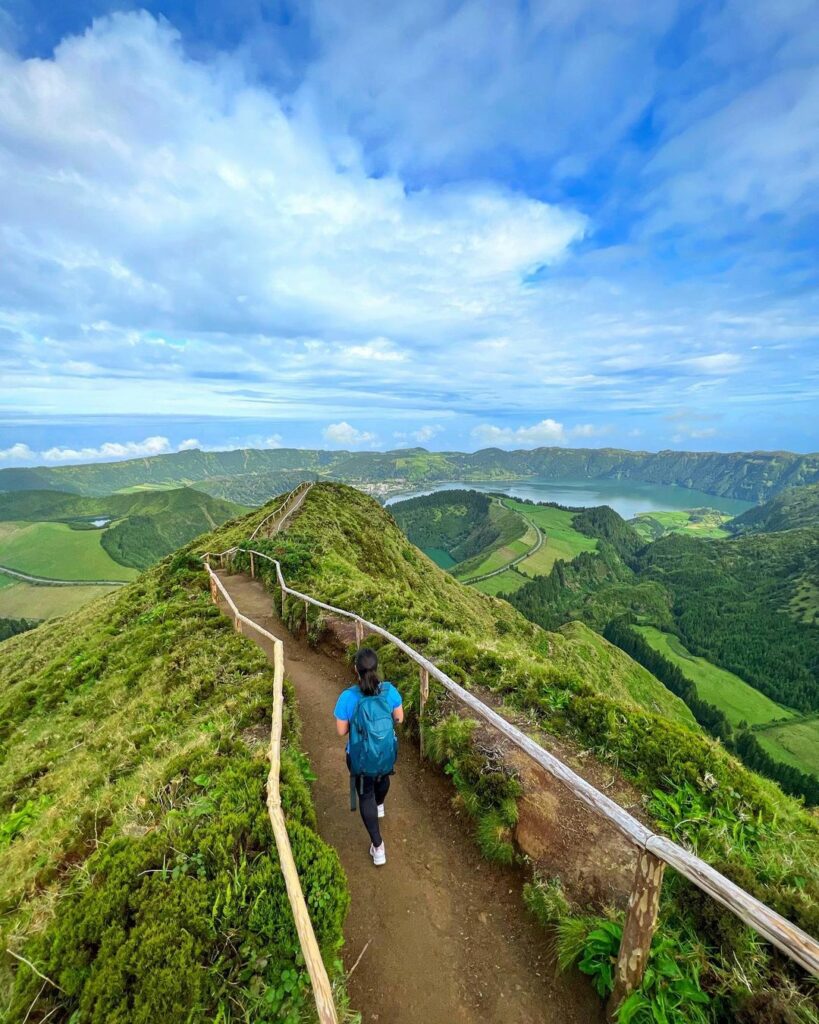 The 0.37-mile (0.6-km) Miradouro da Boca do Inferno trail near Sete Cidades is an easy and accessible hike perfect for a family walking tour.
Starting at the Mata do Canário car park, the trail leads to a fantastic viewpoint offering incredible landscapes of São Miguel from an altitude of about 3,281 feet (1,000 meters). Along the way, there's a picnic park where you can relax and enjoy the surrounding nature.
Overall, it's a short, easy trail with amazing views of Sete Cidades. For the best experience, go early to avoid crowds and have the viewpoint all to yourself.
Praia – Lagoa do Fogo PRC2SMI Trail, São Miguel Island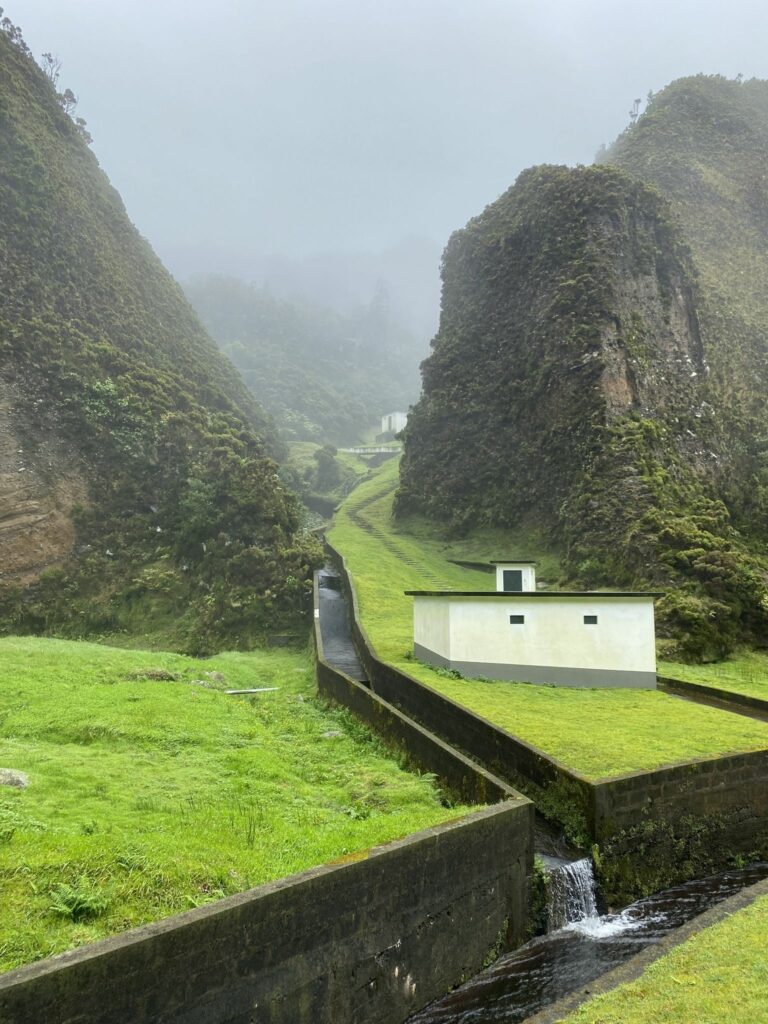 Embarking on this 7-mile (11.3-km) loop trail offers a moderately challenging hike with an average completion time of around 4 hours. The trail takes you through eucalyptus forests and along a "levada" (water channel) where you can spot various endemic plant species.
While hiking, be prepared for a significant elevation change and potentially muddy conditions. You can also hike east to west to avoid a difficult descent and enjoy varying terrains on the way down, such as valleys, forests, and aqueducts.
After all, the serene views of Lagoa do Fogo at the top are worth the effort.
Pico Mountain Trail, Pico Island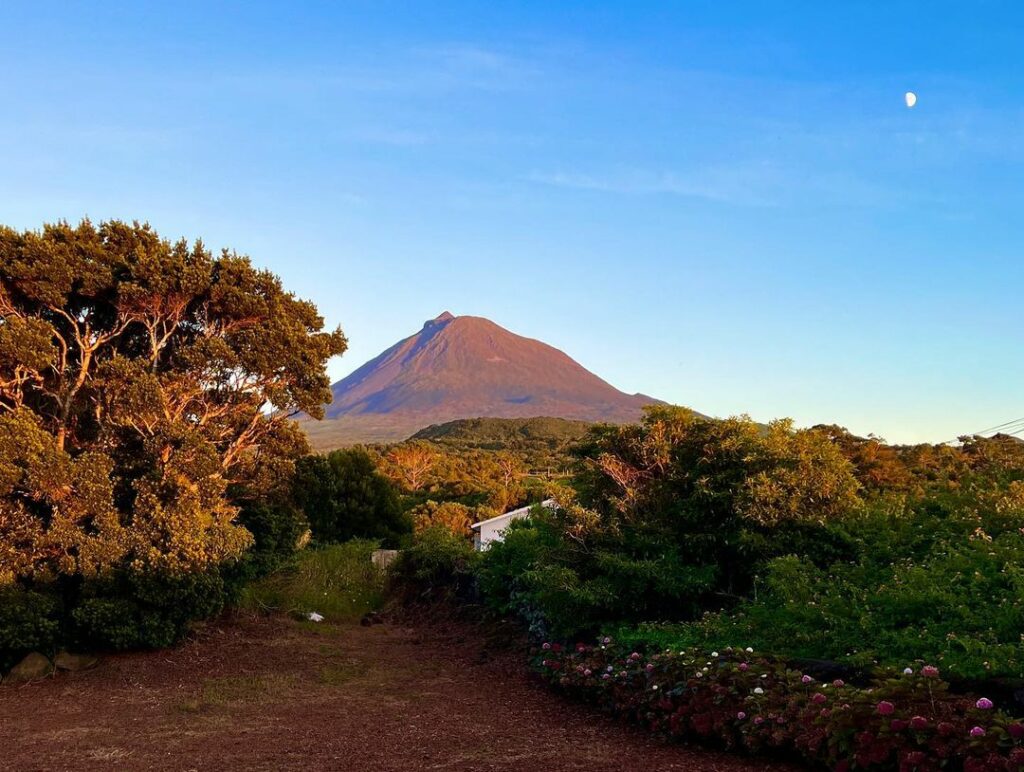 Ascending to Mount Pico, Portugal's highest peak, is the challenging 3.9-mile (6.3-km) trail near that offers an unforgettable experience. The trail is also marked by 47 waypoints to help navigate the cold lava landscape. Also, I suggest arriving at the car park 20 minutes early for check-in and a brief video.
Reservations through the official website are required.
Be prepared for a grueling ascent with steep scrambles and loose lava shale. The use of trekking poles is highly recommended. Weather conditions can change rapidly, and the summit is around 18°F (10°C) colder than the trailhead, so pack layers including a beanie, gloves, windproof jacket, heavy-duty sunscreen, and extra insulation for stops.
The trail isn't always clear, and having a map or a guide can make navigation easier. Descending (with jumps!) can be tough on the knees, so take care.
Despite the challenges, the spectacular views from the summit makes it a lifelong hiking highlight.
Read also: Best Things to Do in Pico Island, Azores
Tips for Hiking in Portugal
Best seasons for hiking
The best time to go hiking in Portugal is during fall and spring. Even during these season, you will probably encounter periods of heat, so bring lots of water with you.
Footwear
Hiking typically involves leisurely strolls through lesser-traveled terrains, including trails and paths in parks, nature reserves, and urban neighborhoods. It is generally done in favorable weather conditions, with footwear ranging from trekking sandals to sneakers designed for rough terrain. For rainy locations, sneakers with a membrane or lightweight trekking boots are recommended.
If you are going to have more extensive walks on rougher terrains with longer climbs and descents, then lightweight hiking boots are advised for better foot and ankle support, protection from moisture, and keeping dirt, sand, and insects at bay. Look for Salomon X Ultra 4 GTX (best overall), Merrell Moab 3 (budget), Hoka Speedgoat 5, or La Sportiva Spire GTX.
Trekking poles can also be helpful for covering longer distances and overcoming obstacles. Look for Black Diamond Trail Ergo Cork, REI Co-op Trailbreak (budget version), or Black Diamond Distance Carbon Z.
Other tips and precautions
Hiking in the Azores
Hiking in Portugal FAQs
What is the best time to visit the Azores, Portugal?
The best time to visit the Azores is during fall and spring. Apart from lots of hiking opportunities, it is during these seasons that migrating pods of various whale species pass through the Azores, providing the highest chances of spotting the largest animals in the world.
Does Portugal have good hiking?
Yes, definitely! Portugal offers a variety of excellent hiking opportunities for people of all experience levels. Its diverse landscapes, from coastal cliffs to lush forests and dramatic mountain ranges, provide a wide range of trails to explore: Rota Vicentina, Peneda-Gerês, Madeira Island, the Azores, Serra da Estrela – these are just few examples of of the many hiking options in Portugal!
What are the best hikes near Lisbon?
Some of the best trails near Lisbon include: Sintra-Cascais Natural Park, Arrábida Natural Park, Cabo da Roca (my favourite!), Serra de Sintra, and Serra de Montejunto.
Where to go hiking near Porto, Portugal?
– Peneda-Gerês National Park
– Douro Valley
– Passadiços do Paiva
– Serra da Freita
– Serra da Estrela
Final Thoughts
With this post, I have just scratched the surface: There are so many beautiful hikes in Portugal – I haven't even mentioned the Camino de Santiago route. Oh, how I wish I lived there!
And what do you think about Portugal as a hiker's paradise? Drop your comments below. 🙂