Things to Do and See in Ponta da Piedade, Portugal
Nadia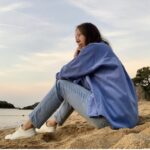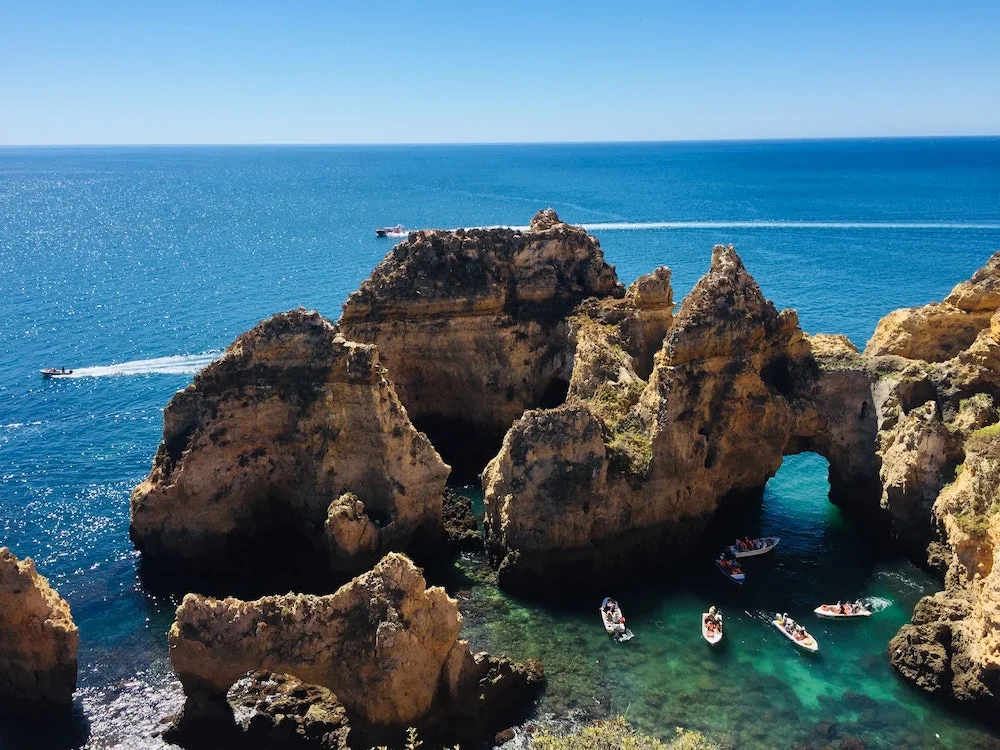 Ponta da Piedade (Point of Mercy) is a stunning coastal spot near Lagos town in the Algarve region and one of Portugal's most visited tourist destinations.
This beautiful natural landmark consists of two small headlands and numerous sea stacks, caves, tunnels, and caverns carved by centuries of crashing waves.
The name "Ponta da Piedade" has its roots in religious history. Apparently, it was given to this area in the 16th century when local fishermen prayed for protection from storms while fishing around these dangerous rocks. As they sailed away with their catches after each trip, they would honor their patron saint with a salute towards Ponta da Piedade – thanking him for keeping them safe during their journey.
Today, there are several ways to explore all the hidden coves and secret spots along this picturesque stretch of coastline, including walking around them, kayaking, paddle boarding, or boating. While in these coves, you can easily spend a day snorkeling in the crystal clear water or investigating on a speleological expedition.
If you are near the city of Lagos or are planning to go there in the future, here is what you need to know to plan your trip to Ponta da Piedade.
Read also: Is Faro Portugal worth visiting? and How to get to Algarve from Lisbon
How to get to Ponta da Piedade
It is very close to Lagos; therefore, you can go on foot, by car, or by boat.
By car
The most convenient way to get from Lagos to Punta da la Piedad is by car, it takes approximately 15 minutes, and the drive is about 7 miles (11 kilometers). You can also take a taxi, but do not go by local bus, it isn't straightforward.
On foot
You can also walk for roughly an hour between both points if you have time. It will take you about 45 minutes.
But remember that you will pass by two of the most beautiful beaches of the Algarve: Praia de Dona Ana and Praia do Camilo. Therefore, the temptation to swim or look out over their viewpoints will be irresistible, so count on more time 😎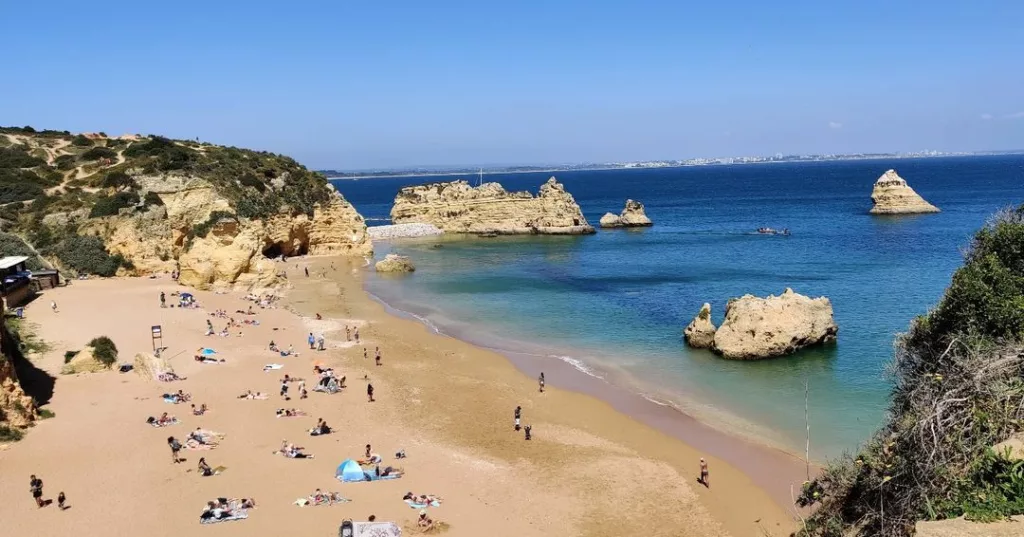 The route mostly overlooks the cliffs and the ocean and is pleasant if it is not too hot.
By boat
Actually, it is not only a trip from point A to point B, but an excursion! You can get on a small boat in Lagos and travel along the southern coast of Portugal, seeing some of its most beautiful beaches until you reach the caves and grottos of Ponta da Piedade.
If the boat is small, you will be able to access the interior of some of them. Keep this in mind when booking the excursion, as large boats do not enter the hollows carved by the sea.
This excursion allows you to enter the network of caves, arches, and hollows that form Punta da Piedade. Obviously, you can't do this if you go on foot or by car.
Helpful tip There is a hop-on/hop-off tourist train from Lagos to Ponta da Piedad in July, August, and September.
Things to do in Ponta da Piedade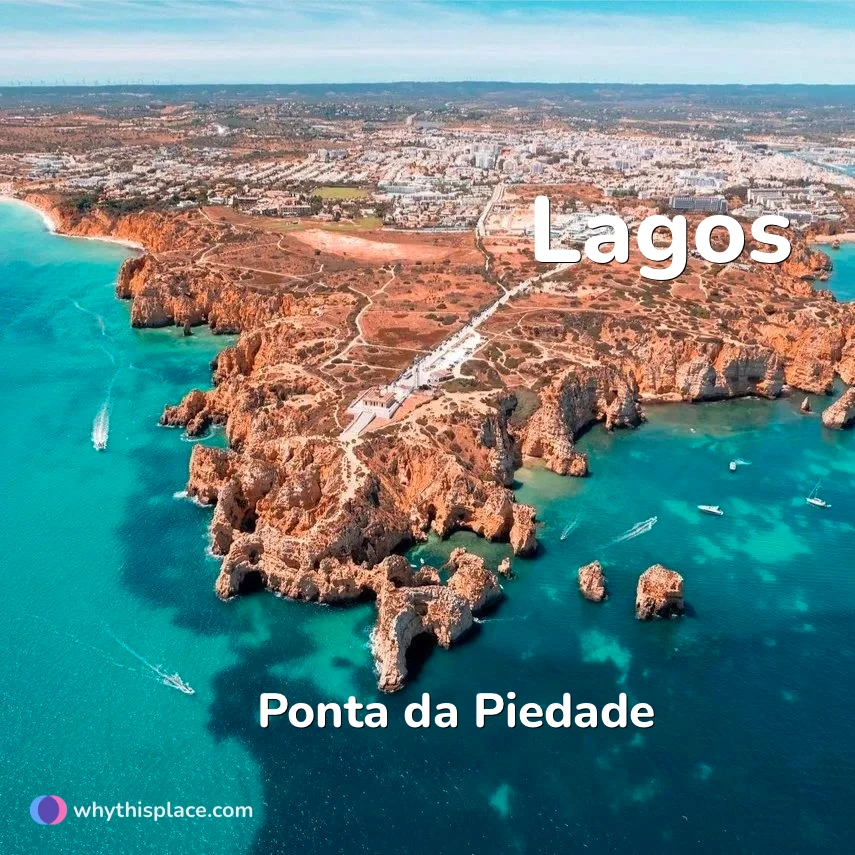 Enjoy the views from the viewpoint (Miradouro)
Soak up the views from the top of the cape; it is the first thing to do while in the Ponta da Piedade area. The beauty is extraordinary!
How to get there: Take the Punta da Piedade Lighthouse as a reference. From the lighthouse, on the left side, there is a path that leads to the cliffs. There is the Ponta da Piedade viewpoint with an old stone staircase leading straight down to the height of the sea. You can get closer and go down the steps to see the natural environment. If you get to the bottom, you will see some boats. Typically, these boats have a higher price than the excursions from Lagos.
Explore the caverns of Ponta da Piedade from the sea
Undoubtedly, the best way to discover the hidden caves of Ponta de Piedade is to take a boat or kayak excursion, and you can do it from Lagos or from Ponta da Piedade itself.
As of 2023, a 30-minute ride will cost €20 per adult and €10 per child. It may look a bit expensive, but it offers enough time to enjoy every cave, the waters, and the views. I absolutely loved the tour, it's well worth it!
Additionally, I hadn't booked a tour when I visited, but since it was the low season, it was quite easy to join a tour without waiting. Boat tours depart from the iconic Ponta da Piedade starting point, located at the base of the staircase.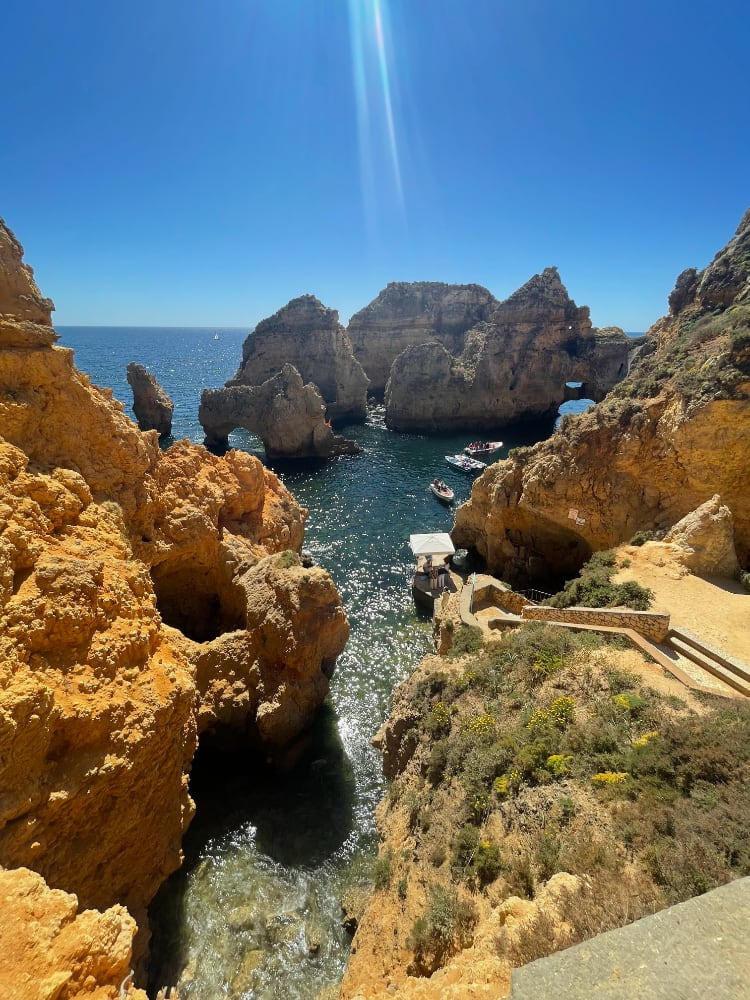 Surprisingly, our boat driver spoke really well in English, so the explanations of what we saw along the way were quite informative.
After the boat tour, you can get up to the top of Ponta da Piedade and cool off in the bar near the parking lot.
Warning! If you take a boat tour with children, please exercise extreme caution upon returning. When the boat docks, it may collide with the stone wall, so it is crucial to ensure that children do not hold onto the boat's edge with their fingers at this moment.
See the Lighthouse
At 51 meters above sea level, you can also visit the stone lighthouse, built in 1913 and serving as a watchtower for local ships. It took 30 years to install the lighthouse because it rests on the embrasure of the old Portuguese church of Nossa Senhora da Piedade. The lighthouse still works and automatically flashes a white light every seven seconds.
Visit nearby beaches
Such as Dona Ana, Praia do Camilo, or Praia da Boneca.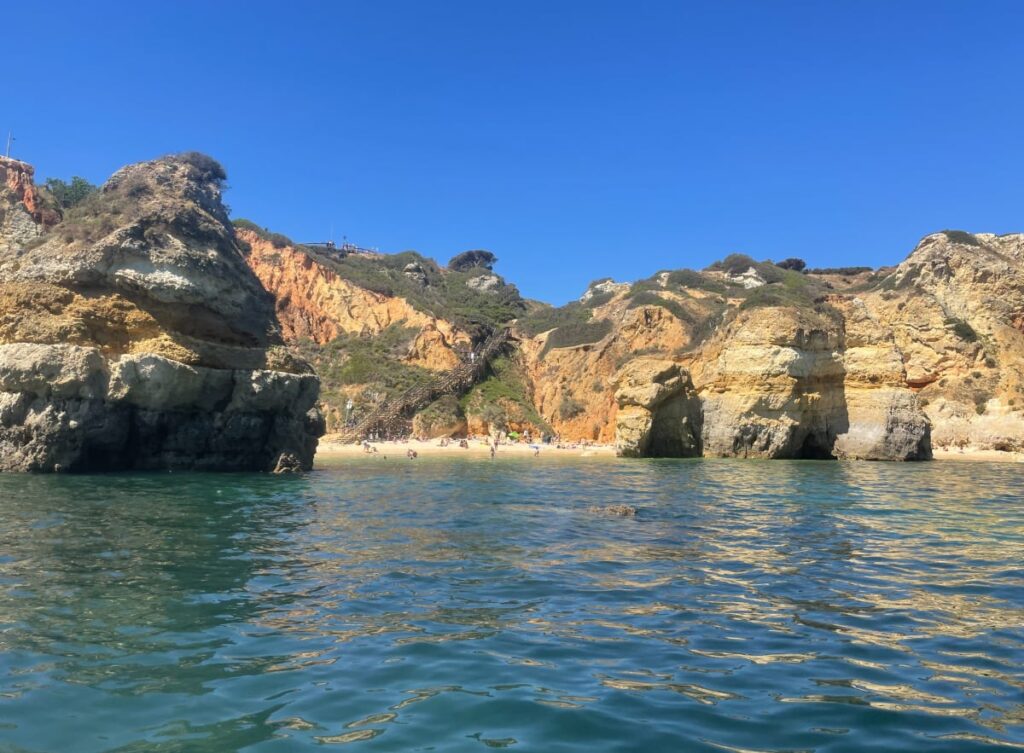 Praia do Camilo is one of the symbols of the area. It has a small sandy beach that you can access by descending approximately 200 wooden steps. Protected by jagged cliffs, it might become your favorite beach destination. Also, it is quite crowded, especially in the summer or on weekends.
Other things to do in the area:
Relax in one of several beachside cafes for lunch or dinner
Go scuba diving to explore underwater sea life
Go fishing off the rocks or on a charter with local fishermen
Rent bikes to explore trails along the coast
Enjoy a spectacular sunset from Miradouro da Ponta da Piedade. Want to see a sunrise instead? Check Praia do Camilo beach.
Hike up to Passadiços da Ponta da Piedade, a pleasant walk along some wooden walkways. This route leads to the viewpoint of Praia de Canavial. The excursion has a length of 3.4 miles (5 km) round trip, but it is worth it and is ideal for families or people with reduced mobility.
Tips on visiting Ponta da Piedade
Kayaking through the rock formations can become your all-time favorite experience. The tour takes you from Lagos to Ponta da Piedade, then you get on the kayak and explore the area.
The area could be crowded – arrive early in the morning.
There may not be enough space in the car parking in summer.
There are many wooden paths, so you can comfortably walk around.
To explore the bottom surface of the area, come at low or mid tide. The best time is around 5–6 am.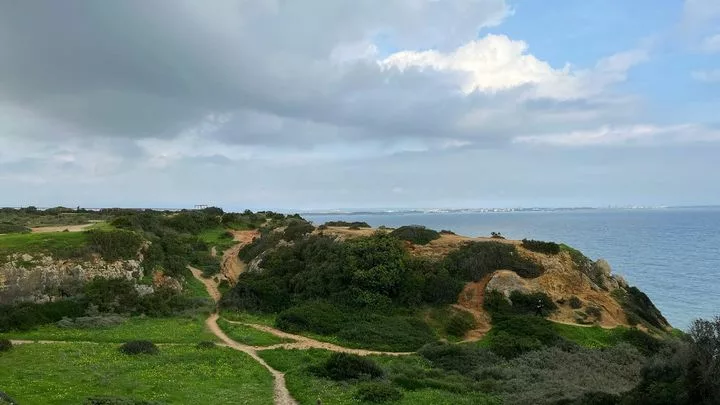 Where to stay
Here are the best accommodations in Lagos near Ponta da Piedade:
You will fin it near Meia Praia Beach. It offers an outdoor rooftop swimming pool and heated indoor pool, as well as units with terraces/patios with sea or city views, kitchens fitted with dishwashers and ovens, plus microwaves and coffee machines.
A 5-minute walk from the beach. Guests can choose between self-catering studios and one- or two-bedroom with private bathrooms providing a range of amenities such as WiFi, a fully equipped kitchen or kitchenette, and towels/linen. An onsite Italian Restaurant is available along with packed lunches and nearby restaurants serving traditional or international food. The property also provides free use of bicycles for guests to explore the area, plus surfboard rentals.
It is situated in the center of Lagos, near Praia da Forte da Bandeira. The hotel features a spacious sun terrace, a heated rooftop pool, and air-conditioned rooms with a furnished balcony. 24-hour reception staff speaks English, Spanish, French, and Portuguese.
Conclusion
Ponta da Piedade is a testament to the beauty and strength of Portugal's nature. Thousands of years have formed stunning rock formations, creating an awe-inspiring and humbling destination. I wish everyone had seen this place once in a lifetime!
Visiting Ponta da Piedade FAQ
What does Ponta da Piedade mean?
Ponta da Piedade is a Portuguese phrase that translates to "Point of Piety" or "Point of Mercy" in English.
How to get to Ponta da Piedade?
First, you have to get to the Algarve region of southern Portugal. Next, you will need to travel to Lagos. Once you are there, there are several options to reach Ponta da Piedade:
– By car: If you have a rental car, you can drive to Ponta da Piedade, which is approximately 2 miles from Lagos town center. There is a parking area near the cliff, from where you can walk to the viewpoint or access the pathways leading down to the base of the cliffs.
– On foot: If you prefer walking, you can follow a scenic coastal route from Lagos town center to Ponta da Piedade. The walk is about 2–3 miles and can take roughly 45 minutes to an hour, depending on your pace.
– Boat tours: Several companies in Lagos offer boat tours that include a visit to Ponta da Piedade.
– Taxi or renting a bike are also the options.
This post might include some affiliate links. If you make a purchase through these links, I may earn a small commission at no additional cost to you. I appreciate it when you use my links to make purchases.