Lagos, Portugal: Top 23 Attractions
Nadia Podrabinek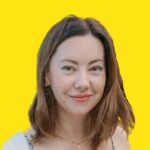 Written by Nadia Podrabinek
Hello, my name is Nadia. I usually write about traveling (there are so many places to fit all the lifestyles), relocation, and living in a foreign country (adapting to a different culture). My travels stretch beyond Spain, with journeys to the US, Italy, Norway, Portugal, and France. Relocating to Spain in 2018, I lived in cities from Barcelona to Madrid, currently calling Valencia home.  Follow me on Twitter, Facebook, Instagram, or LinkedIn! ... show more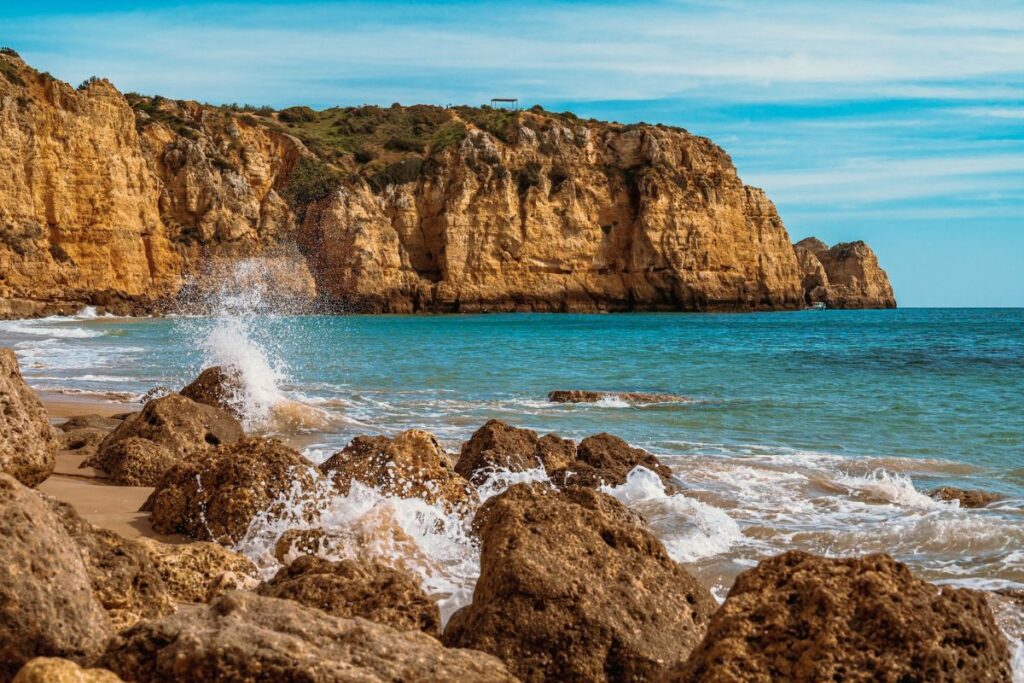 Lagos is a small city located in the Algarve. But don't let its size or its positioning deceive you. Despite being so small, Lagos has lots going for it in terms of fun and activity. From kayaking out to limestone caves to sampling the delicacies of the Algarve, you won't feel stuck for things to do after you arrive here.
However, if you feel overwhelmed by the amount of activities that there are on offer, I've compiled this list of 23 things that I loved doing in this quaint town. From places I ate and partied in, to day trips I took in and around the city.
---
Key Takeaways
Lagos is a small town with clearly defined areas: the historic center, Porto de Mós, Meia Praia, and the Marina.
Lagos is much more chilled out than its noisy neighbor Albefuria.
Lagos is a great town for vegans and vegetarians.
A bus service operates around the town, but you can also catch trains to neighboring towns and cities.
---
What people on Reddit
There are hikes and beaches accessible from Lagos and Faro via transit and walking but renting a car allows a lot more. I recommend splitting the cost with hostel people.

therestherubreddit
Lagos has an amazing burger place called Nah Nah Bah that has to be on the list for off season. I think there's a slavery museum too that looked interesting but we were only there a few days (in summertime)

boldkingcole
I was just in Lagos! I loved visiting in the off season so much I wrote a short essay about it for my substack. I'm sure it's lovely in summer too, but we had sunshine on our cliff hike, and had the beaches mostly to ourselves…that trade off is 100% worth it to me. Lovely photos, btw.

samchildress
Definitely try to go kayaking. Its such a fun experience and a beautiful spot to do it. My favorite dinner spots there was a restaurant called Camilo, which has amazing views but the food was the real winner here. Probably one of best whole fishes I've ever had. The other place I'd recommend is a small family run place called Calhou. The owners are wonderful people and the good is some of the best imo. I'm jealous of you, I'm sure you'll have a blast!

TheButcherOfBravil
Things to Do in Lagos, Portugal in 2023
To cut to the chase, here are my absolute favorite things to do when in Lagos:
Visit the Ponta da Piedade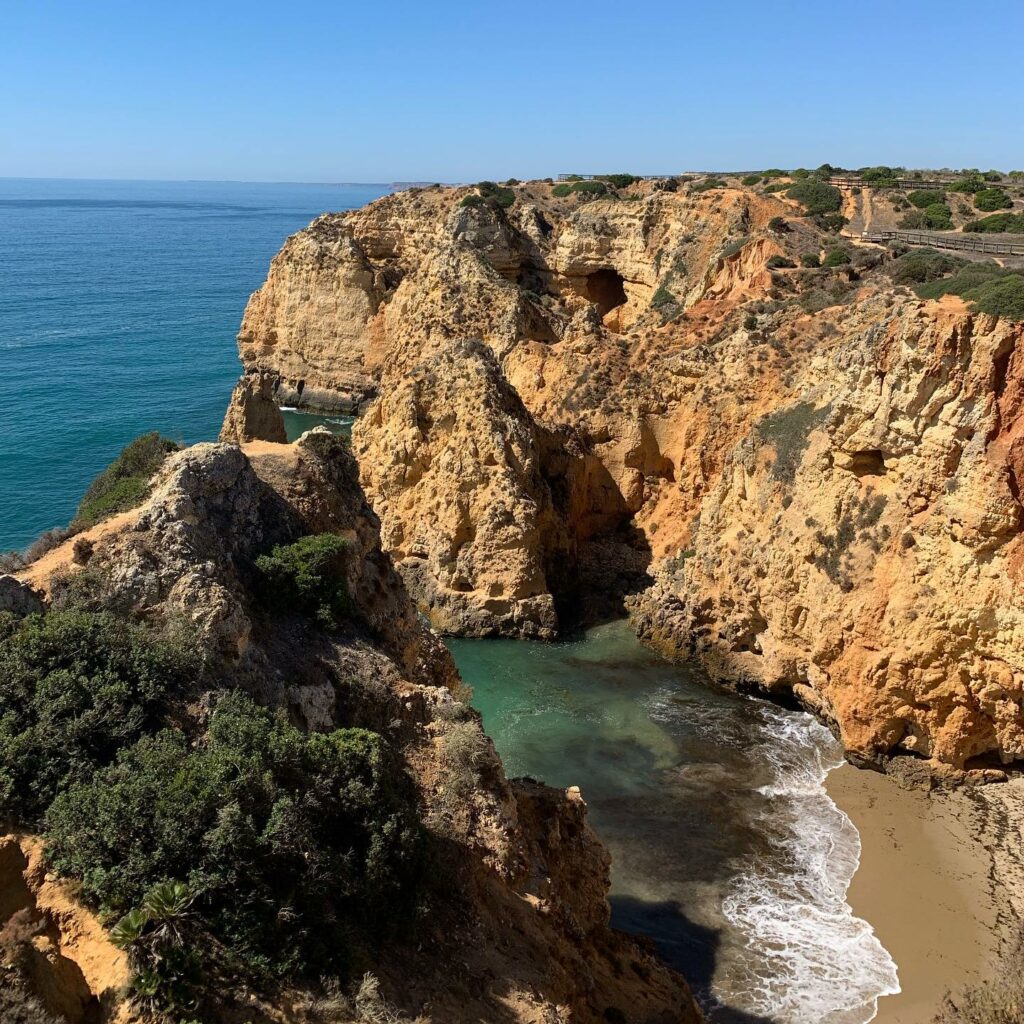 Cruising around the Ponta de Piedade rock formations will be one of the most memorable activities you'll ever do while traveling, period. You can either take a paddleboard, kayak, or motorboat around Ponta da Piedade. However, I'd recommend avoiding the latter and going as early as possible.
Several tour operators offer Ponta da Piedade adventures that head out from Praia Dona Ana.
Get a sunrise kayak to the Benagil Caves
Bengail itself is a small fishing village with popular beaches. Even more popular (in recent years, at least) is the Benagil Caves, a limestone natural wonder. This cool cavern provides you with a cool break from the summer heat. It's also a great spot for Instagrammers, thanks to the beautiful hole in its roof where the light gets in.
Speaking of which, you'll see lots of influencers here in the afternoon. Like Ponta da Piedade, the Benagil Caves get overwhelmed with boatloads of tourists around peak hours.
For this reason, I'd recommend getting a sunrise kayak to the Benagil Caves to have the natural wonder (mostly) to yourself!
Caution Don't try to save money by swimming out to the cave as it is unsafe to do so.
Explore the Historic Center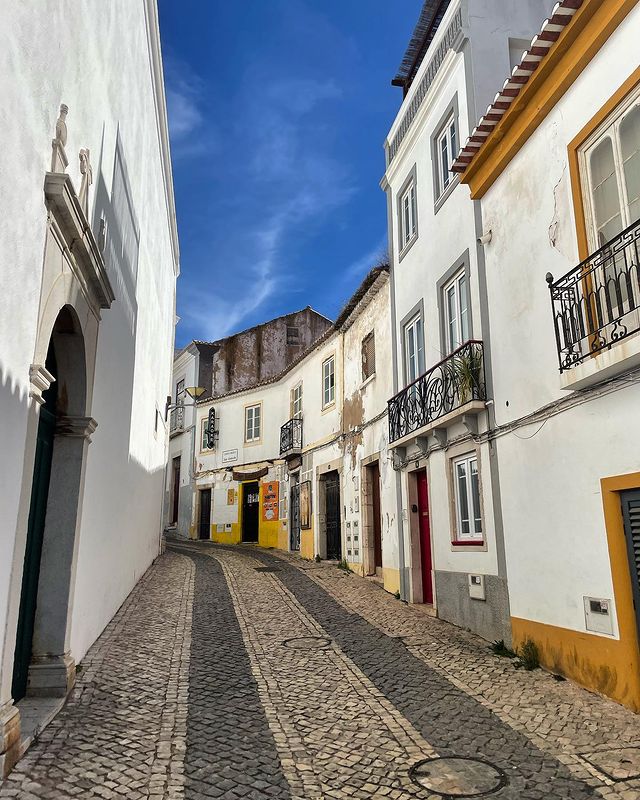 Lagos has a well-maintained center that has a rich history and is great for spending an afternoon aimlessly walking around. If you've been to a seaside Portuguese town or city before, the cobbled streets of Lagos Old Town may seem familiar to you.
You'll walk over beautiful mosaic-tiled flooring (don't admire them too much when wet – these can get pretty slippy!) and take in the beautifully tile-decorated buildings. When you see it, you'll wonder why the town isn't yet a UNESCO World Heritage site.
On the map, the historic center of Lagos can be found along the mouth of the harbor and is about a 10-minute walk from Marina de Lagos.
Discover the Church of Saint Anthony
While exploring the Old Town of Lagos, you'll likely stumble across the Church of Saint Anthony. This baroque-style building is the focal point of the plaza,
The interior of the church is the real talking point. Pretty much everything is either gold-plated or decorated with ceramic tiles.
If you want to explore the church, you can visit from Tuesday to Sunday, where it's open from 9.30 am – 12.30 pm and 2 pm – 5 pm.
Relax at the Praia Dona Ana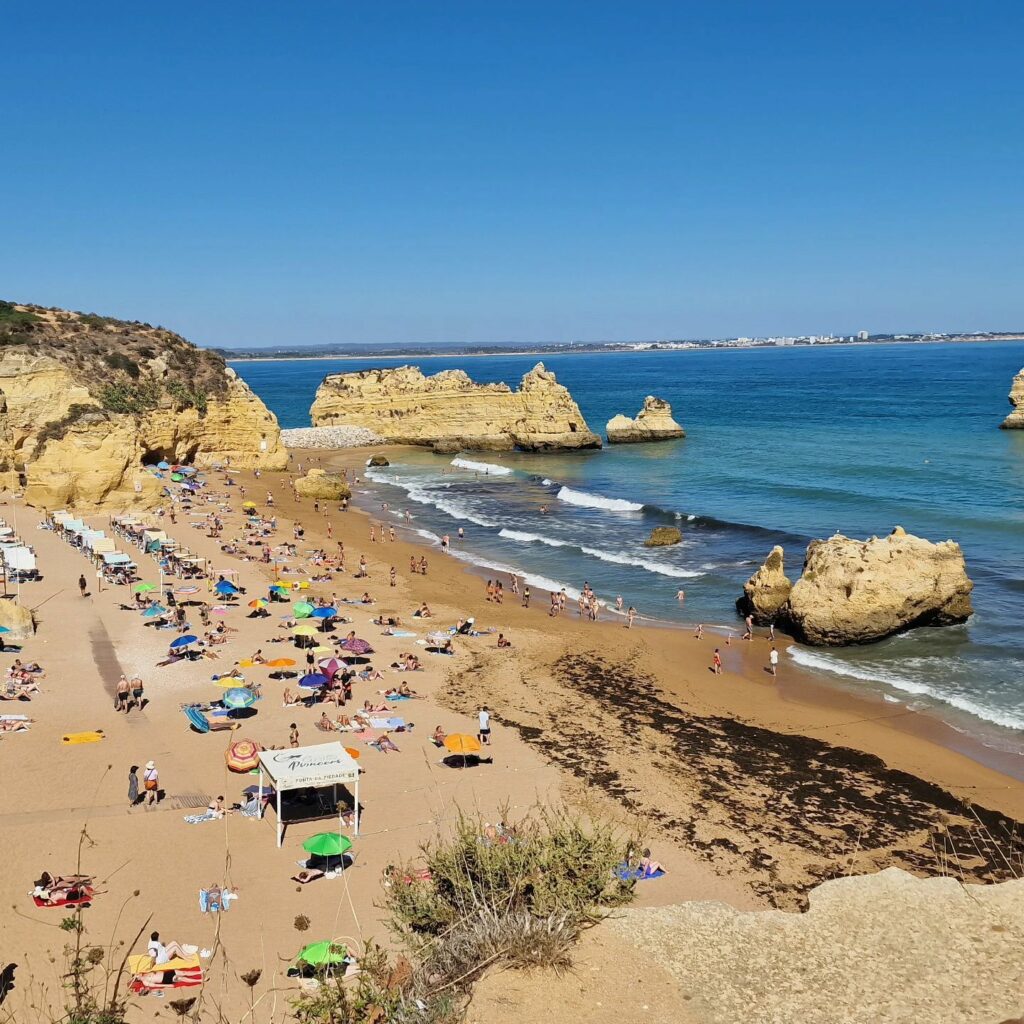 Lagos has beauty right on its doorstep, particularly along the sandy coastal stretch known as Praia Dona Ana. This beach can be found in the southern part of the town and boasts some of the most incredible views of the Algarve.
Across its 160-meter length, you'll find golden sands flanked by towering limestone cliffs. These natural wonders provide a dramatic backdrop to the idyllic beach scene and also provide you with some much-needed shade on extra sunny days.
It takes only about 20 minutes to walk from the center of Lagos to Praia Dona Ana beach. However, you could take the A Onda bus, linha 2 from town to the shore.
Avoid tourists by heading to Porto de Mos Beach
Porto de Mos Beach is my absolute favorite beach spot thanks to the peace and tranquility I found there. After finding Praia Dona Ana a bit overwhelming, I headed to this beach, which I found to be significantly quieter most days.
What's really good about Casa dos Cedros is that it's also pretty well built up in terms of facilities. There are two beach-side restaurants, which makes grabbing a drink or something to eat easy – which isn't really common with secret beaches!
Dolphin watch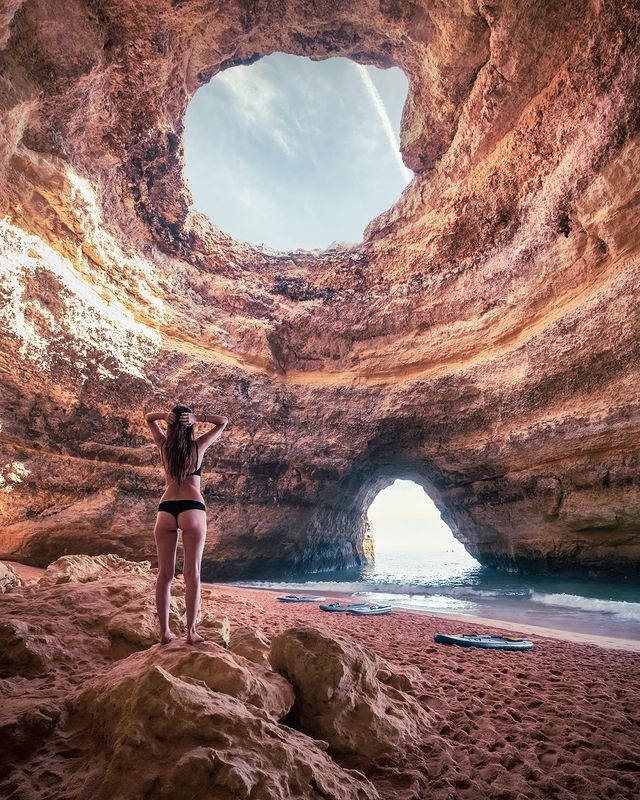 While taking in the sights of the Benagil Caves, you may be blessed with dolphins. These majestic creatures are often seen jumping out of the waters that surround the cave, making your journey to the landmark even more worth it.
If you miss out on seeing dolphins here, don't worry! There are plenty of other dolphin-spotting spots you can try out. There are even dolphin-watching tours you can get involved in that depart from Lagos Lagos Marina.
Visit the Forte da Ponta da Bandeira
On the old town seafront, you'll come across the Forte da Ponta da Bandeira. If you're a history buff, it would definitely be worth checking out. This 17th-century fortress was once used to defend the city from sea-based attacks.
Top tip If you're in Lagos on August 29th, be sure to watch the locals partake in the 29th Swim. This is an annual midnight dip into the sea from the Forte da Ponta da Bandeira. 
Take note At the time of writing this article (September 2023), the Forte da Ponta da Bandiera is temporarily closed. Check online if it is open before visiting to avoid disappointment!
Spend a Day at the Lagos Zoo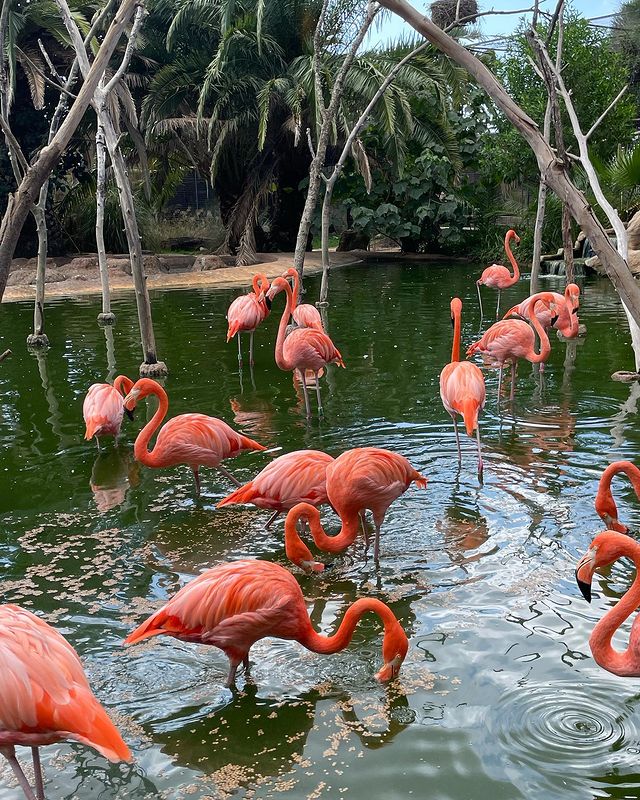 If you've got a spare morning or afternoon, why not immerse yourself in some thriving animal communities at the Lagos Zoo? Just outside of town, this animal sanctuary works a little differently from other zoos you may have been to. The animals aren't made to perform for visitors; instead, they're left alone in their enclosures to do as they please.
In fact, some of the animals aren't in enclosures at all, allowing you to get up close and personal with wallabies, peacocks, and pelicans. There's a total of 140 species of animals living at the zoo, from all over the world. They provide an endless source of fascination and education to all those who visit.
Water Sports
The gorgeous beaches of Lagos aren't just for swimming in: you can take part in exciting water sports, such as surfing, water skiing, wakeboarding, kayaking, canoeing, white water rafting, stand-up paddle boarding – the list goes on and on! You can even achieve waterborne zen by doing a spot of SUP yoga.
If you're into windsurfing, I'd recommend heading to Praia da Luz. This beach gets hit by a northwestern wind called "Nortada", which makes for particularly epic windsurfing sessions.
Surfing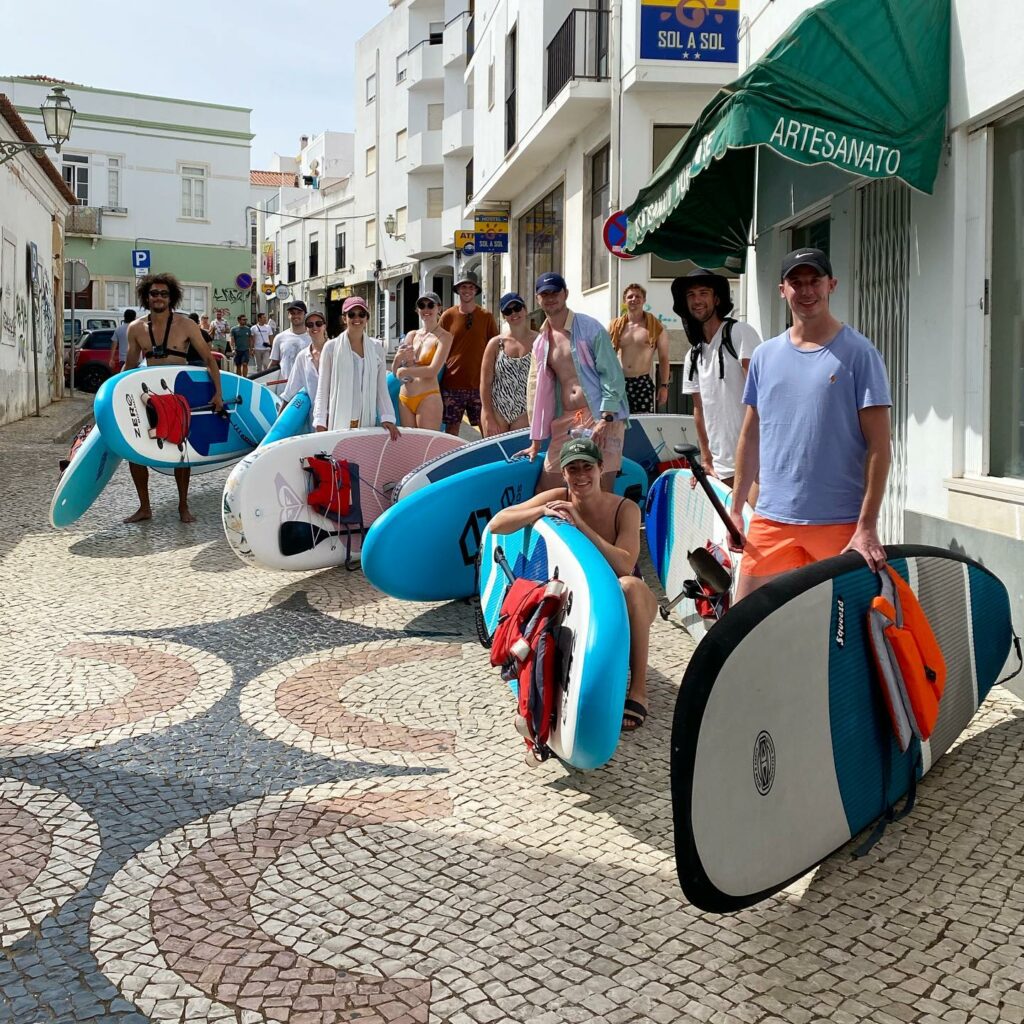 Surfing deserves a spotlight over all the other water sports you can do in Lagos. There is a particularly good surfing scene in the town, with several dedicated surf shops throughout.
Shops like Jah Shaka Surf Shop and Coast Supply Co. in particular help create a laid-back, surf town vibe in the city.
In terms of the best places to ride the waves, you'll find the best surf breaks on the beautiful beaches west of the towns of Zavial and Beliche.
Snorkeling
If you prefer underwater water-based activities, you'll find Lagos to also be a popular spot among snorkelers.
I think Camila Beach is the best in the area for snorkeling. Here, you can admire the underwater world and fish-spot to your heart's content. Plus, you could snorkel right through one of the beach's rock tunnels.
However, you need to be careful. Make sure you watch out for boats, particularly if you're snorkeling close to Praia Dona Ana.
Get a tattoo
What better way to commemorate your awesome vacation than with a tattoo, right? Getting a tattoo on vacation doesn't need to be a drunken mistake – there are plenty of great tattoo parlors throughout the city that can take your body art to the next level.
My top choices for tattoo studios include Cool It Tattoos and the Comedian Tattoos.
Explore the Algarve from above in a hot air balloon
The Algarve looks good from down below but is even more impressive from up in the skies. Hot air balloon excursions have become a popular tourist attraction in this beautiful town, as it allows you to take in the stunning azure coastline, Faro, Albufeira, and all the other towns along the way, all at once.
Day trip to Albufeira
Albufeira is only a 45-minute car ride away. So, if you've got time, why not take a day trip to explore some more of the sights and sounds of the Algarve? There are plenty of sounds to be heard in Albufeira, especially when it comes to nighttime. It's got a reputation as being the party capital of Portugal. So, if wild nights out are your thing, a jaunt to Albufeira should definitely be on your cards.
To get to Albufeira from Lagos during the daytime, you can catch the ALSA towards Lagos, which leaves Lagos 14 times per day. If you end up staying late in Albufeira, you could get a taxi back to Lagos, which will cost around $7.50 (€7). The last bus to leave Albufeira for Lagos is 21:15. So, if you want to enjoy the nightlife, you might need to get a taxi back.
Get the slow train to Faro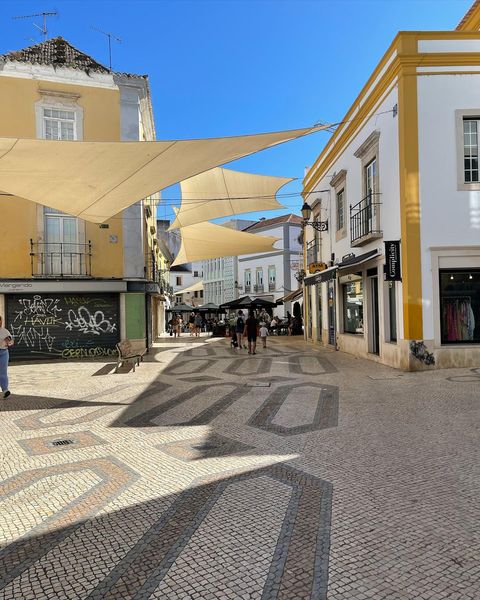 There's a train that leaves from Lagos and takes you all the way to Faro very slowly. While this may not sound like the most appealing way to spend your time in Lagos, it's a great way to take in a huge chunk of the Algarve.
This train makes many stops along the way (hence its slow pace), which isn't great if you need to get to Faro in a hurry, but it's really good if you've got time to explore!
Hopping out at random stops is a fun way to wile away an afternoon and explore some seaside towns you may never have ever heard of otherwise.
When I took the slow train, I hopped off at Silves to explore the castle and Loulé for its markets.
Hike some of the Fisherman's Trail
The Fisherman's Trail is an expansive hike that winds along the Portuguese coast. It's part of an even bigger hike called the Rota Vicentina.
While I'm not recommending you commit to the entire trail (unless you're an avid hiker and you're visiting Lagos in the shoulder seasons), you can easily do a stretch of it as a day trip.
For example, you could easily hike between Lagos and Luz via the Fisherman's Trail and then get the bus or an Uber back. This will take you a couple of hours, depending on your speed.
If, upon reaching Luz, you feel you could go further, you could continue along to Burgau or Salema. You'll be able to get a bus back to Lagos from most towns that are dotted along the trail – just check the bus timetable in advance!
Hike in the mountains near Monchique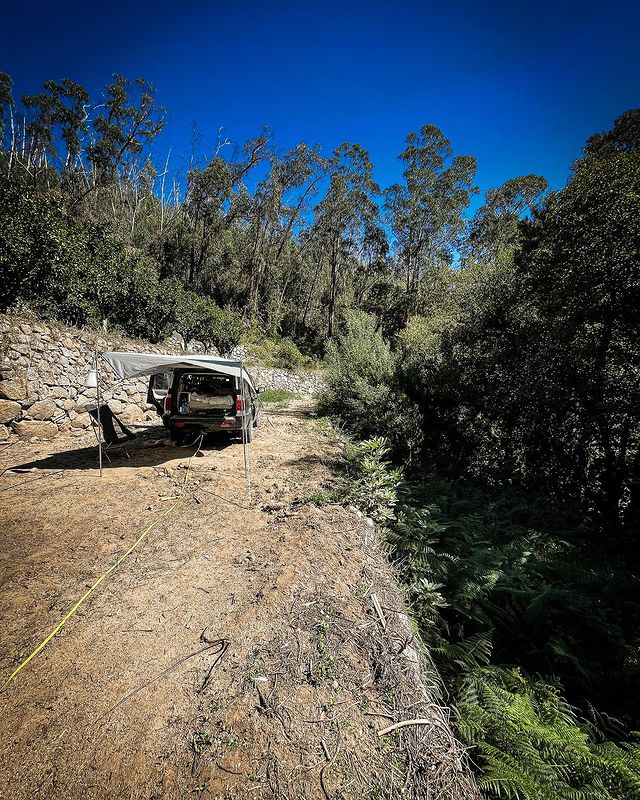 If you really like hiking there's more you can do than just the Fisherman's Trail. From Lagos, you can hop on a bus to Monchique and head out on the mountain trails that lead off from there.
In 2022, five new sign-posted paths were created that lead you through the mountains. In the town of Monchique, you'll be able to pick up an English-language map providing more details.
Jeep safari
Instead of hiking around the likes of Monchique and Caldeirao, why not cruise around them in the back of a jeep on a day trip? Several tour operators offer a jeep safari experience, which allows you to get off the beaten track and explore some of the most stunning inland and coastal landscapes. Gastronomy stops are often included in these trips, allowing you to also sample some local culinary delights.
Sunset cruise
If you love sunsets, are working on a romantic Lagos itinerary, or simply want an interesting way to start your night out, book a sunset cruise.
Like most water-based activities, sunset cruises set sail from Lagos Marina and explore the town's coast. Depending on the type of sunset cruise you book, you may be able to hit Ponta da Piedade for the sunset.
While admiring the rugged Atlantic coast in a catamaran or yacht, you can do some tapas and wine tasting – port wine for the sunset is my tipple of choice. You might even get a bit of live music on board if you're lucky!
Climb through a pine forest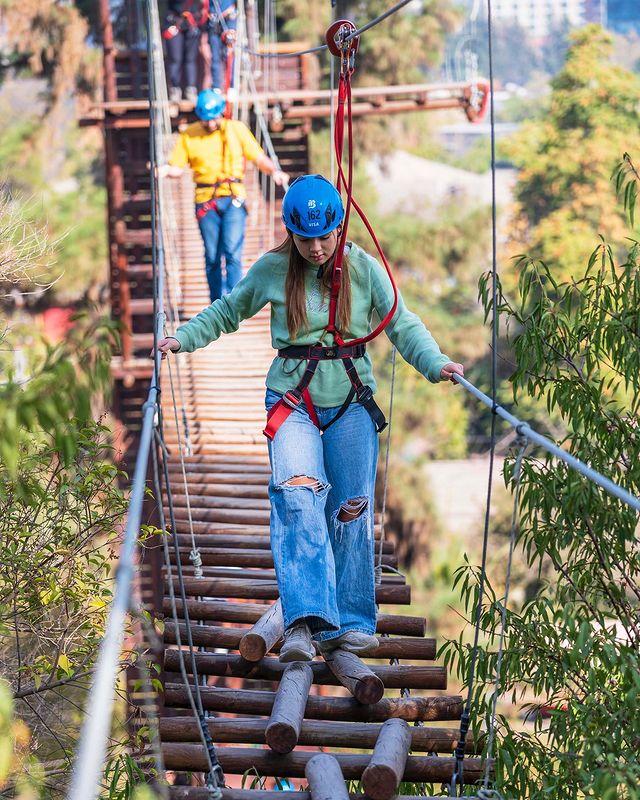 In the pine forest above Meia Praia Beach, you'll find an adventure center by the name of Parque Aventura. Here, you can explore the natural park from a lofty height, using the likes of wires, zip-slides, ropes, and bridges to make it across.
If the weather is not too oppressive and you feel like doing a highly physical activity, hit Parque Aventura!
Paintballing
Right next to Parque Aventura, you'll find Paint Aventura Lagos. This option gives you a slightly different way of exploring the natural park: running through pines, ducking for cover, and paintballing your friends along the way!
There's a professional team onsite to help you come up with gameplay ideas, or you and your friends can make up your own paintballing challenges.
Eat seafood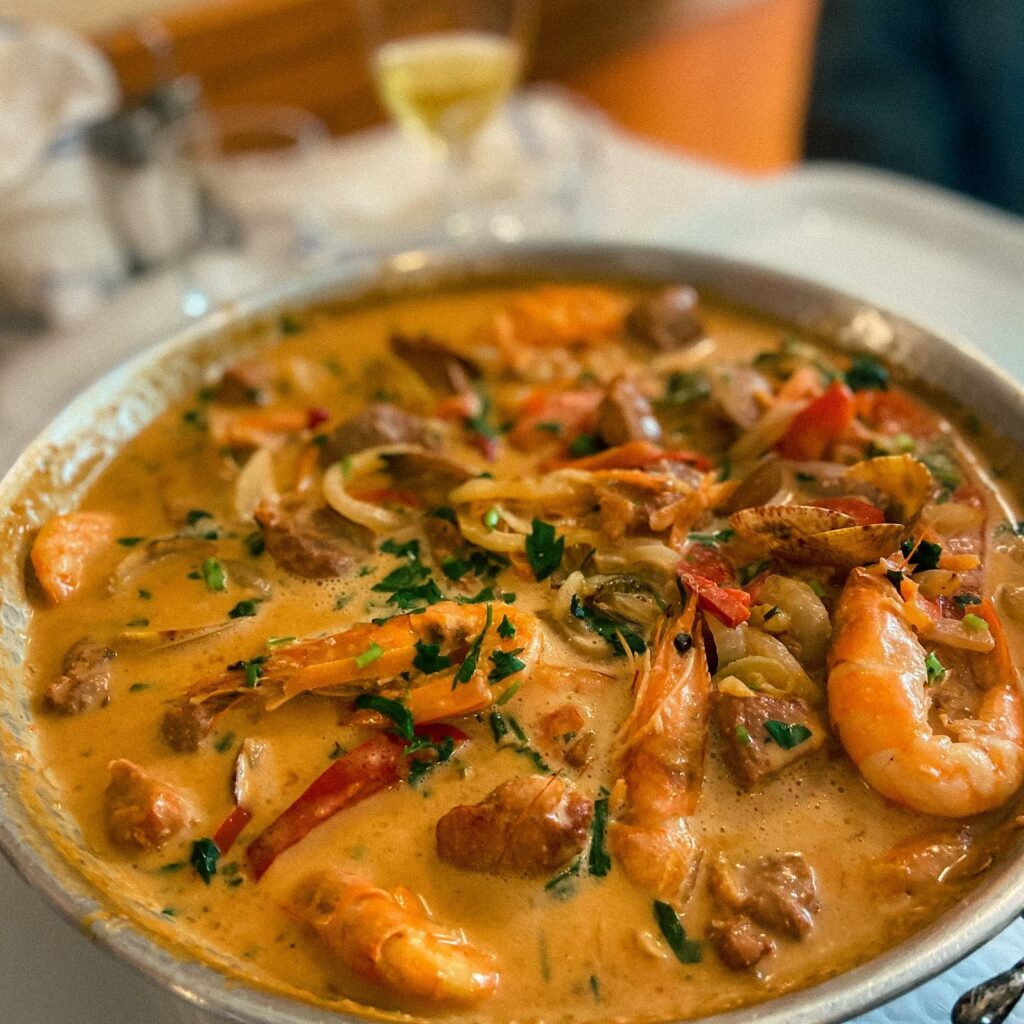 While on the Algarve, it would be rude not to indulge in some delicious seafood – a staple of the region! In the heart of Lagos, you'll find traditional restaurants like Casinha do Petisco, where you can sample local takes on seafood classics. Expect plenty of sardines, mackerel, and sea bream-based dishes.
Lagos Travel Guide: How to Get There
To try out all the super fun things I've listed above, you'll obviously have to first get to Lagos. Here are some of the ways you can travel to this seaside haven:
By Air
Unfortunately, Lagos doesn't have an airport. If you're flying from the States to Portugal, the nearest airport to Lagos that you could touchdown in is Faro (FAO). Faro is the main international transport hub for the Algarve, so if you're visiting anywhere in this district, it'll have to be via FAO.
Faro is quite a distance from Lagos, so I'd recommend planning your onward journey in advance. There is an Aerobus you can hop on from Faro Airport, which drops passengers at different points along the coast. To Lagos, you'll have to sit on this bus for 1 hour and 55 minutes. It only costs about $12.00, so is definitely the most cost-effective way of traveling to Lagos.
By Train
There is a train from Faro to Lagos; however, it takes a really long time.
What if you're already in Portugal and need to travel to Lagos? It is possible to get a train from the capital city of Lisbon to Lagos; however, it involves stopping over in Tunes. You could hop on a train supplied by Alpha to Tunes, and then change to a train supplied by Intercidades and continue on to Lagos. Stopover times can vary, which sometimes makes this an inconvenient option.
By Road
Once you arrive in Faro, you could also hire a car and drive along the coast at your own speed. Like most European airports, you can find a range of trustworthy car rental companies at FAO. This includes Hertz, Europcar, and Sixt.
When to Visit Lagos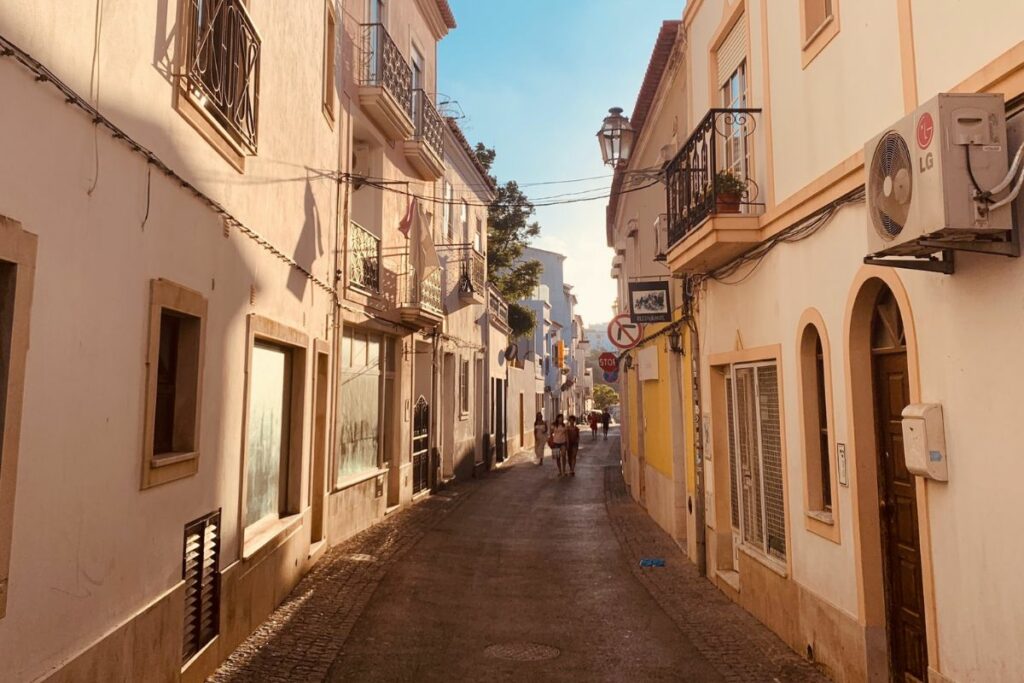 Lagos stays open all year. It has many permanent residents and has become a popular destination among remote workers. So, you'll be able to find accommodation even throughout the winter months.
If you're going for lively nightlife, atmosphere, and sun lounging, definitely visit the town during summer. For hiking and doing other physical activities, visit during the spring or early autumn. If you're looking for a quiet seaside break, go anytime!
Weather overview
Most people descend on Lagos in the summer months. From May right through to late August, you'll find most of the hotels, restaurants, and bars to be extra busy. This is, of course, the best time to enjoy the seaside destination. You can't really beat relaxing on a quiet beach in the June sunshine.
However, the end of the season doesn't spell the end of Lagos. Hotels, restaurants, and bars all remain open throughout the spring, autumn, and winter.
If you want to avoid the crowds, I'd recommend paying Lagos a visit in the springtime. The temperatures in April and May are around 67°F (19°C), making it agreeable enough to enjoy some beach time. Plus, you might find hotels to have reduced prices in this period.
Where to Stay: Hotels and Areas
The Old Town is one of the best areas to stay in Lagos, where you'll be able to find Airbnbs in colorful fishermen's houses. I'd also recommend staying in the Lagos Marina for easy watersport access, and the laid-back Meia Praia area for families.
Hotels and Resorts
The best hotels, resorts, and BNBs I'd recommend in Lagos include:
Price range: $210 – $590
This luxury resort isn't near the Old Town, but it offers great homely apartments. There are 4 communal pools, poolside bars, a spa and gym, and Atlantic ocean-view balcony rooms.
Price range: $57 – $335
This is one of the best and most affordable resorts you'll find downtown. There's a great outdoor swimming pool and bar area where you can look over the spectacular views of the town. Standard and penthouse rooms are available, many of which have private balconies.
Price range: $110 – $120
This BNB is beautiful, featuring a pool and chaise lounges around it. There's also a furnished balcony area outside, perfect for spending some quiet sunsets.
The best part about it is that it's only a 15-minute walk from here to Casa dos Cedros, the quiet beach I mentioned earlier.
Where to Eat: Local Food
Traditional Portuguese dishes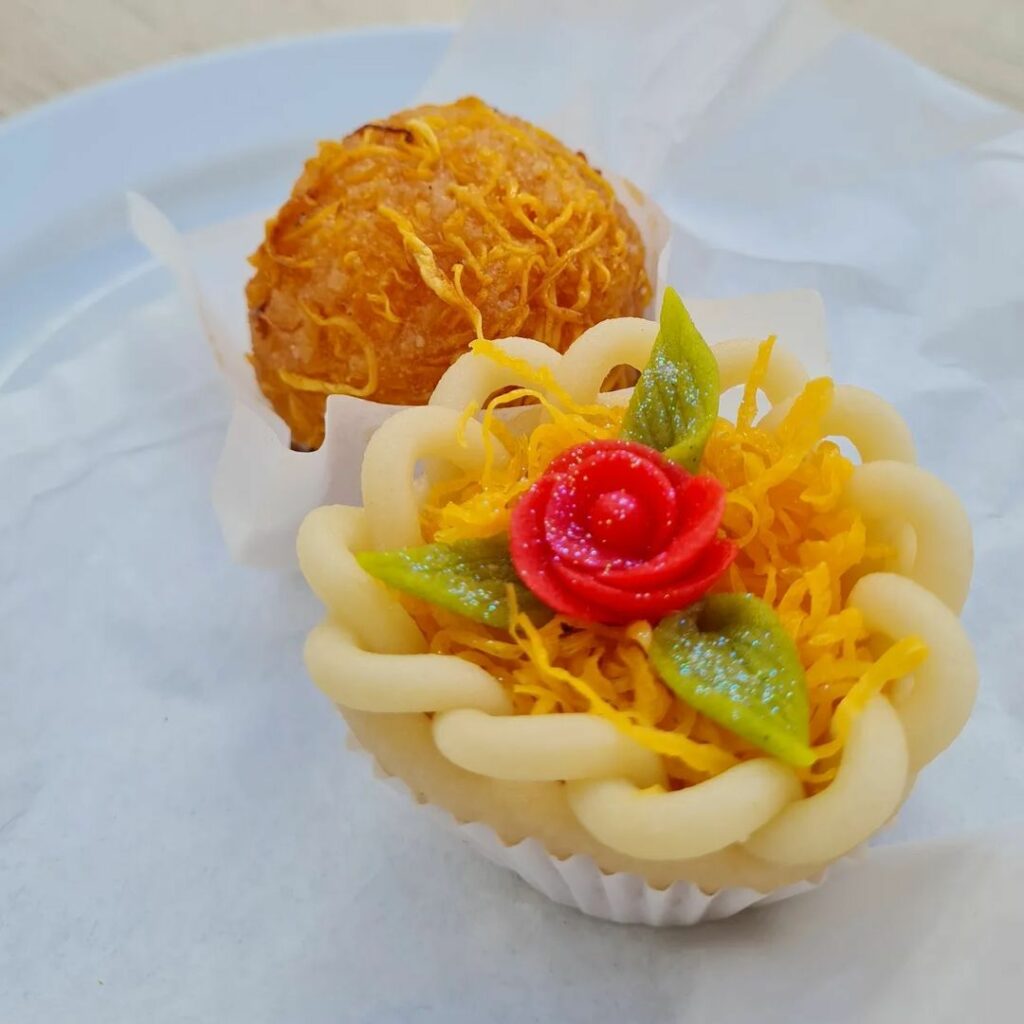 In terms of local delicacies, the Algarve has a selection of desserts that you have to try. This includes "Dom Rodrigo" and "Doce Fino".
If you're an adventurous eater, you could also try snails as a snack. Snails in Portugal is nothing like escargot in France. Instead, they're served in a broth containing butter, garlic, olive oil, oregano, and piri-piri. You should be able to find this at traditional restaurants in Lagos.
Best restaurants in Lagos
Lagos is the best town in the Algarve for vegans and vegetarians. The restaurants I'd recommend for vegan options include Estúdio Vegetariano and Abigail's Cafe. For vegetarian options, I'd suggest Green Room.
If, instead, you're looking to try the straight-up best restaurants in Lagos, some specific restaurants I'd recommend include:
This restaurant has by far the best food I tasted in Lagos. Unfortunately, everyone else thinks so, too. Walk-ins are pretty much unavailable and you'll need to book in advance. You may be able to book on the day, but I'd recommend booking a few days before just in case.
I felt that Mar Restaurante & Bar has the best views out of all the restaurants in Lagos. Positioned right above the beach, you can see pretty much the entire bay from most tables in the place. If you're looking for a good sunset dinner spot, this could be the place.
Transportation
From the town center, you can walk to most of the beautiful beaches and landmarks. However, there are circular bus routes that can take you around the town, beaches included. The Linha 2 bus is particularly good for connecting you to the beaches.
As aforementioned, you can catch trains to the surrounding towns and cities. You can find the train station across the Ribeira da Bensafrim River, opposite the bus station.
If you want to hire a car, your best option would be to do so at Faro airport, where you'll find several trusted car rental companies. This includes Sixt, Hertz, and Europcar.
Nightlife
What's great about Lagos's nightlife is that it's lively but never too crowded. You could describe it as contained, rather than spilling out all over the town. Plus, it also isn't overwhelmingly noisy after midnight, unlike Albefuria. For this reason, families most often pick Lagos over Albefuria. Lagos seems to strike the balance right between lively and chilled out, especially when it comes to its nightlife.
However, that's not to say you can't have a good time in the evenings.
Popular spots
If you're looking to hop between several late-night bars, I'd recommend heading straight for Rua 25 de Abril and popping in the first bar you find there. This street is lively 'til the wee hours of the night, with many bars staying open until 4 am.
My favorite bars on this street include Aficionado, Mynt Bar, and Zanzibar Lagos. It doesn't matter what bar you pick, the real atmosphere of this street is in the outside seating areas. Here, you can easily soak up the nightlife.
Other notable bars in the town include Peppers Bar, which has a terrace area that's popular with expats. Inside Out is also a great late-night spot for those looking to dance.
Notable events in 2023
Some popular events that take place in Lagos throughout the year include:
Lagos World Music Festival – World musicians unite and play for the people of Lagos every year around the first week of August. This takes place at the Praça do Infante.
Lagos Book Fair – A book festival is held throughout September, where you can buy books, listen to poetry readings, and even enjoy some live music. This also takes place at the Praça do Infante.
Rota do Petisco – If you're in Portugal around October, be sure to get involved with the Rota do Petisco. This is a tapas eating trail that takes you all over the Algarve, with several restaurants in Lagos participating.
In the summer, you can also sometimes catch live music on Rua Vasco da Gama.
Shopping: What to Buy as a Souvenir in Lagos
Here's some shopping tips if you're looking to pick up some unique trinkets and accessories while in Lagos:
Local markets
Mercado Municipal de Lagos: If you want to cook using locally sourced ingredients, head straight to this farmers and seafood market.
Feira de Velharias, Chinicato: This flea market takes place on the 2nd Sunday of each month in the Chinicato industrial park.
Souvenir shops
To avoid the tacky souvenir shops that can be found in most Portuguese tourist spots, head to Handmade Souvenir Shop – Casa da Bli for something a little more special.
If you want a souvenir in the form of a clothing item or accessory, you'll find a range of trendy boutique stores on Rua Candido dos Reis.
Unique things to buy
The Algarve is home to several ceramic shops, the most unique one in Lagos being Olaria Nova. The pieces you'll find here are highly original.
You'll find cork souvenirs in shops all over Portugal, so don't be fooled into thinking it is unique to Lagos. Instead, you should buy some copper cooking utensils, such as a copper cataplana pot (if you have enough space in your luggage, that is). These pots are used to cook seafood and date back to when the Moors ruled the Algarve.
How to Save Money on Travel
Here's some quick-fire tips on how to save money in this charming town:
Visit during the shoulder seasons for cheaper rates.
Spend full days beach hopping – they're all free to visit!
Pick up ingredients at the farmers market and cook at your accommodation, if you have the facilities.
Avoid taxis – use the town's reliable train and bus service wherever possible.
My Favorite Thing to Do in Lagos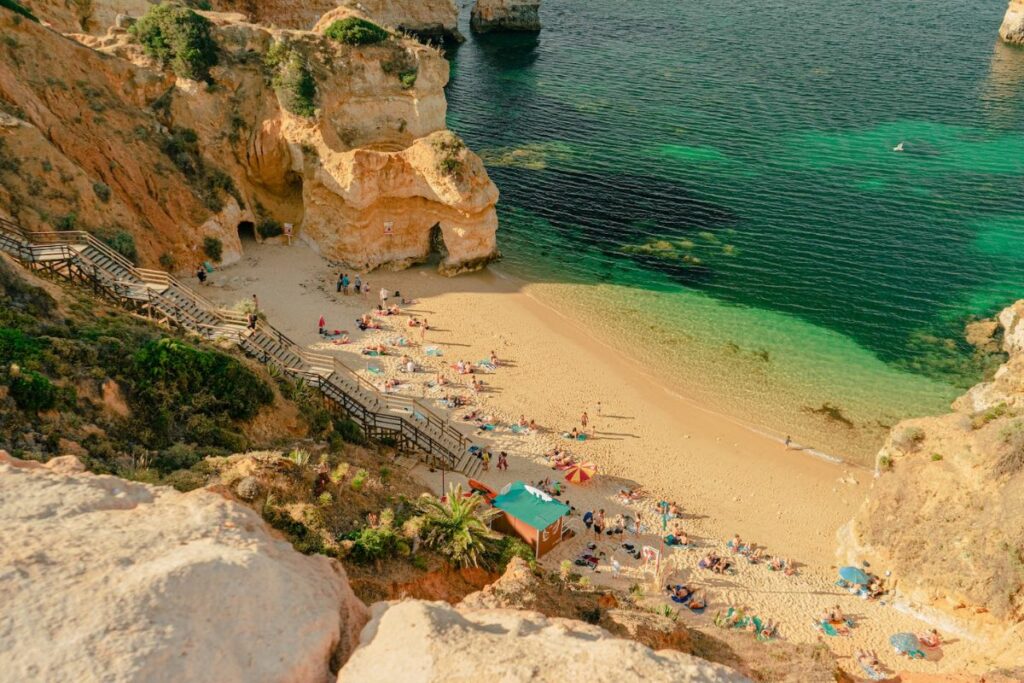 Out of all the activities I've mentioned in this guide, my absolute favorite activity was paddleboarding out to Ponta da Piedade at sunrise.
There's something wonderful about paddleboarding around these giant natural wonders in the early hours – just before the loud motorboats start. You can get lost in your own world and just enjoy the natural beauty of the rocks and the sea.
Conclusion
Lagos is much more than a small Atlantic Ocean-facing town in the Algarve. It's a unique hub of activity, with a range of adventures you can have in and around the town. From hiking to paintballing and snorkeling to paddleboarding, Lagos is an infinite well of unforgettable experiences.
Frequently Asked Questions
Is Lagos worth visiting in Portugal?
Lagos is worth visiting if you love old towns, beaches, seafood, and watersports.
What is Lagos best known for?
Lagos is best known for its chilled-out nightlife, bountiful beaches, great restaurants, and immense watersport experiences.
Is Lagos in Portugal expensive?
Lagos is relatively expensive but it is cheaper than the likes of Albefura for a vacation. Albefura is aimed more at wealthy British tourists, hence why it's more expensive for meals and drinks. Still, there are cheaper places in the Algarve than Lagos, such as Faro.
Is Lagos, Portugal a party town?
Lagos in Portugal has good nightlife, but it isn't what you'd describe as a "party town". While it's easy to find the party, the liveliness is limited to only a few streets. If you're looking for more party action, check out Albefura.
How many days is good to stay in Lagos?
It doesn't take long to get around all the main attractions in Lagos, so the minimum you'll need is 2-3 days. However, if you want to explore further afield and try out more activities, a week will suffice.