Is Barcelona Worth Visiting in 2023?
Nadia Podrabinek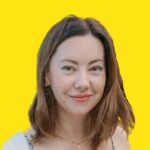 Written by Nadia Podrabinek
Hello, my name is Nadia. I usually write about traveling (there are so many places to fit all the lifestyles), relocation, and living in a foreign country (adapting to a different culture). My travels stretch beyond Spain, with journeys to the US, Italy, Norway, Portugal, and France. Relocating to Spain in 2018, I lived in cities from Barcelona to Madrid, currently calling Valencia home.  Follow me on Twitter, Facebook, Instagram, or LinkedIn! ... show more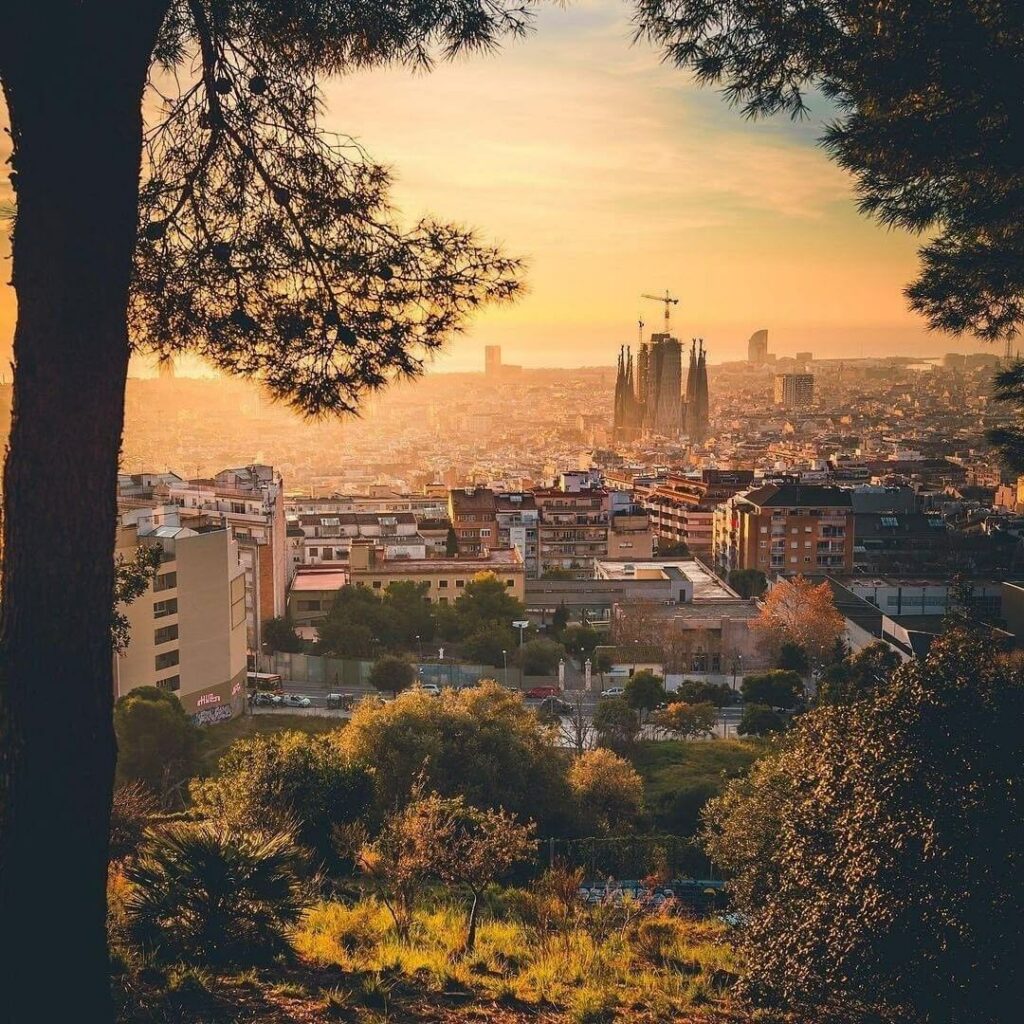 You've got to be kidding. It absolutely worth it, Barcelona is amazing! It has duties of the capital of Catalonia and the second largest city in Spain behind Madrid.
Known for its world-famous architecture, seaside, art, and cuisine, it is a number one destination in Spain for many people.
The city is associated with gingerbread architecture by Antonio Gaudí, the main reference point of Catalan modernism, Picasso's surrealistic art pieces, and Francisco Goya's romantic works. It is also famous for fresh-made Spanish paella and Iberian ham with a glass of Rioja with an eye to Mediterranean sunset. And it's only a tiny part of what you get when traveling to Barcelona!
See also Is Madrid worth visiting? and Is Valencia worth visiting?
What people say on Reddit
I live in Barcelona now, I think it is what you make of it. A lot of people just do the typical touristy stuff (Sagrada Familia, Gaudi tour, beach, etc.) and that's totally fine, but the city has a lot of layers to it and the more time I spend here the more I seem to love the city.

P.S. Learn spanish or catalan, it'll help you enjoy the city more.

Ochikobore
I have spent about 5 months there now and my fiancé and I are planning on getting a place nearby at some point in the future (live in US). It's a city that is so liveable and has so many unique, safe, friendly neighborhoods. And is close to the costa brava (which is incredible) and the Pyrenees and so much more. The more time we spend there the better we have found it!

Benbom
I just got back from a week in Paris and a week in Barcelona. I'm completely in the minority here, I really didn't enjoy Barcelona at all. I also thought it smelled worse than Paris, surprisingly. Sagrada Familia along with other cathedrals were truly breathtaking and well worth the visit, but to me, that was it. We also went along Costa Brava and it was truly underwhelming. I think I was expecting something truly epic and blew it up in my mind to be the best destination ever based on everyone's gushing over it, and in the end, that ruined me.

Hairy-Syrup-126
I had some bad experiences in Barcelona. Didn't find the locals to be very nice. For example, I asked politely for directions to an employee at park guell and he got upset at us for asking him in Spanish when we are American. I was just trying to be courteous. But our Spanish wasn't perfect, and he didn't like that.

I thought it was a beautiful gorgeous city but I need to go back to redeem our experience.

waterlizy
What to do in Barcelona
Barcelona offers a wide range of tourist attractions. For outdoor enthusiasts, there are some parks and hills to achieve a reward from your Apple Watch. For culture people, the city offers impressive museums and galleries. And finally, for hedonists, it has world-class food and wine at Michelin-rated restaurants and a wonderful seashore to sprawl out on the sand.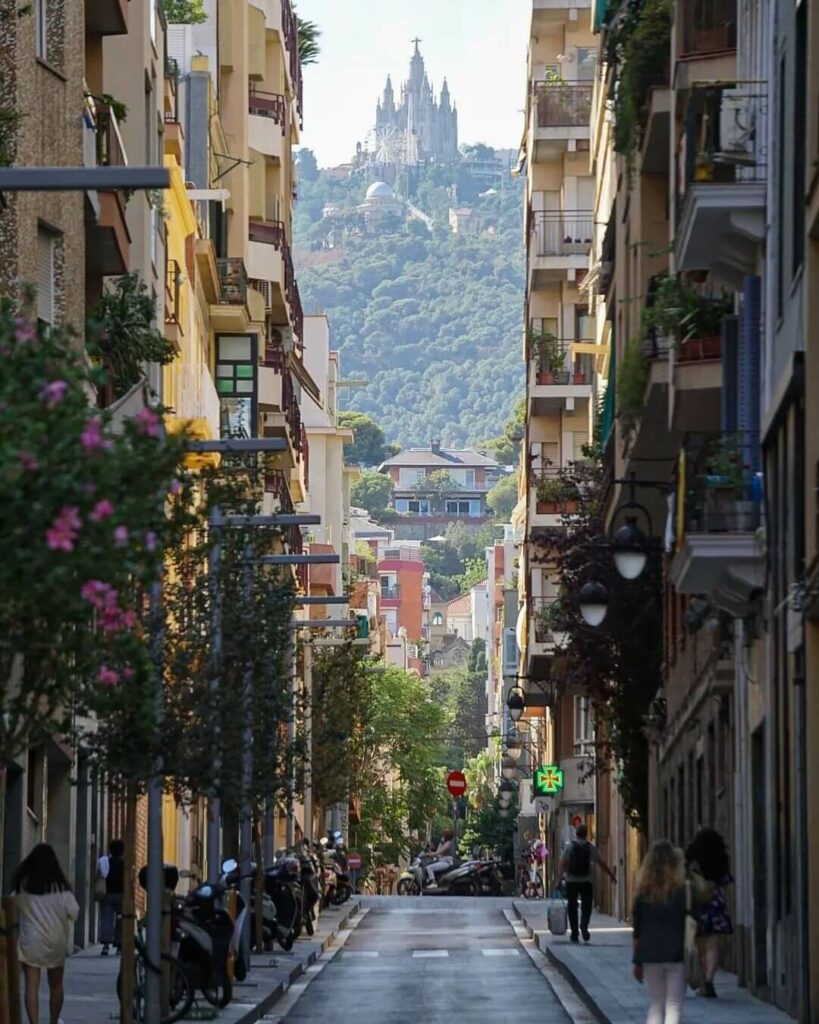 In brief, you should try these things in Barcelona:
See Sagrada Familia
Go to Montjuic Hill
Explore La Boqueria food market
Have a walk in Park Guell
Grab local food at Barceloneta
Climb the Tibidabo Hill
Stroll around Gothic Quarter
Enjoy tasting menu at 3 star Michelin restaurant
Take excursion to the Museum of Modern Art
Visit Camp Nou stadium
Worst things to do in Barcelona
In brief, you'll have a bad experience if you:
Don't have a look at your belongings and forget about pickpockets
Don't book the attractions you want to visit beforehand
Rush through the city's sights to see them all
Come with an idea of traveling on a budget
Stick to your food habits not trying some local dishes
10 Must-See Attractions in Barcelona
If you are in rush, here are the top 10 things to do in Barcelona:
Ciutadella Park
Known as the greenest oasis in Barcelona, this 19th-century park is home to the city zoo, the Catalan Parliament, a small lake, a large fountain, and several museums. Don't miss the nearby Arc de Triomf, built for the 1888 Barcelona World Fair.
La Barceloneta
This neighborhood in the Old City is famous for its sandy beach and numerous restaurants and nightclubs along the boardwalk. The iconic 5-star W Hotel, mimicking the shape of a sail, is also located here.
Park Güell
A UNESCO World Heritage Site, this public park is filled with gardens and architectonic elements designed by the famous Spanish architect Antoni Gaudí.
Sagrada Família
This large, unfinished Roman Catholic church is a masterpiece of Gaudí. The church, which combines Gothic and curvilinear Art Nouveau forms, is expected to be completed by 2026.
Gothic Quarter
The center of the old city of Barcelona, the Gothic Quarter is a labyrinth of small streets opening out into squares, with several notable medieval landmarks.
La Rambla
A 1.2 km long crowded street in central Barcelona, La Rambla is one of the city's main attractions. However, be aware of pickpockets in this area.
La Boqueria Market
One of the city's main tourist landmarks, this large public market in the Old City district offers a variety of fresh fruits and authentic treats.
Catalonia Square
This large square in central Barcelona is known for its fountains and statues, and is a meeting point for some of the city's most important streets and avenues.
The Magic Fountain
Constructed for the 1929 Barcelona International Exposition, the Magic Fountain offers a spectacular light show that you shouldn't miss.
Museums and Exhibitions
Barcelona is home to numerous remarkable museums and exhibitions. The CCCB (Centre de Cultura Contemporània de Barcelona) is one of the most visited attractions in the city.
In addition to these top 10 attractions, there are plenty of other sights to see in Barcelona, such as Casa Mila, Montjuïc Castle, Camp Nou, Tibidabo, and the Columbus Monument.
Best things to do in Barcelona
1. See the Sagrada Familia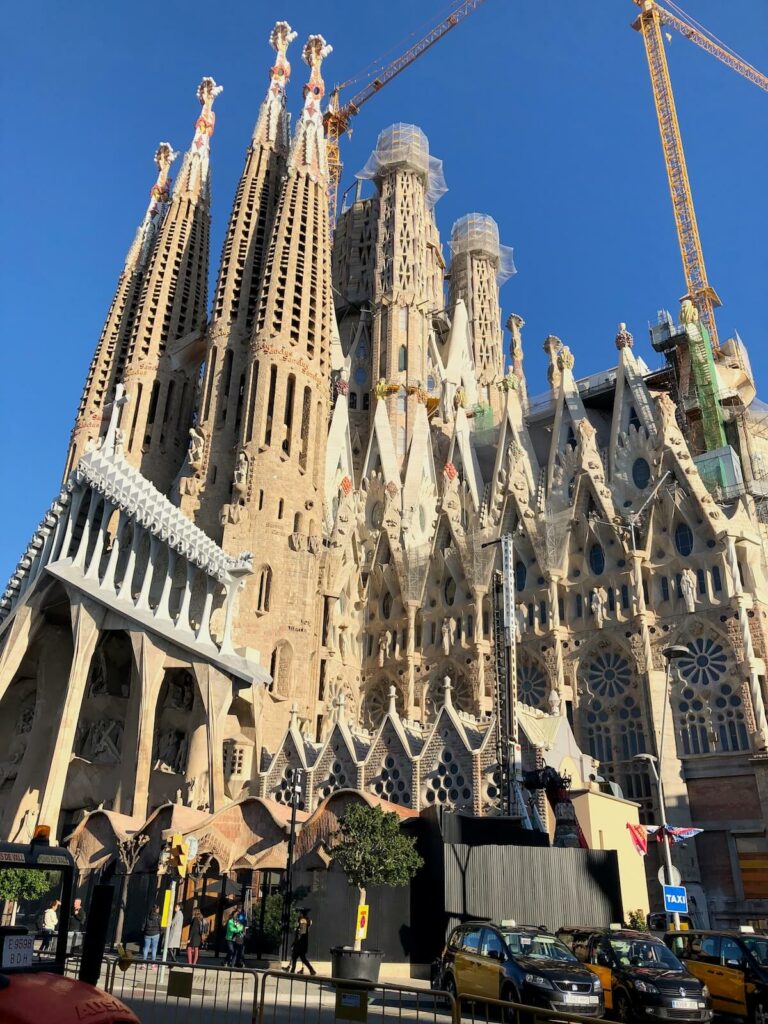 You will be in awe of this masterpiece made by Antonio Gaudi. The construction began in 1882, and it's still not finished yet. But believe me, that's not a big deal! So have a walk inside the temple, climb the towers, listen to an audio guide or walk with a tour guide in person. If you witness the sunset there, it will triple your experience for sure.
Choosing from two towers (Passion or Nativity), I recommend you to take the Nativity tower tour for these reasons:
Gaudí himself oversaw the construction of this tower before his death
The sculptures on the side are much more beautiful
It's the only tower with an outside bridge that lets you walk to the next building of Sagrada Familia
Buy a ticket in advance online on the website.
Tip #1 If you are under 30 years, you can get a discount if you visit Sagrada Familia on Wednesday, Thursday, and Friday in the last two hours. 
Tip #2 Barcelona Card gives you many discounts and free entrances to the tourist attractions. You also get free rides on public transport, and city guides in six languages. It has a duration of 72, 96, or 120 hours. The price starts from €48, and the kids' fare is half the price of the adult charge. 
Tip #3 It's safe to drink tap water in Barcelona. So keep your eyes out for a free top-up.
See the metro map of Barcelona with attractions.
2. Go to Montjuic Hill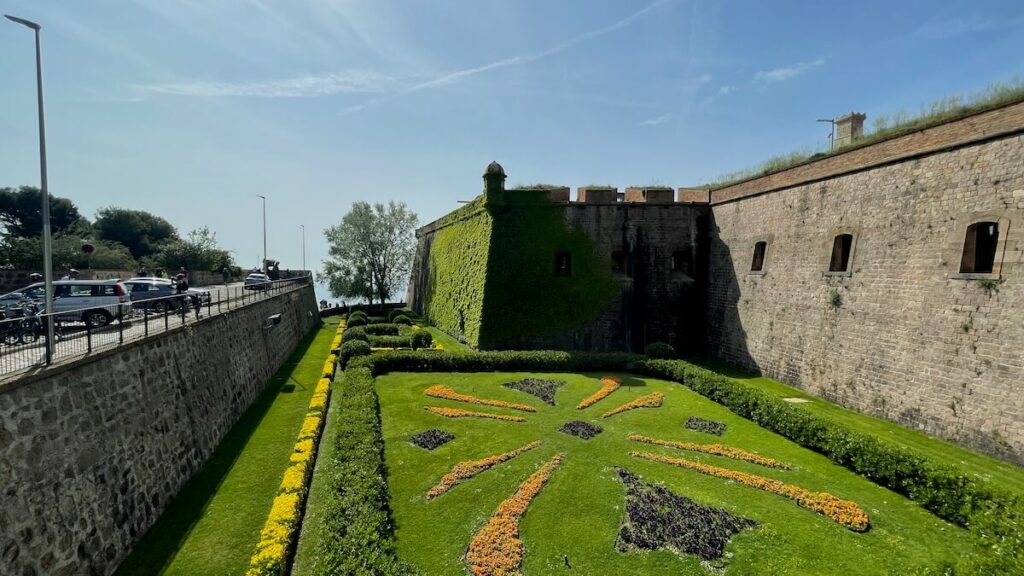 Montjuic is a 213-meter hill in Barcelona. Depending on your location, you can get there by car, cable car from the Port of Barcelona, or funicular railway from Parallel metro station. On the top of the hill, you will have some breathtaking city views and see the Montjuic Castle.
If you are there only to have an outdoor experience, head to the Olympic Stadium, Greek Theater Gardens, Jewish Mountain, and Barcelona Botanical Garden.
To satisfy your cultural thirst, schedule visits to the Picasso and Joan Miró Museums and the National Art Museum of Catalonia.
Tip Plan at least one day for Montjuic if you want to visit its museums and enjoy a futuristic musical performance of singing fountains in the evening. 
3. Explore the foodie in you at La Boqueria Market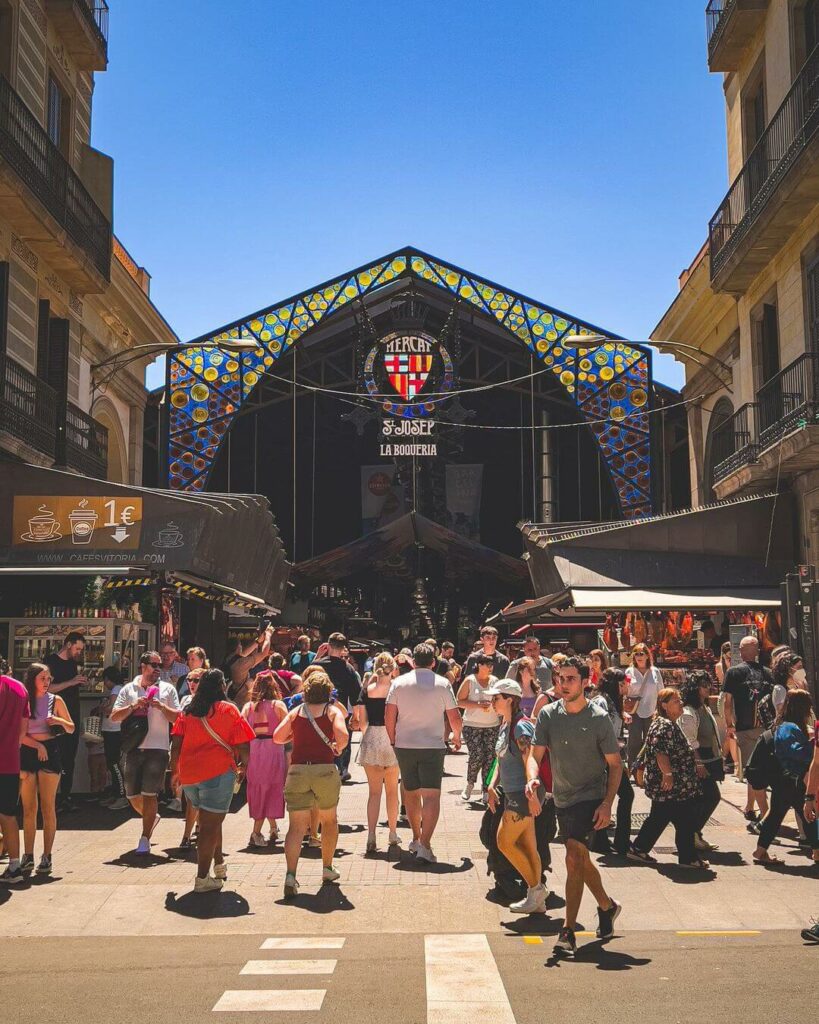 La Boqueria is the local food market at La Rambla street where you will find all that you can wish for. A plate of paella, scrambled eggs with asparagus, octopus with grilled vegetables, delicious fruits and sweets, wine, oysters, Spanish cheese, etc. If choosing the food is difficult, you can enjoy sample smaller bite-sized treats (Spanish tapas).
Here are some worthy spots inside the Boqueria Market:
Bar Ramblero is a must-visit for seafood lovers. You'll find lots of mouth-watering menu items.
Another corner, El Quim, is also famous for its seafood. The paella and oxtail risotto are perfect here, and your tastebuds will dance with pleasure.
Bar Pinotxo is for Catalan food enthusiasts. It is famous for its owner Juanito, an old gent, who has been devoted to his work for more than 50 years already. The bar is not fancy, but the dishes are super tasty. Try chickpeas and morcilla (blood sausage).
4. Take a walk in Park Güell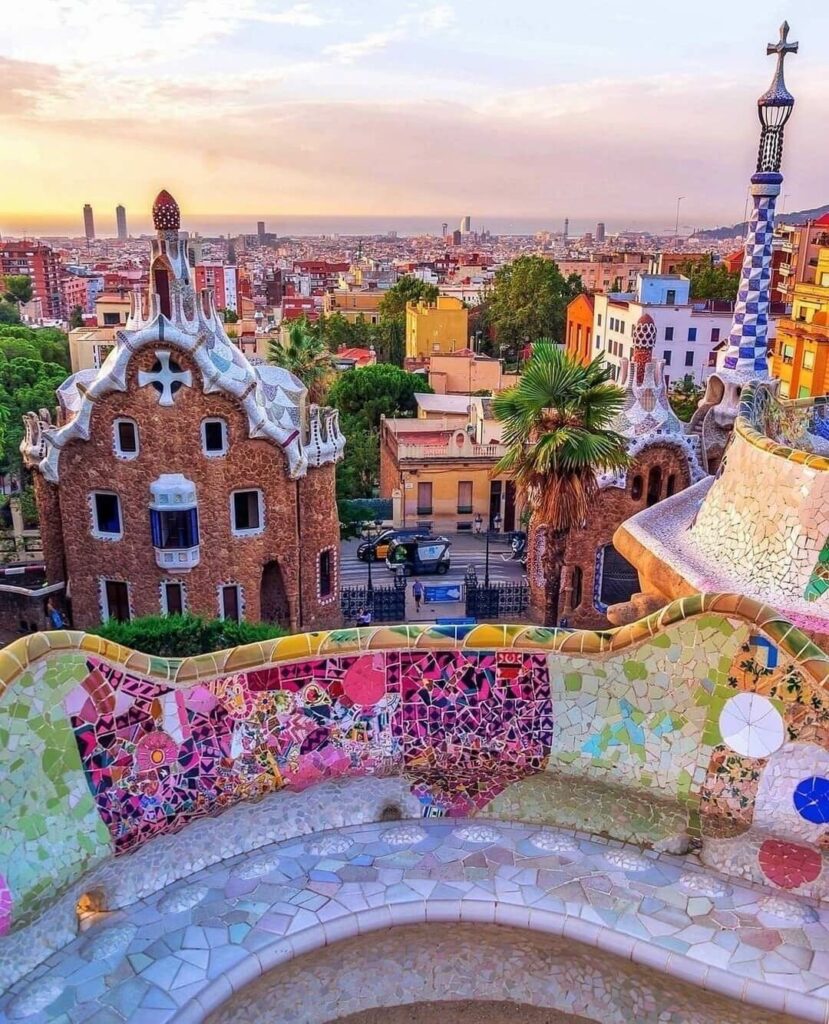 Park Güell is another beautiful sight by Antoni Gaudí, built between 1900 and 1914. It combines nature and architecture in perfect harmony. The area was originally intended as an urbanization project in a park of 18 hectares. However, they built only 2 of the 60 planned establishments, one of which was inhabited by Gaudí and today is the artist's House Museum.
Everything in this park has Gaudí's stamp, from the access staircase to the Greek theater square supported by 86 columns. In truth, absolutely everything in this space is worthy of a fantasy story. I highly recommend visiting the park if you want to know about the work of the famous Catalan architect.
Tip If you plan to get to the park using the subway, be prepared for at least a 20-minute uphill walk. If you have difficulty climbing stairs, better take a taxi or bus. You will find information at the tourist office in Plaza de Catalunya.
5. See Barceloneta at sunset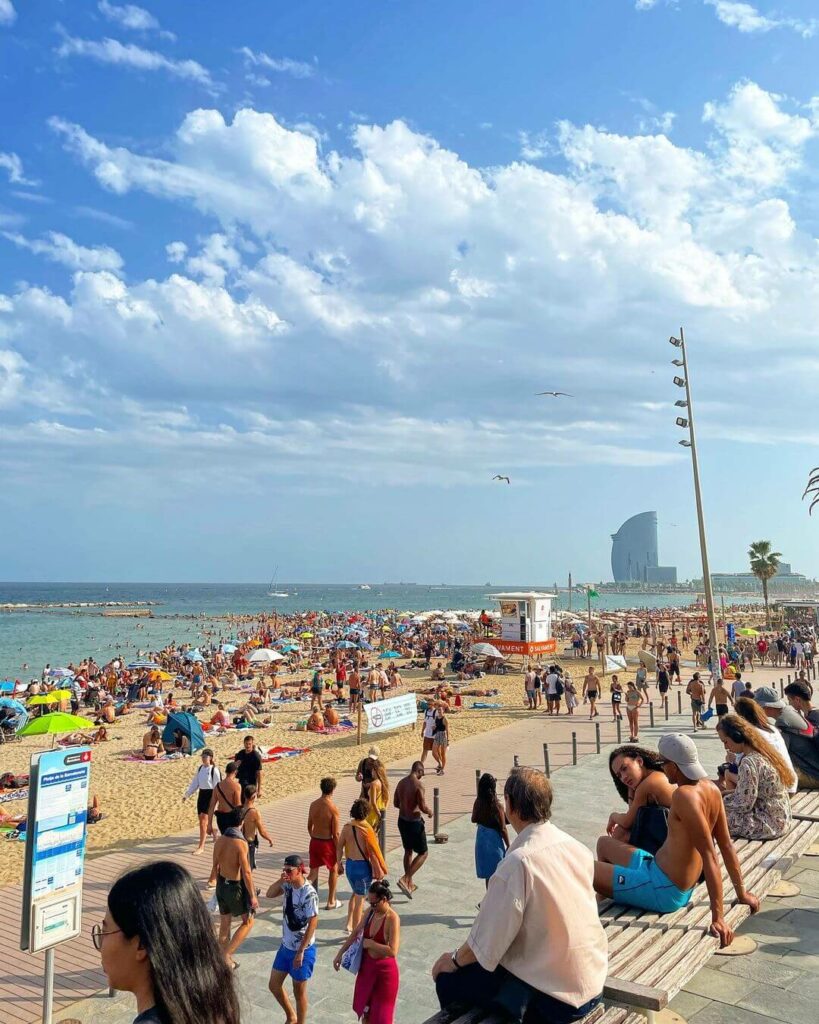 Barceloneta is one of the city's oldest and most famous beaches. You can find it in the neighborhood of the same name, near San Sebastian beach and next to Somorrostro beach. It is not only travelers' favorite spot but also one of the most traditional leisure areas for the locals.
The beach was remodeled during the 1992 Olympic Games, and now it is a perfectly accessible beachfront. Its central location and easy public transport access make it a favorite place for many people.
I recommend you visit Barceloneta at sunset to get a fabulous panoramic view of the W Barcelona Hotel, the Mapfre Towers, and an amazing Goldfish sculpture by Frank Gehry in the Olympic Port.
You can also see the sculpture "A room where it always rains," located in the Plaza del Mar in Barceloneta. It was built for the 1992 Olympic Games by Juan Muñoz, and the work represents a gallery of railings with five bronze figures inside.
Note Barceloneta beach is clothing optional.
6. Climb the Tibidabo Mountain
Tibidabo mountain is the highest peak of the Sierra del Collserola, the range that surrounds Barcelona. Over 500 meters high, the site offers the best views of Barcelona and many entertainment alternatives for the whole family.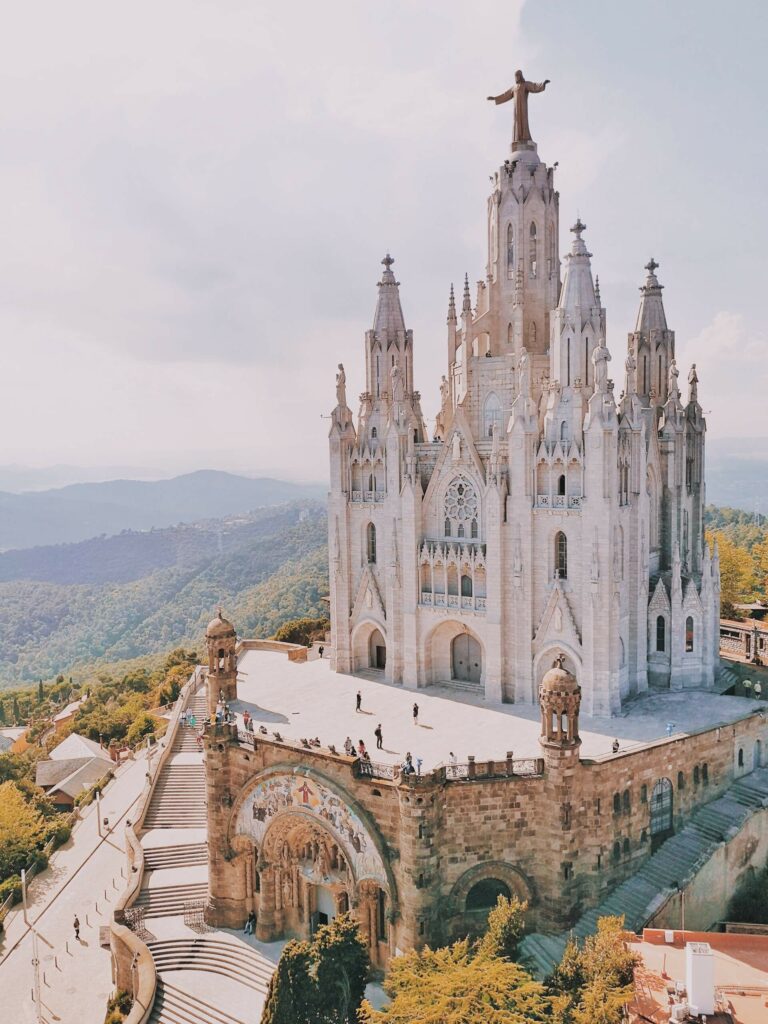 If you are traveling with kids, drop at the Tibidabo amusement park. It is the most emblematic amusement park in Barcelona and one of the oldest in the world. Its attractions entertain children from 0 to 99 years old 😉. There are the fabulous roller coaster, the Ferris wheel, the flying chairs, and the interactive water fountain.
Very close to the park is the Expiatory Temple of the Sacred Heart, a curious church visible at night from any point in the city.
This neo-Gothic complex consists of a lower crypt and a church on an upper level. It is on this level, after climbing a staircase, where you can get the incredible views of Barcelona.
7. Walk through the Gothic Quarter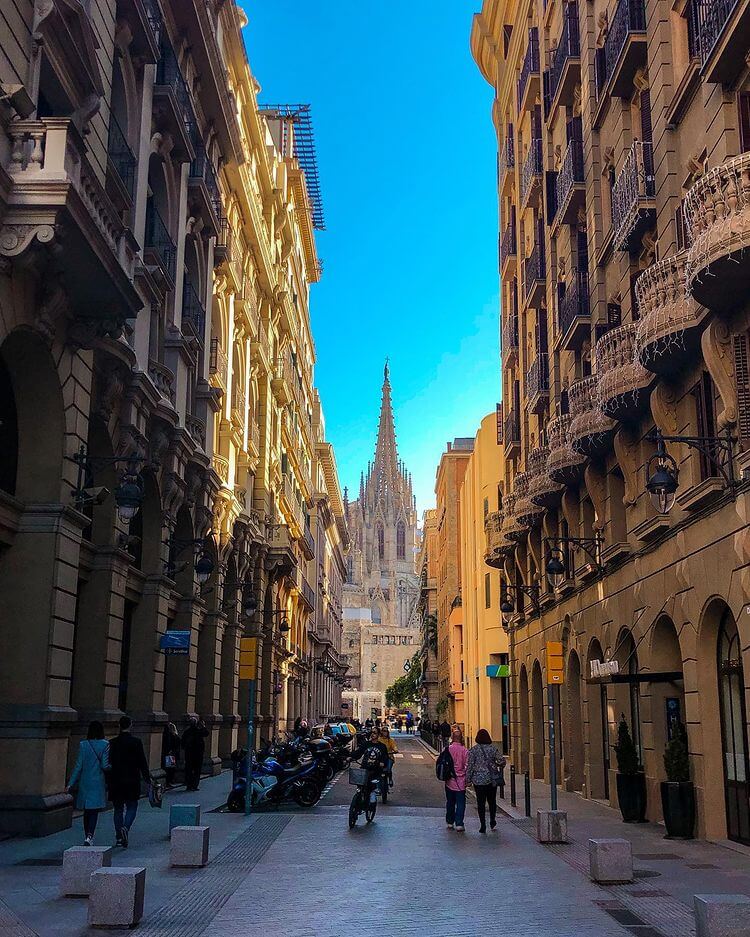 Barcelona may seem a perfectly planned city architecturally, but this is not always the case. The Gothic Quarter, one of the city's most distinct and beautiful neighborhoods, comprises many narrow and labyrinthine medieval streets.
The Gothic Quarter is one of the main tourist attractions of the city of Barcelona for its aesthetics, its monuments, and historic buildings, and for its social life, both night and day.
It is also the oldest part of the city—some of its streets cover the remains of the ancient Roman city.
This is a place that invites you to walk through it, to get lost in the narrow and winding streets, to rest from time to time in a square, and to have a drink in some of the bars.
8. Enjoy the tasting menu at a 3-star Michelin restaurant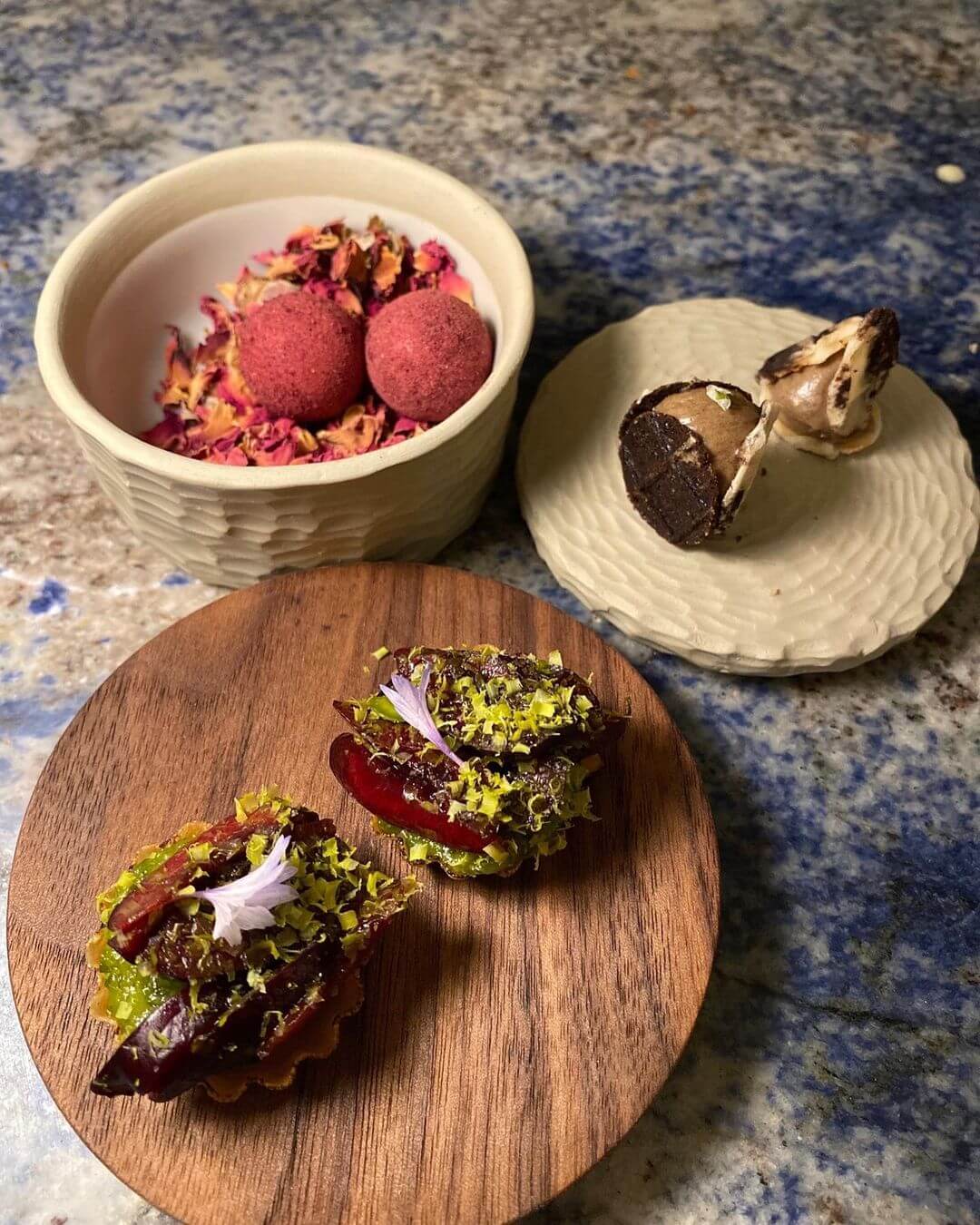 Barcelona has plenty of restaurants where you'll enjoy the dishes and drinks for every taste and budget. If you are a fancy-food lover, you'll love one of the sophisticated restaurants the Michelin Guide marks.
Check out 19 best Michelin star restaurants in Barcelona article. 
At the moment, there are 19 Michelin restaurants in the city, and two of them have 3 stars (out of 3)—Abac Barcelona and Lasarte Barcelona.
The first one, Abac, is located in the hotel of the same name and serves modern Catalan cuisine made of local products. The tasting menu consists of traditional cuisine and avant-garde concepts. The cost is $250, which is worth every cent. You will also enjoy the peculiar serving of dishes and excellent service.
The second one, Lasarte Barcelona, takes up residence in the Monument Hotel. Here you'll find contemporary-style meal solutions. The tasting menu goes for $280 and is meticulously selected so that you can try all the dishes and not feel heaviness or hunger. At the end of the dinner, the chef comes to each table, thanks for visiting, and asks for feedback. If you want to touch haute cuisine — this is the place for you.
Tip #1 In Barcelona, expect to tip 5% for a good service and 10% for a great experience. Some restaurants include tips in the check. 
Tip #2 Drinks are not included in the tasting menu at such restaurants. There could be a glass of aperitif, but you will have to pay extra for the wine pairing and even for the water. 
9. Go to the Museum of Modern Art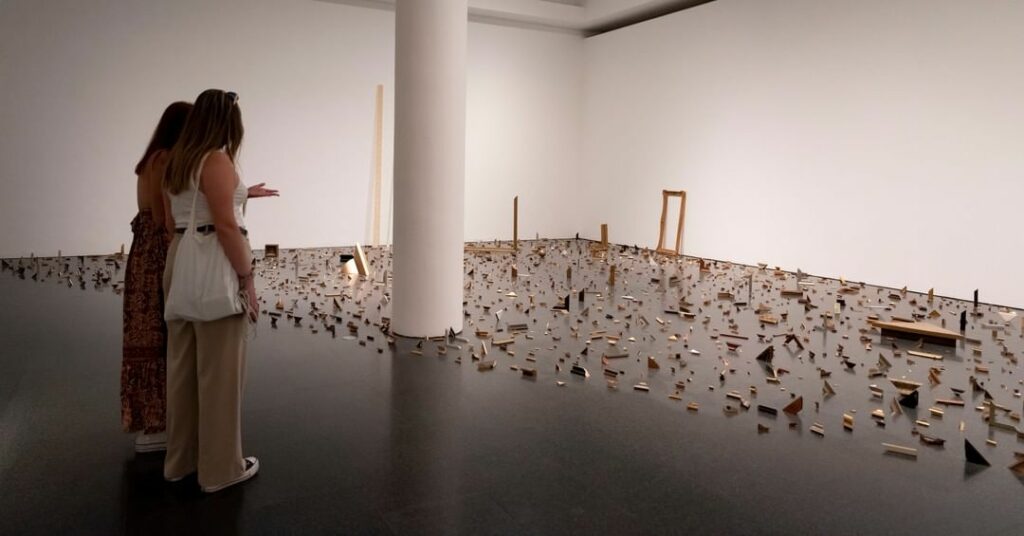 The MACBA (Museum of Modern Art in Barcelona) is by far the most modern contemporary art museum in Barcelona and one of the most important institutions of its kind in Europe.
It houses one of the world's largest collections of present-day art (more than 5,000 works) and is only a 5-minute walk from several metro stations.
The exhibitions change every 3-6 months. Also, the museum hosts a permanent collection. Most likely, you will love the Short Century collection. It narrates Barcelona's relationship with art and involves famous and less known artists. There are different periods on display: Spanish Civil War, Pop Art, Revolution, Feminism, and Minimalism.
Tip #1 Free entrance is every Saturday after 4 PM (you save €11). Kids under 14 are always free of charge. 
Tip #2 Download the free audio guide app while inside. And if you don't take along earphones, you can buy some at the front desk for €0,50.
Tip #3 There is free Wi-Fi.
10. Visit Camp Nou stadium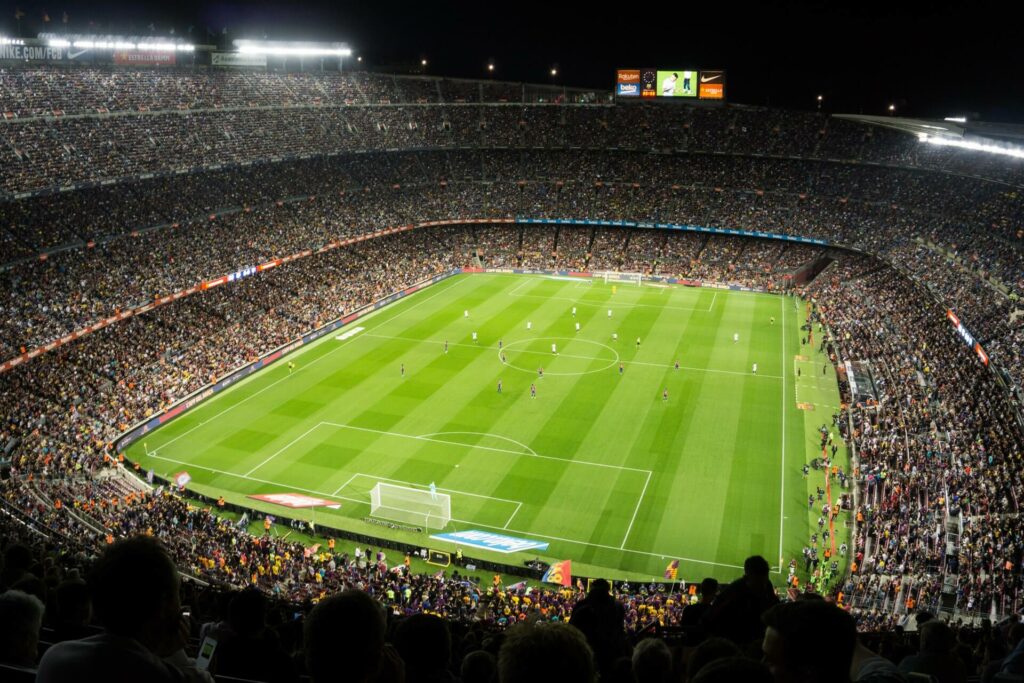 Camp Nou was built in the 1950-s and is now the home arena of one of the world-famous football clubs, Barcelona. It's also the largest stadium in Europe, with a capacity of nearly 100,000 spectators.
You can walk around the stadium, see the press conference zone, changing rooms, and buy some decent clothes or souvenirs at the club store (which is really huge!).
Visit the FC Barcelona museum to see various old relics and trophies, football kits, and interactive walls displaying the most spectacular moments from matches.
What to see in Barcelona map
Non-touristy things to do in Barcelona
There are plenty of unusual things to do in Barcelona with less people around you. Here are some of the ideas.
The Carmel Bunkers viewpoint, one of the most hidden gems in Barcelona
Maze of Parc del Laberint d'Horta, the oasis to escape from the city
Outdoor Cinema at the Montjuic, a giant pitch turning into the open-air cinema on selected summer evenings
Sant Antoni Flea Market, a collection of world-famous outlets for fashion queens
Castelldefels Beach with ambient water, located 18 km south of Barcelona
Kayaking tour of Costa Brava
CosmoCaixa, an interactive museum with exhibitions dedicated to science from nature to space
Ciutadella park, a quiet green spot in the city
Torre Bellesguard, a calm alternative to more popular Gaudí works
Trencadis mosaic workshop at Park Guell
Rambla del Poblenou, a more peaceful, kids- and pet-friendly street than touristic La Rambla
Mercado Santa Caterina, a little food market for the locals
You can also climb the top of Basilica of Saints Justus and Pastor and enjoy that non-touristy city views (just ask the caretaker of the basilica, and pay something around €5). See on the map.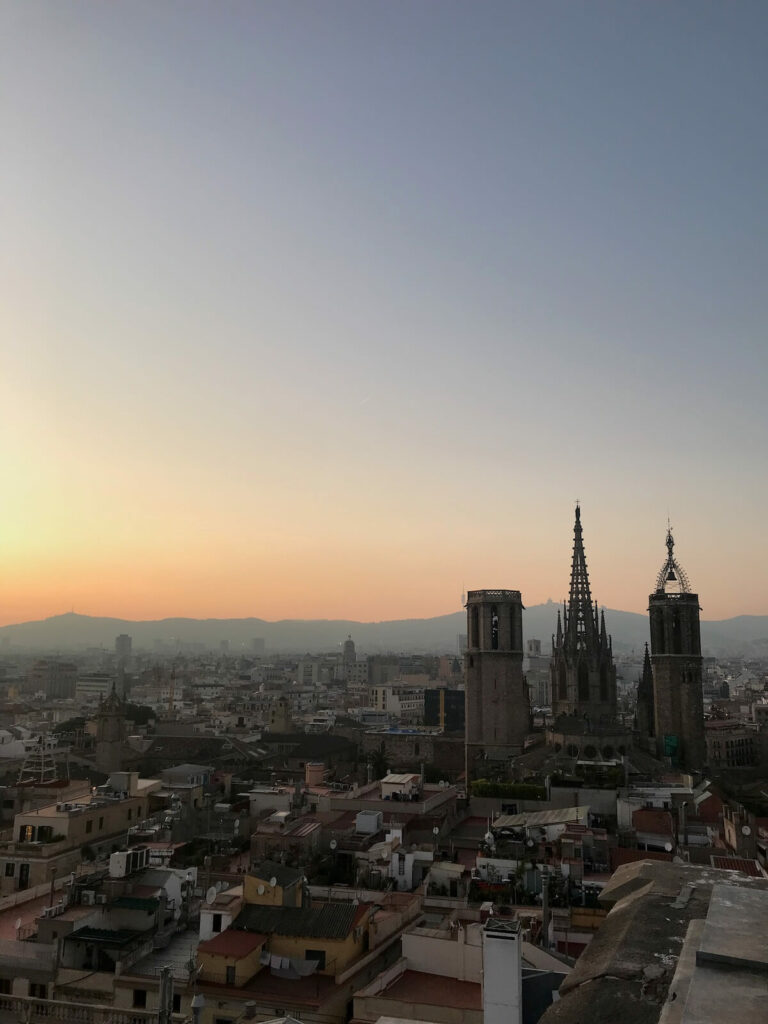 Visiting Barcelona FAQ
Is Barcelona safe for tourists?
For sure, yes. However, be aware of pickpockets, especially on the metro, overcrowded streets, and cafe's outside terraces. Besides, keep an eye on unofficial sites with the extra commission while booking excursions online. And one more, make a copy of your passport and carry it with you instead of the original.
Is Barcelona expensive for tourists?
Well, it depends on which country to compare with. It's the most expensive city in Spain, but if you come here after any Scandinavian country or Switzerland, it will be cheap mostly everywhere.
When is it better to visit Barcelona?
The high season is from May to the middle of September. The best time for the trip is the beginning of May or late September and early October. It's not so hot outside to visit all the attractions. Anyway, Barcelona is lovely to see all year round. An off-season trip to Barcelona will give a buzz to fewer tourists and comfy weather without heat.
Do I have to speak Spanish or Catalán in Barcelona?
Spanish language is not a problem at all. In the city center, you will often hear English speech. For sure, you can have some phrases in Spanish ready at hand for greetings or some small talks at the market or cafe. But be prepared that many more things are written and pronounced in Catalan, not Spanish. 
Is "siesta" a thing these days in Barcelona?
You'll hardly find a place closed at a midday break in the city center. But remember that some outside stores can have a siesta time break. Also, August is when many places are closed due to vacations, and most stores are closed on Sundays. So don't postpone urgent bargains to the last day of the week.
Final Thoughts
Barcelona is a must-go for architecture enthusiasts, nature and art lovers, food lovers, and all who value various experiences in the city and locations nearby.
Here you'll witness the unique architecture of Gaudi, climb the mountains with a bird's eye view of the city, relax on the beach, admire pieces of art and have a fancy dinner at a 3-star restaurant. Well, isn't it a perfect match for a one-week journey?
If you have less time, check out the article about 5 things to do in Barcelona in one day.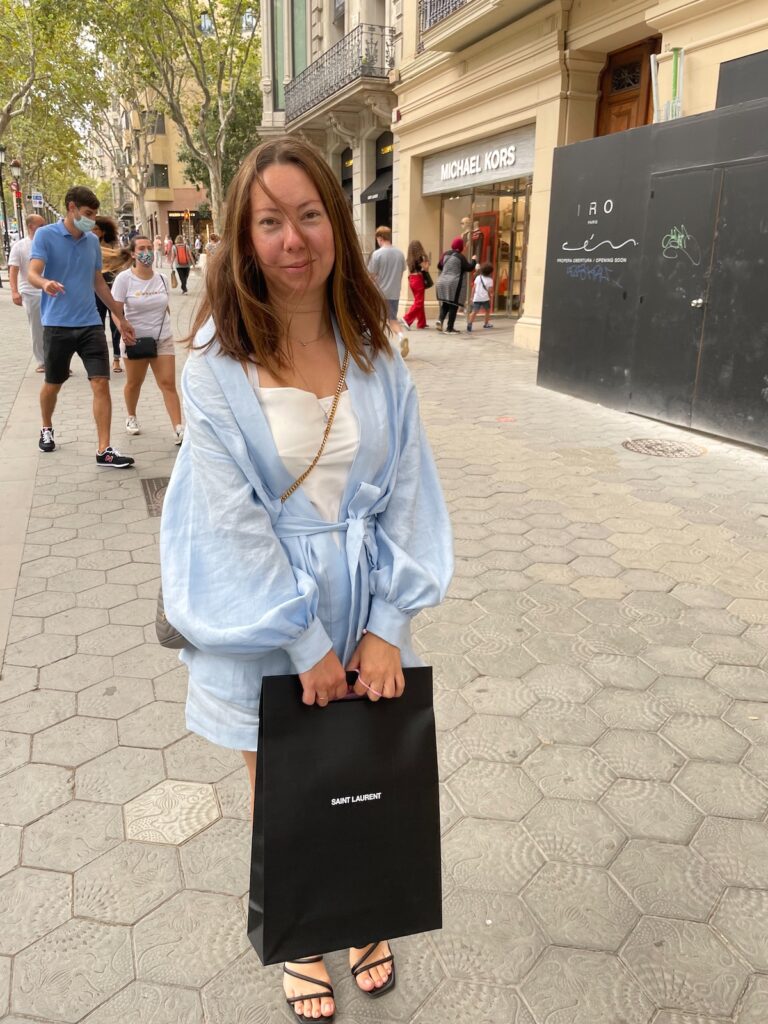 Thanks for reading, and please leave your comments below!