Barcelona Metro Map with Zones and Tourist Attractions
Nadia Podrabinek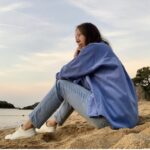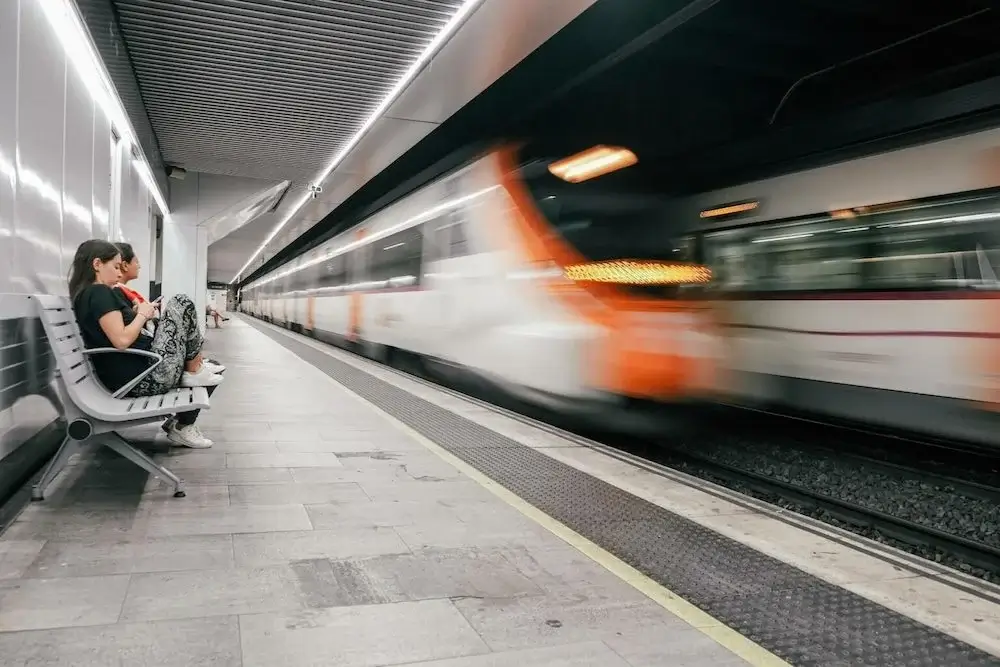 The Barcelona Metro is the quickest and most convenient way to travel within the city and the neighboring towns.
The integrated metro system of Barcelona has 189 stations on 12 lines with six zones, with a total length of over 100 miles. These lines serve all parts of the city, including the airport (the Airport Metro line, called L9 Sud).
Note that the metro network is operated by two companies, TMB and FGC. You will see the different trains and logos in the metro, but that doesn't mean you will have to buy separate tickets.
Leaving Barcelona airport by metro
The travel from the airport by metro is quite convenient. The L9 Sud (Airport Metro) line will take you directly to the center of Barcelona in less than 30 minutes.
The metro runs every day from 5:00 am until midnight, with a frequency of every 2-5 minutes during peak hours and every 5-10 minutes during off-peak hours.
The tickets cost €2.15 for a single trip (regardless of the number of stops) or €9.95 for a T-Casual ticket, which allows you to take 10 metro, bus, or tram rides within Zone 1.
You can also purchase a Barcelona Card, which gives you free access to the Metro and discounted entry for many museums and leisure spots.
Barcelona Metro Timetable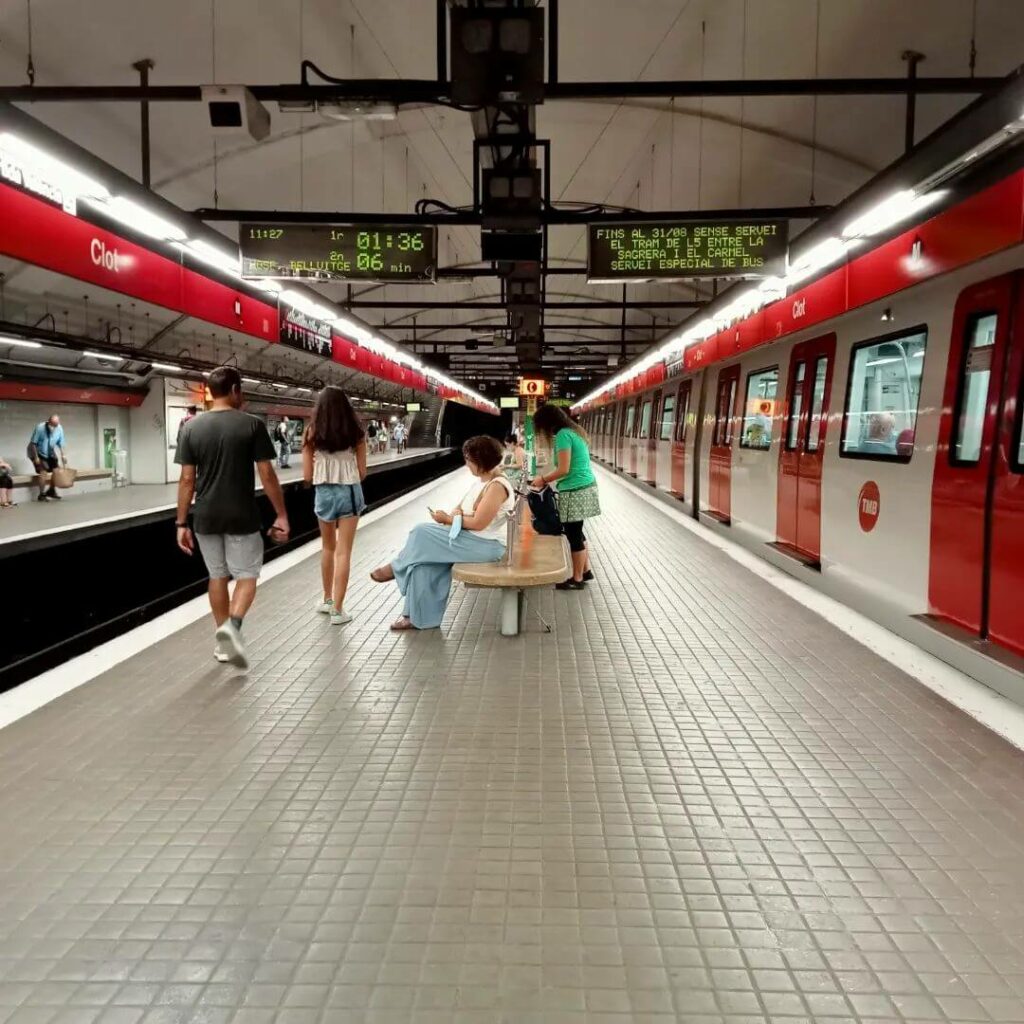 The first thing you need to know before using the Barcelona Metro is the timetable. The metro runs daily from 5:00 am until midnight, with a frequency of every 2-5 minutes during peak hours and every 5-10 minutes during off-peak hours.
Opening hours:
Monday to Thursday: 5:00 am – 11:30 pm
Friday: 5:00 am – 2:00 am
Saturday: 24 hours
Sunday and public holidays: 5:00 am – 12:00 am
Remember that the timetable may change on special occasions or holidays, so it is always better to check before traveling.
Barcelona Tickets and Transport cards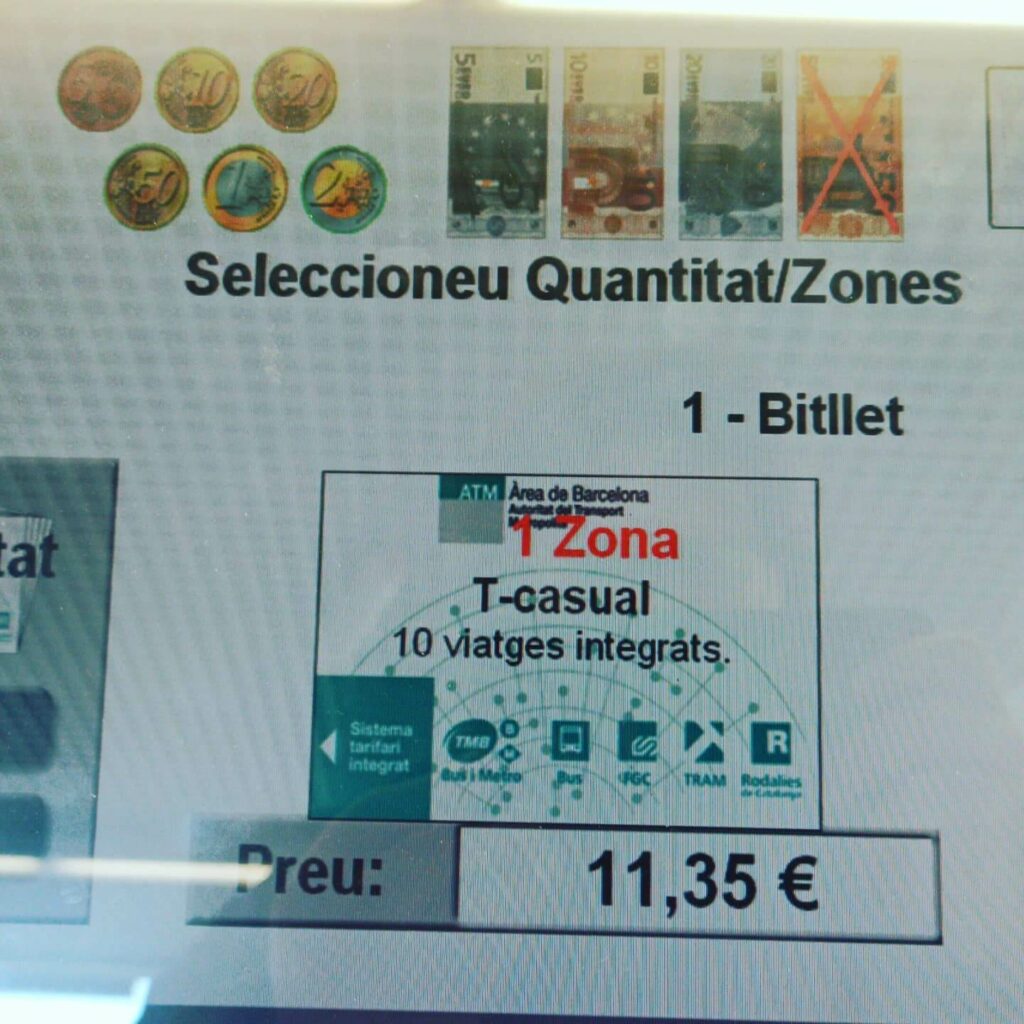 I suppose you are planning on using the metro regularly during your stay in Barcelona. In that case, it might be worth getting a transport card.
At the moment of writing this article, there are discounted fares for metro rides due to temporary price reductions. All of the following cards can be purchased from any metro station:
T-Casual, a single-person timed ticket for 10 trips on any means of transport within the integrated system, for the number of zones purchased, €7.95–€33.55.
T-Usual is a card for unlimited trips for 30 days, €20–€56.90
T-Dia is a single-person ticket for 24 hours, €10.50–€28.15
Barcelona Card is a tourist city card that gives you free metro, bus, and tram rides. It also provides free or discounted entry to many of the city's museums. This 3-in-1 card costs €43.30 for 72 hours for adults and €23.40 for children. You can purchase the Barcelona Card online or at any metro station.
Barcelona Metro Map
Here is the map of the Barcelona Subway system (click to open in a new tab):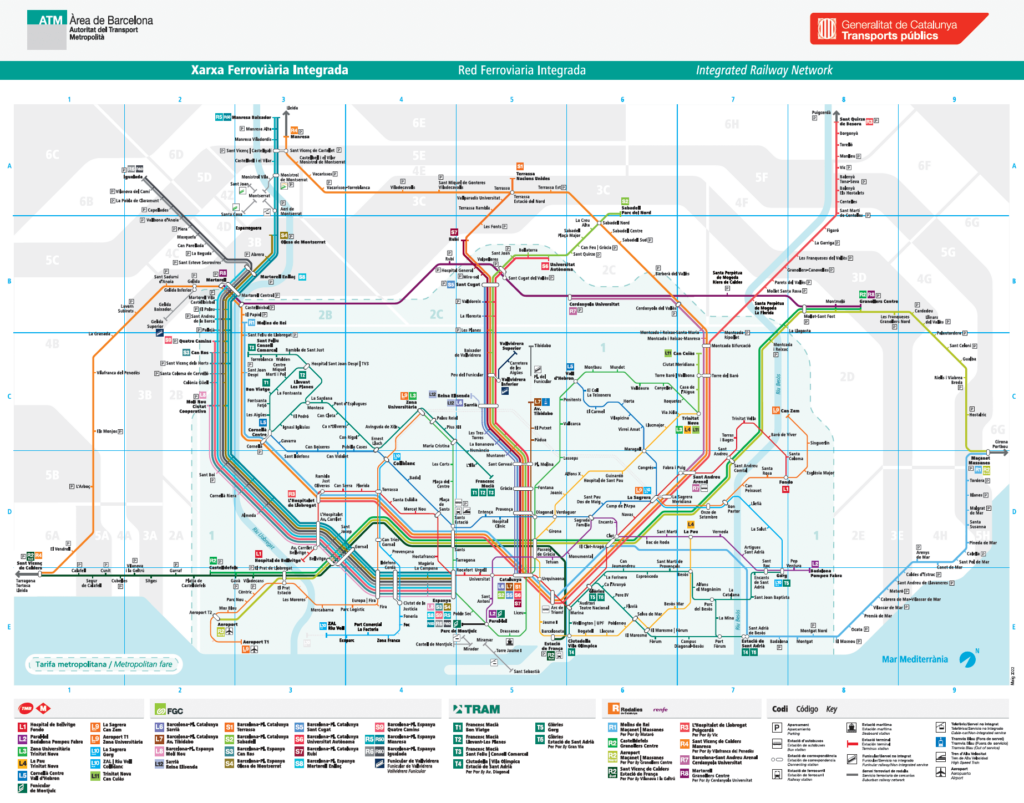 You can also download Barcelona Metro Map in PDF (printable).
Barcelona attractions map with metro stations
Main tourist attractions to see in Barcelona, easily accessible by metro:
Sagrada Familia
Park Guell
La Rambla
Gothic Quarter
Casa Batlló
Casa Milà
Camp Nou Stadium
Barcelona Cathedral
Picasso Museum
Tibidabo Amusement Park
Barceloneta Beach
Palau de la Música Catalana
Mercat de la Boqueria
Poble Espanyol
Barcelona Metro Zones
In Catalonia, the public transport system is divided into zones (Zonas in Spanish). The number of zones you travel across determines the type of ticket you need. For instance, if you travel across two zones, you need a two-zone ticket. If you stay within one zone, a one-zone ticket is sufficient. The more zones a ticket covers, the more expensive it is.
To use public transport, you must have a ticket. For short vacations, I recommend the T-Casual ticket that allows for 10 journeys and is intended for individual use.
To use the ticket, insert it into a special slot found on buses, metros, or other public transport vehicles. After inserting the ticket, it will be ejected, and your journey will be recorded on the ticket.
Transferring from one vehicle to another does not count as two journeys, but there is a time limit for transfers.
To choose the most suitable ticket, consider the types of tickets available and the zones you plan to visit. For more information, you can visit the official website for public transportation in Catalonia.
The Barcelona Metro has 12 lines and 6 zones. The first 5 zones are within the city limits, while the 6th zone covers the metropolitan area.
Here is a map of the Barcelona Metro zones: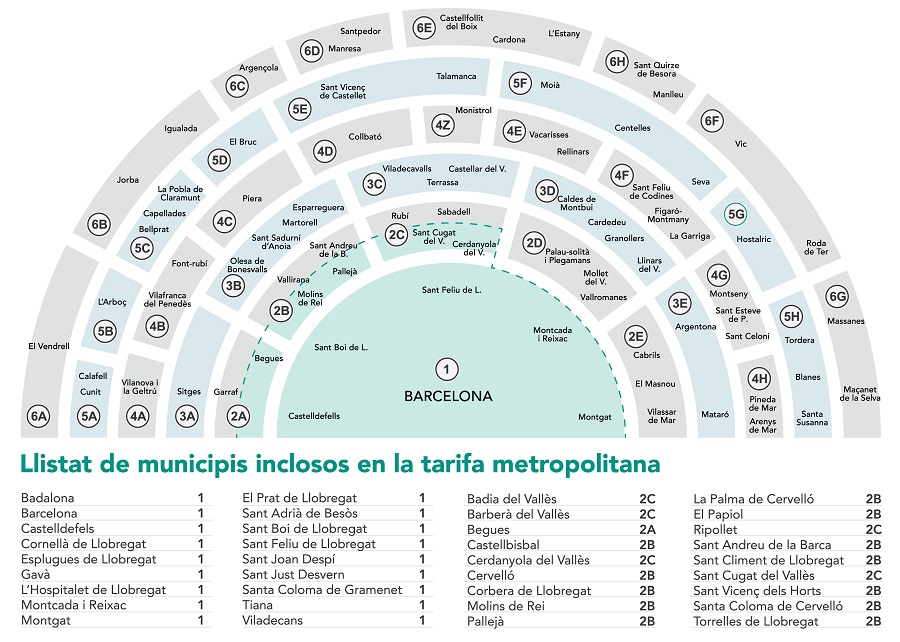 You can also use online zone counter to check whether you need a T-Dia ticket with access to several zones. The same applies to T-Casual tickets.
Tips for using the Barcelona Metro
If you're planning on using the metro regularly, consider getting a T-Casual or Barcelona Card.
Check the timetable before you travel, as the metro doesn't run 24 hours.
Be careful of infamous Barcelona pickpockets, as they operate in crowded metro stations. Belt bags would be the best option to go.
Frequently Asked Questions
How safe is Barcelona right now?
The safety of Barcelona is a subject of debate, with some people claiming the city is rife with crime, while others say there is no crime at all. However, the reality is somewhere in the middle. While physical violence is low and there is no culture of aggression on nights out, opportunistic crime such as pickpocketing and burglaries are common. The city has some areas that can be uncomfortable (Raval, La Rambla,  Besós, and L'Hospitalet de Llobregat), but overall it is considered safe compared to most European cities.
Bike or Metro in Barcelona?
Renting a bike in Barcelona might seem like a good idea. The city is slowly becoming more and more bike-friendly, and it is very easy to get around the city center by bike. Many bike shops in the center offer day rentals for less than €10. However, you will have to keep an eye on your bike if you leave it on the street; otherwise, the seat or handlebar may be stolen.
Is there an App for the Barcelona Metro?
Currently, there is an excellent TMB app that also incorporates the bus. However, the only downside is that you cannot buy metro tickets online in Barcelona. Other noteworthy travel apps: Barcelona Official Guide (iOS, Android), Spotted by Locals (iOS, Android), City Mapper, and Miniguide Barcelona (iOS, Android).
How to get to the beach by metro in Barcelona?
If you are going to the city beach by metro, take the yellow line L4 towards Trinitat Nova and get off at the stop Ciutadella Vila Olímpica or Barceloneta. It is a 5-10 minute walk to the beach from there. You can also take the green line L3 towards Zona Universitària and get off at the stop Poblenou.
Is Barcelona Metro 24 hours?
No. The Barcelona Metro opening hours:
Monday to Thursday: 5:00 am – 11:30 pm
Friday: 5:00 am – 2:00 am
Saturday: 24 hours
Sunday and public holidays: 5:00 am – 12:00 am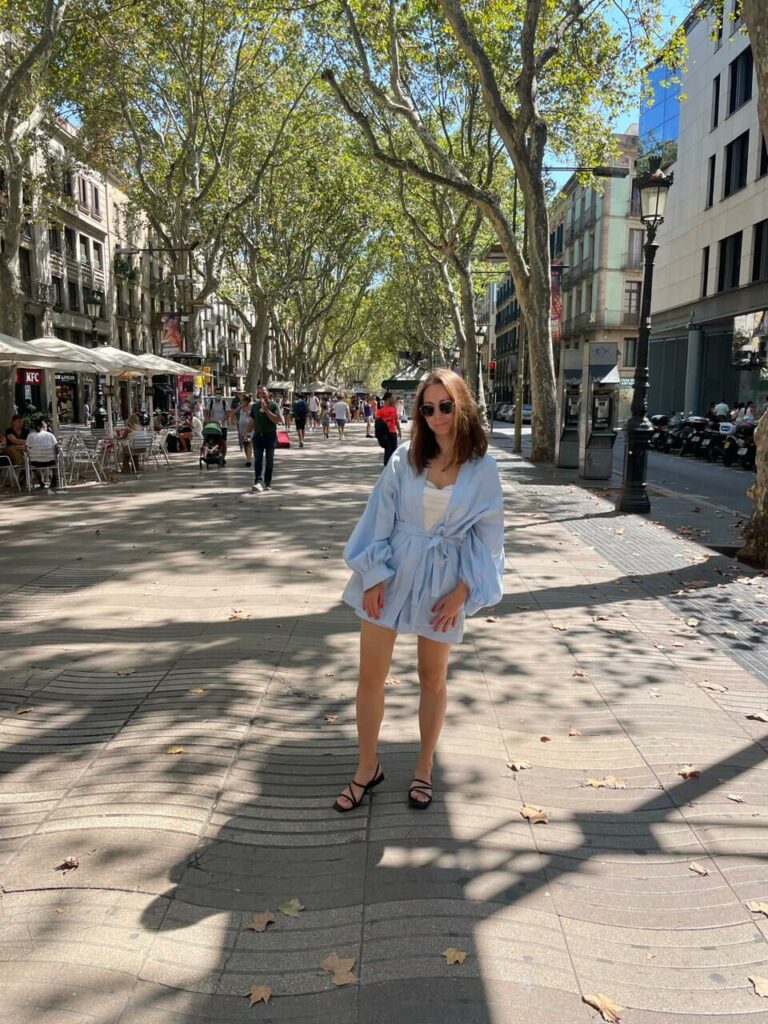 I hope you found this guide to the Barcelona Metro helpful. If you have any questions or thoughts to share, please feel free to comment below.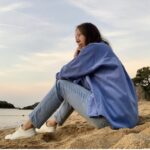 Hello, my name is Nadia.
I usually write about traveling (there are so many places to fit all the lifestyles), relocation (finding a job overseas or moving without losing an income), and living in a foreign country (adapting to a different culture and mentality). Follow me on Twitter, Facebook, Instagram, or LinkedIn!
This post might include some affiliate links. If you make a purchase through these links, I may earn a small commission at no additional cost to you. I appreciate it when you use my links to make purchases.