Madrid's Nearby Shores: 9 Top Beaches
Nadia Podrabinek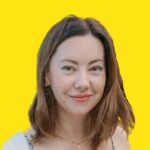 Written by Nadia Podrabinek
Hello, my name is Nadia. I usually write about traveling (there are so many places to fit all the lifestyles), relocation, and living in a foreign country (adapting to a different culture). My travels stretch beyond Spain, with journeys to the US, Italy, Norway, Portugal, and France. Relocating to Spain in 2018, I lived in cities from Barcelona to Madrid, currently calling Valencia home.  Follow me on Twitter, Facebook, Instagram, or LinkedIn! ... show more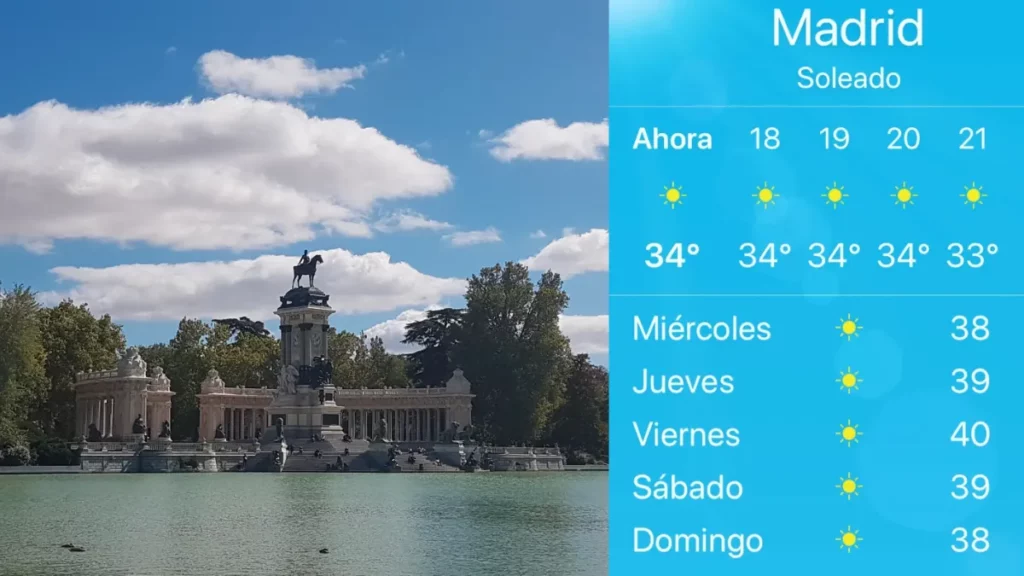 The summer heat in Madrid can be rough, and many people flee the city if they can.
Locals say "We have nine months of winter and three months of hell," or even cite the famous summer song "Vaya, vaya! Aquí no hay playa," which means "Oh my, we don't have the beaches here!"
More than not having a beach, the asphalt and concrete's dry heat does not cool off until late at night.
If you are in Madrid in July or August (June can be more or less bearable), there is no way you will like the daytime.
---
Key takeaways
There are no beaches in Madrid.
The nearest artificial beach is near Alcalá de Henares and is still under construction with no targeted completion date.
The closest natural beaches are within a 3-4 hour ride by train to Valencia, Alicante, Malaga (these can be pretty busy ones) or Castellón, Gandía, and Tarragona (less crowded).
You can also cool off in the north of Spain. Gijón and Santander offer some lovely beaches and beautiful nature around.
---
What people say on Reddit
3 nights in Mallorca would be nice for sure, otherwise I can recommend Menorca which is the island next to it. The beaches are really nice and not visited as much as Mallorca. Flights from Barcelona are cheap and only take around 30mins.

Alternatively you could go to also Costa Brava which is an area north of Barcelona. Some of the smaller beaches there looked like they were closer to South East Asia than the Mediterranean.

Pupensause
I loved Alicante. I stopped there before Granada to Seville and then on to fly out of Madrid. Friendly, not overly touristy and beautiful beach.

LilBoozy0214
I much prefer Malaga and Barcelona (living near Malaga the last year and moving to Barcelona soon). Contrary to the popular opinion I don't like Madrid and would say better to skip it as a tourist. I would fly Barcelona to Malaga and from Malaga to Lisbon instead, and you can do a day trip to Seville or Granada while you're in Andalucia too 😊 disfruta!!

cicimz27
Within 4 to 5 hours driving distance you have a lot of surf spots that provide some good surf even in the summer. There are quite a lot of surfers living in Madrid who go surfing on the weekends. It is easy to find a ride to the beach joining one of the facebook groups or booking the trip via a profesional agency like http://www.upsurfclub.org/

helldrik
So, here is my list of top beach escapes near Madrid for those caught by the scorching sun of the Spanish capital.
Best Beaches Near Madrid, Spain Map
Top 9 Beaches Near Madrid, Spain
1. Valencia
There is a high-speed rail system between Madrid and Valencia, handling speeds above 290 km/h (180 mph). You will get to Valencia's central station in less than 2 hours.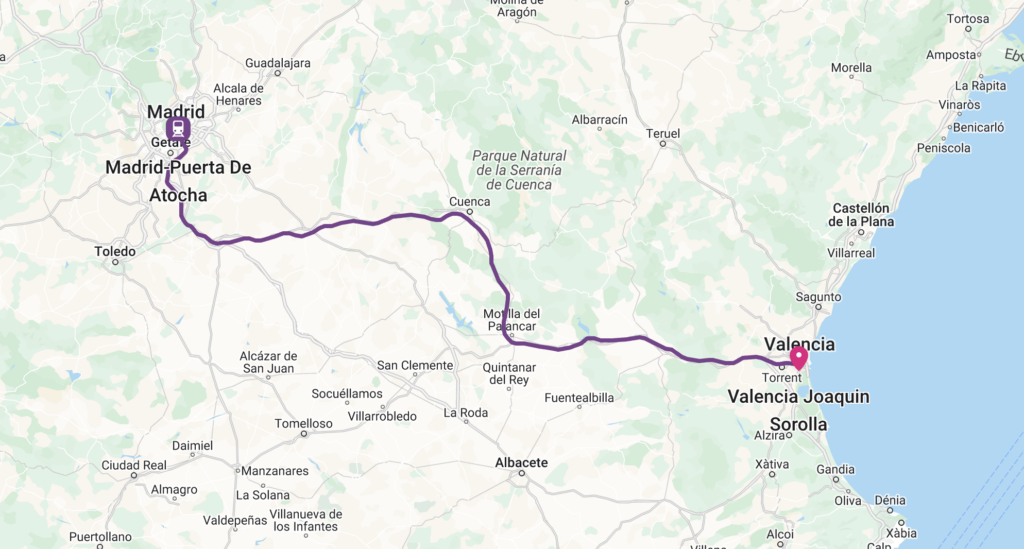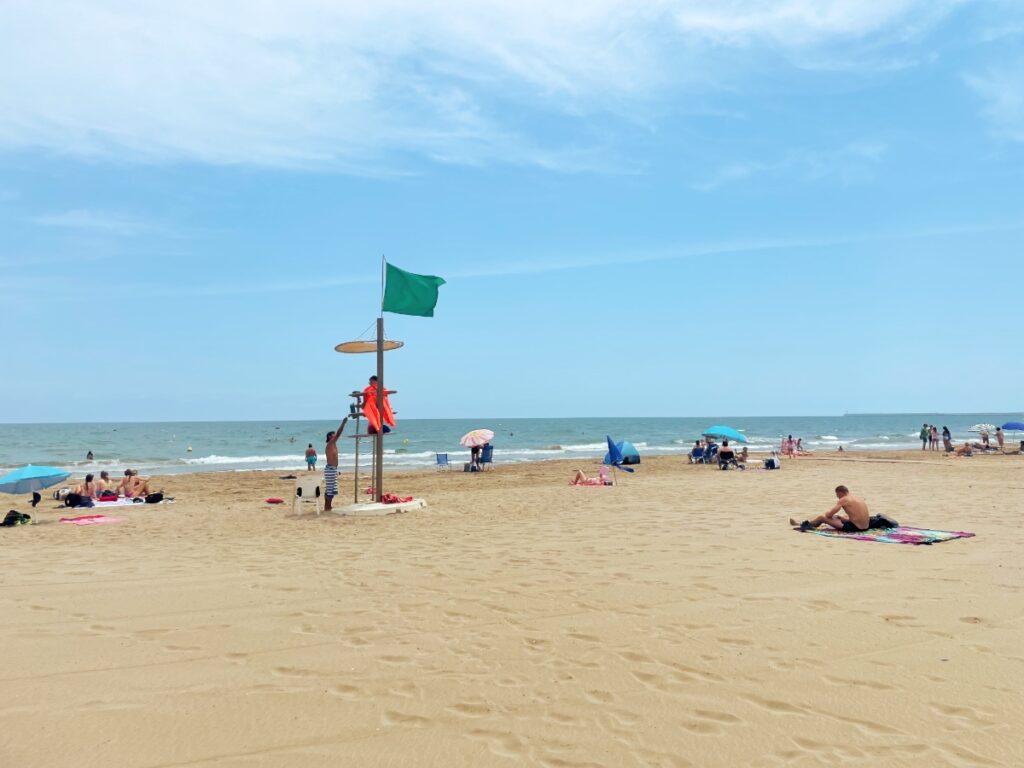 Upon arrival, you can take the bus (line 92) and get to the Malvarrosa beach in 30-40 minutes or continue with the city train from Joaquin Sorolla station to Valencia-Cabanyal. Taxi can be an option also – they have a well-organized queue of taxis near the station's exit.
Oh, yes, there are plenty of options with beaches in this beautiful city – read my list of best beaches in Valencia.
Read also: 51 Things to Do in Madrid
2. Alicante
Alicante is an accessible and convenient beach destination for travelers coming from Madrid. You can reach the Alacant-Terminal station in 2.5 hours by high-speed AVE trains, which run twice a day.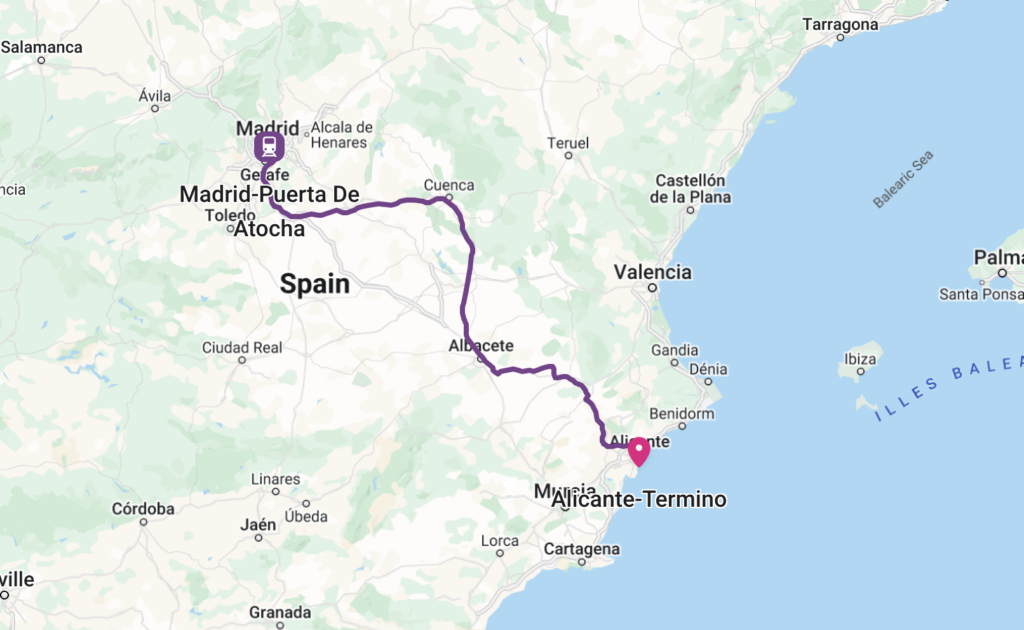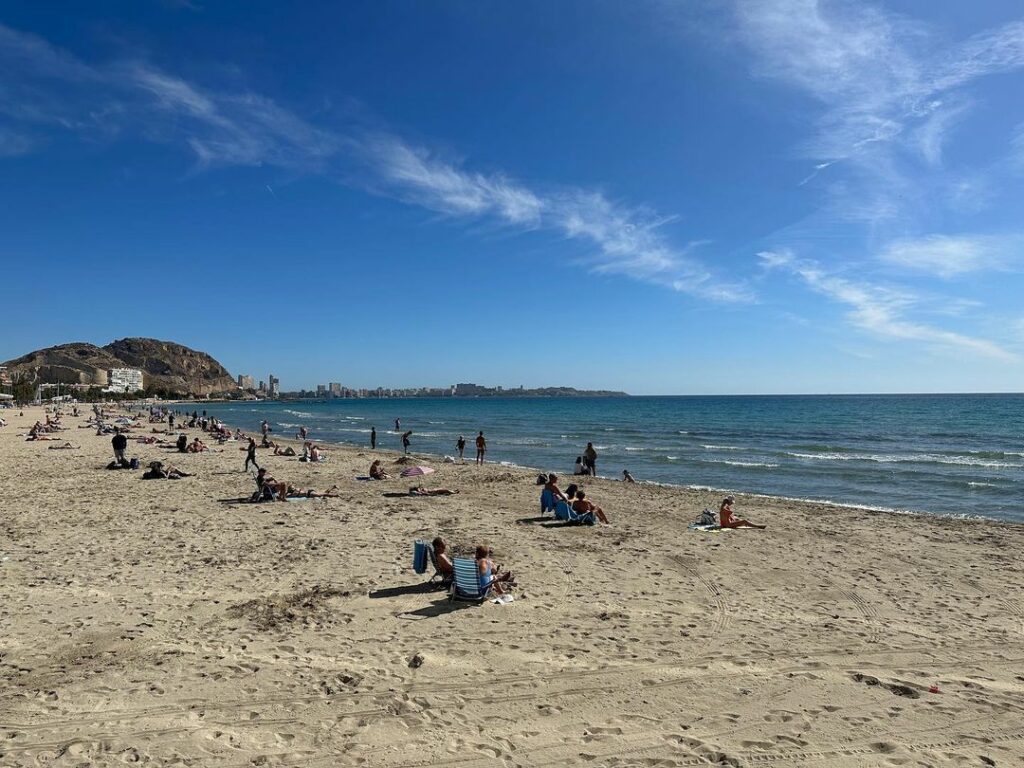 When in Alicante, there are not that many options: you can go to Playa del Postiguet, Playa de San Juan, or Playa de Albufereta (this one is 25 minutes by bus to the northeast of Alicante).
Read also: How to say "Beach" in Spanish
3. Málaga
Again, you can take the high-speed AVE train operated by Renfe. The journey takes approximately 2.5 to 3 hours and departs from Madrid's Atocha train station, arriving at Malaga's Maria Zambrano train station. Tickets can be purchased online through the Renfe website or at the train station.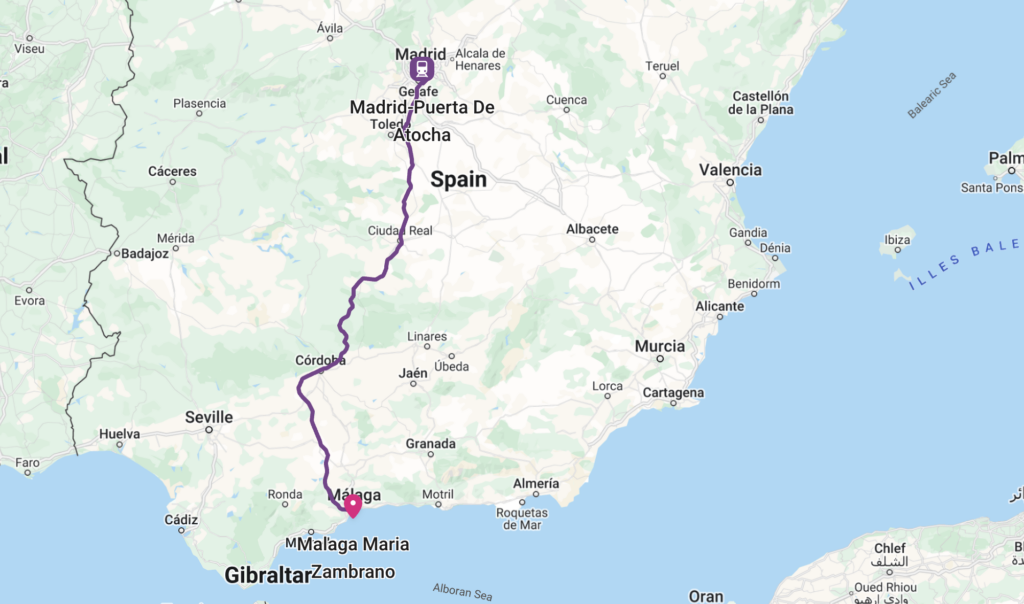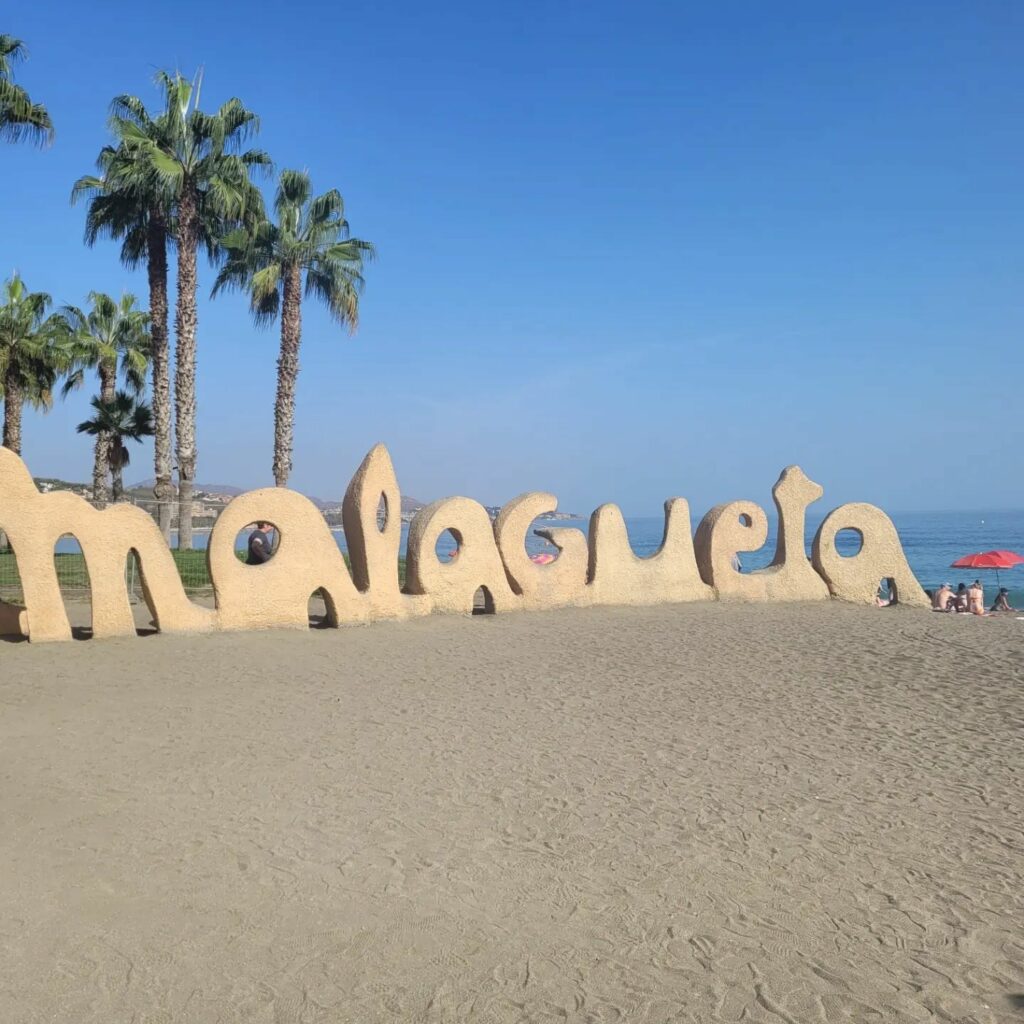 Once you arrive in Malaga, you can explore several beautiful beaches in the city and along the Costa del Sol. Some popular options include:
La Malagueta Beach, the vibrant heart of Malaga's coastline, with sunbed rentals, showers, and beach bars (chiringuitos).
To the east, you will find Pedregalejo, a relatively small sandy beach with palm trees and restaurants offering the famous grilled sardines (espetos).
To the west of Malaga, there is Playa de la Misericordia, a long and chill beach area with promenade.
Further along the coast, you can visit popular beach spots such as Torremolinos, Benalmadena, Fuengirola.
Helpful tip In June, the sea water temperatures might be quite… refreshing, to say the least, due to the currents coming from the Atlantic.
Read also: The Best Beaches in Spain in 2023
4. Castellón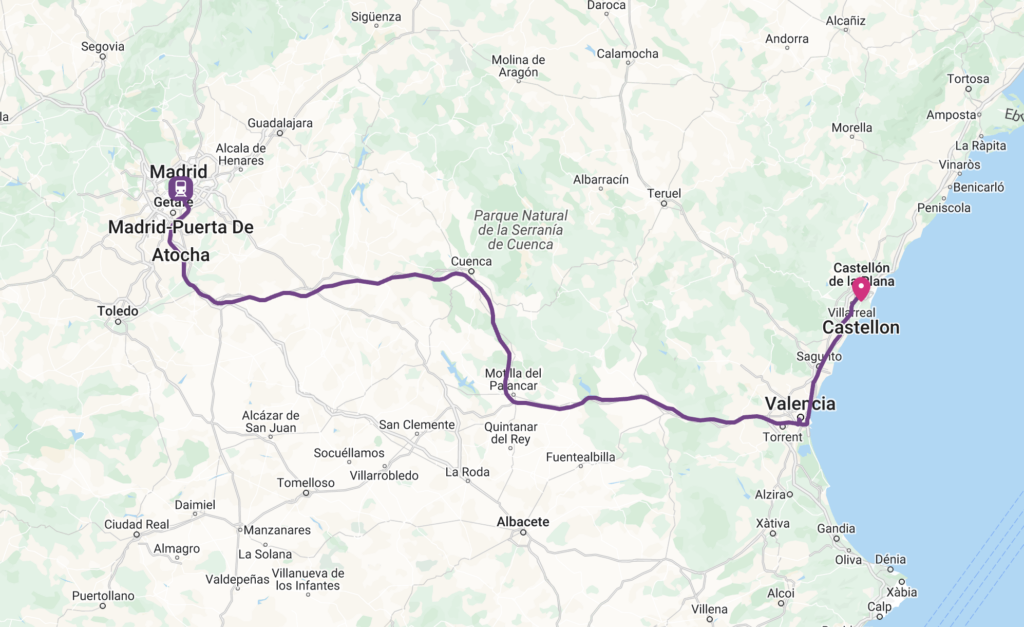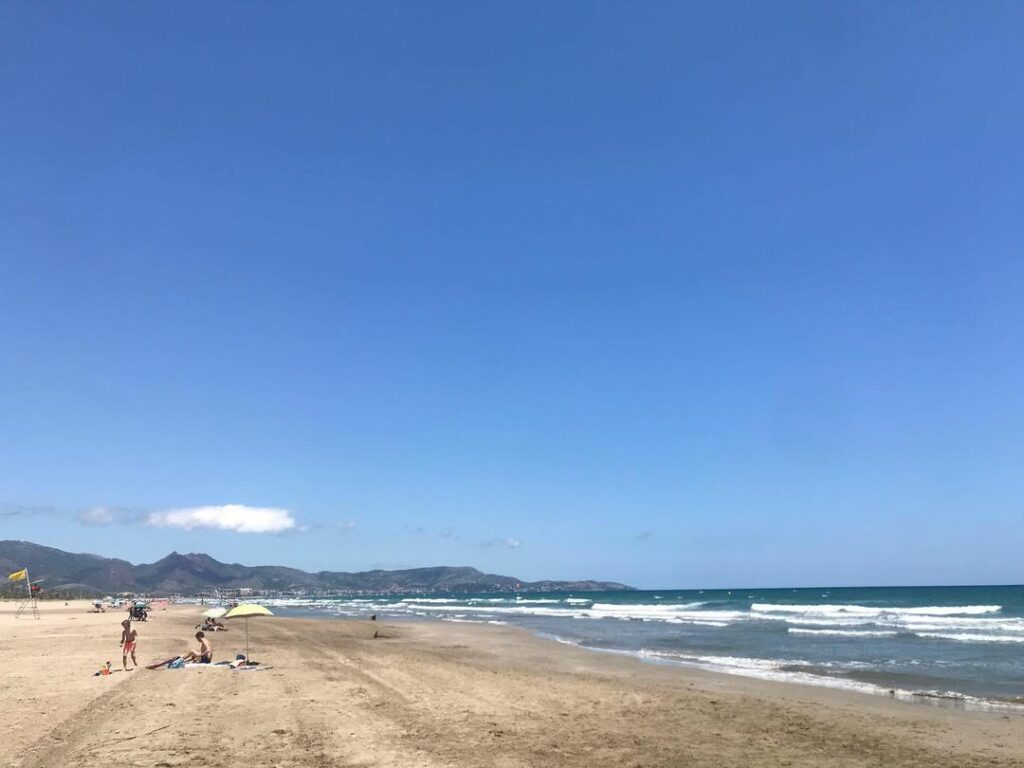 To travel from Madrid to Castellón de la Plana by train, you can take the high-speed AVE or Alvia trains. The trip takes approximately 2.5 to 3.5 hours, departing from Madrid's Atocha train station and arriving at Castellon's main train station (with a stop in Valencia).
In the Province of Valencia, "platja" is equivalent to "playa", which simply means "beach" in Spanish.
Once you arrive in Castellon de la Plana, you can explore several beautiful beaches in the area. Some popular options include:
Platja del Pinar: Busy but not packed! Calm waters, sunbed rentals, showers, and beach bars.
Platja de Gurugú: Adjacent to Playa del Pinar, this large beach is known for its fine golden sand and water sports offerings, including windsurfing, kite surfing, and paddleboarding. Also, even in high season you can be very quiet in many of its areas, which is a good thing.
Platja del Serradal: This long, tranquil beach is situated to the north of Castellón. It's an ideal spot if you're seeking a more relaxed atmosphere and features a protected area with dunes and native vegetation.
To reach these beaches, you can take local buses, rent a car, or use taxis. Playa del Pinar and Playa de Gurugú, are also accessible by bike via dedicated bike lanes.
5. Gandía
Ah, Gandía! I love this little town in the Province on Valencia for its slow-paced way of life. And it offers absolutely marvelous sandy beach leisure. Waters are shallow enough but not too much!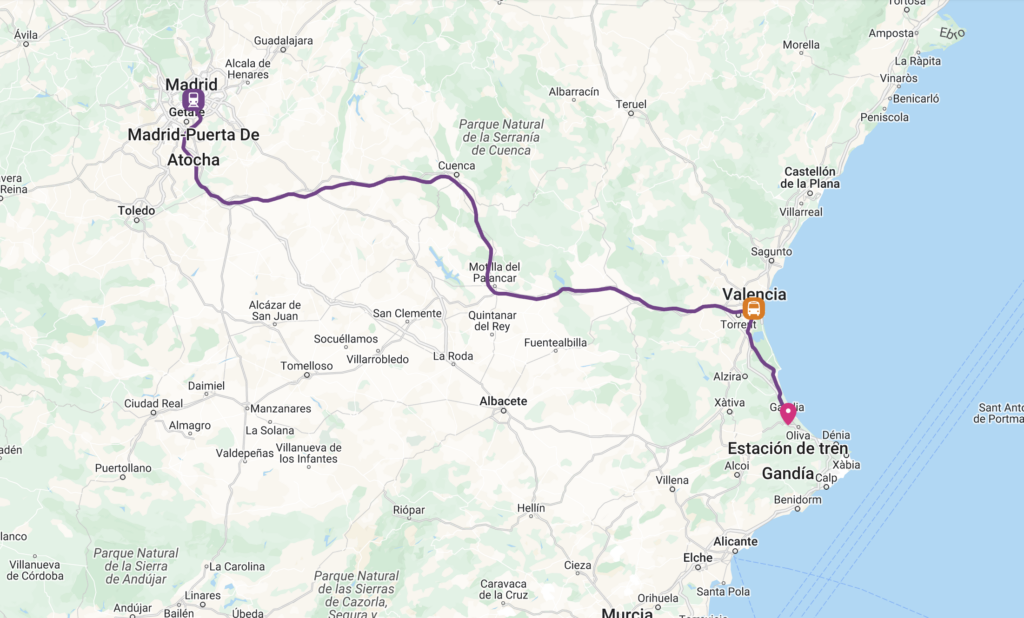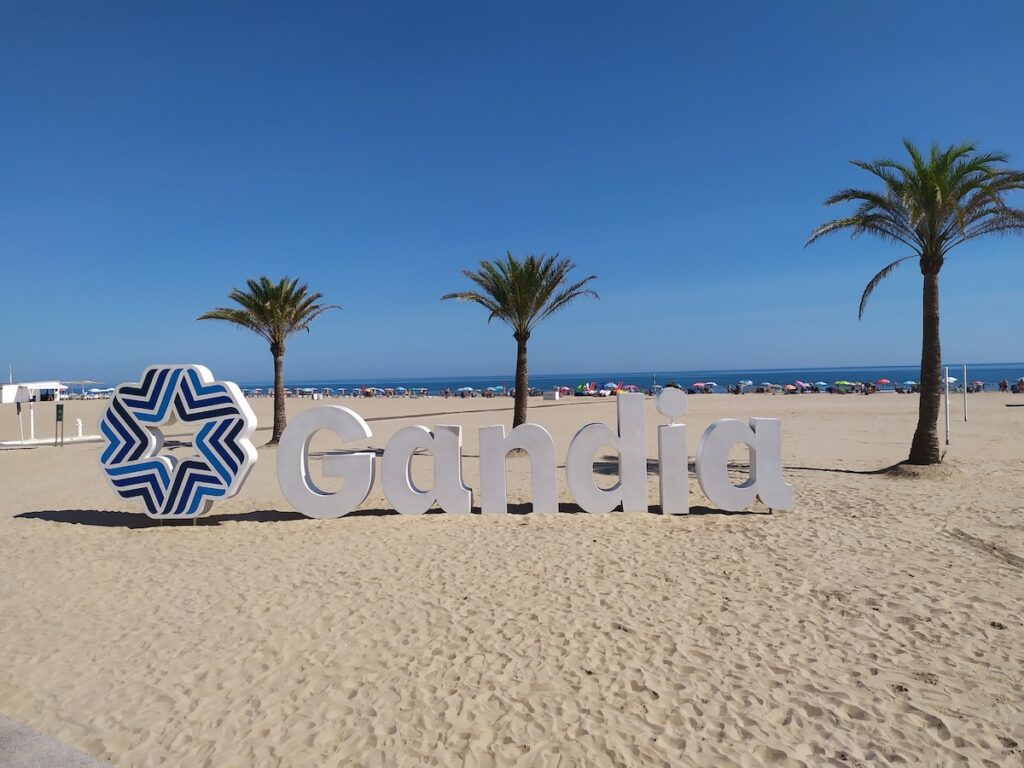 To travel from Madrid to Gandía by train, you can take the high-speed AVE train from Madrid's Atocha train station to Valencia Joaquín Sorolla station. The journey takes approximately 1 hour 50 minutes. Next, switch to a regional train (Cercanías) from nearby Valencia Estació del Nord station to Gandía, which takes around 1 to 1.5 hours.
Once you are in Gandía, you can explore several beautiful beaches in the area. Some popular options include:
Platja de Gandía (North Beach): This popular and extensive sandy beach is known for its Blue Flag status, crystal-clear waters, and numerous amenities, such as sunbed rentals, showers, and beach bars. The beach is family-friendly and offers various water sports and recreational activities.
Platja de L'Ahuir: Located north of Playa de Gandía, this beach is a bit more relaxed, less crowded and features a very fine sand.
Platja de Venecia: This small urban beach is situated near the marina and offers a lively atmosphere with a promenade, restaurants, and bars.
To reach these beaches, you can take local buses, rent a car, or use taxis.
6. Tarragona
Embark on a journey from Madrid to Tarragona by hopping on a high-speed AVE or Alvia train. The trip, which spans approximately 2.5 to 3.5 hours, departs from Madrid's Atocha station and arrives at Tarragona's main train station.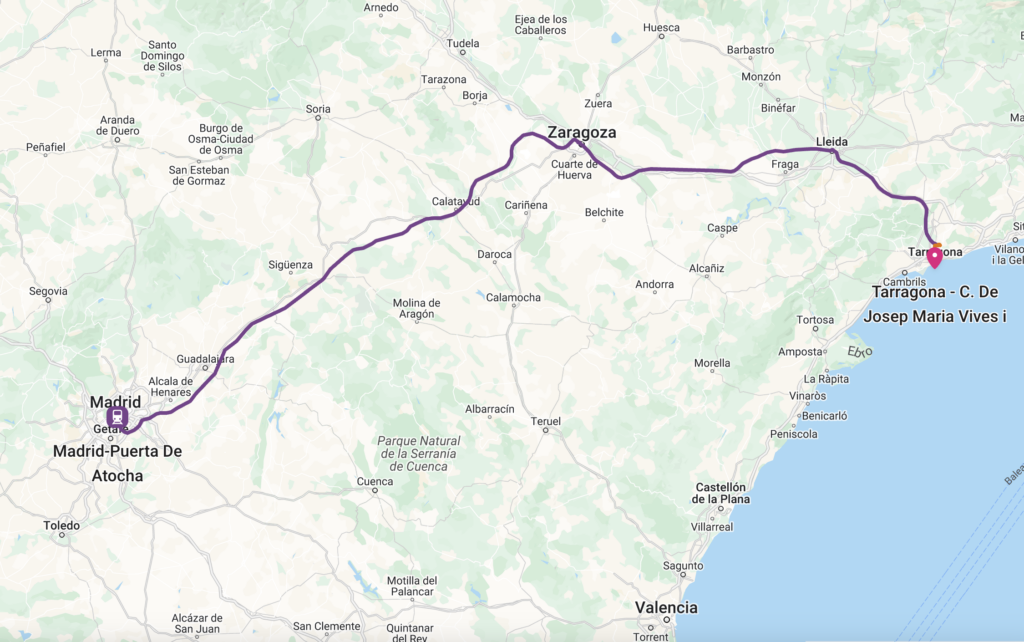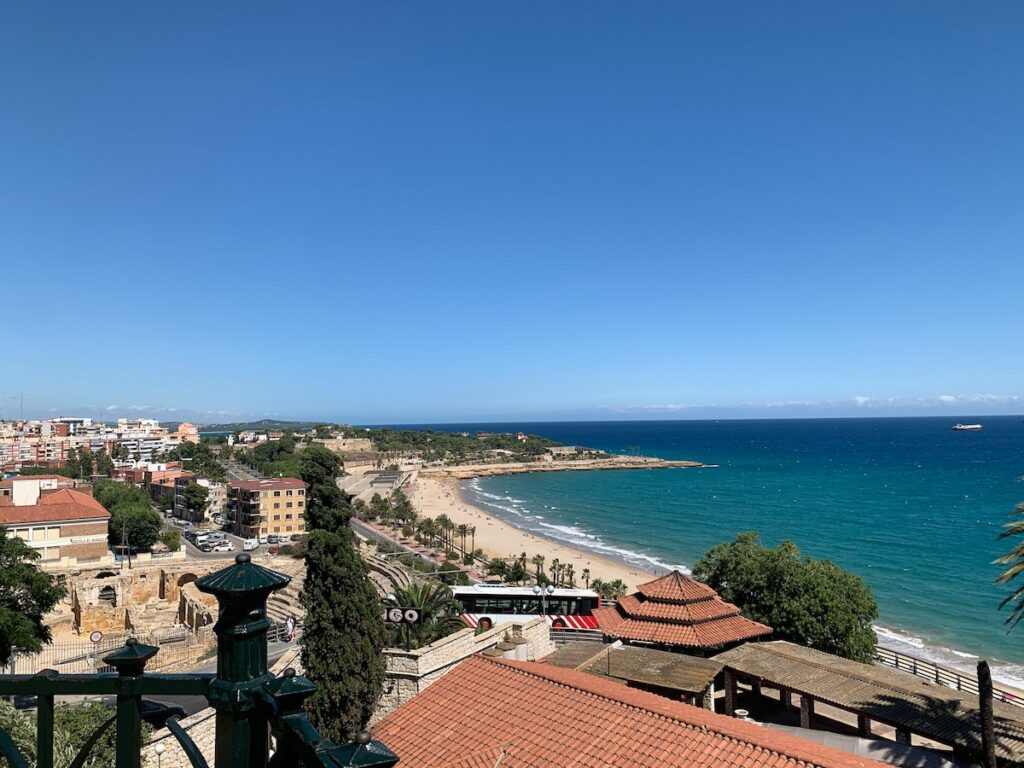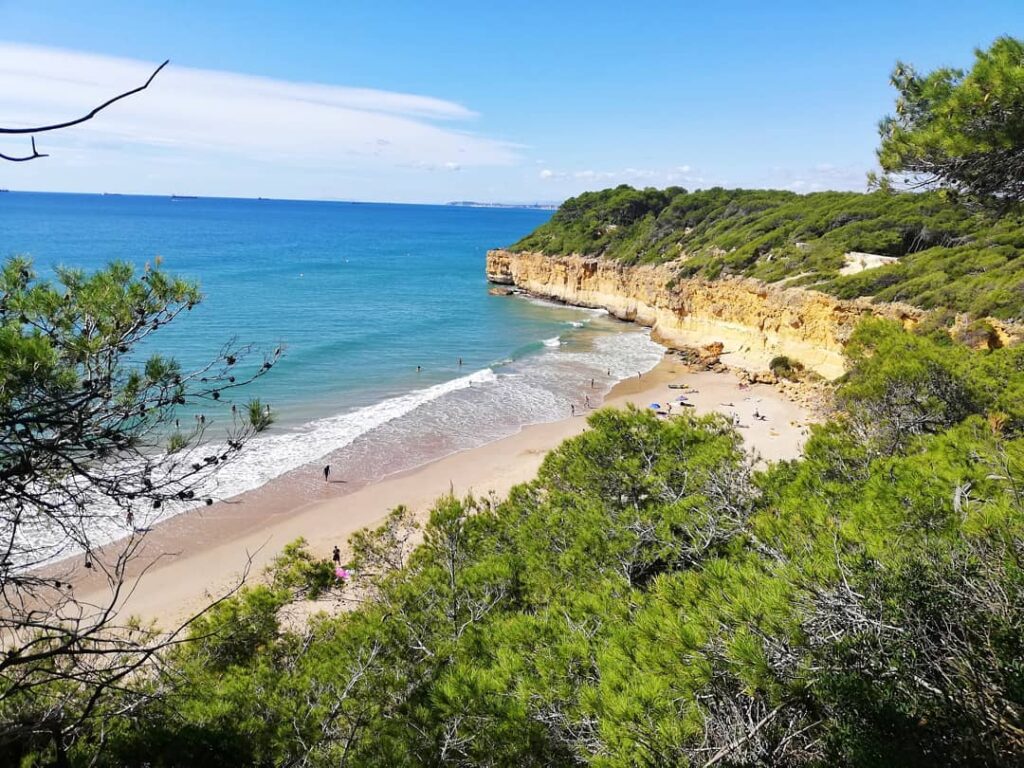 Once you set foot in Tarragona, prepare to find an array of beaches in the area.
Some noteworthy options include:
Playa del Milagro: A popula beach right in front of the city, quite close to the train station, with showers (but no sunbeds!), and beach bars.
Savinosa beach: A bit outside of the city, this hidden gem offers a tranquil atmosphere (and some nude people in the right side of the beach, too!). To get there, take buses 8, 11-13.
Playa Larga: True to its name, this narrow and long beach is perfect for long walks along the shore. If you are into hiking, you'll find a trail at the northern end of the beach that leads to several smaller, more secluded beaches, such as Cala Fonda.
7. Gijón (as a weekend trip)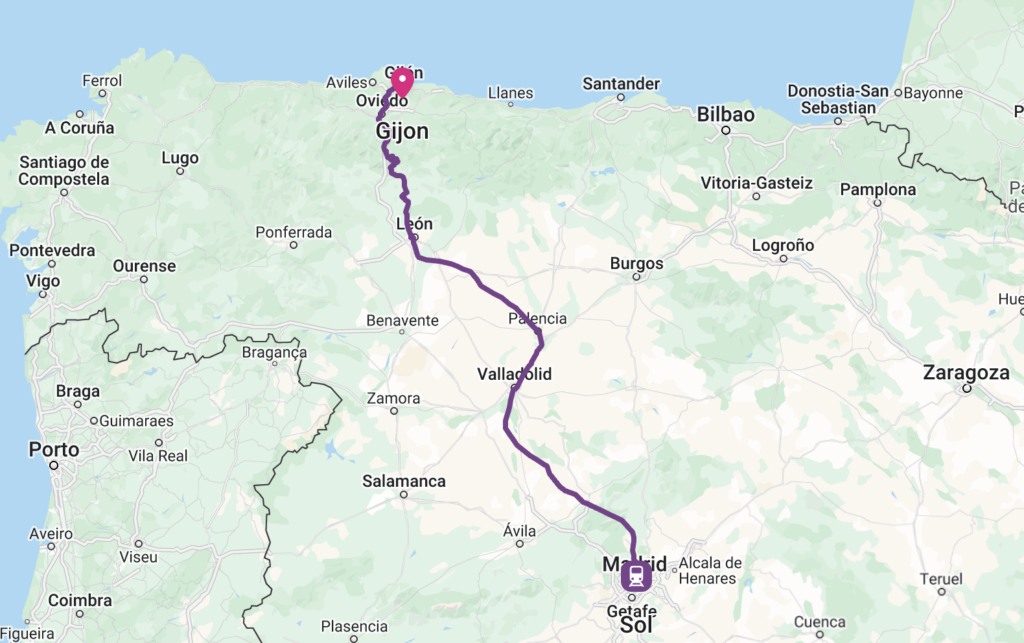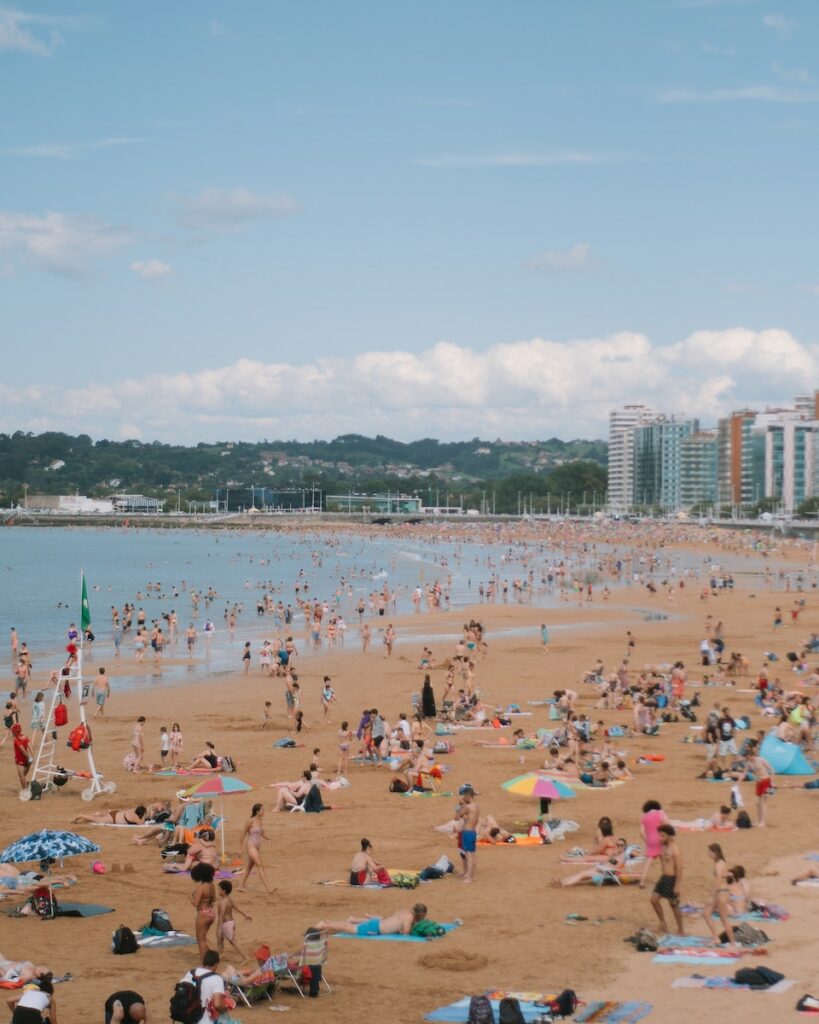 To get from Madrid to Gijón, take the Alvia train, which runs for approximately 4.5 to 5.5 hours, departing from Madrid's Sol station.
When in Gijón, you will have some decent beaches to choose from:
Playa de San Lorenzo: It is the iconic crescent-shaped mile-long beach in the bay of Gijón, one of the most beautiful in northern Spain, bounded on the west by the Cerro de San Catalina fortification and east by the mouth of the river Piles. It has all the needed amenities, two beach volleyball courts, and beach soccer is also practiced there.
Playa de Poniente: It is an artificial sandy area created in the mid-'90s that has become a water sports activity area, especially in the summer months. Located in the marina area of Gijón, it occupies the space that used to house the old shipyards. Its waters, with a permanent green flag, are ideal for getting into aquatic sports. It is also a solid family-friendly option for leisurely beach days.
Playa de Peñarrubia: Nudist beach!
8. Santander
For a summer escapade from Madrid to Santander, board the high-speed Alvia train, which runs for approximately 4 to 4.5 hours, departing from Madrid's Sol station and arriving at Santander's main train station.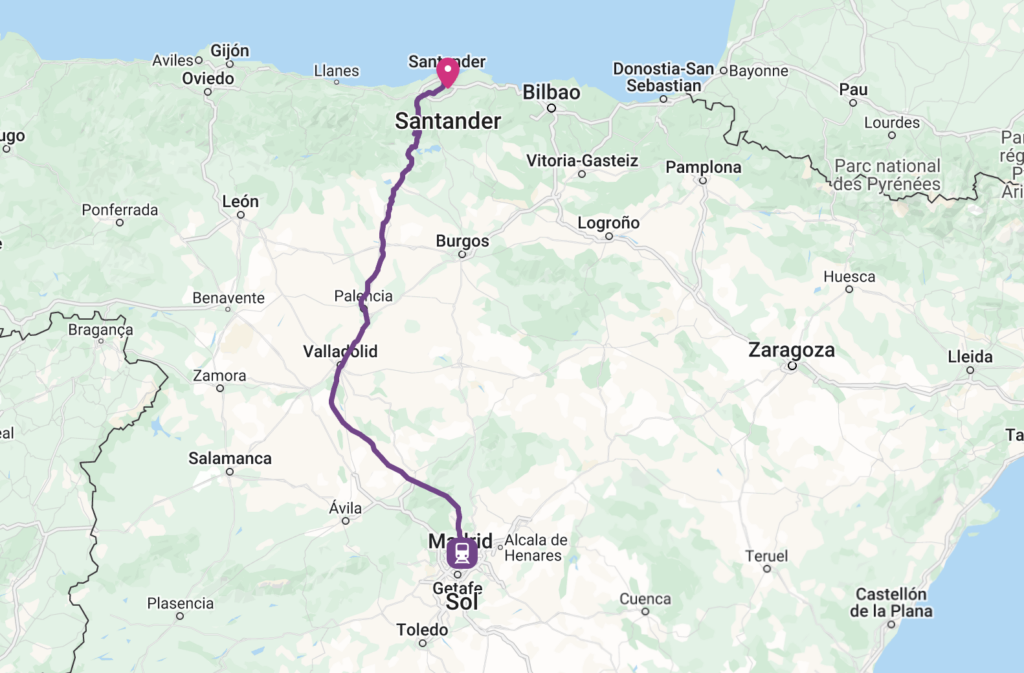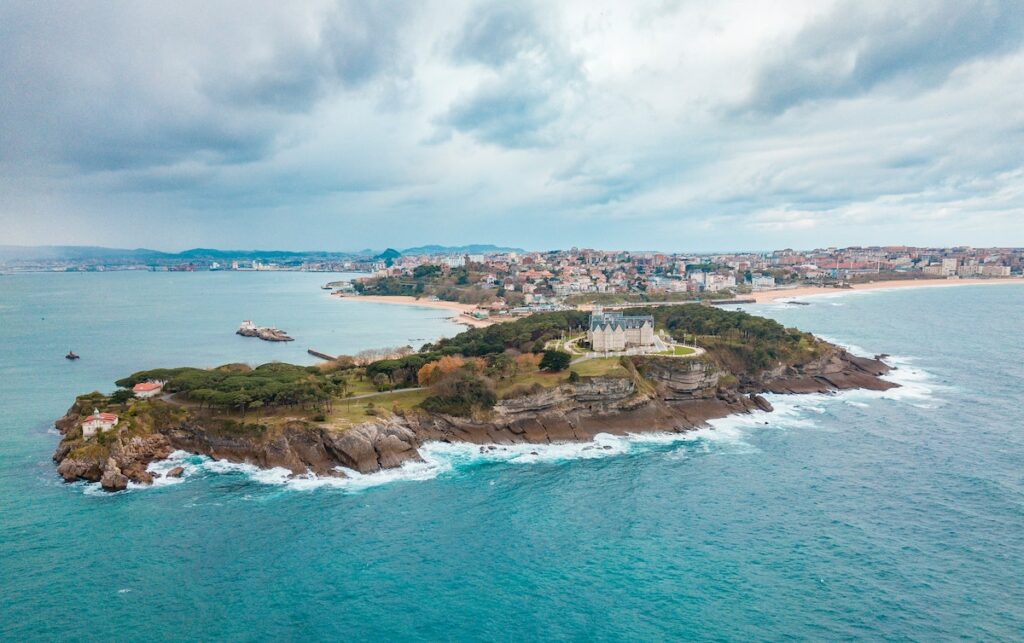 As for the beaches, Santander is a great spot to cool off – the Bay of Biscay generally has cooler water temperatures compared to the south of Spain.
Playa del Sardinero: This developed, expansive, and golden-sand beach is Santander's crown jewel, offering a lively atmosphere, sparkling waters, and a promenade dotted with restaurants and bars.
Playa de los Peligros: In Spanish, "peligro" means danger. No way there is any danger on this beach (unless you are a kitesurfer). This quaint beach is small yet delightful. When the wind picks up, you'll often see numerous kitesurfers taking to the waves. Conveniently, parking is available nearby, and it's just a short walk from the city center.
Playa de Magdalena: This lovely beach may be a bit rockier with more small stones compared to the more popular beaches in Santander, but it also has fewer people and a more relaxed atmosphere. Plus, certain areas offer excellent spots for discovering sea shells!
Playa de los Bikinis: Another peaceful and serene beach on Magdalena Peninsula, with forest-like trees lining the area just behind the sandy shore.
9. Alovera Beach
The residents of Madrid will soon no longer need to travel to the beaches of Valencia (the nearest to the city) as Alovera, a municipality in Guadalajara, near Alcalá de Henares, and just in a 1-hour drive from from the capital, is set to host Europe's largest artificial beach.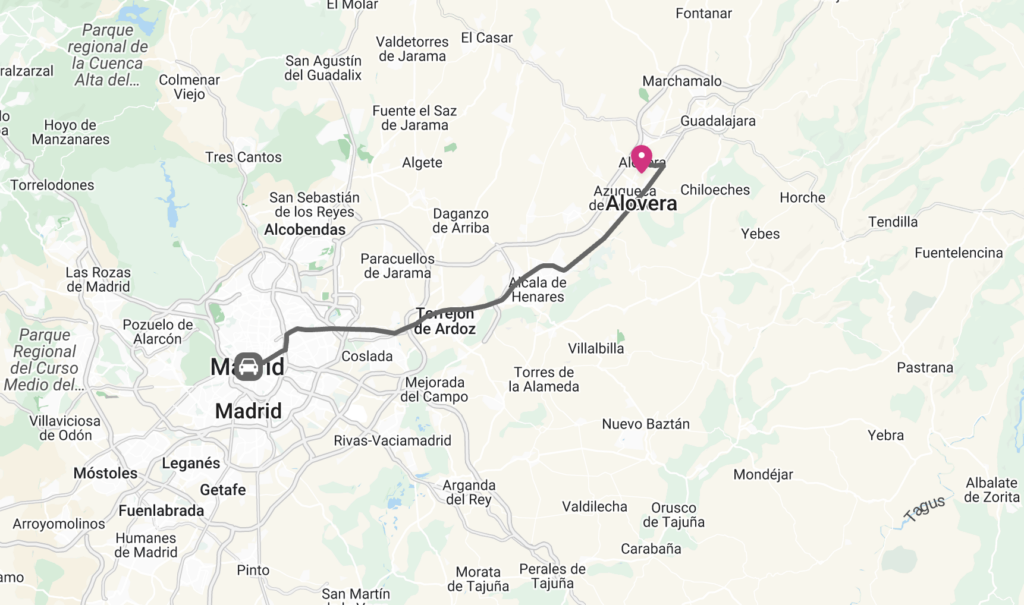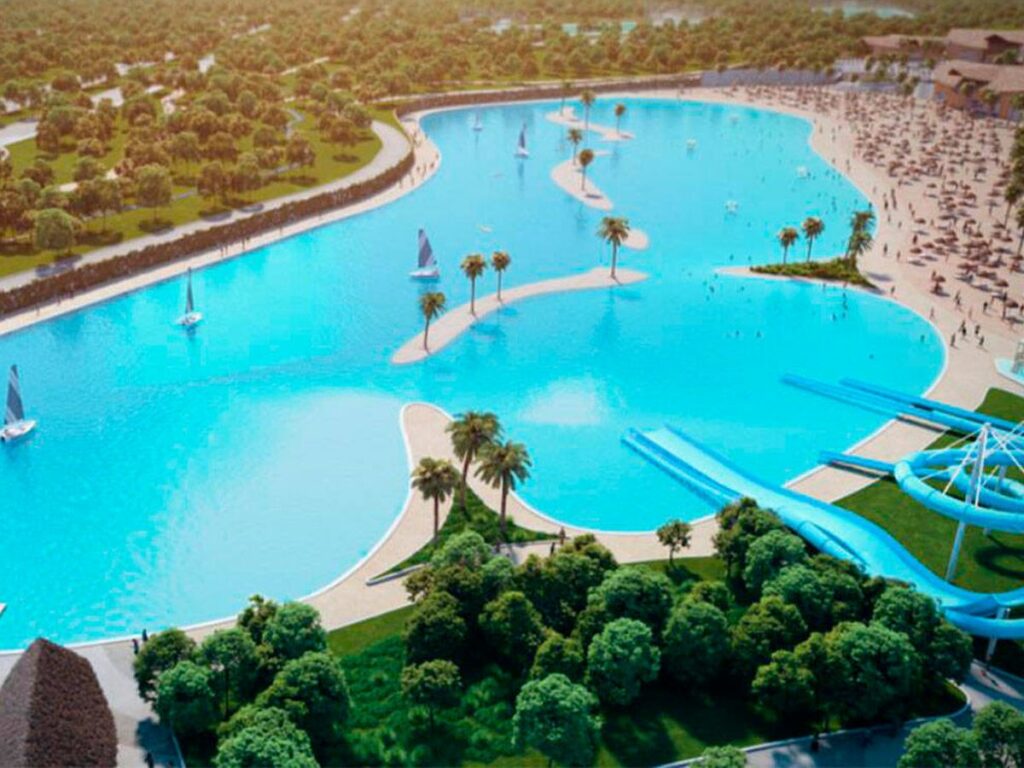 This expansive complex will feature a 21,000 square meter (226,000 sq ft) water body surrounded by an additional 17,000 square meters (183,000 sq ft) of beach.
Moreover, the beach will include an area for outdoor water activities like paddle surfing, kayaking, and sailing, as well as a water sports school and designated parking for sports enthusiasts. The entertainment zone will also offer a zip line, beach volleyball courts, and several slides for added enjoyment.
Surviving the summer in Madrid FAQ
How do you survive a heat wave in Madrid?
The basic idea is that you can't do anything outdoors between 10 AM and 8 PM. During the afternoon, go to museums, shopping malls, and other closed places with air conditioning. After 8 PM, it will still be hot, although it is bearable, and unless you are in a room with A/C, you will sleep poorly. Also, you will need to stay hydrated constantly, keep wet wristbands, and have a water bottle with a sprayer. Or change your trip and go to the beach. And never go to Madrid in July-August.
Why is it so hot in Madrid during the summer?
Madrid is impacted by the Azores High, a semi-permanent high-pressure system in the Atlantic Ocean, which prevents the formation of clouds and precipitation, resulting in clear skies and plentiful sunshine. The city's inland location, far from the cooling effects of the ocean, also contributes to the high summer temperatures, reaching 35-40 on certain days (the wave heat, or "ola de calor" in Spanish).
When will Alovera Beach be open to the public?
According to the satellite images, I cannot see how they will finish the construction in 2023; the works are still in the early stage. And they promised to build many things: a vast eco-friendly lagoon, a sailing school, water slides, beachside bars, and other amenities.