Madrid's Michelin Guide: 21 Top Restaurants
Nadia Podrabinek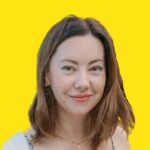 Written by Nadia Podrabinek
Hello, my name is Nadia. I usually write about traveling (there are so many places to fit all the lifestyles), relocation, and living in a foreign country (adapting to a different culture). My travels stretch beyond Spain, with journeys to the US, Italy, Norway, Portugal, and France. Relocating to Spain in 2018, I lived in cities from Barcelona to Madrid, currently calling Valencia home.  Follow me on Twitter, Facebook, Instagram, or LinkedIn! ... show more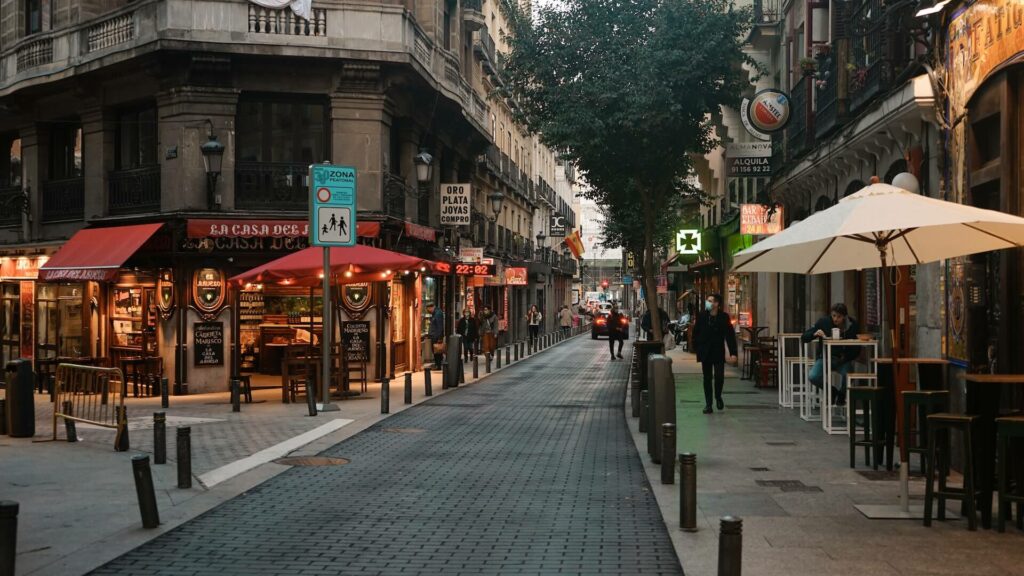 Madrid is an incredible Spanish capital full of prestigious award-winning restaurants, with a couple dozen Michelin-starred establishments. These fine dining restaurants offer exquisite and sophisticated experiences for any traveler who wants a memorable food adventure.
You will find cuisine and atmosphere for every mood: from classic national recipes to the creative delights by famous chefs.
Where is it worth spending money and getting a real gastronomic "wow factor"? I've spent a couple of weeks preparing this guide so that you can choose the best Michelin star restaurants in Madrid that will not disappoint you.
Read also: 51 Things to Do in Madrid
What people say on Reddit
You gotta go to Bar Canete in Barcelona's Gothic Quarter. It's not fine dining but perhaps upscale casual. Try to sit at the bar and you'll have the best food experience in the city IMO. They have all of the Spanish staples there in tapas style

In Madrid – I loved Angelita Madrid. A upscale restaurant that should have a Michelin star I think. If you do wanna break your bank, try DiverXO. The sister restaurant StreetXO is temporarily closed unfortunately but the chef recently opened up RavioXO which should be good

iAnonymous281
We couldn't get into Disfrutar or DiverXO when we went a few years back but we did go to ABaC in Barcelona, and Coque and Dstage in Madrid. We thought all three were lovely. Dstage was a lunch meal and more so casual for us – Coque and ABaC were dinner and formal.

Zealousideal_Fix_761
I had a tremendous meal at Coque in Madrid. 2* and just very interesting. They also take you on a journey through the restaurant. Literally. Will post a review in the next week or so.

We also had a very nice traditional Spanish dinner with friends that didn't appreciate fine dining at El Rincon De Esteban. Excellent seafood paella and traditional Spanish fare for about €50-75 per person.

cal_oski
There are lots of small, cheap ones all around. If you want the proper best DiverXO is a non brainer. Reminds me of alinea in terms of presentation and is the only 3 Michelin star restaurant in Madrid right now. DStage is also fantastic and relatively well priced for a 2 Michelin star restaurant

Dududuhhh
What does Michelin star mean?
Michelin stars are given to restaurants that Michelin company believes are exceptional and worthy after an anonymous and secret inspection. The awarded restaurant usually gains massive recognition and praise, increasing business numbers and the chef's reputation. The maximum rating is a 3-star Michelin restaurant.
⭐ Very good restaurant with high-quality cooking, worth a stop.
⭐⭐ Excellent spot, worthy of a detour.
⭐⭐⭐ Exceptional cuisine, worthy of a special journey.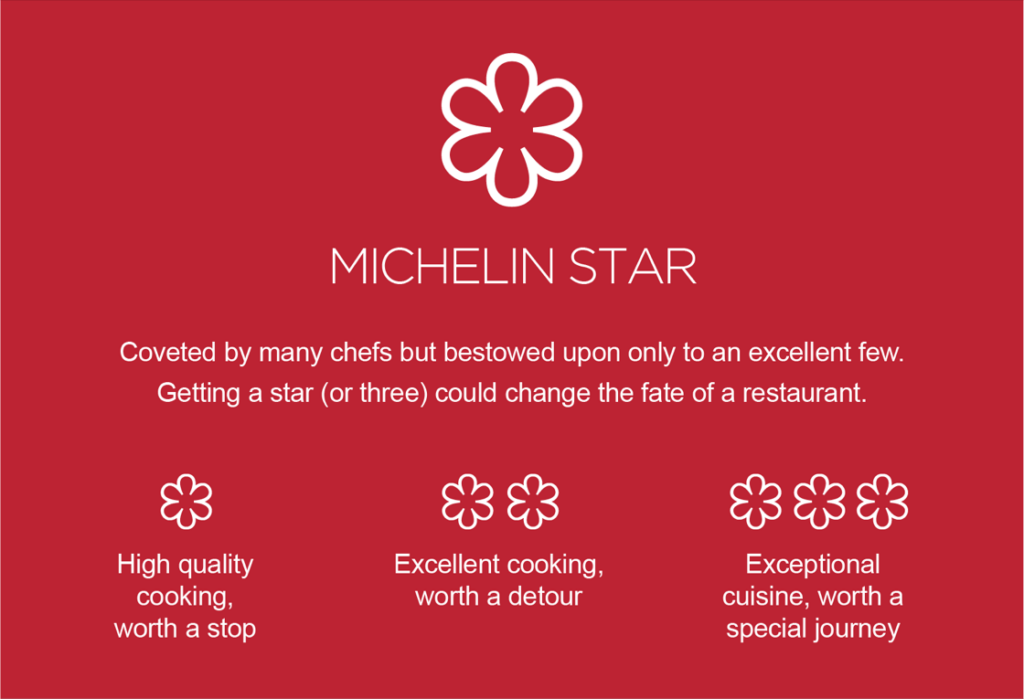 Best Michelin star restaurants in Madrid, Spain
If you're fortunate enough to dine at any of these Michelin star restaurants, grab it, and hopefully, you'll remember that for the rest of your life.
See also: Best Michelin star restaurants in Barcelona.
1. DiverXO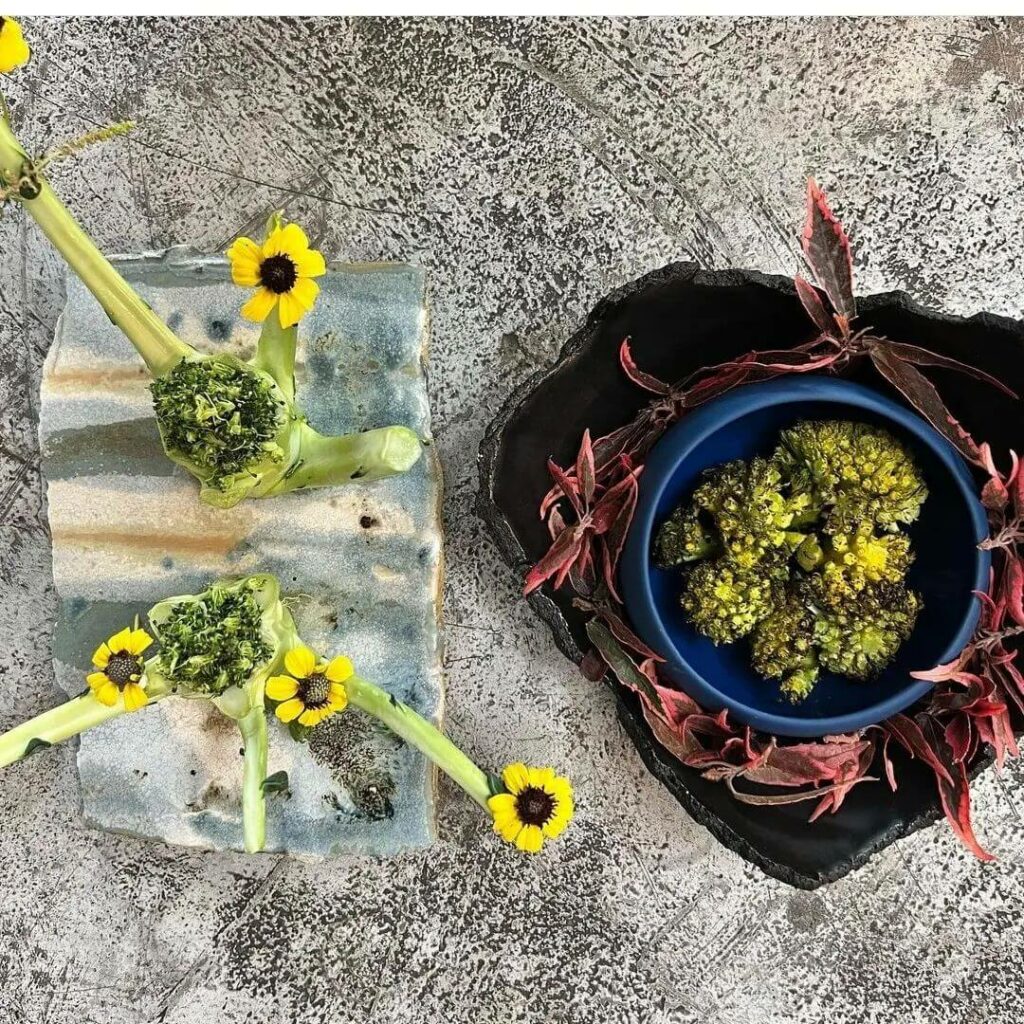 DiverXo is the only 3-star Michelin restaurant in Madrid. It was opened in 2007 by the extravagant chef Dabiz Muñoz, the second youngest chef in the world to be awarded three Michelin stars (at age 34, in 2014).
The restaurant offers a journey to the hedonistic and imaginative world of its chef. The decor is beyond expectations. The ceiling and walls are covered with flocks of black butterflies and figures of flying pigs, and colossal metallic ants guard the wine cellar.
The cuisine is cutting-edge. Dabiz Muñoz creates up to 40 new avant-garde dishes every year. He boldly blends Asian, South American, and Mediterranean flavors to assemble unique food compositions on fanciful plates.
The tasting set costs a tremendous €365 per person without wine pairing. Prepare your wallet and plan to spend 3-4 hours in the dining room.
Tip #1 It's really hard to book a table! The reservation is only possible with a 100% advance payment on the official website. Due to the place's popularity, booking opens on the first day of the new month at 4 p.m. (Madrid time), and is available only for the current month. Pay attention to the cancellation rules, and remember that booking a table for one person is impossible.
Tip #2 There is no kids' menu, so children under 10 are not recommended to visit the restaurant.
Michelin stars: ⭐⭐⭐
Prices: $365 for the tasting menu, drinks not included
What people say on Google: 4.4 stars, 2250 reviews
NH Eurobuilding, C. del Padre Damián, 23, 28036 Madrid, Spain
2. Smoked room Fire Omakase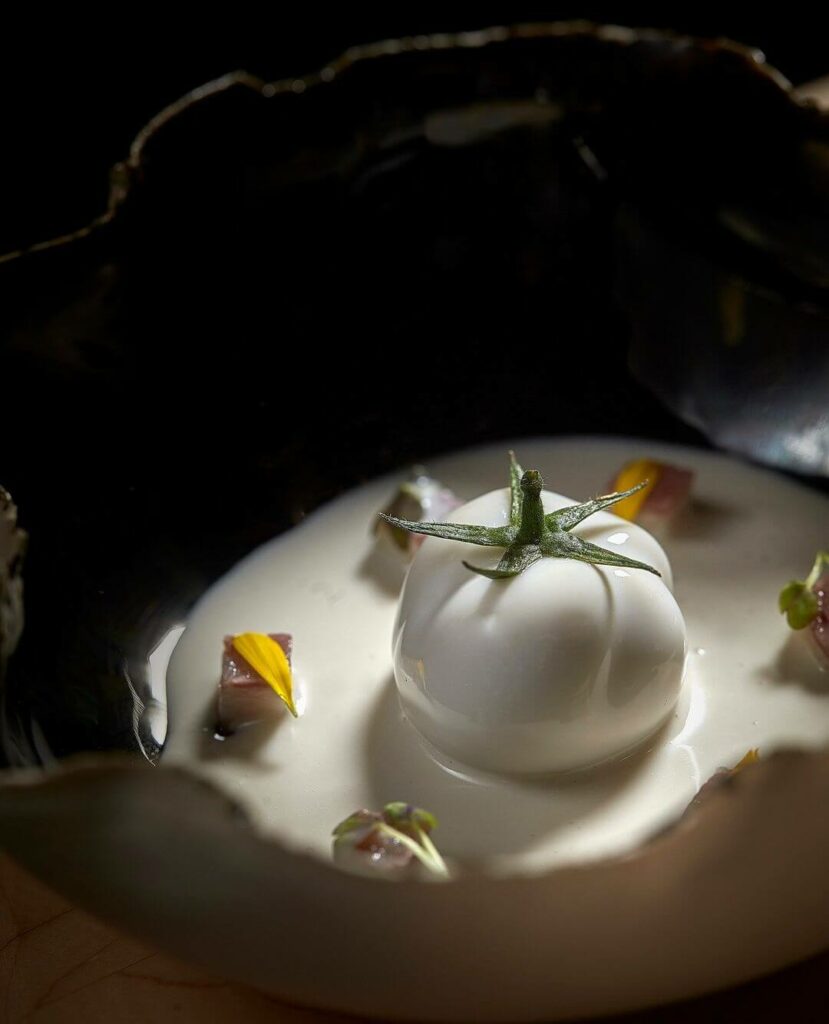 The "Smoked room Fire Omakase" boutique restaurant is famous for receiving 2 Michelin stars only six months after opening, which is a kind of record.
Dani García, its famous Andalusian chef, was previously awarded 3 Michelin stars for his other restaurant in Malaga.
The Smoked Room is located in the Hyatt Regency Hesperia hotel and was intended to be a private establishment accessed through another grill bar, Leña.
The restaurant is a small space for only 14 people (a bar for six people and two tables for four). The tasting menu consists of 15 dishes, with blends of Japanese and Andalusian cuisine.
The main highlight of the restaurant is cooking on coals, so the dishes are dominated by notes of smoke. The very concept of the restaurant is about the Japanese word "omakase," which means "I leave it up to you."
Tip #1 Table reservation is required. If you've managed to book a table at the bar, you can watch the food being prepared.
Tip #2 It's no surprise that booking a table in that tiny restaurant is hard. You will probably spend a couple of days on the website.
Michelin stars: ⭐⭐
Prices: $180 for the tasting menu (without wine pairing)
What people say on Google: 4.9 stars, 91 reviews
Hotel Hyatt Regency Hesperia, Paseo Castellana 57, 28046 Madrid Spain
3. Ramon Freixa Madrid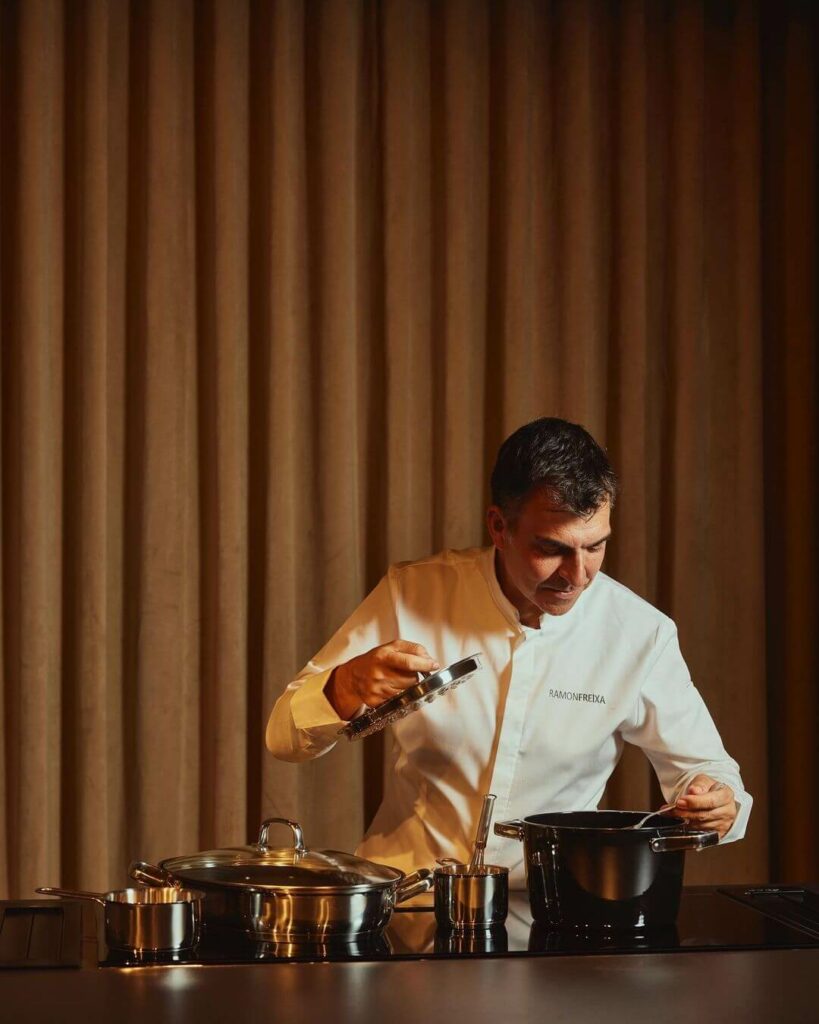 You will find this restaurant at the exclusive Único Hotel. Its chef, Ramon Freixa, offers innovative cuisine based on traditional Spanish tastes.
The restaurant has a private room for 12 people and a hidden garden with an elegant platform for 25 people where you can celebrate a memorable event.
The gastronomic offer consists of three menus and differs in the number of sets and prices:
Temporality RFM (Price per person: €95. With wine pairing, €140)
Discovering RFM (Price per person: €140. With wine pairing, €200)
Freixa's Universe (Price per person: €180. With wine pairing, €260)
Tip If you dislike overeating (which often happens in Michelin restaurants if you have little to no experience with them), try the 9-dish Temporality RFM menu.
Michelin stars: ⭐⭐
Prices: $95-180 for the tasting menu (without wine pairing)
What people say on Google: 4.7 stars, 811 reviews
Calle de Claudio Coello, 67, 28001 Madrid
4. Coque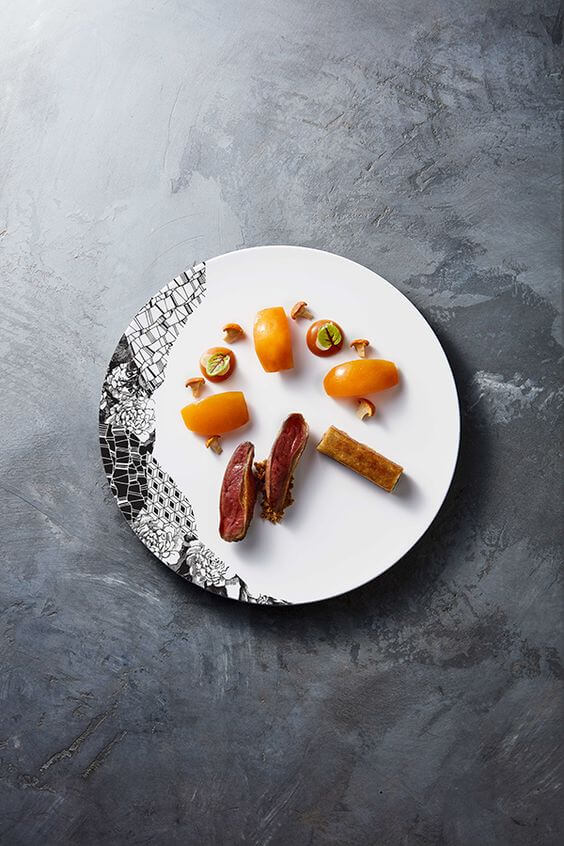 The famous Sandoval brothers, Mario, Diego, and Rafael, opened this fine dining establishment in the summer of 2017.
The restaurant offers a unique combination of flavors based on local products, fermentation, and the main ingredient—the egg. The latest culinary trends and innovations are added as well.
Coque also has a Michelin green star for sustainability; most products are produced on their own farm.
Michelin stars: ⭐⭐
Prices: $140-285 for the tasting menu (without wine pairing)
What people say on Google: 4.7 stars, 1189 reviews
Calle de Claudio Coello, 67, 28001 Madrid
5. DSTAgE Madrid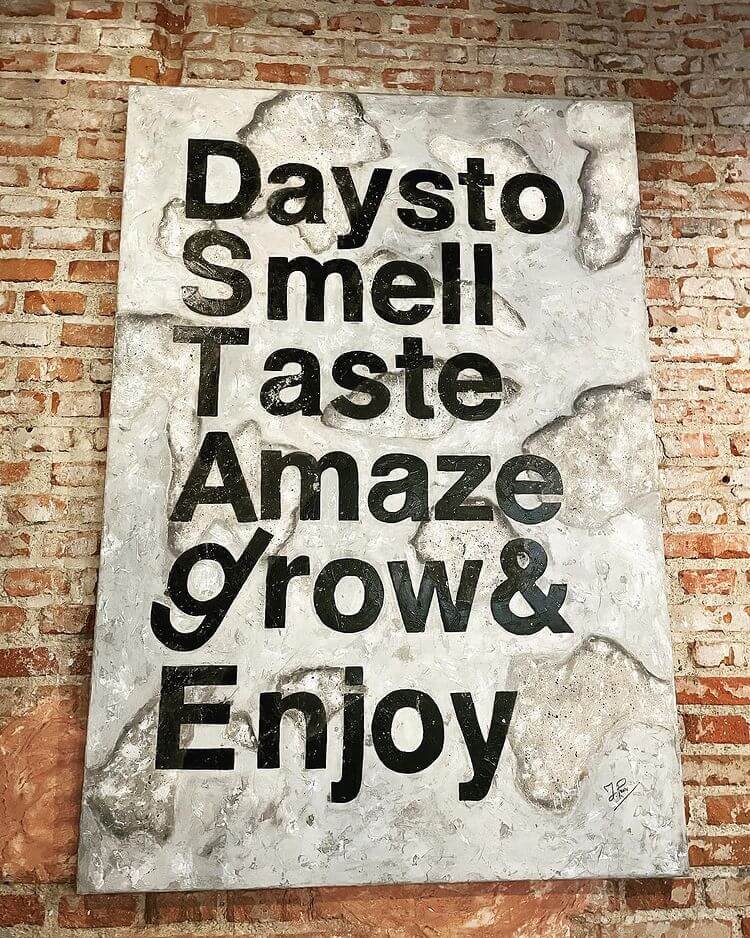 The restaurant's name is derived from "Daysto Smell Taste Amaze Grow & Enjoy." The restaurant was opened in 2014 by Diego Guerrero, a star chef from the Basque Country. Before opening Dstage, he had already earned two Michelin stars at El Club Allard restaurant, where he had worked for over 10 years.
Dstage is the most informal restaurant in Madrid in the 2-Michelin-stars category. It is a lively restaurant with an open kitchen with young and creative chefs and servers dancing and singing some Red Hot Chili Peppers songs.
What about the cuisine? Diego Guerrero's technique and talent are embodied in the incredible combinations of products he brings from all over the world, from Japan to Mexico, adapting to the multicultural life of the capital.
Tip Convenient online booking system. Remember, the restaurant doesn't recommend visiting with children under 10 years.
Tip #2 Might be closed in August as many Spanish people go on vacations.
Michelin stars: ⭐⭐
Prices: $165-195 for the tasting menu (without wine pairing)
What people say on Google: 4.6 stars, 1434 reviews
C. de Regueros, 8, 28004 Madrid
Read also: Tipping rules in Spain
6. Paco Roncero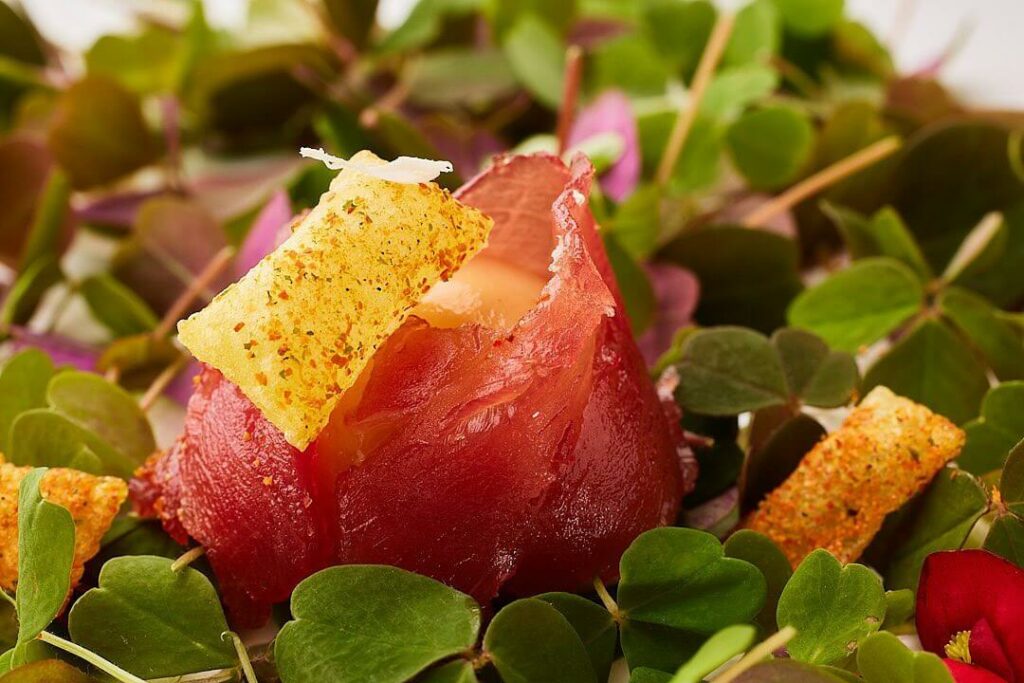 Paco Roncero is one of the most famous chefs in Spain and he is extremely busy being the executive chef at numerous restaurants in Madrid, Shanghai, and Bogotá. He is also a creator of the Paco Roncero Workshop, a global venue where new concepts and models of gastronomy are created.
You will find the Paco Roncero restaurant in a 19th-century building, which was a Madrid casino at that time. The restaurant has been awarded two Michelin stars, three Repsol "suns" (the Spanish version of Michelin), and the 2006 National Gastronomy Award.
There are three tasting menus: Essence is a short menu that reflects the basics of the chef's cuisine, offered only at lunchtime from Tuesday to Friday. Vindication and Affirmation are extended menus available daily.
Tip There is a beautiful sunny terrace.
Michelin stars: ⭐⭐
Prices: $95-210 for the tasting menu (without wine pairing)
What people say on Google: 4.5 stars, 321 reviews
C. de Alcalá, 15, 28014 Madrid
7. Gaytán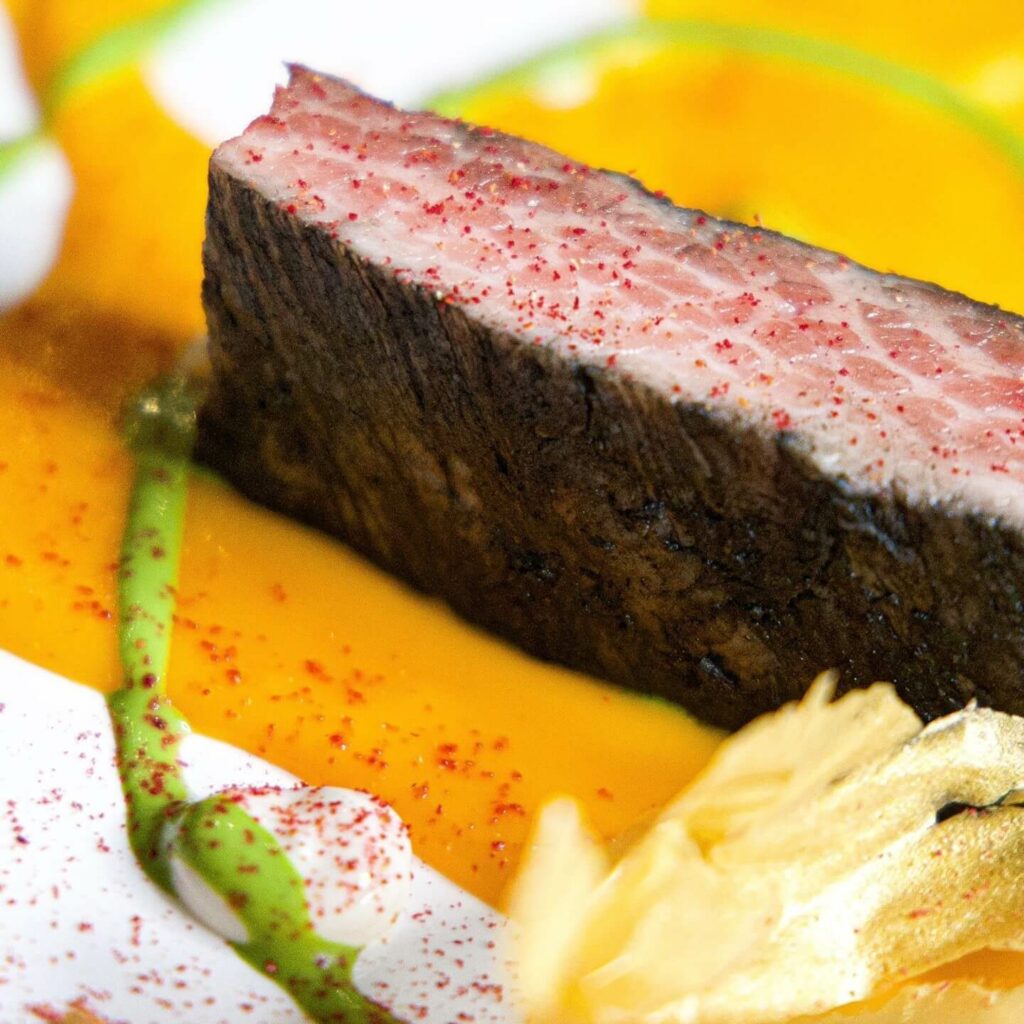 Chef Javier Aranda opened Gaytán in 2016. This is Javier Aranda's second restaurant, and his first restaurant has already been awarded a Michelin star.
Getting into the restaurant, you become a direct participant in a gastronomic journey where dishes are prepared in the presence of the guests. In the center of the hall is a large oval kitchen, designed to delight not only with its taste but also with visual beauty.
The restaurant offers two types of the tasting menu:
Javier Aranda. The extended menu introduces you to all the dishes the Chef and his team have worked on. Amazing experience.
Inaurem. The short version of the extended menu.
Tip You can order "A la carte" at lunchtime and in the evening (from Tuesday to Saturday).
Michelin stars: ⭐
Prices: $98-150 for the tasting menu (without wine pairing)
What people say on Google: 4.6 stars, 479 reviews
Lateral Derecho, C. del Príncipe de Vergara, 205, 28002 Madrid
8. Saddle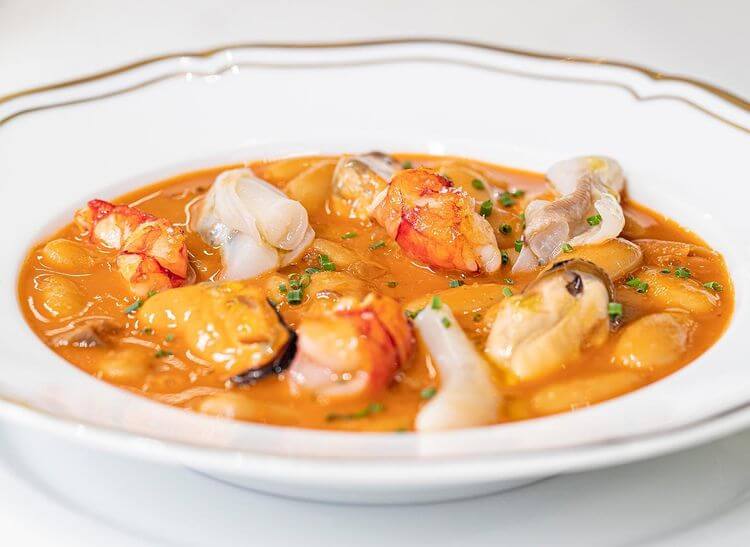 The restaurant opened its doors in 2019 and, in 2021, was awarded a Michelin star thanks to Chef Adolfo Santos and a well-coordinated team of professionals.
The restaurant has a large, bright, refined hall designed with noble materials: wood and marble. Five separate rooms distinguish a quiet and cozy atmosphere. You can try the tasting or the main menu (for lunch and dinner).
Convenient online booking system.
Michelin stars: ⭐
Prices: $135 for the tasting menu (without wine pairing)
What people say on Google: 4.7 stars, 440 reviews
Calle Amador de los Ríos, 6 28010, Madrid
9. Clos Madrid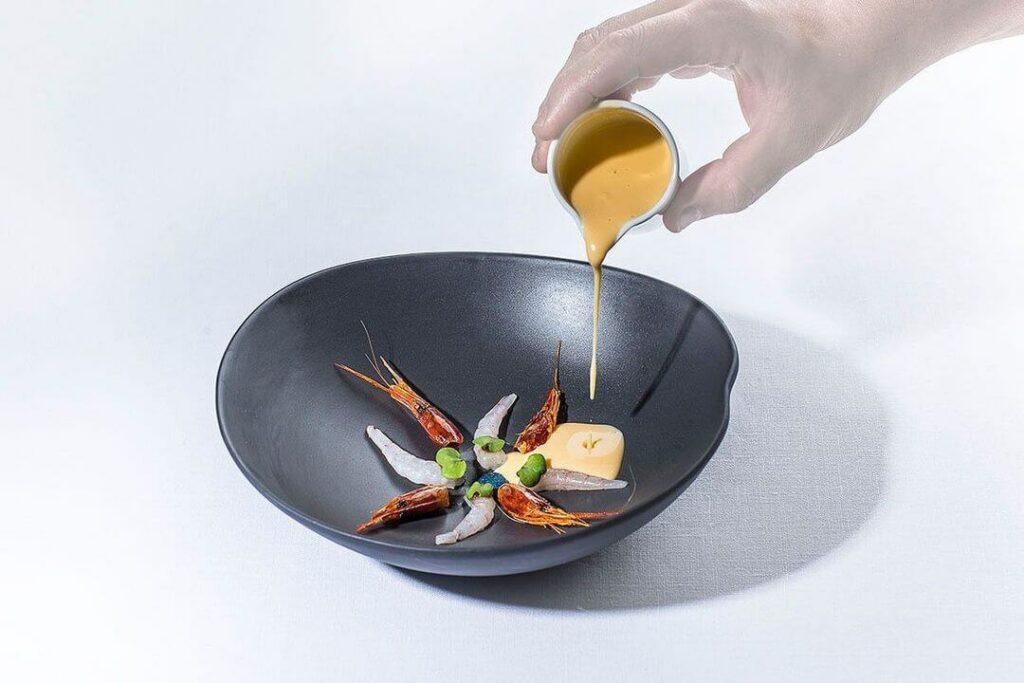 In Clos, you will find avant-garde Mediterranean cuisine created by chef Alberto Palomino. In 2019, the restaurant was awarded one Michelin star.
The restaurant has a small bar counter and a spacious, bright hall with an open kitchen and a wine cellar. The capacity is only 26 persons, with a separate room for 6 people.
The gastronomic offer includes three menus:
The tasting menu with 9 courses and 2 desserts
The menu of three dishes "a la carte" (at lunchtime and in the evening)
The "Clósicos" menu with 5 plates and one dessert (for lunch only).
The dishes change according to the season. The wine cellar has more than 300 varieties of wines from local wineries. Convenient online booking system.
Michelin stars: ⭐
Prices: $70-164 for the tasting menu (without wine pairing)
What people say on Google: 4.5 stars, 482 reviews
C. de Raimundo Fernández Villaverde, 28, 28003 Madrid
10. Zuara Sushi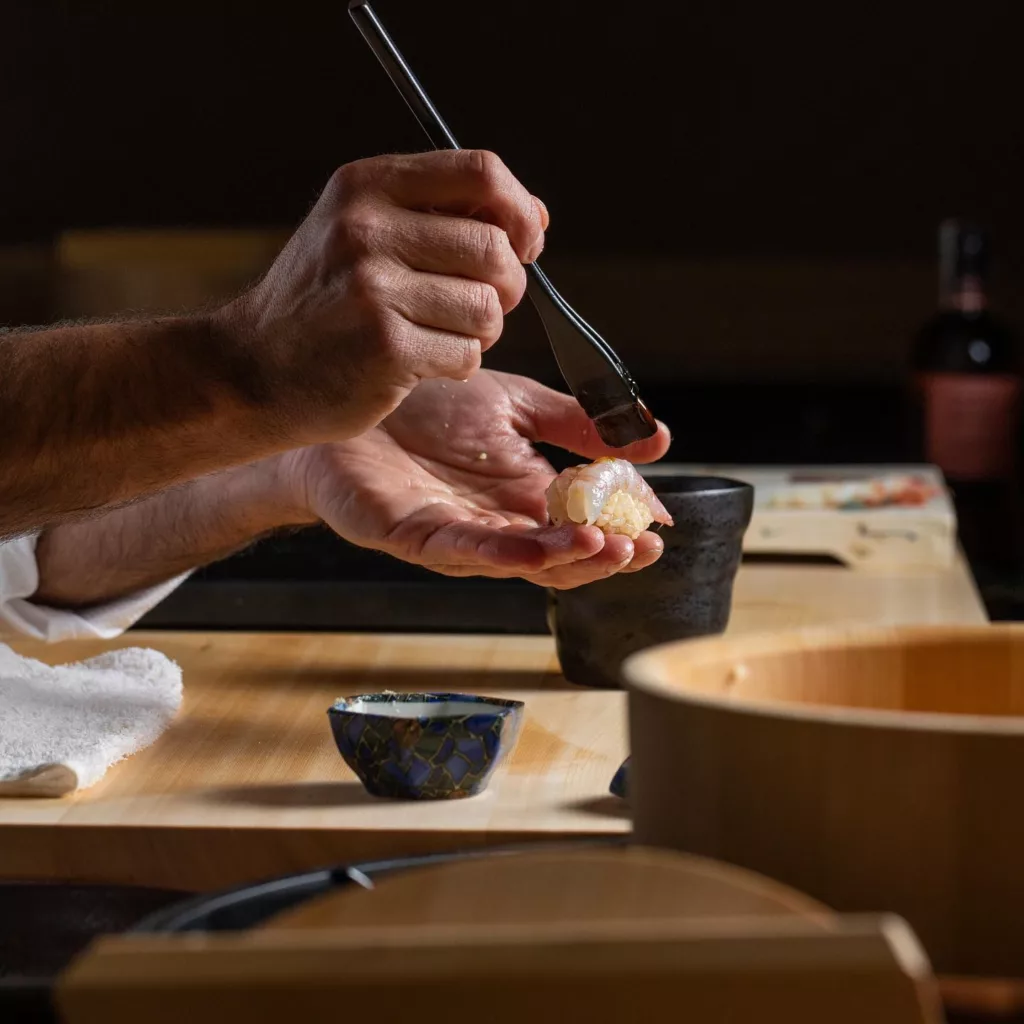 Zuara Sushi, located in the same building as DiverXO, is one of Madrid's most exciting sushi bars. The dining area's sleek Japanese ambiance includes a U-shaped counter highlighting David Arauz's impressive "Itamae" sushi skills.
The menu combines traditional Japanese techniques with Spanish ingredients and includes two delectable options: Zuara and Shibui. Both menus include inventive touches, umami flavors, and delicious nigiri with rice cooked to perfection – firm but melting in the mouth.
Itamae is a Japanese word that refers to the head chef or master sushi maker in a traditional Japanese restaurant. Itamae can also refer to any person who works as an expert food preparer, especially for sushi and sashimi.

The term literally translates as "front of the board," which speaks to their role of overseeing preparation at the work station. Itamae are highly trained professionals with expertise in knife skills, fish selection, presentation, and more; they often have years of experience perfecting these methods before becoming an itamae.
Michelin stars: ⭐
Prices: €165 for the sushi menu (without wine pairing)
What people say on Google: 4.8 stars, 35 reviews
C. del Pensamiento, 28, 28020 Madrid
Other noteworthy Michelin star restaurants in Madrid
Deessa
Gofio
Yugo
Ricardo Sanz Wellington
La Tasquería
Corral de la Morería
Lua
Quimbaya by Edwin Rodríguez
A'Barra
RavioXO
Ugo Chan
El Invernadero
See the map:
The story of Michelin guide Madrid
What a 100-year-old French tire manufacturer has to do with the restaurants?
In the early 1900s, Michelin tried to promote the concept of automobiles to sell more tires, and one way of doing this was to get people to drive more.
Thus, Michelin created the Michelin Guide. They freely distributed the first copies of the handbook between car drivers. These books included maps with useful locations such as hotels and restaurants, as well as mechanics and tire replacement instructions.
Soon after, the company hired inspectors to review and rank the restaurants secretly. The star system was introduced in 1936:
Later, they added main Spanish cities such as San Sebastian, Madrid, and Barcelona to the Michelin guide.
You might permanently change your perception of food! You can see its ability to subvert expectations and senses and transcend its boundaries and become art itself. And stunning service. Six people served my table the first time I went to a fine dining restaurant. Six!
Currently, there are 20 Michelin star restaurants in Madrid, Spain. There are also 17 Bib Gourmand spots and 2 Michelin Green star restaurants.
If you find expensive every Michelin star restaurant I've mentioned above, you can go for a Michelin's Bib Gourmand locations. Bib Gourmand rating is almost a Michelin star, recognizing friendly restaurants and bars that serve quality food at moderate prices.
These are some inexpensive Michelin Bib Gourmand restaurants in Madrid:
Casa Mortero
Vinoteka Moratín
Noi
Tepic
Garelos
La Montería
Taberna Recreo
La Maruca-Velázquez
Treze
Bolívar
Final thoughts
I wish I knew better the story behind each Michelin star restaurant before going there. Sometimes I went unprepared for those restaurants' comprehensive and surprising dining experience, resulting in fatigue and unreasonable expectations.
I hope you won't repeat my mistakes and will be ready for any sophisticated dining. Prepare yourself for the long run of the tasting menu and appreciate every little moment of the Michelin star restaurant experience in Madrid!