51 Things to Do in Madrid, Spain
Nadia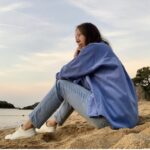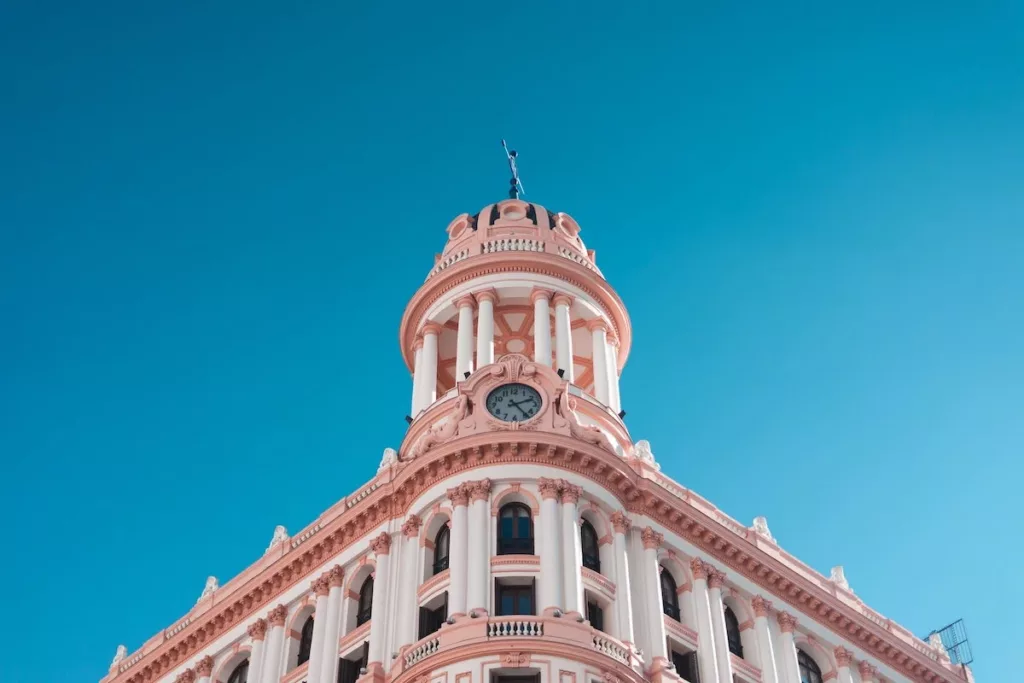 If you visit Spain, there is a great chance you will come to Madrid, especially if it is your first time. When I arrived in Spain, Madrid was the first city I saw. And I instantly fell in love with it.
Madrid is an unforgettable city for anyone seeking to experience the best of Spain. With its vibrant city life, world-famous art galleries, distinctive cuisine, and stunning architecture, it is a must-see destination. No one can deny how breathtakingly beautiful this imperial city is.
Read also: Is Madrid worth visiting?
As someone who grew up in Ashgabat, Turkmenistan, the initial impression that Madrid made upon me was extremely strong, and is still imprinted on my memory to this day. The squares seemed so cozy and beautiful, and the architecture was awe-inspiring (oh, those beautiful balconies draped with flowers and greenery!). And the people were nice and friendly. And then there was the best paella I have ever eaten…
So, make sure Madrid tops your bucket list when visiting Spain; it has loads of charm and character!
In the meantime, let me suggest what I have learned about the Spanish capital, having visited there six times now. Also, you will find the list of absolute must-do's in Madrid that most tourists may not know about.
A complete guide on things to do in Madrid
Here are some ideas, from the most popular attractions to things to do off the beaten path. Remember to have at least 3 days to get the most out of the trip!
Let's begin with the most popular places, then continue to the fun and unexpected revelations.
1. Explore the Prado Museum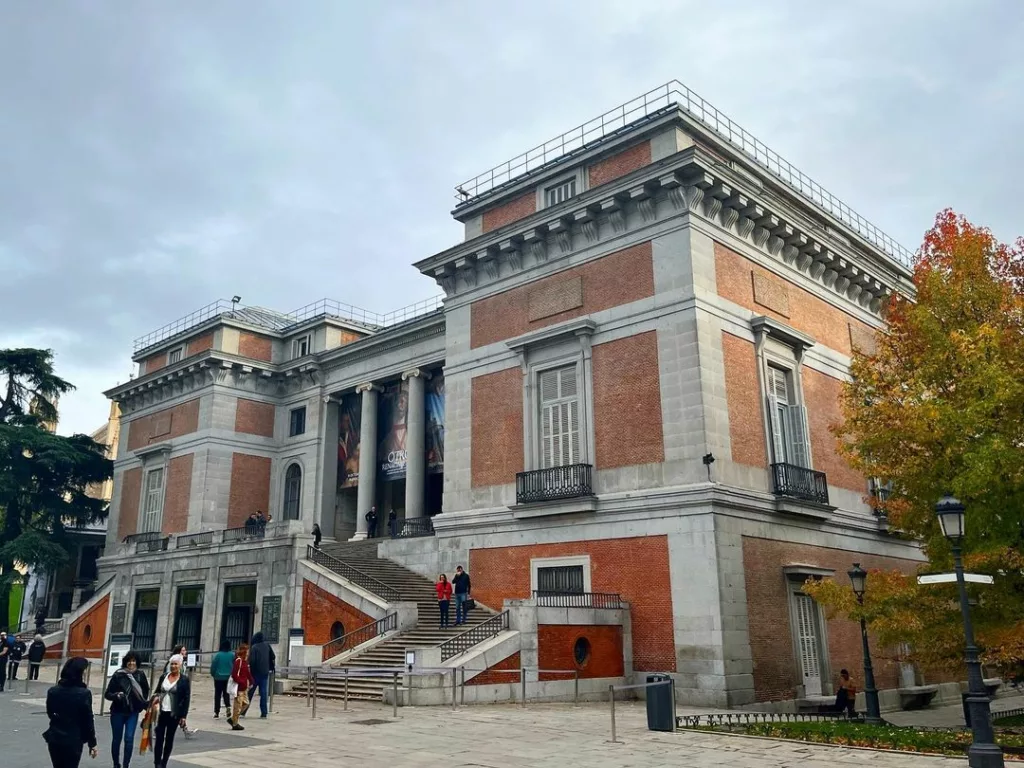 The Prado Museum in Madrid is considered one of the top 10 museums in the world. It is known for its extensive collection of masterpieces by some of the greatest Spanish and European artists.
It features works by Raphael, Titian, Rembrandt, Caravaggio, Goya, El Greco, and Velazquez, among others. You can explore the museum at your own pace and take in the breathtaking paintings, including "The Cardinal" by Raphael and "The Garden of Earthly Delights" by Hieronymous Bosch. The museum offers free entry from 6 pm to 8 pm (Monday to Saturday), and from 5 pm to 7 pm on Sundays and holidays.
And there is a beautiful garden around the museum, too.
Helpful tip I strongly recommend taking the guided tour! Otherwise, you risk missing a lot about the history of Spain and the secrets of the art collection.
Read also: Famous Paintings and Highlights at Prado Museum
2. Visit the Royal Palace of Madrid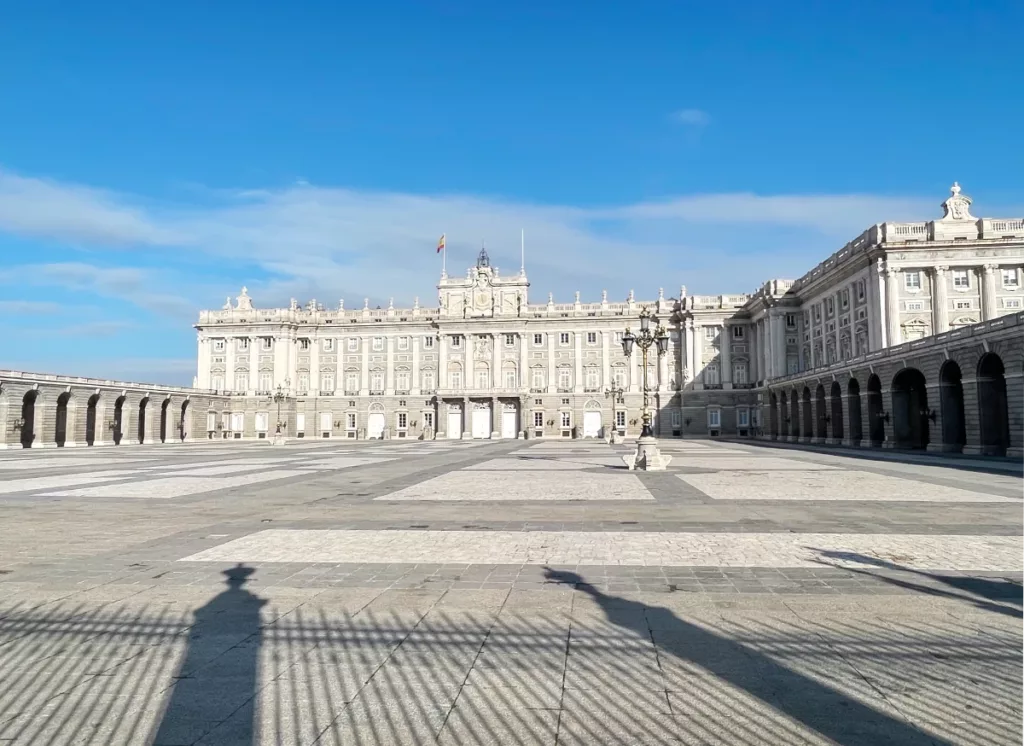 The Royal Palace of Madrid is a stunning example of Spanish architecture and an absolute must-see when visiting the city. Built between 860 and 880 as a castle, it served as a royal residence for numerous rulers throughout history. Today, it is mainly a gorgeous museum that houses priceless items from the past – including paintings by great masters such as Goya and Velázquez.
But even if you do not have time to explore its interior (which can easily occupy several hours), just stepping outside will give you an idea of why this palace has been so important: Its size alone is astonishing! The complex covers 1,450,000 square feet (135,000 square meters) – making it one of the largest royal palaces ever constructed in Europe.
Outside the building, you will find some other exciting sights – like Sabatini Gardens or Campo del Moro Gardens, with views over the Manzanares river.
3. Stroll around Retiro Park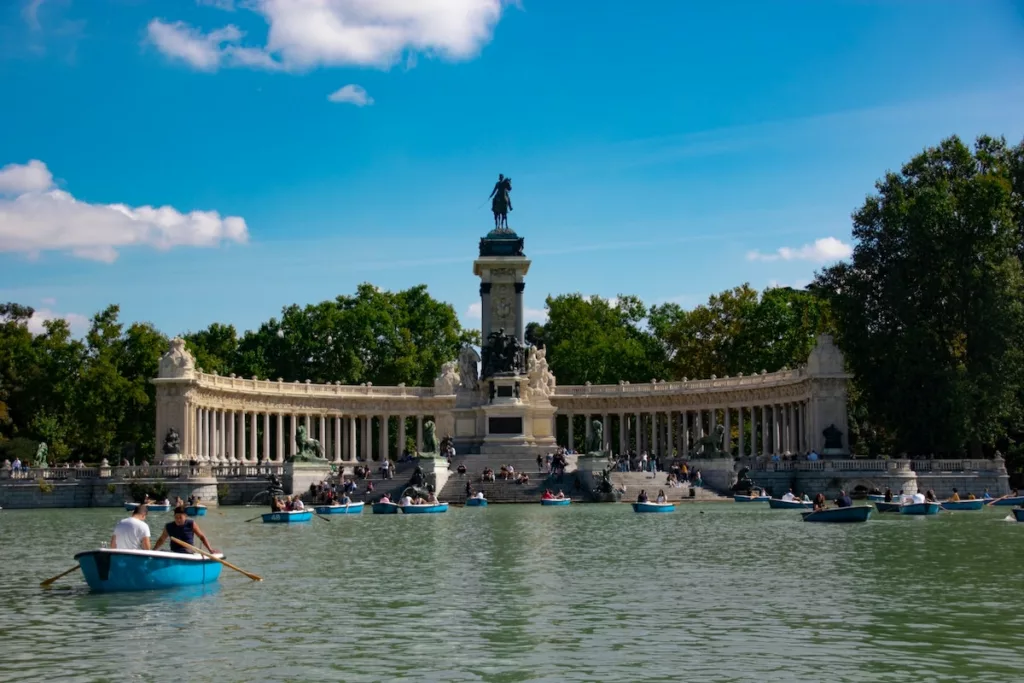 Retiro Park is a beautiful and tranquil oasis in the center of Madrid, like Central Park in New York City. It covers over 350 acres, including two large man-made lakes.
Located just steps away from popular tourist destinations such as Plaza Mayor or Puerta del Sol, the park offers a chance to relax and explore its array of sights.
What to do in El Retiro park
See its expansive rose garden.
Explore El Palacio de Cristal (the Crystal Palace).
Boat on either lake.
Attending one of many outdoor concerts (during summer months).
Bike through winding paths lined with trees shading your way.
Chill, relax, and recharge.
4. Check out Plaza Mayor square
Not as popular as Puerta del Sol, Plaza Mayor offers a more relaxed atmosphere. It features nine entrance arches with stunning balconies decorated with historic statues.
It is also steps away from many popular draws like El Prado Museum, Royal Palace, and Retiro Park – making it an ideal starting point for exploring the city.
There are also some lovely cafés for breakfast:
Read also: 10+ Best breakfast spots in Madrid
5. Visit Puerta del Sol Square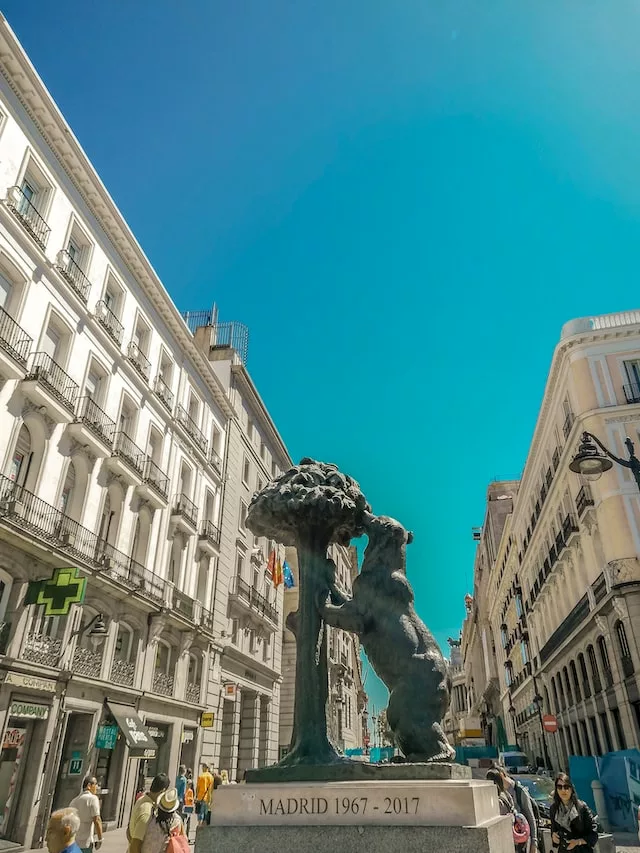 Puerta del Sol ("Gate of the Sun") is one of Madrid's most iconic and bustling squares. Located in the city's heart, it serves as a meeting point for locals and tourists, with easy access to many streets, shops, restaurants, and historical monuments.
It has been an important part of Spanish culture since medieval times when local merchants used it as a market square. Today Puerta del Sol remains one of Madrid's main tourist destinations due to its vibrant atmosphere that reflects both past and present-day Spain.
The most famous landmark in Puerta del Sol is El Oso y el Madroño (the Bear & The Strawberry Tree), which dates back to the 16th century.
It was Puerta del Sol where Franco led his victory march after overthrowing Republic rule during World War II.
See also:
Casablanca Clock Tower.
Statue honoring Miguel de Cervantes.
Statue dedicated to King Carlos V.
On any given day, you can find people gathering around these landmarks taking selfies with statues, or simply enjoying their time together.
Helpful tip The square can be very crowded!
6. Tour Santiago Bernabéu Stadium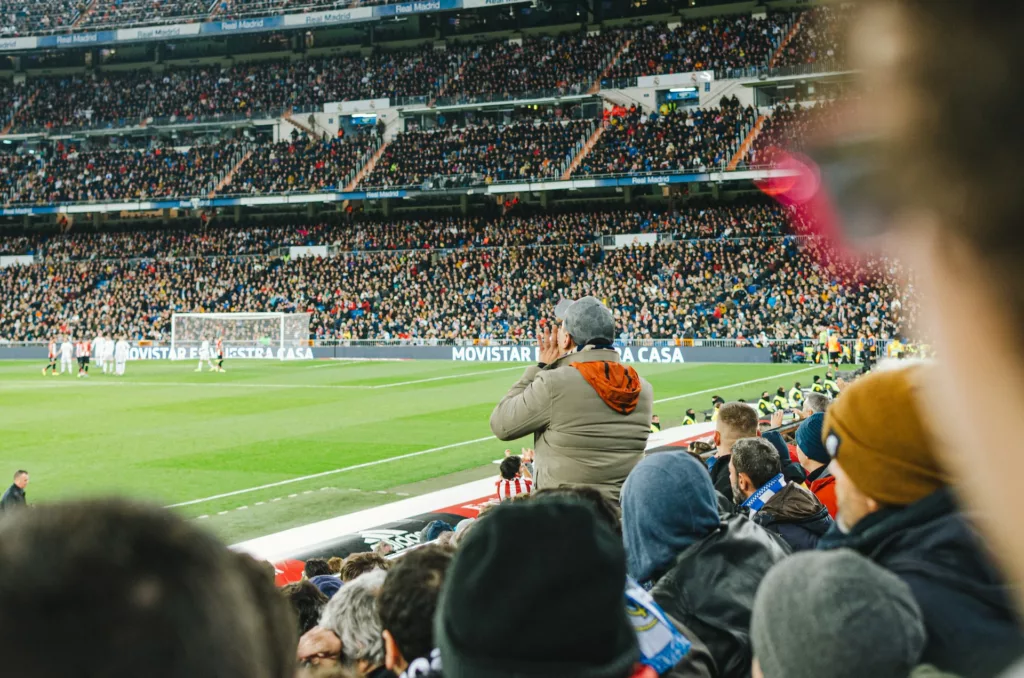 Visiting the Santiago Bernabeu Stadium is incredibly simple – no need to book in advance. Just head to the box office and purchase tickets. The trophy rooms are breathtaking, and the grounds are stunning – it is definitely a highlight of Madrid.
A "Campo de Futbol" match is even better: The Santiago Bernabeu looks fantastic when everyone is packed in the stands and cheering. It is the only stadium in Europe with a retractable pitch, retractable roof, and a halo display!
Helpful tip If you decide to visit the stadium on the day of a game, the locker rooms will be off limits.
7. Admire artworks at Museo Thyssen-Bornemisza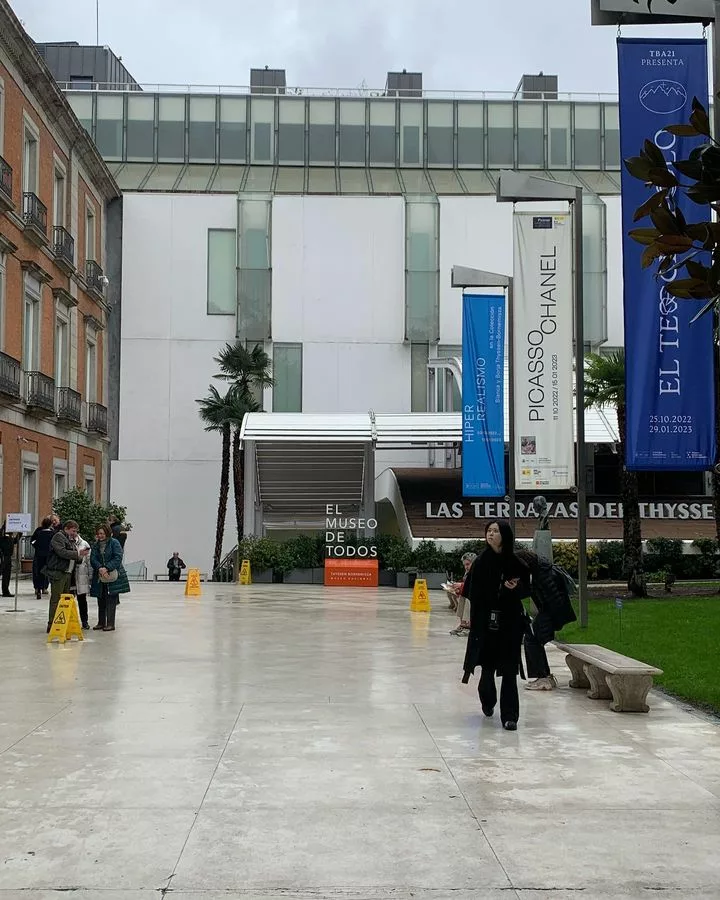 The Museo Thyssen-Bornemisza is a relatively new art museum that is part of the city's Golden Triangle of Art. It houses an extensive collection of artworks derived from one of the most renowned private collections of the 20th century, the Thyssen-Bornemisza collection.
The collection now includes over 1,500 works from 800 years of art history. Some of the most notable and famous pieces include Jan van Eyck's "The Annunciation Diptych," Albrecht Dürer's "Jesus Among the Doctors," Titian's "The Penitent Saint Jerome," El Greco's "The Annunciation," Caravaggio's "Saint Catherine of Alexandria," Peter Paul Rubens's "Venus and Cupid," and many more.
Helpful tip Thyssen-Bornemisza is pronounced as [ˈtisem boɾneˈmisa].
Read also: What to see in Thyssen Museum, a complete guide
8. Take a tour of Teatro Real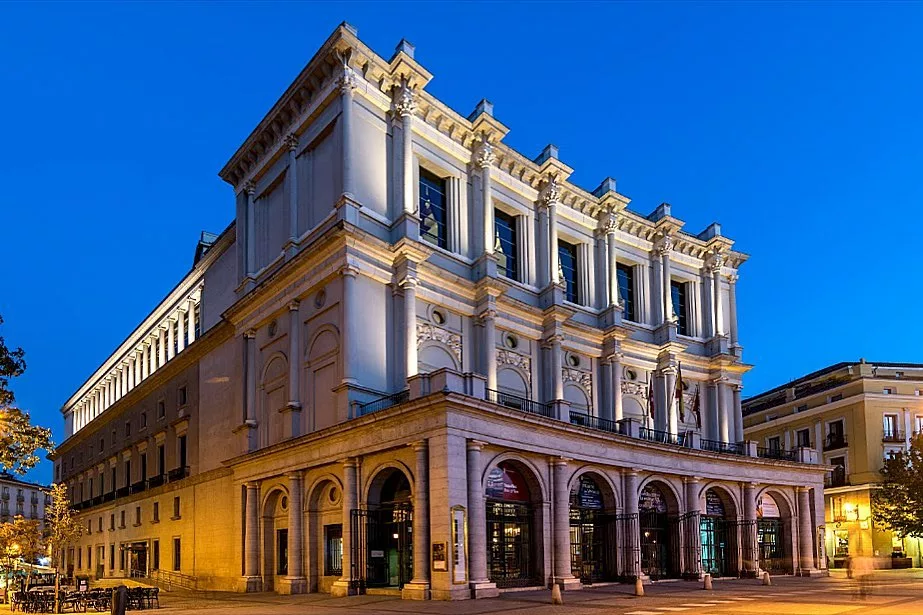 Teatro Real Opera House is one of Spain's premier cultural institutions. Founded in 1818, it has hosted some of Europe's most incredible operatic performances, including pieces by Rossini, Llorca, Prokofiev, Puccini, Wagner, and Mozart.
The building itself is an architectural masterwork with its ornate neoclassical design that draws inspiration from ancient Greek theaters. Its interior décor features elaborate frescoes and sculptures depicting scenes from Spanish history and traditional opera themes such as love, passion, and tragedy.
You can take guided tours to explore its halls, including dressing rooms, rehearsal spaces, and even a museum dedicated solely to opera costumes. You will also get access to box seats where you can watch live shows or admire the view of Plaza de Oriente Square below.
Opening hours: Monday-Sunday, 10 am-4 pm.
Tickets: $10 (with a reduced price for those over 65, under 26, and large families).
https://www.teatroreal.es/en/tours
9. Shop for souvenirs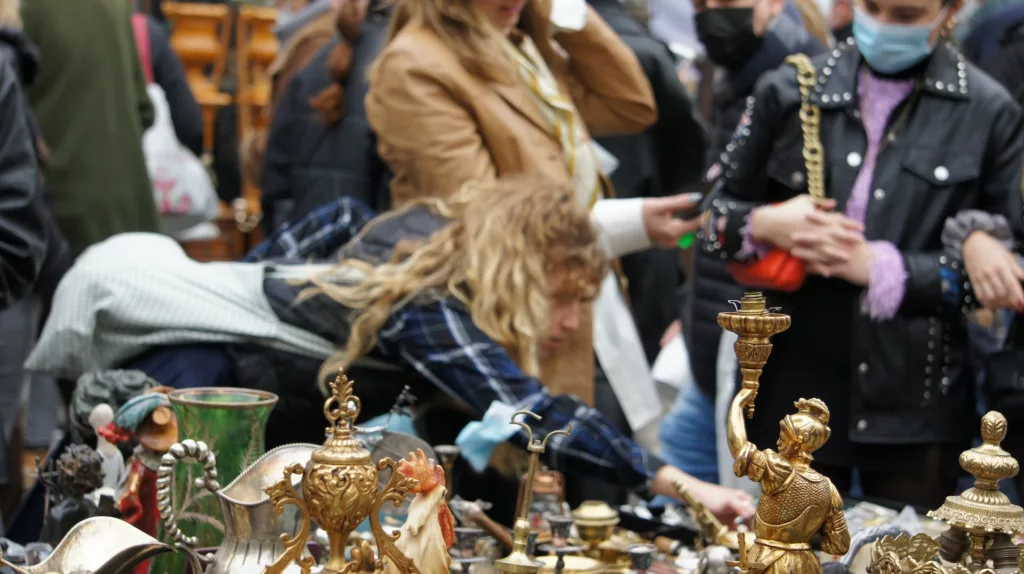 Madrid is a great place to find souvenirs for yourself or your friends. Many shops in the Puerta del Sol area sell traditional items like magnets that say "Madrid," castanets, key chains, t-shirts, etc.
If you are looking for something less traditional, El Rastro market on Sunday is an ideal spot to find leather goods and pottery imprinted with your name. There are bullfighting or flamenco dancing posters available too.
The best places to buy souvenirs in Madrid
Puerta del Sol & Plaza Mayor
Gran Vía street
Madrid al Cubo store. They have homemade souvenirs!
Mercado El Rastro. Nice and cheap, but do not go to the first kiosk you see. Going to El Rastro is also a great way to spend your Sunday morning. Check out some of the interesting little cubicles and tapas places.
Calle de Toledo street, in the beginning, near Plaza Mayor.
Souvenirs from the museum shops: Prado, Reina Sofia, Thyssen (these are not cheap).
La Central de Callao bookstore. Their souvenirs are unusual and some are even eccentric.
Sunday flea market in Embajadores/Lavapies neighborhoods. You will find classic cheap souvenirs (magnets/key chains for $1) and more handmade or thematic souvenirs at reasonable prices.
10. Enjoy tapas and drinks in La Latina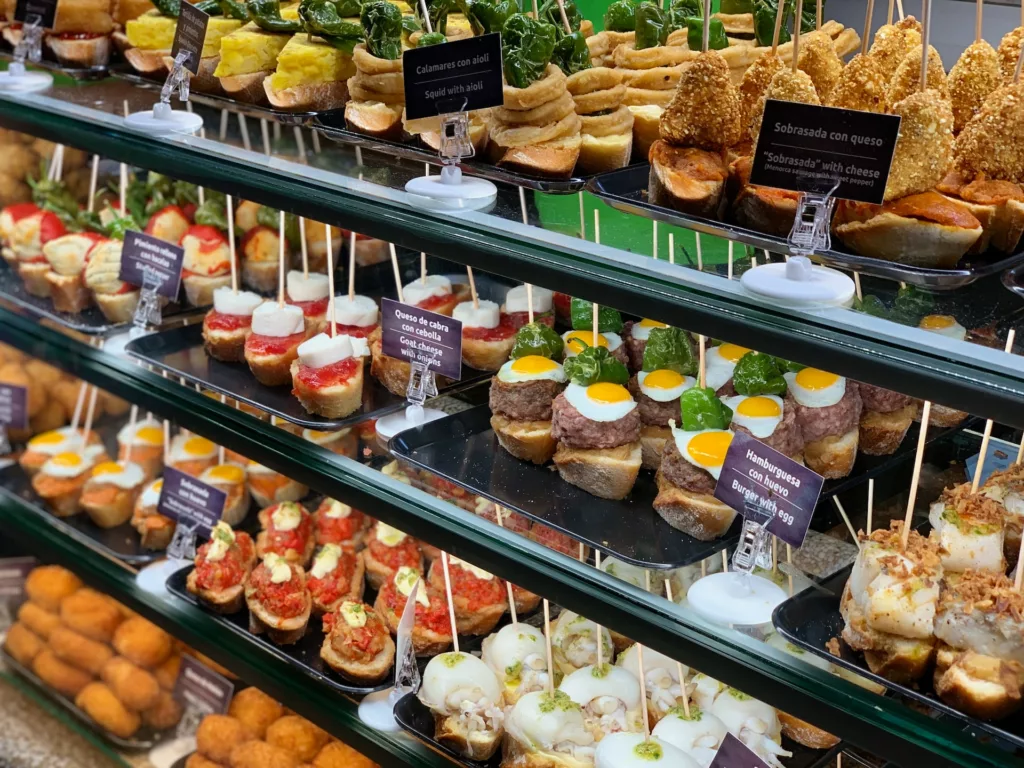 La Latina is a quiet, laid-back neighborhood known for its variety of culinary delights. There are a lot of nice restaurants, cozy wine bars, and markets in this area, including El Rastro market.
Check out the following restaurants:
Casa Amadeo los Caracoles serves up snails as their specialty dish.
La Barca del Patio with tapas like "shrimp with beer."
Sidrería Casa Antonio with Asturias' traditional "Cachopo" (a deep-fried dish consisting of two thin slices of veal or beef steak, usually filled with cheese and ham, served with vegetables, mashed potatoes, or French fries).
11. Marvel at artifacts from Ancient Egypt in Templo de Debod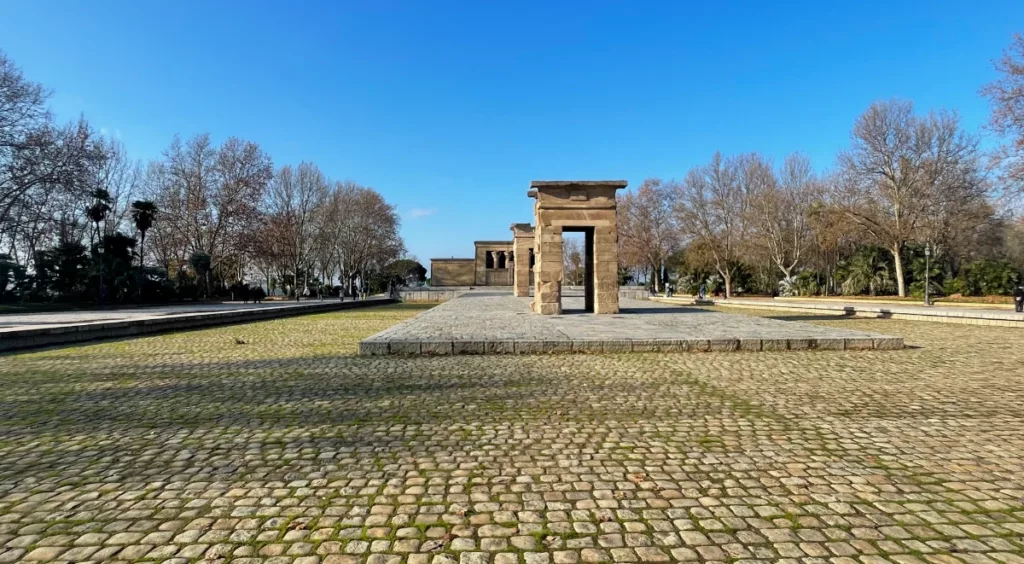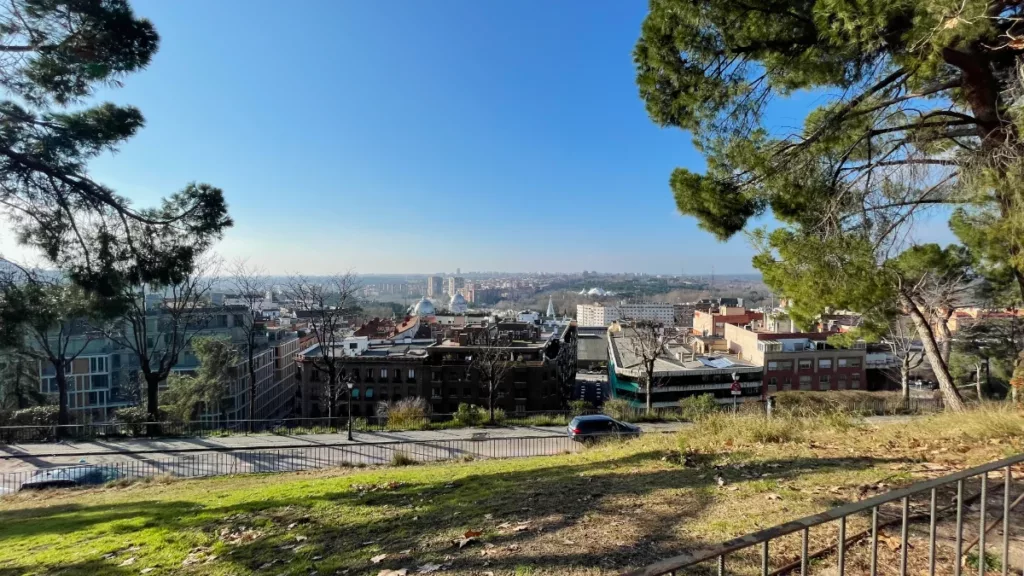 The Egyptian Temple is located a little off the beaten tourist path. Enjoy the views of the Royal Palace and the city. The best time to visit is at sunset or on a sunny day.
The temple dates back to around 200 BC and was initially built near Aswan along the banks of the Nile in southern Egypt. In 1960, when the High Dam on the Nile caused flooding, UNESCO declared that some ancient temples would need to be relocated if they were to be preserved. The Egyptian government offered two monuments as a gift – one of them was the Temple of Debod – to countries that could help with their relocation.
Spain accepted this offer, sending engineers and archaeologists to disassemble and transport it stone by stone across Europe. Finally, in 1968 it arrived at its new home in Madrid, where it was reconstructed on top of an artificial hill designed especially for this purpose. Nowadays, you can explore this historic monument free of charge.
12. Try "Churros con chocolate"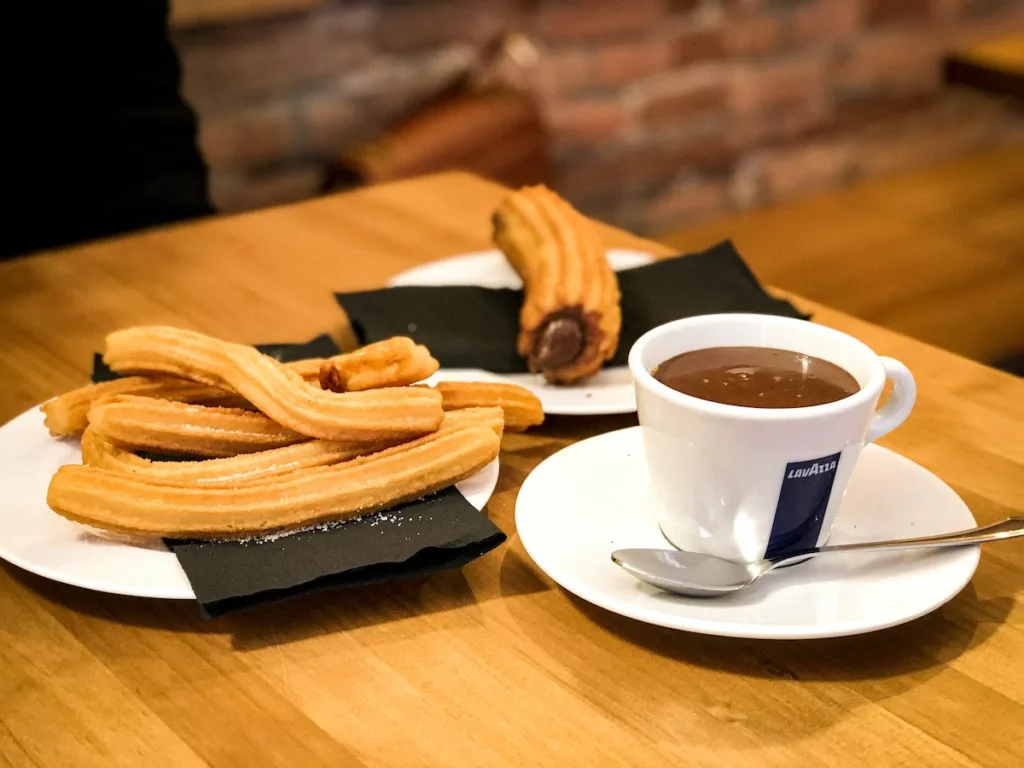 Churros are deep-fried, tube-shaped pastries that are a popular snack in Spain. They are usually served with a thick hot chocolate sauce and sometimes sprinkled with sugar.
The best churros in Madrid:
Chocolat Madrid: They have yummy churros, and it is also a good breakfast spot.
Chocolatería San Ginés: Do not just order churros! Try "Porras", the bigger ones! And you can share the chocolate because it is very thick and plentiful.
13. Catch some flamenco shows by night
Flamenco is a highly improvisational form of Spanish folk music and dance originating from the Andalusian region of Spain. Flamenco art is about passionate dances and singing accompanied by a guitar and clapping.
I recommend going to Corral de la Moreria for dinner and a flamenco show. It has been the most popular destination for flamenco in Madrid since it opened its doors in 1956. It offers an intimate setting where you can experience traditional Spanish culture.
14. Relax at Parque del Oeste
Parque del Oeste is one of the most popular parks in Madrid, located on the city's western side.
The park covers an impressive 217 acres and features many attractions, such as manicured gardens, playgrounds, and ponds. It also has two beautiful monuments; a replica Statue of Liberty (near the entrance) and an obelisk dedicated to victims of Fascism.
15. Spend an afternoon visiting Palacio de Cristal (El Retiro)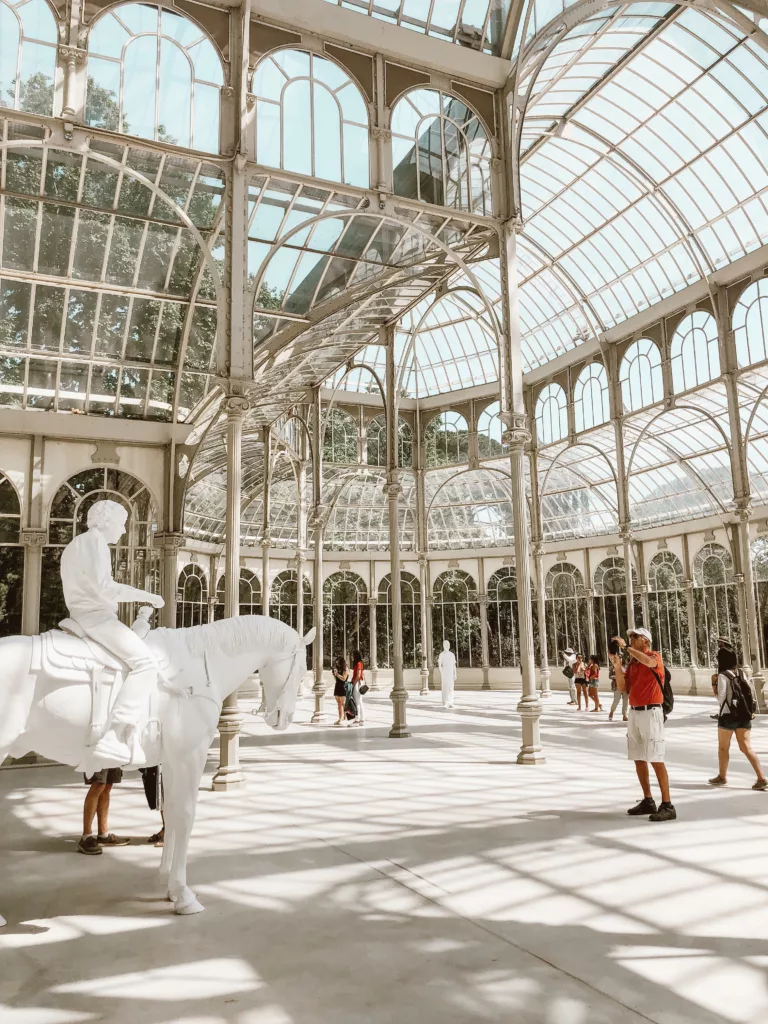 The Crystal Palace is a magnificent neo-Renaissance palace in Retiro Park made of glass. Built between 1887 and 1892 for the US Ambassador to Spain Francis B. Loomis as a residence, it was then donated to Madrid as an exhibition hall under the name "Palace of Fine Arts."
Today, you can explore its stunning glass dome with views over Retiro Park. The art exhibitions in the space are constantly changing, so you can experience some really cool things depending on when you visit.
It is also a great spot for relaxing and people-watching, completing your El Retiro Park exploration.
16. Wander through Sabatini Gardens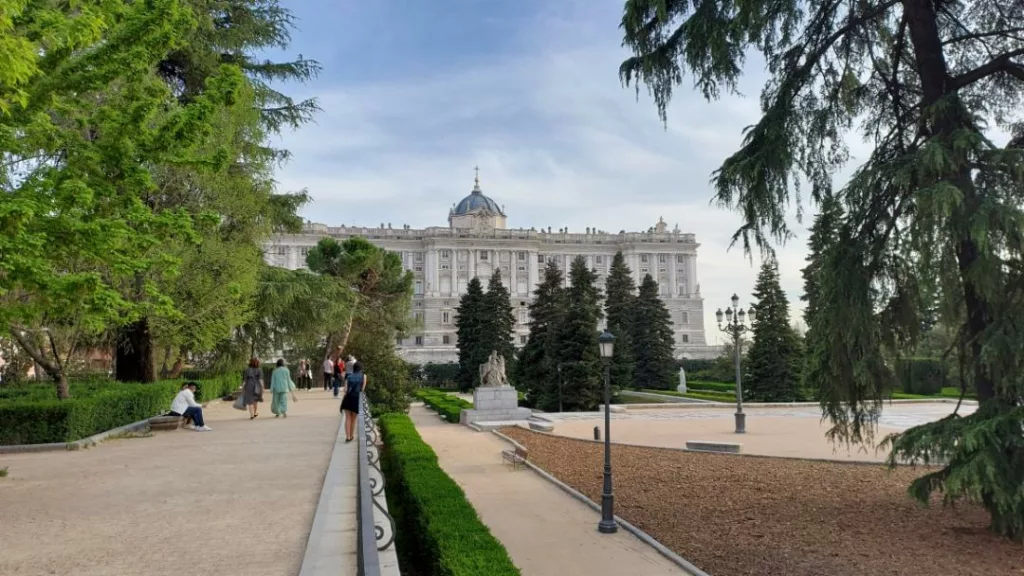 TL:DR; Free entrance, cozy gardens, and a beautiful view of the Royal Palace of Madrid.
The gardens were designed by Italian architect Francesco Sabatini between 1777 and 1781 for King Charles III as part of his Royal Palace complex.
The grounds feature a mix of French-style formalism with Spanish-style elements such as Castilian fountains, orange trees, and rose bushes. On either side are two large ponds, which give an atmosphere reminiscent of an English park or garden setting.
There is also a large central fountain surrounded by statues representing four major rivers at that time – Guadalquivir (Spain), Loire (France), Danube (Germany), and Tagus (Portugal).
17. Walk along Calle Cava Baja
It is a nice street for tapas and drinks, with old-world charm, narrow cobblestone lanes, and quaint buildings lining both sides. Visit La Latina Church from 1743, go to El Botin Restaurant (it is known as the oldest restaurant in the world), and Plaza de la Paja, where bullfights used to take place.
18. Explore the Cathedral de la Almudena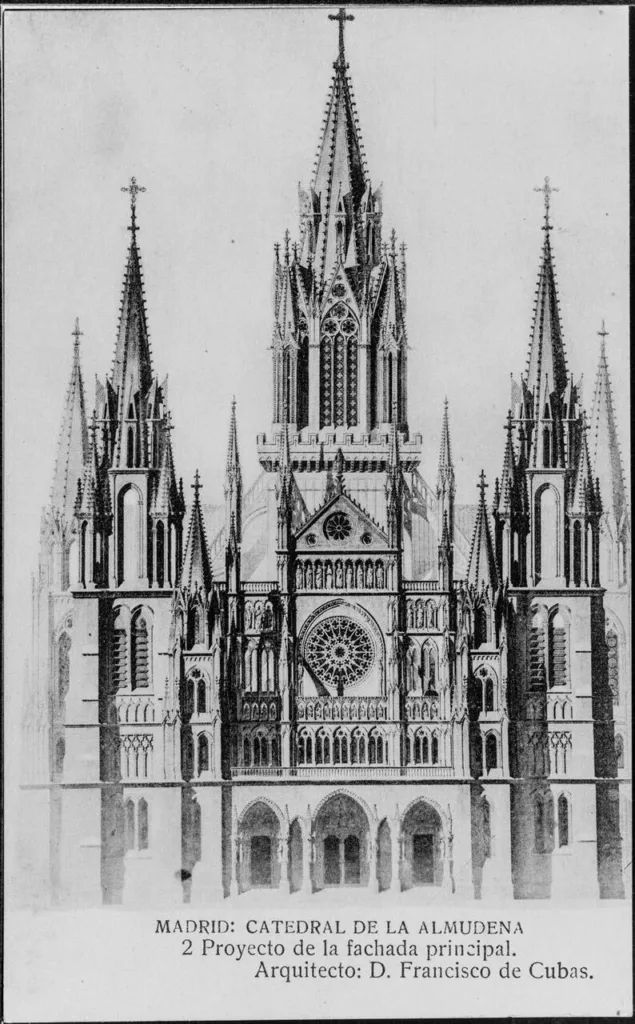 The Cathedral of la Almudena in Madrid is a contentious attraction due to its sometimes conflicting history. While Pope John Paul II consecrated the cathedral in 1993, it has been under construction since 1885. Many locals have complained that the structure should have been finished much earlier.
Additionally, some are critical of the building's design which strays from typical Spanish architecture and instead leans more towards neo-Romanesque forms.
Finally, there has also been controversy surrounding the fact that half of the funds for this cathedral were donated by King Juan Carlos I (who abdicated his throne only two months before its consecration ceremony took place).
19. Soak up views over Casa De Campo Lake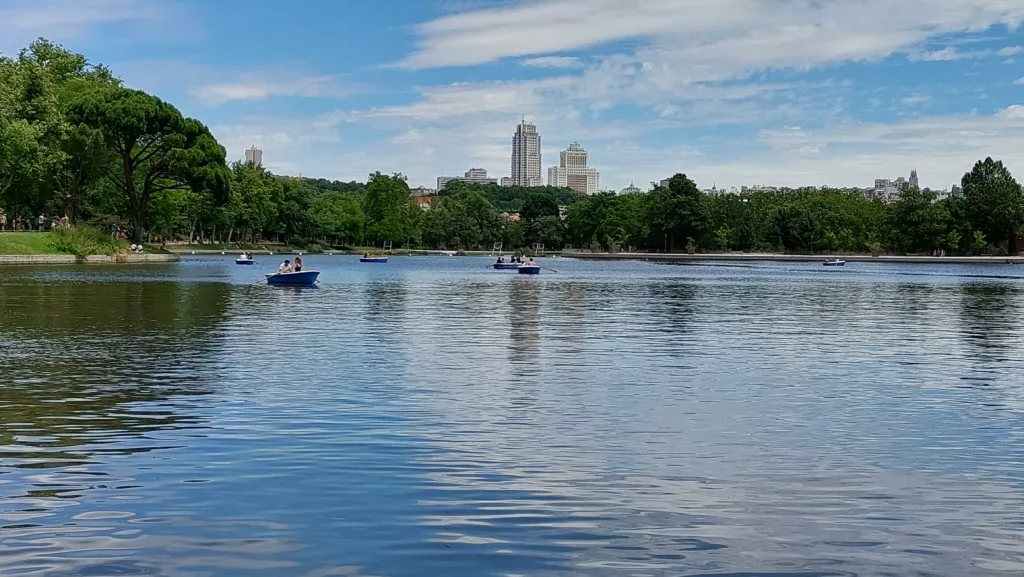 Casa de Campo Lake is a stunning recreational area with breathtaking city views. Located on the edge of the Manzanares River, this artificial lake supports irrigation and drinking water for nearby towns.
There are several walking trails with different levels of difficulty and bike paths running along both sides of the riverbank. Apart from being a great outdoor retreat within easy reach from downtown Madrid, Casa de Campo Lake is a popular destination among locals due to its many bars and restaurants.
20. Have a fine dining experience
Madrid is packed with prestigious restaurants, many of which have been awarded Michelin stars. As of this article, there are 22 Michelin-star restaurants in the city.
Where is it worth spending money and getting a real gastronomic "wow factor"? Here is a detailed guide of the best Michelin-star restaurants in Madrid.
My picks:
DiverXo (extremely expensive, hard to book)
Clos
DSTAgE Madrid
21. Eat at El Comunista
Located in Madrid's Chueca neighborhood, with its home-style cooking at reasonable prices, family-style service, and authentic decor, El Comunista is a perfect place to get to know the traditional cuisine of Madrid.
22. Have coffee at Cafe Gijon
This cafe has been around for a long time, featuring illustrations and poems from its famous Spanish patrons. Overall, it is nice location, with a lovely atmosphere, and a bit of expensive coffee.
23. The Pantheon of Illustrious Men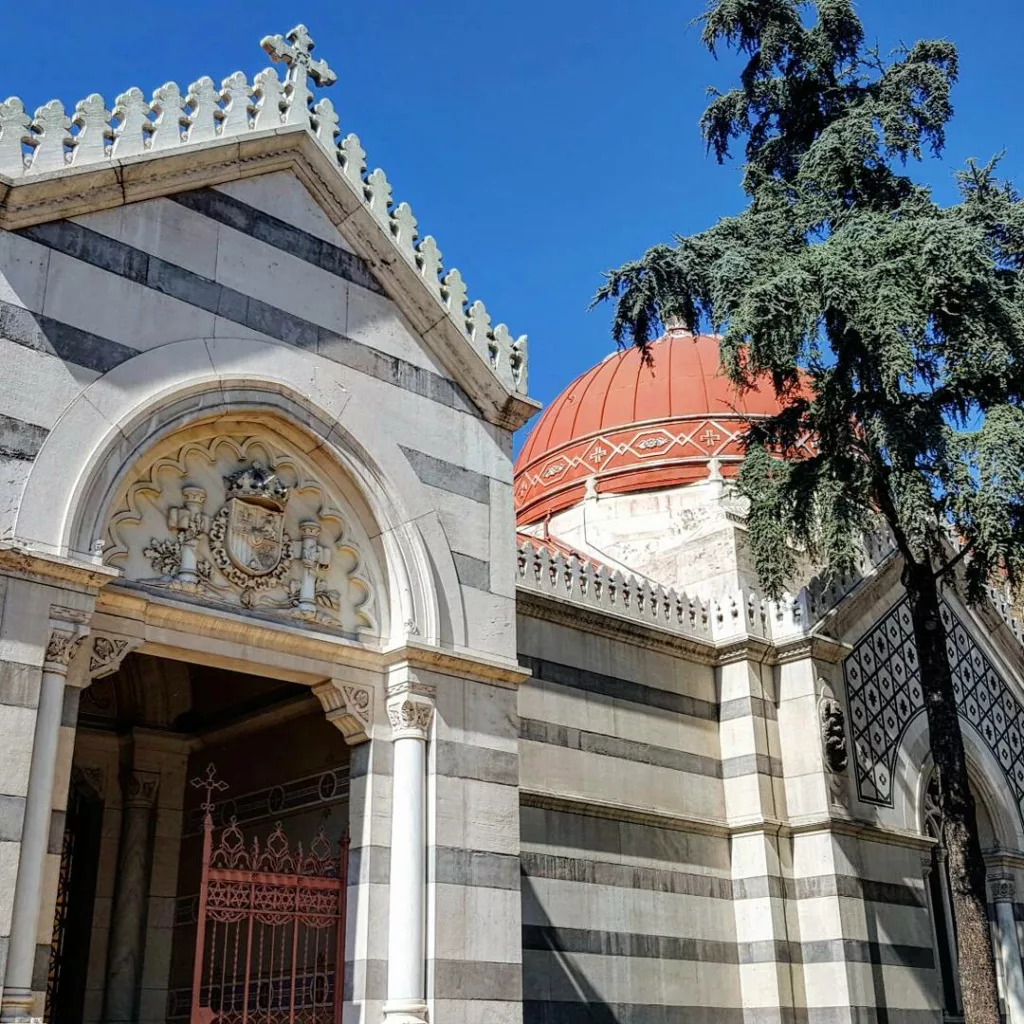 It is a beautiful building in the Basílica de Nuestra Señora de Atocha cloister. Spanish politicians and public figures from the 19th century are buried there.
24. Royal Tapestry Factory (The Royal Palace)
Located within the walls of El Palacio Real, this unique museum and factory offer an insight into the artistry and craftsmanship that goes into creating some of Spain's most exquisite tapestries. Its collection includes works dating from medieval times to modern designs created by contemporary artists.
In addition, there are also exhibits showcasing historical artifacts related to Spanish weaving traditions, all providing engaging information about how this ancient trade has evolved.
So if you are looking for something different during your visit, do not to miss out on this factory; it is well worth it!
25. Find a restaurant on any narrow side street
Such a thrilling experience – find a place to eat in any neighborhood that feels like you are the only non-native there. I suspect you will feel very welcome.
26. Go to Mercado Maravillas
This is the best municipal market in Madrid, and not touristy at all. It is a local market shopped by locals. You will find some great national and international products, fruits, a variety of cheese, and fresh fish.
I really love European markets because you can eat there the food you choose on the premises 
27. Attend festival in San Sébastien de Los Reyes ("Sanse")
To the north of Madrid, there is a town called San Sébastien de Los Reyes.
It puts on a week-long festival, "Fiestas del Cristo de los Remedios" which runs in the last week of August. It is known for its traditional running of the bulls, which dates back to 1525. The festivities attract thousands of visitors from all over Spain. You will also enjoy the varied recreational offerings available at this event.
28. Go wine tasting at Madrid & Darracott store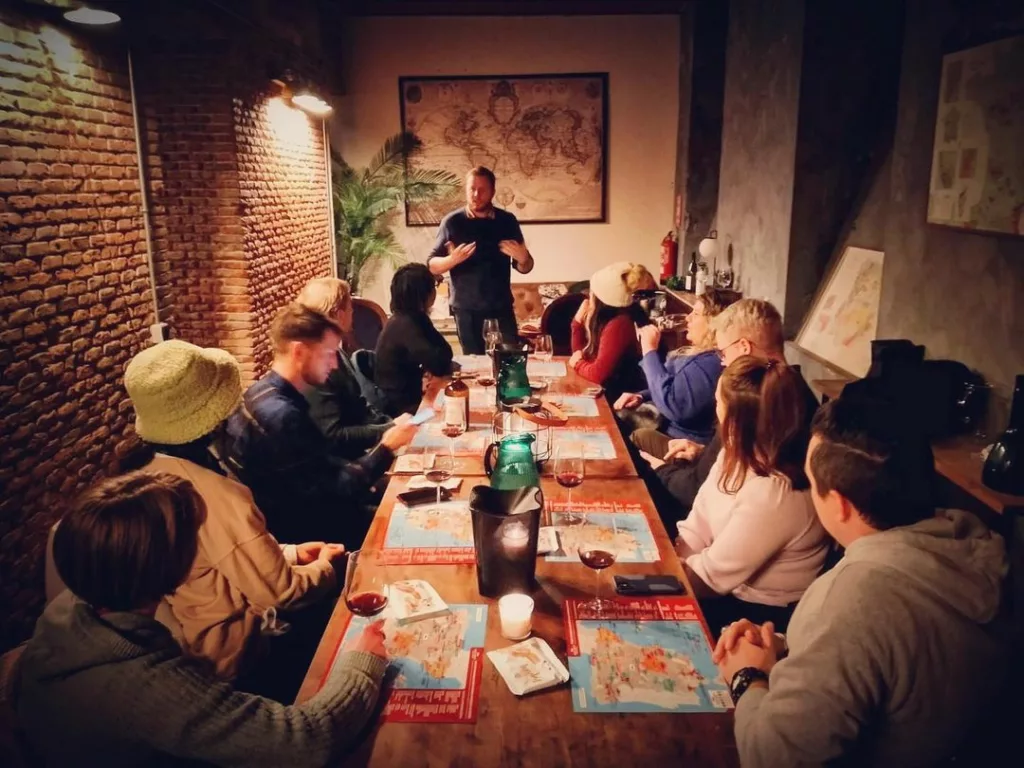 It is in English, and you will learn a lot about Spanish wine. They have a daily tasting from 5 pm to 6 pm for €18 per person. The experience includes 3 glasses of wine
https://www.madriddarracott.com/en/
29. Explore Platform Anden 0–Chamberí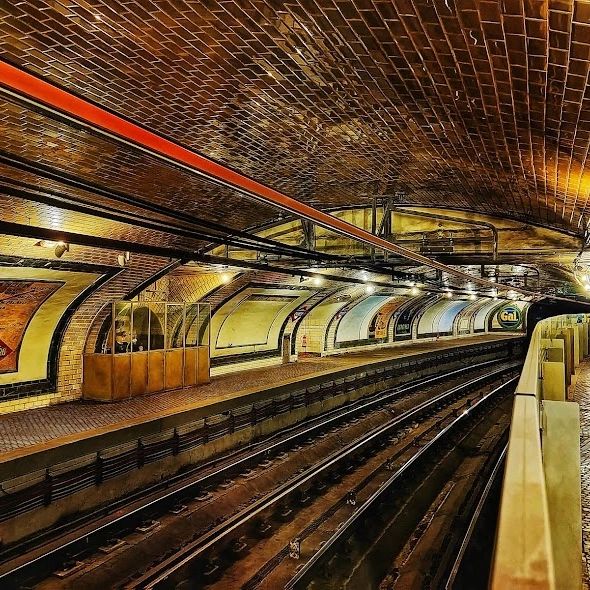 It is an old abandoned metro station frozen in time when in was decommissioned, with all the old posters and attributes! It offers special hours, guided tours, and is free to enter. The metro museum at Chamartín is also lovely. You will need to make a reservation, but tickets are free.
30. Walk through Calle de Príncipe de Vergara and Calle Bravo Murillo streets
These streets have local vibes, good food options, and are very safe. Easily accessible via public transportation. It is a nice place to people-watch, browse shops, and grab something to eat.
31. Get a tortilla from Casa Dani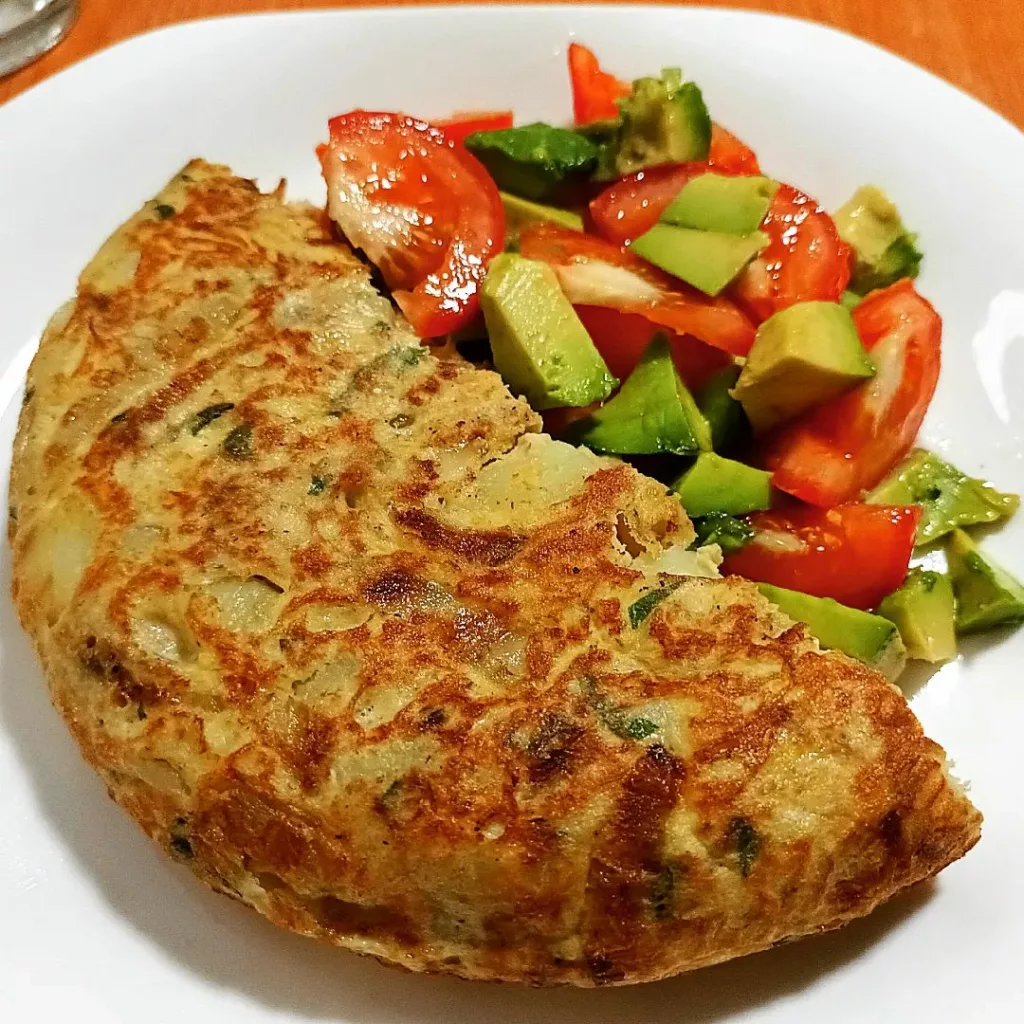 If you want a taste of traditional Spanish cuisine, then Casa Dani in Madrid is the place to go. This family-owned restaurant has been serving delicious dishes since 1879. Their signature dish is "tortilla de patata," – also known as the Spanish omelet. It is made with potatoes, onions, eggs, and olive oil cooked together until they reach perfection.
32. Go to a rooftop bar at sunset
Look for a rooftop terrace bar and have a drink at sunset. Or go to Boqui's jazz bar. Rooftop drinks are trendy in Madrid, and this is a lovely bar with big band performances.
33. Casa Toni for home cooking
It is another great spot to try local cuisine and tapas in a relaxed atmosphere. Order your food from the counter, eat, drink, repeat.
34. Visit the History Museum of Madrid
The Museum of History of Madrid offers an enjoyable and different way to explore the city's history. Through its permanent exhibition, large-scale model, and gorgeous interior, you can learn about Madrid's trajectory from Philip II choosing it as Spain's capital in 1561 to the first decades of the 20th century. The museum offers free admission to children accompanied by an adult on Sundays (except in August).
35. Grab a squid sandwich around the Plaza Mayor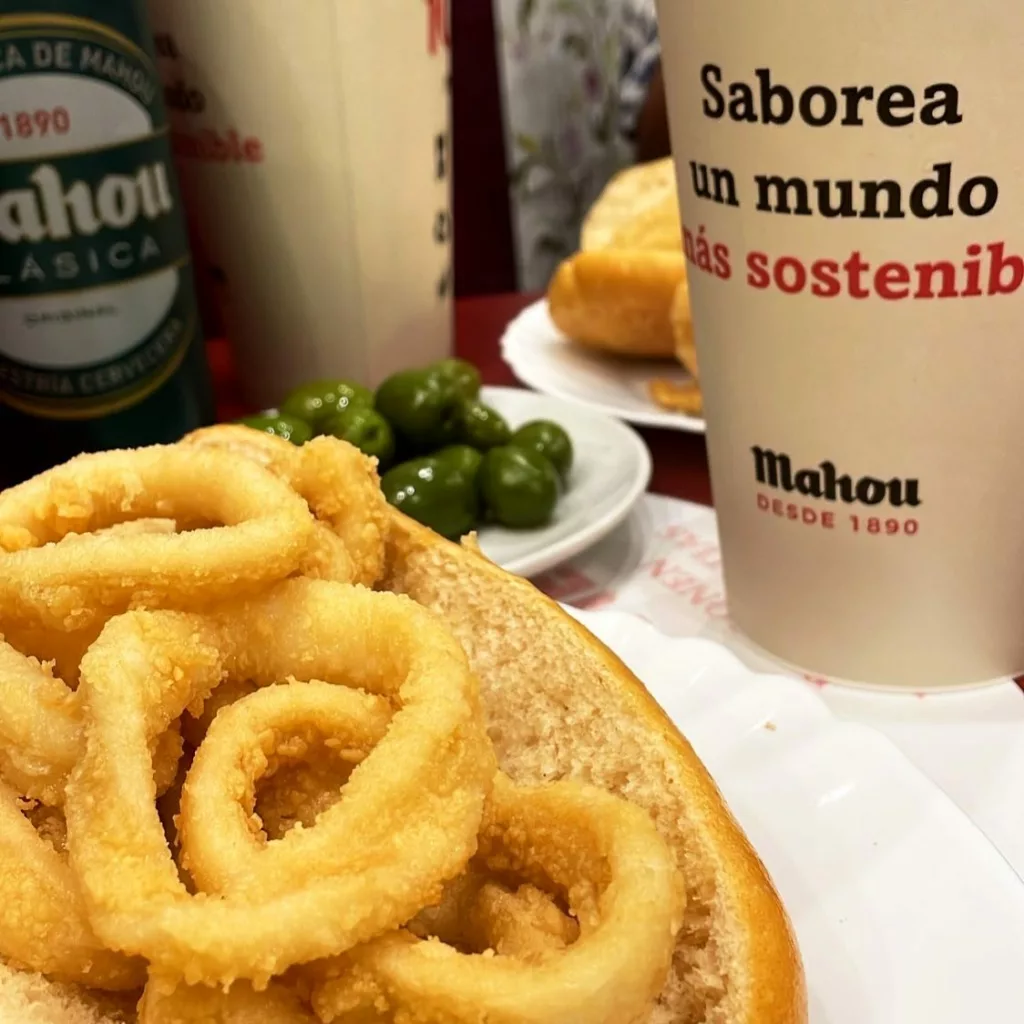 "Bocata de calamares" is a very typical sandwich in Madrid. And the texture of the squid rings adds an enjoyable crunch. Yummy!
Why is it so popular in Madrid? Perhaps due to the gastronomic and cultural influence of Andalusia in the 19th century, combined with factors like the difficulty of transporting fresh fish from coastal areas to Madrid and its popularity among locals in bars around Plaza Mayor in the 1950s.
The best squid sandwich establishments in Madrid:
Bar Postas
La Campana
Vincci Centrum
El Brillante
La Ideal
Cervecería Sol Mayor
36. Visit Sorolla museum, a hidden gem of Madrid
The Joaquin Sorolla house-museum in Madrid showcases the works of the artist known as "the Master of Light." The museum allows you to see different periods of the master's artistic life, from social criticism and family portraits to everyday life and self-portraits. It also features sculptures, ceramics, jewelry, old photographs, and a rich archive of personal correspondence. Additionally, works by other authors such as Benliure, Rodin, and Bloy can be seen at the museum.
37. See Berlin Wall Park
This park has housed the remnants of the Berlin Wall since 1990. It features a monument dedicated to Ludwig von Beethoven and a bear representing the city of Berlin. You will also see ornamental fountains, playgrounds, and large open spaces with woodland.
38. Explore Liria Palace
Liria Palace boasts an impressive private art collection, including works from Goya and Velázquez, sculptures, furniture, etchings, and historical documents. The palace was originally built between 1767-1785 by architects Louis Guilbert and Ventura Rodriguez. You can take guided tours to explore its rooms filled with artwork, a library containing 18,000 prints, including a first edition Don Quixote and manuscripts from Christopher Columbus!
39. Take a day trip to Toledo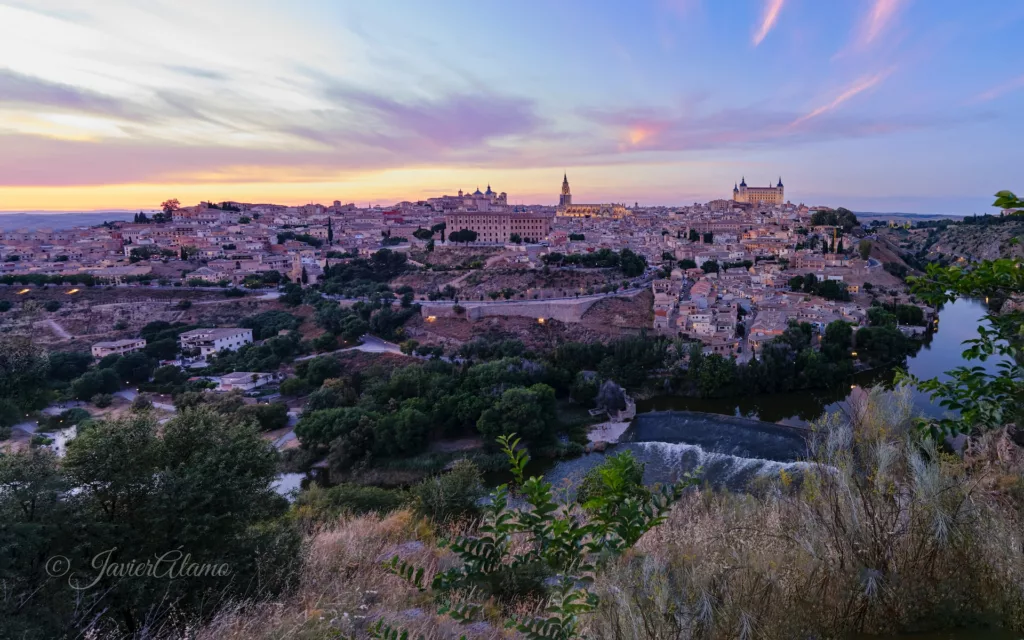 I love this quote about Toledo: "It is a small city with a big personality." And it is really close to Madrid!
Toledo is a cultural treasure and Spain's former capital during its Golden Century. The city center has been declared a UNESCO World Heritage Site for its unique architecture, influenced by Roman, Visigothic, and Moorish civilizations.
Strolling the narrow streets of Toledo's historic quarter will take you back centuries ago with medieval buildings at every turn – an experience not to be missed!
How to get to Toledo from Madrid
By train: You can take a train that regularly departs from Atocha or Chamartin railway stations. The ride lasts 33 minutes and costs around $16 one-way.
By bus: There are also regular bus services connecting Toledo with various stops in Madrid, including Principe Pio station. This route usually takes one hour. Prices start at $7 one way per person.
Read also: Best things to do and see in Toledo
40. Sample Patatas Bravas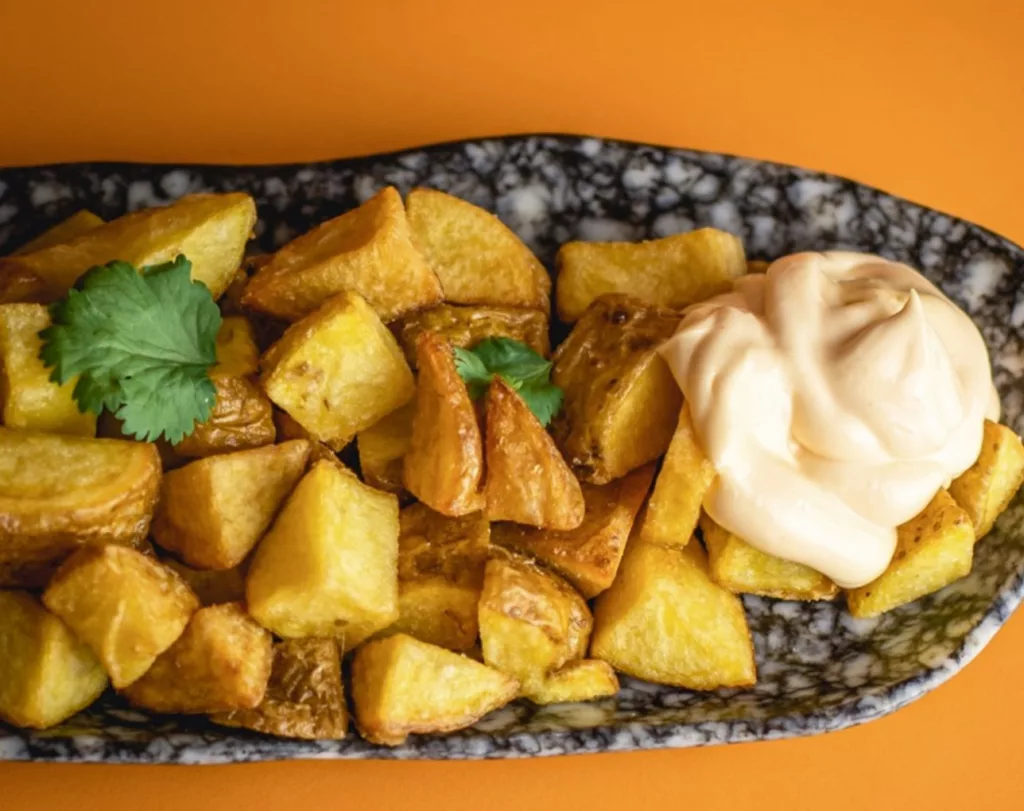 The best are in Madrid. Just go to Docamar restaurant.
41. Hammam al Andalus
Best relaxation ever before or after touring the city. By appointment only. Co-ed. Check out the website.
Quote: "We are a contemporary version of the ancient Al Ándalus baths: Gardens of water and silence in the center of the city, full of pampering and relaxation. You will feel the water journey, massages, rituals, and experiences through which to connect to your Inner Nature."
42. See La Katarsis de Tomatazo show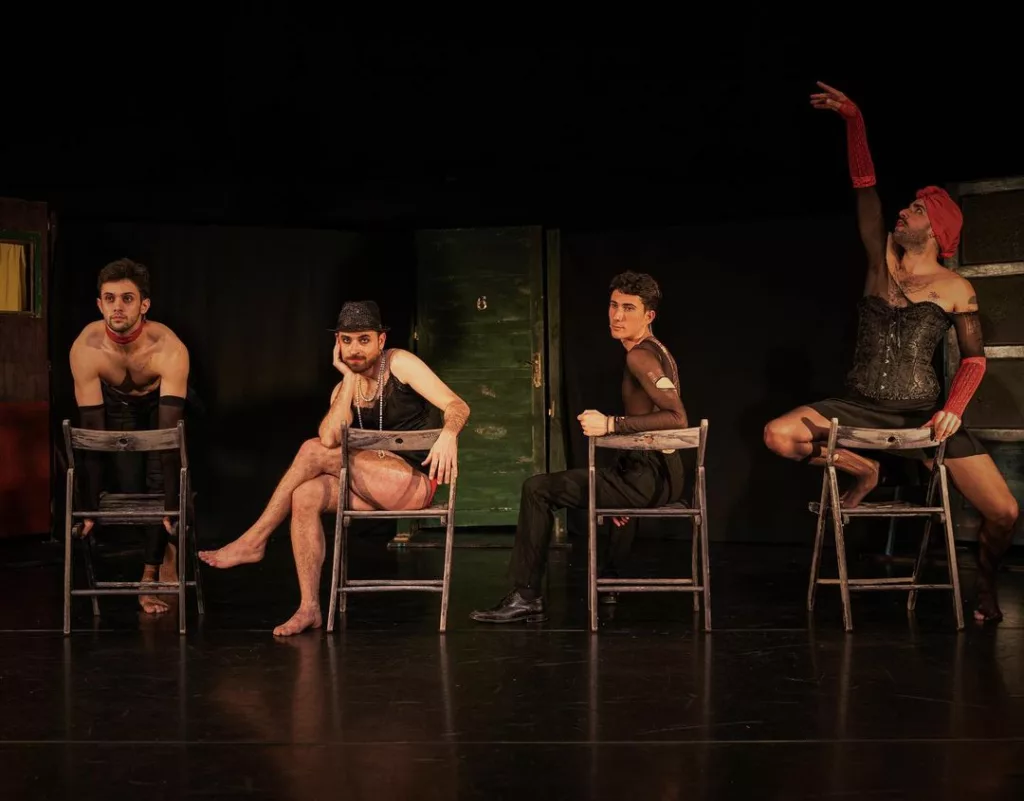 La Katarsis del Tomatazo is Madrid's longest-running improvisation show, performed for nearly 30 years. It mixes musical performances, dance, and theater in a vibrant production that encourages audience participation from the moment they enter the theater.
The actors interact with spectators by challenging them to rate each performance. You either applaud or throw tomatoes at them. So much fun! Tickets are cheap (from €16).
https://lamirador.com/funcion?nombre=la-katarsis-del-tomatazo
43. Visit Ten con Ten restaurant
It is a trendy cocktail bar with modern take on tapas.
44. See Plaza Santa Ana
There are great restaurants and bars there, and lots of people to watch.
44. Visit Zarzuela National Theater
Zarzuela National Theater in Madrid is the premier opera house in Spain and one of the most famous venues in Europe. Built between 1818 and 1850, this stunning theater has been an integral part of Spanish culture for centuries.
Its hallowed walls are breathtaking frescoes depicting scenes from classic operas and statues from some of Spain's most significant composers like Joaquín Rodrigo and Amadeo Vives.
What is Zarzuela? It is a centuries-old Spanish theatrical entertainment that combines music, dance, and drama. Originating in Madrid during the 16th century, it has since spread throughout Spain and Latin America. Zarzuelas typically feature passionate musical numbers from comedic to dramatic songs with traditional dance steps such as flamenco or sevillanas for accompaniment.
45. Make a quick stop at Taberna La Concha vermouth bar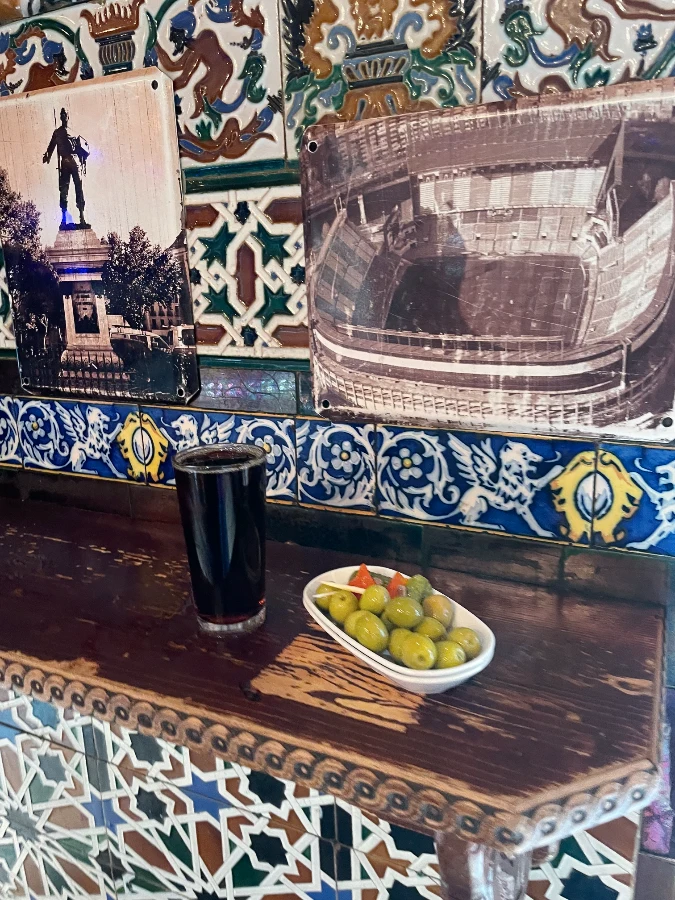 Just a cool place with excellent vermouth drinks and compliments!
46. Eat at El Sobrino del Botin restaurant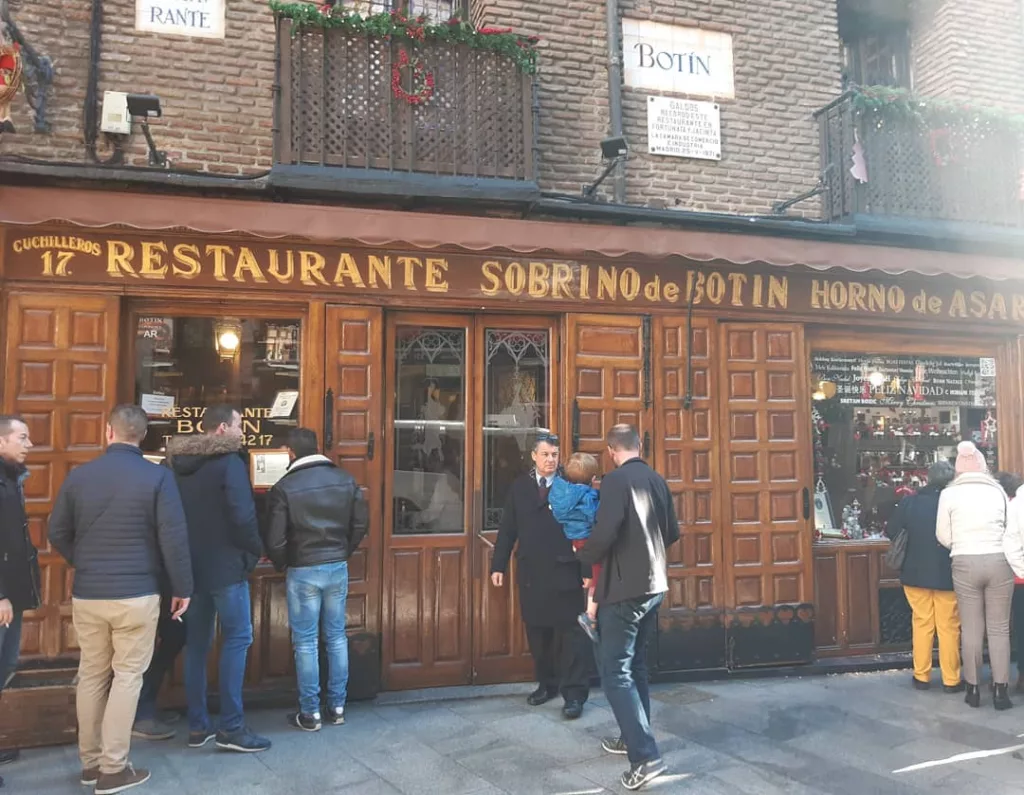 This family-run restaurant has been serving the local community since 1725, making it the oldest continuously running restaurant in the world. El Sobrino del Botin offers traditional dishes from all corners of Spain, including paella and tapas featuring a range of fresh seafood and other meats.
The signature dish at this historic eatery is Cochinillo Asado – slow-roasted suckling pig served with garlic potatoes.
47. See Mercado de San Miguel (but do not eat there!)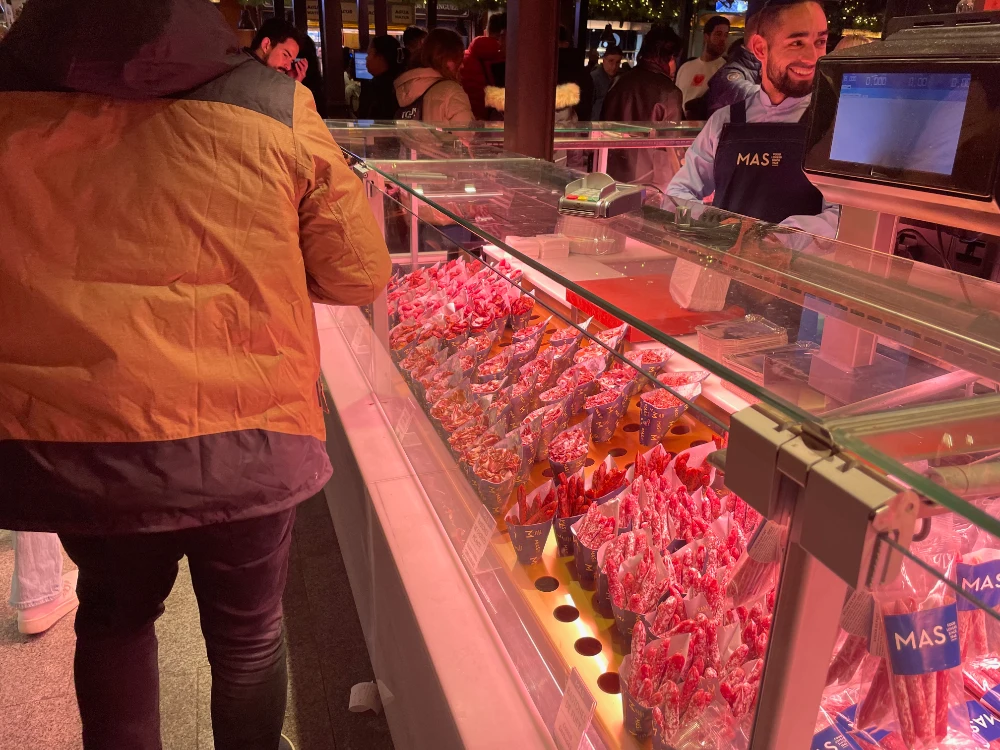 The San Miguel market, located near the west corner of Plaza Mayor, is the perfect place to sample an array of tapas see the colorful food market. Its iron and glass structure, constructed in the 20th century, provides a traditional marketplace atmosphere with the modern comforts of the present day.
And I do not recommend eating inside. Firstly, the prices are way too high – paying €12 for a beer with patatas bravas or €17 for fried "calamares" is just nuts! The second reason – the food is mediocre, to say the least! I tried different tapas in Mercado San Miguel two times in a year, and every time it was a negative experience.
48. Sample even more tapas
Instead of San Miguel market, go to Juana la Loca, another great spot off the beaten path. 
49. Attend the jazz show at Cafe Central
Even if you do not consider yourself a fan of jazz music, I still recommend you go to Cafe Central. The atmosphere inside is lively and relaxed at the same time. Mingle over drinks and enjoy a conversation between songs during breaks throughout the show.
In addition to live performances, they also host jam sessions on Thursday nights! Overall, it is something worth experiencing while visiting Madrid.
50. See El Escorial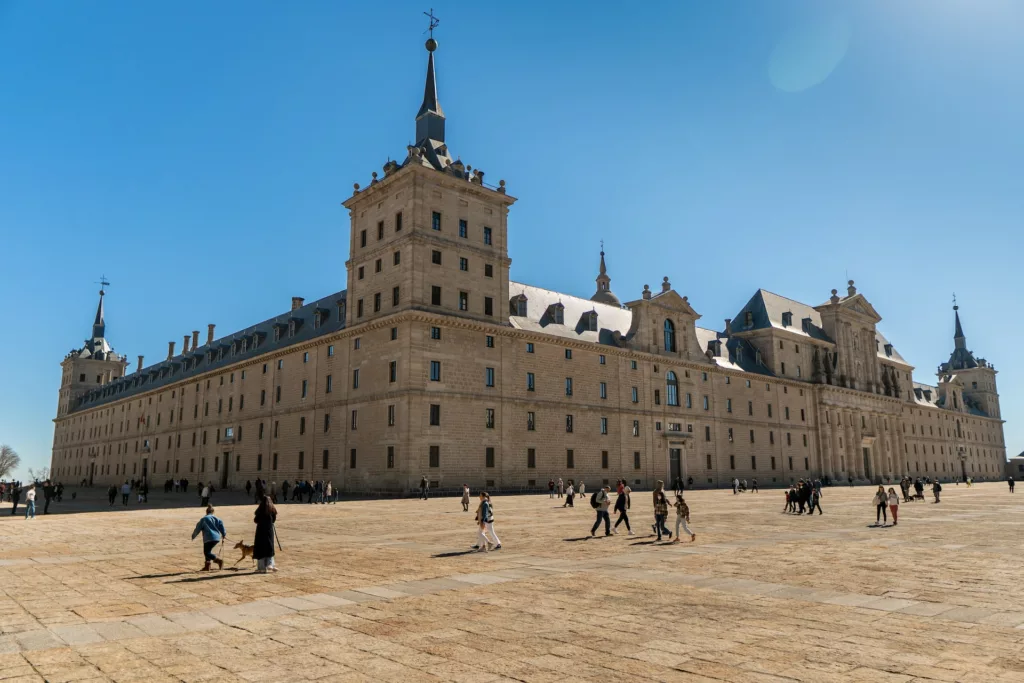 It is another day trip from Madrid (or half a day, if you leave in the early morning).
This historic royal residence was built in 1584 and served as both a palace and monastery for centuries until it became one of two official residences of the Spanish monarchs.
Today, you can explore its grand architecture, including courtyards with fountains surrounded by lush gardens and wide staircases.
The basilica San Lorenzo el Real houses works from artists such as Titian, while other parts are devoted to art galleries featuring collections dedicated to El Greco, and Zurbarán, among others.
How to get to El Escorial from Madrid
By train: There is about one train per hour, and the tickets are available from ticket machines at the station. Start at Chamartín, Atocha, or Sol station. It is a regional train, so you cannot buy tickets in advance.
By bus: You can take the 664 or 661 bus from Moncloa station to San Lorenzo de El Escorial.
51. Go ice skating at the ice rink near the Reina Sofia Museum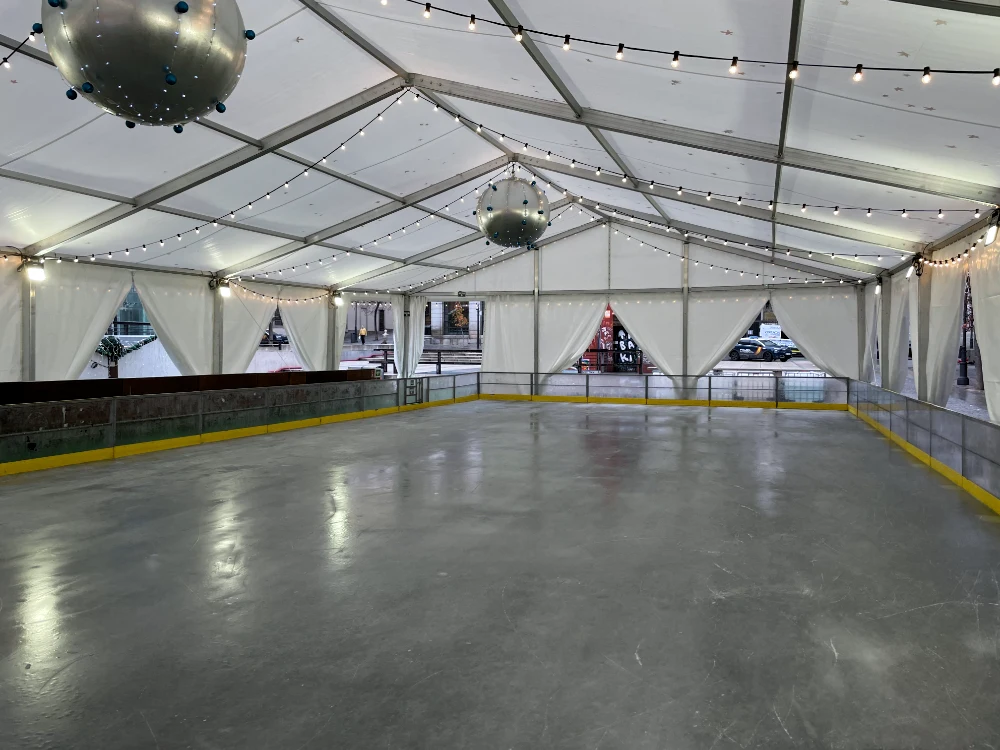 You will find this ice rink in the winter near the Reina Sofia Museum: Here is the map marker for you. And it is not crowded at all. Have fun!
This post might include some affiliate links. If you make a purchase through these links, I may earn a small commission at no additional cost to you. I appreciate it when you use my links to make purchases.