5 Best Beaches in Valencia, Spain
Nadia Podrabinek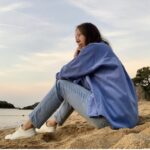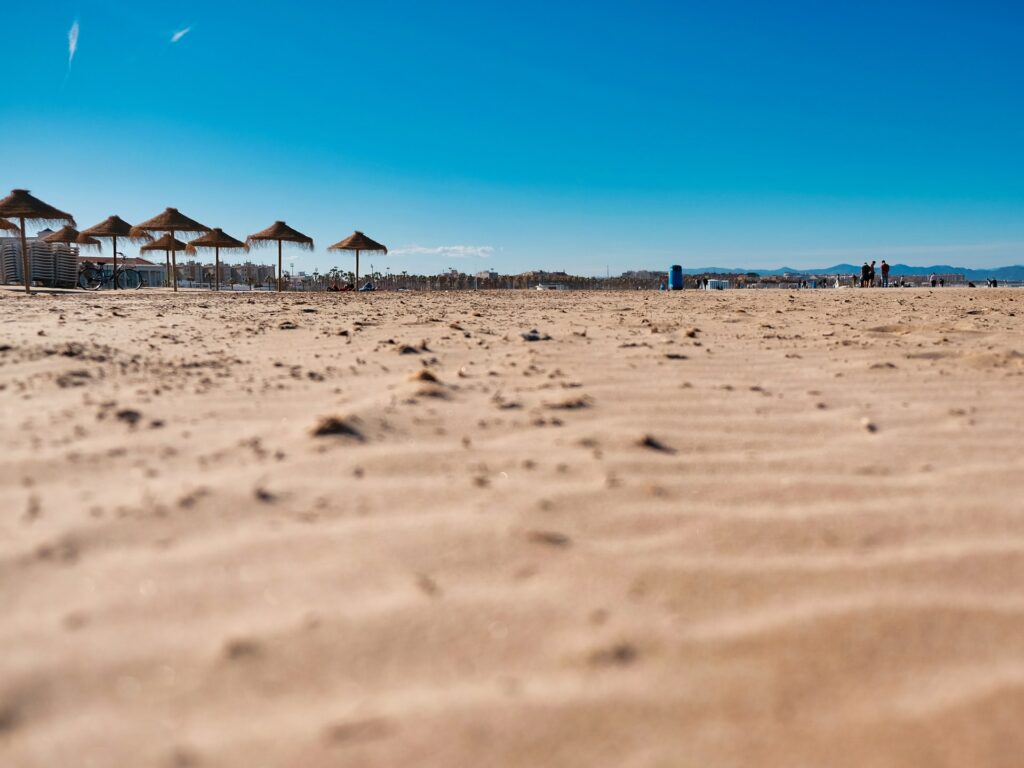 Spain is well-known for its beaches, and the beaches in Valencia are no exception. It has 8 miles of coastline and nearly 280 days of sunshine per year. Valencia is the third-largest city in Spain (after Madrid and Barcelona) with only 950,000 people, and it is the main reason why its beaches are not overcrowded.
I've spent a decent amount of time on Valencia beaches during my 3-year stay in the city, and I think this is an ideal destination for a crowd-free beach vacation. Let me share my experience on the best Valencia beaches; I've been to each of them.
Read also: What to do and see in Valencia and Pros and Cons
Does Valencia have nice beaches?
Yes. On a scale of comfort and pleasure of spending your time on Valencia beaches, I would grade it 9/10.
All Valencia beaches are suitable for both family and outdoor activities and 6 of them fly a Blue beach flag. Valencian beaches are clean, wide, not overcrowded, and have nearby cafes and restaurants. There are many parking lots, and if you go by public transport, they are easily accessible also.
I cannot rate them 10/10 for the views of the coastline, which are not always perfect to me (due to Port of Valencia buildings and ships).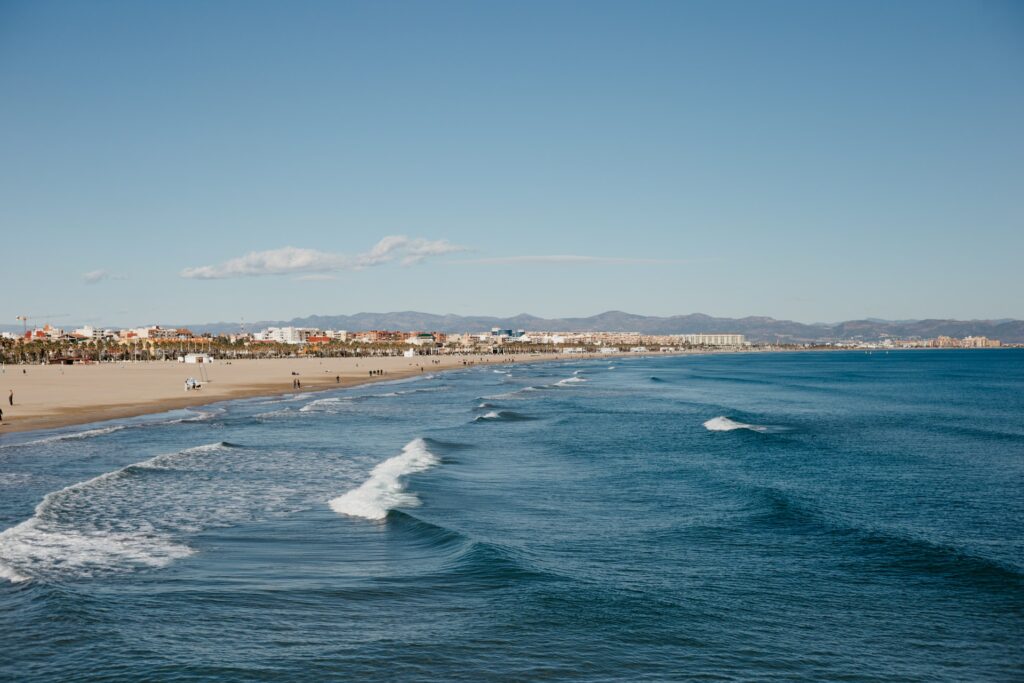 Best Valencia beaches in 2023
1. Patacona Beach
Patacona (Alboraya) is a quiet beach located in the new area of ​​Valencia, a bit away from the center. Still, it is easily accessible from Malvarrosa beach (10 minutes by foot). The beach has fine golden sand, and it all about relaxed sunbathing there.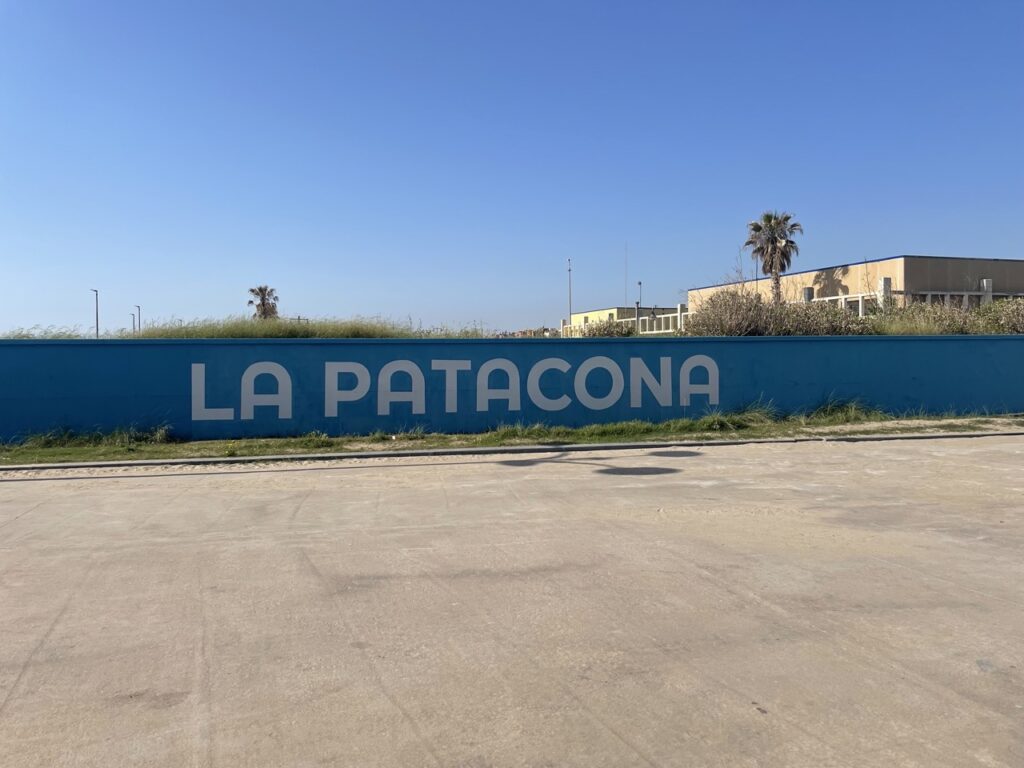 I love Patacona beach because there are fewer people in summer than on other city beaches. The second reason I love this beach is that the food is so good there—my recommendation: breakfast at La Mas Bonita, then Banana Beach for lunch. La Mas Bonita is quite a popular place, the earlier you come the better. I like the "scrambled eggs with salmon and avocado" breakfast. Yummy!
Pros
developed beach infrastructure, including surf school
pleasant entry into the water
not crowded
next to a new residential area with a large number of inexpensive rental housing
quality restaurants and bars
playgrounds
embankment with bike paths
free parking (except for summer and September)
wooden walkways on the sand
Cons
far from the city center
little to no changing rooms
Tip #1 you can also change clothes in a beach bar restroom ("chiringuito" in Spanish).
Tip #2 ask the beach bar staff for a sunbed/umbrella rental
Tip #3 arrive earlier in the morning (9 a.m)
How "chiringuito" looks like: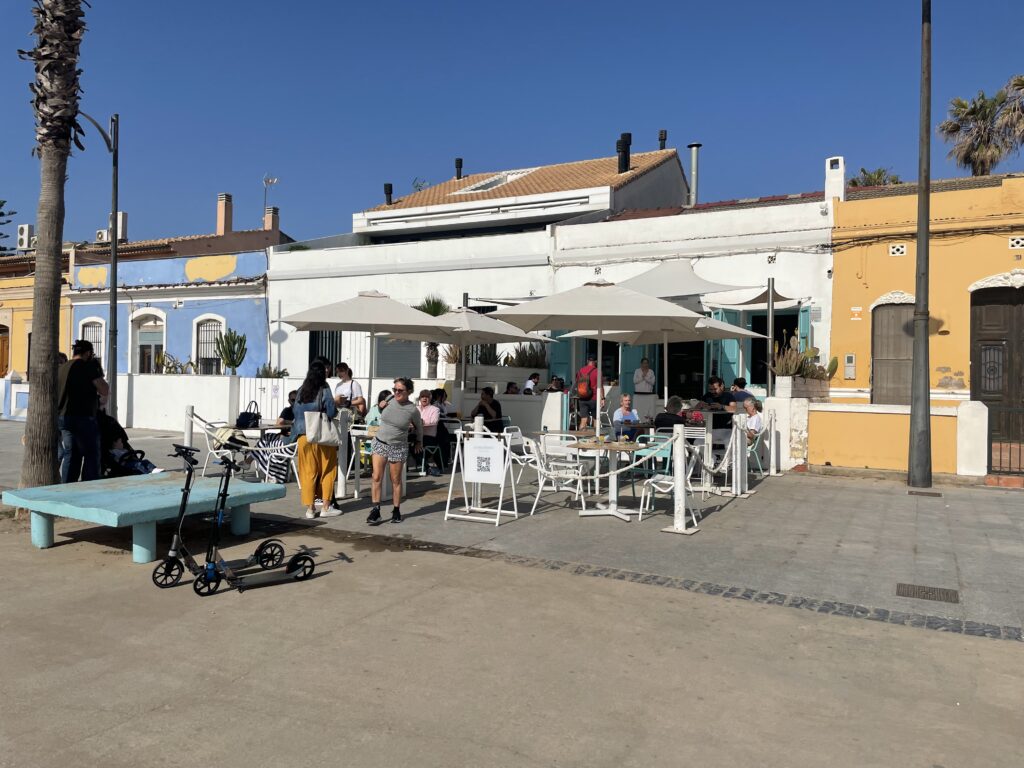 Patacona Beach map
2. Malvarrosa Beach
Malvarrosa Beach (Playa de la Malvarrosa) is a large beach about 2 miles long and up to 50 meters wide. There is a fenced area with a playground for families with small children.
This beach is a bit more crowded, and I have to watch my belongings (there is a gypsy district close to the beach).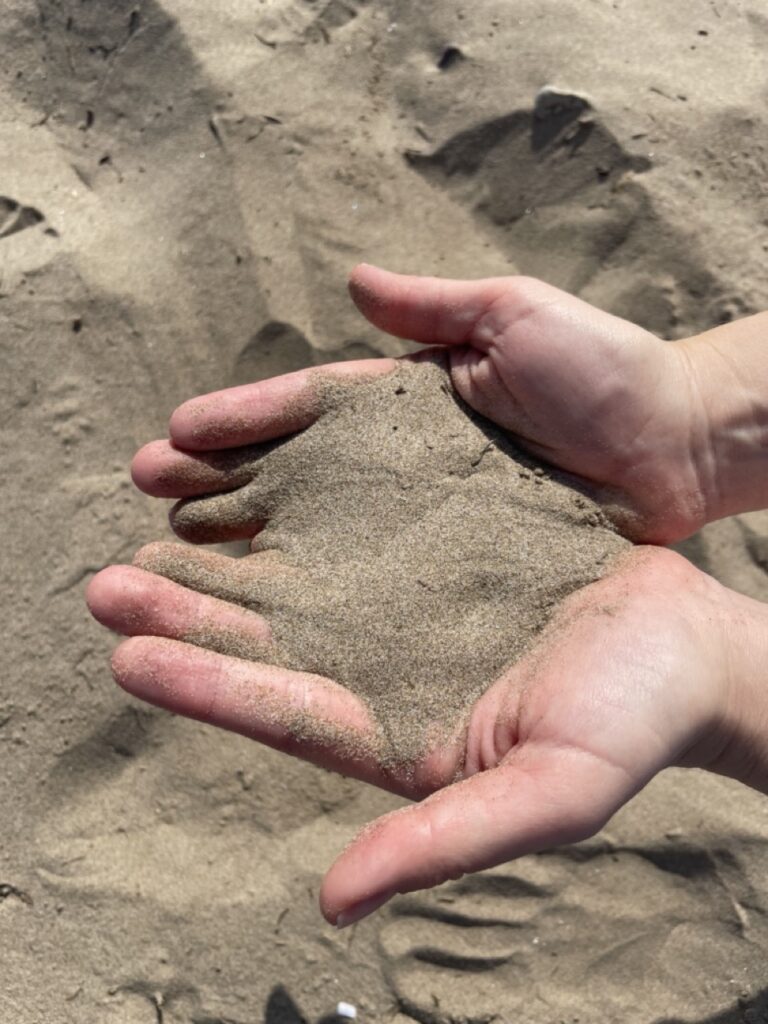 Pros
proximity to the center
rental of sunbeds and umbrellas
embankment
shallow calm sea
pleasant entry into the water
sandy bottom
many seaside restaurants
beach volleyball
playgrounds
nice sunrise photos for your Instagram
close to El Cabanyal district
Cons
lack of rental of water equipment
no changing rooms
a kind of touristic beach
What people post on Twitter:
Malvarossa Beach map
3. Las Arenas beach
Las Arenas beach (Playa de las Arenas) is the central city beach of Valencia, more than one mile long and up to 60 m wide, located next to the port. It is very crowded almost all day long. Festivals, concerts, and shows are held at Las Arenas throughout the year.
What I like: sometimes you can see a small musical procession of Spaniards with drums and trumpets playing joyful melodies.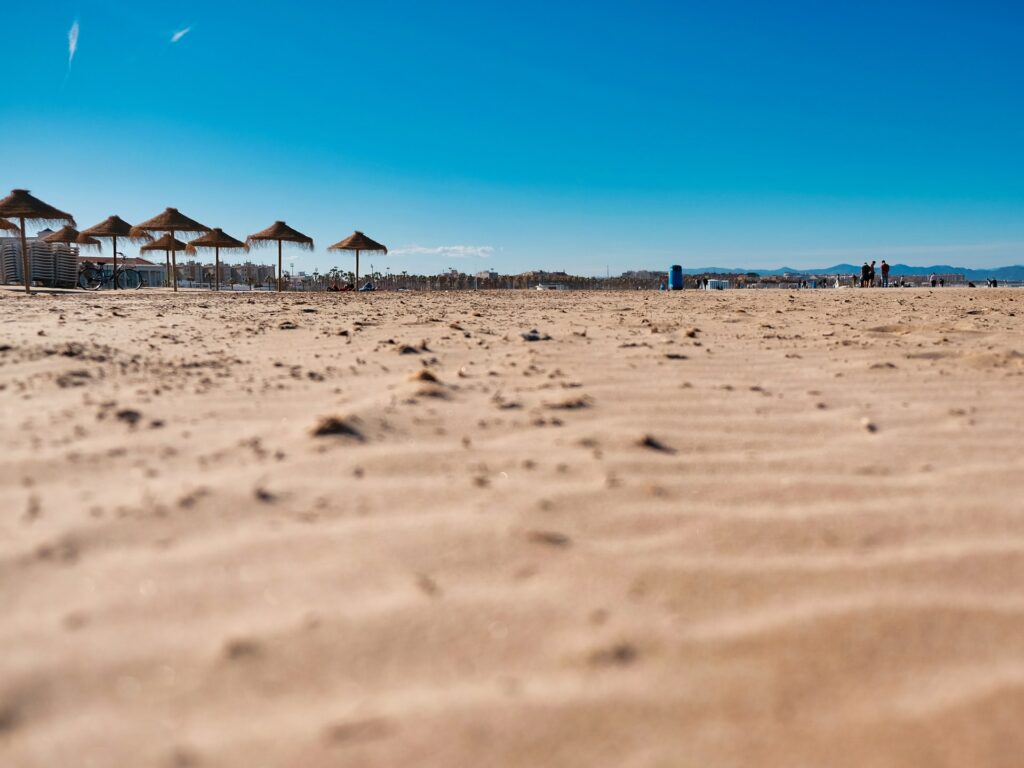 Pros
clean and tidy
pleasant entry into the water
sunbeds, umbrellas, equipment for water games
playgrounds
showers, restrooms
wooden walkways
restaurants, cafes, ice cream kiosks
first aid stations
promenade
parking lots
public transport stop
Las Arenas Hotel
a popular place for nightlife in summer time
Cons
overcrowded
sometimes noisy
Here is a 4K YouTube walking tour in Las Arenas beach:
Las Arenas Beach map
4. Beaches of El Saler
El Saler is a beautiful area to the south of Valencia Port. Its beaches are shrouded in golden sand, and the water is a deep blue. El Saler is known for its dunes, Albufera Natural Park, and protected wetlands, making it a great place to explore. The only thing to keep in mind—it's not that easy to get there by foot. Jump in a car or ride a bike, my advice.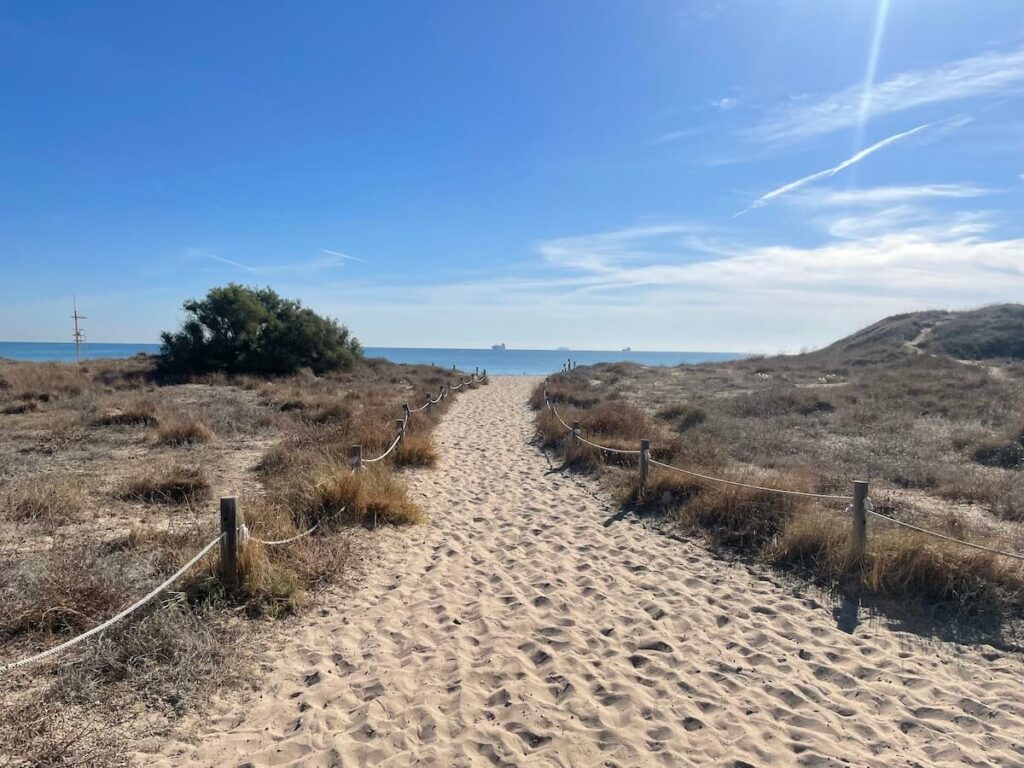 There are different beaches on the El Saler coastline. Let me briefly describe some of them:
Pinedo Beach (Playa de Pinedo) is near a small fishing village not far from the dunes of the Albufera Natural Park. It is a long, calm, and sandy coastline lacking beach facilities. Also, there is an area for nudists.
Arbre del Gos beach (Playa de l'Arbre del Gos) is located on the territory of the Albufera Natural Park and became available to the public not so long ago, so many tourists don't know it yet. There are first-aid posts, showers, toilets, and wooden walkways.
Playa El Saler is a spacious and lovely place. Better bring your own sunbeds and umbrellas. Not crowded, not that shallow, parking lots, and a beautiful restaurant (Mikonos) with a sea view.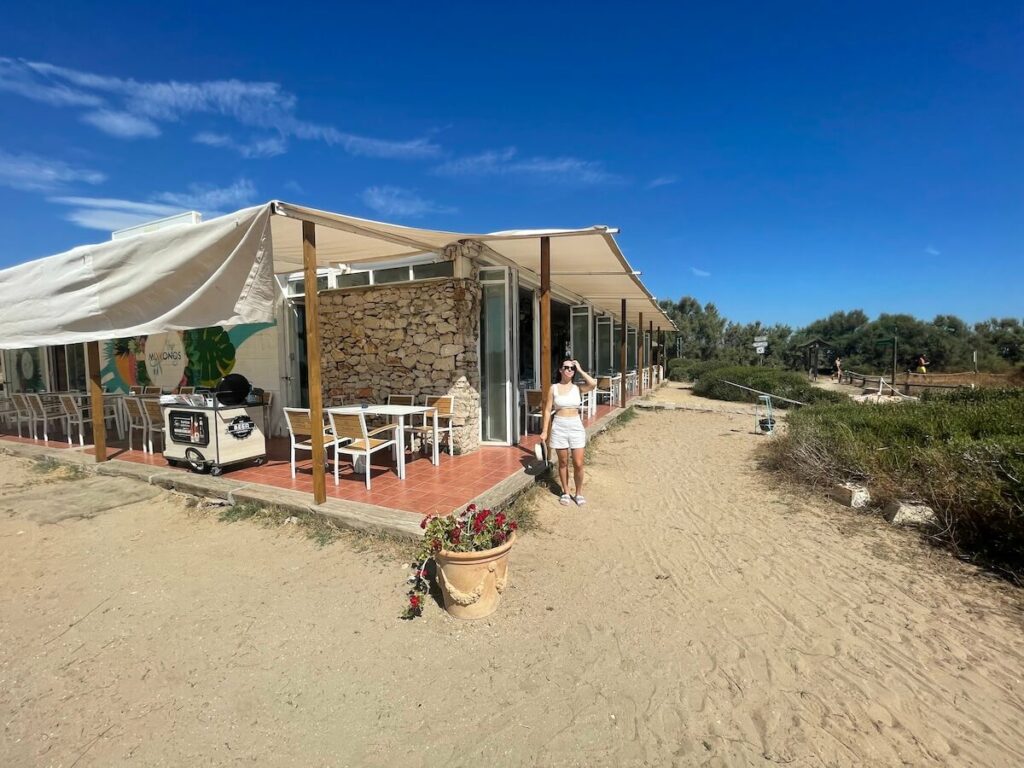 Garrofera Beach (Playa de la Garrofera) is quite popular among locals. There are sunbeds and umbrellas for rent, showers and restrooms, wooden walkways, and tiny bars with soft drinks and fast food.
Devesa Beach (Playa de la Devesa) is a wild beach on the border of the Albufera Natural Park. Dunes stretch behind the sandy beach strip, covering the thickets of rare tropical plants, where hundreds migratory birds nest. And there is no beach infrastructure at all 🤭.
Pros
less crowded
dunes and Natural park
beautiful sunset at Albufera Lake
seafood + paella restaurants
parking is easy
Cons
it would be best if you had a car to get there (or a bike at least)
almost no facilities
Tip #1 Try Valencian paella at Nou Racó restaurant. There are also other types of paella, including the black rice one.
Tip #2 Take a boat ride on the lake of Albufera, sailing away from the Nou Racó restaurant for a 15 min trip.
Tip #3 Don't forget to take a sunset picture at Albufera Lake.
El Saler Beach area map
5. Port Saplaya beach
Port Saplaya is a residential area near Valencia, and it is known for its beach and a beautiful port called Little Venice. I like to walk inside this urbanization to catch a feeling of a rich and famous person who might be living there.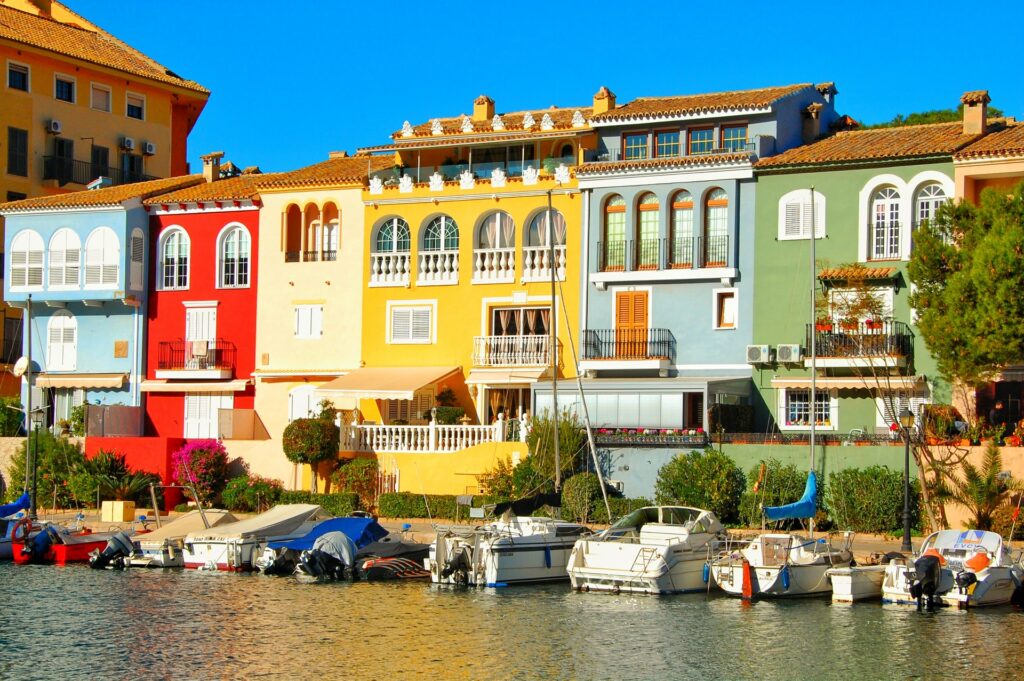 Pros
a popular beach with colorful buildings around
many seaside bars and restaurants
playgrounds
facilities
a place to have a post-sunbath walk
Cons
far from Valencia center
you will need a car to get there
crowded in summer
Port Saplaya map
General Tips on Beaches in Valencia (Spain)
Split your beach time. Arrive at 9 a.m, leave at 12-13. Most locals come to the beach at 12, taking sunbathes until the evening, and I would not recommend doing that. The sun is mighty in Valencia, so splitting your beach hours between the morning and the afternoon is better.
It is obvious, but yes, use sunscreens.
Pay attention to beach flags: no swimming at red, caution at yellow, jellyfish at blue.
Watch your belongings. Even though the city and its beaches are safe, it's better to be cautious.
Valencia has over 140 miles of bike lanes. You can ride directly to Patacona or Malvarrosa beach from the city center.
Chill at a beach bar ("Chiringuito"). Try "Clara" (cold beer with lemon), Sangría, or Spanish beer.
Spaniards are very open-minded people. Try to speak with them and learn a few words.
To catch the sunrise, be on the beach at 6:40 a.m
August is a month when Spain goes on vacation. Yes, there'll be many people on the beach.
Check out my best Spanish beaches review (with map). 
COVID-19 Rules in Valencia
At the moment, people over the age of six are obliged to wear masks only in the following cases in Valencia:
In hospitals and health centers,
In taxis and public transport (rail, air and cable transport).
Final notes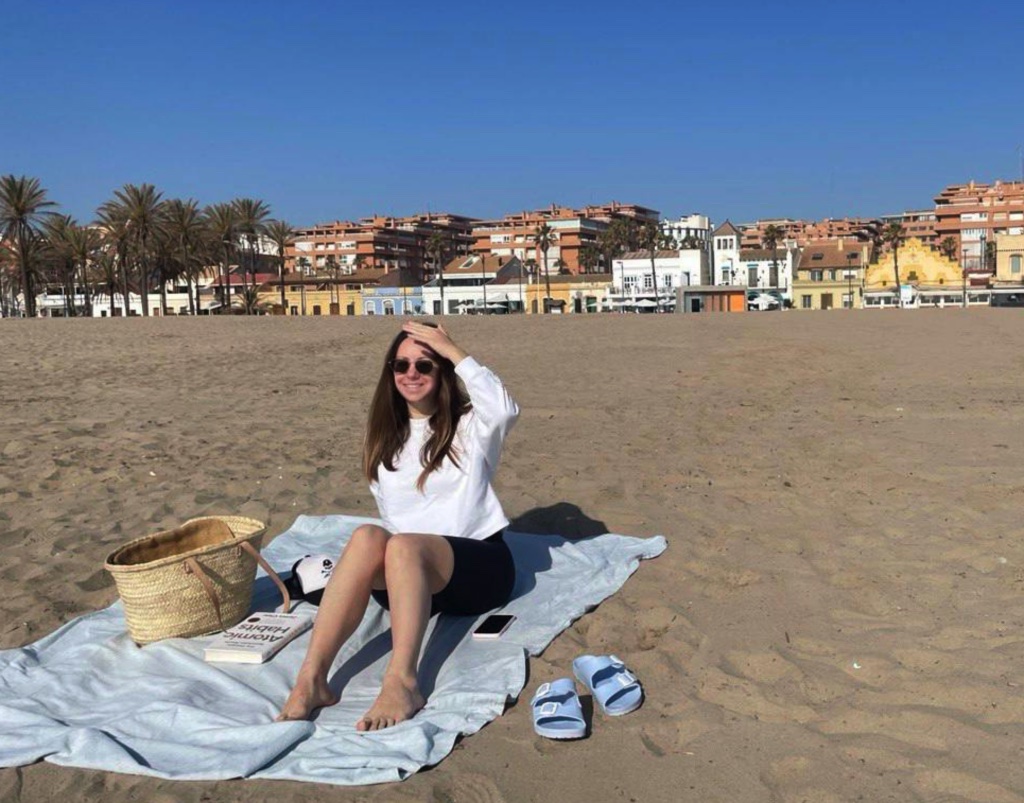 Try going to Las Arenas beach, then Malvarrosa, then Patacona, and tell me in the comments which one you liked more? And why?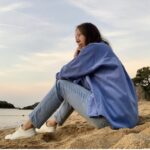 Hello, my name is Nadia.
I usually write about traveling (there are so many places to fit all the lifestyles), relocation (finding a job overseas or moving without losing an income), and living in a foreign country (adapting to a different culture and mentality). Follow me on Twitter, Facebook, Instagram, or LinkedIn!
This post might include some affiliate links. If you make a purchase through these links, I may earn a small commission at no additional cost to you. I appreciate it when you use my links to make purchases.