41 Can't-Miss Experiences in Heart of Spain – Valencia
Nadia Podrabinek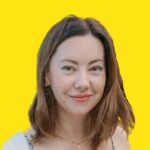 Written by Nadia Podrabinek
Hello, my name is Nadia. I usually write about traveling (there are so many places to fit all the lifestyles), relocation, and living in a foreign country (adapting to a different culture). My travels stretch beyond Spain, with journeys to the US, Italy, Norway, Portugal, and France. Relocating to Spain in 2018, I lived in cities from Barcelona to Madrid, currently calling Valencia home.  Follow me on Twitter, Facebook, Instagram, or LinkedIn! ... show more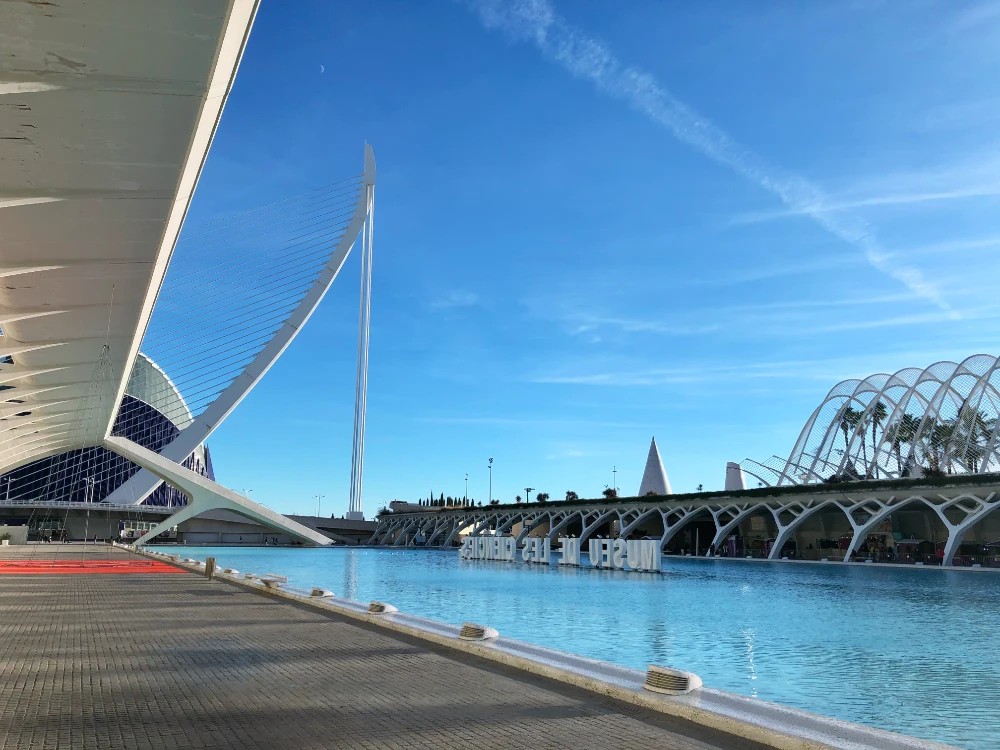 Valencia is a city with the perfect balance between being cosmopolitan yet not massive; smaller and more relaxed than Madrid and Barcelona. It has a nice combination of good weather, location, lovely architecture, and different attractions.
Valencia is not crowded, not expensive, and has beaches and nearby mountains. Also, there are many beautiful towns scattered around the Province of Valencia and lots of natural reserves for outdoor activities.
Having lived in Valencia for almost five years now, I can tell that it is an ideal city in both ways – as a tourist attraction and as a place to live.
---
Key takeaways
Valencia is Spain's third most populous city, after Madrid and Barcelona, with almost a million people living in the metropolitan area.
The World Capital of Design in 2022.
Probably, the second most popular destination among digital nomads, retirees, and others, after Portugal.
It has many top attractions, including beaches, a port, an old town, a winding park on a river bed, Santiago Calatrava's stunning City of Arts & Sciences, a football team and stadium.
Good public transportation and perfect for exploring by bike.
People are friendly, and the food is fresh and healthy; vibrant nightlife and lively streets, restaurants, and bars.
At the same time, there are many quiet and authentic neighborhoods.
---
Best things to do and see in Valencia
1. Visit the Mercado Central and browse fresh produce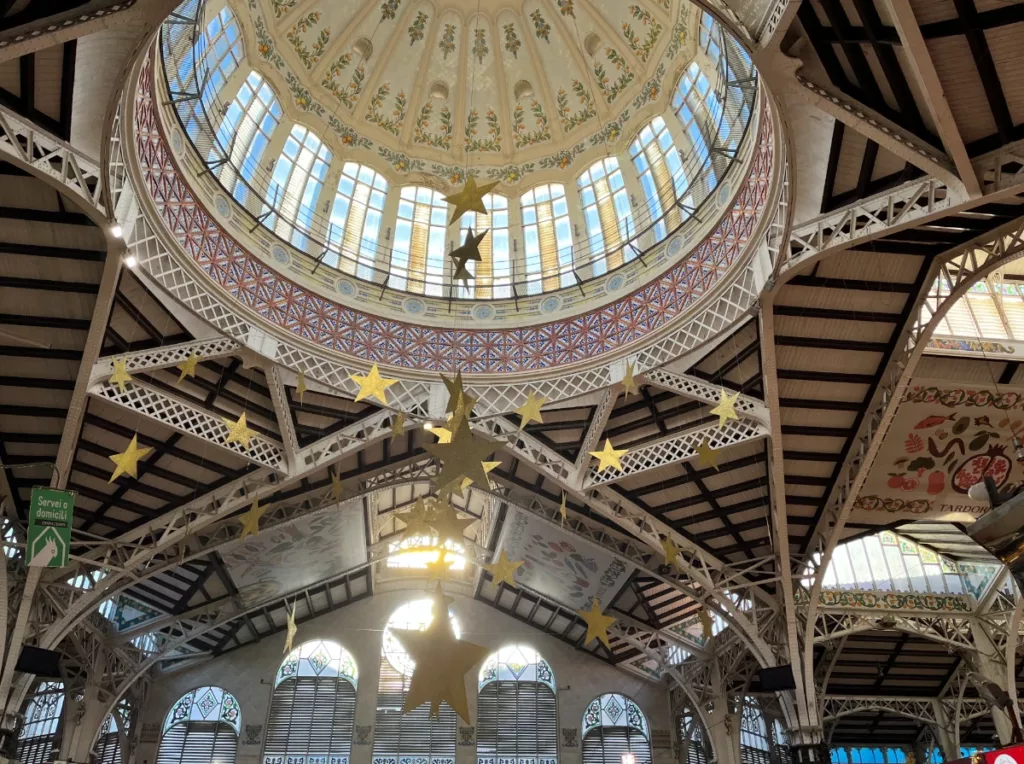 You can start your day in Valencia by visiting the Central Market. Like every major European city, it always begins with the central square and its market.
Mercado Central is open every day from 7:00 to 15:00, except Sundays. It is a very colorful place; you can walk past the stalls or buy some vegetables, fruit, meat, cheese, olives, and pastries.
Pay special attention to its dome – Mercado Central is one of the most beautiful markets in Spain! And it is very clean, too!
Helpful tip #1 Glance at the bird figure at the market tower when outside. Legend has it that in times of famine, parents would bring their children to show them the bird and then discreetly leave them in the crowd. They could not feed their children and hoped someone would take their offspring.
Helpful tip #2 Try "Churros con chocolate" or "Horchata" (a traditional drink made of almond milk) at L'Orxateria, just two steps away from the market's gates. It is also an excellent spot to sit, relax, and people-watch.
2. Visit La Lonja de la Seda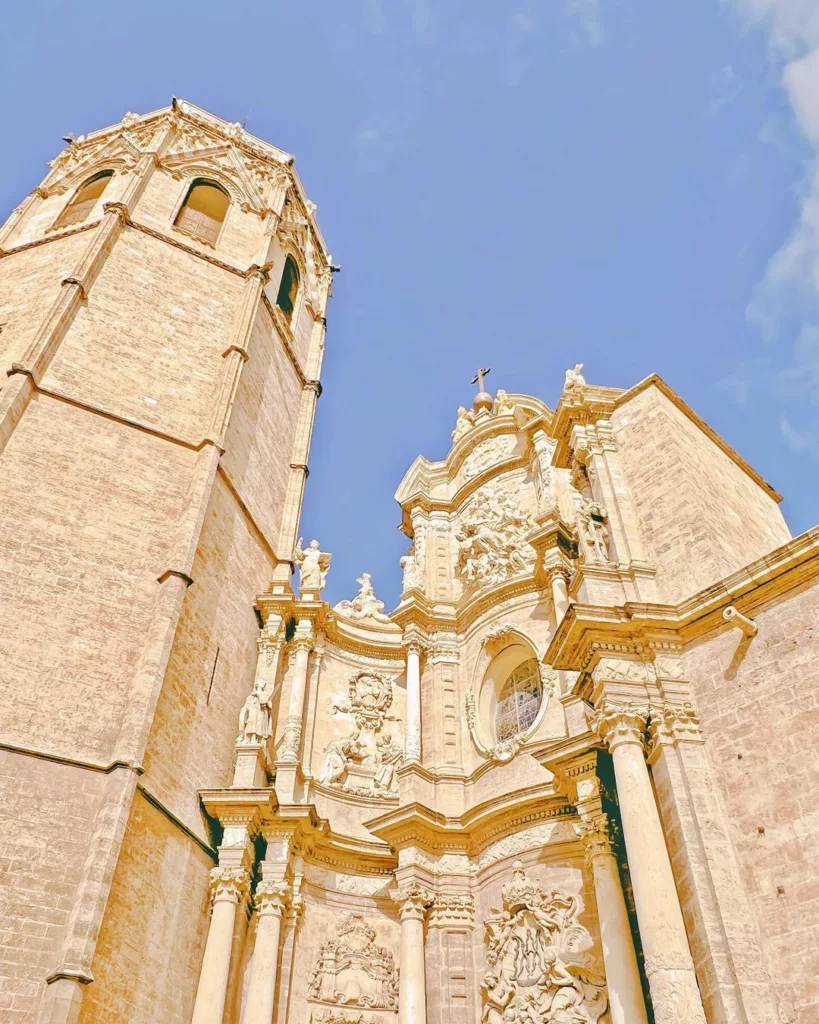 Next to Mercado Central, you will see the famous La Lonja (Llotja) de la Seda. It is one of the most beautiful and iconic buildings in Valencia. This stunning Gothic structure was built in the 15th century and served as a trading post for European merchants.
Today, Llotja de la Seda is a UNESCO World Heritage Site and houses the Valencia Chamber of Commerce. You can admire its stunning Gothic architecture, including its ornate stone facade, pointed arches, and tall bell tower. The building also hosts a variety of art exhibitions, concerts, and other events throughout the year.
3. Walk through the labyrinth of small streets to Plaza de la Reina
Walking down the narrow streets to the recently renovated Queen's suare is an absolute pleasure. From there, you can continue with the Old town or go to Plaça de l'Ajuntament.
Helpful tip Pass on the crowds and sneak away in the Miracle del Mocadoret, a tiny square with lovely shops.
4. Visit Valencia Cathedral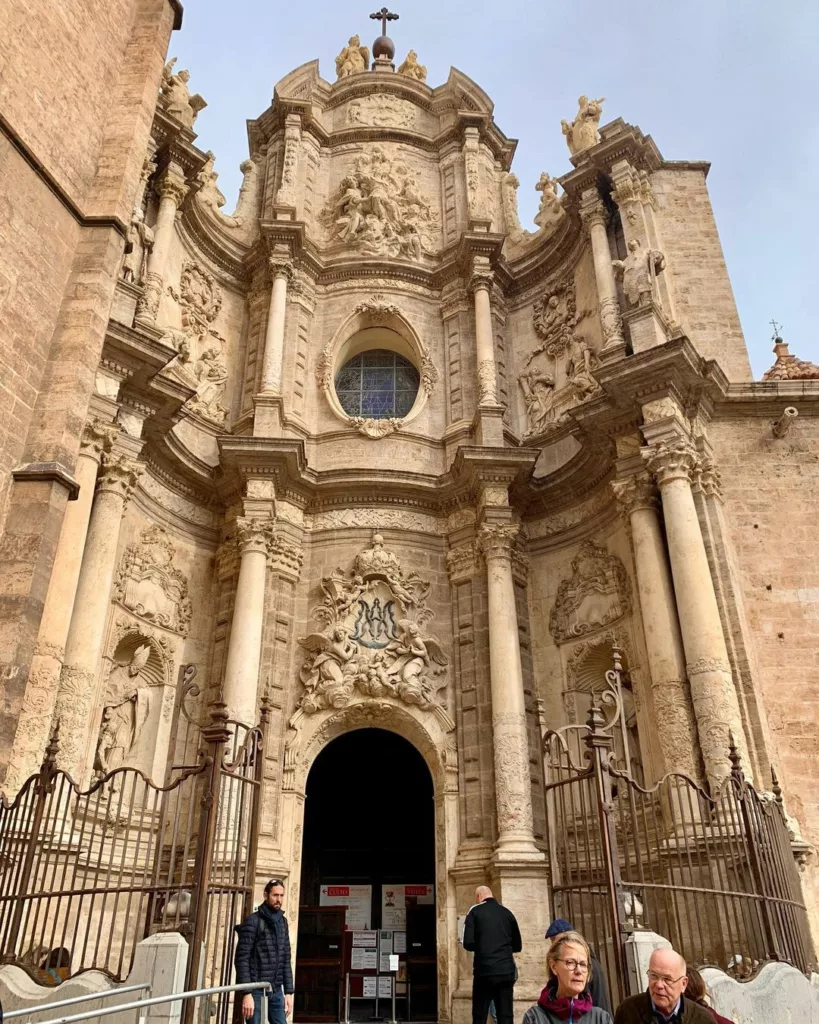 This 13th-century cathedral has seen many changes over the years, from renovations to additions such as the Chapel of the Holy Chalice. The locals say it houses the legendary cup used by Jesus at the Last Supper. Who knows!
The cathedral's main attraction is its breathtaking interior, with its soaring columns, detailed carving, and intricate stained glass windows.
Things to do at the Cathedral of Valencia:
Take a guided tour of the cathedral and learn about its history and architecture.
Visit the Chapel of the Holy Chalice and see the legendary cup used by Jesus at the Last Supper.
Admire the beautiful stained glass windows.
Attend a Catholic Mass or special event in the cathedral.
Climb up to El Micalet bell tower and take in the city views.
5. See Plaza de la Virgen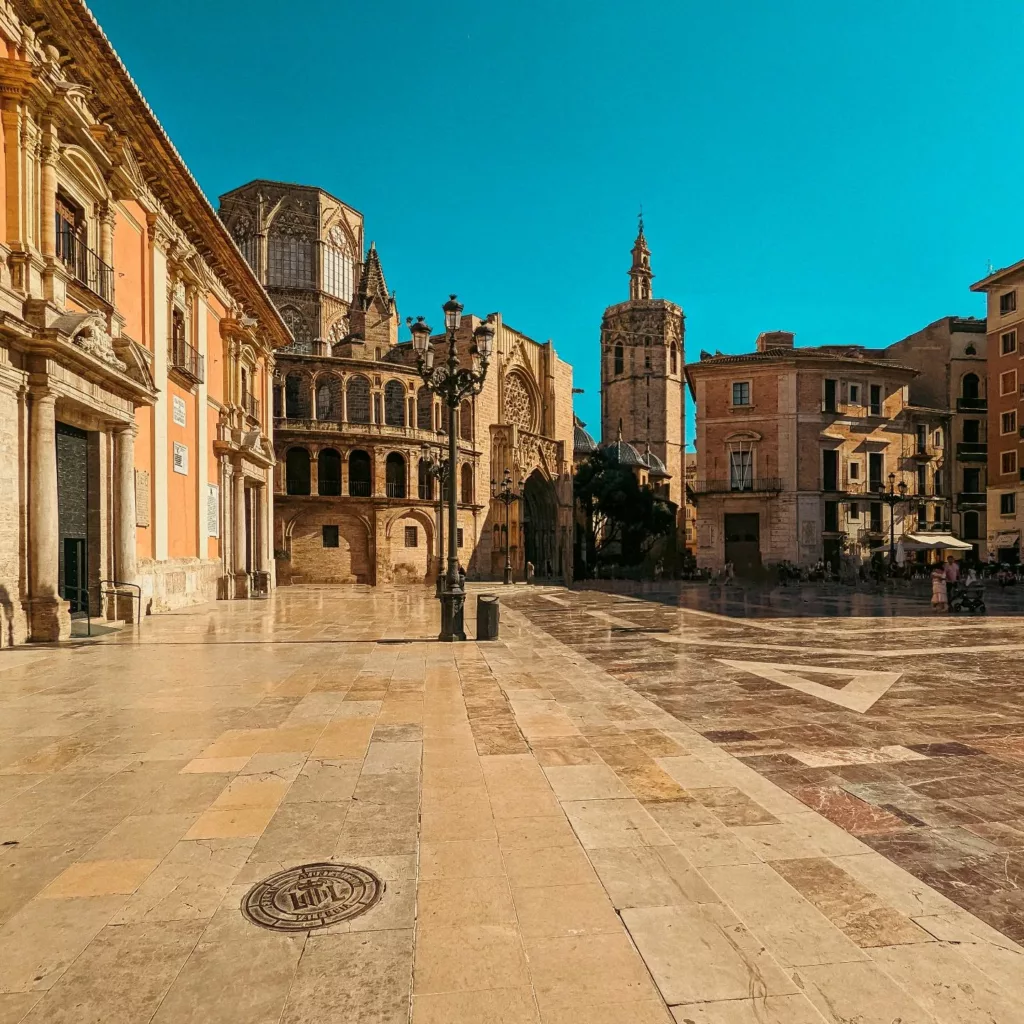 It is a relatively small square with a fountain, just a few blocks from the famous Valencia Cathedral. The plaza is surrounded by old buildings and quaint shops.
It is a popular spot for locals and visitors to take in the atmosphere of Valencia. It is also a renowned area for various protests and manifestations. The last time I was there, it was to support Ukraine after the war broke out, and it was quite an emotional experience.
6. Visit La Almoina Archaeological Museum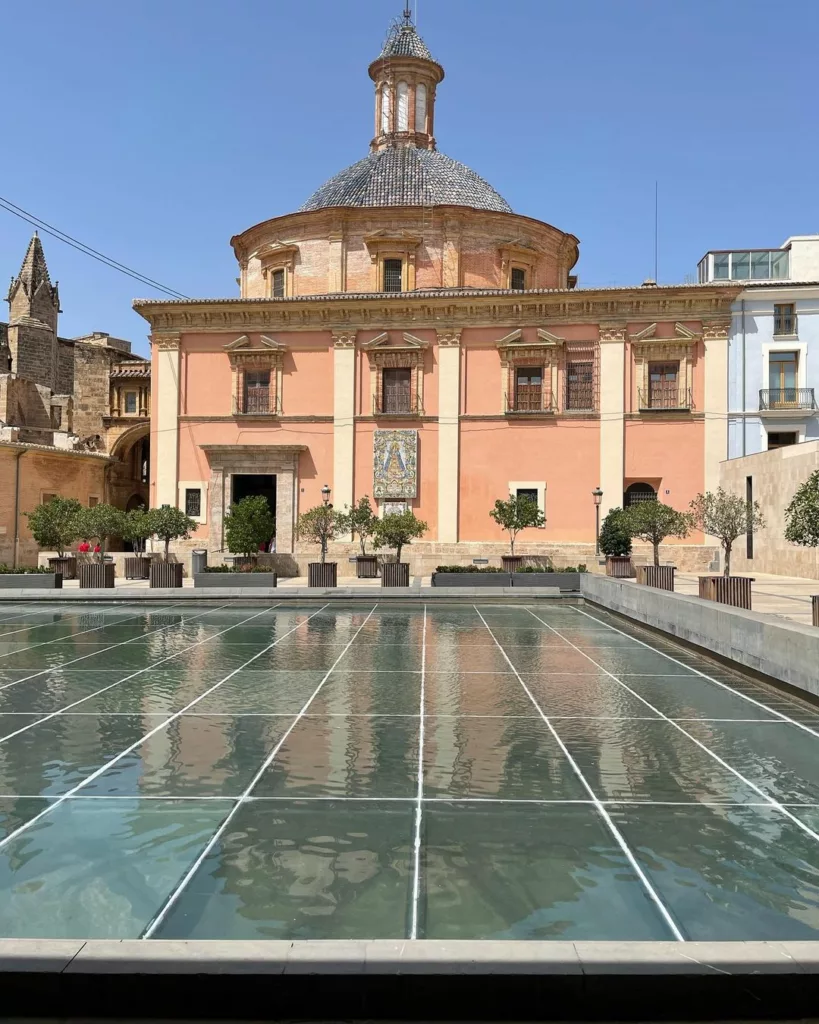 If you have at least 3 days in Valencia, you should visit this archaeological museum inside the old city walls. It houses various archaeological artifacts that were found in and around the city of Valencia, including Roman pottery, coins, and sculptures.
7. Step inside the Real Basílica De Nuestra Señora De Los Desamparados
It is a beautiful Baroque-style church built between 1650 and 1770. The church is dedicated to the Virgin of the Forsaken, a Catholic invocation of the Virgin Mary, the patron Saint of Valencia. It is an important religious site in Valencia and is visited by pilgrims.
Helpful tip: Go inside and enjoy the impressive ceiling paintings.
8. See the National Museum of Ceramics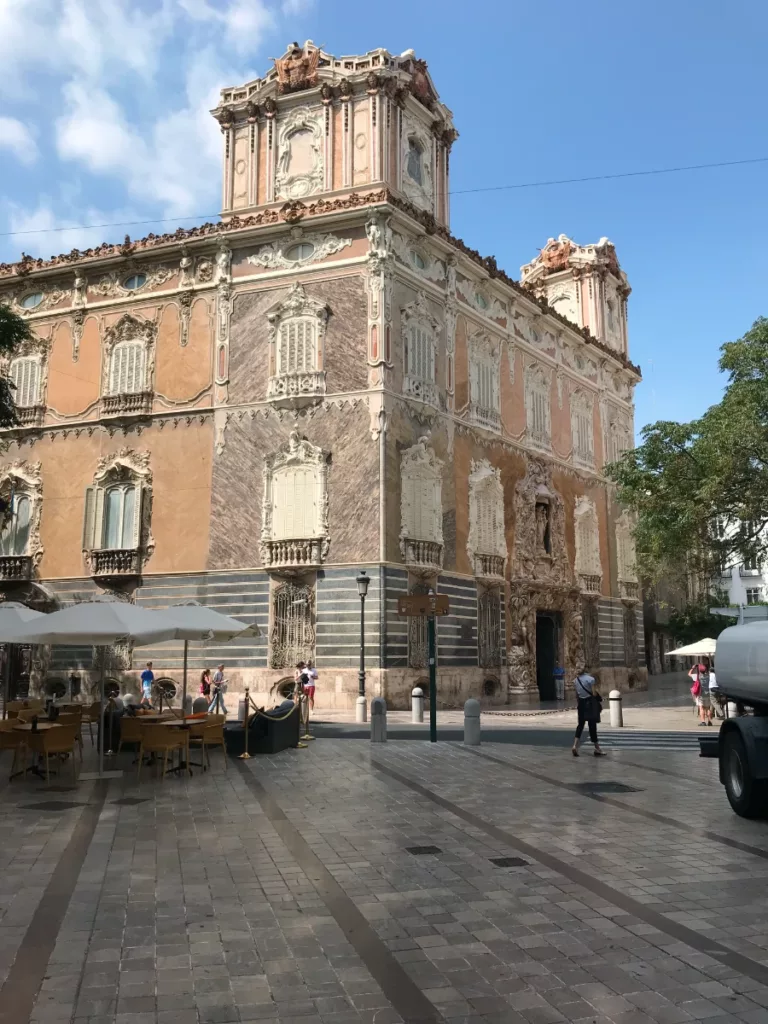 You will find this museum in the Marquis of Dos Aguas Palace. The most impressive part is its beautiful facade. Although the museum hosts an extensive collection of ceramics, I recommend you take some Instagram-worthy pictures from the outside and move on with your trip.
9. Relax at the University of Valencia square
This is my favorite square in the center of Valencia and is a perfect place to recharge, enjoying the ambiance with orange trees, a small fountain, and charming cafés here and there.
Helpful tip Go inside the University building, turn right, and find a quiet university café with a souvenir shop.
10. Enjoy shopping at the El Corte Inglés mall
El Corte Inglés is a chain of upscale department stores throughout Spanish cities. It features a variety of products, including clothing, home goods, electronics, jewelry, furniture, and more. The stores are known for their luxurious ambiance and excellent customer service.
Actually, you will find two of them, side by side, along with many other stores, in the shopping district of Colón. See the map
11. Visit Mercado Colón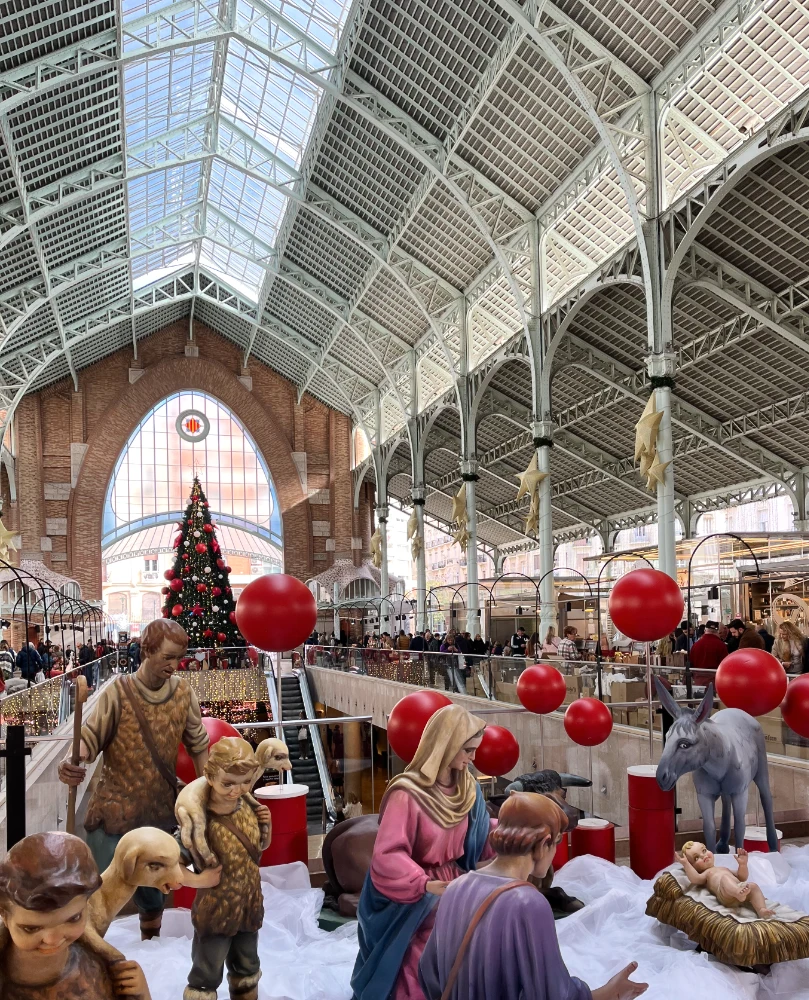 Not only is it an amazing example of Spanish modernist architecture, but it is also filled with cafes, bars, and a gourmet food market. It is a great spot to grab a coffee, drink, or meal.
Helpful tip Sample French oysters with Spanish cava (sparkling wine) at Momiji Atelier restaurant on the lower floor.
12. Wander around the El Carmen neighborhood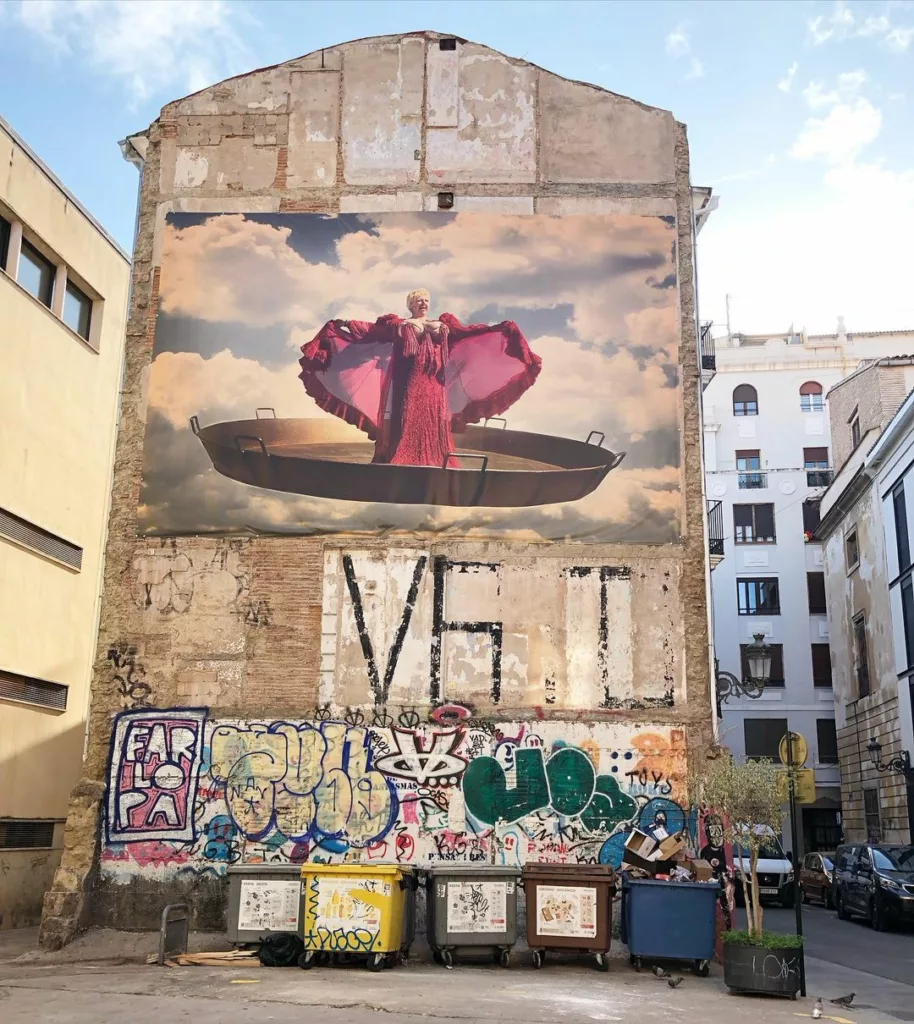 Get lost in El Carmen's antique streets to discover graffiti, squares, beautiful historical structures, and House of Cats.
13. See the narrowest building in Europe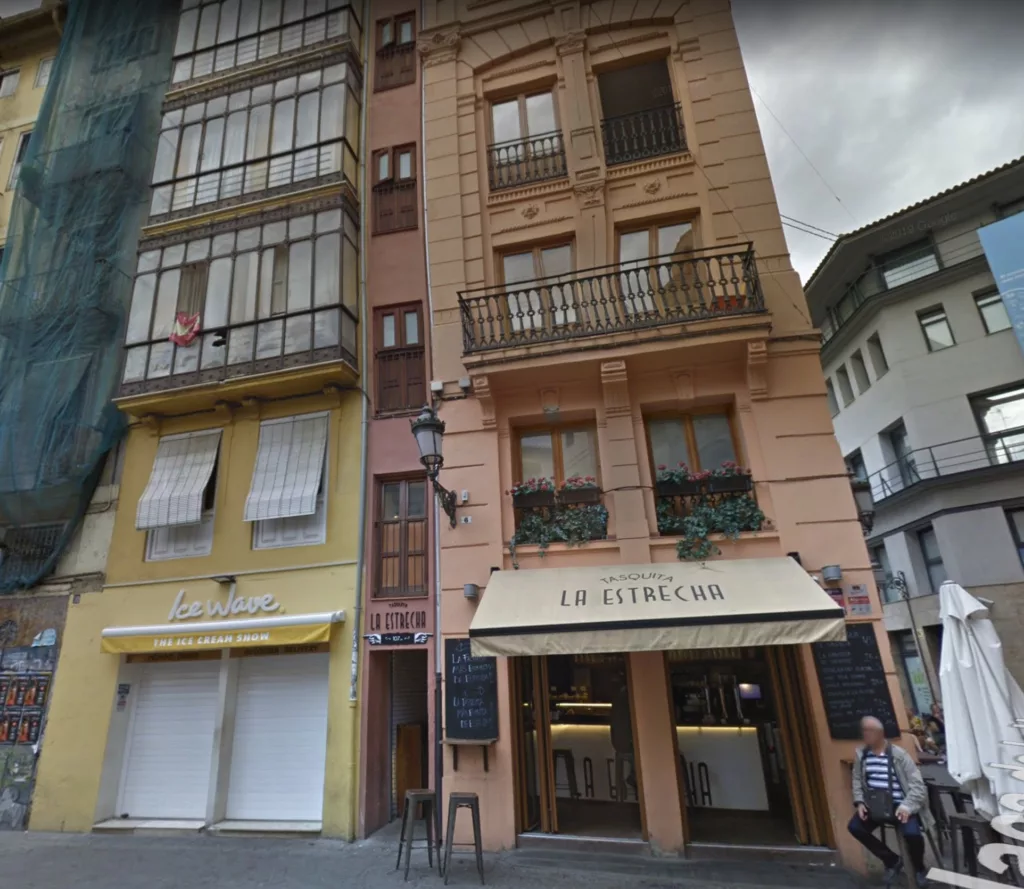 You will find this surprisingly narrow house at Plaza Lope de Vega, 6. Moreover, it is the second narrowest facade in the world, only surpassed by one in Brazil.
It was once home to a family who had to dress outside on special occasions and later housed prostitutes. Now it belongs to an adjoining bar called La Estrecha, which has preserved its flooring and pays tribute with photography displays.
14. Walk through the Portal de Valldigna
It is a 14th-century gateway that separates the Christian and Moorish districts of the city. See the map.
15. Check out Plaza de Toros
Even if you disagree with the whole practice of bullfighting, it is definitely worth checking out, as it is a distinct traditional element of most Spanish cities.
16. Visit Museu de Belles Arts de València
This museum is brimming with artwork from some of the biggest names in Spanish art, like El Greco, Sorolla, Goya, Ribalta, Murillo, and Velázquez. Plus, you can explore the incredible Roman mosaic of the Nine Muses. If you are into art, this is the place to visit.
17. Admire the City of Arts and Sciences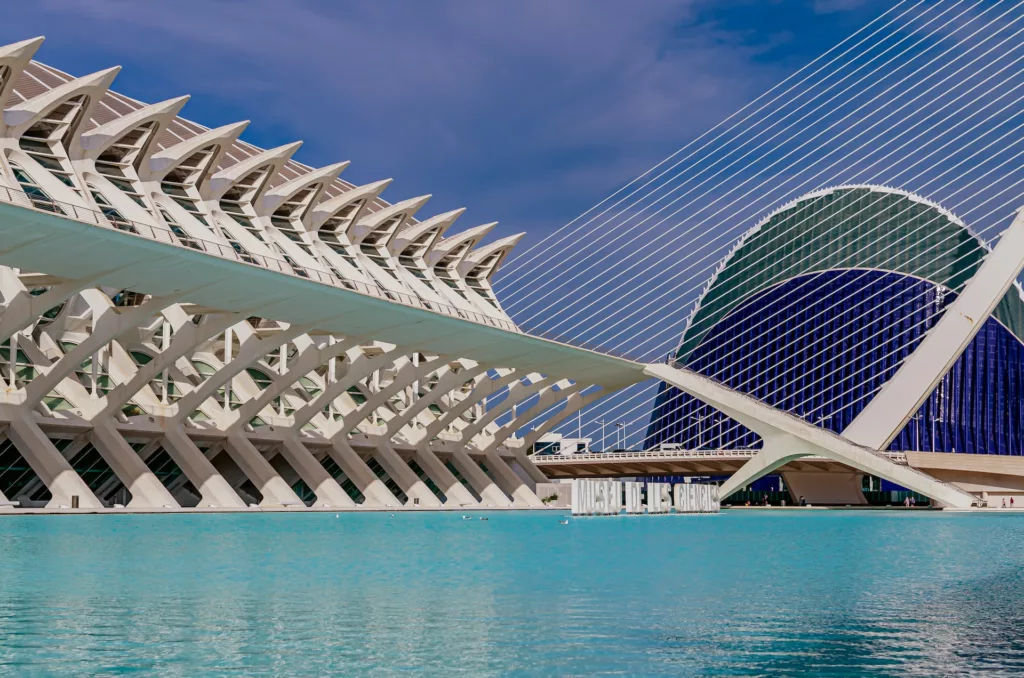 The City of Arts and Sciences is an iconic complex designed by Santiago Calatrava. It features many attractions, such as an oceanarium, science museum, planetarium, and tropical greenhouse. It has easy access to other points in the area and plenty of accommodation options nearby.
It is a decent place to soak in the atmosphere, and if you have kids, you are destined to visit the oceanarium or the science museum; it is well worth it!
If you rent a car, a convenient multi-level parking area is nearby.
18. Stroll through the Turia Gardens park
Turia Park is 8 miles long and is actually a riverbed – the relatively dry River Turia was here at one point. Valencians come here to enjoy walking, running, cycling, and playing sports.
Turia weaves across the entire course of the city very naturally (as a river would). It is the city's heart and lungs, and it can be seen how the city was gradually built and expanded all along the riverbed.
If you are used to exercising while traveling, this is the best location you will find in all of Spain.
19. Go to the beach and relax in the Mediterranean Sea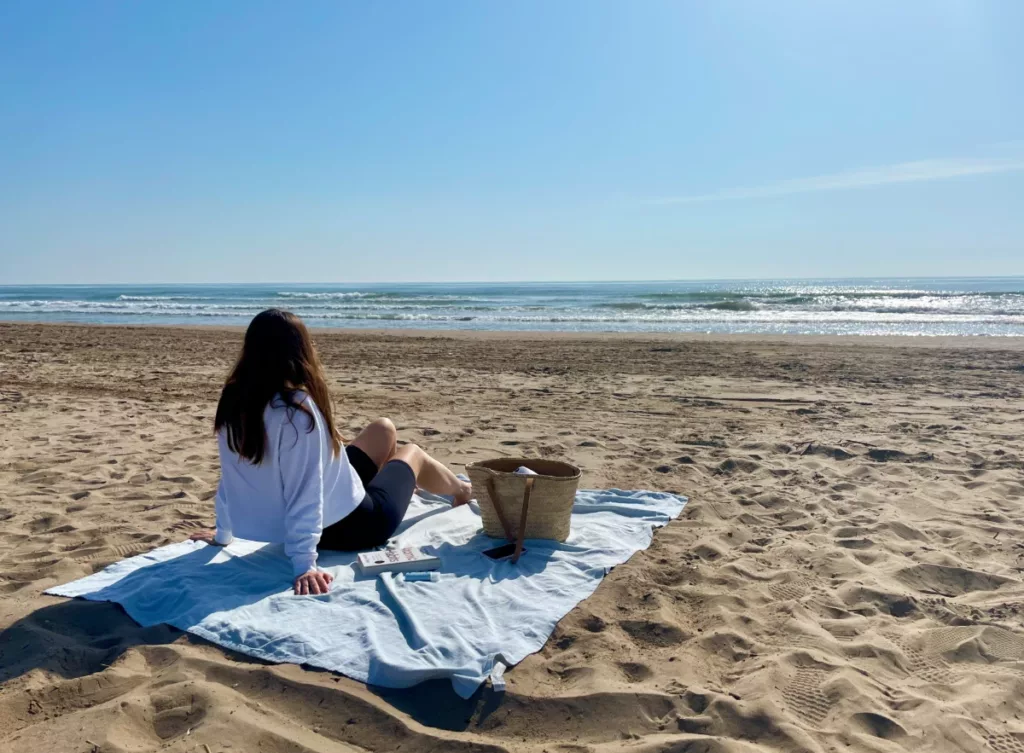 All Valencia beaches are suitable for family and outdoor activities, and 6 of them fly a Blue beach flag. Valencia's beaches are clean, vast, not overcrowded, and have nearby cafes and restaurants. There are many parking lots, and if you go by public transportation, they are easily accessible as well.
Top 3 beaches in Valencia:
Patacona
Malvarrosa
Las Arenas
Read also: Best beaches in Valencia [The Ultimate Guide]
20. Attend Las Fallas spring festival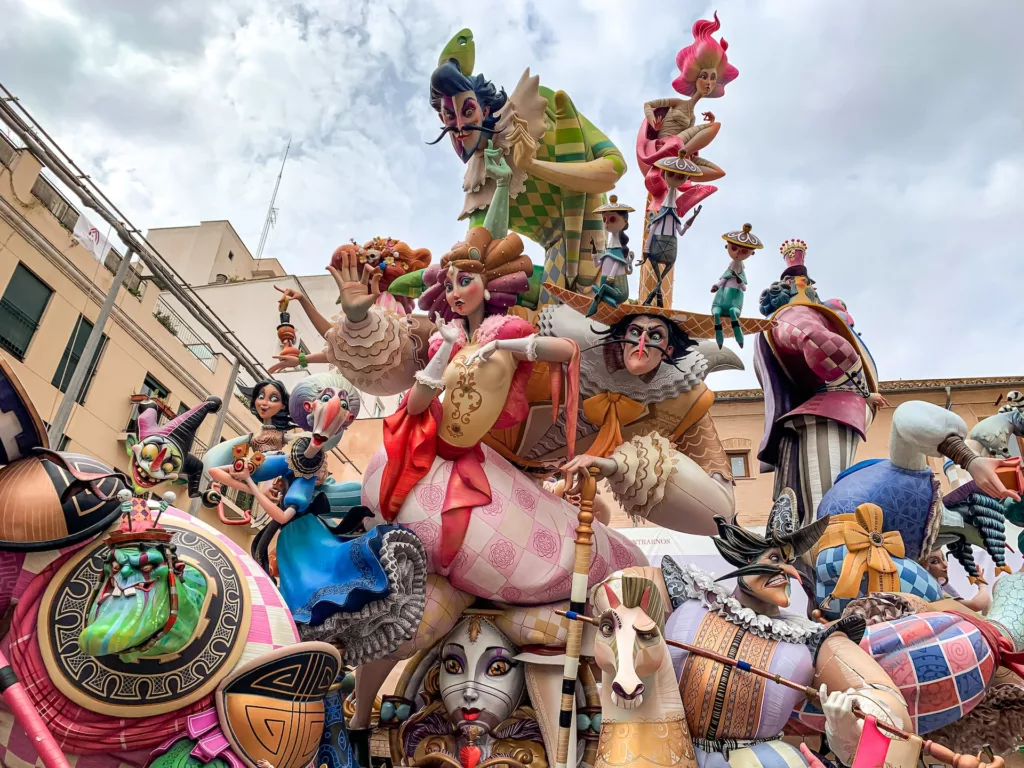 Las Fallas festival is so much fun! It is an old Valencian festival dating back to the 18th century and one of the top tourist attractions in the spring! For the locals, it is an essential celebration that has only been canceled twice throughout history (due to World War II and Covid-19).
Each year, March 15-19, the city comes alive with lights, music, and fireworks (mostly fireworks, I would say). Also, dozens of towering cool artworks (mostly figures) called "Fallas" are erected around town. These figures are made from wood and papier-mache, depicting everything from political satire to famous characters.
On the last night of Las Fallas, there is an enormous fireworks display known as La Nit de Foc (The Night of Fire).
21. Go to Port Saplaya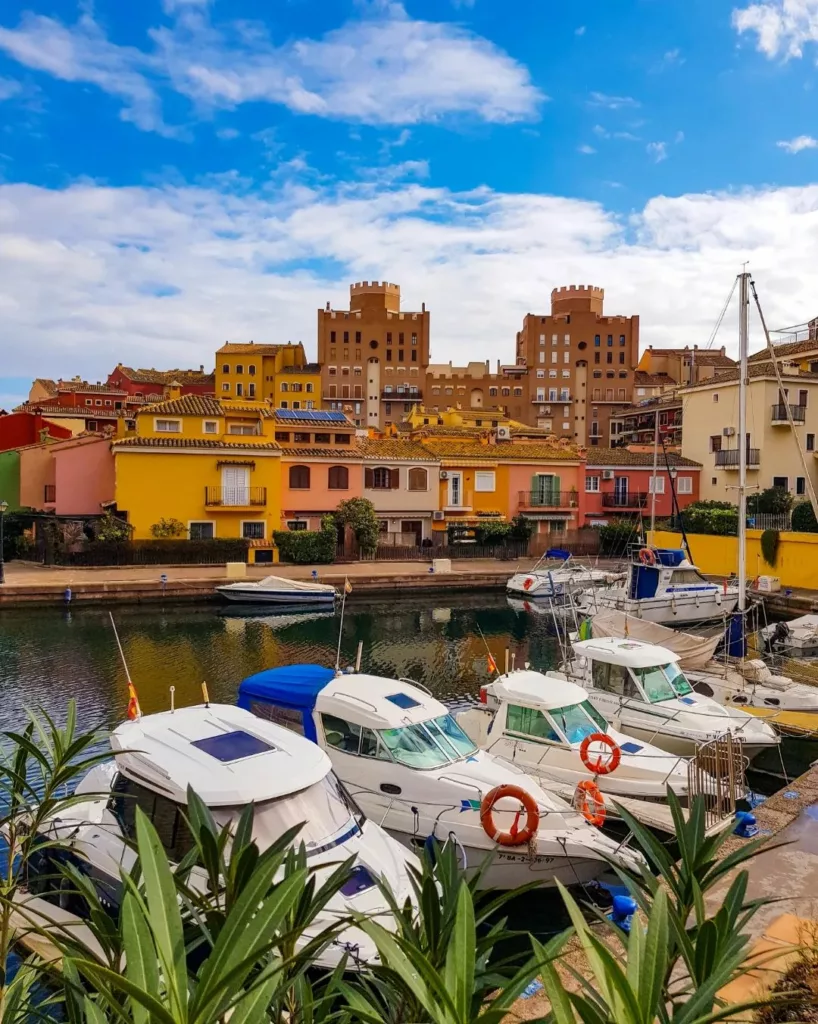 Port Saplaya is a residential area near Valencia. It is known for its beach and a beautiful port called Little Venice. I enjoy walking the streets of this urban paradise to feel as if I am a rich and famous person who might be living there.
22. Visit Albufera Natural Park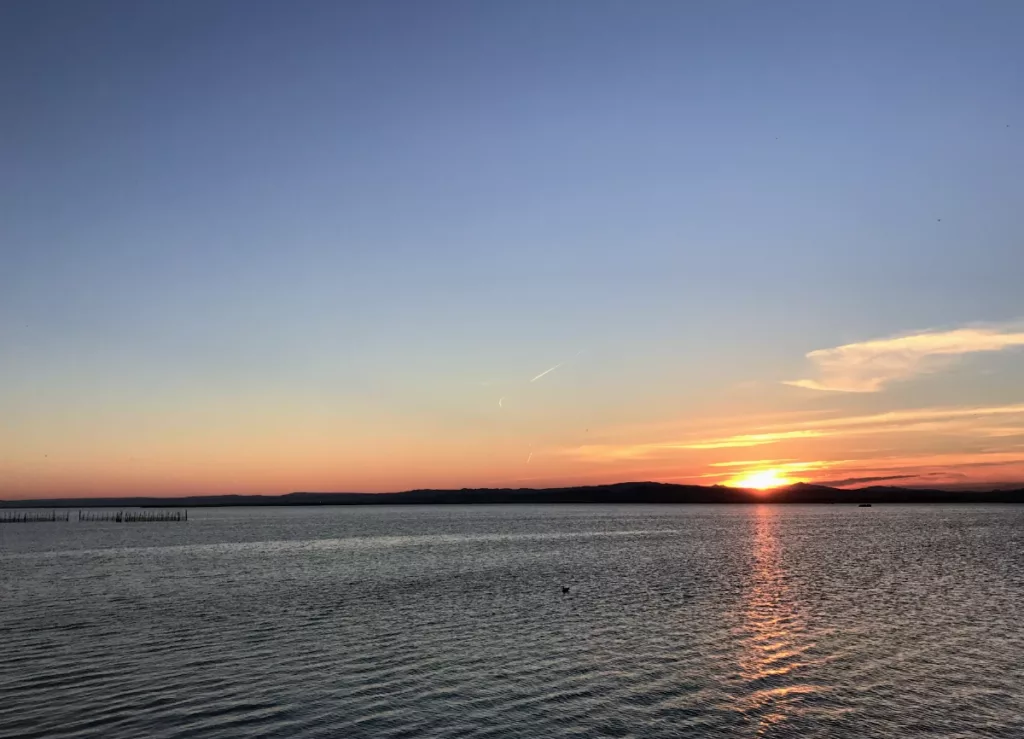 The rice fields of Albufera are the homeland of paella.
What to do:
Visit El Saler beach for swimming or sunbathing.
Explore Albufera Natural Park.
Navigate by boat through the waters of Albufera lake.
Try some authentic paella from one of the many restaurants around the area.
See the beautiful sunset at Albufera lake.
23. Get to the top of Serranos tower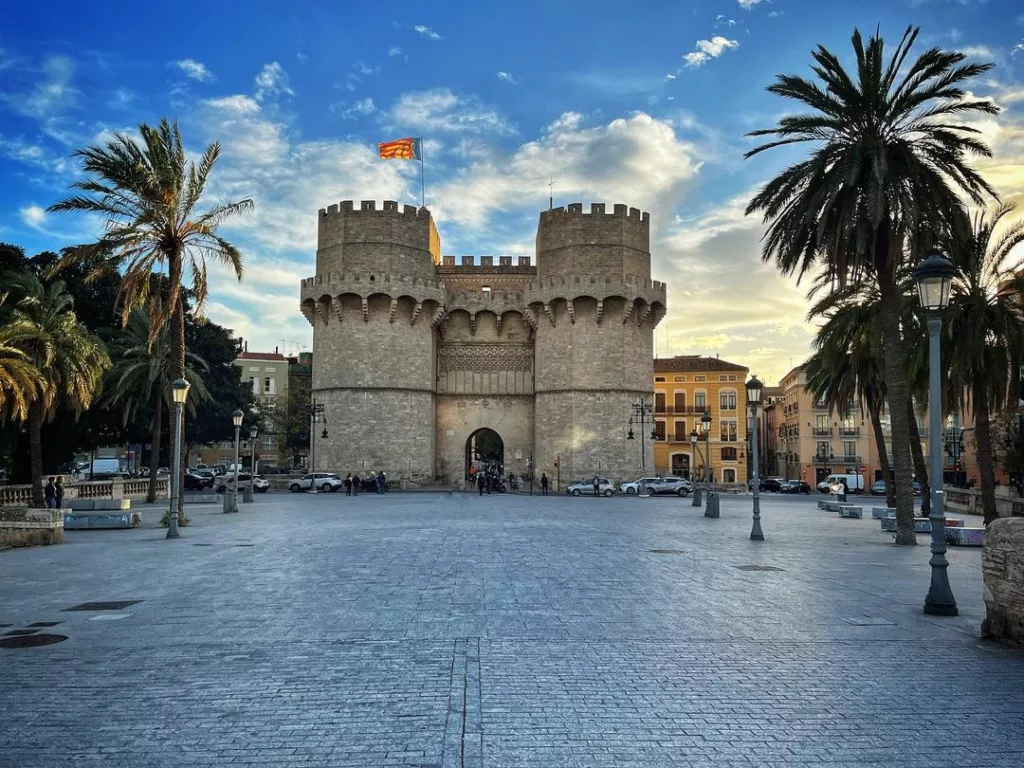 It will be necessary to climb many steps, but it is worth it.
24. Walk around El Cabanyal neighborhood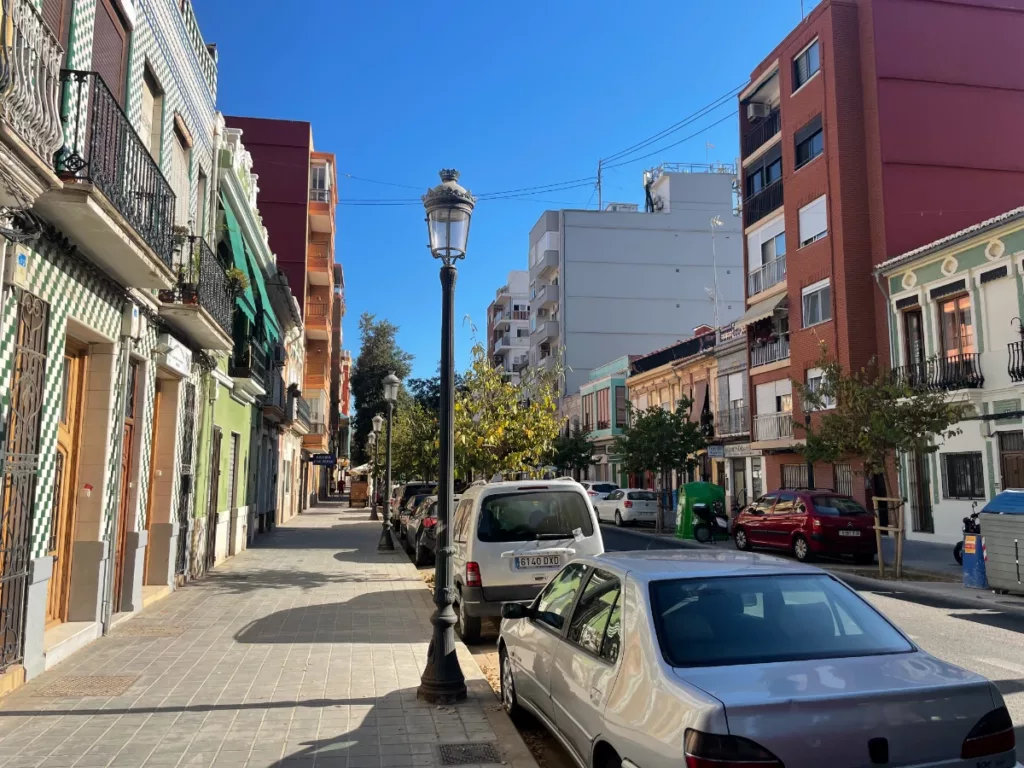 El Cabanyal is a lovely beach area close to the center, just a half-hour metro ride away, which is not much given the size of Valencia. In El Cabanyal, you will find the city's central beach, Las Arenas; therefore, it is always crowded and lively.
The neighborhood has a distinctive ambiance: old houses, a sandy beach, and a beautiful promenade with restaurants and bars. You can try authentic Valencian paella here too!
This area can be chosen as an alternative for holiday accommodations in the off-season when prices at coastal hotels drop drastically.
Read also: Things to do in El Cabanyal
25. Try Paella Valenciana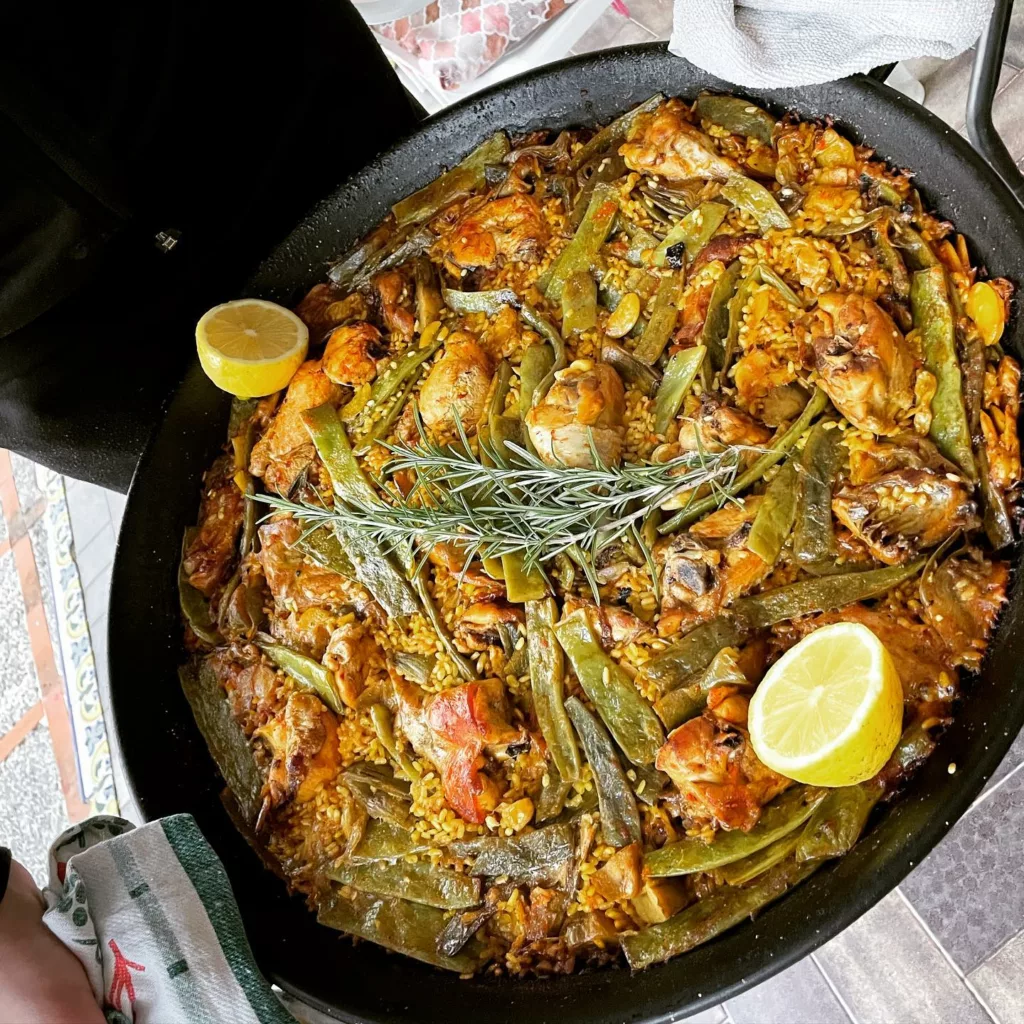 Paella Valenciana, a traditional Spanish dish originating in the region of Valencia, is usually made with short-grain white rice, chicken or rabbit (or both), butter beans, and vegetables.
The recipe may vary but always begins by lightly frying the meat in olive oil before adding garlic and onions. Once softened, they are added to a large flat pan (known as a paellera) with an aromatic sofrito sauce – this forms the base for all good paellas! Then, the stock is added with green beans and/or peas, followed by raw rice.
Where to try authentic wood-fired Valencian Paella:
26. Sample seafood at Duna Port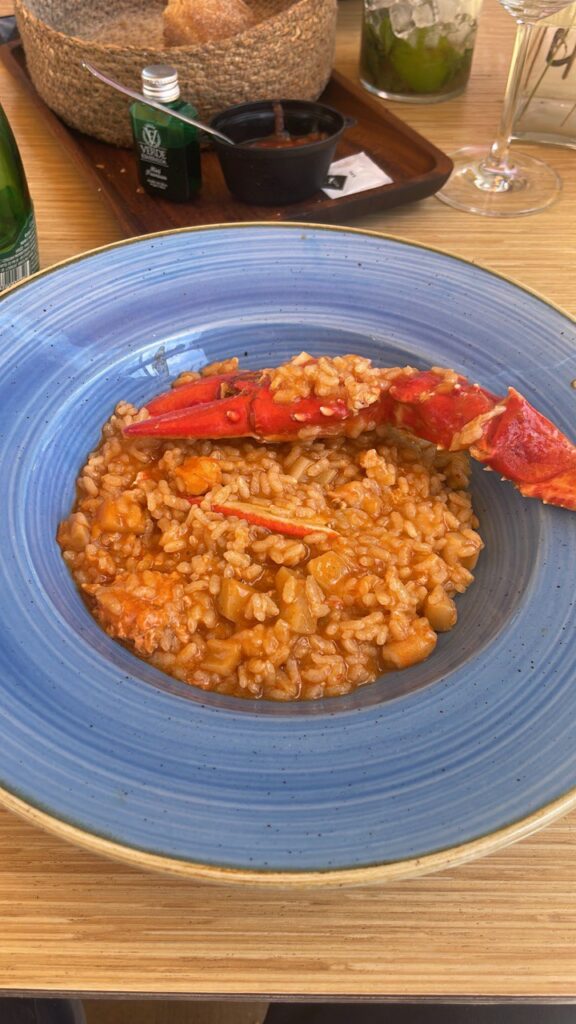 You will find this restaurant at the Port of Valencia, on a harbor-side terrace. It is quite a popular place among the locals. Start with a glass of white wine, some salads, fried calamari, and grilled octopus, then try their seafood paella. If you have already tried paella, go for the "blue lobster braised in our Josper oven".
Helpful tip On a sunny day, it is better to sit inside, as the sunlight will hound you on the terrace (canopies do not cover all the seats).
What people say on Google: 3.7 stars, 626 reviews
Marina de Valencia, Modulo Sur F1
Read also: Best seafood restaurants in Valencia
27. Watch a Flamenco show at Café del Duende
The Cafe del Duende hosts a live flamenco show every Thursday at 9:30 pm, Friday and Saturday at 10:00 pm, and Sunday at 8:00 pm. The shows are performed by professional flamenco bands from Valencia and other parts of Spain and last for an hour. Doors open 30 minutes before the start of each show; no reservations are required.
Helpful tip Arrive 20 minutes before the door opens to be at the beginning of the ticket line and get a better table in the room. 
28. Visit Cafe de Las Horas for the Agua de Valencia
Agua de Valencia is a Spanish cocktail made with vodka, gin, orange juice, and cava (sparkling wine). It is often served in pitchers filled with ice and garnished with slices of oranges. The drink originated at the Bar Tori in Valencia during the 1960s and has since become popular throughout Europe.
29. Enjoy Friday night in Ruzafa
Ruazafa is a trendy neighborhood with a bustling atmosphere. The streets are filled with locals and tourists enjoying the many bars, pubs, clubs, and restaurants that line the area. The best time to visit is on Friday or Saturday night.
30. Visit Plaza del Ayuntamiento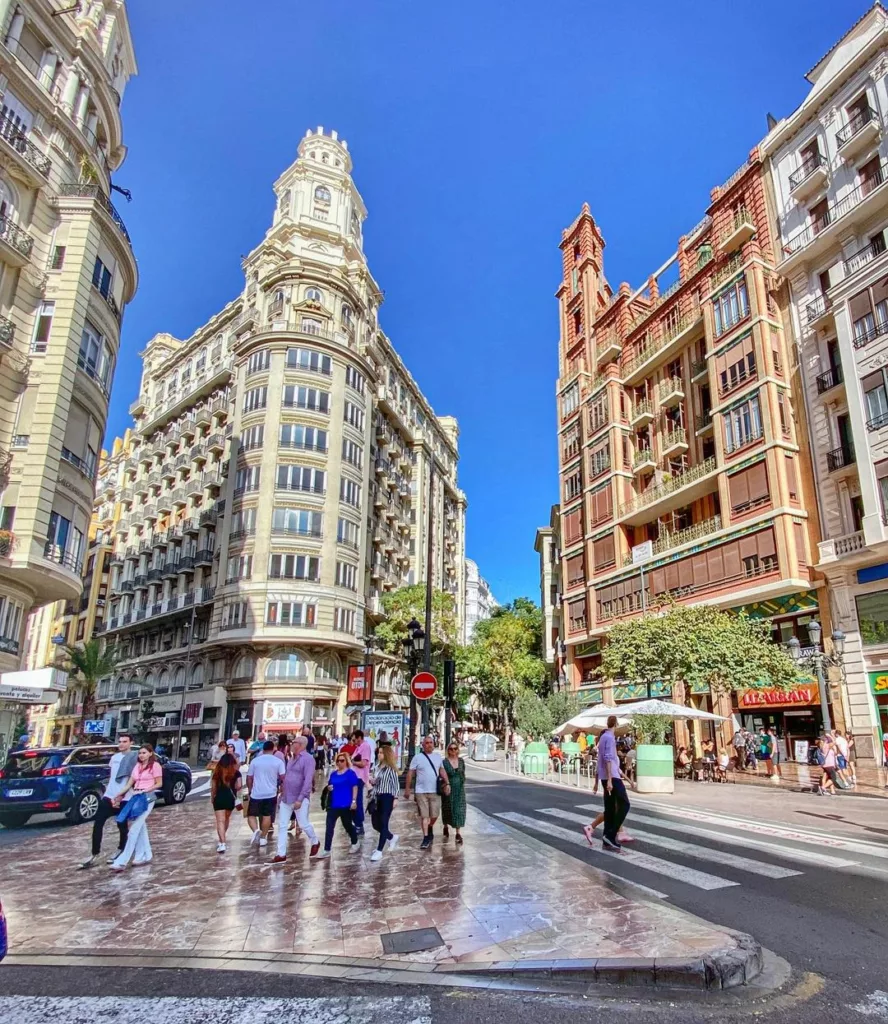 It is the main square in Valencia. Located just off Calle Mayor, this large square has been a center of activity since its construction in 1533 and is a popular gathering place today.
Things to do in Plaza de Ayuntamiento:
Explore the Town Hall building and take some pictures from the balcony on the second floor. Admission is free of charge.
Visit Museo Histórico Municipal and see the flag and weapons of Valencian King Jaume III.
Go ice skating on the ice rink in the winter.
Eat 12 grapes with the New Year's clock countdown on December 31st.
Visit the Post Office, which features a grand domed roof and elaborate exterior.
31. Enjoy the beauty of Jardines del Real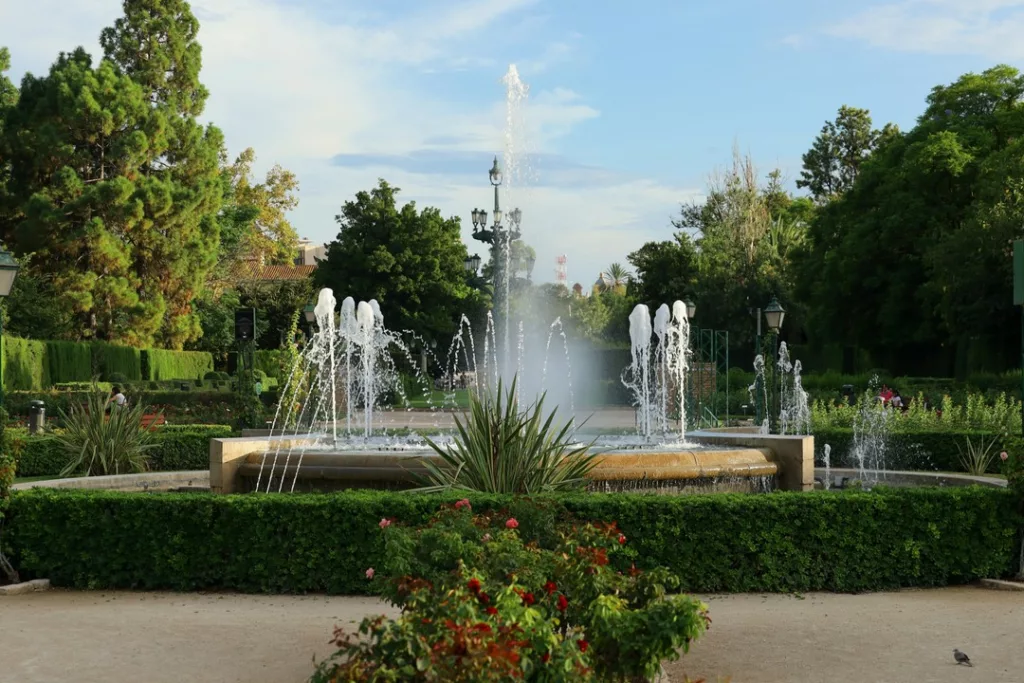 It is the most symbolic garden in Valencia, located on an old Royal Palace site, featuring a Museum of Natural Sciences with fossil collections.
Enjoy its promenade of palm trees, ancient trees, sculptures, fountains, and a rose garden.
32. Hang out in nightclubs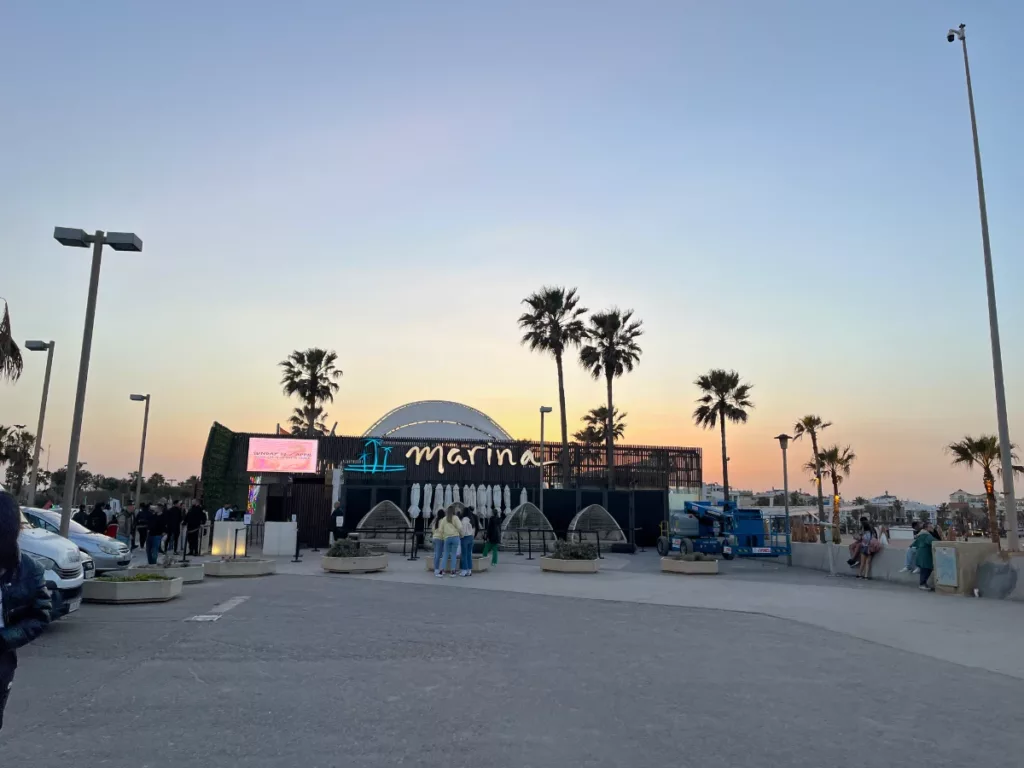 Compared to bigger cities, Valencia offers a smaller variety of nightlife. Still, there are some decent nightclubs in the city:
Marina Beach
Mya
Johnny Maracas or The Rampel Club are both great bars to start the night
Radio City
Akuarela
Deseo 54 (LGBTQ+ friendly)
33. Take a tapas tour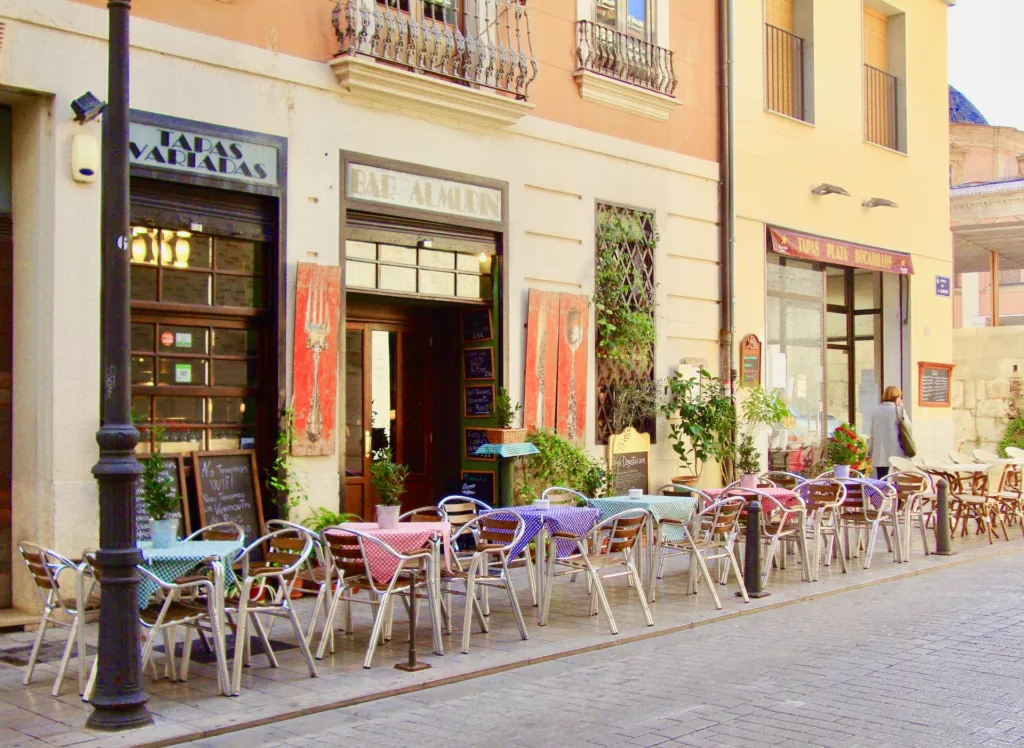 Explore the Old Town's historical and cultural attractions, and indulge in a 10-course tapas meal with excellent wines. See tour availability.
34. Learn to play pádel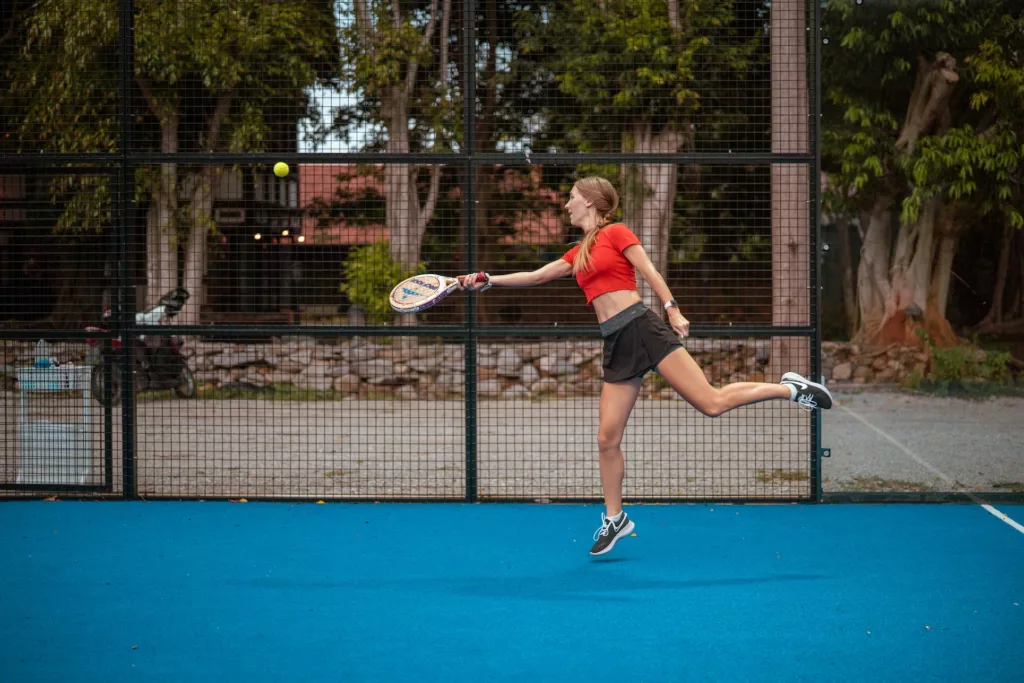 Pádel is a popular sport in Europe and Latin America that combines elements of tennis, badminton, and squash. It is typically played on an enclosed court with two or four players using short-handled paddles to hit a tennis ball over the net. The game follows most of the rules associated with traditional racket sports. It is very entertaining to play, even if you do not have experience.
Where to try padel in Valencia:
Valencia Tennis Academy
Padel Alboraya Indoor
XV Pádel
35. Take a cooking class and learn to prepare paella
Uncover the mysteries behind making traditional Valencian paella with an enthusiastic chef. Relax and sip some sangria as you snack while your paella is prepared. Duration: 2 hours. See class availability.
36. Watch a performance at the Palau de les Arts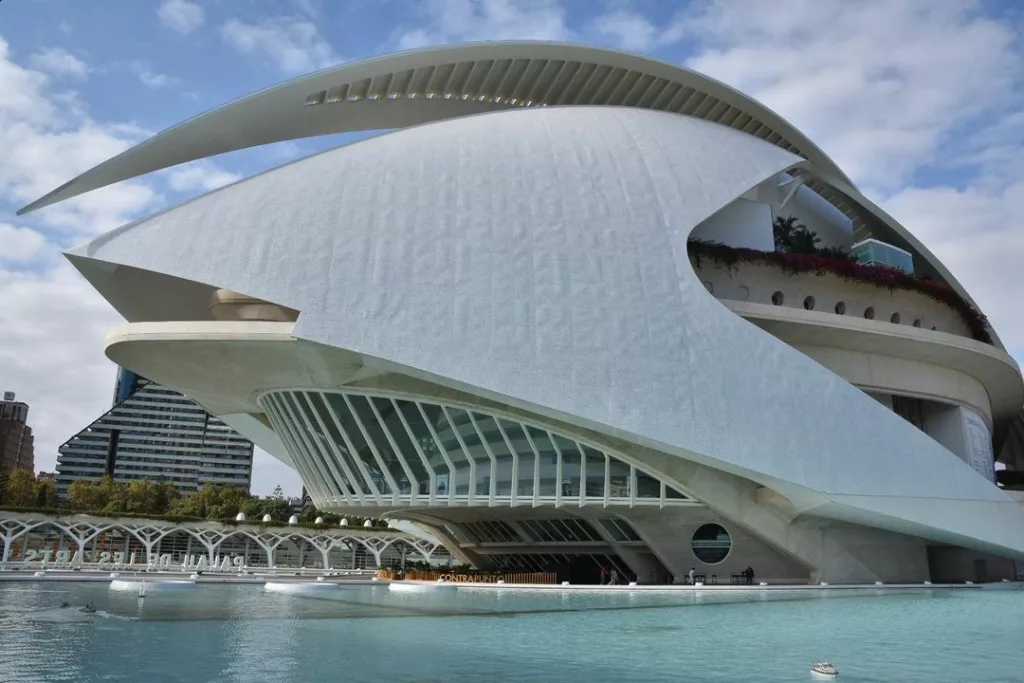 This Opera house ("Palace of Arts") was designed by Santiago Calatrava and built between 2005 and 2007 as part of the City of Arts and Sciences complex. The building features four performance halls and hosts operas, ballets, concerts, and plays featuring some of the most renowned performers.
37. Take the kids to Bioparc and Gulliver park
There are a lot of activities for kids in Valencia. Gulliver's Park is a large attraction with enormous slides for kids of all ages. And it has been renovated recently. Aside from parks, there is a beautiful zoo called Bioparc, which aims to immerse visitors in the animals' natural habitats.
38. Sample sardines in Tasca Angel bar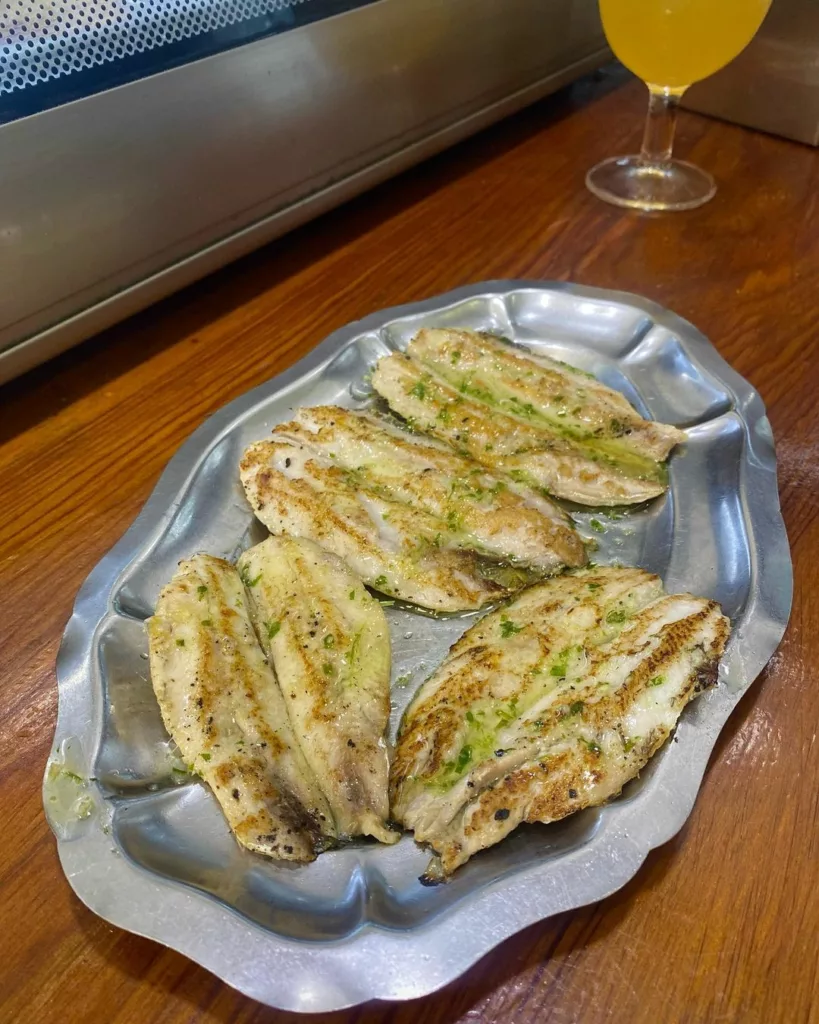 What people say on Google: 4.5 stars, 879 reviews
C. de la Puríssima, 1, 46001 València, Valencia
39. Take a day trip to Montanejos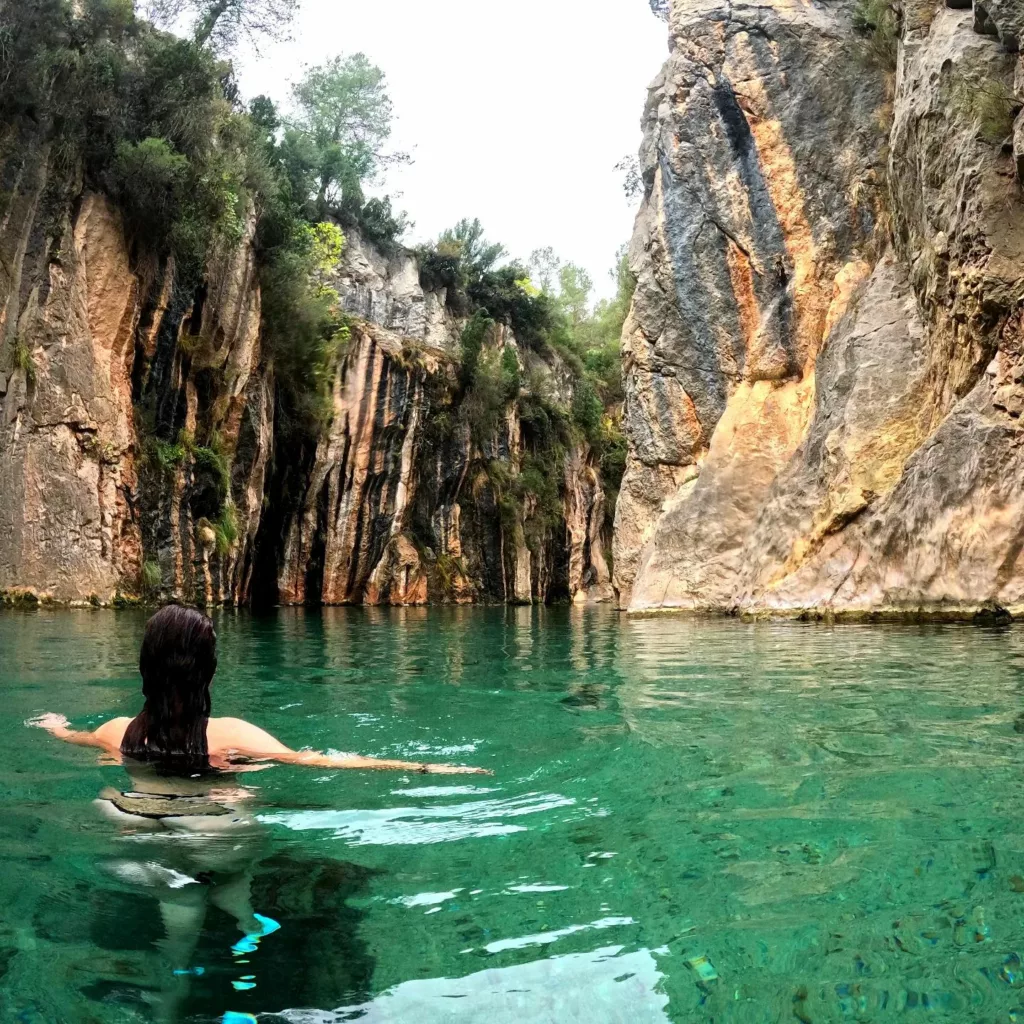 Incredibly beautiful! Great for a hike and swim. You will need a car, though. Car parking is here.
40. Make a visit to a vineyard in Utiel-Requena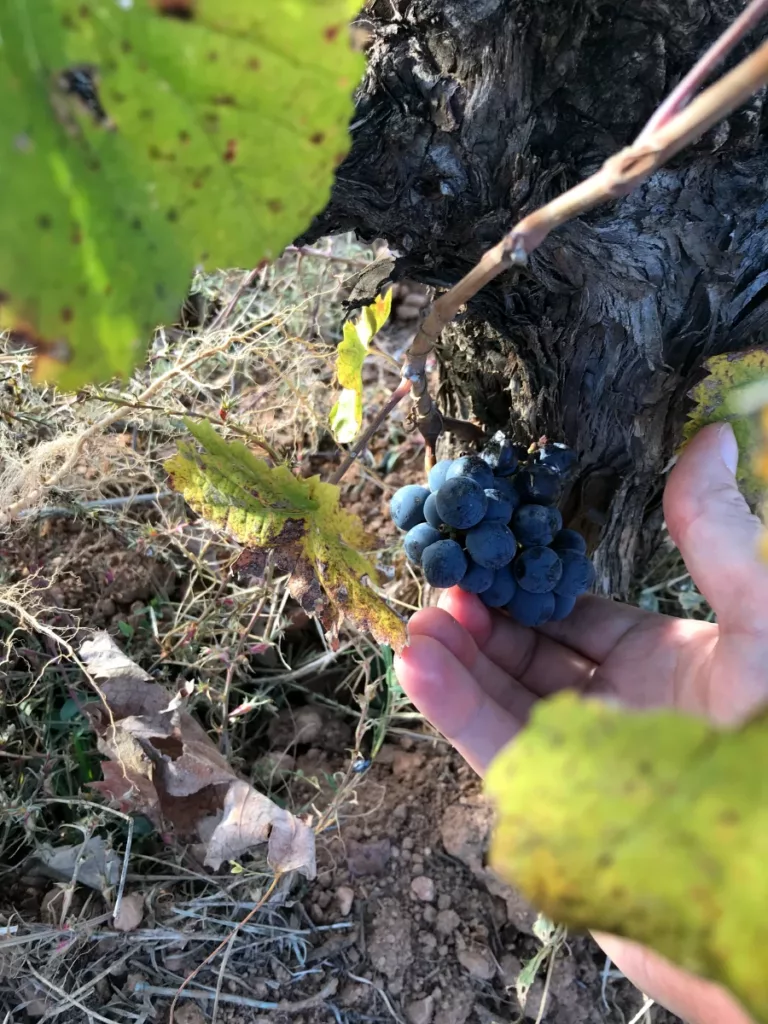 Chozas Carrascal – I have visited it twice. Their wine is excellent, especially "Las Ocho"! They tour you through their "bodega", explain everything, then you have a tasting experience. There is also a house with a stunning collection of wine labels.
41. Participate in San Juan on June, 23rd
San Juan is an annual summer festival traditionally celebrated in Alicante and Valencia. It involves lighting bonfires on the beach and having barbecues. It is also customary to jump over 7 waves at midnight (while making a wish) and over a fire on this day.
What to do in Valencia on a 2-day itinerary
Valencia is relatively small, and the sightseeing spots are really close to each other. Two days will be enough to make the first impression of the city.
Helpful tip Everything is closed on Sundays (because of Spain), and you are pretty limited with the options. Luckily, you can still go for lunch or dinner. 
Day 1
10 am, climb the Serranos Towers (one of the best sights in Valencia).
11 am, walk around the El Carmen neighborhood.
1 pm, go to Lonja de la Seda (Silk Exchange) and Valencia Central Market.
3 pm, lunch near Plaza de Ayuntamiento.
4 pm, see Plaza de la Reina and try horchata with fartóns.
6 pm, rest at the hotel & change clothes.
8 pm, go to the Valencian Soho – Ruzafa – for shops, bars with tapas, cocktails, and live music.
Day 2
10 am, bike through the Turia Gardens park.
11 am, enjoy the attractions of the City of Arts and Sciences.
2 pm, go to the Malvarrosa beach and eat paella.
5 pm, head to the Port of Valencia (Marina).
7 pm, travel to the south of Valencia to see the sunset at Albufera lake.
Getting around the city
The Old Town is perfect for exploring on foot, and you will also want to reach more remote neighborhoods. The public transportation in Valencia is quite developed; they have buses, the metro, and many taxis. Also, there are Valenbisi urban bikes with bike stations in Ruzafa, the City of Arts and Sciences, and even Marina or Malvarrosa beach.
Useful vocabulary
You will need to know the meaning of some Spanish words:
almuerzo (midday lunch)
la cuenta, por favor (check, please)
hasta luego (bye)
qué tal? (how are you / hi)
fartón (a little bun to dip in horchata)
horchata (the sweet white drink).
gracias (thanks)
de nada (you are welcome)
disculpa/perdón (sorry/excuse me)
hablas ingés? (do you speak English?)
The main thing to remember when saying Spanish words with double L-letter is that it pronounces as "yeh/yah." For example, paella is pronounced as [pah-eh-yah].
Where to stay in Valencia
What people say on Reddit
Go to a cafe. The best in the rain are Poppyns and Federal. Poppyns is in the back of a hipster store, and has a great vibe inside, and a glass ceiling in part of it that's lovely in the rain. Federal is a great place to hang out, very social, and has gorgeous windows. Both are laptop friendly and have great energy to spend awhile. People are fairly social.

iagoandestella
Museums: the city history museum, IVAM, Fundación Bancaja…

Les Banys del Almirant. La iglesia del Temple, a real templar church with some Masonic symbols. Any old palace (they are local government offices now mostly but I think you can visit them. The museum of El soldadito de plomo is in one of them). Bakeries: my favorite ones are Alfonso Martinez and San Bartolomé. Tapas bars in Cabanyal: my favorite one is Casa Montaña.

MonoCanalla
I think you should go to drink horchata with fartons. Also "la ciudad de las artes y las ciencias" is a must. The queens square, the old Turia's river path is a nice place to visit. Go to the beach if you can. Is one of the bests of Spain in my opinion. There are some monuments around the city that you can visit as well. Go somewhere for tapas, me be to the mercat. And eat outside as much as you can, the weather is gentle almost all the year.

As many people said, it would be good to go on Fallas, bit if you can't there are still a lot of places to visit.

If you want to go to the disco, I would recommend "l'umbracle" it is a really cool disco to see.

Turbulent_Trick5947
La Tomatina in Buñol! If you're staying until August….

Las Fallas coming up soon in March. There is a museum where you can see old fallas exhibits. And there are various fallas workshops around the city that some tour groups can access so you can see how they are made.

Also there is a Lladrò factory outside the city that I believe offers tours if you like Lladrò (porcelain figurines that are famous from Valencia).

LocalCrackPusher
Frequently Asked Questions
What is the best time to visit Valencia, Spain? 
The best time to visit Valencia typically falls between March and June when there are mild temperatures and ample sunshine. During this period, you can experience some of the city's biggest festivals, such as Las Fallas. 
Depending on where you stay and how long your trip lasts, approximately $50-$75 per day should suffice for eating out, plus any additional attractions that may interest you during your stay.
What is the weather like in Valencia?
Valencia experiences a Mediterranean climate characterized by hot summers and mild winters. Average temperatures in the summer months range from 64-90°F (18-32°C), while winter temperatures range from 46-63°F (8-17°C). Rainfall is more common in February and March.
Do I need to speak Spanish to visit Valencia?
Although Spanish is the most-spoken language in Valencia (with the Valencian also being an official language), English is widely spoken at most tourist attractions and restaurants. Many locals may also understand other European languages, such as French or Italian.
Do I have to tip in Spain?
Conclusion
There you have it! And I really hope this post helps you in any way! Drop a comment below, let me know what you think.