Where to stay in Valencia, Spain: 7 perfect neighborhoods
Nadia Podrabinek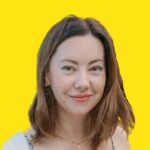 Written by Nadia Podrabinek
Hello, my name is Nadia. I usually write about traveling (there are so many places to fit all the lifestyles), relocation, and living in a foreign country (adapting to a different culture). My travels stretch beyond Spain, with journeys to the US, Italy, Norway, Portugal, and France. Relocating to Spain in 2018, I lived in cities from Barcelona to Madrid, currently calling Valencia home.  Follow me on Twitter, Facebook, Instagram, or LinkedIn! ... show more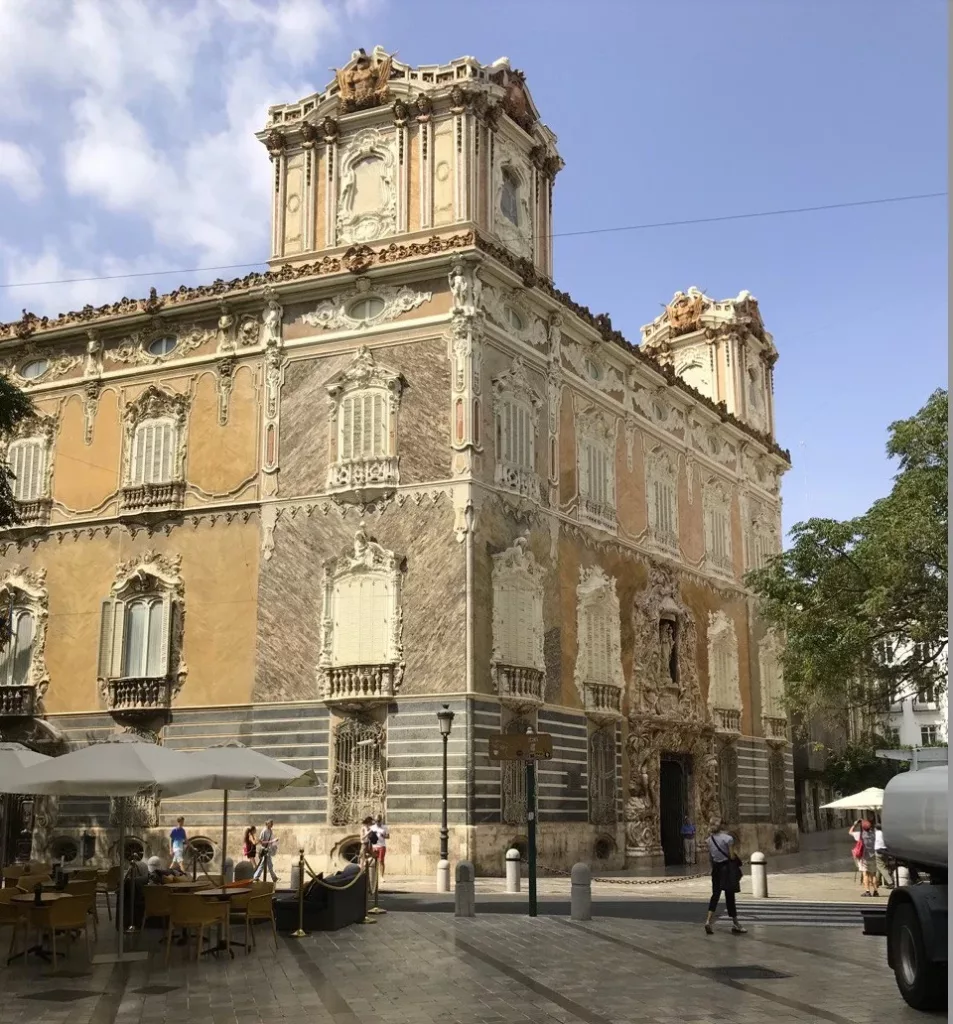 If you are looking for a new destination in Spain, you should take a closer look at Valencia.
Although Valencia is a kind of "niche" city, it has a little bit of everything: incredible architecture and culture, lovely beaches, and rich gastronomy.
But before you dive head first into exploring this beautiful city, let me give you some advice: stick to these 7 best neighborhoods!
Read also: 41 Things to Do in Valencia: A Local's Guide
Valencia neighborhoods map (click to open large image)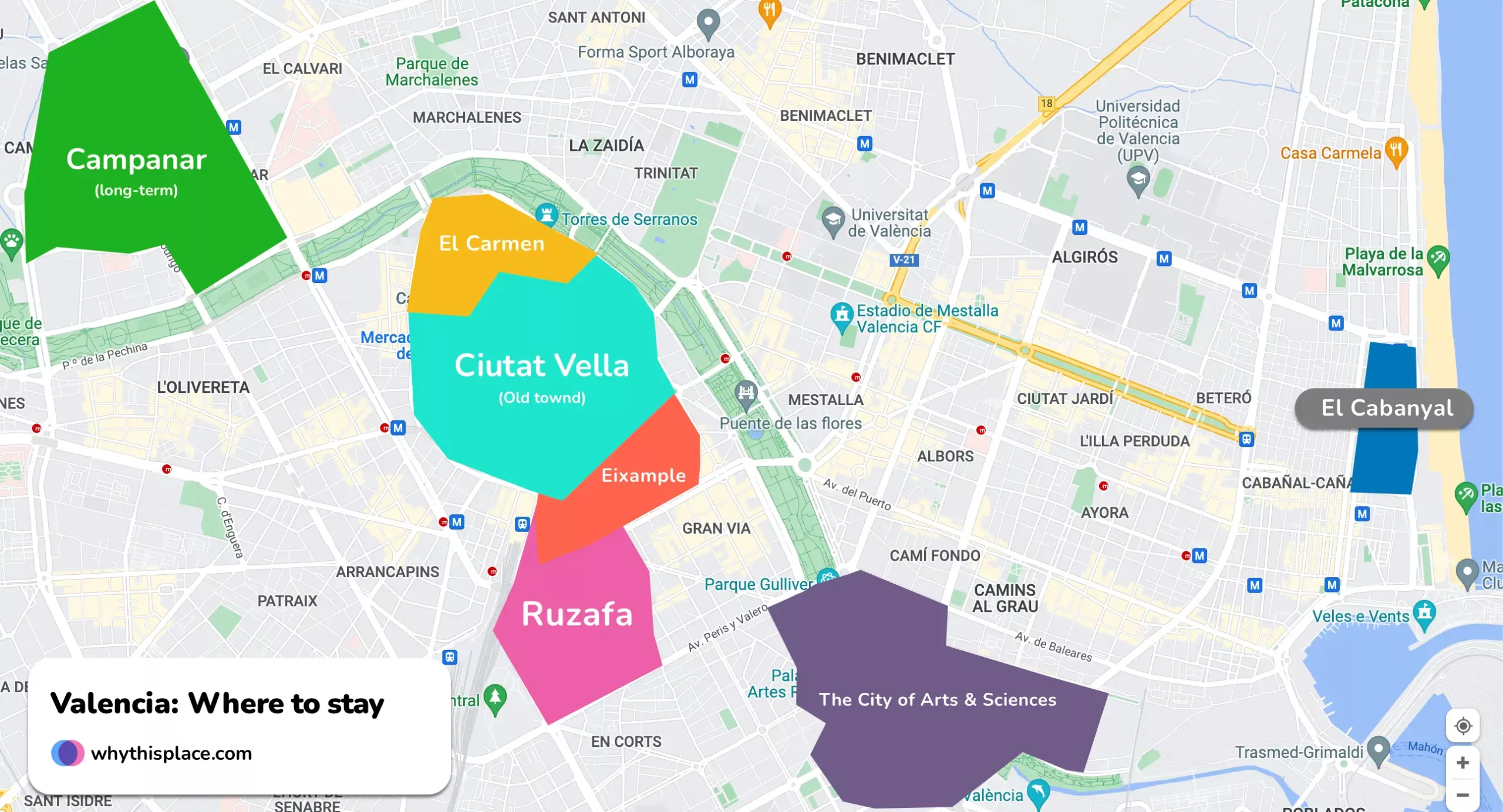 What people say on Reddit
There's no bad neighborhoods you wouldn't want to live in tbh. It's a magnificent city

It depends on how you measure access. Cabanyal/canyamelar is close to the beach and there is a train station that can take you north. If that counts as outdoors for you that's a good option. If you want to live near the train stations of nord and Joaquin Sorrolla to go somewhere then anywhere in the center would be best.

There are towns very near valencia that have the same density in some neighborhoods that are closer to the mountains I'd thats what you're interested in.

Honestly the region is dense and compact if you pick almost anywhere it's a good decision.

CabanyalCanyamelar
Downtown is expensive and the city isnt that big. Ruzafa is also a good place but could be expensive. Benimaclet is a good guess, or Av. Blasco ibañez with c/ Ramon Llull area.

Raw_Chicken
If you want a bit closer to the beach, but still in a nice area and close to the city center I would say camins al grau. Lots of ethic restaurant, old bars, close to the river, etc.

Same thing but further from the sea and closer to the old city center saidia.

If you want student life. Close to blasco Ibañez.

laFabrica_de_Hobbies
The best place to live by far is in Eixample, like Russafa or Canovas. Anywhere along/around Gran Via. This area is absolutely unreal! An amazing atmosphere every night! I love Valencia!

I_used_to_be_legit
1. El Carmen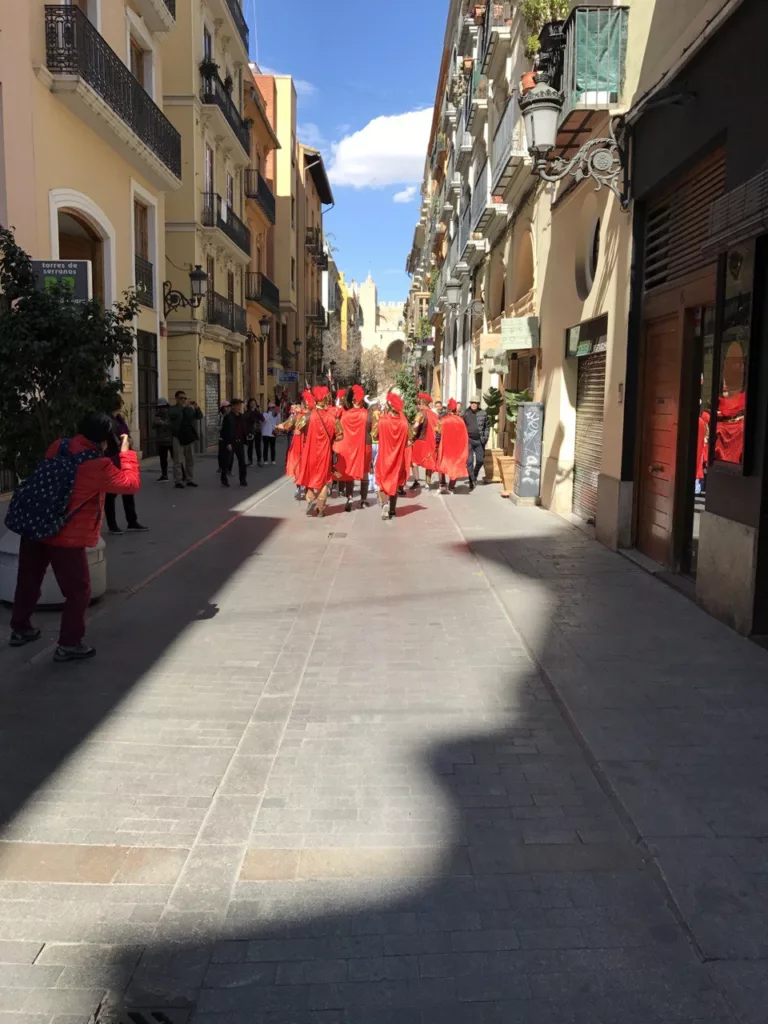 First up is El Carmen – considered by locals as one of the most vibrant districts of Valencia (although many of its streets are quiet and peaceful at night). You will find narrow cobbled streets lined with bars, restaurants, and galleries galore. It is also the birthplace of Valencian paella, so make sure you drop off at one of the many eateries while walking around.
The Central Market is a beloved spot for thrifty shopaholics; narrow medieval streets access it with hints of antiquity.
In El Carmen, you can also visit the 12th-century monastery and a museum with parts of 11th-14th century fortress walls and watchtowers.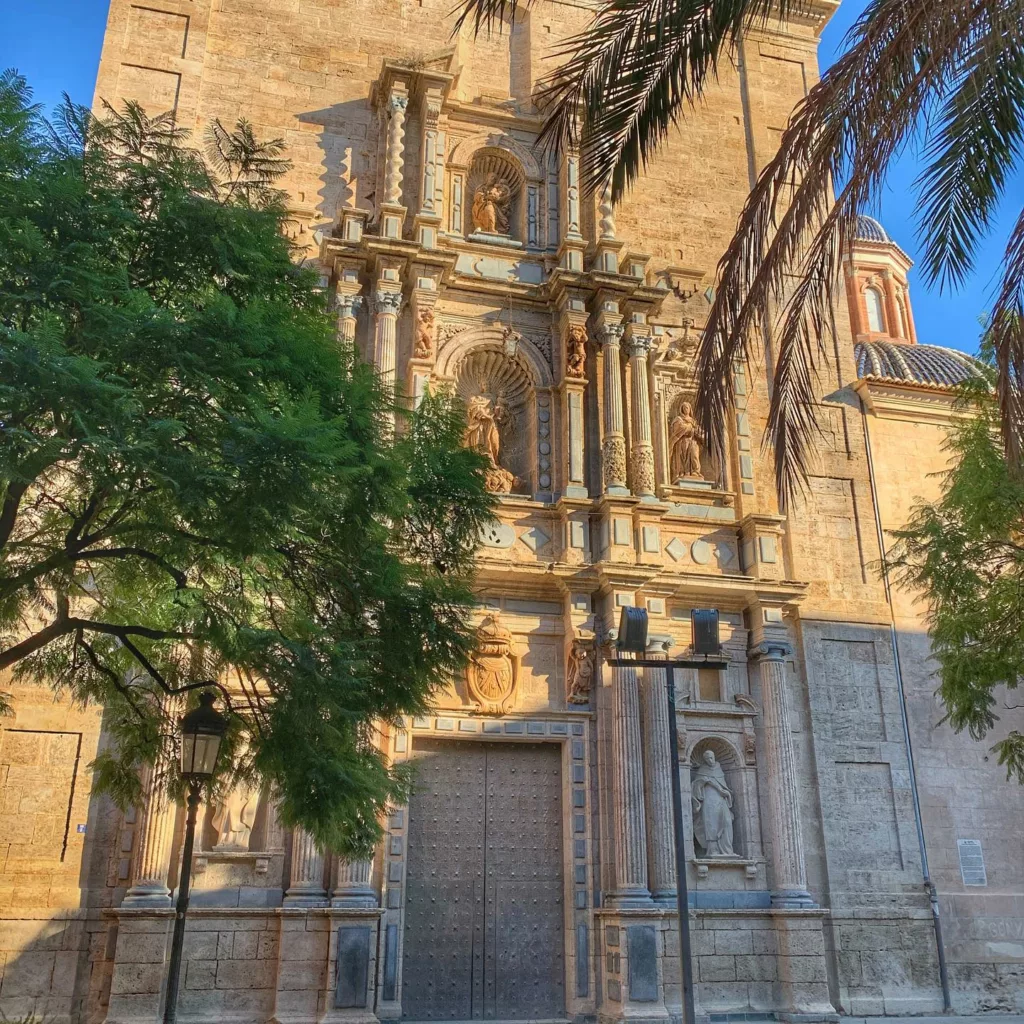 Take some time to experience life in the Silk Exchange – centuries ago, valuable fabrics were traded here. Today it has been transformed into a vibrant museum space.
Some negatives the area may be noisy at nights.
What to do in El Carmen
Go to Cafe de Las Horas for the Agua de Valencia.
Visit the Museo del Siglo XIX showcasing Valencian art movements from the 19th century.
Go to the Parroquia de la Santisima Cruz, a Baroque church with an impressive bell tower.
Explore traditional Valencian life in the Museu Valencià d'Etnologia.
Learn about painter José Benlliure at his House-Museum.
Visit the Museu de Prehistoria, which includes exhibitions about the Paleolithic, Neolithic, and Bronze ages, the Roman world, and Iberian culture.
Get lost in El Carmen's antique streets to discover graffiti, squares, and beautiful historical buildings.
Best places to stay in El Carmen, Valencia
BUDGET: SingularStays Plaza del Carmen (7.5, 45 reviews). The apartment's location is perfect for strolling through the old part of Valencia, and its size accommodates a family of 2 adults and 2-3 children. Air conditioning, a microwave, a washing machine, a TV set, and free WiFi are available.
MID-RANGE: Valencia Home (8.7, 599 reviews). Great location for families, with spacious apartments that are well-appointed for short and extended stays. Parking is nearby, and the neighborhood has a unique charm; you can also take a ten-minute stroll to some of Valencia's most iconic attractions and delicious restaurants.
LUXURY: Apartments Downtown Valencia (9.2, 562 reviews). Great hotel with very friendly hosts. The spacious apartment has all the essentials and it's conveniently located near all of the city center attractions.
2. Ruzafa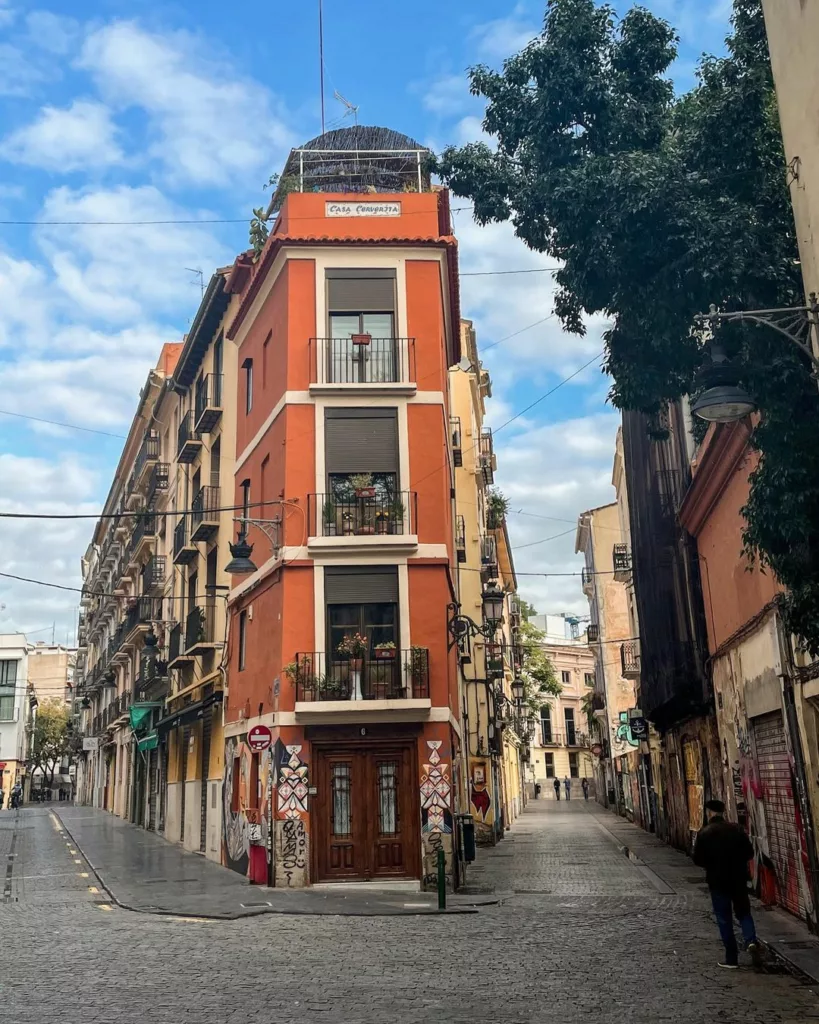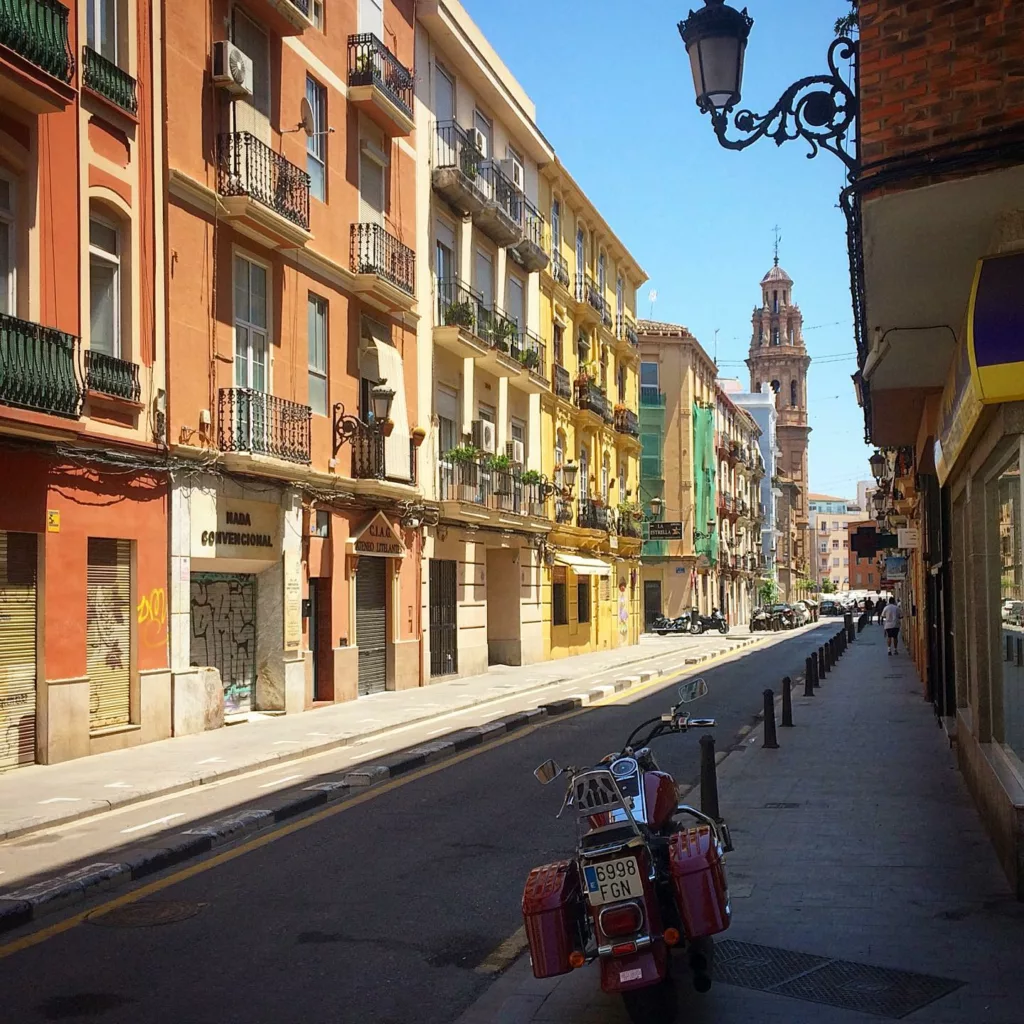 Ruzafa is often referred to as 'the hipster' district due to its alternative atmosphere. It is also one of the most popular touristic areas in the city.
What to do and see in Ruzafa
Popular attractions include the Ruzafa Market for top-quality produce, Ubik Café, a bookstore-restaurant-cinema hybrid, and the monthly El Flea Market. Ruzafa is the best area for binge drinking too.
Other highlights include trendy rooftop bars and clubs offering panoramic views over the city skyline – perfect for nights out.
Some negatives: it is a bit pricy and noisy here.
Helpful tip When eating out, book ahead if you want a good table in the restaurant.
Best places to stay in Ruzafa, Valencia
BUDGET: Russafa Youth Hostel (8.2, 685 reviews). The location is excellent; it's very central and close to many restaurants. There's always someone at reception throughout the day who provides towels and other stuff.
MID-RANGE: City Garden Bed and Breakfast (8.6, 599 reviews). Rooms are clean, cozy, and stylishly simple with comfortable beds. The location is ideal right by Russafa market in a lively neighborhood. There's also a lovely terrace. Plus, the staff is friendly and helpful.
LUXURY: Petit Palace Ruzafa (8.5, 2,052 reviews). The staff at the hotel are incredibly helpful and efficient, from reception to cleaning service to breakfast. The rooms offer amazing quality for their price and they're located in an excellent spot.
Read also: 7 Top Breakfast & Brunch Spots in Valencia
3. Ciutat Vella
Thirdly we have Ciutat Vella, Valencia's Old town. It is stuffed with historic buildings, including La Lonja de la Seda (a UNESCO World Heritage Site). There are also numerous plazas, each offering unique cultural experiences such as flamenco shows or markets selling local produce and crafts. Worth checking out if history tickles your fancy.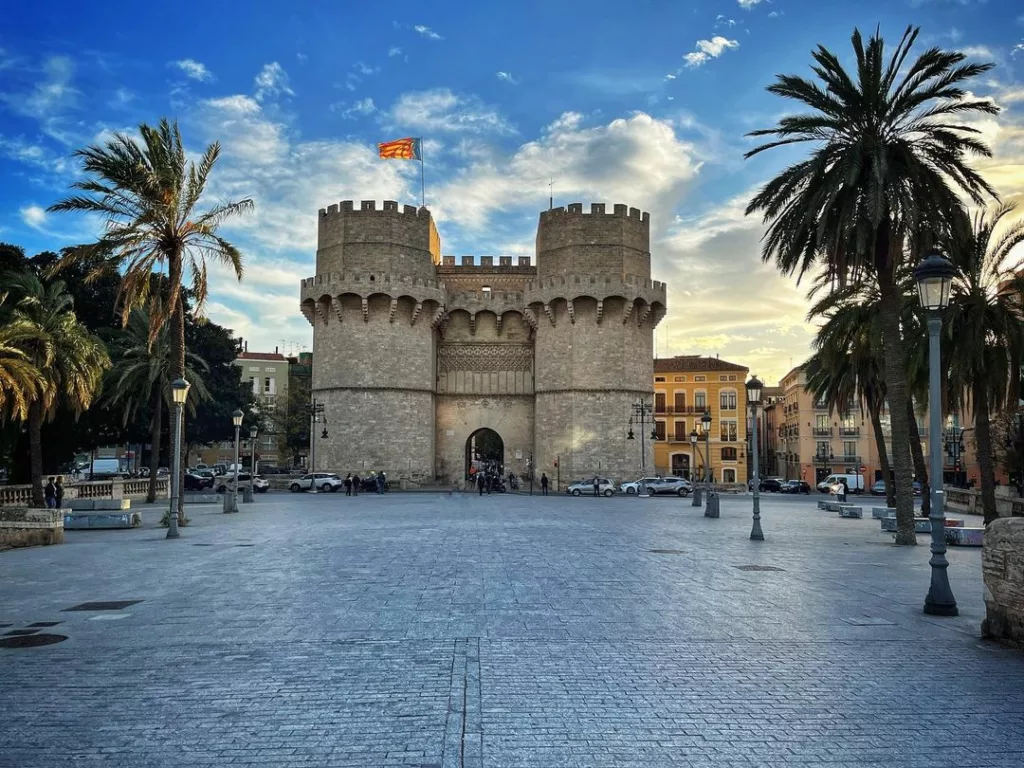 What to do and see in Ciutat Vella
See La Llotja de la Seda, a 15th-century silk exchange. It is a stunning example of non-religious Gothic architecture with World Heritage status. It is home to a variety of gothic gargoyles and stone carvings.
Get lost in the Central Market, one of Europe's oldest continuously running food markets.
Visit Valencia's silk museum and the Cathedral, famously known as the site of the Holy Grail.
Step down to the Almoina Archaeological Museum, which showcases the city's history from Roman to Arabic.
Walk through the Portal Valldigna, a 14th-century gateway that separates the Christian and Moorish districts of the city.
Get to the top of the Torres de Serranos, the only remaining part of the city's 14th-century wall.
Go to the Post Office, with a grand domed roof and elaborate exterior.
Try Horchata, a traditional drink made of almond milk. Both locals and tourists quench their thirst with it in the heat. It is served cold for breakfast along with "fartons" – long buns, which you must dip into the drink.
See Cat's House and explore the souvenir stores.
Best places to stay in Ciutat Vella, Valencia
BUDGET: Art&Flats Hostel (8.3, 2,115 reviews). This is an ideal place to stay if you're traveling through Valencia; it has all the amenities you need. The kitchen is very roomy and fully stocked. The bedrooms are cozy with single beds instead of bunk beds.
MID-RANGE: Venecia Plaza Centro (8.9, 7,268 reviews). The location of this hotel is excellent, right in the middle of all the action. You can ask for a room overlooking the plaza and will not be disappointed with the view. The staff are always friendly and smiling and greeting us. Overall, you can't go wrong with this one.
LUXURY: Cosmo Hotel Boutique (9.2, 2,557 reviews). This small hotel boasts immaculate and modern rooms, as well as very friendly and helpful staff. The food is great, and its location is brilliant. I highly recommend it!
4. El Cabanyal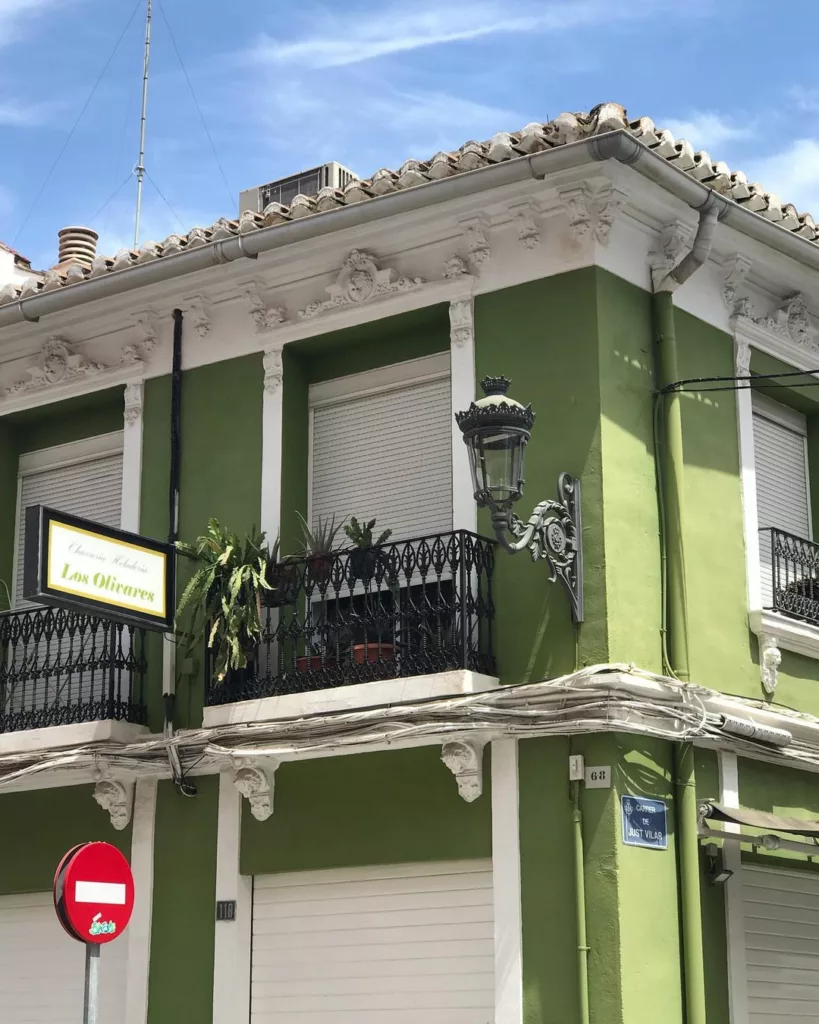 It is a lovely beach area close to the center, just a half-hour metro ride away, which is not much given the size of Valencia. In El Cabanyal, you will find the city's central beach, Las Arenas; therefore, it is always crowded and lively.
The neighborhood has a distinctive atmosphere with old houses. The large wide sandy beach is equipped with sun beds and all possible amenities. A beautiful promenade with restaurants and bars stretches along the coast. You can try authentic Valencian paella here too!
This area can be chosen as an alternative for holiday accommodation in the off-season when prices at coastal hotels drop drastically.
Read also: What to do in El Cabanyal
Best places to stay in El Cabanyal, Valencia
BUDGET: Viva Valencia Apartments (8.5, 117 reviews). This location is conveniently close to tourist attractions and the beach. Additionally, there are pharmacies, groceries, and even a market within 15-minute walking distance if you need anything.
MID-RANGE: Barracart Apartments (9.3, 154 reviews). The location is ideal for the beach and very quiet, offering a good selection of nearby restaurants. The property itself is lovely and immaculate, and studio apartments are quite cozy and well-equipped.
LUXURY: Las Arenas Balneario Resort (8.9, 2,441 reviews). This location is great, and don't forget to ask for room with a seaside view! The rooms are fully stocked, and the service is excellent. Plus, they offer parking which is really convenient.
5. Eixample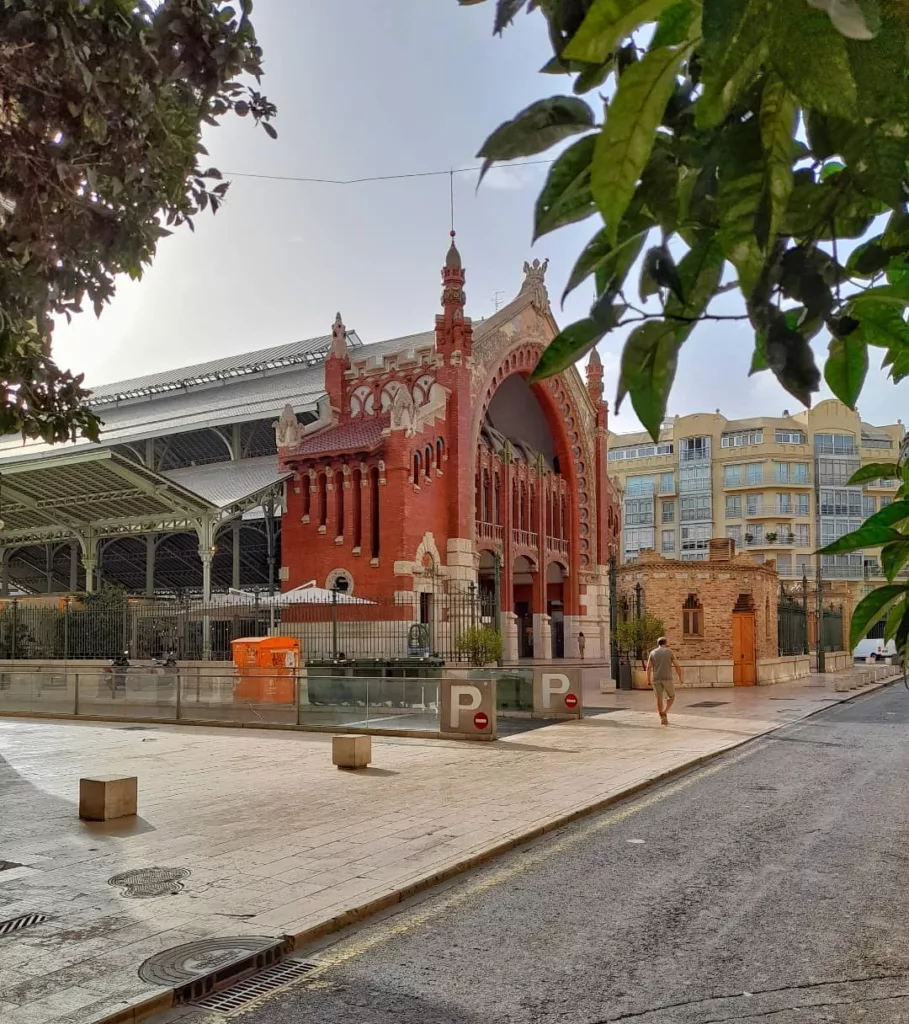 It is the most prestigious neighborhood of Valencia, full of well-kept houses painted in bright, lush colors and flowerbeds decorating every street.
The streets are lined with colorful buildings from different eras and styles – from traditional Spanish villas to modern art deco designs. You can spend hours just wandering around marveling at the architecture. Plus, there are plenty of shops, cafes, and restaurants to explore!
What to do and see in Eixample
First, head to Mercado de Colón. Not only is it an amazing example of Spanish modernist architecture, but it is also filled with cafes, bars, and a gourmet food market. It is a great spot to grab a cup of coffee, drink, or meal.
Check out Plaza de Toros, a crazy bullfighting arena! Even if you disagree with the whole bullfighting thing, it is definitely worth checking out, as it is a distinct traditional element of most Spanish cities.
Go to the Museu de Belles Arts de València. This museum is brimming with artwork from some of the biggest names in Spanish art, like El Greco, Goya, Ribalta, Murillo, and Velázquez. Plus, you can explore the incredible Roman mosaic of the Nine Muses. If you are into art, this is the place to visit.
Best places to stay in Eixample, Valencia
BUDGET: Not available.
MID-RANGE: Hotel RH Sorolla Centro (8.9, 2,037 reviews). This location is ideal – it's right next to the metro and train station, with restaurants and cafes nearby. And it's just a short walk away from all the tourist attractions.
LUXURY: NH Collection Colón (8.6, 1,020 reviews). Very nice hotel, clean, friendly staff, and a solid breakfast.
6. City of Arts and Sciences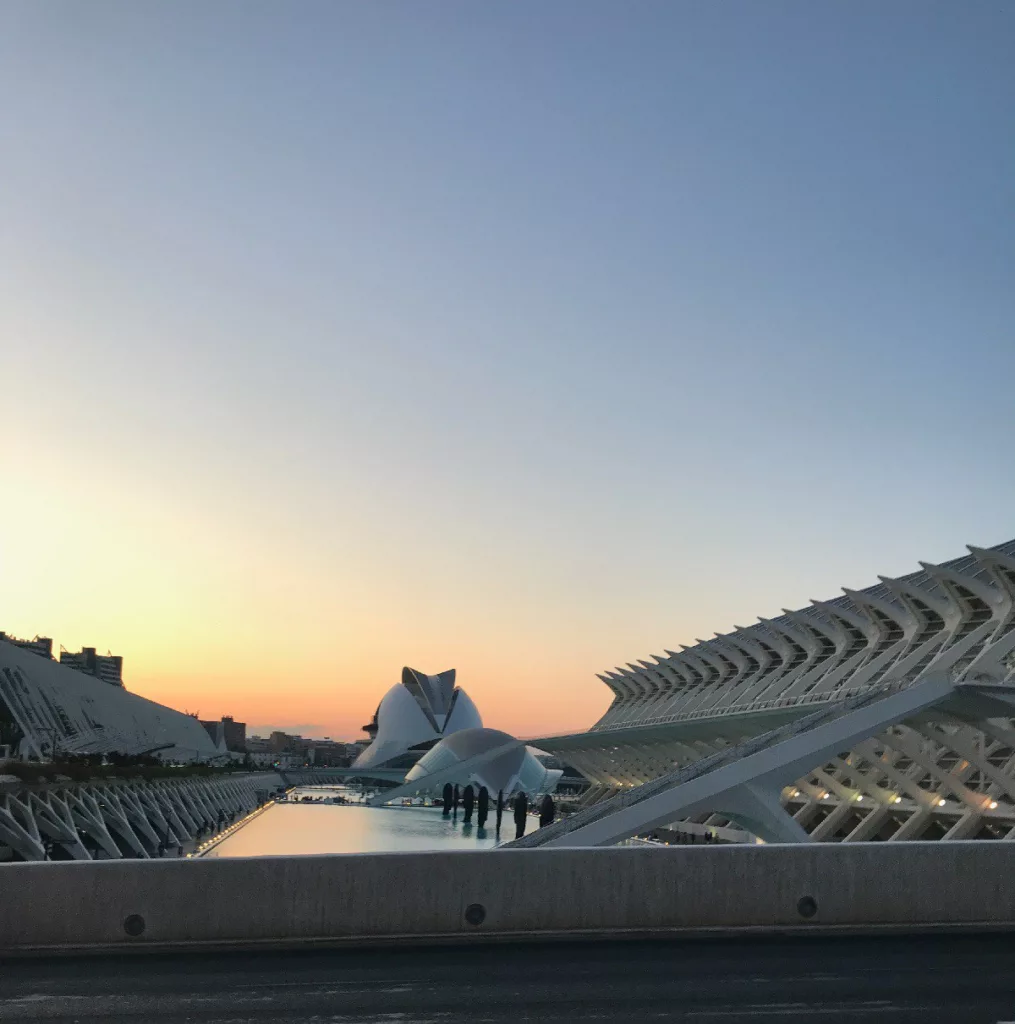 The City of Arts and Sciences marks the border of the historic center and residential neighborhoods on both sides of the Turia River Valley.
The location has ensured its popularity due to its easy access to many points in Valencia.
The City of Arts and Science itself is an exquisite complex of ultra-modern glass and concrete buildings by Santiago Calatrava, one of the 12 Treasures of Spain. You will find a modern oceanarium, science museum, planetarium, tropical greenhouse, movie theater, and a nice walkable Turia park.
The area also has a wide variety of hotels and BnB accommodations.
Best places to stay in City of Arts and Sciences, Valencia
BUDGET: ApartUP Aquarium City (8.4, 27 reviews). You can easily walk to supermarkets, the beach, the Arts & Sciences district and Old town. The air conditioning and the pool are wonderful for cooling off after a day out or lounging around in during daylight hours. The bedrooms are spacious.
MID-RANGE: Barceló Valencia (8.5, 2,696 reviews). The staff, location, and breakfast are all exceptional and flawless. The rooms are very nice with a super clean and comfortable bed, as well as a strong WiFi connection on every floor. Don't miss the rooftop bar and pool!
LUXURY: Sercotel Valencia Alameda (9.0, 2,073 reviews). The hotel is located on the first floor of the building. It has spacious rooms and a large bathroom, which are cleaned daily. The breakfast is very good but not buffet-style; you get one pastry, coffee/tea, fresh orange juice, yoghurt with cereals, plus four choices for your main meal. Walking to downtown takes around 40 minutes but it's a pleasant walk through the Turia Gardens park. There are plenty of restaurants and malls nearby.
7. Campanar & Nou Campanar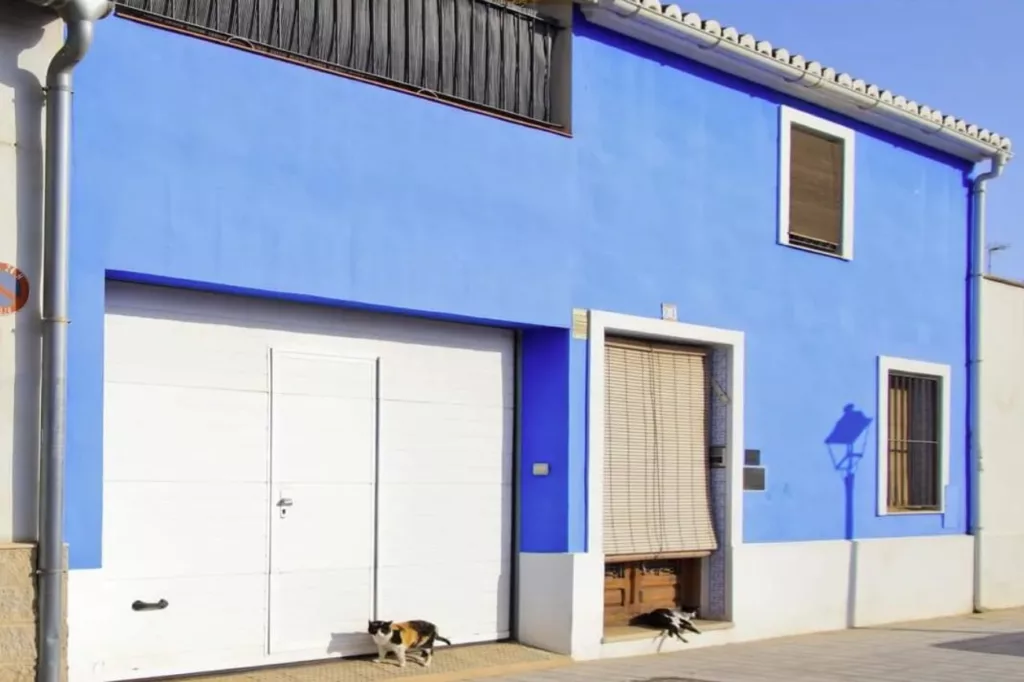 It is a beautiful green neighborhood with boardwalks, parks, gardens, and flower beds. Probably, the best area for a long-term stay.
There is a beautiful large garden and zoo, there are restaurants and cafes, in the evenings it is quite quiet and peaceful.
Best places to stay in Campanar, Valencia
BUDGET: Apartamentos Navío (8.9, 435 reviews). This well-appointed apartment is in a quiet area close to Turia Park and the Old town. It has everything you need for cooking, including essentials like oil, vinegar, and salt. The host explains the apartment thoroughly.
MID-RANGE: NH Valencia Center (8.1, 3,676 reviews). It offers a very pleasant stay with the excellent staff of this well-positioned, comfortable hotel. The rooms are spacious and nicely furnished. Breakfast is delicious but a bit pricey at €18. There is also a lovely pool area and rooftop restaurant. Only criticism is that some of the décor in the room seems rather dated.
LUXURY: Hotel Kramer (8.8, 5,660 reviews). This hotel is a great option for a short visit to Valencia. It's surprisingly nice and very clean, though the rooms are somewhat small. Despite being close to traffic, there is no noise in the rooms due to soundproof windows. They have a small restaurant downstairs with excellent food. You can find coffee, juices, croissants, pain au chocolates and various types of toast with omelette or cold cuts prepared by them. This hotel also close to Turia park!
Frequently Asked Questions
At what time does the nightlife start in Spain?
Due to late dinners, the nightlife in Spain starts at 1-2 am (Fridays and Saturdays). But you can start as early as 6 pm (with some beers), then have dinner at 8-9 pm, go to a pub at 11 pm and go clubbing after midnight.
What are the best neighborhoods to live long-term in Valencia?
– Viveros and Alameda: Nice locations, close to the river.
– Extramuras, Malilla, En Corts, or Montolivet (next to Ruzafa).
– La Petxina, an overlooked part of the city. A 1-minute walk from Turia park and a 15-minute walk from Mercado Central.
– Campanar, with all the major Spanish grocery stores and shops nearby, as well as parks, biking trails, bus stops, and metro.
– Patacona, close to the beach (actually, it is not Valencia but the neighboring town, Alboraya). A charming area for sea lovers. Best if you have a car.
What areas to avoid when staying in Valencia?
No place is perfect on Earth. I do not recommend staying near Malvarrosa beach as the gypsy quarter is nearby (except for Las Arenas Hotel), Benicalap, Patraix, Jesús, Natzaret, and Quatre Carreres. 
Conclusion
Valencia has hotels for everyone – from historical to golf to boutique hotels to cheap hostels.
For atmospheric antiquity, choose accommodation in the center; for bars and nightlife, choose Ruzafa; for the beach leisure – El Cabanyal.
If you travel by car, you should not aim for the center – it is more convenient to stay on the outskirts.
So if you are planning a trip abroad soon, why not try giving these seven amazing neighborhoods within Valencia a visit? Have a nice stay!