Valencia's Finest Stays: 19 Boutique Hotels
Nadia Podrabinek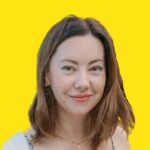 Written by Nadia Podrabinek
Hello, my name is Nadia. I usually write about traveling (there are so many places to fit all the lifestyles), relocation, and living in a foreign country (adapting to a different culture). My travels stretch beyond Spain, with journeys to the US, Italy, Norway, Portugal, and France. Relocating to Spain in 2018, I lived in cities from Barcelona to Madrid, currently calling Valencia home.  Follow me on Twitter, Facebook, Instagram, or LinkedIn! ... show more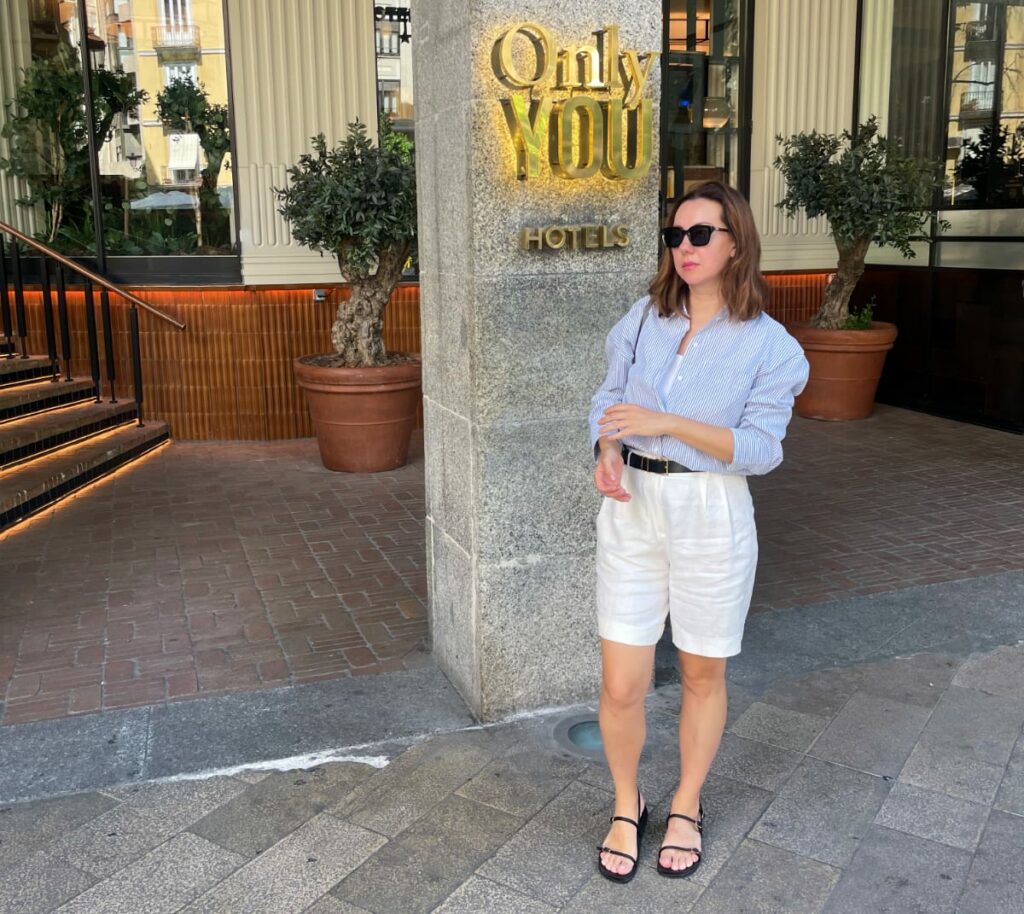 You can find many different hotels and apartments on any budget in Valencia. But in my opinion, the most exciting option is staying at Valencia boutique hotels.
Valencia is the third-most populous city in Spain and the center of the Valencia Community province, known for its scenic beaches, parks, numerous bike lanes, modern architecture, delicious food, and original festivals all over the year.
After the Covid pandemic, the city has regained popularity among the tourists and now attracts more people each month, with the most prevalent request of "where to stay in Valencia".
Read also: 19 Best Luxury Hotels in Valencia
First decide where you want to stay – next to the sea, in the historical center or maybe in a district next to the river park Turia.
---
Quick guide
---
Read also: The perfect neighborhoods in Valencia and 41 Things to Do: A Local's Guide
Best boutique hotels in Valencia in 2023
What is a boutique hotel?
The idea of a boutique hotel first appeared in the United Kingdom in the 1980s, when an old guest house owner turned it into a hotel for art lovers. Since then, boutique hotels have become popular in many countries.
It is a small and intimate hotel with a unique design and a higher quality of customer service. That distinguishes boutique hotels from the larger chains or brand hotels.
The boutique hotel usually provides its guest with personalized services and attention. While there is no consensus on the definition of a boutique hotel, there are some particular features:
Size. Boutique hotels are rather small, with no more than a hundred rooms. That creates an atmosphere of being a personal guest in a private home, rather than just another come-and-go tourist.
Style. A boutique hotel could be fashionable, trendy, elegant, green, and even swollen of the exclusive.
Different. Sometimes it's just it—being something different from standard hotels.
Food. It could be something like vegan-style or eco products only; it could be the food only available at the hotel location.
Price. Yes, it can often be an expensive stay.
There are five popular locations in Valencia where you can stay depending on your preferences:
1. Old town (Ciutat Vella)
When you stay in this area, you will be surrounded by beautiful buildings and museums with centuries of history.
You will walk along the narrow streets and sit on the terraces of cafes overlooking the Central Market, buy the freshest local products and try various tapas, churros, and seafood dishes.
Features:
Council Square (Plaza Ayuntamiento)
Valencia Cathedral
National Museum of Ceramics and Decorative Arts
The Central Market of Valencia (Mercado Central)
Queen's Square (Plaza de la Reina)
Museo Palacio de Marques
Boutique Hotels in the Old Town, Valencia:
Helen Berger Boutique Hotel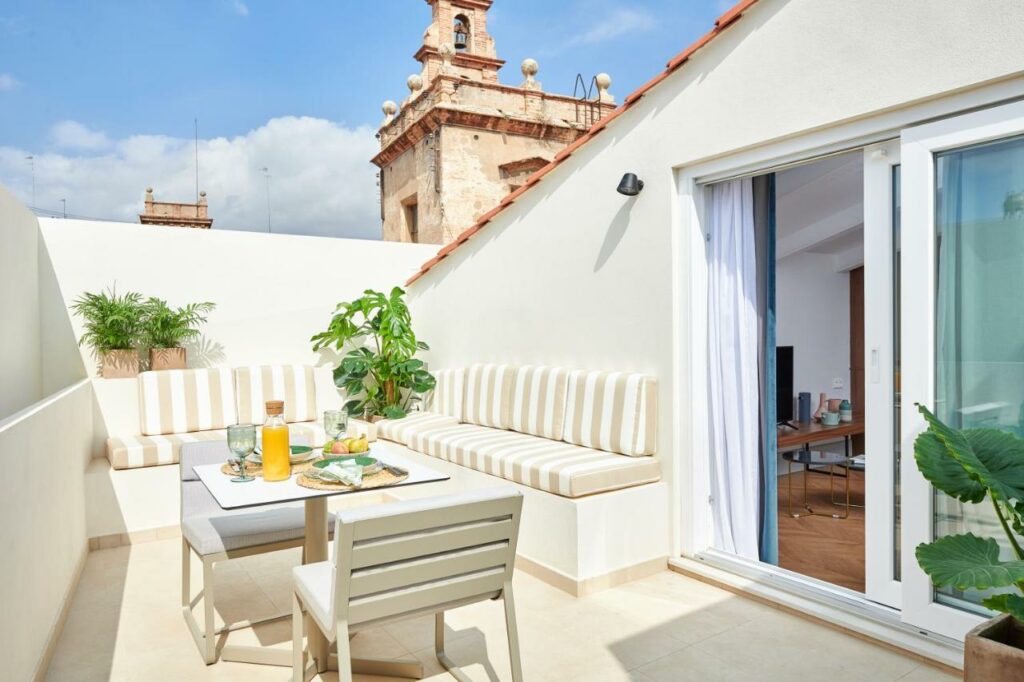 This boutique hotel is encapsulated in a beautiful building with 34 rooms, made in an exclusive design, with all amenities and big attention to detail.
The hotel has two remarkable penthouses, each with a private terrace on the roof. There is a beautiful restaurant where you can have breakfast and come for lunch and dinner. Overall, great location, tidy rooms, delicious breakfasts, and attentive staff.
Only YOU Hotel Valencia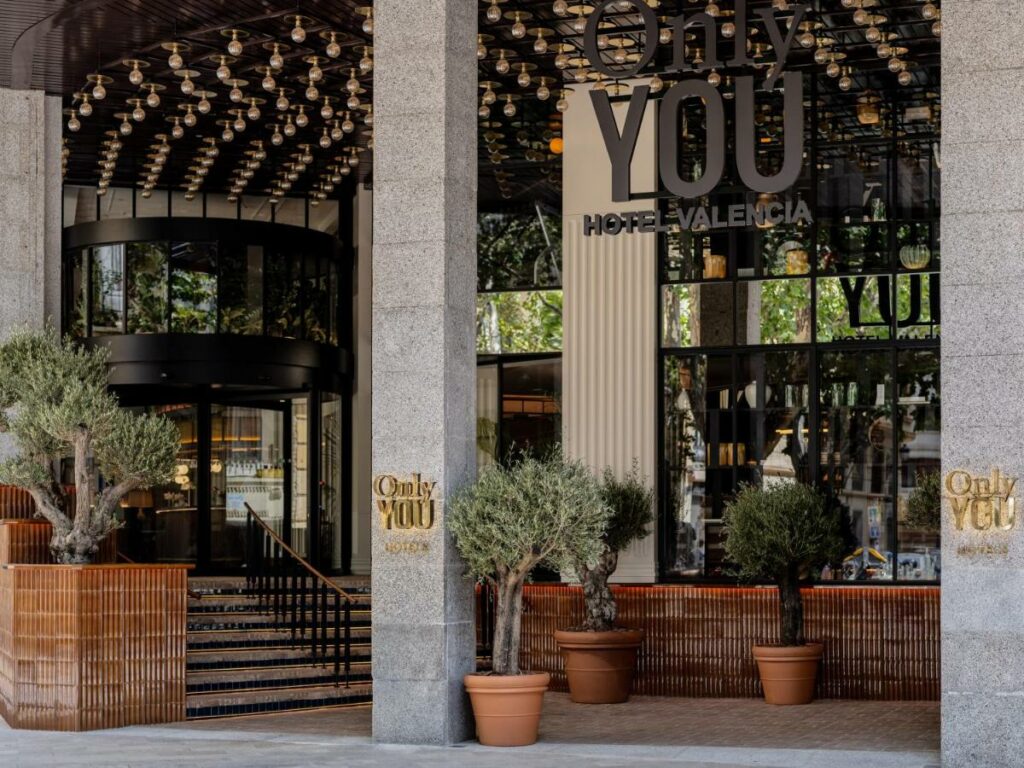 It is a 5-star design hotel in the center of Valencia that has 191 rooms with beautiful interiors. While the hotel has many more rooms to be called a boutique, it has notable differences from standard hotels.
There are several restaurants, one of which is a Japanese fusion cuisine bar with sophisticated decor, an upbeat atmosphere, and DJ music every night.
I would rate the hotel 9 out of 10 for its location, the rooms, and the staff.
The Westin Valencia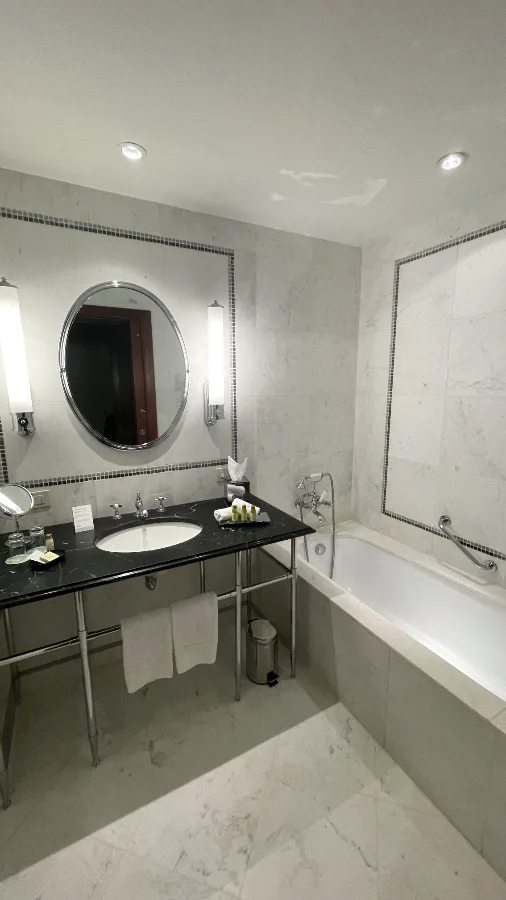 The hotel's building itself is a separate form of art. The hotel also has a beautiful garden (quite a rarity for city hotels). You can have a really good time at the restaurant's open-air terrace and enjoy delicious food and drinks.
But the benefits don't end there. The Westin Valencia features a swimming pool, spa, saunas, and therapy rooms. There are three restaurants with a variety of food.
I cannot say that the rooms were tired/dated that much, but certainly, I expected a little bit more.
Overall, 8 out of 10. Also, lovely spacious rooms and delicious breakfasts.
Vincci Mercat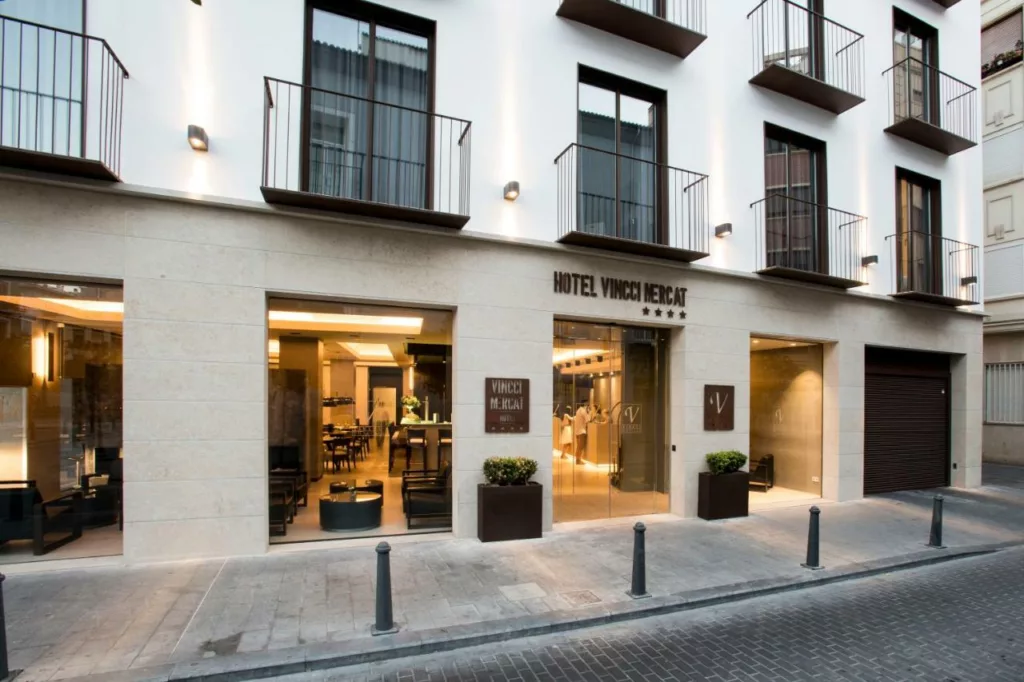 This 4-star boutique hotel is located within 100 meters of the city's Central Market. Vincci Mercat has 68 rooms, each facing outwards.
The hotel offers free WiFi and a rooftop terrace with a mini swimming pool and views of the old city. All rooms are air-conditioned and come with flat-screen TVs, wardrobes, safes, mini-bars, private bathrooms with bath or shower facilities, complimentary toiletries, and hair dryers.
You can find plenty of restaurants and bars within 5 minutes of walking from the property. The main attractions, such as Valencia Cathedral (0.4 miles) and the City of Arts & Sciences (1.9 miles), are also nearby.
Cosmo Hotel Boutique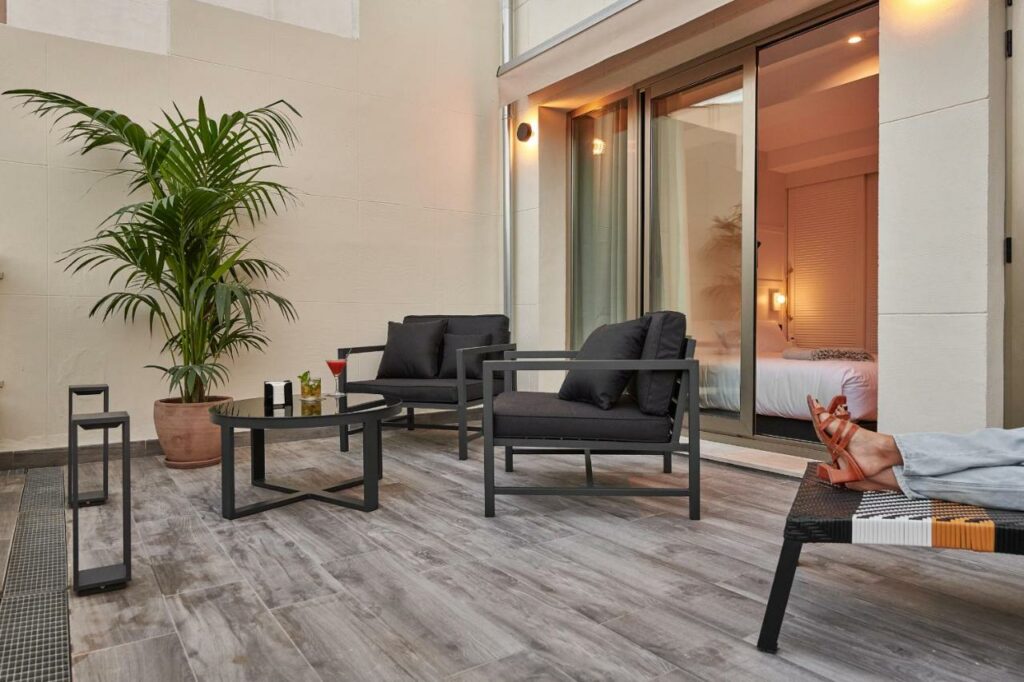 Right next to the Central Market, with a very high rating of 9,2 at Booking.com and TripAdvisor. The hotel is relatively small, with 33 rooms of different classes.
Cosmo Hotel Boutique opened its doors in May 2019 and survived the pandemic! I think there is a certain key to their success: modern new light-colored rooms, top-notch 24/7 restaurant, staff and location.
What do you want more? Okay, it also has penthouses with a spacious terraces.
Palacio Vallier 5*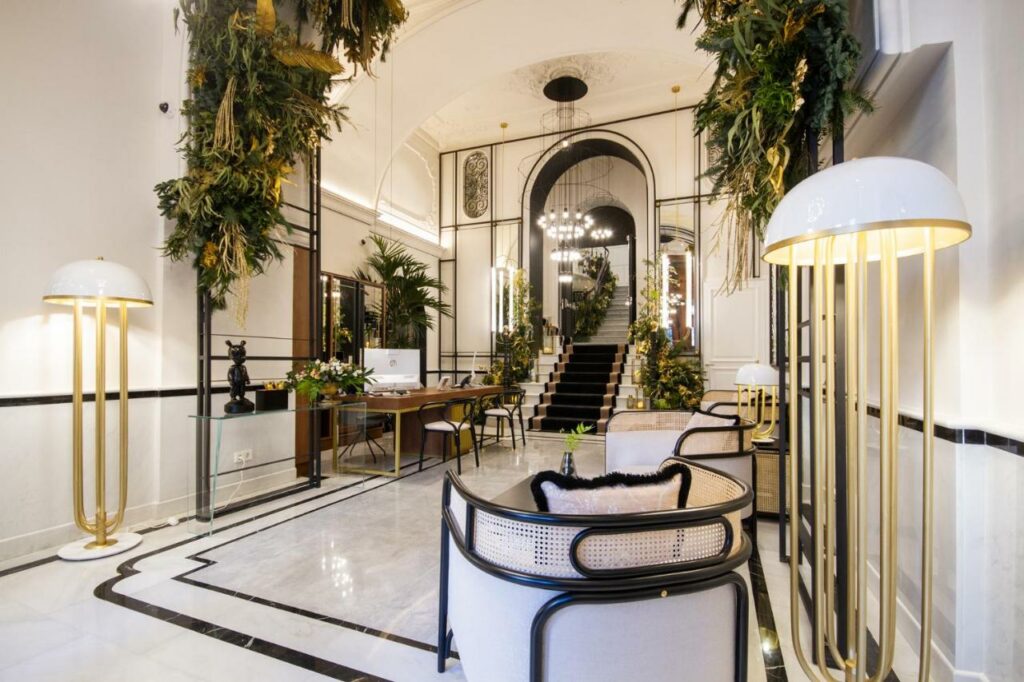 It is a unique deluxe hotel inside the 19th-century mansion. During the reconstruction of the building, the remains of a 3rd-century perfume shop were discovered there.
Everything here is top-notch, the hotel exterior, the rooms, the amenities, the service, and the restaurants. Exceptionally stylish!
Overall, I would give it 9,5 out of 10.
2. Eixample (Gran Via)
This area will appeal to those who love wide streets, city traffic, shopping, trendy restaurants, and cafes. The location is close to Turia Park, so you can ride a rented bicycle there, walk, and even do some sports. The park is very inspiring, I would say, and it is a real gem of Valencia.
Features:
Mercado Colon
Shopping streets
Turia Park
The Fallas Museum
Boutique Hotels in Eixample (Gran Via), Valencia:
Hospes Palau de La Mar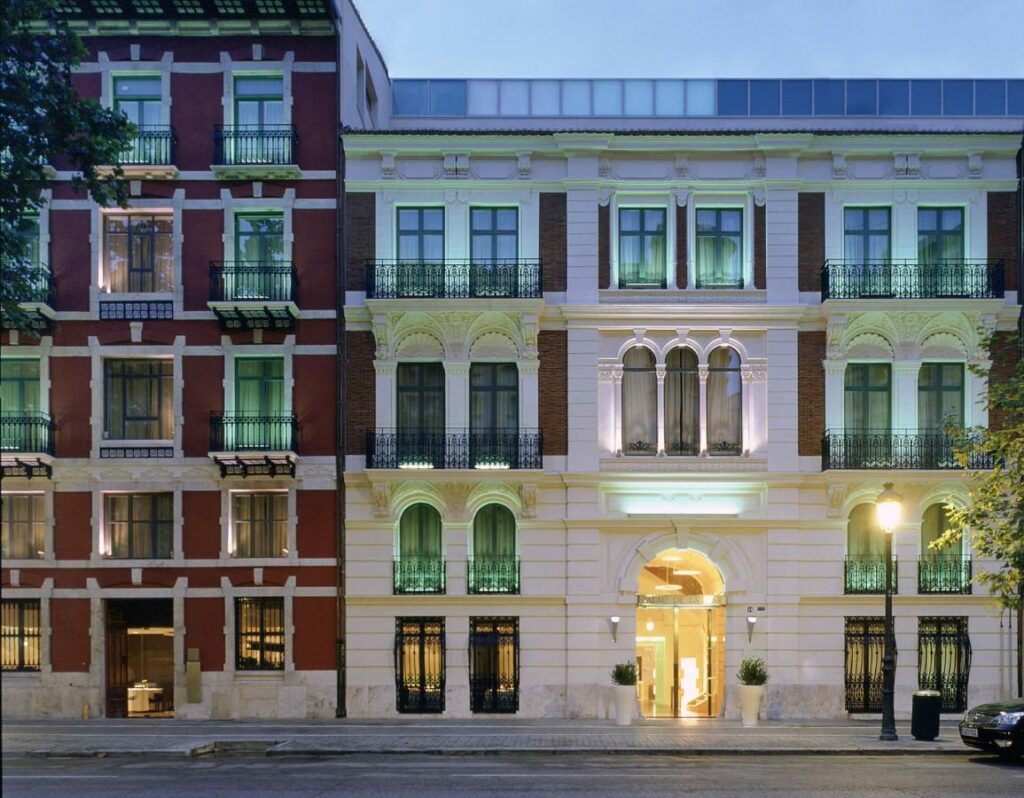 It is a recently renovated 19th-century hotel with a swimming pool, spa center, saunas, and therapy rooms.
The hotel has a gourmet restaurant and spacious terraces where you can enjoy dining in the open air. The hotel is pet-friendly.
I would say that the hotel's location is perfect for this area—you will stay away from the hustle and bustle, while all the main attractions are within walking distance.
Hotel Dimar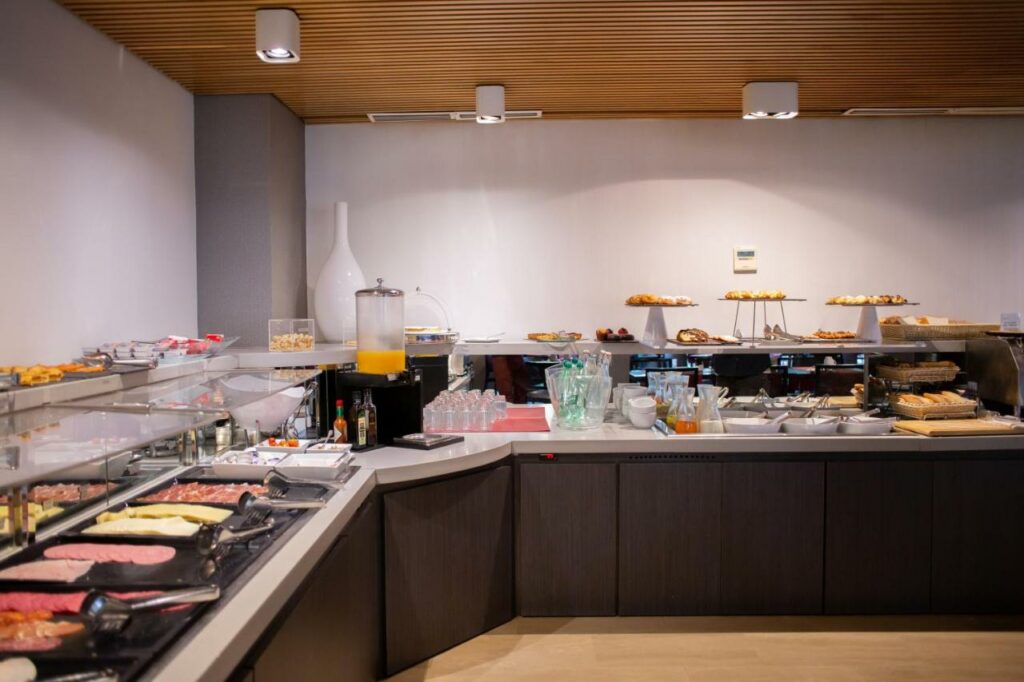 Small and stylish hotel next to riverbed park Turia. The rooms are designed in classic style. Overall, excellent location, lovely breakfasts, very comfortable stay.
NH Collection Colón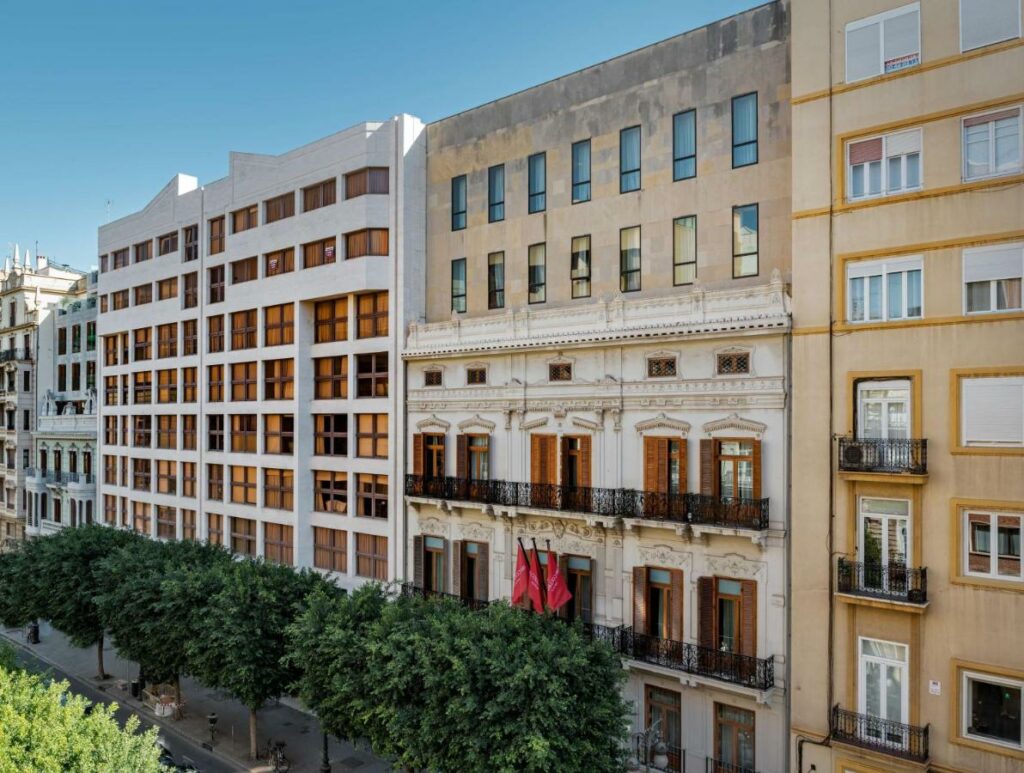 You can find it in Mercado Colon square, the heart of commercial street life in Valencia. El Corte Ingles shopping center, boutiques, and shops are in a 5-minute walk.
Spacious rooms with excellent soundproofing. Fabulous rooftop terrace. Delicious breakfasts. Overall, 9 out of 10.
One Shot Colon 46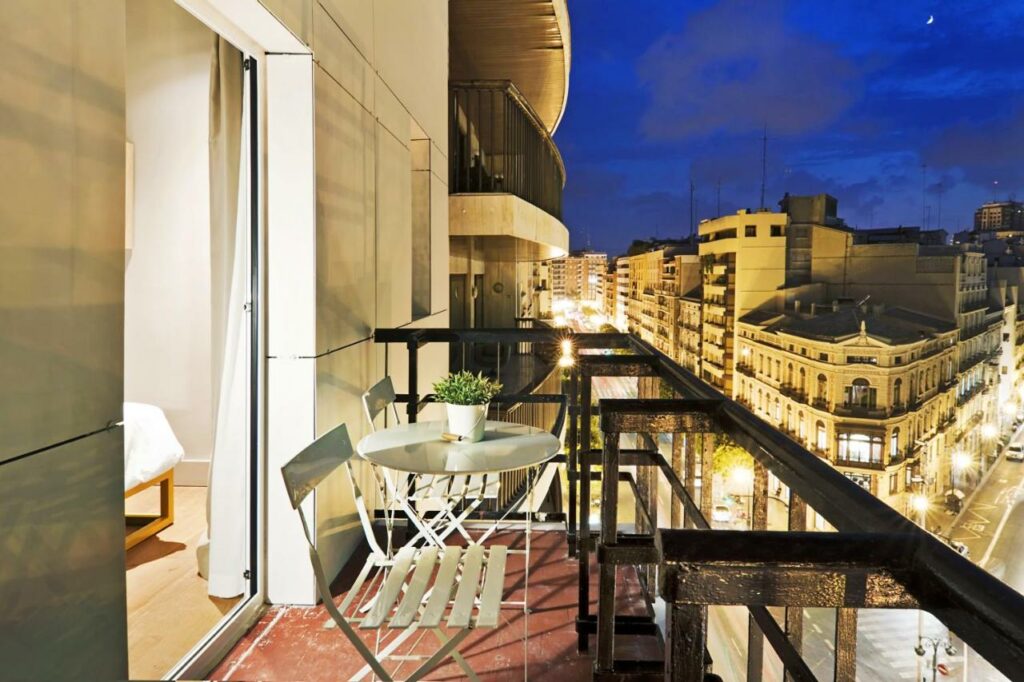 Trendy and relaxing hotel with attentive staff. It has spacious rooms without overly-complicated interior design. Great for a short stay, with shopping centers and Turia Park nearby.
3. Ruzafa
The area is well-known for its vibrant and eclectic nightlife. Here, you'll find the city's trendiest bars, nightclubs, and restaurants.
What makes Ruzafa the best area to stay:
Variety of restaurants
Fashion stores
Nightlife
Amazing architecture
Location
Boutique Hotels in Ruzafa, Valencia
Petit Palace Ruzafa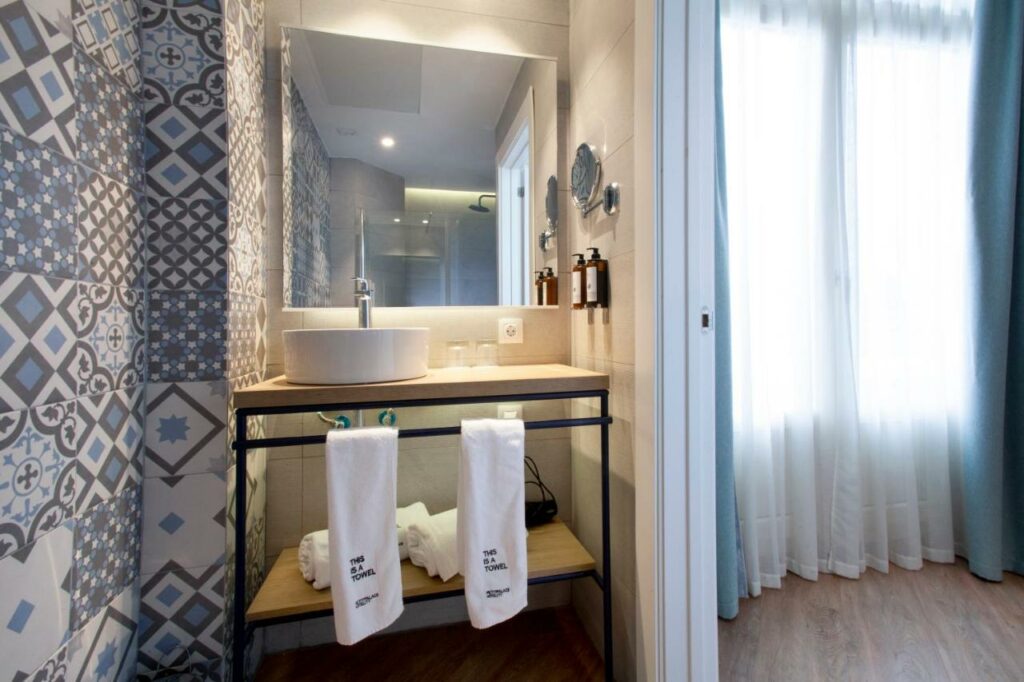 It is a boutique hotel with a beautiful 19th-century facade, 10 minutes away from the Central station. Stylish, spacious rooms. Pet-friendly. Everything is great here: food, rooms, and service.
Modern & Confort Premium Concept Ruzafa (Valencia Guest)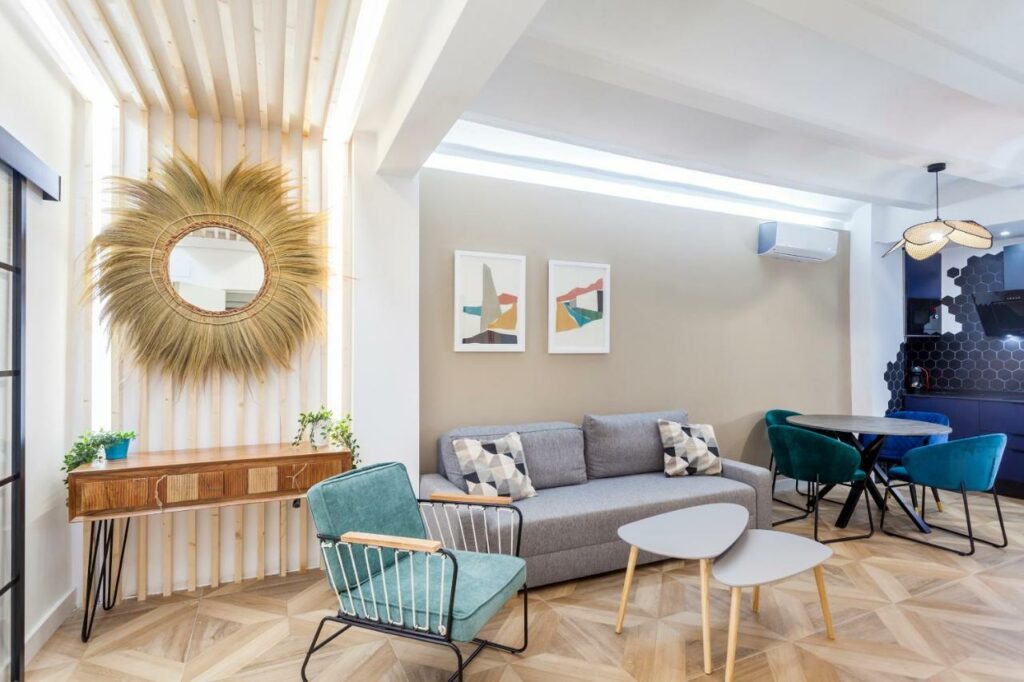 Small hotel with a quiet courtyard. Different types of apartments to choose from (with a balcony, a small terrace, etc.). The rooms also include a kitchen.
YOURS Boutique Stay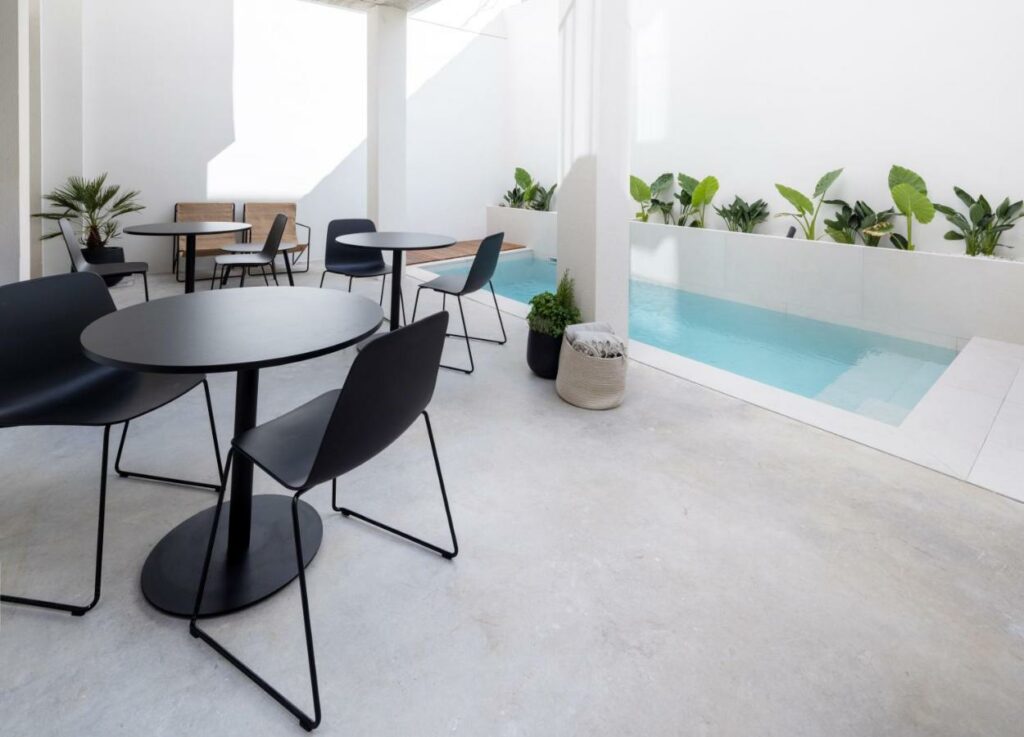 This is a minimalistic design boutique hotel with standard and duplex rooms (which have access to the terrace). It has a quiet patio with a swimming pool, bar, and a small garden.
The hotel rating on Booking.com is 9.3, which is quite nice. And I like the idea of minimalistic design because we all struggle with overconsumption.
4. Camins al Grau (The City of Arts and Sciences)
It is a well-known cultural and architectural area, with the iconic City of Arts and Sciences by world-famous architect Santiago Calatrava. The City of Arts and Sciences looks super cool; the architecture is gorgeous! And it's easy to get both to the Valencia center and the beach.
Features:
Hemisferic (IMAX cinema)
Umbracle (a beautiful viewpoint with gardens)
The Science Museum (with lots of interactive activities)
Oceanografic (the largest aquarium in Europe with over 500 marine species)
Queen Sofia Palace of Arts (opera house & music arts center)
Ágora (multifunctional space where concerts and various events take place).
Boutique Hotels near the City of Arts and Sciences, Valencia
Sercotel Valencia Alameda 41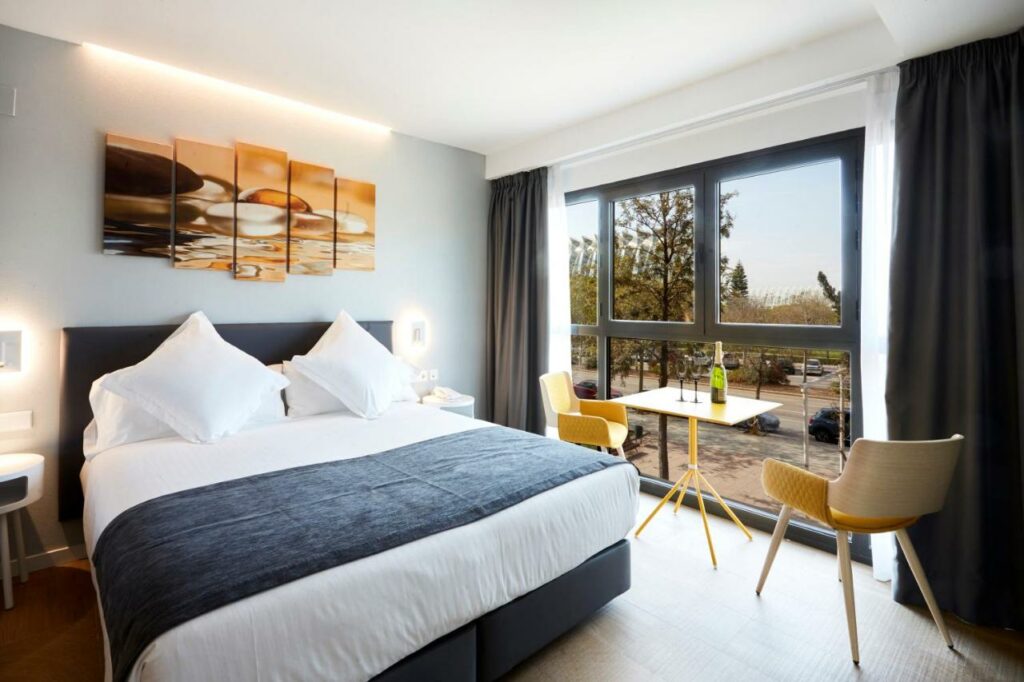 The hotel features family rooms overlooking the Science Museum. A comfortable stay. Clean rooms, friendly staff. The parking is in an adjacent building.
Ilunion Aqua 4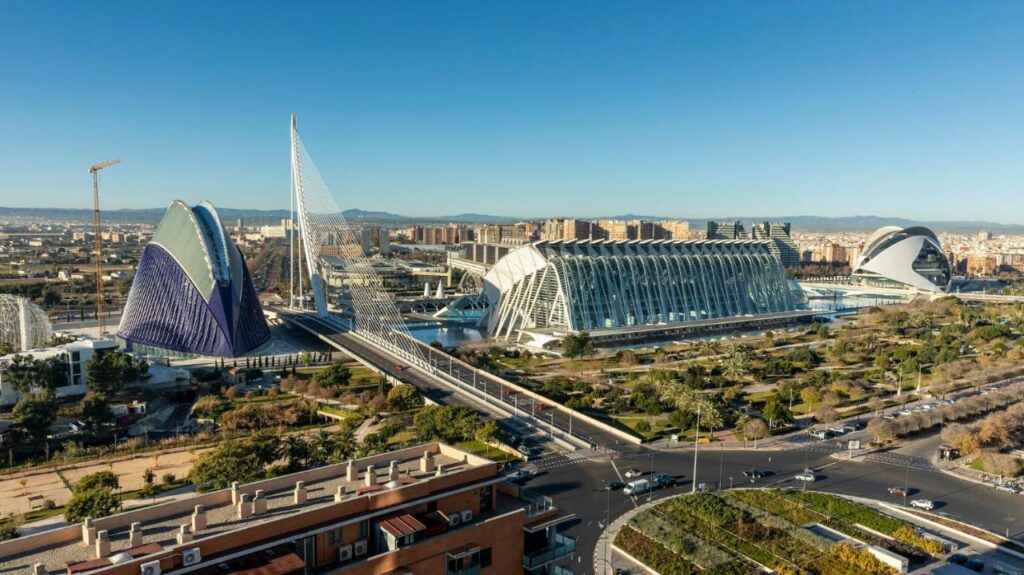 It is the design hotel within a new building, opposite the City of Arts and Sciences and Oceanogràfic. The building also houses the Aqua Multiespacio shopping center, fitness room, spa center, and Vertical restaurant with panoramic views on the 10th floor, awarded 1 Michelin star.
Overall, very convenient place to stay, shop, walk in the park or go to the sea.
Barcelo Valencia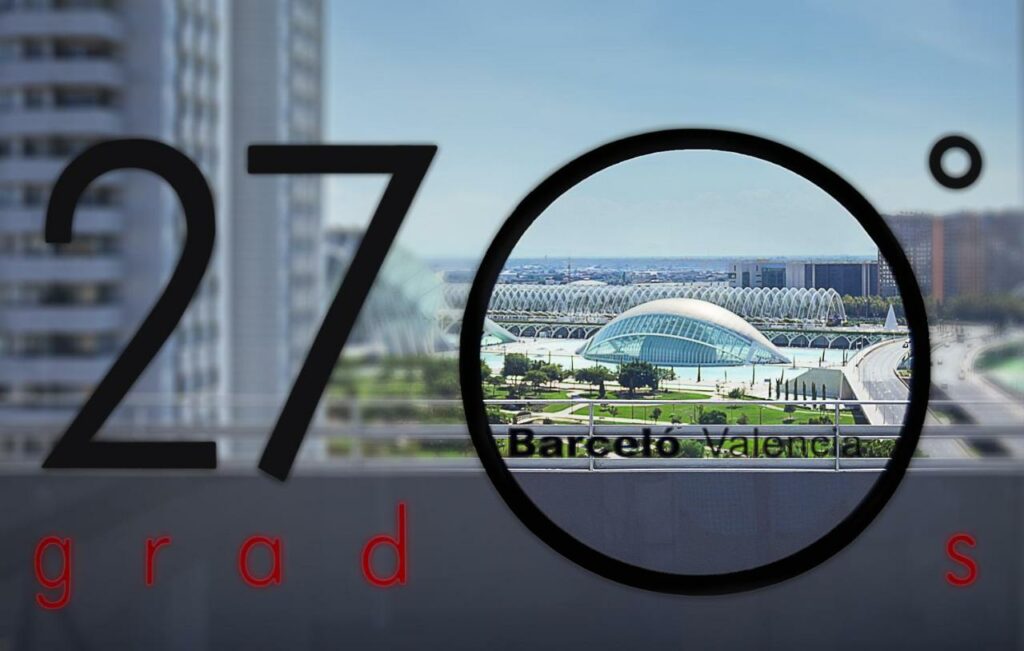 Another stylish hotel close to the City of Arts and Sciences. Comfortable rooms, delicious breakfasts.
The rooftop terrace is perfect at night, with stunning views of city lights.
Tip You can go to the rooftop bar even if you are not a hotel guest.
Core Suites Valencia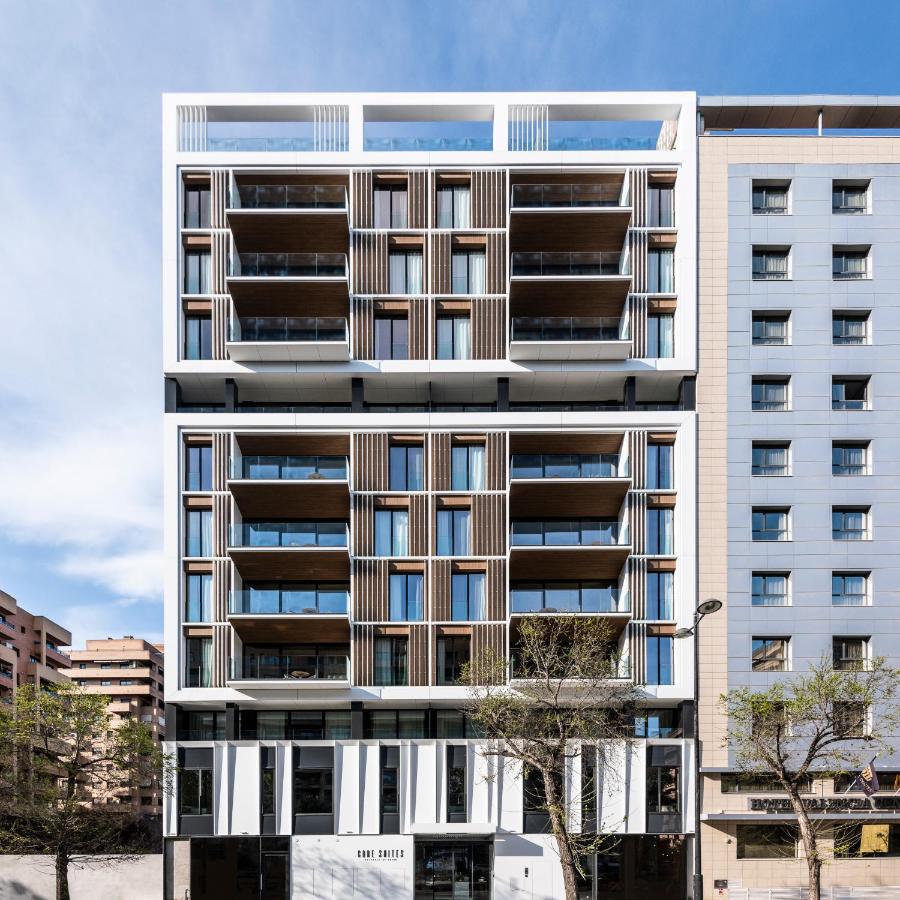 Core Suites Valencia offers spacious design apartments with all of the amenities you could need. For those hoping for an outdoor space, rooms with balconies or terraces are available upon request.
The hotel also features a rooftop terrace boasting a swimming pool (closed during winter months).
With its high Booking.com score of 9.4, this is certainly a solid choice!
5. The coastline (Malvarrosa, Patacona)
Valencia has clean, wide, accessible beaches with fine golden sand, relatively shallow waters, and many nearby bars and restaurants. I wrote a comprehensive review on Valencia beaches recently.
Features:
Boutique Hotels near the beach, Valencia
Hotel Boutique Balandret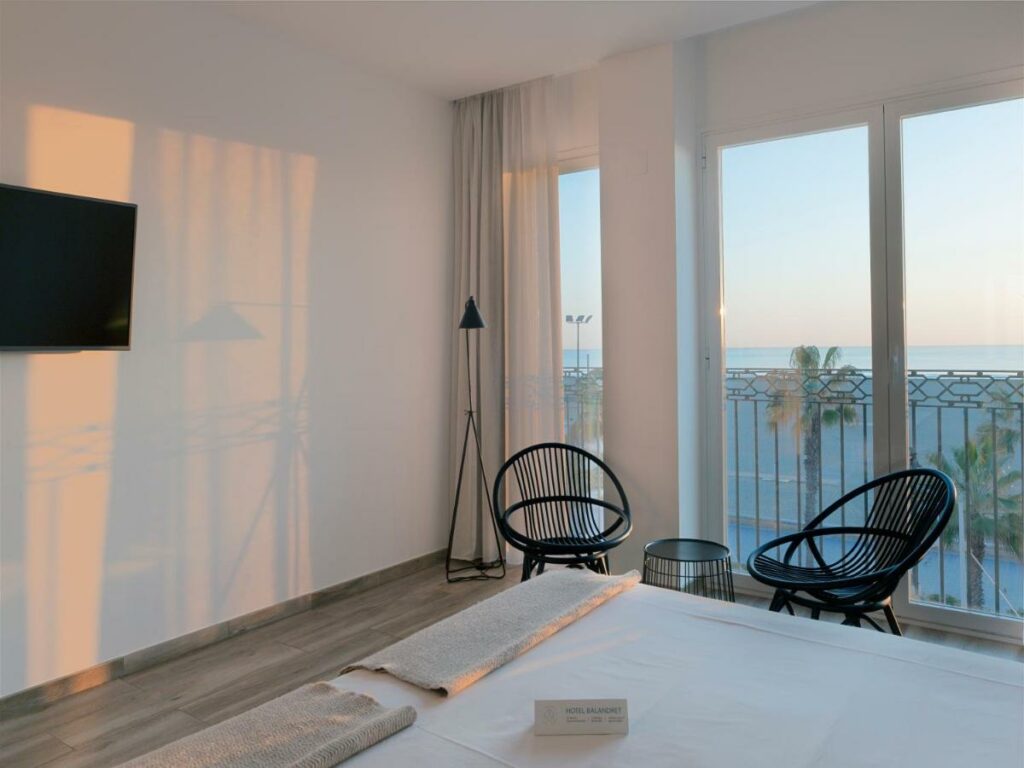 This tiny, design-focused boutique hotel is right on the beachfront. Not only does it feature a children's area and lounge zone within its walls, but all of its stylishly appointed rooms are decorated with light and warm colors.
And if you're in need of some traditional restaurant options, there are many to choose from nearby; however be aware that it can get quite noisy at night during summer months!
Tip Ask for a room with a sea view.
La Mas Bonita Patacona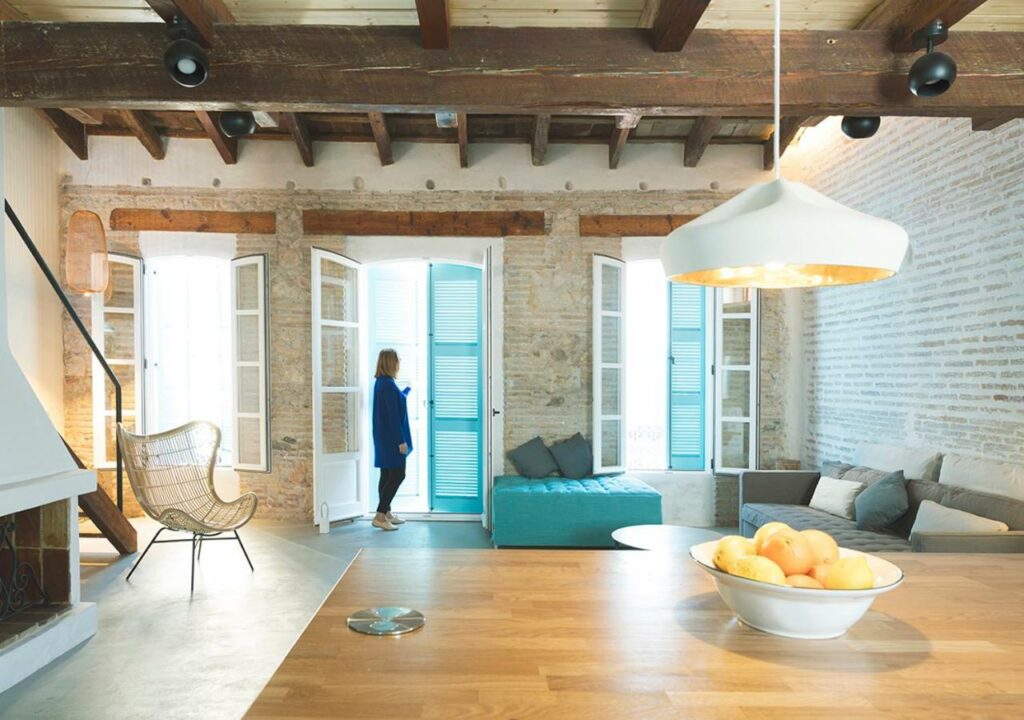 Located on the beachfront, this stunningly renovated Mediterranean mansion is home to a boutique hotel and restaurant.
Popular among guests for its attention to detail and comfortable amenities – such as wine, coffee capsules, slippers and bathrobes – the hotel also offers bike rental services.
Marin Beach Apartments
Design beachfront apartments with all the amenities necessary for a stress-free vacation.
With a 9.2 rating on Booking.com, they are spotless and cozy, plus boast an exemplary staff attitude!
Bonus: Las Arenas Balneario Hotel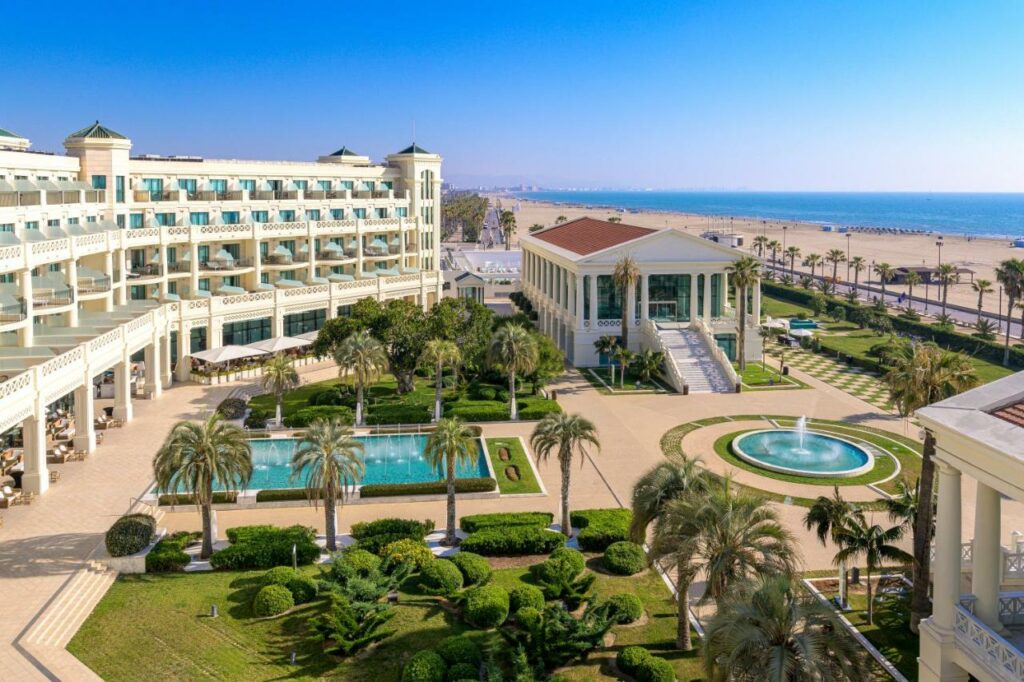 Las Arenas is not a boutique hotel, but it is still worth staying because it is the only one of its kind on the entire Valencia coast.
Preservation of this coastline's identity and historical values prevents the construction of new hotels; however, Las Arenas was given special approval because it fits in perfectly with its architectural surroundings.
It offers two swimming pools accompanied by a luxurious spa as well as one heated pool that overlooks a beautiful garden. The rooms are also decorated lavishly – making every stay there truly unforgettable!