19 Best Luxury Hotels in Valencia, Spain in 2023
Nadia Podrabinek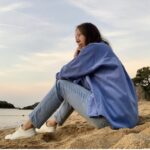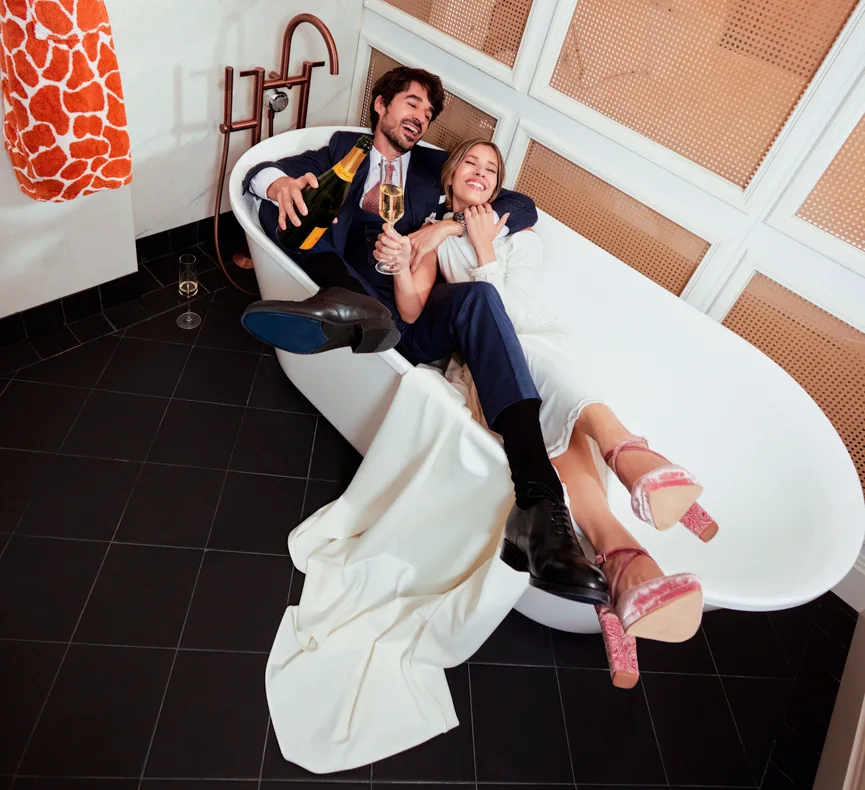 If you are looking for a place to stay in Valencia, you've come to the right guide. I have lived in this Spanish city for over five years and can show you some of its best luxury hotels.
Are you looking for hotels in the Old Town? Or are you looking for hotels near the beach or the Arts & Sciences district?
Whatever neighborhood or area you're interested in staying in, Valencia is full of various options for accommodation ranging from boutique stays to high-end resorts.
Read also: 19 Best Boutique Hotels in Valencia
To help narrow your search, I will provide 19 luxury accommodation options. So let's dive into that right away!
---
Quick guide
---
1. Only YOU Hotel Valencia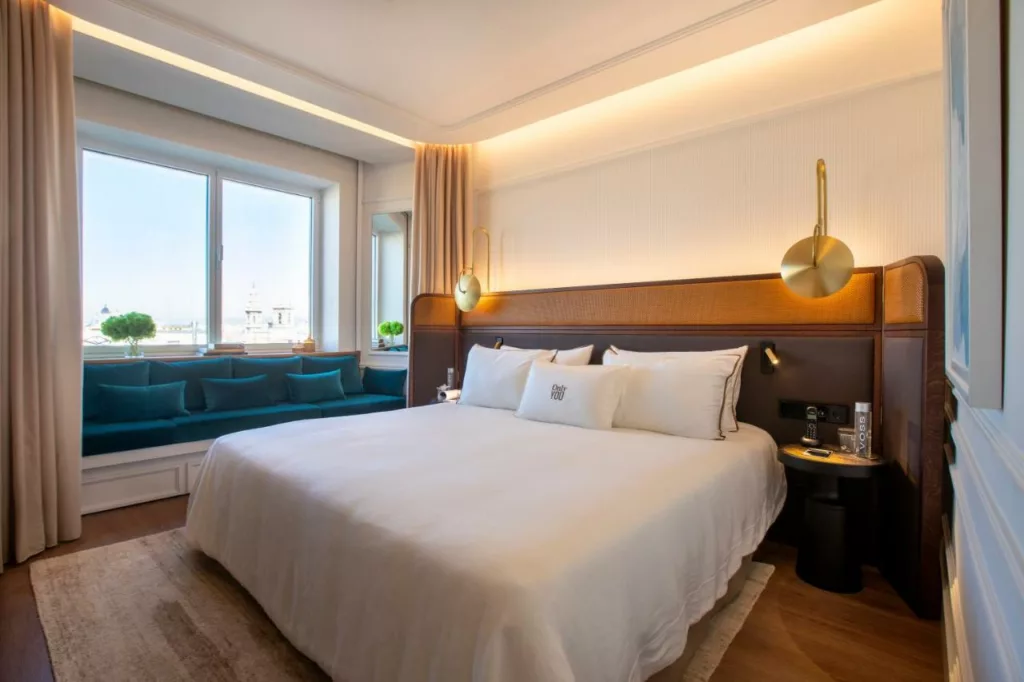 Best for couples!
This elegant 5-star hotel, part of the "Only You" chain, is one of three, with two more located in Madrid and Malaga.
Boasting a fitness center, shared lounge area, and bar, the Only YOU Hotel Valencia is downtown, only 0.4 miles (700 m) from Central Train Station (Estacion Norte). This hotel offers room service, 24-hour front desk assistance, and free WiFi. Pets allowed also!
Certain rooms come complete with a patio that overlooks the city. Additionally, some rooms are fitted with kitchens. You can enjoy breakfast buffets of either continental or full English breakfast. The onsite restaurant serves Mediterranean cuisine; vegan options are available upon request.
Notable nearby attractions include González Martí National Museum of Ceramics & Decorative Arts, Basilica de la Virgen, and Turia Gardens.
2. Palacio Vallier 5*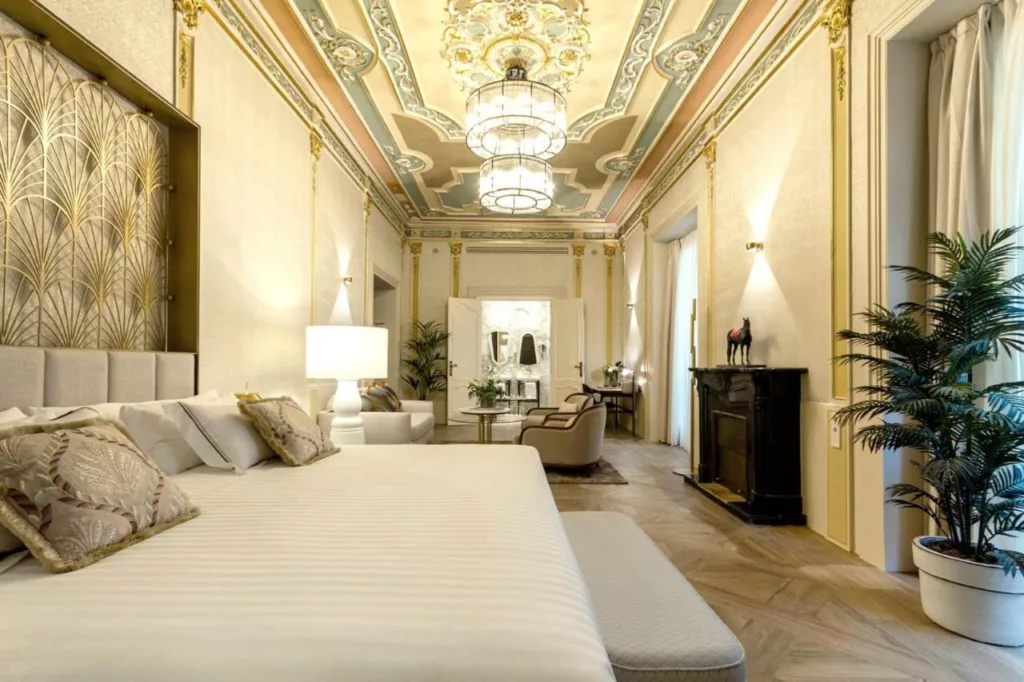 This a Valencia 5 star hotel that offers a terrace with private parking, a restaurant, a bar, a business center, and concierge service. It features 24-hour front desk service, airport transfers, room service, and free WiFi throughout the property.
Rooms come equipped with flat-screen TVs with satellite channels, a minibar, a coffee machine, a shower with complimentary toiletries, etc.
A friend of mine got married, and I had the privilege of helping her get ready for the event. The room we were in was the presidential suite; it was absolutely luxurious! It was spacious with an amazing bathroom.

There was a case filled with gel, shampoo, and several fragrances from a natural product brand which really stood out to me among all other details. When she came out for breakfast she looked like a beautiful vision – definitely worth recommending if you want to have an unforgettable experience!

🇪🇸 Maria Gomez (See more reviews)
As for breakfast, you can enjoy an à la carte or continental breakfast.
3. Vincci Mercat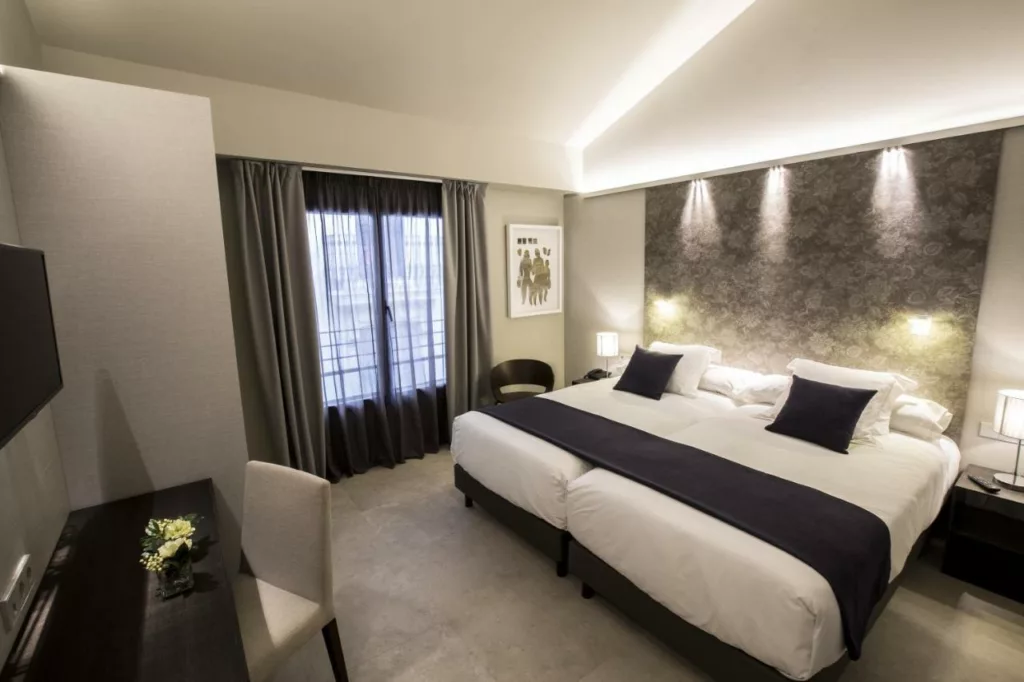 It is a cozy and new 4-star boutique hotel located within 320 feet (100 m) of Valencia's Central Market.
Vincci Mercat offers 68 outward facing rooms, complete with air conditioning and flat-screen TVs, wardrobes, safes, mini-bars, private bathrooms with bath or shower facilities, complimentary toiletries and hair dryers. Free WiFi is available throughout the property.
On top of that you can enjoy a rooftop terrace with a mini swimming pool offering views of the old city below.
You will find plenty of restaurants and bars within 5 minutes' walking distance from the hotel while nearby attractions such as Valencia Cathedral (0.4 miles) and City of Arts & Sciences (1.9 miles) are also just moments away.
4. Cosmo Hotel Boutique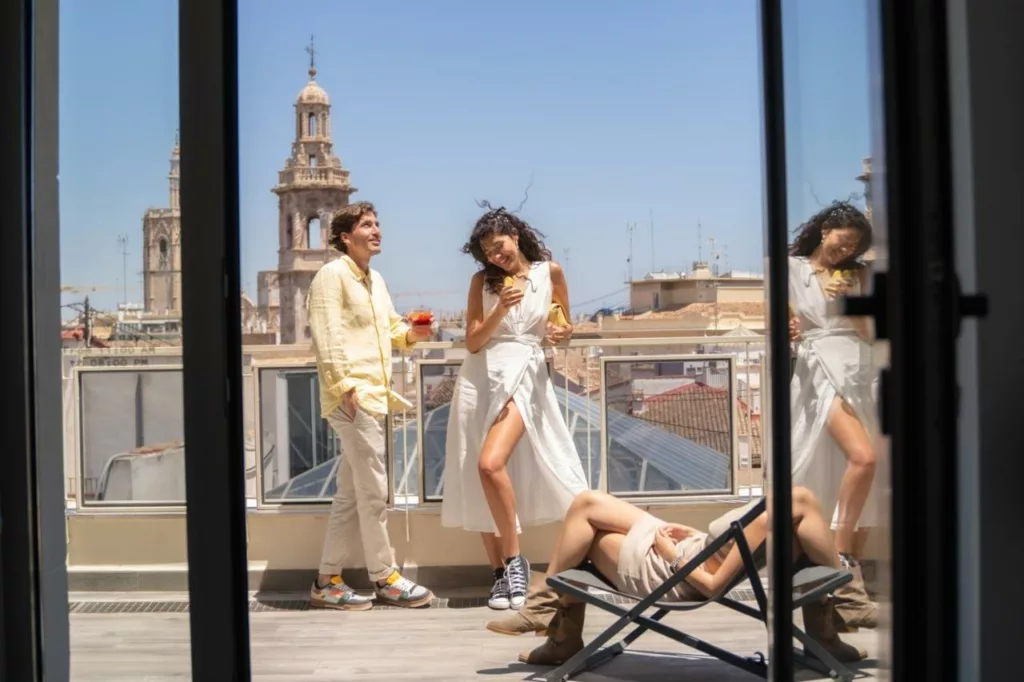 Located in the heart of Valencia, Cosmo Hotel Boutique is a design hotel close to iconic buildings such as City Hall, Central Market and the Silk Exchange.
Boasting 33 rooms across four categories – Double Rooms, Superior Rooms, Family Rooms and Penthouses with 230 square feet (22 square meters) terraces – each room has been exquisitely designed to create a warm atmosphere that guarantees peace and relaxation.
Inside the hotel lies Cosmo Bar Valencia; an exciting new culinary concept offering all-day menu options prepared with casual yet flavourful style using healthy ingredients.
5. The Westin Valencia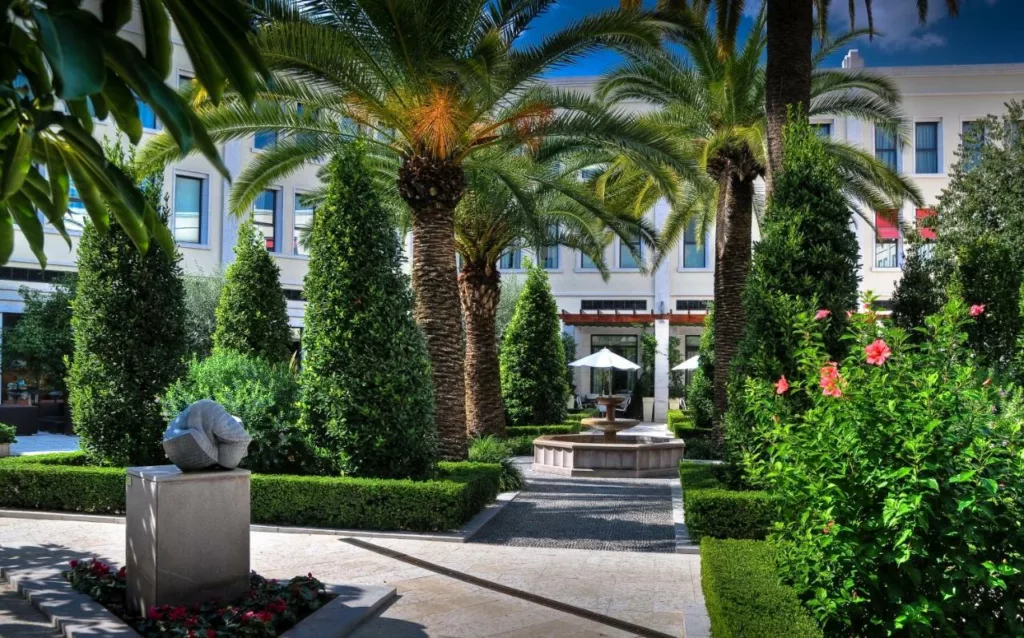 The building of the Westin Valencia is an art form in itself. In addition, the hotel boasts a gorgeous garden, which is rare for city hotels. You can have a wonderful time at their open-air restaurant terrace and enjoy scrumptious food and drinks.
However, there are even more amenities to take advantage of here; you will find a swimming pool, spa, saunas and therapy rooms onsite as well as three restaurants that offer a range of cuisine.
Furthermore, they host musical events – I had the privilege of attending an incredible candlelit violin concert!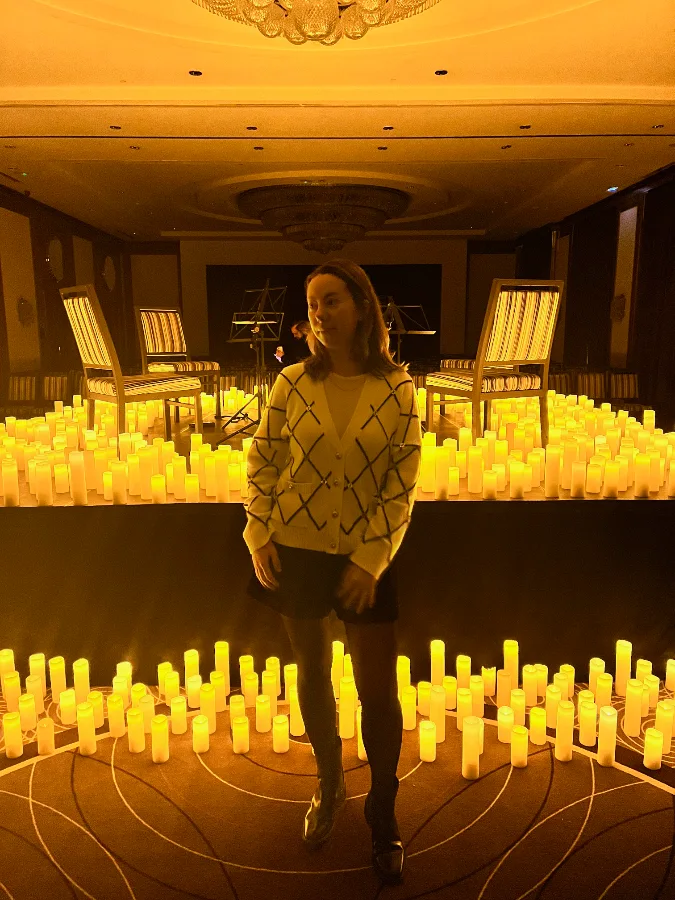 Although I found some aspects of my stay to be slightly underwhelming compared to what I expected from this hotel; overall it was great with spacious rooms and delicious breakfasts earning them 8 out 10 stars from me.
6. Palacio Santa Clara, Autograph Collection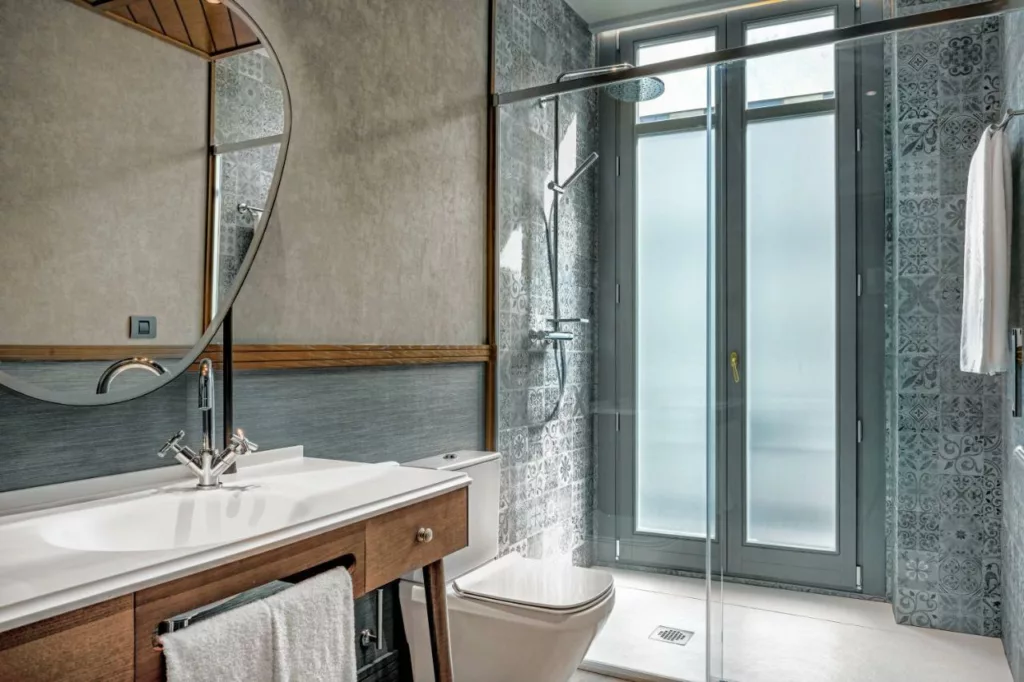 Valencia is unique in many ways, and the Autograph Collection Hotel Palacio Santa Clara (by Mariott), located near Carrer de Colón – the city's popular shopping street – is a perfect example of its modernist spirit.
The location is really superb – less than a mile from Plaça de l'Ajuntament, Valencia Nord train station, Silk Exchange, and Mercado Central.
Designed by renowned architect Francisco Javier Görlich in 1916, this hotel has preserved its original essence while offering guests luxurious amenities such as fully-equipped rooms with small design touches that add to the experience, a swimming pool, and a Dome Bar on the terrace for cooling down.
Its delightful aesthetic design with various textures, curved lines, and plant motifs, among other elements, brings about an atmosphere of harmony that complements services and facilities.
You will be delighted with the room's decoration, as well as with both breakfasts and the rooftop bar.
We discovered this hotel a year ago, especially the restaurant and the rooftop. We had many wonderful moments in an exquisite atmosphere with excellent service. The cuisine was also superb.

Jutta Hafner (Read more reviews)
Some downsides: The pool tends to be quite crowded, and drinks at the hotel bar are pricy.
7. MD Paseo Ruzafa Center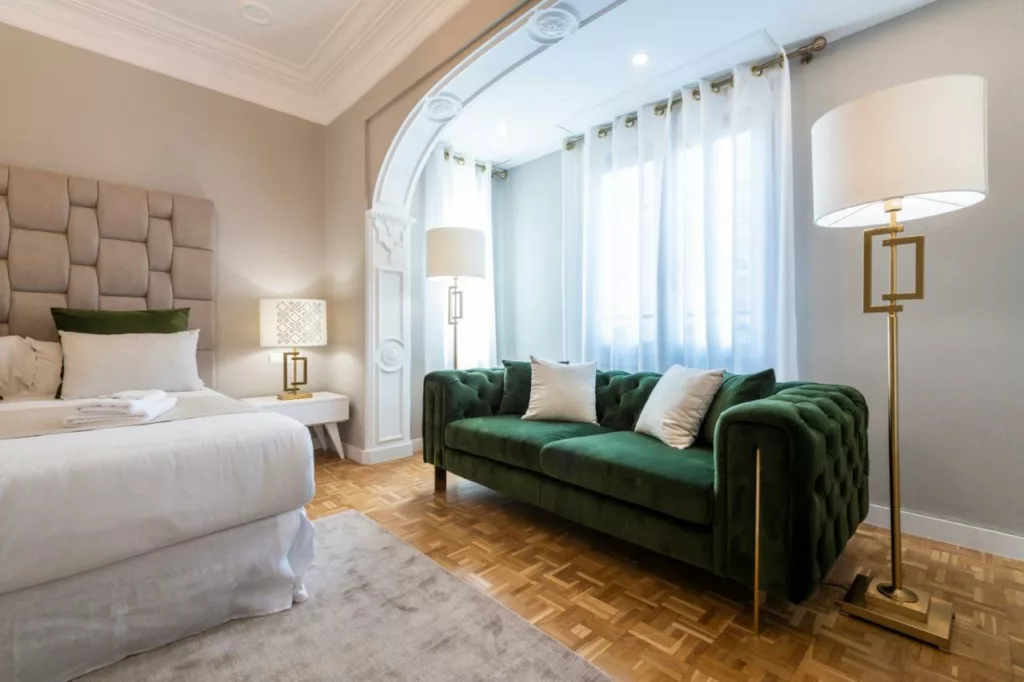 At this accommodation, you will find everything you need for a quality stay: comfortable beds, the right size, necessary amenities, an ideal location, and windows that let in plenty of light.
This establishment may not possess much in the way of luxury features; however, it is a fantastic choice for those who desire to stay in the lively area of Ruzafa.
8. Lindala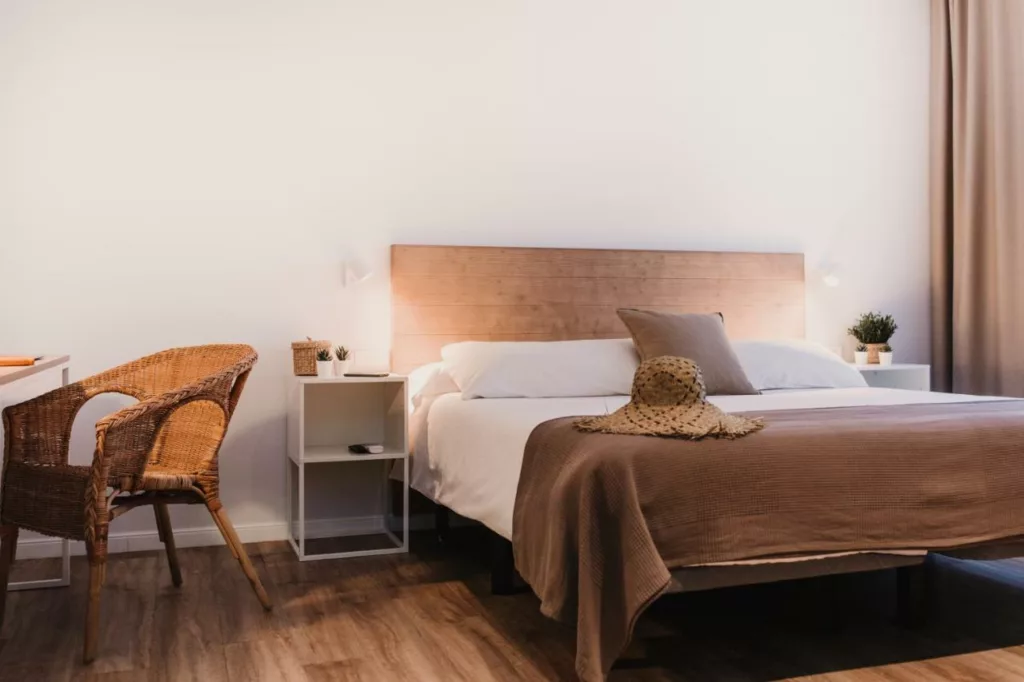 Located in the neighborhood of El Cabanyal, just five minutes away from La Malvarrosa beach, Líndala Valencia offers spacious rooms with WiFi, Sat TV, comfortable beds, and personalized service so that you can feel right at home.
You will find this hotel in a renovated building with a warm and inviting atmosphere. Here you can truly relax by the Mediterranean Sea while taking in all the beauty of one of Valencia's most traditional and vibrant neighborhoods – from its colorful architecture to its long-standing resistance against real estate speculation that has threatened its existence more than once.
I wouldn't call it a 100% luxury hotel, but it somewhere near that point. And it has pleasant & fresh rooms, a beautiful location, and is close to the metro station.
Lindala also offers a lovely restaurant and terrace where you can enjoy meals, drinks, and a delightful breakfast.
9. Las Arenas Balneario Resort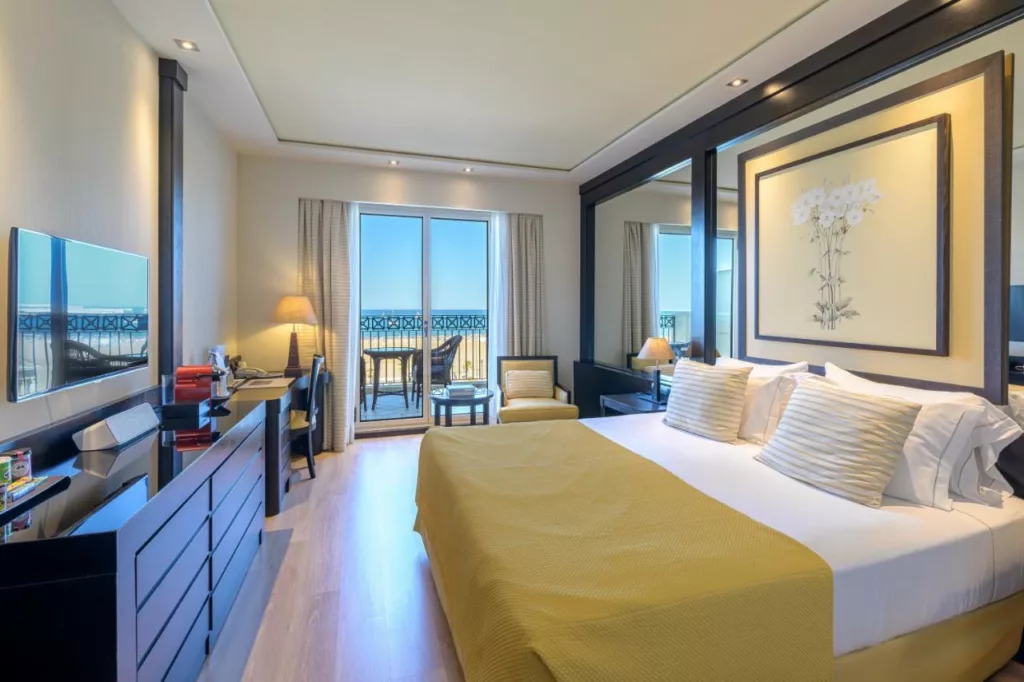 Las Arenas Balneario Resort is probably the best 5-star beachside hotel in Valencia.
It is spacious, well maintained, and very clean; moreover, all staff members are helpful, friendly, and polite.
This hotel offers a range of amenities, including 3 swimming pools, family rooms, a fitness center, and a spa and wellness center with heated indoor pool overlooking the gardens. Additionally, there is room service available as well as private parking and terraces or balconies with baths in each room.
Although there is not much in close proximity to the hotel besides the beach and promenade, you can go to a spa or hang out at their pool area, restaurant or bar.
It was utterly glorious! We took the deluxe sea view room, which was spacious, well-appointed, and extremely comfortable. Breakfast had an abundance of options that were all delicious. Outside the hotel is a stunning beach; however, the onsite swimming pool was equally inviting, with excellent service and a poolside restaurant. Before dinner, we enjoyed drinks downstairs – it was a delightful experience!

🇬🇧 Barbara, United Kingdom (See more reviews)
The room equipment and bathroom are top notch – you really feel like it's five stars! All of the staff deserves great praise for being so helpful and kind. Furthermore, they have an excellent restaurant and bar with fantastic service.
If you're lucky enough you may even witness a Spanish "boda" (wedding) as this hotel is popular among locals for these types of ceremonies.
10. Vincci Palace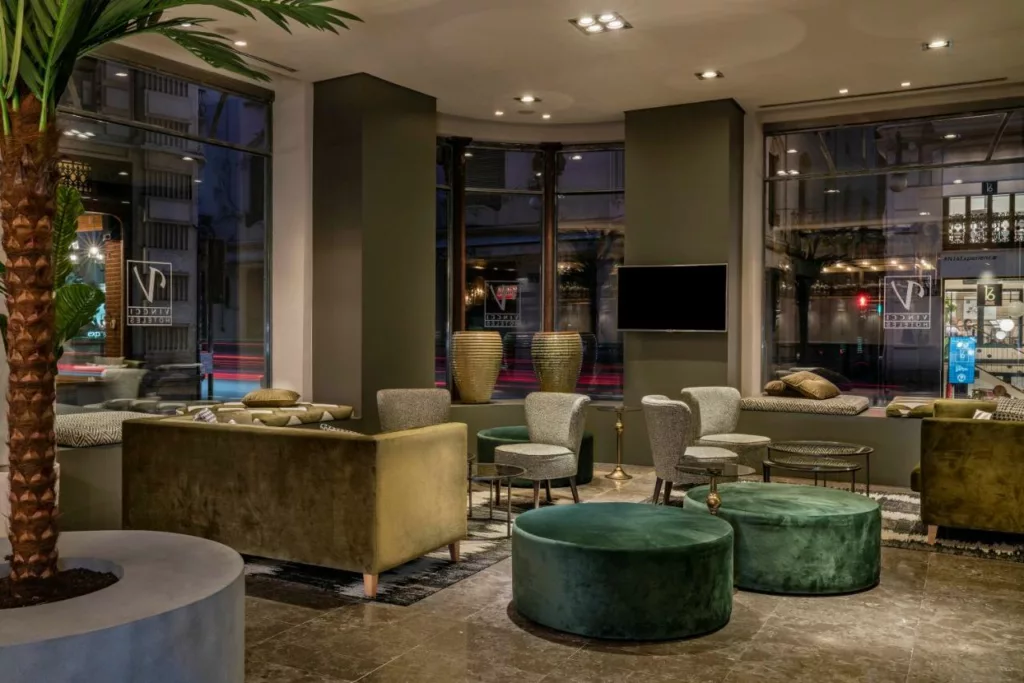 If you're looking for a centrally located hotel with easy access to city attractions, shopping areas and restaurants, I would highly recommend this lodging.
Located just next to the busy Colon Street, it is distant enough to provide peace and tranquility during your stay.
You'll also be near Turia Gardens Park – a six mile riverbed great for biking or long walks. It's only twenty minutes away from the City of Arts & Sciences Museums too!
The staff are friendly and accommodating; breakfast has plenty of options as well. The rooms are modern and clean. There is even a small balcony if you like! Plus there is an adjacent Carrefour Express for supplies too!
Amenities include free WiFi, air conditioning, private bathrooms, 24-hour front desk service, daily housekeeping services, heating, private parking lot, laundry service, and bar onsite.
11. Hospes Palau de La Mar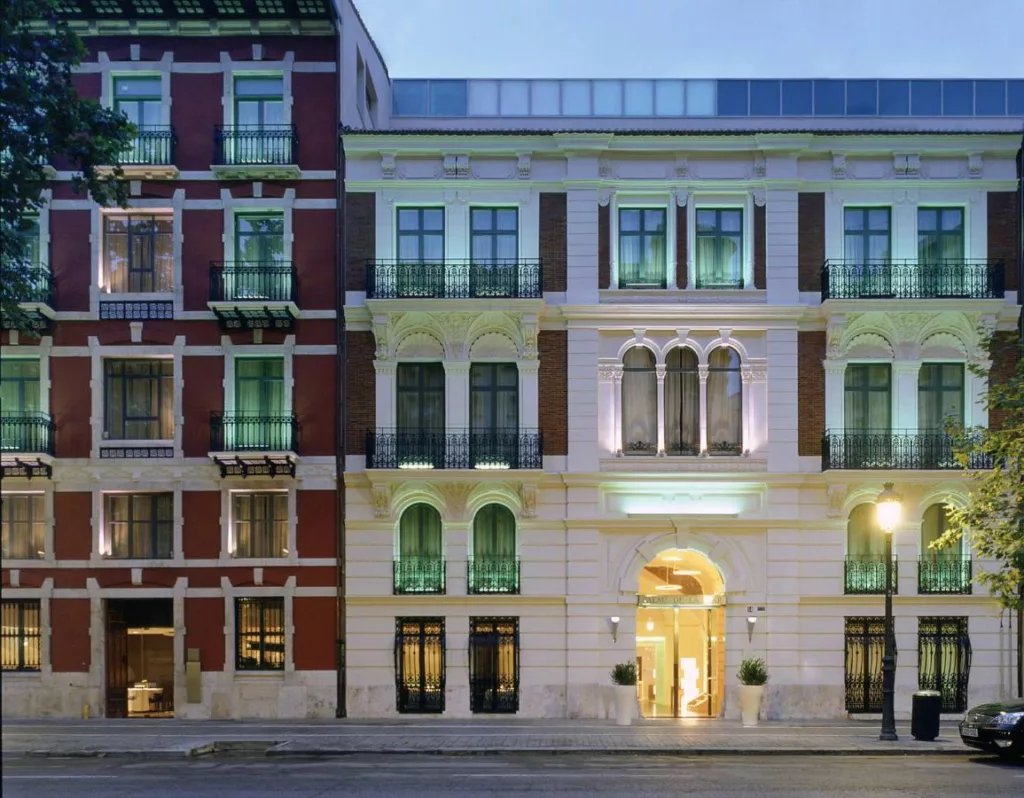 This hotel is an excellent option located in the center of Valencia, situated in a stunning historic building within walking distance to the Old Town.
The inside and outside feel almost like two different worlds; it features a lovely courtyard that encircles rooms on two levels with tall ceilings but limited floor space. There are family rooms, fintess center, spa, and a garden.
The rooms are modern and quiet, with exceptionally comfortable beds.
Everything was perfect! The room was very stylish and comfortable. The staff were incredibly friendly – they even parked our car for us. Plus, there were treats for our dog in the room; she absolutely loved them – it was so thoughtful! Furthermore, the location was great; it's close to the main garden and conveniently located near all of the city's attractions.

🇨🇭Adreia, Switzerland (Read more reviews)
Helpful tip The very first room is too close to stairs so you may want to choose another one.
Breakfast is pricey, however dining at their restaurant for dinner is well worth it due to its amazing cuisine and exceptional service!
Additionally, you will find is a small spa with massage facilities. And it is a pet friendly lodging!
12. Caro Hotel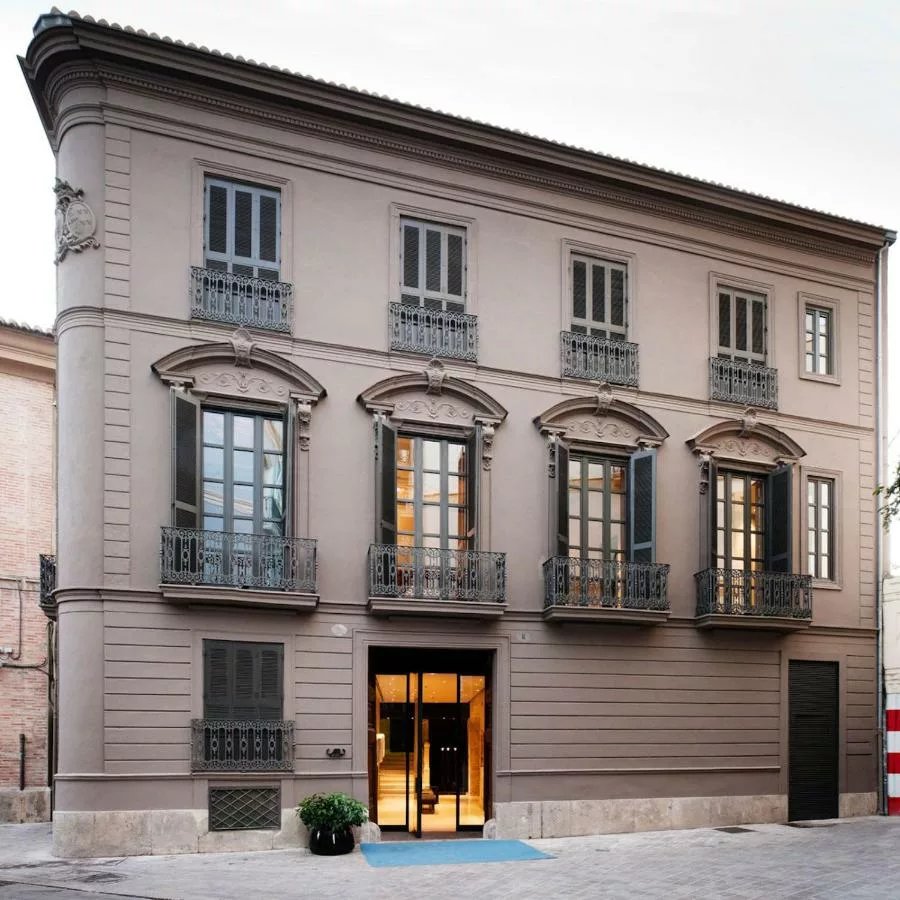 The Caro Hotel, located in the heart of Valencia and only 650 feet (200 m) away from Valencia Cathedral (built in 1238), is a 19th-century palace with an intriguing blend of historical elements and modern design.
It boasts special architectural features, including old Roman mosaics, part of 13th-century Arabic city walls, and Gothic arches – all framed by its 19th-century facade.
Outstanding service, more than what you would expect from a five-star hotel in the UK or US – not something I'm accustomed to in Spain. One staff member said "Everything is possible," and it truly felt that way; nothing was too much trouble.

It was really nice to have fresh coffee of our choice brought directly to the room instead of using a small machine with UHT milk. Every staff member we met was friendly, helpful, and attentive.

With this being only 5 minutes away from the picturesque riverbed park, hop on/off bus stops and an array of restaurants at the plaza made for a perfect stay!

Frewin, United Kingdom (Read more reviews)
It has an outdoor pool open year-round, and its elegant rooms feature unique minimalist designs by Francesc Rifé; each room includes amenities such as a flat-screen satellite TV, air conditioning, a complimentary minibar, and Bvlgari toiletries.
The onsite restaurant Alma del Temple offers traditional Spanish dishes prepared using fresh produce.
13. La Mozaira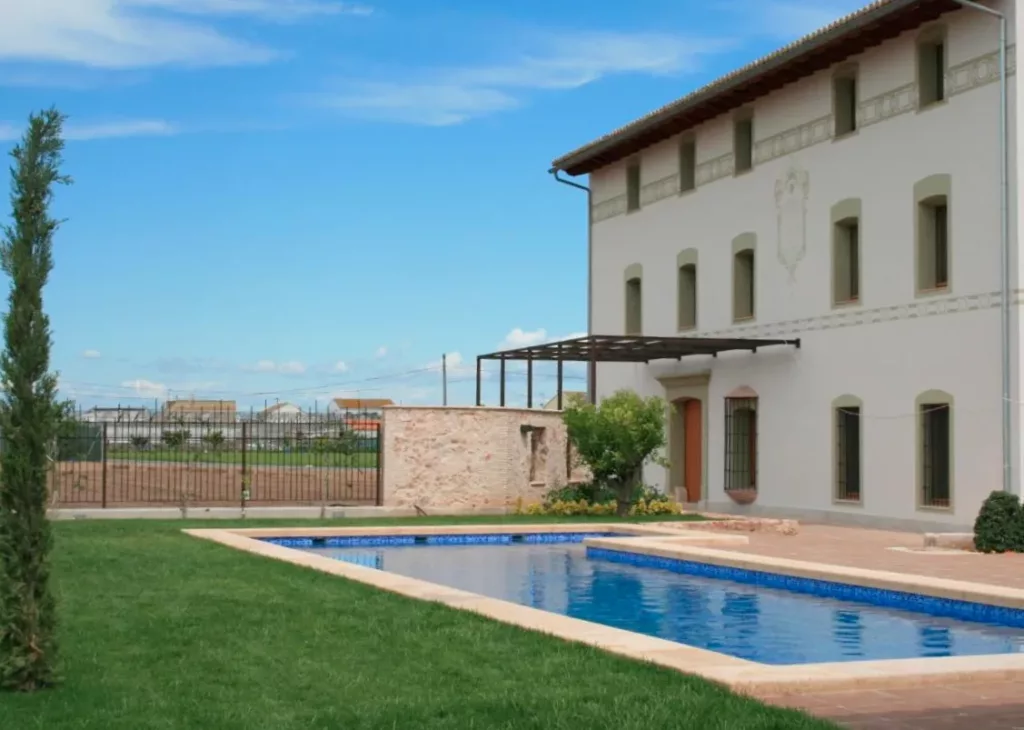 Mozaira is one of the Valencia country hotels. It is a 17th-century Valencian farmhouse located in the Alboraya market gardens and orchards, offers guests pillow menus (a selection of pillows to choose from), free Wi-Fi and free parking. It is just 3 minutes drive from beaches of Valencia and 1.2 miles from its city center with the impressive City of Arts and Sciences.
The hotel features characteristic Eastern Valencian cuisine at its restaurant where you can pick your own fruit & vegetables to be cooked later; it also has a wine cellar & room service available!
La Mozaira is a generously appointed oasis on the edge of Valencia. The property, decorations in rooms, wonderful staff, and tranquil atmosphere evoke a bygone era of travel when it was more personal and less hurried. A magnificent gem!

Stephen, Canada (Read more reviews)
In addition to this laundry, ironing & dry cleaning are offered plus rental bicycles/cars at tour desk; other facilities include garden sun terrace & library for all guests' enjoyment!
Valencia neighborhoods map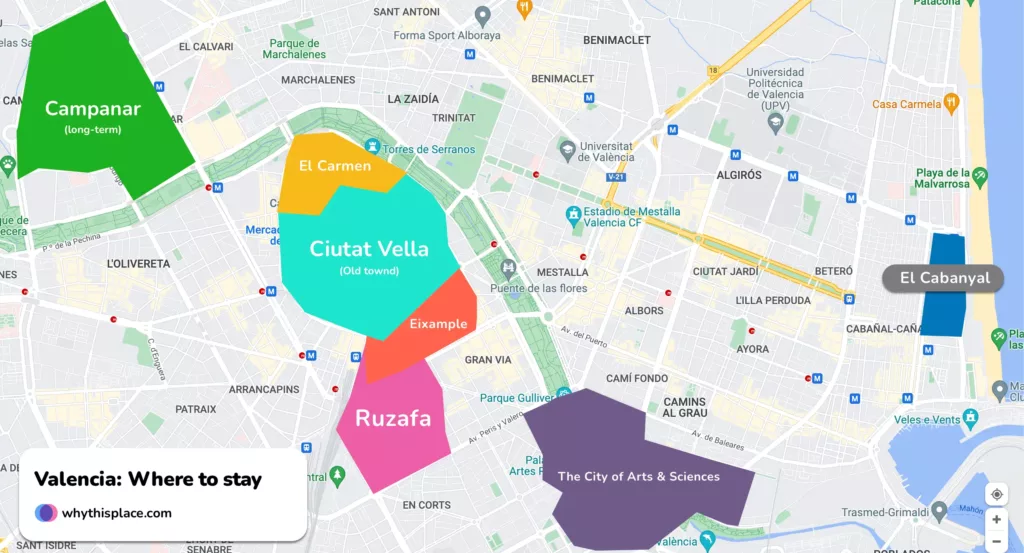 Bonus: Vincci Lys, budget luxury on a quiet central street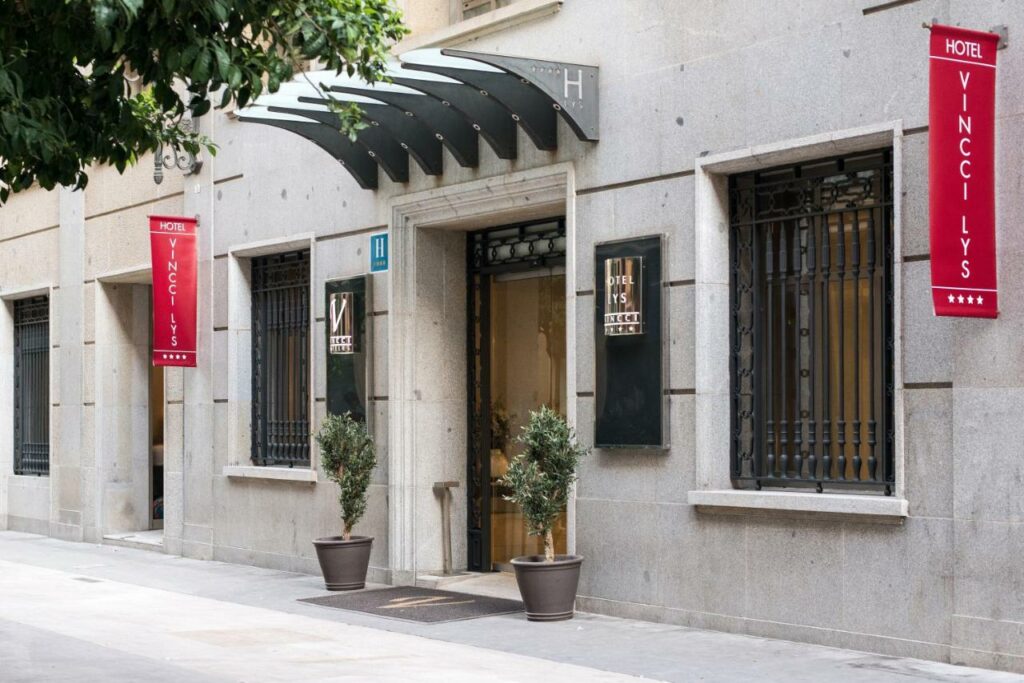 Luxury apartments in Valencia
This list features the highest-rated apartments that offer exceptional service and tranquil accommodations, compared with the top 5-star hotels.
14. La Seda Stay
15. La Casona
16. Carmen Apartment
17. Apartamentos Wallace
18. Vivaldi Penthouse Ayuntamiento
19. Sercotel Valencia Alameda 41
The best luxury hotels in Valencia: FAQ
This post might include some affiliate links. If you make a purchase through these links, I may earn a small commission at no additional cost to you. I appreciate it when you use my links to make purchases.