13 Things to Do in Alcalá de Henares, Spain
Nadia Podrabinek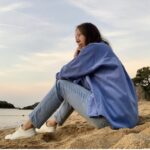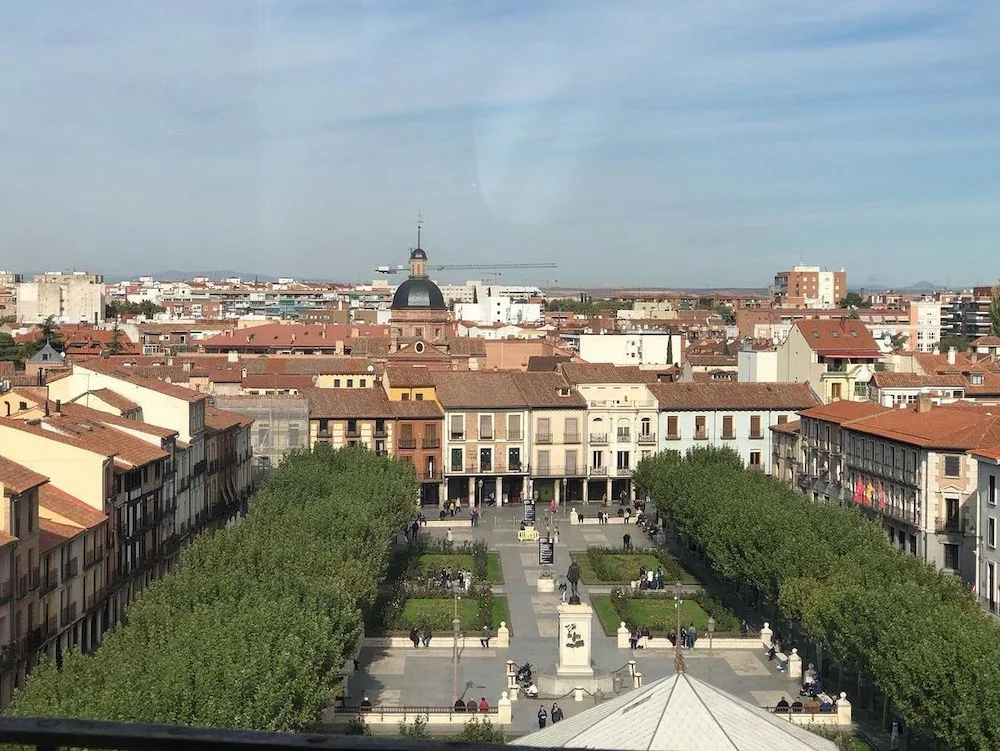 It is easy to fall in love with Barcelona or Madrid, diverse and cosmopolitan cities which always have been a hotspot for travelers venturing to Spain. These cities offer elegant and unique architecture, world famous museums, exquisite food, and bohemian nightlife.
But the authenticity of the country and its people, whether Spain, Italy, or Greece, unfolds in small towns and villages. So, my advice is to leave your prejudice about "unknown and presumably boring places" and explore them. They are full of surprises.
Today I will guide you to Alcalá de Henares – a town with over 1,500 years of history located 25 miles (40 km) northeast of Madrid, there are many things to do and see.
---
Key takeaways
Visit Cervantes Birthplace House-Museum.
Explore the 16th-century University complex, which covers an area of 79 hectares, including the magnificent Colegio Mayor de San Idelfonso and the Monastery of St.Bernard.
Ask your children to find and count nests of storks on the University walls.
Walk down the medieval old town.
Stay at Parador de Alcala de Henares if you want an exceptional experience. It is a 4-star hotel located in a fully renovated 17th-century Convent. Surprisingly, the prices are affordable ($160 per night).
---
Good to know The city's accommodation options are more affordable than in Madrid, while the train from Alcalá de Henares to Atocha station (Madrid) runs only 47 min and departs every 10 minutes.
How to get to Madrid from Alcalá de Henares: Take line C2 or C7 of Cercanias Madrid (the regional train which serves Madrid and its neighborhoods).
Why Alcalá de Henares?
All good things happen to me by coincidence, and I think Einstein was right in his "Coincidence is God's way to stay anonymous."
I was planning a trip to Madrid and was mindlessly clicking through the apartment by the apartment on Airbnb, trying to find something nice with a central location, parking, and not very pricey (yes, I know, naïve).
Nothing. Util Airbnb showed me a cozy apartment looking out on a beautiful "plaza", with private parking. Job done! "Guys, pack your bags. We are going to Madrid for a weekend!"
After booking, I realized that the apartment was 40 minutes from Madrid. Yes, you are guessing it right – in Alcalá de Henares.
Swearing out loud and expecting caustic comments from my second half, I googled Alcala, and it popped up as the birthplace of Cervantes. That saved my reputation, and my conscious was clear!
A bit of history of Alcalá de Henares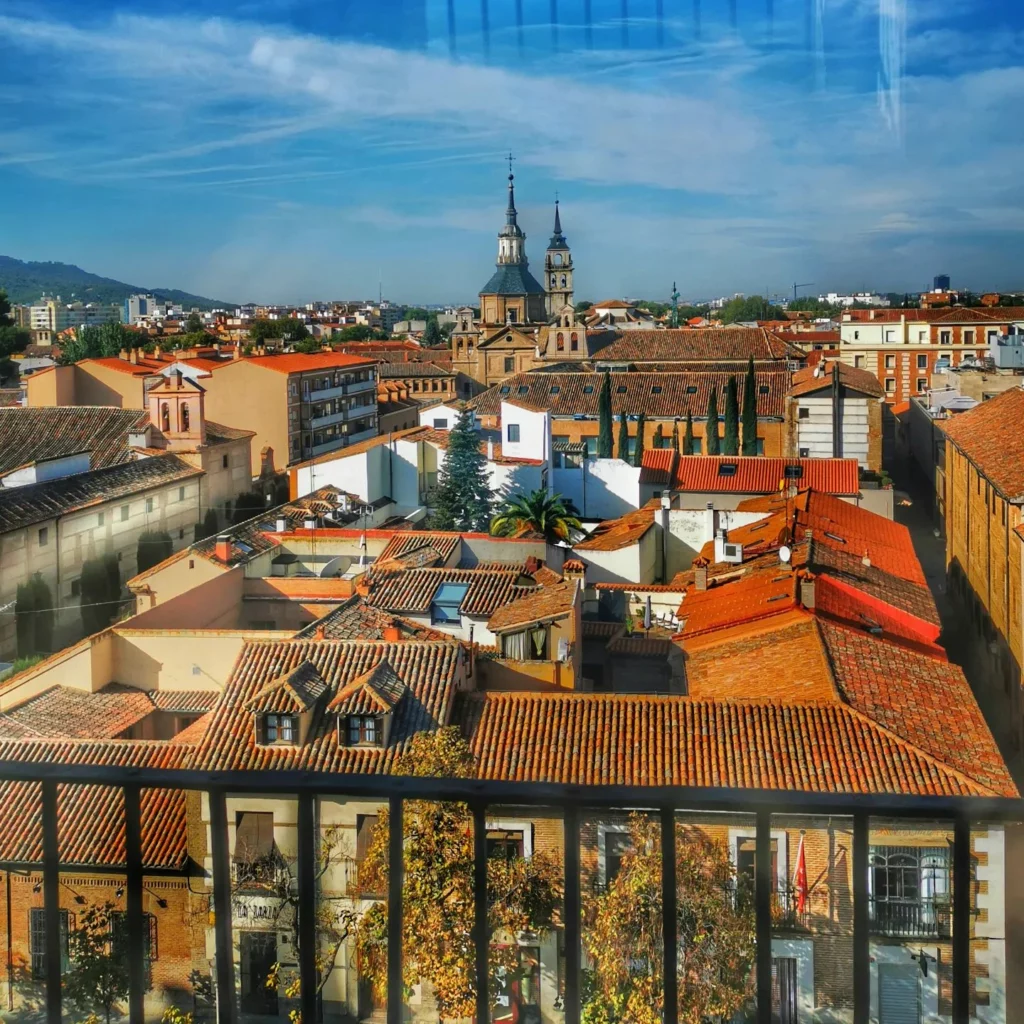 The town originates in the Roman village of Complutum (2 km from today's town). The Moors came after the Romans in 850 and founded the Castle of A-Qalát de Nahar, from which the city earned its name.
The name Alcalá is a derivative of the Arabic term for the citadel.
During the Christian Reconquests (13th century), new buildings turned it into a fortified area. It was home to Jews, Muslims, and Christians, each with its section within the fortified town.
In the late 12th century, Sancho IV permitted Alcalá to build the "Estudio de Escuelas Generales," its first step to becoming a university town. And in the late 15th century, Francisco Jiménez de Cisneros founded the Complutense University in Alcalá de Henares.
29 of September 1547 in Alcalá de Henares was born Miguel de Cervantes Saavedra, the author of the timeless masterpiece "Don Quixote."
Alcala de Henares is now a relatively small town with amusing museums, a 16th-century University complex, medieval streets, rich Castilian food, great wine, and warm people.
I promised you to name 13 things to do in Alcalá de Henares, so grab your pens (or cellphones) and get ready.
1. Cervantes Birthplace House-Museum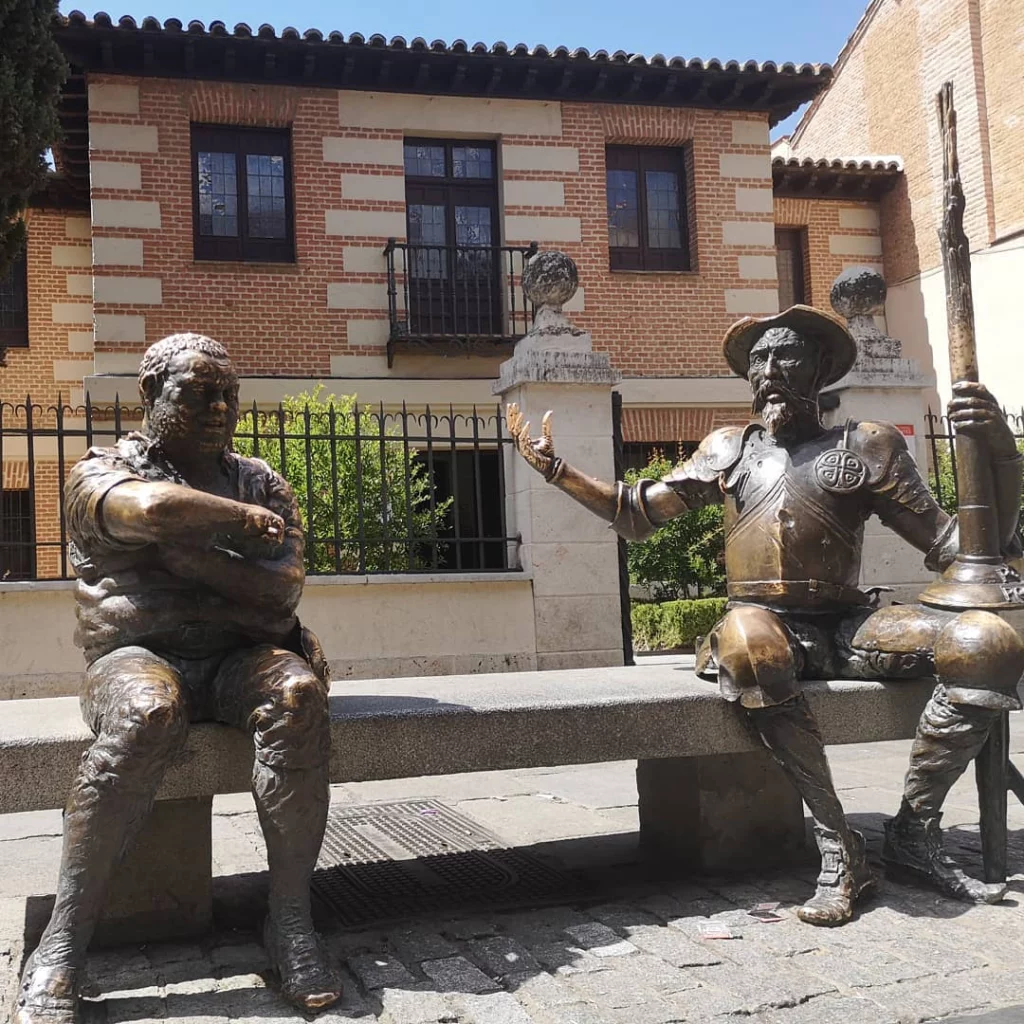 See the house of Miguel de Cervantes Saavedra, the author of "Don Quixote" novel, where he spent his childhood.
You will find the Museum in the historic center of Alcalá de Henares. In front of the entrance, you will see statues of Don Quixote and Sancho Panza welcoming you to take a selfie.
The interior takes you back to the 16th and 17th centuries. The house is also a center of various workshops and activities during the Week of the Book, Cervantes Week, or Christmas.
You should visit the Museum's website in advance to consult its schedule of activities.
Opening hours of Museo Casa Natal de Cervantes:
Tuesday to Friday, 10 am – 6 pm; Public holidays and Weekends, 10 am – 7 pm; Closed on Mondays
Free admission
2. The University complex: College of San Ildefonso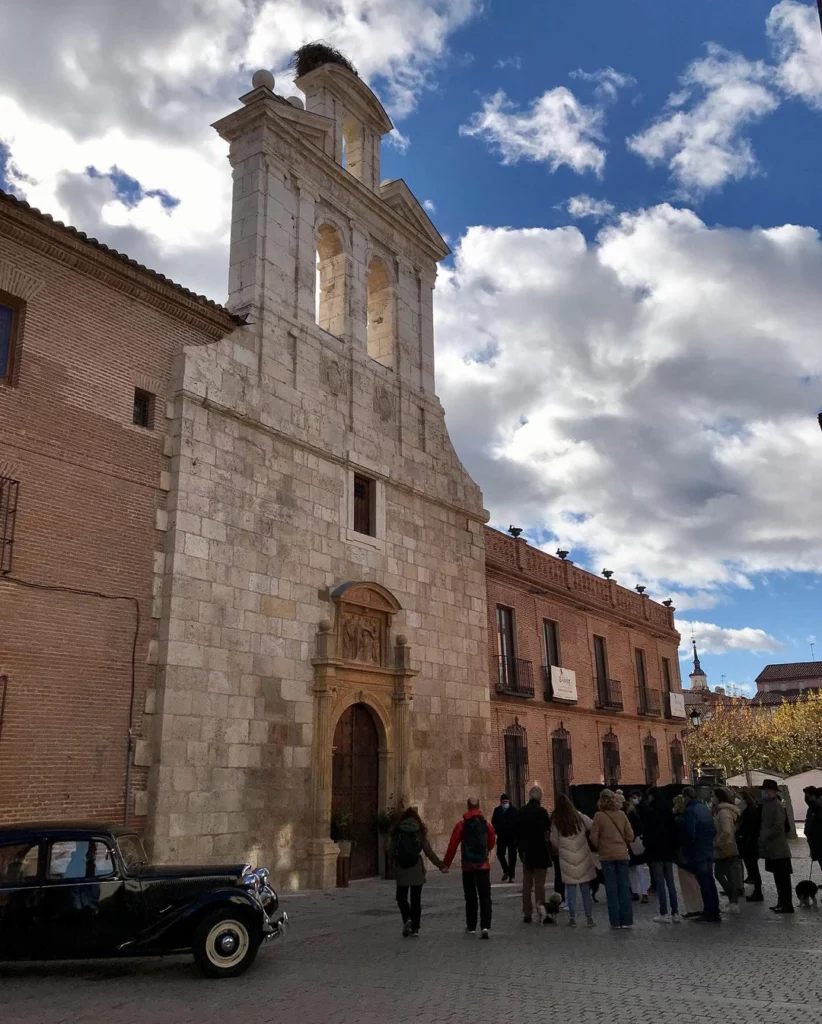 Founded in the early 16th century, Alcalá de Henares was the world's first planned university city. It was the earliest example of the "City of God," the ideal urban neighborhood that Spanish preachers lately brought to America.
College Ildefonso, the masterpiece of the Spanish Renaissance, is the heart and soul of the University. The facade's historical and artistic value led to its declaration as a National Monument in 1914 and had a significant role in the designation of the University and Historic Precinct of Alcalá de Henares as UNESCO World Heritage in 1998.
Entrance fee: $6.
Helpful tip I recommend a guided visit, which should be reserved in advance, as the schedule is changing (contact via [email protected])
3. Cathedral of Santos Niños Justo y Pastor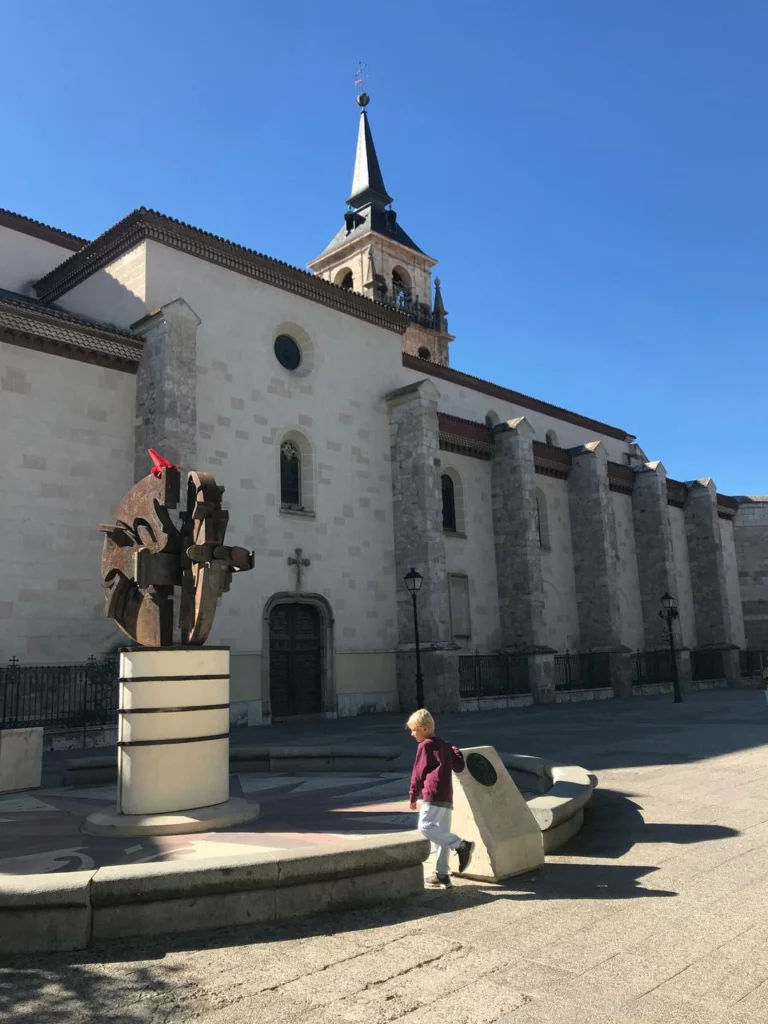 You will find the Cathedral on the site where Justo and Pastor, the children of Alcalá, presumably were martyred. They were 7 and 9 years old and refused to renounce Christianity.
The original structure was an old collegiate church that Cardinal Cisneros rebuilt in the early 15th century. It has three naves and an ambulatory. The doorway on the main facade is in the Gothic style.
Opening hours: Monday – Saturday: 10 am – 1 pm, 4 pm – 6:45 pm; Sunday: 5 pm – 6:45 pm
Entrance fee: $3.
4. Cervantes Square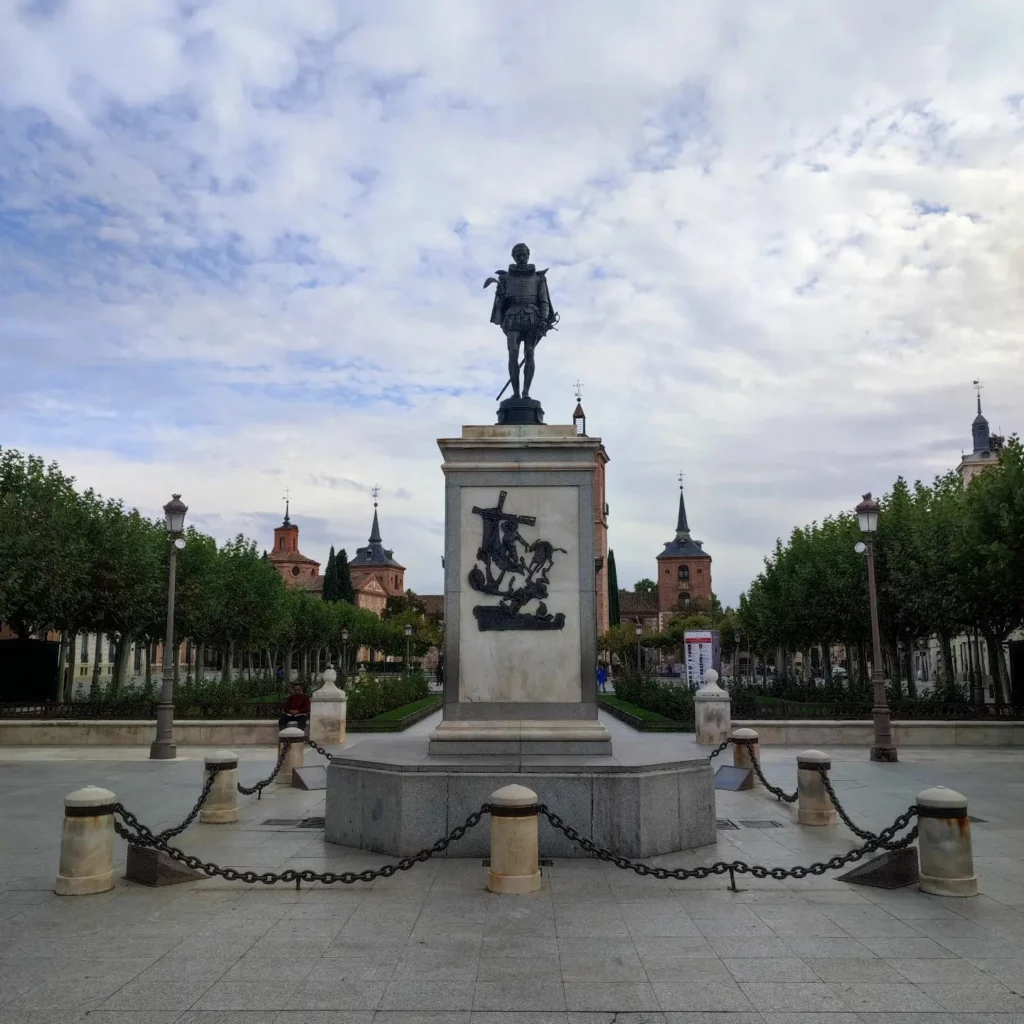 Previously Market square of Alcalá, it is now home to annual fairs and festivals. You will find a sculpture of Cervantes in the middle of the "plaza."
The square boasts a unique charm you rarely find in big cities. And if you are lucky enough, you'll catch a beautiful and touching scene of old couples dancing to live music in the evening.
5. Calle Mayor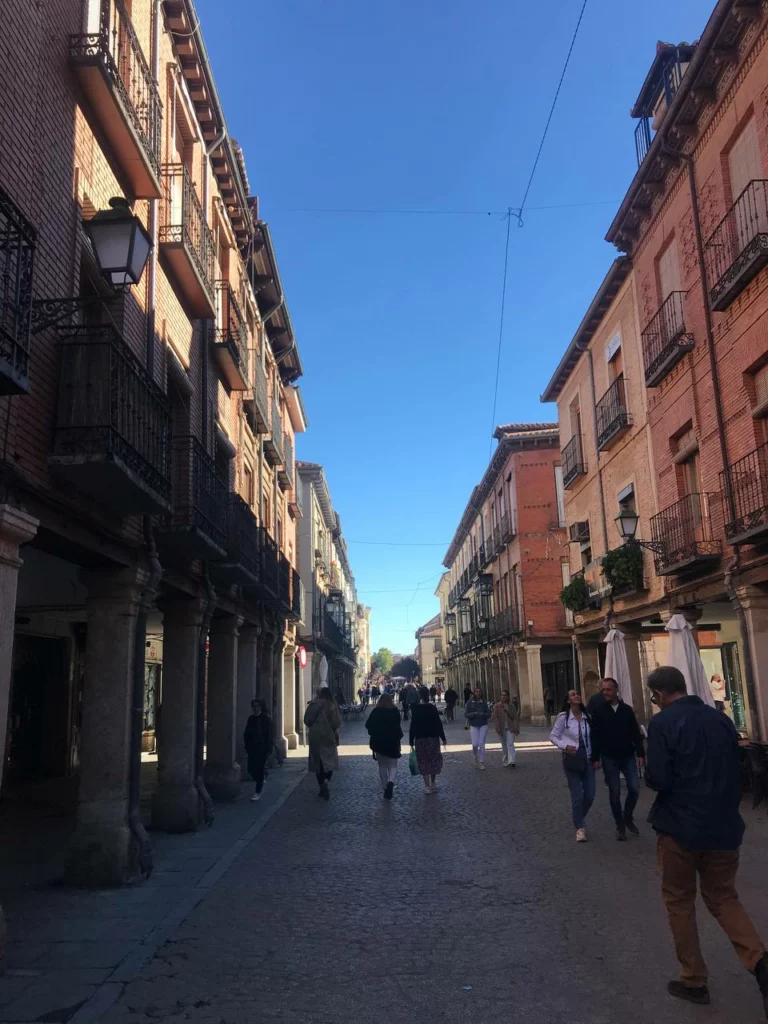 The "Main street" is a picturesque medieval street that used to be part of the Jewish quarter. It also was the city's most lively commercial spot back in the Middle Ages.
Pay attention to details – low stone houses with wooden floors, dragons, and gargoyles adoring the gutters.
And, of course, in the evenings, the street, full of cafes and restaurants, gets crowded with students, tourists, and locals.
6. Corral de Comedias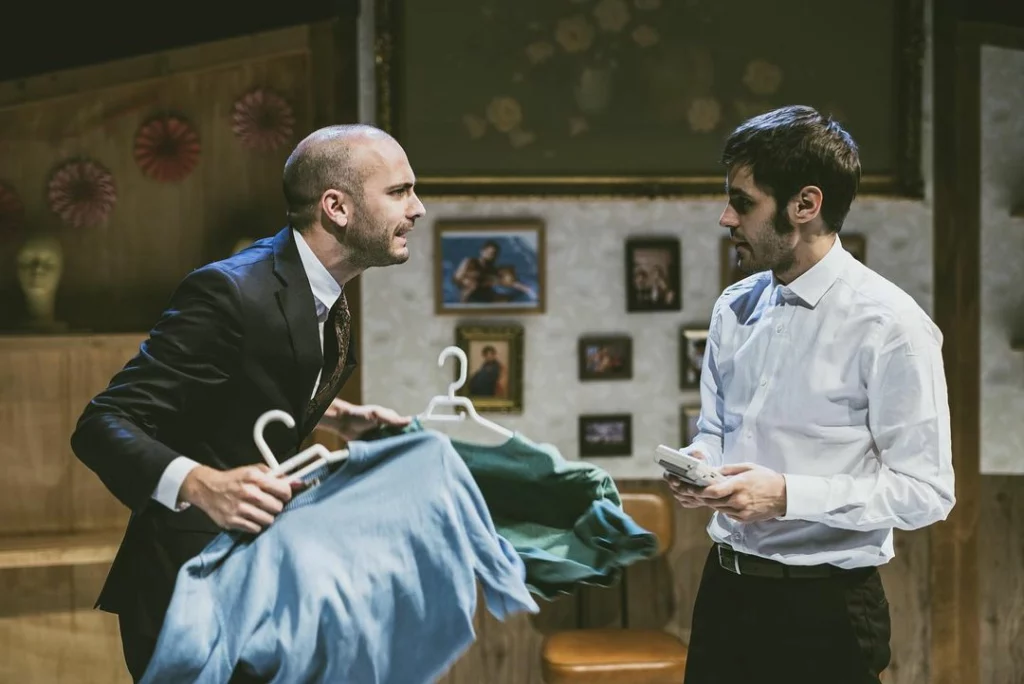 A typical Spanish open-air theatre set up in the inner patio of a building, one of the oldest theatres in Europe (early 17th century). It was about to be demolished, but fortunately, it has been restored. It is now being used for theatre, musical, and flamenco performances. Don't miss it!
7. Laredo Palace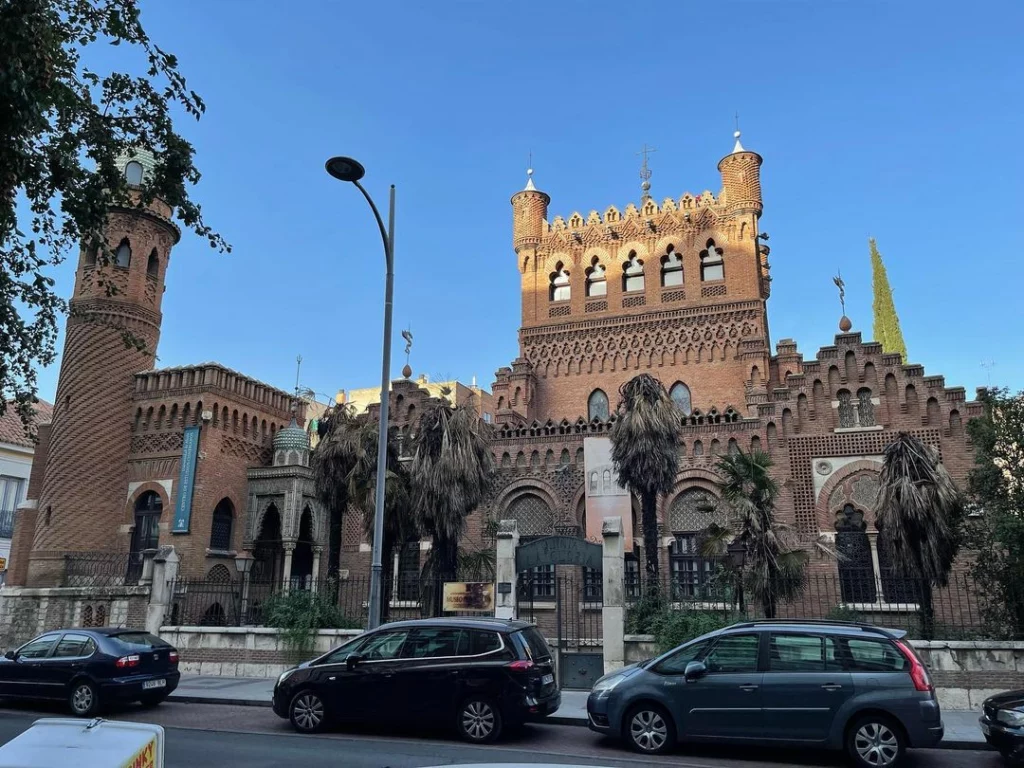 The Laredo Palace is the most characteristic and personal work left to us by the painter, decorator, restorer, set designer and Mayor of Alcalá Manuel José de Laredo (1842-1896).
Completed in 1886, the ancient architecture reuses archaeological remains from buildings in Toledo, Jaen, Guadalajara, Santorcaz and Alcala itself.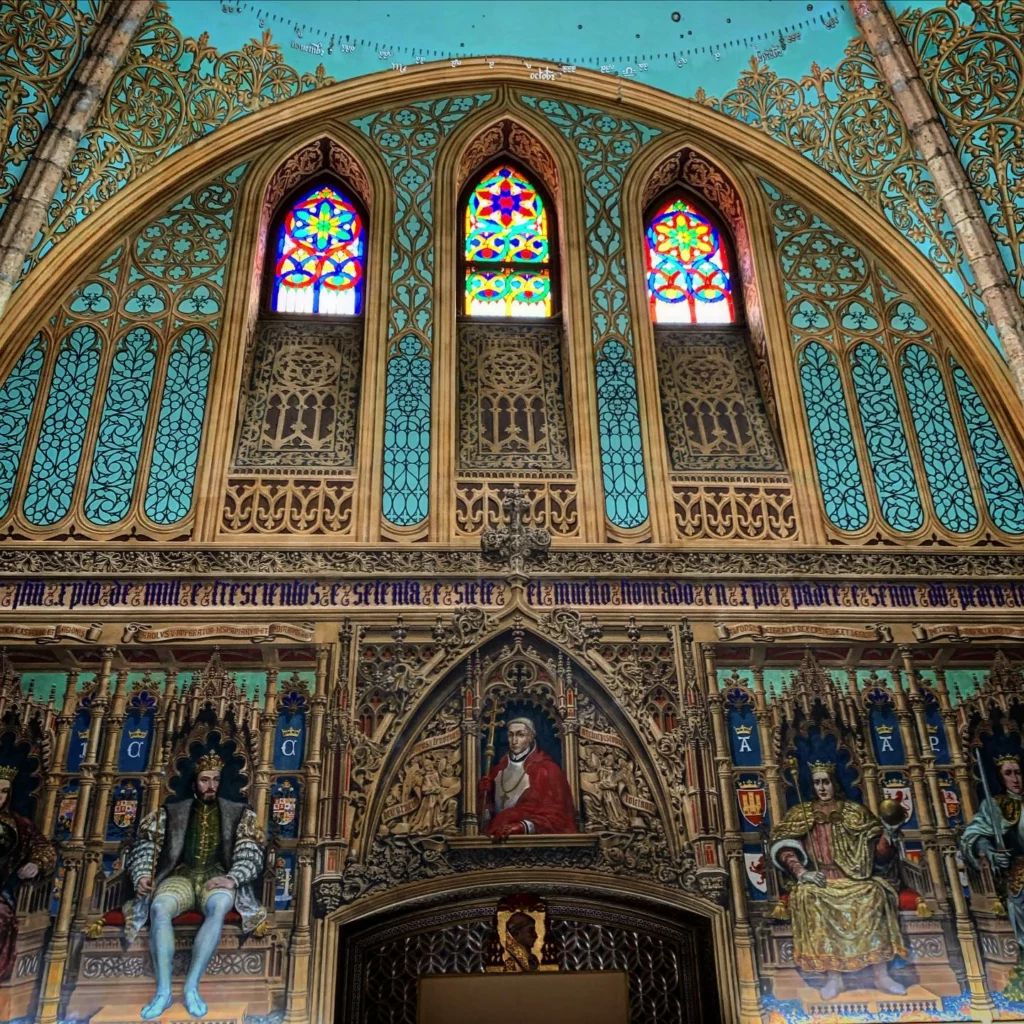 The building currently houses the International Center for Cisneros Historical Studies and a small Cisneros Museum, where visitors can see, among other items, a complete copy of the Complutense Polyglot Bible.
Opening hours: Daily, 10 am – 1:30 pm, 4:30 pm – 6:30 pm.
8. Count nests of the storks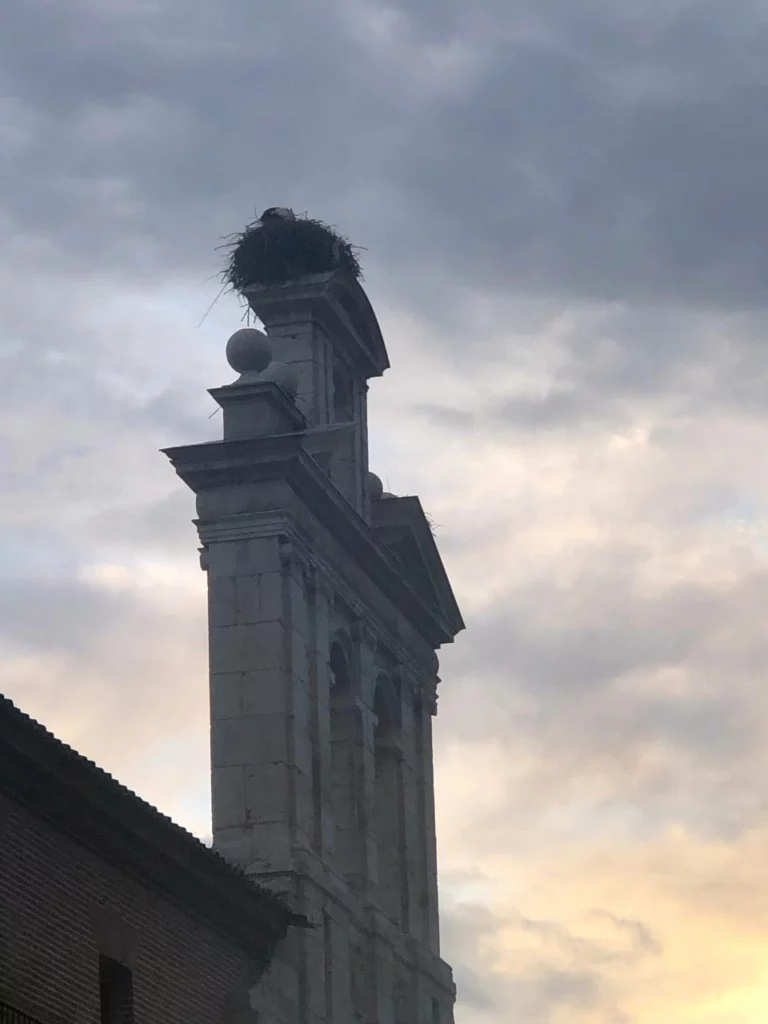 Traveling with kids is always challenging as they get bored really quickly, especially when visiting museums. They need fun, some challenge, something that catches their interest.
In Alcalá de Henares, I was traveling with a super naughty 7-year-old, who started to moan every time I said, "Let's see what's inside that church."
So I made up a quest: "Find and count the nests of the storks" because Alcalá appeared to be the city of the storks.
Between mid-October and the beginning of August, you can pretty much see a stork on every tower or historical building in the city. You can also hear them snapping their beaks like castanets, and a twig falls from the sky every so often. We counted eight huge nests walking around the main historical spots of the town. And you know what, everyone was happy! I got my churches, and little one got his game.
9. Regional Archaeological and Paleontological Museum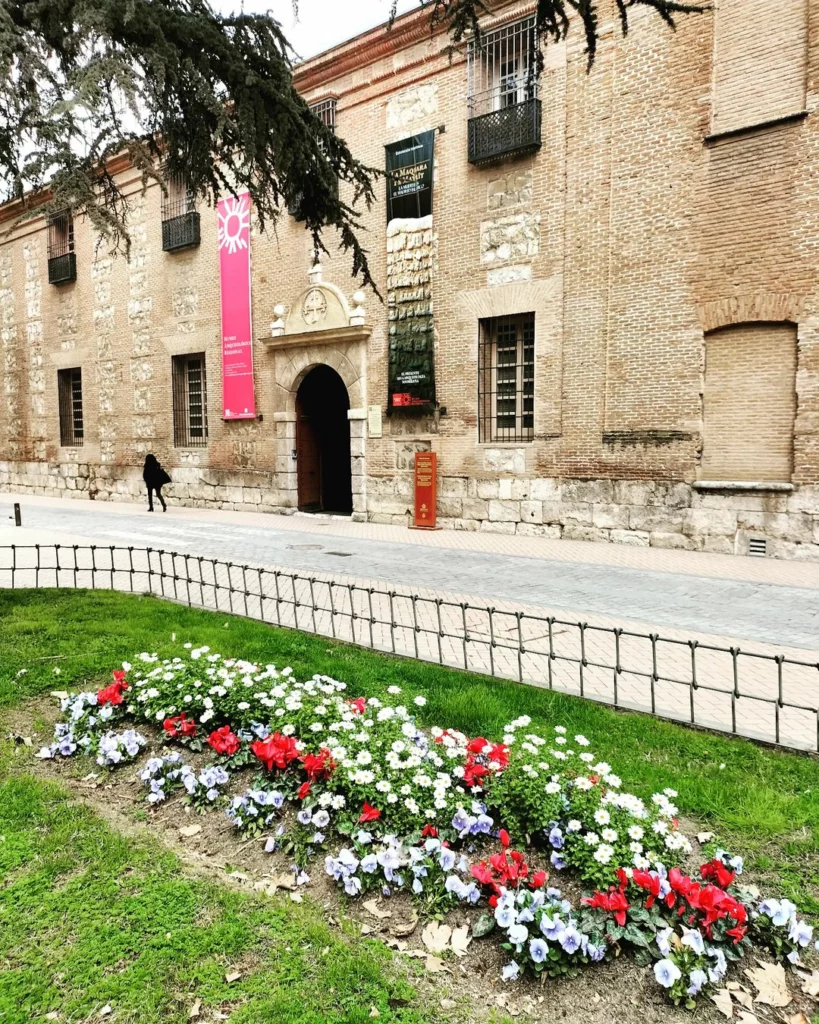 You will find the Museo Arqueologico Regional in an emblematic building that was part of the university complex of Alcalá: The Dominican Convent School of the Mother of God. Founded and built in the 17th century, it retains its baroque cloister and a majestic church in the Museum's main exhibition space.
The Museum also provides an educational review of the region's history. The exposition is quite curious both for children and adults.
Helpful tip Book a guided tour in advance.
Opening hours: Tuesday – Saturday, 11 am – 7 pm; Sunday and Public Holidays: 11 am – 3 pm
Free admission
10. Archbishop's Palace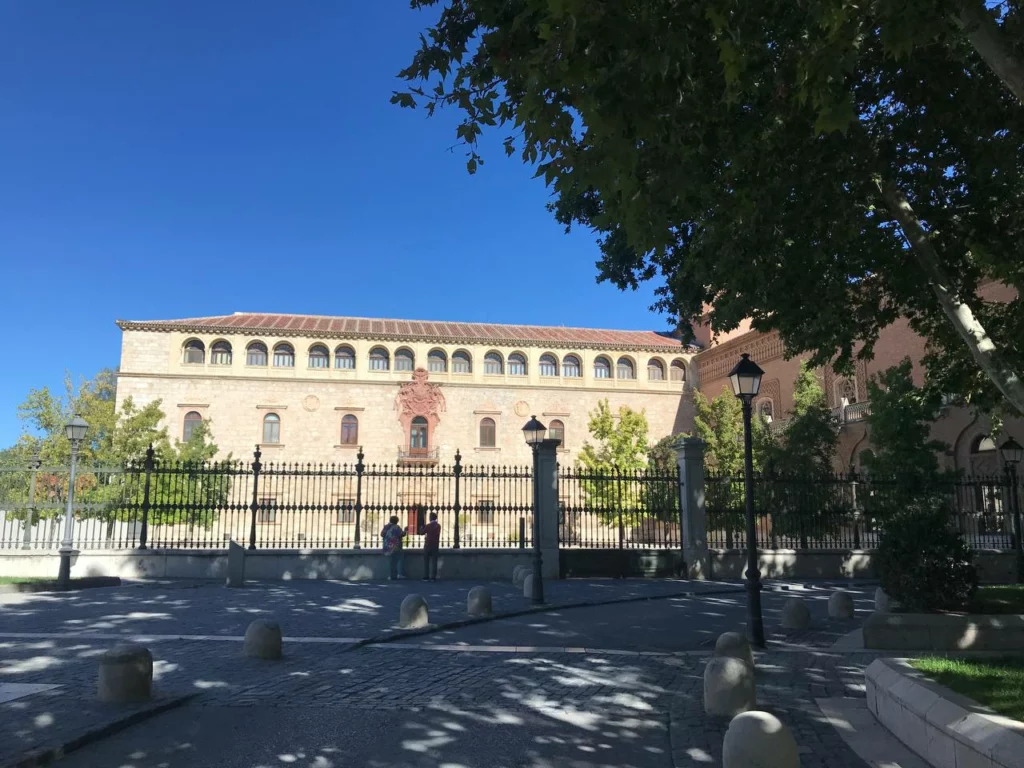 Archbishops of Toledo have been living in Alcalá since the 13th century. It was a residence for archbishops, a temporary residence of the Castilian monarchs, and the birthplace of Catherine Aragon (Queen of England, the first wife of King Henry VIII).
However, the most loved fact about the palace is that Queen Isabella I interviewed Christopher Columbus here. After the talk, she decided to give him a chance and financed the 1492 voyage that led to the "New World" opening.
11. Wander around the O'Donnell Park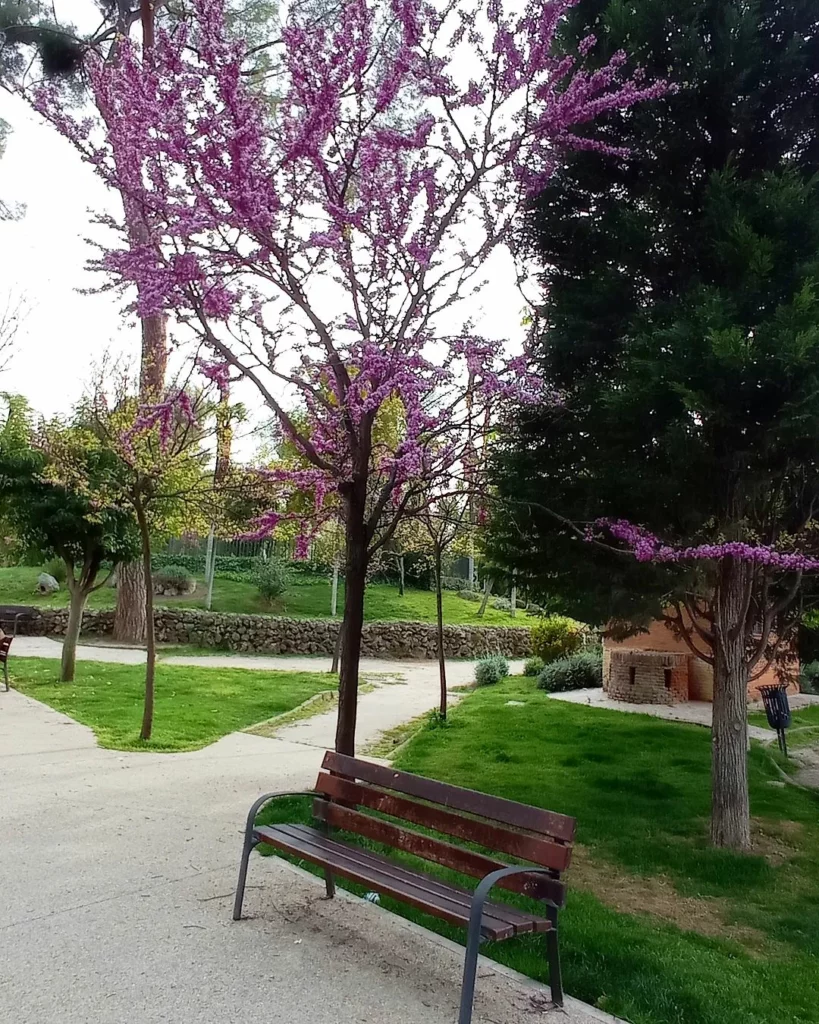 It is a cozy and lovely park, perfect for morning jogging or afternoon stroll. It was inaugurated in 1898 and named after General Leopoldo O'Donnell. He and General Dulce set out from Alcalá with his Cavalry regiments, thus beginning the Revolution of 1854 in Spain.
12. Open Air Sculpture Museum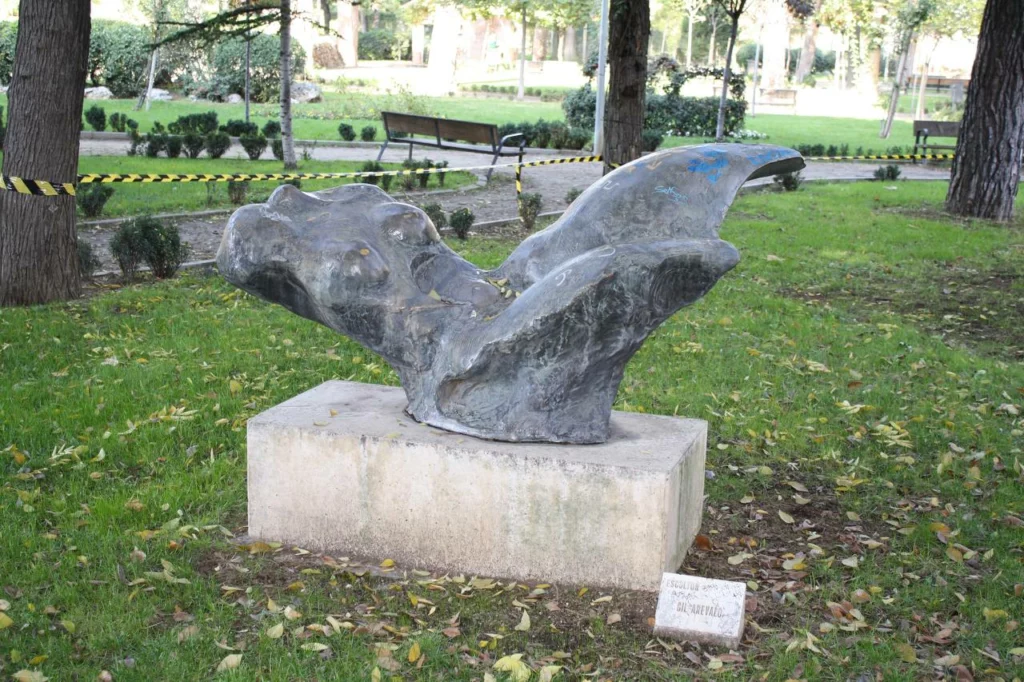 For contemporary art lovers and those who keep trying to understand it (I am in the latter) – see the Open Air Sculpture Museum of Alcala de Henares.
It is a permanent cutting-edge art exhibition opened in 1993 by sculptor José Noja. The collection consists of 58 figurative and abstract sculptures, and modern and contemporary works, mainly by Spanish artists. The sculptures are arranged in two urban sections: along Complutense Avenue (Vía Complutense) and bordering the old city walls. This makes it the longest in its class of all Europe, with more than 1,2 miles (2 km) long.
13. Traditional sweets and pastry
Alcalá is famous for its sweets and pastry. Do not leave the city without trying Costrada, Almendras garrapiñadas, and Rosquillas de Alcalá.
Costrada heads the ranking – it is a classic pastry made with puff pastry and two fillings – meringue and pastry cream, crowned with almonds.
Almendras garrapiñadas – caramelized almonds. Go to the Convent of Clarissa's nuns in San Diego Square to get them. Yes, I am not joking; go to Clarissa's nuns. But remember that nuns are an enclosed religious order, so you cannot see them. Once in the building hall, place your order at the turnstile designed to let the nuns maintain their privacy.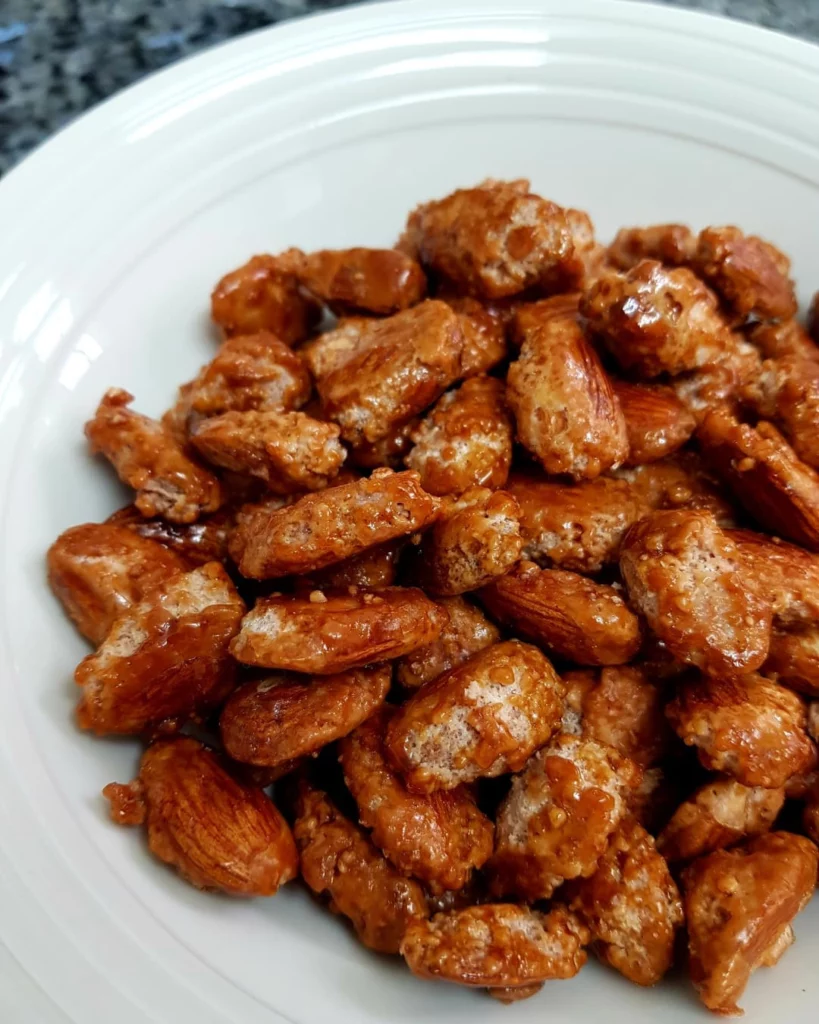 Rosquillas de Alcalá has the shape of doughnuts but is made with puff pastry and bathed in creamy yellow egg yolk and sugary glaze. Yummy!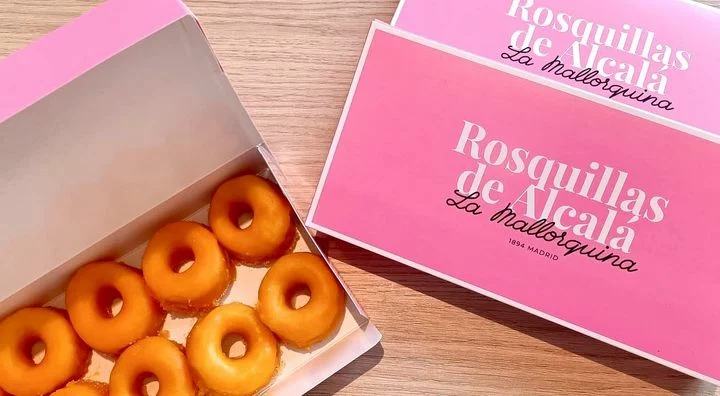 Where to try – Confitería Salinas (Plaza Cervantes, 21) or El Postre (Calle del Tinte).
Where to eat in Alcalá de Henares
There are plenty of places of all cuisines, but my choice goes to
Manolo Bakes (C. Libreros, 24, 28801 Alcalá de Henares, Madrid) for breakfast. Try out tiny fresh croissants with various fillings, sweet or savory, or the traditional Spanish toast with tomato and olive oil – it is always a good choice.
El Brasero de Rusty (Calle Mayor, 5, 28801 Alcalá de Henares, Madrid) for dinner. It is a BBQ meat restaurant with the best "Pimientos de Padrón" (Padron Peppers) I have ever tried.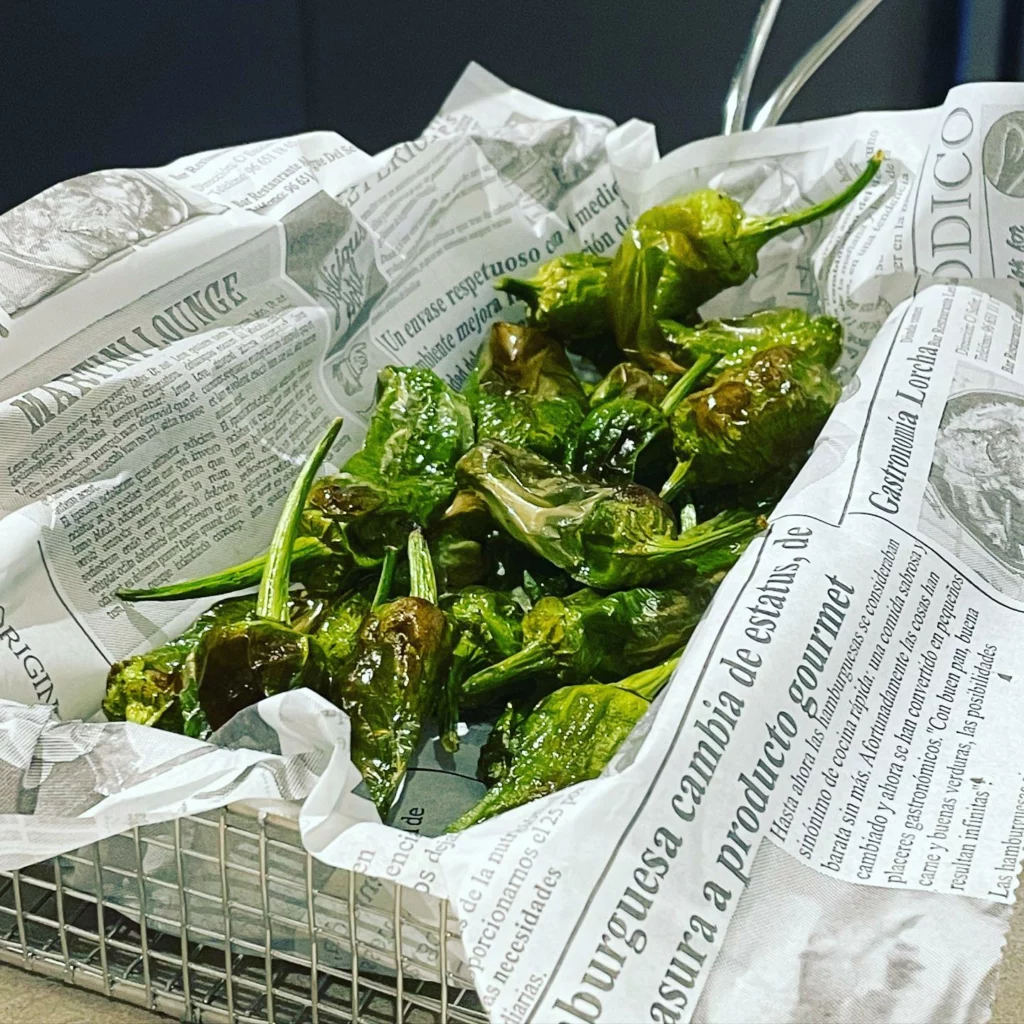 I hope you find this post helpful. Leave your comments below and let me know what you think of Alcala de Henares.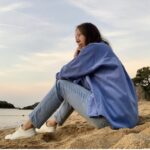 Hello, my name is Nadia.
I usually write about traveling (there are so many places to fit all the lifestyles), relocation (finding a job overseas or moving without losing an income), and living in a foreign country (adapting to a different culture and mentality). Follow me on Twitter, Facebook, Instagram, or LinkedIn!
This post might include some affiliate links. If you make a purchase through these links, I may earn a small commission at no additional cost to you. I appreciate it when you use my links to make purchases.