Best Things to Do in San Sebastian, Spain
Nadia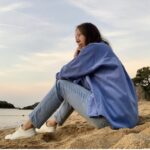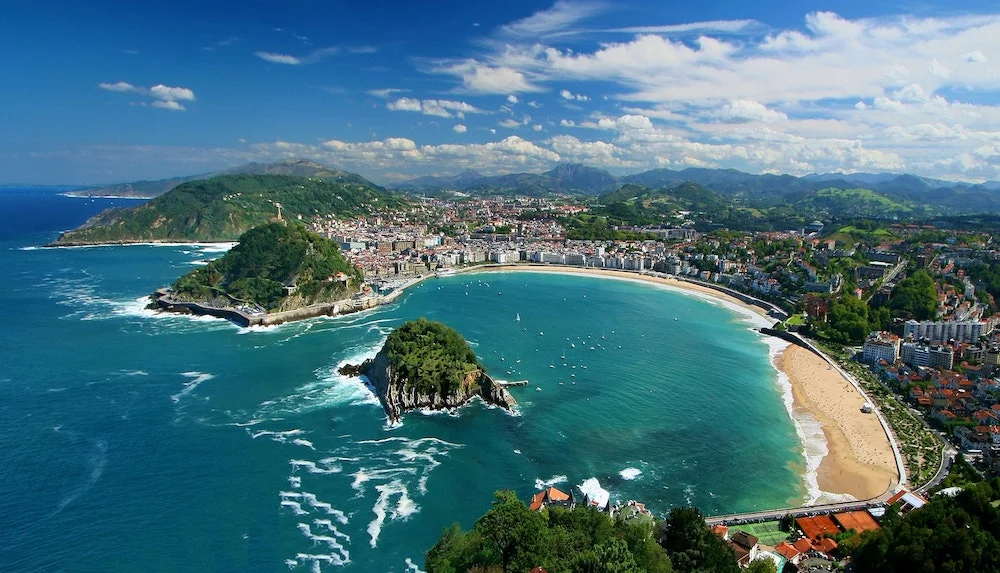 Spain is not just the most attractive European destination for traveling abroad – Spanish people also prefer to explore their country. And now, I understand why: Iberian Peninsula has so many hidden gems and so much history that it could take at least a decade to explore this beautiful country.
For example, you will find yourself in a completely different environment, just a few hours' drive from the Mediterranean south to the Atlantic north of Spain – the mountainous Basque country.
And I am not speaking only about the scenery or weather. You will cross the invisible border to be amazed by the totally different architecture, cultural habits, pace of life, language, and food.
Setting up for the trip
Traveling to the north of Spain, the Basque country, was always at the top of my bucket list. And it was San Sebastian ("Donostia" in the native language), where I headed on my Xmas holidays. The city offers a unique combination of lovely beaches, beautiful architecture, and a lively cultural scene featuring events like the San Sebastián International Film Festival.
---
Key takeaways
See the Old town of San Sebastian
Enjoy beautiful beaches (try to get to the hidden one)
Indulge yourself in Pintxos (tapas)
Get to the top of Monte Igueldo and take the boat ride
Go surfing & kayaking at Zurriola beach
---
I know – it looked like a weird choice for a winter destination. Spanish people usually flock to the north during summer to escape the boiling heat and soak in the refreshing air of the Atlantic.
Indeed, the ideal time for visiting San Sebastian is summer, when the temperatures are always mild, 68-77°F (20-25°C), and the days are sunny. It could be partly cloudy in spring and autumn, and showers may appear. However, still, you are most likely to experience pleasant weather.
Winters are usually wet, cold, and windy, so take warm clothes, boots, and umbrellas. But you know what? Prepare for the worst but hope for the best! My Christmas trip to San Sebastian was full of sunny days, with daytime temperatures over 60°F (16°C).
Read also: Hondarribia and Olite, the must-see villages in the north of Spain
The history of the Basque country
You probably heard about the unique European language called Euskera, the ETA organization, or saw some post on Instagram with a celebrity posing in the French resort of Biarritz. It is all about the Basques and their country, which occupies the extreme southwest of France and northwest of Spain.
Euskera is a language of unknown origin and linguistically distinct from any other language. It was forbidden in Franco's times and began its second life after the dictator died in 1975. While locals widely use Euskera, an educational system requires two languages – Castellano (classic Spanish) and Euskera.
It is also worth mentioning that due to their lust for independence and strong nationalist movement for separating, the Basques suffered a lot under the Francoist regime.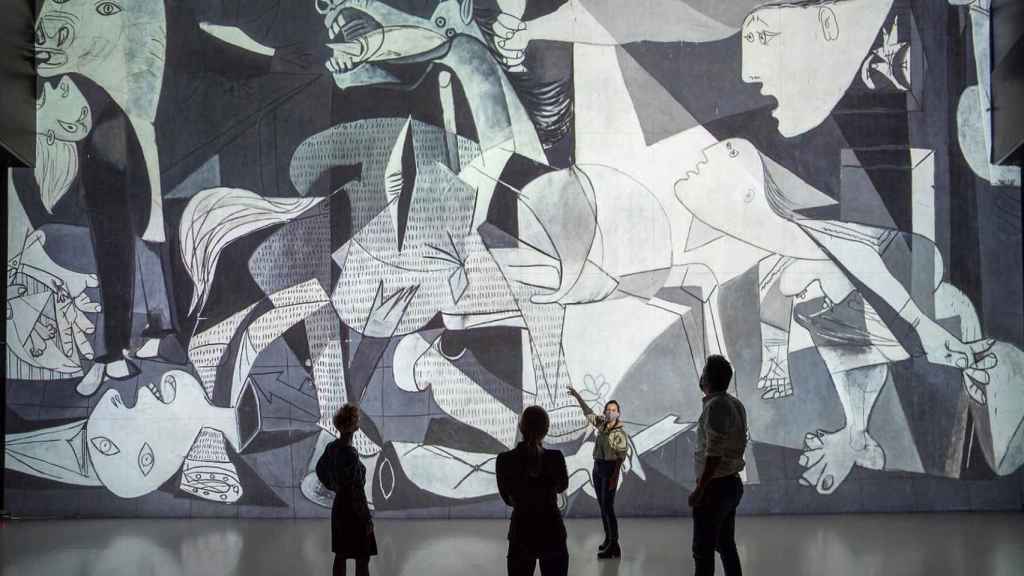 Do you remember incredible Picasso's Guernica, the most famous anti-war painting? Guernica is a Basque town that was nearly erased to the ground in 1937 with bombs by German and Italian airforces, following the order of Franco, who wanted to break the resistance of the Basques.
Helpful tip: Guernica is just one hour drive from San Sebastian (90 km/60 miles). If you have seen the painting by Picasso in Museo Reina Sofia in Madrid and would like to pay tribute and feel that life wins no matter what – visit Guernica.
Where is San Sebastian?
San Sebastian lies within driving distance from other major Spanish cities such as Madrid (5 hours), Barcelona (6 hours), and Pamplona (2.5 hours). You can easily make day trips or even longer stays depending on the desired length of stay.
The city is sprawled along the Concha beach ("concha" translates from Spanish as a shell). Indeed, looking at San Sebastian from one of the nearest mountains, Monte Igueldo, you see the wide strip of beach that reminds a shell.
Today, the city is the main destination for "pintxos" (tapas), long walks, and outdoor activities.
Best things to do in San Sebastian
Walk along seafront promenades: La Concha and Paseo Nuevo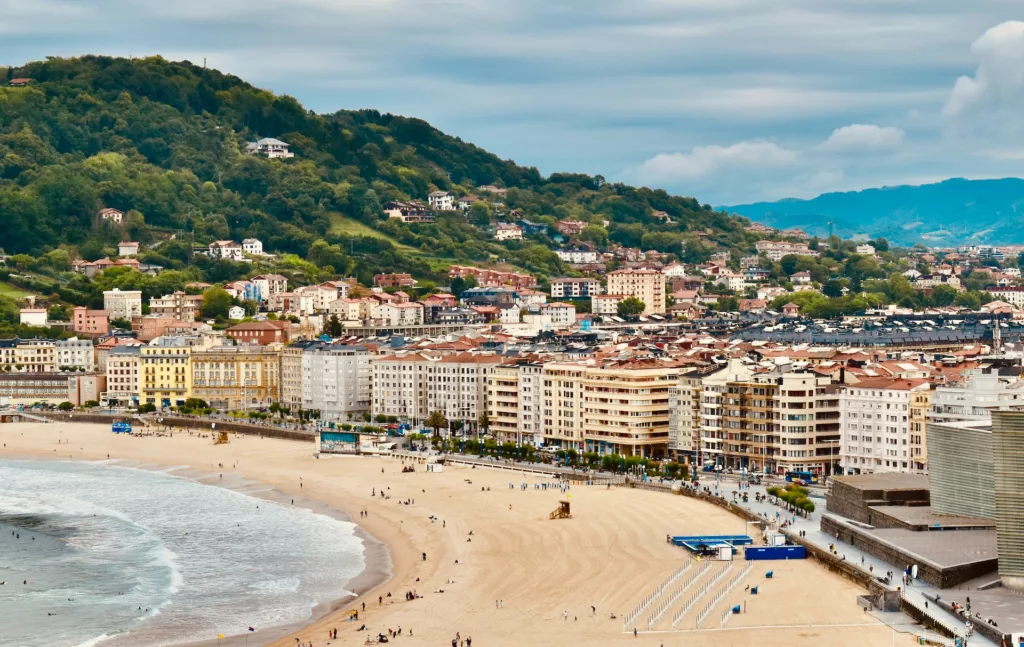 La Concha promenade, an emblem of San Sebastian, is a lovely spacious walkway that borders the beach of La Concha. On one side, you get stunning sew views. On the other, you see the stylish, beautiful buildings that give the impression of prosperity and a luxury "feel" of San Sebastian.
The New Promenade circles the Old Town and Monte Urgull, with a starting point at the San Sebastian Aquarium and ends at Kursaal. The water is coming close to Paseo, with huge boulders placed to stop the waves from reaching the promenade. It looks spectacular when the rough sea and the foaming waves rush into the rocks! You can also get a close view of Santa Clara Island.
See the Old Town (Parte Vieja)
It is located at the foot of Monte Urgull and is a maze of narrow cobblestone streets full of bars offering the best pintxos in the city. As I mentioned before, technically, it is a young quarter, as only a few houses survived the fire of 1813. At the same time, it is old enough to feel the atmosphere and get lost in time.
Though this part of the city is relatively small, it embraces some real gems of San Sebastian, the must-visits: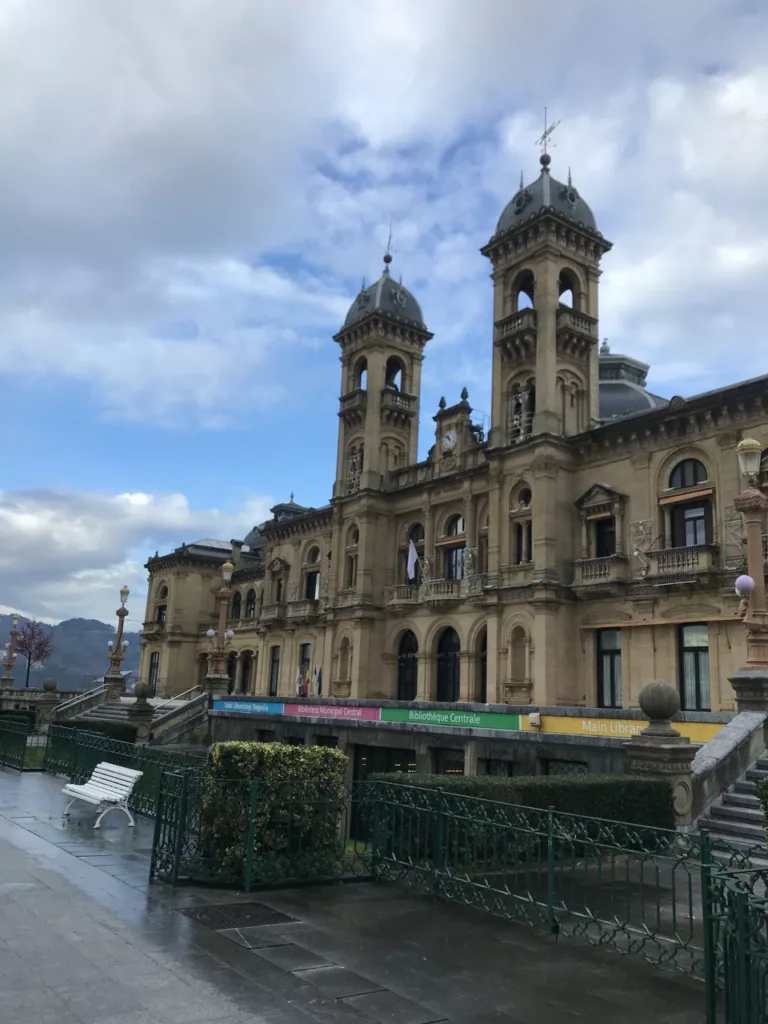 Plaza de Constitución lies at the heart of the Old town and reminds of Plaza Mayor in Madrid. The main building was a Town Hall until the 40s when it was moved to La Concha bay. Once you enter the square, you see beautiful colorful houses with numbers above each window. It dates back to the time when the square hosted bullfights.
San Vicente Church, located at the very beginning of 31 August street, is the oldest church in the city (early 16th century). Beautiful gothic-style exterior with rose windows and pointed arches, it also amazes with a masterpiece of Jorge Oteiza's "La Piedad" on its facade.
Basilica of Santa Maria opens to a view of its gorgeous baroque facade if you are standing on Calle Mayor street. The Basilica was built in the late 18th century and surprises with its interesting Churrigueresque touches (the unique Spanish baroque style). So, take your time and walk around exploring the sophisticated ornamentation of the facade.
San Telmo Museum, located at Zuloaga Square, right at the foot of Monte Urgull. Today, the museum is a pleasant symbiosis of an old 16th-century Dominican convent building and a new exhibition hall. As a Museum of Basque Society and Citizenship, it also offers an immersion into the culture and history of the Basque country. Its collection includes extensive ethnographical and archaeological finds. Plan a few hours for the exploration; it is well worth it.
Opening hours From Tuesday to Sunday. November-March 10 am–7 pm, April-October 10 am–8 pm. Tickets: $3-$5
See the Cathedral of Good Sheperd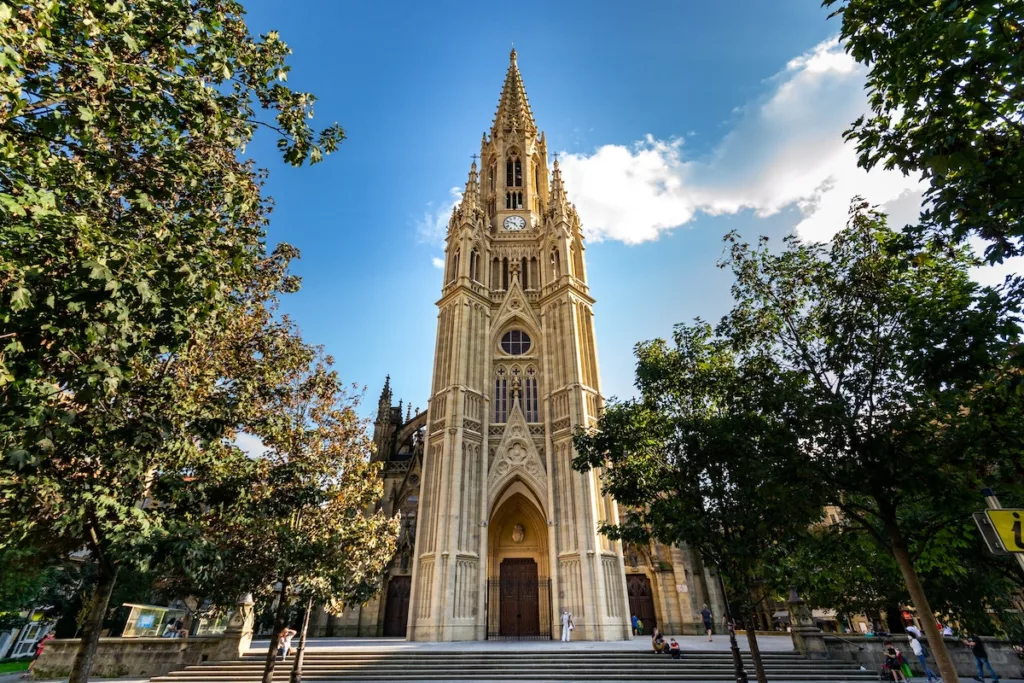 It is a monumental neo-gothic cathedral, opened only in 1897, located in the very center of the city. It is an impressive complex that covers an area of almost 21,000 sq feet (2,000 m²) with a 246 foot (75 m) tower pointing to the sky, stunning stained glass windows and gargoyles on the facade.
Get to the top of Mount Igueldo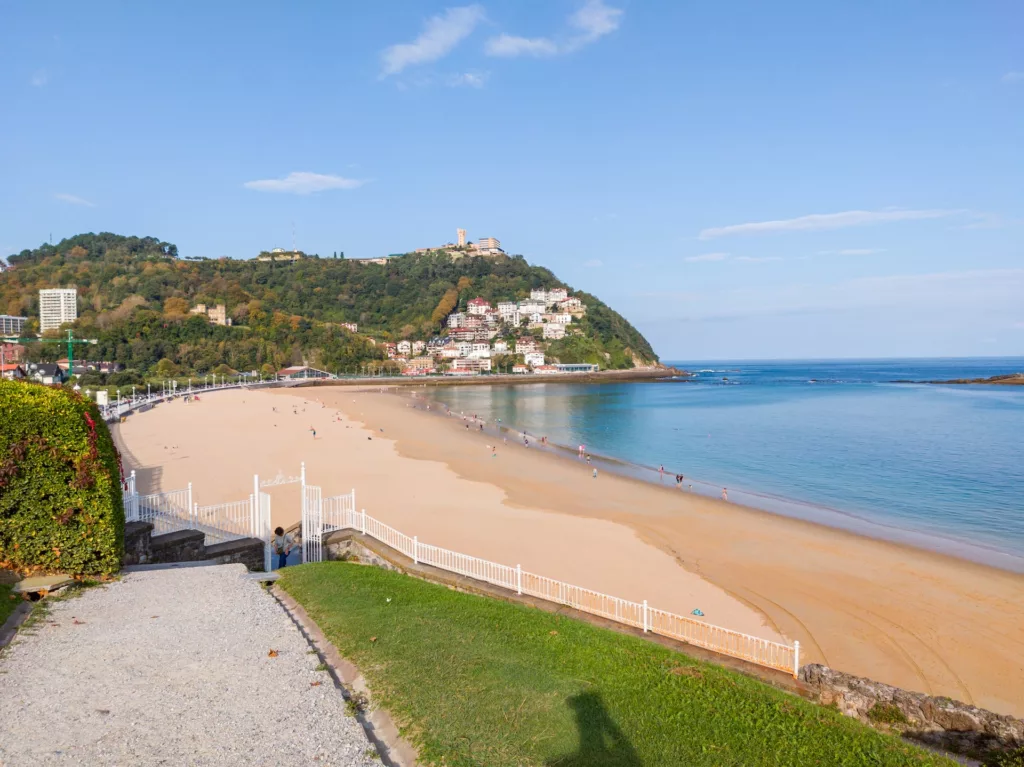 The best views of San Sebastian and Concha bay. It is undoubtedly the most exciting part of the itinerary if you travel with kids. Although you can get to the top by car or bus, I highly recommend using the hundred-year-old funicular railway. Its wooden carriage will take you from the lower slope of the mountain to the top. No extreme at all, I promise, the journey barely lasts 10 minutes.
The scenery from the top is spectacular; it is the best spot to enjoy impressive panoramas of San Sebastian and take photos for Instagram.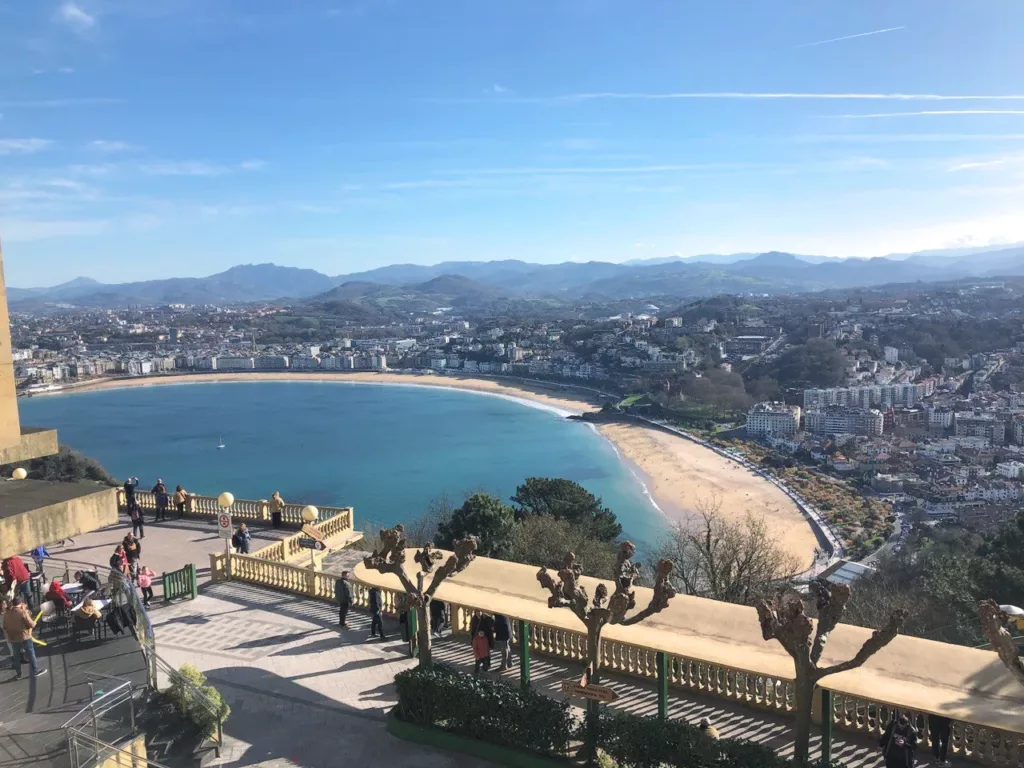 There is an amusement park, which is a small but worthwhile experience. The "Mysterious river" was my favorite part. This small boat runs a short distance outside the mountain revealing amazing views! Take it!
Funicular opening hours: 11 am–7 pm (runs every 15 minutes)
Amusement park opening hours: 11.30 am–2 pm / 3.30–6.30 pm
Fees
Funicular: return ticket adults $4.25, children $2.50.
Amusement park: from $2 per person/ round
Helpful tip Arrive at the cable car station 20 minutes before opening to avoid a long queue.
Admire Peine del Viento (The Wind Comb) sculptures
After getting down from Monte Igueldo, you will find yourself at the end of Ondaretta beach. Locals say it is where the city ends and the sea begins.
In 1976 the famous Basque artist Eduardo Chillida completed his work on the sculptural group Peine del Viento, which comprised three curved steel sculptures anchored to the rock. It creates the impression that they grow up from the rock without human intervention.
The best part of the attraction happens on stormy days when huge waves hit the rocks, challenging the steel giants to emit impressive whistling sounds.
---
Travel is for more than just sightseeing. It is also for sports activities, food, and, quoting Italians, for "dolce far niente" – doing nothing/sweet idleness.
Do not try to grasp the cultural immensity; leave another museum, church, or palace for the next time! Just do what makes you happy.
If you are a surfer, lucky you are. San Sebastian is a mecca for surfers. The best time to hit the waves is during late summer, when the city's beaches are blessed with the most consistent swells. From June through September, you can expect warm sunny days and plenty of crashing waves that will have any surfer stoked. The major beaches for surfing are La Concha, Ondarreta, Zurriola, and Karraspio.
If you are more of a jellyfish than a sports addict (like me), relax at the beach. There are four of them in San Sebastian. And you can also grow a foodie in you: the Pintxos culture is more than a religion in the Basque country!
---
Relax at the beaches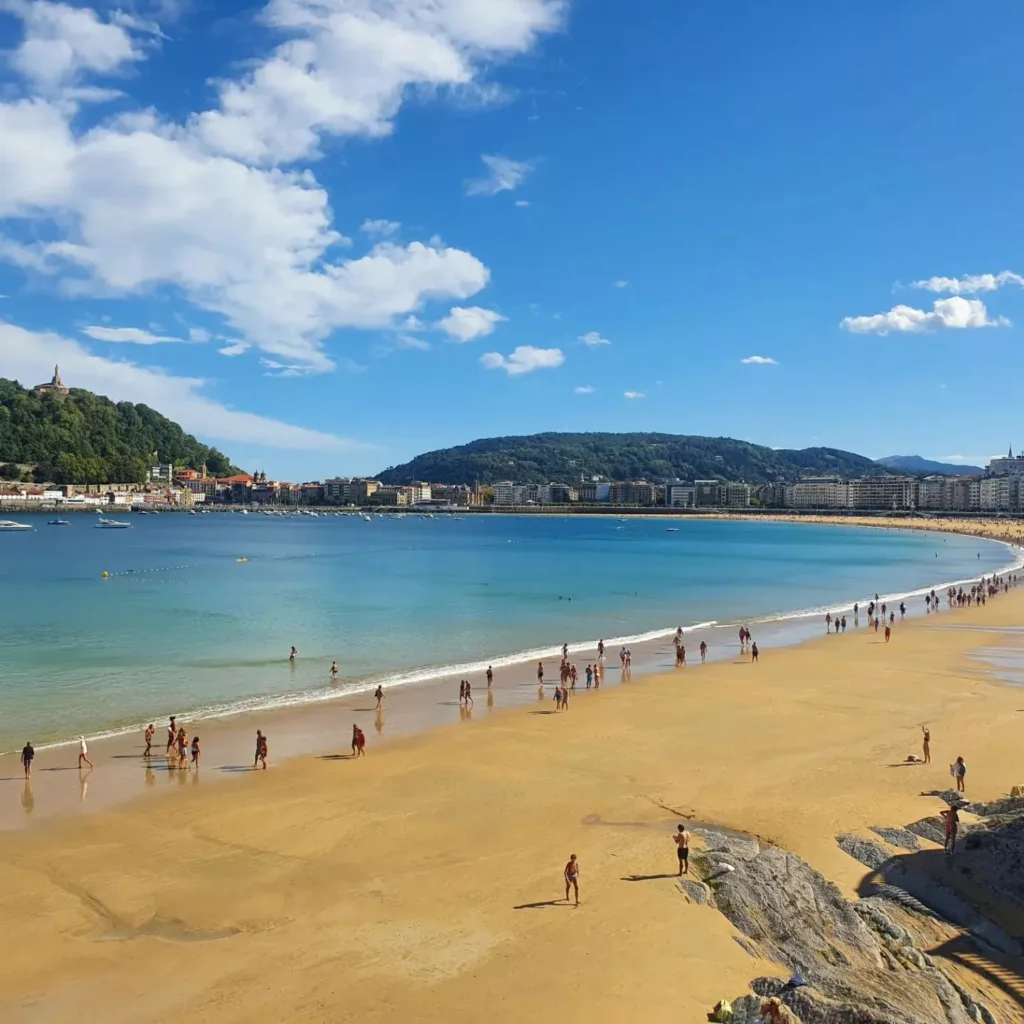 For beach leisure, you can choose from four spots: La Concha, Zurriola, Ondaretta, and Isla Santa Clara.
La Concha is one of the best urban beaches in Europe, elegant and classic, with fine white sand and beautiful views.
Zurriola is a lively area popular with surfers and young people who come here to hang out, enjoy music, play volleyball and, of course, catch strong waves (the beach is not protected by the bay). There are also some of the best beach bars in town.
Ondaretta is the quietest beach during summer, making it attractive to families with children. You can add some fun to the laid-back pastime and rent a canoe while the kids may enjoy the playground.
Isla Santa Clara is a small island in the heart of Concha Bay. The charming hidden beach is just 30 meters long and is a tiny paradise with a vintage twist. Helpful tip: If you are an experienced swimmer, you can swim there (400 m from Ondaretta Beach). Otherwise, you can go in a canoe or use a ferry service from Plaza la Lasta, as most people do. The roundtrip ticket is about $4.
Pintxos!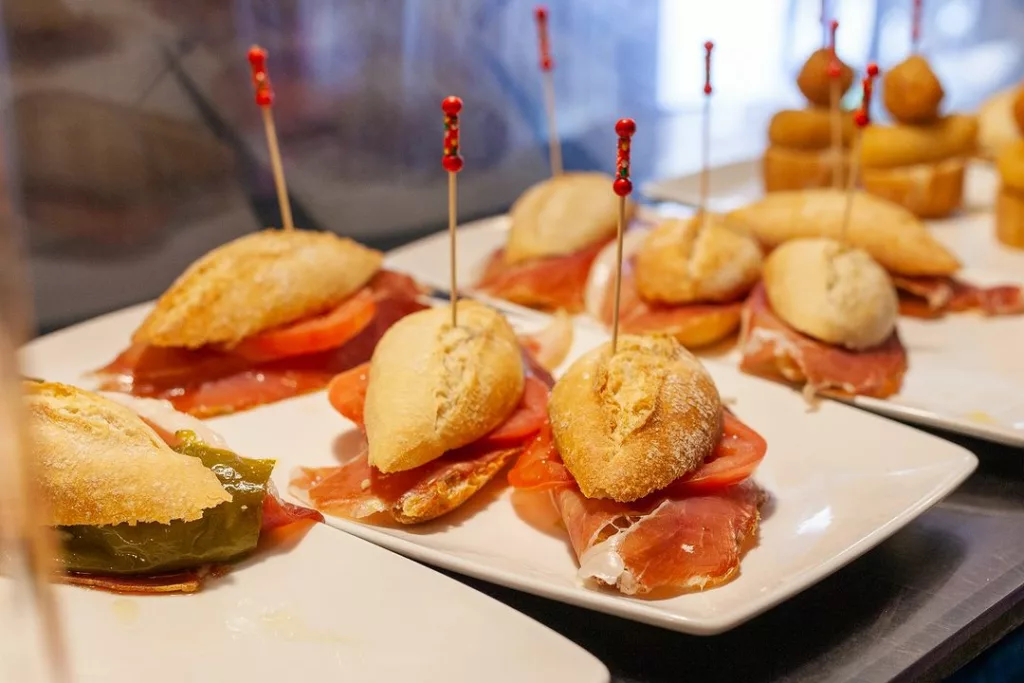 Finally, I reached the best part of the trip! Why not call it an outdoor activity? You can plan a self-guided Pintxos tour or choose from numerous guided tours. The fun and pleasure are guaranteed!
What are Pintxos? Simply put, pintxo is a version of tapas (a traditional Spanish small snack).
However, the Basques will hardly agree with this definition. To them, Pintxos is not a "version". It is the key element of a culinary tradition that defines the way of socializing in the Basque country.
Instead of spending hours at the dining table, the Basques prefer "Pintxos crawl" – walking from bar to bar and eating delicious little bites.
Pintxos can be cold or hot, skewered or on a piece of bread, baked in a shell, or served as a Michelin star dish. Pintxos are usually enjoyed with a glass of wine (local white wine Txakoli, for instance) or beer.
For all bars and taverns I crawled, I did not have any single lousy experience! But still worth following some advice on where to try or what to try. And be ready for elbowing and bumping in the bar, as it gets really crowded in rush hour.
The best streets for the Pintxos crawl are 31 de Agosto and Fermín Calbetón. If you are on a self-guided tour, try out an app called Pintxos (iOS, Android), which will allow you to make plans and book tables!
Here are my personal top 3 Pintxos spots in San Sebastian
1. Antonio. Must try: Ravioli de langostino en salsa Martini (Prawn ravioli in Martini sauce) and Crujente de rabo de buey (Crispy beef oxtail).
What people say on Google: 4.5 stars, 1,169 reviews
Bergara Kalea, 3, 20005 Donostia, Gipuzkoa
2. La Cuchara de San Telmo. Must try: Foie de Monfort con compota de manzana (Foie gras with apple compote)
What people say on Google: 4.5 stars, 3,633 reviews
Santa Korda Kalea, 4, 20003 Donostia, Gipuzkoa
3. Paco Bueno. Must try: Gamba gabardine (Coated scampi).
What people say on Google: 4.3 stars, 1,835 reviews
C. Mayor, 6, 20003 Donostia-San Sebastian, Gipuzkoa
Apart from Pintxos, San Sebastian is occasionally called the culinary capital of Europe thanks to 4 Michelin-starred restaurants. The main food concept lies around the local produce, elaborated into contemporary gastronomic art. My Basque friend advised me about these two, so I gladly share them with you:
Martin Berasategui (the best fine dining experience ever! Within 20-minute drive from San Sebastian)
Read also: The Best Michelin star restaurants in Madrid
Where to stay in San Sebastian
The city has many lovely hotels, from luxury 5-star Hotel Maria Cristina to pleasant 3-star chain hotels like Hotel Villa Katalina Intur or Sercotel Hotel Europa.
For big companies or families with kids, Airbnb is always an option. Bear in mind that it is almost impossible to park a car in the city center, so look for an apartment with parking.
What is the weather like in San Sebastian?
San Sebastian has a temperate oceanic climate, with relatively mild temperatures throughout the year.
In summer (June-August), daytime highs average around 75ºF (24ºC) and nighttime lows of 59ºF (15ºC). In fall (September-November), temperatures drop slightly, with daytime averages of 64.4ºF (18ºC) and nighttime averages dropping to 50ºF (10°C), making it quite cool at night! Rain jackets are also recommended for anyone visiting during these months.
Winter (December-February) has much cooler temperatures: Daytime highs averaging 50ºF (10ºC), and nighttime lows can dip as low as 41ºF (5ºC). As for the snow, it rarely falls in San Sebastian's winters. However, there can be heavy rainfall from January onwards due to its proximity to the Atlantic, providing plenty of moisture.
Springtime (March-May) brings warmer temperatures back, ranging between 55-68ºF (13-20ºC) during the day.
Conclusion
Spain is not just vibrant fire-colored Andalusia or Sagrada de Familia in Barcelona. It is also the savage forests of Galicia, sacred for religious Christians Santiago de Compostela, and, of course, the elegant beauty of San Sebastian!
I hope to rouse your interest in the beautiful Basque country. Feel free to drop your comment below!
This post might include some affiliate links. If you make a purchase through these links, I may earn a small commission at no additional cost to you. I appreciate it when you use my links to make purchases.