Discover Royal Spain: 13 Palaces
Nadia Podrabinek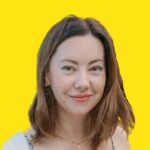 Written by Nadia Podrabinek
Hello, my name is Nadia. I usually write about traveling (there are so many places to fit all the lifestyles), relocation, and living in a foreign country (adapting to a different culture). My travels stretch beyond Spain, with journeys to the US, Italy, Norway, Portugal, and France. Relocating to Spain in 2018, I lived in cities from Barcelona to Madrid, currently calling Valencia home.  Follow me on Twitter, Facebook, Instagram, or LinkedIn! ... show more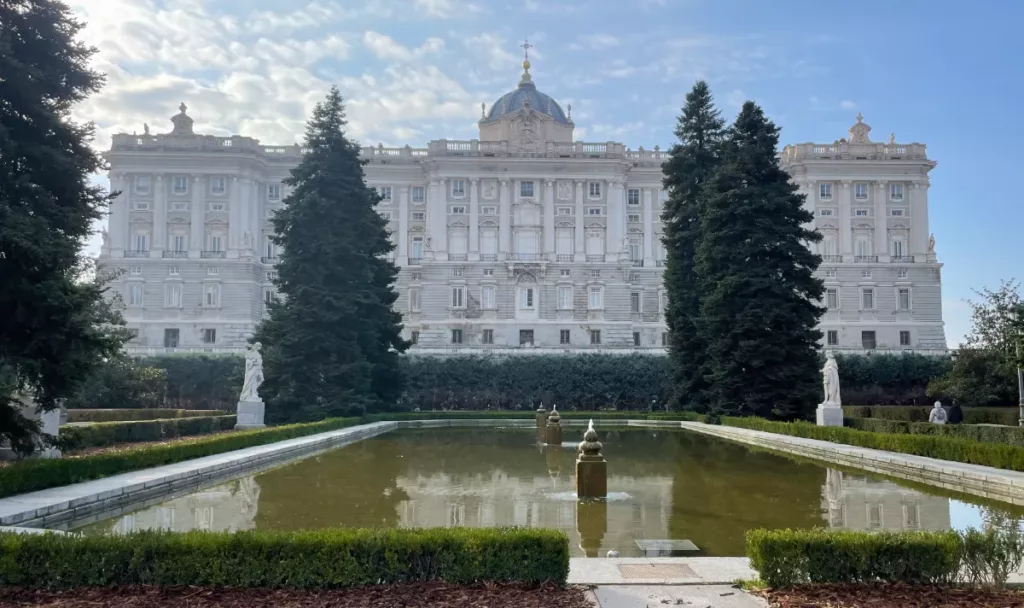 Spain is a country where beauty and picturesque landscapes abound in every corner.
Its many magnificent palaces will leave you in awe for their architecture and rich history, some having been created centuries ago during Siglo de Oro, or the "Golden Age" of Spain, where Spanish art, literature and culture flourished.
Here are my top picks of Spain's most beautiful palaces with unique features, grandeur, and secrets that will not leave you indifferent!
Best Palaces in Spain to Visit Map
What people say on Reddit
The Alhambra is a palace and fortress complex located in Granada, Andalusia, Spain. It was originally constructed as a small fortress in 889 CE on the remains of Roman fortifications

I visited it twice its so Beautiful.

ItsMeKaseb
Don't get me wrong, Iberian Royal Court looks extremely well made, and I get it's based on a real location, but it does kinda feel like the king decided to just put his throne in the middle of a hallway.

PVGreen
Fantastic historical location. If you can visit it, please go. The best view of it are however on an elevation across, which is where I think this shot was taken. I recommend a night time visit there, if you don't mind the walk. It's a fun atmosphere and provided you don't run out of breath and wear sensible shoes, it's a good trip. Out of all the tourist-trap mementos of it, my favorite are fridge magnets with the intricate wood carvings in imitation of the ones found inside around a mirror. Also, in my opinion, Granada has the most generous portions of tapas in all of Spain, so the food is plentiful and good as well.

Greg-Grant
Going there and then going to Windsor castle I finally understood the difference between a palace and a castle. It was awesome.

And the Armoury in the building on the left hand side was amazing to think that the weapons in there have been actually used by the military in combat.

Tim_the_good
1. The Alhambra Palace, Granada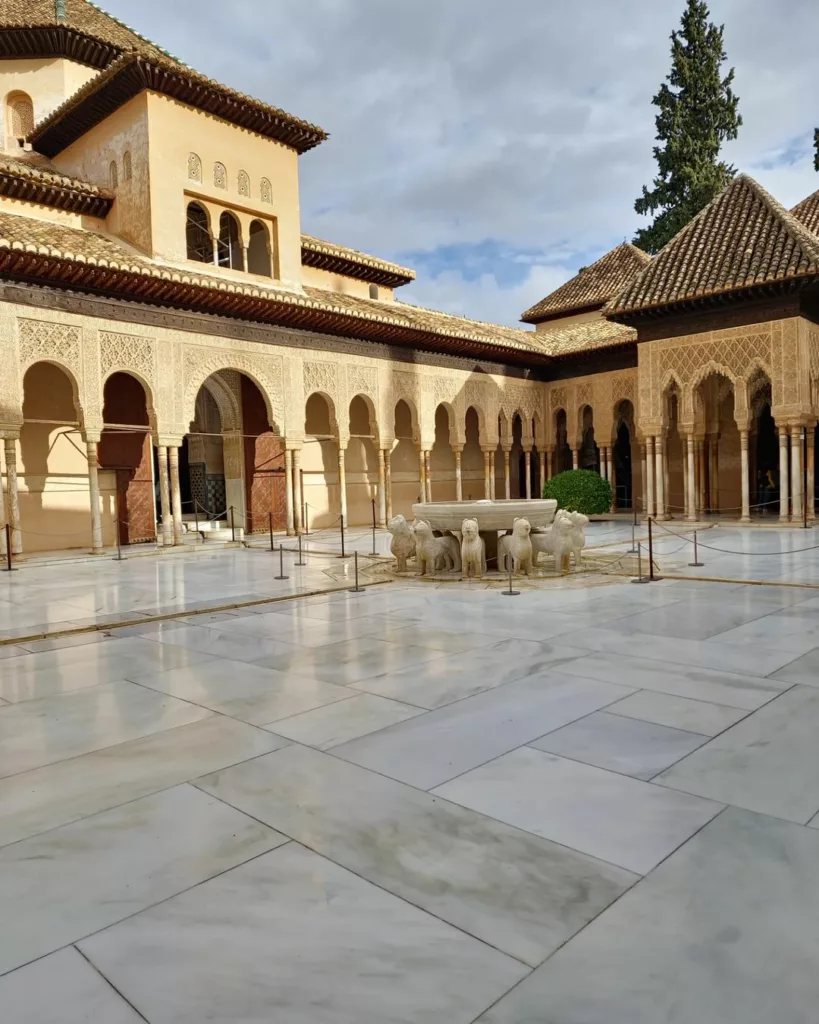 Situated atop a hill in the southern part of Granada, Alhambra is one of Spain's most renowned palaces. It attracts travelers from all corners of the world. This historical site's construction began in the 13th century when Granada served as the capital of the Islamic Kingdom.
Lion Palace, built in the 14th century and used to host official ceremonies, including receptions for ambassadors, further contributes to Alhambra's magnificence.
Apart from architectural elements, Alhambra is famous for its gorgeous gardens and fountains; you can stroll through these timelessly beautiful greens or throw coins into an enchanting fountain – who knows, you may be lucky enough to revisit this majestic place again!
Helpful tip After visiting the palace, take a stroll through Granada and make your way to the opposite hill for stunning views of Alhambra. Here are the coordinates for the viewpoint.
Helpful tip #2 In the winter, it can become quite chilly inside the palace, so be sure to bring warm clothing such as scarves and hats.
What people say on Google: 4.8 stars, 115,719 reviews
C. Real de la Alhambra, s/n, 18009 Granada, Spain
2. Palacio de Carlos V (The Generalife), Granada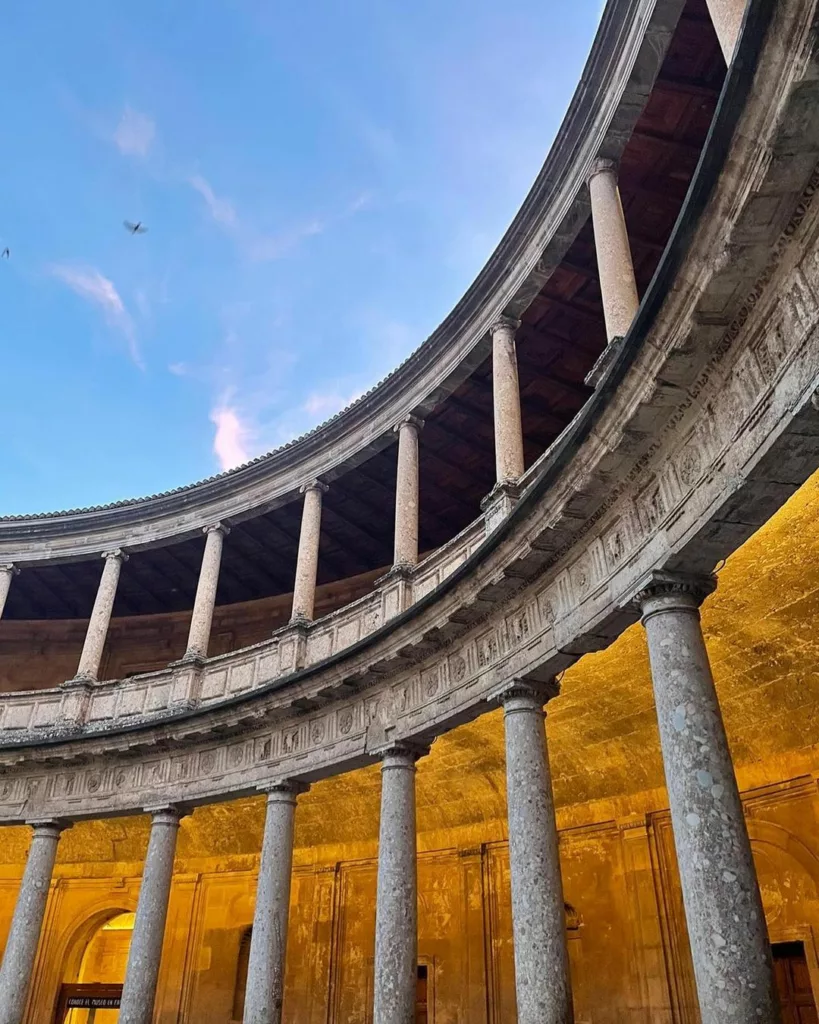 Located in the historic center of Granada, not far from the Alhambra, is a magnificent palace built in the 16th century as a residence for Charles V, Holy Roman Emperor.
The palace hosted royal receptions and ceremonies over many years and consists of several halls and rooms adorned with luxurious frescoes, tapestries, and patterned carpets that combine Moorish and Renaissance art.
Read also: 17 Underrated Castles in Spain 
Be sure to visit the Hall of Ambassadors – one of its most impressive rooms decorated with unique frescoes depicting biblical scenes as well as Spanish history.
Another notable room is Hall Aben-Abdallah, decorated in a Moorish style featuring beautiful ceramic tiles.
Palacio de Carlos V also features lovely gardens, including ancient olive trees adding to its beauty; also, make sure you don't miss Palacio de los Olivos – one Spain's greatest historical monuments when traveling to Granada!
What people say on Google: 4.5 stars, 6,668 reviews
C. Real de la Alhambra, s/n, 18009 Granada, Spain
3. Royal Testamentary Palace of Isabel the Catholic, Valladolid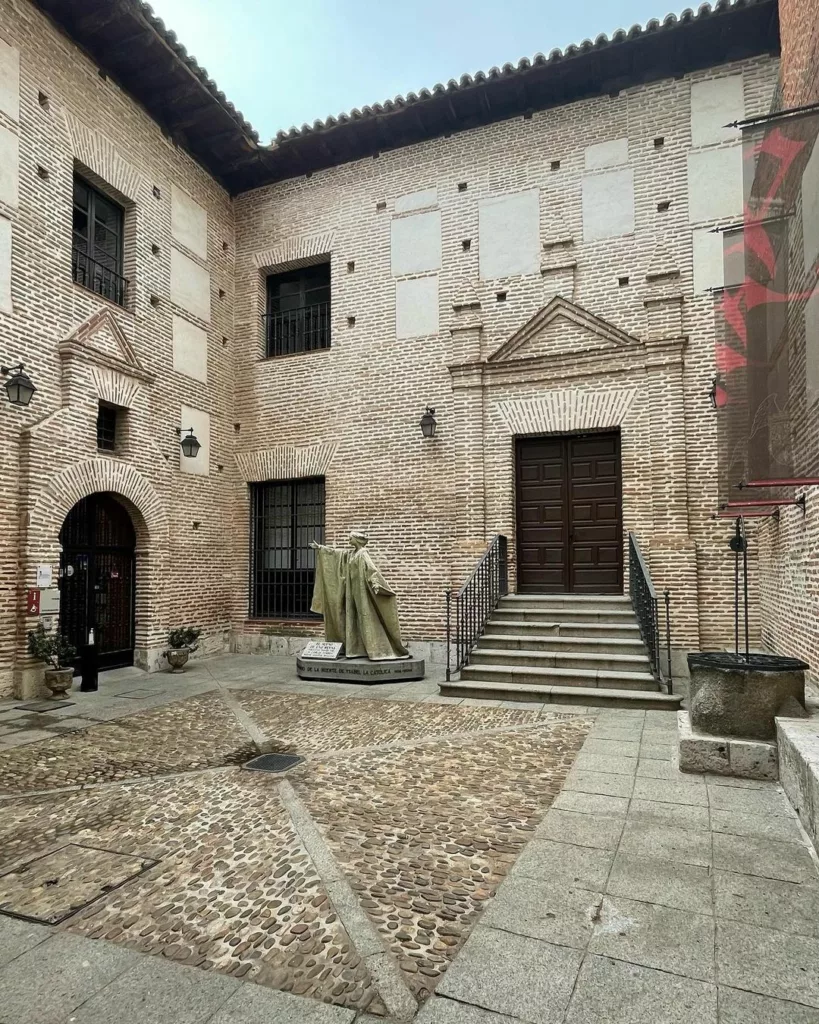 This palace was built in the 15th century as the residence of the Catholic monarchs' Isabella I of Castile and Ferdinand II of Aragon. It combines Moorish, Gothic, and Renaissance architectural elements, making it unique and attractive to tourists.
You will be impressed by magnificent halls adorned with ceramic tiles, wood carvings, and luxurious fabrics. It would be best to visit its patio courtyard adorned with vegetation and fountains to enjoy a beautiful view.
Also, you can see the Museum of Ferdinand and Isabella, the Museum of the Inquisition, and the Archaeological museum. This "piece of Spanish history in a small corner" is definitely worth visiting.
What people say on Google: 4.2 stars, 793 reviews
Plaza Mayor de la Hispanidad, 2, 47400 Medina del Campo, Valladolid, Spain
4. El Escorial, Madrid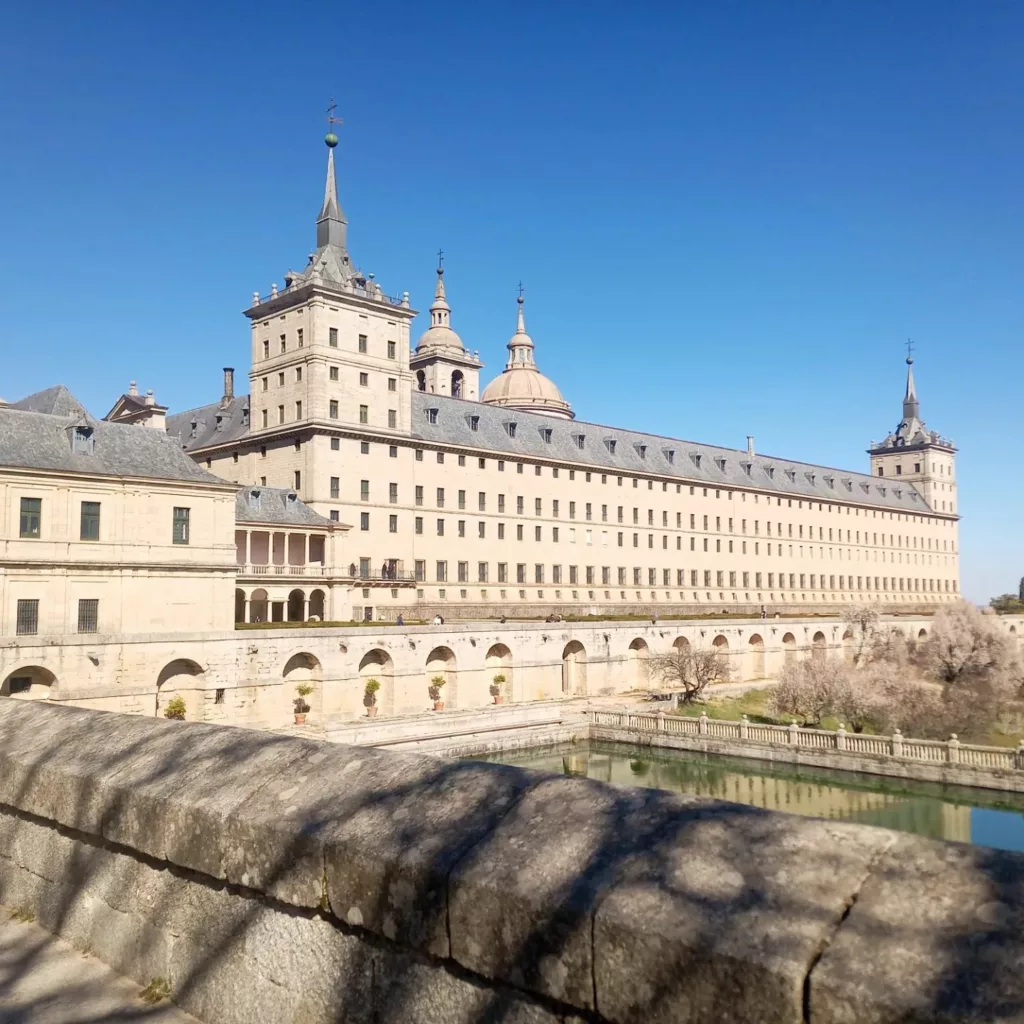 El Escorial was built in the 16th century by King Philip II, and it is also a famous symbol of the Spanish monarchy.
The Escorial complex includes the palace, a monastery, a library, and a museum. This unusual combination of religious and royal architecture makes El Escorial a unique place to visit. King Philip II ordered the construction of El Escorial to honor his victory over French forces at the Battle of Saint Quentin.
It was an important event for Spain, and Philip wanted to build a palace reflecting his greatness and power. El Escorial is the burial place of Spanish monarchs, and you can see many tombs, including those of King Philip II and his son Don Carlos.
El Escorial was built in a Gothic and Renaissance style and is really enormous. Inside the palace, you can see many works of art, such as paintings, sculptures, and engravings.
One of the most impressive parts of El Escorial is its library, which contains more than 40,000 books and manuscripts. Are you interested in seeing one of the largest libraries in the world, and many of its books date back to the 15th and 16th centuries? Then you can find something special for yourself there.
Helpful tip If the weather is good and you have time, you should definitely take a walk in the area above town to the Silla de Felipe II, it is an incredible viewpoint overlooking the monastery.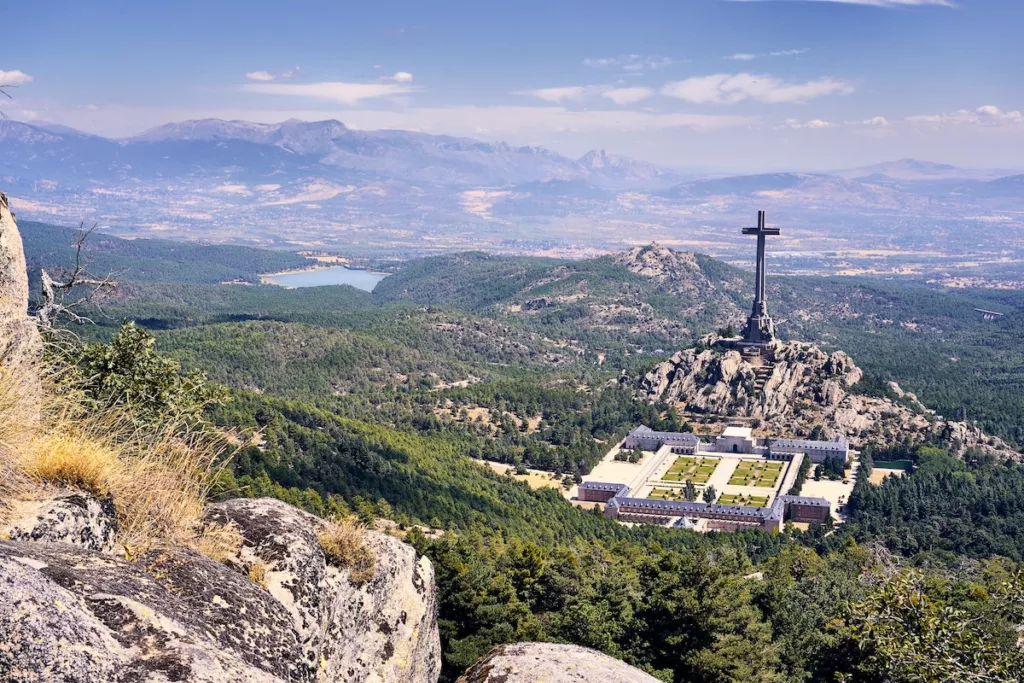 Helpful tip #2 Within a 20-minute drive, lies the Valley of Fallen (Valle de Cuelgamuros) created to honor and bury those who fell during the Spanish Civil War. It is also one of the most controversial places in all of Spain – the remains of fascists leaders rest there.
What people say on Google: 4.6 stars, 26,215 reviews
Av Juan de Borbón y Battemberg, s/n, 28200 San Lorenzo de El Escorial, Madrid
5. Royal Alcázar of Seville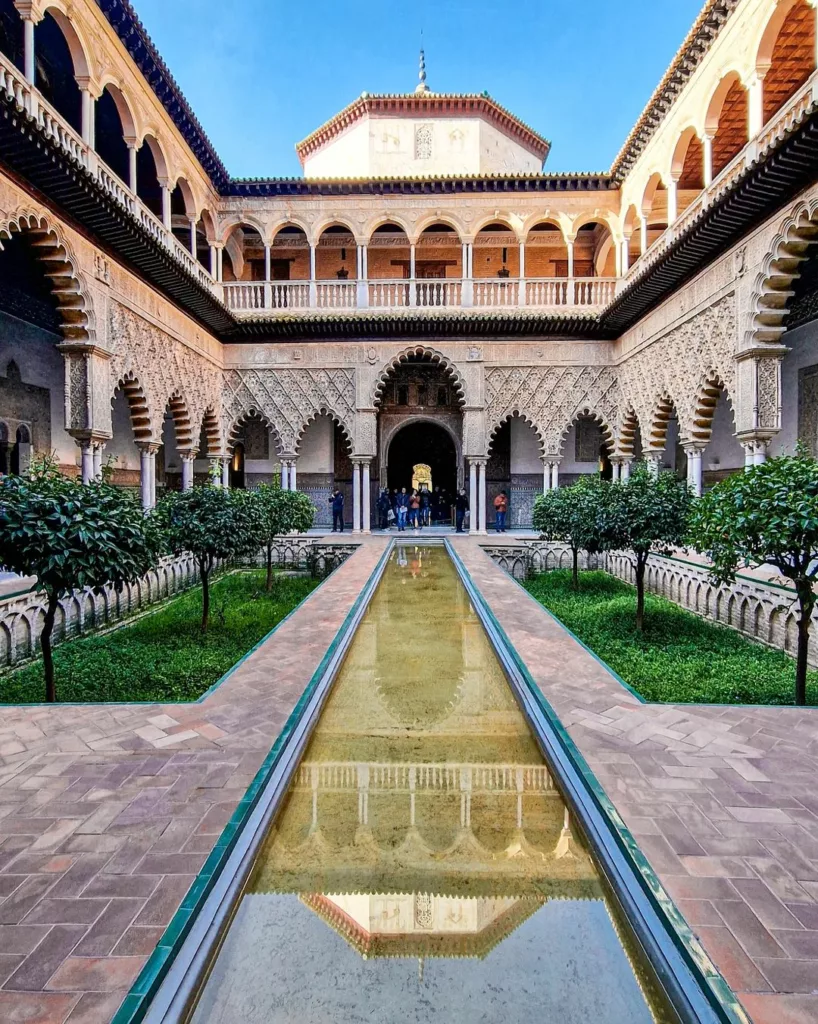 Sevilla is amazing! And its Real Alcázar too!
It was built by the Moors in the 14th century and is considered one of the most outstanding examples of Mudejar architecture (when Christians in the Iberian Peninsula were drawn to Islamic culture and imitated it masterfully).
The palace has various halls, including the Hall of the Lion, the Hall of Ambassadors, and the Golden Hall, each decorated with stunning mosaics and ornamentation.
Additionally, the palace has beautiful gardens where oranges, lemons, and other tropical plants grow.
Just a beautiful place to wander around.
It was also a Game of Thrones Spanish filming location (appears in Season 5).
Helpful tip Buy tickets online far in advance and show up at least 30 minutes before the palace opens – that will save you lots of time in the queue.
What people say on Google: 4.7 stars, 66,140 reviews
Patio de Banderas, s/n, 41004 Sevilla, Spain
6. Palacio de la Merced, Cordoba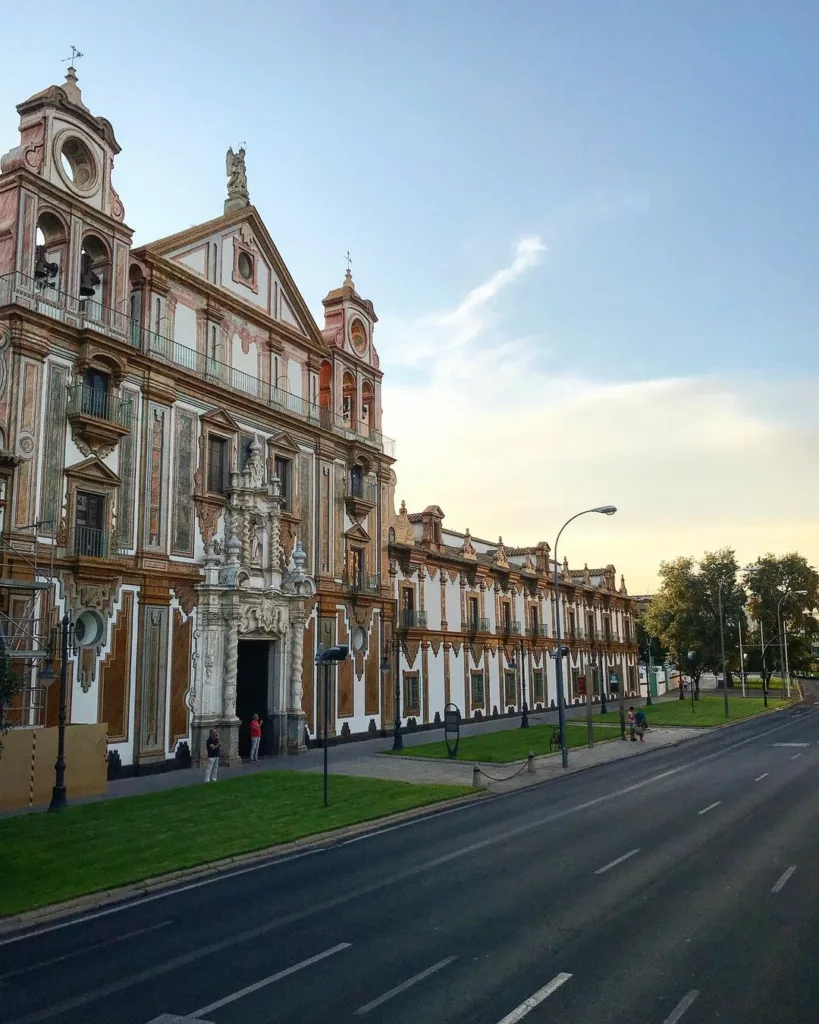 For many years, the Palacio de la Merced served as home to the Counts of Cordoba. It wasn't until 1973 when it became headquarters for the provincial government.
Constructed in a classical style, this magnificent palace is adorned with luxurious details such as cornices, columns and reliefs. Inside you can find elegant halls decorated with wood carvings, gold plasterwork and mosaics.
There's even an exquisite inner courtyard featuring a fountain plus a terrace offering views of the cityscape below!
In close proximity to Palacio de la Merced are several popular attractions including The Cathedral of Cordoba, Alcázar de los Reyes Cristos, and Capilla de Santa Maria De La Mezquita
What people say on Google: 4.5 stars, 250 reviews
Pl. de Colón, 15, 14001 Córdoba, Spain
7. Palacio de Monterrey, Salamanca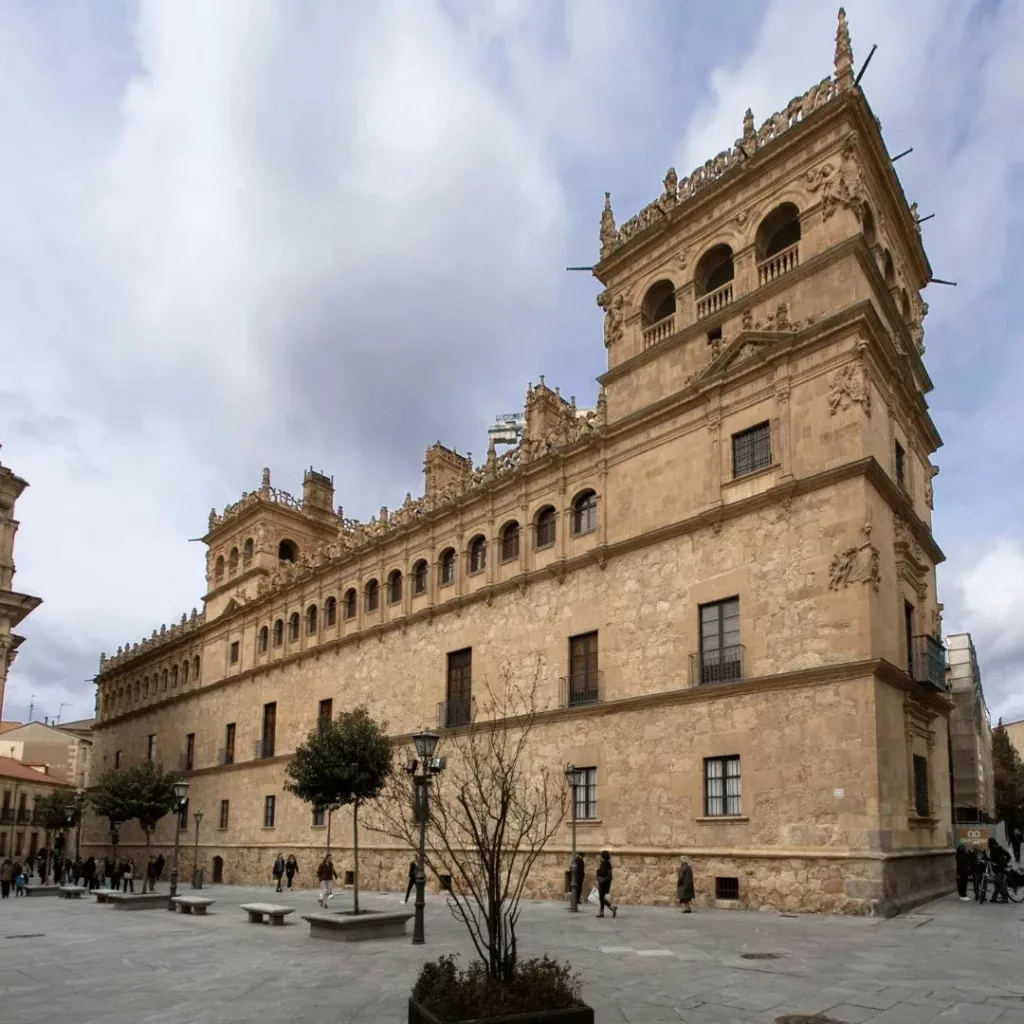 The Palacio de Monterrey, constructed in the early 16th century as the residence of Alba's dukes – one of the wealthiest families at that time – combined Gothic and Renaissance architectural elements.
Inside Palacio de Monterrey, you can see 12 rooms and magnificent halls adorned with wood carvings, and it is also famous for its paintings and engravings.
It would be best if you also visited the famous Tapestries Hall on the second floor of the building, as it is decorated with original tapestries from Flanders and is one of the most beautiful rooms in the Monterrey's Palace.
Sadly, they won't allow to take photos inside the palace.
Helpful tip Take an audio guide for $10, it takes roughly 1 hour to complete the tour.
Helpful tip #2 See the kitchen, the most interesting room in the palace.
What people say on Google: 4.4 stars, 1,249 reviews
Pl. de Monterrey, 2, 37002 Salamanca, Spain
8. Palace of Santa Cruz, Madrid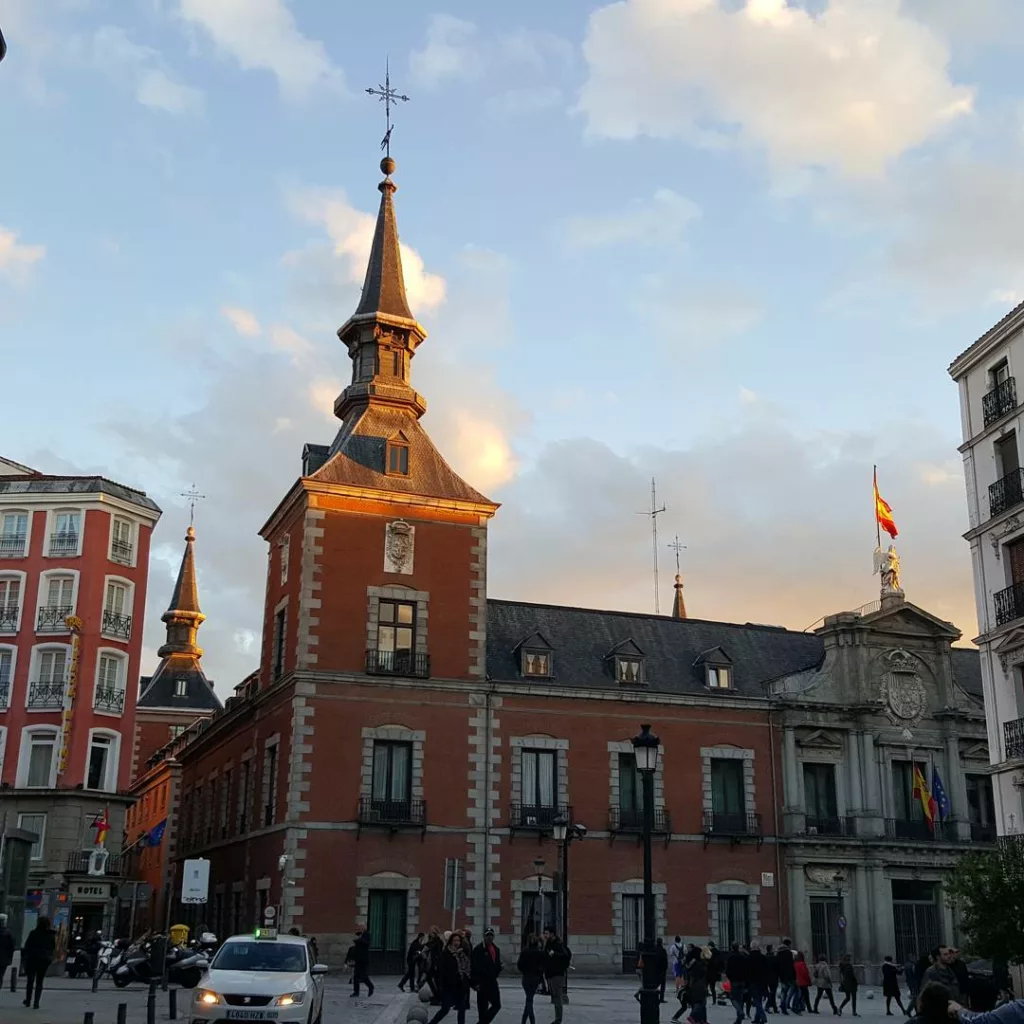 Located in the heart of Madrid, Palacio de Santa Cruz is one of its most interesting structures.
Constructed during the 17th century, it showcases a beautiful combination of Spanish Baroque and Gothic architecture called the Herrerian style.
You will glimpse spectacularly ornamented rooms with elegant frescoes and paintings created by well-known artists such as Velázquez, Goya, and Ribalta.
Don't skip the visit to its Golden Hall, which has an eye-catching gold decorum, along with another set of stunning frescoes! There's also a museum filled with objects related to Spain's and Madrid's history.
What people say on Google: 4.7 stars, 29 reviews
Santa Cruz Palace, Pl. de la Provincia, 1, 28012 Madrid, Spain
9. Liria Palace, Madrid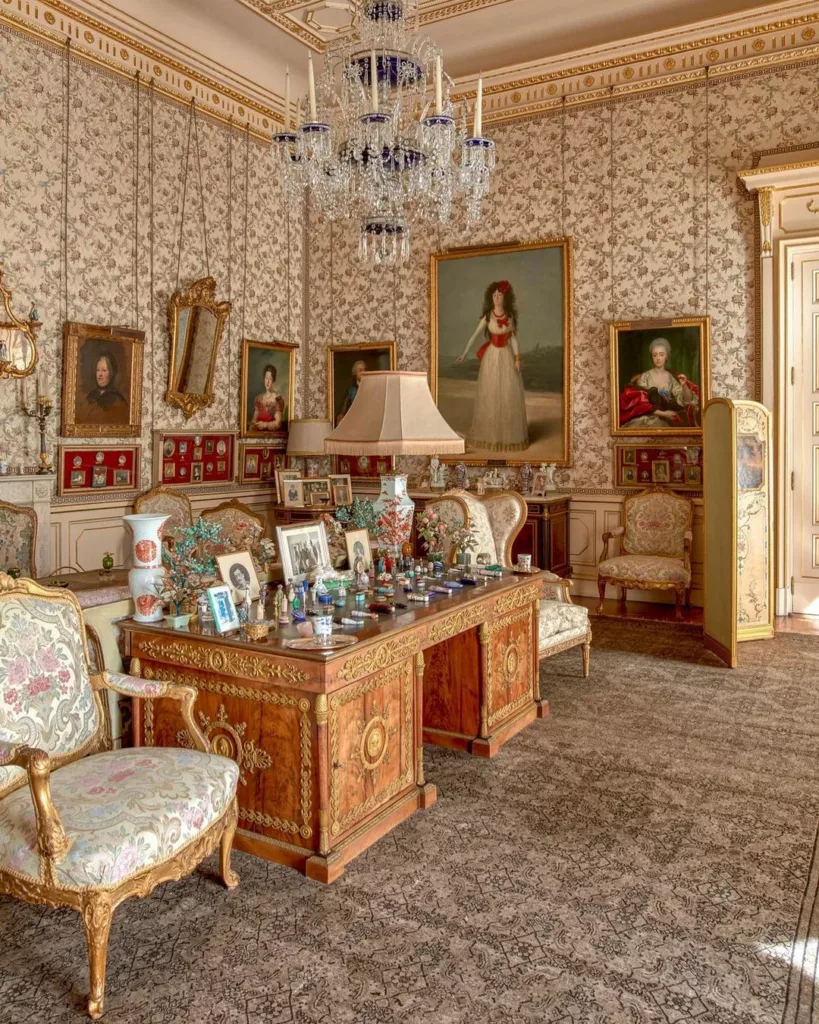 It was built in the 18th century. Unlike other palaces in Madrid at the time, which are built around the Paseo del Prado street, the Palacio de Liria stands on the city's outskirts and the French way, i.e., between gardens.
It was built by several architects and was completed by the great Ventura Rodriguez. It is one of the most important neoclassical buildings of Madrid's civil architecture, and in fact, some experts claim that it is the only one that can harmonize with the Royal Palace.
Of the 14 rooms that can be visited, one is very special. With green and gold walls and a red carpet covering the floor, the library houses more than 18,000 books and manuscripts.
For the visits, fundamental pieces have been selected, including the Bible of the House of Alba from 1,430, several letters from Admiral Christopher Columbus, and a first edition of Don Quixote from 1605.

Álvaro Romero, cultural director of the Casa de Alba Foundation.
Undoubtedly, entering number 20 Princesa Street is the closest thing to taking a privileged journey into Spain's past and the past of the Alba family.
What people say on Google: 4.7 stars, 29 reviews
C. de la Princesa, 20, 28008 Madrid, Spain
10. La Granja de San Ildefonso, Segovia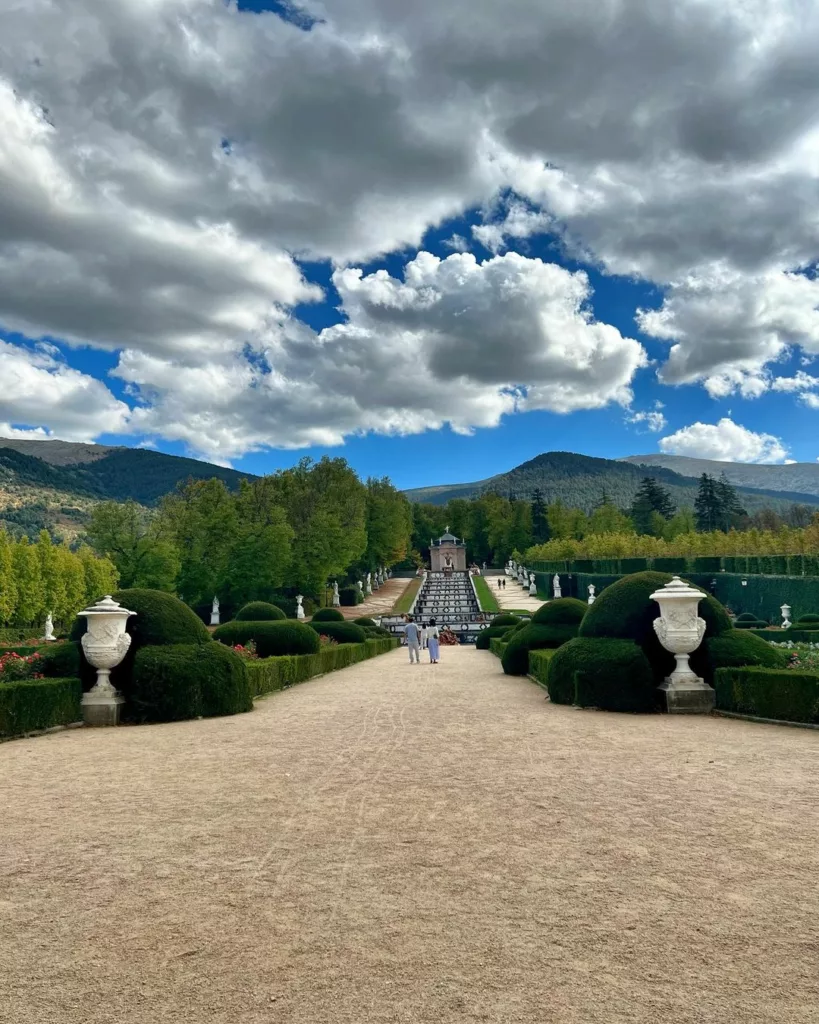 Actually, it is a palace complex with gardens and fountains surrounded by nature.
The Royal Palace and Gardens of La Granja have been a part of Castile since the time of the Catholic kings.
In 1718, King Philip V fell in love with the area and decided to build his summer residence modeled after French palaces. He spent more than twenty years living at La Granja with his wife Isabel de Farnesio, who were buried in its Collegiate Church upon death.
Despite suffering from a great fire that destroyed many works of art in 1918, the palace remained an important site for receptions and signing treaties such as those during the San Ildefonso agreements between Spain, France, and Portugal.
Visiting La Granja de Segovia consists of three parts:
Touring the Royal Palace
Exploring its grounds
Taking advantage of other opportunities in town, such as eating out or sightseeing
Upon arriving at The Royal Palace, purchasing tickets from ticket offices is possible without making prior arrangements.
Closely adjacent to the palace grounds lies Holy Trinity Collegiate Church. This royal chapel also serves as a burial site for Philip V alongside his wife, Elisabeth Farnese.
Finally, completing your trip could involve admiring beauty within renowned garden complexes containing architectural elements crafted by master designer Filippo Juvara. You will find an array of waterfalls, pond structures, and fountains blended amidst lush vegetation.
What people say on Google: 4.6 stars, 18,130 reviews
C. de la Princesa, 20, 28008 Madrid, Spain
11. Royal Palace of Madrid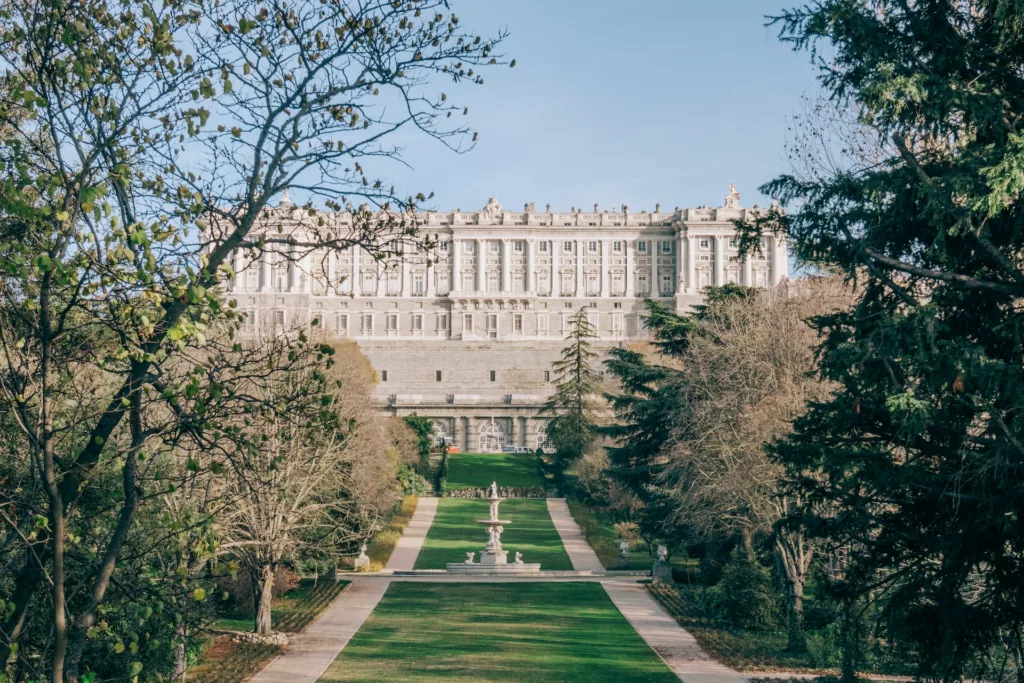 The 18th-century Royal Palace of Madrid is the official residence of the Spanish Royal Family. However, it is used exclusively for receptions, ceremonies, and official acts since the kings of Spain reside in the Zarzuela Palace.
It is also called Palacio de Oriente because one of its facades overlooks the Plaza with this name.
The origin of the palace dates back to the ninth century when the Muslim kingdom of Toledo built a defensive building that was later used by the kings of Castile, on which, in the sixteenth century, the Old Alcazar was built.
Throughout its 538,000 square feet (50,000 sq m), you will find 870 windows, 240 balconies, and 44 staircases. All these numbers make Palacio Real de Madrid the largest palace in Western Europe.
What people say on Google: 4.6 stars, 81,334 reviews
C. de Bailén, s/n, 28071 Madrid, Spain
12. La Magdalena Palace, Santander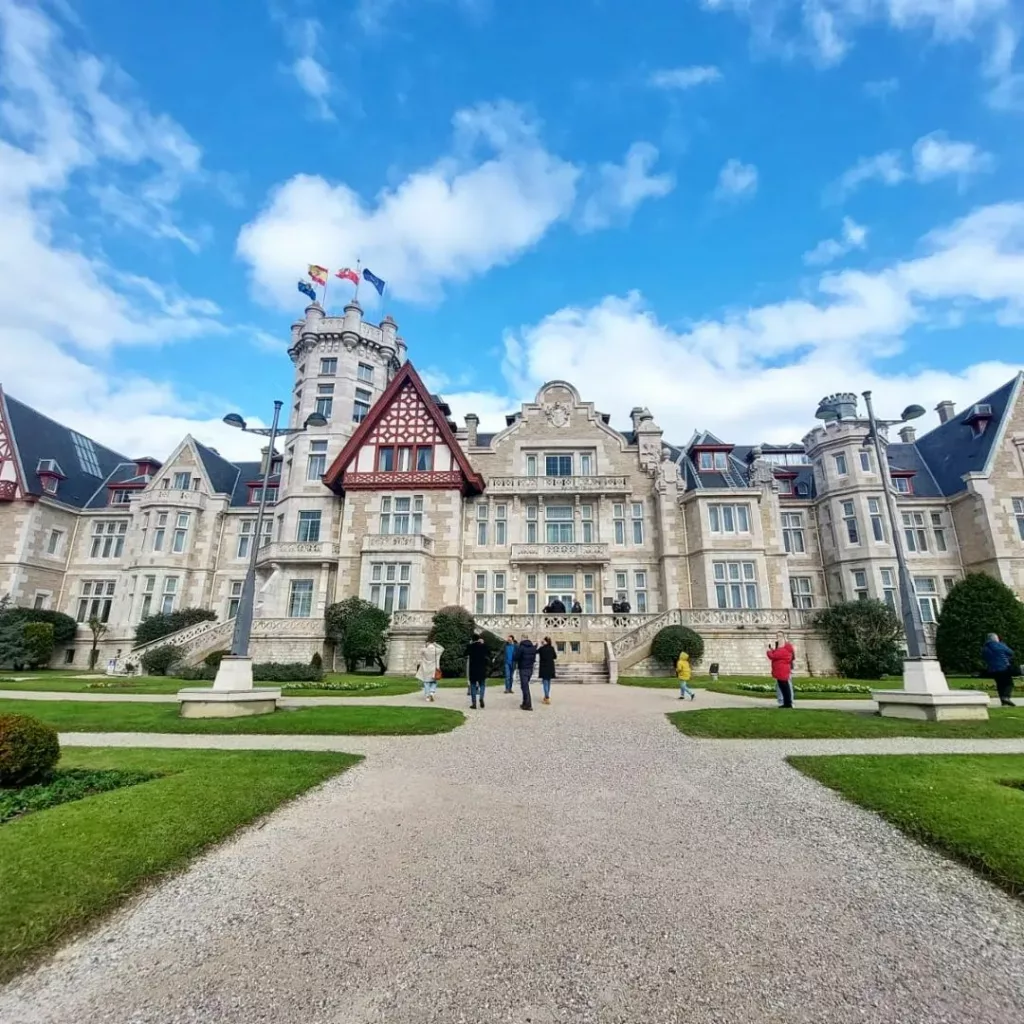 Situated on the picturesque coast of the Bay of Biscay in Santander, The Royal Palace of La Magdalena was built at the beginning of the 20th century as a summer residence for the royal family. Its exquisite architecture is Neo-Gothic and Neo-Renaissance, with expansive halls, staircases, towers and terraces that provide stunning views of its surroundings.
Inside are numerous rooms decorated in different styles from various periods throughout history; featuring furniture, interior items and paintings reflective Spain's rich heritage.
Additionally, La Magdalena boasts an impressive botanical garden full of exotic plants and trees from around world – making it even more remarkable to explore!
Open to public visitors can experience all its beauty by strolling through its green alleys while enjoying panoramic vistas along with visiting museums or exhibitions held within its walls.
Helpful tip There is a 4-star hotel inside the palace, so you can stay overnight there. Check out Hotel Palacio de la Magdalena availability and prices here.
What people say on Google: 4.6 stars, 24,811 reviews
Av. de la Magdalena, 1, 39005 Santander, Cantabria, Spain
13. Royal Palace of Aranjuez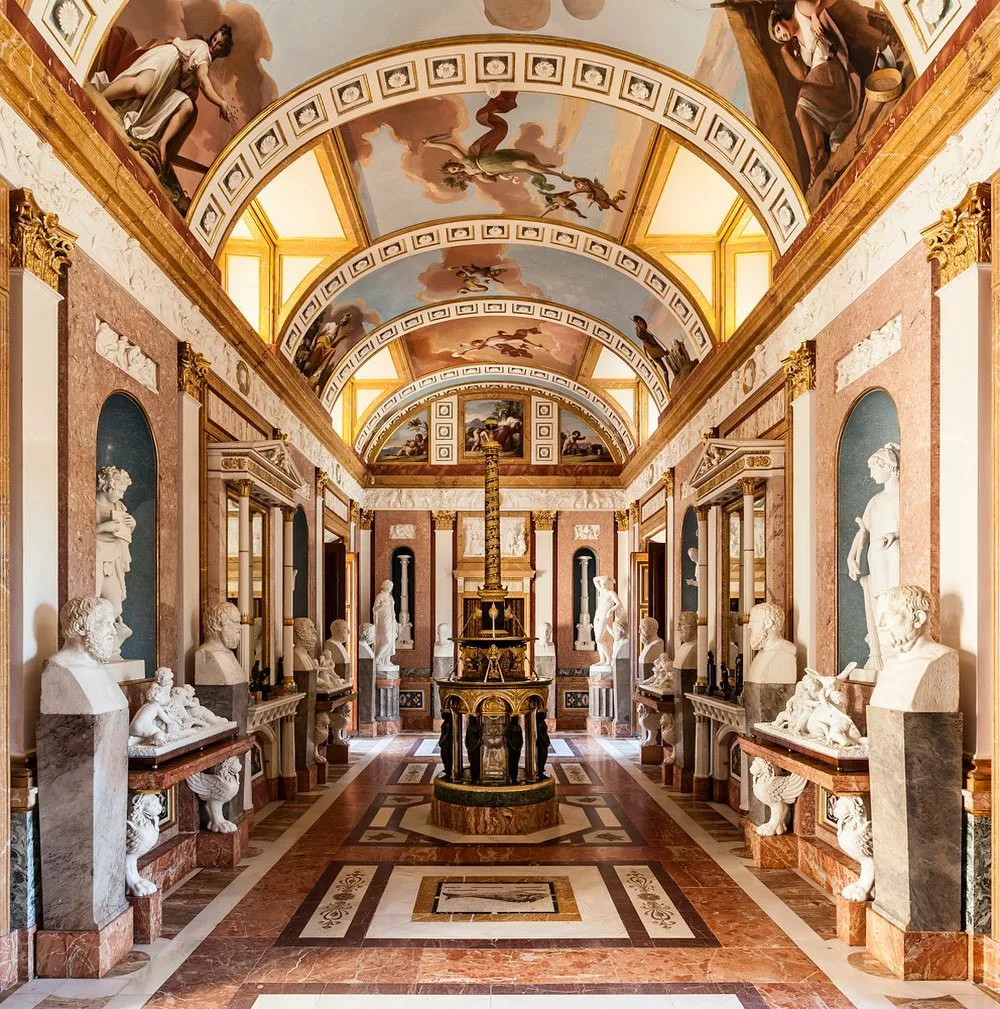 A visit to the Royal Palace of Aranjuez and its gardens, located in the Royal Site of Aranjuez on the banks of the Tagus River, is one of the most exciting excursions you can take from Madrid. Declared a World Heritage Site by Unesco, this grand palace and its magnificent gardens will surely remind you of Concierto de Aranjuez by Joaquin Rodrigo – one of the world's most beloved musical compositions.
First of all, upon your visit to the Palace of Aranjuez, you should know that in addition to touring the interior of the palace building – which highlights its lavish decoration throughout its halls and private rooms – you should also take a stroll through its renowned gardens.
When visiting the Royal Palace of Aranjuez, signing up for one of the guided tours to explore its interior is a great way to go.
Overall, you should definitely visit the interior of the palace to admire its luxurious decorations in its hallways and private rooms. There are two types of tours available: an Official Halls tour and most comprehensive tour that includes access to Private Rooms. I recommend taking a guided group tour as opposed to going solo; if you choose not to join a group, then unfortunately you cannot enter the Private Rooms.
Helpful tip Visiting the Royal Palace of Aranjuez can take a full day.
What people say on Google: 4.6 stars, 19,936 reviews
Pl. de Parejas, s/n, 28300 Aranjuez, Madrid