Mallorca vs Barcelona for Travel: Which Place Should I Visit?
Nadia Podrabinek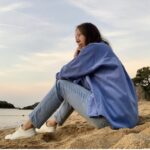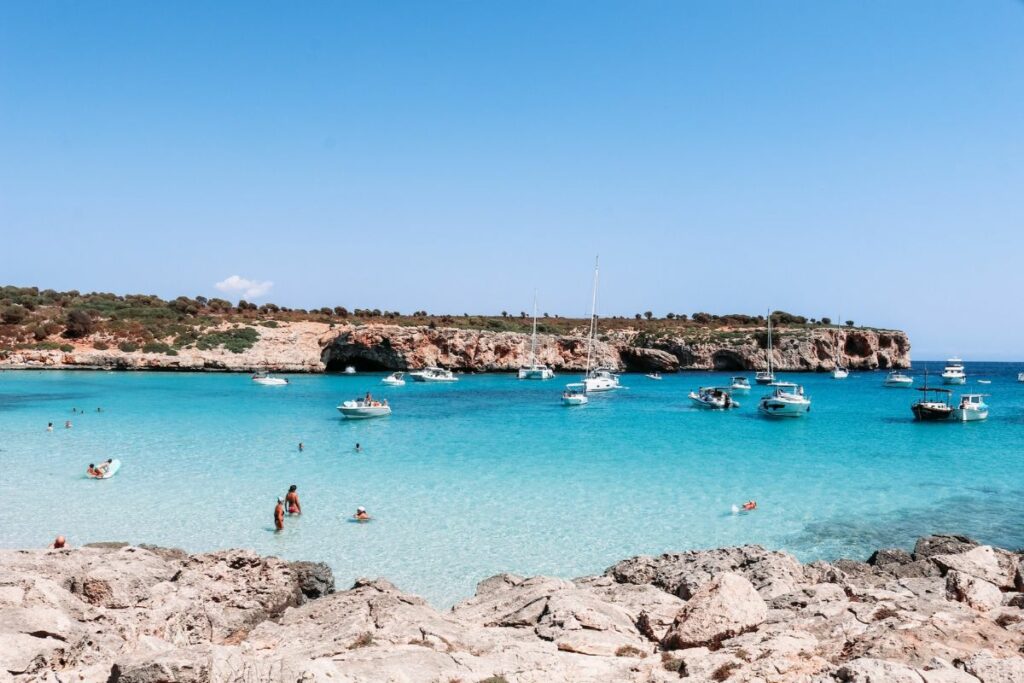 Barcelona and Mallorca are among the most popular destinations in Spain, sharing common charms while offering unique features that set them apart.
Choosing between Mallorca and Barcelona for a vacation can be tough, as both places have unique things to offer.
---
Key takeaways
Mallorca (pronounced as "Ma-yor-ka") is an island offering a peaceful beach vacation. Gets crowded in summer, though.
Barcelona is an iconic, bustling mainland Spanish city with loads of attractions and things to do. And yes, it is quite touristic.
Beaches are not the main attraction in Barcelona!
If you find it challenging to choose between Barcelona and Mallorca, go visit Madrid. 😀
---
Mallorca vs. Barcelona: A Quick Answer
Barcelona is a big, lively city with famous buildings like the Sagrada Família Cathedral and cool places like Park Güell. It's great for exploring architecture, eating different kinds of food, and enjoying city life, but it might be more expensive.
Mallorca, on the other hand, is an island filled with small charming towns, beautiful beaches, and places for outdoor activities like cycling and hiking. It's less crowded and can be more budget-friendly.
In Barcelona, you'll find lots of people and energy in a small area, while Mallorca is more spread out and relaxed. If you love nature and a more peaceful setting, Mallorca might be the choice for you.
If you're more into city attractions and cultural experiences, Barcelona might be the way to go.
Now, let's dive into it.
My thoughts on Mallorca
TL;DR Mallorca is a great place for people who want to relax on the beach or have an outdoor adventure.

Mallorca, the largest island of the Balearic archipelago in the Mediterranean Sea, is one of Spain's most sought-after tourist spots, renowned for its stunning beaches, picturesque landscapes, vibrant nightlife, and seaside promenades. 
The island's capital, Palma, immediately impresses with the grandeur of its Gothic cathedral, Palma La Seu.
Other iconic sites within the capital include the Royal Palace of La Almudaina and the historic Bellver Castle. Venturing beyond the city confines reveals charming villages like Valldemossa, characterized by its quaint streets and historic monastery. Deià, a haven for creative spirits, exudes bohemian charm. Along the coast and inland, you'll discover equally enchanting towns, such as Sóller, nestled in a valley and encircled by mountains, linked to the port by a historic tram, and Inca, renowned for its leather goods.
Mallorca's coastline boasts beautiful beaches, including Playa de Palma, Alcudia, and Cala d'Or, where visitors can partake in a range of active sports, sunbathe, and enjoy refreshing swims. The nightlife thrives in places like Magaluf and Palma, teeming with nightclubs, bars, and discotheques.
You can also go hiking, cycling, rock climbing, sailing, and diving.
The island has long attracted artists and writers, including Joan Miró and Robert Graves, contributing to its rich cultural tapestry. Exploring local markets like Mercat de Bolivar in Palma provides a glimpse of Mallorca's artisanal scene and offers delectable national and local culinary delights.
As for the food, try sobrasada (a type of sausage), and ensaimada (a sweet pastry), for a truly Mallorcan culinary experience.
Why You Should Visit Mallorca
TL;DR If you prefer a relaxed holiday, sunsets, beaches, nature, this is an apparent reason to select Mallorca as your vacation destination.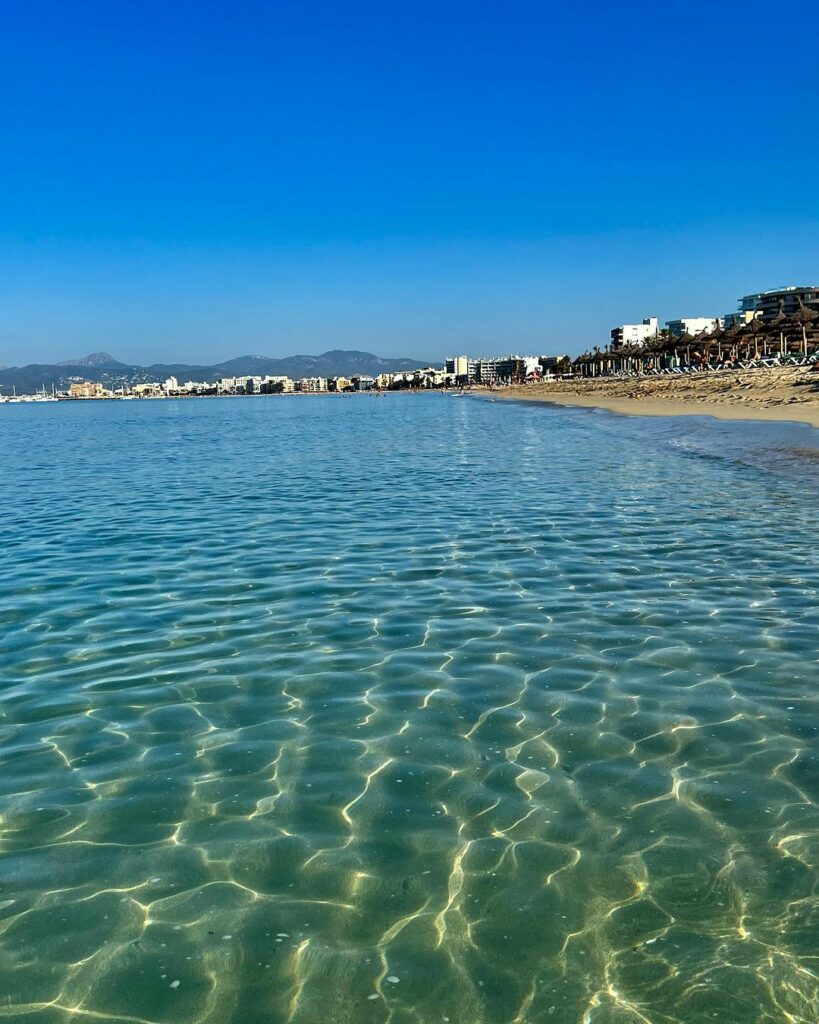 1. Beaches: With beautiful coastlines like Playa de Palma, Alcudia, and Cala d'Or, Mallorca offers some of the best beaches in the Mediterranean.
2. Rich Culture and History: Mallorca's history is reflected in its architectural landmarks, including Palma La Seu Cathedral, Bellver Castle, and various charming villages.
3. Diverse Landscapes: Mallorca's natural beauty is truly breathtaking. You can hike in the mountains, explore hidden coves, or simply enjoy the view from a seaside café.
4. Nightlife: Check out places like Magaluf and Palma.
5. Outdoors: Mallorca offers a plethora of outdoor activities such as hiking (obviously), cycling, rock climbing, sailing, and diving.
6. Cuisine
7. Combination of Experiences: Perhaps most appealingly, Mallorca offers a unique blend of experiences, such as relaxation, cultural immersion, adventure, or all of the above.
Other Things to do in Mallorca
Explore the Caves of Drach near Porto Cristo. Marvel at the mesmerizing formations of stalactites, stalagmites, and underground lakes.
Hike through the Serra de Tramuntana mountain range.
Explore the island by bike. Mallorca is a haven for cycling lovers, with scenic routes, challenging ascents and smooth roads.
Play golf. Even though the island is not that big, there are 22 golf clubs in Mallorca. If you already play golf and want to join this sport, it's time to do it on vacation in Mallorca.
Indulge your senses in the local wine culture.
Go on an olive oil production guided tour.
Join fishing excursions.
Try kayaking and snorkeling.
See the island from the above on a hot air balloon flight.
My Suggestions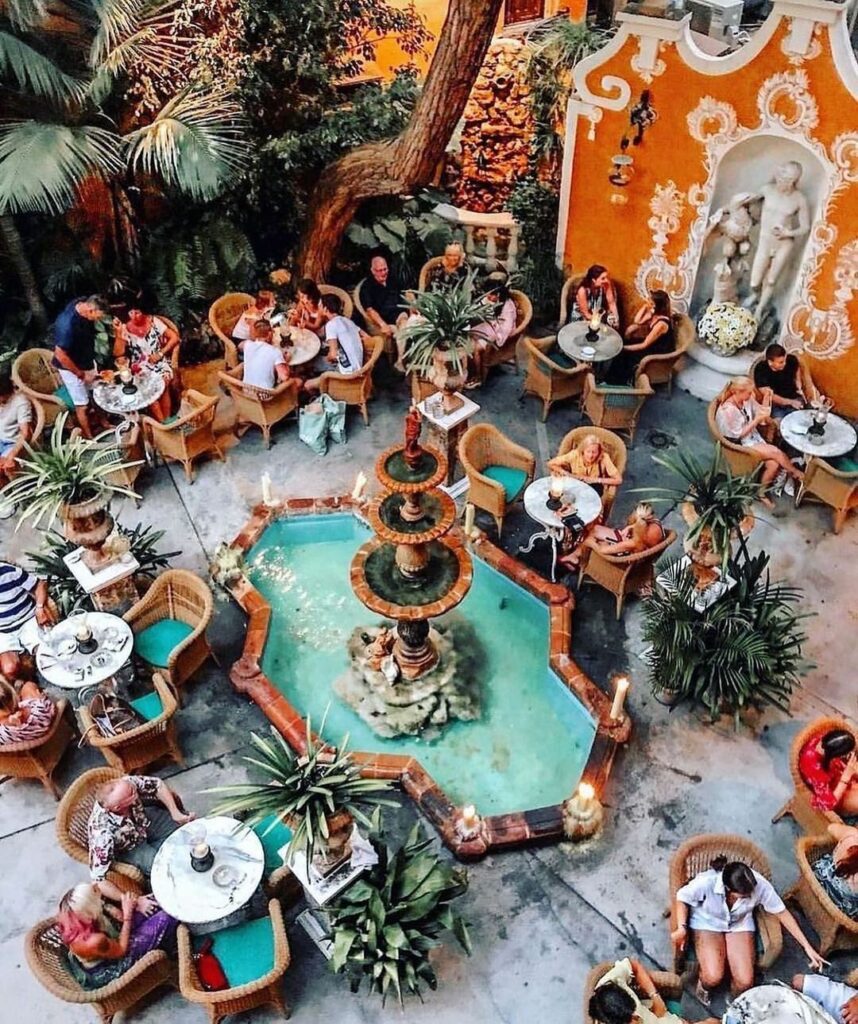 Visit the most unique bar in Palma: Enjoy extraordinary Baroque interiors along with awesome drinks and cocktails. You'll want to visit just by exploring their website, complete with music
Make a day trip to the restaurant Es Verger in Alaró. The best lamb steak you will have on this planet.
In the south of Mallorca, explore the bays of Cala Pi, Cala Llombart, Sa Rapita, and Es Trenc beach.
Travel Logistics
Mallorca has a very convenient public transport network, including bus routes and trains. EMT buses transport passengers around Palma de Mallorca, while TIB buses cover the rest of the island. Take the historic train from Palma to Soller along the scenic route.
Airport: The island hosts one airport, Son San Juan Airport, for all domestic and international flights.
Car rentals and taxis are convenient and affordable transport options. Bicycle rental is also widespread due to seasonal conditions and the absence of cold weather.
Boat and Ferry Connections: These provide transportation to other Balearic Islands such as Ibiza and Menorca, and the mainland.
Prices: A one-time bus ticket costs range from €1.50 to €5, while the Palma-Sóller train is €25. Car rentals start at €30 per day, and bicycles are €10 per day. Ferry prices to Mallorca are reasonable, from €30 to €50.
Accommodations
Why You Should NOT Visit Mallorca
In the summer months, from the end of June to the beginning of September, the British, Germans, and Scandinavians overrun Mallorca, and you will not have that much fun.
All public transportations will be packed to capacity, and you will hardly find rented cars at reasonable prices; people will be everywhere – even in the so-called quieter places. There are a lot of drunken people on the coast. Besides, it's getting very, very hot. The temperature rises to 40°C (104°F) of shade.
Therefore, you need to be careful here, and you can move vacations to the middle of September and until the end of October. In autumn, temperatures are from 20°C to 25°C (68°F to 77°F) in September but can drop to 15°C to 20°C (59°F to 68°F) in November, and it's not suitable for beach holidays.
Also, Magaluf is one of the most crowded and bustling tourist areas in Mallorca, which is mainly a youth resort, teeming with an abundance of bars, clubs, and discos, so if you are looking for a relaxing holiday, then I recommend you to look at the south of the island.
My thoughts on Barcelona
Barcelona is the second largest city in Spain after the capital Madrid, rich in culture, historical monuments, and other attractions.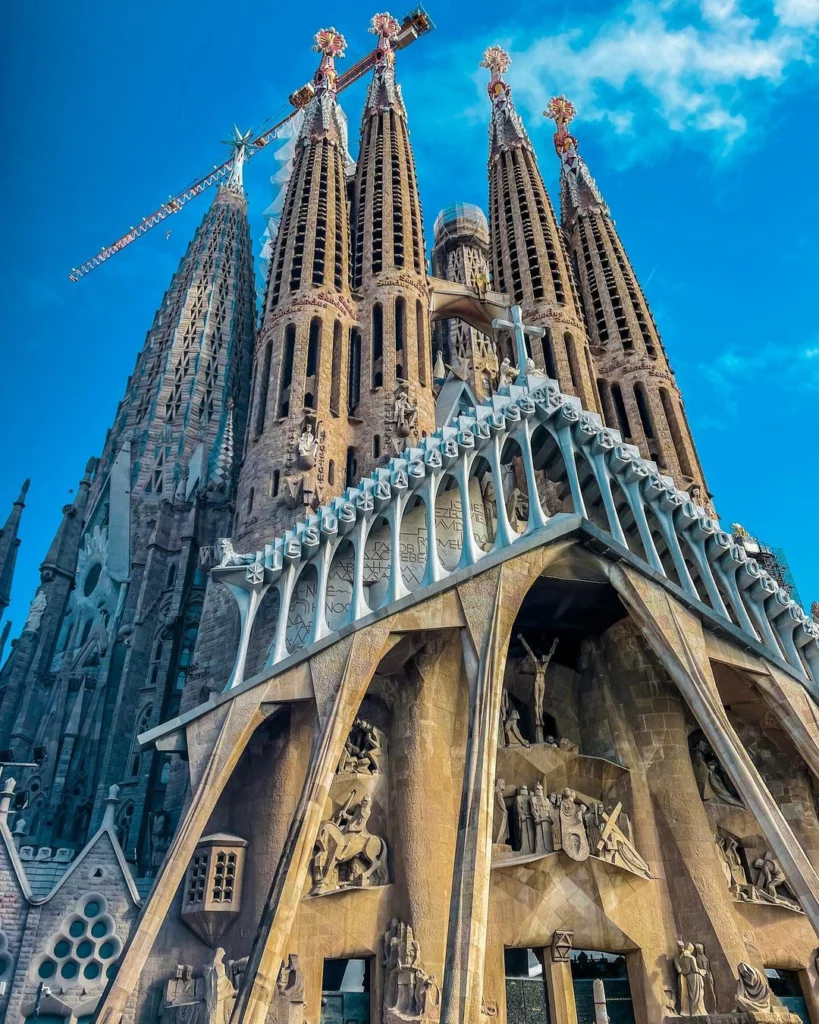 Many people associate the city with the masterpiece of Antonio Gaudi and the iconic symbol of the Cathedral Sagrada Familia, distinguished by its extraordinary architecture and unique design.
Park Güell is another Barcelona's iconic park, reminiscent of an episode from a dream, with fabulous mosaics, stunning views, and even a lizard sculpture.
Also, you will not be able to pass by the main pedestrian street La Rambla (be careful of pickpockets!), so visit its shops and cafes and watch the performances of street artists. And at La Boqueria market you can have a nice snack.
Other Things to do in Barcelona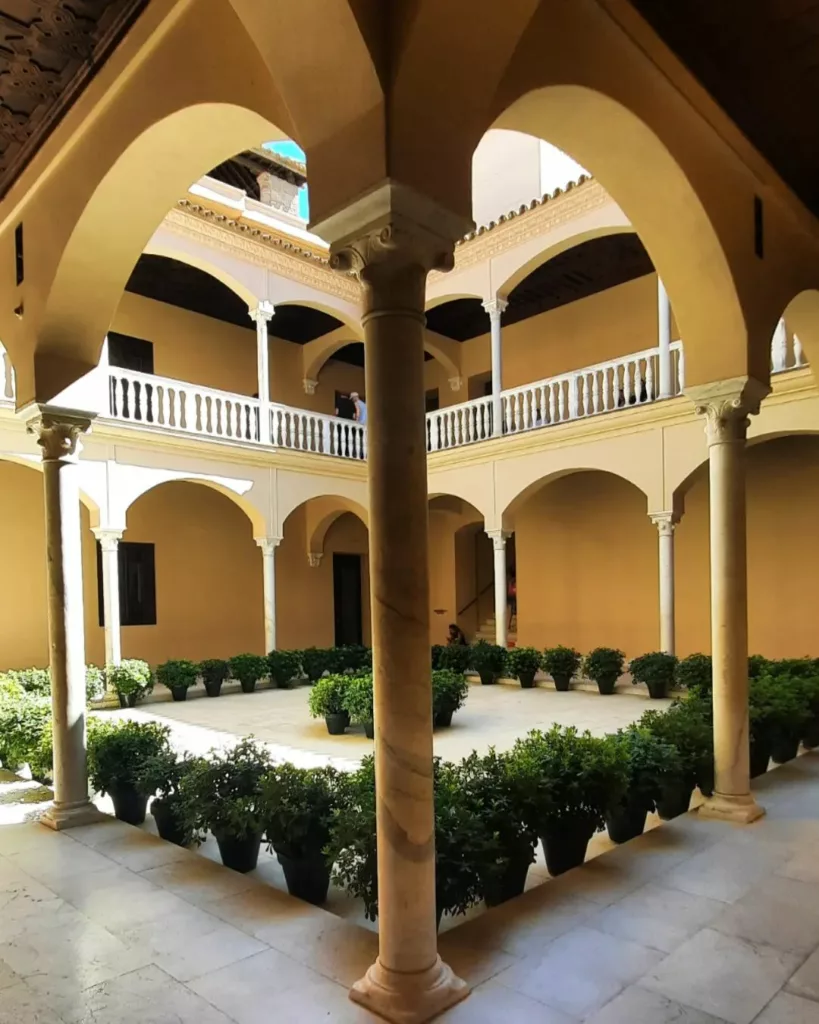 Explore the Gothic Quarter (Barri Gótic), wander through its medieval streets, and visit Barcelona Cathedral.
In the evening, visit the singing Magic Montjuïc Fountain in front of the National Palace on Montjuïc Hill.
Take a day trip to the Montserrat Mountain with its Monastery Montserrat and with a statue of the Black Madonna, which supposedly fulfills the most cherished desires.
Visit Picasso Museum – you will be introduced to the life and works of the famous Spanish painter Pablo Picasso. Pro tip The Dali museum is in nearby Figueres and is worth the day trip.
See the iconic Camp Nou stadium and learn FC Barcelona's history or go straight buying some awesome merchandise.
Go to Barceloneta beach, but try to do that from 7 to 10 am, otherwise it will be overcrowded.
Indulge in world cuisine. There are many Michelin star restaurants too!
My Suggestions
It is best to choose a sunny day to visit the interiors of Sagrada Familia for the full effect with rainbow stained glass windows.
Be careful with pickpockets!
Why You Should Visit Barcelona
Incredible architecture, including the surreal works of architect Antonio Gaudi.
One of the most famous cities in the world. And it is very different.
Amazing people, food, and wine.
Spanish cuisine and tapas.
Unique Neighborhoods: Wandering down the streets of Gràcia, El Born, or Eixamplee is so good!
For one of Barcelona's best-kept secrets, the Carmel Bunkers.
For the night life. Sidewalk cafes, restaurants, bars. Everywhere you go, you will have a good time.
Helpful tips on Visiting Barcelona
Lots of recommendations for Barcelona on the official tourism website.
Check out the Arcano restaurant for the best papas bravas.
Cerveceria Catalana – higher end tapas place with delicious food.
La Pepita. Try wine or beer (cocktails are not so good).
Head around to Cocteleria "Old fashioned" afterwards for a drink. It's a vibe!
Try Turrón – a delicious local specialty.
Indeed, Red Carabineros shrimp are better than other shellfish; feel free to try them! They are good when just lightly grilled or steamed.
Travel logistics
Barcelona offers excellent international connections through El Prat Airport. The city is also well connected via rail transport to various European and Spanish cities.
A comprehensive urban and suburban train system further enhances connectivity.
The metro system offers single trips at €2, while the cost drops to €1 per trip when using the T10 ticket for 10 journeys. For unrestricted travel, the "Hola BCN! Travelcard" is available for 2-5 days, priced from €16 to €38 respectively.
Accommodations
Obviously, Barcelona offers a diverse range of accommodations. Options vary from hostel beds to superb luxury stays.
Based on my personal experience, I can suggest these tried-and-tested hotels for your consideration.
Why You Should NOT Visit Barcelona
Lots of tourists, especially during the peak season from mid-June to late August. Consequently, this period witnessed longer lines at monuments, crowded metro stations, buses during rush hours, and an overall lively atmosphere. I recommend against selecting accommodations in El Raval due to its historical reputation for minor nighttime crimes and pickpocketing. However, recent years have witnessed improvements in safety within the area.
Staying in the Old Town (Ciutat Vella) might be tempting, but it can get pretty noisy at night as certain bars continue operating late into the evening.
During the peak tourist season, service and housing prices notably escalate compared to rates in the low season.
English proficiency among Spanish people, particularly outside tourist hubs, might be limited.
Pickpockets. Being alert 24/7 doesn't feel good.
What's Going On with Pickpocketing in Barcelona?
The problem is that Spanish law is relatively relaxed towards pickpocketing, with minor fines for thefts under €400, leading to a prevalence of petty thieves, particularly in Barcelona. These thieves are typically non-violent, stealing without the victim's realization in various public places.
To protect yourself, I recommend you to be vigilant and mindful of specific signs and behaviors, such as looking at a person's shoes, not leaving your belongings in accessible places, and using purses that zip closed.
Other tips include distributing money in different pockets, owning heavy-duty locks for bikes, and considering cell phone insurance.
Also, thieves use well-known tricks like distracting victims in queues, blocking sight, creating a stain, or using playful tactics like the "Ronaldinho" to rob unsuspecting victims.
Is the Food Better in Palma de Mallorca or Barcelona?
No, it's not. It's just a bit different.
In Mallorca, you can try delicious Mediterranean dishes like seafood paella and a special sausage called sobrasada. You can also find fresh meat in the local markets.
In Barcelona, there's a mix of local Catalan dishes, Spanish favorites, and international foods. You can try all sorts of things, from tapas (small appetizers) to fresh seafood in the famous La Boqueria market. Both cities offer a tasty adventure for people who love to eat.
Mallorca boasts a collection of Michelin-starred restaurants, such as:
Barcelona, too, boasts a selection of fine dining spots:
An Example of a 8-day Itinerary (Including both Barcelona and Mallorca)
What if you want to visit both places in one week? I've got you covered!
Day 1: After arriving at Palma de Mallorca Airport, check into your stay. Explore Palma de Mallorca by visiting the Cathedral (La Seu) and wandering through the old town. In the evening, savor a delightful dinner at one of the city's restaurants located along Passeig des Born.
Day 2: Rent a car and embark on a scenic drive to two enchanting villages, Valldemossa and Deià. Spend half a day in each village. Enjoy a leisurely lunch in the afternoon. As evening approaches, make your way back to Palma.
Day 3: Drive up the West Coast of Mallorca. It's just stunning. Visit Santa Catalina for excellent shops, cafes, and restaurants if you stay in Palma. Climb the steps up to the refuge at Alaró for some exercise and a good view. Taking the train to Sóller, lunching on the beachside, and then training back to Palma makes for a good day out.
Day 4: Fly from Mallorca to Barcelona. After checking into your hotel by lunchtime, relax at Barceloneta Beach. In the evening, enjoy a delightful dinner at one of the recommended restaurants.
Day 5: Start your day with a visit to the iconic Sagrada Família Cathedral. Walk down La Rambla, and explore the historic Gothic Quarter. In the evening, venture into the vibrant nightlife of the El Raval neighborhood.
Day 6: Go to Montjuïc Hill, including a visit to the castle. In the afternoon, explore the Picasso Museum and walk through the charming El Born neighborhood. Enjoy an evening of mesmerizing flamenco and a delicious dinner.
Day 7: Take a day trip to Montserrat Monastery. While the mountain walking tour can be challenging, it promises rewarding views. Return to Barcelona in the evening, where you can visit a wine shop or take a tapas tour of local bars.
Day 8: Departure day. Say bye to your week of adventures and head home, hopefully enriched by the unique and pleasant experiences.
Helpful tips
When traveling between Mallorca and Barcelona, consider opting for low-cost airlines like Vueling or Ryanair.
Companies such as Transmediterranea and Balearia operate ferry and boat routes between Mallorca and Barcelona, with travel times ranging from 6 to 8 hours. Make sure to secure your bookings ahead of time.
The same principle applies to booking hotels and other accommodations.
Make optimal use of Barcelona's public transportation system, with convenient options like buses or the metro available for travel from Barcelona-El Prat Airport to the city center.
Keep in mind that the official currency in Spain is the euro. Preparing some cash for minor expenses ahead of time is recommended.
Frequently Asked Questions
Is Mallorca warmer than Barcelona?
Yes, Mallorca is warmer than Barcelona because of Barcelona's more northern location on the Iberian Peninsula relative to Mallorca, which is much further south in the Mediterranean Sea.
Can you do a day trip from Barcelona to Mallorca?
It is unlikely since there is a considerable distance between these two points, and a flight by plane or a ferry trip lasting 6-8 hours is required. At least a three-day trip makes sense, spending half the first and last days on a trip.
Which place is cheaper, Barcelona or Palma de Mallorca?
Palma de Mallorca is a little more affordable than Barcelona.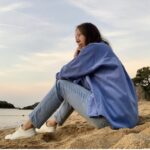 Hello, my name is Nadia.
I usually write about traveling (there are so many places to fit all the lifestyles), relocation (finding a job overseas or moving without losing an income), and living in a foreign country (adapting to a different culture and mentality). Follow me on Twitter, Facebook, Instagram, or LinkedIn!
This post might include some affiliate links. If you make a purchase through these links, I may earn a small commission at no additional cost to you. I appreciate it when you use my links to make purchases.