Are Dogs Allowed on Beaches in Spain? (7 Things to Know)
Nadia Podrabinek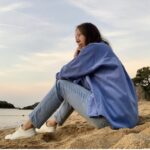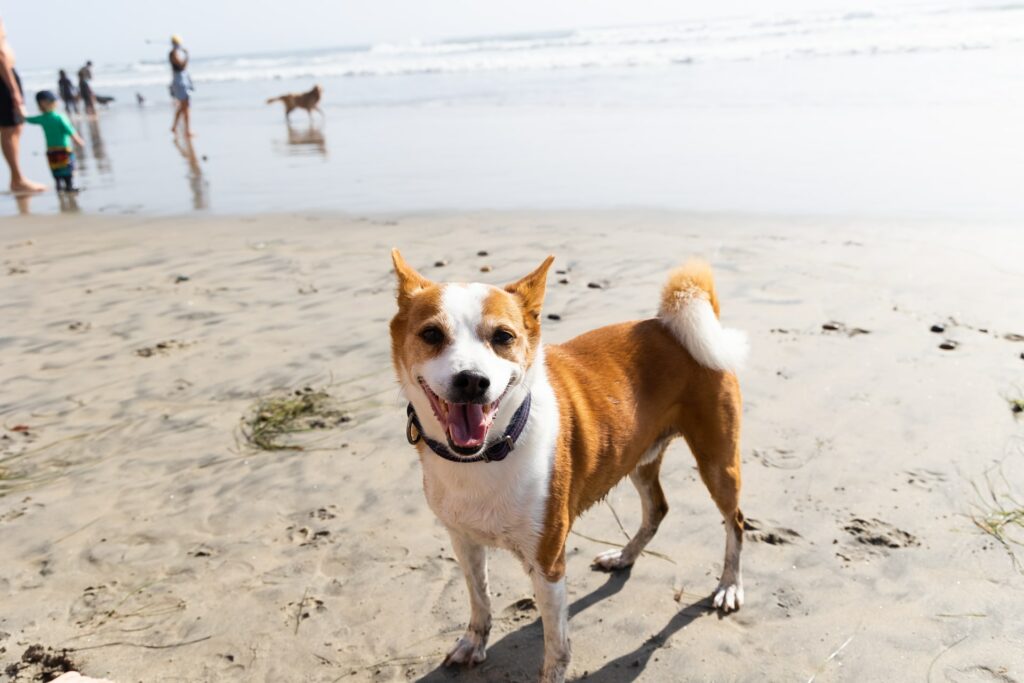 The short answer is no, dogs are not allowed on Spanish beaches.
Luckily, dog-friendly beaches in Spain do exist—there are about 100 of them, and the number is growing. Unlike cats, dogs are very popular in this country, especially smaller breeds, and Animal laws are evolving, opening new playgrounds to dog owners and their four-legged friends.
Where are dogs allowed in Spain?
While Spain is not the best travel location for the dog owner, it's not the worst, and there are fewer restrictions these days, with many different possibilities to enjoy vacation with your pet. Actually, you will be surprised how many dog owners there are in Spain. So, just follow local rules and you'll be safe.
Where dogs are not allowed in Spain:
public beaches (unless it's explicitly shown that the beach is dog-friendly)
grocery stores
public transport (bus, train, etc.)
If you stay in the Valencia Community region, you can apply for your dog identity card (Título EMT Mascota) to travel by bus. Keep in mind that your dog has to weigh no more than 15 kilograms, have its identification chip and fit the cage of 45x35x25 cm.
While Spanish law strictly says that the dog has to be leashed, it's not always the case in real life for Spaniards. To my surprise, there are many well-behaving dogs without a leash, and the new Animal Protection Law consolidates this belief. According to the law, since January 2022, pets in Spain are now legitimate family members. The dog owner also has to pass a short training course to ensure their responsibility.
Where dogs are allowed in Spain (apart from the obvious situations—streets, houses, etc.):
public beach promenades
dog-friendly beaches
outdoor restaurant terraces
dog playgrounds
some natural parks (explicit announcements upon the entrance)
When you pick up the taxi, talk to the driver, who might agree to take your dog onto the car. If not, try catching another taxi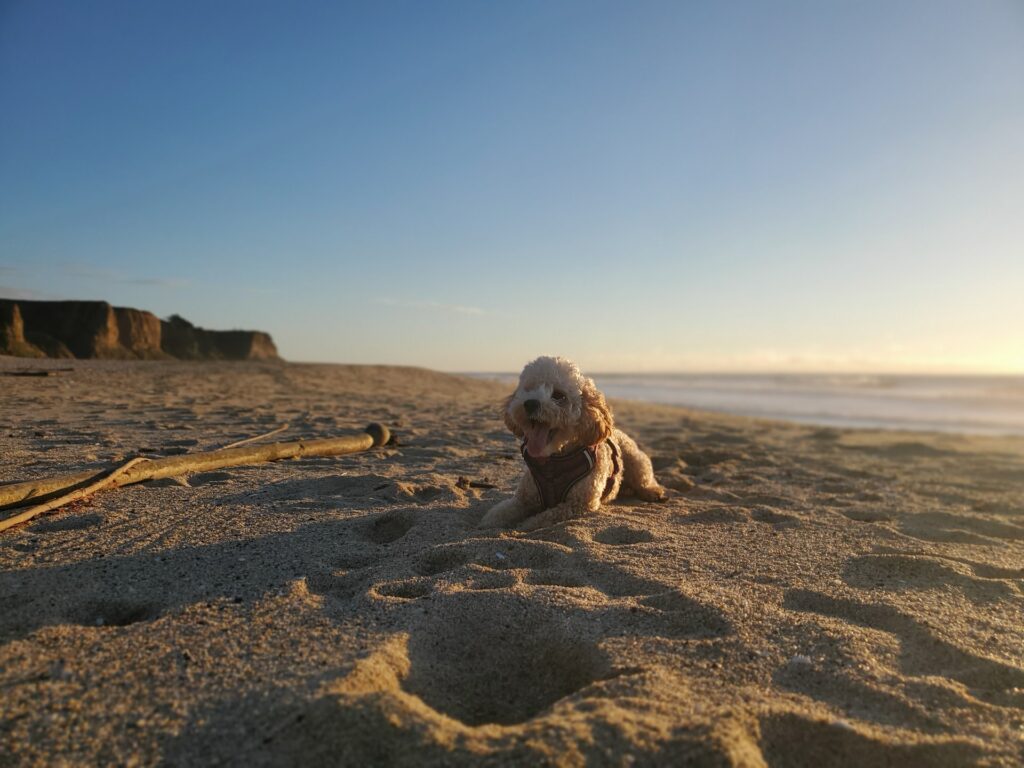 Things you need to know before you take the dog on a beach
First, you have to bring the right stuff. Make a packing list, check it twice, get everything you need, and have it planned out in advance so that on the beach, all you have to worry about is looking after your dog, making sure it has fun and enjoys its time under the Sun.
The dog-at-the-beach packing list
You will need to have:
a waterproof column or waterproof harness,
leash,
some poo bags (that's vitally important),
some cool freshwater,
some toys that can be shared with other dogs (it could be a waterproof puppy-proof tennis ball from a pet store, for example),
you need to bring towels for you,
towels for your dog
umbrella or tent for a sunny day
You also need to know local beach rules. You're going to have fun and not rock the boat. There are some areas close to dog-friendly beaches where you can only have your dog leashed (natural park environments, dunes, etc.).
It's very important to have your dog with an identification collar or harness, even if it is not a law, just common sense.
A lot is going on at the beach, so keep a razor-eye focus on your dog. The most important thing to keep an eye out for is other people's dogs. Beach is a super social place, and most dogs are incredibly friendly no matter what breed. A dog that has been raised in the right way and hasn't been through any trauma will be perfectly friendly and happy to play with another dog.
If there is an aggressive dog (for whatever reason), you should be focused on identifying it early and staying away.
Heat exhaustion
The dog at the beach can be very excited, and it can run rounds and play in the waves. If it's summer in Spain, it will be hot at the beach, and the dog can be overexerted, overheated, and end up sick if you spend hours and hours under the Sun.
Tip spend no more than 45-60 minutes on a dog beach on a sunny day in the summer.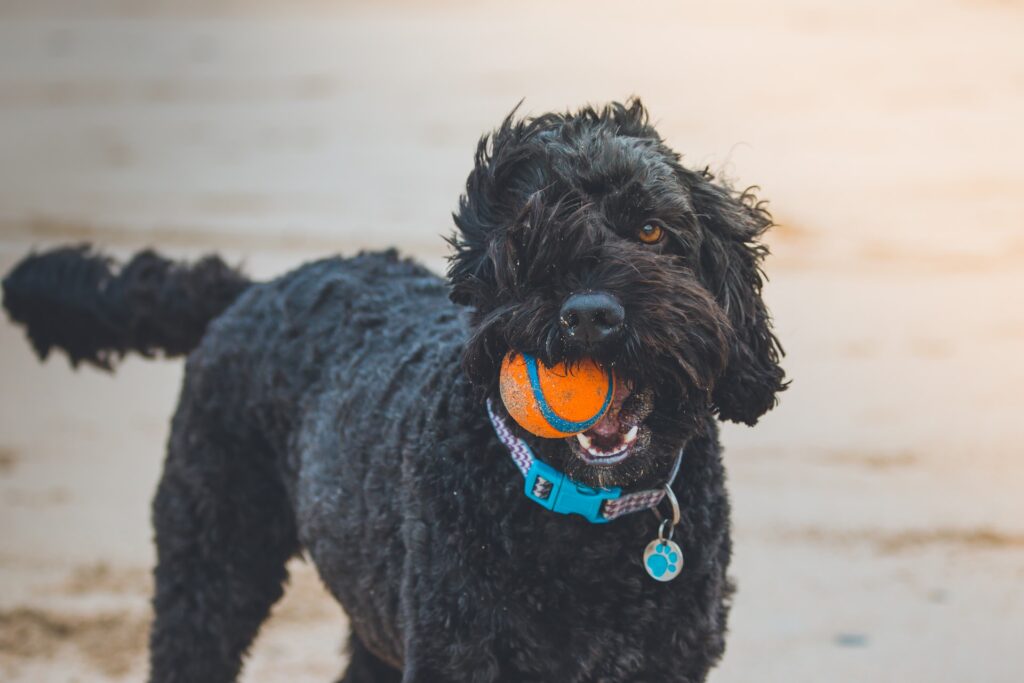 Issues with sand
The sand can be quite hot. Avoid walking your furry friend on the sand in the middle of the day. If the sand burns for you, it surely burns for your dog too. If your pet is used to being inside the house, her paw pads may be sensitive, and the hot sand can damage them.
Wash down your dog with some freshwater as soon as you're done with the beach.
Remember, the sand will be trapped near the skin underneath the fur (particularly around the collars). The sand is abrasive, and it can create skin difficulties and be very painful for the dog. You need to rinse away all of the sand straight away before leaving the beach. Once you're at home, give your dog a shower or a bath using a gentle shampoo.
Dog Beaches in Spain Map
These are the beaches where you can safely walk your dogs all year round:
The Best 6 Dog-Friendly Beaches in Spain
1. Fuengirola Dog Beach (Malaga)
You can find Fuengirola Dog Beach in Fuengirola municipality of Malaga, next to the Fuengirola marina. The beach is a designated area where dogs are allowed to run and play off-leash. The beach is open all year round and has several facilities for dogs and their owners, including water showers, waste bins, and benches. There is also a small café that sells refreshments for humans and dogs. See on the map.
2. La Playa Pinedo (Valencia)
The Valencia Community is the region with the most pet-friendly beaches. You can find fabulous sandy beaches near the city, such as the Pinedo Canine Beach (Playa Canina Pinedo). It is a popular spot for both locals and tourists. This dog-friendly beach is located on Valencia outskirts and is well-known for its cleanliness and friendly atmosphere, making it the perfect place to relax and unwind. See on the map.
3. La Caleta dels Gossets (Santa Pola, Alicante)
The beach is relatively small, a bit rocky, but it has spacious parking nearby and a small beach bar. You will be asked about your dog vaccines and microchip at the entrance. Can get quite busy in the summer. See on the map.
4. La playa de Rubina (Empuriabrava, Catalonia)
This wide beach is a great place to take your dog for a walk, as there are plenty of areas for them to circle and play. The beach is very clean, and the dog owners are polite, but the are no services. The views are also beautiful, with the mountains in the distance. The parking space nearby. See the map.
5. Llevant Dog Beach (Barcelona)
This beach is free to visit (as with all dog-friendly beaches in Spain). The only thing is you need to stop at the entrance and answer some basic questions (such as if you're from Barcelona or the outskirts) and they check the dog's microchip also. There are showers for humans, a shower for dogs, a beach bar, and a beautiful city view. See the map.
6. Portiño and O Espiño (O Grove, Pontevedra)
You can find these fabulous dog beaches in one of the largest Galician paradises, O Grove. The sand is somewhat coarser than usually and with gravel, so take your flip-flops.
These are quiet semi-urban beaches, and each one is about 75 meters long, with clean and calm waters. The beaches lack services, but you can find everything you need in the surroundings: bars, shops, and restaurants. The atmosphere is super-nice and people are respectful with the environment. The parking area is relatively small. See on the map.
In conclusion, Spain is a dog-friendly country, and there are plenty of beaches where you can bring your four-legged friend. As well as being a great place to relax and soak up the sun, these beaches provide an opportunity for dogs (and their owners!) to socialize. So what are you waiting for? Take your dog and head to the beach!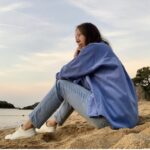 Hello, my name is Nadia.
I usually write about traveling (there are so many places to fit all the lifestyles), relocation (finding a job overseas or moving without losing an income), and living in a foreign country (adapting to a different culture and mentality). Follow me on Twitter, Facebook, Instagram, or LinkedIn!
This post might include some affiliate links. If you make a purchase through these links, I may earn a small commission at no additional cost to you. I appreciate it when you use my links to make purchases.