Seaside Serenity: 13 Spanish Coastal Cities to Call Home
Nadia Podrabinek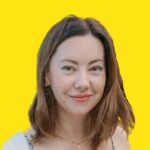 Written by Nadia Podrabinek
Hello, my name is Nadia. I usually write about traveling (there are so many places to fit all the lifestyles), relocation, and living in a foreign country (adapting to a different culture). My travels stretch beyond Spain, with journeys to the US, Italy, Norway, Portugal, and France. Relocating to Spain in 2018, I lived in cities from Barcelona to Madrid, currently calling Valencia home.  Follow me on Twitter, Facebook, Instagram, or LinkedIn! ... show more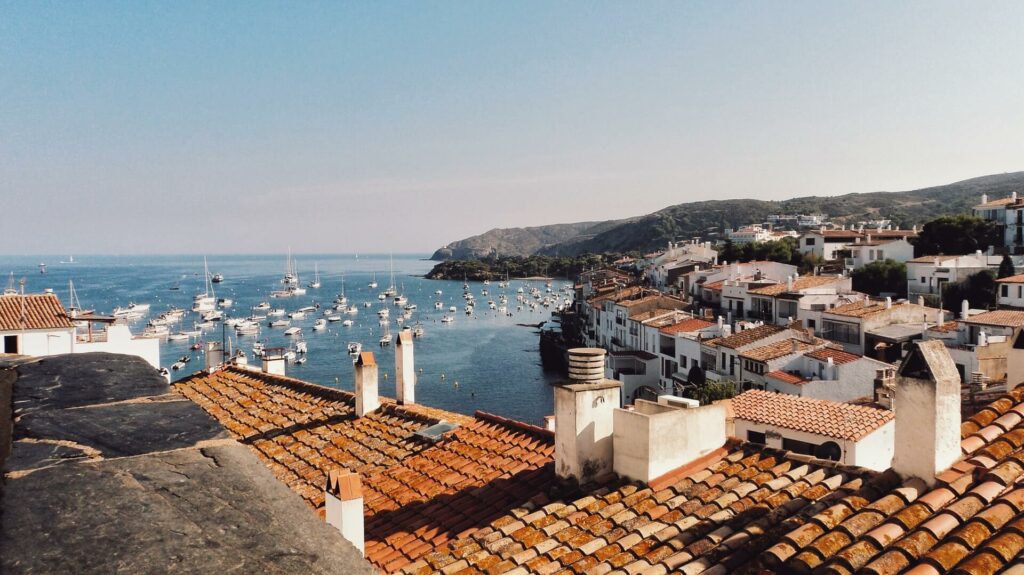 There is a lot to love about Spain: the food, the weather, the history, the culture, and the people. And don't forget the most significant perk about living in Spain – the country's affordable cost of living.
In this post, I list all the best places to live in Spain by the sea, keeping in mind all these essential elements.
So, why is Spain good for expats, nomads, families, and retirees? The short answer is:
Mediterranean sea
Warm weather
Higher life expectancy
Food
People
The cost of living
Well-developed transportation
Good internet connection and coverage (fiber optic, 4g, 5g)
The location (between the Americas and Asia)
Historical legacy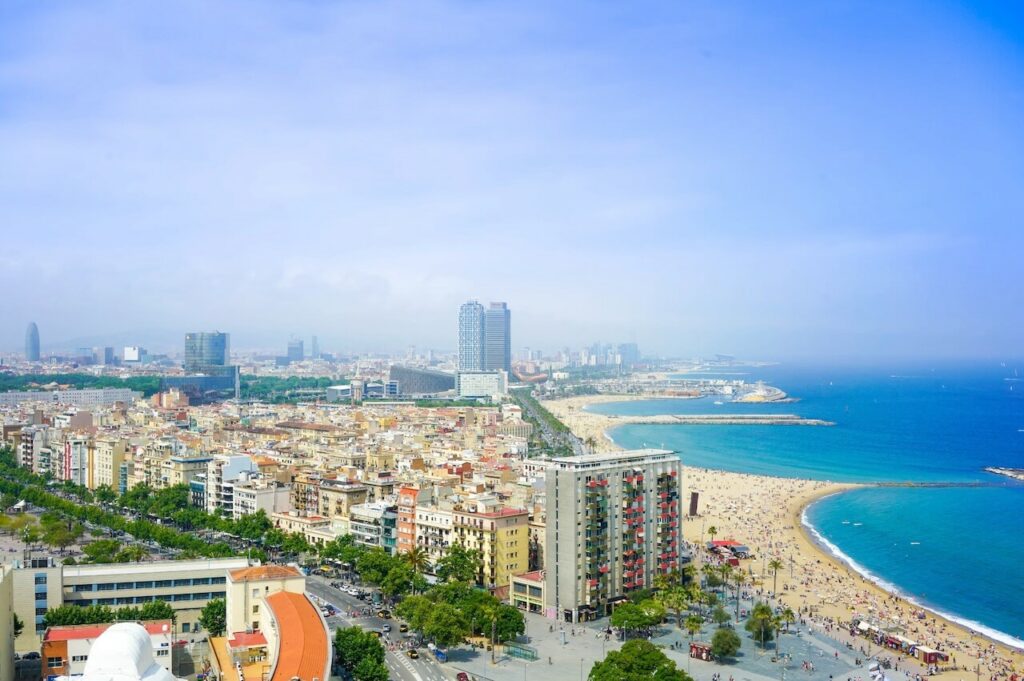 Where to live in Spain near the sea?
There are many places near the sea in Spain that you might be considering living in, so to help you compare and contrast them, I've prepared this list of 13 best seaside destinations.
We start with the most expensive, prominent, and sometimes controversial locations, then work our way down to some surprising and less-known ones.
The good news is that you really can't go wrong in Spain because overall, there's only one Spanish destination that ranks on a Mercer index when it comes to the most expensive cities in the world. And that's Madrid, which is obviously not near the sea and only ranks 67 out of 209 cities.
13 best coastal towns in Spain to live
1. Barcelona, best for startups and young people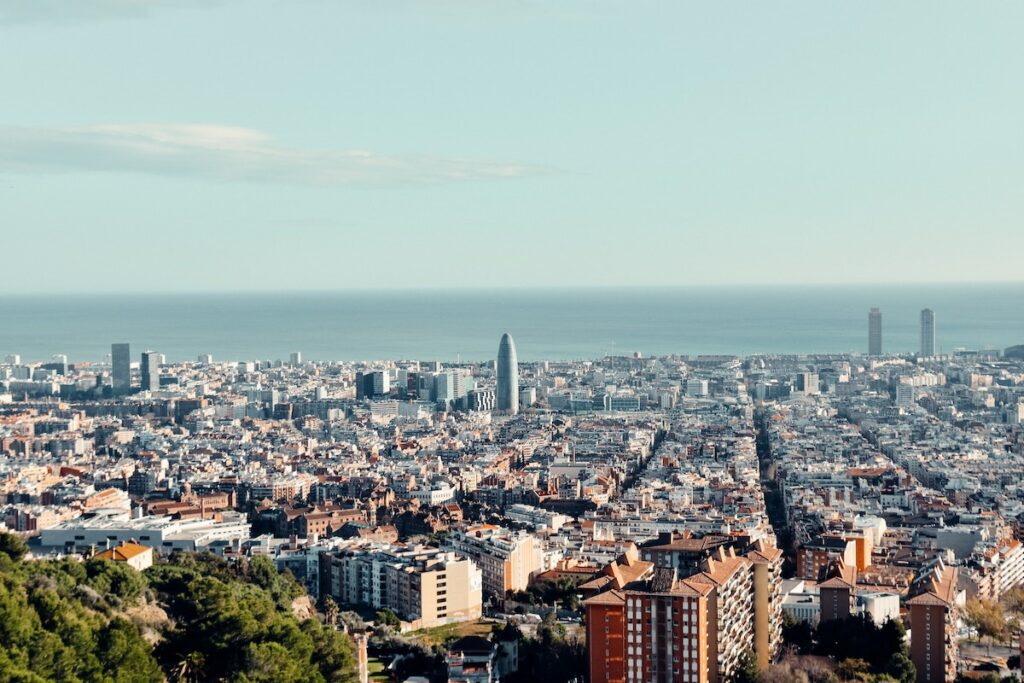 Airport: ✅
Public transport: bus, metro, regional rail
Prices: above average/high
Beaches: 8/10
Food: 10/10
Overall: 9/10
Barcelona is one of sunniest cities in Europe and at the same time the most controversial one (in terms of living near the seaside).
The city is a perfect combination of beaches and urban area. So, if you're looking for both city life and beach life in one package, then Barcelona is a solid choice. The beaches are very accessible, and the city is vivid and full of gorgeous architecture. The English language is widely spoken in the city, and that's a good thing.
Barcelona is filled with delicious food and tapas (Spanish snacks), other Spanish dishes, and international cuisine.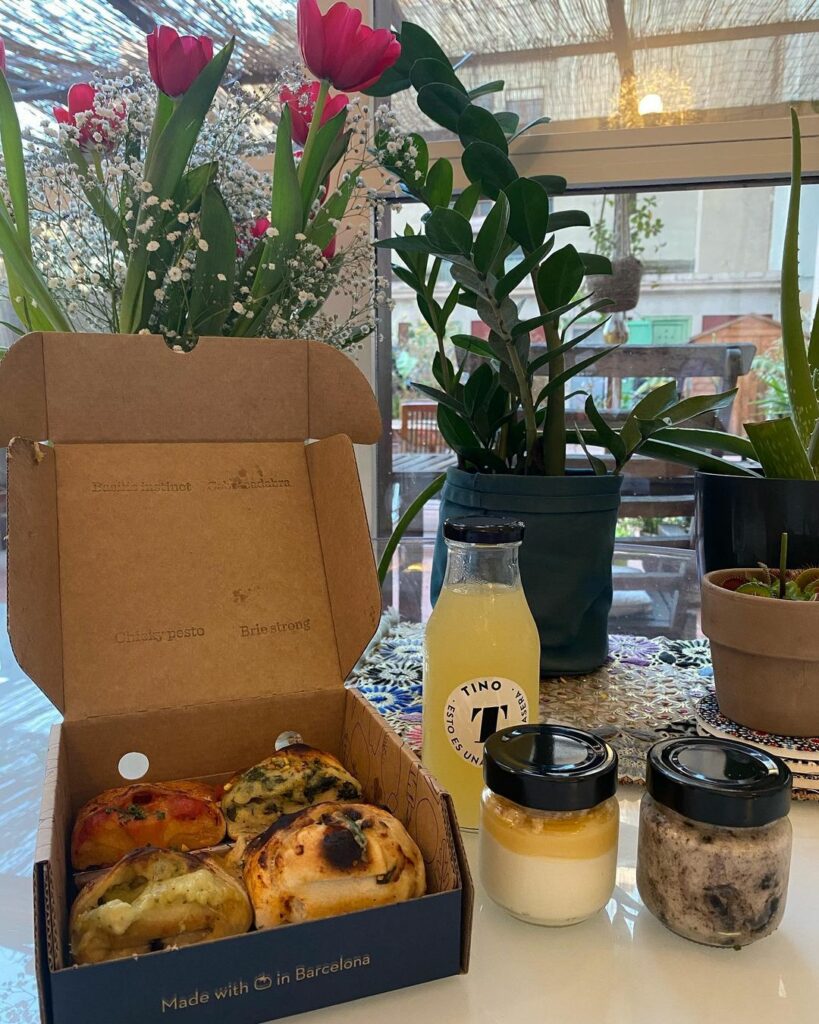 Barcelona also has good public transportation, and you can get to most places by train, metro, or bus. They work very well, even late at night.
There are some negatives, though. Living in Barcelona center can be very loud, especially if you're not used to it. There can be some protests or rallies, sounds of some maintenance/repairs with drilling sounds.
Another thing to keep in mind is the number of tourists in Barcelona. Barcelona has so many tourists, and it really doesn't matter what time of the year it is.
Last but not least – the prices for renting or buying an apartment are very high.
Overall, Barcelona is one of the best cities to live in Spain by the sea. You can also move to some neighboring smaller and cheaper towns, such as Mataró, Calella, Vilanova, Montgat, Tiana, or Badalona.
2. San Sebastian (Donostia), best for the nature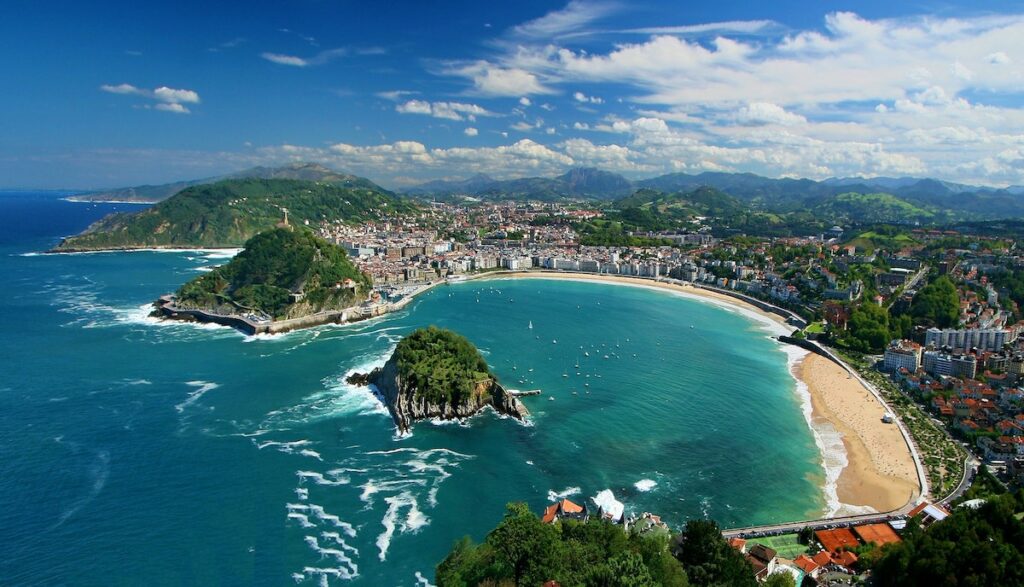 Airport: ✅
Public transport: bus, regional rail
Prices: above average/high
Beaches: 6/10
Food: 10/10
Overall: 9/10
San Sebastian (Donostia in Basque) is quite a small town with satisfying, stylish architecture. It is the capital of the Basque Country.
You will find many beautiful sceneries with panoramic views there. It's a great place to walk around and get lost. Nature and the town live together hand-by-hand—you can walk for 10 minutes, climb a mountain and feel like you're far away from civilization.
There are endless "pintxos" (small snacks) to enjoy, plenty of history in the old town, and good old-fashioned Basque culture.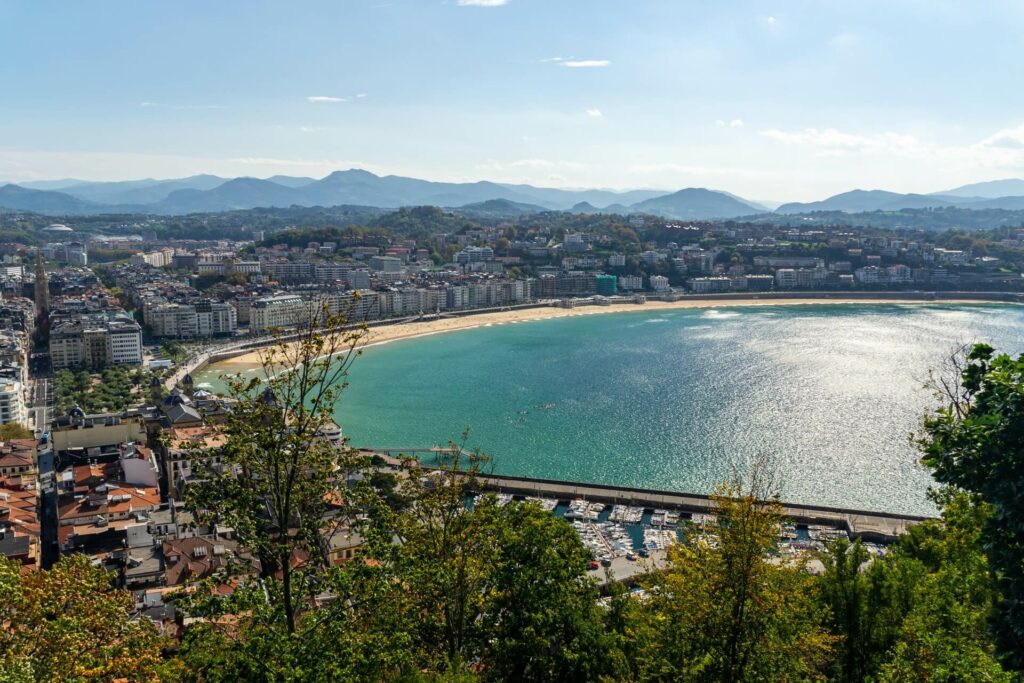 When I went to San Sebastian, soaking up the city views was a lot of fun. There were so many things to see and experience, so I understand why so many people come to live in San Sebastian even though the weather is not always great.
The warm season lasts about three months, from late June to late September. The city is also close to Paris (~5 hours by car).
3. Alicante, best for the outdoors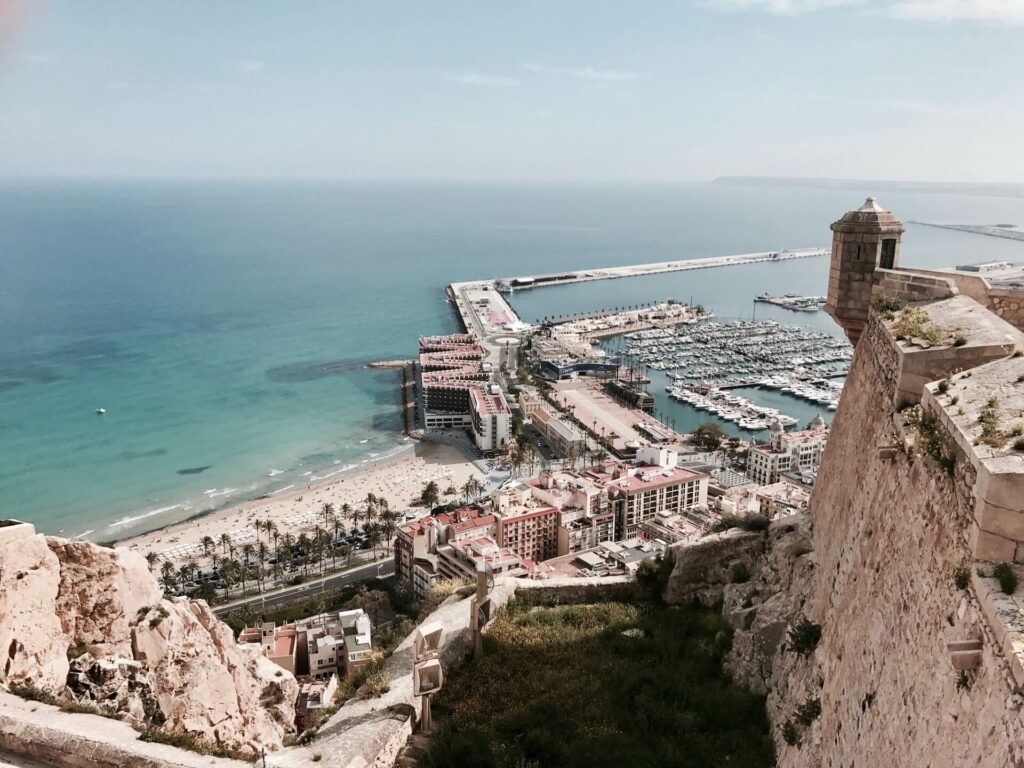 Airport: ✅
Public transport: bus, tram, regional rail
Prices: low/average
Beaches: 6/10
Food: 7/10
Overall: 8/10
It is the capital of the province of Alicante in the autonomous Valencian Community. What I like about the city is that beaches are easily accessible (compared to beaches in Valencia), no matter where you are. I always need to be near the beach or have it accessible, so it's good.
Also, they have a large marina, with many restaurants surrounding it, and a large area where you can walk and see the sea and do the stuff like "people watching."
Public transport, especially the tram, is very developed in the city.
The parks and hiking areas are very accessible too (e.g., Santa Barbara Castle). Many cafes and bars are very inexpensive and enjoyable.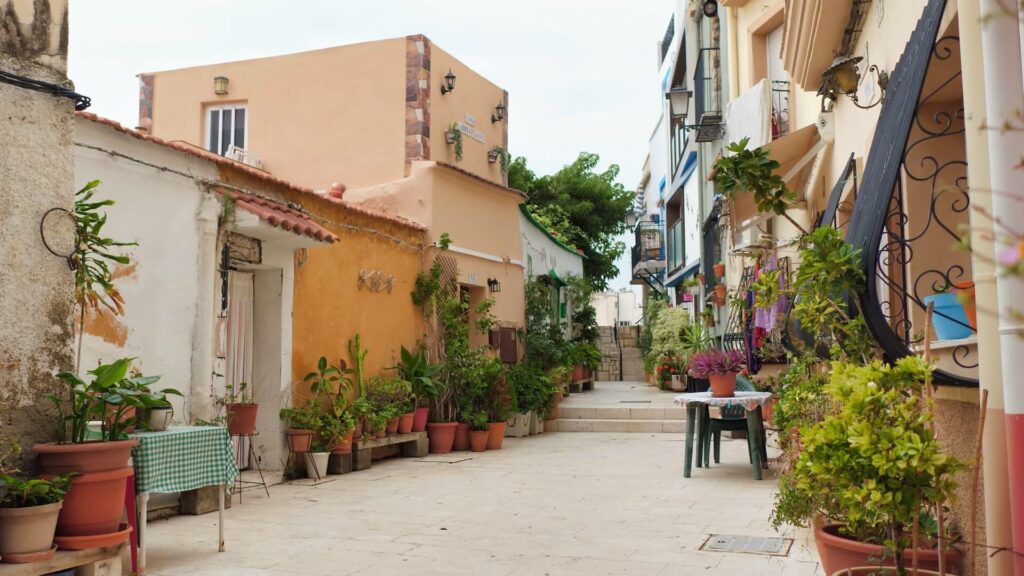 If you like buying things, there is a huge shopping mall in Alicante and Central market. Also, it's very safe and clean.
If you're staying in Spain for an extended period, consider Alicante one of the favorites.
4. Denia, best for retirees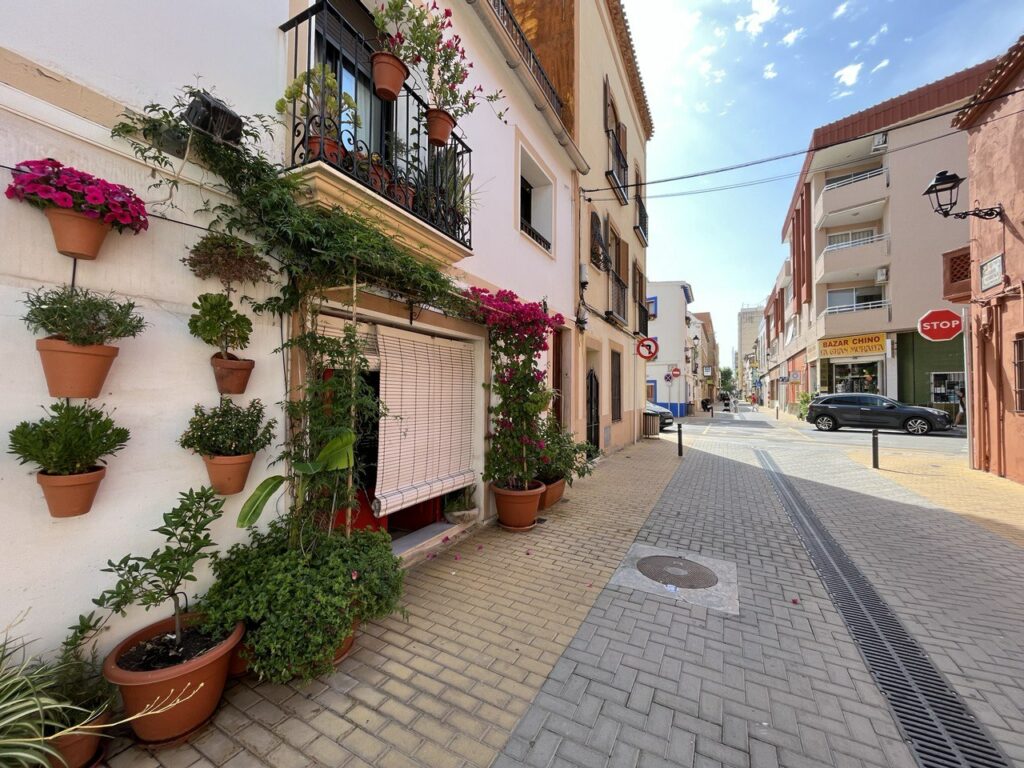 Airport: ❌
Public transport: regional bus, regional rail
Prices: low/average
Beaches: 6/10
Food: 7/10
Overall: 7/10
Denia is a small charming town located between Valencia and Alicante on a hilltop.
It is very calm and relaxing there. There are historical sites and the old fortress with a sea view, beautiful beaches, hiking areas, a Natural park, cozy houses, a Port, and a famous city tunnel that leads your right into the center of the town.
Denia is also one of the best places to retire in Spain by the sea:
Many hospitals.
Wide range of activities.
Pleasant climate.
Close proximity to Valencia and Alicante (1 hour by car), Moraira, Altea, Guadalest, Calpe (30 minutes by car).
The rail system provides easy access to Valencia and its high-speed connections to other major cities in Spain.
Check out my latest article on Best Hiking Apps for iPhone.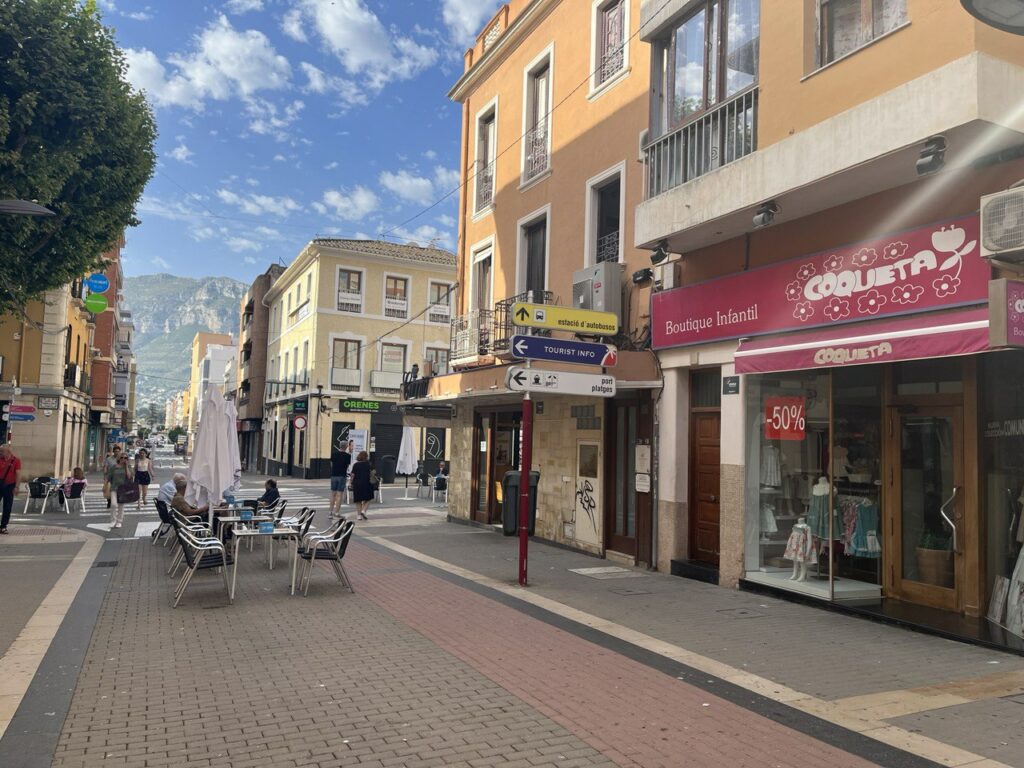 I believe the town of Denia is probably a retiree destination for those looking for quality of life and a measured rhythm of life.
5. Valencia, best for the families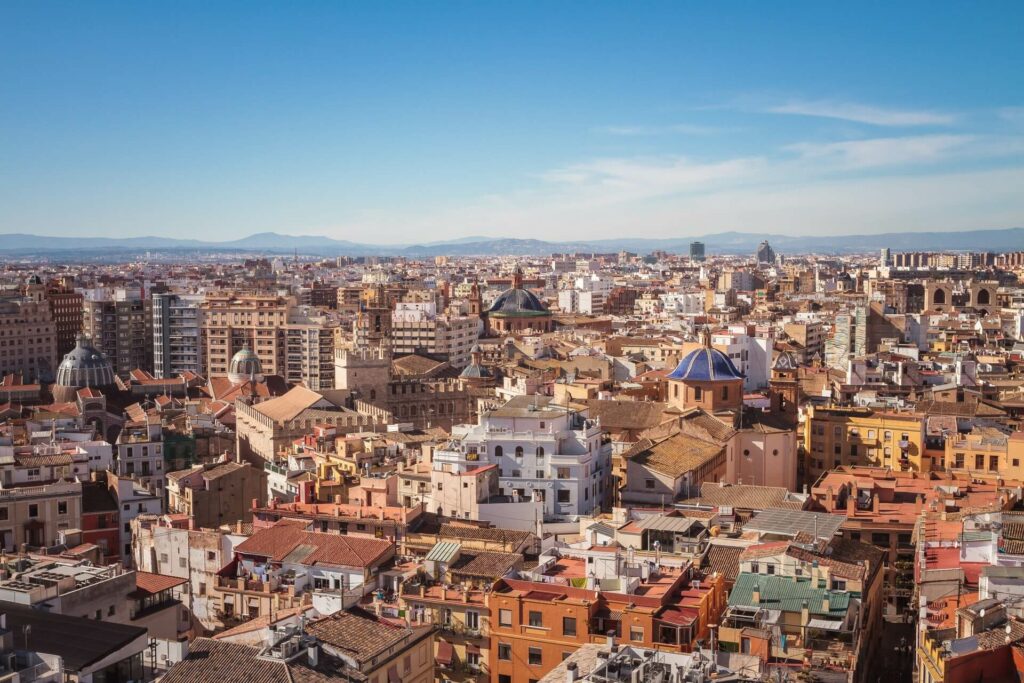 Airport: ✅
Public transport: bus, metro, regional rail
Prices: low/average
Beaches: 9/10
Food: 7/10
Overall: 8/10
Valencia is Spain's third-largest city, known for its mild climate and quieter and more relaxed pace of life.
But that doesn't mean that the city is boring. Valencia is famous for its beaches, the City of Arts and Sciences, festivals, food, parks, and sports playgrounds.
The rental prices are somewhat 15-20% lower than in Barcelona, and utilities and groceries are also slightly lower than in Barcelona, as is the cost of transportation.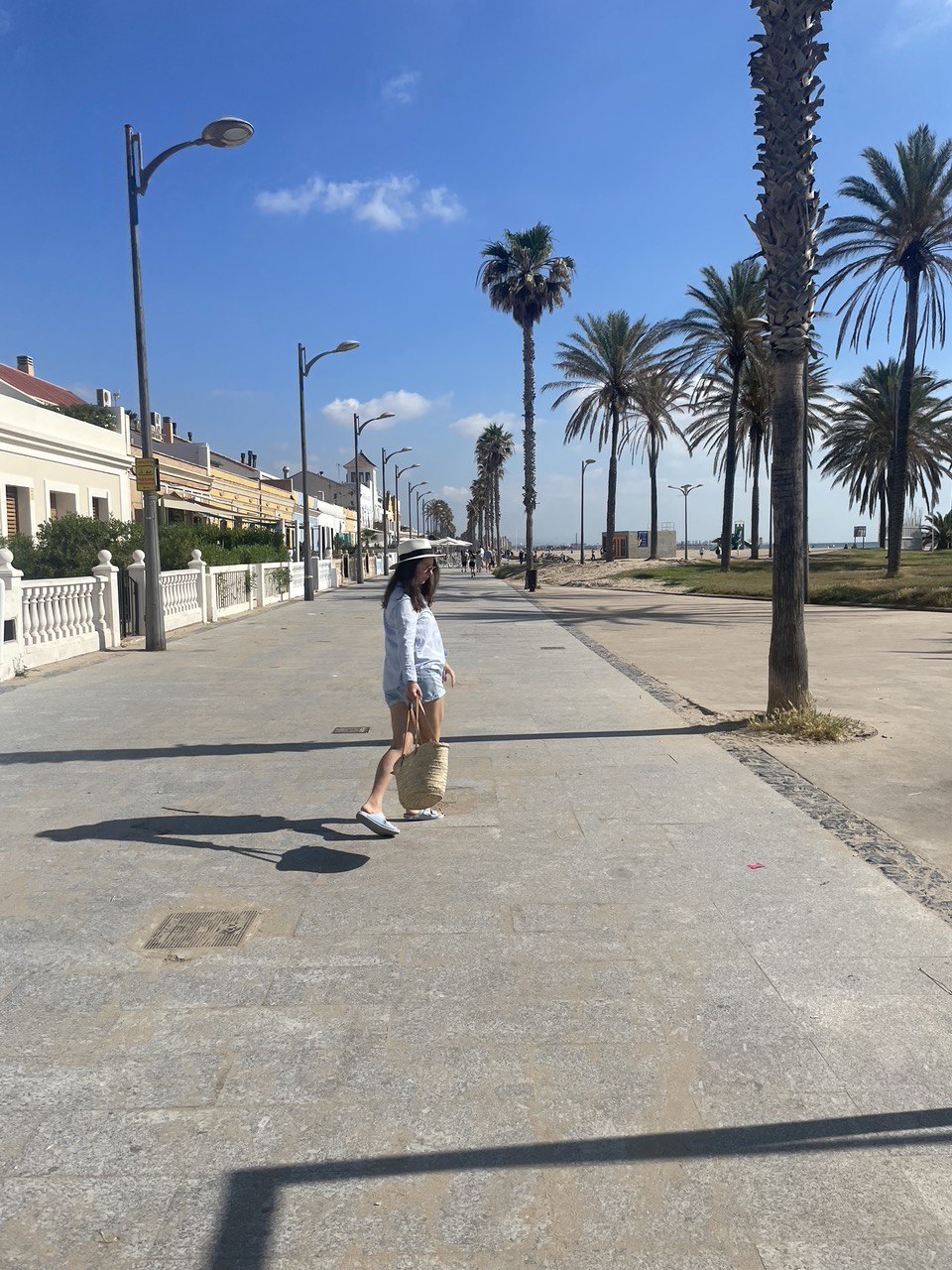 Valencia is perfect for families because there are many private English schools in the city and the suburbs, with school buses and many outdoor activities. These schools also have grades for the babies, and you can send your 4-year-old child there for half a day.
There is a lot of stuff to do for kids in the city of Valencia: they have these little pop-up playgrounds everywhere. Also, they have a big park for kids called Gulliver's Park with huge slides for kids of all ages. Aside from that, a beautiful aquarium in the City of Arts and Sciences and a Valencian Zoo.
Check out my latest article on the Pros and Cons of living in Valencia.
6. Malaga, best for solo travelers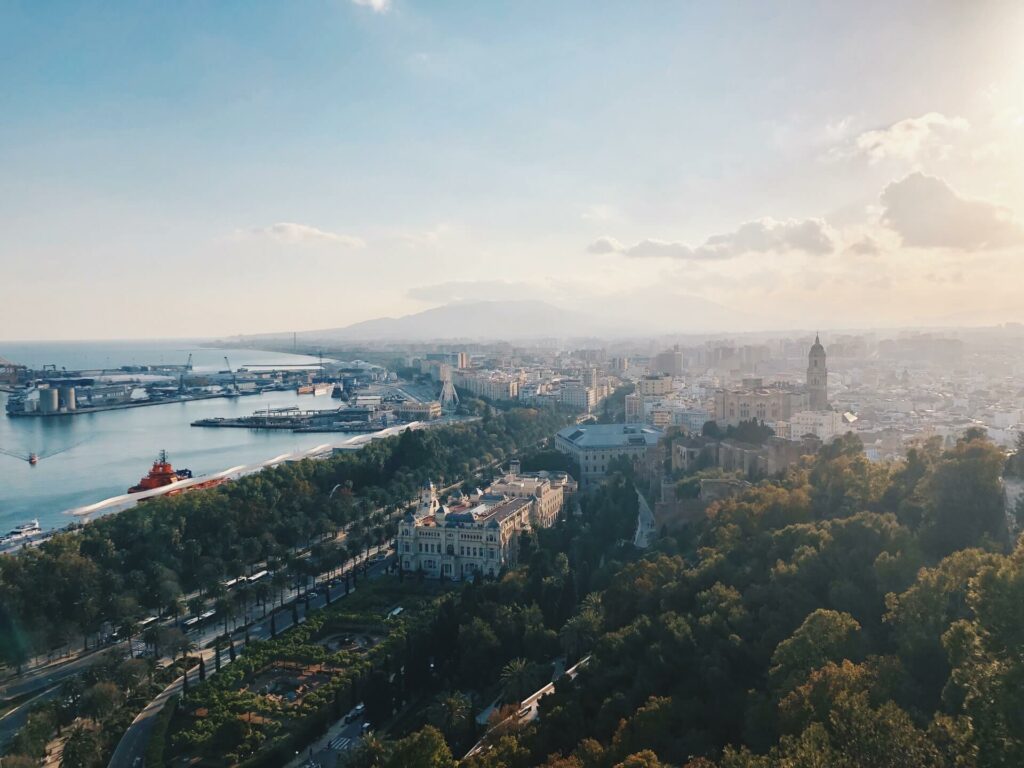 Airport: ✅
Public transport: bus, metro, regional rail
Prices: low/average
Beaches: 7/10
Food: 7/10
Overall: 8/10
Malaga is one of those quintessential Spanish beach towns you will love in any case. I was there in 2019 and was really surprised by the cost of living in Malaga. The prices were low compared to many other western European countries, Madrid and Barcelona! This region is a part of Andalucia province, which is also typically cheaper than many other provinces in Spain.
It's a very diverse region, you can live in the city center of Malaga, or you can move towards the east to live in a quiet village or directly in the countryside. This might be relatively obvious, but still, in Malaga, you have many sunny days with only two or three months of colder weather.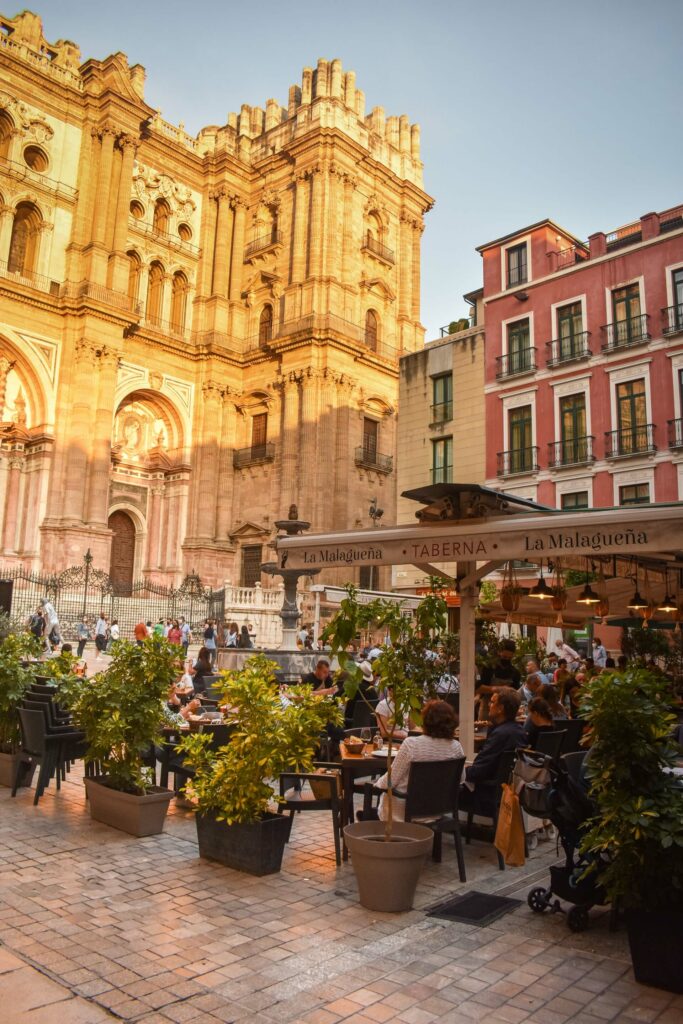 Aside from Malaga beaches, you can try outdoor activities near the town, such as hiking, swimming in lakes, and rock climbing. In addition, there is a Sierra Nevada ski resort that is open during the winter months.
Malaga has a well-connected airport, and you can take a train directly to your terminal, which is also why there are so many tourists in Malaga during the high season. It's also important to keep in mind that due to the number of tourists, you have to book far in advance many activities, such as a trip to Alhambra or Caminito del Rey.
Also, I wouldn't say I liked the sea water temperature in Malaga. Sometimes the sea is freezing because a cold undercurrent influences it.
But the pros outweigh the cons for me. Maybe Malaga doesn't have the most beautiful beaches, maybe it doesn't have the highest mountains, and maybe it doesn't have this big city center.
But it has a little bit of everything—a little bit of history, a little bit of the beach and very good weather. So all together it is a very nice place to live.
7. Torrevieja, best for the prices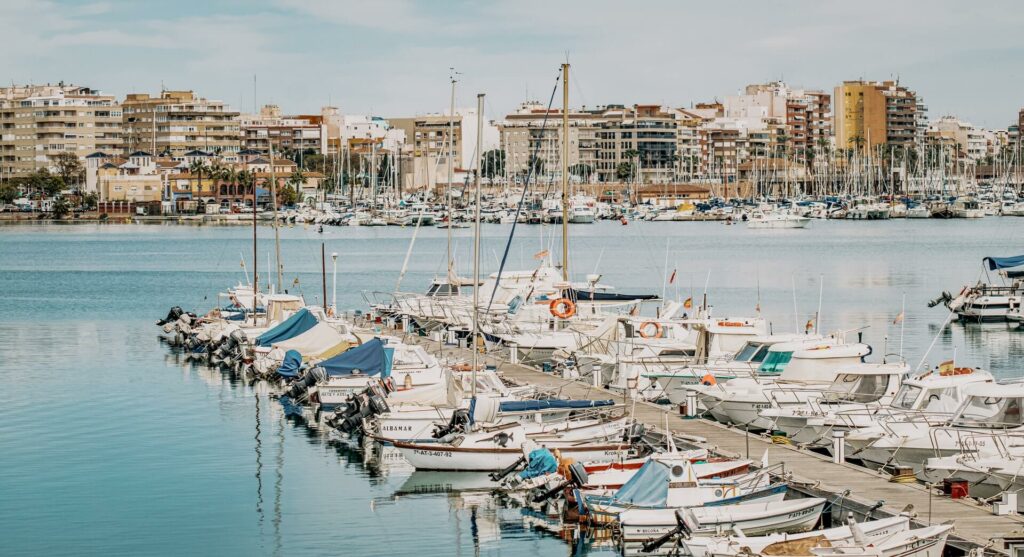 Airport: ❌
Public transport: bus, regional rail
Prices: low/average
Beaches: 8/10
Food: 7/10
Overall: 8/10
Torrevieja is one of the cheapest coastal towns. It is located in the province of Alicante, southeastern Spain, in Costa Blanca (about 42 miles south of Alicante).
Torrevieja has mild weather conditions, with relatively hot summer and warm winter, compared to Madrid (with its super-hot summer and colder winter).
Torrevieja is a popular tourist destination for its beaches, marinas, and salt lakes. The town also hosts several museums, including the Museum of the Sea and the Archaeological Museum.
Living here is very cheap compared to other locations in Spain.
8. Bilbao, best for culture lovers and surfers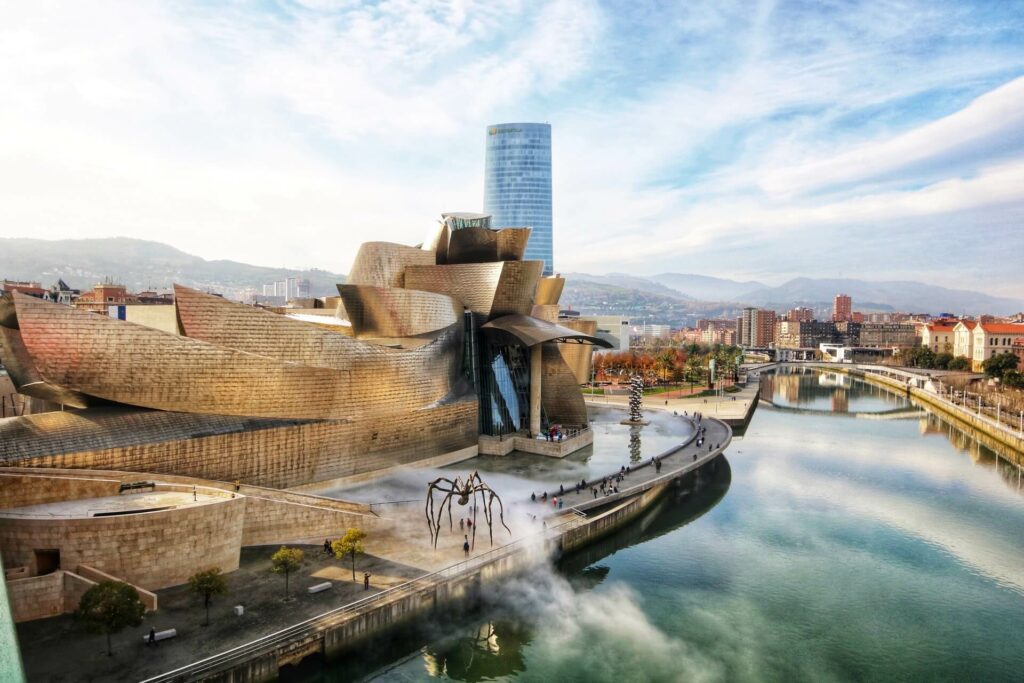 Airport: ✅
Public transport: bus, tram
Prices: above average
Beaches: 7/10
Food: 8/10
Overall: 8/10
Bilbao is another beautiful place to live in, located on the northern coastline of Spain in the Basque country.
The cost of living is slightly lower than in San Sebastian, Madrid, or Barcelona. The proximity of the Atlantic ocean means there are plenty of opportunities for swimming, sunbathing, and other beach activities. The only downside is that it's less sunny and a bit colder here than in the south of Spain.
Also, Bilbao hosts many historical and cultural events throughout the year. And don't forget about the Guggenheim Museum!
9. Sitges, best beach town for expats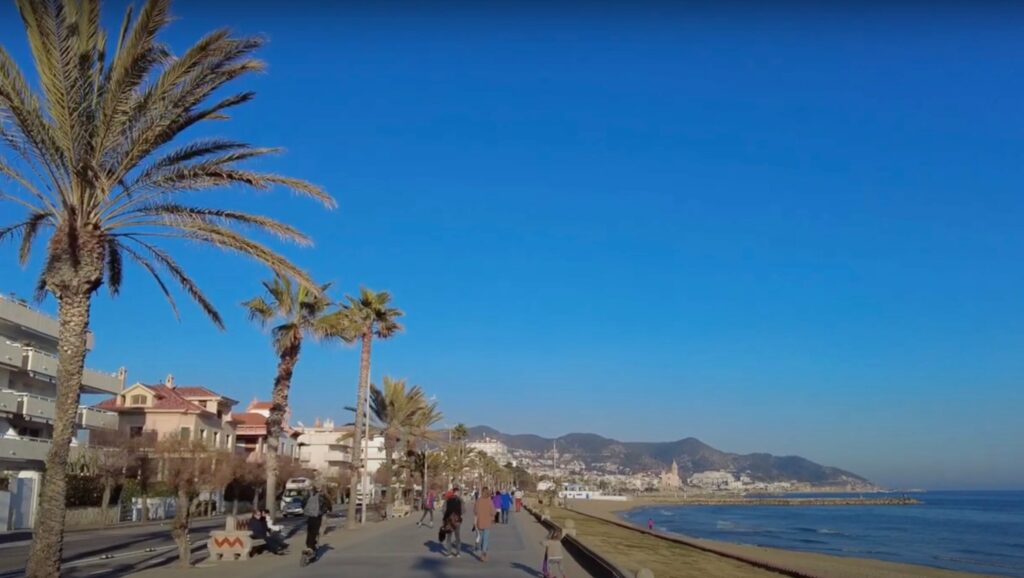 Airport: ❌
Public transport: bus, regional rail
Prices: low/average
Beaches: 7/10
Food: 7/10
Overall: 8/10
Sitges is a picturesque seaside town just 40 minutes south of Barcelona. It's a very popular tourist and retirement destination, especially for expats, but it also attracts young families looking to escape the hustle and bustle of Barcelona.
Sitges is definitely a good place to settle down for a few years. You can enjoy mild winter, long walks in the tranquil and beautiful promenade, and "al fresco" lunches in the sun. Sitges has about 300 sunny days throughout the year. And it's easy to go to Barcelona once in a while if you need to go shopping, have restaurant experiences or meet with a friend.
There are also specific things about Sitges, like gay and nudist beaches (3 out of 17 beaches in Sitges). Just keep that in mind.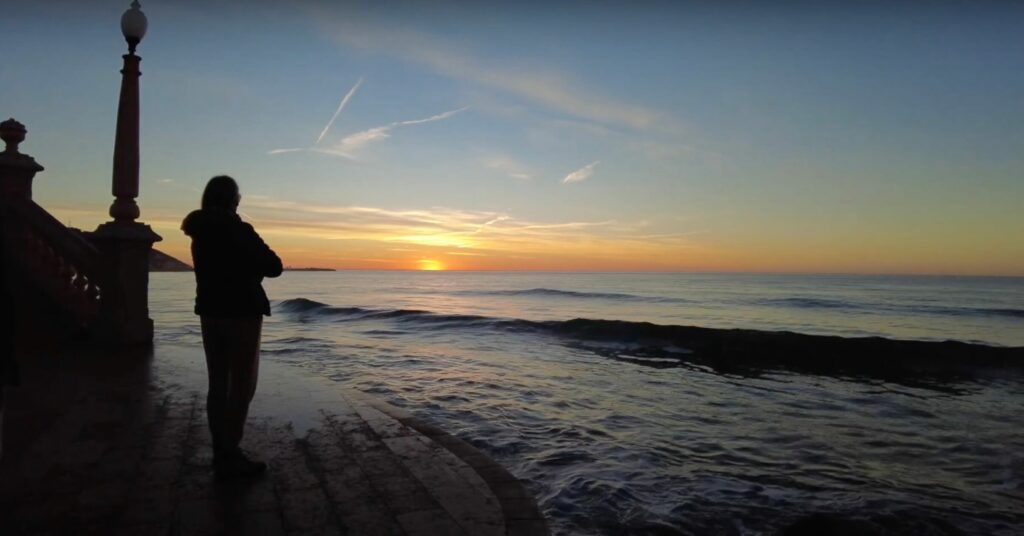 Overall, Sitges is charming, authentic, by the sea, and close to a cosmopolitan city with a well-connected airport. Also, it has a fairly large expat community and good grocery markets.
10. Tarragona, best for working remotely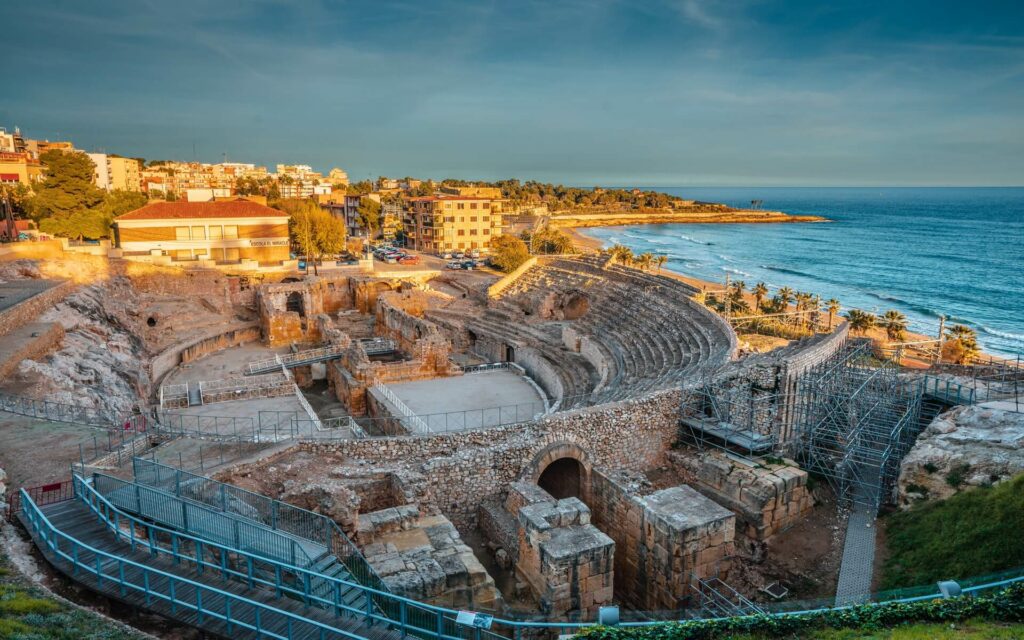 Airport: ❌
Public transport: bus, regional rail
Prices: low/average
Beaches: 8/10
Food: 7/10
Overall: 8/10
Tarragona is an old Roman town in Catalonia with ruins of a Forum right next to the beach, a Colosseum, and great Mediterranean sea views. Aside from the beach and many Roman culture remnants to explore, you can enjoy the environment by walking, hiking in the nearest mountains, cycling, and kayaking.
Another great thing about Tarragona is the food. There's plenty of seafood, paella, and fantastic tapas. There's also an impressive local sports tradition called "Castels" (Human towers), where people climb on top of each other's shoulders and create a tower of up to ten people.
The rental prices are lower than in Barcelona, and there's fiber optic internet with a reliable connection. There are many, many sunny days as always in every location on the southern coastline of Spain.
11. Marbella, best for the rich people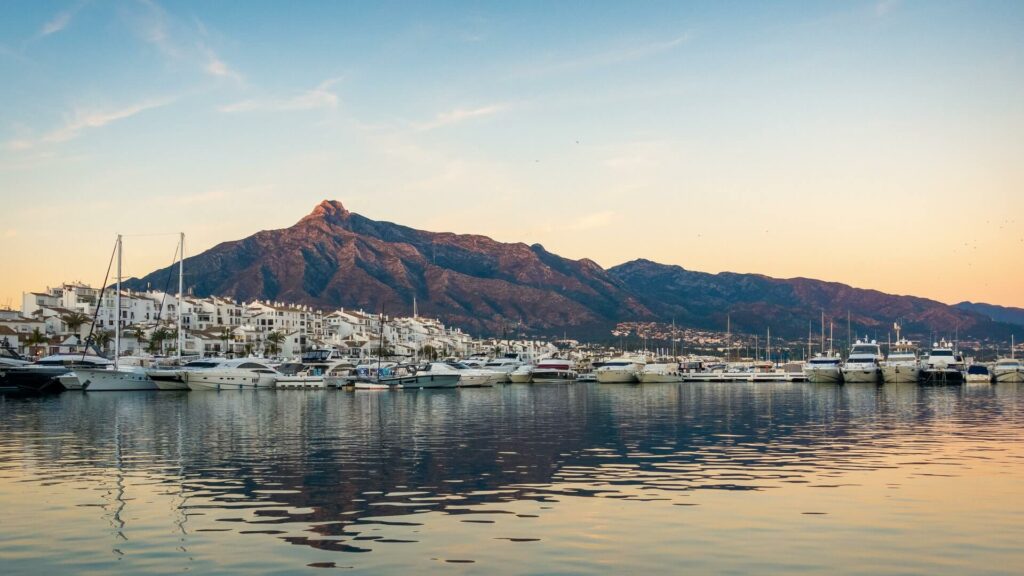 Airport: ❌
Public transport: bus only
Prices: high
Beaches: 8/10
Food: 8/10
Overall: 7/10
Marbella is a sunny and privileged resort near Malaga (within a 40-60 min car drive). The beautiful weather is the main reason people come to live in Marbella; it is almost always sunny, and you can get summery days even in December.
The other reason to love Marbella is the nature, culture, and positivity of Spanish people, who are very polite and love children. People come to live in Marbella for the beautiful beaches and mountain ranges—there's so much to do outdoors. If you love the outdoors, you will love Marbella. You can play tennis, paddle, basketball, soccer, go golfing, whatever you like if you're into an active lifestyle.
If you have children—the Spanish healthcare system is very good, both private and public.
But it's not all sunshine and rainbows in Marbella.
It can get super touristy and crowded there in the high season. Many things in Marbella seem like they are made for tourists, and if you want to live there permanently, it seems a bit lackluster.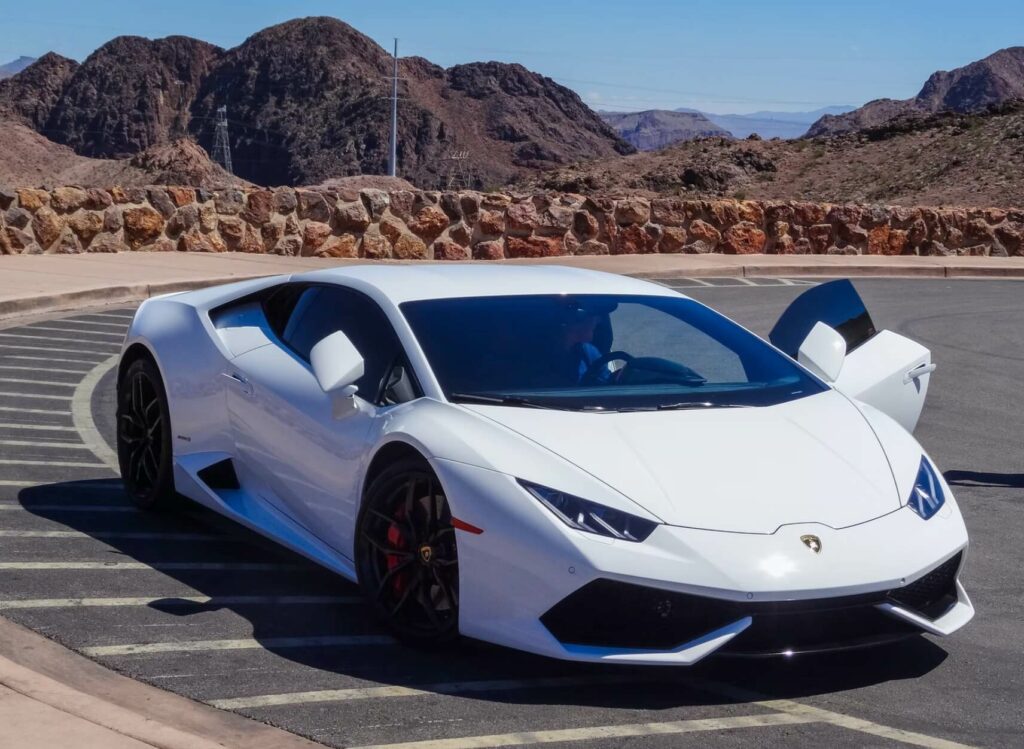 It's also quite an expensive place to live, and expect to pay a 20-30% premium on pretty much everything, including dinners, coffee, and, especially, rent. I also was shocked by the culture of driving in this region of Spain, which includes bad parking manners, dangerous driving, and not showing the turn signals (I guess this is the consequence of having many rich people around).
Tip: if you stay for the winter, find an apartment with central heating. Otherwise, it can get super cold indoors in the wintertime.
12. Tenerife, Canary Islands, best for the weather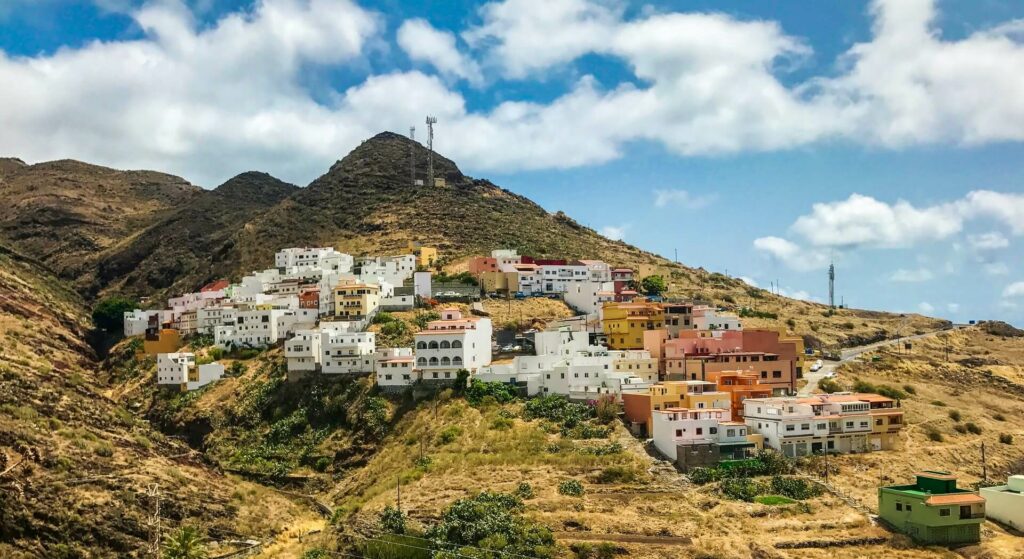 Airport: ✅
Public transport: bus only
Prices: average
Beaches: 9/10
Food: 8/10
Overall: 9/10
Many people love the weather in Tenerife, which is mild and constant throughout the year. If you're coming from a northern country, you will see a huge change in your life because it is like spring all year round. It is mostly 26-32 Celcius in the summer, and in the winter, it's 17-22 Celcius.
The other reason to enjoy your stay in Tenerife is the pace of life, which is even slower than in coastal Spain. Everything is very relaxing, and there's no stress at all.
The third perk is having a lot of awesome hiking spots. Tenerife and the other Canary islands offer unique landscapes and beautiful hiking trails. So if you're into the outdoors and hiking, this place is worth living.
Surprisingly, the prices are quite low in Tenerife, and everything is cheap compared to the US, Germany, and northern countries.
Some downsides: being an island, Tenerife doesn't have much to offer if you're bored, and you have to take a plane if you want to go to the other parts of the world. Also, it gets really touristy in the summer and the winter, so if you're going to live there, consider moving to the north of the island.
13. Mallorca, Balearic Islands, best for sunsets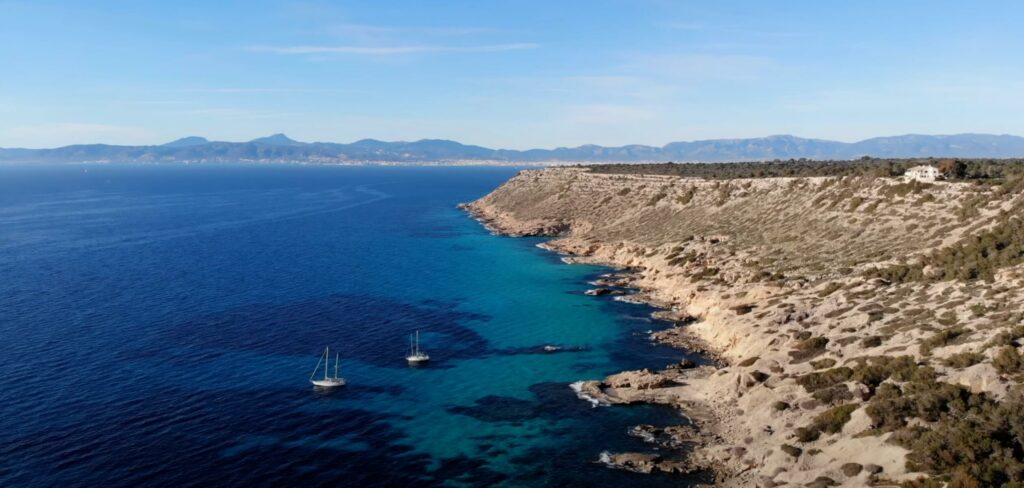 Airport: ✅
Public transport: bus, train
Prices: above average
Beaches: 8/10
Food: 8/10
Overall: 8/10
Mallorca is a very well-connected island, and most European capitals are reachable within three hours, and Madrid and Barcelona are reachable within 1-1.5 hours.
If you're a registered resident of the Balearic Islands, you get a 75% discount on the airline fairs to the mainland of Spain, and sometimes it's cheaper to fly than to go for a dinner there.
The weather is mostly sunny and warm. I'd say that the weather in Tenerife is the mildest one, and it's colder in the winters in Mallorca. But winters in Mallorca are very short, and you still have between 15-20 degrees during the day so that you can walk around in a shirt. It can get really hot in July and August, between 35-40 degrees.
Read also: 11 Best Beaches in Mallorca
There is the sea everywhere, amazing sunrises and sunsets, and there is a beautiful Old Town, the Cathedral, the Royal Palace, and many restaurants and shops to explore. The island is known for its almonds, figs, olives, oranges, wine, vegetables, and fruit from local farmers.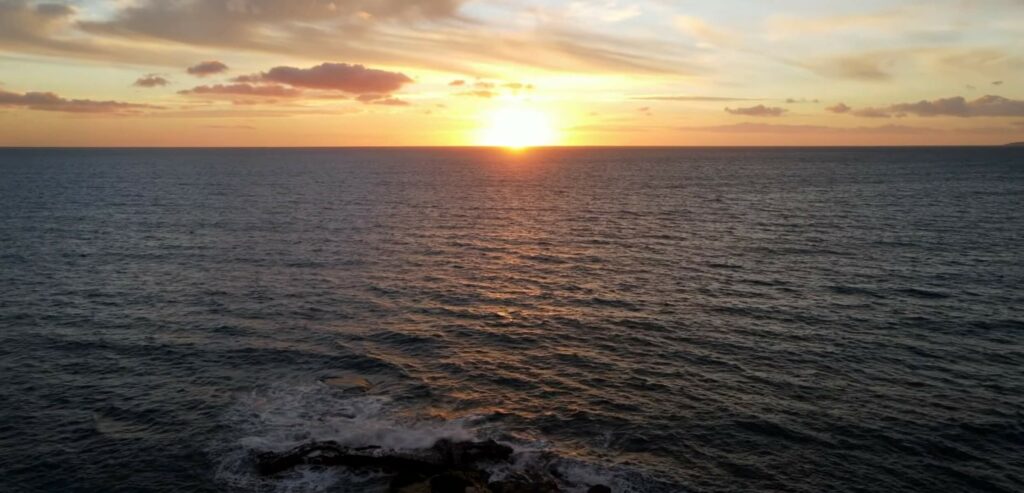 One of the biggest downsides of living in Mallorca is that for many people, it's just a temporary place where they live for two or three months and then leave the island. The rent is relatively high also, €600-1000 for a one-bedroom apartment.
Map of the beautiful places to live in Spain by the sea
What people say on Reddit
I have a home in Malaga and it is an incredible city. The mountains and beach are right there. You will find a bunch of English speakers in the Fuengirola area. They have so many British expats in the area they have a Dunnes store. (which is a very popular British grocery/clothing chain. The Torremolinos area also has a lot of English speakers and it is a huge LGTBQ+ friendly community. Where I live in Malaga there are a lot of professionals in their early 30s but most of them wouldn't speak in English. Good luck!

reinavt
I'll make my case for La Coruna. It's a port city in Galicia has a great small city feel, beautiful beach, wonderful nightlife, great soccer which despite troubling seasons and recession still manages to have one of the highest home attendances in La Liga. There are 4 cities in Galicia and an old refran states that La Coruna se divierte (has fun).

AntonioPussInBandera
Gijón! You can even live in a house with land within city limits and on reach of public transport (15 mins to the centre), have plenty of beaches and hills great for hiking at your doorstep and amazing mountains within 45 mins drive.

Four_beastlings
I lived in Pamplona for 3 years and loved it. San Sebastián and it's lovely beaches are an hour away. The French border is an hour away. The Pyrenees mountains are an hour away. Las Bardenas, a great desert hiking/biking area is an hour away. So, an hour in any direction and you have something interesting to see. However, the winters can get a bit cold, compared to the south of Spain.

tpmaxwell2
Final thoughts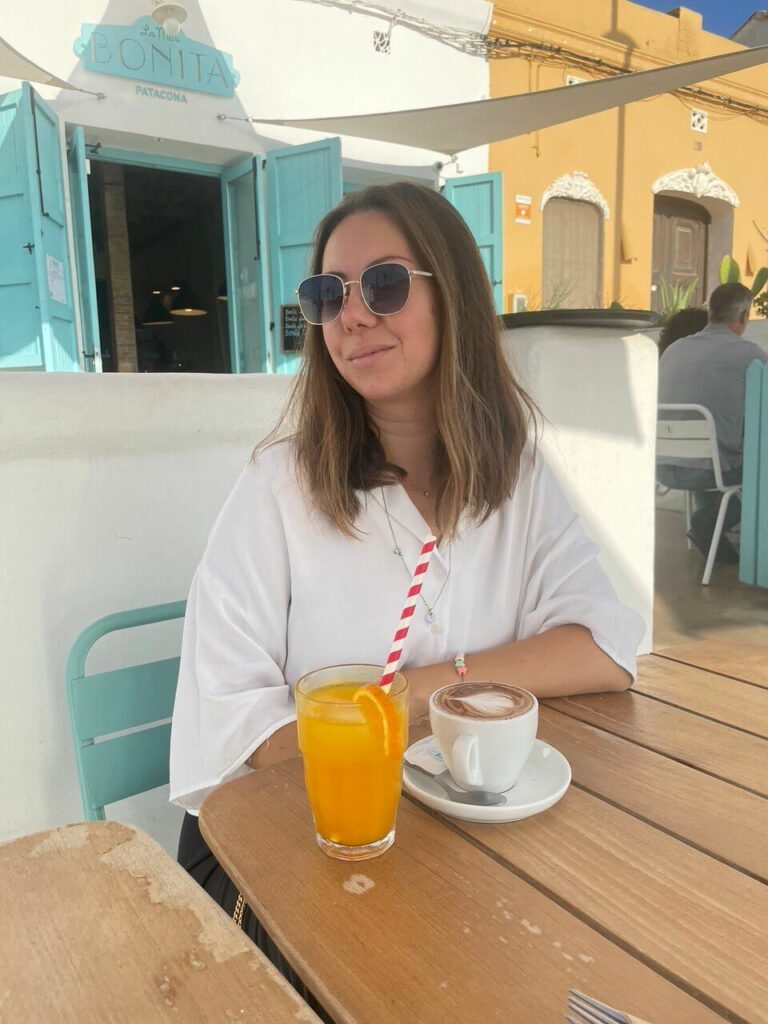 There's a lot to love about living in these Spanish coastal towns and locations near the sea, and there are some drawbacks as well. Remember, no place on Earth is perfect, and try it yourself to decide what works better for you.
Tip #1 Whatever your cost of living is in Madrid or Barcelona, you can probably cut it in half by living in a smaller Spanish town.
Tip #2 As a general rule of thumb, the north coast of Spain is more expensive than the south, and the bigger cities are more expensive than smaller towns and villages ("pueblos").
Tip #3 Don't plan on finding a highly paid job in Spain (unless you work in hotel sector, real estate, yachting and tourism), and many people struggle with that. But it doesn't mean that it's impossible, just keep that in mind and you're good.
Are you planning to live in Spain by the sea any time soon? Let me know your thoughts and doubts in the comments below!