11 Popular & Surprising Spanish Snacks and Tapas
Nadia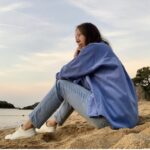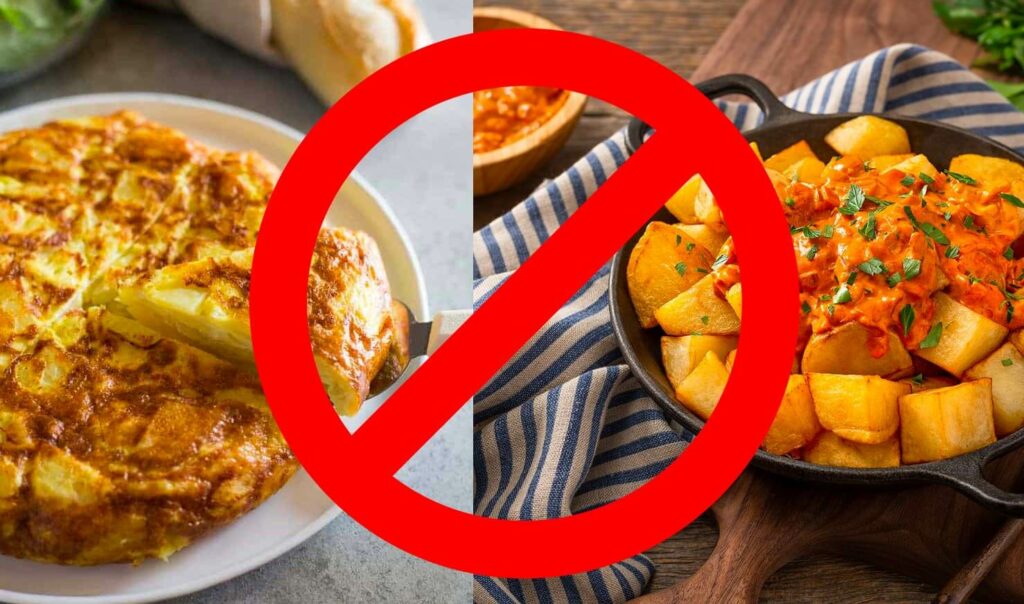 Many people who come to Spain for the first time don't really have a good idea of popular Spanish snacks and tapas. Their notion of tapas is based on tapas restaurants they've been to in Singapore or New York, and this is a reductive view of what tapas are in Spain.
If you're not living in Spain and are interested in Spanish food, this text is for you.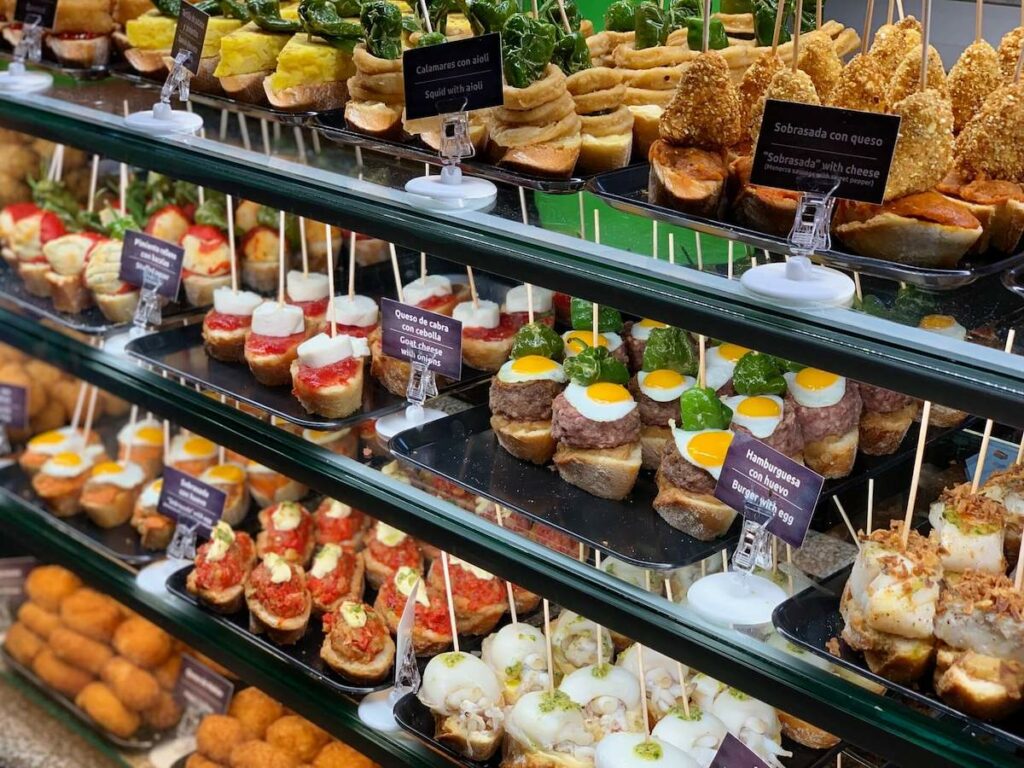 This review is not a typical kind of post describing the most famous Spanish food and tapas, such as "tortilla de patata" and "patatas bravas". I won't be focusing on these snacks that much. Instead, you will learn about more niche tapas and products in Spain.
These are the products and dishes I recommend you try if you can get your hands on them overseas or if you come to Spain.
Here is the list of the 11 best and most surprising Spanish snacks and foods. Some of them are my favorite food products in Spain, some are very popular and will be familiar to you, and some won't.
Okay, it is time to get stuck into these lovely Spanish products:
1. Boffard cheese
It is an aged blended cheese made with sheep and cow's milk, and it's not a typical Manchego cheese. This cheese comes from the north of Spain, the province of Valladolid, and has a smooth and creamy taste. You can find this cheese in most Spanish supermarkets and maybe overseas.
Also, a Regañá snack comes in very handy to eat the Boffard cheese with if you don't want to have something a little bit heavier, like bread, for example. It's a delicious, dried piece of bread with a slight hint of sesame and goes down as an absolute treat with a product like cheese.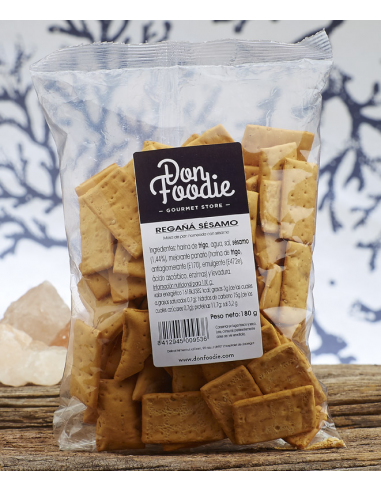 I normally take a slice of cheese and accompany it with one of these Regañás. So you've got an easy, simple tapper that everybody would like.
2. Pickled mussels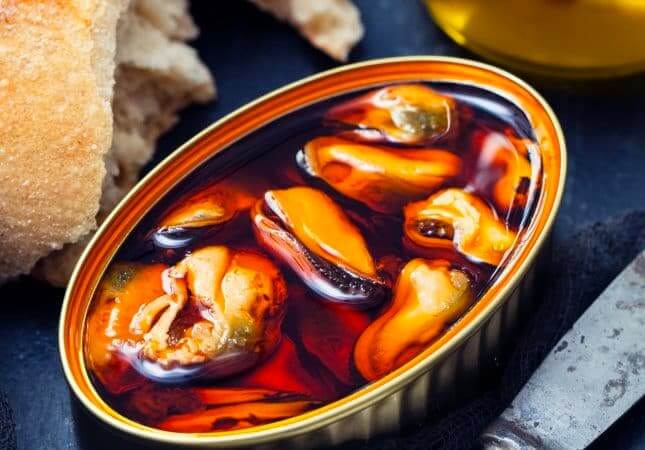 In Spain, they call it "Mejillones en escabeche," a nice brine mix that they put plump tasty mussels into. These are Galician mussels from the northwest of Spain.
How to eat? You put one mussel on a crisp or a chip, and that's it!
This was one of the first snacks I had in Spain when I came there. My friend's mother gave me a glass of beer, and she also gave me this exact tapa, mussels with crisp. It was absolutely sensational!
3. White asparagus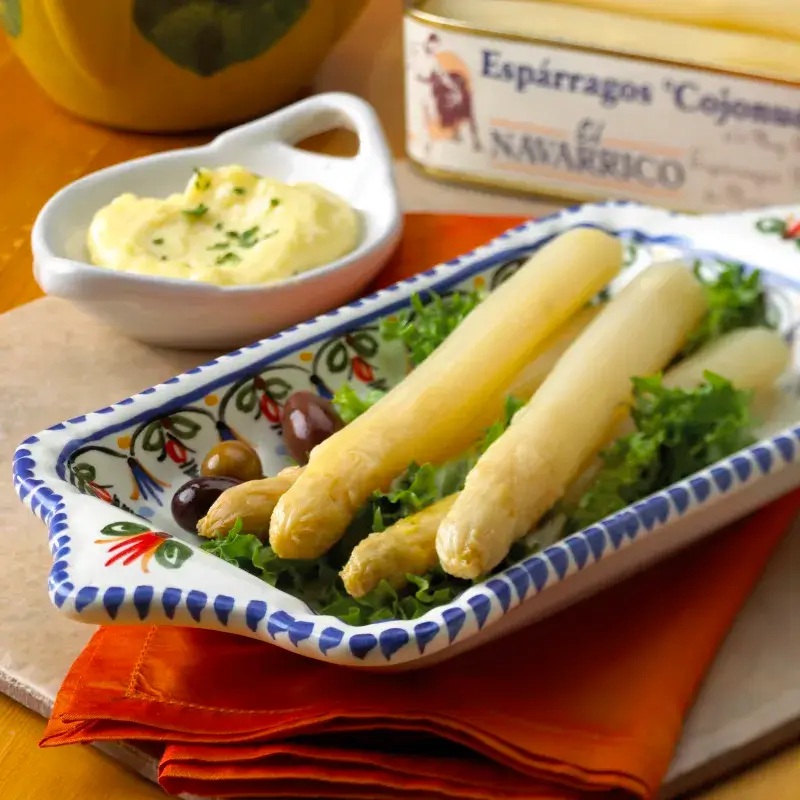 The following product on the menu today is white asparagus. I had never seen these before I came to Spain, but they are very popular here. There is a thin and fatter variety. A lot of people like to have them as an entree, especially on important occasions.
How to eat? You can eat it with a fork or your hands. Some people like to dip it in mayonnaise or have a little bit of mayonnaise on the side of the plate, but I prefer it on its own.
Tasty, sweet, white asparagus is a real delicacy in Spain, and it's not that expensive right now, something around €3. Definitely worth trying.
4. Fuet sausage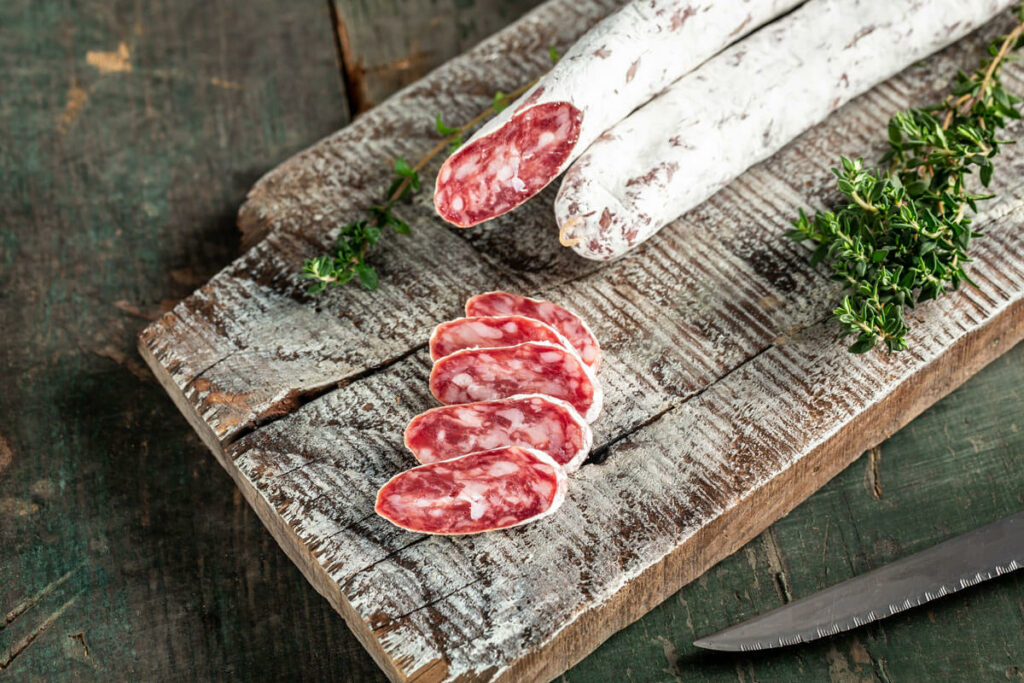 This product comes from the Catalonia region. It's a cured sausage comparable to more popular chorizo or salchichon (other Spanish sausages). Still, fuet is a lot smaller and a lot harder. Its distinct taste is not easy to describe and is not similar to spicy chorizo.
It's also one of my favorite Spanish snacks to eat on a Saturday or Sunday afternoon. If you're sitting down before lunch, a glass of beer or glass of wine with fuet would be a perfect weekend snack idea.
If you see it in a Spanish supermarket or if you see it in another grocery store around the world, I recommend that you try it.
5. Torta de aceite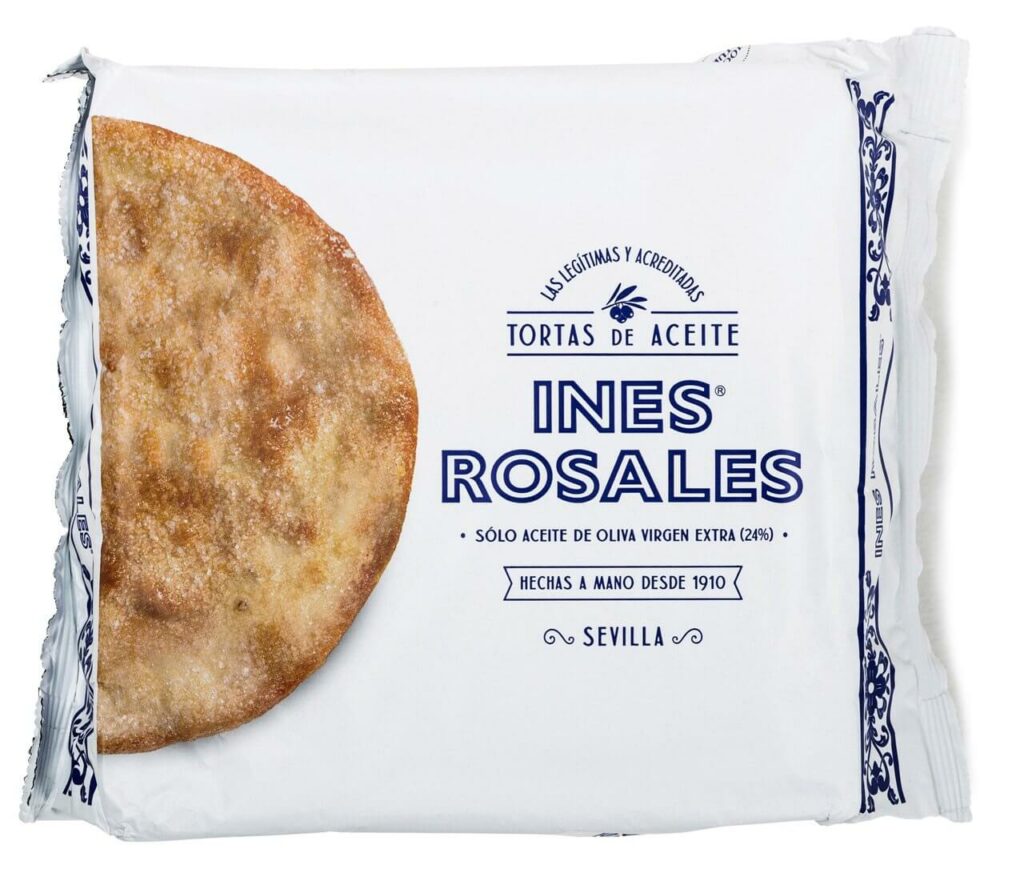 This is a sweet product, which also has become one of my favorite Spanish snacks over the last few years. Torta de aceite is from the south of Spain, and you can have it with your coffee every afternoon.
It's a fantastic product, a little bit sweet, a little bit savory at the same time. It's got a taste of aniseed in it as well. The brand name is Inés Rosales.
An excellent product if you want to sit down and have breakfast, afternoon snack, morning tea, or afternoon tea. Very tasty, highly recommended.
6. Extra virgin Spanish olive oil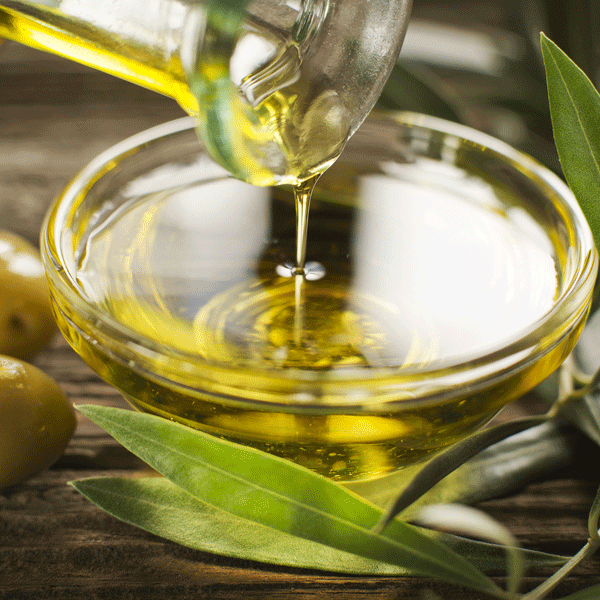 Spanish people use liters and liters of this product on a weekly basis. You can use it for cooking, you can use it to add to salads, and it is a very healthy alternative.
You can just have some fresh bread and dip it into this fantastic flavorsome olive oil. This is an absolute treat and one of my favorite products in this country! So, if you asked why I list virgin oil as a snack, it is how it's done.
7. Crusty bread with crushed tomato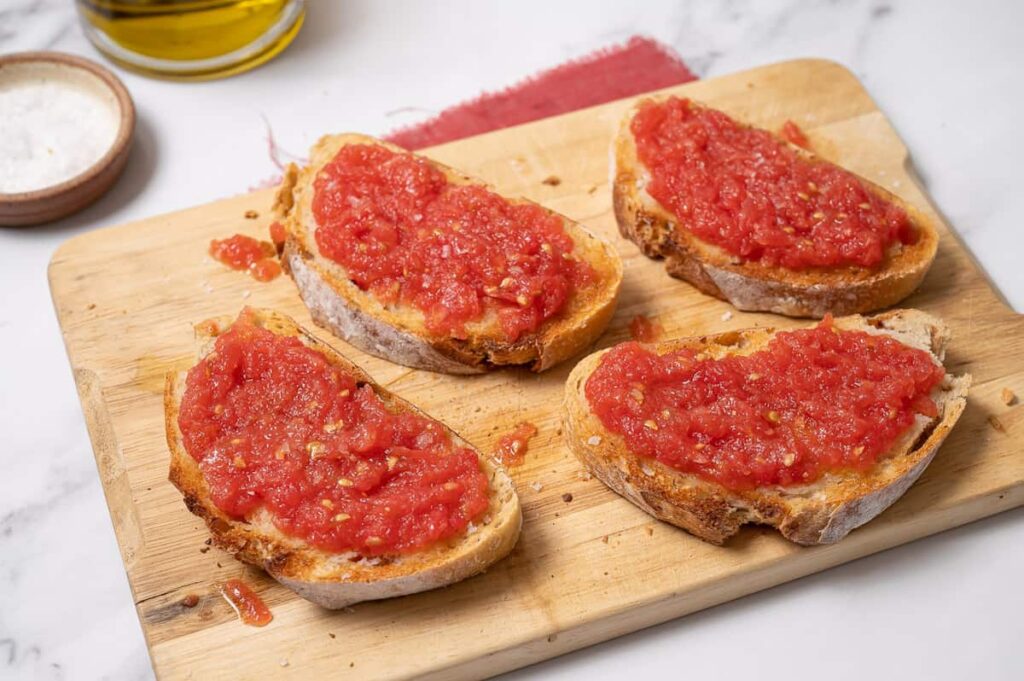 It is called "Pan con tomate" in Spanish, which is basically bread with tomato and some olive oil. Two types of bread are perfect for this kind of snack: the first is ciabatta bread, and the other is sourdough bread.
Use a serrated knife to cut the bread without pushing it down, then cut the bread into 1-inch slices and drizzle them with extra-virgin olive oil (EVOO) from both sides. Then put these slices on the heated grill to make them nice and crusty, and rub the garlic clove on them. Then put some crushed or shaved tomatoes or just rub half of the ripe tomato onto each slice.
Tip You can add some shaved serrano ham and some parsley onto the top of your "pan con tomate."
8. Gilda Pinchos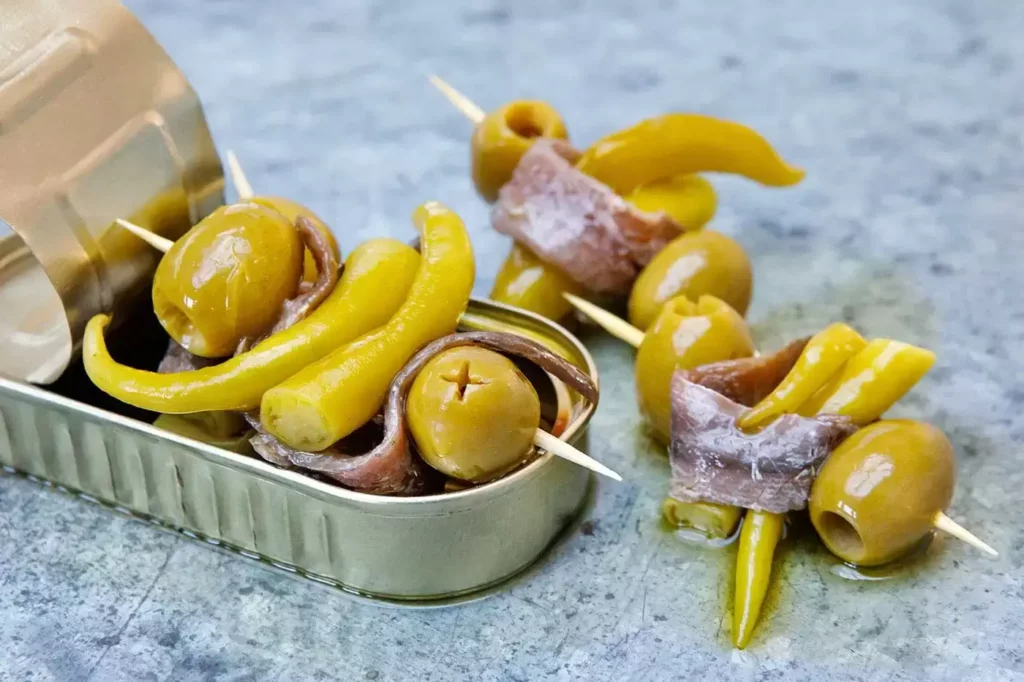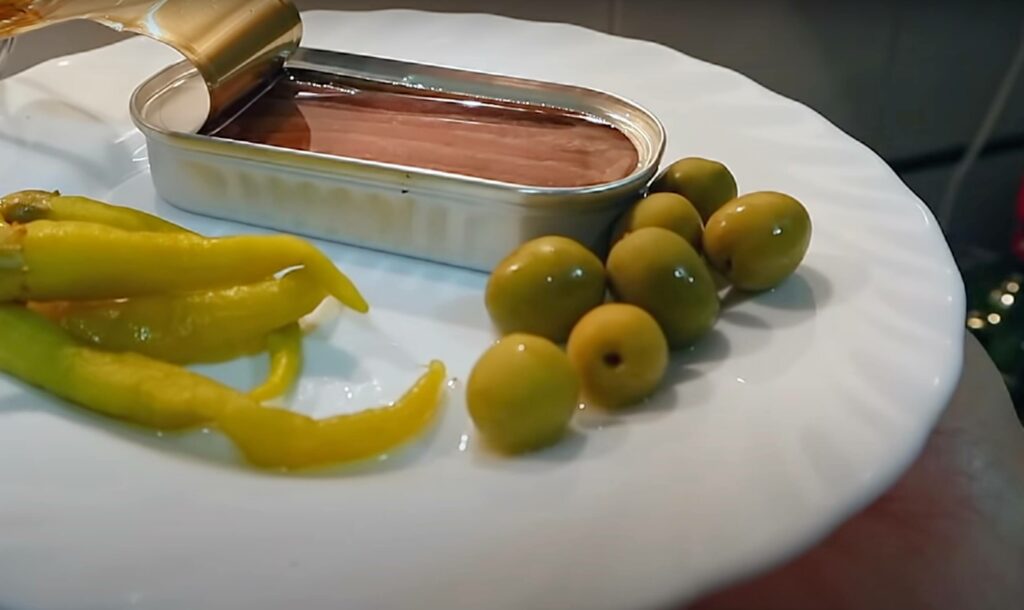 This is an excellent starter snack for every Spanish party. The recipe comes from the north of Spain, the Basque country. Suppose you serve this to people when they're having their first sip of wine or whatever it is at the beginning of the party. In that case, their appetites will be open, and their taste buds will go nuts!
How to make: prepare some tooth sticks, olives, anchovies, and pickled peppers. The order of the ingredients is crucial. Chop peppers in half and put all of the ingredients on a tooth stick in this order: olive, pepper, anchovy, pepper, olive.
9. Smoked salmon with Philly cream cheese and dill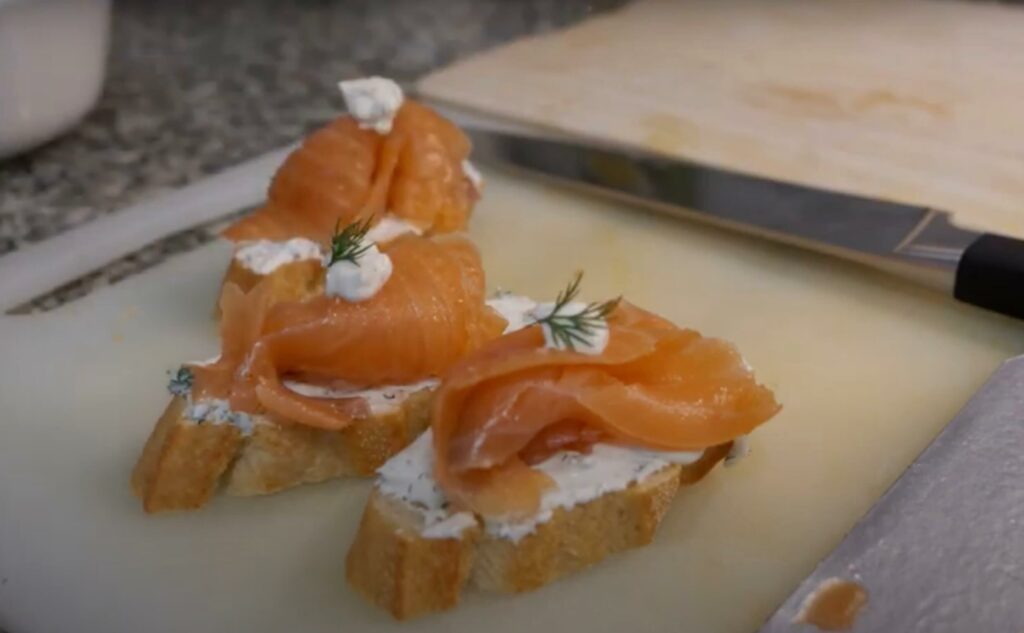 Take some dill, slice it, and put it in the bowl. Then, mix a little bit of Philadelphia cream cheese with the dill and put it onto the slice of bread of your choice. Add smoked salmon and put some cheese on top. That's it, very simple and easy!
10. Mini tortilla snack with Jamón Serrano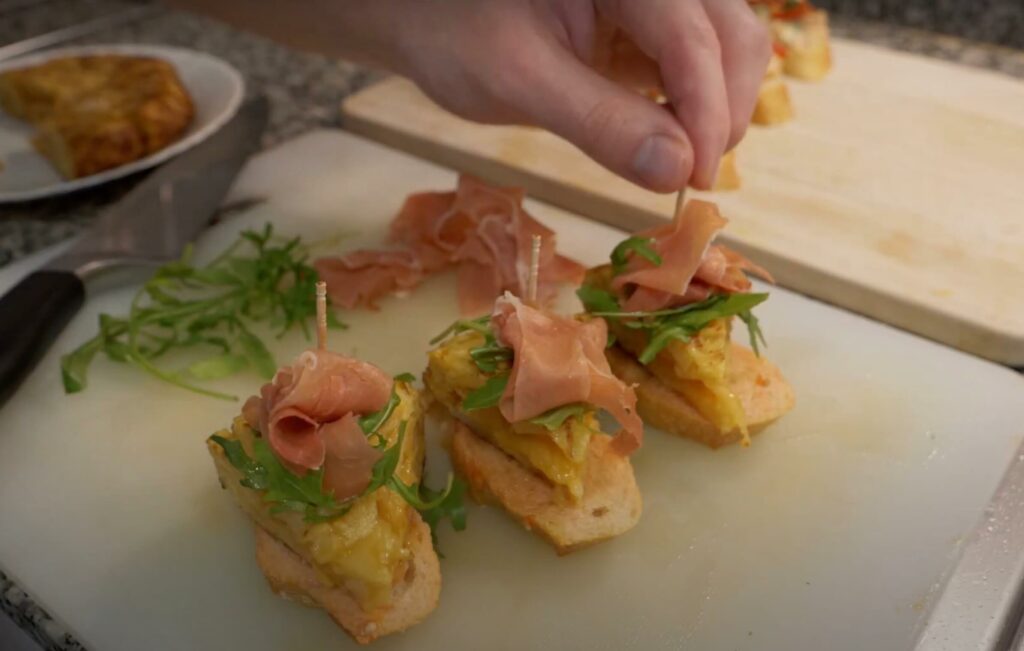 There are two options. You can buy a Spanish tortilla in the local supermarket or prepare it yourself (which goes a little bit beyond this text, but you can check some videos on Youtube).
Cut the tortilla, and put it on top of the bread. Add some arugula, a slice of jamón serrano (Spanish cured ham), and that's it!
11. Manchego cheese with tomato and Jamón Serrano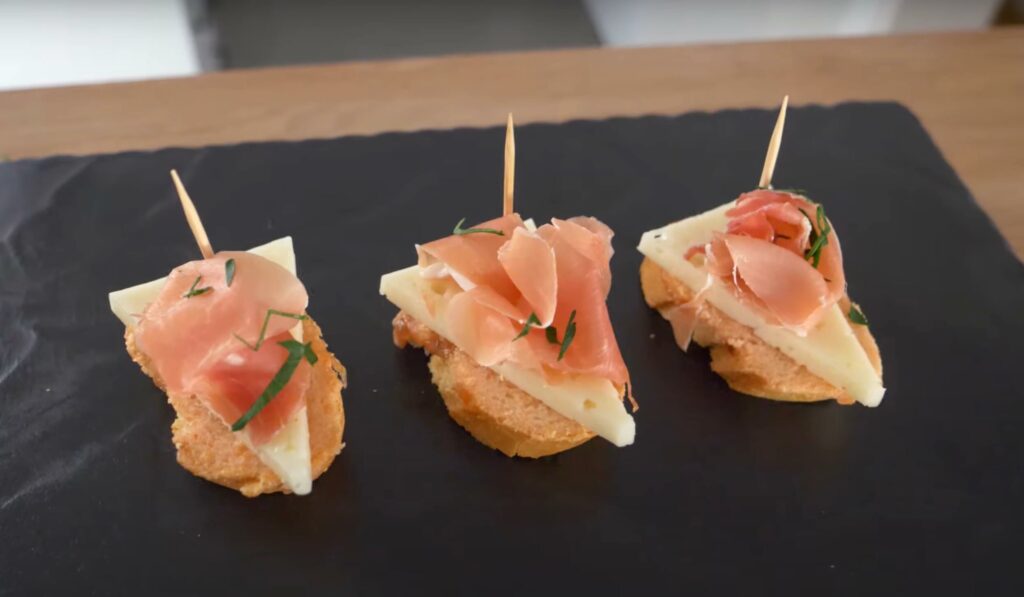 Let's start with jamón. Jamón Serrano is a bit cheaper than Jamón Iberico, and they both have different tastes, so you can go with any option you like.
Take a tomato, cut it in half (sideways), and spread it on the piece of bread. Then, take extra-virgin olive oil and spread it on the bread. Put a slice of manchego cheese and a bit of jamón (peel some extra fat off it). Finally, sprinkle some parsley on top, skewer it, and you're done!
Other popular Spanish tapas and snacks ideas
Crispy patatas bravas
The variety of Spanish croquetas
Patatas alioli
Pimientos de padrón
Paprika almonds
Chorizo in apple cider
Caramelized onion and goat cheese
Ensaladilla Rusa (Spanish tuna & potato salad)
Grilled shrimp
Gazpacho
Albóndigas (Spanish meatballs)
Open-faced crab empanadas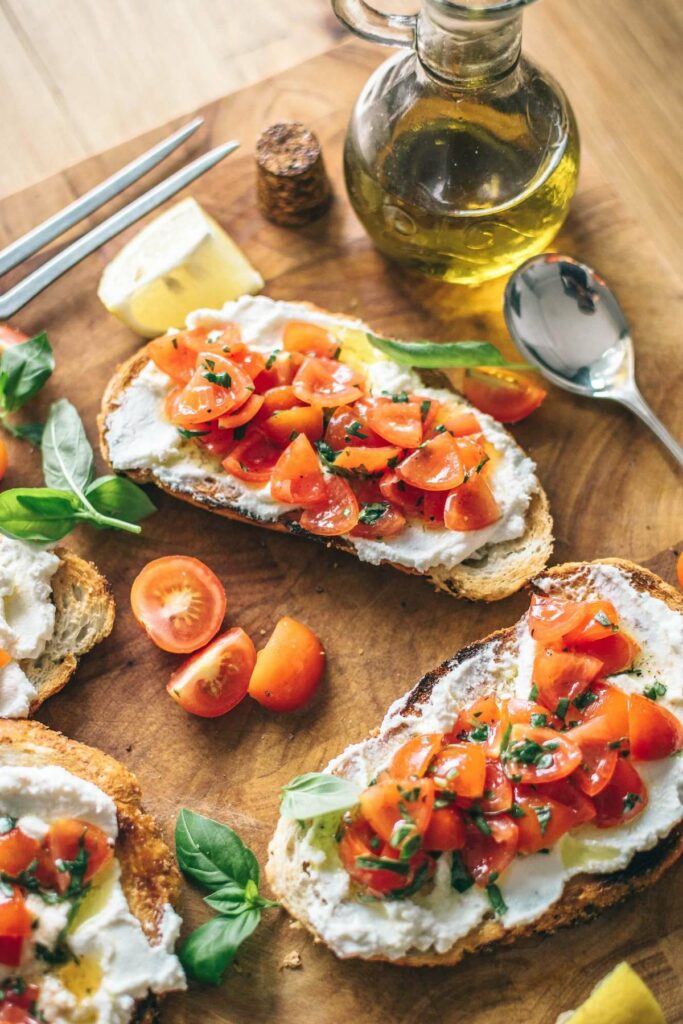 What is the Spanish word for snacks (5 letters)?
Searching for the crossword clue? Here you go, the Spanish word for snacks is tapas ['tah-pahs]. According to Rae.es, tapa is a small portion of some food that is served as an accompaniment to a drink.
Also, the Spanish people use these words: aperitivo, bocadillo, almuerzo, merienda.
What exactly are tapas?
To many of us, tapas are small plates of food, a kind of appetizer. Sometimes they're served as an appetizer, but sometimes people just order a bunch of tapas, which would be their meal.
So, tapas are appetizers, and at the same time, tapas are not appetizers! Tapas can be small plates of food or big plates of food. It can be free, or you can pay for it.
Final thoughts
I adore Spanish cuisine, and now you maybe see why. There are so many tapas and snacks, and I've been mouthwatering non-stop while writing this article!
Some of the tapas are super-easy to make, and it only takes two or three ingredients, so I hope you now have a better idea of the Spanish snacks and tapas culture!
See also: best seafood restaurants in Valencia, Spain
Love fine dining? See the best Michelin star restaurants in Barcelona.
This post might include some affiliate links. If you make a purchase through these links, I may earn a small commission at no additional cost to you. I appreciate it when you use my links to make purchases.