13 things to do in Sitges, Spain
Nadia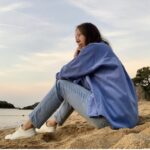 Catalonia, one of the most beautiful Spanish regions, is mainly known for Barcelona. However, you can drive just for 30 minutes along the coast, and you will find yourself in charming Sitges, which is definitely worth your time.
Sitges is a Mediterranean coastal town located in a secluded place between the Mediterranean sea and the mountainous Parc Natural del Garraf in Catalonia, Spain. It is situated about 35 km southwest of Barcelona and is best known for its beaches and nightlife.
Read also: Best day trips from Barcelona
The city offers everything tourists need and satisfies all preferences and interests. Are you a party-maker who seeks bar crawls and clubs? Sitges is known for the best nightlife and tons of festivals. Or do you prefer little hiking expeditions and taking beautiful photos? This city might be one of the most picturesque treasures of Spain.
---
Key takeaways
Visit the beaches: Sitges is home to some of the most beautiful beaches in Spain.
Check out the churches: There are many stunning churches within Sitges, including Sant Bartolomé y Santa Tecla and La Iglesia de Santa María del Mar.
Visit Cau Ferrat Museum and Museu Romàntic to glimpse local history and culture.
Enjoy nightlife: Sitges has plenty of bars and clubs that stay open late into the night. And Street of Sin is a must-visit for party lovers.
---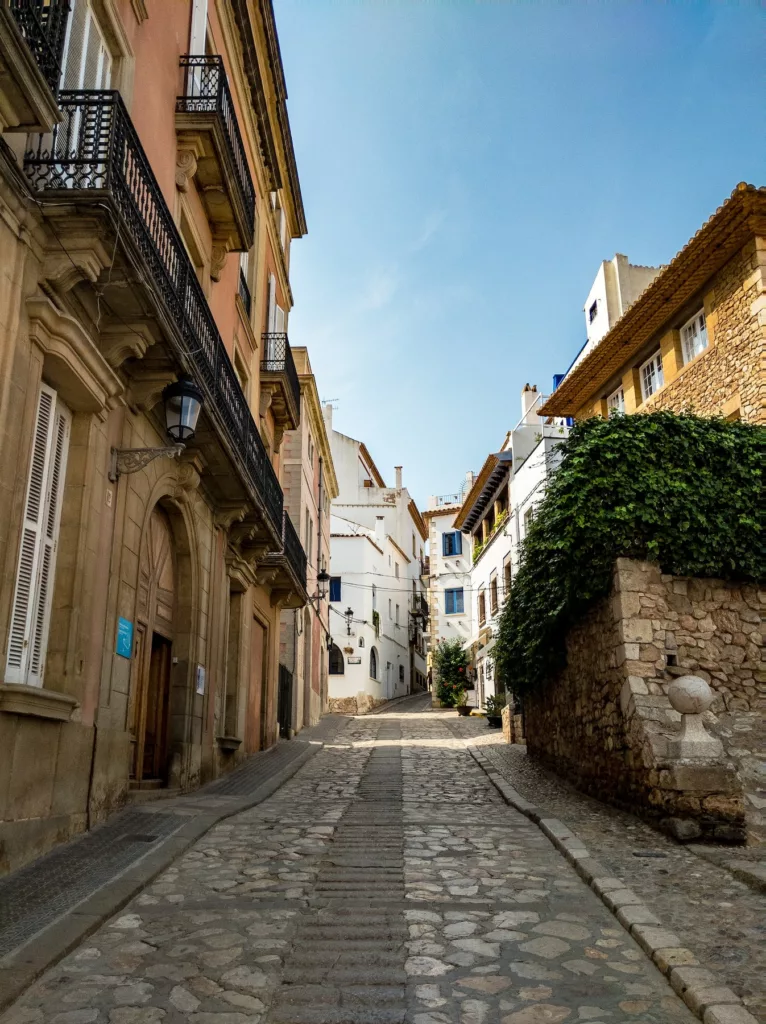 Where is Sitges?
Now let's talk about things to do and see in Sitges.
1. Relax on the beach
Beaches (or "platjas" in Catalan) should be the first item on your Sitges bucket list. On arrival, head straight to San Sebastian beach (the closest beaches are a 10-15 minute walk from the train station) to dive into this crystal clear sea.
The coastline extends for a few miles, so enjoy walking along 19 (!) beaches, all provided with facilities (lifeguards, deck chairs, sun loungers, showers), and choose whatever you like the most.
If you stay in Barcelona, I highly recommend you come to Sitges to swim – the water here is incomparably cleaner (remember, the water is relatively cold from November to April).
Sitges is LGBTQ+-friendly
Sitges is also known as one of the most liberal and "open-minded" cities in the world: it is a top-rated destination for gay couples. For instance, Platja de la Bassa Rodona is the most comfortable beach for the LGBTQ+ community.
And if you like sunbathing with your clothes off, go to Platja d'Aiguadolç and Platja dels Balmains – the two main nudist beaches in the city. Don't worry if you're not ready for such an intimate experience – that is not an obligation there!
See this beautiful 4k video about Sitges:
2. Take photos at Sitges port
As a coastal city, Sitges is riddled with ports and lovely piers, and my personal favorite is the pier in Aiguadolç port. Couples adore this romantic spot: countless proposals have been made here.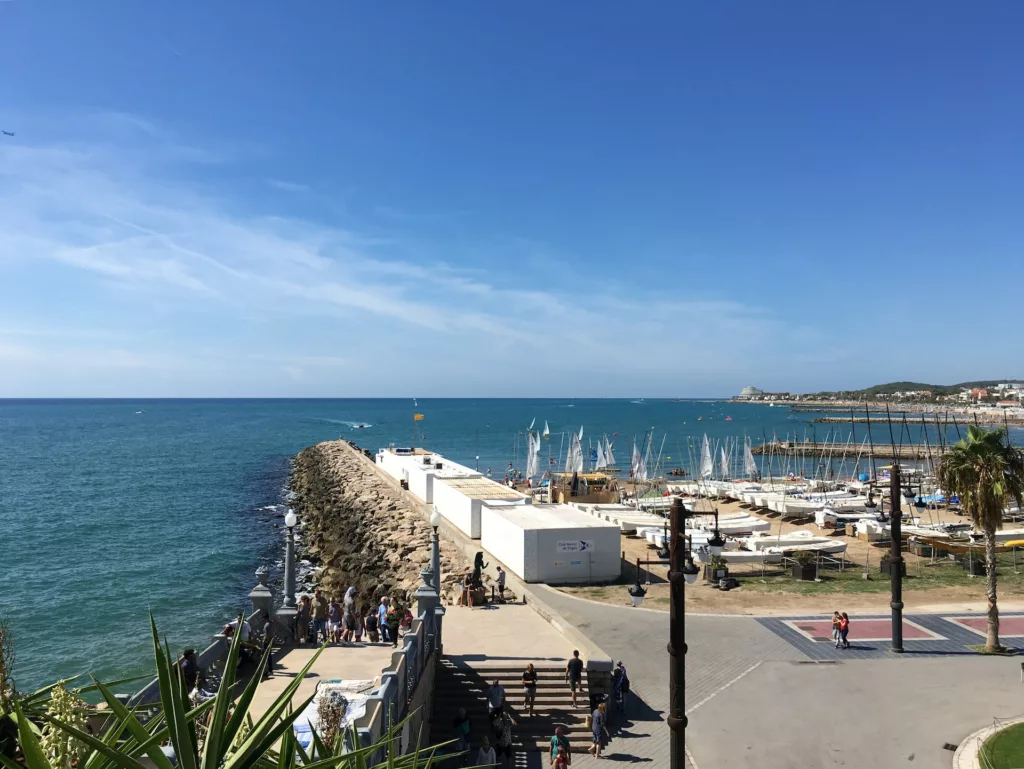 If you arrive at 5 pm, you will likely catch a Golden hour (the time of the day with the best lighting) and take the best pictures of Santa Tecla church, sailing boats, and Balmins beach. Then head toward the end of the pier to get an immaculate panoramic view of the city.
The pier is not far from the city center – just 15 minutes walk. There are plenty of great restaurants and clubs, so the spot is just perfect!
3. See the church of Sant Bartomeu and Santa Tecla
If you check the postcards at souvenir stores of Sitges, Sant Bartomeu and Santa Tecla will appear on half of them as that's the central city's landmark. It is a beautiful 17th-century church on a small hill right by the beach and visible from anywhere in the town.
Helpful tip You can take the best pictures of the church from the rocks on the beach.
4. Explore Museo de Maricel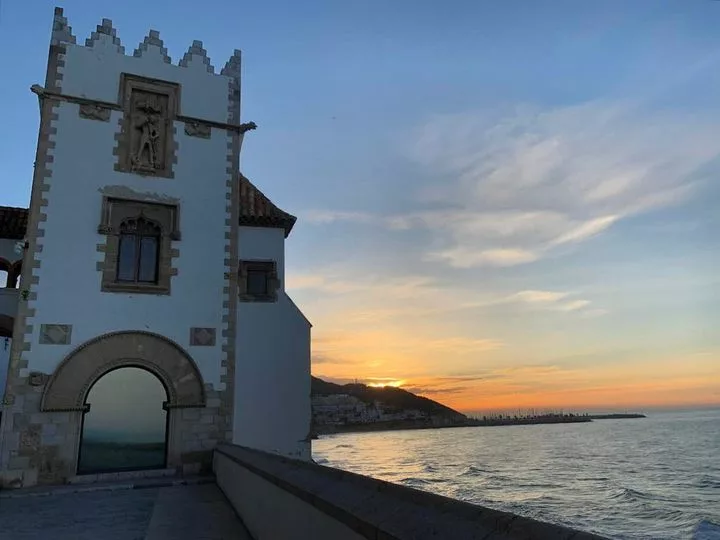 Apart from the thrilling nightlife and stunning nature, Sitges offers decent cultural recreation activities. For instance, Museo de Maricel definitely deserves to be discovered. The museum displays artworks dating from the 10th to 12th centuries, including pieces acquired by Dr. Jesús Pérez Rosales, a Spanish doctor and a famous art collector.
You can also explore Romanesque and Gothic altarpieces and sculptures on the second floor. Then go downstairs to see the Luminist School artists and neoclassicists. The ground floor offers a breathtaking sea view through gorgeous beige arches and three 20th-century sculptures by Joan Rebull.
5. Walk along the Sitges promenade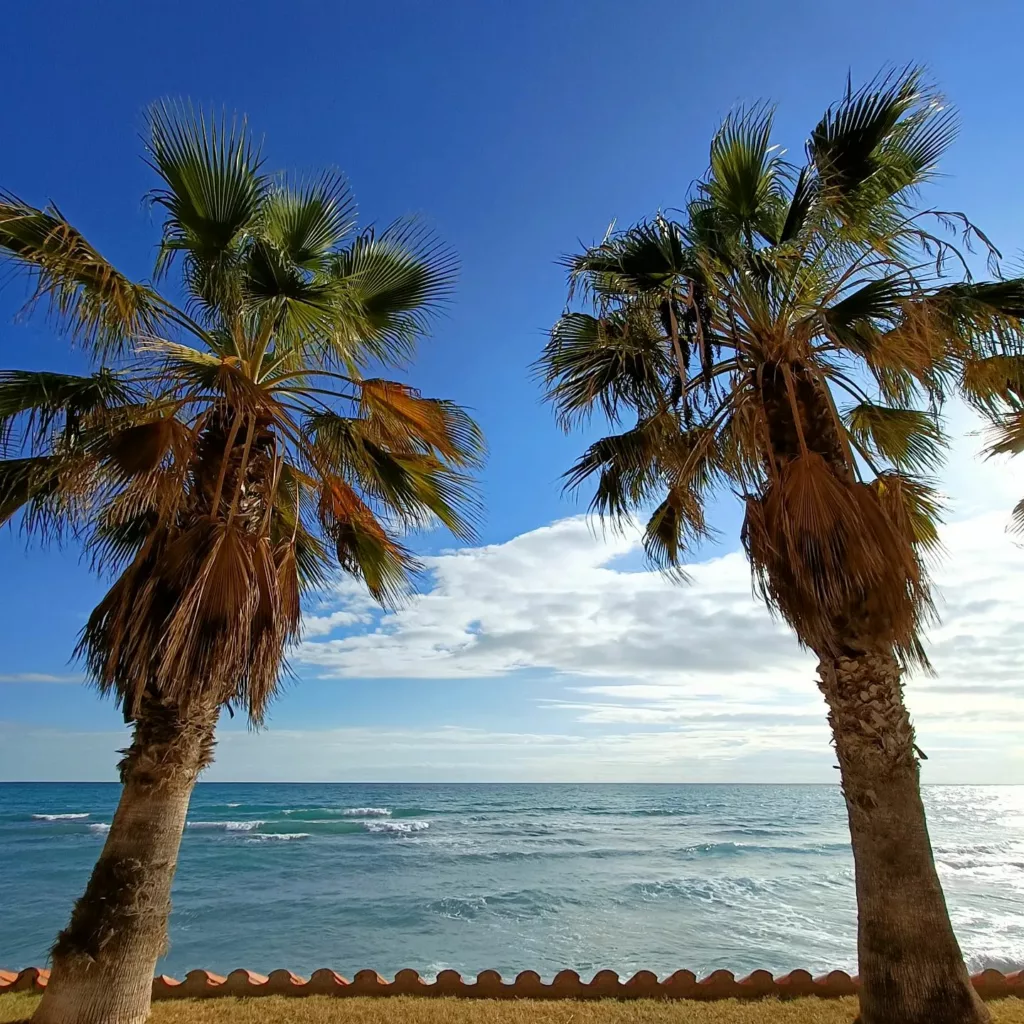 Start next to Tecla Church and walk west, passing by little cafes, kiosks, and street vendors, admiring the sea on the left and the beautiful buildings on the right. You will see skateboarders, cyclists, kids, and old couples on the way, so the boulevard is a perfect way of getting to know the Spanish lifestyle better. So take away some tapas, grab a beer, and enjoy your walk!
6. Hike along the coast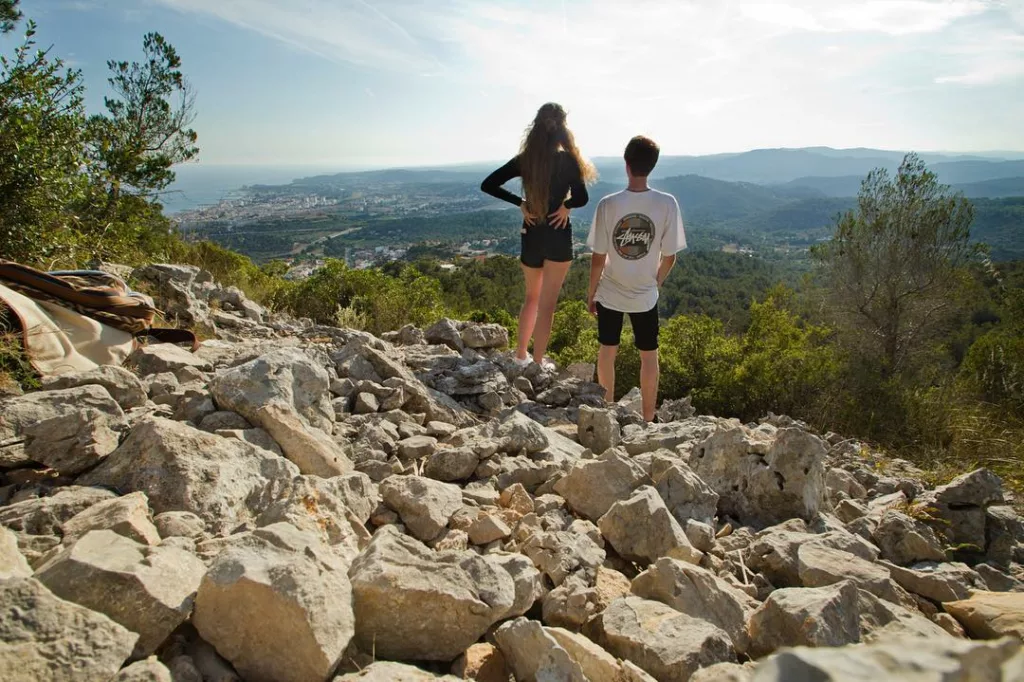 Sitges location is perfect for walking and hiking as the Garraf Massif mountain range shrouds the coastline and opens up excellent options to reach the most beautiful viewpoints. There are around 19 trails suggested so you can choose the best depending on your physical training, the length of the route, and the spots you want to observe. Enjoy high pine tree forests, crystal-clear quiet coves below, and the pristine scenery of the endless sea.
There is also a clothing-optional beach you can only find by hiking called Playa del Muerto. To get here, follow the promenade in the direction of the Sunway Hotel and start walking parallel to the train tracks. Swimming after hiking according to such a plan is an unforgettable experience!
7. Learn about Art Nouveau
Looking at Art Nouveau architecture in Sitegs is well worth it. Art Nouveau/Modernism is a compelling visual arts style typical for the 1890s-1910s period. If you see a mix of asymmetrical shapes, mosaics, curved lines, and leaves, it is definitely Art Nouveau.
To see examples of this style in Sitges, head to Calle Francesc Guma or Calle Illa de Cuba. You will find Casa Manuel Planas with beautiful, weird-shaped windows, Casa Pere Carreras decorated with carved patterns, and Can Bonaventura Blay, which operates as a hotel. Complete your little expedition with Cau Ferrat Museum.
8. Visit Cau Ferrat Museum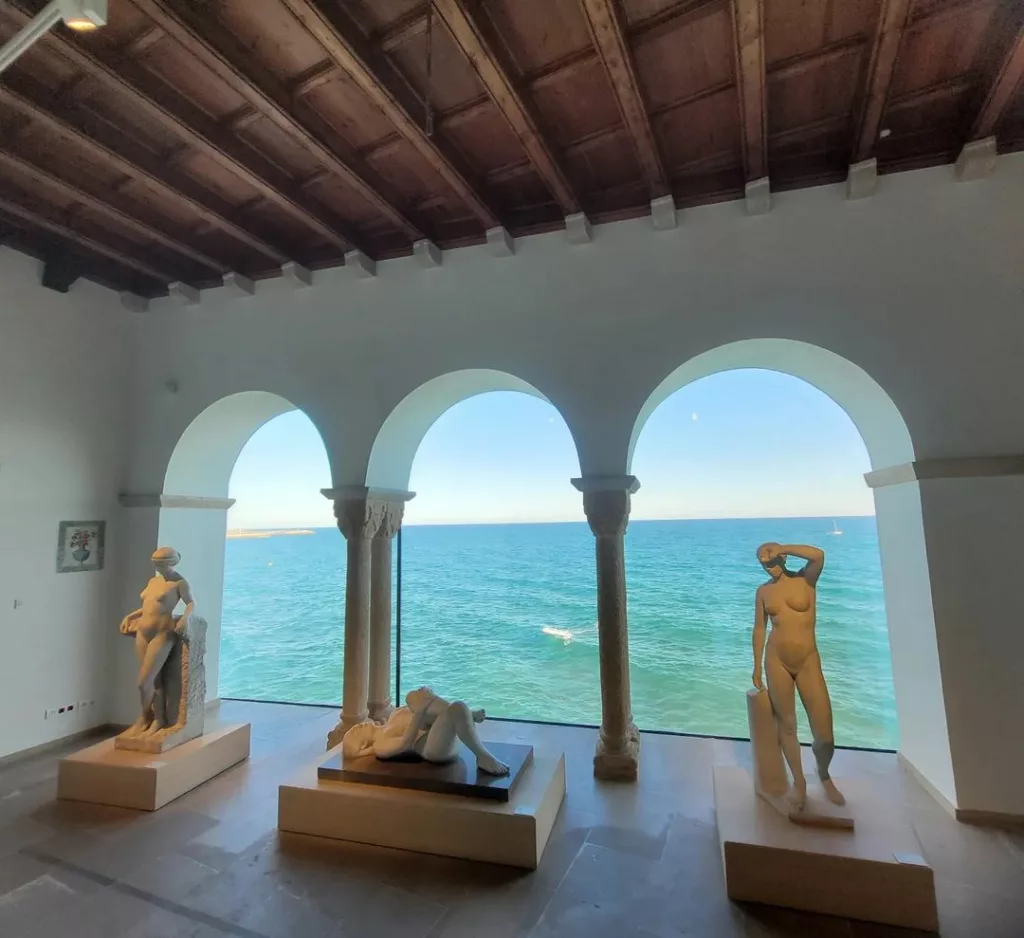 Cau Ferrat Museum is another must-visit spot. The building used to be the residence of Santiago Rusiñol, one of Catalonia's most influential figures in the Spanish modernism movement. The museum offers a collection of drawings, paintings, sculptures, and applied arts items: ironwork, glassware, ceramics, and furniture.
Appreciate colorful twisted glass jars, exquisite lamps, ceramic soup tureens from the 16th century, and beautiful pieces of furnishing that often are left neglected but in vain. The rooms' design is striking: walls are navy blue and decorated with mosaics and plates of different sizes, and a little fountain is situated right inside (it's not working, though.)
Cau Ferrat Museum is a unique cultural experience you can get while in Sitges.
9. Visit Bacardi Museum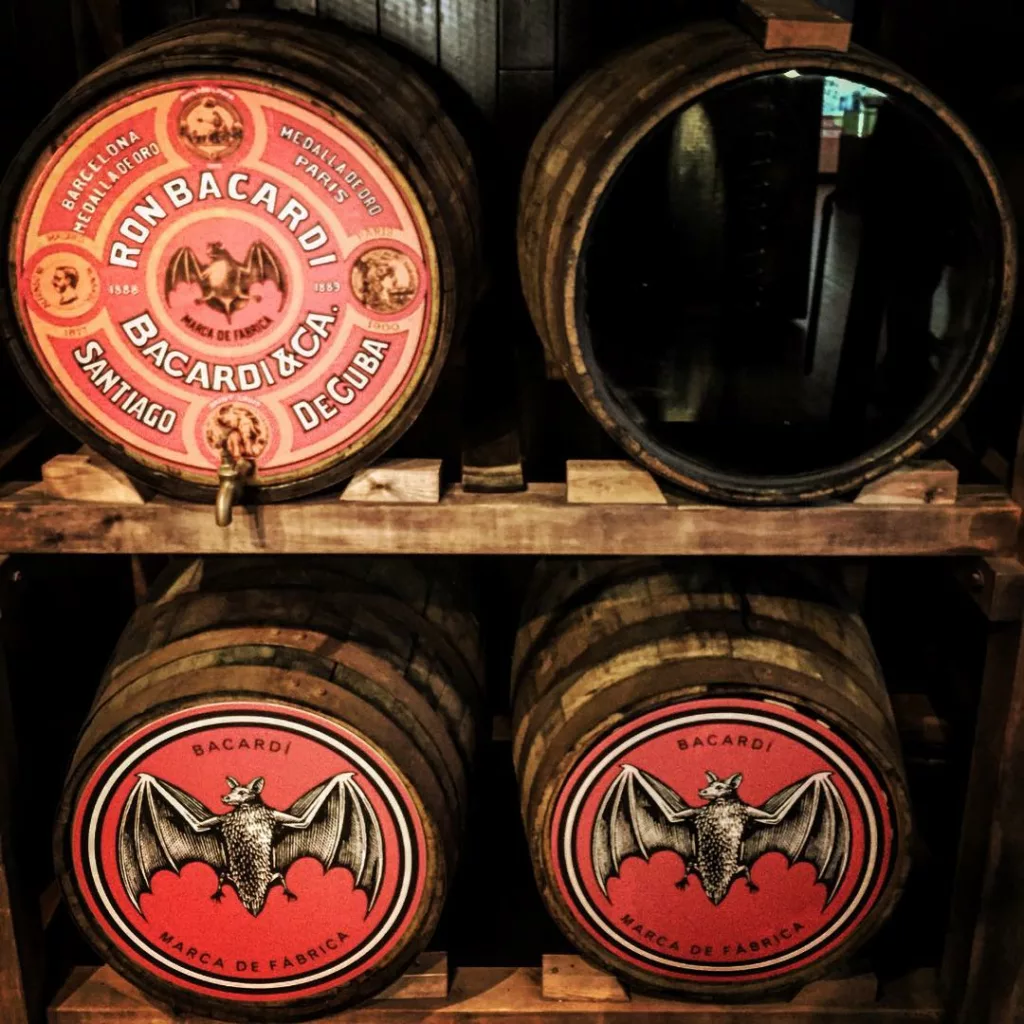 Did you know that the author of a Bacardi rum Don Facundo Bacardi Massó, was born in Sitges? Although he lived most of his life in Cuba, this house emphasizes that Bacardi rum "originated" in Sitges.
You will learn all the drink recipes revealed by Bacardi's family members, the history behind the Bacardi logo, and many more secrets about this famous drink.
10. Go to a festival
Whatever season you visit Sitges, you will likely catch one of the various festivals. For example, movie lovers might consider visiting Sitges International Film Festival held in October: it has been run here since 1968 and specializes in horror and fantasy films.
A bunch of exciting festivals take place in summer, like the Gay Pride and flower carpet Corpus Festival held in June, along with the Feast of Sant Bartomeu, celebrated in August and devoted to the town's patron saint.
Even if you come in winter, there is Sitges Carnival, one of the ten biggest carnivals in the world. It takes place in February-March and lasts for a week. The festival is wild: Fireworks, tons of alcohol, fancy costumes, and people dancing crazy at the clubs.
11. Check out Pink Triangle Monument against homophobia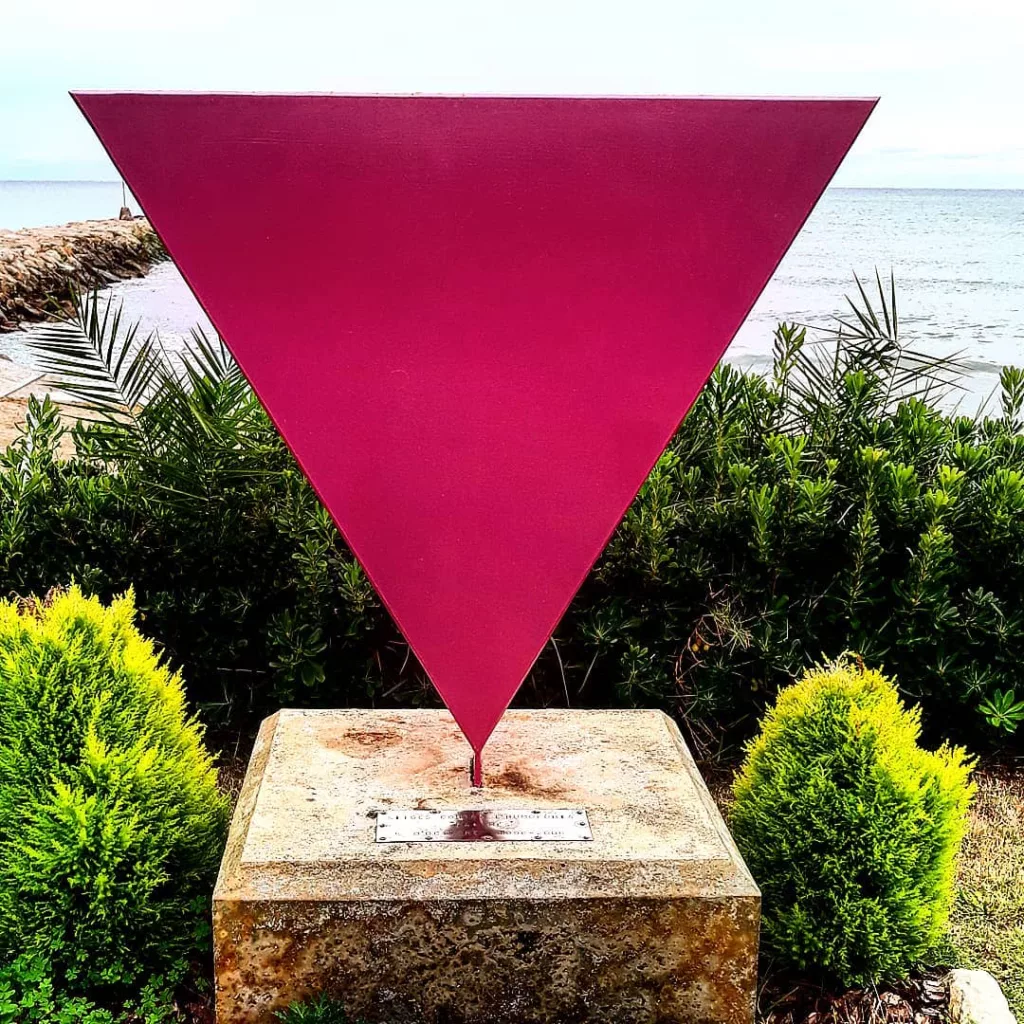 This monument is significant for Sitges as one of the most LGBTQ+-friendly cities in Europe. Pink Triangle symbolizes the fight against ignorance and reminds us of how far advanced Spain has become over the years. You will find this symbol between Platja de l'Estanyol and Platja de Sitges.
12. Go bar hopping
Make sure to secure at least one night to go bar hopping and get the complete Sitges experience, as the city is stuffed with bars and clubs that match any preferences.
Check out Gin Tab or Tres Quarts pub if you want to have a casual conversation with your fellows and pass on a couple of beers.
Do you want to dance till 6 am? Go to Carrer Primer de Maig ("The street of sin"). The most sensational parties take place there! There are also numerous gay bars with the best drag shows in the town.
13. Try local cuisine
Pintxos is a Catalonian name for tapas, and here, in Sitges, you can try tons of them. Guria Taberna and La Picara offer delicious and budget-friendly patatas bravas (probably the most famous Spanish tapas) and jamón. Another lovely spot is Nem Sitges, famous for tapas-like dishes with fusion flavors.
As for the higher level of gastronomic experience, Zakrendezvous restaurant suggests top-notch Mediterranean dishes and entertaining shows featuring professional dancers. Alfresco is more of a family-vibe spot with a lovely garden inside and excellent examples of Spanish cuisine.
Frequently Asked Questions
What is the most common thing to do in Sitges?
Most people come here to enjoy well-developed beaches and crystal-clear water. If you stay in Barcelona, don't hesitate to have a day trip – the difference is colossal!
Is Sitges LGBTQ+-friendly?
Sitges is known as one of the most LGBTQ+-friendly places in the world. There are gay beaches, bars, and clubs where the community members feel comfortable and safe.
What is the unique place to visit in Sitges?
Casa Bacardi because drinking the rum in its creator's hometown is an authentic experience!
What events can I visit?
Apart from weekly club parties, enjoy the local festivals, such as Feast of Sant Bartomeu, Sitges Carnival, Gay Pride, or Sitges International Film Festival. 
Final Thoughts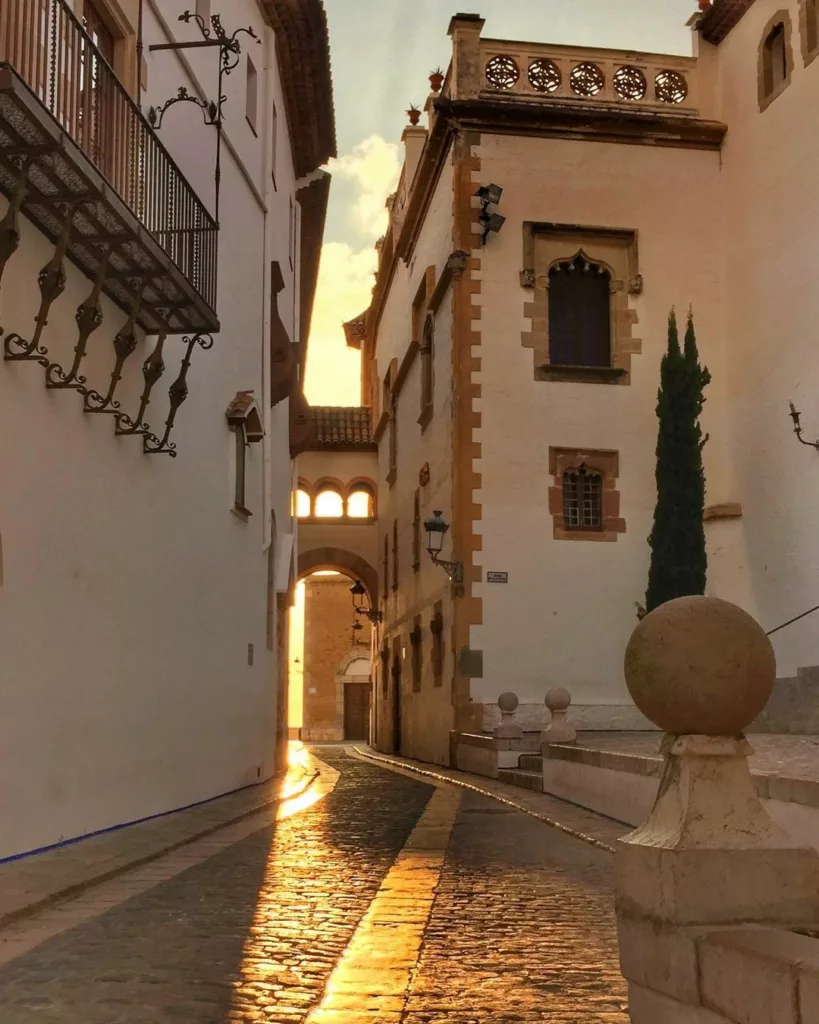 Sitges is the perfect destination for exploring a beautiful, culturally-rich seaside town. With its stunning beaches, thrilling nightlife, and a great selection of cultural activities, there's something for everyone in Sitges.
Whether you're looking for an adventure or just beach leisure with friends or family – this coastal city has it all. I recommend this city to young people and travelers keen on an active lifestyle.
From romantic sunsets at Aiguadolç port to exploring Museo de Maricel and hiking along the coast – there are many different ways to experience Sitges. Don't forget to try some local cuisine while you're here too!
This post might include some affiliate links. If you make a purchase through these links, I may earn a small commission at no additional cost to you. I appreciate it when you use my links to make purchases.