29 Top Things to Do in Tenerife & Places to Visit in 2023
Sergio Fomenkov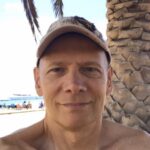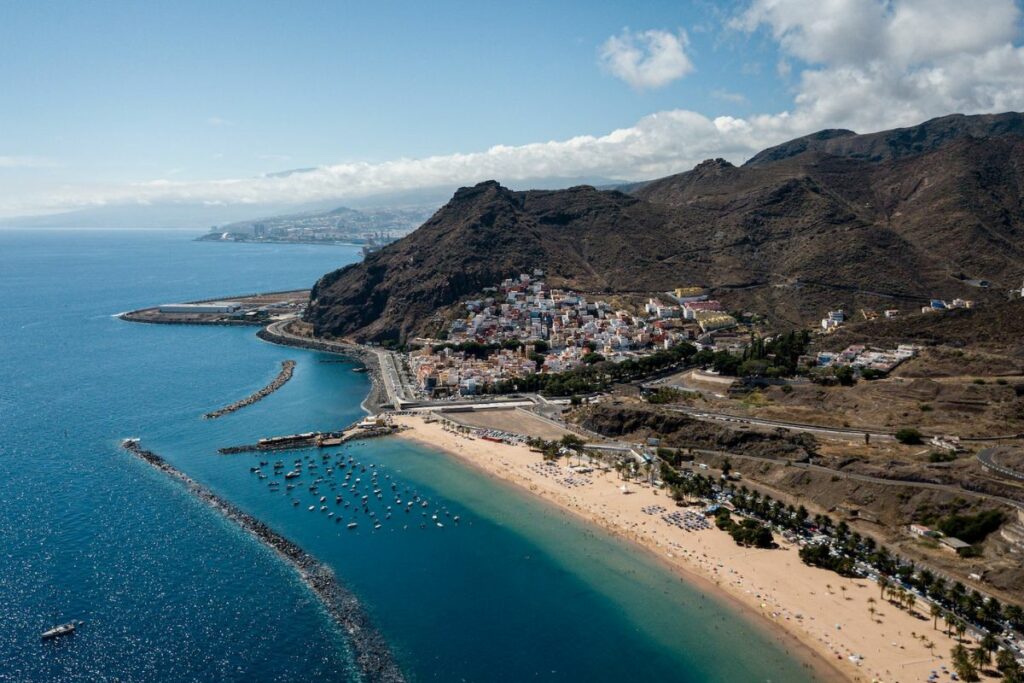 Tenerife, the largest island of the Canary Archipelago, welcomes guests with a consistently mild climate and a clear ocean. The island is divided into a humid north, replete with lush vegetation, and a sunny, dry south, devoid of rain, by a mountain range housing the majestic Teide volcano.
Tenerife's climatic and natural features, advanced transport network, and tourist infrastructure provide an array of astounding entertainments and must-visit places tailored to suit every taste.
These memorable experiences will likely stay with you for life. While it's improbable to cover all the island's attractions in a single trip, once you fall in love with it, you'll undoubtedly want to return.
---
Key Takeaways
Top 5 Things to Do: Go to El Teide (and spend a night there!), swim in the ocean, visit Masca Village, Los Gigantes, and Anaga Park.
Tenerife boasts over 70 beaches, featuring both black volcanic and imported yellow sands.
Tenerife is best for water sports, biking, and hiking.
You can explore natural parks, deep gorges and mountain peaks, and even visit ancient pyramids.
Other keywords related to Tenerife: Guachinche, wines, gastronomy, La Laguna.
---
A Map Top Things to Do in Tenerife
Best Things to Do in Tenerife
Spend a night at Mount Teide
Visible even from other islands in clear, cloudless weather, Mount Teide stands as the highest peak in Spain at 12,198 feet (3,718 m).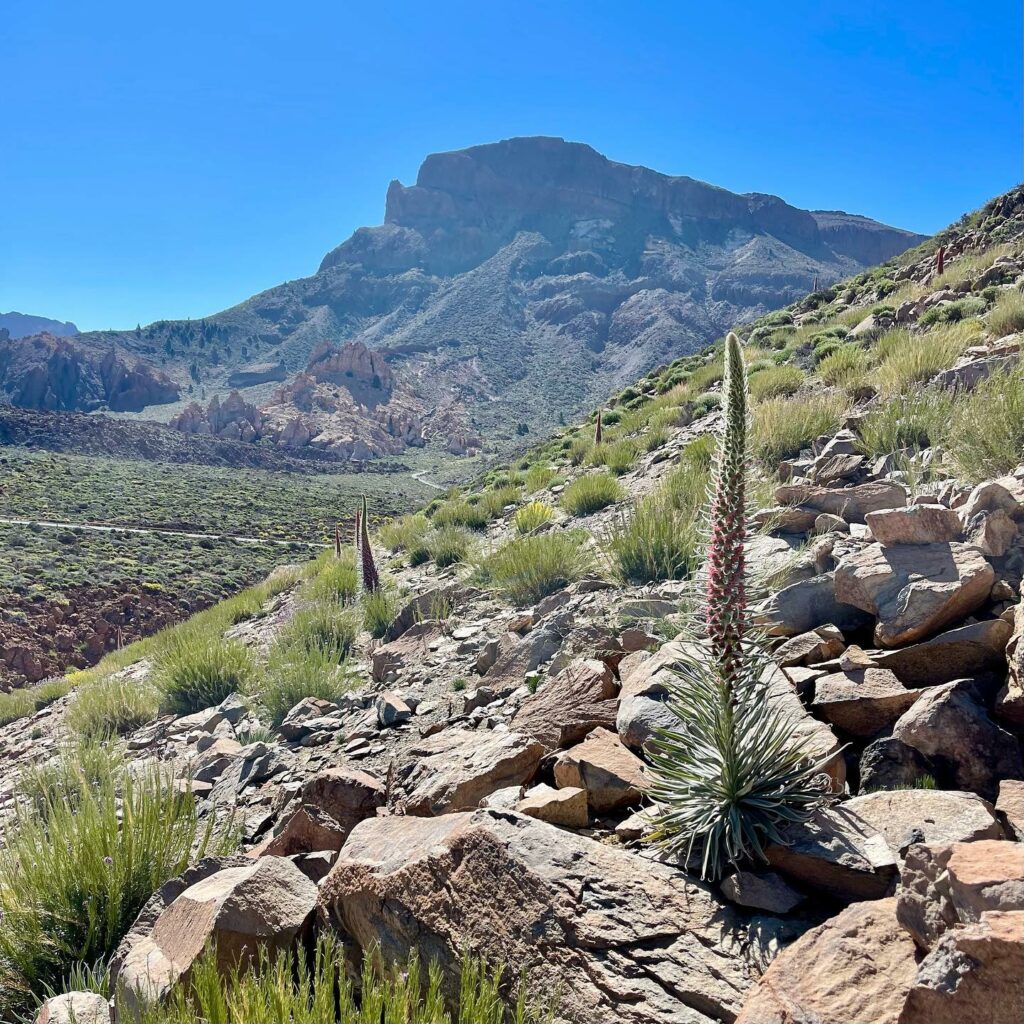 Its remote location away from big city lights makes it the best spot on the island for stargazing. Since 2014, the "Star Foundation" has recognized the sky over Teide National Park as a "Star Destination" in the category "Tourist Destination."
From Mount Teide, 83 of the 88 officially recognized constellations can be seen. This includes all the constellations of the northern hemisphere and most of the southern hemisphere's constellations. You can join a stargazing tour to fully enjoy the night sky in Tenerife.
Helpful tips
Plan an evening tour of Teide to acquaint yourself with Tenerife's night sky.
Check the schedule of star tours and observatory visits in advance, as reservations may be required.
Official website: volcanoteide.com
Public Transportation
You can take bus No. 342 from Las Americas or Costa Adeje to Teide. The journey takes approximately 1 hour and 20 minutes.
Visit Teide Observatory
The Teide Observatory, located near the summit of Mount Teide at an altitude of 7,840 feet (2,390 m), conducts astronomical observations and research. The observatory includes a visitor's center where you can book a guided tour of the facility and partake in a unique stargazing tour at night. If you're interested in tracking celestial bodies through a telescope, don't miss the chance to visit this observatory.
Helpful tip You can book your visit here.
Hike Los Gigantes Cliffs
The cliffs of Los Gigantes, located on the western side of the island in the municipality of Santiago del Teide, are a true natural wonder. Standing up to 1,640 feet (500 meters) high, these cliffs present a captivating sight against the backdrop of the ocean waves.
Formed by volcanic eruptions and reshaped over millennia, they appear to us today as rocky volcanic cliffs. One highly recommended way to explore these cliffs is by boat tour, which allows you to fully appreciate the grandeur of Los Gigantes Cliffs from the ocean's surface. Simultaneously, you might observe whales and dolphins in the ocean waters near the cliffs.
Water sports such as snorkeling, diving, and kayaking can also be enjoyed near the cliffs of Los Gigantes, particularly in the coastal caves. For hikers, the Mirador de Archipenque and Mirador de la Cruz del Herrerito viewing platforms provide stunning views of the massive cliffs.
Helpful Tip To book one of the boat tours to witness the beauty of Los Gigantes Cliffs from the ocean's side, click here.
Explore Anaga Rural Park
A visit to Anaga Rural Park, located in the northeast of the island and spanning part of the Anaga mountain range, presents an opportunity to traverse ancient forests and explore the unique northern nature of Tenerife. It also allows you to compare the contrasting landscapes of the island's south and north.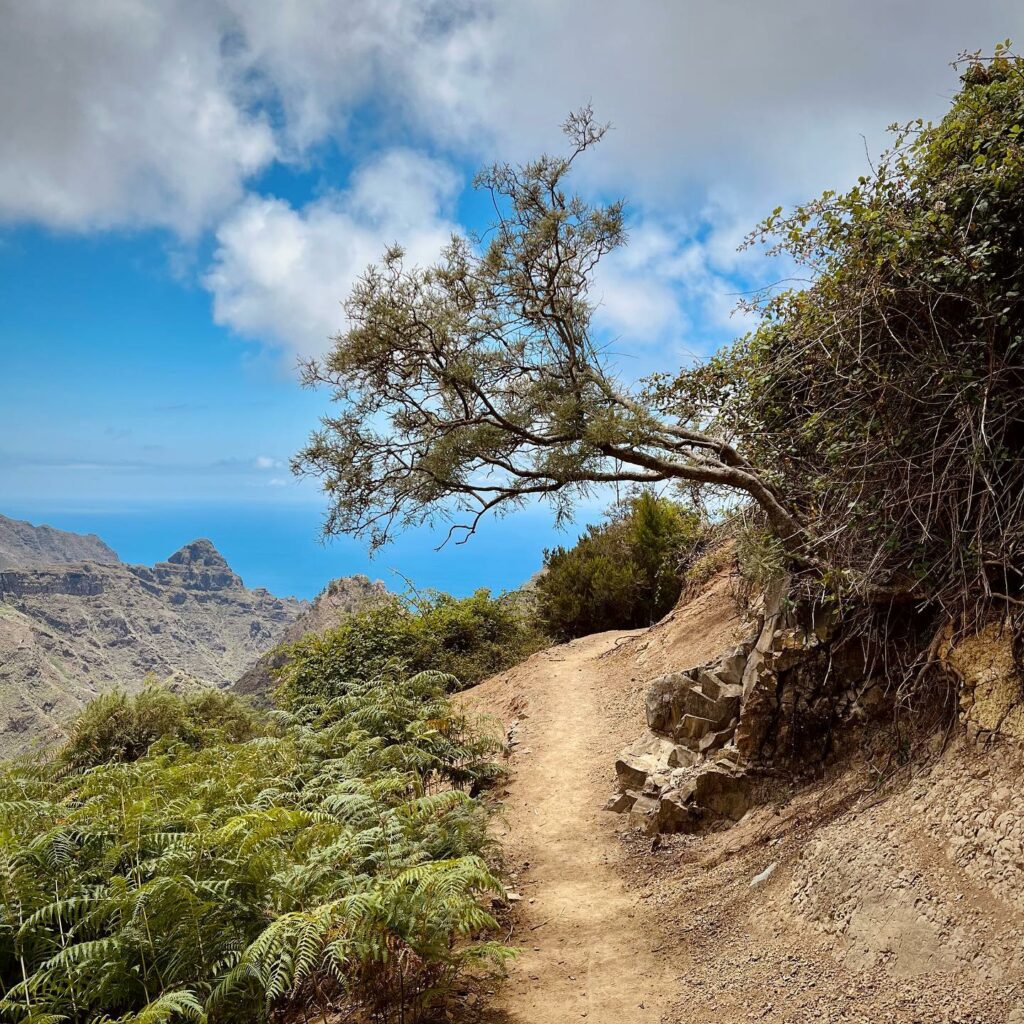 Popular hiking routes within the park include Sendero de los Sentidos, Roque Bermejo, and Cruz del Carmen, each offering varying levels of difficulty. The park also hosts viewpoints like Mirador de Jardina, Mirador de Taganana, and Mirador de Pico del Inglés, from which you can marvel at the ocean, mountains, and laurel forests.
The coastal villages of Taganana Park and Roque de las Bodegas offer a chance to sample fresh fish and Canarian cuisine, relax on the beach, swim, and experience the Canarian rural lifestyle.
Public Transportation
Take bus No. 76 from Intercambiador Laguna bus station to Cruz de Afur. The journey takes approximately 25 minutes
Hike in Masca Valley
Located in the northwest of Tenerife in Teno Park, Masca Valley is renowned for its stunning hiking trails. The region boasts picturesque views of cliffs and gorges surrounded by lush vegetation, along with spectacular views of the Atlantic.
Starting from the village of Masca, you'll follow the namesake trail through the narrow Masca gorge. The gorge's towering walls, rising hundreds of meters on either side of the trail, create a breathtaking backdrop. After a 3-4 hour hike, you'll reach a rocky beach where you can enjoy a swim in the ocean before boarding a boat back to Los Gigantes along the coast.
Public Transportation
Take bus line No. 460 from Las Americas to Santiago del Teide, then transfer to bus line 355 to the village of Masca.
Visit Teno Rural Park
Venture into Teno Rural Park, home to the village of Masca. This northeastern part of Tenerife encompasses an area of about 19,700 acres (8,000 hectares), making it one of the island's most remote and infrequently visited spots, with the exception of the Masca Gorge.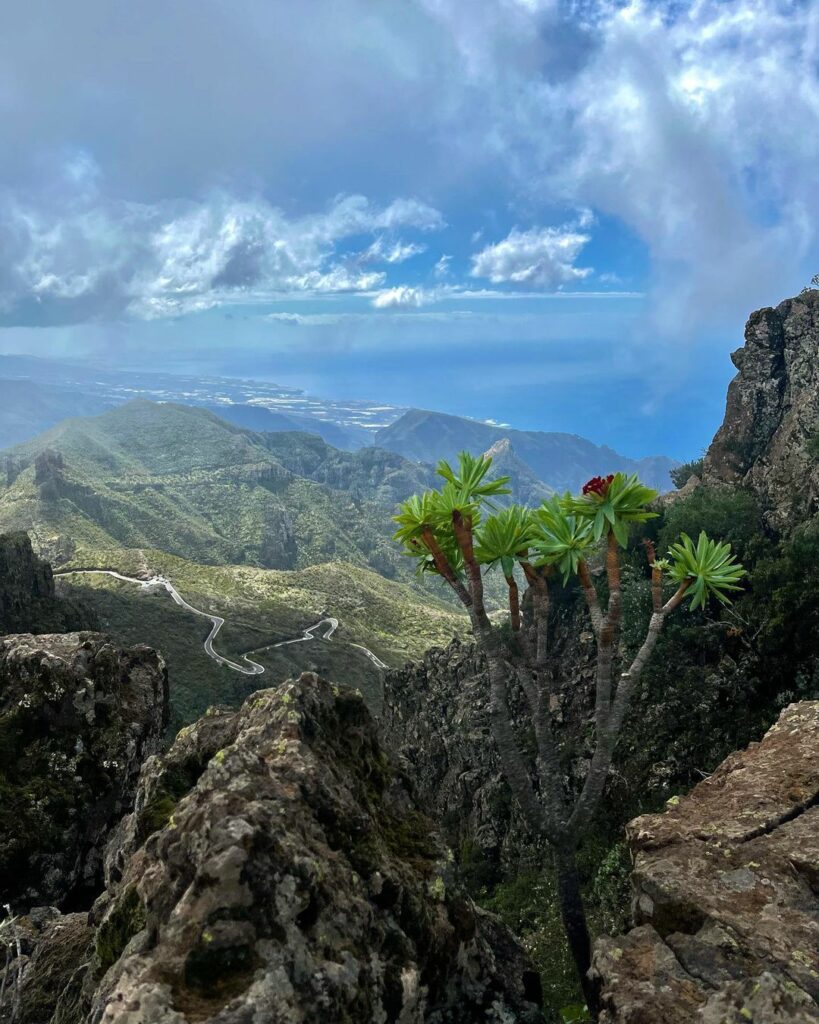 The park's unique microclimate and lush greenery create an idyllic backdrop for high-altitude hiking along volcanic trails that overlook deep gorges. Trails within the park, including El Sendero de los Sentidos (Trail of Feelings), El Sendero de los Órganos (Trail of Organs), and El Sendero del Monte del Agua (Water Mountain Trail), take you through laurel forests, offering fresh air and beautiful surroundings.
The park's most iconic spot is the Punta de Teno Lighthouse, located at the westernmost tip of the island.
Public Transportation
Take bus line 355 from Santiago del Teide to Buenavista del Norte, then transfer to bus line 369 to Punta de Teno. The journey takes approximately 1 hour and 30 minutes.
Visit Garachico Natural Pools and Garachico
Garachico is a town located on the northern coast of the island, renowned for its natural pools. Known for its splendid architecture and rich history, Garachico was once Tenerife's main port until a volcanic eruption in 1706 devastated the area.
The town's main attraction is its natural pools, referred to as "Piscinas Naturales de Garachico" or "El Caletón." Interestingly, these pools were naturally formed due to volcanic activity. Today, locals have the opportunity to swim and sunbathe amidst these rock formations in a natural setting. The beautiful promenade leading to the pools offers stunning ocean views.
Garachico also boasts several historical monuments, including the Convent of Santa Ana, the Monastery of San Francisco, and the Castle of San Miguel.
You can enjoy Canarian cuisine at one of Garachico's restaurants, where I recommend you try seafood dishes.
Recommended Restaurants
Public Transportation
Take bus line 353 from Puerto de la Cruz to Piscina (Garachico). The journey takes approximately 1 hour.
Explore Cueva del Viento
This cave is one of the leading lava tube formations in Europe and is also referred to as the San Silvestre Volcanic System (Sistema Volcánico de San Silvestre).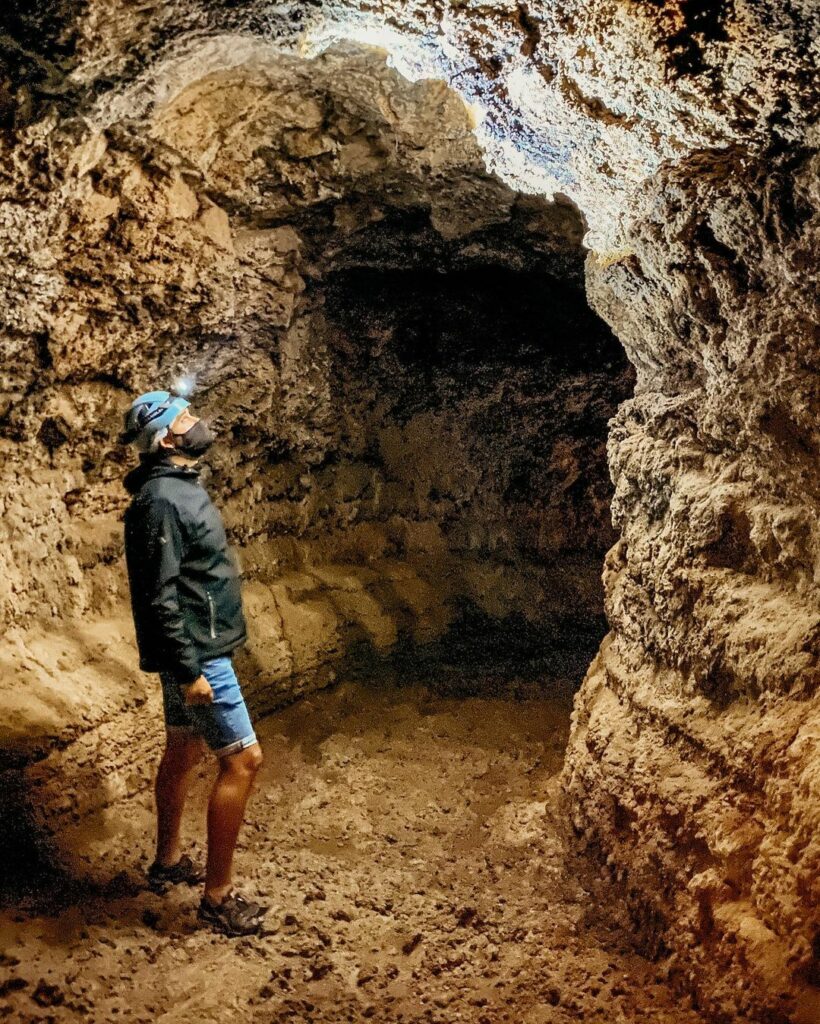 The lava tubes stretch approximately 12 miles (17 km) in length, and you have the opportunity to explore a small open portion of these underground tunnels and passages.
Inside, you can observe and study geological formations such as stalactites, stalagmites, and frozen lava flows, providing a firsthand experience of a volcano's activity.
The visits are guided, starting from €20 per person for a 2.5-hour tour. Carrying backpacks and other bags is not allowed there. I strongly recommend booking tickets in advance on the official website.
Public Transportation
Take bus line 360 from Icod de los Vinos to El Refugio. The journey takes about 10 minutes, followed by a 30-minute walk.
Capture Your Best Shot at Roque Cinchado
Roque Сinchado, located in Teide National Park, is famous for its towering cylindrical shape, often photographed against the backdrop of Mount Teide.
This iconic rock formation has become a symbol of Tenerife's natural beauty. If you're an influencer, you'll want to capture this extraordinary scene yourself. In addition to its aesthetic significance, this rock is often mentioned in local folklore as a symbol of the indigenous Canarian people of the Guanches.
It's quite a popular spot, so consider arriving early in the morning for a quieter experience.
Public Transportation
Take bus No. 342 from Las Americas or Costa Adeje to Teide. The journey takes approximately 1 hour and 20 minutes.
See Barranco del Infierno (Hell's Gorge)
Located in the municipality of Adeje, Barranco del Infierno, or Hell's Gorge, is a deep canyon spanning roughly 6 km. Despite its ominous name, this spot offers unforgettable and awe-inspiring views. The landscape features rocky cliffs, treacherous paths, diverse plant life, and waterfalls.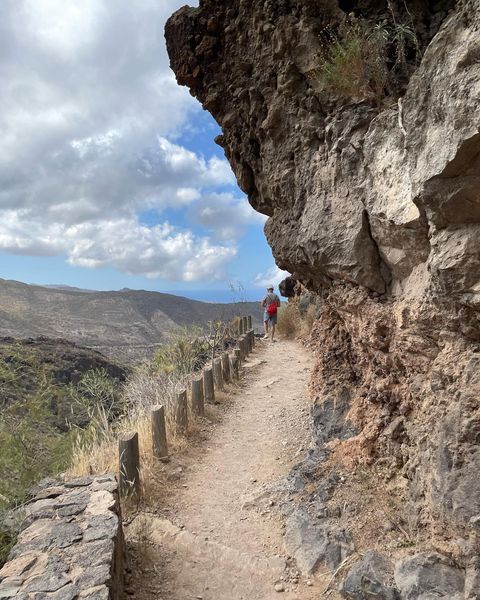 As you descend the trail into Hell's Gorge, you'll encounter the impressive Cascada del Inferno waterfall, which cascades from a height of 656 feet (200 meters). This trail is rated low to medium in difficulty, so make sure to wear suitable shoes for slippery and rocky terrain.
Helpful Tip Given that access to Hell's Gorge is limited to 300 visitors per day, you'll need to reserve a spot in advance on the official website.
Public Transportation
Take bus No. 417 from Estacion Costa Adeje to Adeje City Center. The journey takes about 15 minutes, followed by a 20-minute walk.
Hit the Beach
Tenerife offers comfortable temperatures and around 70 beaches, including natural black volcanic sand beaches and artificially created beaches with imported yellow sand.
Among the most popular are Playa de las Teresitas, Playa de las Americas, and Playa de los Cristianos.
Read also: 19 Best Beaches in Tenerife
Visit San Cristóbal de La Laguna
San Cristóbal de La Laguna, a city in northern Tenerife, is renowned for its 16th to 18th-century historical monuments.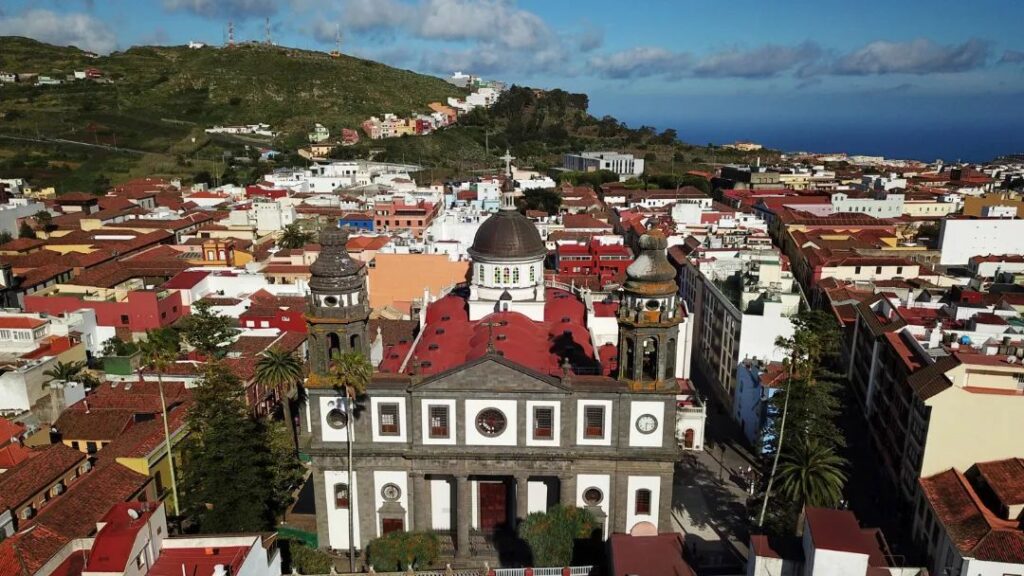 The "Old Town," or La Laguna's historical center, has been a UNESCO World Heritage Site since 1999. Simply referred to as La Laguna, the city is home to a university and notable buildings such as the Cathedral of San Cristóbal de la Laguna, the Nava Palace, the Church of La Concepcion, and the Santo Domingo Convent.
The city's architecture, with its balconies and wooden shutters, showcases the unique Canarian flair.
Also, La Laguna offers excellent shopping, tapas bars, and restaurants serving Canarian cuisine.
Public Transportation
Take bus No. 15, 102, 103, or 108 from Intercambiador Santa Cruz to Intercambiador Laguna. The journey takes about 15 minutes.
Visit the Museum of Nature and Archaeology
The museum, also known as MNH (the Museum of Nature and Man), is located in Santa Cruz de Tenerife in the 18th-century Casa de Carta, a historical building.
The museum's exhibits explore the nature and archaeology of the Canary Islands, as well as collections tied to the culture and geology of the islands' indigenous inhabitants, the Guanches.
For more information about the museum, visit the official website.
Go Hiking
Tenerife is a hiker's paradise. The island boasts a variety of interesting routes of varying difficulty, often taking you across volcanic terrain. Therefore, appropriate attire and footwear for mountain hiking are essential.
In return, you're rewarded with breathtaking views of mountain gorges, waterfalls, forests, and sweeping vistas of the ocean from an elevated perspective.
The most famous trails include those in Teide National Park, Masca Gorge, Teno National Park, and the Anaga Mountains, among others, which I detailed in my article, "13 Most Beautiful Hikes in Tenerife."
Go Biking
For biking enthusiasts, Tenerife offers unique terrain and a range of routes with varying difficulty levels. The island's year-round temperate climate and sparse rainfall also make it an ideal location for cycling.
Several parks on the island cater specifically to cyclists, including one in La Orotava, which offers trails suitable for a wide range of skill levels.
Some notable mountain bike trails include La Orotava-El Ancon-la Fajana-La Orotava and La Orotava – Izaña-Orotava, which wind through forests and Canarian mountain villages. From El Médano to Los Abrigos, cyclists can enjoy a flat coastal route.
Helpful Tips
Bike rentals are widely available throughout Tenerife, making it unnecessary to bring your own bicycle. You will find shops offering city, mountain, and e-bikes for rent. Check out these rentals: Bike Point, Bike Experience, or Bike Xpress.
Try Paragliding
If you've ever dreamed of experiencing the thrill of paragliding, Tenerife is the perfect place for beginners to learn and practice.
The most popular locations for paragliding include Tauro in the southwest Costa Adeje area, as well as La Corona and Ifonche. Paragliding schools offer comprehensive training to ensure safe conduct during flight.
It's an incredible experience for adrenaline junkies, but if you're apprehensive about flying solo, tandem flights with an instructor are available.
For more information, visit this website.
Go Whale and Dolphin Watching
The Atlantic Ocean is rich in diverse flora and fauna, and Tenerife is one of those unique places where you can observe dolphins and whales. You can book specialized boat tours from various points along the island's coast to watch these remarkable marine mammals in their natural habitat.
There, you can see 26 species of whales and dolphins, such as pilot whales, sperm whales, striped dolphins, beaked whales, and many others. Mini-cruises for dolphin and whale watching depart from many popular tourist destinations, including Los Gigantes, Puerto Colon in Costa Adeje, Los Cristianos, and Playa de las Americas.
Choose from short or long excursions on yachts and boats with guides; all you have to do is pick a reputable tour operator.
Snorkeling
Tenerife is an excellent location for snorkeling, offering opportunities to explore ocean depths and observe underwater inhabitants.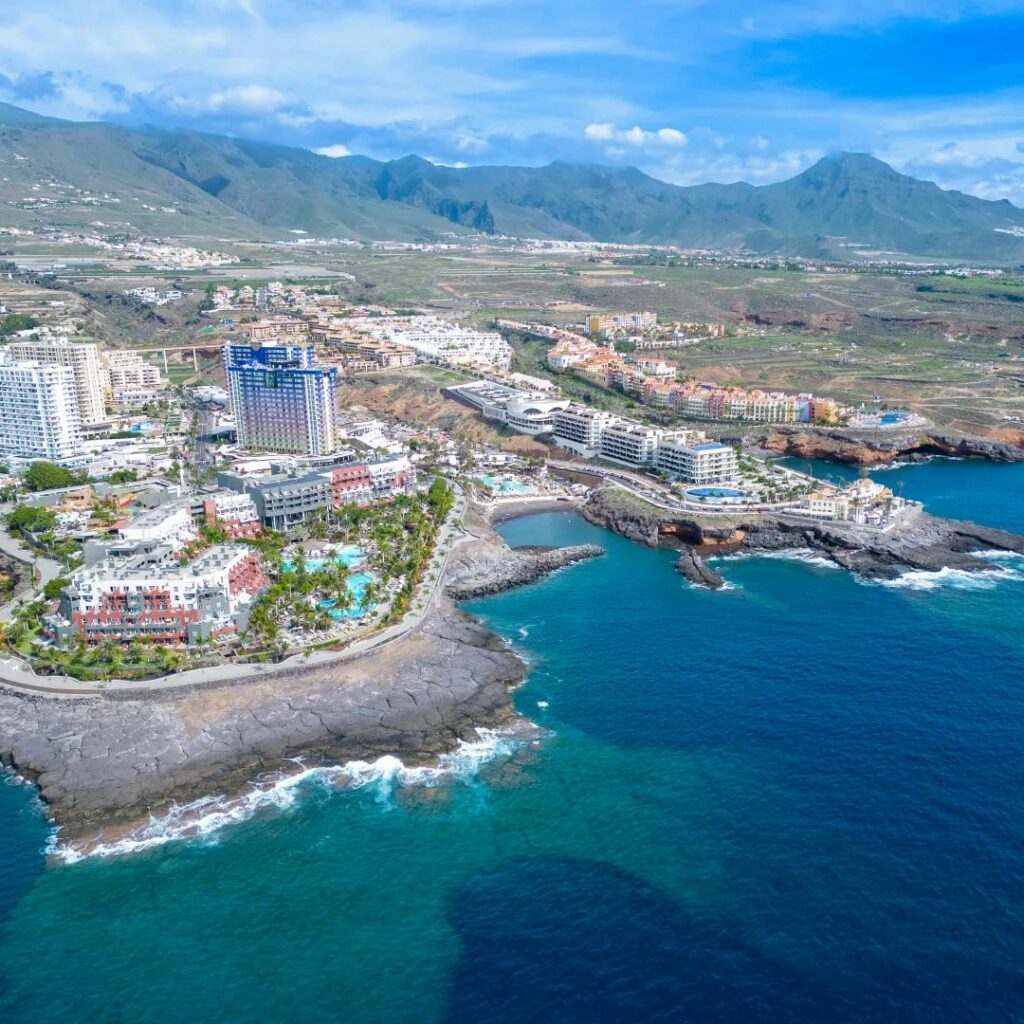 Recommended snorkeling spots on the island include Costa Adeje, known for its clear ocean waters and beaches such as Playa del Duque and Playa de La Caleta, where you can see rare fish and turtles among the rocks. El Puertito, a fishing village near Costa Adeje, is home to a rocky bay with abundant marine life, including stingrays, octopuses, and turtles.
Los Cristianos is perfect for snorkeling beginners, while Playa San Juan, located in a less populated area, offers its own snorkeling advantages.
Explore Siam Park
Immerse yourself in the unique Thai culture at Siam Park, one of the world's best water parks located in Costa Adeje. Drawing inspiration from Thai temples and parks, Siam Park offers attractions for everyone, whether adult or child.
If you prefer adrenaline-pumping adventures on water slides or swimming through a transparent tunnel surrounded by predatory sea sharks, lazy river rides, artificial wave pools, or relaxing on an artificial beach, Siam Park has it all. A special "Lost City" zone is designed for younger children. Shops, restaurants, and cafes are also available.
Tickets can be purchased on the official website.
Public Transportation
Take bus numbers 40, 450, 467, or 473 from Estación de Costa Adeje to Magma. The ride takes about 5 minutes, followed by a 15-minute walk.
Visit Loro Parque
Loro Parque is a renowned modern zoo and animal park located in Puerto de la Cruz. This location boasts one of the largest collections of parrots and various other animals including monkeys, penguins, tigers, jaguars, and more.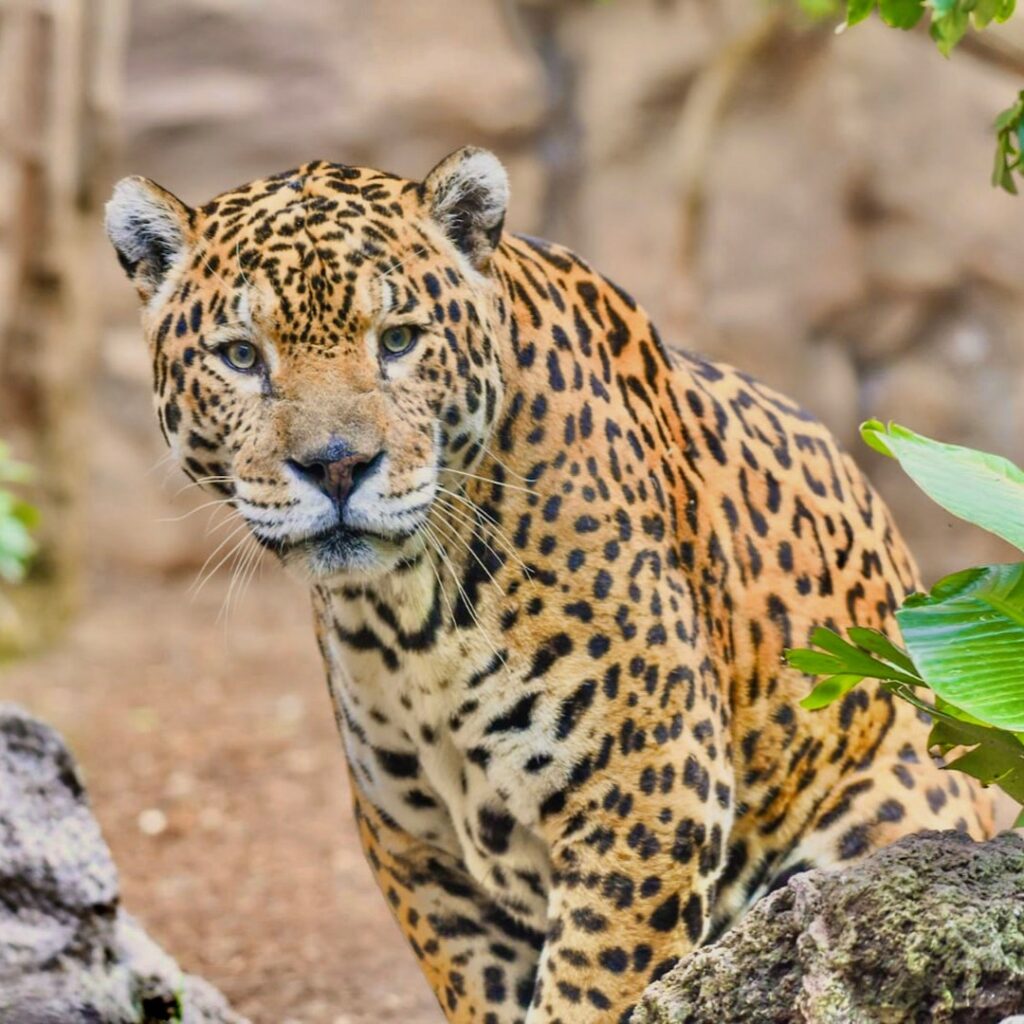 Although you will find some negative reviews on visiting Loro Parque and the bad conditions of animals, I personally didn't have such an experience there
Prepare to be amazed by the shows featuring intelligent dolphins and orcas. These marine mammals are housed in conditions that closely replicate their natural habitats. During your visit, don't forget to explore the botanical gardens showcasing a plethora of plant species.
Apart from offering entertainment, the park also plays a crucial role in environmental conservation, conducting research and educational activities.
Tickets can be purchased from the official website.
Public Transportation
Take bus No. 381 from the El Pozo station in Puerto de la Cruz. The bus journey lasts approximately three minutes, followed by a five-minute walk to Loro Parque.
Eat at La Cueva Caprichosa restaurant
La Cueva Caprichosa, situated in a natural volcanic cave in the Barranco Grande neighborhood of Santa Cruz de Tenerife, offers more than just a dining experience.
This restaurant, located near the TF-2 highway, creates an intimate setting with its subdued lighting and cozy, rustic ambiance. The menu includes traditional Canarian dishes, contemporary seafood and meat offerings, delectable homemade desserts, and an extensive selection of fine wines.
Given the restaurant's popularity, I recommend booking your table in advance.
Visit Botanical Garden
Located in Puerto de la Cruz's Orotava Valley, boasts a rich history dating back to 1788.
This site serves as one of the world's leading botanical research centers. Housing over 3,000 plant species from the most exotic regions of Asia, Africa, and America, you can explore the Canary Garden, Orchid Garden, Succulent Garden, and Bonsai collection.
The site also offers recreational areas, paths, ponds, a visitor center, cafes, and shops. You can book your visit here.
Public Transportation
Buses No. 30, 103, 345, 363 from the El Risco station in Puerto de la Cruz to Puente del Botanico. The bus ride takes about five minutes, followed by a seven-minute walk.
Take a Wine Tour
Tenerife, renowned for its unique wines, is an ideal place for wine tours. You can explore the island's wineries and vineyards in regions like Abona, Valle de la Orotava, and Tacoronte-Acentejo, which together house about 50 wineries.
The Listán Negro is the most popular red grape variety, while the best white wine is from the Palomino grape.
A typical wine tour includes a visit to a winery, a walkthrough of the vineyards, a peek into the cellars, and, of course, wine tasting!
Useful links
Pyramids of Güímar
Located in the city of Güímar are six rectangular pyramids made of lava rock, bearing similarities to their counterparts in Mexico and Peru. The origins of these structures remain unclear, and it's speculated they were constructed for astronomical purposes.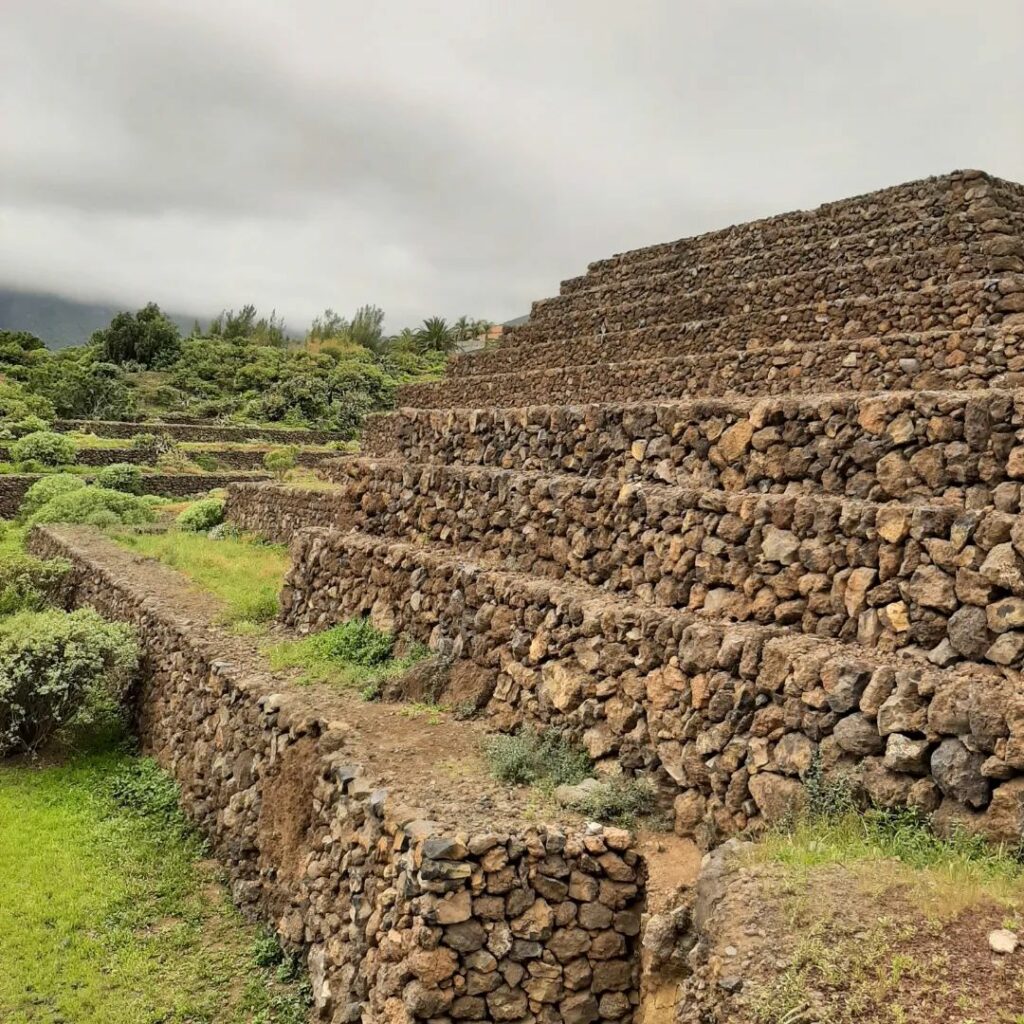 The pyramids are situated in an ethnographic park specifically designed for this purpose. The park includes a museum, which hosts exhibitions, screenings, demonstrations, and other educational events. An observatory here enables viewing of unique light phenomena observed during the winter and summer solstices when the sun's rays align with the edges of the pyramids.
For the guided tour, visit this page.
Enjoy Open-air Swimming Pools
If you're interested in an unforgettable swimming experience in a relaxing, open-air, seawater environment, Tenerife's open-air swimming pools are a must-visit.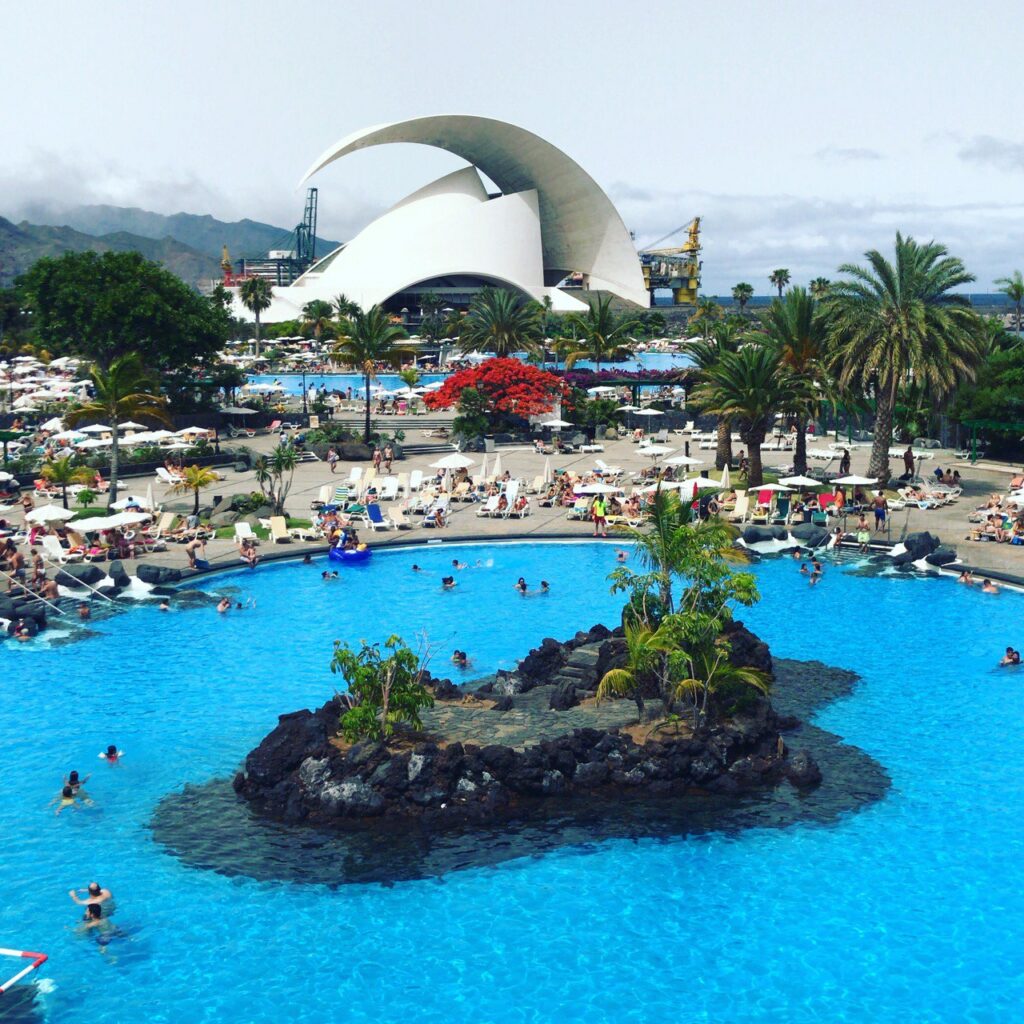 They are scattered throughout the island, with the Costa Martianez swimming pool complex in Puerto de la Cruz being surrounded by tropical gardens.
In Santa Cruz de Tenerife, the Complejo Deportivo Municipal la Piscina offers a large swimming pool. Other notable locations include the Piscina Municipal Acidalio Lorenzo in La Laguna, the Piscinas Naturales de Garachico in Garachico, and the El Parque Marítimo Cesar Manrique in Santa Cruz de Tenerife.
This last location, apart from its three saltwater pools, also features catering services, shops, changing rooms, playrooms, showers, and a gym. It offers hammock and umbrella rentals, making it a fantastic choice for both tourism and family relaxation.
For more details, check out the website (only in Spanish).
Attend Tenerife Carnival
Every February or March, Tenerife hosts a vibrant and colorful carnival that lasts about a month. The city is transformed by street processions, parades, parties, and contests, creating an unusually bright and festive atmosphere. The carnival's theme varies each year, influencing the choice of costumes.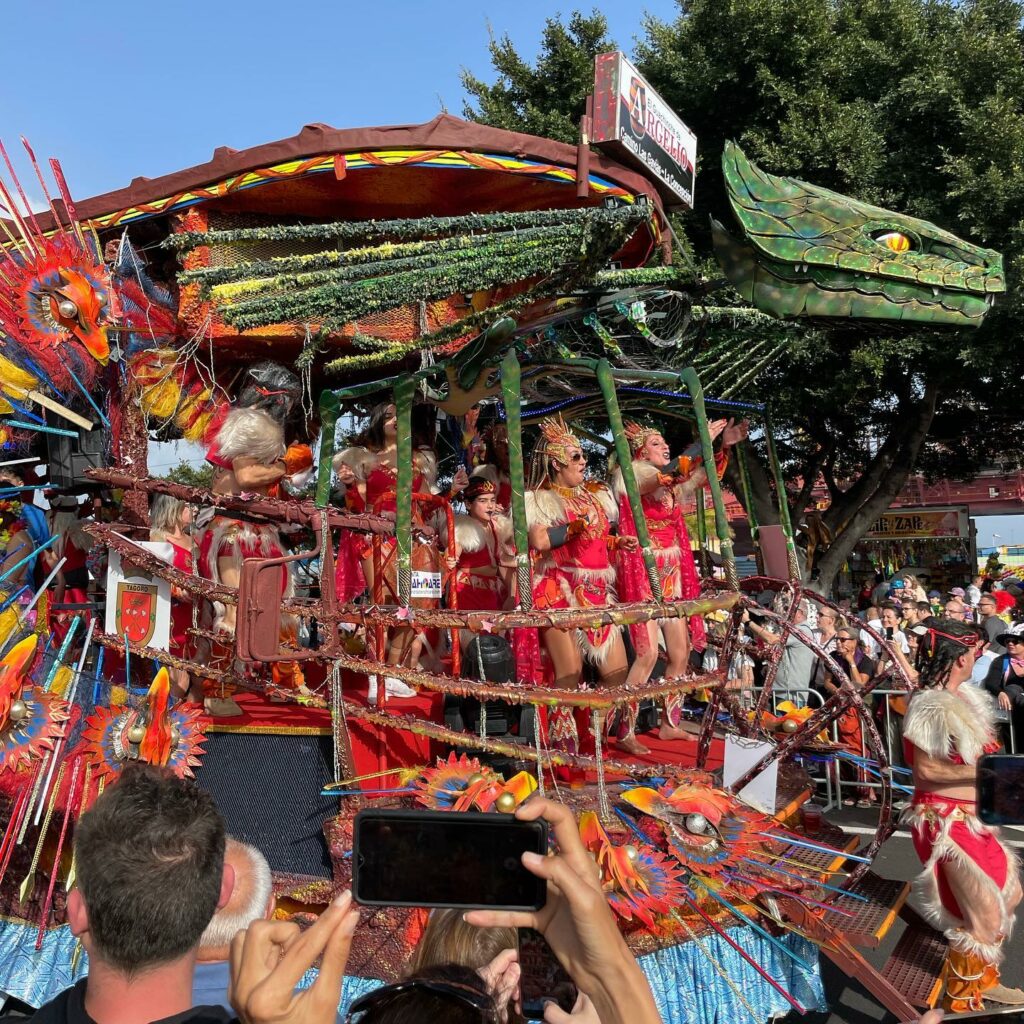 The main event is the Gran Coso Apotheosis parade, featuring musicians, dancers, and performers in stunning, colorful attire. Both locals and tourists eagerly partake in this joyful occasion. The carnival concludes with the Burial of the Sardine, symbolized by a large sardine figure that parades down the street, followed by a mock funeral signaling the end of the festival.
Get the Tenerife carnival program and dates from the official website.
Enjoy the Nightlife
As a year-round resort, Tenerife offers a bustling nightlife scene. You'll find bars, clubs, and discos scattered across the island, particularly in tourist hotspots like Playa de las Americas, Los Cristianos, and Costa Adeje. Some recommended destinations include Veronicas Strip near the Veronicas shopping center in Playa de las Americas, the Papagayo Beach Club with its stunning ocean views and disco featuring famous DJs, and the oceanfront Monkey Beach Club in Costa Adeje that plays various styles of music.
Try "Papas Arrugadas con Mojo"
"Papas arrugadas con mojo" is a traditional Canarian dish made from small potatoes boiled in salted water until soft. This cooking method gives the potatoes a wrinkled appearance, which "arrugadas" means in Spanish.
The potatoes are served with two types of mojo sauce: red "mojo rojo" and green "mojo verde". These sauces consist of garlic, cumin, cilantro, olive oil, and vinegar, with the red mojo also containing pepper. The combination of tender potatoes and aromatic sauce creates an amazing taste sensation.
This dish can be ordered in any restaurant in Tenerife.
Visit La Orotava
La Orotava, located in northern Tenerife, is a city rich in history and stunning Canarian architecture. As you stroll through the narrow city streets, you'll encounter traditional wooden Canarian balconies and intricate facades. The city's main square, Plaza de la Constitución, is surrounded by historic buildings such as the town hall and the Church of Our Lady of Conception. Be sure to visit the Victoria Gardens and the Marquesa Garden.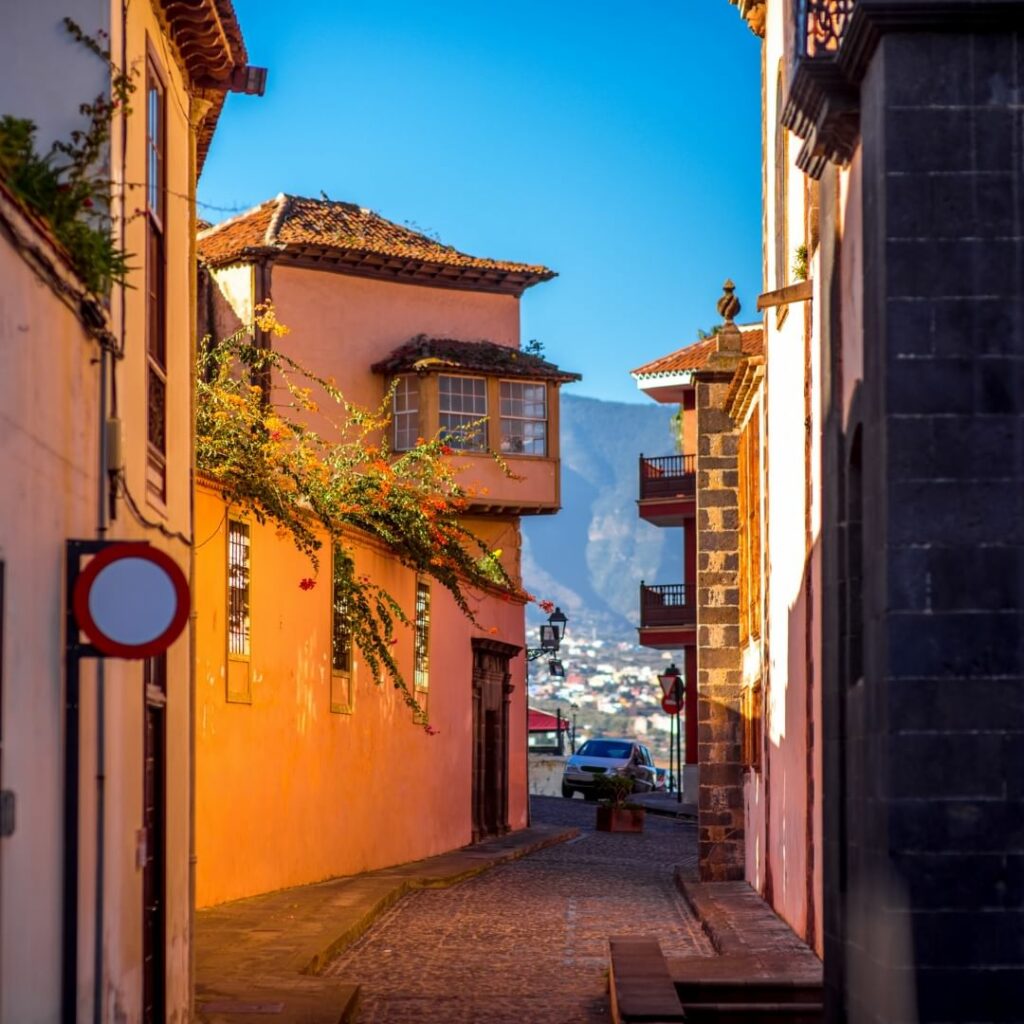 If you're lucky, you might be in town for the Corpus Christi Carpets Festival, when the city streets are adorned with beautiful floral carpets.
Public transportation to La Orotava is available on bus No. 108 from Intercambiador Santa Cruz, with the journey taking approximately 45 minutes.
Day Trip to Tenerife
Start your day with a short walk by the ocean before enjoying breakfast at your accommodation. Then, why not climb Mount Teide?
In the afternoon, consider a trip to Los Gigantes and enjoy a boat ride with snorkeling. Lunch will be especially delightful at a seaside restaurant in Los Gigantes.
If you have the energy later, take another trip to Puerto de la Cruz, walk around the city, and visit the Martianez pool complex before it gets dark. Finish your day with a dinner featuring papas arrugadas con mojo. A disco, bar, or club in Las Americas or Costa Adeje awaits you, depending on your preference.
Final Thoughts
To sum things up, Tenerife is an exceptional destination for year-round recreation. The island's natural diversity lets you experience both the warm south and cooler north in a single day, navigating rocky trails and forested areas. Cultural and historical monuments, local holidays, festivals, and the annual Carnival are just a few things to look forward to in Tenerife.
Things to do in Tenerife FAQ
What can I do in Tenerife when it rains?
While rain is rare in Tenerife, you can visit museums and historical sites, try indoor attractions, spas, or hit a shopping center or restaurant if it does occur.
What do I need to rent a car in Tenerife?
To rent a car in Tenerife, you'll need a driving license and a credit card. You'll sign a car rental agreement that includes insurance. It's advisable to cover all possible risks and include an additional driver, which may cost extra.
What can I do in Tenerife with kids?
Consider visiting Siam Park for its water attractions, or Loro Parque, which houses a zoo. Swimming on the beaches and building sand castles, or taking a dolphin and whale watching tour or a trip to an open-air swimming pool are also fun options.
What is the best spot for stargazing in Tenerife?
The peak of Mount Teide is considered the island's best stargazing spot.
When is the best time of the year to visit Tenerife?
Tenerife is a year-round holiday destination. Your preferred time to visit will depend on your interests, but if you're seeking a beach holiday, the hottest months of July and August are ideal.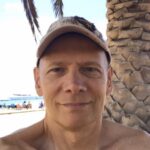 Meet Sergio! A travel enthusiast with a zest for exploration, he's all about discovering Spain's beauty, especially the Canary Islands! 🏝️
As a true Canary Islands lover, Sergio dedicates his time to uncovering hidden gems  and capturing stunning landscapes  that make this paradise so unique. He combines his love for adventure and in-depth knowledge of the region to inspire fellow travelers and help them create unforgettable memories on their journeys through the Canary Islands and beyond!
Follow Sergio on Instagram, Facebook, LinkedIn, and WikiData.
This post might include some affiliate links. If you make a purchase through these links, I may earn a small commission at no additional cost to you. I appreciate it when you use my links to make purchases.