7 things to do in Barcelona for the first time
Nadia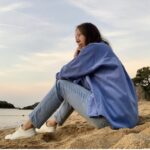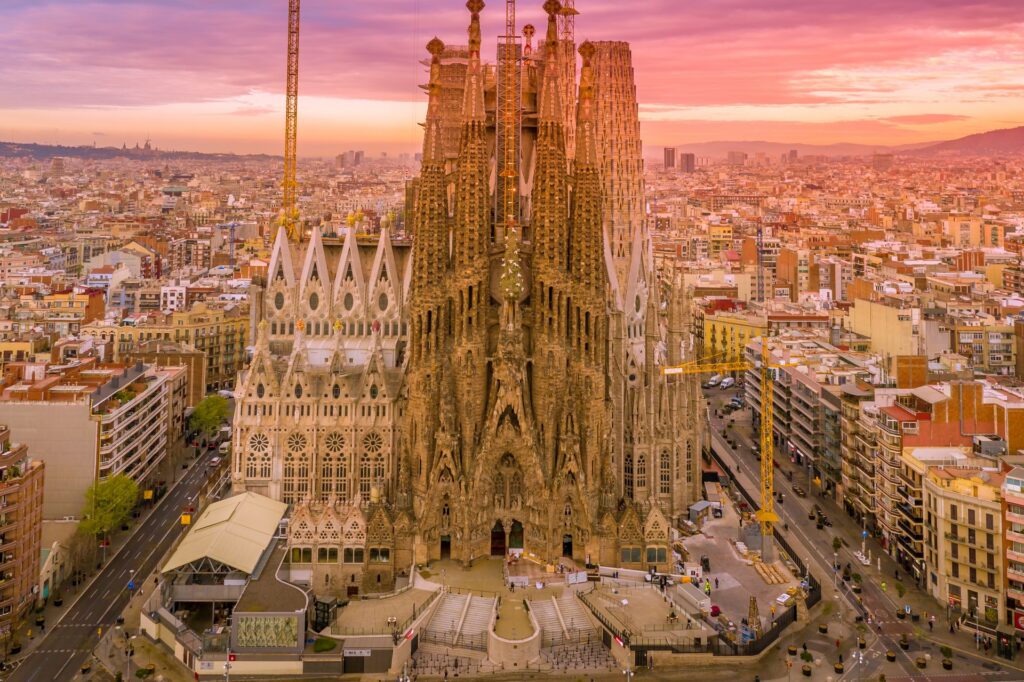 Barcelona is amazing. If you haven't been to this city yet and are just preparing for the trip, you probably already heard of places like Sagrada Familia, Barceloneta, and La Boqueria.
It's not surprising – Barcelona is among 20 of the most visited cities in the world (with the 17th place in 2018), so its sights are well known to many of us.
Here are my suggestions and personal tips on 7 things to do in Barcelona for the first time.
Explore Sagrada Familia
This masterpiece of Antonio Gaudi is always the first on the list of sights in Barcelona. The monument's construction started in 1882, and in 2023 it's still not finished yet. Why? It is huge and costs a lot of money to build.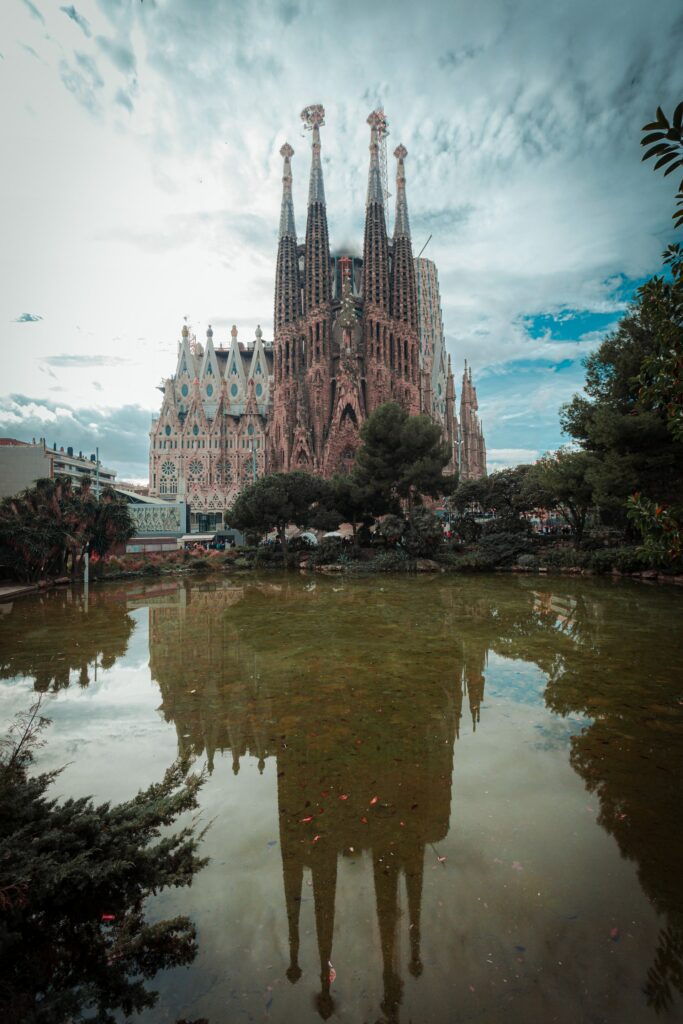 What is the plan? Enjoy the play of light inside the Temple, then climb the towers. Listening to an audio guide or walking with a guide in person will be a huge win.
The most valuable advice that I received from the inhabitants of Barcelona, and now I share it with you – visit Sagrada Familia from April to September at sunset. In winter, it's better to go there before the sunset.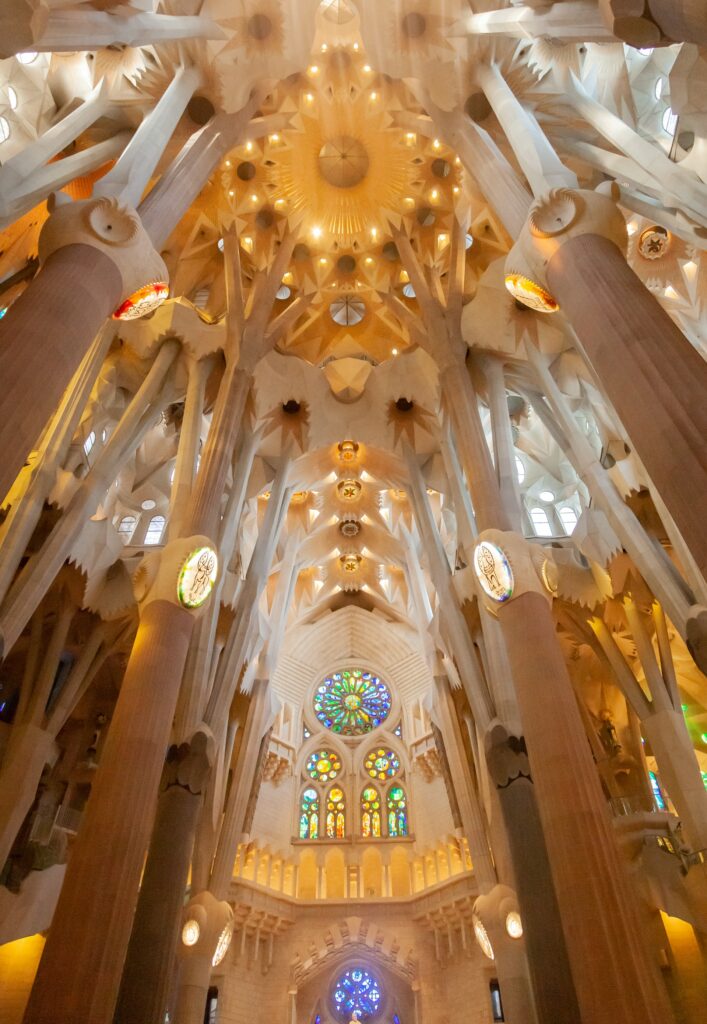 Why? In winter, the sun is low and shines through the stained-glass windows almost point-blank, creating a magical atmosphere. In summer, the angle of light is sharper, and much less of it gets inside, so it's better to watch it when the sun goes down.
If you don't understand why the light is so essential there, take a closer look at the photos, they speak for themselves.
Important it's better to book tickets in advance on the official website.
Sagrada Familia opening hours:
November to February: 09:00-18:00
March: 09:00–19:00
April to September: 09:00-20:00
October: 09:00–19:00
December 25, 26, January 1, 6: 09:00–14:00
If you plan to enjoy the towers tour, feel free to book another half an hour. Don't forget to visit the Tower of the Nativity (La fachada del Nacimiento), where Maestro Gaudi himself worked.
If you're pregnant or have cardiovascular disease, dizziness, or claustrophobia, don't go there – you will have to climb quite high up the narrow stairs.
The entrance fee to the towers is not included in the standard ticket.
Metro station: Sagrada Familia (the 2nd and 5th lines).
See also: Barcelona Metro Map with tourist attractions.
Visit Guell park
Antonio Gaudi created the Guell park at the beginning of the 20th century in the upper district of Barcelona. It reflects the whole life and work of Gaudi, his relationships with people, his secrets, and his weaknesses. I advise you to have a guided visit. If you plan to walk on your own, keep in mind that the park has many hidden signs with different meanings.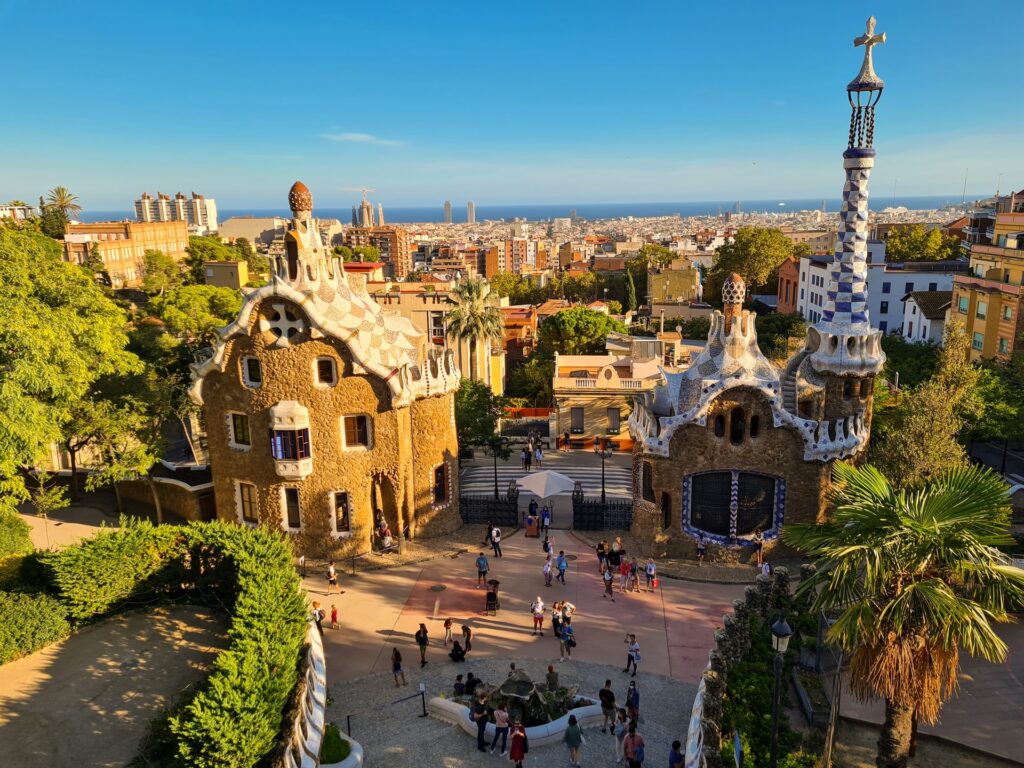 It is best to visit the park in the morning or in the evening to avoid the hot weather and crowds of tourists.
Park Guell opening hours:
November to February: 10:00-18:00
March, October: 10:00-19:00
April, September: 10:00-20:00
May, August: 10:00 -21:00
Metro station: Lesseps (green line)
Read also: What places to visit in Spain for first timers
Go to Montjuic Mountain
It is a conjunction of beautiful places and monuments:
Fortress and Tower of Montjuic
Lewis Company Olympic Stadium
Singing Fountains of Barcelona (Font màgica de Montjuïc), a futuristic musical fountain beautifully lit at night
National Art Museum of Catalonya (Museu Nacional d'Art de Catalunya)
German Pavilion in Barcelona (Pavelló Mies van der Rohe)
Picasso and Joan Miró Museums
Spanish village in miniature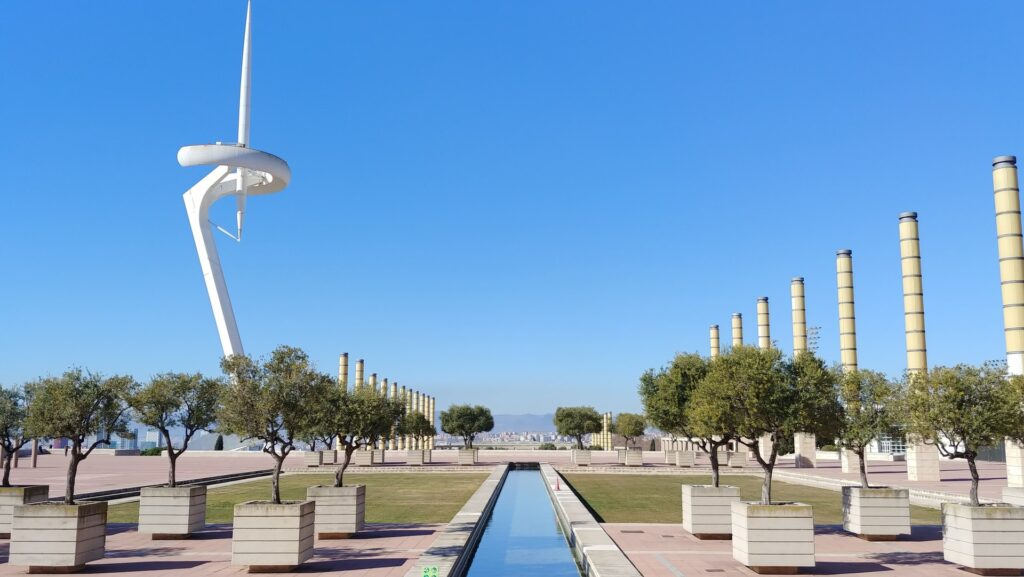 The parks of mountain Montjuic are pleasant to walk but beware of cyclists and rollerbladers.
Important set aside at least one day for this cliff, and complete the visit with a performance of singing fountains in the evening.
How to get take the funicular (Funicular de Montjuïc) from the metro station Parallel up to to Passeig de Miramar, go higher up to the Teleferico cable car station, and take another funicular.
Climb the Tibidabo hill
Opposite Mount Montjuic, there is another equally famous mountain called Tibidabo. At the top of this mountain, there is a lovely church. Walk the spiral staircase up to the very top, to the statue of Christ. You will have an outstanding view of Barcelona from there.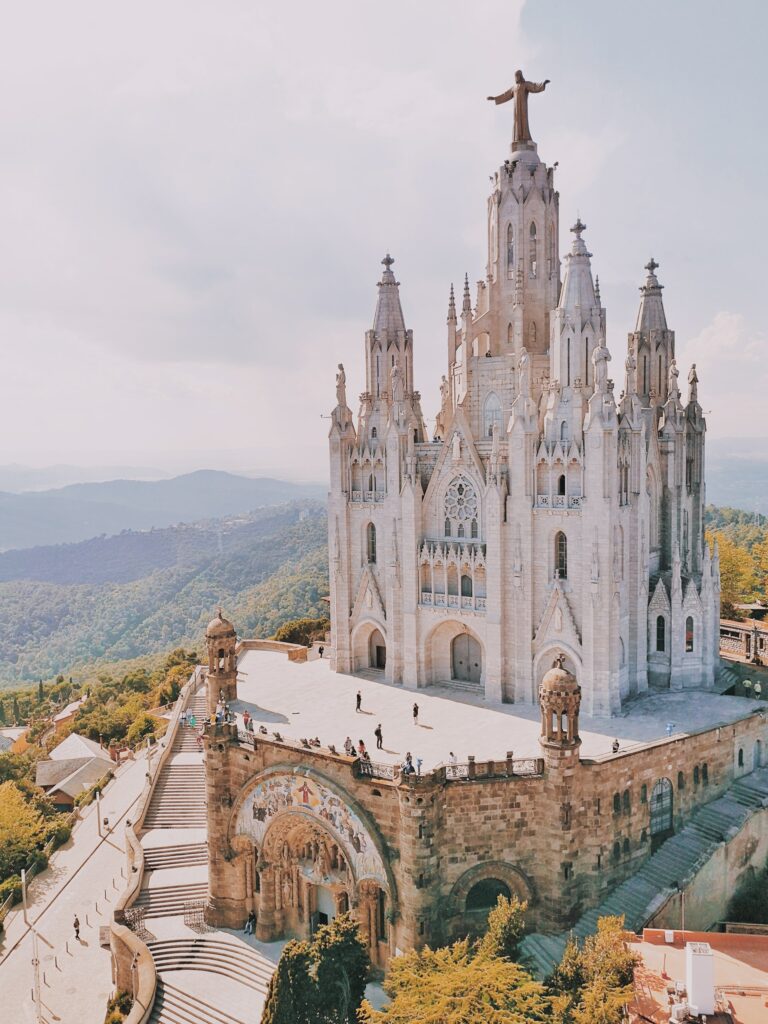 Mount Tibidabo is an excellent choice for traveling with kids as well, and there is an amusement park that kids will love.
How to get: take the brown metro line (number 7) to Tibidabo station (Avinguda del Tibidabo), then go to the elevator. On the street, you will see a tram stop of the old blue tram (Tramvia Blau), and it will take you to the funicular.
Get lost in the streets of the Gothic Quarter (Barrio Gótico)
The Gothic Quarter is an open-air museum that contains a massive number of Gothic buildings that you will not find anywhere else in Europe. Here, the Roman village of Barcino was located, which became the ancestor of the modern city.
You will see the remains of the Roman walls, the beautiful Cathedral of Saint Eulalia, and the Chapel. Most of the streets in this area are very narrow, twisted, and closed for cars. There are many cozy bars to spend time in the evening.
How to get to Gothic Quarter: get off at the Jaume I (L4) or Liceu (L1) metro station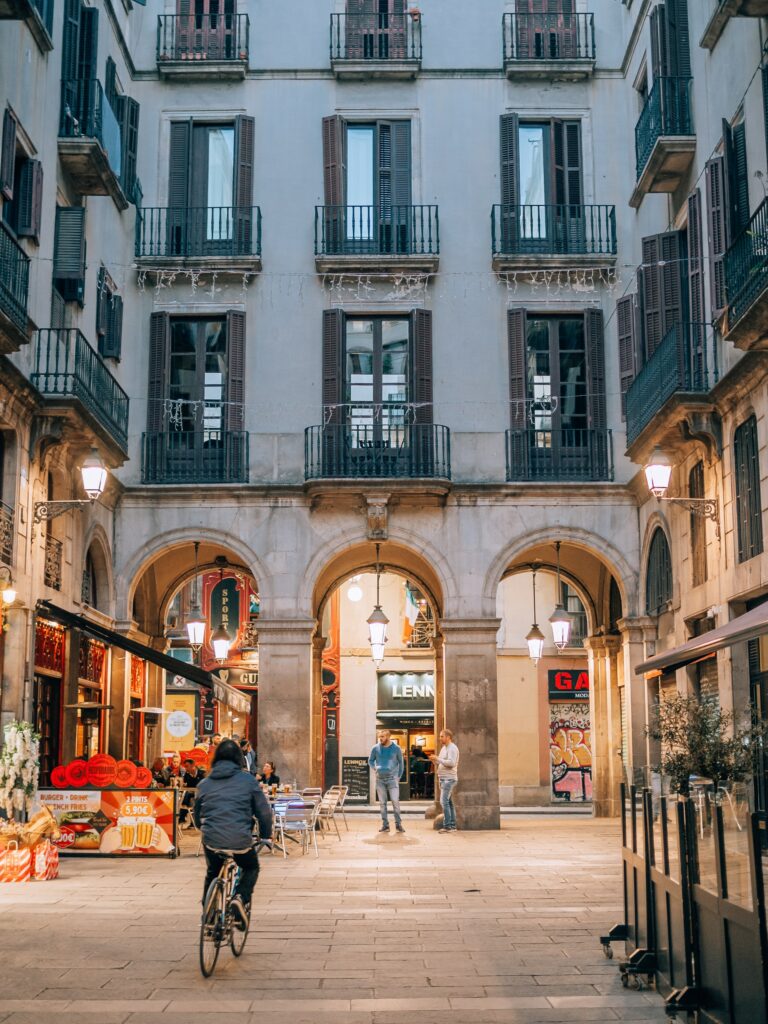 Enjoy the coastline
The coastline of Barcelona has a length of about 4.5 km.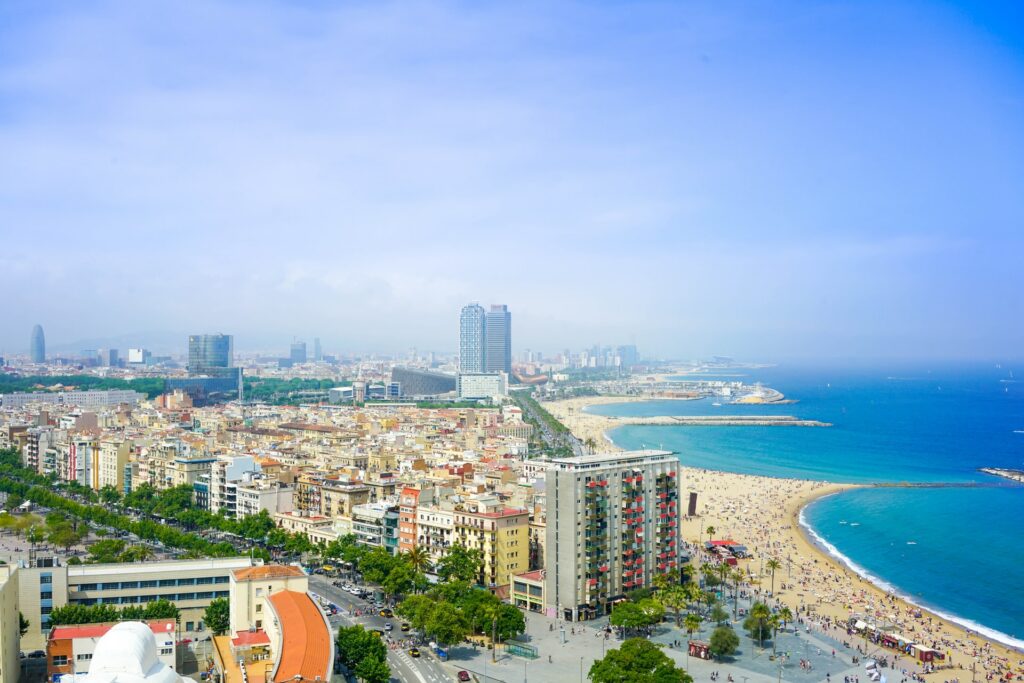 It's hard to believe, but there were no public beaches in Barcelona until the end of the 20th century. There was the sand and the sea, of course, but no one went there. Instead, all the locals went to the Graf coast on holidays.
However, everything changed with the Olympic games in 1992. There are about 11 beaches in the city now. They are well equipped, offer various services (cafes, first-aid posts, showers, toilets, lifeguards, police stations, sunbeds, and sun umbrellas), and provide a pleasant stay. And the best part is that they are all completely free!
Noticeable beaches:
Sant Sebastia is the longest beach in the city (Barceloneta metro station, line L4).
It starts from the W Hotel and ends in the Barceloneta area.
Barceloneta (Barceloneta and Ciutadella metro stations, line L4).
It is the most popular beach in the city. It has everything for a summer holiday, and it's easy to get there.
Mar Bella (Selva de Mar metro station, line L4).
A beach that young people adore. There is an area for nudists also.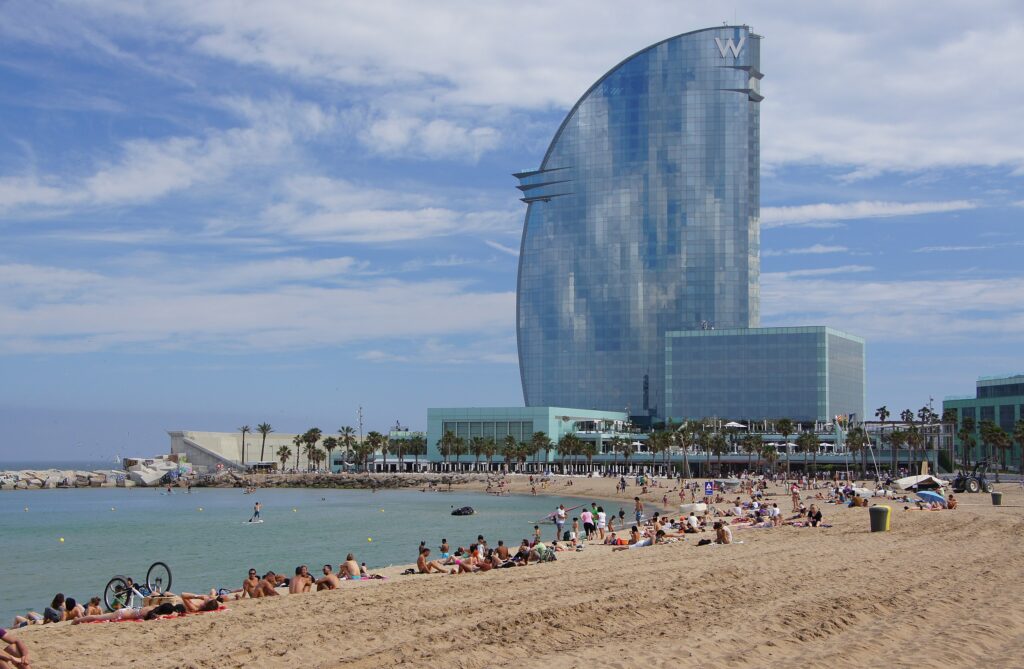 Don't miss the Boqueria food market
Where else to go in Barcelona? Explore local food in the Boqueria market. I can confirm that it is also the best place for breakfast in the morning. Yes, you can eat in the market. Sit down at the market cafe, watch your food being prepared and eat delicious scrambled eggs with asparagus and coarse salt!
In addition to breakfast, you can drink wine, buy fresh fruits or anything else you find attractive.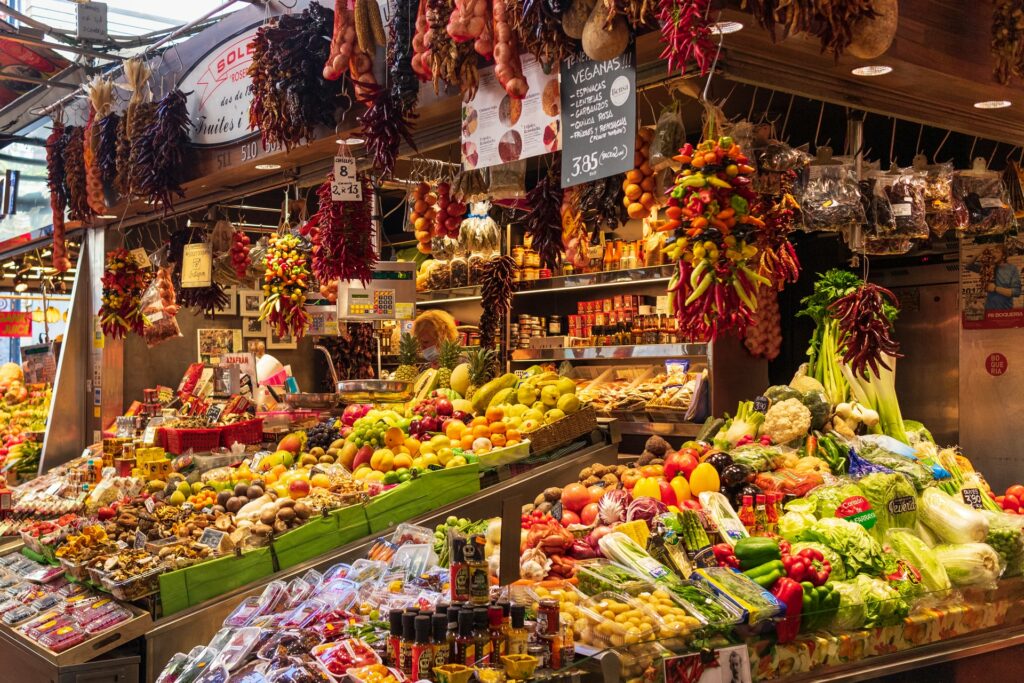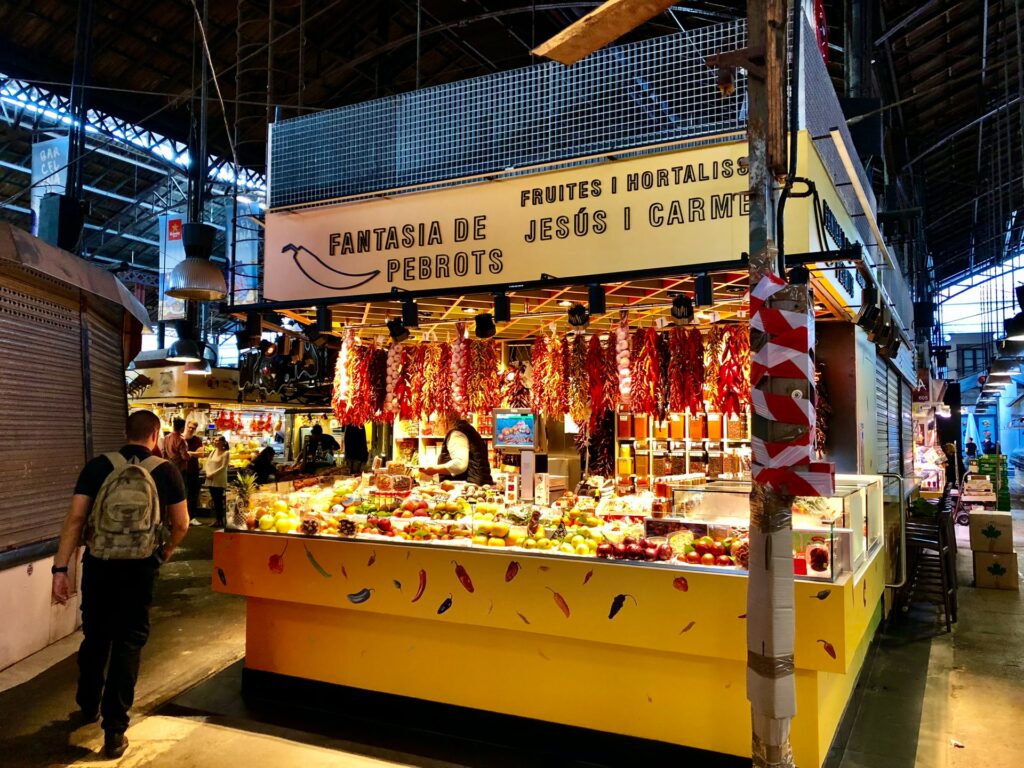 Now you have learned what to do in Barcelona and maybe want to have Boqueria market as the first item on your list to visit 😀
This post might include some affiliate links. If you make a purchase through these links, I may earn a small commission at no additional cost to you. I appreciate it when you use my links to make purchases.