Guide to the Ideal Times to Visit Spain
Nadia Podrabinek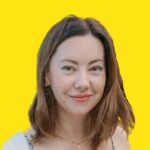 Written by Nadia Podrabinek
Hello, my name is Nadia. I usually write about traveling (there are so many places to fit all the lifestyles), relocation, and living in a foreign country (adapting to a different culture). My travels stretch beyond Spain, with journeys to the US, Italy, Norway, Portugal, and France. Relocating to Spain in 2018, I lived in cities from Barcelona to Madrid, currently calling Valencia home.  Follow me on Twitter, Facebook, Instagram, or LinkedIn! ... show more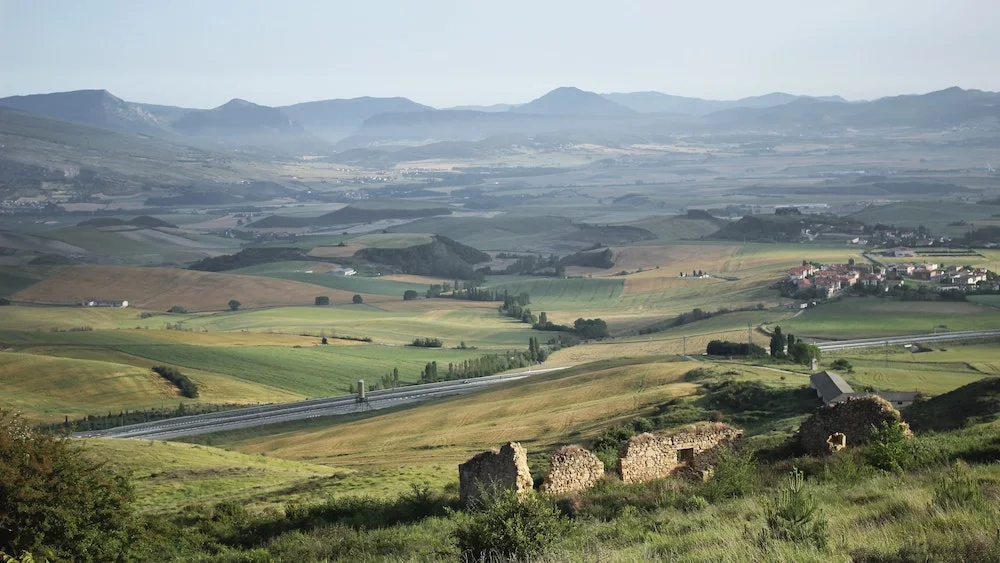 One of the main reasons Spain is such a popular tourist destination is that there is always something to do no matter what time of year you visit. So, the best time to visit Spain depends on the regions you plan to explore and the activities you want to pursue.
Generally, the best months to travel are April, May, June, September, and October. In these times, temperatures are mild, and there is less rain (although it is not that rainy in Spain at all).
Summers (especially July and August) can be scorching in southern areas like Andalusia, while winter can be pretty cold in northern regions like Galicia.
---
Key takeaways
Spring: See Alhambra in Granada, take a road trip to Costa Brava, and attend Semana Santa (April's Fair) in Seville.
Summer: Explore the beautiful beaches and coastal towns, visit Barcelona, and fly to the Canary Islands, Ibiza, or Menorca.
Fall: Enjoy a mix of sightseeing, hiking, and beach lounging. Explore the northern regions (the Basque country and Galicia)
Winter in Spain: Immerse yourself in the art & culture in Madrid or Seville, go skiing in the Pyrenees, and enjoy fewer crowds everywhere.
---
What people say on Reddit
here in the south of Spain (Sevilla) is normally November a nice month. The cold weather is not here yet, and with a bit of luck it maybe even a bit warm depending on the year. But that's amatter of luck, actually 😅 About being rainy, that depend more on the region. In the north probably it will be rainy, in the south probably not (but could be).

romanvo98
I'm partial to Cádiz, I used to vacation there with my family during our Easter breaks, along with other places in Southern Spain. I enjoyed their food scene (I think it was more diversified in terms of Andalusian cuisine) and walking along the old town (cool cathedral, watch towers and fort). The beaches are great, but it will probably be too cold in December to spend time there. Vejer de la frontera and Conil de la frontera are pretty cute, all-white typical villages, it's worth to check one of them out to get the full picture of the region.

gabs_
October "should" be cheap, but I would book in advance just in case. October is a very good month to visit these cities.

Another day trip that is cool from Barcelona is Figueres/Girona.

And a day trip from Madrid cool would be Salamanca.

I think the original plan sounds very good, would stick to it. If you add Andalucia it will start to be too much to do if you also want day trips.

viktors89
I was in Madrid in October 2 years ago and it hit 28°C, it was warm! Chilly at night. Granada is a fab city, great history and tours, namely the Alhambra (book in advance). I did a lovely solo hike, caught a bus to nearby village to start, and hiked across the hills woth Sierra Nevada mountains in the distance, back into the city direct, about 20km. Was lovely, and had a clear sunny December day!

Nitbugfatspud
Weather differences in northern, central, and southern Spain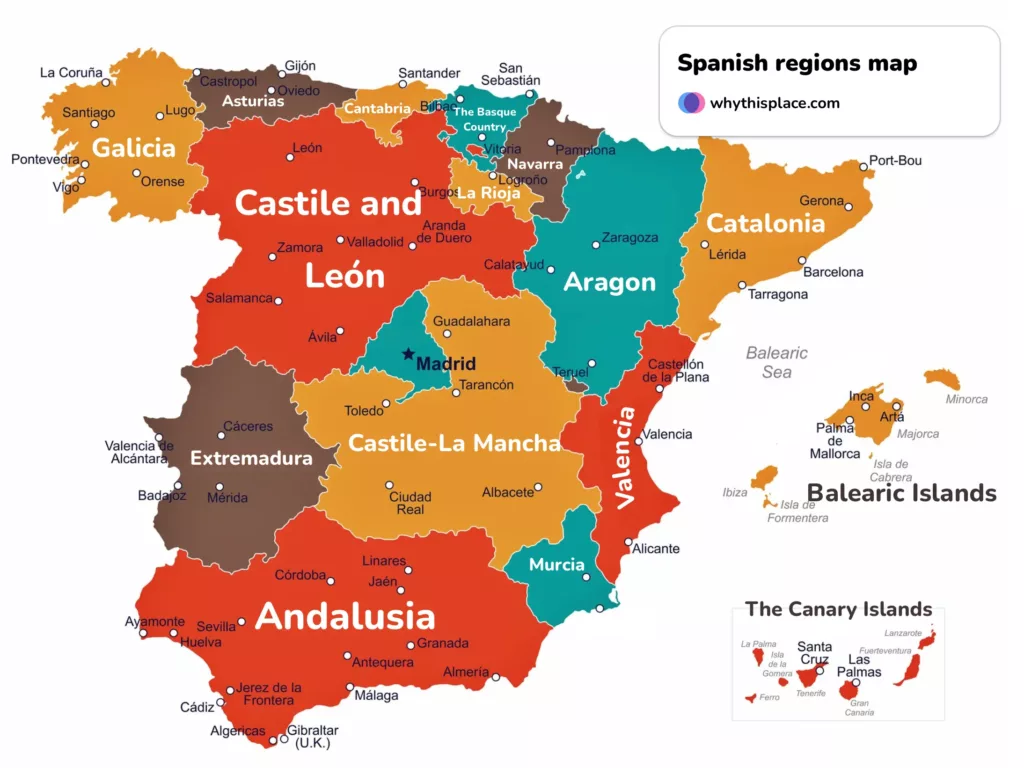 Thanks to its climate, unique historical sites, and cultural features, Spain has been one of the most visited countries in the world since the mid-1950s and 1960s.
But the weather is different everywhere in Spain. It is good to know the differences, especially if you want to settle down or spend extended periods as a digital nomad or a retiree (or whatever else).
Northern Spain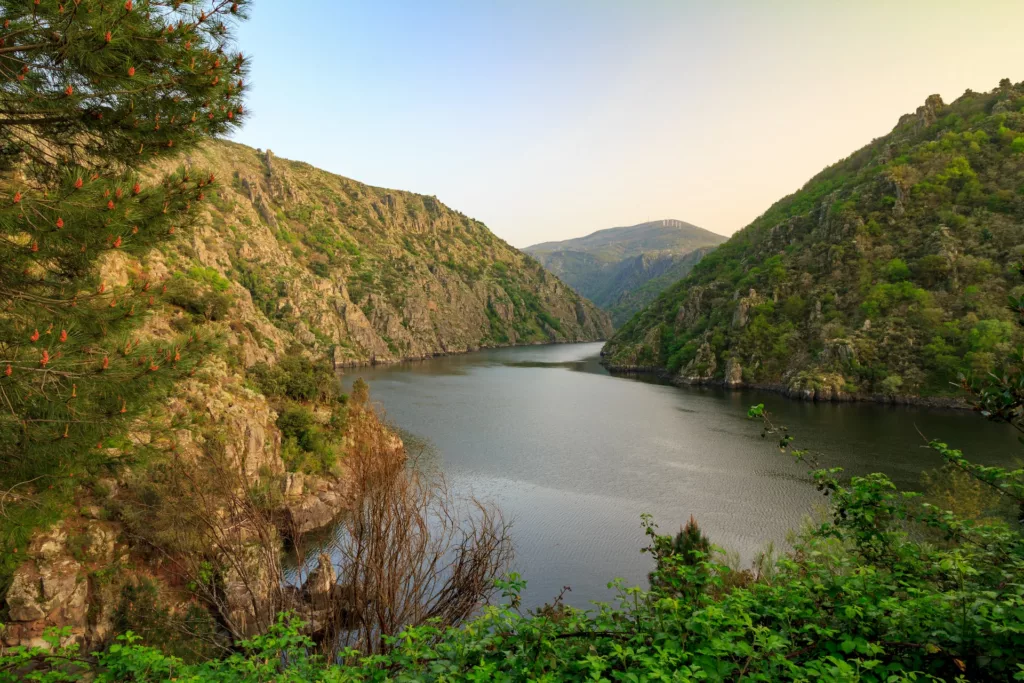 Northern Spain is an area that encompasses the principality of Asturias, Cantabria, the Basque Country, Navarra, La Rioja, and Galicia.
It is known for its beautiful landscape, coastline, and beaches along the Bay of Biscay.
The climate in this area varies from place to place, but generally, it has cold winters and hot summers.
| | | |
| --- | --- | --- |
| | Winters average | Summers average |
| Asturias | 4°C (39°F) | 20°C (68°F) |
| Cantabria | 5°C (41°F) | 22°C (72°F) |
| Basque Country | 6°C (43°F) | 24°C (75°F) |
| Navarra | 7ºC (45ºF) | 25ºC (77ºF) |
| La Rioja | 1-8ºC (34-50ºF) | 23-26ºC (73-79ºF) |
| Galicia | 5-10ºC (41-50ºF) | 22°C (72°F) |
Northern Spain experiences the coolest temperatures all year round. The average winter temperatures are in the 50s °F (between 10°C and 15°C), which is mild compared to most of Europe at this time of year.
Also, the region receives the most rain in the country. The northern inland mountainous regions also experience heavy snowfall throughout the winter.
Central Spain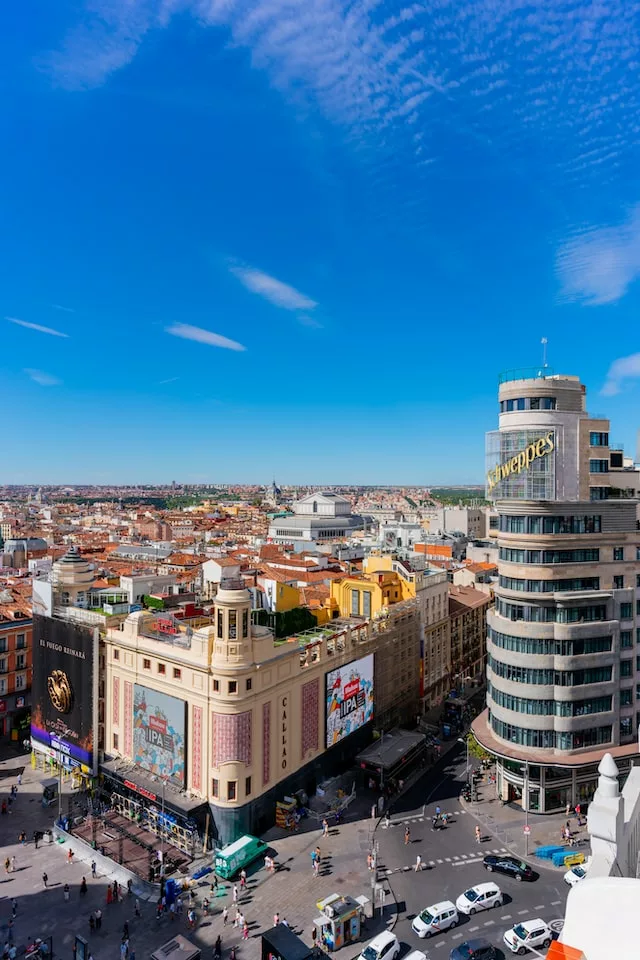 Central Spain refers to the five regions: Castile and León, Castile-La Mancha, Madrid, Extremadura, and La Rioja.
These regions all have temperate climates with hot summers and cold winters. Still, the weather can be more extreme because this part of the country is elevated and away from the coasts.
| | | |
| --- | --- | --- |
| | Winters average | Summers average |
| Castile and León | 0-4°C (32-39°F) | 20°C (68°F) |
| Castile-La Mancha | -5 to 5°C (23-41°F) | 25°C (77°F) |
| Madrid | 0-6°C (32-43°F) | 27°C (81°F) |
| Extremadura | 7ºC (45ºF) | 30ºC (86ºF) |
| La Rioja | 1-8ºC (34-50ºF) | 23-26ºC (73-79ºF) |
Winters in central Spain are cold and arid, with temperatures falling below 48°F (9°C) in some northern areas. Summers, on the other hand, are scorching and dry. Some cities, like Castilla y León, can see temperatures over 100°F (37°C).
That is why I recommend visiting central Spain in the spring or fall. During those two seasons, temperatures average in the 60s °F (between 15°C and 20°C).
Southern Spain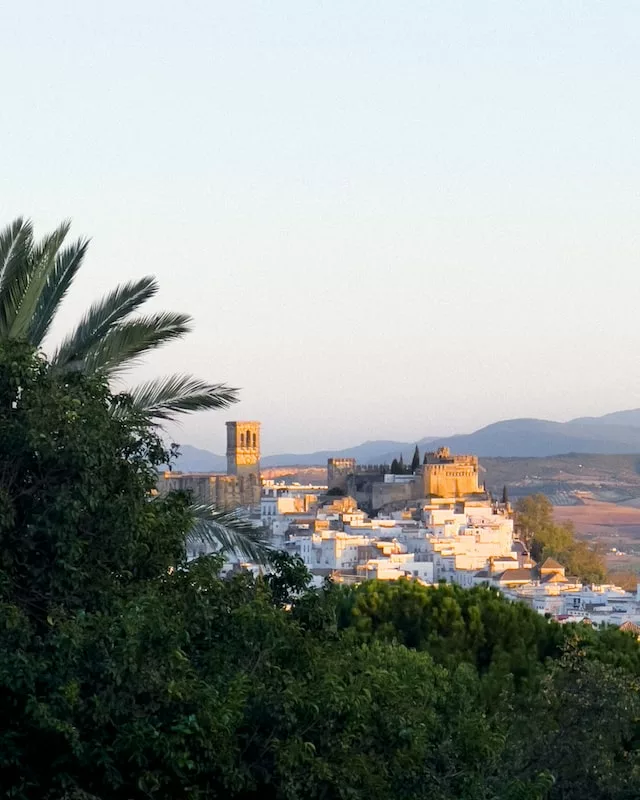 Southern Spain is an area that encompasses Andalusia, Murcia, the Valencian Community, and the Canary Islands.
Southern Spain's weather is the complete opposite of that of northern Spain. Summers are rather scorching, while winters are pleasant, with little to no rain (although the winds can be quite strong). Spring and fall are also very enjoyable in this region.
Andalusia, Spain's southernmost region, has the warmest weather in the country. Temperatures can reach over 110°F (43°C) and rarely fall below 60°F (16°C). It's even considered one of Europe's hottest (literally) destinations all year.
Remember that humidity can make hot summers even hotter when visiting a coastal region.
| | | |
| --- | --- | --- |
| | Winters average | Summers average |
| Andalusia | 7-19°C (44-66°F) | 17-29°C (62-84°F) |
| Murcia | 7-15°C (44-59°F) | 20-33°C (68-91°F) |
| Valencian Community | 18°C (65°F) | 30ºC(86ºF ) |
| Canary Islands | 16.5°C (62°F) | 24°C (75°F) |
Visiting Spain in Spring (March-May)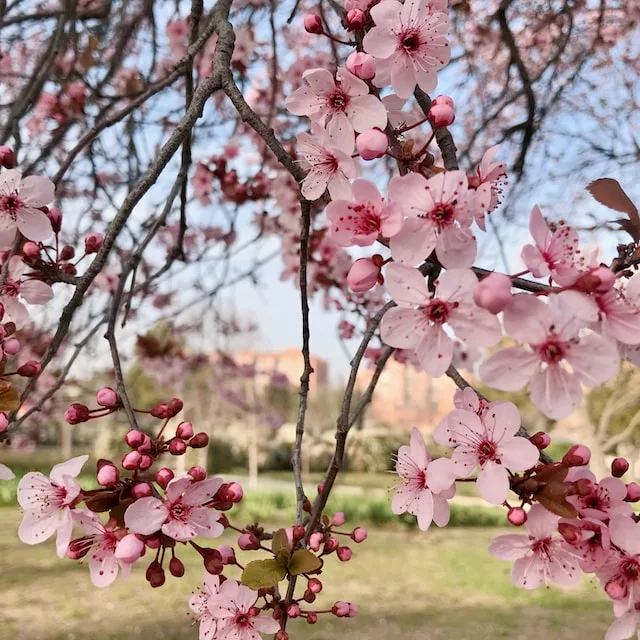 Springtime in Spain offers the best of both worlds: warm weather and fewer crowds.
After the winter chill, Spain in spring is vibrant and festive. You can spend a warm afternoon at the beach or visit museums and historical sites to admire the colorful spring flowers in bloom.
Then, at night, you can attend various exciting events and festivals. Around Easter, there'll be plenty of parades to follow, and there's also the April Fair in Seville and Jerez May Horse Fair.
While the weather is similar to that of the fall, temperatures in the spring get progressively warmer. So, the longer your stay, the more warmth you'll get to relish.
What to do in Spain in spring
Visit the Alhambra Palace in Granada.
Head to Valencia for Las Fallas festival featuring massive papier mâché figures.
Take a walk around Plaza Mayor in Madrid.
Enjoy tapas and paella at La Boqueria market in Barcelona.
Explore The Picos de Europa national park.
Go to the running of the bulls festival at Pamplona.
Visit El Prado Museum in Madrid.
Travel along the Costa Brava coastline.
See the Cathedral-Mosque of Córdoba.
Try some local wines from the Rioja region.
Go for a hike through the Montserrat mountains near Barcelona.
Tour Seville's Alcázar palace and gardens.
Spanish Summer (June-August)
Summer in Spain draws more visitors than at any other time, especially in coastal regions.
Read also: Best Things to do in Barcelona in June
The beaches are the top destination during the daytime. And in the evenings, there are nighttime concerts and fiestas.
Festivals such as La Tomatina Festival are must-attends for anyone seeking a Spanish culinary experience.
Just keep in mind that summer is the peak season in Spain, especially in June and August. Flights and accommodation will be pricier than any other season, but booking in advance can help you save money.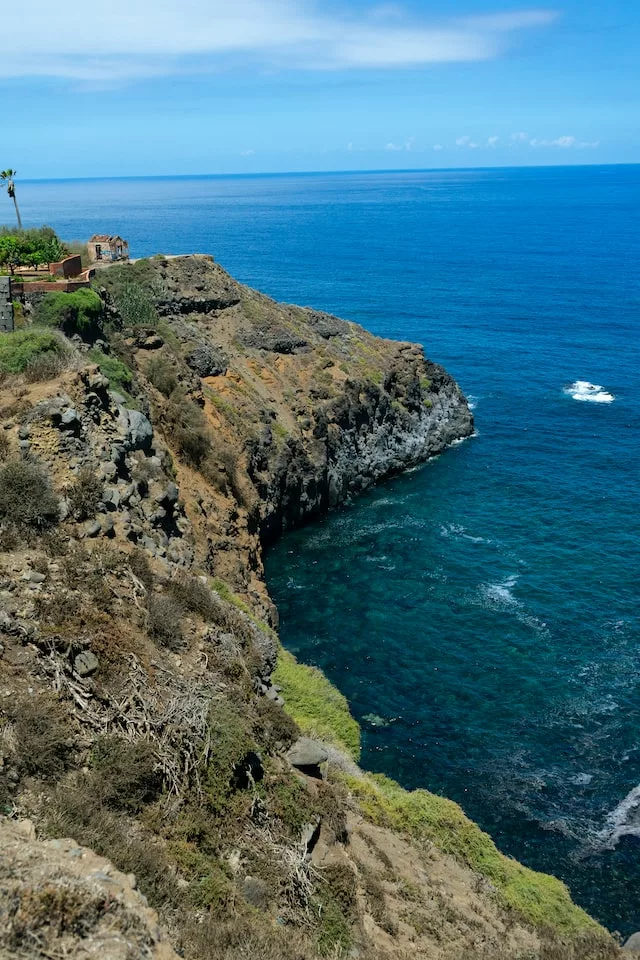 What to do in Spain in summer
Head to northern regions to see Zaragoza, San Sebastian, and Bilbao.
Fly to Tenerife and enjoy soft weather.
Explore the beautiful beaches and coastal towns: From Costa Brava to Ibiza.
Avoid the very southern regions such as Andalusia and Murcia, which can be unbearable at times.
Go sailing on the Mediterranean Sea: With its mild weather, long days and warm waters, summer is an ideal time for sailing around Spain's coastlines or out at sea with a boat charter or cruise line tour
If it is not your first trip to Spain, consider skipping Barcelona and Madrid for less tourist-ridden spots.
Explore Salamanca, a beautiful spot with a lot of history.
Enjoy warmest nights, eat, drink, repeat.
Spanish Fall (September-October)
Spain in the fall is very similar to Spain in the spring because the two seasons have identical weather.
The only difference is that in the fall, most of Spain turns to the most beautiful shades of fall colors, such as yellow and reddish-orange. So, taking walks around historical sites and visiting museums and art galleries can be a comfortable experience.
Many cities hold cultural activities, parades, and spectacular events during this season. For example, in September and early October, you can attend the Bienal de Flamenco in Seville, the world's largest Flamenco Festival.
If you visit the southern coastal regions in the fall, the weather may be warm enough to spend some time at the beach.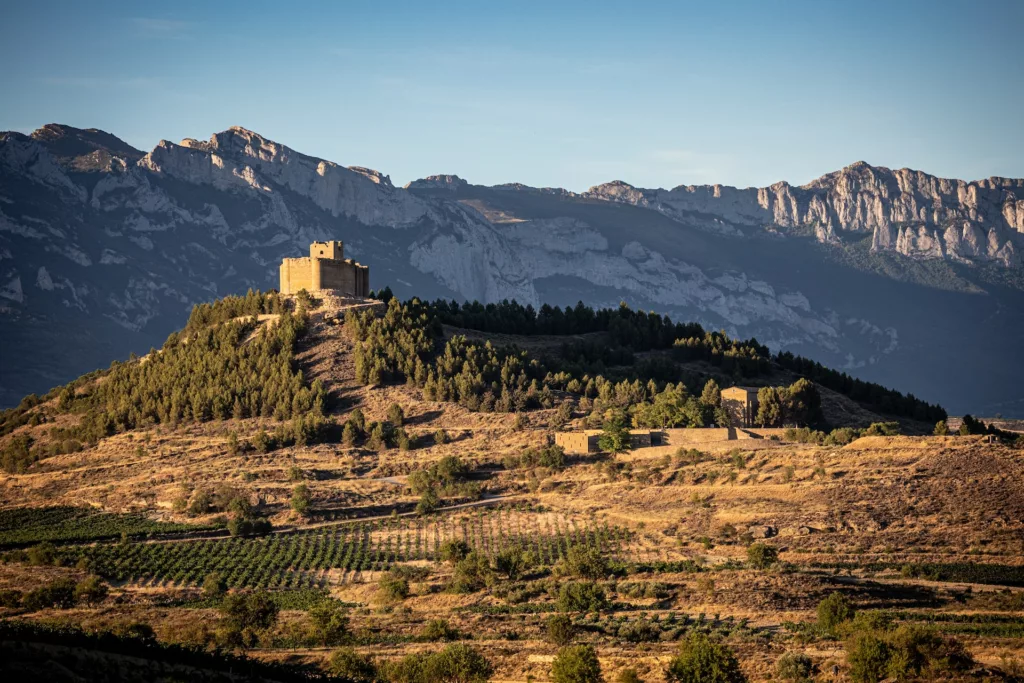 What to do in Spain in fall
Savor traditional Spanish cuisine in Madrid or Barcelona
Read also: Best Michelin-star restaurants in Barcelona and Madrid.
Go wine-tasting at a vineyard in La Rioja in November
Visit Granada to explore its stunning Alhambra palace and gardens
Hike through Parque Nacional de Ordesa or Monte Perdido
Explore Córdoba's Mezquita, a cathedral built on top of an ancient mosque
Relax on some of Spain's beautiful Mediterranean beaches (perfect for late autumn sunshine!)
Wander around Seville's Plaza de España and take in its magical atmosphere
Visiting Spain in Winter (November-February)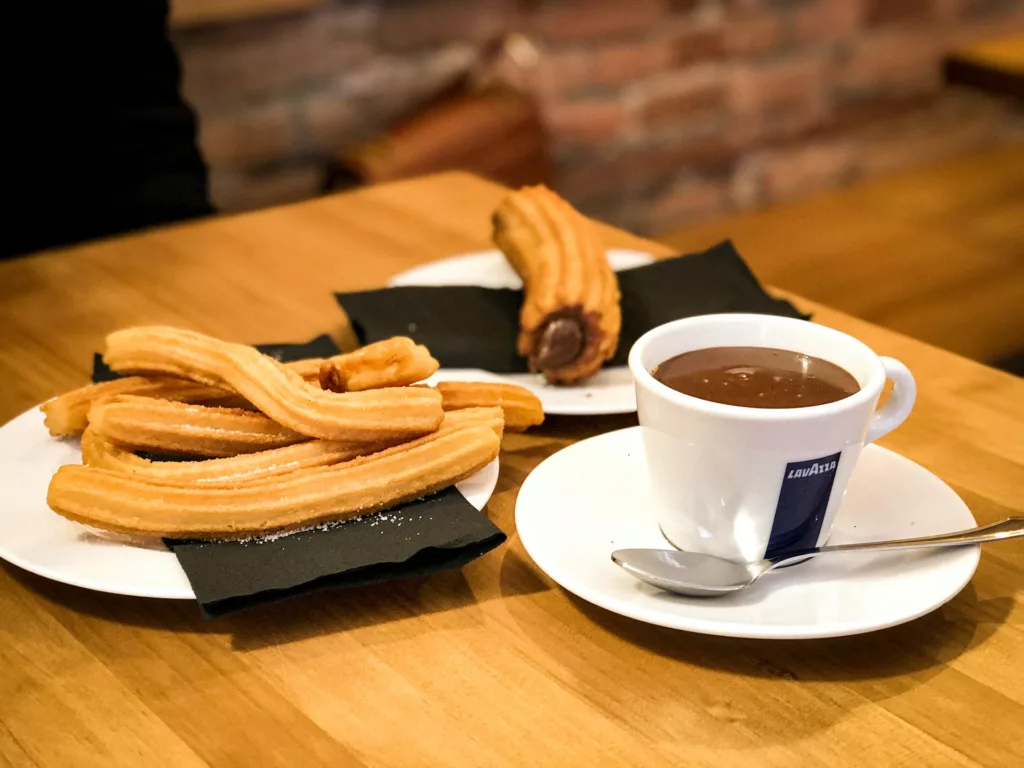 During the off-season in Spain, many beach-side restaurants, bars, and other attractions may be closed or have reduced hours of operation due to decreased customer demand.
What to do in Spain in winter
Avoid visiting northern Spain, as it can be bitterly cold.
Roam around the Alhambra, Granada, without the usual crowds.
Visit Madrid – The capital city of Spain has plenty to offer during winter, from museums and galleries to art shows and outdoor attractions like El Retiro Park.
Try to find free space on your itinerary to see these fabulous towns: Alcala de Henares, Segovia (with one of the best Roman aqueducts), or Toledo (but it can get a bit foggy there).
Explore one of the many traditional Christmas markets located around Spain
Visit Barcelona International Jazz Festival, which takes place on weekends throughout November. You'll have the opportunity to attend free concerts and master classes and meet the artists.
Follow the most celebrated festival in Spain, Three Kings Day, in January. It is a parade that sweeps through Spanish cities and towns on the evening of January 5.
Try Churros with a cup of hot chocolate!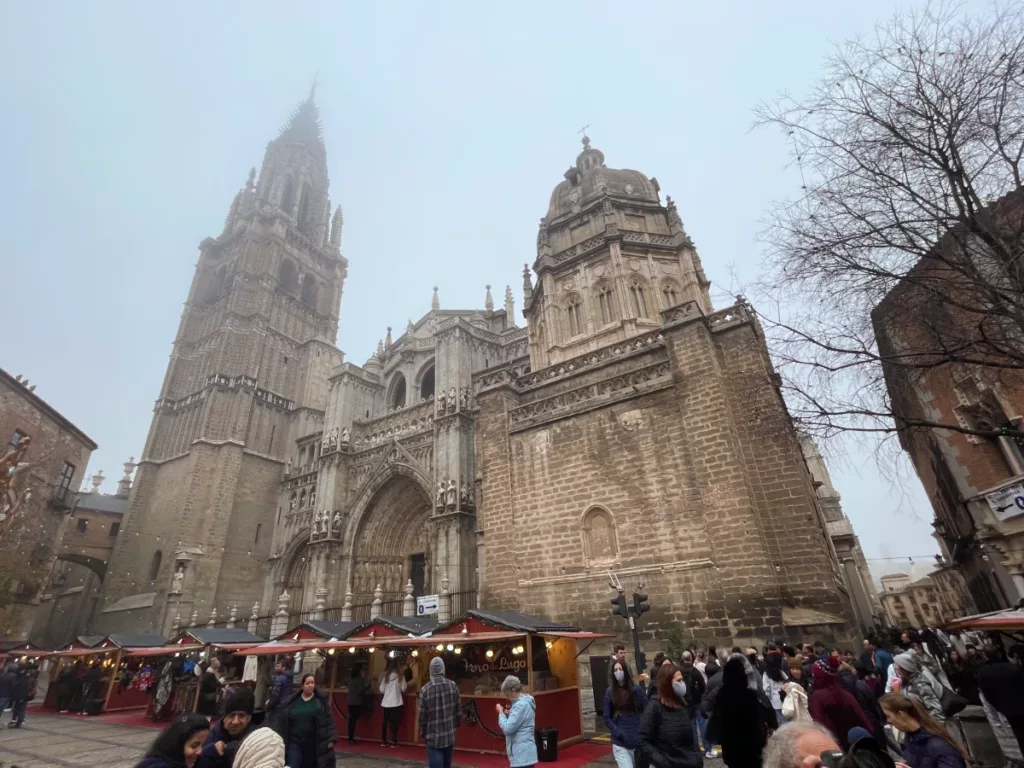 Tips and tricks for visiting Spain
There are a handful of tips and tricks to ensure you get the most out of your trip to Spain.
Bring some extra clothes if you are coming in summer to the south of Spain (because of the humidity).
Interested in architecture? Consider taking a trip to Barcelona, Granada, Seville, or Madrid.
Nature and hiking? Northern Spain will be a solid choice.
Attend Spanish festivals (check the country's official tourism website to see what festivals you can follow).
Going to Portugal afterward? Cross Spain through the central part and stay at a lovely Parador.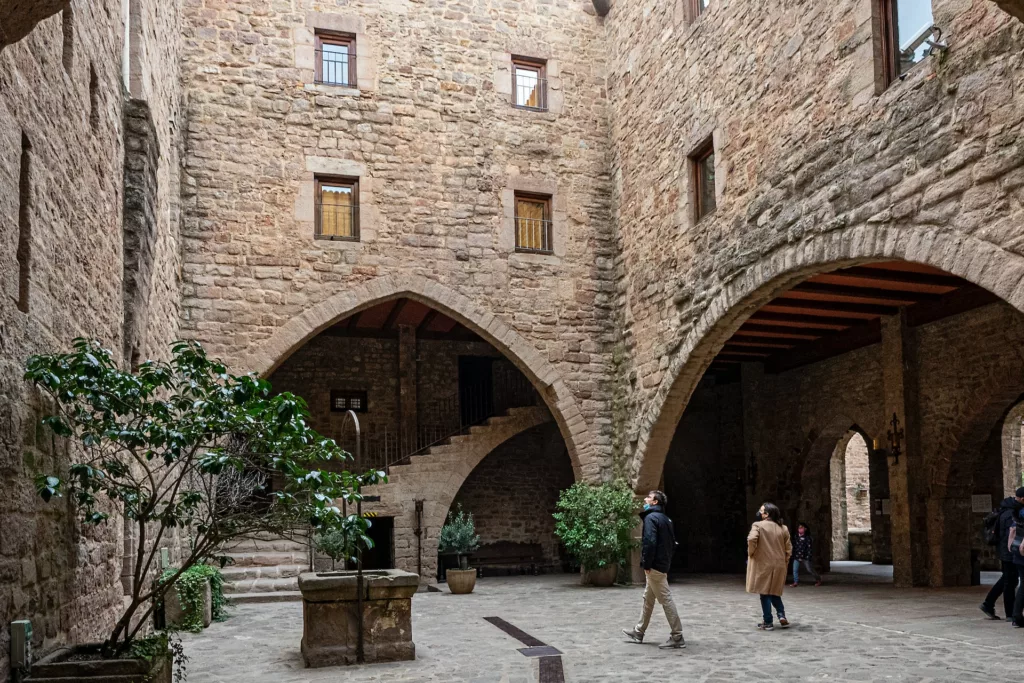 Spanish paradors are hotels built on the sites of historically and culturally significant buildings, such as castles or monasteries. Paradors are usually located in rural areas and offer guests an opportunity to experience the country's culture firsthand. The rooms often feature traditional decor and furnishings, though some may also provide modern amenities for comfort. Many Paradors serve local cuisine or specialties from their region as part of their dining service.
Spain travel restrictions
Until recently, Spain was the only European country with COVID restrictions for visitors from outside the EU. However, as of writing this article, tourists from all countries can enter Spain regardless of vaccination status, a negative COVID test, or a recovery certificate.
Spain's national Health Ministry has also ruled out the possibility of mandatory masking once more.
The only two exceptions are public transportation and medical settings. Face masks are required on airplanes, buses, trains, ferries, metros, and taxis, as well as in hospitals, medical centers, and nursing homes.
Keep in mind that domestic rules regarding masking can vary from one region to the next.
What is the worst time to visit Spain?
July and the beginning of August is the worst time to visit southern Spain.
While the weather in Spain is mild all year, it can be pretty muggy during those two months. Temperatures often range from 80°F to 89°F (27°C to 32°C) and can hit as high as 95°F (35°C). Temperatures in northern regions, such as Bilbao and San Sebastián, may be slightly more relaxed.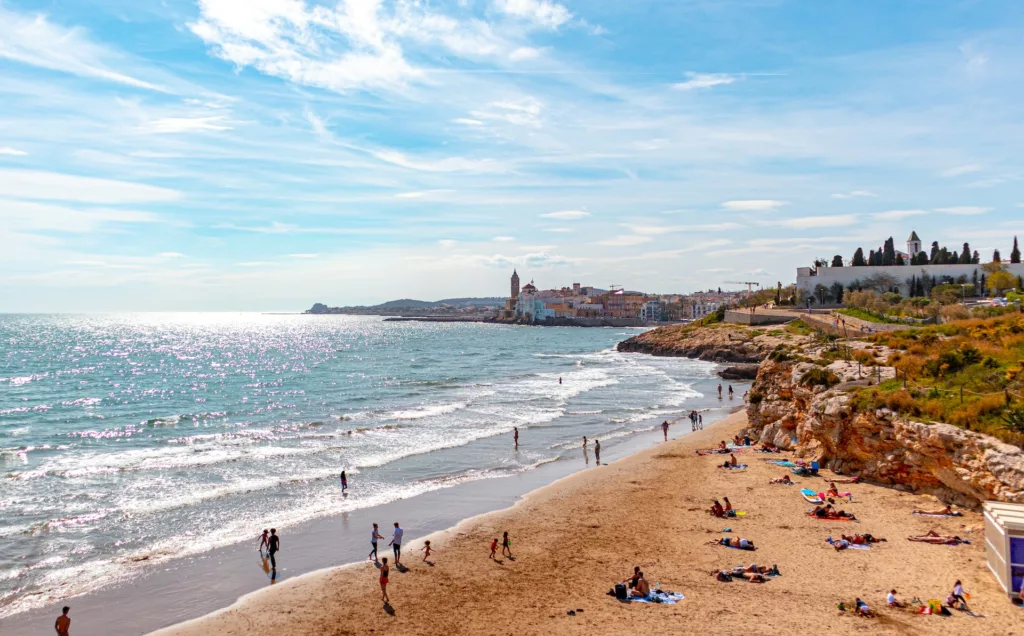 Despite being the two hottest and most humid months in Spain, July and August are the peak season in the country. As a result, prices for flights, lodging, food, and activities will be higher than at any other time of year.
So, the sweltering weather, with the crowds and higher prices, can make a trip to Spain slightly less enjoyable. Although, after the lockdown and COVID, I doubt anyone will ever have a problem spending time in Spain, even in the hottest weather.
When is it better to visit Barcelona?
The best time to visit Barcelona is late spring when the weather is warm, and a flurry of festivals heralds the arrival of summer. You will be able to enjoy all Barcelona has to offer, from beaches to festivals to attractions, without the summer crowds.
If your trip is more focused on sightseeing, early fall, from September to October, is also an excellent time to visit Barcelona. There will be fewer tourists, and the weather will cool down from the summer heat.
Remember that you can get away with a swim at the beach in September.
What is the best time to see Spanish beaches?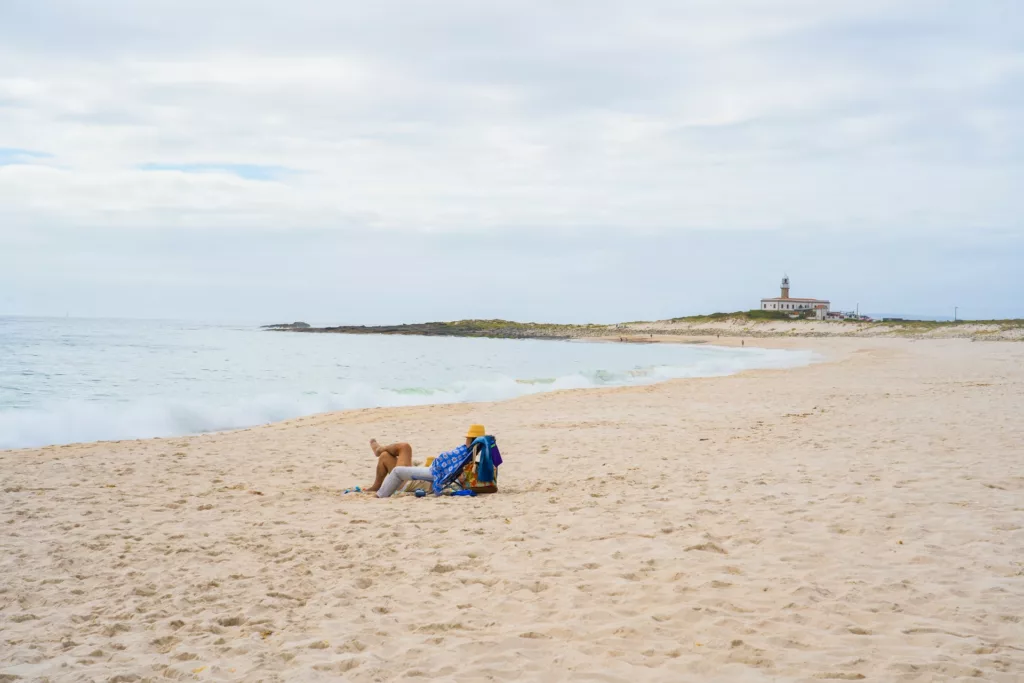 The best time to enjoy the warm weather and water at Spanish beaches is from late spring to summer.
Temperatures begin to rise in May, with an average temperature of 70°F (21°C). Both tourists and locals visit Spanish beaches for a laid-back dip under the afternoon sun.
Then, in July and August, average temperatures reach 85°F (29°C). This period is when the Spanish beaches see the most tourists and locals as they try to cool off from the oppressive heat.
Because Spanish beaches can be warm all day, it can be tempting to swim at night. In some regions, you can get fined for swimming or using the beach between 11 p.m. and 7 a.m.
Final thoughts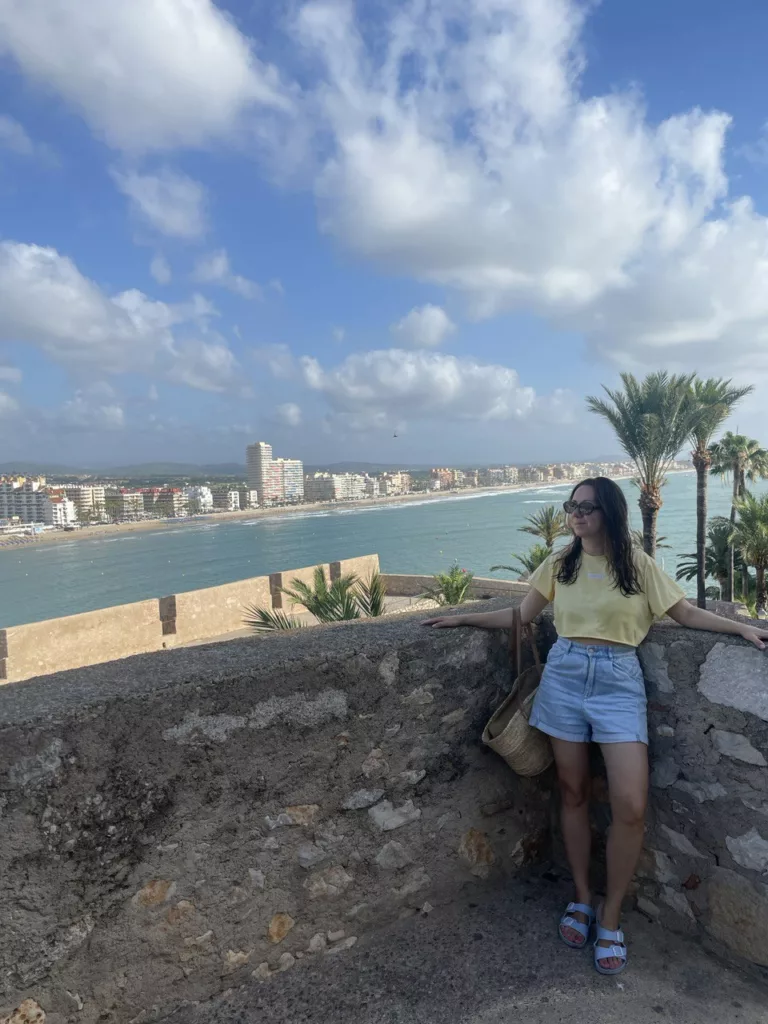 There you have it – a guide to the best time to visit Spain. It depends on the type of experience you seek, as every season brings different weather conditions.
Now that you know when to go to Spain for the best vacation, you can start booking your flights and accommodations to get there as soon as possible.
Have a nice trip!