What is the Best Time to Visit the Canary Islands? A Local's Guide
Sergio Fomenkov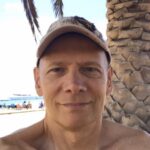 Written by Sergio Fomenkov
Meet Sergio! A travel enthusiast with a zest for exploration, he's all about discovering Spain's beauty, especially the Canary Islands! 🏝️ As a true Canary Islands lover, Sergio dedicates his time to uncovering hidden gems  and capturing stunning landscapes  that make this paradise so unique. He combines his love for adventure and in-depth knowledge of the region to inspire fellow travelers and help them create unforgettable memories on their journeys through the Canary Islands and beyond! Follow Sergio on Instagram, Facebook, LinkedIn, and WikiData. ... show more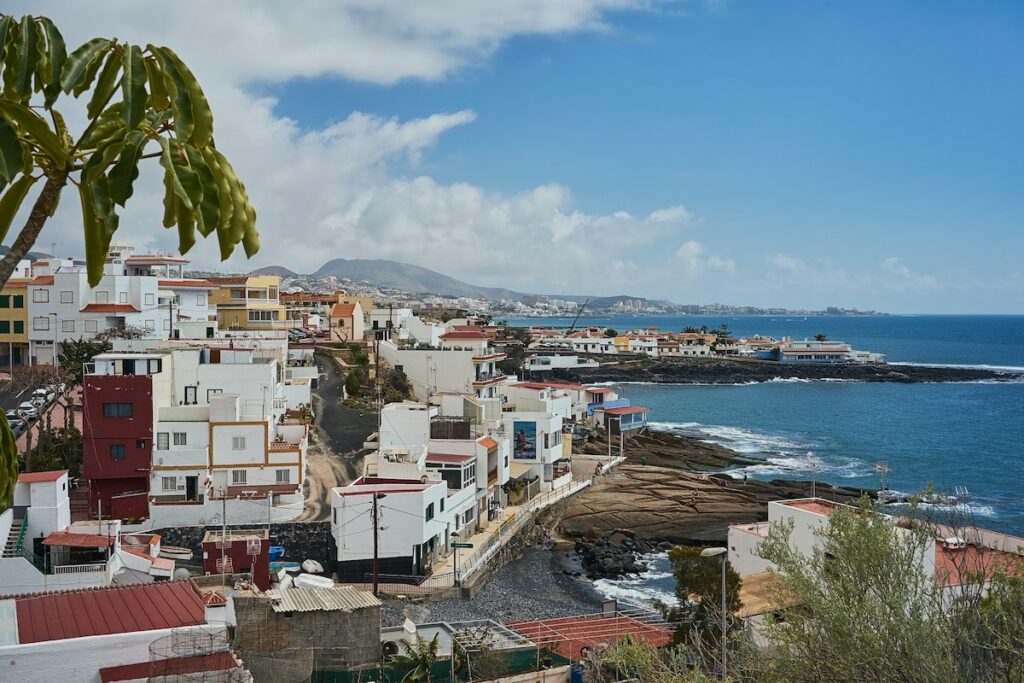 The Canary Islands, a volcanic archipelago near Africa, are renowned for their pleasant oceanic subtropical climate, making them an appealing destination all year long. Beach leisure is even possible during November and December!
The archipelago comprises eight islands, though only seven are typically mentioned, excluding the smallest and least tourist-friendly island, La Graciosa.
Overall, the Canary Islands' geographical location and trade winds contribute to consistently enjoyable weather, so you basically don't have to worry about the best time to visit!
---
Key takeaways
The climate is pleasant year-round.
Compared to Hawaii, the Canary Islands have less temperature variation and precipitation.
On average, the islands maintain a comfortable 22°C (71.6°F) throughout the year.
Beware of La Calima, an atmospheric phenomenon involving suspended Sahara Desert dust, causing an opaque, yellowish or orange sky. It usually occurs during winter.
---
What people say on Reddit
The Canaries are perfectly fine for April, water may be a bit cold for swimming depending on what you are used to. Or it may be just fine (probably just shy of 20°C).

Been to Tenerife several times, there are plenty of awesome spots if you are into hiking and they have nice spots for swimming and all kinds of surfing too (tried to learn kiting once, not my thing).

Been to Gran Canaria for a few days, also pretty great for hiking, they have nice beaches but I didn't go to either of them.

GeronimoDK
I went at the end of November and I loved it! Specifically Tenerife. Stay on the south coast I recommend Costa Adeje. As far as excursions, my girlfriend and me did an ATV tour around the mountains (free tapas included). We rented some jet skis, we also did the Teide volcano hike if that's your type of thing. I also recommend the stars and sunset on the top of the volcano. If you're into astronomy u can also add the observatory tour in your package. Definitely rent a car so you can drive to all these places (nothing for us was over a 2 hour drive) they also have a water park in Siam and some cool caves I couldn't visit. If you have any questions or want more details let me know!

WillitoBurrito
Hey, I'm currently on La Gomera and it's perfectly warm. The thing is, to get here you first fly to Tenerife, then take a ferry to San Sebastian de La Gomera and then another ferry or Bus to Valle Gran Rey, which is the main valley.

If that's to much of a hassle and you're fine having a bunch of fat English tourists around, you might as well just stay on Tenerife. If heard that the more higher regions on Tenerife are great and not a touristy as the coast.

The flights with Easyjet should be affordable.

As far as activities go, it's mainly hiking and chilling at the beach.

DerDudes
I've been to the Canary islands in early April and the weather is great, but the water is a little cold for swimming. The best beach island is Fuerteventura with my favourite beach being Sotavento. There's also Cofete beach with an amazing landscape but you shouldn't swim due to the current, also the road to get there should only be attempted by confident drivers. If your aren't looking to rent a car consider looking at islands of Tenerife and Gran Canaria.

canucker78
Seasons in the Canary Islands
The Canary Islands experience their coldest temperatures in February and the warmest in September.
Winter temperatures in Tenerife and Gran Canaria range between 20°C (68°F) and 30°C (86°F), while Lanzarote sees minimal rainfall, and Fuerteventura has stable temperatures and ideal conditions for wave riders.
Rainfall is concentrated in autumn and winter, with autumn typically receiving more precipitation. Spring and summer have significantly less rainfall, and a dry period lasts from January to November, with no rain in July.
Also, the proximity to Africa results in two undercurrents: a cold northeast coastal current from the Atlantic Ocean and a warmer current from the Gulf of Mexico. These currents provide comfortable temperatures year-round, averaging 22°C (71.6°F) in summer and reaching up to 26°C (78.8°F) in southwestern regions.
Water temperatures vary slightly between islands, with Fuerteventura averaging 18°C (64.4°F) and Gran Canaria averaging 20°C (68°F).
Read also: 13 Best Hikes in Tenerife in 2023
Winter in the Canary Islands
From December to March, the average ambient temperature is about 20-21°C (68-69.8°F), so you can visit beaches and sunbathe. However, swimming is a personal choice, as the water may be a bit cold, but on average, it doesn't fall below 18-19°C (64.4-66.2°F). In winter, consider choosing a hotel with a heated swimming pool or bringing a wetsuit for ocean diving. Strong winds and high waves are common during winter, which can prevent ocean swimming.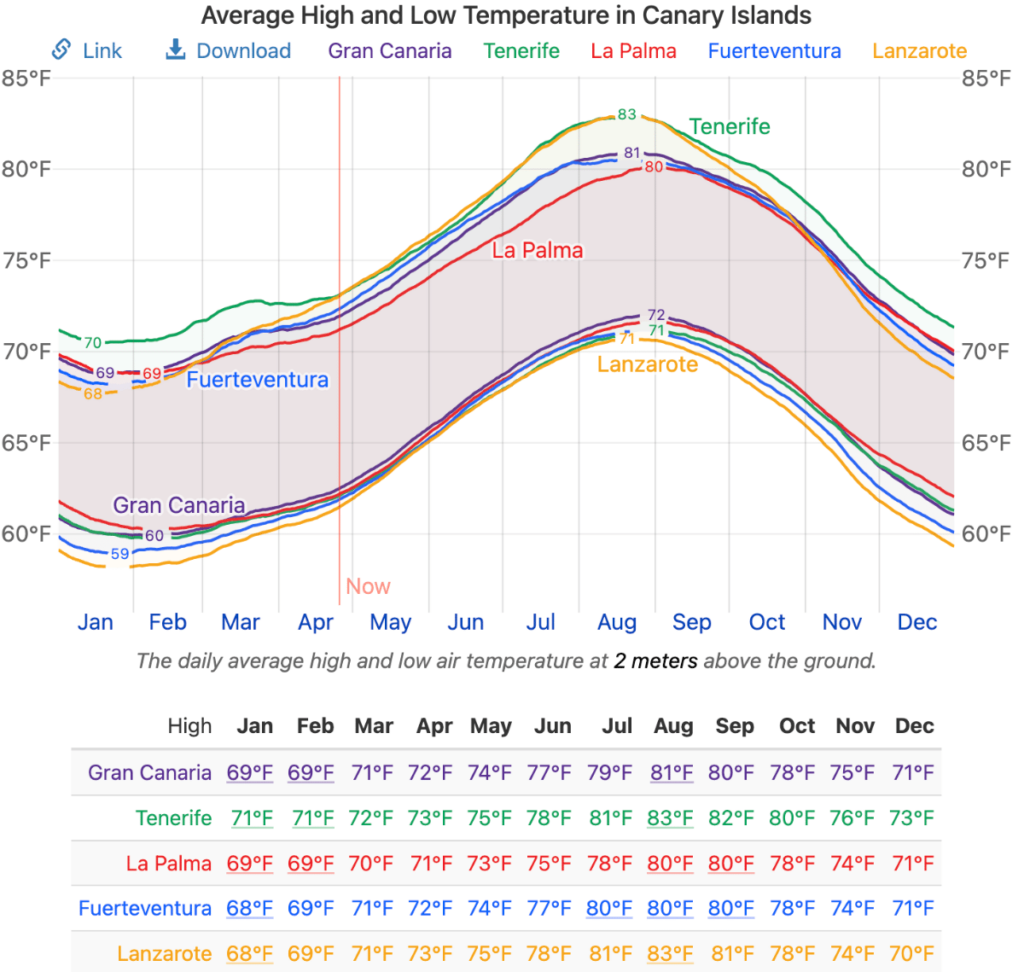 Spring in the Canary Islands
In early spring, March and April, temperatures hover around 21-22°C (69.8-71.6°F), so you can enjoy the beach if there are no wind and sandstorms. The ocean water temperature is 19-20°C (66.2-68°F), which is tolerable for a short swim.
In late spring, May offers a warm temperature of around 24°C (75.2°F), ideal for beach visits and sunbathing. Additionally, occasional rain is rare, making this an excellent time to visit the Canary Islands.
Summer in the Canary Islands
June: During the day, the water temperature in the Canary Islands can reach 21°C (69.8°F), while the ambient temperature reaches 26°C (78.8°F). Many tourists consider June the best time to travel in summer, as it's not too hot, and you can enjoy various activities such as hiking.
July: If you plan to travel in July, expect warmer temperatures and an influx of visitors. During this month, temperatures range between 25° and 30°C (77-86°F), perfect for beach days. With up to 10 hours of sunshine per day and minimal rain, Fuerteventura is highly recommended for July holidays, offering a warm climate and optimal water temperature of around 21-22°C (69.8-71.6°F) for family water sports.
August: In August, the water temperature in the Canary Islands can reach 24°C (75.2°F), the highest of the year, while the ambient temperature can reach 30°C (86°F). August is a favorite month for many visitors to enjoy the sea in Gran Canaria and sunbathe on its beaches.
September is the last month to enjoy the summer and warm water temperatures of around 23.5°C (74.3°F).
Still, many tourists still frequent the beaches in October and throughout the year. The air temperature reaches 26°C (78.8°F), while the water temperature is 23°C (73.4°F).
Autumn in the Canary Islands
I traditionally enjoy flying to the Canary Islands in early November, and it should be noted that there were years when the water temperature in the south of Gran Canaria in November was so comfortable, around 22°C (71.6°F), that I did not want to leave the water. The air temperature also reached up to 24°C (75.2°F).
Short summary on seasons
Therefore, the best beach time is from May to October. The high season occurs from August to October, when the water reaches its warmest temperatures. During the winter months, there is a brief "rainy season" consisting of only 5-6 days when a tropical storm may pass through the islands. Spring and autumn are considered the off-season, when prices are lower but the weather remains conducive to a comfortable stay.
However, it is also said that the Canaries are perfectly fine in April; the water may be a bit cold for swimming, depending on your preference. It could be just fine for you at temperatures no higher than 20°C (68°F).
La Calima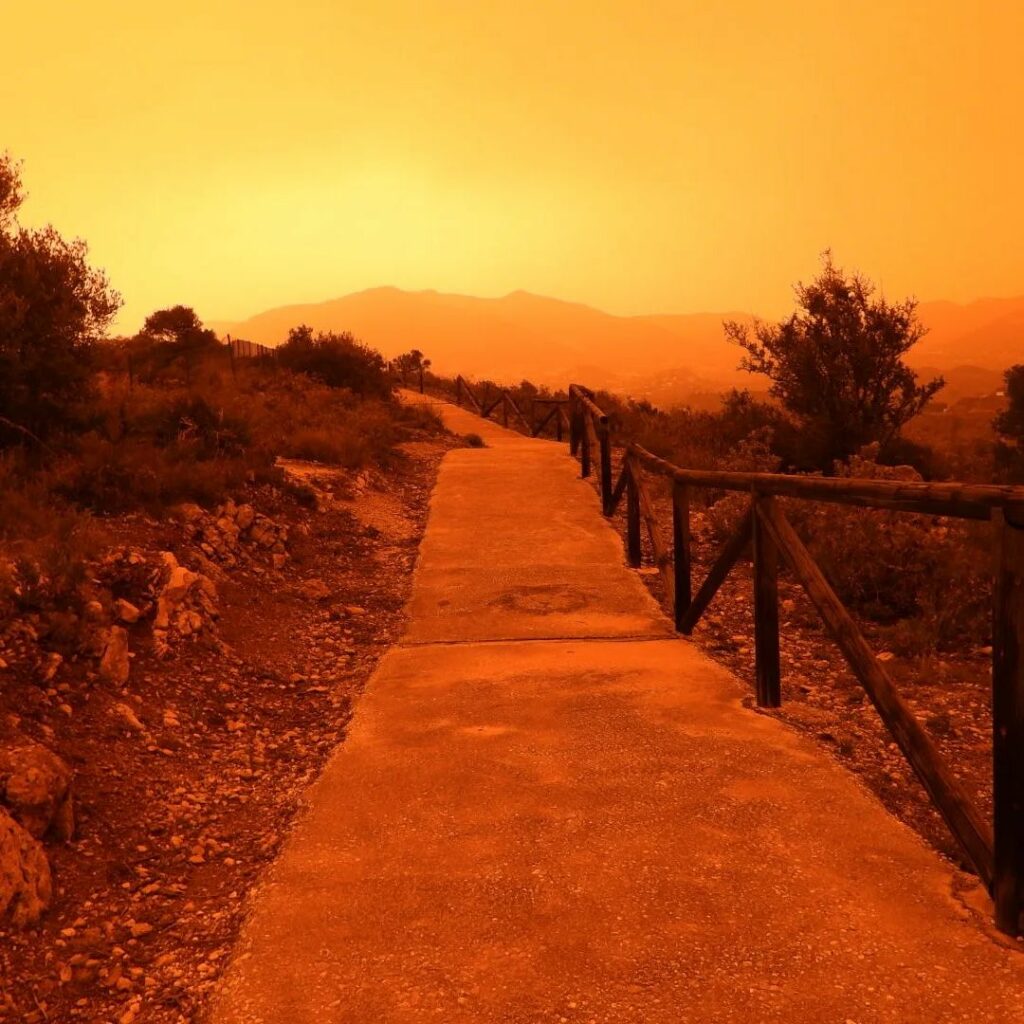 La Calima is a natural phenomenon in the Canary Islands caused by their proximity to the Sahara Desert. It involves the accumulation of suspended dust in the air, which results in an opaque and cloudy appearance with a yellowish or orange hue in the sky.
It typically occurs during the winter months, particularly in Lanzarote and Fuerteventura, but also affects the other islands to varying degrees. The eastward winds carry Sahara Desert dust to the archipelago, significantly reducing visibility.
The calima usually brings increased air temperature and can make it difficult to breathe due to polluted air. Episodes of calima in the Canary Islands typically last between 3 and 5 days, with the intensity decreasing gradually as the atmosphere clears. The last time I experienced calima was in mid-July 2022 in southern Gran Canaria. While it may not seem significant, if 5 out of a 10-day summer vacation are affected, it's advisable to check weather forecasts for the Canary Islands in advance and adjust your plans accordingly.
Future projections suggest that the frequency and intensity of calima episodes could increase, so adaptation is the best course of action.
Weather in Tenerife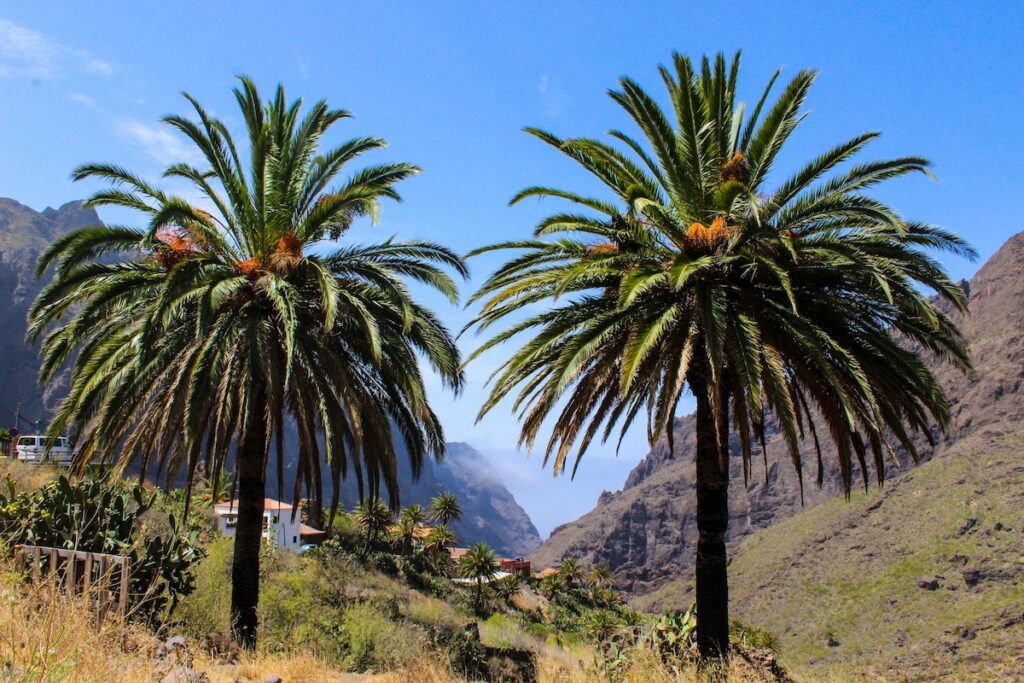 Tenerife, the largest island in the Canary Archipelago, offers a diverse experience for travelers. No matter where you choose to stay on the island, you'll enjoy the beautiful scenery. In just 50 minutes, you can drive from the northern to the southern half and experience varying climates, from the sunny south to the cloudy north.
Benefits of vacationing in northern Tenerife include:
Green landscapes;
Better air quality than in the south;
Attractive architecture in towns and villages over 300 years old;
Unique charm and authenticity of Tenerife;
Numerous beautiful beaches with black volcanic sand;
Ideal conditions for surfing with strong winds and large waves;
Perfect location for a quiet holiday;
Cloudy weather in summer, providing a respite from the August heat during walks.
Southern Tenerife has less greenery and diversity than the north. The cities here are younger, with fewer historical architectural sites. However, the south offers a higher concentration of 5-star hotels and comfortable accommodations, along with numerous high-quality hotels, clubs, and entertainment venues.
Swimming is more enjoyable during sunny hours, despite the water temperature being the same as in the north. Southern Tenerife also boasts a fantastic water park, many white-sand beaches, and the famous wind and kite surfing resort, El Medano, thanks to strong southern winds. It's an excellent destination for a beach vacation for both young people and families, with comfortable beaches equipped with large breakwaters for safe swimming even during storms.
Comparing the north and south of Tenerife:
Ocean temperature is the same;
The north is greener;
The south is windier;
The north is cloudier;
Air temperature is similar, with a 1-2-degree difference.
The average air and water temperature on Tenerife varies by month:
January 22°C (71.6°F) and 18°C (64.4°F)
February 21°C (69.8°F) and 18°C (64.4°F)
March 23°C (73.4°F) and 18°C (64.4°F)
April 23°C (73.4°F) and 19°C (66.2°F)
May 24°C (75.2°F) and 20°C (68°F)
June 26°C (78,8°F) and 21°C (69.8°F)
July 28°C (82.4°F) and 23°C (73.4°F)
August 30°C (86°F) and 24°C (75.2°F)
September 28°C (82.4°F) and 23°C (73.4°F)
October 26°C (78.8°F) and 22°C (71.6°F)
November 23°C (73.4°F) and 21°C (69.8°F)
December 21°C (69.8°F) and 20°C (68°F)
Weather in Gran Canaria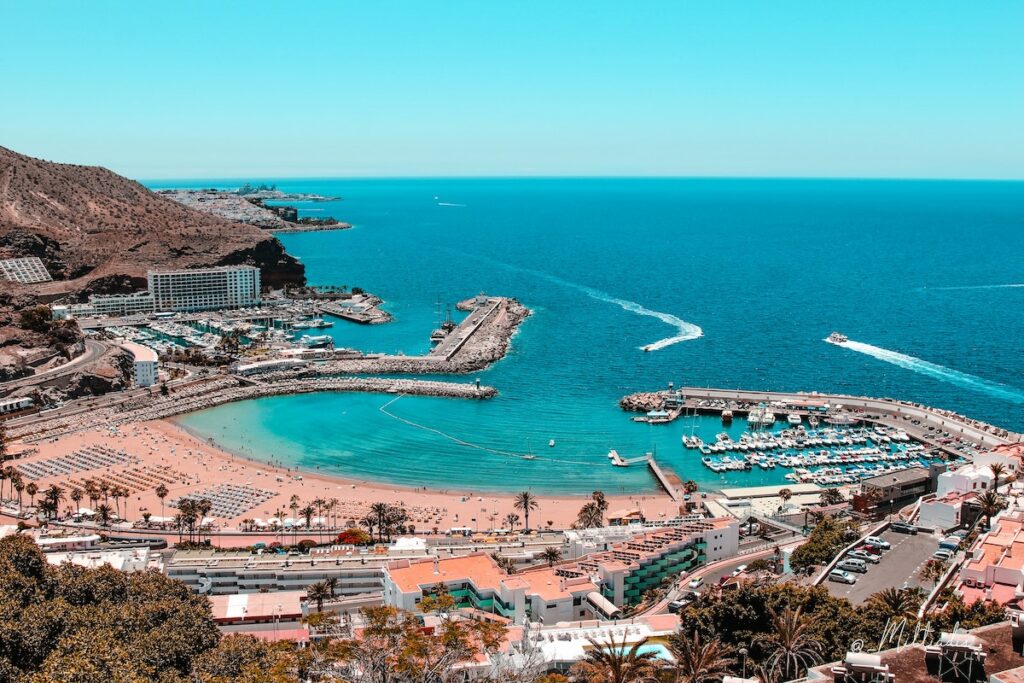 Gran Canaria, the third largest island in the Canary Archipelago, is often called a "miniature continent" due to its diverse natural features, such as volcanoes, deep ravines, forested peaks, and stunning panoramas. Along with Tenerife and La Palma, it is one of the highest islands in the Canaries.
Gran Canaria's mild climate results from its location in the Atlantic Ocean and the Canary Current, a tributary of the Gulf Stream. Summer temperatures can reach 35°C (95°F), while winter temperatures range between 30°C (86°F) during the day and 18°C (64.4°F) at night. The water temperature along the southern shore reaches up to 24°C (75.2°F) and doesn't fall below 20°C (68°F) during winter months.
Beach vacations are possible year-round in Gran Canaria. Winter months can be cooler, especially at higher altitudes, with January being the coldest month. In the north, Las Palmas de Gran Canaria experiences average temperatures of 21°C (69.8°F) during the day and 13°C (55.4°F) at night, with only 8 rainy days per month. In the south, rain is rare, making it a popular winter destination for Northern European tourists. December to March is the peak tourist season in southern Gran Canaria. Summer months, especially July and August, can see temperatures reaching 40°C (104°F) due to warm sandstorms from the Sahara.
Also, Gran Canaria's mountain range divides the island into two distinct climatic zones. The southern part has a hotter, less humid climate as the mountains block precipitation-bearing air. The south enjoys 350 sunny days a year, and the average annual temperature regime for air and water is as follows:
January 25°C (77°F) and 21°C (69.8°F)
February 24°C (75.2°F) and 21°C (69.8°F)
March 25°C (77°F) and 21°C(69.8°F)
April 26°C (78.8°F) and 22°C (71.6°F)
May 27°C (80.6°F) and 22°C (71.6°F)
June 28°C (82.4°F) and 23°C (73.4°F)
July 30°C (86°F) and 24°C (75.2°F)
August 32°C (89.6°F) and 24°C (75.2°F)
September 29°C (84.2°F) and 24°C (75.2°F)
October 28°C (82.4°F) and 23°C (73.4°F)
November 27°C (80.6°F) and 22°C (71.6°F)
December 26°C (78.8°F) and 22°C (71.6°F)
Weather in Fuerteventura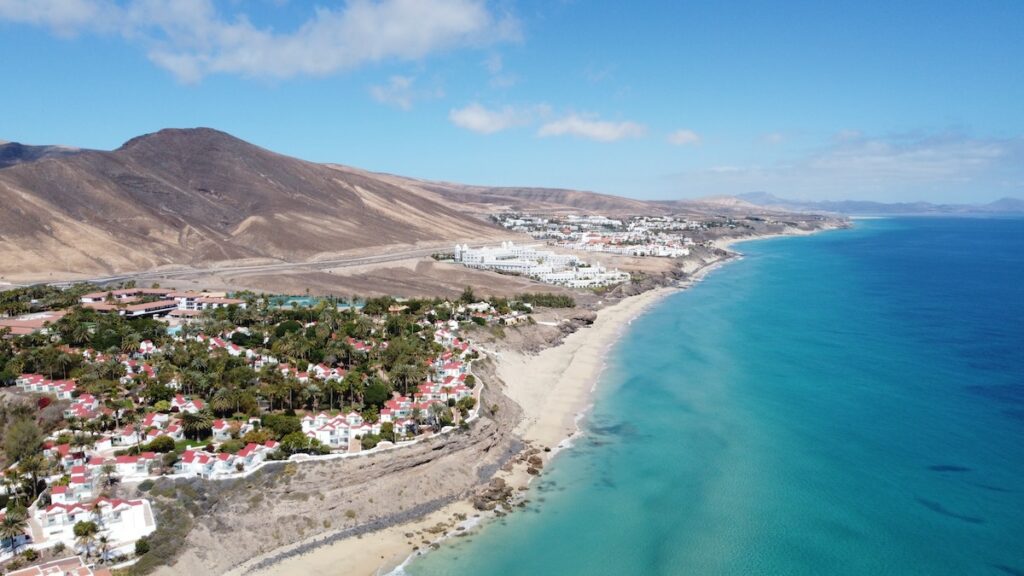 Fuerteventura, the oldest and second-largest Canary Island, is known for its flat terrain and beautiful virgin beaches. Located 62 miles (100) km from the African coast, it offers a year-round beach season with a mild climate. The peak season is from July to October, with temperatures in July not exceeding 27°C (80.6°F) and January temperatures around 20°C (68°F). Low humidity and constant winds make the climate more tolerable, and the stable water temperature of 20°C (68°F) is ideal for kite surfing and windsurfing.
Weather in Lanzarote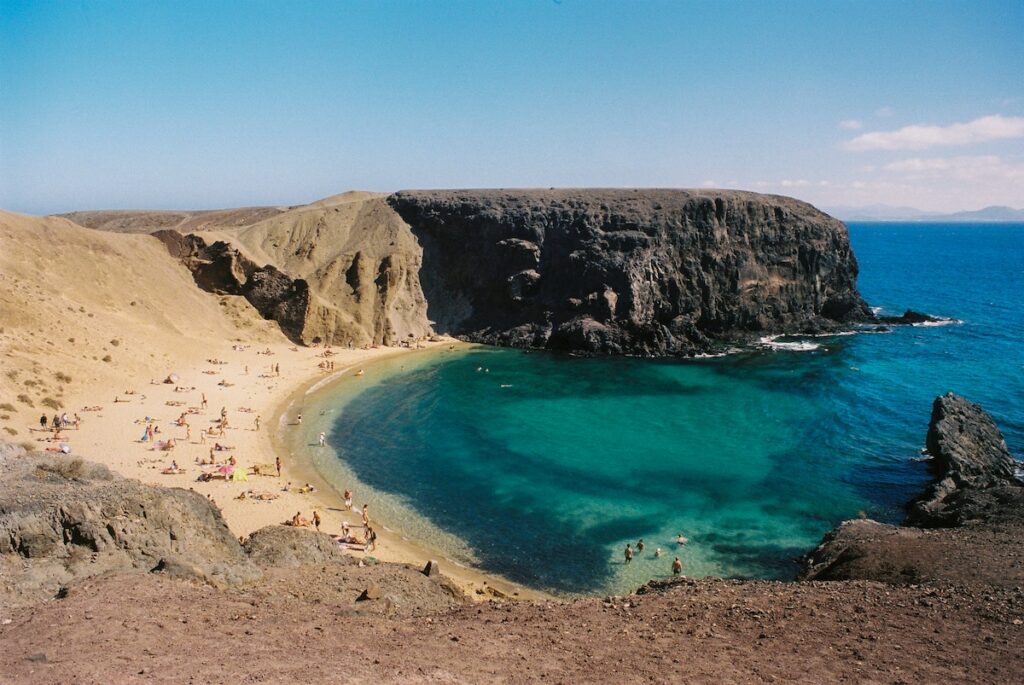 Lanzarote, the fourth-largest Canary Island, is known for its extinct volcanoes and unique, multicolored lava landscapes. Its hotel infrastructure is well-developed but not ostentatious, blending with nature and traditional Canarian architecture.
Lanzarote's climate is cooler than the western islands due to the northeast trade winds. The windiest area is the northern coast, while the southern resort areas are protected by volcanoes. In summer, a moderate wind is refreshing, making September an ideal time to visit as the wind subsides and ocean temperatures peak.
The coolest time is from mid-December to the end of February, with temperatures reaching 25°C (77°F) in the sun. The average annual temperature regime for air and water is as follows:
January 20°C (68°F) and 19°C (66.2°F)
February 20°C (68°F) and 19°C (66.2°F)
March 21°C (69.8°F) and 19°C (66.2°F)
April 22°C (71.6°F) and 19°C (66.2°F)
May 24°C (75.2°F) and 19°C (66.2°F)
June 25°C (77°F) and 20°C (68°F)
July 26°C (78.8°F) and 21°C (69.8°F)
August 28°C (82.4°F) and 22°C (71.6°F)
September 26°C (78.8°F) and 23°C (73.4°F)
October 24°C (75.2°F) and 21°C (69.8°F)
November 22°C (71.6°F) and 20°C (68°F)
December 20°C (68°F) and 19°C (66.2°F)
Other Canary Islands
La Palma, the fifth-largest and greenest Canary Island, is less developed for tourism compared to Gran Canaria and Tenerife. Its tranquility and opportunities for rural tourism attract visitors who enjoy rural landscapes. La Palma is perfect for hiking and offers numerous black sand beaches.
La Gomera, the sixth-largest Canary Island, has untouched nature and relict vegetation. Its tourist infrastructure is limited, but it's ideal for hiking. Day trips by ferry from Tenerife allow tourists to experience Gomera's picturesque landscapes.
El Hierro, the smallest Canary Island, has long been considered a distant and mysterious place. Its tourism services cater to visitors seeking escape from the modern world. El Hierro offers excellent hiking, saltwater pools, and beaches for snorkeling and diving.
Climate features that apply to all the Canary Islands
The north/east parts of the islands typically have strong currents and waves, but natural pools and breakwaters make the waters safer in tourist areas. Examples include Playa Las Teresitas in Santa Cruz de Tenerife and Playa Las Canteras in Las Palmas de Gran Canaria.
Conversely, the south/west areas are calmer and more touristy, with better weather and some beaches with breakwaters. Traveling during winter months like December and January, the best beaches to avoid waves are Playa de las Canteras on Gran Canaria, protected by a natural reef called La Barra, and Playa Las Teresitas in Santa Cruz de Tenerife.
While the south has better weather and more sunshine, the north offers more sightseeing opportunities, a greener landscape, and beautiful black sand beaches. However, the sea state may not always be suitable for swimming.
Where to go in the Canary Islands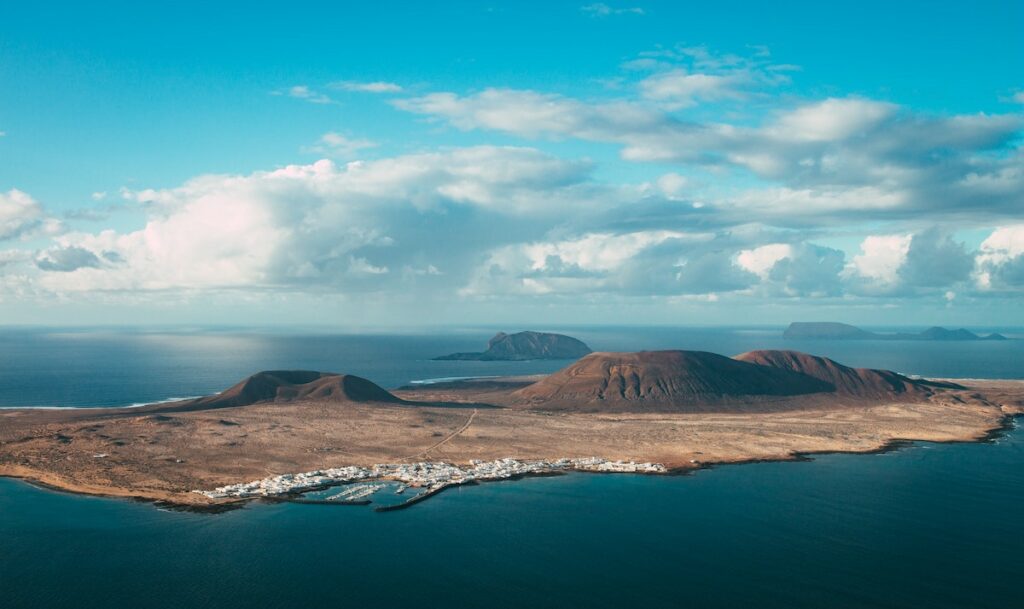 The Canary Islands are the top choice for affordable summer holiday destinations during peak season.
La Palma, La Gomera, and El Hierro are close to Tenerife in terms of affordability, with prices as low as 113 euros in the low season, according to a study by the holiday home search engine holidu.es. The Atlantic archipelago is also a great option for last-minute travelers, as the study indicates a 58% occupancy rate. However, booking in advance is recommended to avoid paying extra.
Considering individual island data, La Gomera is the cheapest with an average price of €88 per night, followed by El Hierro at €89 and La Palma at €96. Fuerteventura and Tenerife rank fourth and fifth with prices around €115. Lanzarote is the most expensive destination at €165 per night.
Also, Playa Blanca in Lanzarote is the most sought-after and expensive destination in the Canary Islands, with an average price of €207 per night. In 2022, it was the most popular Canary Island destination, followed by Maspalomas in Gran Canaria South and Corralejo in Fuertaventura. Playa Blanca is also the most expensive destination in the entire archipelago, especially during the high summer season, as the only area exceeding €200 per night. Guía de Isora in Tenerife West follows at €186 per night, and Puerto del Carmen in Lanzarote at €178.
The cheapest holiday destinations in the Canary Islands for accommodation are Costa de Antigua in Fuertaventura at €64, Puerto del Rosario in Fuertaventura at €65 per night, and San Marcos in Tenerife North at €69.
Vacations in the Canary Islands: Tips & Budget Considerations
– When comparing prices for holidays in Spain, the Canary Islands are generally cheaper than Barcelona and mainland Spain.
– There are no toll roads.
– Parking costs €1-2 per hour. You can pay for parking by card or in cash.
– Keep in mind that there are many mountain roads on the islands, and the most interesting sights are in the mountains and beyond the passes. Therefore, if the total weight of your group is more than 200 kg (440.9 lb.), you should not choose low-power cars. You will regret it. A mid-range Ford Focus, Fiat 500x, or Opel Corsa type is enough. Such cars handle mountain passes perfectly. Although the Fiat 500X is more comfortable, it is just as fuel-hungry. Consider this fact as well.
– If budget is your top priority, consider a cheap Opel Corsa, which consumes only 5-6 liters of fuel per hundred kilometers even in the mountains.
– SUVs are not needed on the islands, unless you just love them. So how much does a Ford Focus type car cost in Tenerife for a week or more? The Fiat 500x cost us €22 per day with full insurance.
– When buying air tickets, I advise you to use https://www.aviasales.com – reliable, convenient, and always low-priced – cheaper than on https://www.skyscanner.net. The price of a flight from the mainland usually does not exceed €120 round trip. But, of course, I try to fly low-cost airlines such as Ryanair, Vueling, Air Europa, Wiz Air, Easy Jet, etc. Usually, the closer to the departure date, the more expensive the tickets are, but this rule does not always apply, and sometimes cheaper tickets appear a month before departures.
– As for accommodation, it is more expensive in the south of Tenerife due to its tourist nature. It's cheaper in the north. On the island of Gran Canaria, housing costs about the same as in the south of Tenerife. In monetary terms, it is €30-€50 in the north of Tenerife per day for a good apartment or a tourist-class hotel and €50-€80 per day for similar accommodation in the southern part of Tenerife and Gran Canaria. This is, of course, all for two people!
– https://www.hotelscombined.com allows you to save up to 20% when searching for budget accommodation, hotels, and apartments as it searches through all popular booking sites.
– Most often, I use a familiar and convenient site for finding and booking accommodations worldwide, such as https://booking.com and https://airbnb.com.
– You can easily rent a car upon arrival at the airport or at one of the rental company offices. There is almost always an option to have the car delivered to the address you specify, for an additional fee, of course.
– You can rent a car and travel around the Canary Islands, as ferries run between all the islands. However, it is much more cost-effective to rent a car and then rent another one on the next island.
– Car rental prices in the Canary Islands are among the lowest in Europe. Renting a car here is cheaper than in continental Europe, such as Spain, Italy, or France.
– It is easy to book a rental car with just a few clicks through https://discovercars.com/spain-canary-islands
Interesting Facts about the Canary Islands
The length of daylight on the Canary Islands varies by only four hours due to their equatorial location. The shortest day in December is about 10 hours, while the longest in July is about 14 hours. This equal duration of day and night can be surprising for tourists from northern regions. It is important to plan tourist trips and hikes, especially in the mountains, to be completed before dark.
The Maspalomas dunes in the south of Gran Canaria offer a unique natural experience with a mini desert by the sea, filled with exclusive species of animals and flowers. To learn more and book accommodations near the dunes, visit https://villagrancanaria.com/es/experiencias/dunas-de-maspalomas/.
For a luxurious experience, consider staying at the Hotel Faro, a Lopesan Collection Hotel, which offers stunning panoramic views of the golden sands and the Maspalomas Lighthouse due to its prime location.
Best Time to Visit the Canary Islands FAQ
What is the best month to go to Tenerife?
Tenerife is the largest island of the Canary Archipelago, and it's an island where you can sunbathe and swim in the ocean, regardless of the calendar month or time of year. The warm climate, clean air, calm atmosphere, developed infrastructure, and unique views are present in Tenerife throughout the entire year.
What is the hottest month in the Canaries?
July and August are typically the hottest months of the year in the southern areas due to the warm sandstorms from the Sahara, with temperatures reaching up to 40ºC (104ºF) in the afternoon in the south of Gran Canaria.
Which Canary Island has the best climate?
According to the annual temperature balance, Gran Canaria is considered to have one of the best climates. Tourists who have visited the Canary Islands often prefer Gran Canaria, as the average annual air temperature is 3-5 degrees higher, especially in winter. This is because Gran Canaria is located just south of Tenerife.
Which of the Canary Islands is the best?
All the islands boast amazing beauty, but La Palma is known as a particularly beautiful island.
What is the weather like in the Canary Islands in December?
December is one of the windiest months in the Canaries, but daytime temperatures can still reach 25°C (77°F), allowing for sunbathing and swimming. Since the water temperature is usually no higher than 20°C (68°F), it's advisable to find places with breakwaters or use a special wetsuit, or choose a hotel with a heated swimming pool.
Helpful Information
Websites
Travel Apps
ten+móvil (Public transportation in Tenerife)
Titsa (Public transportation in Tenerife)
GuaguasLPA (Gran Canaria)