Authentic Las Palmas: 15 Local Favorites in Gran Canaria
Sergio Fomenkov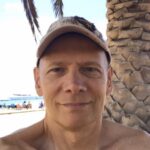 Written by Sergio Fomenkov
Meet Sergio! A travel enthusiast with a zest for exploration, he's all about discovering Spain's beauty, especially the Canary Islands! 🏝️ As a true Canary Islands lover, Sergio dedicates his time to uncovering hidden gems  and capturing stunning landscapes  that make this paradise so unique. He combines his love for adventure and in-depth knowledge of the region to inspire fellow travelers and help them create unforgettable memories on their journeys through the Canary Islands and beyond! Follow Sergio on Instagram, Facebook, LinkedIn, and WikiData. ... show more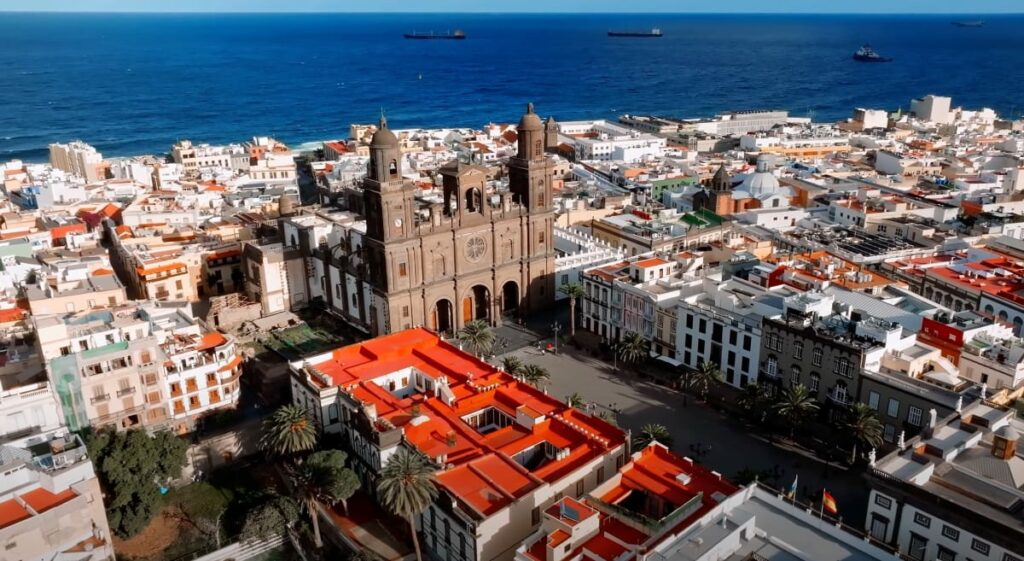 Today, I would like to tell you about my favorite Canary Island, Gran Canaria, which ranks second in terms of population after Tenerife and third in size after Fuerteventura.
The island's capital is Las Palmas de Gran Canaria, which is located in the northeast of the island, 25 km or 30 minutes by car from the only airport on the island. The population of the city is 370,000 people.
This city offers a wide variety of historical monuments, parks and hiking trails, hotels, restaurants, nightclubs, and, of course, amazing beaches.
No matter what you are interested in, I am sure you will not be bored in Las Palmas de Gran Canaria!
Do you know the origin of the name Canary Islands? Many might think it's because of the word "canary" and be mistaken. The most popular theory stems from the Latin word "Canariae Insulae," which means "The Islands of Dogs". Also, an ancient Roman scholar Pliny the Elder believed that the islands received their name due to the unusually large dogs that lived there.
The name of the capital, Las Palmas de Gran Canaria was given in honor of the palm grove situated next to the Guiniguada Gorge.
What people say on Reddit
Depends on what you're looking for. There's beaches, beautiful hiking routes, shopping, you can go on a boat trip and see dolphins, snorkelling, surfing. Do you have a car? You can visit some nice historic towns in the mountains.

PyjamaBottoms22
For the last five years, the Canary Islands have been exponentially attracting lots of remote workers as it's the only place in Europe that feels more like beach paradise (mainly because it's geographically located in Africa) when it's cold in other parts of the continent.

That's why I decided to make a YouTube video and visit the main island of Gran Canaria and live for a month in Las Palmas (de Gran Canaria) to figure out if it's really worth to live and work as a digital nomad.

sergiosala
Currently in Las Palmas. It is a very convenient city. Lots of stuff to do if you are a physically active person: beach volley, surfing, hiking, sailing, diving, and plenty of gyms. The weather is perfect, not too hot or too cold. I think restaurants are a bit overpriced for their quality (I'm in the Las Canteras though, I guess everything is a bit more expensive in this area. ) Bars and nightclubs are bad. The local girls are beautiful (Way better than Barcelona IMO), but you don't have much chance if you don't speak Spanish. People are nice and friendly, though.

I think Las Palmas could be my top destination if the nightlife or my Spanish were a bit better.

loolking2223
It depends on what you are looking for. Beaches and party, go to the tourist area. Good beaches, too touristy. But we also have mountains, quiet villages, pine forests, archaeological sites. Risco Caído was declared a World Heritage Site in 2019. And if you prefer a city destination, Las Palmas de Gran Canaria is the capital and the most populous and cosmopolitan city on the islands. Again, it all depends on what you are looking for.

alpispa
A Map of Things to Do in Las Palmas de Gran Canaria
Best Things to Do in Las Palmas, the Canary Islands
Hit the beach
Apart from sun bathing, there are many things to do on the beaches of Las Palmas.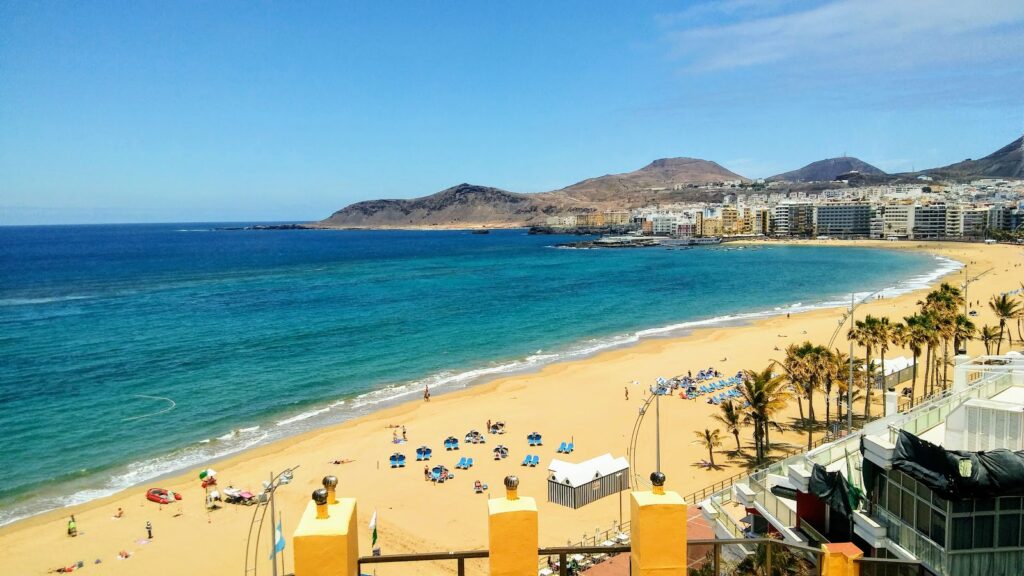 1. Go Snorkeling at Big Beach
Big Beach (Playa Grande) is the northernmost part of Las Canteras Beach. The ocean floor near Big Beach features a mix of sandy areas, sandstone reefs, and small patches overgrown with algae. Close to the shore, there are small rocks where you can observe algae, snails, and tiny cuttlefish.
Within the natural breakwater of La Barra, you can take easy diving routes or experience your first dive underwater, where you'll see large, colorful islands and schools of fish. Outside La Barra, more you can encounter amberjacks (seriola), barracudas, and if you're lucky, even a turtle.
Read also: 13 Top Things to Do in Maspalomas, Gran Canaria
2. Go Surfing at Confital Beach
A little north of Las Canteras lies Confital Beach (Playa del Confital), where you can find one of the best surf waves in Europe. Professional surfers will appreciate the local long right-hand waves.
Also, Confital beach is well connected to the city by a street along which athletes and locals stroll. It is very easy to get here on foot or by car.
Vargas Beach (Playa de Vargas) is another great place for surfing, especially for those who practice kite surfing. There's an artificial grass area to protect the kites from damage.
For those who want to learn how to surf, I recommend contacting one of the surfing schools, where you can choose different options for duration and focus on this exciting water sport.
Here are my suggestions for surf schools in Las Palmas de Gran Canaria:
At these schools, you can take surfing lessons either individually or in small groups. Prices start at €50 for one lesson, which lasts 1.5 to 2 hours.
3. Go Canoeing and Paddle Boating at Playa de Alcaravaneras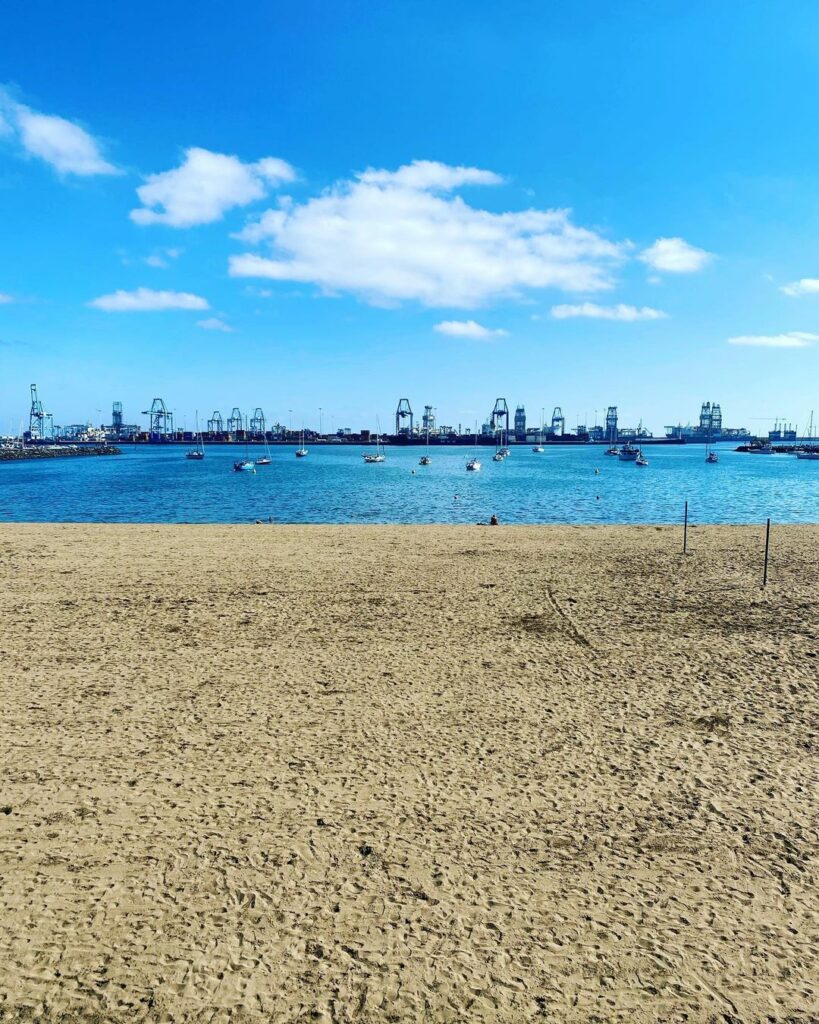 Playa de Alcaravaneras is the second largest beach in the capital. Stretching a little over a mile long and nearly a 300 feet wide, it runs along the eastern side of the municipality. Located opposite one of the city's vital infrastructures, the port, this beach is characterized by being a much more peaceful place than Las Canteras.
The nearby docks turn the waters of the bay surrounding Playa de Alcaravaneras into a haven of tranquility, where you can enjoy various water sports, including canoeing and paddle boating.
If you're eager to learn everything necessary for full autonomy in canoeing or paddle surfing, I recommend taking a course at one of the schools located on this beach, specifically at aupiraguismo.es.
4. Beach Volleyball / Scuba Diving
It's said that the Canary Islands are the European center of beach volleyball. Alcaravaneras Beach is just one of those places where you can enjoy plenty of beach volleyball if you're full of enthusiasm and energy.
If you're interested in scuba diving and taking boat tours, this beach is a convenient starting point for these types of adventures.
5. See Ship Wrecks and Underwater Landscapes
Sunken shipwrecks, amazing underwater landscapes, walls, and volcanic caves – you'll find all this while diving off the coast of Gran Canaria Island. Near the largest port in Europe, "Las Palmas," just a few minutes by boat, you can dive among the wrecks of some of the largest ships ever sunk in the waters of the Atlantic. Around the island, there are many sheltered coves and underwater caves protected from winds and currents.
To explore even deeper underwater, you might want to go scuba diving. This way, you'll gain a new experience and enjoy the most vibrant underwater landscapes, see a variety of fish and marine life, and discover the fascinating underwater world in a nutshell.
For those who want to learn scuba diving, I recommend 7 Mares school.
Explore the city's history and culture
6. Casa de Colón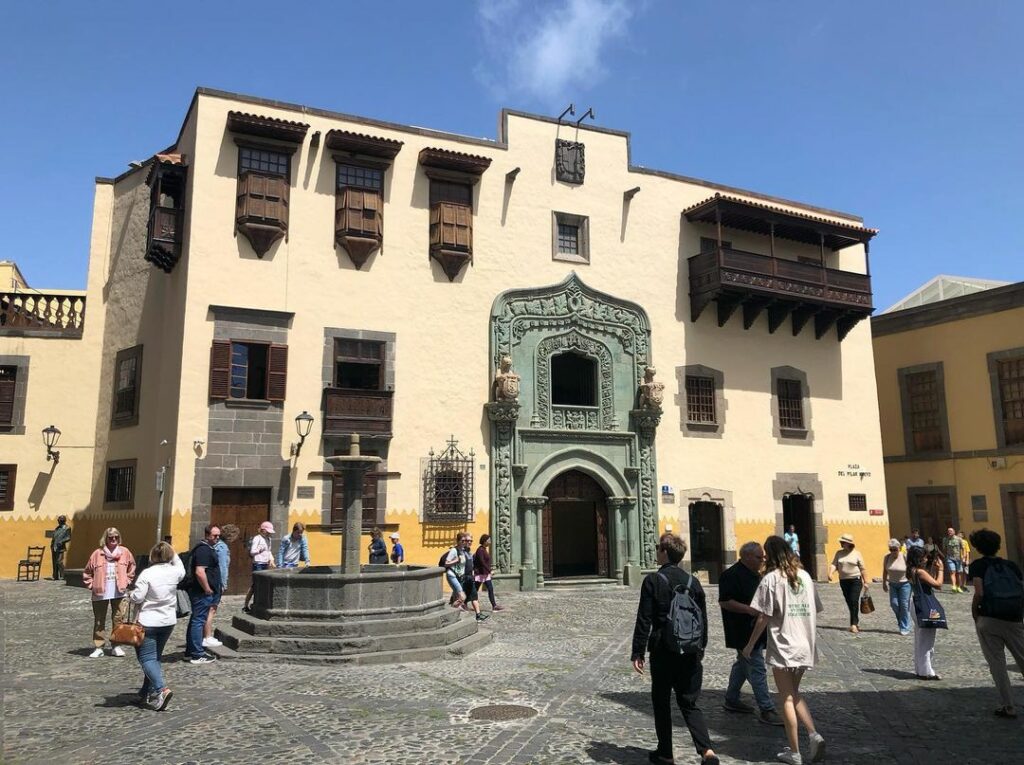 The Columbus House is one of the most interesting buildings in Las Palmas.
The palace became the residence of the island's first rulers, and it is believed that Christopher Columbus lived there in 1492 during the renovation of one of his caravels. This connection led to the house being named after Columbus.
Since 1952, it has housed a museum. The exhibition features items from the pre-Columbian era, ship models, navigation instruments, shipping maps and drawings, paintings, as well as a large number of other exhibits that tell the story of Columbus's sea voyages and the history of the Canary Islands.
Did you know? Christopher Columbus is known as Cristoforo Colombo in Italian and Cristóbal Colón in Spanish. He also has been called various other names, including those possibly adopted from a pirate named Colombo. Still, despite centuries of research, many details about his life and name remain unknown.
7. Santa Ana Cathedral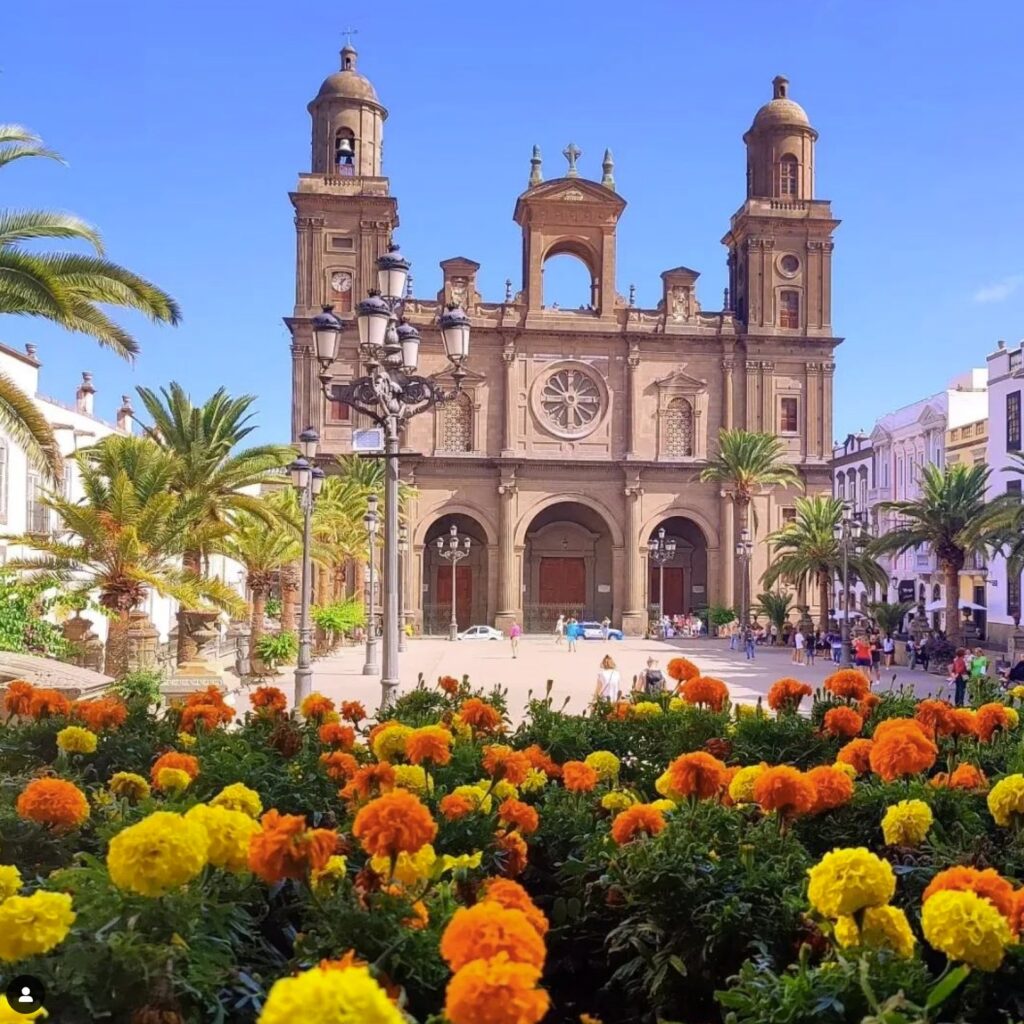 Next, I recommend visiting the historical part of Las Palmas de Gran Canaria, the Vegueta district, where the Cathedral of St. Anne is located right next to St. Anne's Square.
This cathedral is the most famous temple in the Canary Islands and is named after the patron saint of Gran Canaria, Saint Anne. It is an impressive architectural monument, striking in its beauty and grandeur. While vacationing in Gran Canaria or taking an excursion, it is definitely worth visiting this cathedral.
The cathedral is the primary residence of the Roman Catholic Diocese of the Canary Islands. Construction of the cathedral began in 1497 and continued in several stages, but due to lack of funds, it has not yet been completed.
If you find yourself in Las Palmas on St. Anne's Day, specifically June 26, you will experience the main holiday in Gran Canaria. On this day, church processions pass through the streets. The Diocesan Museum is open daily from 10:00 AM to 4:30 PM, and an entrance ticket costs €3. You can also climb to the observation deck in one of the towers for €1.5.
http://www.catedralsantaana.com
8. The Museum of the Canary Islands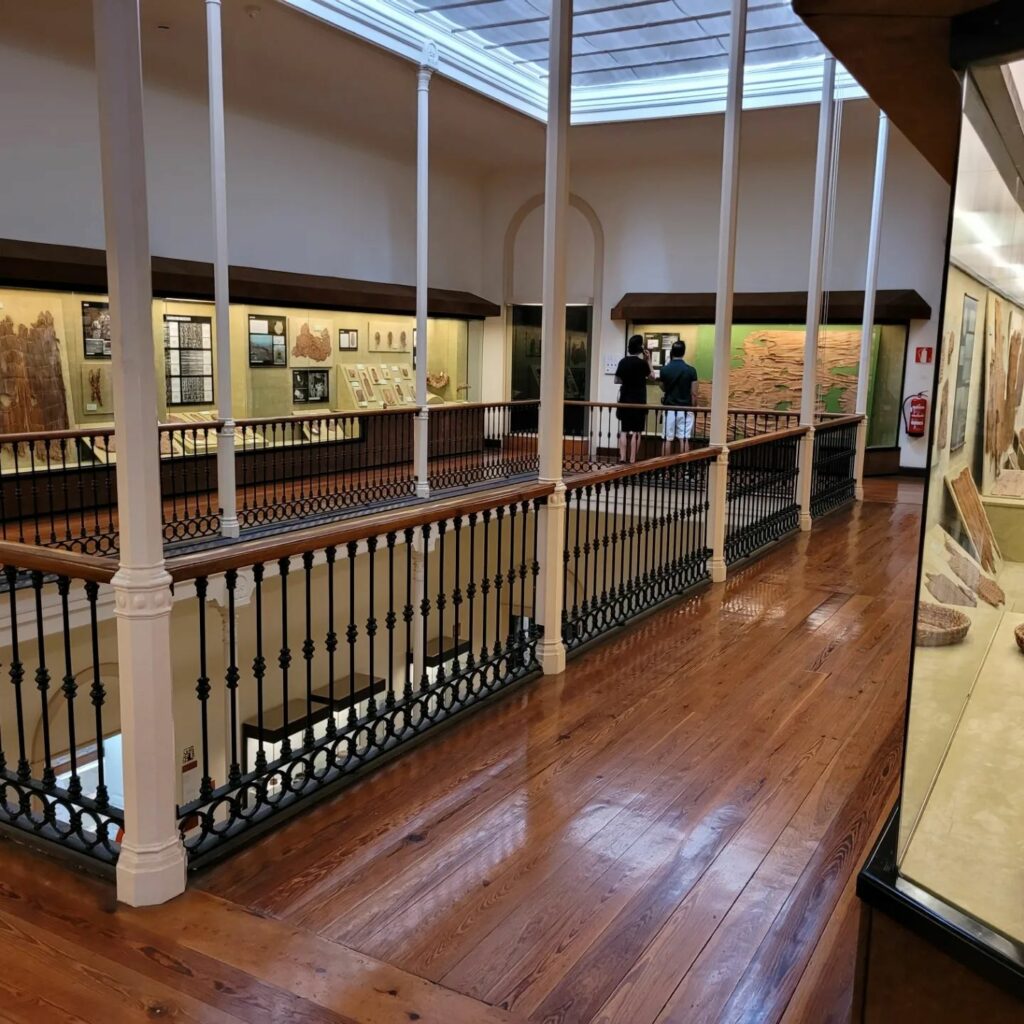 Founded in 1879, the museum showcases the largest collection of exhibits in the Canaries from various eras preceding the Spanish conquest, ranging from 500 BC to the 15th century. Within the museum's eleven halls, you will find a permanent and eclectic exposition, including figurines of gods, jewelry, ceramics, tools, mummies, skeletons, and many other items that tell the story of the Guanches, the indigenous inhabitants of the Canary Islands.
9. The Pérez Galdós Theater
This theater is the city's main stage, hosting the annual opera festival. You will find it in the southeast of the Triana quarter. After the reconstruction carried out in 2007, the Pérez Galdós Theater has become the most modern theater in Spain.
The building has an eclectic appearance: Its interior blends Renaissance features with modernist ones.
The theater's stage showcases a variety of performances, from Verdi's La Traviata to contemporary plays, operas, and musicals. Evening performances begin at 8:00 PM, and tickets start at €15. You can purchase tickets for operas and other performances on the official website: https://teatroperezgaldos.es
Enjoy the food and nightlife
Now, after exploring cultural side of Las Palmas, you will probably like to have dinner at a good restaurant, buy some local products, and explore the capital's nightlife .
Previously, I mentioned the Vegueta district, which is famous for its numerous religious, historical, and architectural attractions that are definitely worth visiting.
10. Visit Mercado de Vegueta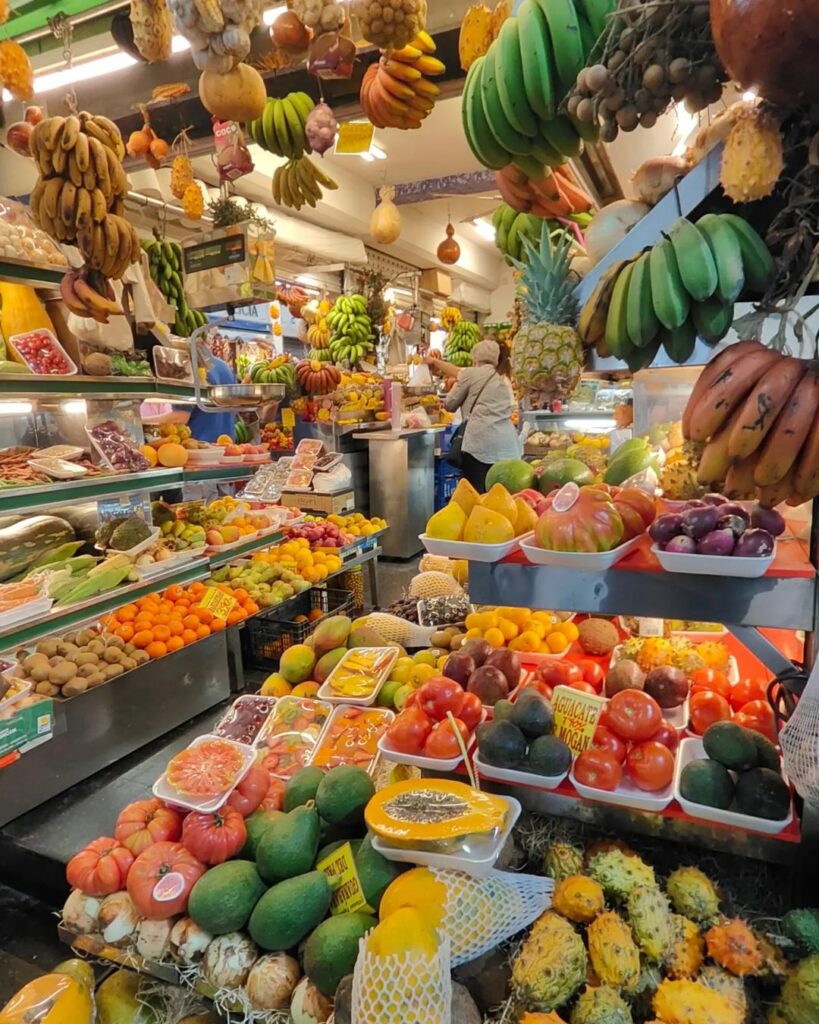 The Vegueta Market (est. 1858) is situated in a prime location in Las Palmas de Gran Canaria, opposite the Pérez Galdós Theater, in the heart of the historic Vegueta district. It is just a 2-minute walk from iconic Santa Ana Cathedral and Columbus House.
The market offers lots of products, including mangoes, guavas, persimmons, Indian tunas, kiwis, loquats, papayas, pitayas, and many other fruit varieties. People chat, drink coffee, enjoy chocolate with churros, and even indulge in wine or octopus snacks. Empty bags are filled with Vallececo meat, tropical fruits grown in southern Gran Canaria, medicinal plants, wood-fired bread, or Canarian olives. Be sure to try the typical local produce: Сhorizo sausages, goat cheese, or honey.
The market is open at least from 6:30 AM to 2:00 PM, Monday to Thursday, and until 3:00 PM on Fridays, Saturdays, and the eve of holidays.
On the menus of many resort and hotel restaurants, you will find a variety of Spanish and international dishes, but it's worth seeking out local cuisine – and you won't be disappointed!
11. Explore the world of tapas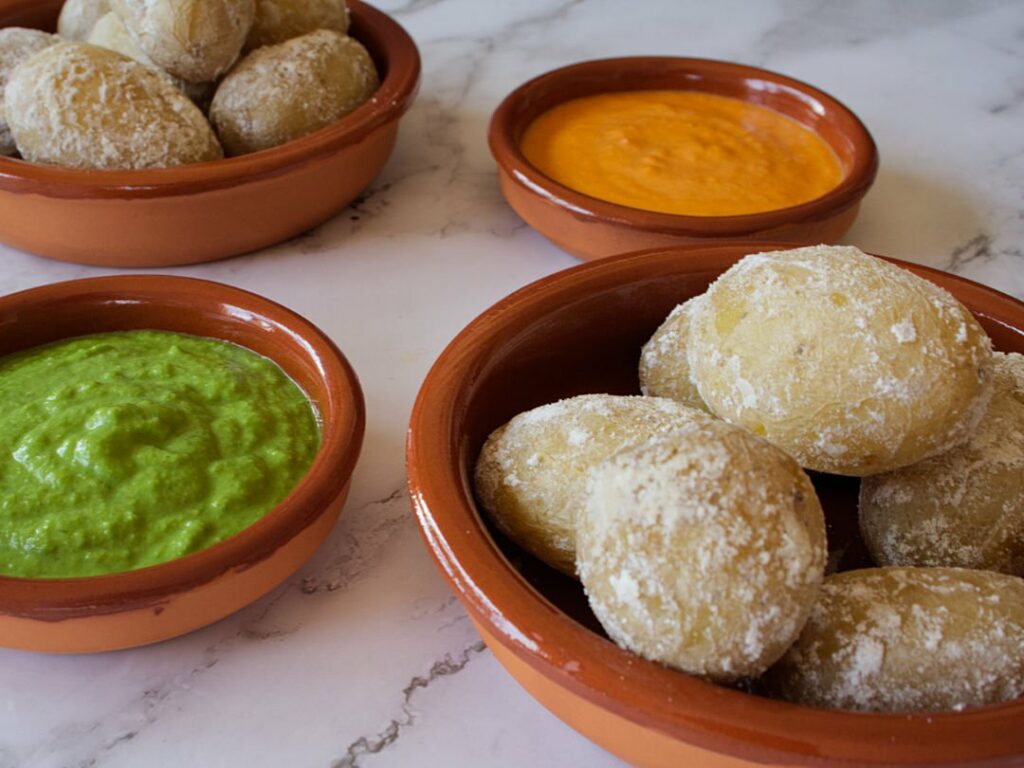 The tradition of eating tapas, or small snacks before the main course, is one of Spain's most significant contributions to global gastronomy.
Tapas are mini portions of traditional dishes that Spanish people enjoy before lunch or dinner, always accompanied by a glass of wine or beer. Also, the tapas tradition provides a great opportunity to enjoy a drink or two before the main meal begins (or, it could be your meal itself!)
Among other tapas, I highly recommend trying "Papas Arrugadas con Mojo" which consists of small potatoes seasoned with two sauces called mojos: mojo verde (green) and mojo picón (spicy).
Every Thursday from 8:00 PM to 10:00 PM, there is a tapas route in the Triana y Vegueta area. On Saturdays, the event usually moves to the port.
And you definitely won't regret visiting one of the tapas places, such as Camino al Jamonal, located near Las Canteras beach, Bar Tasca Siete Viejas, and La Recova de Grau 12.
Some other great restaurants in Las Palmas include La Mas Negrita, Mol Café, Trattoria Pizzeria Calabrè Las Palmas, and Oh! Qué Bueno.
Other foods to try in Las Palmas
If you are into seafood, Gran Canaria is a paradise. Typical regional dishes include"Caldo de Pescado" (fish soup), "Vieja Sancochada" (boiled parrotfish), and "Sancocho Canario", a special stew made from salted cod and sweet potatoes, served on holidays and Sundays. And try grilled sardines too!
For the dessert, try "Helado de Gofio" (gofio ice cream) and "Mousse de Gofio" (gofio mousse) which are made with a millstone-milled flour made from roasted barley (also used for thick soups and sauces).
Other things to do in Las Palmas
12. Discover the city's nightlife
Although Gran Canaria is considered a "family destination," you can find some decent nightclubs for younger people:
I also recommend exploring Vegueta district for other nightlife spots.
Aside from that, there are a few good bars to get a drink around Las Canteras beach (but mostly just terraces).
13. Go Shopping
Despite being a relatively small city, Las Palmas de Gran Canaria offers numerous shopping venues:
Explore the surroundings
I recommend you to explore the natural wonders that Gran Canaria is rich in. To do this, plan to spend at least a couple of days traveling outside the city to visit the island's beautiful natural parks.
For Canary Island wines enthusiasts, consider a visit to the wine museum, complete with wine tastings.
14. Visit Jardín Botánico Canario Viera y Clavijo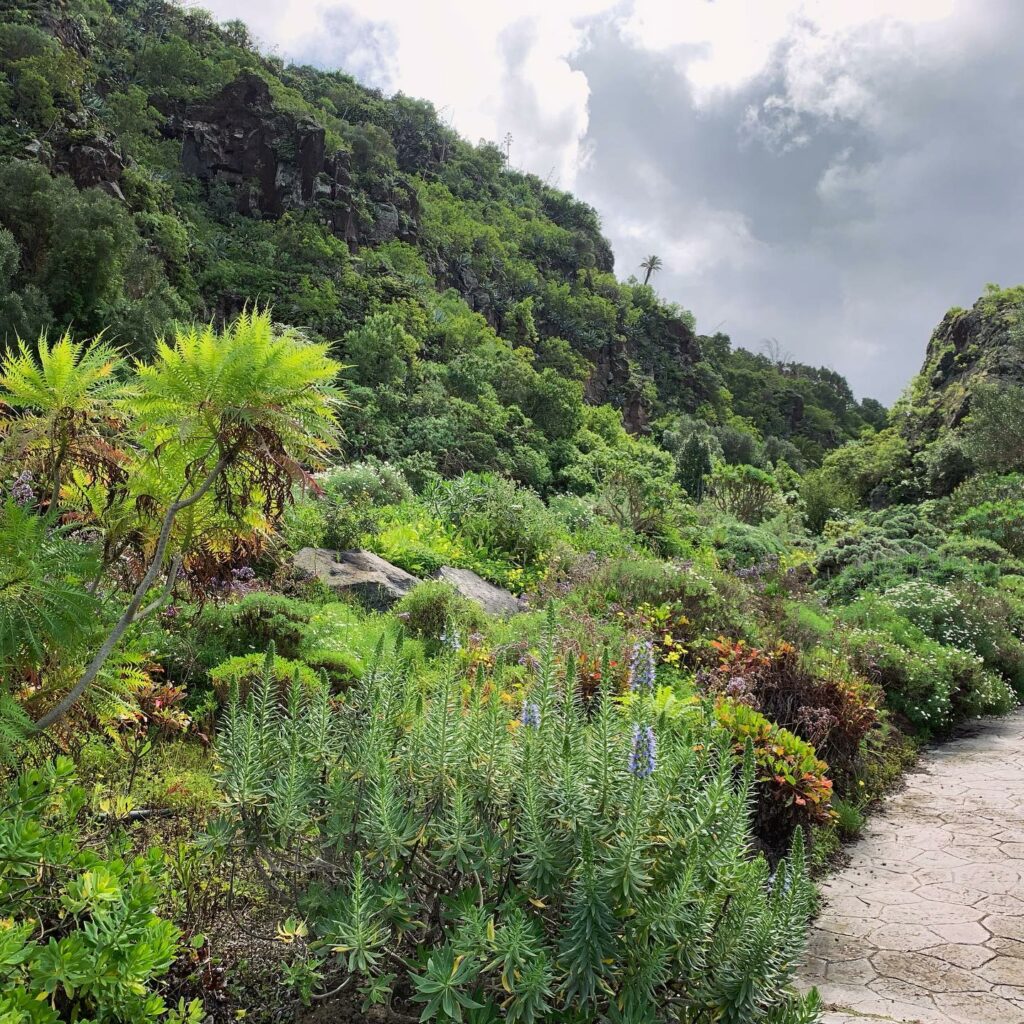 Don't miss the opportunity to visit Viera y Clavijo, the largest botanical garden in Spain.
This undeniably beautiful corner is sure to captivate everyone. As you walk through the 27-acre garden, you can discover the rich flora of the Canary Islands, which features exotic plants and more than 500 endemic species. Some of these species are on the verge of extinction.
How to get by public transportation: Bus 303 San Telmo in the direction of San Mateo–Jardín Botánico Canario, or 302, 311 San Telmo in the direction of Santa Brígida–Jardín Botánico Canario.
15. Explore Caldera de Bandama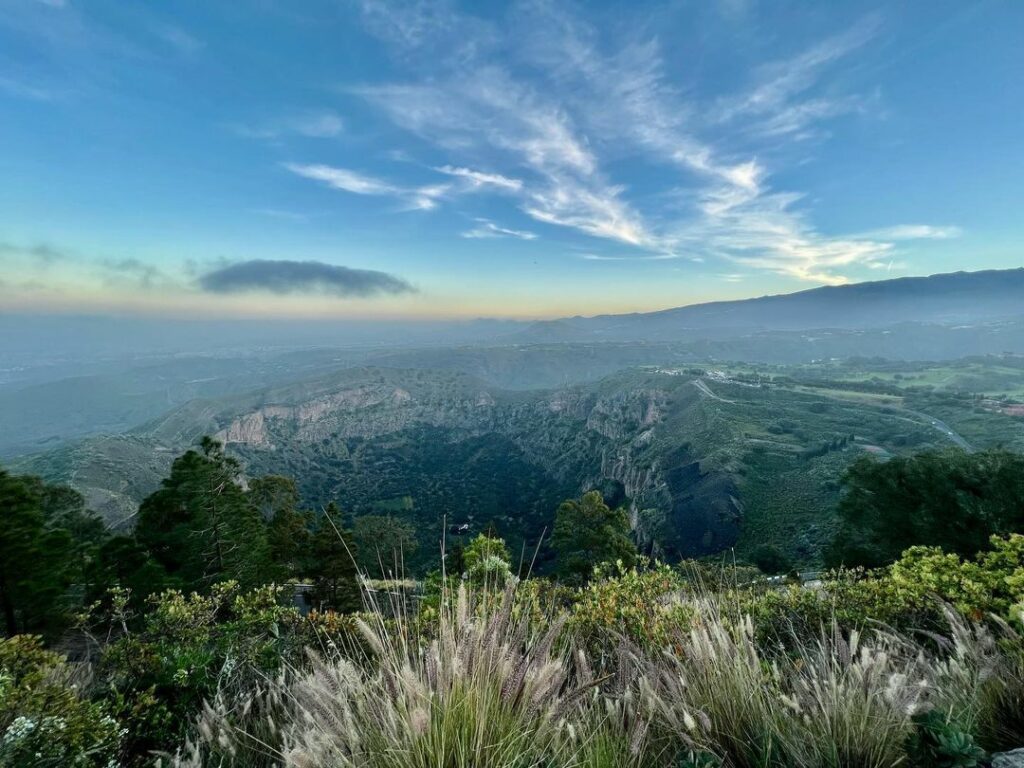 Located between the municipalities of Santa Brígida, Telde, and Las Palmas de Gran Canaria, the Bandama Caldera forms a circular route that extends through the Las Gotas and Guiniguada ravines towards the coast.
With a depth of 216 meters, a diameter of about 1,100 meters, and a perimeter exceeding 3 kilometers, this caldera invites you to either skirt its edge or venture down into its interior. It is known that the origin of this caldera is relatively recent.
A caldera is a sizable crater formed either by the collapse of a volcanic cone or through a volcanic explosion.
The Caldera de Bandama is also a Protected Natural Area and the most spectacular example of recent volcanism in Gran Canaria. This structure was formed 5,000 years ago, adjacent to the ancient Bandama Peak volcano.
You can also get to panoramic views at Pico de Bandama: A road winding through the vineyards of Tafira Alta will take you to the mountain peak, from which you can enjoy amazing views of the municipality, the volcanic Bandama Caldera, and much of the northeastern area of Gran Canaria.
If you are into hiking, you can take the route to Pico de Bandama from the neighboring towns of Tafira Alta or Monte Lentiscal. The entire route is well-marked with signs. The 4 mile hike takes about 3.5-4 hours to complete. The descent into the crater along a relatively steep rocky path takes about half an hour. For this hike, it is essential to wear good, non-slip shoes and have at least minimal physical fitness.
How to get by public transportation: Bus 311 (San Telmo–Bandama) takes 30 minutes. If you are driving the car, take the GC-802 exit (Bandama Road) from the Monte Lentiscal roundabout.
Helpful tip While visiting Caldera de Bandama, you can drop by Casa Museo del Vino, since you have already left Las Palmas for the outdoor adventures.
Bonus: Hike in Tamadaba Natural Park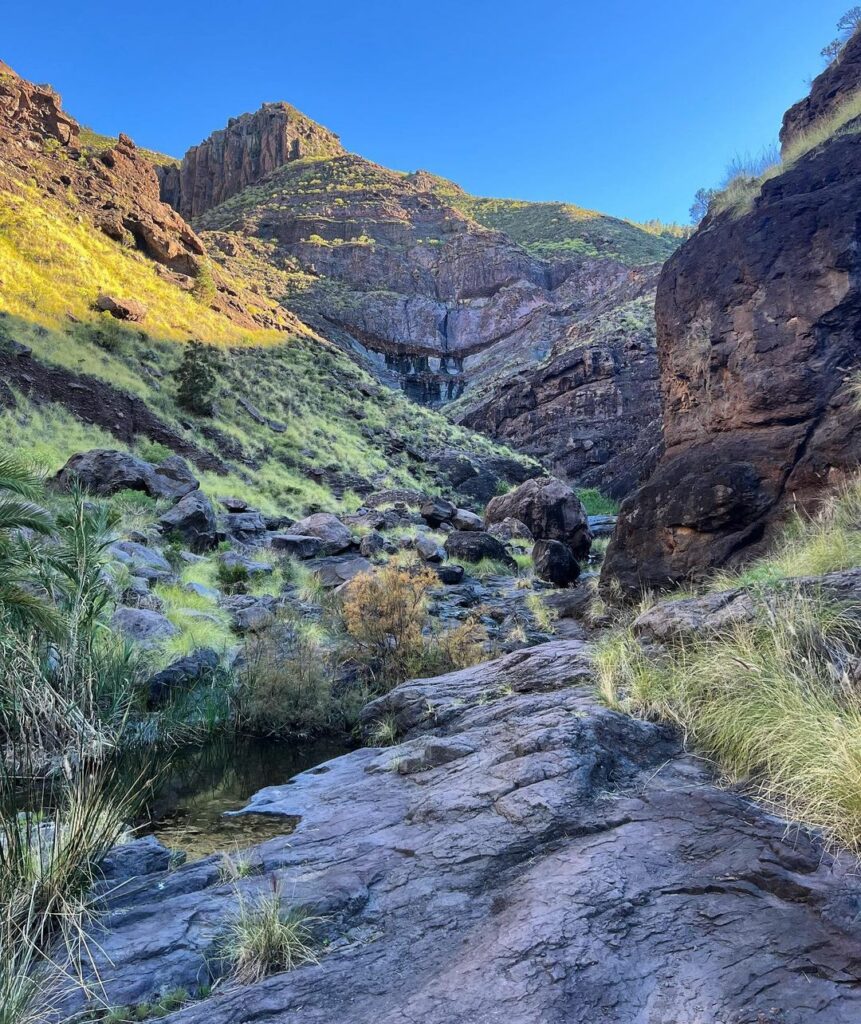 Tamadaba Nature Park is a scarcely touched area of Gran Canaria, spanning 7,500 hectares from the peaks to the coast in the western part of the island. You can explore the park's stunning natural forests of Canary pine on the peaks, marvel at the dizzying rocky shores that are nearly inaccessible from the sea, and discover a wide variety of gorges.
Itinerary: Agaete – GC 2 – Hoya de Pineda – Caideros – El Hornillo – Artenara – Tamadaba – return via Camino real or by taxi.
Read also: A Local's Guide to 13 Best Hiking Trails in Tenerife
This route offers the possibility of returning on foot along the Camino de los Romeros (a path used by locals during the Festival of the Descent of the Branch), with a walking tour duration of approximately 3 hours. Be sure to wear good walking shoes and bring warm clothes for possible weather changes.
In the summer of 2019, a forest fire affected Tamadaba Nature Park; as a result, building bonfires in the park is strictly prohibited.
Final Thoughts
In this post, I've tried to cover all the possible travel options that Las Palmas can offer.
Still, it is not possible to experience everything in one trip, so I recommend starting with the capital and then exploring the entire island while staying in different places.
I have already mentioned the parks outside the city, but there is still the island's center with its numerous small towns, villages, a volcano, and mountain peaks, as well as other coasts and beaches.
For example, I have visited the island more than 20 times, and each time I discover new corners and interests. I never get bored; there is always something unknown that draws me back again and again. Over the years, I have become friends with the locals, and each meeting with them is a delightful and emotional moment in my life.
So, I wish you new pleasant travel experiences!