Maspalomas, Gran Canaria in 13 Moves
Sergio Fomenkov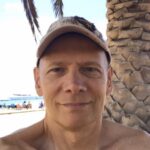 Written by Sergio Fomenkov
Meet Sergio! A travel enthusiast with a zest for exploration, he's all about discovering Spain's beauty, especially the Canary Islands! 🏝️ As a true Canary Islands lover, Sergio dedicates his time to uncovering hidden gems  and capturing stunning landscapes  that make this paradise so unique. He combines his love for adventure and in-depth knowledge of the region to inspire fellow travelers and help them create unforgettable memories on their journeys through the Canary Islands and beyond! Follow Sergio on Instagram, Facebook, LinkedIn, and WikiData. ... show more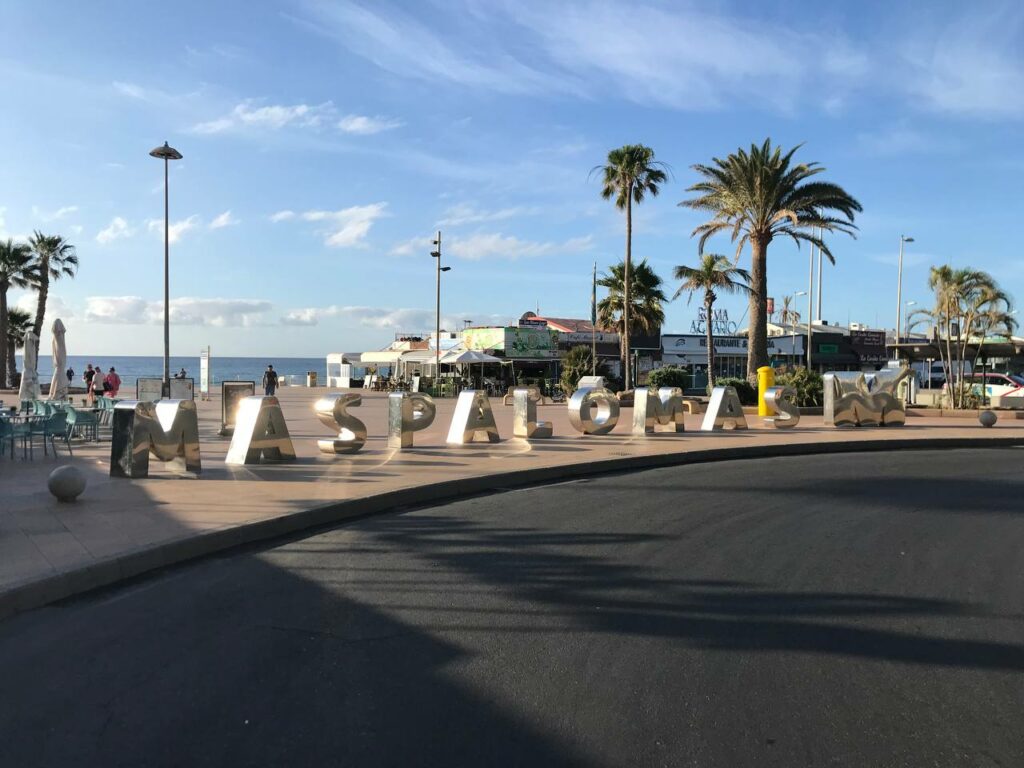 More than ten years ago, I first came to Maspalomas, and it quickly became my favorite vacation destination, with lots of exciting things to do and places worth seeing. In this blog, I will share my impressions and tell you about the most noteworthy and visit-worthy spots in this resort town.
---
Key takeaways
Maspalomas is long! It stretches along the coast for more than 10 miles (17 km) and encompasses five resorts: Bahia Feliz, San Agustin, Playa del Ingles, Campo Internacional, and Meloneras.
Famous attractions: Explore Playa del Ingles, Playa de Maspalomas, Maspalomas dunes, La Charca pond, palm groves, and Maspalomas Lighthouse.
Take camel rides through dunes, explore Fataga village, and see the Valley of a Thousand Palm Trees.
Nightlife: Popular spots include Kasbah and Yumbo Center.
Family attractions: Aqualand Maspalomas, Palmitos Park, Mundo Aborigen Theme Park, and Sioux City Park.
For the nature: Ayagaures y Pilancones Nature Reserve.
Golf courses, casinos, Maspalomas got you covered!
---
What people say on Reddit
As you say not to be interested in nightlife I would recommend Las Palmas. Maspalomas is TOURISM. Just full of hotels, bars and restaurants with tasteless food. The only fun part in that area is the jumbo center, which is a square of nightclubs, but that's not what you're interested in.

You'll have a way more "authentic" experience in las palmas. And if you can rent a car it's really easy to get to the south, that's really nothing to worry about. It's basically one highway from Las Palmas to maspalomas, and you're just going straight for pretty much the entire drive.

And about the beach, yes the north is colder. But I've been there in both the summer and winter, and I have always been able to swim at las canteras.

cheeto20013
I would recommend to stay in Las Palmas and just do a day trip to Maspalomas. Maspalomas is nice for a day but it's basically just the beach, dunes, shopping centers and hotels. To me it felt very boring and fake after a few hours.

fschucht
The bus connections are quite good, just takes more time. I live in the north and don't really go to Maspalomas much, but there is a nice promenade and the dunes are nice, too. Dolphin watching is in Mogan or Puerto Rico, which you can easily reach by bus. Taxis aren't too expensive either

PyjamaBottoms22
Las Palmas has a totally different vibe and weather. It could very well be cloudy and windy af most of the time even in August. It would be better to stay in the south, it doesn't have to be Maspalomas it can be Puerto Rico, Arguineguin or Mogan, all sunny and equally close to the fun stuff, you'll get bored of Las Palmas in a day or two

Is_Actually_Sans
A Map of Things to Do and See in Maspalomas
Where is Maspalomas
Maspalomas is a beautiful resort town located in the southern part of Gran Canaria Island within the municipality of San Bartolome de Tirajana, the largest one on the island. The city has a population of about 36,000 people, and Maspalomas makes San Bartolome the most touristic municipality on the island.
As a popular tourist destination, Maspalomas is home to the largest resort town in the Canary Islands with an excellent coastline and weather.
Read also: Best time to visit Canary Islands
The southern coast is protected from waves and ocean currents, making it an ideal spot for water sports. The waters along this tranquil coast maintain warm ocean temperatures ranging from 18°C (64.4°F) to 25°C (77°F) throughout the year. These exceptional conditions create a dream beach, a magnificent place where you can soak up the sun and swim in the clear waters of the Atlantic Ocean.
Plus, it's just a few hours' flight from anywhere in Europe!
Top Things to Do in Maspalomas
1. Explore Maspalomas Dunes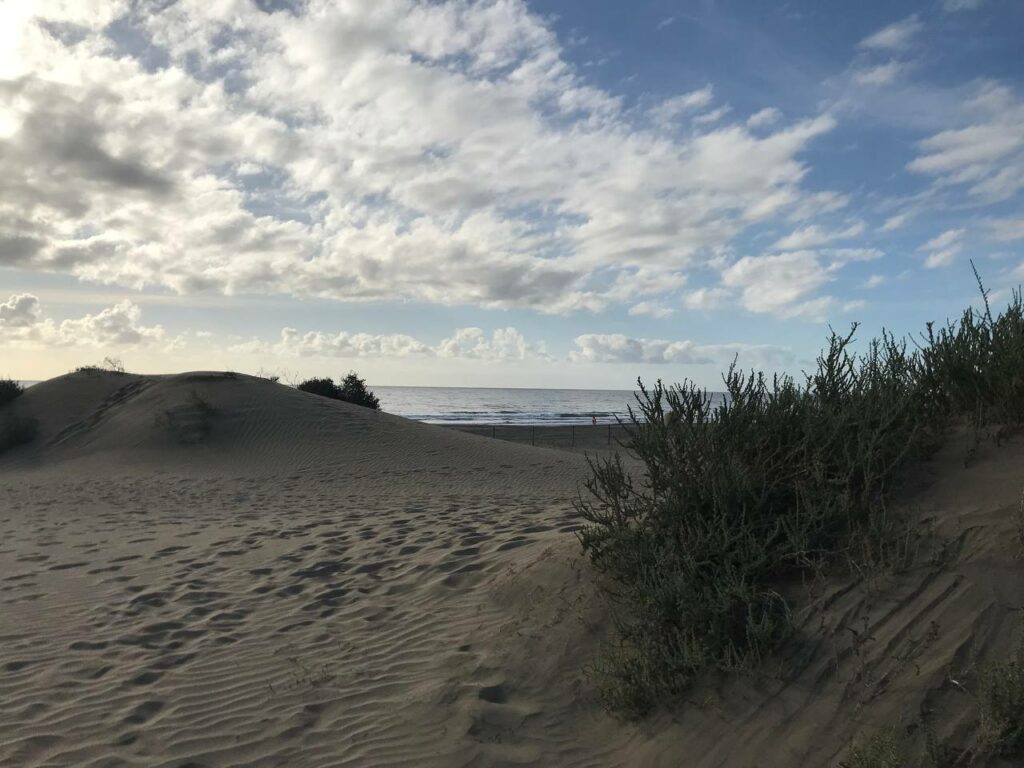 The Maspalomas Dunes are a protected area covering 1,559 square miles (404 hectares) between Playa del Inglés and the Maspalomas pond. Also, these dunes constantly move due to the wind. Because of the sand's mobility, vegetation is sparse and consists of species adapted to this dynamic environment.
There is a misconception that the Maspalomas Dunes are artificial. In reality, the dunes are made up of ocean sand that has either been eroded and transported by the wind for thousands of years or washed ashore by a massive tsunami in the 18th century.
The best time to visit is in the morning to avoid the intense sun and midday heat. Also, you can witness a fantastic sunset in the late afternoon. It's better to choose windless weather, which is more common in the summer.
While exploring the dunes is up to you, my advice for a more engaging and memorable experience is to take a camel ride on friendly Canary camels. This 30-minute trip starts near the beautiful Maspalomas Pond, providing a fantastic day outdoors.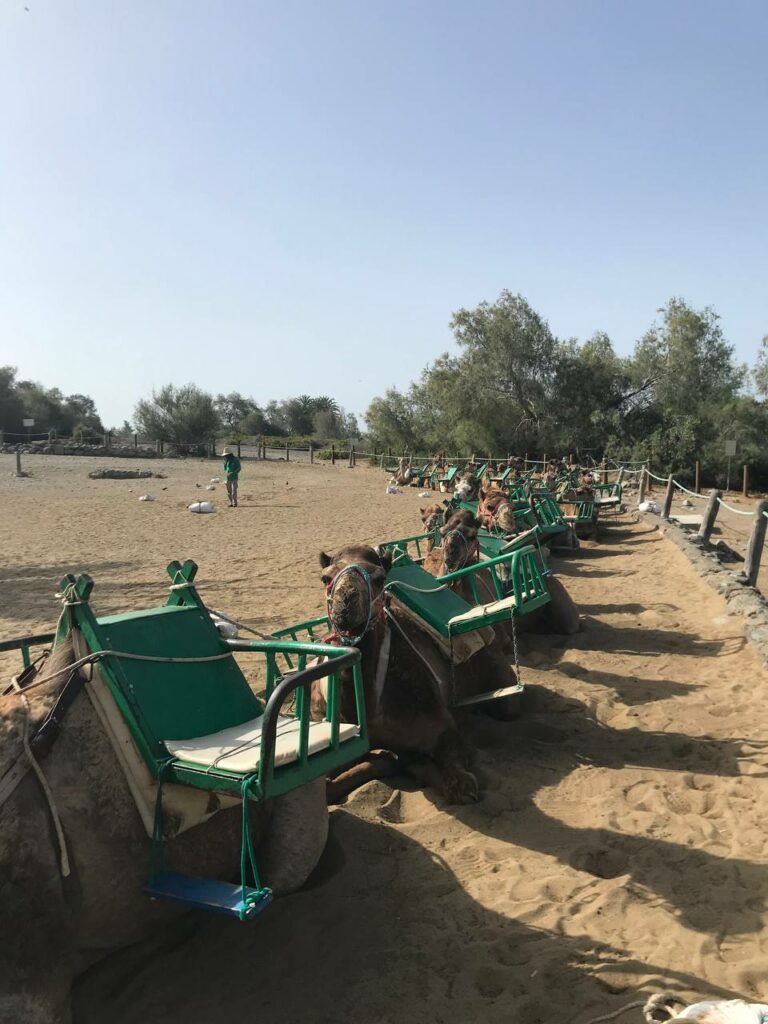 In addition to camels, you can encounter other animals such as birds, goats, donkeys, and small camels, which will delight children. After riding the camels, you can dine on delicious tapas and enjoy homemade goat cheese.
2. Go to Maspalomas Beach (Playa de Maspalomas)
Much of Playa de Maspalomas is a nudist beach, but it's more accurately described as clothing-optional, allowing everyone to sunbathe as they feel most comfortable. The beach has ample space for all visitors, including a designated area for gay tourists near kiosk N8.
The sandy stretch of Playa de Maspalomas ends at the island's southernmost point, the lighthouse.
Adjacent to it is Playa de Meloneras, a rocky and undeveloped beach in the new Meloneras tourist zone, extending along the pedestrian promenade from the lighthouse to the golf course. While catering options are limited to occasional kiosks, you can enjoy a complete lunch at Anexo II shopping center on Playa del Ingles or at the other end of the beach. Family-friendly amenities include hammock and umbrella rentals, showers, and beach restaurants.
Read also: 15 Things to Do in Las Palmas de Gran Canaria
Heading further west to Punta de Maspalomas, you'll find water sports areas. And if you're interested in joining the surfers often seen at Maspalomas Beach, the Real Surf Maspalomas School is the ideal place to learn. The school offers top-quality instruction and equipment for beginners and advanced surfers, providing everything needed for lessons, such as gear, in-water assistance, free hotel transfers, insurance, and more. By the way, it's the best surf school in Maspalomas.
3. See Charca de Maspalomas Lake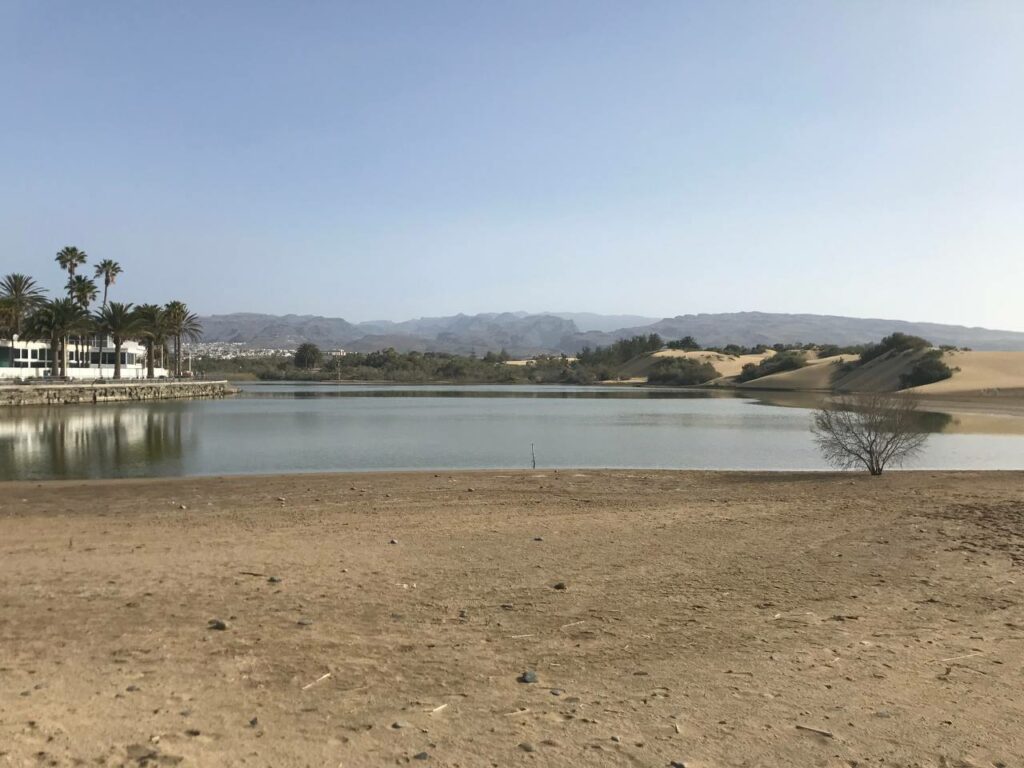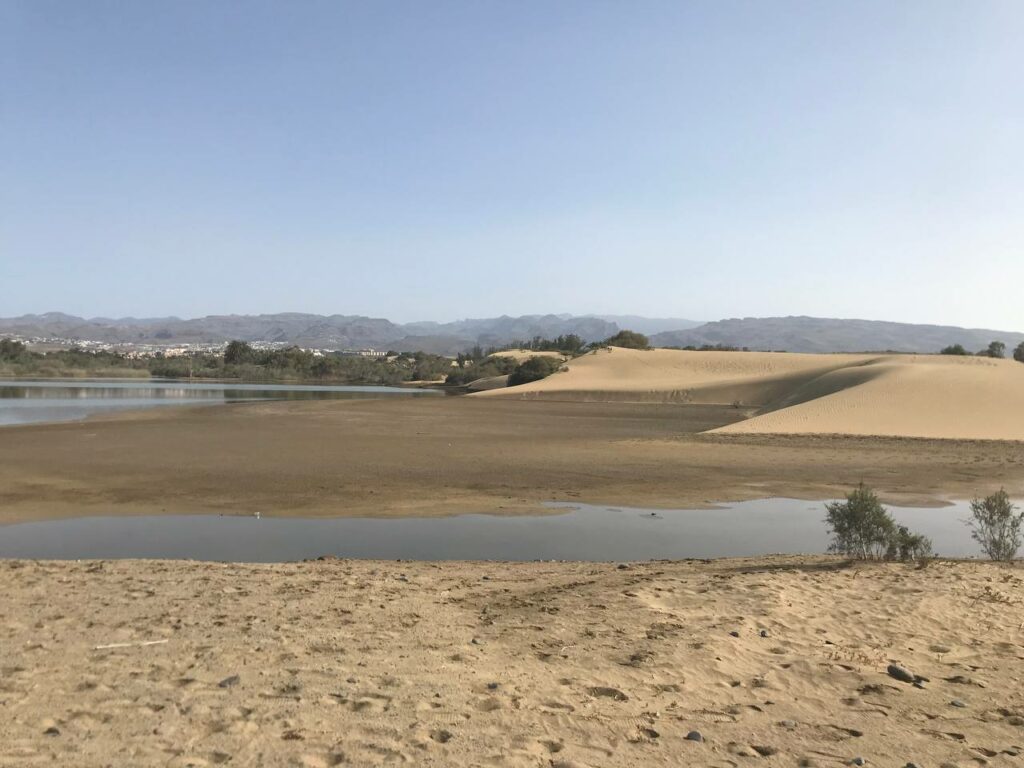 The Charca de Maspalomas, a small lake at the western edge of the Maspalomas dunes, serves as a stopover for migratory birds traveling between Europe and Africa during the winter months. The lake and its surrounding area have been designated as a specially protected ecosystem with limited access.
As a small coastal saltwater lagoon, Charca de Maspalomas is the remnant of former salt marshes destroyed by surrounding housing projects. Separated from the sea by a sand barrier that breaks when heavy rain occurs, the lagoon allows for water renewal and entry of fish and other marine life. One of its most notable features is its seasonal nature, with significant variations in salinity, water volume, and bird populations throughout the year.
Near the pond, patches of aquatic vegetation, such as reed fields and small Canary Islands tamarisk (Tamarix Canariensis) groves, provide essential habitats for birds and invertebrates. These areas serve as excellent refuges for both migratory and nesting birds.
4. Climb to the top of Maspalomas Lighthouse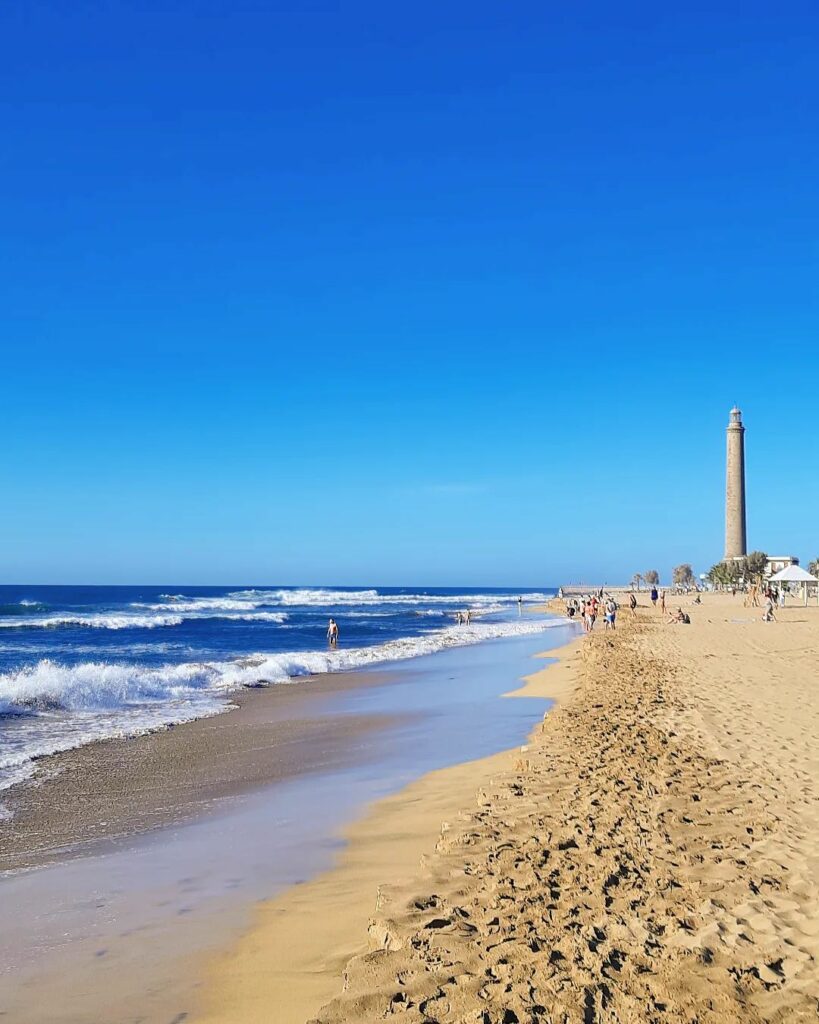 Located near the stunning dunes of Maspalomas Beach, the 183-foot (56-meter) El Faro Lighthouse stands tall, built from gray basalt stone in the 19th century. The construction process took 28 years, during which Maspalomas was a desolate and uninhabited area. To facilitate the loading and unloading of construction materials transported by sea, a berth with a platform was built.
Upon completion, the Maspalomas Lighthouse became a crucial landmark for steamships traveling between Europe, Africa, and America. Nowadays, the lighthouse is not as isolated as it once was. Behind it lies a pier extending far into the sea, where fishermen cast their lines. In front of the lighthouse is the Lighthouse Keeper's House, a square building that regularly hosts exhibitions. This location marks the beginning of Faro Boulevard, featuring numerous restaurants and souvenir shops. It's an ideal spot for shopping and dining after a day at the beach, or for exploring the various eateries along Maspalomas' coast.
In 2005, the Government of the Canary Islands declared El Faro Lighthouse in Maspalomas a cultural heritage site. A romantic walk along the dunes is a must, as the silhouette of the Maspalomas Lighthouse looks especially captivating against the sunset.
For the opening hours, visit the official website.
5. Have fun in Aqualand Maspalomas waterpark
Aqualand Maspalomas is an excellent holiday destination for families with kids – it is the largest water park in Gran Canaria, featuring over 40 water slides to entertain the entire family. With activities for all ages, both adults and children can enjoy the thrilling Anaconda slide or compete in multi-lane water slide races.
In addition to the water attractions, the Polynesia Park and Gardens offer on-land activities. You can also enjoy an interactive experience with friendly sea lions for an additional fee (subject to availability).
For an extra cost, you can purchase sun loungers, umbrellas, lockers, and fast-track passes at the park. Entrance fees start at €33, with various ticket options available, including family and season passes.
Aqualand Maspalomas is open every day from 10 AM to 5 PM, year-round, except in extreme weather conditions.
For up-to-date information about Aqualand Maspalomas and admission tickets, visit this website.
6. Watch dolphins at Palmitos Park
Palmitos Park is a popular attraction in Gran Canaria, featuring a 32,291 square-foot dolphinarium with three large pools, seating for 1,500 spectators, and stunning views of the surrounding mountains, hills, palm trees, and wild plants. The park aims not only to entertain but also to raise awareness about nature preservation.
Open 365 days a year, the dolphinarium hosts two daily dolphin shows at 1:30 PM and 4:00 PM, showcasing the animals' skills, training, and intelligence. Besides the dolphinarium, Palmitos Park offers a botanical garden with birds, including flamingos, ibises, parrots, rhinoceros birds, pelicans, and Australian emu birds. Additionally, there is an aquarium, a primate enclosure, an orchid house, and a cactus garden.
Helpful tip Plan to spend at least half a day at the park, wearing comfortable shoes and bringing a hat, sunscreen, and water. Most areas of the park, except for the dolphinarium, have ample shade for hot days. It is recommended to bring food and drinks, as on-site options may not always be open.
Click here for the additional information and admission tickets
7. Play golf
I have always been interested in playing golf, and it seems my opportunity has finally arrived at Maspalomas Golf Course. Located in the heart of Maspalomas Dunes Natural Park, this golf course is situated between Meloneras, Maspalomas, and Playa del Ingles beaches, covering over 1,544 square miles (400 hectares) of protected land. The course is relatively flat, featuring long and wide fairways, surrounded by palm trees and stunning ocean views.
Established in 1968 and designed by Mackenzie Ross, Maspalomas Golf Course offers 18 holes and can accommodate up to 73 players. The facilities provide various services and amenities, including a snack bar, golf carts, rental equipment, a practice area, a restaurant, conference rooms, accommodations, and Wi-Fi in the Club House.
The Green Fee Twilight rate is €54 euros, and the course is open daily from 8 AM to 8 PM.
To book your first game at Maspalomas Golf, call +34928762581. For up-to-date information about Maspalomas Golf Club, visit https://www.maspalomasgolf.net.
8. Visit Mundo Aborigen Theme Park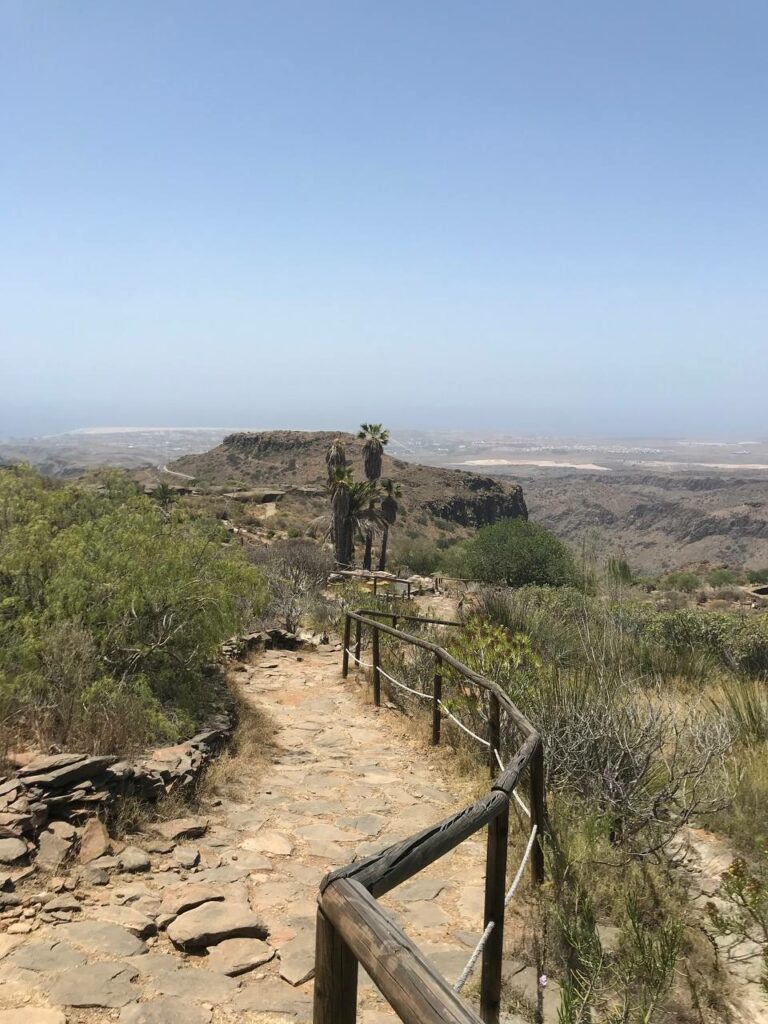 Immerse yourself in the world of the native Canarians who lived in the Canary Islands before the conquest.
This open-air museum provides an exciting excursion with stunning views of the mountains and canyon, while exploring the daily lives of the ancient Canarians. The park features over 100 life-size figures, depicting everyday life moments of the local inhabitants and showcasing their resourcefulness without modern comforts.
A visit to the museum village takes approximately 1.5-2 hours. I recommend bringing sports or hiking shoes. An on-site restaurant offers Canarian snacks, refreshments, and hamburgers.
Admission tickets can be purchased here.
9. Explore Fataga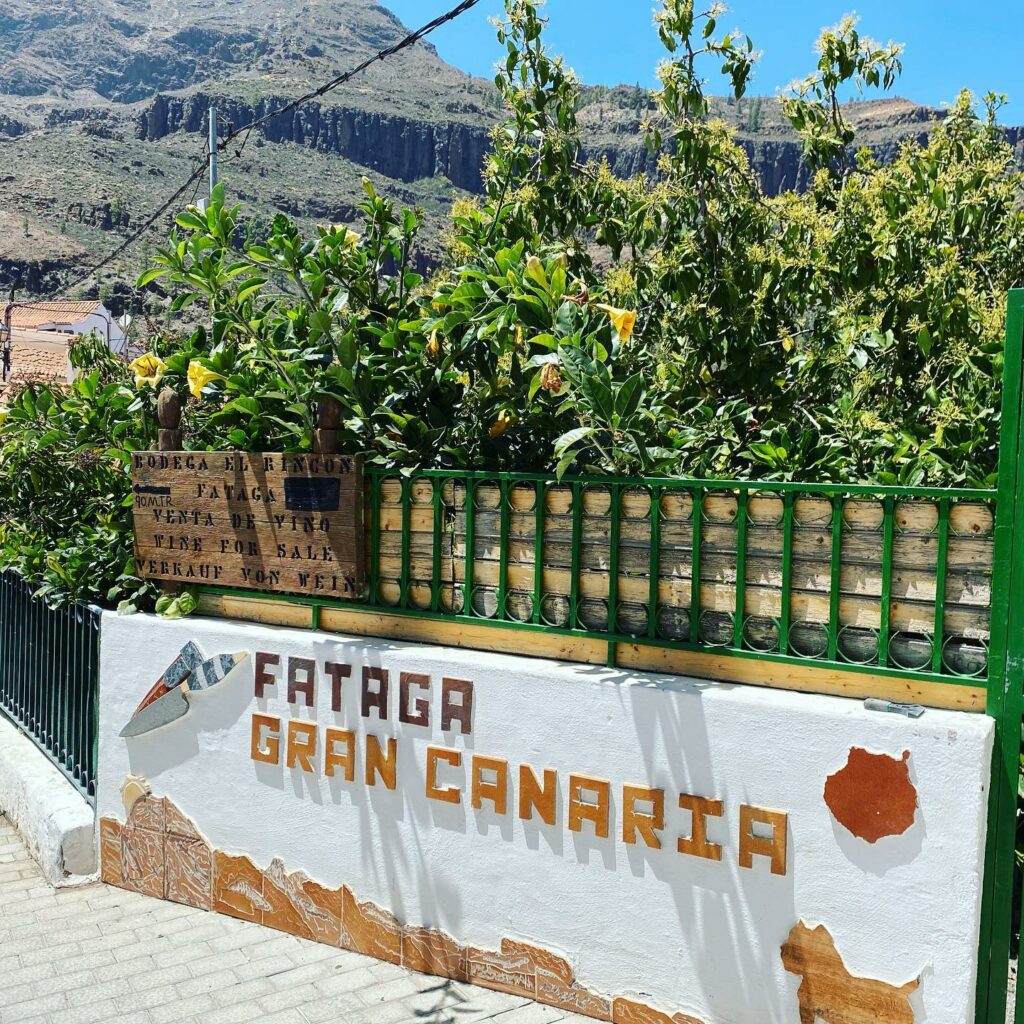 The village of Fataga is nestled in El Barranco de Fataga, also known as the Valley of a Thousand Palms, featuring stunning palm tree groves, indigenous plant species, and Phoenician junipers.
As you approach Fataga, the beautiful mountains foreshadow the scenic landscapes of this small Gran Canarian village.
Fataga is a peaceful and well-preserved corner, featuring snow-white houses, narrow streets adorned with flowers, and surrounded by cliffs, pine forests, and dense palm groves. The village is home to historic houses showcasing traditional Canary Islands architecture, three restaurants, a watermill, and one of the island's oldest bakeries. The Church of St. Jose, built in 1880, is also a must-visit.
What else to do in Fataga: Enjoy visiting local restaurants, souvenir shops, and experience camel riding in the Valley of a Thousand Palm Trees.
10. Go for shopping at Yumbo Centrum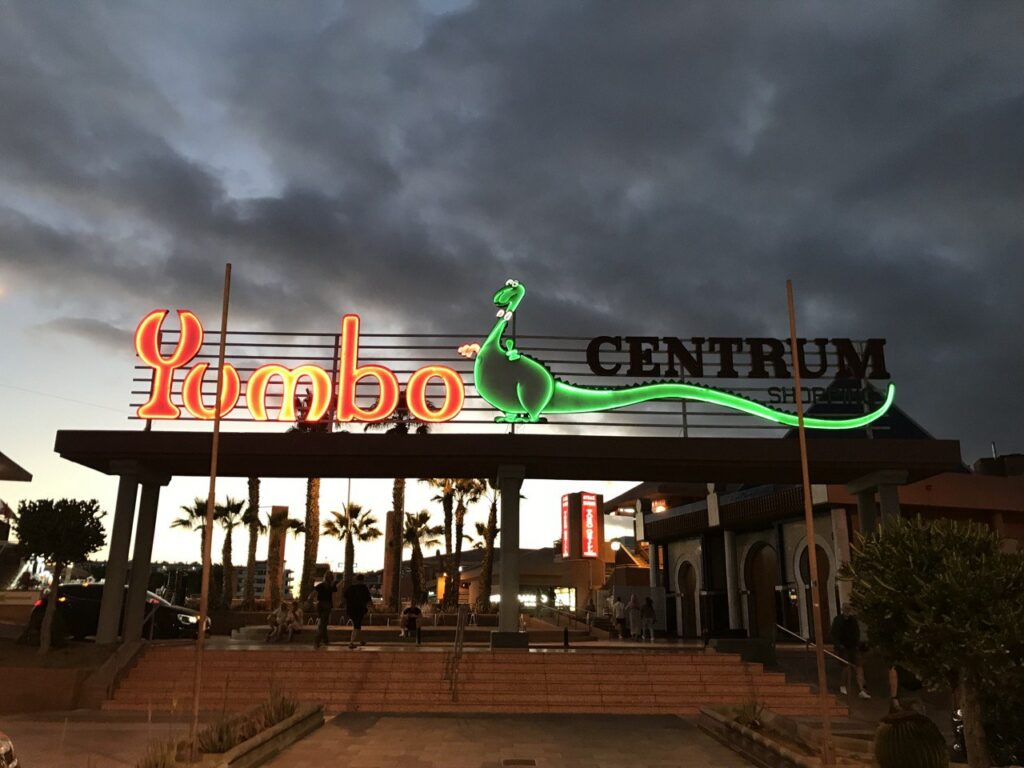 Yumbo Centrum is one of Gran Canaria's largest shopping and leisure centers, featuring over 200 shops, including bars, cafes, restaurants, and various retail stores. The open architecture of the four-story building makes navigation quite easy. While offering typical shopping options, Yumbo Centrum is more of a leisure destination with numerous dining options, a children's entertainment center, and a mini-golf course.
At night, the center caters mainly to the gay community and transforms into a lively nightlife hub from 10 PM to 4 AM, with discos, nightclubs, and bars. During Maspalomas Gay Pride, the center hosts concerts and a large disco, drawing thousands of people and creating a festive atmosphere similar to Canary carnivals.
11. Visit Sioux City Park
Sioux City Park is a Wild West-themed attraction that transports you back to the American West of 1857.
Located in San Agustin's Cañon del Aguila, just 10 minutes from Playa del Ingles and Maspalomas, the park offers an immersive experience with cattle, bank robberies, duels, fights, dancing, and other Wild West activities.
You can also watch various shows (or participate!), such as lasso throwing, knife and axe throwing, and whip handling. The "Miss Dolly and the Bandit" show is particularly noteworthy.
An authentic American bar serves a varied menu on weekdays, while a barbecue buffet is available on weekends.
Sioux City provides free bus transfers from the south of Gran Canaria when booked in advance. More information can be found on their website. Admission fee is €25.
12. Take a day trip from Maspalomas
Roque Nublo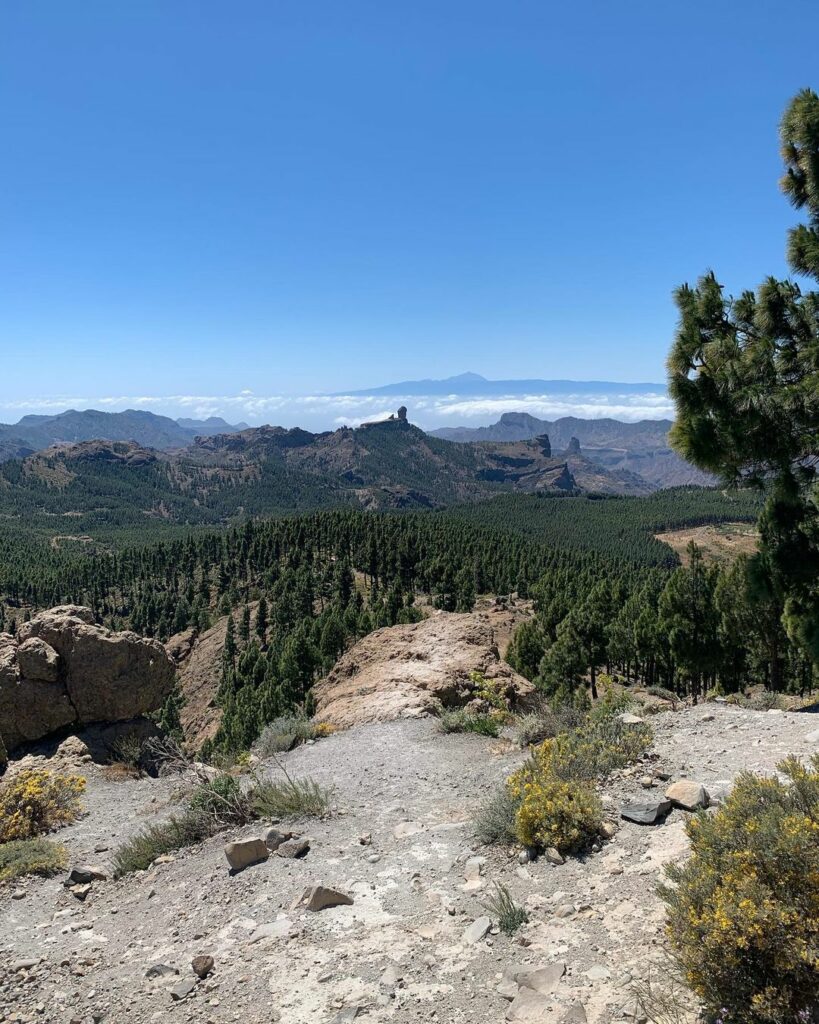 Roque Nublo, a massive 196.8 ft. (60-meter) basalt rock, stands at an elevation of 5,948 ft. (1,813 m) above sea level. It was once considered sacred by the Guanche people, the first inhabitants of Gran Canaria. The surrounding landscape features canyons, gorges, mountain lakes, and pine forests, offering stunning views.
To reach Roque Nublo, you can drive 25 miles for roughly an hour or take a bus to Ayacata.
Helpful tip When parking your car, ensure that valuables are not left in plain sight, as theft can occur in the area.
Puerto de Mogán
Puerto de Mogán, situated in the southwestern part of Gran Canaria, is a less crowded city divided into two parts: an older fishing village and a newer section with a port, hotels, and restaurants. Located about 18.6 miles (30 km) from Maspalomas, it can be reached by car in about half an hour.
You can easily spend a day exploring Puerto de Mogán, taking an excursion on a yellow submarine to see the underwater world, and admiring yachts, pleasure boats, and ferries in the harbor.
Additionally, boat trips along the southern coast of Gran Canaria can be planned from this location.
Practical information on visiting Maspalomas
The ideal time to visit Maspalomas in Gran Canaria is from May to October, with June being a popular choice due to milder temperatures. Early November can also be pleasant with comfortable water temperatures. In winter, choose a hotel with a heated pool as ocean swimming may be limited due to waves.
Getting around Maspalomas and Gran Canaria is easy with the well-developed bus system operated by Global Public transport, which runs 24/7. Express routes are not available at night, but alternatives with more stops are provided.
Renting a car is the best option for convenience, with local rental offices potentially offering lower prices than online options and sometimes not requiring a credit card for booking.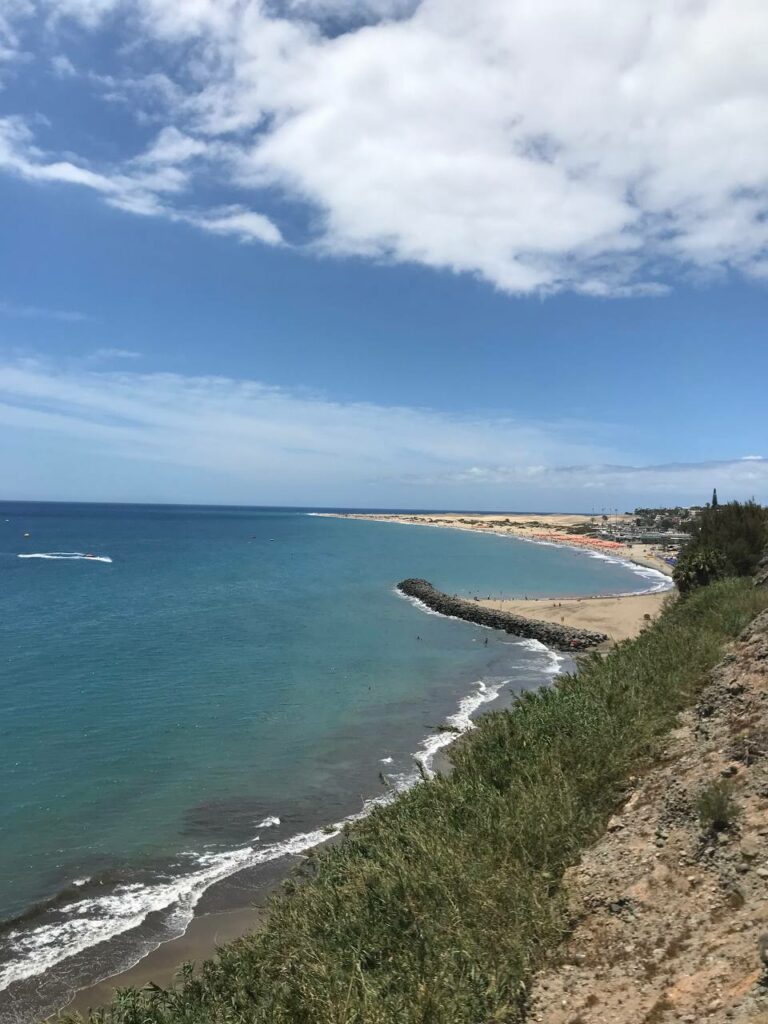 Recommended Hotels
There is a variety of luxury hotels in Maspalomas:
More budget-friendly options with the same high level of service and amenities include:
Some of these hotels are located right next to the ocean, and you can access the dunes from them:
Others are situated closer to the Maspalomas Golf Courses:
However, don't forget the option of booking apartments, which has its advantages due to economic reasons and sometimes amenities, such as having an equipped kitchen for cooking. For instance, I prefer small apartment complexes near the ocean with their own gardens. The luxurious apartment I've booked recently was Montemayor (rated 8.6 on Tripadvisor).
Where to eat in Maspalomas
Lola restaurant. The food is just amazing and the staff is warm and friendly.
La Candela (Spanish cuisine)
Restaurante Miramar. There are gluten-free dishes on the menu
Centrum (Italian restaurant). I highly recommend Pizza Diabolo!
Pizzeria La Piazza. Some real Italian pizza here.
Buffet Las Camelias.
Buffet chino Yong An III, for the seafood!
Final Thoughts
Maspalomas, a popular holiday destination in Gran Canaria, offers stunning beaches, natural ecosystems, a 19th-century lighthouse, and plenty of things to do and see.
I hope I have conveyed the fantastic and unique atmosphere of Maspalomas, and that you may come to love Gran Canaria as much as I do, returning here more than once.