Lanzarote, Spain: Volcano, Beaches, and Hidden Gems
Nadia Podrabinek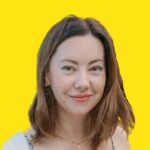 Written by Nadia Podrabinek
Hello, my name is Nadia. I usually write about traveling (there are so many places to fit all the lifestyles), relocation, and living in a foreign country (adapting to a different culture). My travels stretch beyond Spain, with journeys to the US, Italy, Norway, Portugal, and France. Relocating to Spain in 2018, I lived in cities from Barcelona to Madrid, currently calling Valencia home.  Follow me on Twitter, Facebook, Instagram, or LinkedIn! ... show more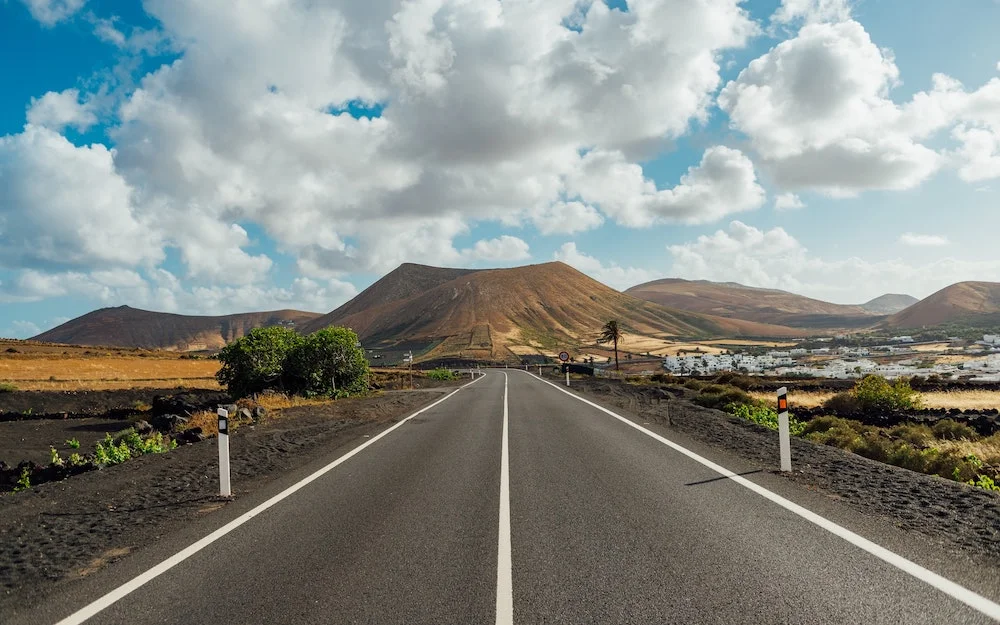 Lanzarote is one of the Canary Islands, around 600 miles (960 km) away from the mainland of Spain. Despite this distance, Lanzarote is a pretty popular spot, mostly for its beaches, "extraterrestrial" volcanic landscape, and many natural attractions.
---
Key takeaways
Laid-back, authentic island
Stunning beaches & surreal volcanic landscapes
Suitable for snorkeling and scuba diving
Amazing for traveling with kids
The outdoor scenery is a bit dry compared to Tenerife
---
Yes, Lanzarote is an island home to an active volcano. Thankfully, this is not a cause for concern, as it has been hundreds of years since any volcanic eruptions occurred on this Canary Island.
Mildly interesting: The name for the island of Lanzarote comes from a Genoese navigator Lancelotto Malocello.
If anything, the island's eruptive past has provided it with some magnificent volcanic landscapes. All of these features make Lanzarote a beautiful and exciting site to visit. And it is an exciting place for the kids, too!
In this post, I will be exploring everything you need to know about this island paradise, from its volcanoes to its picturesque beaches and even some spots not frequented by tourists.
Read also: 15 Things to do in Las Palmas de Gran Canaria and Best Time to visit the Canary Islands
Where is Lanzarote?
Lanzarote is one of the Canary Islands. This means that it is around 80 miles (130 km) off the coast of the disputed territory, referred to as Western Sahara, and about 600 miles (960 km) from the coast of Spain. Lanzarote is both the northernmost and easternmost of all of the Canary Islands.
Did you know? The people of Lanzarote used to speak the Guanche language until the 17th century. It is now an extinct language due to the islands being conquered by Spain.
How to get to Lanzarote
There are two main ways for travelers to get to Lanzarote. The first is by plane, as Lanzarote has an airport called Arrecife Airport. It is located around three miles away from the island's capital.
You can fly directly to Lanzarote from many European countries. However, if you cannot find a direct flight, you could also fly to another Canary Island and then get a flight to Lanzarote. Flying to Lanzarote is the quickest way to get there, so if you need to make it to your hotel on time, then flying is the way to go.
The more stimulating and relaxing way to get to Lanzarote is by ferry. There are actually a few ferries that travel to the island regularly. If you find yourself on a different Canary Island, but want to make your way to Lanzarote, then you can use one of the ferries. Most of these ferries travel to the island four to five times per week.
If you are based in Europe and want to travel to Lanzarote, you can board one of the ferries that travel to the island twice per week. Ferries depart from the ports of Huelva and Cádiz and arrive in Lanzarote after around 26 to 28 hours.

It will be very cheap if you plan to wait in your car or on the deck during the long ferry ride, but it won't be the most comfortable solution. While it is more expensive to book a cabin, this will ensure a more relaxing trip to the island.
Things to do and see in Lanzarote
While Lanzarote is a relatively small island, it is jam-packed with things to do and see. In this section, I will list my favorite sights and activities based on my experience and that of my friends.
1. Visit Timanfaya National Park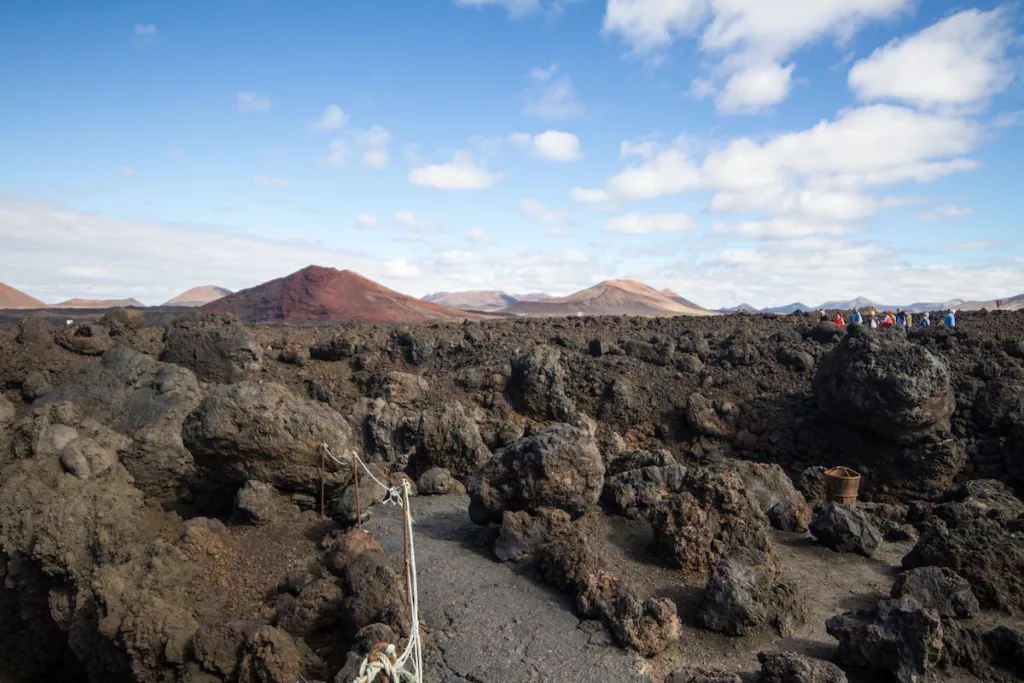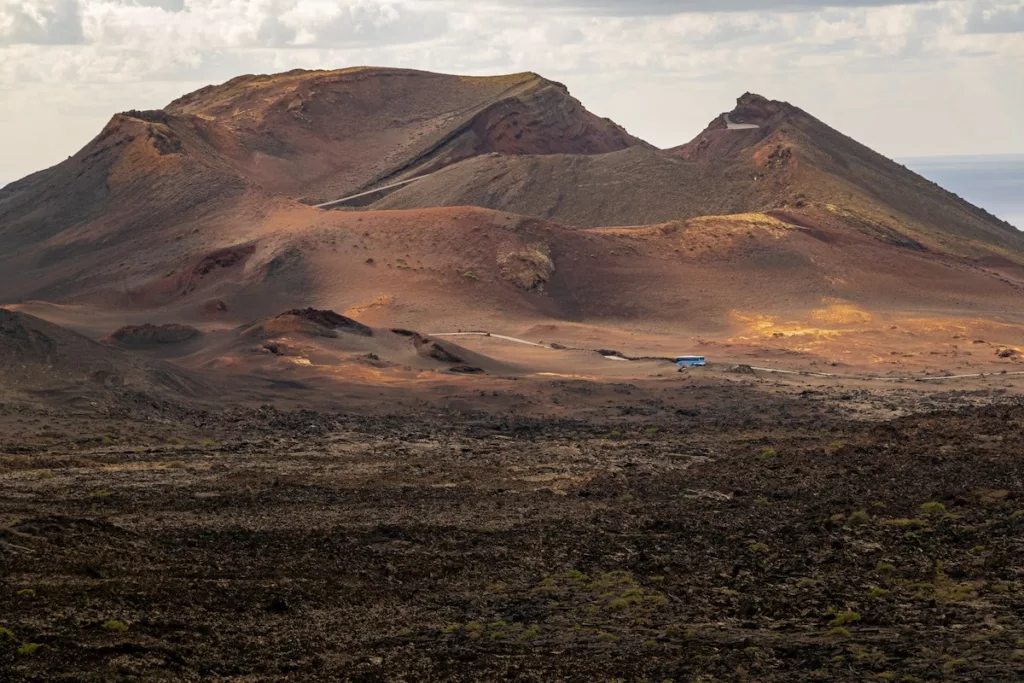 This is the first thing you need to do in Lanzarote. Its national park shares the name of Lanzarote's only active volcano, as they are situated quite close together. Actually, one-quarter of the island's surface is covered in volcanic landscape! Still, the best place to view the result of the island's former volcanic activity has to be this park.
One of the first things you will notice when entering the park is the sheer lack of vegetation other than the odd clump of lichen. Despite this, the park is still dripping with natural beauty. The large volcanoes cast shadows on the rugged multi-colored terrain and have the jagged coastline as a backdrop.
The park is a sight to behold, but gazing at the scenery is only one of the activities on offer. When you enter the park, I recommend you stop at the Visitor Center first, as it will provide you with an overview of the park.
One of the main attractions is a tour of Montañas del Fuego. This will allow you to see the non-active volcanoes up close via a bus tour.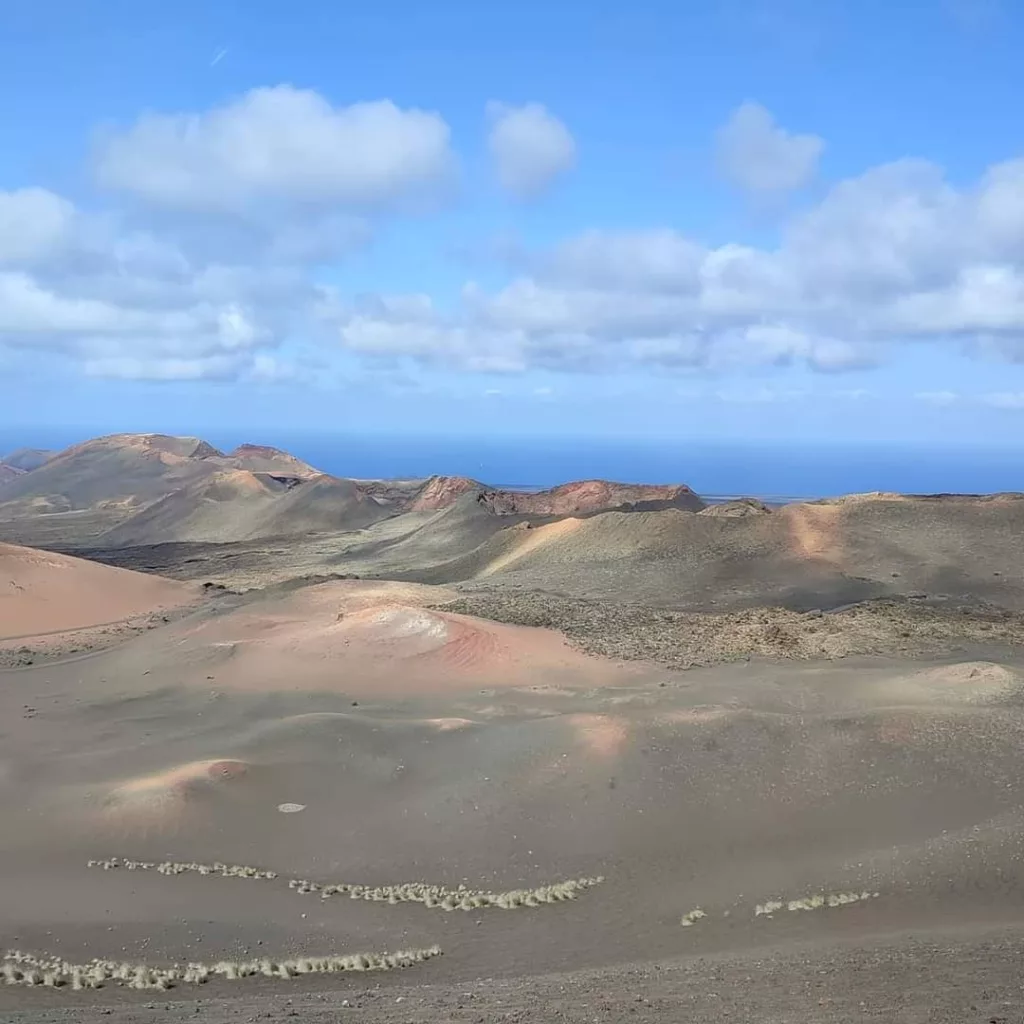 If you prefer to see the park at a slower pace, go on a camel ride or make your way along one of the walking routes.
The walking routes in Timanfaya are slightly limited due to some dangerous terrain. If you prefer to tour a park on foot, consider Los Volcanes Natural Park.
If you want to go hiking, then be sure to wear some closed shoes with rugged soles, as the volcanic landscape can be harsh on your feet.
2. Stay in Puerto del Carmen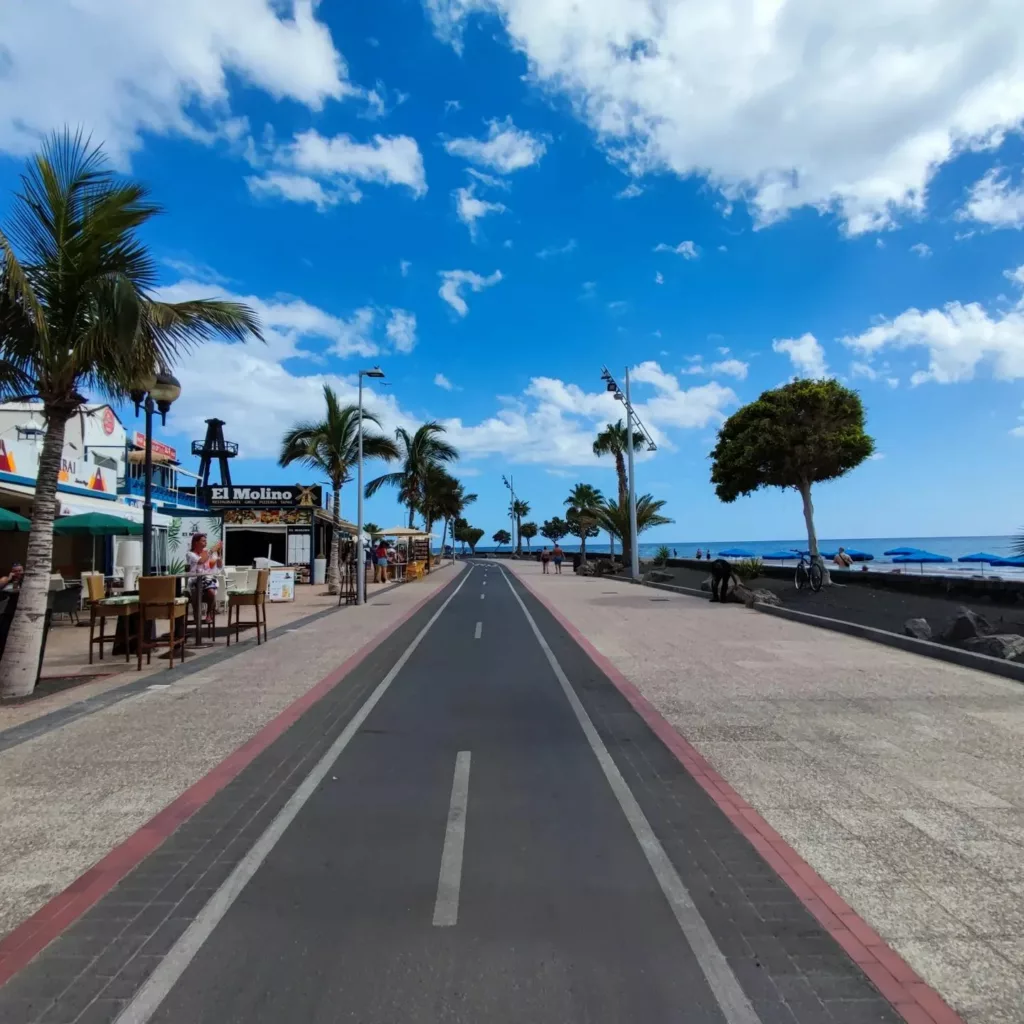 Puerto del Carmen is the ideal destination to stay on the island. It provides the necessary convenience with beaches within walking distance, many fancy restaurants, and designer stores.
If you are traveling with kids, there is Aqualava Water Park, Rancho Texas Lanzarote park, and karting. Also, Puerto del Carmen is close to the airport and hospital.
If you rent a car, you can go to Playa del Pozo, the most beautiful beach near Puerto del Carmen.
3. Explore the island's beaches
If you are visiting Lanzarote, it is a crime not to visit the island's beaches.
Some of the best beaches on the island include Playa de Papagayo beach, Playa Blanca, and Playa de la Concha.
Papagayo beach is absolutely stunning! It is a great place to swim in the ocean, as the clear waters are sheltered from the open waters, making them relatively calm.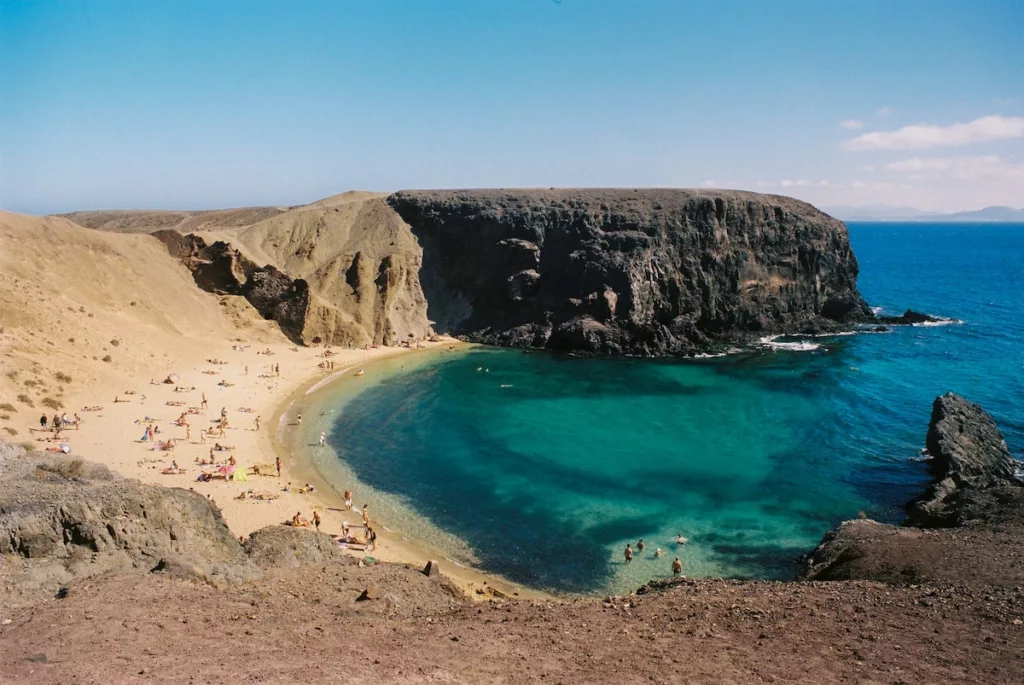 It is also worth mentioning that Papagayo beach is not the most accessible beach on the island. You can get there if you go by car via a 2-mile-long bumpy road and pay an entry fee of $3. It does not have changing rooms (but you can use the nearest bar's restrooms for dressing).
Despite the difficulties, it is well worth going for its beauty!
If you prefer a more action-packed beach day, consider Playa Blanca. Several water sports businesses offer activities like jet ski tours, tubing, and skiing there.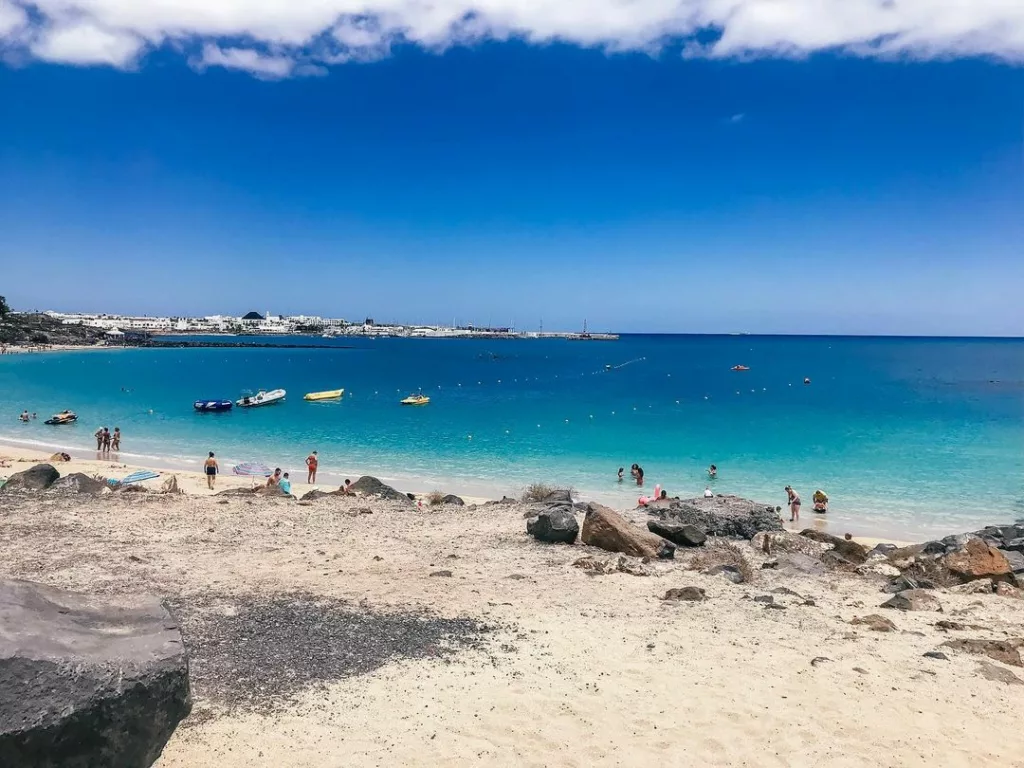 Alternatively, visit Playa de la Concha, a sandy, quiet, and secluded beach northeast of Puerto del Carmen. It is also the best beach to see the sunrise on the island.
4. Visit the Jardín de Cactus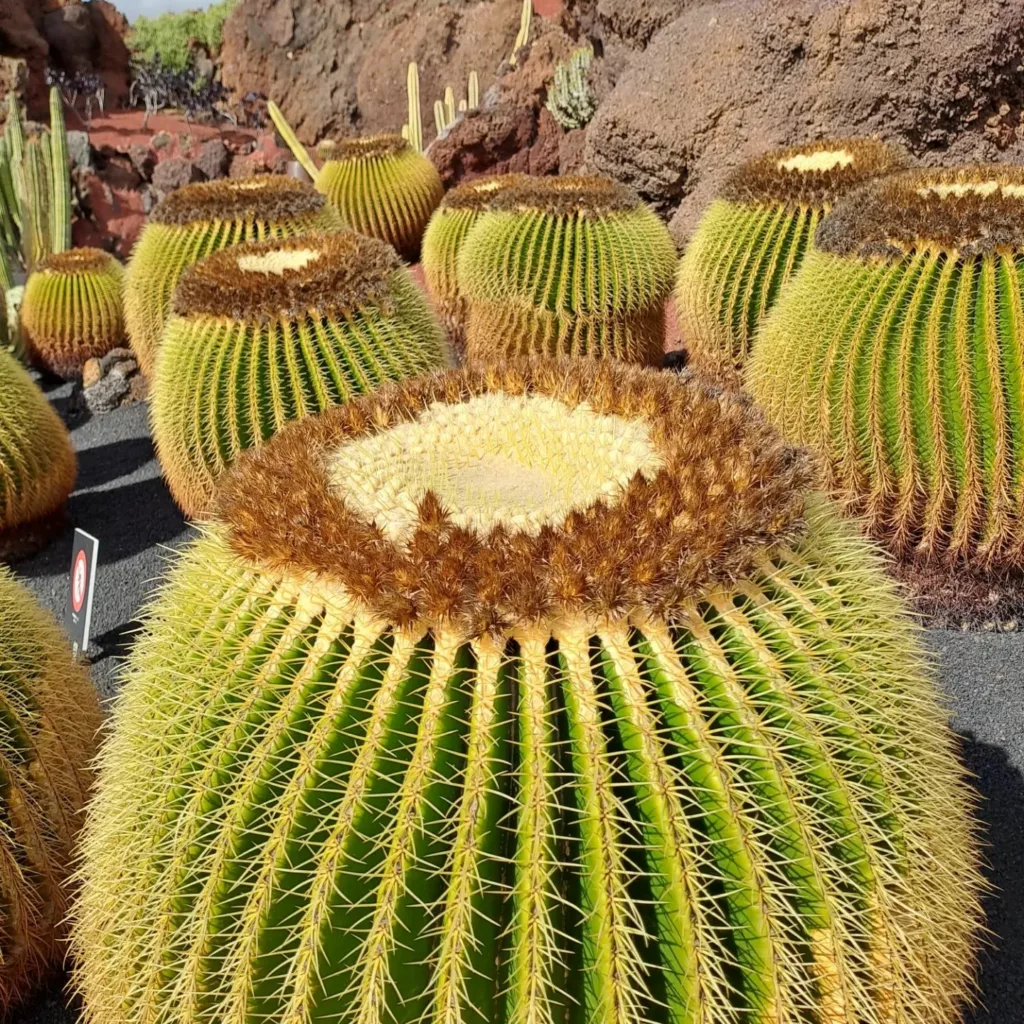 The Cactus Garden is the last work created by a famous local artist named César Manrique (who lived in a house of an Egyptian actor Omar Shariff).
This spectacular garden is home to over 4,500 cacti that come from 500 different cacti species from all over the world, with some species being sourced from North America and Madagascar. Some cacti featured in the garden are native to the Canary Islands.
Before the garden became what it is today, it started out as a landfill. After 20 years of work, the garden is now considered one of the world's most important cactus gardens.
If you decide to visit, bring a hat and some sunscreen, as there is not much shade, and it can get very hot during Lanzarote's summers. Make sure to wear closed shoes as well, as you are visiting a garden full of cacti, after all!
If you want to beat the crowds, you should arrive early, as the area can get very busy.
5. Wine tasting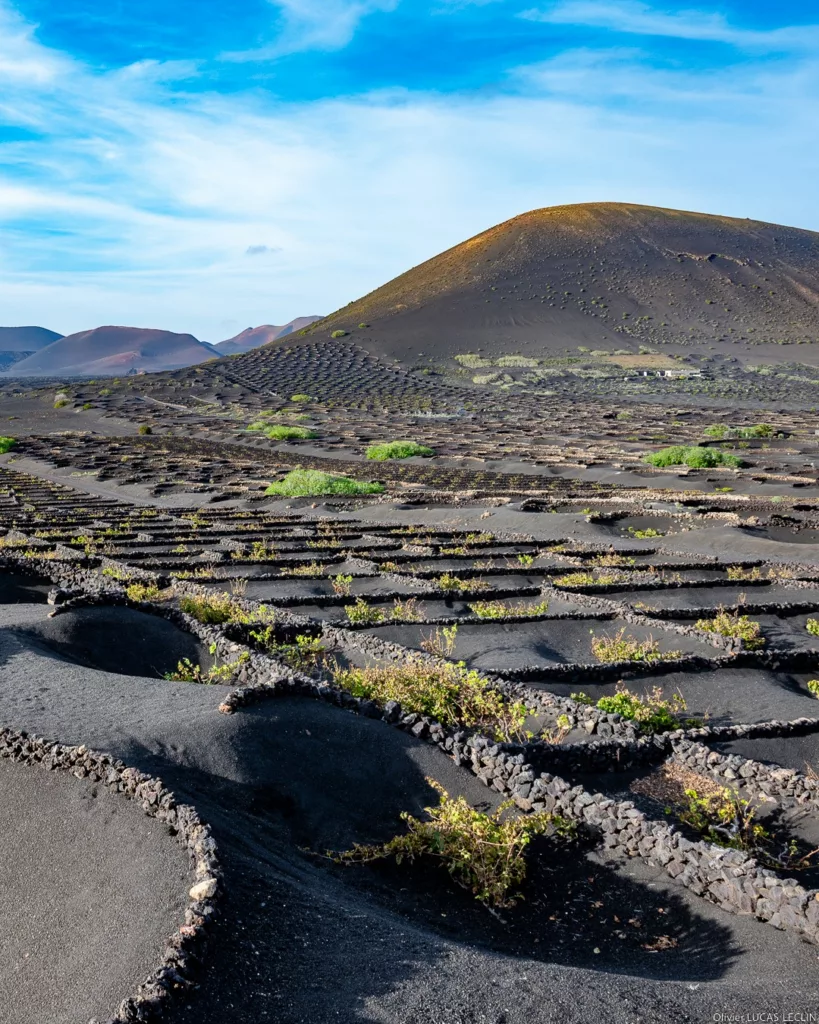 Lanzarote is home to some world-class vineyards which have seen significant investment in the past 15 years. The island has an extensive history of producing wines that have appeared on the tables of royalty across Europe since the 15th century.
Underneath the volcanic ash called picon, which covers 30% of the island, lies some very fertile soil. Farmers soon learned that planting vines into the fertile soil under the picon was the best way to proceed: Picon locks in moisture.
Bodega La Geria is one of the oldest wineries on the island and provides excellent views of the surrounding vineyard and La Geria valley. The winery offers some guided tours, but you will need to book in advance as they are very popular.
6. Visit the Cueva de los Verdes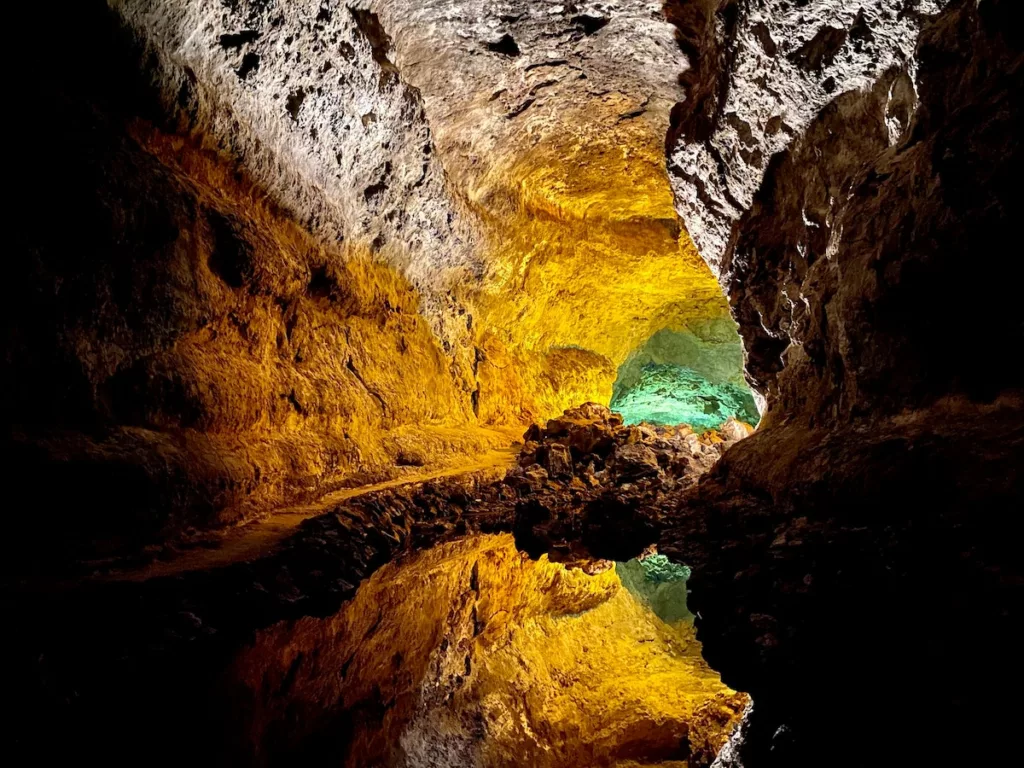 La Cueva de los Verdes is a lava tube formed thousands of years ago by underground lava flows that came about after the volcano's eruption.
At its deepest, the tube extends 4 miles below the surface, and only a mile of that length is open to the public.
Back in the 16th century, locals used to hide out in the cave to hide from pirates that came from North Africa. There is no threat of being attacked by pirates today, which is why the cave is now frequented by tourists and scientists due to how unique the volcanic territory is.
You can explore Cueva de los Verdes on your own or go on a guided tour to learn more about the cave's history and geological features.
Make sure to wear comfortable shoes when visiting, as making it to the end of the tube can be quite an extensive journey.
7. Explore the island's villages
Lanzarote may have become a tourism hotspot recently, but this hasn't stopped it from keeping most of its quaint charm.
There are many small and large villages dotted around the island, brimming with both Spanish and Canary Island culture.
Costa Teguise is one of the more popular large villages on the island. It caters more to tourists, which is why many bars, hotels, and restaurants are situated there. While Costa Teguise might not be as "authentic" as some other villages on Lanzarote, one square of the city was co-designed by César Manrique.
It also features an El Navarro restaurant, serving a modern take on Canarian and Spanish food. Haria is one of the most unique villages on the island. It is located more inland and is one of the greenest places on the island as a result.
It also features the César Manrique museum, which is the converted home of Lanzarote's famous artist. The museum contains many of the artists' last works.
8. Go scuba diving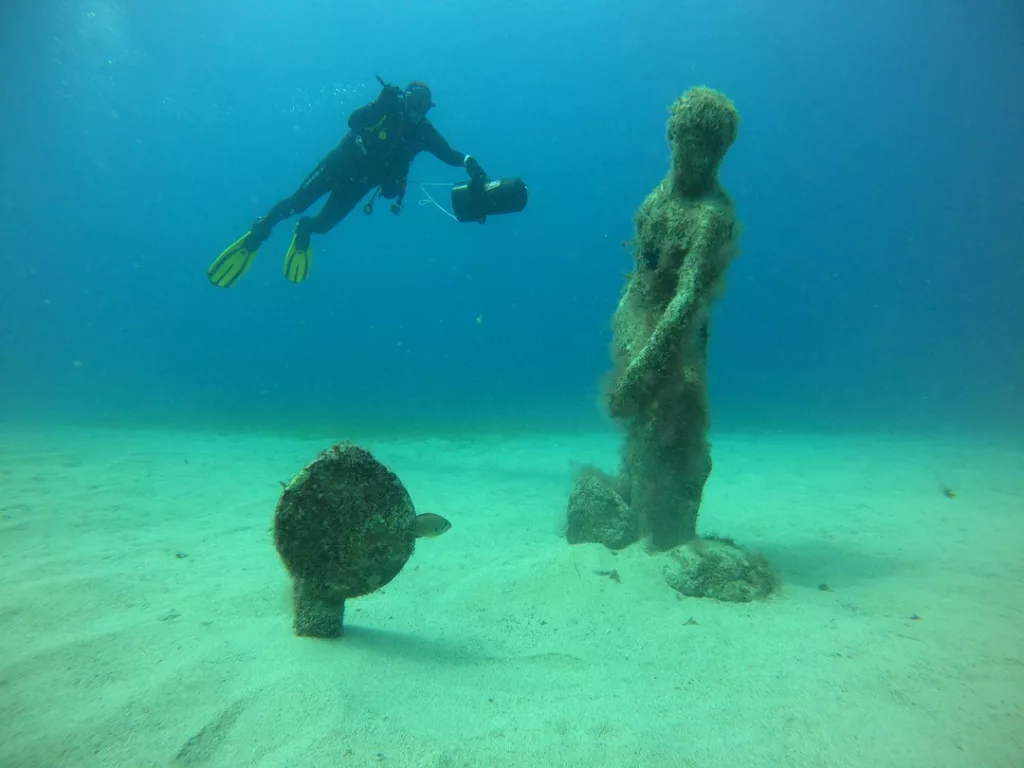 Lanzarote is considered one of the best diving locations in Europe due to its underwater topography.
If you want to see large fish shoals, consider diving at Flamingo Beach. The waters are always warm and calm, making it an excellent spot for beginners. These calm waters result from two large breakwaters that protect the beach from waves and allow ocean life to thrive.
If you are a more advanced diver, check out Barranco del Quiquere. It offers a maximum depth of 100 feet (30 m) and features three shipwrecks to explore. If you cast your eyes on the sea bed, you might even see angel sharks and stingrays!
9. See cool architecture stuff by Caesar Manrique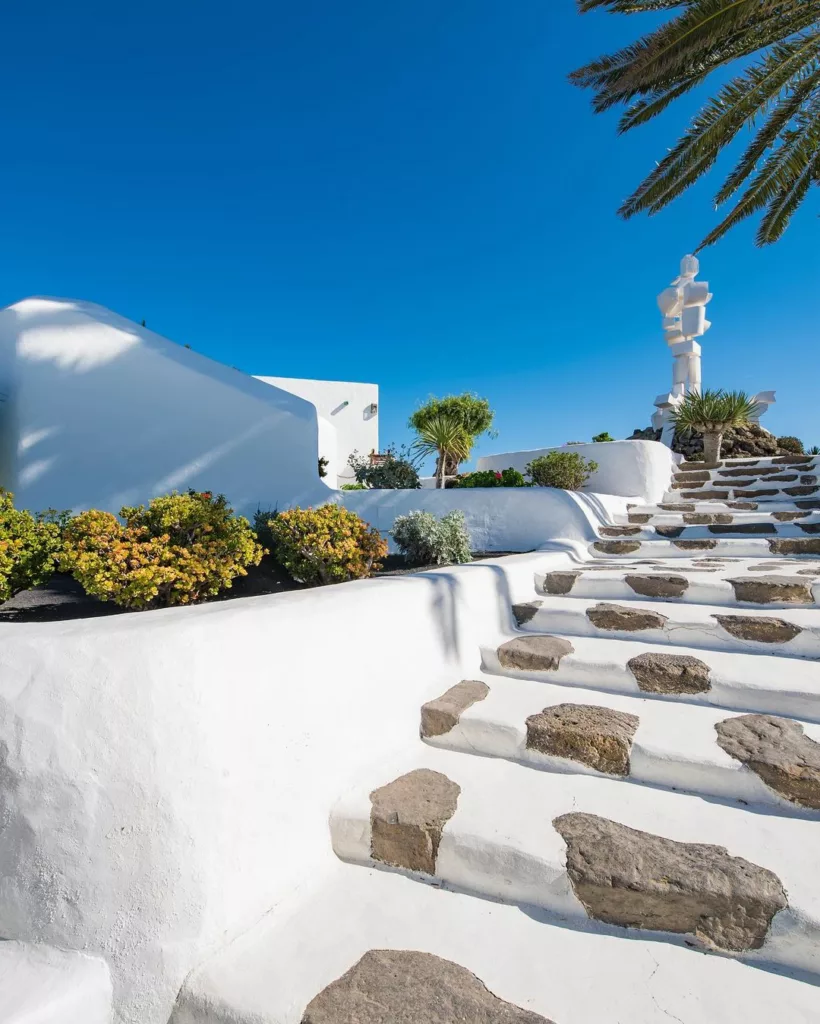 For example, visit Casa Museo del Campesino at the center of Lanzarote. It is yet another monument with César Manrique to thank for its existence. It was dedicated to local farmers who toiled away under challenging conditions to provide food to the island.
There is much to do and see at the museum, but the main attraction is the architecture!
Another must-see attraction is El Monumento a la Fecundidad, which translates to the Monument of Fertility in English. It is a 50-foot sculpture made out of old water tanks, iron, and concrete considered one of the island's main symbols. There are also examples of traditional Canarian dwellings, camel saddles, farming tools, and even a winery on the property.
You do not just have to look at what's on offer; you can also participate in workshops on leather work, braiding, dyeing, and even cooking.
All the things to do and see can be overwhelming, so a guided tour around the museum is a good idea to start with the sight.
Other great things to do in Lanzarote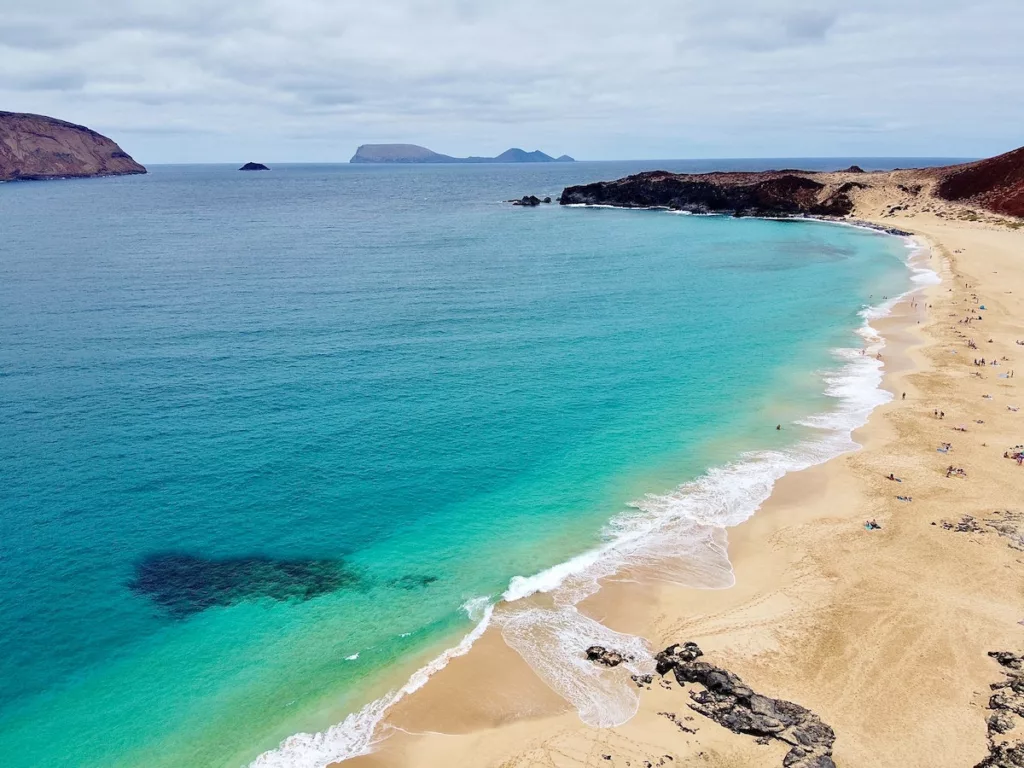 Hike to Caldera Blanca, an extinct volcano with an enormous crater.
See the sunset at Montaña Negra peak.
Take pictures of Stratified City.
Explore Las Grietas rock formations.
Hike up to the top of Montaña de Tinaguache.
Take a ferry from Lanzarote to Isla de La Graciosa for Playa de las Conchas and the Bermeja Mountain hike.
Where to eat in Lanzarote
El PoLaco
What people say on Google: 4.8 stars, 108 reviews
C. Juan Carlos I, 25h, 35510 Puerto del Carmen, Las Palmas
Lani's Cafe Restaurant
What people say on Google: 4.7 stars, 861 reviews
Av. de las Playas, 26, 35510 Tías, Las Palmas
La Gaviota Restaurant
What people say on Google: 4.7 stars, 85 reviews
Av. del Mar, 24, 35508 Costa Teguise, Las Palmas
El Argentino
What people say on Google: 4.7 stars, 103 reviews
C. Lanzarote, 35580 Playa Blanca, Las Palmas
Where to stay in Lanzarote
In terms of accommodations options, Lanzarote offers a solid variety of stays:
Meliá Salinas
La Isla y el Mar (boutique hotel)
Hipotels La Geria
Jardines del Sol
Frequently Asked Questions
Is Lanzarote's volcano dangerous?
No. The Timanfaya Volcano might be active, but it has been hundreds of years since it last erupted. The Timanfaya National Park also does not take you too close to dangerous areas.
Is there any tour of the volcano in Lanzarote?
The Short South Tour will take you near the active volcano and right past and around the many dormant and extinct volcanoes on the island.
Can I take a volcanic rock with me?
No, you are not allowed to take any rocks or gems from Lanzarote, and you may get in trouble if you try to, especially in the airport. Visitors are advised to "leave without a trace."
What is the weather like in Lanzarote?
Lanzarote experiences nearly year-round sun, with hot, humid summers and mild winters. The average temperature range is 64-77°F (18-25°C). Rainfall is rare; the island enjoys over 3,000 hours of sunlight each year.