Guide to Enjoying Barcelona in June 2023
Nadia Podrabinek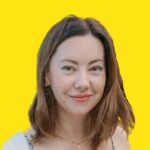 Written by Nadia Podrabinek
Hello, my name is Nadia. I usually write about traveling (there are so many places to fit all the lifestyles), relocation, and living in a foreign country (adapting to a different culture). My travels stretch beyond Spain, with journeys to the US, Italy, Norway, Portugal, and France. Relocating to Spain in 2018, I lived in cities from Barcelona to Madrid, currently calling Valencia home.  Follow me on Twitter, Facebook, Instagram, or LinkedIn! ... show more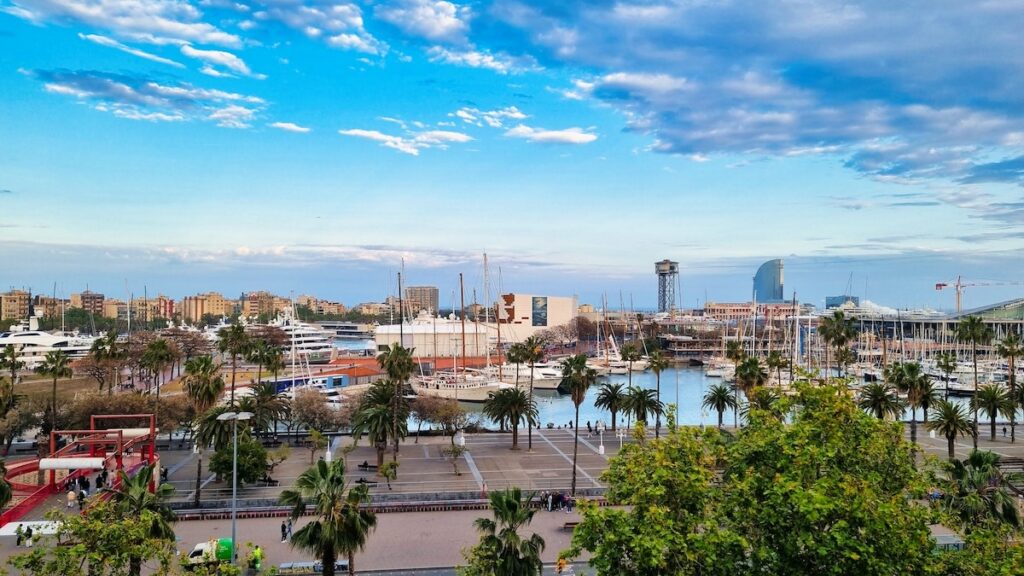 June is a fantastic time to visit Barcelona. With long, sunny days and pleasant nights, the city comes alive with vibrant energy and a plethora of activities and events. Here's my guide to some of the best things to do in Barcelona in June in 2023.
---
Key takeaways
Have some quality time at the beach.
Attend the best music festival in Spain, Primavera Sound.
Food & drinks: Tapas, cava, street food, Michelin-star restaurants, there are plenty of options.
Watch the sunset at one of rooftop bars – Bar Isabela, Sercotel Rosellón, or Pulitzer Terrace.
Enjoy the nightlife at Razzmatazz, Moog, or Sala Apolo.
Go for a day trip or, at least, for picnics at the Bunkers de Carmel viewpoint and Montjuic Hill.
---
What people say on Reddit
Barcelona is the most walking friendly city i've ever been in. It's got delicious food and great weather. The people are kind, weed is legal (if you're into that), and it's got such a great feel.

Only think I will say is these pictures don't do Sagrada justice. These are good pictures, but I don't think any pictures do La Sagrada justice. The stained glass in there is awe inspiring and I've never seen a place comparable. It's an experience in itself.

SirLeaf
I've only been in Barcelona when I was around 17 years old. So did more partying than sightseeing but you should definitely see Sagrada famillia and Montserrat it's a mountain with a little church on top of it!

lostandtravel
Start the day with their free walking tour at like 10am, just tip your guide after. 🙂

Then pay to do their "Barcelona Gaudí & Modernism Tour" which is like 1-2 hours later. That's time to grab lunch or just some gelato.

Then (and you should have already booked this too) do their late night "Barcelona Evening Tapas Tour" I think thats like an hour after the Gaudi tour.

Yes those two tours, plus a tip earlier will basically be 40+ euros, but you cover so many things, and it's a complete day and then some. I think I left the hostel at like 9am and got back at 2am.

somedude456
Just got back from 4 days on Rome. Plenty of time to see everything. I would visit Trastevere. It's a local city right near everything. Pimm's Good is a great restaurant there with some phenomenal lasagna and live music. Tip for the Vatican Museum and Sistine Chapel: Buy a skip the line ticket from an actual stand. There are tons of individuals offering the same passes but they're twice as expensive! Have a blast!

feivelshat
Beaches and Outdoor Activities
Barcelona's beaches are a must-visit. The most popular is Barceloneta, known for its lively atmosphere and proximity to shops and eateries. For a quieter experience, head to Bogatell, where you can enjoy activities like volleyball. San Sebastian, near the W Hotel, is another option, but keep in mind that it's a nude beach.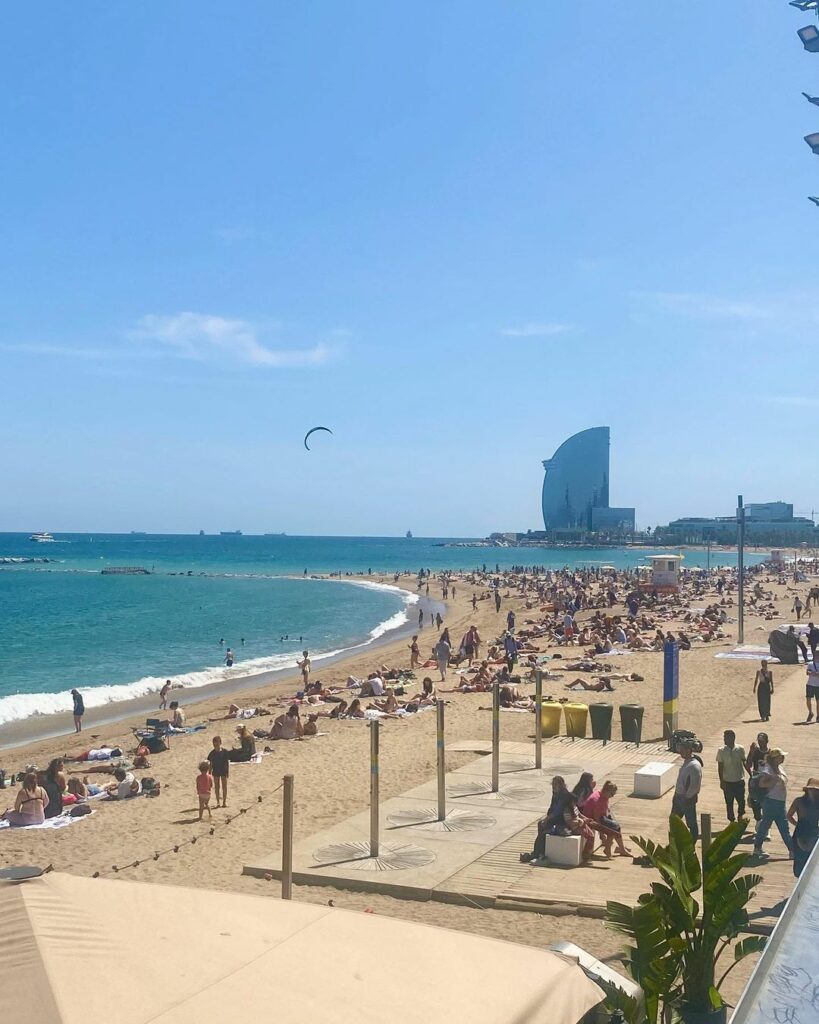 To explore Barcelona's beaches and get incredible city views, consider renting a bike. Barcelona eBikes offers both private and group tours on electric bikes, saving you energy and time.
If you're looking for a day trip, consider visiting Sitges, an old fisherman's village turned seaside town, or Tarragona, a Roman settlement with historical ruins and a beach connected to the city center. Alternatively, head north to Costa Brava, where you can explore various towns like Begur, Cadaqués, and Tossa de Mar.
Tapas, Drinks, Ice Cream!
Barcelona's food scene is vibrant and diverse. Chiringuitos, beach bars, are perfect for a refreshing drink. For a unique dining experience, consider Dinner with Stars at the Fabra Observatory, where you can enjoy dinner on the terrace and use the 1904 telescope.
And of course, don't forget to try gelato, a European must. Barcelona offers many options, with Gocce di latte being a local favorite.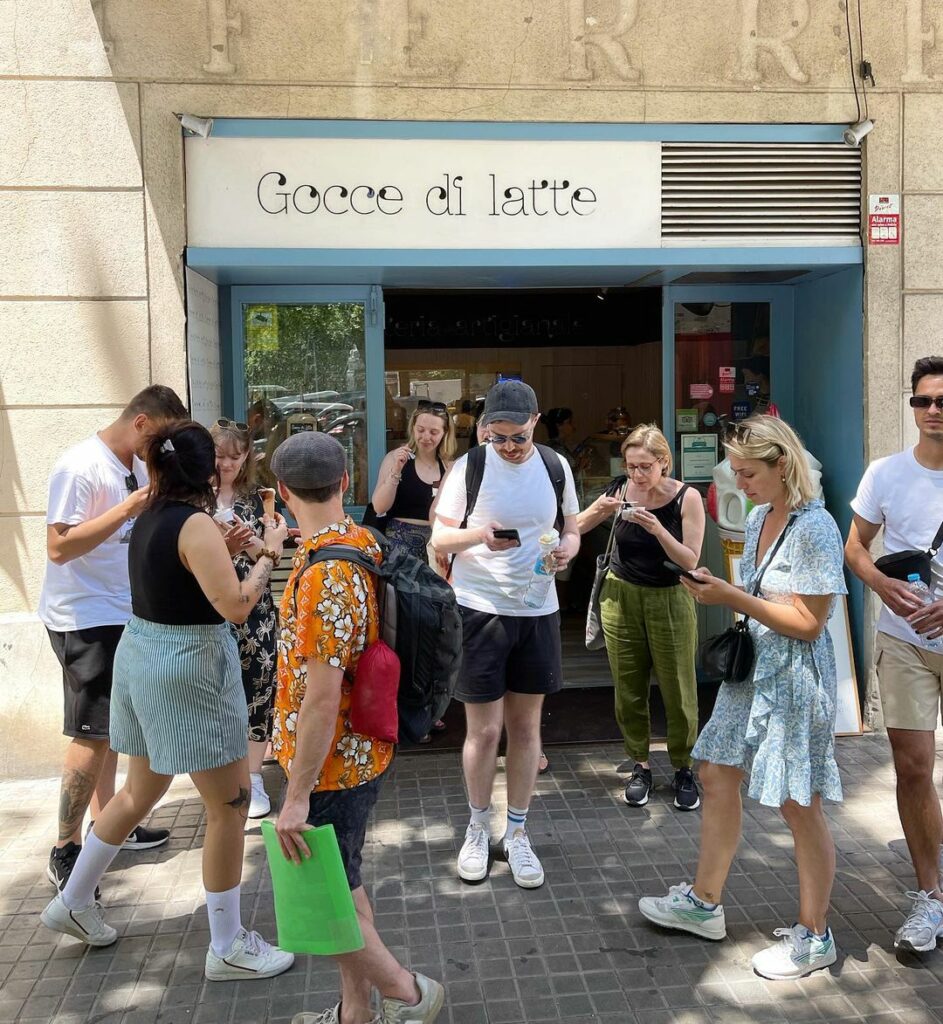 Pro tip: Stay out of tourist trap restaurants in La Rambla!
Read also: 7 Things to Do in Barcelona for the First Time
Festivals, Events & Concerts
Summer in Barcelona is festival season. The most popular is the Sant Joan festival on June 22th, and Primavera Sound Music Festival.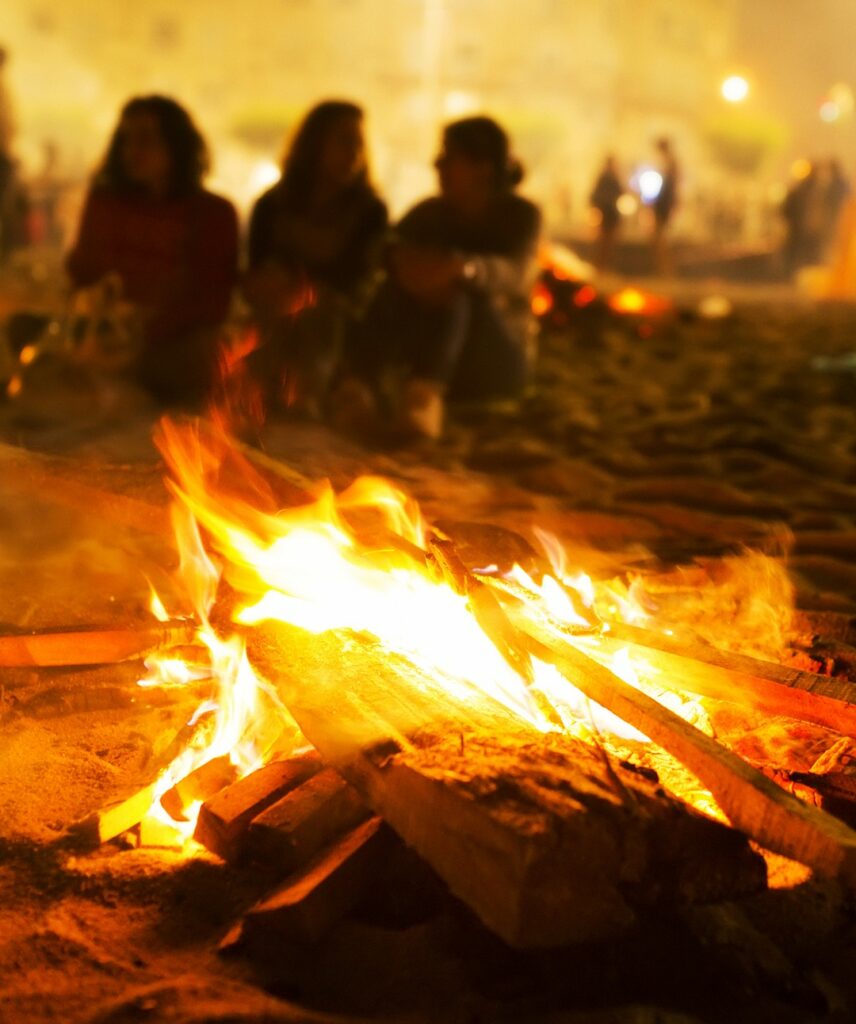 For movie lovers, Sala Montjuïc offers an open-air cinema experience at the top of Montjuïc, next to the castle. You can also watch international films on the beach through Cinema Lliure.
Summer is also a time for music in Barcelona – Casa Batlló and Casa Milà, two of Gaudí's most famous houses, offer nightly concerts or light shows. Brunch in the Park is a popular electronic music festival that takes place every Sunday until October. The Festival Pedralbes and Teatre Grec also offer concerts throughout the summer.
1. Primavera Sound Music Festival
Kick off June with the best music festival in Barcelona, Primavera Sound. This festival, held on May 29th – June 4 at Parc del Forum, features a mix of electronic, hip-hop, pop, and dance music. This year, for the first time, the festival will also take place in Madrid and Porto. Performers like Kendrick Lamar, Rosalía, Depeche Mode, Pet Shop Boys, Blur, and Calvin Harris are set to perform, so make sure to book your tickets online.
2. Formula One Spanish Grand Prix
If you're a fan of racing, don't miss the Formula One Spanish Grand Prix. The event is held just outside the city in Monmelo. After the race, you can even get down into the pit lanes for a full Formula One experience. Just remember to budget your time for travel, as traffic can be heavy.
3. Corpus Christi Celebrations
Known as Lao Kombaya, or "the egg how it dances," the Corpus Christi celebrations are a unique sight. In 13 different places in the old city, you'll find eggs bouncing on top of fountains. This celebration of the body of Christ is a sight to behold, especially in the Gothic Quarter.
4. Visit Roses on the Costa Brava
For a day trip, consider heading to Roses on the Costa Brava. This seaside town is home to the Bowie Museum, dedicated to El Bui, a restaurant that was named the best in the world five times. The museum opens on June 15th.
5. Sonar Music Festival
From June 15th to 17th, the Sonar Music Festival takes place. Celebrating its 30th anniversary, the festival features experimental electronic music and dance. The festival is held in two venues: the Fida de Manjuic for day concerts and the Fida de Hospital for night events.
6. Off Sonar Festival
Running concurrently with the Sonar Festival, the Off Sonar Festival is held at the Poble Espanyol on June, 15th-18th, a replica of iconic architecture from all over Spain. The festival features dance and electronic music concerts in emblematic spaces like monasteries and the main Plaza Mayor.
7. Barcelona's Grand Flamenco Festival
If you're in Barcelona between June 22nd and 30th, don't miss the Grand Flamenco Festival. You can catch some great shows at the Tablao Cordobes and the Palau De La Musica.
8. Sant Joan Festival / Summer Solstice
The Sant Joan festival, or Festival of Saint John, is a major annual event in Barcelona, Spain. It takes place on the night of June 23rd through to the 24th, around the time of the summer solstice, and is often referred to as the Catalan midsummer festival. It is known to be one of the best parties of the year.
Key activities and traditions of Sant Joan include barbecues, drinking cava (a Spanish sparkling wine), eating coca (a traditional Catalan cake), and jumping over bonfires, which is seen as a form of ancient cleansing ceremony. One of the most notable aspects of the celebration is the extensive use of firecrackers 🧨 😨
If you don't have any friends in Barcelona, you can join the celebration at the beach or attend an official event in one of the neighborhoods. The festival is celebrated throughout the city, with each neighborhood typically hosting its own event.
9. Neighborhood Festivals
From June 22nd to July 2nd, the neighborhoods of San Peda, Santa Catarina, and El Bourne celebrate their festival. You can enjoy Catalan cultural offerings like human tower building, traditional Catalan dances, and parades of giants.
Other things to do in Barcelona in June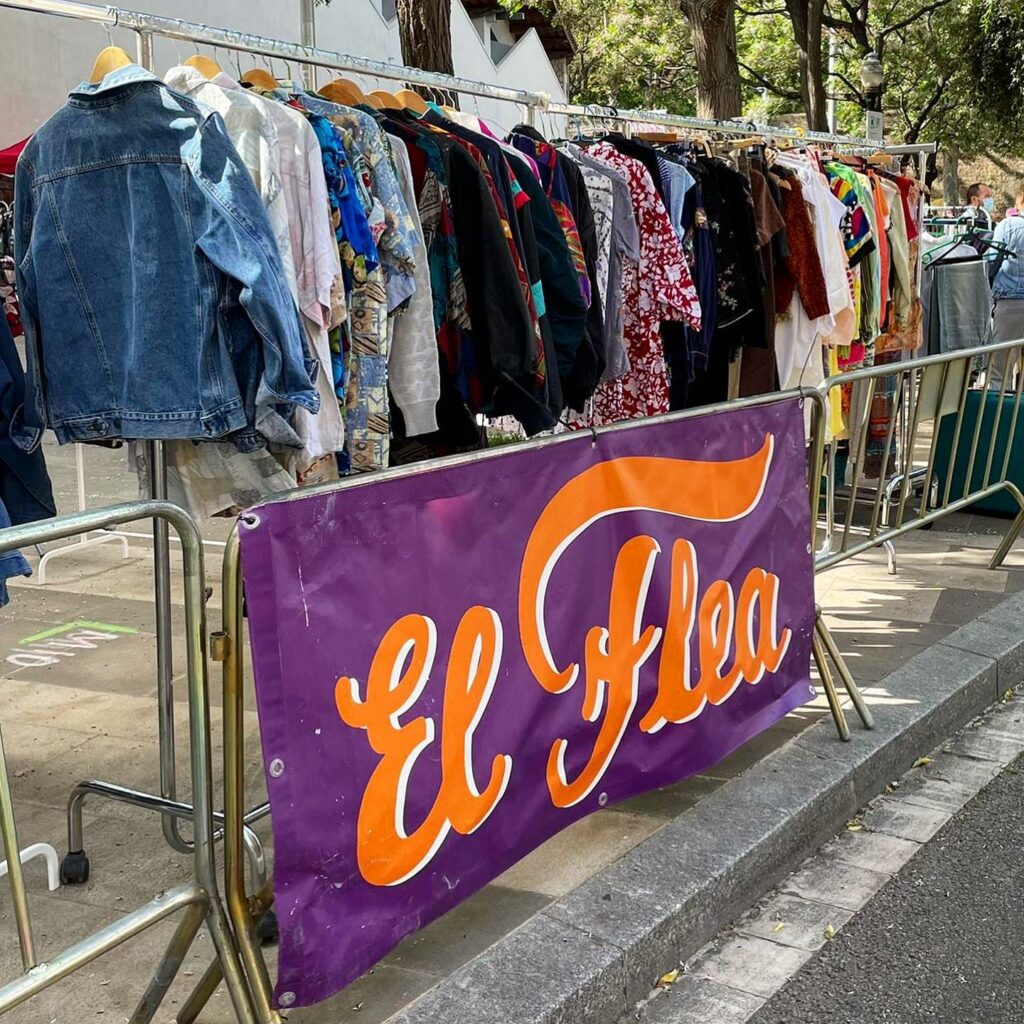 Picasso Museum is well worth a visit. In Barcelona, the artist not only received significant academic training but also found the creative inspiration that opened the way to the world of contemporary art.
Visit an English-language stand-up comedy "Guiris, come home!" The show caters specifically to "Guiris", a term frequently used in Spain referring mainly to tourists from Great Britain and Northern European countries (although they are welcomed!).
If you're interested in flea markets, make sure to visit the Encants flea market located near the Glories metro station. Closer to your visit, check the June schedule for "El Flea" and Fleadonia on their website. All these markets are conveniently located within walking distance from the city center.
For book lovers, the open-air secondhand book market at Mercat Sant Antoni is a must-visit on Sunday mornings.
Helpful links
Visiting Barcelona in June FAQ
What are the best nightclubs in Barcelona?
If you are looking for some non-touristy spots with good DJs, my bet is Razzmatazz, Sala Apolo, Twenties Barcelona (raggaeton & hip-hop), Wolf Barcelona (spacious venue), and Pacha Barcelona.
What is the weather like in Barcelona in June?
In June, Barcelona typically experiences warm and sunny weather without extreme heat. The average high temperature is around 25-28 ºC (77-82 ºF), while the average low is around 17-20 ºC (63-68 ºF). Rain is not very common, but there can be occasional showers. The sea temperature also begins to rise, making it a good time for beach activities, but don't expect it to be extremely warm.
Is Barcelona busy in June?
I won't sugarcoat it: Yes, the city is quite busy in the summer. However, it's bustling almost all the time. The only time I recall Barcelona being empty was during certain months of the Covid-19 quarantine.
Remember, these are just some of the events happening in Barcelona in June. The city is always buzzing with activities, so make sure to explore and enjoy all that Barcelona has to offer!