Barcelona vs Madrid: They Are More Different Than You Think
Nadia Podrabinek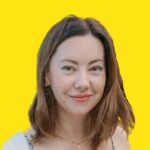 Written by Nadia Podrabinek
Hello, my name is Nadia. I usually write about traveling (there are so many places to fit all the lifestyles), relocation, and living in a foreign country (adapting to a different culture). My travels stretch beyond Spain, with journeys to the US, Italy, Norway, Portugal, and France. Relocating to Spain in 2018, I lived in cities from Barcelona to Madrid, currently calling Valencia home.  Follow me on Twitter, Facebook, Instagram, or LinkedIn! ... show more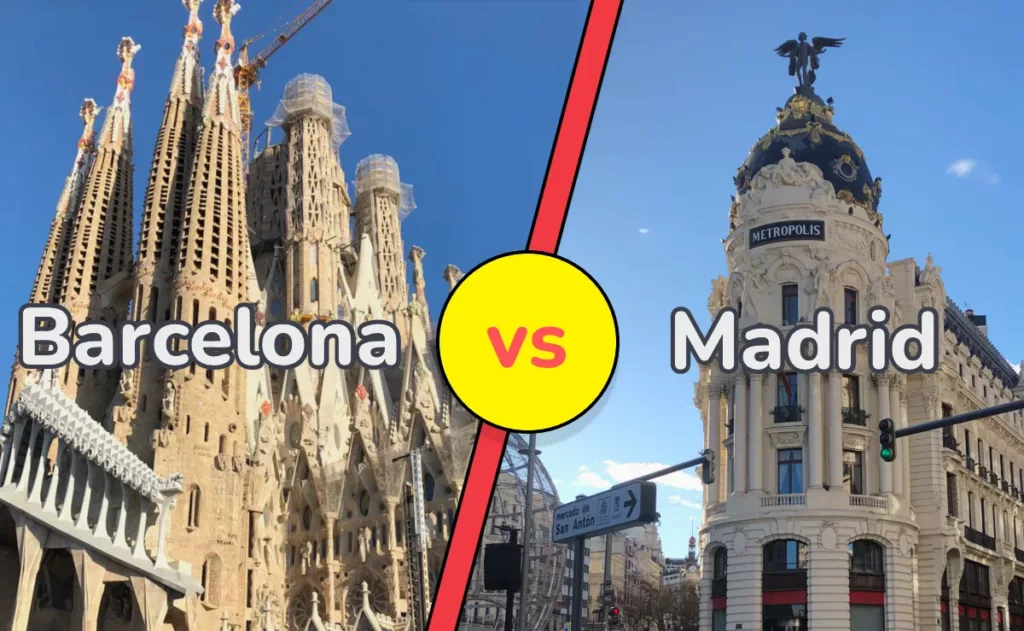 If you're interested in the results of the latest FC Barcelona vs. Real Madrid game, you should check out ESPN website.
Are you debating between Barcelona and Madrid for your next vacation in Spain?
I am ready to help! Here, you will learn what makes each city unique: its local cuisine, cultural attractions, prices, and public transportation options.
Discover which of these two cities – rich in culture, history, and diverse landscapes – has everything necessary to make it the ideal spot for your Spanish itinerary.
---
Key takeaways
Both cities are quite different.
Madrid is more representative of what you would expect from Spain.
Barcelona is more touristic, but will be easier to get around and has tons of things to do.
TL;DR: Visit Barcelona first, then head to Madrid.
---
What people say on Reddit
A) Madrid has better public transport than Barcelona, and it's also much cheaper. Bycicles and walking are not always an option in Madrid because the city is much larger than Barcelona. B) Barcelona is really unbearable in summer, because even though Madrid is slightly hoter, Barcelona is too humid and crowded with tourists.

Reigetsu
Barcelona offers much more activities and possibilities sport wise. Weather is more mild but more humid. Local people can be more hermetic, but the expat community is bigger in Barcelona.

Madrid weather is more extreme than Barcelona and is way dryer. Social live is way more active among locals. Keep in mind that most people for provinces in Spain end un there so people are more open in general. If you want to travel around Spain Madrid is better connected.

Among my friends we always say that if you fill Barcelona with people from Madrid, you have the perfect city!

Sevillano_3792
I experienced Barcelona and even though it's a nice city the climate is awful to mee. I'm not good with really humid climates. When it comes to jobs, if you work in software then you'll find a good job also in an international climate. If you work in anything else, except of turístico jobs, probably they'll ask you for native catalan. It is more difficult for Spaniards to find a job in Barcelona than in Madrid.

So if you're a software engineer or something like that you'll probably have no problems in Bcn. If you've studied something in humanities or communications, you're fucked up. You can only go to Madrid or either study in Barcelona so that you get some catalan.

Accomplished_Map8806
Madrid. It has a much better feel to Barcelona, in my opinion. Less stuck up, and BCN is always packed with tourists. If you want to go to Seville, it's just 2.5 hours away on the high speed train. Toledo, which is also awesome, is only 30 minutes from Madrid.

The heat in Spain in August will be lethal. But Madrid is dry heat.

There are lots of markets around the city where people go to for grocery shopping but also have restaurants.

Mutenroshi_
Why are Madrid and Barcelona so different?
Most tourists assume that the two largest Spanish cities offer the same, which is an incredibly rash assessment. There are considerable differences between architecture, regional mentality, and overall atmosphere.
To make a comparison, I consider four criteria: regional identity, architecture and attractions, cuisine, and lifestyle.
1. Regional Identity
It is a question of Castile versus Catalonia regarding cultural differences and mentality. The people here are different, which can be attributed to their respective historical backgrounds.
Both cities show a very diverse population in terms of values and views. While older generations tend to be deeply conservative and Catholic, young people are much more liberal and open-minded. Therefore, Barcelona and Madrid are top destinations for expats from the LGBTQ+ community.
Madrid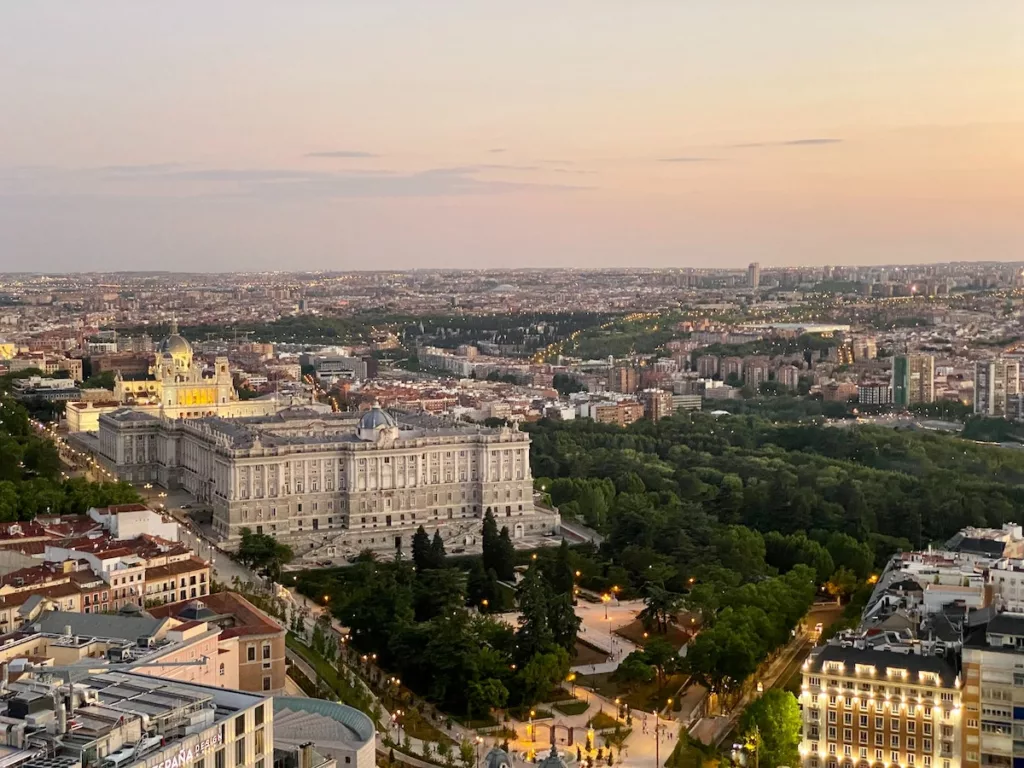 Although Madrid is a separate autonomous community, it has been part of the Castile region for hundreds of years. Experienced travelers notice that after traveling through the country from north to south, the capital seems to be a perfect representation of authentic Spanish culture.
For instance, locals consider their accent to be standard Spanish; so if you want to learn it, Castile is the best place. Additionally, people here are usually open and friendly when communicating and forming friendships. They prioritize living over working – as most Spaniards do – rather than vice versa.
Finally, Madrid being such an international city means its culture is mixed and welcoming toward foreigners.
Barcelona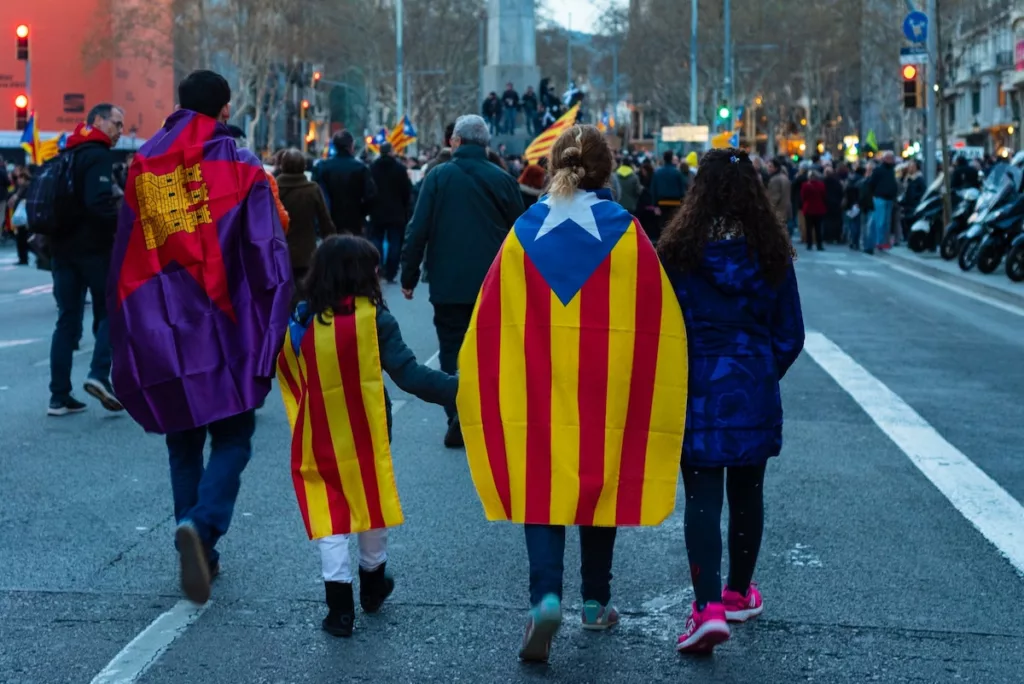 On the contrary, the community of Barcelona is less traditional than Madrid and a bit more "closed," and there is an easy-to-understand explanation. Since the 19th century, Catalonia (with its capital in Barcelona) has been striving for independence from Spain.
The separatism reached its height in 2017 when the Catalan independence referendum took place. Even though 92% voted for secession from Spain, Madrid was against that decision and imposed force, imprisoning the movement's leaders and disbanding parliament.
It should be noted that society does not support the idea of becoming an independent country, with a massive anti-independence demonstration taking place later that same year as a turning point in people's attitude towards radical separatism.
Read also: What is Spain Famous for?
Knowing such an impressive background of Catalonia is crucial to grasping the mentality of the Barcelonian people. Despite the controversy around the independence question, people here appreciate the idea of authentic, unique Catalan culture and traditions.
Look at the Catalonian language: it is not just an accent and differs from Spanish both phonetically and vocabulary-wise. If you do not speak Catalonian, it can be hard to fully integrate into the Barcelona community. However, speaking English here is enough if you are traveling as the city is no less international than Madrid.
Overall, in my experience, Barcelona's people can be a bit "colder" than in the capital.
2. Architecture and Sights
Madrid and Barcelona boast exquisite, very recognizable architecture. I love strolling along their broad streets and looking up to enjoy the monumentality of grand buildings. Both cities offer a perfect blend of styles, from 18th-19th century facades to contemporary glass-and-steel masterpieces, so it is simply a matter of taste.
Madrid
The layout of Madrid's most well-known buildings is quite unique, and this is due to the city's delayed development.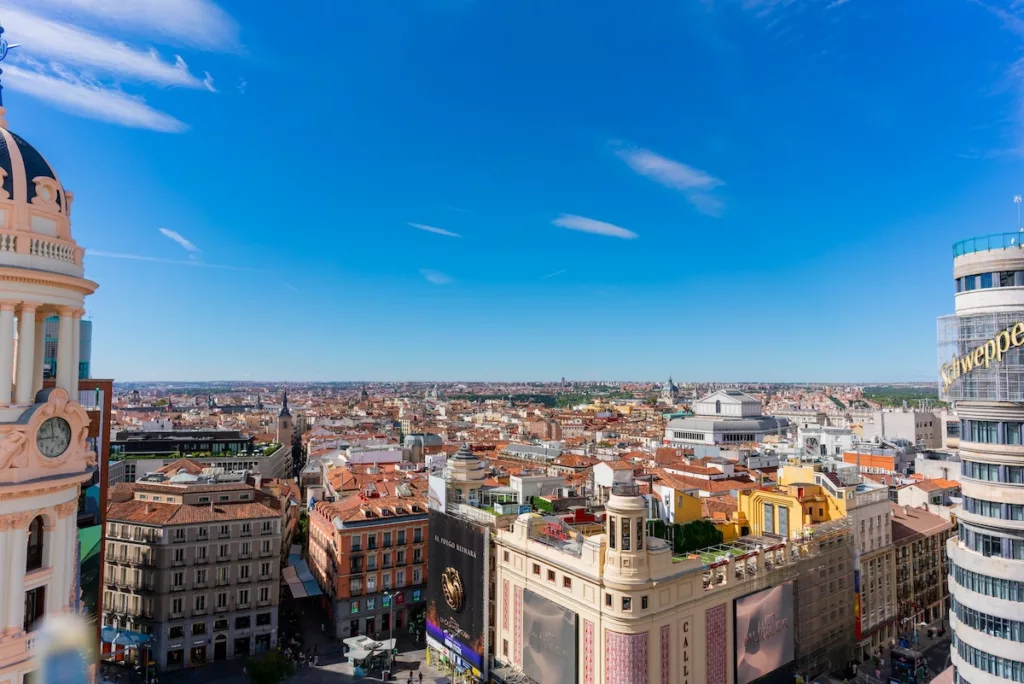 Until the 16th century, Madrid was still a Spanish province while other major European cities were establishing their architectural heritage. As a result, its city center has an array of diverse structures rather than one ancient core with newer monuments surrounding it.
I suggest you visit Madrid if you're interested in futuristic architecture with strange shapes; some of these structures look truly mesmerizing:
CaixaForum
Barceló Market
Spanish Cultural Heritage Institute
BBVA Headquarters
Arganzuela Footbridge
Hospital Universitario Rey Juan Carlos
Parish Church of Santa Monica
Apart from astonishing architecture, the city offers lovely parks, art museums, and other attractions, such as:
Prado Museum: it has one of the world's largest collections of classical art. Enjoy "The Garden of Earthly Delights" by Bosch, "The Cardinal" by Raphael, and other paintings by European masters.
Royal Palace of Madrid: it is a huge building that used to be a royal residence and now serves as a museum with works by Velázquez, Caravaggio, and Goya.
Plaza Mayor: one of the most famous squares in Madrid with gorgeous arches, red facades, and grey spires – typical elements of the Castilian Baroque style.
Madrid City Hall: a gorgeous building with gothic and neoclassical features. It looks like it was built centuries before, but, in reality, the palace was finished in 1918.
Retiro Park: a beautiful oasis right in the center of the city. I have spent hours boating, walking, taking pictures of an impressive, fragile Crystal Palace, and biking. If you visit Madrid in the summer, check out live concerts in the park.
Puerta del Sol: another iconic and very crowded square. Check out the Clock, the statues of King Carlos III and Miguel de Cervantes, the Kilometre Zero Stone Slab, the statue of a bear feasting on fruits from a tree, and a bunch of restaurants and shops.
Tip Take a guided tour to Prado Museum, it's well worth it!
Barcelona
If you search Barcelona in Google Maps and switch to satellite mode, it will remind you of a chocolate bar due to the city's square blocks with rounded edges (it is truly fascinating!).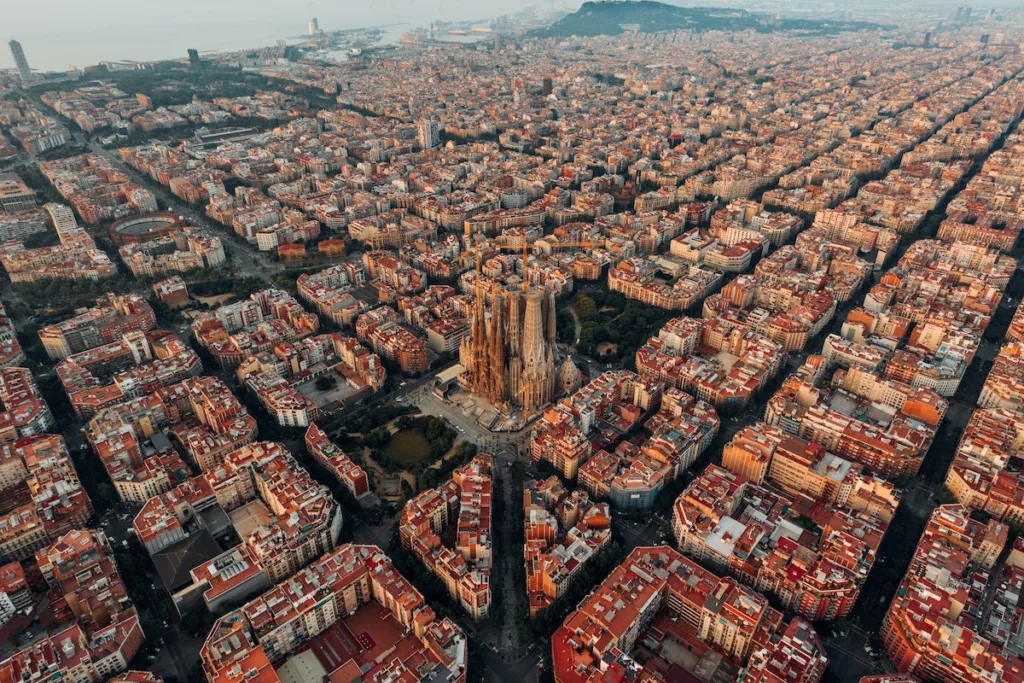 Also, Barcelona is well known for its beautiful examples of Art Noveau, thanks largely to Antoni Gaudí, a 20th-century Spanish modernist architect. He gave the city an alluringly quaint, funky look that makes it instantly recognizable. To see this for yourself, check out:
Sagrada Familia: an exquisite, massive cathedral still under construction. The entrance is pretty expensive and costs from $40 (€38) to $53 (€50) depending on whether you want to visit the Passion or Nativity towers (I recommend the second one). Though, it is totally worth it! The sunbeams throw rainbow shadows on the walls through the stained glass windows. It takes your breath away!
Park Güell: the park with dozens of Gaudi's works situated on the hill. Weirdly shaped buildings that look like gingerbread houses, little towers, mosaics, and the weirdest staircase I have ever seen make your inner child happier than ever.
Helpful tip If you are under 30 years, you can get a discount if you visit Sagrada Familia on Wednesday, Thursday, and Friday in the last two hours. 
Helpful tip #2 If you plan to get to Park Güell using the subway, be prepared for a 20-minute uphill walk at least. If climbing stairs is a difficulty for you, it may be best to take a taxi or bus instead. You can find more information at the tourist office located in Plaza de Catalunya.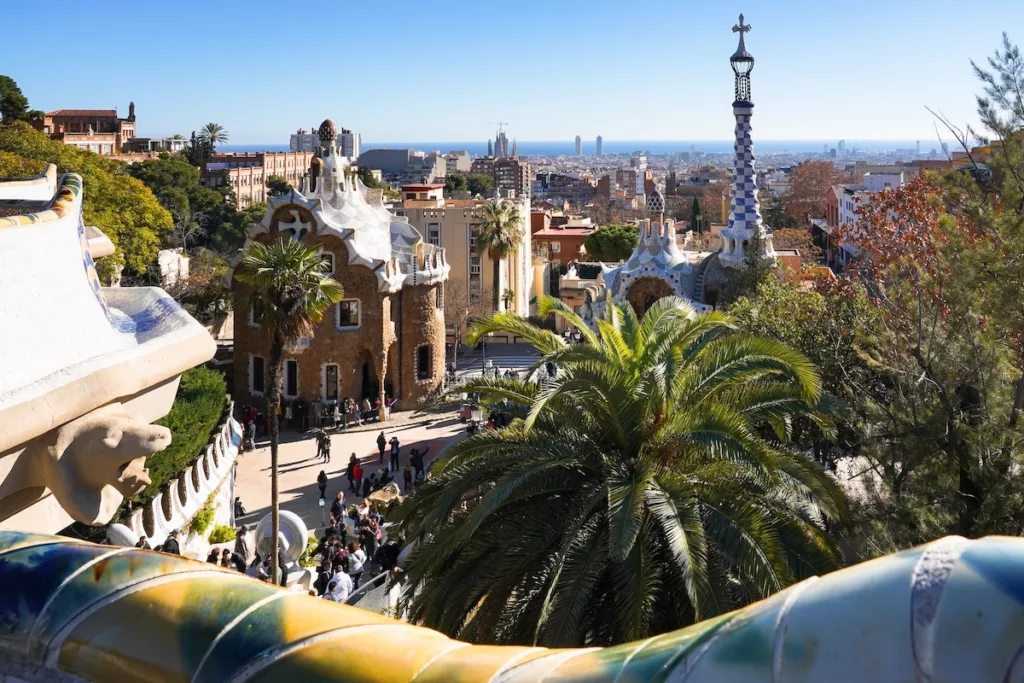 I also suggest visiting Gaudi's houses. You don't need to go inside necessarily, as the exterior is the most impressive part. Check out these four: Casa Milà, Casa Vicens, Casa Batlló, and Casa Calvet.
Regarding other attractions, Barcelona is an incredibly captivating cultural mecca for travelers and expats. With the multitude of museums, parks, and churches available to visit, it can be difficult to decide which ones are worth seeing. Here is a list of my favorite sites I have visited in Barcelona:
Picasso Museum: Incomparable to Madrid's Prado Museum size-wise, but focused on the works by Pablo Picasso. Fans of Cubism, Surrealism, and Symbolism love this exhibition!
Cathedral of Barcelona: Get inside this grand church to visit the museum or get to the rooftop with a fantastic view of the city. There is also a cute flea market in front of the Cathedral where one can get vintage postcards, jewelry, patches, and other bargains. The Cathedral recently became a meme because of a giant mobile ad on top of the central tower.
MACBA (Museum of Modern Art in Barcelona): A museum with an extensive collection of present-day art. Enjoy a permanent exhibition as well as temporary displays that change every 3-6 months. Free entrance is every Saturday after 4 PM (you save €11). Kids under 14 are always free of charge. Pro tip: Download a free audio guide app while inside. And if you do not take along earphones, you can buy some at the front desk for €0,50.
Tibidabo mountain: the highest peak of the mountainous range surrounding the city. Climb there for the view of Barcelona, an entertaining amusement park, and the Expiatory Temple of the Sacred Heart within a neo-Gothic architectural complex.
Camp Nou: A famous stadium, home to the legendary Barcelona football club. Even if you are not a football fan, watching a game here is a second-to-none experience!
Helpful tip Barcelona Card gives you many discounts and free entrances to tourist attractions. You also get free rides on public transport and city guides in six languages. It has a duration of 72, 96, or 120 hours. The price starts from €48, and the kids' fare is half the price of the adult charge. 
Cuisine
Madrid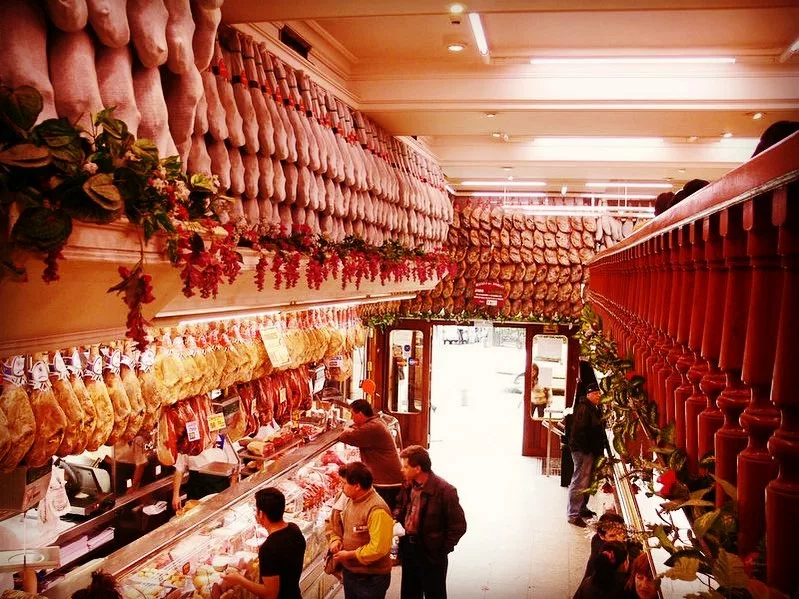 As previously noted, Madrid is more traditional than Barcelona and its culinary offerings are no exception. The capital city boasts a vibrant tapas scene with an array of delicious dishes from various areas of Spain. Here are some places I suggest visiting:
The Museo del Jamón is a budget-friendly spot to have a casual mixto sandwich with one of five varieties of ham and a beer.
Casa Benigna: I recently tried one of the best paellas (rice cooked with meats, seafood, and vegetables) that I have ever had. Don't be intimidated by Google's four dollar signs – these prices are for a whole paella which can easily be shared among two to three people.
At Casa Macareno, you can experience the revival of traditional Spanish taverns with their famous croquetas – deep-fried breaded balls that are filled with a thick filling.
Bardero is a high-end restaurant that offers innovative Spanish cuisine, like octopus with roasted potato gnocchi and dumplings with squid and truffle.
Botín Restaurant, founded in 1725 and operating to this day, is the oldest restaurant in the world. Sitting at the top of many lists, its entrees cooked according to traditional recipes provide an unmatched experience. Fun fact: Before becoming a famous artist, Francisco de Goya worked here as a waiter!
In Madrid, many spots serve drinks with free tapas, which does not happen in Barcelona.
Read also: Best Michelin star restaurants in Madrid
Barcelona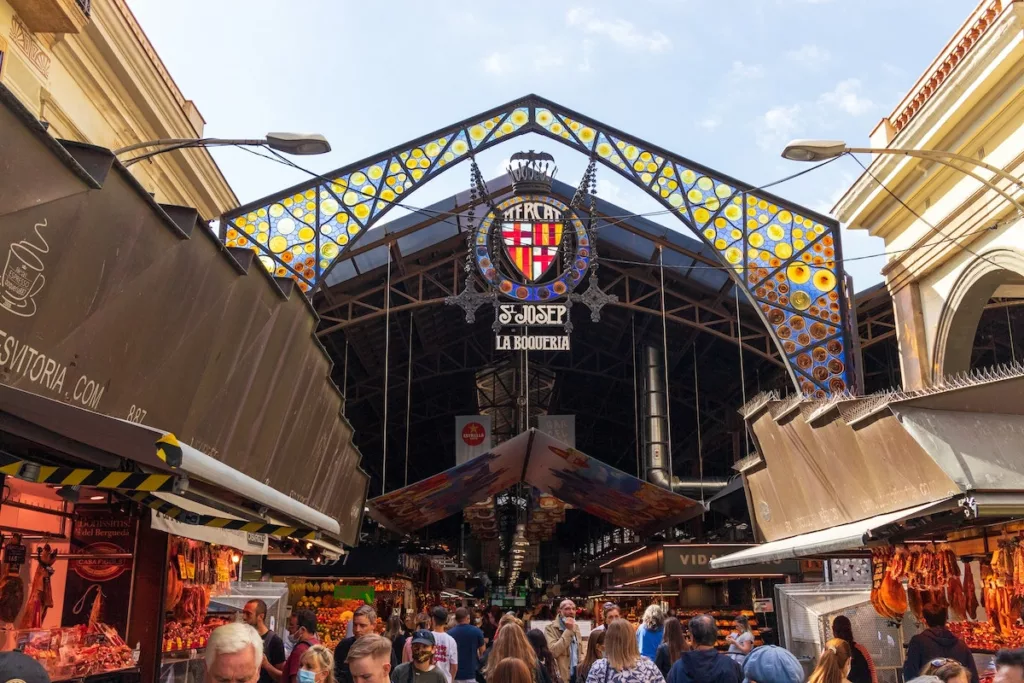 Barcelona is more extravagant and experimental in terms of cuisine, and the fact that there are three Michelin restaurants with all 3 stars proves it. Nevertheless, you do not have to spend hundreds of dollars here; this city is definitely not a rip-off. Check out some spots you might add to your bucket list:
Head to La Boqueria in the morning for a true experience. Wake up and go to this food market located on La Rambla street, which is a sight itself. Enjoy some scrambled eggs with asparagus, Spanish cheeses, and morcilla (blood sausage) for breakfast or grab lunch at Ramblero or El Quim – try paella and seafood!
3-star Michelin restaurants Cocina Hermanos Torres, Lasarte, and Abac are all worth every penny! Their tasting menus have been carefully crafted. A word of advice: drinks are not part of the tasting menu in such establishments; an aperitif may be served for free but you will need to pay extra for the wine pairing and even water.
La Pepita is a secret culinary gem that only locals know about. They serve amazing tapas, desserts, and sangria!
Theoretical Tavern Gastronomic: An innovative approach to traditional recipes. The menu is centered around seasonal ingredients, ensuring that everything served is fresh and incredibly delicious!
Bar Muy Buenas is an incredibly cozy spot with delicious dishes, such as Catalan-style chicken, steamed mussels with cava and thyme, and a decadent dessert of bread with chocolate.
Granja M. Viader has been open since 1870, offering the opportunity to try amazing churros with sugar or chocolate.
Lifestyle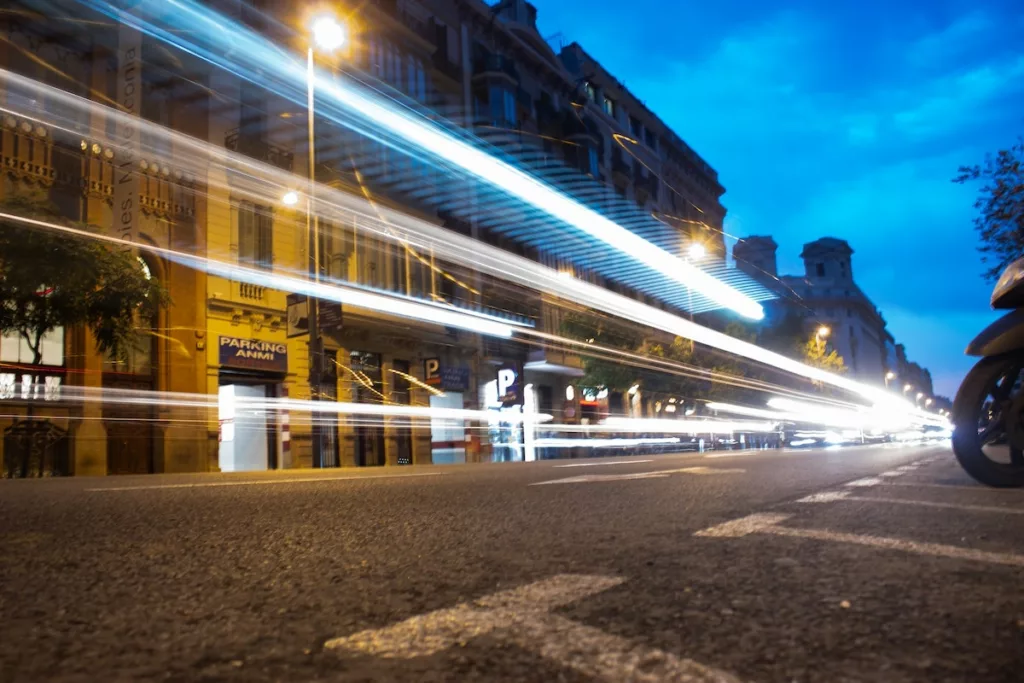 Madrid and Barcelona have different lifestyle aspects as well, not only in terms of the overall atmosphere but also transportation, shopping, weather, etc.
Tourists. Although Madrid is larger, Barcelona feels much more touristy, especially in the city center.
Metro and Trains. Barcelona is super convenient to travel around by metro. Meanwhile, Rodalies rail system leaves much to be desired. Madrid's Cercanías, a commuter rail service, in opposite, works pretty well and allows you to have lovely day trips outside the city. And the metro is considered one of the best in the world. One ride in Barcelona is €2,40 ($2,57), and in Madrid, it depends on the line and the number of stations (from $1,6 (€1,5)
Buses. Both Madrid and Barcelona have excellent public transportation systems, including buses, that can compete with Germany. In Madrid, one ride is $1,6 (€1,50), and in Barcelona, it is the same as for the metro and trams – $2,57 (€2,40).
Shopping. If there was a debate between the two cities on the shopping topic, Madrid would definitely defend the vibrant Salamanca district and Barcelona – bohemian El Raval. Both locations impress by the number of top-notch stores.
Weather. Barcelona is a coastal city which makes it more humid than Madrid. It is a blessing and a curse since the summer heat feels heavier, but you can go to the beach, enjoy the breeze, and jump into the water!
Bonus: Hidden Gems of Madrid and Barcelona
Madrid
Parque del Oeste: A park by Moncloa district. Some people love it even more than Retiro Park.
Naval Museum: A collection of exhibits devoted to the history of the Spanish Navy.
Jardín del Príncipe de Anglona: A serene 18th-century garden with a Neoclassical layout.
Parque Warner: The franchise of famous theme parks located 23 km southeast of the city.
Sala Equis: An old bar & art-house cinema with various concerts, events, and movie nights.
Barcelona
Plaça Felip Neri: A cute secret square hidden among the noisiest streets of Barcelona.
Montjuic Cemetery: A non-trivial location to visit as a tourist with graves of famous Spanish people, statues, and churches.
Parc del Laberint: A large garden with a maze in the center, excellent for a little picnic.
Hospital Sant Pau: A former hospital built in the 20th century and unfairly ignored by many tourists. It is one of the best examples of Catalan modernism.
Bunker del Carmel: A Spanish Civil War bunker atop the hill of Turó de la Rovira. It is another perfect spot to observe Barcelona turning up the lights in the evening with a 360º city view.
What people say on Reddit
If your wanting to spend time in Seville go to Madrid. Saves you a bunch of train travel. I think my personal preference is Barcelona however If you do Madrid look at spending some time in Toledo. Look into it but I have to say the best part of Toledo was staying the night. Don't do just a day visit. We wondered around late at night with the bats and had a really cool experience.

wwrrtyytrewq
Take this with a grain of salt, as I have only been to Seville and southwest Spain, but my understanding is that Barcelona has a considerably different "feel" than the rest of Spain, being in the Catalonia region. If you think you might want to see a different part/culture of Spain, go for Barcelona. If not, Madrid. Also have you looked into rail travel to get from Seville to Barcelona? I see sub $100 prices per person. You could always spend a bit of time in Madrid en route to Barcelona.

kingofturtles
Madrid. It has a much better feel to Barcelona, in my opinion. Less stuck up, and BCN is always packed with tourists. If you want to go to Seville, it's just 2.5 hours away on the high speed train. Toledo, which is also awesome, is only 30 minutes from Madrid.

The heat in Spain in August will be lethal. But Madrid is dry heat. There are lots of markets around the city where people go to for grocery shopping but also have restaurants

Mutenroshi_
Depends on how you want to get to and from said destinations. Madrid makes much more sense logistically unless flying. Both cities are beautiful in their own right and both offer fantastic food and drink. Shame not into the arts as both have some of the worlds best galleries. Personally would go Madrid and try and tuck in a visit to Granada to see the Alhambra (stunning) and Cordoba on route if have a car.

Wrigs21
Frequently Asked Questions
Which city is safer?
Madrid is safer than Barcelona. Barcelona is infamous for the highest number of pickpocketers. In the capital, you barely see any incidents or hear about crimes.
Which city is better to live in long-term?
It really depends on your preferences, but if I had to choose, I would go with Madrid. The rent there is more affordable than in Barcelona and it's a calmer, safer city that's hospitable towards foreigners. Although Barcelona has plenty of attractions and tourist spots to entice people, when it comes down to staying long-term, Madrid takes the cake.
How many days for both cities?
If I had to define the minimum amount of time necessary for a stay, I would say three days full of activities for each city. During this period you can visit the main attractions, try out 5-7 restaurants and get an overall feel for the city.
Conclusion
Madrid and Barcelona are both definitely worth exploring. I've visited each of these cities multiple times, and there's always something new to experience in terms of sightseeing, taste-testing, and activities. However, which one is better? They have their own advantages and disadvantages.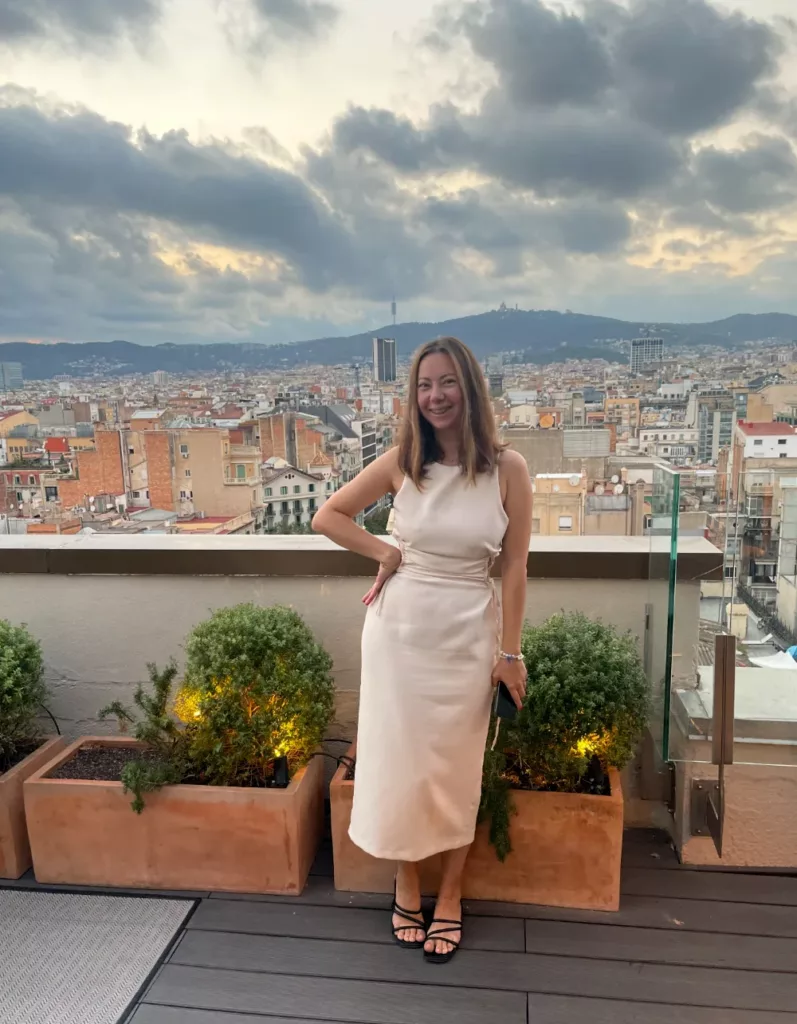 Madrid is more laid back with a traditional atmosphere; it's very safe with a great public transportation system that doesn't attract as many tourists.
Conversely, Barcelona has the advantage of being near the coast while offering various attractions such as its outstanding Modernism architecture, imaginative cuisine options plus its unique Catalan culture.
If you are a first-time traveler, I highly recommend visiting Barcelona for numerous reasons. Firstly, it offers an abundance of attractions, sights and unique restaurants that make getting the most out of your short trip easy. Secondly, Barcelona has access to the sea so you can enjoy swimming on a hot day. Finally, it is such a vibrant, photogenic and never-sleeping city that it's impossible not to fall in love with!