Is Oslo, Norway worth visiting?
Nadia Podrabinek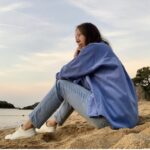 Oslo is definitely worth visiting! It is a beautiful and easygoing city in the southernmost part of Norway, with lots of things to do and see. Despite being the country's capital, it is a relatively small city, so a couple of days will be enough to make your trip enjoyable.
Oslo is home to many authentic museums, including the Viking Ship Museum and the Edvard Munch museum. It is also very walkable and is close to many of Norway's natural attractions, with many parks and hiking trails. You will also see and feel what it is like to be a Scandinavian (to me, discovering new cultural perspectives is the most rewarding part of any trip).
So, if you are considering a trip to Norway, here are some things to remember about visiting Oslo.
---
Key takeaways
Bring warm clothes, Norway is no joke in terms of weather.
Everything is almost two times more expensive (Learn why).
Learn about Scandinavian culture, Vikings, and Edvard Munch.
You will find stunning natural beauty near the city, towering mountains, pristine waterways, and scenic fjords.
Oslo is a small city, and two days should be enough for the trip.
Try Norwegian waffles with brown cheese!
---
Read also: Where to stay in Oslo – best neighborhoods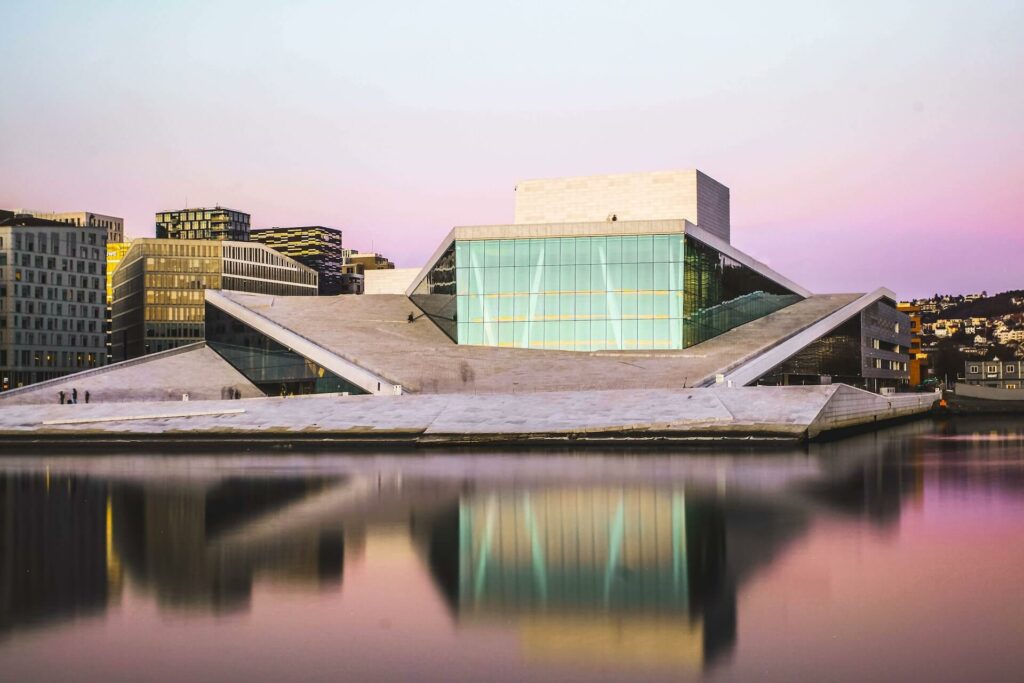 Things you are going to love (and hate) about Oslo
The negatives
The customer service is not great. Vendors will help you if you ask, but that is the key – you have to ask for help. However, no one is going to be overly eager in stores or restaurants. So, be prepared for that.
You might have heard the city is rich, and everyone is equal, and that may be true. Nevertheless, there are lots of beggars on the streets. If you want to be left alone, saying "No, no, thank you," will suffice to avoid the hassle.
Yes, it is Norway, and it is cold there. If you happen to come to Oslo in the Winter, you are likely seeking two things – skiing and the Northern lights. Otherwise, you may be disappointed with how early it gets dark and how uncomfortable the weather is – cold, wet, and snowy.
You may be a little bored in Oslo because it is not as big as you may think. Its population is 702,000 people, which is quite a small number compared to other European capitals.
You will not like Oslo's fifth and most significant aspect – everything is so expensive! Paying $5-$10 for a beer or $4-$6 for a coffee is just nuts! Hotels, public transportation, taxis, and museum tickets (by the way, you will want an Oslo Card) are very expensive. So, plan ahead and eat your hotel breakfast until you need to adjust your belt another notch, so that you can avoid paying more later on.
The positives
You will love Nordic culture, the Vikings, the folk art, and the museums, and you will definitely get an appreciation of what Norway used to be like.
The Oslo Pass (or Oslo Card). Yes, it is a little expensive, but it makes your life much easier in Oslo. It will give you free entry to most of the museums and free public transportation.
Everyone speaks English. If you have questions, almost every young person speaks English, and even the older people are able to understand and converse.
It is safe. You will feel secure in Oslo and Norway in general.
Oslo is very walkable, and you can easily reach all the main places by foot. It is also very easy to push strollers or wheelchairs – the topography is mostly flat.
It is also easy to explore nature from Oslo. The city is surrounded by forests, lakes, and mountains; 20 minutes, and you are in a forest or on a ski slope. With so many outdoor activities, the city is also great for kids.
You will love walking around the Oslo harbor and the Old town, visiting the Edvard Munch museum, the Palace, Oslo City Hall with its Nobel Peace Prize museum, and many shops with traditional clothes and backpacking items.
The air is fresh, clean, and crisp everywhere in Oslo! The cars on the street are mostly electric. My lungs and my nostrils were really grateful for this trip. Oh, by the way, the tap water is very clean as well.
Norwegian waffles! These are much thinner than the American version, served with jam, sour cream, and brown cheese (which is made of goat milk, but without the odor). I hate goat cheese (due to the smell), but I instantly fell in love with this Norwegian delight).
Read also: 11 best boutique hotels in Oslo.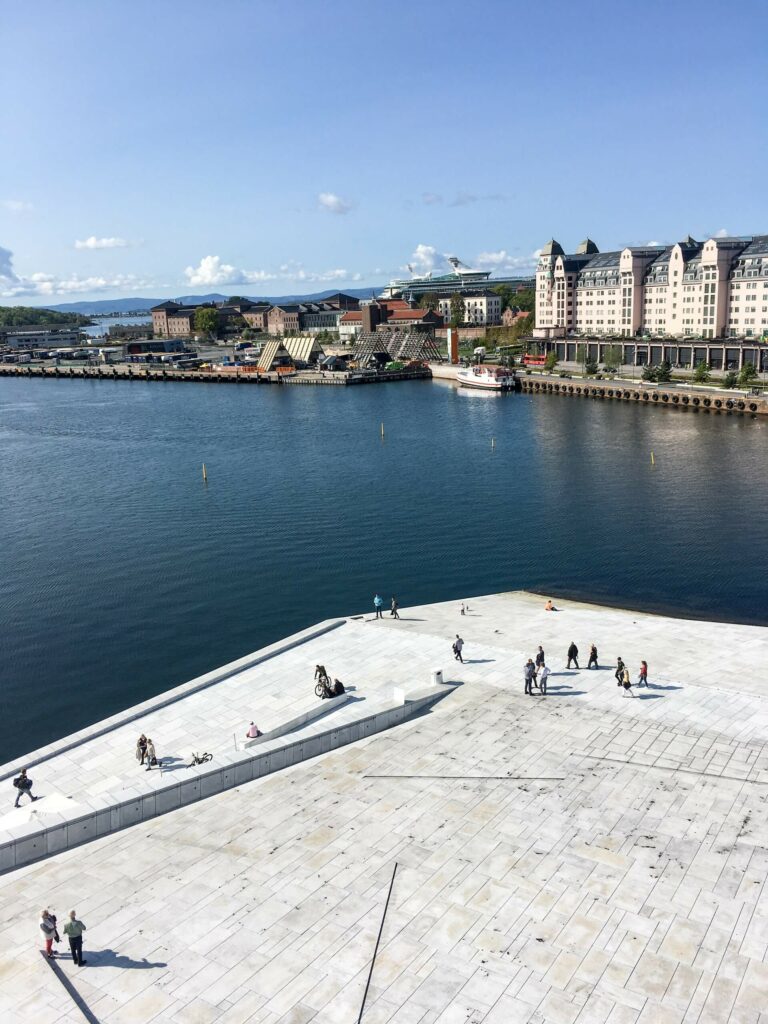 A brief history of Oslo
Oslo was founded in 1040 by Harald Hardrada (in sagas, a King of Norway) and was called Anslo. In 1624, a fire almost destroyed Anslo, and a new city called Christiania was built near Akershus Fortress.
In 1925, the city was renamed back to its initial name, which is now Oslo. In the following years, Oslo underwent a period of rapid economic growth and is now a financial and government center of Norway, as well as the most popular tourist destination in Norway.
Things to see and do in Oslo in two days
As the capital of Norway, Oslo is home to several draws worth checking out. Here are some of the city's top sights:
The Vigeland Sculpture Park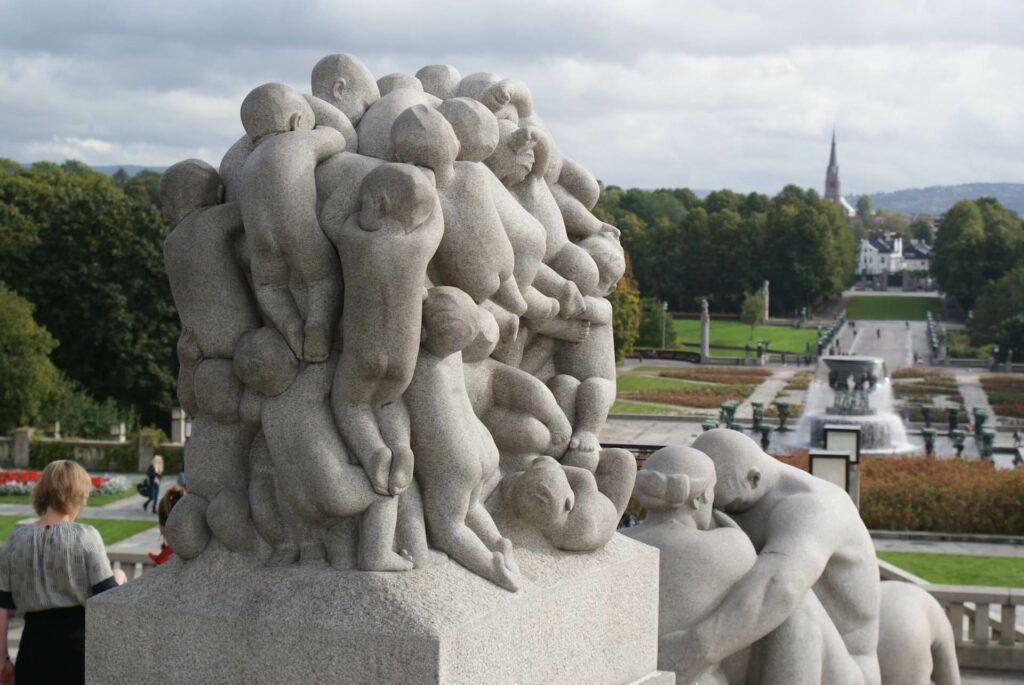 It is the world's largest sculpture park, made by one artist, Gustav Vigeland, who devoted 25 years of his life to making this park a reality. It now features over 200 sculptures and is one of Oslo's most popular tourist destinations. It is also a nice place to just walk around and enjoy the tranquility of the Norwegian cityscape.
The Viking Ship Museum (closed for renovation until 2025/26)
The museum houses three ninth-century Viking ships that ancient inhabitants of Scandinavia used for burial purposes. The museum also has a variety of displays of Viking culture and history. So, if you are interested in Norwegian history, do not miss the chance to see these stunning boats.
The Akershus Fortress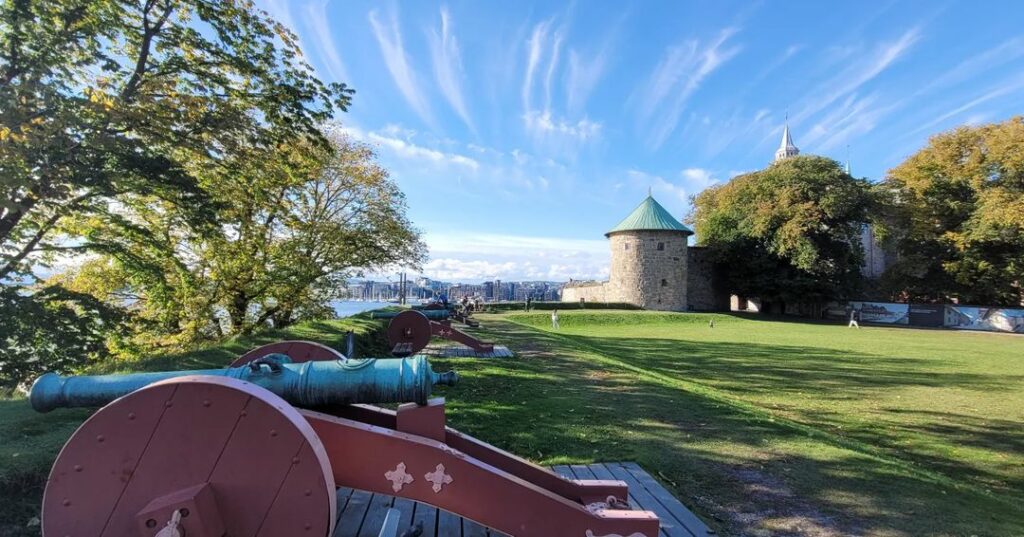 It is a 13th-century waterside medieval castle, once a royal residence, used as a prison and a military fortress. It is a national symbol of Norway and an absolutely amazing sight to behold.
Today, the fort is open to the public and is one of Oslo's most popular tourist attractions; it also contains two military museums.
Ekeberg Urban park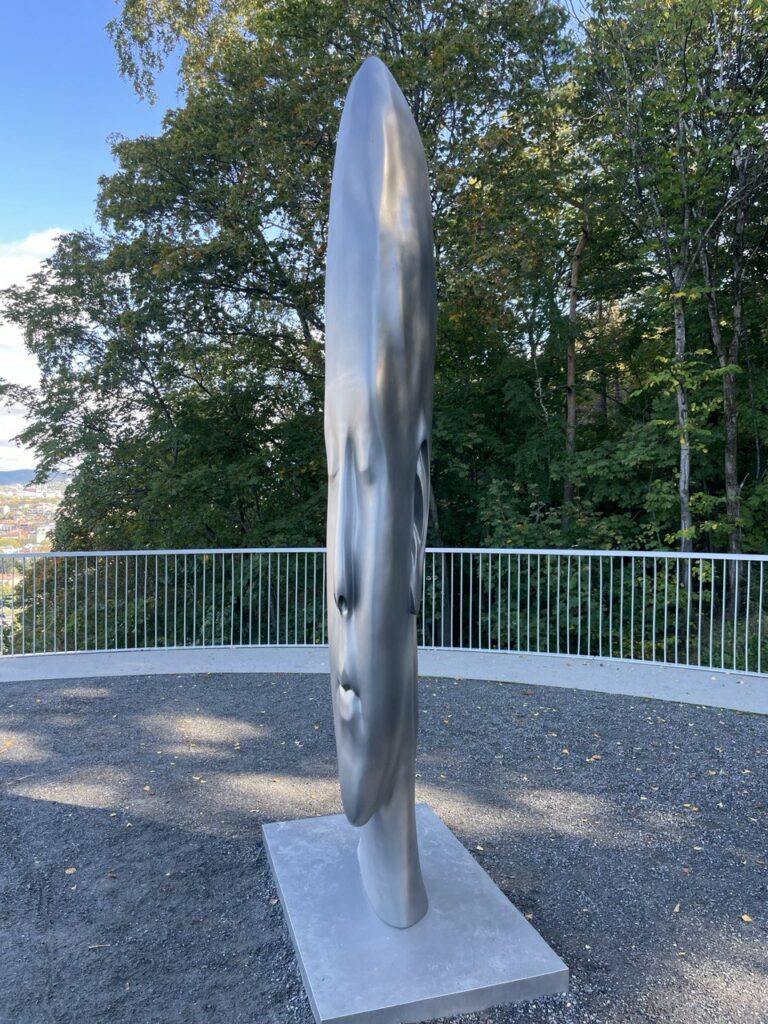 You will find this park on a hill in the southern part of the city, accessible by the city tram. Like Vigeland park, Ekeberg park is also famous for various sculptures, including some with explicitly erotic content. I especially liked the statue of a head with an optical illusion on the observation terrace.
It is a very comfortable spot to explore Oslo's nature and enjoy great views with out-of-the-way finds (the sculptures are hidden in different parts of the park). There is a good restaurant, but it may not always be open to the public due to local celebrations or weddings.
Tip You can also visit the Slottsparken (Palace park), and an indoor-outdoor Botanical Garden.
The Edvard Munch Museum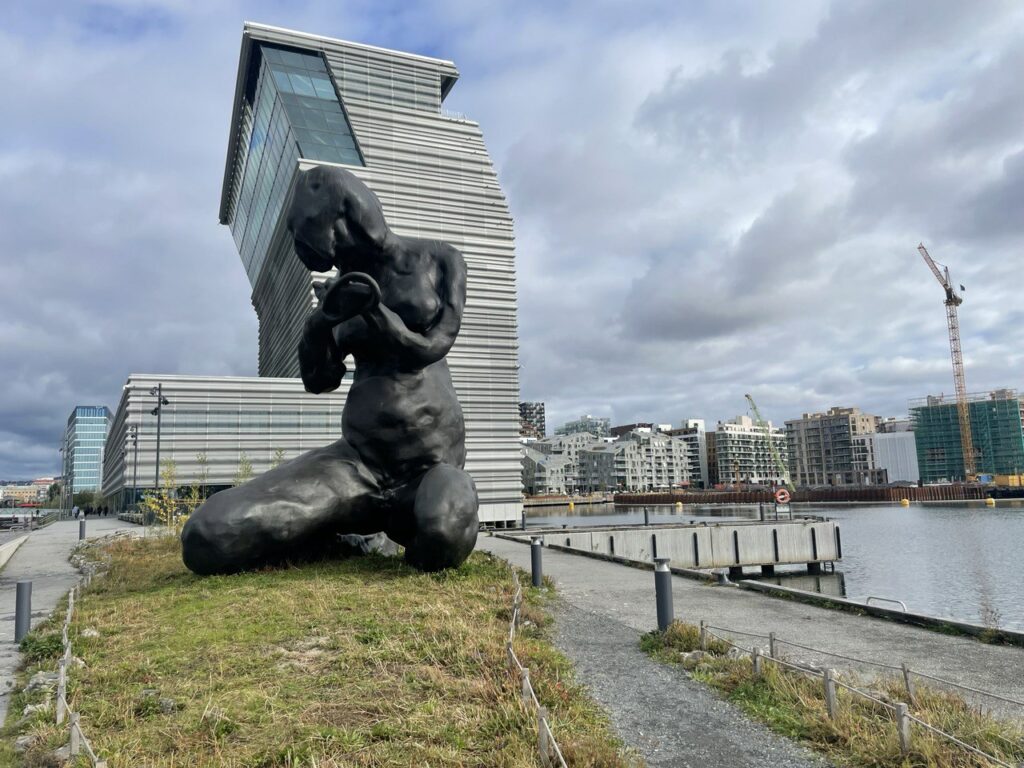 As soon as I walked into the museum's first exhibition room and saw Munch's paintings, I knew I wanted to learn more about the artist (I was only familiar with his most famous painting, "The Scream").
A quick search on Wikipedia showed that this not-entirely-mentally-healthy artist was trying to explore the complex themes of life and death, and somehow his illness helped him depict these magical paintings. And now we, the visitors, are privileged to witness his stunning works.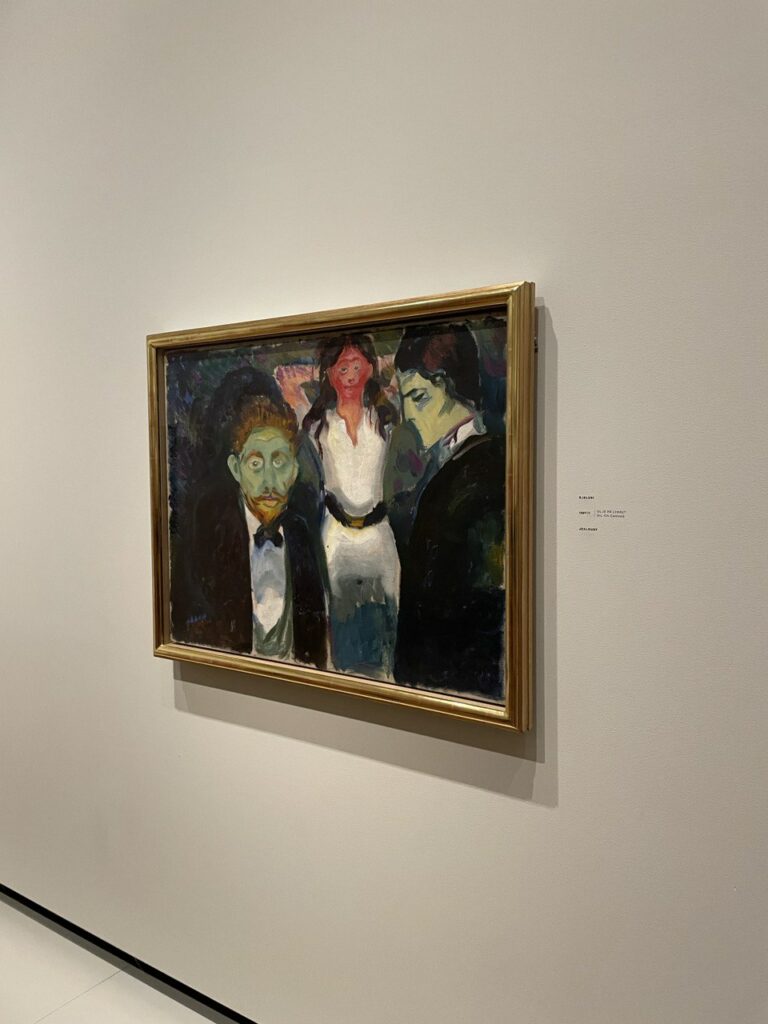 I highly recommend a visit to this museum; you will definitely not be left indifferent.
The Oslo harbor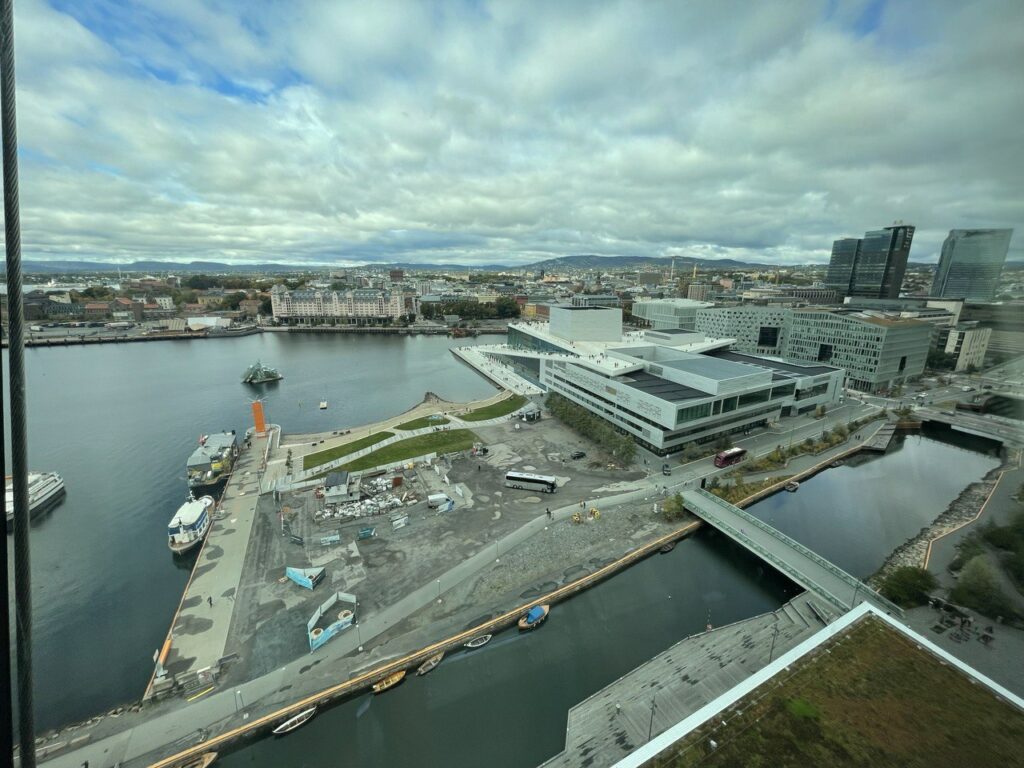 After visiting the Munch museum, you may want to continue with a stroll along the Oslo harbor. It is a charming promenade that stretches almost 7 miles from west to the east of the Oslo waterfront.
Walk around, gaze out at the pier, enjoy the views of the fjord's islands, check out Oslo's modern architecture, and eat at one of the many restaurants to choose from (I had lunch in "Asia," and it was worth it.)
Tip #1 Surprise! Norwegians adore spicy food, so if you are not a fan, ask the waiter if the dish is spicy or not.
Tip #2 You can take a boat cruise from the Oslo harbor.
The Royal Palace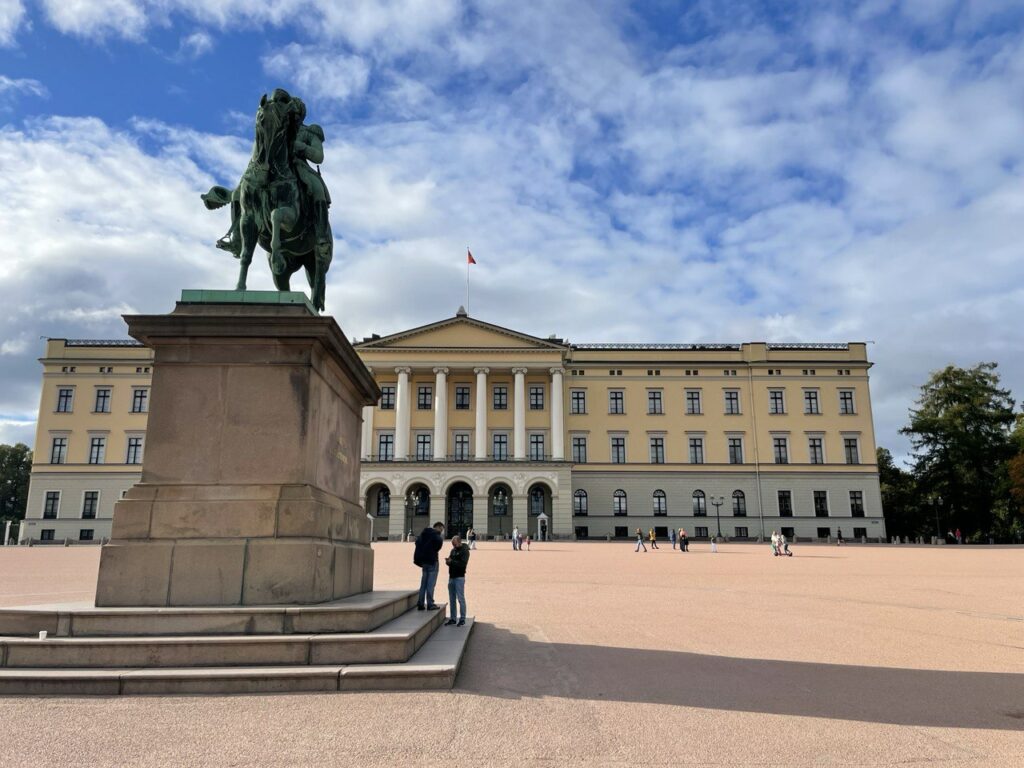 Another 20-minute walk, and you will arrive at the Royal Palace, an iconic spot for many locals. For me, this palace seemed quite ordinary (even though the young guards are very funny with their old-fashioned military movements). So, you can take a couple of photos and continue down the street to the Old Town.
The Old town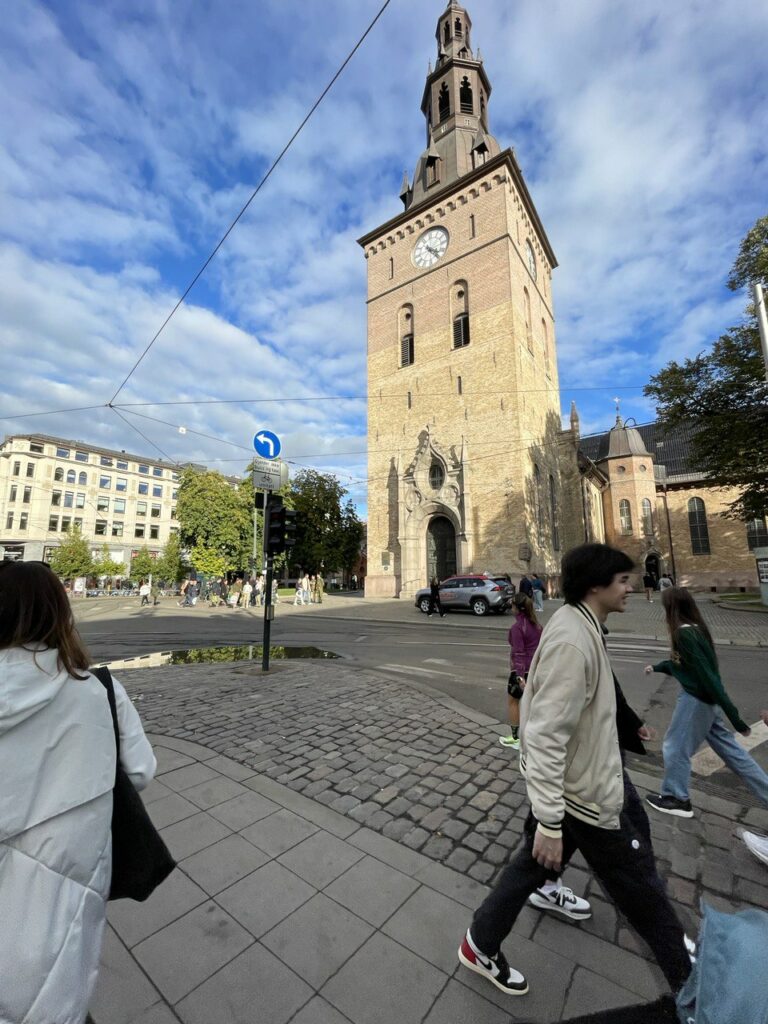 Oslo has a rich history. The city was founded in 1040 and is home to many historical buildings and sites, including the aforementioned Royal Palace, the Cathedral, the Parliament building, and the Norwegian Folk Museum.
You can also visit the street market if you are lucky enough to be in Oslo for the holidays. And if not, there are many stores on the streets of the Old Town where you can find authentic Norwegian goods (mostly clothes).
The Frognerseteren Hills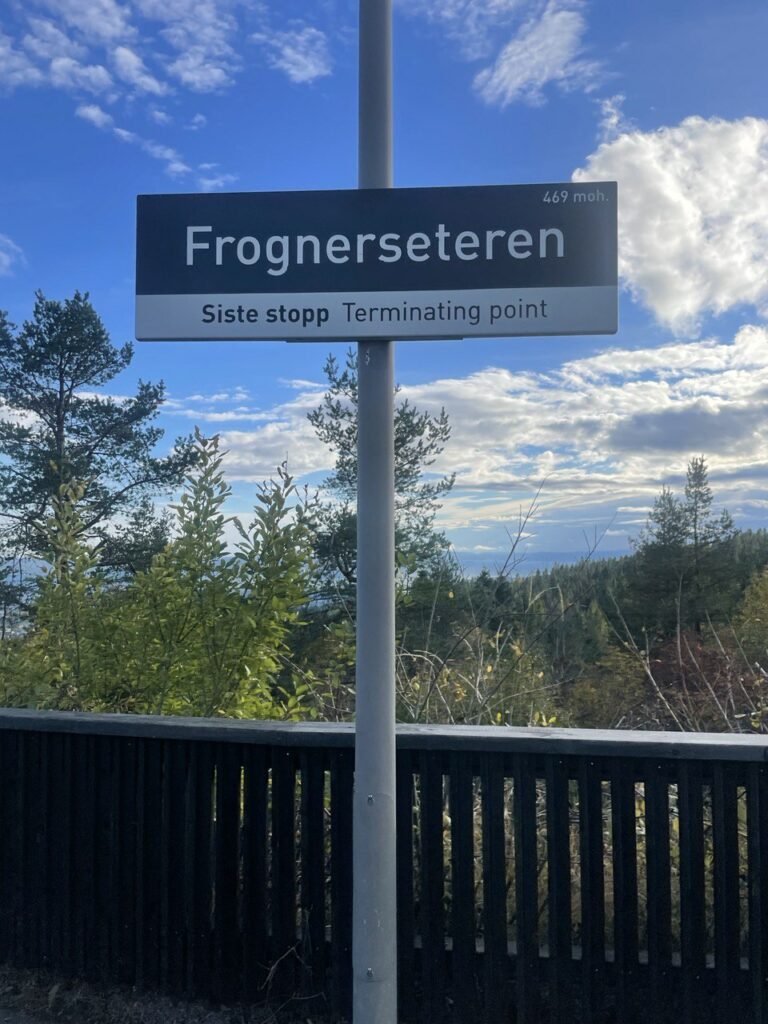 The trip to Frognerseteren ("prosperous pasture" in English) can take 40 minutes if you go by metro (take T-Bane line 1 until the last station, Frognerseteren).
In the Summer or Fall, you will discover magnificent views of Oslo's outskirts, and it will be very tempting to go hiking down the hill. There is a zipline climbing park, beautiful Sognsvann Lake, and a 19th-century restaurant serving Norwegian cuisine. You can also bring your mountain bike there (although I doubt you will have one handy).
In the Winter, it is a skiing resort with 18 slopes, offering alpine skiing and snowboarding.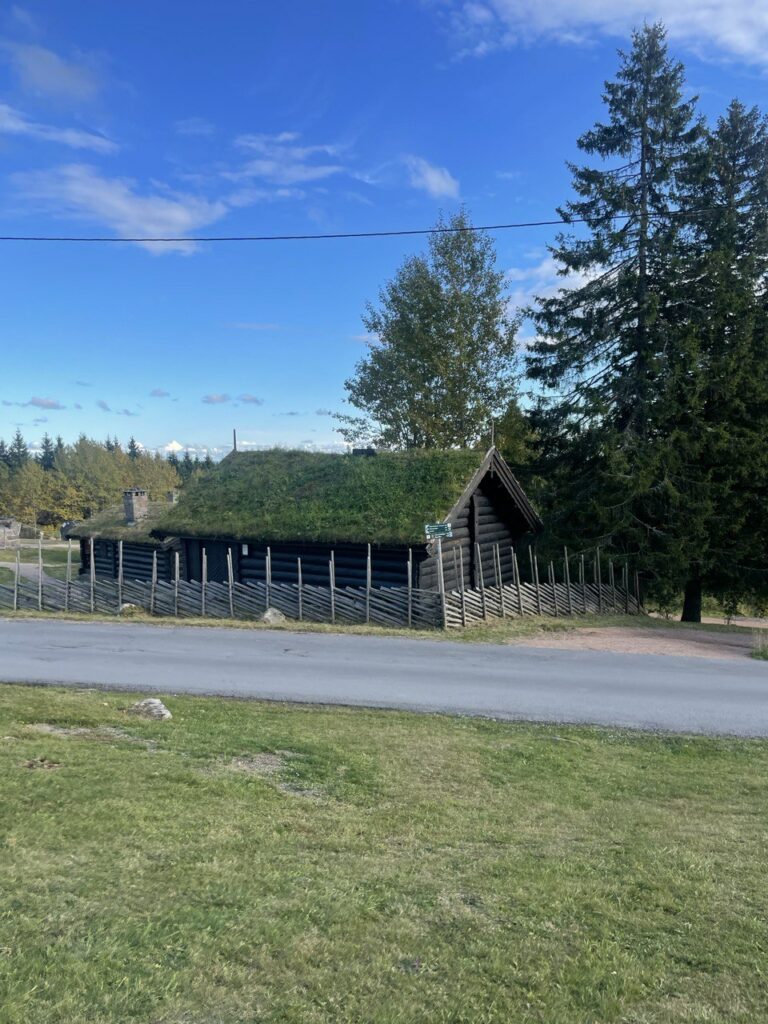 Moreover, there is the Roseslottet Museum (an art installation detailing the Nazi occupation and persecution of Norway's Jews) and the Holmenkollen Ski Museum (1.5 miles down the hill), with the history of skiing on display along with a ski simulator.
Oslo floating sauna
This is for the adventurers only! You can book a sauna in the Oslo harbor. It is a small floating wooden box where you can steam yourself for about 15 minutes and then jump in the harbor waters. Be prepared; the water is freezing, even in the Summer.
Norwegian waffles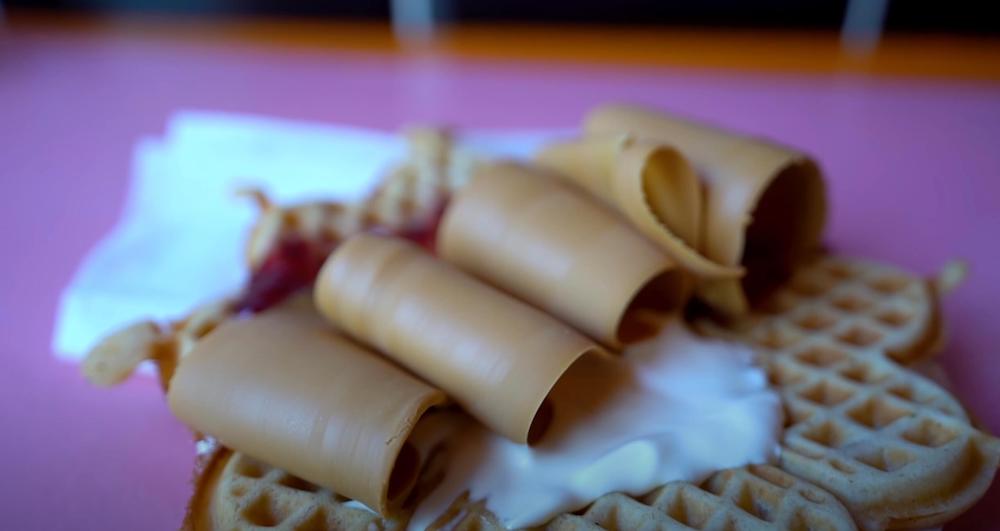 I now have a special place in my heart for Norwegian waffles. I cannot describe the exact taste, but it is wonderful. Maybe, it is the complexity of different flavors – jam, waffle, sour cream, and brown cheese (which has a complex taste by itself). Just try it – there are many street food spots with Norwegian waffles.
The Oslo Metro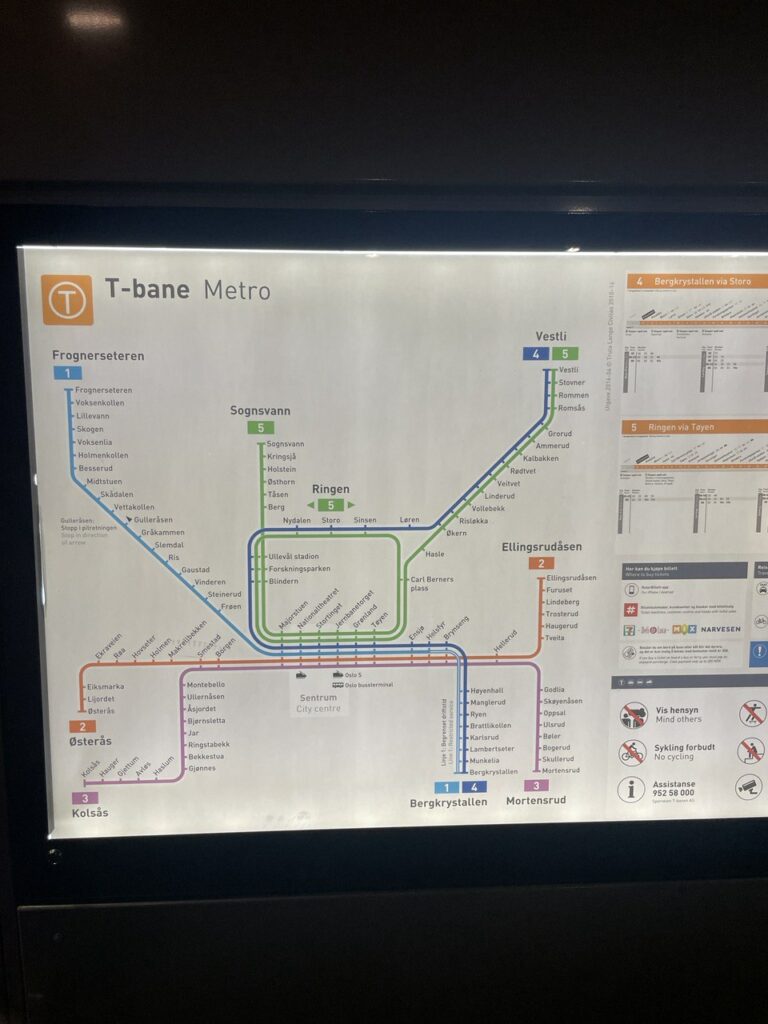 The metro system in Oslo is relatively easy to comprehend, and changing lines is very simple – in most cases, you do not need to walk to another platform, just wait for another train from your line. The arriving trains with their corresponding lines are indicated on the platform display.
You also have some nice options for public transportation tickets in Oslo:
Metro tickets are sold via the Ruter app. A single ticket, which lasts for 1 hour, costs 39 NOK ($3.64), a 24-hour ticket costs $10.91, a 7-day ticket costs $30, along with options for a 30-day ticket, and even a year-round ticket.
Helpful tip: buy a single ticket right before the trip because it is time-limited. If your ticket has expired and you are still on the train, do not worry – you will not be fined in case of inspection.
Oslo Pass (Oslo Card). As of writing this article, you can either buy a physical Oslo Card at points of sale (e.g., Oslo Visitor Centre near the Oslo Central Station) or buy a digital pass directly via the Oslo Pass app (recommended).
Tip The city is very scooter-friendly, and you can easily find them (I used the Bolt app).
Conclusion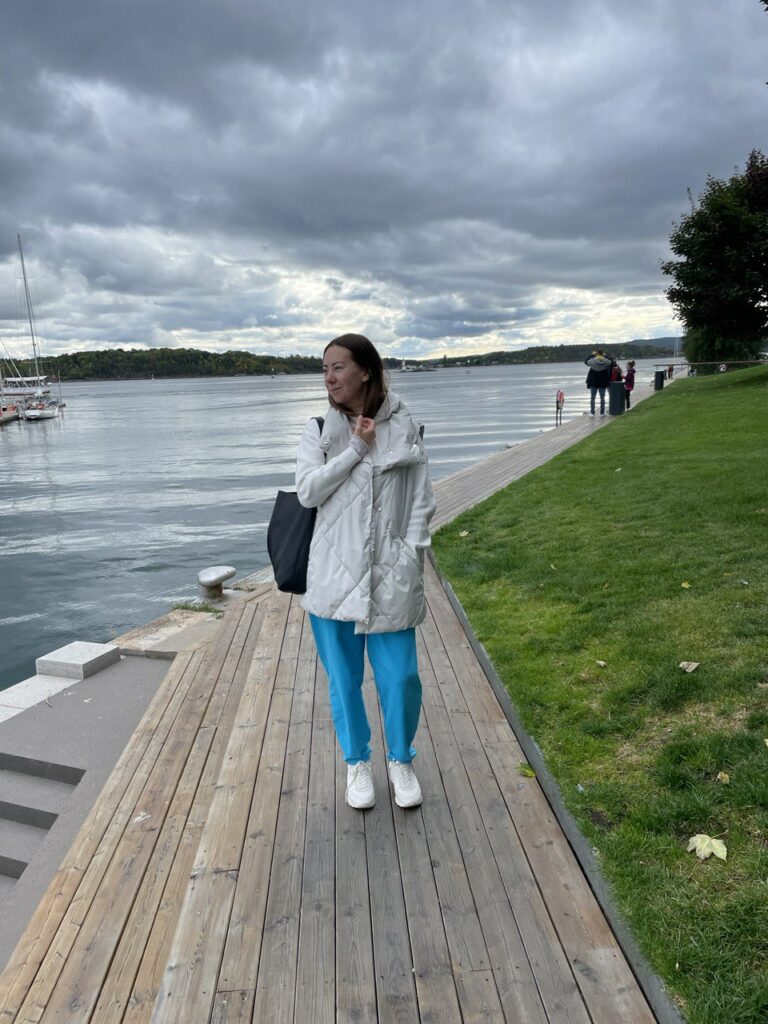 Overall, I think Oslo is worth visiting! The city has a lot to offer in terms of history, culture, gastronomy, and natural beauty.
If you plan a trip to Norway, make Oslo the first stop on your itinerary; you will not regret it. And remember to pack your warmest clothes if you are visiting during the Winter 😉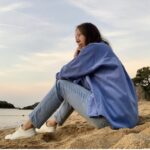 Hello, my name is Nadia.
I usually write about traveling (there are so many places to fit all the lifestyles), relocation (finding a job overseas or moving without losing an income), and living in a foreign country (adapting to a different culture and mentality). Follow me on Twitter, Facebook, Instagram, or LinkedIn!
This post might include some affiliate links. If you make a purchase through these links, I may earn a small commission at no additional cost to you. I appreciate it when you use my links to make purchases.