11 Best Restaurants in Oslo, Norway
Nadia Podrabinek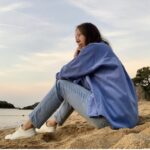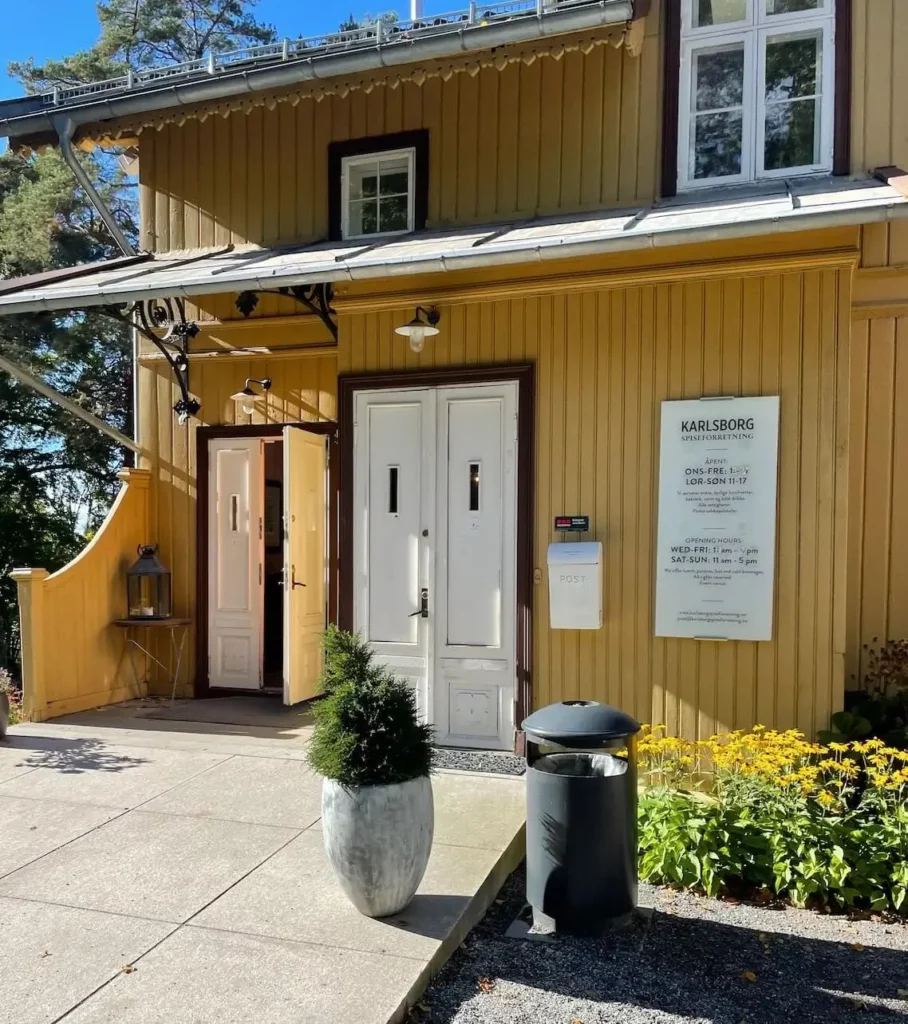 If you are into easygoing, beautiful, progressive northern cities, vibrant Oslo, the capital of Norway, is a great place to visit. It is home to innovative architectural wonders, lovely old neighborhoods, cute parks, and world-renowned museums – everyone finds something of their own.
However, people do not talk enough about Norwegian cuisine – at least I had never heard of typical Norwegian dishes before visiting Oslo. In fact, it is very diverse, hearty, and sometimes too unconventional. For example, Smalahove – a boiled sheep's head and broiled whale steak, an homage to the days of Vikings – is still pretty widespread in Norway.
---
Key takeaways
Engerbret Café for Norwegian home cooking.
Maaemo for a fine dining experience (3-star Michelin restaurant).
Tunco for the street foodies.
Oslo offers some excellent establishments with an Italian, French, Indian, and Japanese cuisine.
---
For squeamish readers, no worries: Besides such delicacies, Norwegian food offers much more. You will find traditional stews, meatballs, lamb cooked in various ways, and sweet treats, such as waffles and breadcrumb-layered desserts.
Norwegians also love potatoes, so I highly recommend trying my favorite – potato dumplings.
It is also worth mentioning that Norway (and Oslo is no exception) is one of the most expensive countries in the world, so be ready to spend a lot on daily meals. Let's review the prices for basic eats:
Pasta dishes – $18-$28
Sandwiches – $6-$11
Bread – $3-$5
Desserts – $12-$20
Even though Oslo may empty your wallet, some restaurants are certainly worth visiting. Here are 11 spots you may enjoy in Oslo.
1. Ekebergrestauranten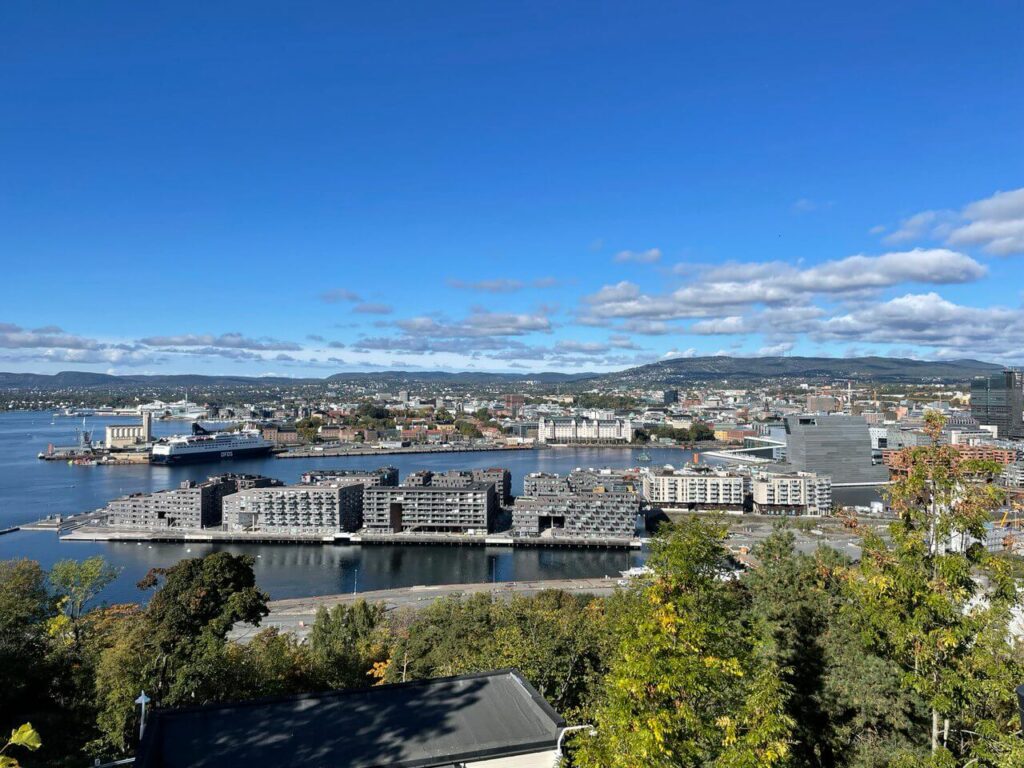 Imagine sitting in a luxury restaurant, observing spectacular Norwegian fjords just outside the window, and enjoying modern Nordic cuisine – that is what Ekebergrestauranten offers. It is pricey and is a bit out of the way, but believe me, you will not regret it.
The menu is designed precisely for foodies, so the best and most unexpected gastronomical experiences are guaranteed. Try duck leg confit served with oven-roasted vegetables, kale, duck jus with cranberries, tarragon, and potatoes; or the cod with broccoli puree, kale, and sauce with gooseberries.
The restaurant provides some immaculate desserts as well. If you want a meal tailored by the chef, choose a 2- or 3-course lunch of the week. The menu changes according to the seasonal ingredients so that the best quality dishes are presented on the table.
What people say on Google: 4,3 stars, 1,800 reviews
Kongsveien 15, 0193 Oslo, Norway
Read also: Is Oslo worth visiting?
2. Engerbret Café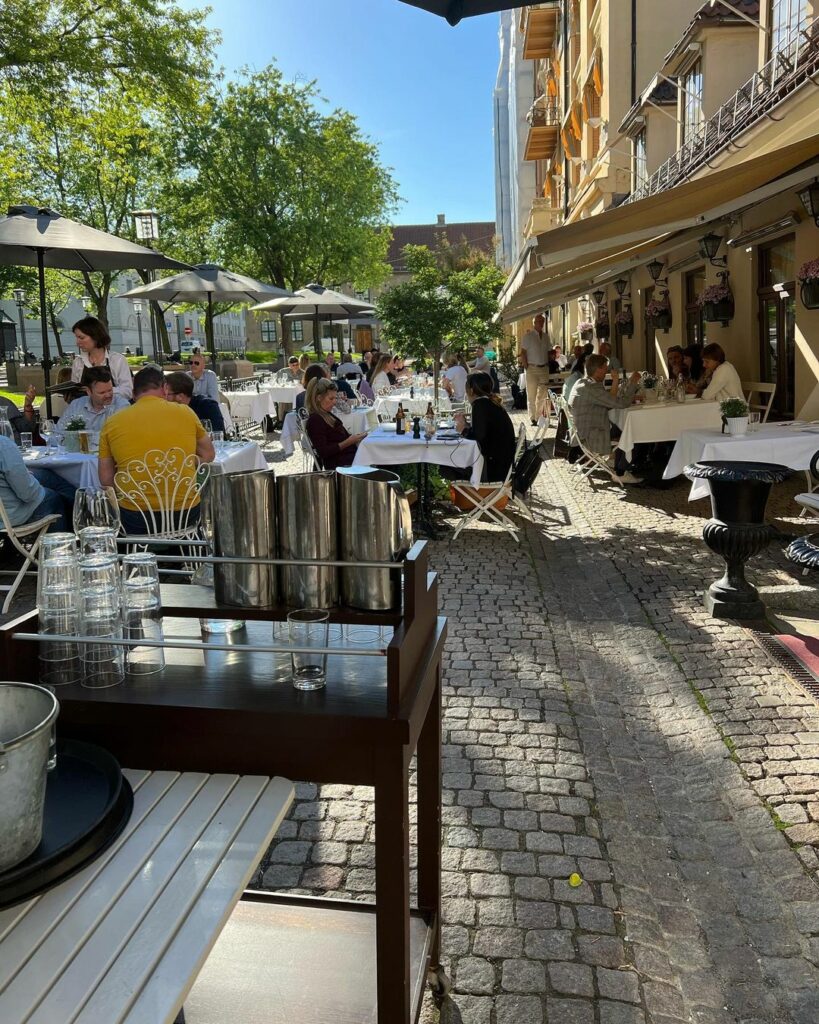 Engerbret Cafe is the oldest restaurant in Oslo, serving Norwegian home cooking. Opened in 1857, this establishment has a history of serving foreign tourists and well-known Norwegian personalities who sought a cozy atmosphere and authentic food.
Engerbret Cafe offers some starters and hearty main courses. Dishes incorporate the freshest local vegetables, greens, meat, and seafood. You will find old-style Norwegian reindeer steak, turbot filet, and lamb saddle, all accompanied by various garnishes. The dessert selection is not so plentiful, but the hazelnut mousse with white chocolate cake and espresso caramel really hit the spot.
The restaurant is also multifaceted, providing a lunch buffet where you can grab a sandwich on weekdays from 11:30 am to 2 pm, has a vast garden, and also serves as a banquet hall.
What people say on Google: 4,4 stars, 1,036 reviews
Bankplassen 1, 0151 Oslo, Norway
3. Ruffino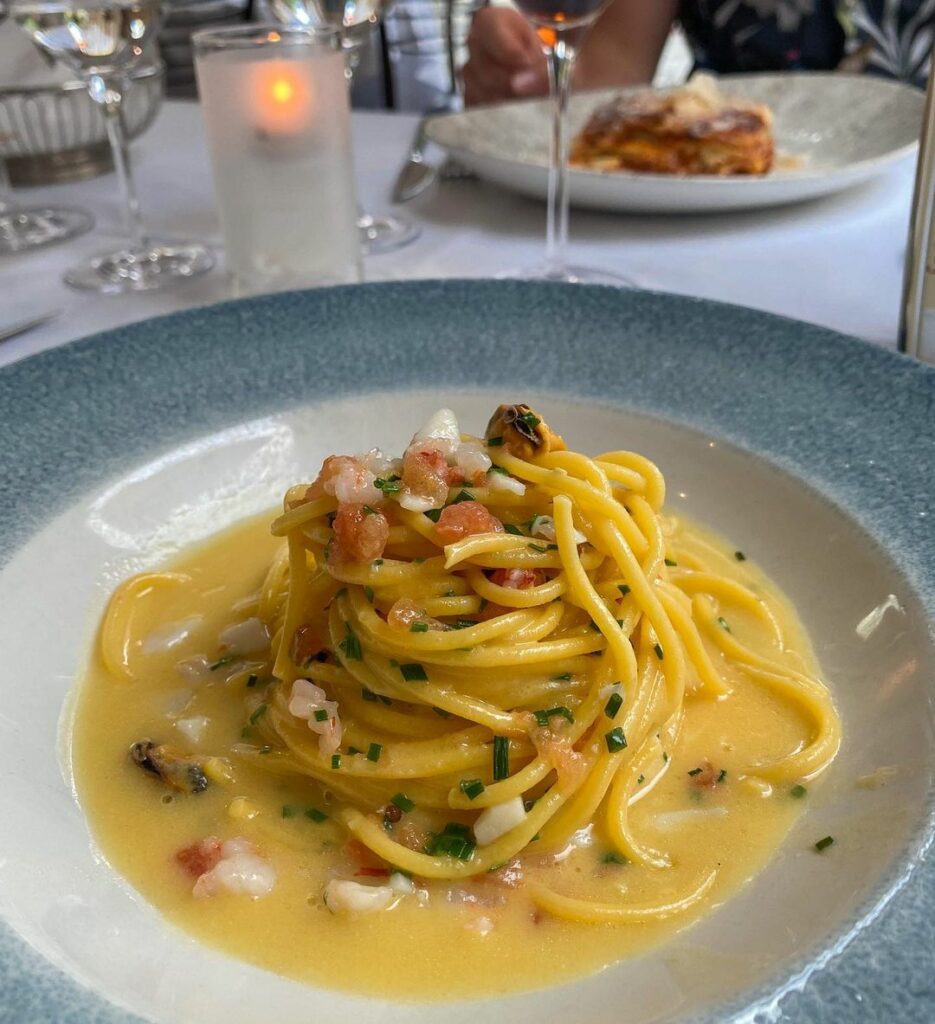 Not only does Oslo serve up Scandinavian dishes, but it also boasts a variety of international cuisines. Ruffino restaurant is a perfect example of "gastronomical integration," as this eatery is an authentic Italian island in the capital of Norway.
As you may have heard, the best places in the city are those loved by locals, and Ruffino Ristorante Italiano definitely falls into that category. The menu offers the best Italian dishes. I recommend ordering antipasti, for instance, baked scallops with shrimp, garlic, and parsley; or bruschetta with tomatoes, garlic, and basil.
Homemade pasta and main courses are exceptionally delicious, and the chocolate fondant with vanilla ice cream is a chef's kiss, no doubt.
What people say on Google: 4,6 stars, 10,026 reviews
Slottsplassen 1, 0010 Oslo, Norway
4. Omakase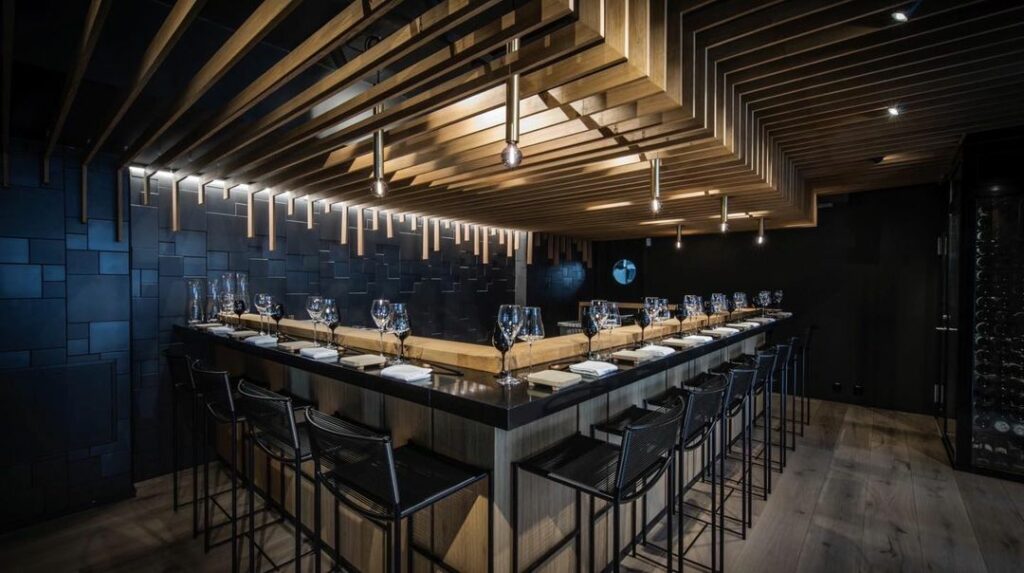 Unexpectedly, Oslo is a great place to try fantastic sushi. Your best option is Omakase. It sustains the Japanese Edomae technique traditions and uses the freshest Nordic ingredients to create a so-called "Normae sushi."
Omakase (Japanese: お任せ [o-makase]) is a Japanese phrase, used when ordering food in restaurants, that means "I will leave it up to you".
Omakase has seating for ten people around the counter, making your gastronomic journey intimate and dense. The most exciting part is that Omakase only serves one seasonal set, depending on the fish and vegetables available.
Overall, it is an exclusive, expensive, and unique place, but those who can afford it stay impressed for a long time. Important: If you are planning to visit Omakase, book a seat in advance.
What people say on Google: 4,9 stars, 148 reviews
Ruseløkkveien 3, 0251 Oslo, Norway
5. Den Glade Gris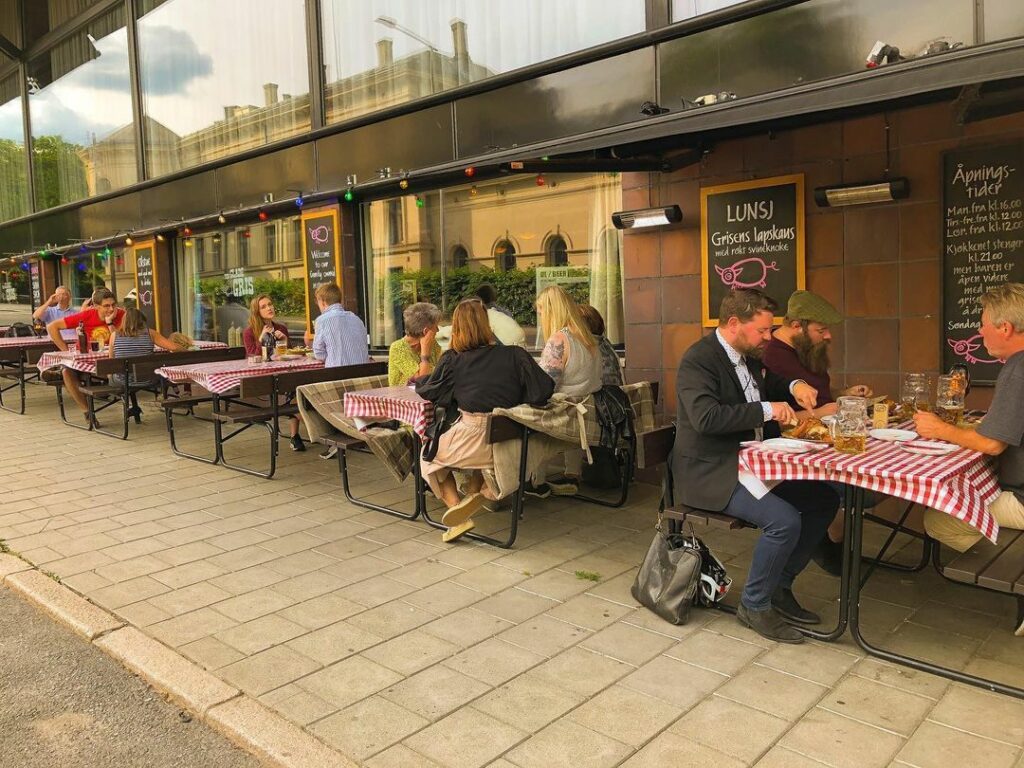 Do you want to spend an evening in a casual Norwegian pub-like spot surrounded by locals, and served the best meat in Oslo? Welcome to Den Glade Gris! This place focuses on waste-free production and offers a variety of pork dishes, nose to tail.
Steaks are marinated and cooked for hours in advance. Such a slow-cooked method makes the meat fall off the bone and melt in your mouth. You will find barbecue pulled pork, ribs, schnitzels, stews, non-pork dishes, and desserts. Accompany your meal with a pint of beer – Den Glade Gris has an extensive selection of drinks from Norwegian breweries.
Service is excellent, and the staff is exceedingly friendly. In short, a highly-recommended spot for meat lovers!
What people say on Google: 4,5 stars, 2,569 reviews
St. Olavs Gate 33, 0166 Oslo, Norway
6. San Francisco Bread Bowl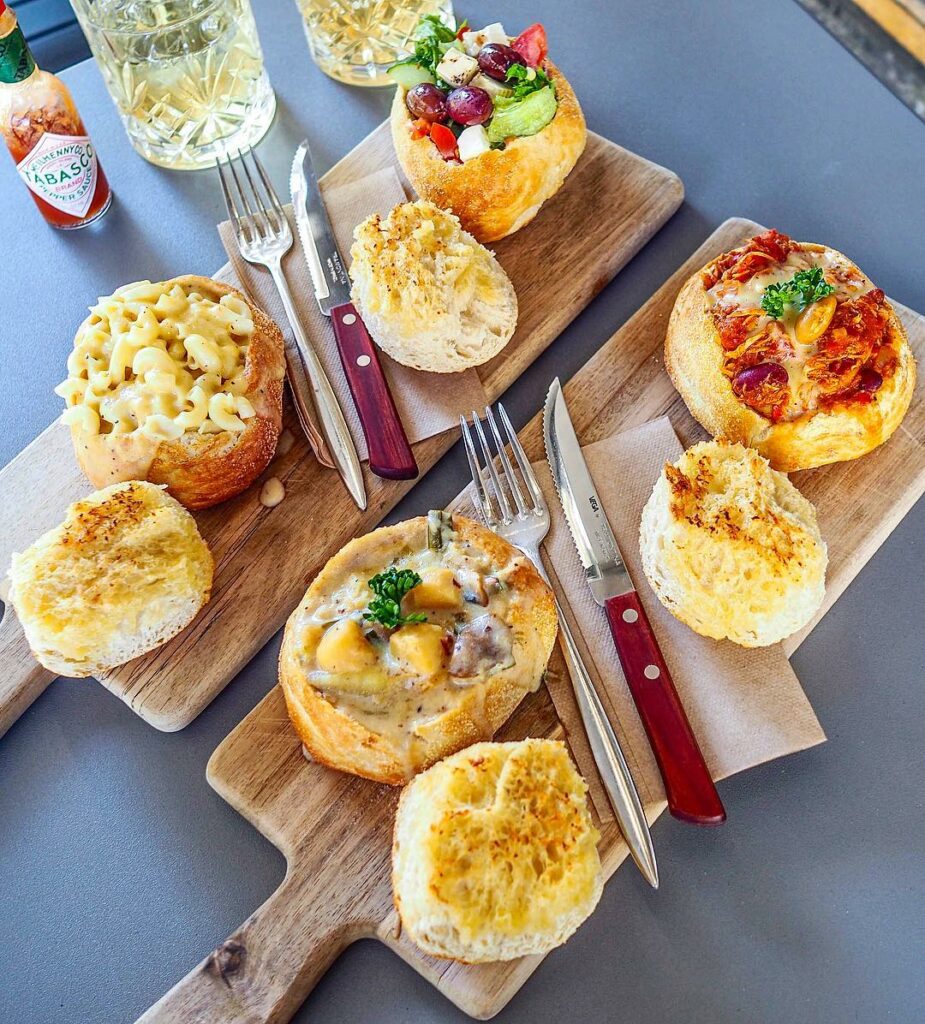 As for quaint lunch spots, I encourage you to consider San Francisco Bread Bowl. The place offers extraordinary bread bowls – round-shaped bread is filled with soup, stew, curry, or any other type of dish.
I ordered the Baja Chili Bowl, a roasted chipotle chili with slow-cooked chicken. It was a satisfying, hearty, and flavorful option. The restaurant also offers Indonesian, San Francisco, Oslo, Bombay, Memphis Mac, and Weekly Special bowls. You can also choose the bread size – I recommend the "normal" if you are starving, or the "baby" if you are merely curious.
What people say on Google: 4,5 stars, 673 reviews
Frognerveien 9, 0257 Oslo, Norway
7. Maaemo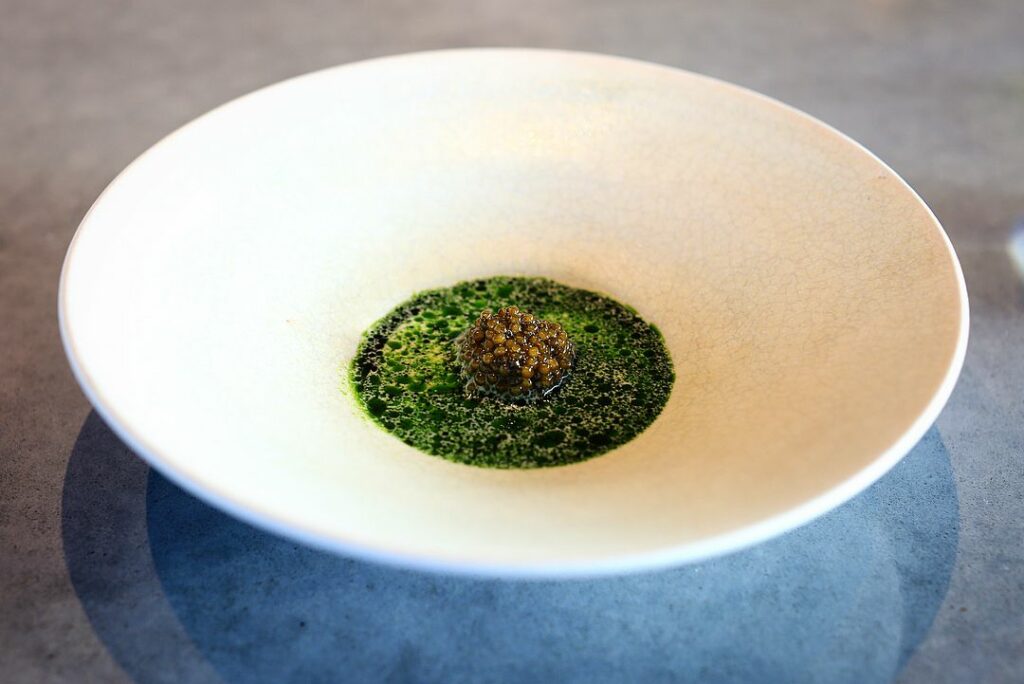 If you have never been to a Michelin restaurant or, on the contrary, know them all too well, consider visiting Maaemo. It is the only restaurant with three Michelin stars in Oslo, meaning it provides "exceptional cuisine worth a special journey."
Maaemo means "mother Earth" in the Old Nordic language, so all the organic ingredients used by chef Esben Holmboe Bang are sourced from local areas. The menu is seasonal, so you can never guess what they will bring to the table. However, foodies from all over Europe head to Oslo just for dinner at Maaemo, so you will definitely be impressed.
The restaurant offers two tailored wine menus perfectly matching the courses. Keep in mind that guests should reserve a table for 1-6 people two months ahead.
What people say on Google: 4,7 stars, 452 reviews
Dronning Eufemias gate 23, 0194 Oslo, Norway
8. Feniqia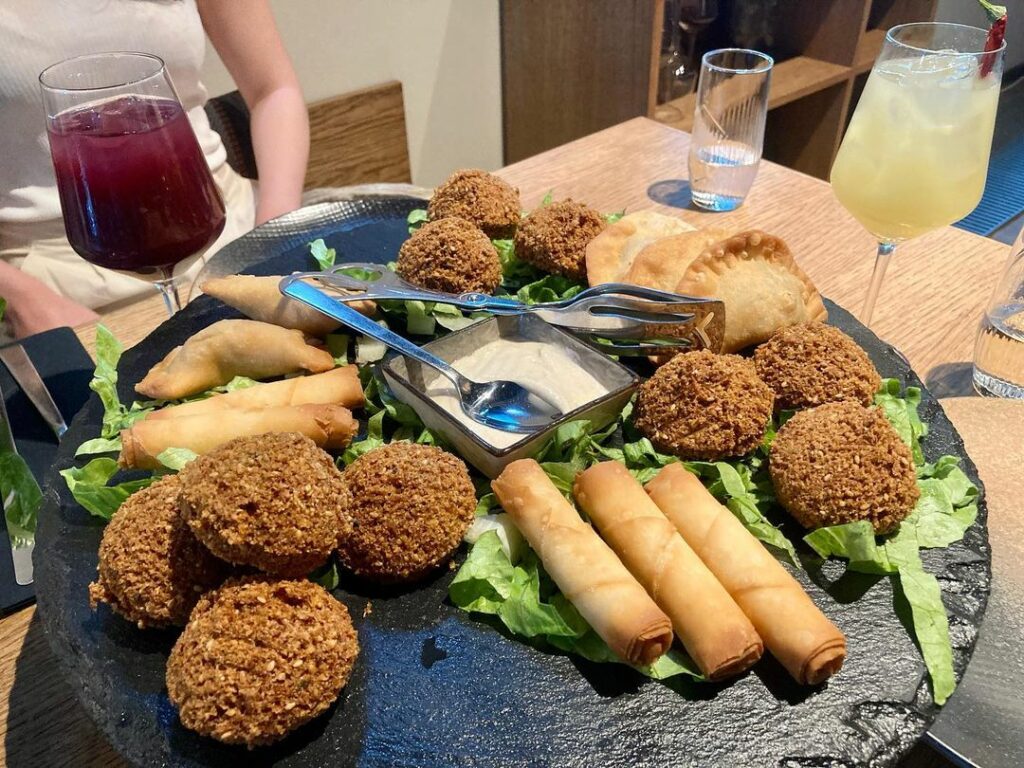 This establishment positions itself as "the only authentic Lebanese restaurant in Norway", and the dishes here are exceptionally delicious indeed. Lebanese cuisine is one of my favorites because there is always something new to discover.
Feniqia offers a large selection of cold and warm meze (Middle Eastern appetizers) like hummus, halloumi cheese, traditional eggplant dip called baba ganoush, chickpea puree, and many more.
For the main course, choose a Lebanese rice pilaf with lamb or chicken and several types of nuts. Pistachio desserts are a Lebanese specialty, so you must try a traditional cheesecake or panna cotta made from pistachios.
What people say on Google: 4,5 stars, 256 reviews
Rostockgata 66, 0194 Oslo, Norway
9. TUNCO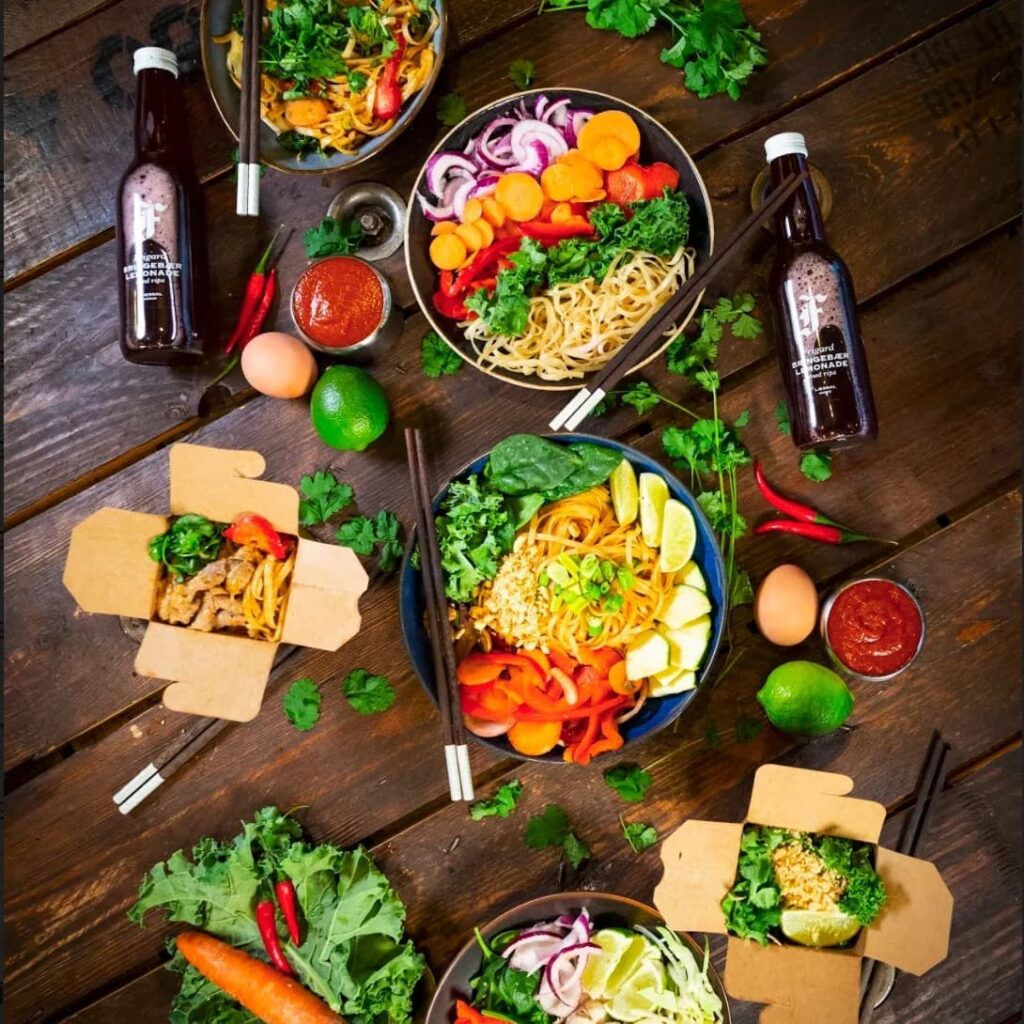 Do you like noodles? If you do, check out TUNCO; it is relatively cheap and serves several types of noodle dishes. The story behind TUNCO is incredible: Back in 2015, a group of enthusiasts decided to travel around the world with nothing but backpacks, seeking the best flavors possible. They fell in love with Asian dishes and were inspired to open their own restaurant.
TUNCO aims to make production sustainable and eco-friendly – a portion of the profit from every meal sold goes to a child in need, and all the packaging is made from organic materials.
As for the menu, TUNCO offers mouthwatering Thai, Vietnamese, and Indonesian noodles and one secret dish – try it if you are brave enough. You can also try Japanese edamame beans and Korean kimchi.
What people say on Google: 4,6 stars, 549 reviews
Bjerregaards gate 2 a, 0172 Oslo, Norway
Torggata 16, 0183 Oslo, Norway
10. Chez Colin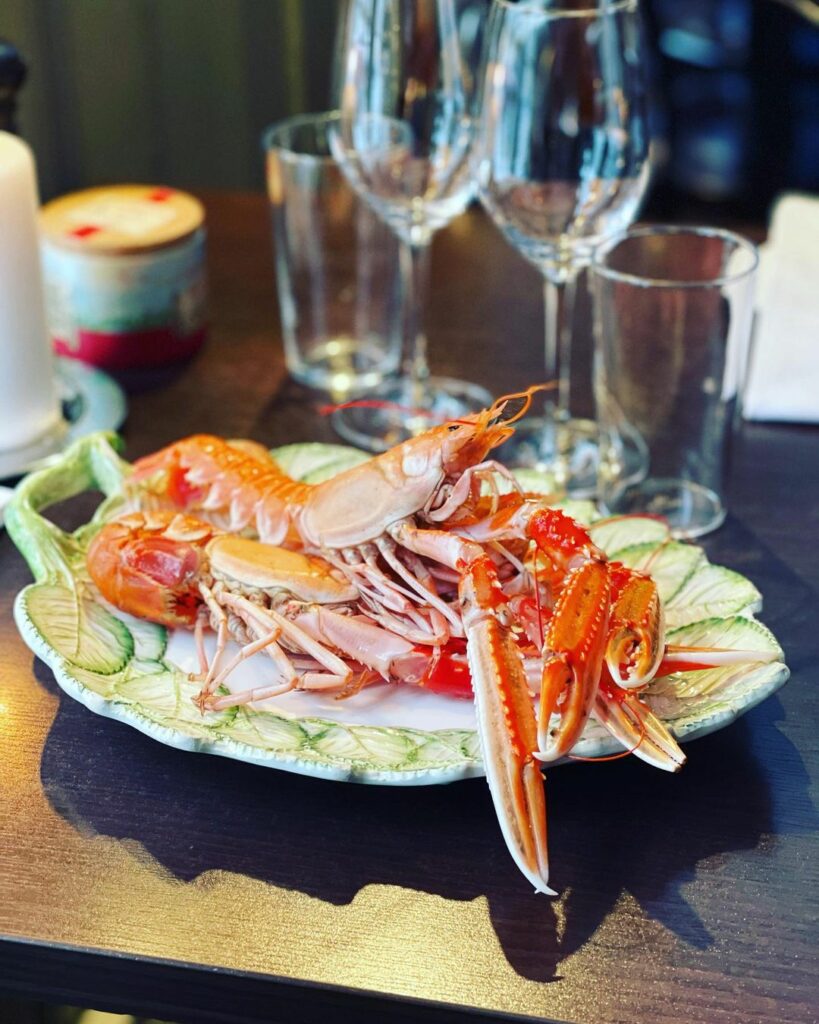 French cuisine is represented in Oslo, too! This intimate spot, located in a typical wooden Norwegian building, serves traditional French dishes and offers a large selection of French wines. Despite being a little pricey, Chez Colin is perfect for a romantic, cozy dinner.
Chez Colin offers quite a diverse menu. You will find delicious main courses, such as grilled rib eye steak with béarnaise sauce; and broccolini or turbot with smoked butter sauce, garden peas, prawns, eggs, and herb potatoes. Foie gras might be the most well-known French dish, so try the melting pan-fried foie gras with spiced bread, cherries, and almonds.
Finish the meal with French apple tart served with homemade vanilla ice cream – a great cherry on top!
What people say on Google: 4,6 stars, 495 reviews
Fredensborgveien 44, 0177 Oslo, Norway
11. MANTRA by Mr India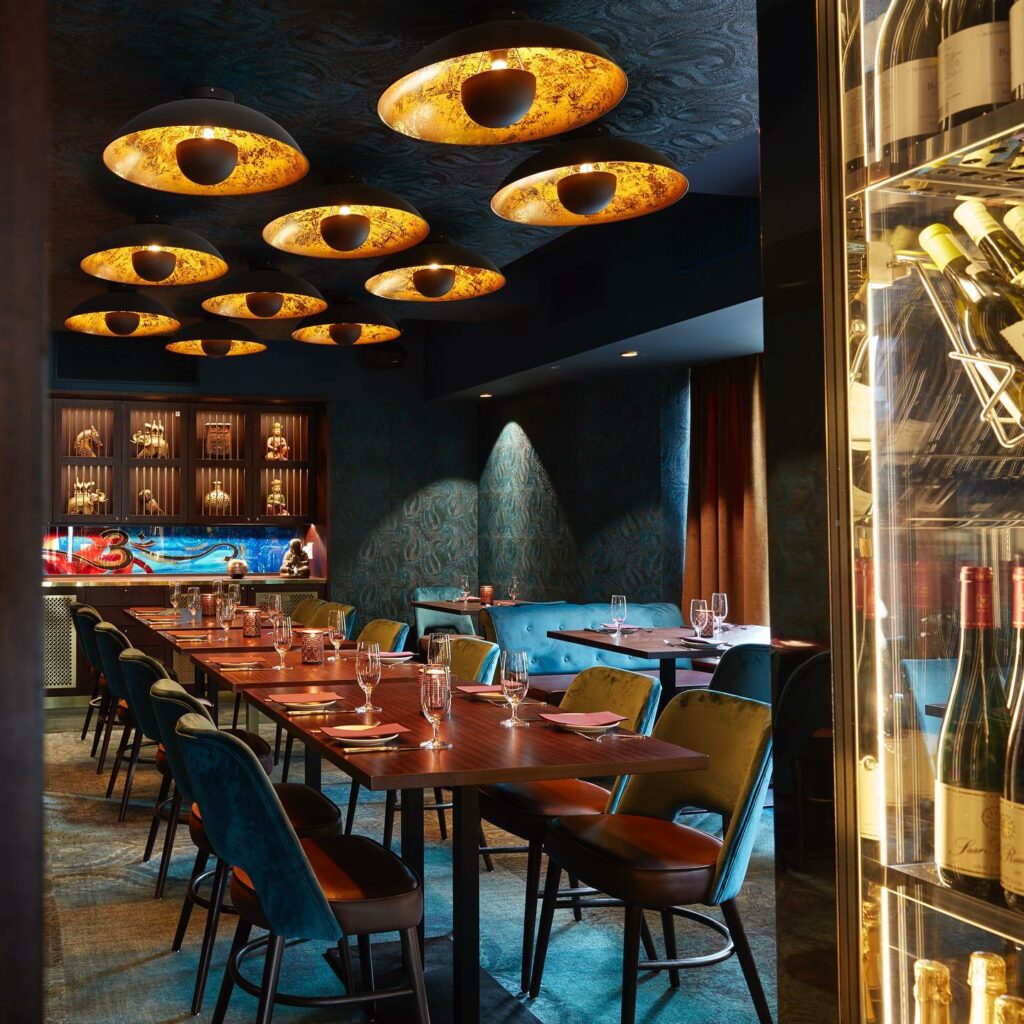 Last but not least is an Indian spot called Mantra. Not only does it offer delicious meat and fish meals, but it also has some awesome vegan and vegetarian options.
The selection of classic curries (Indian sauces seasoned with spices) is Mantra's trademark. Creamy coconut curry, ginger curry, tomato masala curry – there are plenty of variations to choose from. Try unique "mantras" – these are the five main courses made of meat, fish, and seafood, accompanied by curry or masala (a type of spicy Indian paste), arranged from least to most spicy. Vegans may like veggies in coconut masala gravy with turmeric and red chili peppers, or mushrooms and peas in black pepper curry with fennel and mustard seed.
Overall, Mantra is a wonderful example of an authentic Indian eatery in the center of Oslo!
What people say on Google: 4,5 stars, 1,176 reviews
Dronningens Gate 19, 0154 Oslo, Norway
Frequently Asked Questions
How much is an average meal in Oslo?
As I mentioned earlier, Oslo is an expensive city. The average price for a meal here is $25-$35.
What food is Oslo known for?
Norwegian cuisine is pretty diverse, but the most well-known dishes are mutton and cabbage stew, pork meatballs, smoked lamb, potato dumplings, and waffles with brown cheese.
What time is dinner in Norway?
Norwegians have dinner at an early hour: 4-5 pm. However, most restaurants are open until 11 pm.
How much does a pizza in Norway cost?
A pizza pie costs between $15 and $25.
How much should you tip in Norway?
Tipping in Norway is not compulsory, but if you are satisfied with the service and meals, a 10-15% tip should be enough.
Final Thoughts
Oslo is a city I want to visit again, partly because of the local eateries. The service standards are high, the food is international and diverse, and the people are friendly and considerate in most cases.
If you are planning to stay in Oslo for more than 2-3 days, do not focus exclusively on traditional delicacies. Explore Italian, French, Indian, Japanese, and other spots – I hope my list will help you with that!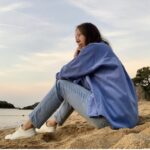 Hello, my name is Nadia.
I usually write about traveling (there are so many places to fit all the lifestyles), relocation (finding a job overseas or moving without losing an income), and living in a foreign country (adapting to a different culture and mentality). Follow me on Twitter, Facebook, Instagram, or LinkedIn!
This post might include some affiliate links. If you make a purchase through these links, I may earn a small commission at no additional cost to you. I appreciate it when you use my links to make purchases.