11 Perfect Boutique Hotels in Oslo, Norway
Nadia Podrabinek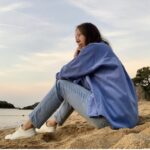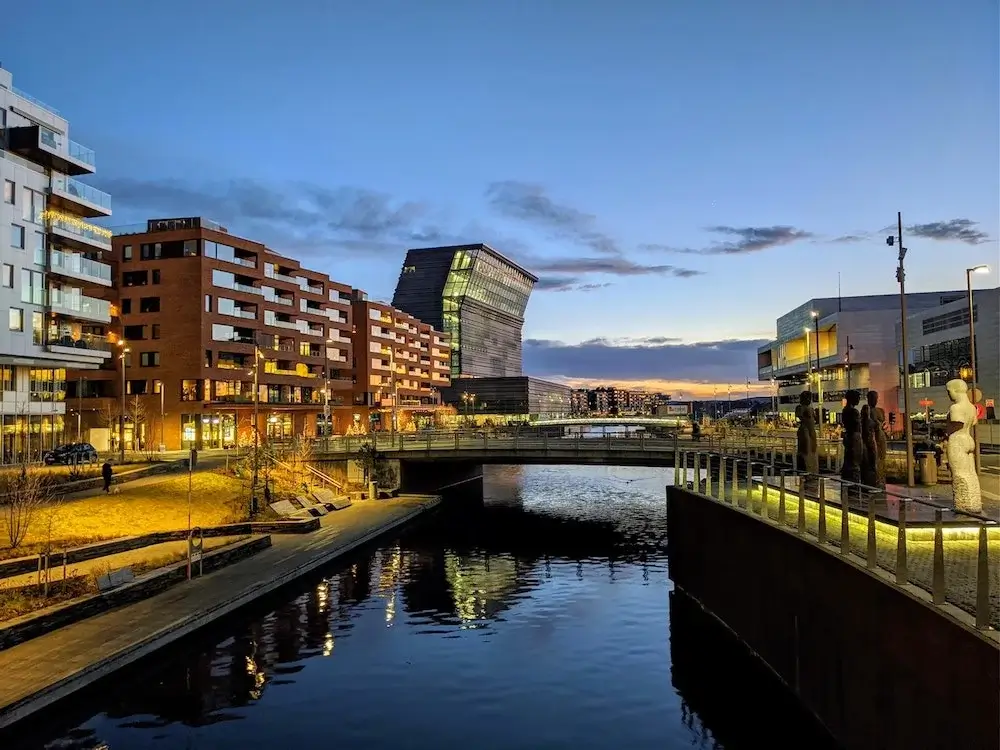 Oslo is the beautiful capital of Norway, located in the southernmost part of the country, with lots of things to do and see.
Despite being the capital, it is a relatively small city, so it is no surprise that Oslo has many boutique hotels, especially in the city center. Do not be afraid, "boutique" does not necessarily mean "luxury."
If you want to make your stay in Oslo a little bit more comfortable (yes, the weather is quite unpredictable there), be serious when choosing a hotel. Having a cozy and pleasant place to rest and eat is essential in Norway.
What is a boutique hotel?
A boutique hotel is a smaller, more intimate property that offers a luxury (but it is not always the case!) or authentic experience.
The idea of a boutique hotel first appeared in the United Kingdom in the 1980s, when an old guest house owner turned it into a hotel for art lovers. Since then, boutique hotels have become popular in many countries.
Read also: Is Oslo worth visiting?
It is a small and more intimate hotel with a unique design and a higher quality of customer service. That distinguishes boutique hotels from larger chains or brand hotels. The boutique hotel usually provides its guest with personalized services and attention. While there is no consensus on the definition of a boutique hotel, there are some particular features:
Size. Boutique hotels are relatively small, with no more than a hundred rooms. That creates an atmosphere of being a personal guest in a private home rather than just another come-and-go tourist.
Style. A boutique hotel can be fashionable, trendy, elegant, green, and even swollen of the exclusive.
Different. Sometimes it is just it—something different from standard hotels with a pinch of authenticity.
Food. It could be something like vegan-style or eco products only; it could be the food only available at the hotel location.
Price. Yes, it can often be an expensive stay.
In this blog post, I will introduce you to some of the best boutique hotels in the city. Enjoy the reading, and start planning your Oslo itinerary 😉
Best boutique hotels in Oslo, Norway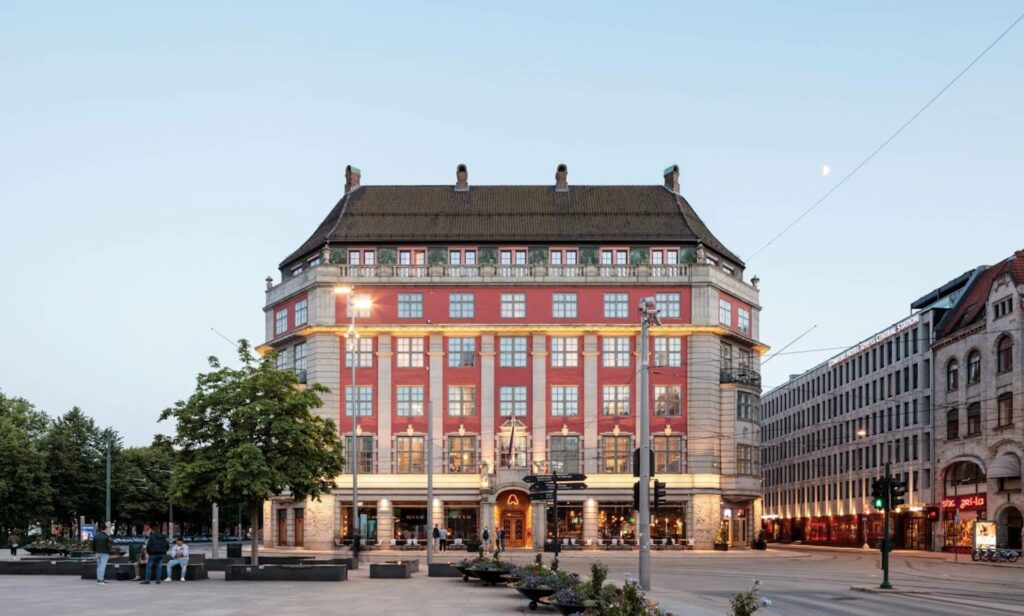 This beautiful and stylish 4-star hotel has an unbeatable location, less than 3 minutes walking from Oslo Central Station.
The rooms are mostly small but cozy. You will find a Nespresso coffee machine, minibar, a walk-in shower, complimentary toiletries, and a balcony (in some rooms).
You will also find one of the best-looking hotel gyms (which runs 24h), a Finnish sauna, and warm relaxation beds.
Tip If you are checking out early in the morning, ask for a to-go breakfast.
Stars: ⭐⭐⭐⭐
Booking.com rating: 9.1
What people say on Google: 4.7 stars, 453 reviews
Jernbanetorget 2, 0154 Oslo, Norway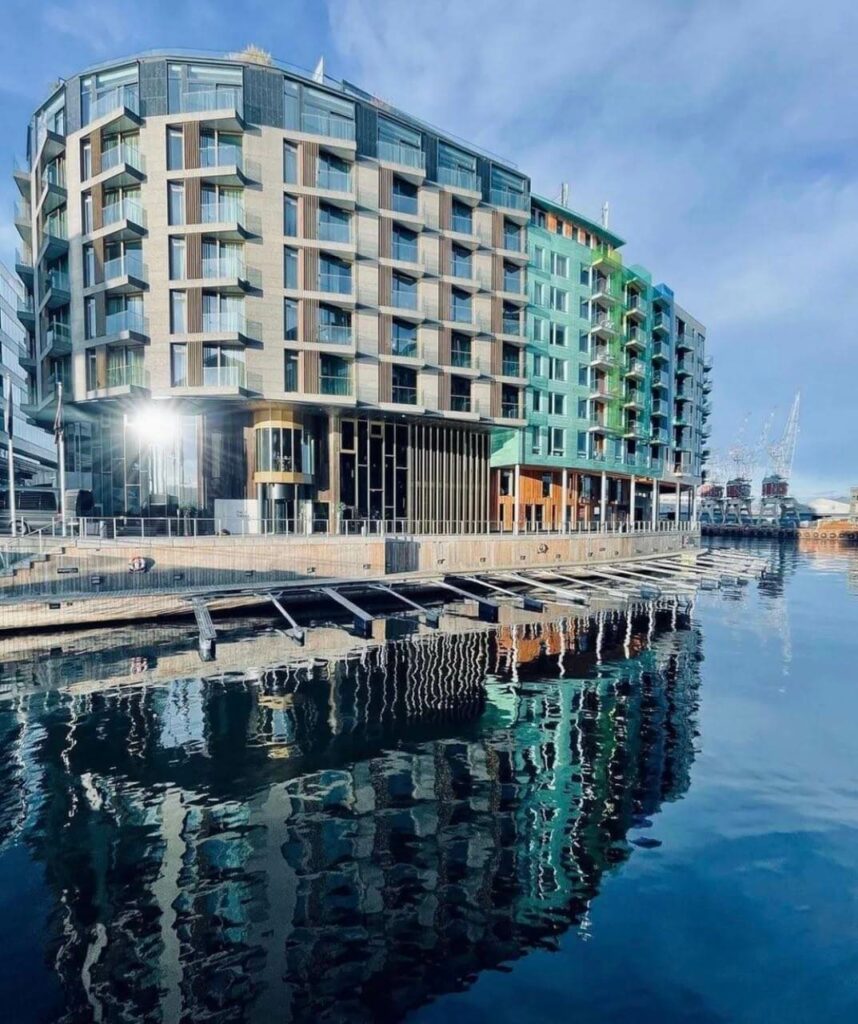 This luxury 5-star boutique hotel has a special place in my heart, and I think it is one of the nicest hotels you can find while you are in Oslo.
114 rooms and suites with gorgeous views of the fjord, Tjuvholmen canals, Opera House, and Holmenkollen hill (a famous ski jumping resort). The apartments are beautiful; every furniture piece seems to be tailor-made for the room, with pop-up TV in front of the bed opening in 007-style. And the suits even have a small kitchen!
The location is almost perfect, it takes 10 minutes to walk to the city center.
The Thief has great facilities, like a spa, pool, Finnish sauna, steam bath, hammam, restaurant, and cocktail bar (one of the best cocktail bars in Oslo).
They also give you a bottle of Champagne on checking in, with some pleasant small gifts. This is just amazing!
Stars: ⭐⭐⭐⭐⭐
Booking.com rating: 8.6
What people say on Google: 4.4 stars, 371 reviews
Landgangen 1, 0252 Oslo, Norway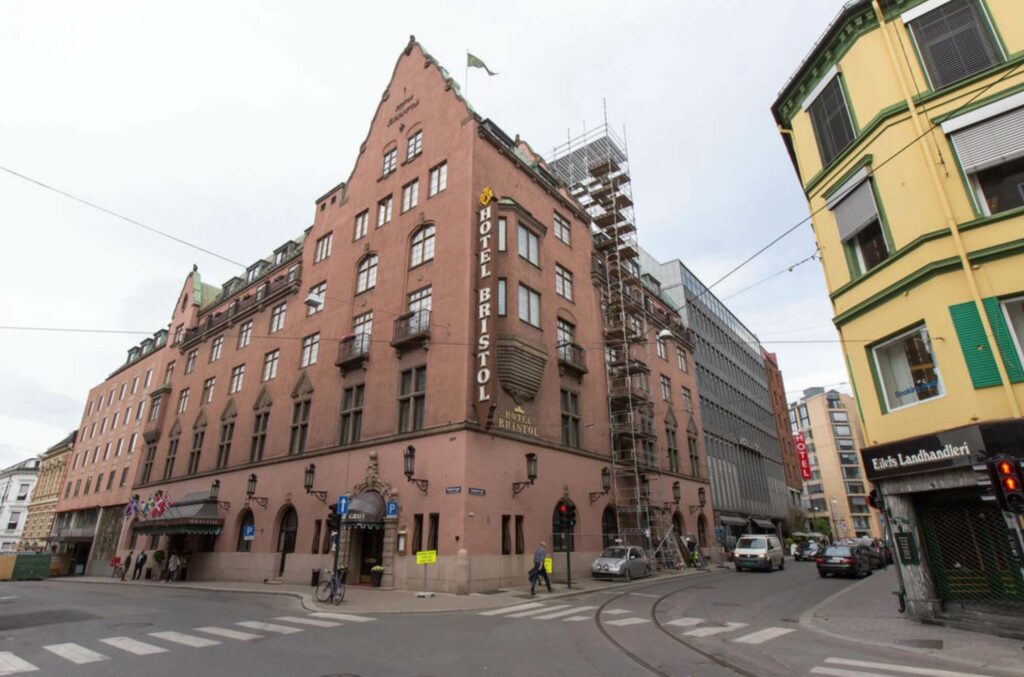 This is one of Oslo's most respected 5-star hotels with a rich history, located in a downtown area. After the renovation, Bristol Hotel was awarded 5 stars.
The lobby is elegant, merged with the Winter Garden and the classy Library Bar. Renovated rooms with a private balcony and plenty of light, small bathrooms, and toiletries in reusable containers.
Good to know The average age of the Bristol Hotel guest is most likely higher than in any other boutique hotel in Oslo.
Stars: ⭐⭐⭐⭐⭐
Booking.com rating: 9.0
What people say on Google: 4.5 stars, 1,648 reviews
Kristian IVs gate 7, 0164 Oslo, Norway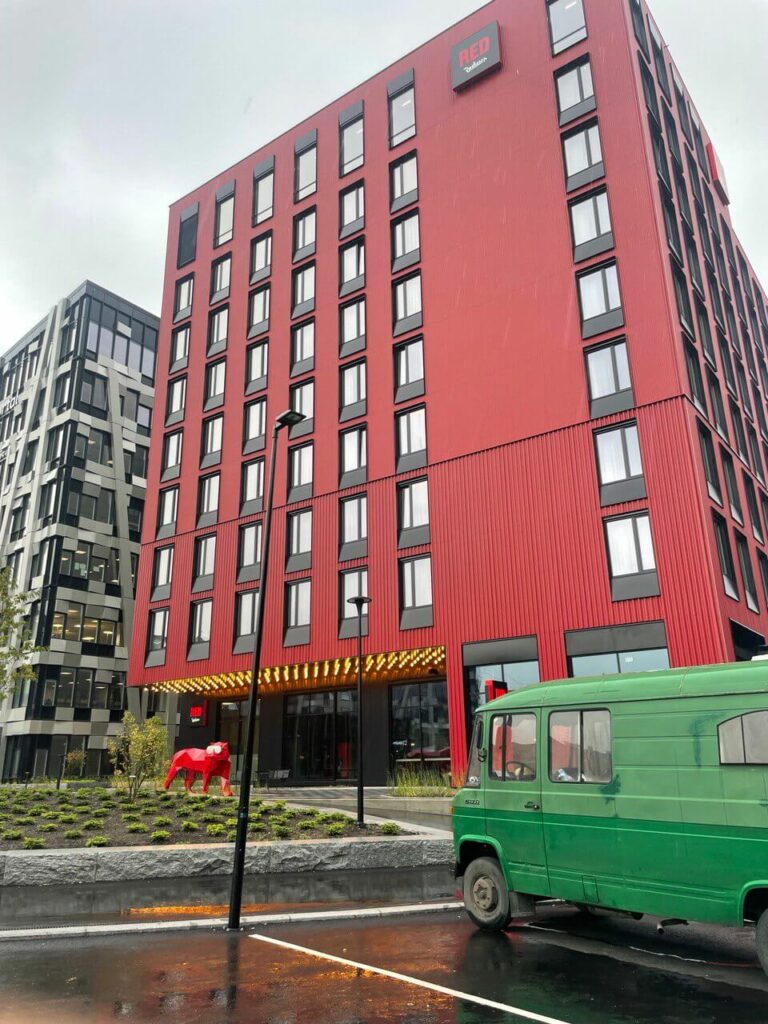 This is an absolutely fantastic hotel located near the Økern Portal business hub. Even though it is not near the center and is slightly bigger to be qualified as a boutique hotel, everything seems perfect there:
It is new, clean, and tidy.
They speak excellent English at the reception, very friendly and welcoming.
The beds are super comfortable. I think this was the only time when I felt like a Queen, sleeping profound and long sleep.
The breakfast buffet was $18 per person and was worth it! (Remember, eating out in Oslo is quite expensive, so it is better to have a hearty breakfast in a hotel).
5 minutes walking to the nearest metro and bus station.
Skybar with beautiful city views.
Tip You can drink tap water in any hotel in Norway; it is crystal clear.
Stars: n/a
Booking.com rating: 9.0
What people say on Google: 4.8 stars, 58 reviews
Lørenfaret 3, 0585 Oslo, Norway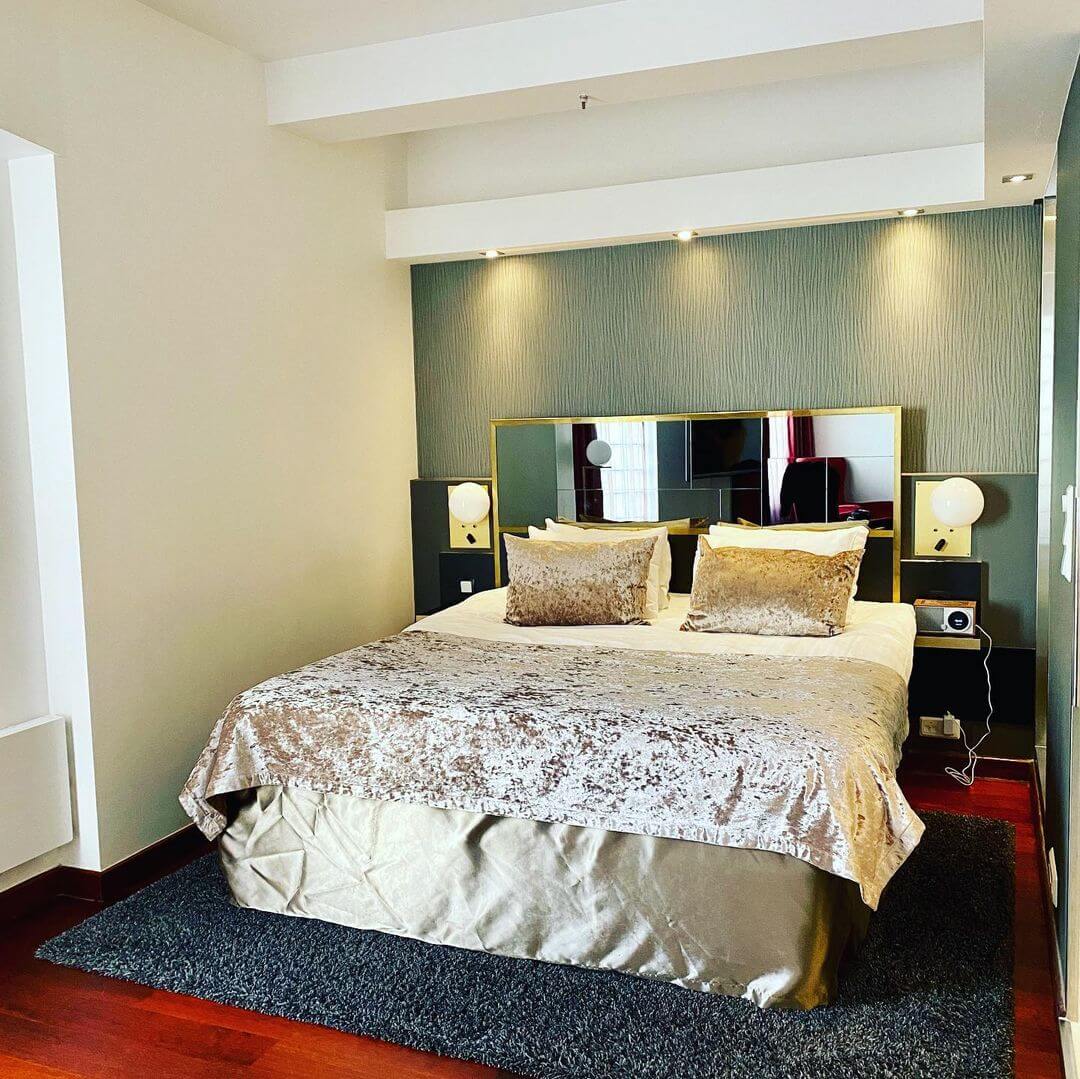 Hotel Christiania Teater is Oslo's second highest-rated 4-star boutique hotel (after The Thief Hotel).
With 102 rooms with no other offer than a bed and a restaurant, this is a bit different experience compared to other boutique hotels in Oslo.
The suite will have spacious rooms, giant TV, chips, wine, and nuts in the minibar. Oops, the large bathroom is seen from the bed. When you are traveling with someone, a partially open bathroom may not be optimal, but alone it feels ok. The toilet, bidet, and shower, however, are screened off.
Be prepared: the balcony could not be used.
And if you like pizza, try one at Teatro restaurant (which also serves a delicious breakfast buffet in the morning, with lots of fruits and vegetables).
Read also: Best restaurants in Oslo.
Overall, a solid boutique hotel experience. This may not be the most exciting place for someone who values ​​the hotel as much as the destination. Still, this is your spot if you want a great place to sleep while discovering Oslo. Simple, central, and delicious.
Stars: ⭐⭐⭐⭐
Booking.com rating: 8.1
What people say on Google: 4.4 stars, 512 reviews
Stortingsgata 16, 0161 Oslo, Norway
Other worthy boutique hotels in Oslo
Stars: ⭐⭐⭐⭐⭐
Booking.com rating: 8.9
What people say on Google: 4.5 stars, 1,077 reviews
Stars: ⭐⭐⭐⭐
Booking.com rating: 8.9
What people say on Google: 4.6 stars, 883 reviews
Stars: ⭐⭐⭐⭐
Booking.com rating: 7.9
What people say on Google: 4.1 stars, 805 reviews
Stars: ⭐⭐⭐
Booking.com rating: 7.8
What people say on Google: 4.1 stars, 756 reviews
Stars: ⭐⭐⭐
Booking.com rating: 9.6
What people say on Google: 4.9 stars, 58 reviews
Stars: ⭐⭐⭐⭐
Booking.com rating: 8.8
What people say on Google: 4.5 stars, 402 reviews
Oslo Boutique hotels map
Conclusion
The best travel advice I have ever heard: "Do not expect much!"
The same with hotels – even the highest-rated establishment could be a total mismatch. So, pretend that you are exploring something new and that this list of the best boutique hotels in Oslo is just a direction you may follow. Have a nice stay in Oslo!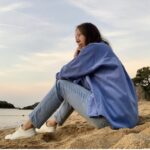 Hello, my name is Nadia.
I usually write about traveling (there are so many places to fit all the lifestyles), relocation (finding a job overseas or moving without losing an income), and living in a foreign country (adapting to a different culture and mentality). Follow me on Twitter, Facebook, Instagram, or LinkedIn!
This post might include some affiliate links. If you make a purchase through these links, I may earn a small commission at no additional cost to you. I appreciate it when you use my links to make purchases.