Oslo Metro Map and Subway System: Info & Travel Tips
Nadia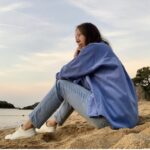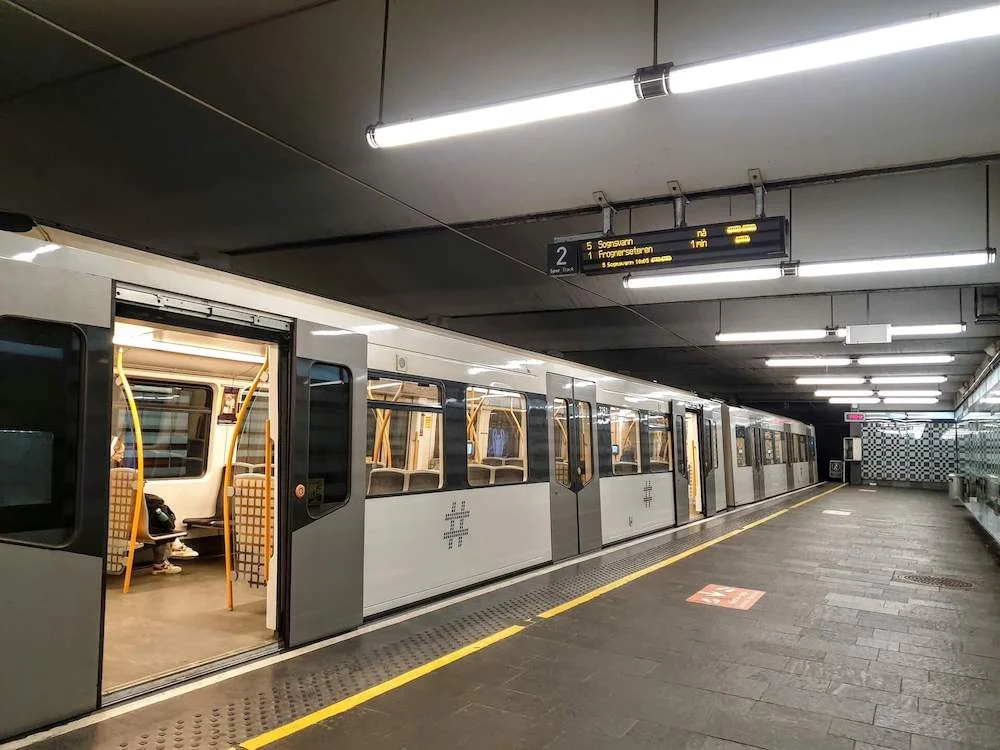 The metro in Oslo (T-Bane) is the easiest way to commute to different parts of the city, including the neighborhoods. It consists of 5 lines and 101 stations.
Changing lines is very straightforward – in most cases, you do not need to change the platform; wait for another train from your line. The arriving trains with their corresponding lines are indicated on the platform display.
The metro in Oslo is integrated into the public transport system, so the metro tickets are valid for buses, trams, and ferries.
Read also: Is Oslo worth visiting?
Oslo Metro Map
Here is the map of the Oslo Metro system (click to open in a new tab):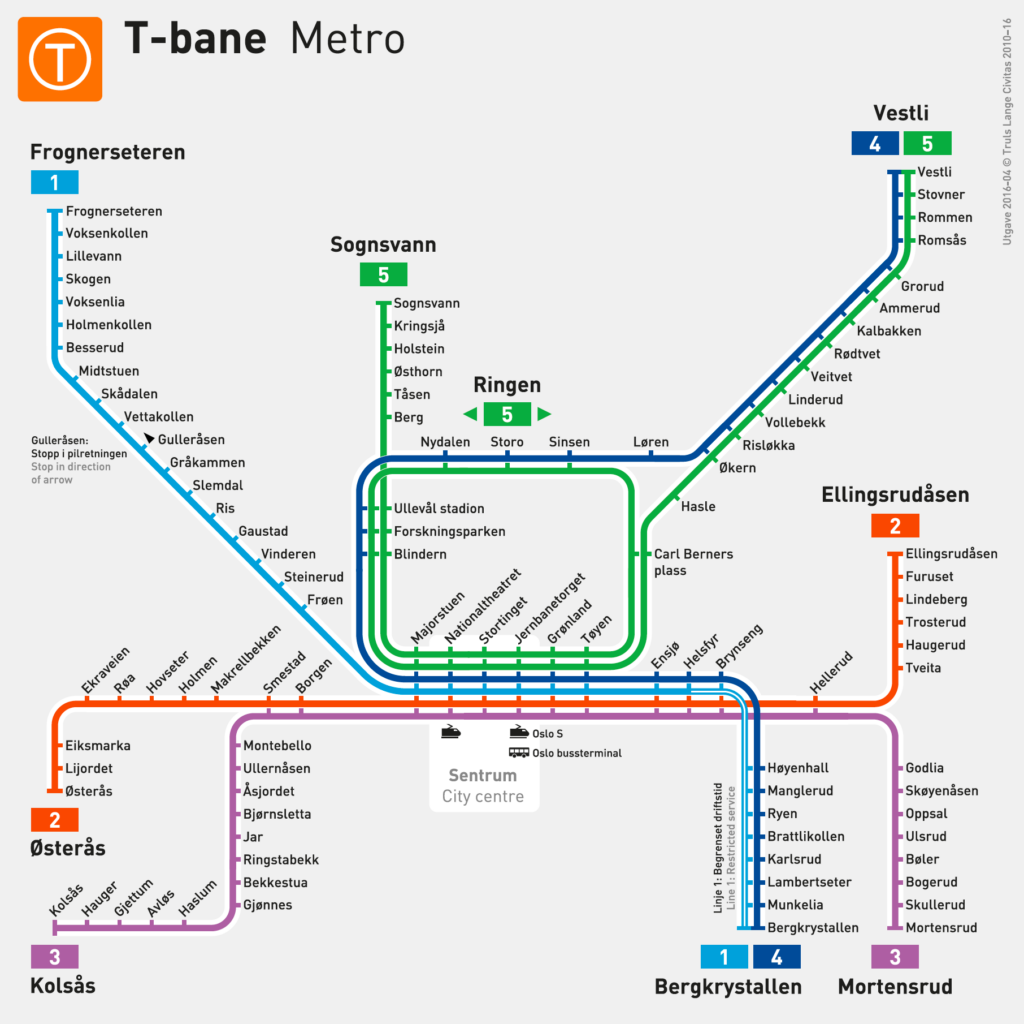 You can also download Oslo Metro Map in PDF (printable).
Oslo Metro and the airport
Unfortunately, the Oslo airport (Gardermoen) is not connected to the metro system as it is a little bit distant from the city – 31 miles (50 km).
Instead of the metro, you can take the regional train (the cheapest option), which will take you to Oslo Central Station in 25 minutes for $10.6 (114 NOK).
Another great option is the Flytoget express train, which travels for 20 minutes for $19.6 (210 NOK).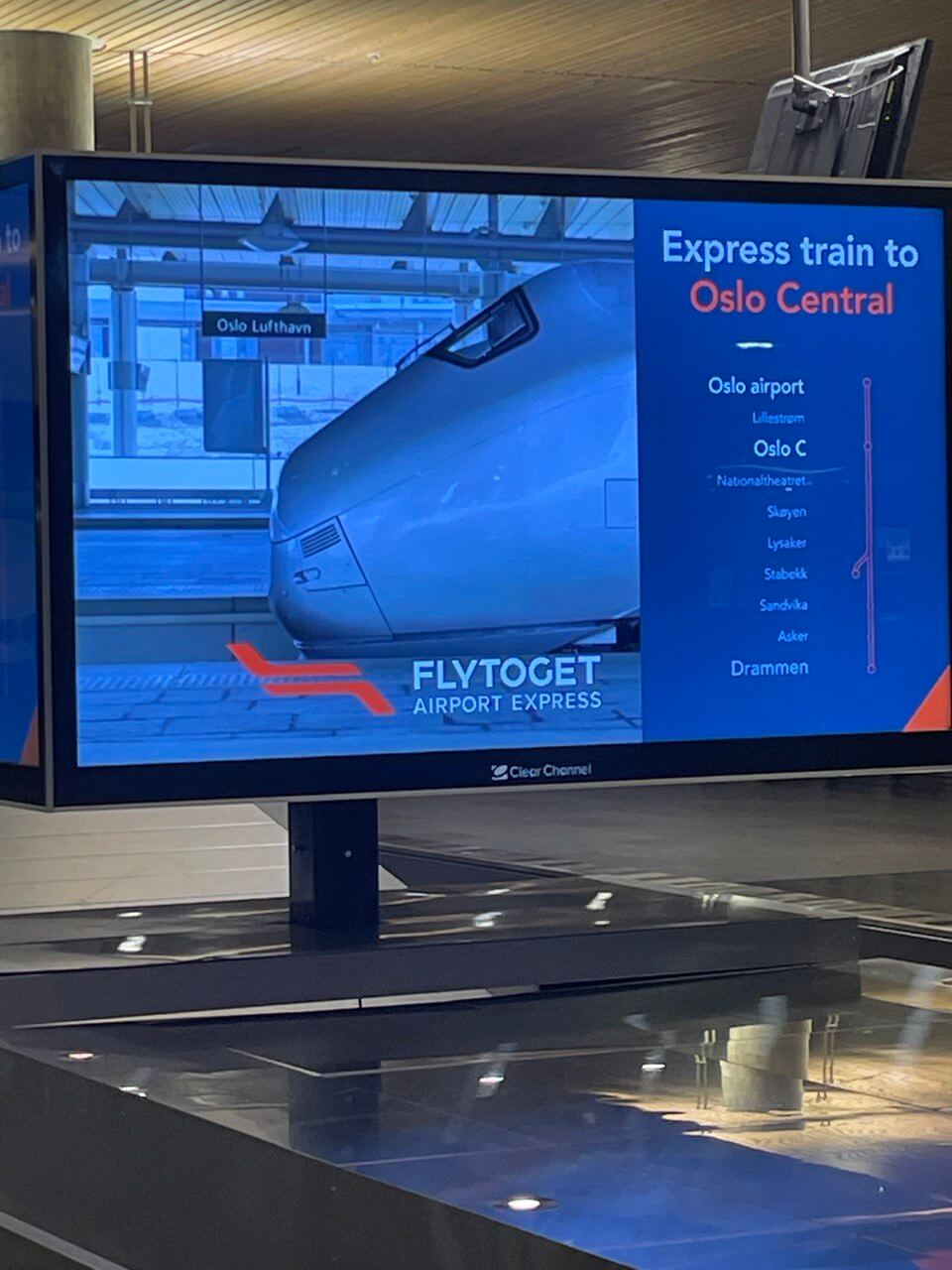 A taxi or Uber is the most expensive way to get to the city center ($75-$100).
Oslo Metro Timetable
The operating hours are from 5:30-6:00 am to 00:30-1:00 am (depending on the station). The frequency is around 8-10 minutes in the daytime, growing to every 30 minutes late at night.
Oslo Metro Tickets & Prices
You will have various options when buying metro tickets in Oslo:
Metro tickets are sold via the Ruter app. A single ticket, which lasts for 1 hour, costs 39 NOK ($3.64), a 24-hour ticket costs $10.91, a 7-day ticket costs $30, along with options for a 30-day ticket, and even a year-round ticket.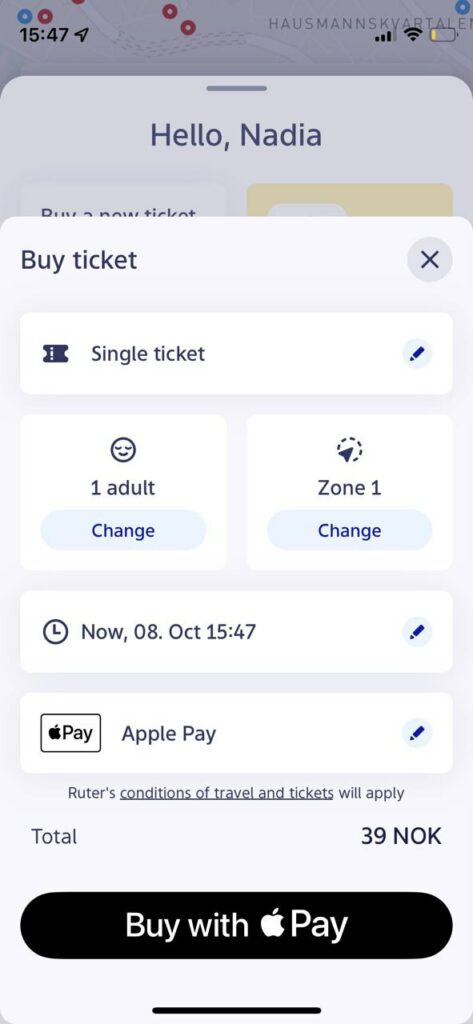 A travel pass is another option when traveling around Oslo. It is a top-up pay-as-you-go card (which itself costs $4) that you can buy in most kiosks. You cannot top up the travel pass with the Ruter app; it is possible only at sale points. I do not recommend this option; it is less convenient in an epoch of mobile devices.
Children below the age of 6 travel for free.
Dogs are allowed and also travel for free.
Helpful tip Buy a single ticket right before the trip because it is time-limited. If your access has expired and you are still on the train, do not worry – you will not be fined in case of inspection.
Oslo Pass (Oslo Card)
As of writing this article, you can either buy a physical Oslo Card at points of sale (e.g., Oslo Visitor Centre near the Oslo Central Station) or buy a digital pass directly via the Oslo Pass app (recommended).
Oslo Pass grants access to all public transportation in Zones 1, 2V, 2S, and 2Ø (including Lillestrøm, Nittedal, Asker, Ski, Nesodden, and Drøbak). You will also get free admission to 30+ museums, such as the Edvard Munch museum, Akershus Castle, Astrup Fearnley Museet, Nobel Peace Center, and many more.
Helpful tip The Viking Ship Museum is closed for renovation until 2025/26.
Oslo Metro Zones
Unless you travel far from Oslo, you do not have to worry about zones, as the entire metro network is in Zone 1, which is more than enough in most cases. If you are still interested – here is the map of public transport zones in Oslo.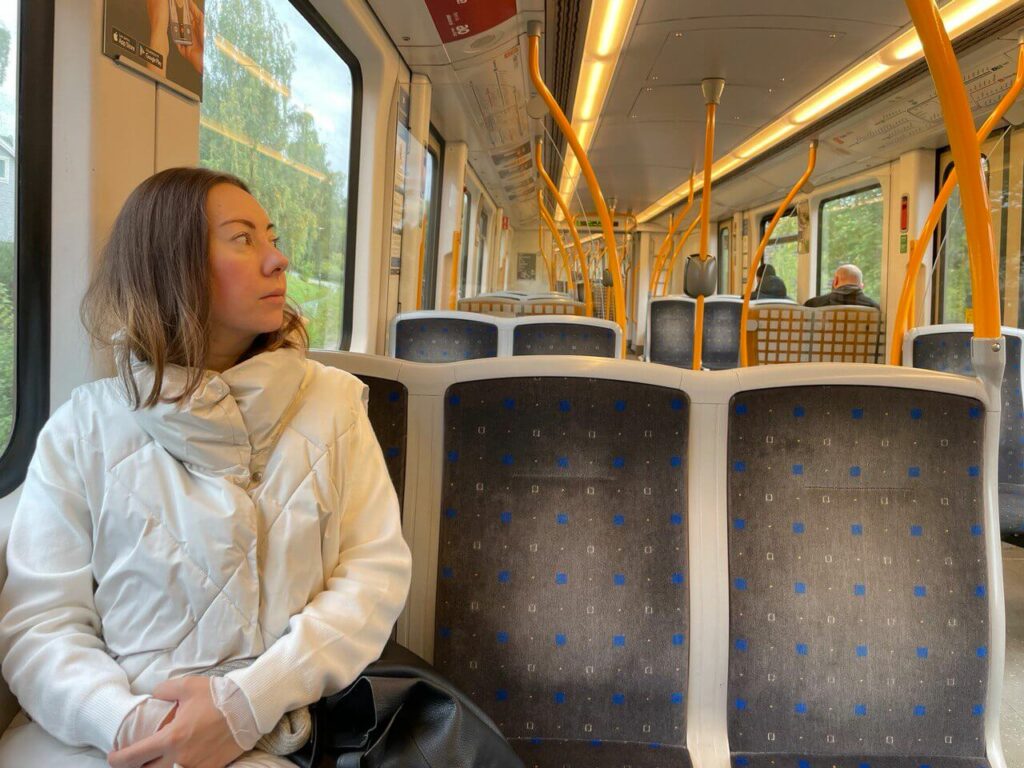 Additional Tips for Using the Oslo Metro
Use the Ruter app (sometimes, the validating machines are out of service).
You can drop off your scooter at the platform.
Line 5 is a loop, not a circle (although called a ring – "Ringen"). It goes in a loop before it turns up towards Sognsvann and Vestli, respectively. (Do not be confused, even many locals still end up with incorrect destinations while using Line 5).
There are random ticket checks, mainly in the central part of the metro network.
Ruter app + Google Maps are your best friends. The city is relatively small, so it is hard to get lost there.
Frequently Asked Questions
Scooter or Metro in Oslo?
Oslo is very scooter-friendly, and you can easily find them (I used the Bolt app there), even in Winter. Some things to remember are the weather and the service (which can be limited in Winter).
However, they have scooter models better equipped for winter conditions, so it is no big deal if you are an experienced scooter rider. So, remember to ride your scooter in bike lanes, follow the local rules and wear a helmet.
For the longer rides, I would recommend the metro in anyways.
Is there an App for Oslo Metro?
The Ruter app is a perfect choice for any traveler coming to Oslo.
The tickets you buy in the app are valid for the metro, buses, and trams simultaneously. The app also provides travel suggestions, zone calculations, and timetables and shows available bikes or scooters.
Is Oslo Metro 24-hour?
No, the Oslo subway system operates until 0:30-1:00 am.
Useful links
This post might include some affiliate links. If you make a purchase through these links, I may earn a small commission at no additional cost to you. I appreciate it when you use my links to make purchases.