What is California Known For? 38 Things California is Famous For
Nadia Podrabinek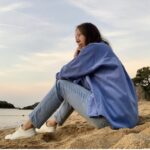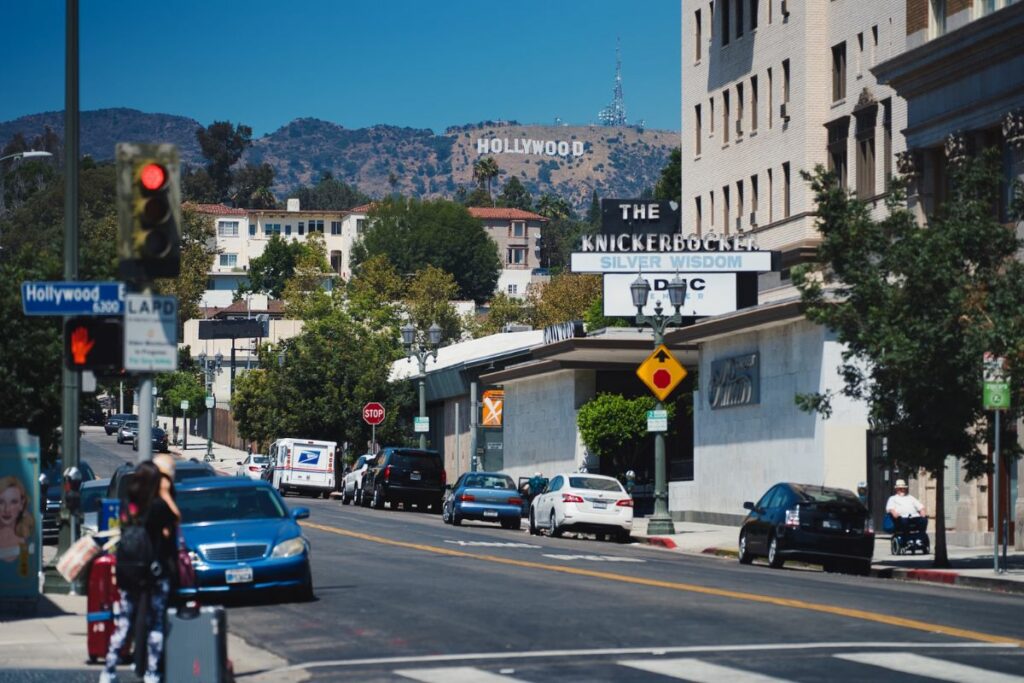 California is renowned for its famous landmarks like the Golden Gate Bridge, world-class cuisine and wines, and as a prominent filming location of iconic movies. It is the third-largest state in America and is divided into four geographic regions the Coast, Central Valley, Mountains, and Desert.
As you can imagine, there is no shortage of breathtaking landscapes if you love nature's serenity, the urban experience, or the ocean's playfulness.
But what exactly is California famous for?
The Golden State offers many opportunities to explore urban escapes, theme parks, and stunning beaches. You can immerse yourself in the state's vibrant history and diverse culture. Let's explore what California is known for and why it is one of the world's most popular tourist destinations!
---
Key Takeaways
If California is your dream beach vacation, include a road trip on the Pacific Coast Highway to explore the various beaches.
Ferries, electric scooters, and walking are the best ways to explore congested cities in California.
Indulge in wine country, Napa Valley, and explore the vineyards on horseback.
Before visiting any national park, check the websites for warnings, restrictions, and whether you require a permit or pass.
---
A Map of What is California Known For
Famous Natural Landscapes in California
California is massive, bigger than the country of Paraguay! When planning your travels, take into account the geographical region. This will allow you to avoid rushing through your vacation and ensure you don't miss out on the state's famous natural landscapes!
Famous Beach Destinations
California's coastal region provides endless fun and plenty of adventure. There are more than 400 public beaches along the state's 840-mile-long coastline. These are the most popular beach destinations in California.
1. Huntington City Beach, Orange County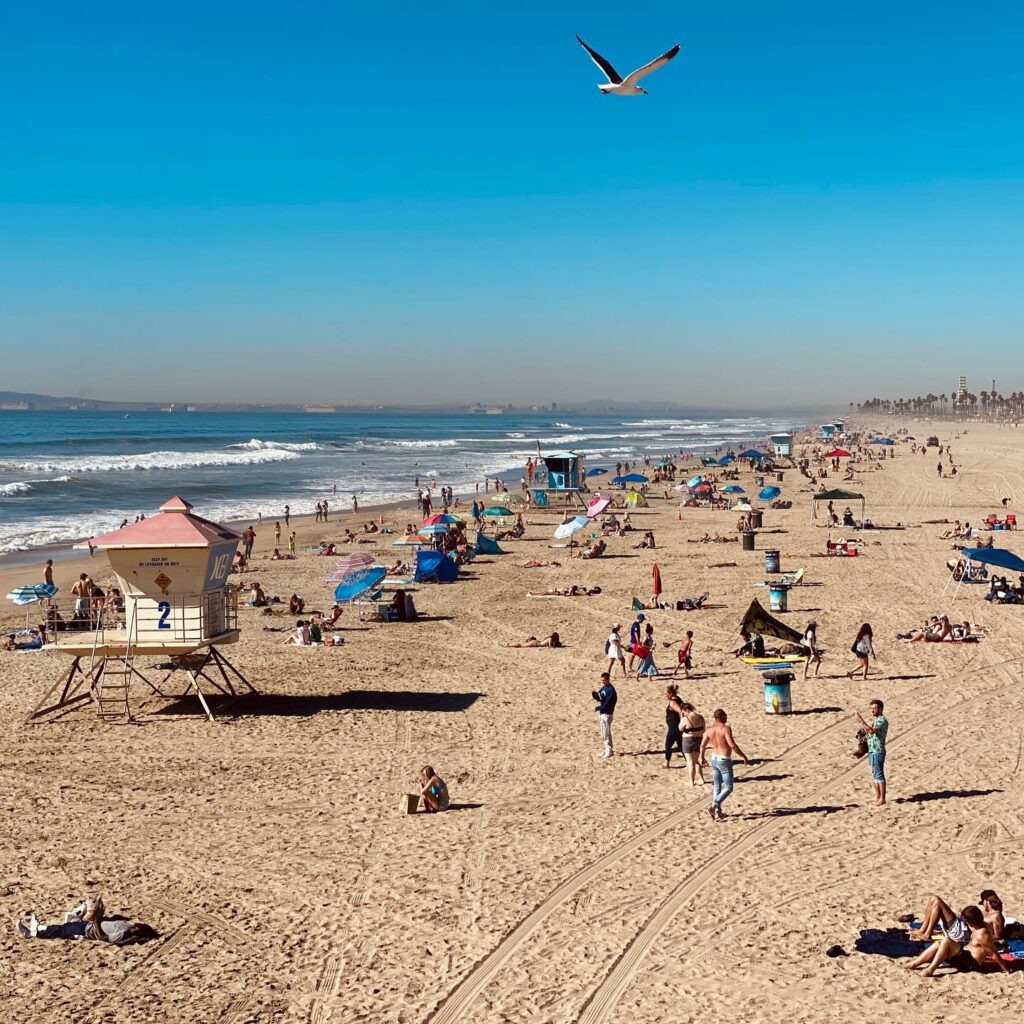 Huntington City Beach is famous as a world-class surfing destination located along the Pacific Coast Highway. It offers various family-friendly amenities, including volleyball, kayaking, whale watching, and exploring the boardwalk bike trails. Take a walk on the longest pier on the West Coast – Huntington Beach Pier – and catch the breathtaking sunset; you will not regret it.
You can explore Disneyland, The Huntington Surf Museum, and the downtown shopping area near the beach. There are exceptional dining options, including breakfast from Norm's, lunch at King's Fish House, dinner at Duke's, or opt for handcrafted gelato from PopBar.
2. Crystal Cove State Park, Laguna Beach
Crystal Cove State Park has three and a half miles of spotless beach surrounded by 2,400 acres of untouched wilderness. There are several activities to participate in, including bodyboarding, kayaking, fishing, and hiking. Reef Point is the best place to enjoy scuba diving, while Little Treasure Cove has plenty of tide pools to explore.
3. Santa Monica Beach, Downtown Los Angeles
Santa Monica Beach is one of California's most famous and busiest beaches. The Santa Monica Pier has appeared in countless movies and is a historical landmark. The pier is home to Pacific Park's Ferris wheel, and feel free to explore Heal The Bay Aquarium with your kids.
There are first-class restaurants and cafes to dine at and plenty to explore at the Third Street Promenade, just a short walk from the beach. You can easily catch a bus, bike rental, or walk to and from Santa Monica Beach.
4. El Matador State Beach, Malibu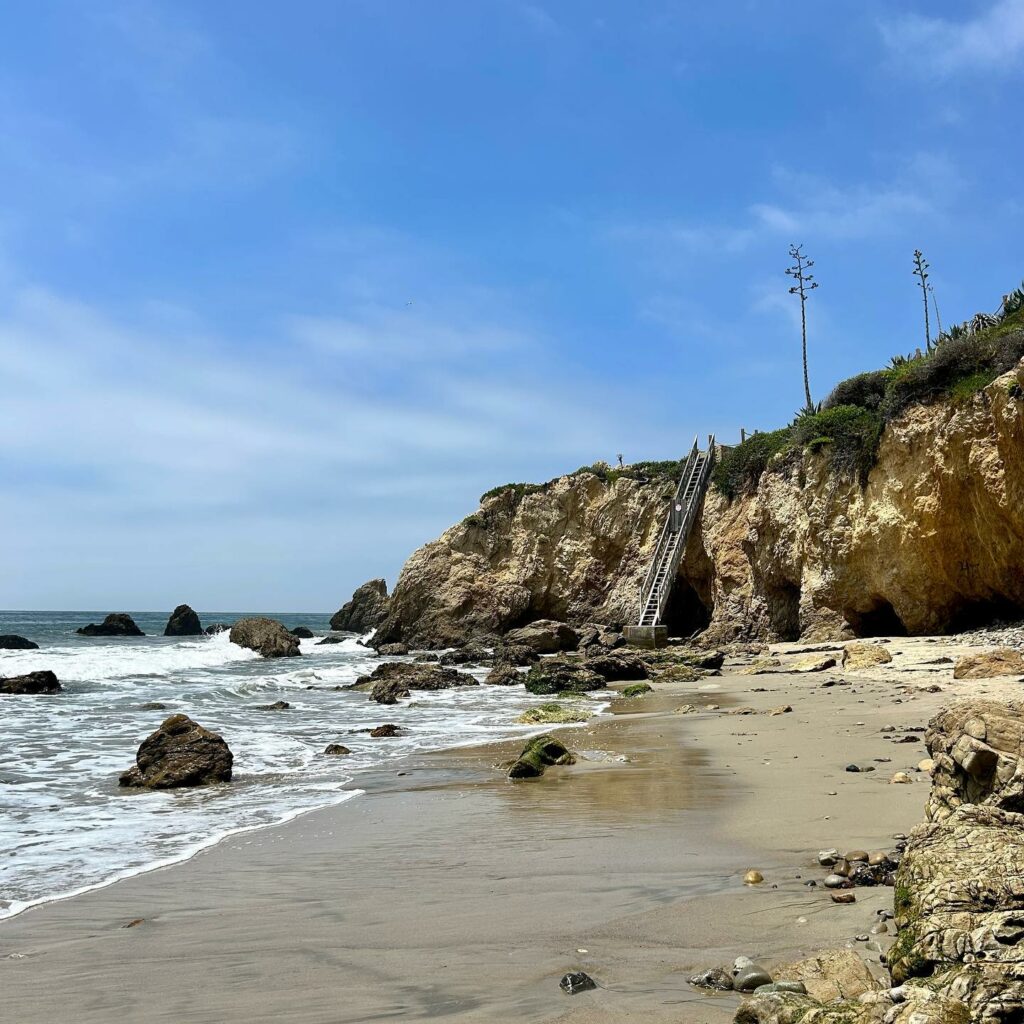 Some pristine beaches are along the Malibu coastline, and El Matador Beach is no exception. This secluded stretch of beach is surrounded by the Pacific Ocean's clearest, sparkling blue waters. This beach is popular amongst sunbathers and scuba divers. El Matador is well-known for its natural rock formations and dramatic sunsets.
One word of caution, El Matador has the steepest staircase and might be challenging for some.
5. Venice Beach, Los Angeles County
Venice Beach is located in the western part of Los Angelos County. This popular beach is known for its laid-back skate, surf, and beach culture. Venice Beach is vibrant and features a famous boardwalk full of eclectic street performers and artists.
I particularly loved the various attractions and activities, including rollerblading and surfing lessons, and I'll never forget Muscle Beach! It is a popular outdoor gym frequented by bodybuilders. The area is home to well-known restaurants, galleries, and shops, all walkable from the beach.
6. Pacific Coast Highway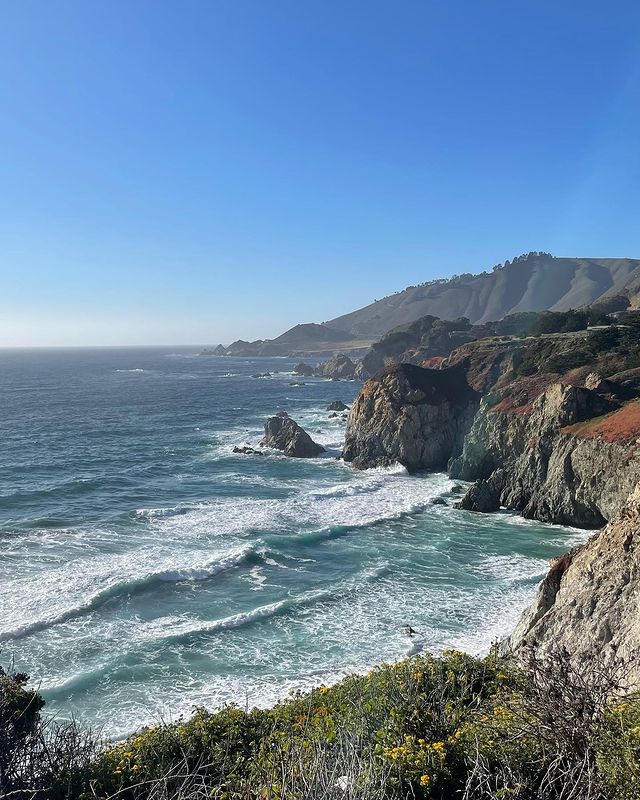 No vacation to California is complete without exploring the gorgeous Pacific Coast Highway. It begins in Leggett and spans 655 miles of breathtaking scenery along the Pacific coastline, ending in Dana Point, halfway between Los Angeles and San Diego. Along the way, you can enjoy stunning views and visit incredible places like the San Francisco Bay area, Big Sur, and Zuma Canyon Trailhead.
Driving the entire 655-mile Pacific Coast Highway can take between 12 and 16 hours, depending on traffic. However, you will make plenty of pitstops to appreciate and explore the natural wonders. My favorite places to stop include Humboldt Redwoods Park, Half Moon Bay, Monterey's Fisherman's Wharf, and Balboa Park.
National Parks
California is known for its beaches, but it is home to nine national state parks, more than any other state in the country. These are the top national parks to add to your travel itinerary.
1. Yosemite National Park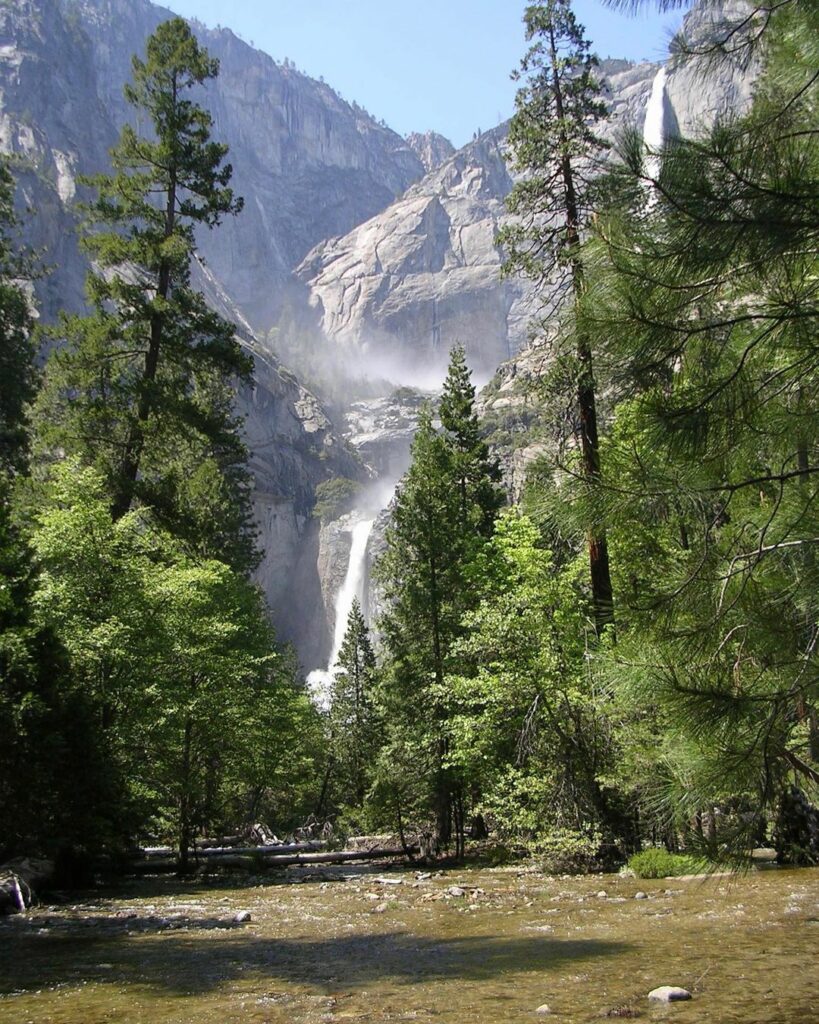 Yosemite National Park is one of the most visited in California's Sierra Nevada mountains. The park is known for its granite monoliths, waterfalls, untouched wilderness, and giant sequoia trees. Yosemite is open to explore all year round, where you can enjoy hiking, rock climbing, and fishing.
There are thirteen campgrounds in the park. But make sure you have permission and the correct permits to camp and hike the Half Dome. A quick travel tip: book your permits ahead of time when planning your travel itinerary.
2. Sequoia National Park
To view the world's largest and tallest sequoia trees, make sure Sequoia National Park is on your list. The park is in the Southern Sierra Nevada Mountains and is home to many ancient sequoia species. It is a popular tourist destination for outdoor recreation, including hiking, camping, and fishing.
You can do various hiking trails as a couple, friend group, or with kids. Children will enjoy hiking the paved Congress Trail. The trail leads to three of the biggest trees in the National Park: General Lee Tree, President Tree, and McKinley Tree.
You will need a vehicle to explore Sequoia. Check the Park's restrictions on their website regarding the type of vehicle. Some narrow and winding roads may be challenging for vehicles of certain lengths.
3. Death Valley National Park
Death Valley National Park is located in Southcentral California, bordering the Great Basin Desert in the Mojave Desert. It is the largest national park covering more than 5,000 square miles of desert terrain. Although the name might sound intimidating, Death Valley provides a range of attractions and activities, including vast valleys and dunes.
One of the park's main attractions is the Mesquite Flat Sand Dunes. The big attractions are the colorful sunsets and sunrises over the desert sands, the unique geology, natural rock formations, and salt flats.
Although known for its extreme heat, Death Valley is celebrated for spring wildflower displays and activities such as hiking, camping, stargazing, and birdwatching.
4. Joshua Tree National Park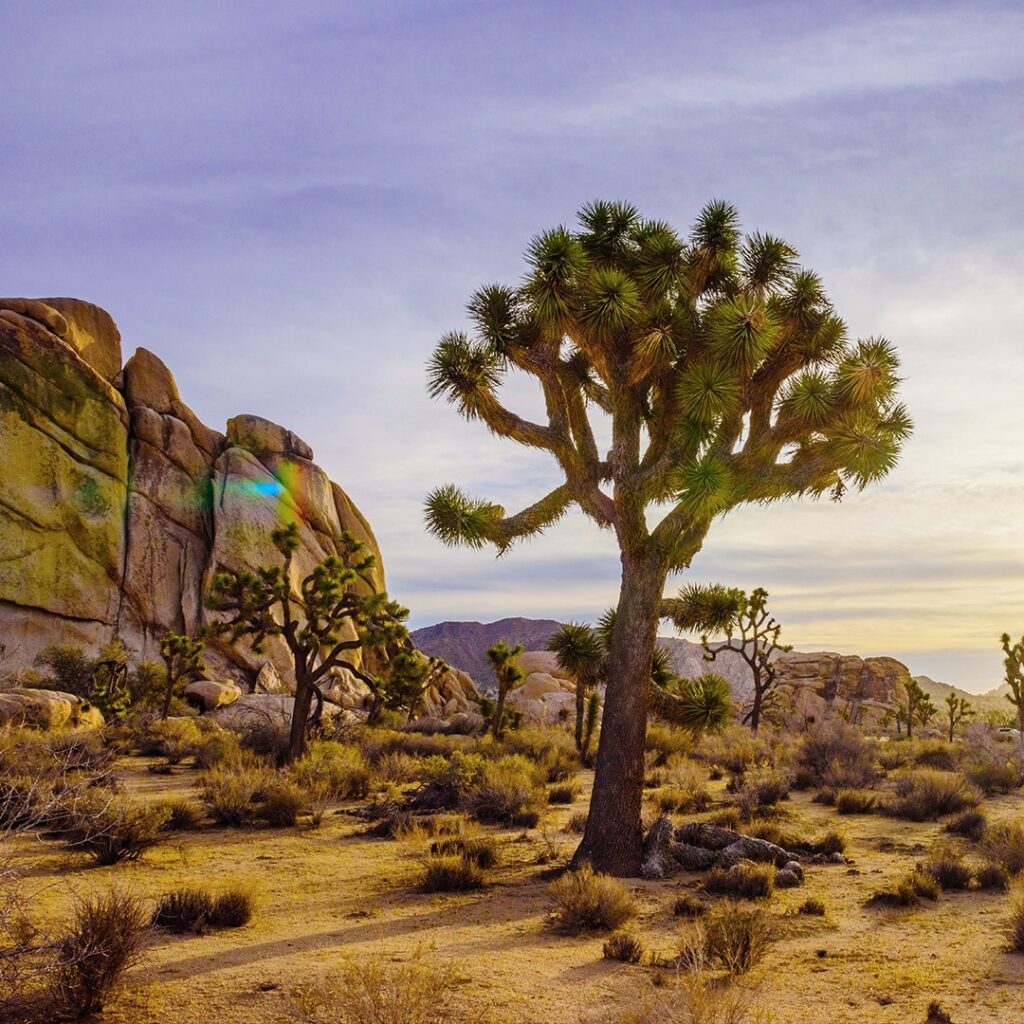 Joshua Tree National Park is located in the Mojave Desert. It is known for its unique rock formations like the renowned Skull Rock. The park's landscape is incredibly varied, with twisted Joshua tree forests, grasslands, and rocky outcroppings.
There are more than 250 species of birds, several rattlesnakes, along with a wide range of other plants and animals. Activities you will enjoy are hiking the Barka Dam or Indian Cove or exploring the 8,000 rock climbing routes. Catch a glimpse of the Milky Way from Cottonwood Campground or enjoy desert biking or horseback riding on the backcountry roads.
5. The Redwood National Park
Redwood National Park in Northern California boasts the world's tallest trees and ancient redwood forests. There are many redwood trees that are over 300 feet tall and 2,000 years old. Beyond the redwoods, enough attractions make the park worth seeing.
Redwood National Park offers various activities and attractions, such as coastal drives, hikes, scenic drives, and stargazing at the camping sites. The park's four campgrounds are dotted across the park, and there are some backcountry campsites too, providing you with 300 campsites in total.
Some of the best hiking trails to explore are
Tall Trees Grove Trail, which offers breathtaking views of Redwood trees standing 350 meters tall
Fern Canyon offers you a full view of ancient fern species
The waterfalls of Trillium Falls
Redwood National Park has no shops or restaurants, so plan ahead and pack enough water, food and snacks.
The Golden Gate Bridge, San Francisco
The Golden Gate Bridge is one of the most famous bridges in the United States. The Golden Gate Bridge has two endpoints that connect San Francisco to Marin County. It spans across the San Francisco Strait, which is a narrow body of water connecting the bay to the Pacific Ocean.
You can effortlessly book a free walking tour and learn about the history of the Golden Gate Bridge. Or enjoy a coffee at Equator Coffee on the bridge, taking in the views before walking to Baker Beach to explore the mile-long sandy shoreline.
The Hollywood Sign, Los Angeles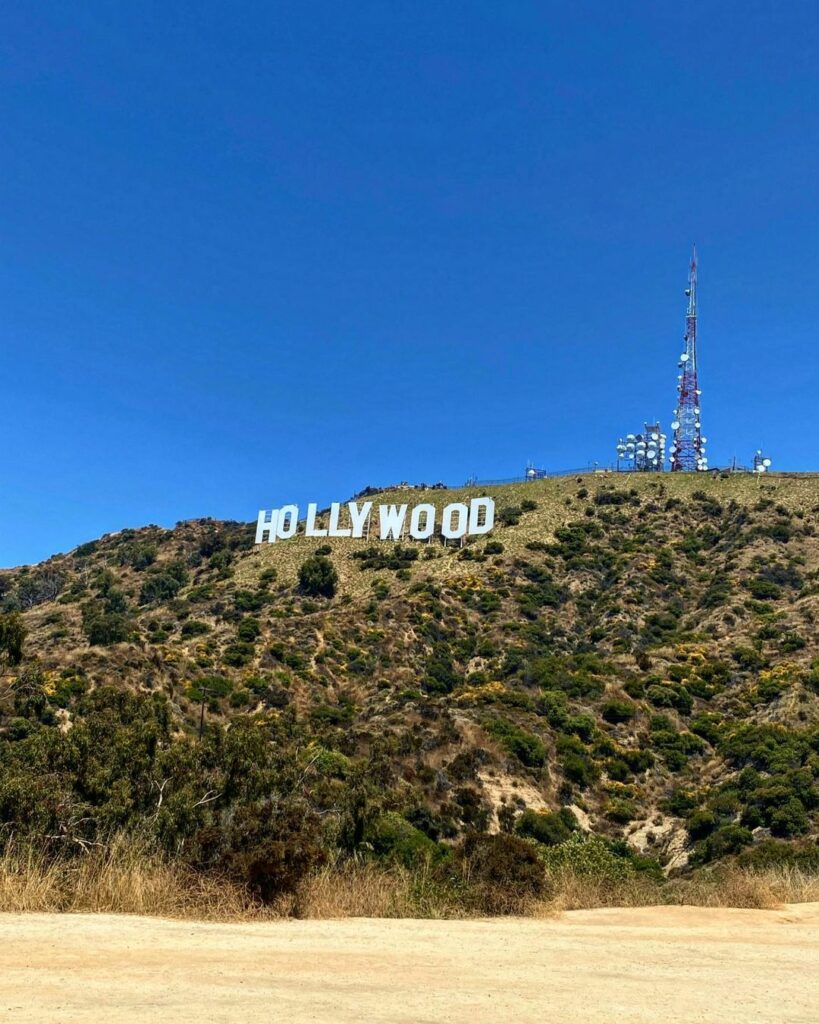 The iconic Hollywood sign is undoubtedly one of the most famous California landmarks, featured in various movies and television shows. The best way to fully explore the Hollywood sign is to spend a day hiking one of the many nearby trails. Depending on your fitness levels, there are varying difficulty levels, with the Cahuenga Peak trail being the easiest and shortest.
Alternatively, book a Hollywood horse riding tour, a private Ferrari drive, or a ten-minute helicopter tour to uniquely explore the Hollywood sign in the central valley region.
Painted Canyon, Mecca Hills
Painted Canyon is located in Mecca Hills, in Southern California. It gets its name from the various colors displayed on the natural rock formations. Varying shades of green, orange, pink, and red can be seen throughout the canyon, illustrating the different sediments and types of rocks that have settled over time.
Hiking through Painted Canyon allows views of wildlife, such as bighorn sheep and desert tortoises. The most popular hiking trail is the Ladder Canyon Hiking trail. The unique name comes from various ladders found on the path. You can explore waterfalls and a view of the Salton Sea or enjoy a short scenic tour by car.
Alcatraz Island
Alcatraz Island is home to the infamous abandoned prison and the oldest operating lighthouse on the West Coast. The island's rich history draws in tourists every year. There is, however, so much more to enjoy, including exploring the nesting seabird sanctuary and touring the remains of the Warden's House that caught fire in 1970.
You can only get there on a ferry from Pier 33. Due to the popularity of the prison tour, it is best to book your ferry ticket one month in advance. Since there is no parking by Pier 33, the best way to get there is by walking, taxi, or the city's BART transportation system.
Santa Cruz Island
Santa Cruz Island is a popular destination for exploring giant sea caves and cliffs. As well as being the largest island in California, it is the largest of the eight islands in the Channel Island archipelago.
The best way to explore the sea caves on the island's west end is with a kayak, snorkeling, or booking a diving tour to explore the popular kelp forest. The island is home to Montanon Ridge Loop, the highest point of Santa Cruz Island, and a challenging five-hour-long hiking trail for the adventurous. You can enjoy sleeping under the stars at the Scorpion Ranch Campground at the end of the hike.
The island is only accessible by ferry or booking a boat from Ventura. Bring your food and water from the mainland if you plan to hike and camp.
Lake Tahoe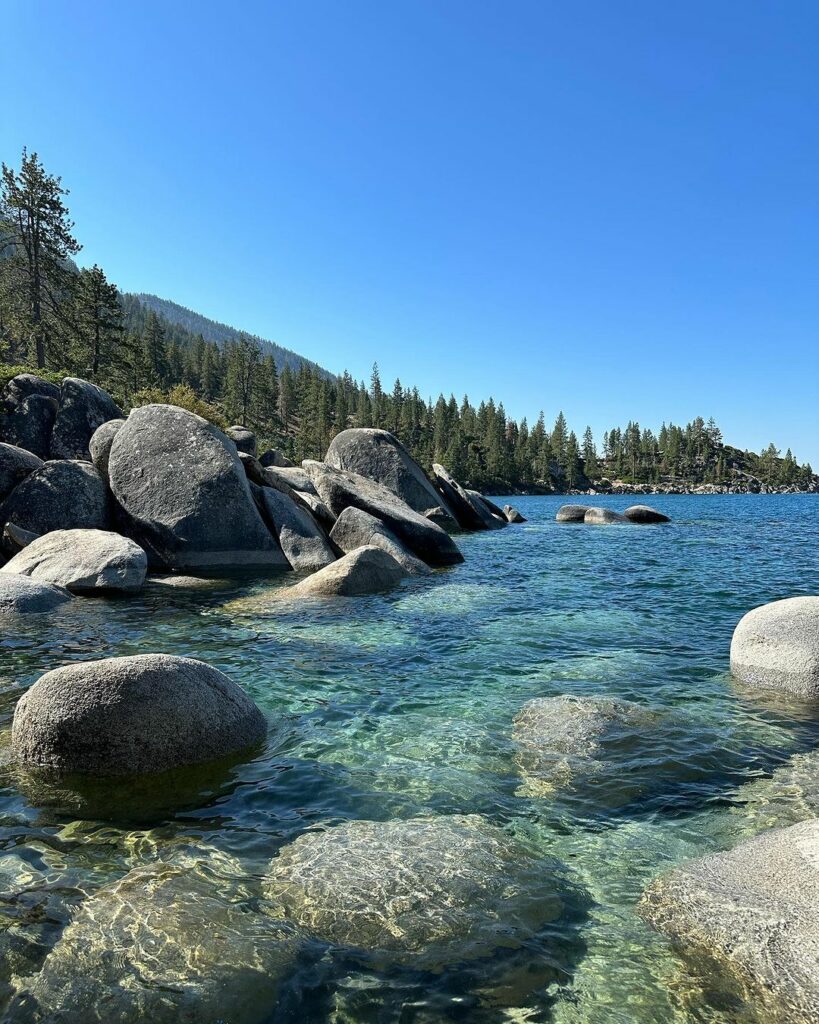 Lake Tahoe is the biggest freshwater lake on the border of California and the Sierra Nevada mountain range. The lake is popular for being an all-year-round tourist destination. Relax on the beaches in the summer and get your blood flowing at skiing lodges in the winter.
During the warmer months, there are plenty of outdoor activities, such as hiking, bike trails, fishing, and exploring the river by boat. There are numerous summer concerts on the beach, at Valhalla Estate, or the Tahoe Event Center.
Winter months are popular for skiing, snowmobiling, tubing, and winter sports. On the south side of the lake, you can enjoy the beer trails, lakeview dining, or enjoy a stay at a Casino resort. Traveling around Lake Tahoe is much easy without a car. You can easily book an electric scooter or bike hire, or catch a bus with Lake-Link.
Film and Entertainment Industry
When wondering "what is California known for?" the film industry undoubtedly springs to mind for most of us.
1. Hollywood
Located in the central region of Los Angeles, Hollywood has become synonymous with the American movie industry. You will find famous movie studios like Paramount Pictures, Universal Pictures, and Warner Bros here.
Hollywood is also home to the Academy Awards and Oscar stages and the renowned Walk of Fame. You must check out the Hollywood Museum if you love old Hollywood movies. It has the largest collection of Hollywood memorabilia, such as costumes and props.
Additional attractions to add to your bucket list are the Hollywood Bowl and Amoeba Music, the largest independent record store.
2. Universal Studios Hollywood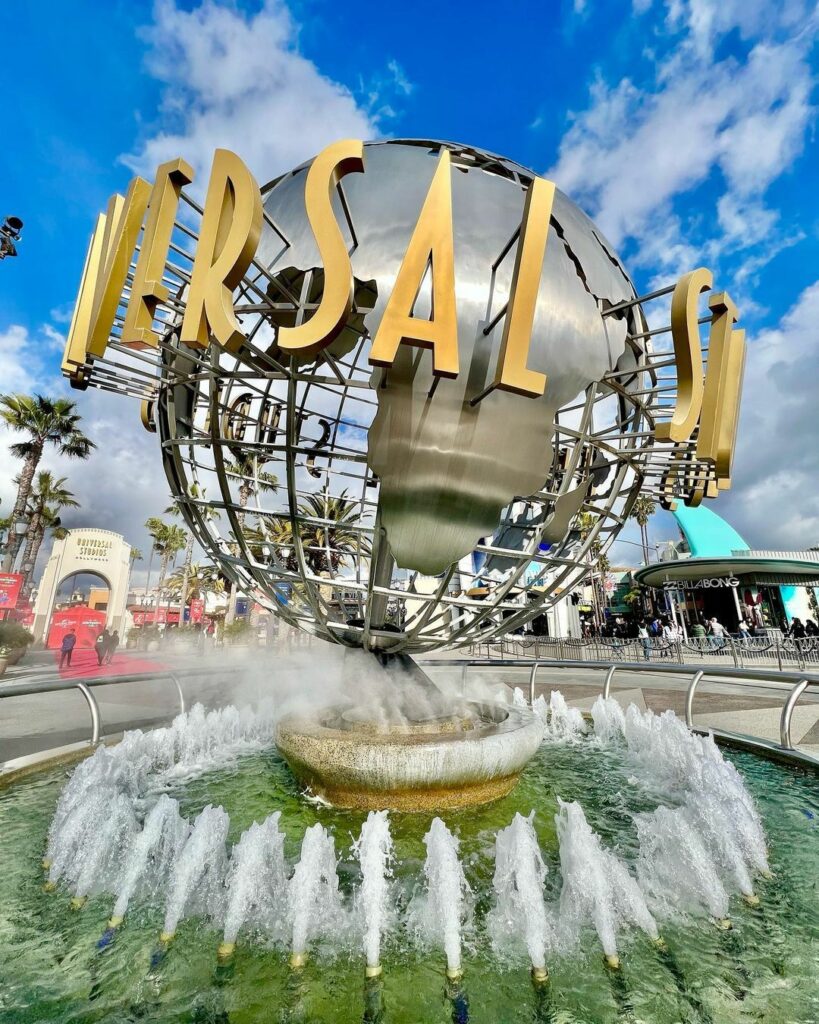 Universal Studios and Theme Park are in the Los Angeles San Fernando Valley and provide a variety of attractions inspired by famous film franchises, like The Wizarding World of Harry Potter.
There are countless rides for families and adults to enjoy. You can tour the largest working movie studio on a guided tour or join the VIP experience and get pampered like the star you are! Grab a cold brew at Duff Brewery Beer Garden for the Simpsons fans and experience why Homer Simpson loves the beer firsthand!
3. Disneyland Park
Located south of Downtown Los Angeles in Anaheim, Disneyland Park is the first theme park created by Walt Disney himself. It is also the second-most visited theme park worldwide and has served as inspiration for every other Disney park around the world.
Disneyland Park is divided into two main areas:
Theme park area where you will find Disney's California Adventure and Disneyland Park. Attractions include exploring the Haunted Mansion, riding the Incredicoaster, or hopping on the Jungle Cruise.
The Downtown Disney District is where you shop, dine, or unwind with live performances and some bowling.
If you plan to spend several days at the park, there are four hotels on-site, including Good Neighbor Hotel and Disney's Grand Californian Hotel.
Drinks and Food California is Famous for
1. A taste of the old and new
California's diverse culture blends the Spanish and Mexican heritage and East Asian and Oceanian flavors, which greatly influence its cuisine. The Cobb salad, the Californian roll, the In-N-Out burger, sourdough bread, and the Mission Burrito are exceptionally popular dishes in the Golden State.
2. Explore the official state foods
California is known for producing 80 percent of the world's almond crops, and the state has declared four nuts as its official state food (almonds, walnuts, pistachios, and pecans).
The Golden State is known for being the biggest producer of Hass avocados and naval oranges.
3. Enjoy wine country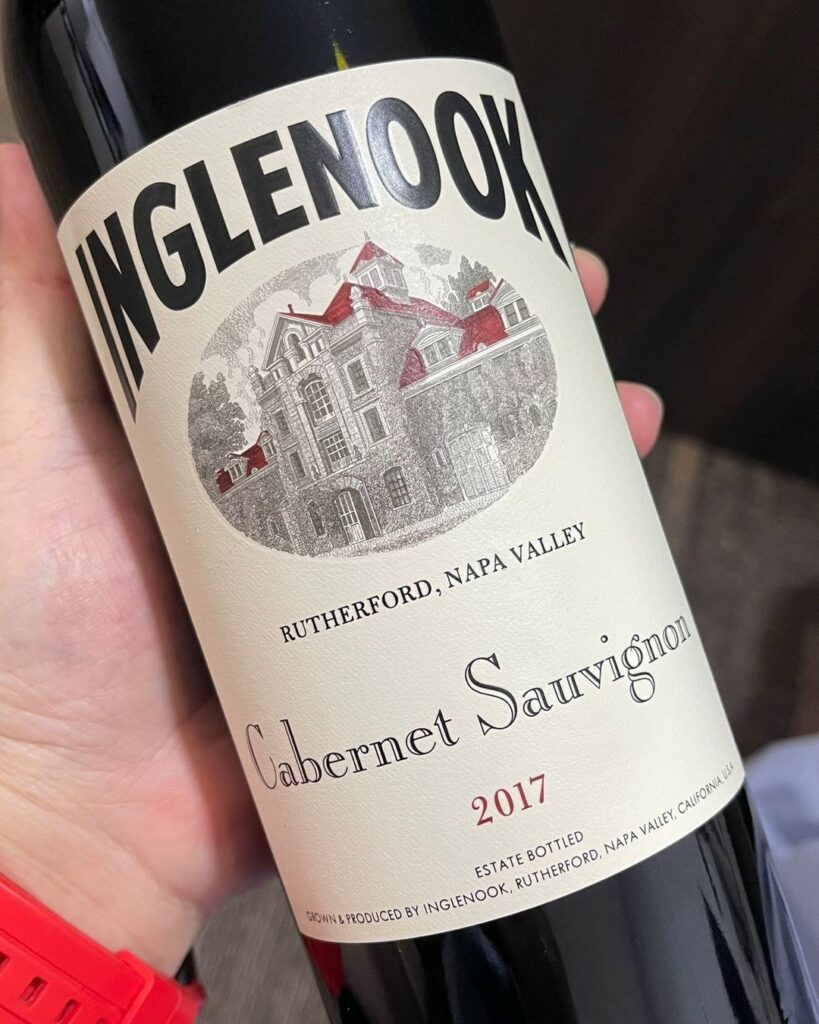 If you want to sample world-class wines, Napa Valley is located in Central California and is known for its Cabernet Sauvignon. On the other hand, the Russian River Brewing Company has become a renowned craft brewery, with the Russian River Pliny the Elder being a must-try in California.
Traditions California is Known for
California has a rich cultural heritage that is celebrated from the early American pioneers who settled in San Francisco to the California Gold Rush. These are the most popular traditions celebrated every year:
1. The Rose Parade
Also known as the Tournament of Roses, it takes place every New Year. Floats adorned with roses and flowers travel down Colorado Boulevard.
2. Día de los Muertos
This is the Day of the Dead, celebrated every 1st and 2nd November. The tradition originated 3,000 years ago with Meso-American cultures honoring deceased loved ones.
3. Frog Jumping Contest
The Celebrated Jumping Frog of Calaveras County is a book written by Mark Twain in 1865, but every year in May, the frog jumping contest continues.
Design and Architecture
1. I Spy Googie Architecture
California is known for its diverse architectural styles, from Victoria buildings to craftsman homes. A unique architectural style called Googie Architecture is unique to the state.
The Space Age influenced this unique style; think of the animated children's television show, The Jetsons. Googie incorporates neon colors, large plated glass, plastic, and stainless steel. Two popular examples of Googie architecture are The Union 76 station in Beverly Hills and the Theme Building at LAX.
2. Be Inspired by Cali Cool
What is California known for on the coast? It's beautiful beaches and a surfer lifestyle! Cali's cool design takes inspiration from surfers' laid-back, coastal, and beach-centric lifestyle. This decorating style incorporates neutral tones, cozy coastal furniture, natural textures, and light colors.
Sports in California
1. Surfing culture
California is one of the biggest surf destinations in the world. The largest surfing competition is held at Huntington Beach Pier every year. The Huntington Beach International Surfing Museum illustrates just how significant the surfing culture in California is.
2. California's professional sports teams
Basketball, football, and baseball are the most popular sport in the Golden State. The Los Angeles Lakers are the most prominent NBA basketball team, the San Francisco 49ers are the biggest NFL football team, and The San Diego Padres, the San Francisco Giants, and the Los Angeles Dodgers are the biggest MLB teams.
Most Popular Outdoor Activities
California has the most diverse national parks in the country, offering the most prominent outdoor activities: hiking, trail riding, and camping. The Pacific Crest Trail is the longest hiking trail in California. The hiking trail starts at the Mexican border in southern California and stretches 2,650 miles through California, Oregon, and Washington before reaching the Canadian border.
Winter sports like skiing and snowboarding are prevalent in California. Palisades Tahoe is the biggest ski resort in Lake Tahoe, with approximately 6,000 acres available for skiing and snowboarding across two mountains. The U.S. Snowboarding and Freeskiing Grand Prix are held at the Mammoth Mountain Ski Area in the Eastern Sierra mountain range.
Art and Culture
These are my top picks for anyone wanting to experience California's rich history, culture, and heritage.
1. The Getty Center, Los Angelos
The Getty Center's Paul Getty Museum is home to an extensive collection of art, painting, and sculptures from various periods. You can expect to explore and see famous pieces like Rembrandt's An Old Man in Military Costume and Van Gogh's Irises.
2. de Young Museum, San Francisco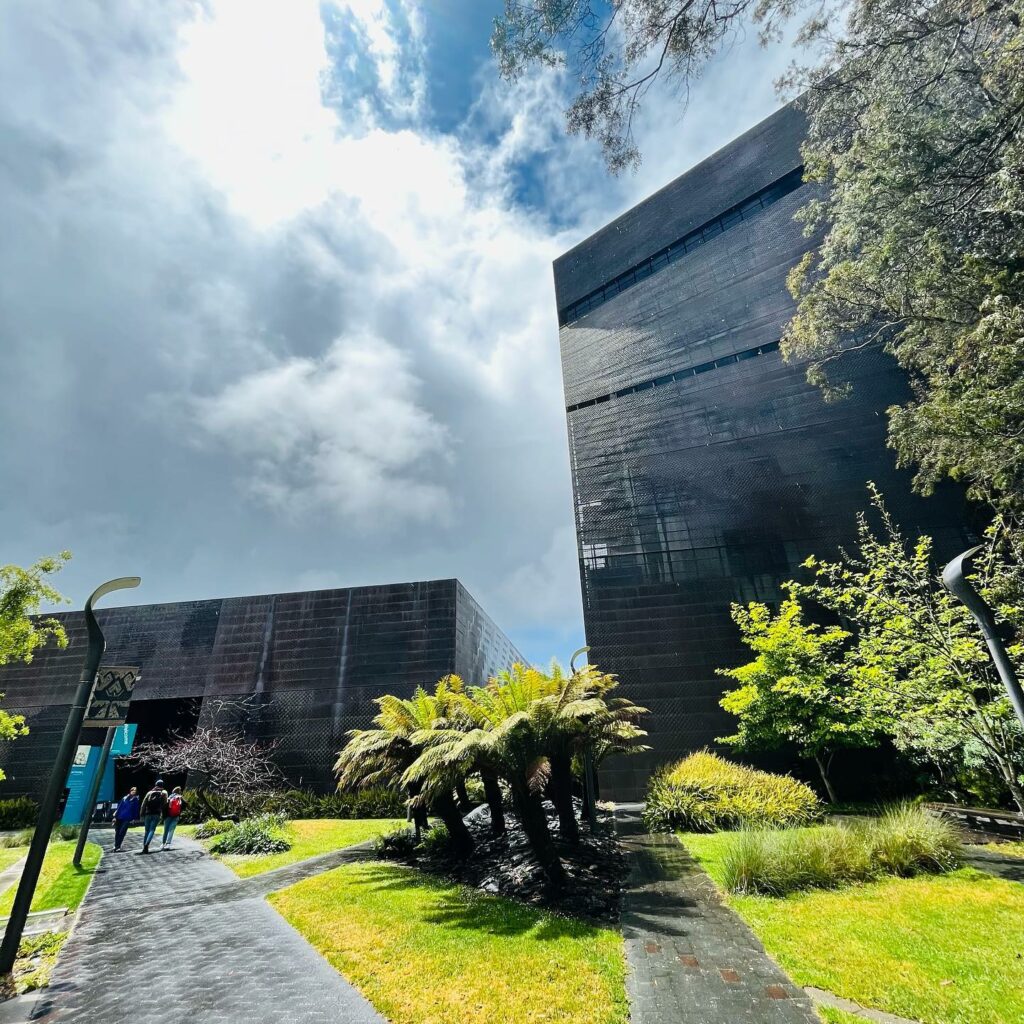 The de Young Museum in Golden Gate Park has an impressive collection of fine American art from the 17th to the 20th centuries. Learn more about the textile arts from Africa, Oceania, and the Americas.
3. Tijuana Local Walking Tour, San Diego
Tijuana, Mexico, is a quick trip across the border from San Diego. Although the town has a blemished reputation, the walking tour is rich with a colorful history, and the locals are welcoming and hospitable. On this walking tour, you can learn about the culture of Baja Mexico before enjoying a delicious feast from local eateries and some shopping at the El Popo Market.
Interesting Facts about California
The Californian State Flag's bear is now extinct. The flag colors and bear originated from The Bear Flag Revolt in 1846. The California grizzly bear on the flag represents strength and independence, and the star symbolizes that California achieved statehood without ever having been a territory. Now, about the colors: white represents purity, and red represents courage.
Before Beverly Hills became the playground of the rich and famous, it used to be a farm – a Spanish lima bean ranch.
California is known as the "Avocado Capital of the World." The town of Fallbrook hosts an avocado festival every year.
The Hollywood Bowl is the biggest outdoor amphitheater in the United States.
All major cities in California were linked to the east coast by railway in 1870.
Bad Things California is Famous for
1. Traffic congestion
California is notorious for traffic congestion, especially in Los Angeles, Sacramento, and San Diego. When planning your trip to the Golden State, consider alternative ways to get around the state.
California has the San Francisco Bay Area Rapid Transit District transport system (BART) that connects the Peninsula with the East Bay and South Bay communities. Most major cities provide electric scooters, bike share, streetcars, trains, and ferries to ensure convenient city travel.
2. High prices
California is an expensive state to live in and have a vacation. When planning your vacation, it is recommended you look for travel packages that include the attractions, hotels, and activities you would love to explore.
3. Natural disasters
The state has seen its fair share of natural disasters – droughts, earthquakes, flooding, mudslides and the occasional severe storm.
4. Wildfires
Although wildfires are classed as natural disasters, these infernos get their own section. The amazing natural areas are fuel for fires, especially in summer, which quickly get out of hand. Often residents must evacuate their homes – best to make sure your insurance covers fires!
Conclusion
California is a melting pot of oceans, deserts, mountains, and valleys. The people are friendly, the history and heritage are amazing, and plenty of sights and activities exist. It is easy to see why California is a popular destination with its diverse culture and famous landmarks.
Frequently Asked Questions
What makes California so special?
California is unique compared to most states for its exceptional diversity. It is home to various landscapes such as beaches, forests, islands, deserts, and freshwater lakes.
It is the ideal mix of natural beauty and city life.
California is home to Silicon Valley, a global hub of tech innovation and home to tech giants like Google, Facebook, and Apple.
The state's diverse history and heritage are evident in its Spanish and Mexican influences in food.
What are some fun facts about California?
– The hottest temperature recorded on Earth was in Death Valley. On July 10, 1913, temperatures reached a scorching 134.1 degrees Fahrenheit, and the record still stands to this day.
– California is known for being the first state to commercialize craft beer in 1977 by New Albion microbreweries.
– San Francisco's cable cars were selected as America's first moving National Historic Landmark in 1964.
What are some useful travel tips for visiting California?
Due to California's sheer size, plan your trip around the Southern, Central, or Northern regions. Visiting the entire state within a week is impossible; you need to have two or three weeks to explore. At the same time, book your passes and permits ahead of time if you plan on visiting National Parks.
Finally, if you rent a car, account for the time between destinations. California is known for congested traffic. A short trip that could be 10 minutes away can take up to an hour to get there.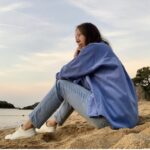 Hello, my name is Nadia.
I usually write about traveling (there are so many places to fit all the lifestyles), relocation (finding a job overseas or moving without losing an income), and living in a foreign country (adapting to a different culture and mentality). Follow me on Twitter, Facebook, Instagram, or LinkedIn!
This post might include some affiliate links. If you make a purchase through these links, I may earn a small commission at no additional cost to you. I appreciate it when you use my links to make purchases.