19 Best Glamping Spots in California in 2023: Glamping Guide 
Nadia Podrabinek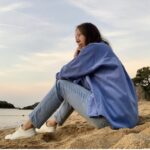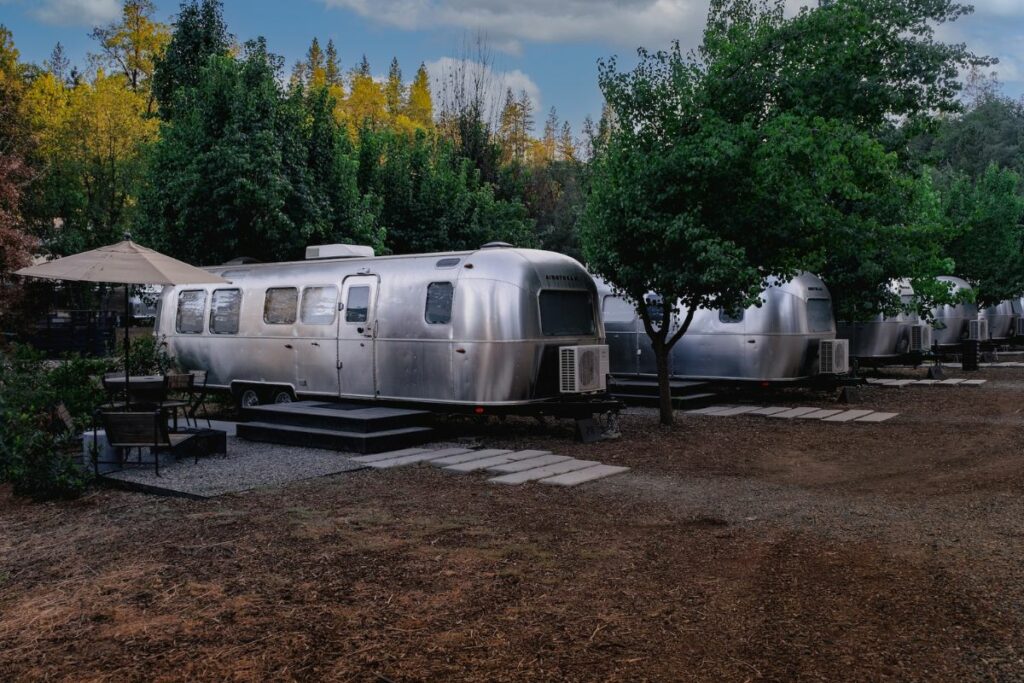 Ever wanted to go camping in nature, but got confused about having to spend the night in an uncomfortable tent, set it up yourself, find a sleeping mat or air mattress, and figure out where and how to cook? Over the years, this idea started to puzzle me. I longed to venture into the great outdoors without giving up my usual comforts and everyday amenities. Turns out, there's a solution already in place – a new style of outdoor recreation known as glamping, a combination of "glamorous" and "camping."
Glamping offers the best of both worlds. It's all about enjoying the comforts of home while immersing yourself in nature. And guess what? Glamping is quite popular in California, offering a variety of options that combine outdoor activities with luxurious amenities.
Every corner of California's picturesque natural parks, forests, coastal zones, and mountainous terrain has glamping opportunities. You'll find stylish tents, yurts, treehouses, trailers, and cabins that come equipped with all the essentials—comfy beds, mini-kitchens, bathrooms, and even heating and cooling systems to adapt to different weather conditions.
Glamping in California is a fantastic way to experience nature without sacrificing your preferred way of living. So why not give it a shot? Embrace the comfort and indulge in the beauty of the great outdoors!
---
Key Takeaways
California is one of the top destinations for glamping.
Big Sur, Joshua Tree National Park, Sonoma, Santa Barbara coast, Yosemite National Park, and Mendocino take the spotlight as the main areas to explore.
For a truly unique experience, check out the Joshua Tree Remote Desert Bubble Dome.
For winter glamping options, Treebones Resort, AutoCamp in Yosemite, El Capitan Canyon, and Costanoa Lodge in Pescadero are among the best spots.
---
Best Glamping Spots in California Map
Why Glamping?
First off, glamping is a fresh approach to travel that has garnered many supporters who seek outdoor recreation without the usual discomforts. Some people resist traditional camping, perceiving it merely as an invitation for bugs to stick to their bodies and for dirt to cake under their nails.
However, glamping swoops in to resolve these issues, allowing tourists to revel in the beauty of nature without sacrificing comfort. Who knows? Perhaps someone introduced to the outdoors through glamping will eventually decide to pitch their first homemade camp.
The Best Spots for Glamping in California
1. Ventana Campground, Big Sur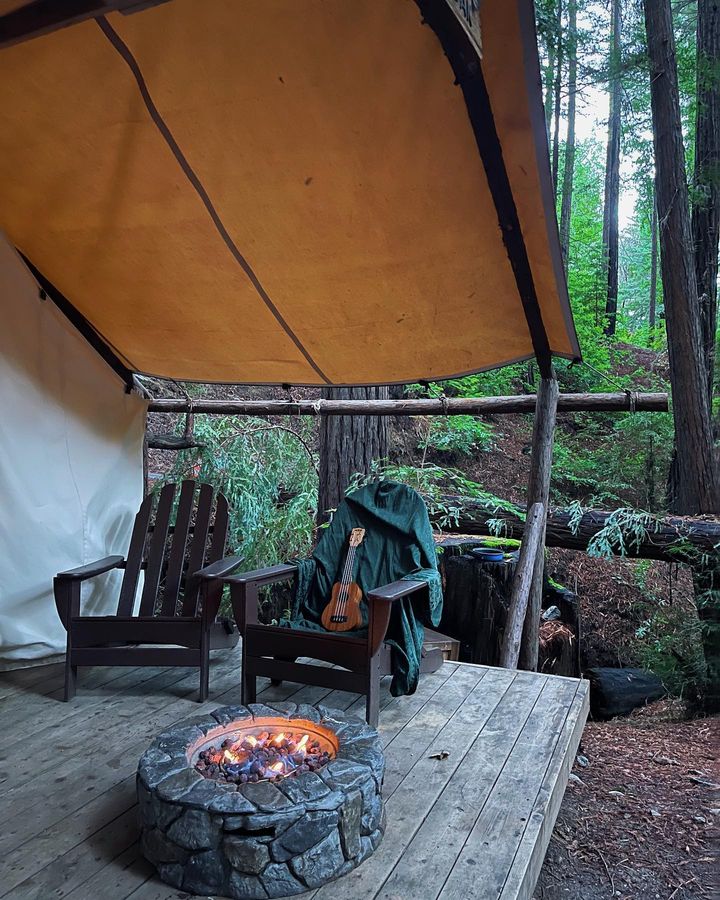 Ventana Campground in Big Sur is a well-known camping site split into two sections, offering both traditional camping and glamping.
The Glamping Tent Cabins at Ventana Big Sur embody the very definition of glamorous camping. These accommodations feature comfortable, luxury beds and high-quality bed linens and towels that match the standards of the neighboring resort.
The cabins also come equipped with several storage boxes, ample lighting, and electrical outlets on both sides of the bed. The tents' interiors are lined with mesh, allowing guests to open the outer windows for fresh air without the intrusion of insects.
On the tent cabin's deck, you'll find a sink with hot and cold potable water, a mirror, a propane fire pit, deck chairs, and a picnic table. Ventana Glamping guests also have access to the elegantly designed bathhouse, featuring chic lighting, wood paneling, and white subway tiles. The bathhouse provides real showers stocked with trendy soap and shampoo.
Prices
The cost of a cabin tent is $280 per night, with parking available directly behind the tents.
The best and safest way to reach Big Sur is by car. It's approximately three hours south of San Francisco or five and a half hours north of Los Angeles.
Activities
The campground and surrounding area offer a variety of leisure activities. On-site, you can enjoy a spa, while Big Sur itself is a hotspot for biking, hiking, kayaking, diving, surfing, and an assortment of hiking trails of varying difficulty levels.
Helpful tips
Eight Tesla charging stations are available on-site.
A pet fee of $75 covers the entire stay for up to two dogs, providing a dog bed, treats, and a water bowl.
The tents are not locked when you're away, so I recommend carrying valuables with you or storing them in your car.
2. Mendocino Grove, Mendocino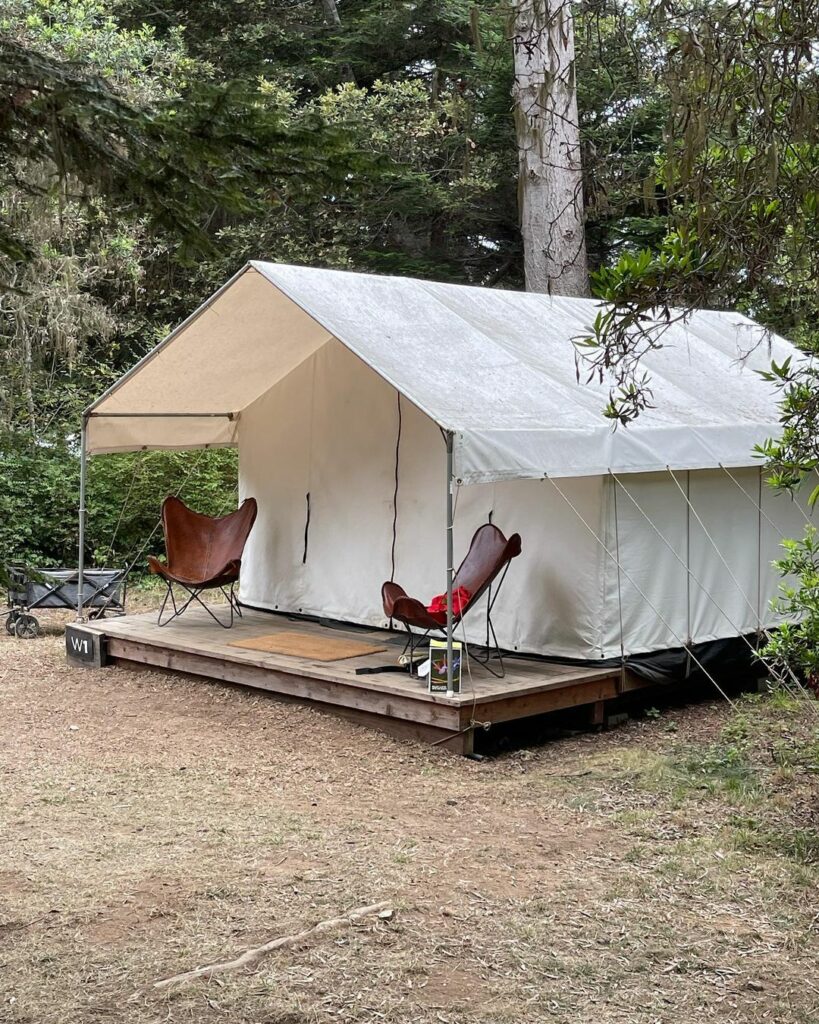 Mendocino Grove offers glamping on a 37-acre site in the coastal town of Mendocino. Visitors can choose from 60 chic safari-style tents, varying in type, all equipped with comfortable furniture, heated beds, down blankets, crisp cotton bedding, lanterns, and outdoor relaxation areas. Each tent comes with its own bathroom and shower. Additionally, each site features a picnic table, a grill area for campfires, a shared sauna complex, and common gathering spaces.
Added perks include a complimentary breakfast featuring delicious yogurt, morning yoga classes with an instructor, and even a wood-burning valet service to start your fire.
Prices
Prices range from $199 per night for a standard tent to $329 for premium tents.
Mendocino Grove is a pet-friendly glamping site. A pet fee of $35 per night is charged, with a maximum of two pets per reservation. Parking is available adjacent to the tented area.
Amenities specifically for dogs include:
Dog washing station equipped with hot water, shampoo, and towels.
Dog park.
A dog bed and bowl are provided in the tent upon arrival.
Activities
Mendocino Grove is situated next to Mendocino Headlands State Park, where you can explore beach and coastal trails, marvel at the ocean views, and visit local shops.
Helpful tips
Bedside lamps come with a USB port for charging compatible devices.
A heated blanket is provided for a cozy night's sleep, ensuring you won't be cold.
One downside noted by guests is the proximity of the sites to one another, which could potentially compromise your privacy.
3. Safari West, Santa Rosa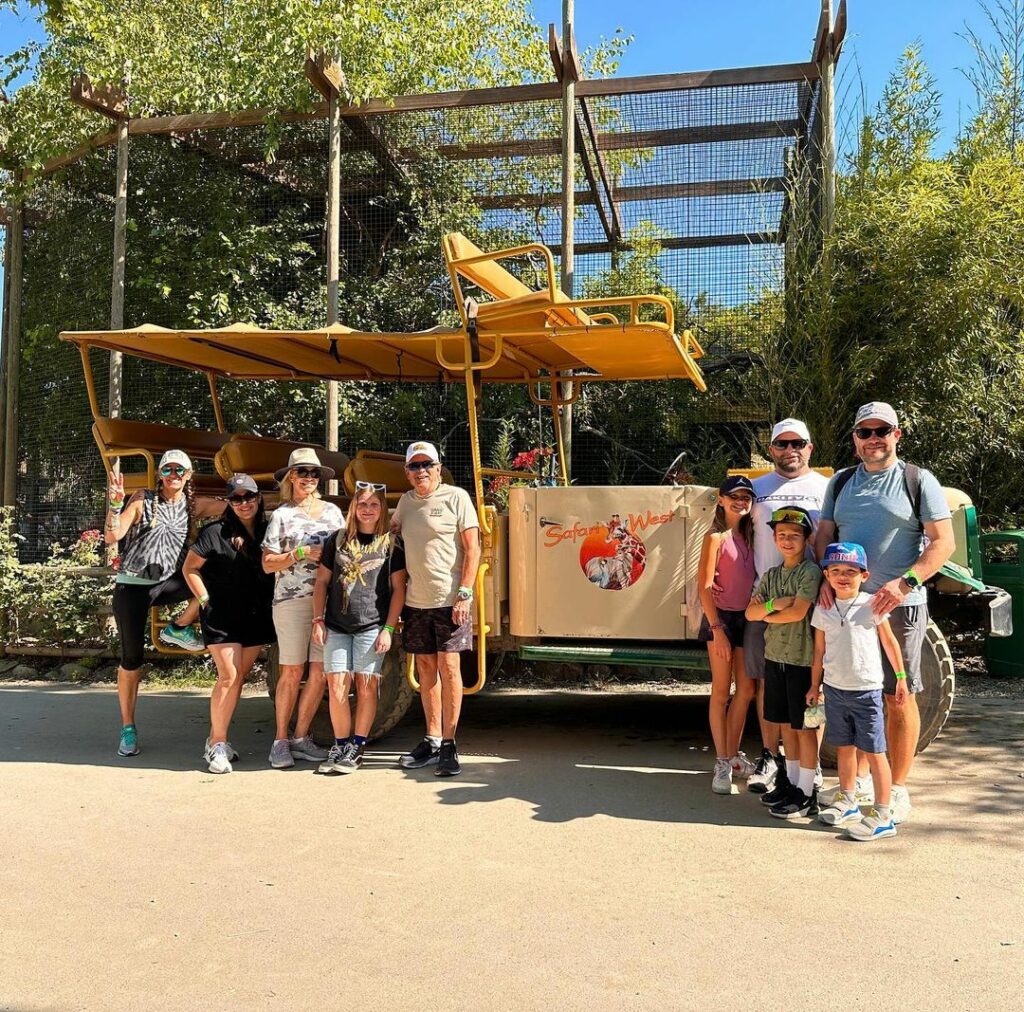 Safari West is a wildlife sanctuary nestled in Santa Rosa. The preserve houses approximately 900 species of animals, including rhinos, giraffes, zebras, cheetahs, and various birds. Guests can encounter these diverse species on safari tours organized by the reserve.
Beyond wildlife exploration, Safari West offers luxury glamping in tent camps amid the thriving fauna. These safari tents are plush accommodations furnished with hardwood floors, orthopedic or king-size beds, and fully equipped bathrooms. A complimentary buffet breakfast is provided for all guests.
Prices for a tent per night for two start at $440.
Activities
Safari West organizes safaris in the morning and afternoon according to a set schedule. For an additional fee, you can enhance your private safari with wine, beer, and snacks. The sanctuary also hosts meetings, retreats, team-building days, birthdays, bar mitzvahs, and much more!
Helpful tips
While the sounds of nocturnal wildlife might seem intimidating, they contribute to an authentic wilderness experience and pose no safety threat. However, be prepared for possible early awakenings due to the calls of wild geese during mating season.
Safari West is an excellent destination for families as children will find it fascinating to interact with animals in their natural habitat.
4. Autonomous Tent at Treebones Resort, Big Sur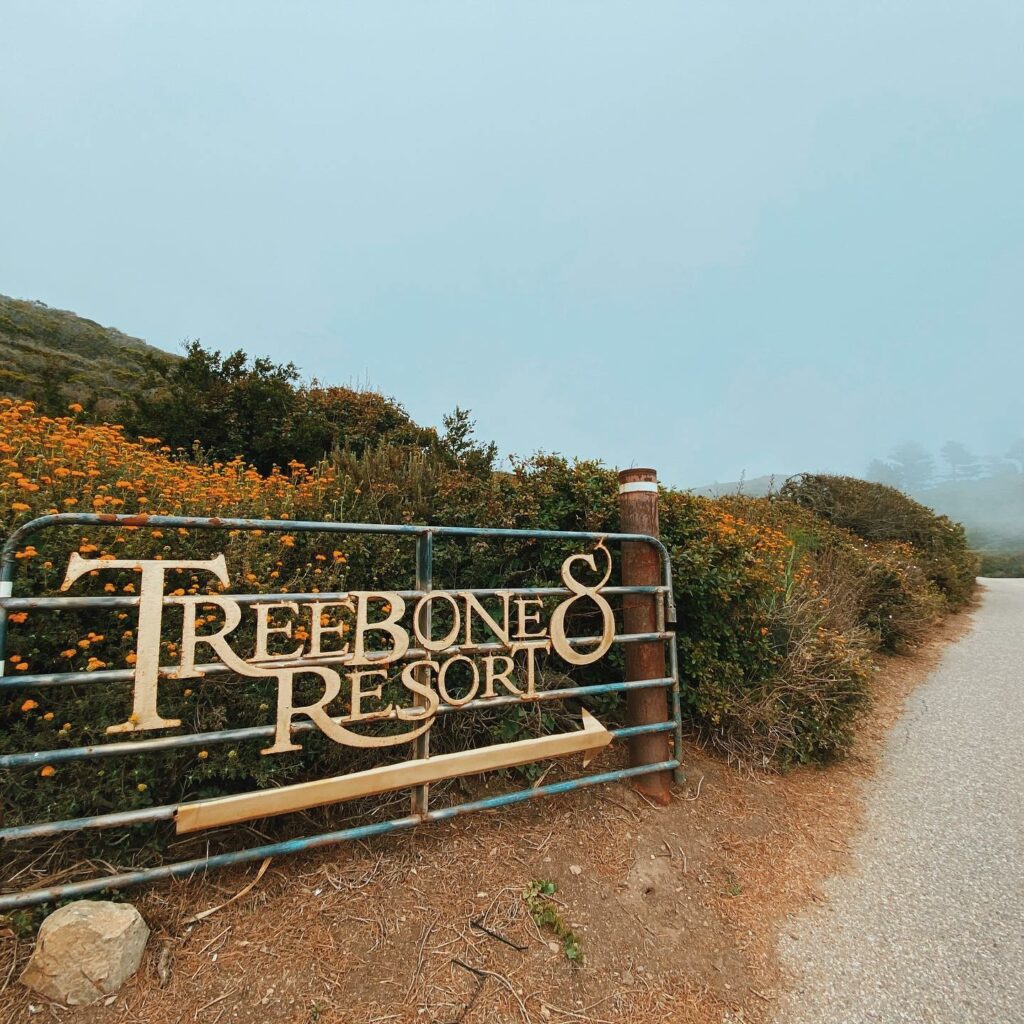 The Autonomous Tent at Treebones Resort in Big Sur provides an accommodation experience that melds eco-friendliness with luxury.
With its round shape, the structure seamlessly blends into the natural landscape. Modeled after traditional Mongolian yurts, it's constructed from environmentally friendly materials. The resort affords stunning ocean views and mountain landscapes, which is definitely a good thing.
The interior features comfortable king-size beds, warm blankets, a sink with hot and cold running water, bath and hand towels, and a living area. However, the men's and women's bathrooms and heated showers are located in the central main house. The distance from the yurts and campsites to these facilities varies, requiring a 1 to 3-minute walk depending on your yurt's location.
Activities
Treebones Resort boasts a farm-to-table restaurant, massage services, a hydromassage hot tub, a swimming pool, yoga classes, and hiking opportunities. The yurts are designed for two people, with only a couple of them being family-friendly.
Prices vary based on the type of yurt, ranging from $230 to $945 per yurt. The resort also offers campsites for $105, where guests can pitch their own tents.
Helpful tips
Reservations require a minimum of two nights, which some guests find inconvenient if they prefer a one-night stay.
Children under 13 are not allowed.
5. Boon Glamping, Guerneville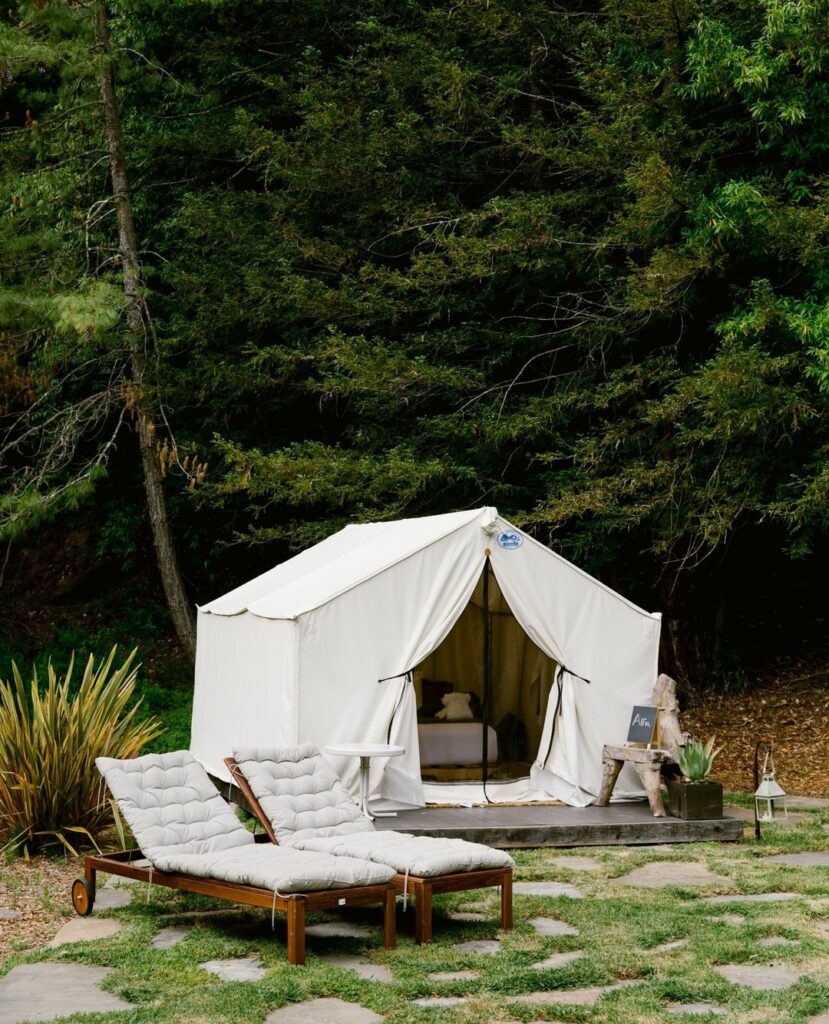 Boon Hotel and Spa in Guerneville offers visitors the luxury of glamping alongside their high-class accommodations. In addition to its various room levels, the hotel features a designated area for glamping with cabin-style tents. Surrounded by redwoods, the camp area provides a lovely setting for outdoor recreation.
The glamping tents, available from May through October, offer organic bed linens and towels, a queen-size platform bed with plush mattresses, Malin+Goetz bath products, a flashlight, and healthy patio breakfasts for glampers. They also provide a charming mini-bar. The outdoor bathrooms include two enclosed toilets and showers.
This glamping spot is exclusively for adults seeking a bit of privacy. Unfortunately, it's not suitable for children.
Activities
Guests can partake in hiking and cycling, unwind in the 24-hour hot tub and avail massage services at the spa, or indulge in evening dinner and wine tasting.
Glamping tents start at $235 per night.
Helpful tips
Children are not allowed.
The glamping tents are not dog-friendly.
This venue is perfect for group holidays.
6. The Castle House Estate, Joshua Tree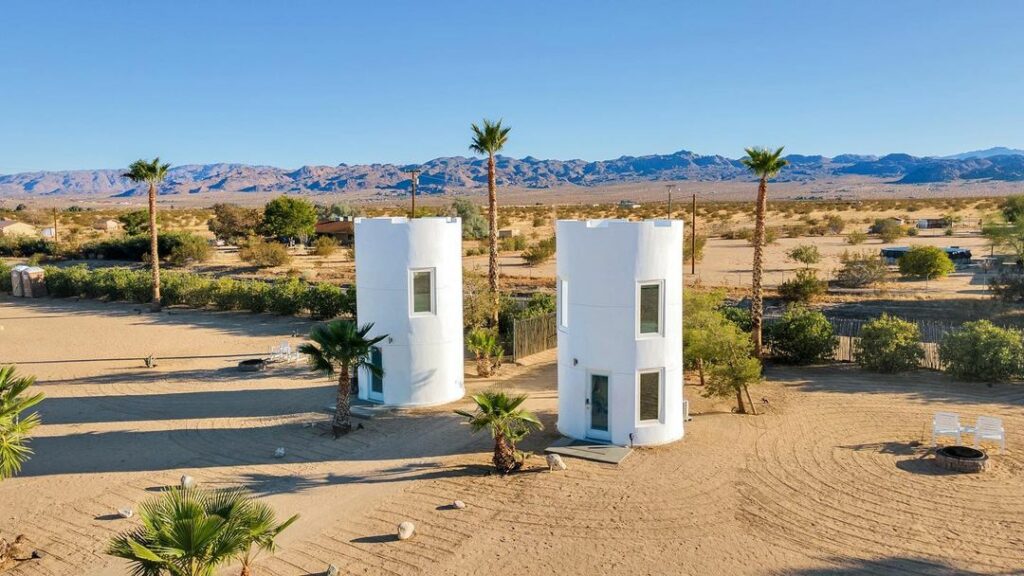 The Castle House Estate is a luxury vacation rental located near Joshua Tree National Park. This unique, medieval-themed hotel is set on 12 picturesque acres of desert landscape. It has been awarded the Traveler Review Awards 2021 by Booking.com.
The property features yurts and container homes, all situated at comfortable distances to ensure privacy. There's also the option to rent an entire house with three bedrooms and two bathrooms.
Activities
The jewel of the Castle House is its hexagonal, sea-green pool, surrounded by elegant wooden decking. Here, guests can immerse themselves in nature, enjoy swimming during the day, go on night walks, and sit by the fire. Sunrise viewings and stargazing are also popular activities. It's a family-friendly location where you can also host special events.
The cost varies based on the accommodation type, with yurts starting at $228 per night.
Helpful tips
You can rent a movie to enjoy in a separate mini-cinema room.
Room service is available until midnight, and firewood can be ordered late into the night.
7. JTHAVN-Joshua Tree Remote Desert Bubble Dome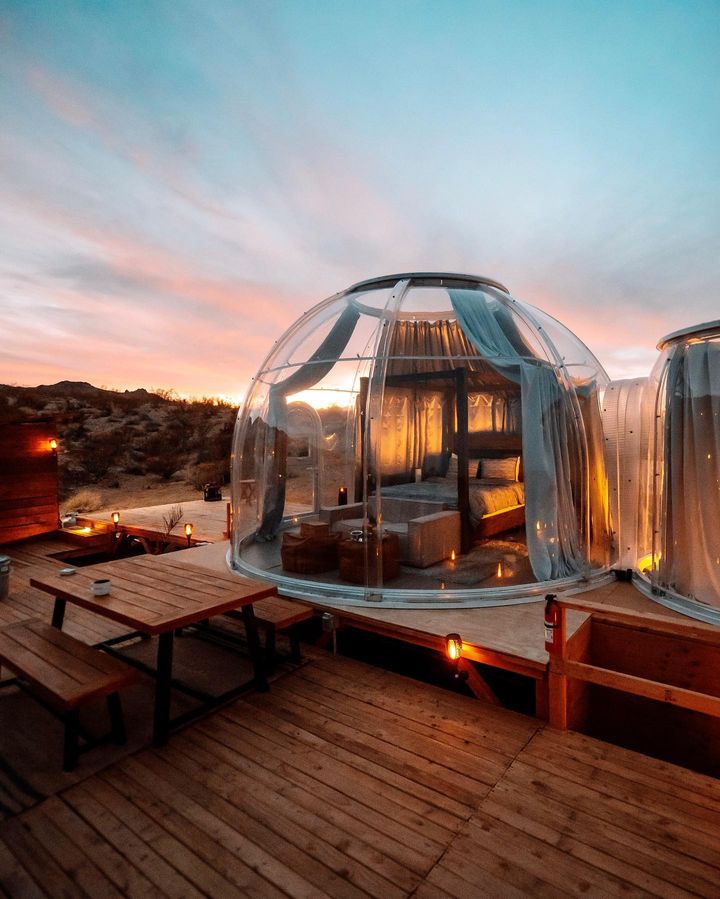 The Remote Desert Bubble Dome in Joshua Tree offers a unique lodging experience. Here, you'll reside in a transparent dome surrounded by the serene desert landscape, allowing for panoramic views of the sky and nature from a comfortable, protected environment.
Activities
Experience the striking contrast of the vibrant desert landscape by day and the twinkling starlit sky by night from the comfort of your dome. All domes are equipped with air conditioning and a fully stocked kitchen for meal preparation. You can also enjoy a barbecue on the terrace or unwind in an outdoor Japanese bath.
Prices
Prices start from $460 per night and vary depending on the date.
The nearest airport is Palm Springs International Airport, situated 62 km from the campsite.
Alternatively, if you're looking for a less exotic but equally convenient accommodation, consider the fully equipped auto camp. Prices start from $220 per night. You can explore this option on the following website and choose the RV option: https://autocamp.com/joshua-tree/
Helpful tips
A 4×4 vehicle is recommended for reaching your transparent dome.
Heating is provided by gas cylinders, so be prepared to spend time warming up the dome in colder weather.
8. Sonoma Treehouse Adventures, Occidental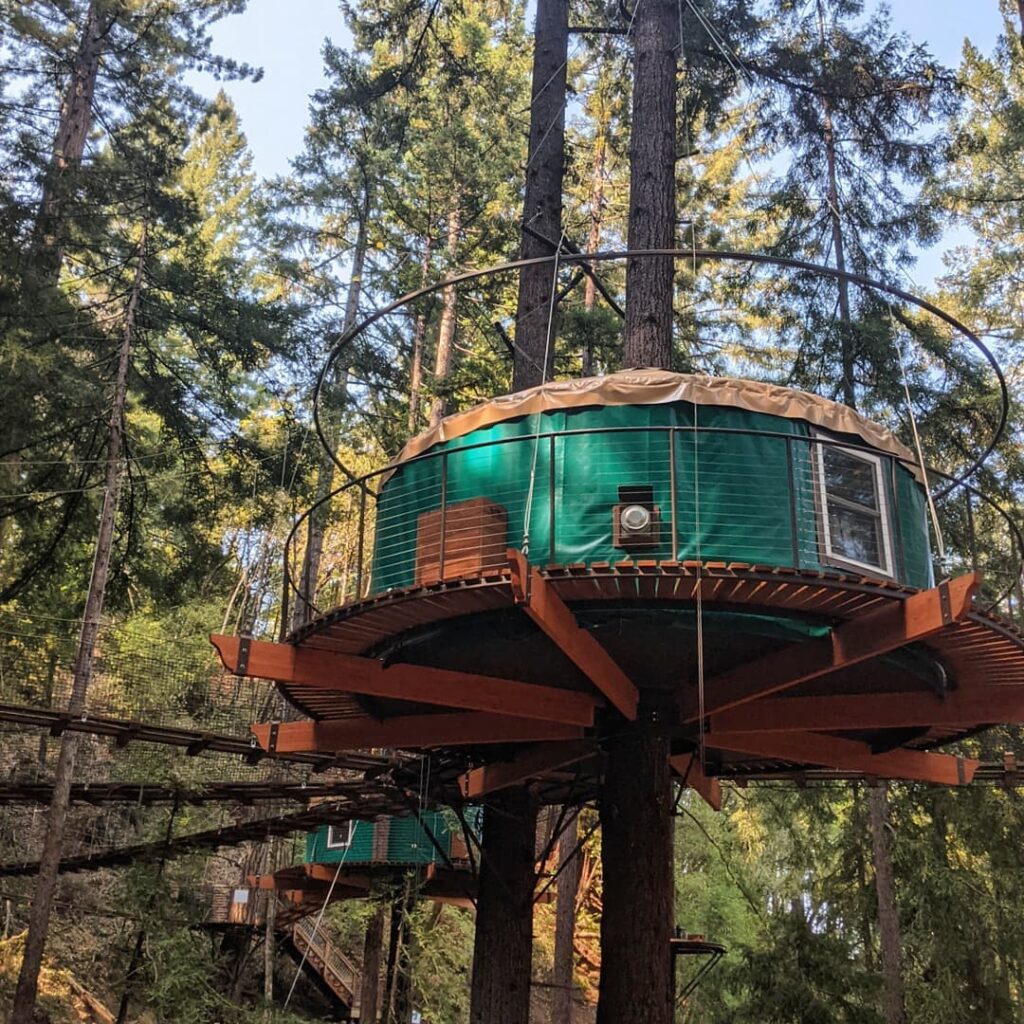 Sonoma Treehouse, situated in Occidental, provides unique and extraordinary accommodations: a treehouse.
The architect aimed to design a form that harmoniously blends with the tree's beauty without causing harm, and they succeeded.
You can book a package that includes a guided tour, gourmet dinner, and breakfast. Each treehouse features a queen-size bed with hotel-quality bedding, a bunk bed, running water, a battery, a composting toilet, and a heater. If you prefer not to partake in an eco-tour, you can book just the treehouse accommodation.
You can book accommodation by phone
1-888-494-78 68
Activities
The treehouse stay and eco-tour include fourteen zip-lines over a mile long, two spiral staircases, eight sky bridges, and a descent to the forest floor. Experience incredible adrenaline rushes and memorable flights among the redwoods.
The cost of accommodation varies by day:
Weekdays: $523 per person
Friday/Sunday: $595 per person
Saturday: $616 per person
A minimum of 2 guests is required.
The cost of a zip-tour is $120.
9. AutoCamp Russian River, Guerneville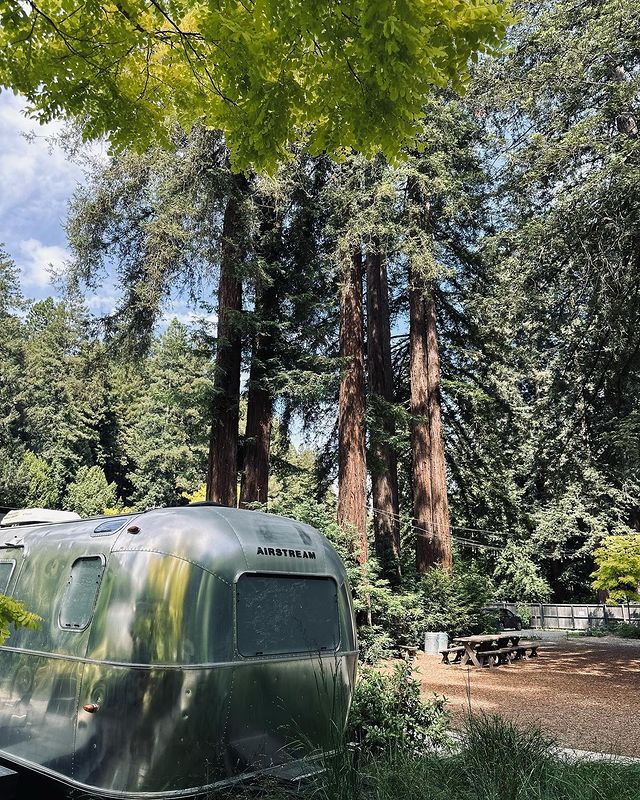 One of AutoCamp's many locations is in Guerneville, near the Russian River. AutoCamp offers stylishly furnished Airstream trailers, luxurious tents, or cabins for a glamping experience.
The tents are canvas, but you'll sleep outdoors on a king-size bed with plush bedding and have access to the spa bathrooms. The retro-modern 42-square-foot Airstream camper, reflecting classic American style, is the ideal setting for stylish outdoor living. You'll also have a private patio with a grill and firepit.
Activities
You can enjoy the natural beauty, local attractions, and memorable glamping, as well as cycling.
A short walk or bike ride takes you to the Russian River and Guerneville's town center, where shops and restaurants await. You can also swim in the pristine Russian River. A communal fire pit area provides a great place to meet other guests and enjoy your stay.
Prices
Tent rates start at $280 per night
Classic Airstream rates start at $400
The Redwood Suite is $535 per night
Helpful Tips
Bicycles are available for guests at no charge.
Hot water is limited, so plan your showers accordingly.
Consider shopping at the nearby Safeway for necessities as the on-site store can be expensive.
10. Desolation Hotel, Hope Valley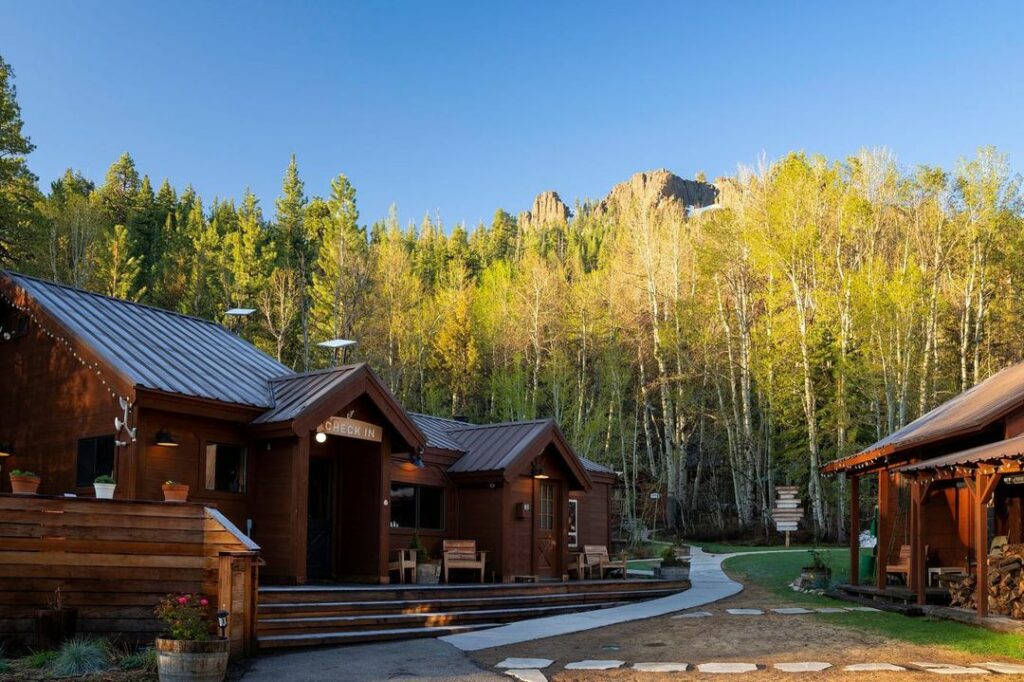 The historic Desolation Hotel in Hope Valley is a one-of-a-kind resort with modern amenities. These charming and luxurious Wild Nests located in Alpine County, provide unrivaled access to high-end outdoor recreation and plenty of space for relaxation and disconnection.
Desolation Hotel offers 28 fully renovated cabins, varying in size and rendered in rustic mountain style. Each cabin features a cozy fireplace, a well-equipped kitchen, and an abundance of rustic charm. Each house even has its unique name, such as "Chapel," "Aspen," and more.
Another accommodation option includes small, isolated yurts ranging from 20 to 25 feet in size. They are equipped with king-size beds, separate bathrooms, deep bathtubs, and fantastic skylights. For a more modest option, self-contained 16-foot yurts are perfect for two. While they lack electricity and running water, the indoor fireplace provides warmth, and an open fire and grill allow for meal preparation. A sauna with a hot shower is available for your convenience. Desolation Hotel also has its own shop and cafe.
Activities
Desolation Hotel offers amenities like a wood-burning sauna and an on-site hiking trail. Your accommodation is conveniently close to the Carson River, a perfect spot for swimming and excellent fishing. Explore Hope Valley on foot and reconnect with nature. The surrounding Sierra Nevada mountain peaks promise breathtaking views.
Prices
Prices for the Wild Nests range from $250 to $500 and above.
Helpful Tips
Try beef stew or chicken at the cafe.
It is also possible to set up camp for only $25 at a campsite
11. Roy Roger's Ranch Bubble Tents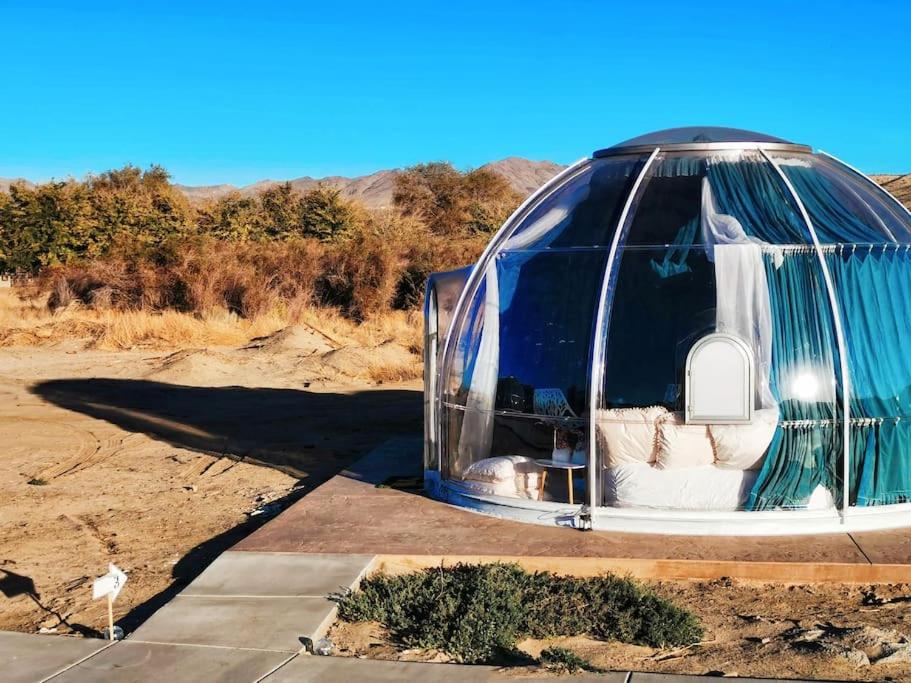 These tents are transparent domes, like bubbles, set against the backdrop of a desert landscape. They come equipped with modern amenities, a bathroom, and air conditioning. Free private parking is available on-site. Experience the incredible sensation of sleeping under a starry desert night sky.
Activities
The ranch is a tribute to the famous Western movie star, Roy Rogers. Here you can explore old film sets and props. The ranch also boasts an animal farm, hosts various music festivals, and features a wish tree for making wishes.
For information on prices and availability, visit.
14433 Roy Rogers Ranch Rd, Oro Grande, California 92368.
Helpful Tips
For equestrian enthusiasts: the ranch features a real racetrack.
12. High Sierra Camp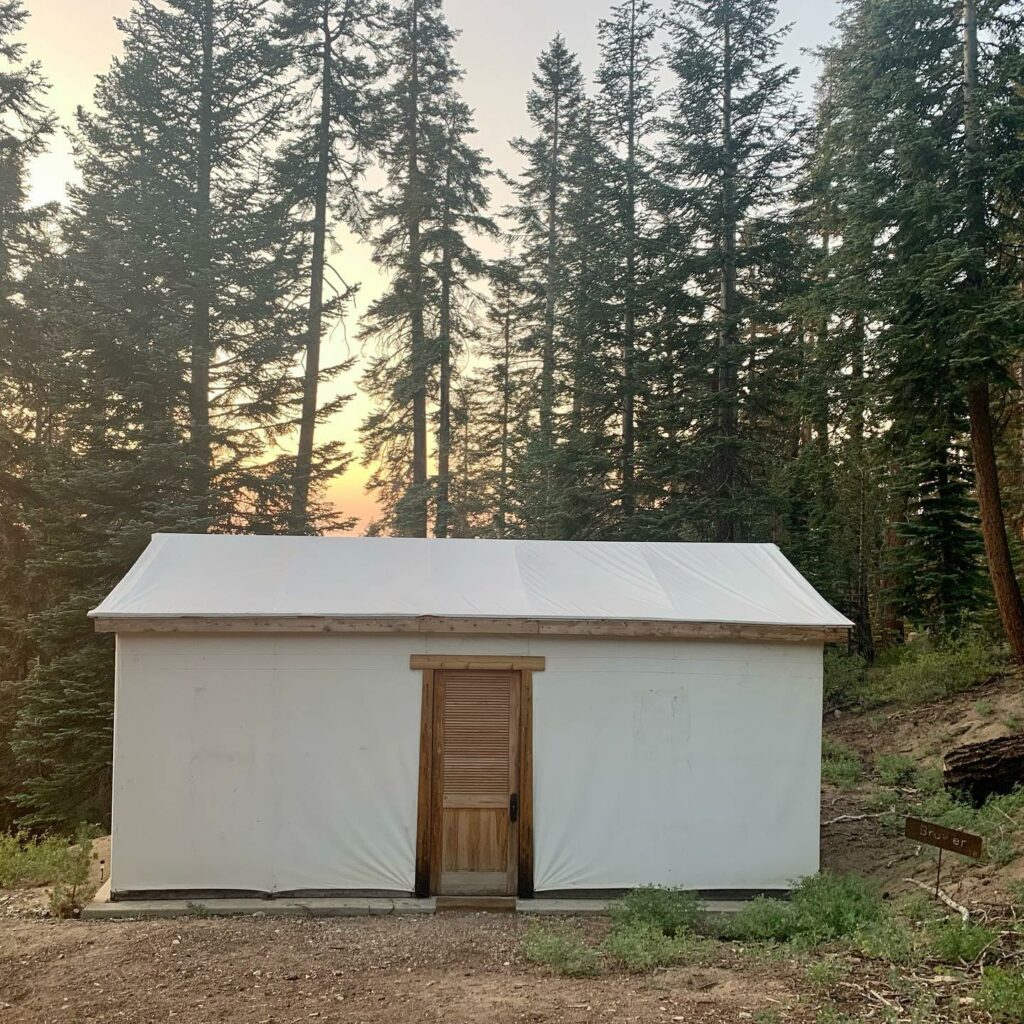 The Sequoia High Sierra Camp, nestled in the Sierra Nevada Mountains, is part of the Sequoia Nature Reserve, offering breathtaking views and a unique wilderness experience. The camp features 14×24 ft. canvas tents, furnished with modern amenities.
The camp is peaceful and comfortable, boasting excellent service and food – a true gem. Start your day with a yoga class in the outdoor pavilion.
Activities
Enjoy hiking through nearby scenic meadows and trails, fishing, bird watching, and stargazing. The altitude may initially be challenging, but you'll acclimate over time.
For information about prices and availability, visit.
Important Note
Currently bookings are not available. Keep up to date via their website or by calling 866-591-8087.
13. The Trailer Pond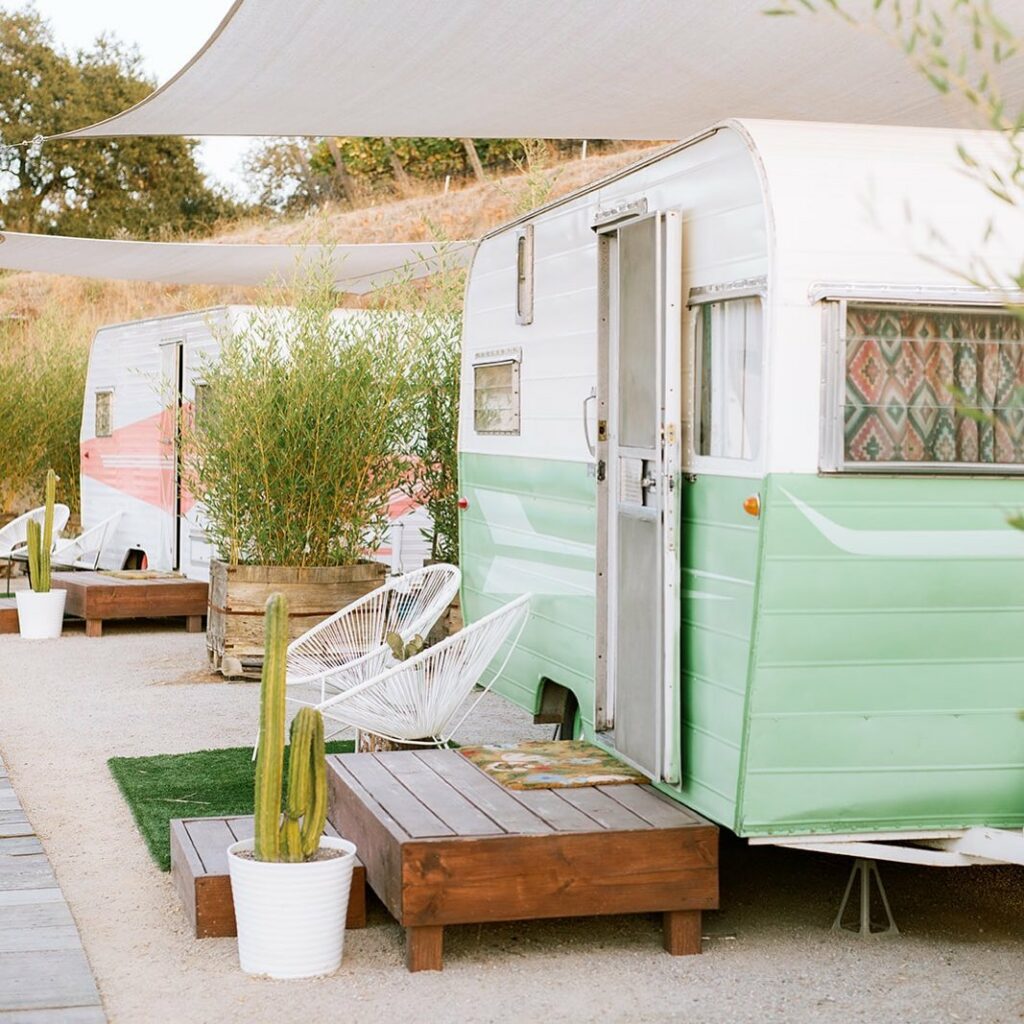 The Trailer Pond in Paso Robles is home to a unique collection of vintage trailers, each renovated and converted into cozy accommodations. Each trailer has its own theme and decor, creating a nostalgic, one-of-a-kind atmosphere. Examples of trailer names include the 1962 Aristocrat and 1959 Terry.
Activities
You'll find all the necessary amenities in the trailers and common areas. A stay at The Trailer Pond offers the opportunity to explore the Alta Colina Vineyard in the famous Adelaide district of Paso Robles. Vineyard tours can be arranged.
Prices
The cost of renting a trailer starts at $225. Group packages, complete with a weekend program for up to 10 people in vintage campers, are also available. Each trailer will have a bottle of La Colina wine, and a group wine tasting will be arranged. Group bookings start from $2500.
14. Speakeasy Lodge, Cuyama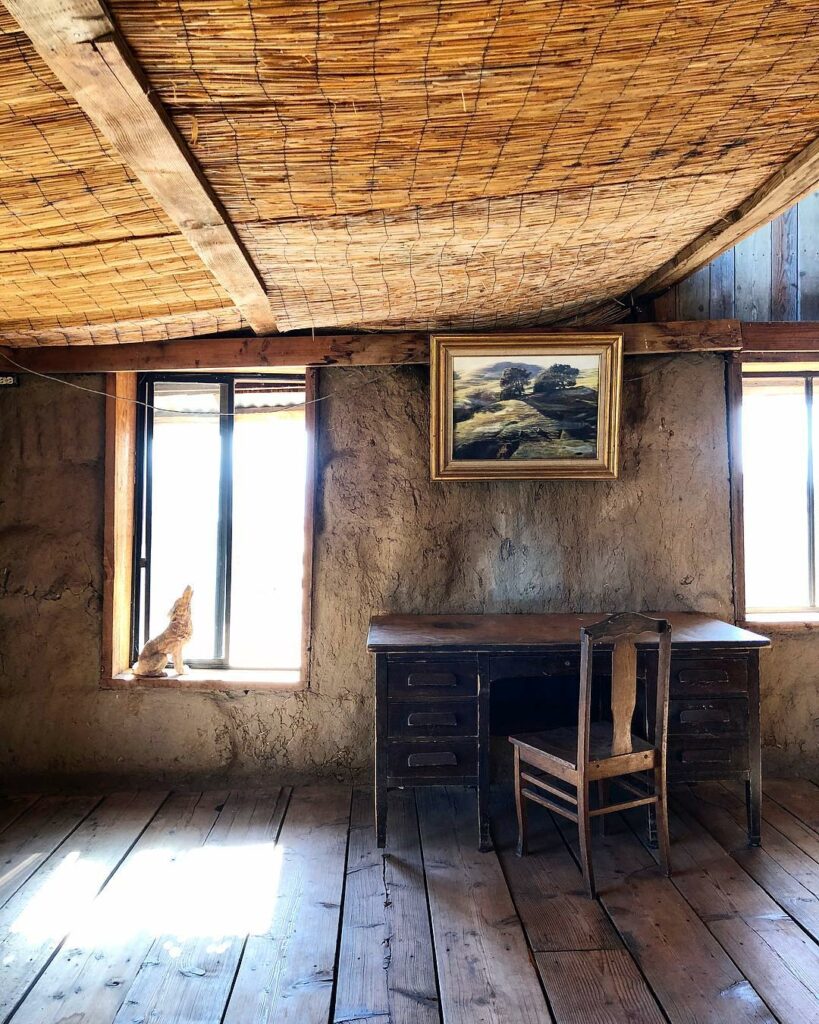 This could be described as a moon camp. Completely isolated and surrounded by barren nature. Depending on the season, spring wildflowers carpet the landscape, and the rock paintings of the Chumash Indians serve as a reminder of those who came before us.
A specially equipped trailer for two, with fresh bedding provided, lets you enjoy a solitary retreat under the moonlight. Alternatively, opt for a round canvas tent for six people on a separate deck.
Essential provisions, including water, firewood, a basket of kitchen utensils, and paper, are provided.
Activities
Perched atop a mountain overlooking the valley, the camp offers stunning desert sunsets. Mountain hiking is a must-do activity here.
Prices
The cost for either a glamping tent or trailer is $150.
Location and How to Get There
Helpful Tips
Both Songdog Ranch and Cuyama Oaks Ranch, located less than 2 hours from Los Angeles, offer great accommodation options. The host at Songdog Ranch, Jim, is extremely friendly and welcoming.
15. Ventura Ranch KOA Holiday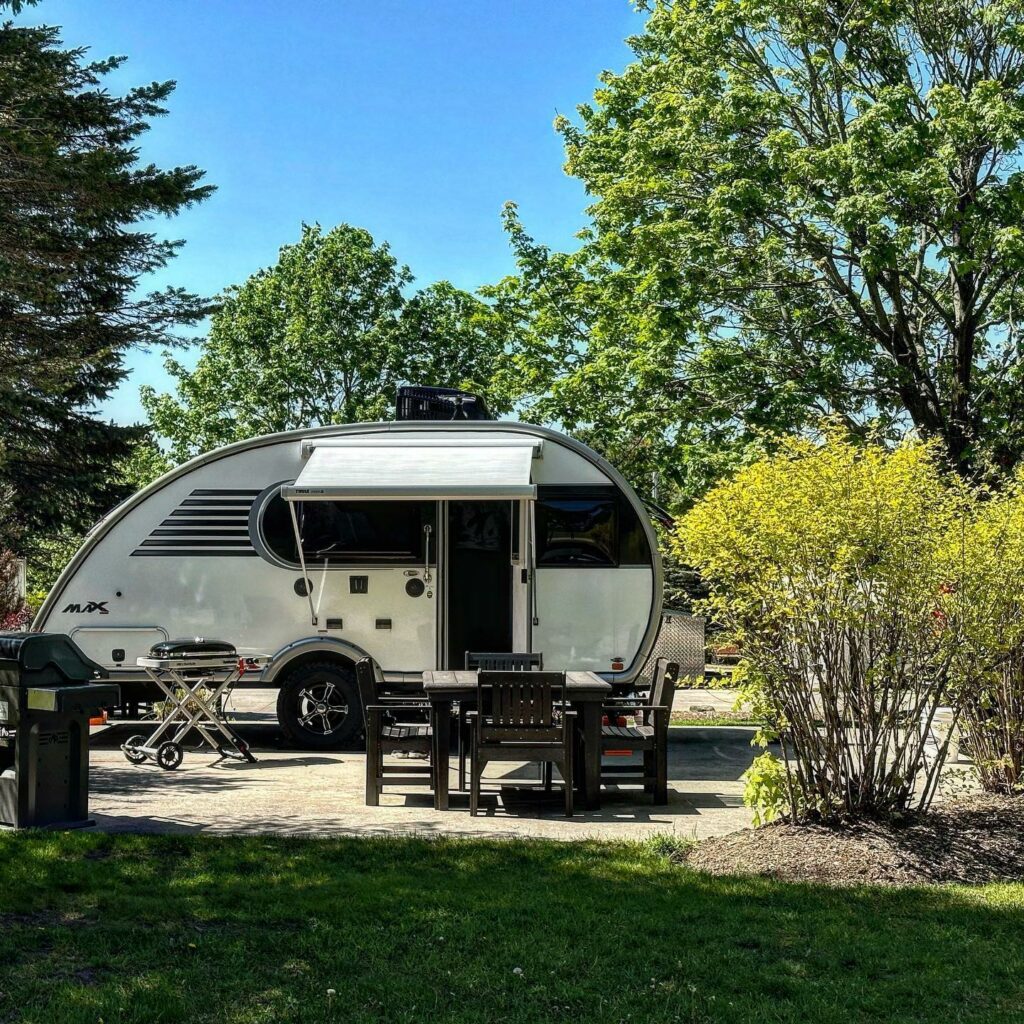 Ventura Ranch KOA (Kampgrounds of America) offers a wide variety of camping and glamping options. These include tent spaces, RV sites, luxury camping sites, cabin rentals, and glamping tents. The glamping tents are canvas structures equipped with a king-size bed, microwave, mini-refrigerator, heater, and fan. Bed linens, towels, and toiletries are provided.
Activities
It's a great destination for families, friends, or large groups. Please note, pets are not permitted.
16. El Capitan Canyon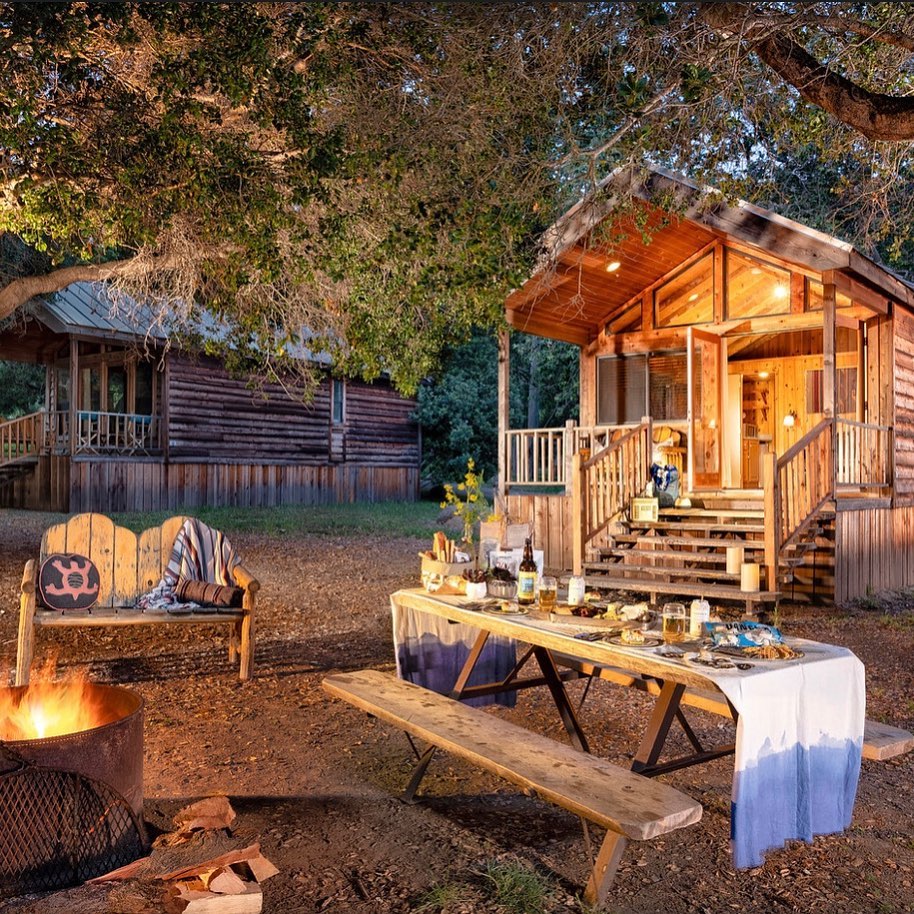 El Capitan Canyon Resort offers freestanding yurts, each located on a round wooden platform with canvas walls and a domed skylight, perfect for stargazing from your private retreat.
The yurts are furnished with a queen-size bed, a double daybed with two folding beds, and electrical appliances, such as a refrigerator, microwave, ceiling fan, and heater. Adjacent restrooms feature private showers with adjoining changing rooms. All yurts come with a separate picnic table and a designated fire pit with a grill.
Activities
El Capitan Canyon offers a variety of seasonal activities for guests during their stay. Choose from hiking trails, beach jogging, cycling, storytelling, and astronomy around the campfire. You can also sample the Canyon's wines. For children, there's a playground and a heated pool. Yurt prices range from $280-380.
El Capitan Canyon is conveniently located off the 101 Freeway, north of Santa Barbara on California's central coast.
Helpful Tips
No pets are allowed.
You may encounter wildlife such as deer (but don't panic).
Registered guests only
Be cautious about the Creek
17. Wildhaven Sonoma Glamping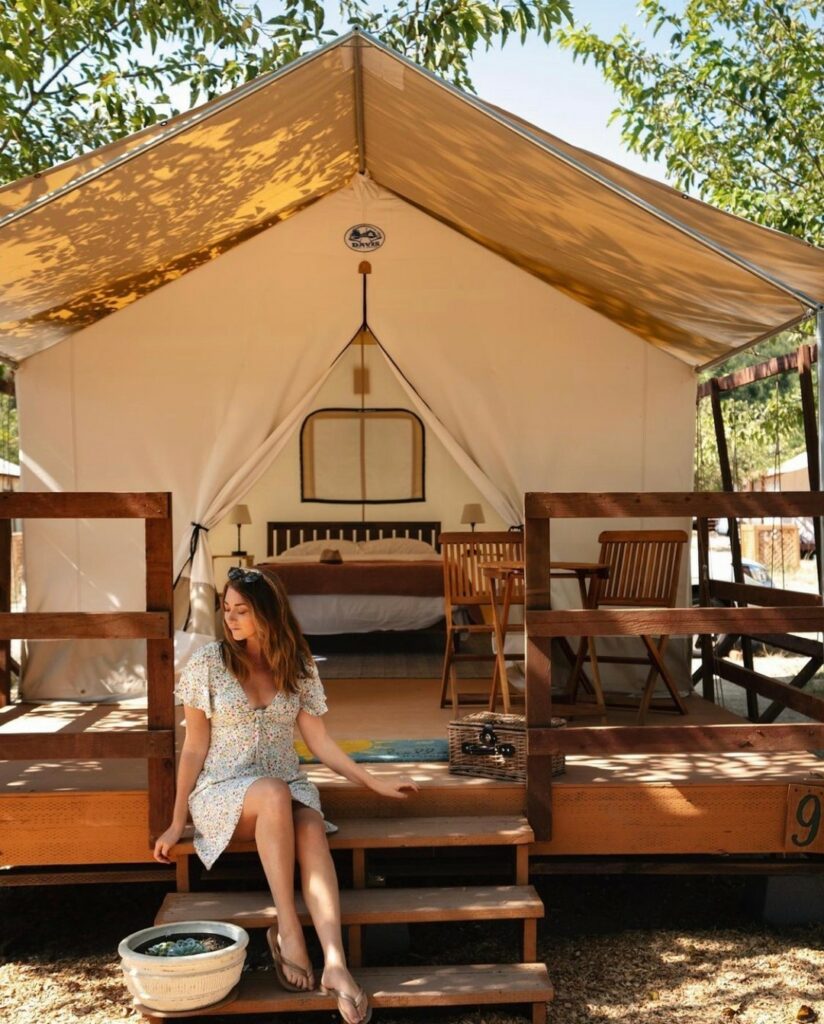 Each tent is equipped with essential amenities, beautifully furnished with comfortable furniture, and provided with electricity. Additionally, heating and cooling systems are installed, and each tent comes with a designated campfire area and parking space.
Accommodation options include standard tents and family-sized tents featuring two bunk beds, which can house two adults and four children. These tent cabins on the riverbank provide stunning views. This glamping site is dog-friendly, ensuring comfort for your pets too.
Activities
You can go wine tasting, explore the cities of Healdsburg, Guerneville, and Jenner, take a tubing ride along the Russian River, relax on the beaches near Guerneville, visit Lake Sonoma – where boat, kayak, SUP, and jet ski rentals are available at the pier – enjoy the Pacific Ocean while strolling on the rocks, try cycling routes or horseback riding, etc.
Yurt prices range from $179-309
Helpful Tips
An onsite shop sells anything you may have forgotten to bring with you.
Tubes for river activities are available for rent.
18. Costanoa Lodge in Pescadero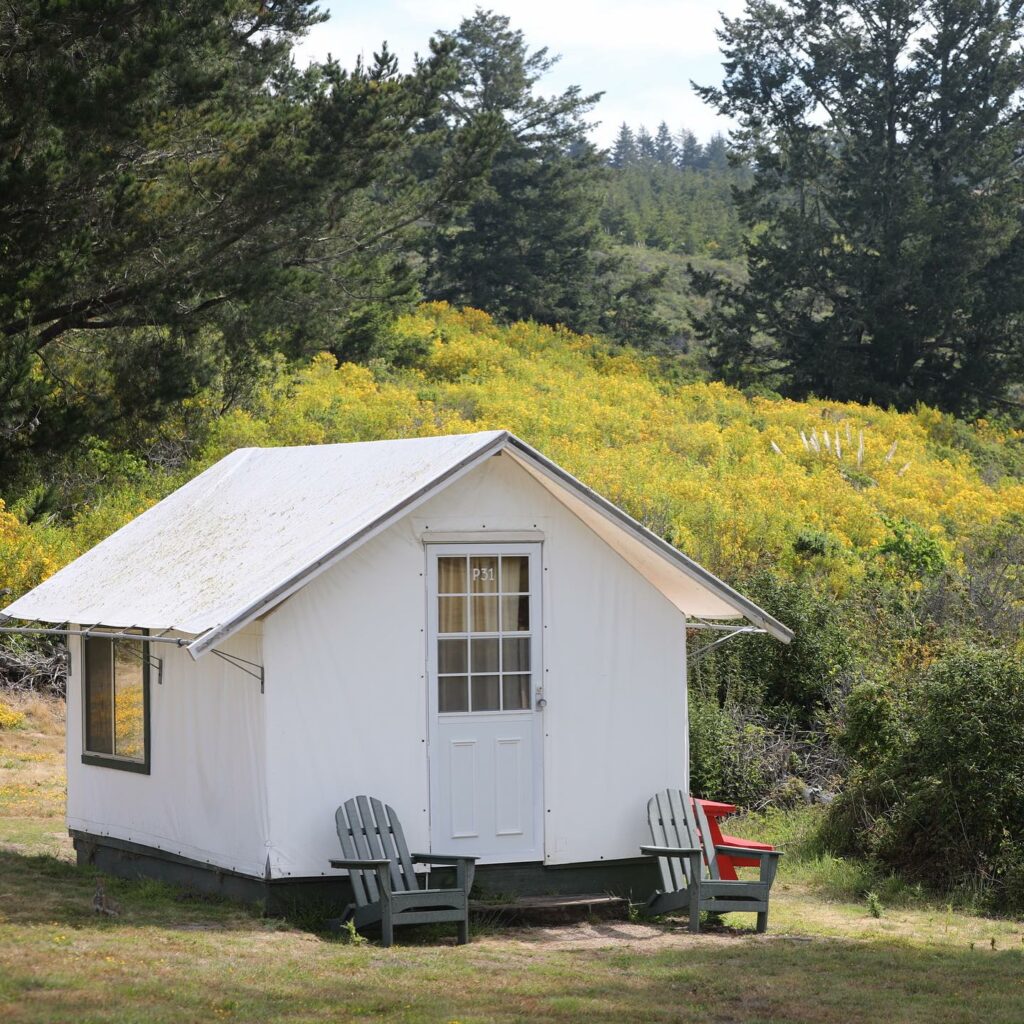 Costanoa Lodge in Pescadero offers different accommodations – tent bungalows (four types), lodge, cabins, and comfort stations.
The tent bungalows are constructed from wood or metal and feature waterproof tarpaulin walls.
Also, all bungalows are equipped with electricity and lighting, and shared bathroom facilities with hot showers, heated concrete floors, a 24-hour dry sauna, and an outdoor fireplace are available.
Activities
You can enjoy hiking, kayaking, horseback riding, and yoga. Educational programs, guided bird-watching tours, video lectures, and presentations on falconry and wine tasting are also offered.
Prices
Prices range from $168 to $341.
Helpful Tip
Dogs are only permitted in lodges and cabins, not in tents.
Flying Flags RV Resort and Campground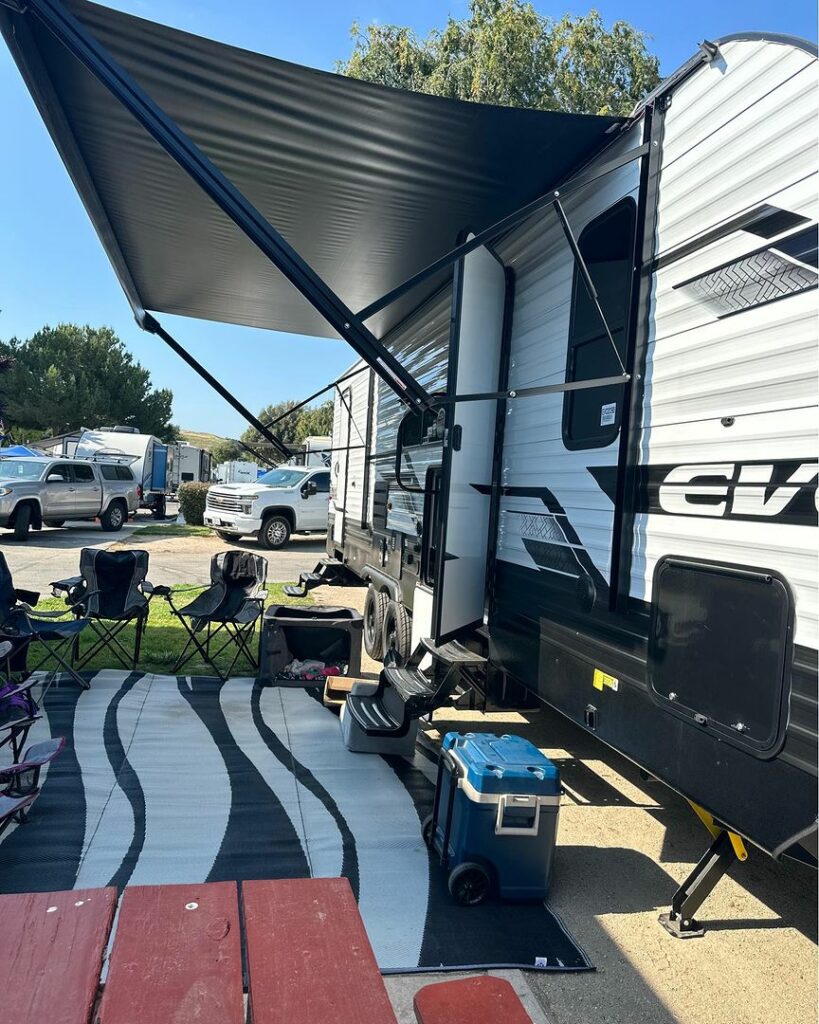 Flying Flags is a large holiday resort in the lush vineyards of the Central Coast with a charming rustic setting.
Accommodation options vary, from RV sites and furnished cottages to various sizes of glamping tents equipped with all necessary amenities. The Jupes Tent, Tiki Tent, Superior Vintage Trailer are over 100 square feet and feature a queen-size bed with a Nectar mattress, high ceilings, birch floors, and ample storage space. These accommodations are equipped with solar panels that power USB charging stations, a Wi-Fi network, electrical outlets, and adjustable LED lighting.
Activities
Plan a horseback ride, a trip to Ostrich Land in Buellton, a day at Avila Beach, or a visit to the Mendenhall's Museum of Gasoline Pumps and Petroliana.
Tent prices range from $155 to $215.
Helpful Tip
Not all tents can accommodate dogs; please check the information when booking.
Dog-friendly Glamping Sites in California
AutoСamp allows all well-behaved dogs with their owners for an additional fee of $75. Maximum of 2 dogs with a maximum weight of 80 pounds each.
The Mendocino Grove Hotel has a Dog Park, dog washing station with hot water, shampoo, and towels. The fee for pets per night is $35 per pet and no more than two pets per reservation.
Flying Flags RV Resort and Campground. Pets are allowed and must be registered at the reception upon arrival. Dogs should be on a leash and constantly under supervision; cats and exotic pets should be inside. Allowed to take max. 2 dogs. There is a one-time non-refundable fee for pets in the amount of USD 50.
Costanoa Lodge in Pescadero, with dog tracks and a dog washing station. A non-refundable fee of $50 is charged.
Ventana Campground, $75 for the entire stay (with a maximum of two dogs) and include a dog bed, treats and a bowl of water.
Wildhaven Sonoma Glamping. It is allowed to accommodate up to 2 well-behaved, quiet dogs on a leash for an additional fee of $30 (per pet per night).
Best Spots for Winter Glamping in California
Treebones Resort
AutoCamp near Yosemite National Park
El Capitan Canyon is located near Santa Barbara
Costanoa Lodge in Pescadero
When to Go Glamping in California
Glamping is a year-round activity, and the best time to go largely depends on your personal preferences.
However, keep in mind that spring is an ideal time to visit desert areas. The air temperature is more moderate, allowing you to fully enjoy the desert landscape. Please note that the temperatures can drop significantly at night, so it's important to inquire about heating options in the tents. Some tents only provide thermal blankets, so exercise caution.
During the summer, California is generally warm, sometimes even hot. Therefore, consider coastal areas and highlands for cooler temperatures.
Fall presents a great opportunity to explore national parks.
Winter is the perfect season for winter glamping, as discussed above.
What to Pack for a Glamping Trip
Packing for a glamping trip is similar to packing for a traditional camping trip, with the key difference being that most glamping sites provide nearly everything you need.
However, remember to pack clothing for cool evenings and comfortable hiking shoes.
You usually don't have to worry about bedding, but bringing a sleeping bag for extra warmth can sometimes be useful.
Personal toiletries are essential, though it's best to check the glamping site's website to find out what amenities are provided in the tent. Sunscreen and mosquito repellent are must-haves.
Generally, you won't need to bring kitchen supplies unless you need something specific.
A flashlight is always handy, although they're typically provided at the site.
If you require items for outdoor activities, such as swimsuits, backpacks, and sunglasses, be sure to pack them.
And of course, don't forget to pack food and drinks to keep yourself nourished on the journey and upon arrival at the site.
Some people also like to bring along a small projector for the kids to watch movies at night before bed, while others might prefer to have a mini fridge.
Be prepared for the unexpected by packing necessary first-aid medicines.
How to Choose the Glamping Site
Research various glamping sites and determine what you prefer: mountains, desert, coast, or park.
Decide which tent you'd like to stay in and whether its amenities and provisions meet your expectations.
Make sure to book in advance, as summer months are the most popular among glampers.
Gather all your belongings and pack them in a way that's convenient for transportation.
Research the route to your chosen glamping site; an SUV may be necessary depending on the location.
Once at the site, explore the natural surroundings and identify outdoor activities you're interested in.
Show respect for the environment by not leaving any litter behind. Remember, others will visit the site after you and deserve a clean space.
Take full advantage of the luxuries your glamping site may offer, such as spa treatments, hydro massage, or Japanese outdoor baths.
Important! Disconnect from the internet and use your glamping experience as a chance to recharge both mentally and physically. Social media can wait – your wellbeing is the priority!
Glamping in California FAQ
What is glamping? Explain like I am 5
A simple way to define glamping is this: if you can shower, sleep, cook, and use electricity comfortably, then it's glamping. This experience sets itself apart from traditional camping because someone else has already set up your accommodations. 
Is glamping safe?
Generally speaking, glamping is typically safer than traditional camping. However, it's still recommended to read forums related to your specific glamping site for information about potential surprises, local wildlife, or dangerous sections of hiking and mountain trails.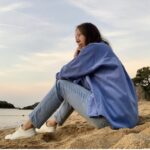 Hello, my name is Nadia.
I usually write about traveling (there are so many places to fit all the lifestyles), relocation (finding a job overseas or moving without losing an income), and living in a foreign country (adapting to a different culture and mentality). Follow me on Twitter, Facebook, Instagram, or LinkedIn!
This post might include some affiliate links. If you make a purchase through these links, I may earn a small commission at no additional cost to you. I appreciate it when you use my links to make purchases.