LA's Thrill Rides: 11 Must-Visit Theme Parks 2023
Nadia Podrabinek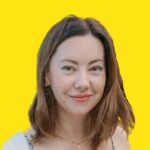 Written by Nadia Podrabinek
Hello, my name is Nadia. I usually write about traveling (there are so many places to fit all the lifestyles), relocation, and living in a foreign country (adapting to a different culture). My travels stretch beyond Spain, with journeys to the US, Italy, Norway, Portugal, and France. Relocating to Spain in 2018, I lived in cities from Barcelona to Madrid, currently calling Valencia home.  Follow me on Twitter, Facebook, Instagram, or LinkedIn! ... show more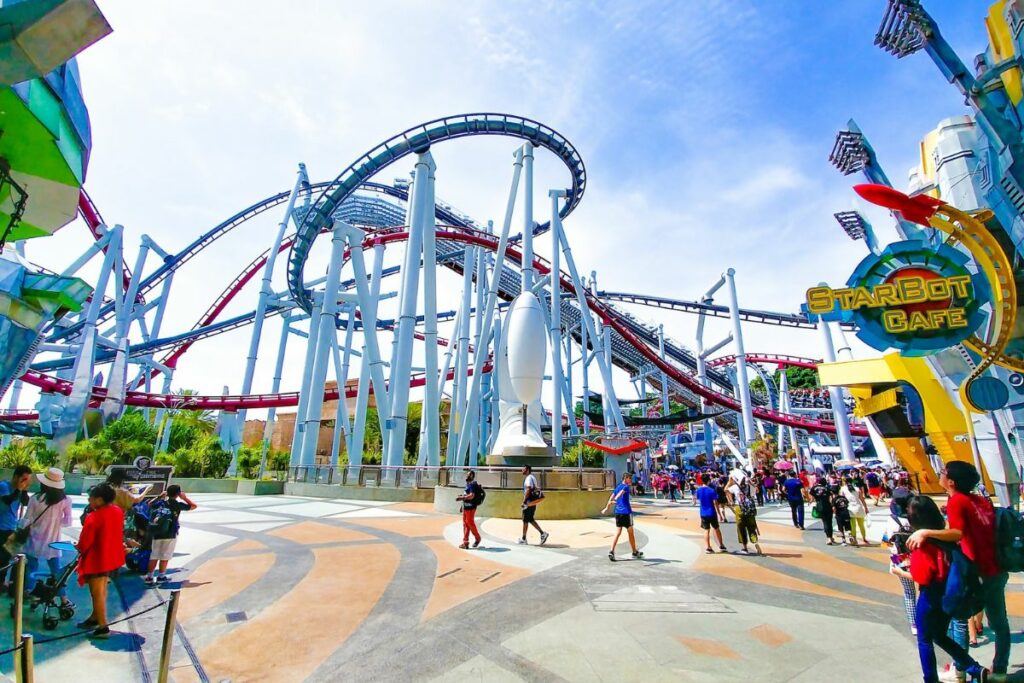 Los Angeles is California's hub of theme park action. With seven major theme parks, Los Angeles is basically an amusement park city. There are adventure grounds dedicated to thrills, immersive experiences, and family-friendly activities. Some of which, like Disneyland Resort, cater to all three!
However, Los Angeles is a big place, and only a few of its top theme parks are within proximity of each other. If you're only in LA for a short time, you may not get round them all. So, what are the best theme parks in Los Angeles that you have to visit? Let's find out!
---
Key Takeaways
All of the theme parks in Los Angeles are family-friendly.
Most parks can be found within the city (with many theme parks near Los Angeles, too).
Los Angeles has parks that are designed exclusively for thrill seekers.
Los Angeles has a long history of theme parks, with many being over 100 years old.
---
What people say on Reddit
Disney: go here if you love Disney or have kids. If you aren't a Disney freak (or Star Wars fan?) I'd probably avoid it tbh.

Universal: compared to other Universal parks in the world, this one is incredibly small and only has one coaster (Mummy).

Six Flags: go here if you love coasters; this along with Cedar Point are considered the two Coaster Meccas. Not the cleanest park, landscaping is trash, and food is terrible. Quantity>quality

Knotts Berry Farm: go here if you enjoy amusement parks overall. The coasters aren't as insane as Six Flags, but my favorite coaster in all of California is Ghostrider (I've ridden them all). Also has amazing atmosphere, food, and treats. Quality>quantity

Sea World: they are focusing more on coasters ever since Blackfish, but I wouldn't go here unless you are going to stay in San Diego for a few days… there's better stuff to do in SD than SW imo.

Humanidado
As a dad of two kids and has been through the special hell that are amusement parks here in SoCal, Disneyland is by far the best.

You pay a premium, but when you go there, it's clean, it doesn't feel cheap or ghetto, and you know where your money went. The other parks, a lot of them almost comparable in price to Dland, are pretty shitty in comparison, with tons of closed rides, closed kiosks, no operational order, and employees with shit attitudes. I'm not saying I want them to be smile robots, but man, if I need to ask you a question, don't stare daggers at me and give me some flippant answer.

I just came back from SeaWorld this weekend and we waiting in line for over an hour to get beer/snacks. Take that in.

IamaHahmsuplo
Having grown up in OC, Disneyland and DCA would be my vote for the overall experience, food, theming and rides, but If you're really into roller coasters and thrill rides, I'd say Knotts. It's a good value and the food is getting really great, IMO. Six Flags would be an option but it's a hike from Santa Ana so, meh. Save yourself the drive.

Seaworld is a skip for me even tho I loved it as a kid. Universal is kinda boring IMO, all the rides there are basically virtual "put 3D glasses on", unless you're a big Harry Potter fan it's a skip for me too.

orangefreshy
If you're a coaster junkie – Magic Mountain. X2, Twisted Colossus, Tatsu, Revolution, and Full Throttle are all iconic coasters. And Wonder Woman should be open by October. Lots of thrills to be had. But the park is kind of a shit hole and rides might be broken down all day. Definitely splurge for flash pass, otherwise most lines will be 90+ mins.

Disney and Universal are good if you prefer theming over thrills.

Knotts is a good mix of theming and thrills. Timber Mountain came before (and inspired) Splash Mountain, and Ghostrider is one of the best wooden coasters in the world. Get fast pass and you'll be able to ride all 9 coasters twice in one day, easily. Also Knotts Scary Farm is consistently ranked one of the best Halloween theme park experiences in the country, if you're into that.

cumtitsmcgoo
Best Amusement & Theme Parks in Los Angeles in 2023
Just like a rollercoaster, let's cut right to the action: here are the 11 best theme parks in Los Angeles:
Disneyland Resort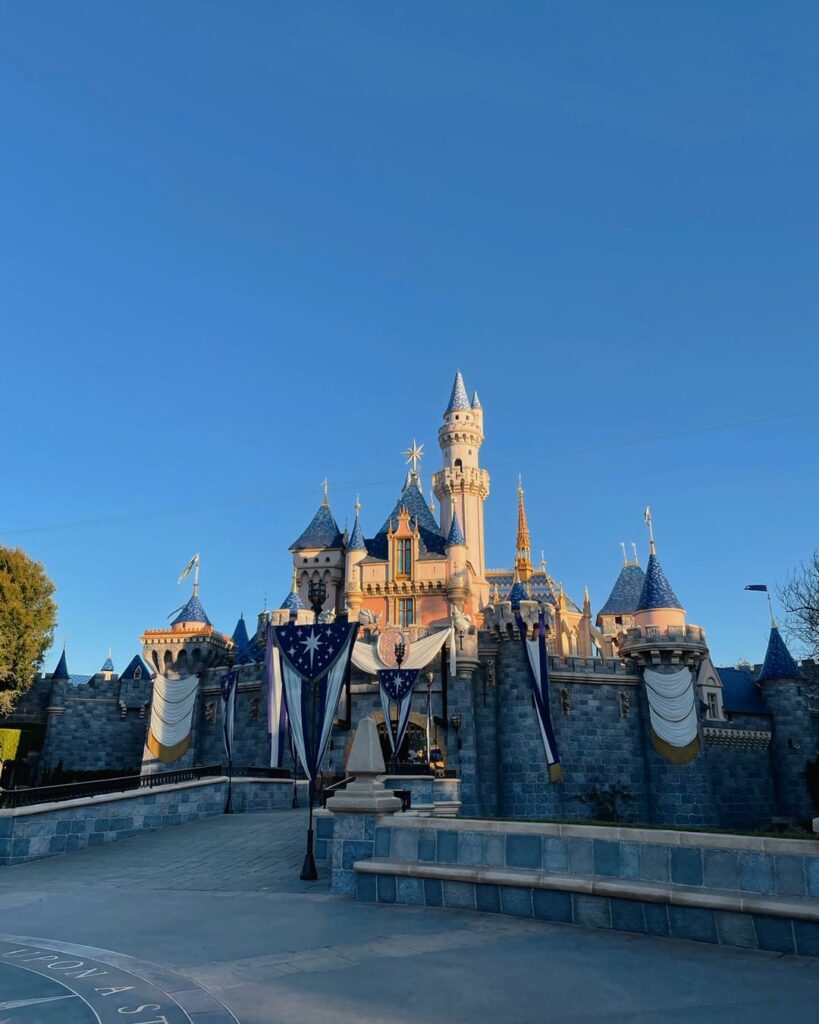 Disneyland Resort actually comprises two parks in one: Disney California World Adventure Park and Disneyland Park.
The World Adventure Park, the more modern of the two, provides entertainment for the whole family. If you're looking to keep your teenagers (and adults) entertained with thrill rides, take them to Adventure Park. Here, you'll find Disney, Pixar, and Marvel-themed rides. Rides include Guardians of the Galaxy – Mission: BREAKOUT! and Monsters, Inc. Mike & Sulley to the Rescue!
Disneyland Park is the original and was designed and opened by Walt Disney himself in 1955. Here, you'll find Sleeping Beauty Castle, as well as classic rides like Pirates of the Caribbean, Space Mountain, and Dumbo the Flying Elephant. Overall, Disneyland Park caters more to a younger audience.
Location: 1313 Disneyland Drive, Anaheim, California
New attractions in 2023: New attractions include Mickey and Minnie's Runaway Railway, which can be found inside Toontown's El CapiTOON Theater. The Avengers Campus has also been expanded in 2023, with more opportunities to meet the characters from the franchise.
Suitable for: Disneyland Park is more suited to a younger audience, while World Adventure Park is great for teenagers and adults.
Tickets: Day tickets start at $83 and can go up to $179
Tips for visiting:
Don't visit on a public holiday.
Hire a locker to keep your belongings safe.
Plan the attractions you want to visit beforehand.
Universal Studios Hollywood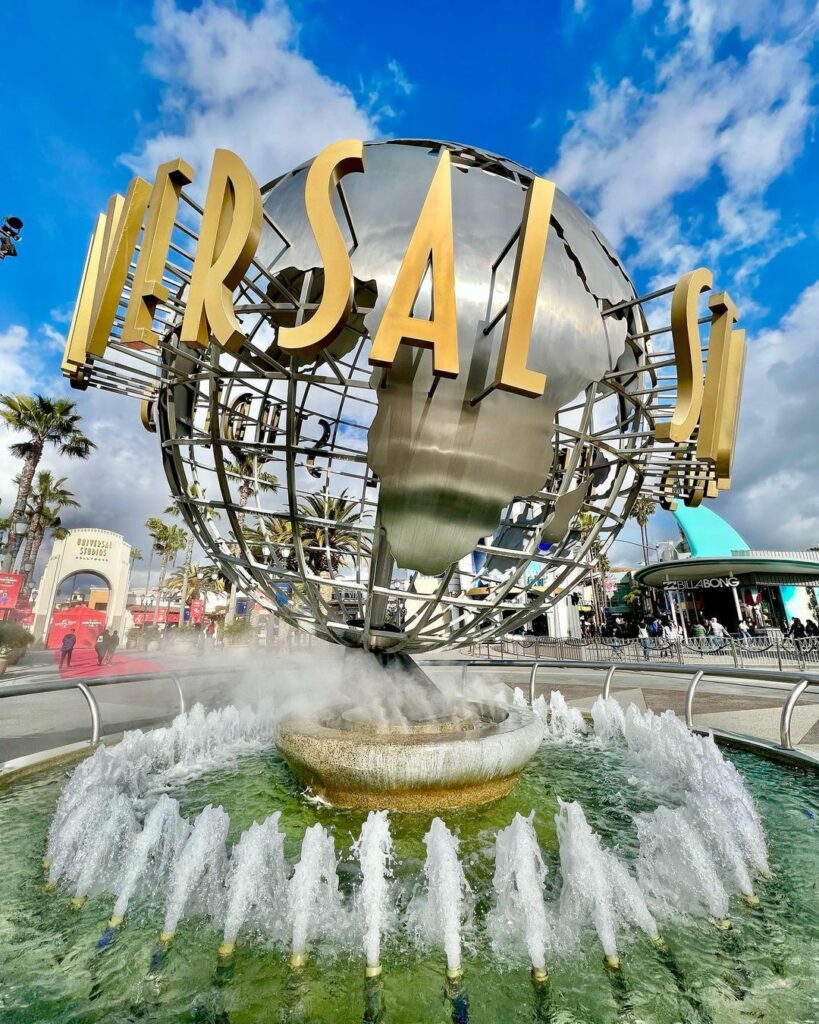 Universal Studios is, first and foremost, a film studio. First opened in 1912, a range of major blockbusters have since been produced here, including E.T., Jaws, and Jurassic Park. The studio first let the public in to experience the magic of filmmaking in 1964. Since then, Universal Studios Hollywood has developed into the sprawling amusement park (Los Angeles's second most famous) it is today.
Universal Studios caters more to thrill-seekers, with huge thrill rides such as the high-speed Incredible Hulk Coaster and the water-based Jurassic Park River Adventure. It also still caters to movie geeks, with regular studio tours running that provide behind-the-scenes insight into moviemaking.
Like Disneyland, there's also plenty of dining and shopping options at Universal Studios.
Location: 100 Universal City Plaza, Universal City, California
New attractions in 2023: New rides at Universal Studios Hollywood include Hagrid's Magical Creatures Motorbike Adventure, Velocicoaster, and Villain-Con Minion Blast.
Suitable for: Families with kids above the age of 8. Toddlers and young kids won't be able to go on any of the main rides.
Tickets: $109 – $149
Tips for visiting:
Waterproof clothing is preferred – there are a lot of wet rides and shows!
Arrive early and stay late.
Knott's Berry Farm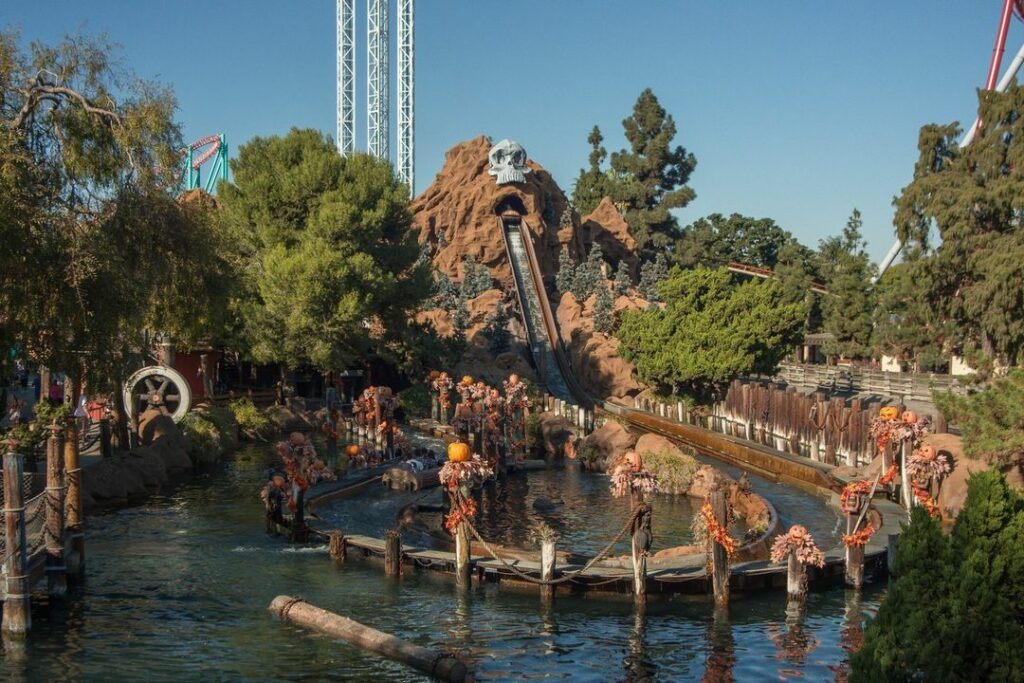 If you want to forgo the massive queues at Disneyland, consider visiting the quieter Knott's Berry Farm instead. In my opinion, Knott's Berry Farm is a perfect alternative for those who aren't that crazy about Disney. It has pretty much everything that its competitors have: amusement rides and attractions, entertainment shows, shops, and dining options.
It also has a history that rivals that of Disneyland: it is the oldest theme park in the US. The original part of the park, Ghost Town, is still a main attraction today. Here, you can wander past buildings that have been taken from real abandoned towns across America. Amongst these buildings, you'll find classic rides such as the Timber Mountain Log Ride and the Calico Mine Train.
If you're looking for an escape from the sun, Knott's Soak City Water Park will help cool you down.
For thrill-seekers, Knott's Berry Farm also has a range of rollercoasters, including GhostRider and HangTime. There are also slow kiddie rides such as Huff and Puff, and Rocky Mountain Trucking Company.
Location: Beach Blvd, Buena Park, California
New attractions in 2023: The biggest addition to Knott's Berry Farm in 2023 is New Fiesta Village. Here, you can find Hispanic-inspired shops, dining options, entertainment, and experiences.
Suitable for: Knott's Berry Farm is suitable for the whole family.
Tickets: $59.99 – $99.99
Tips for visiting:
The park's official app will help you plan your day.
The theme park is cashless, so you need to pay with a card.
Six Flags Magic Mountain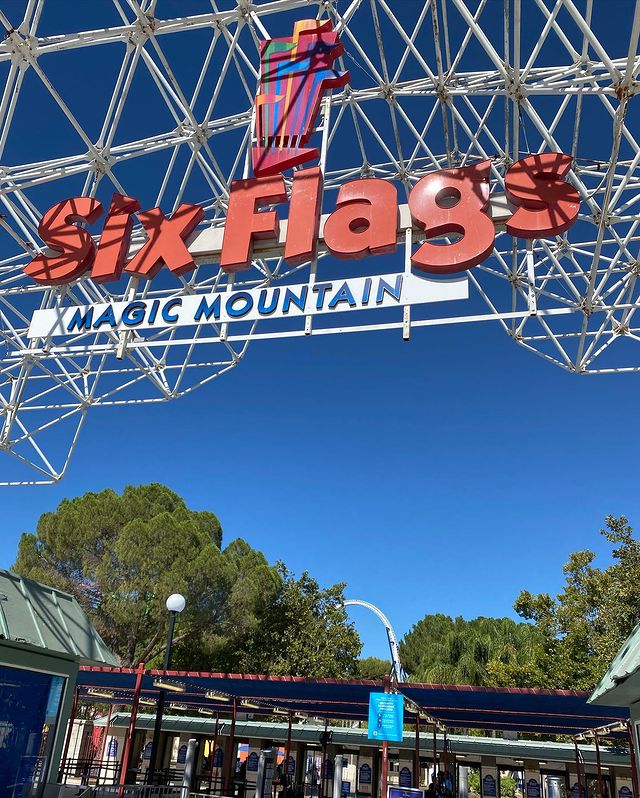 Six Flags Magic Mountain is a theme park focused primarily on thrill rides. It's mostly aimed at teens and adults, with over 100 rides and world-class rollercoasters. Rides that put Six Flags Magic Mountain on the map include Tatsu, which you ride face-down, giving you the sensation of flying. There's also X2, a rotating, 3D thrill ride. Twisted Colossus, Goliath, and Full Throttle are other popular rides.
Despite mainly catering to thrill-seekers, other rides cater to younger age groups, including Pepe LePew's Tea Party, Elmer's Weather Balloons, and Magic Flyer.
Like most amusement parks, you can also find a range of dining and shopping options at Six Flags Magic Mountain. To eat, you have the likes of Ace O' Clubs, Big Belly Burger, and Boardwalk Brews to choose from.
Six Flags Magic Mountain hosts a range of seasonal events, including Fright Fest at Halloween and Holiday in the Park at Christmas.
Location: 26101 Magic Mountain Pkwy, Valencia, California
New attractions in 2023: Six Flags Magic Mountain has actually recently unveiled a brand new area aimed just at kids called Splash Island, which features 14 new slides and a treehouse to play in.
Suitable for: The whole family can attend, but it's mostly aimed at bigger kids and adults.
Tickets: Day tickets for Six Flags Magic Mountain range from $25 to $90.
Tips for visiting:
Prepare for heat – there are few shaded areas and a lot of asphalt in this park.
Head to the back of the park first – most people go on and fill up the rides at the front when the park opens.
LEGOLAND California Resort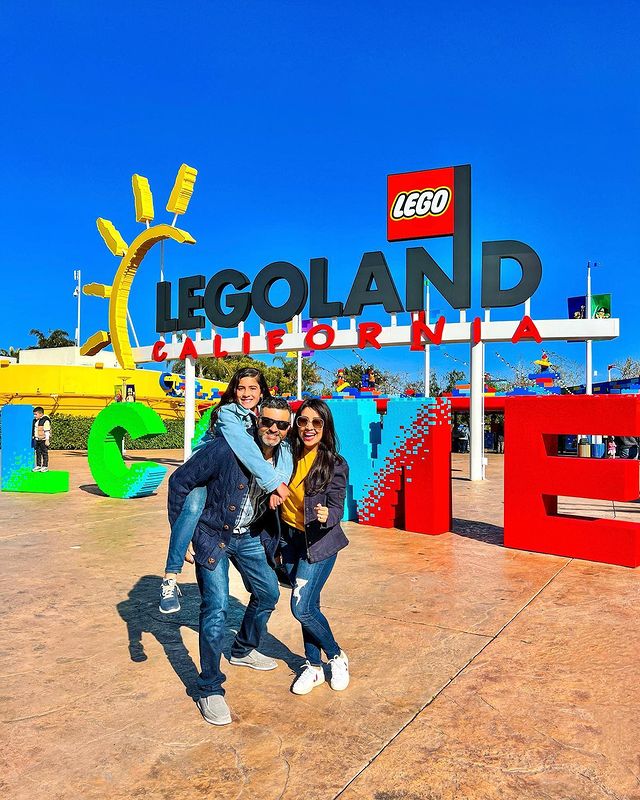 Out of all the amusement parks in Los Angeles, California, LEGOLAND California Resort caters the most to young kids – specifically those under the age of 8. In fact, the theme park is geared mainly toward visitors between the ages of 2 and 12. Plus, if your kids are into LEGO, is there a better place you could take them?
The theme park is home to 60 rides and a waterpark. You'll also find impressive LEGO-made structures throughout the theme park, including recreations of iconic American landmarks.
Out of all the rides found in this adventure park, kids are particularly fond of LEGO Ninjago the Ride, which is an interactive 4D adventure where participants need to use ninja moves and throw fireballs to defeat villains. Another popular ride is the Lost Kingdom Adventure, another interactive ride that explores ancient Egypt.
There are also thrill rides aimed at young thrill seekers, including The Dragon and Technic Coaster.
Relative to other Los Angeles theme parks, I've also found the dining options at LEGOLAND to be the most reasonable. So, don't stress too much about packing a picnic unless you really want to.
Location: One Legoland Dr, Carlsbad, California
New attractions in 2023: There are a bunch of new live shows at LEGOLAND California in 2023. This includes an extreme sports show called GO Xtreme! There's also a new slapstick comedy show called Once Upon a Brick – The Tale of the Unicorn Knight.
Suitable for: LEGOLAND California is best for young families.
Tickets: $89 – $119
Tips for visiting:
Buy souvenirs early. The souvenir shops get really busy at the end of the day.
Bring a change of clothes for the water rides.
Plan ahead with the LEGOLAND app.
SeaWorld San Diego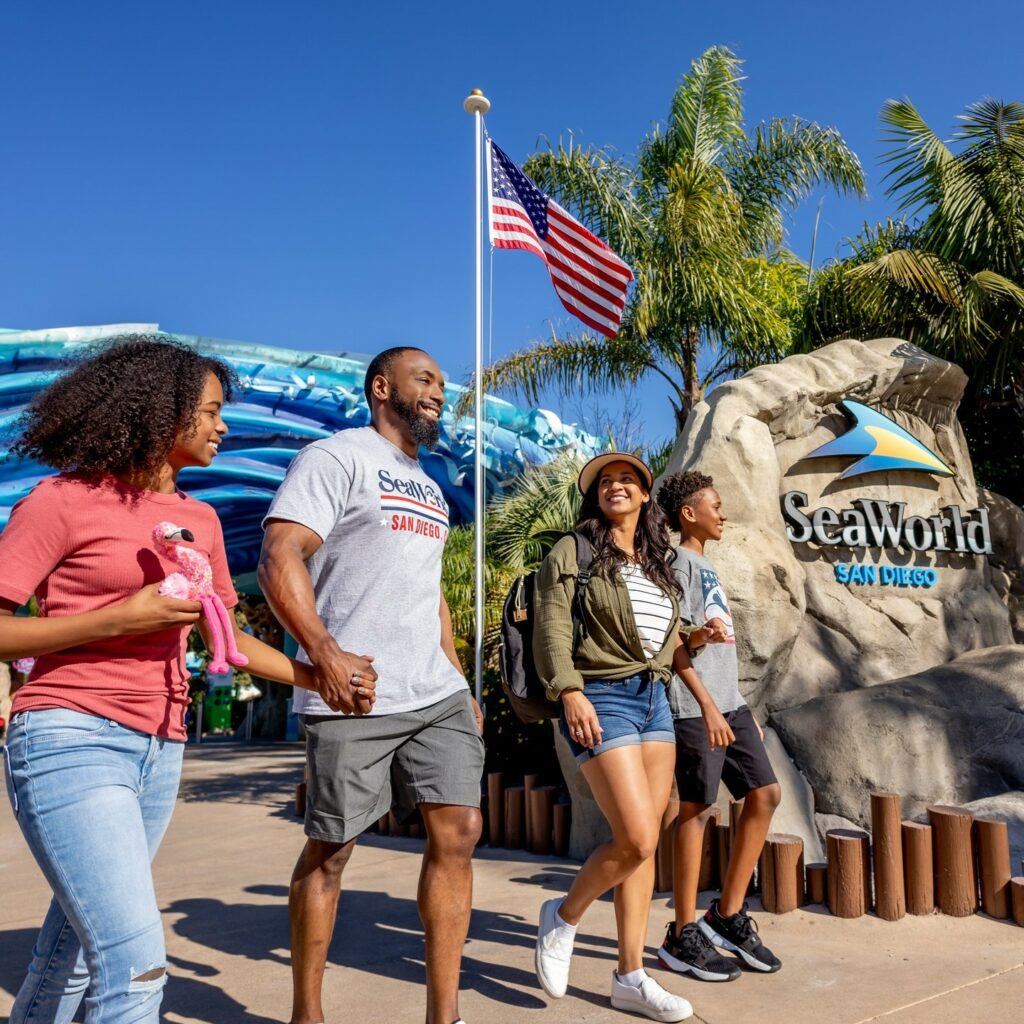 SeaWorld San Diego isn't all about admiring marine life. Despite its title, SeaWorld San Diego actually has some of the best thrill rides in the whole of California. Rollercoasters like the Mantra and the Electric Eel often get high thrill-level ratings, and can even shock the most experienced rollercoaster riders.
The Mantra moves side to side as it goes along, simulating the movements of the mantra ray, which creates a fast-paced and immersive rollercoaster ride. The Electric Eel, on the other hand, has several inversions and a big launch.
In the OceanExplorer part of the park, you'll find several kid-friendly rides, including Sea Dragon Drop and Octarock.
When not riding on a high-speed coaster, you can get up close and personal with the mammals and birds that live at SeaWorld. At the Penguin Encounter, you can watch as a colony of 300 penguins pass you by. Or you could watch dolphins interact with their trainers at the Dolphin Encounter.
Location: 500 Sea World Dr., San Diego, California
New attractions in 2023: Arctic Rescue is the main new attraction at SeaWorld in 2023. A super-fast ride, the theme involves saving arctic animals from melting snow.
Suitable for: SeaWorld is a good option for the whole family or a solo traveler.
Tickets: $109.99 – $154.99
Tips for visiting:
Get Quick Queue tickets for the main rides as the queues at SeaWorld can last forever.
Hats, sunglasses, and sunblock will all be necessary for most of the year.
Adventure City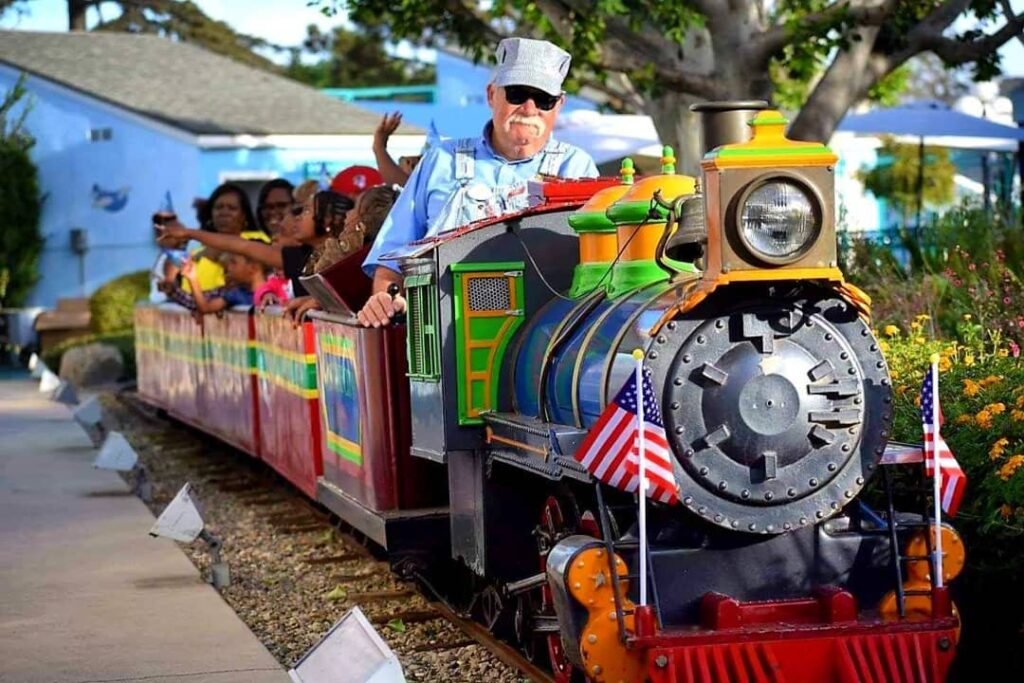 Adventure City is located in Stanton, California, and offers a smaller, more affordable alternative to the other amusement parks in Los Angeles. It has a family-orientated, relaxed vibe, with plenty of coasters that are designed for the whole family to get involved with. In particular, Rewind Racers is a forward and reversing shuttle model – one of the first ever in the US!
There are plenty of low-intensity coasters here that are ideal for your young kids' first coaster experience. Besides Rewind Racers, you also have Freeway Coaster, which is pretty standard but a lot of fun for little ones.
This park isn't designed for thrill seekers, so you won't find any high-intensity rides. However, there are still things to do to keep older kids entertained. For example, there are entertainment shows and a petting zoo.
Location: 1238 S Beach Blvd, Anaheim, California
New attractions in 2023: Adventure City hasn't added any new attractions in 2023.
Suitable for: Adventure City is best for young families and budget-conscious adventurers.
Tickets: General admission costs just $28.95 (with free parking!).
Tips for visiting:
If your kids like to climb, make sure they're wearing closed-toe shoes for the climbing wall.
Make sure you get your hand stamped when buying a ticket – this will ensure you can leave and return to the park on the same day.
Pacific Park (Santa Monica Pier)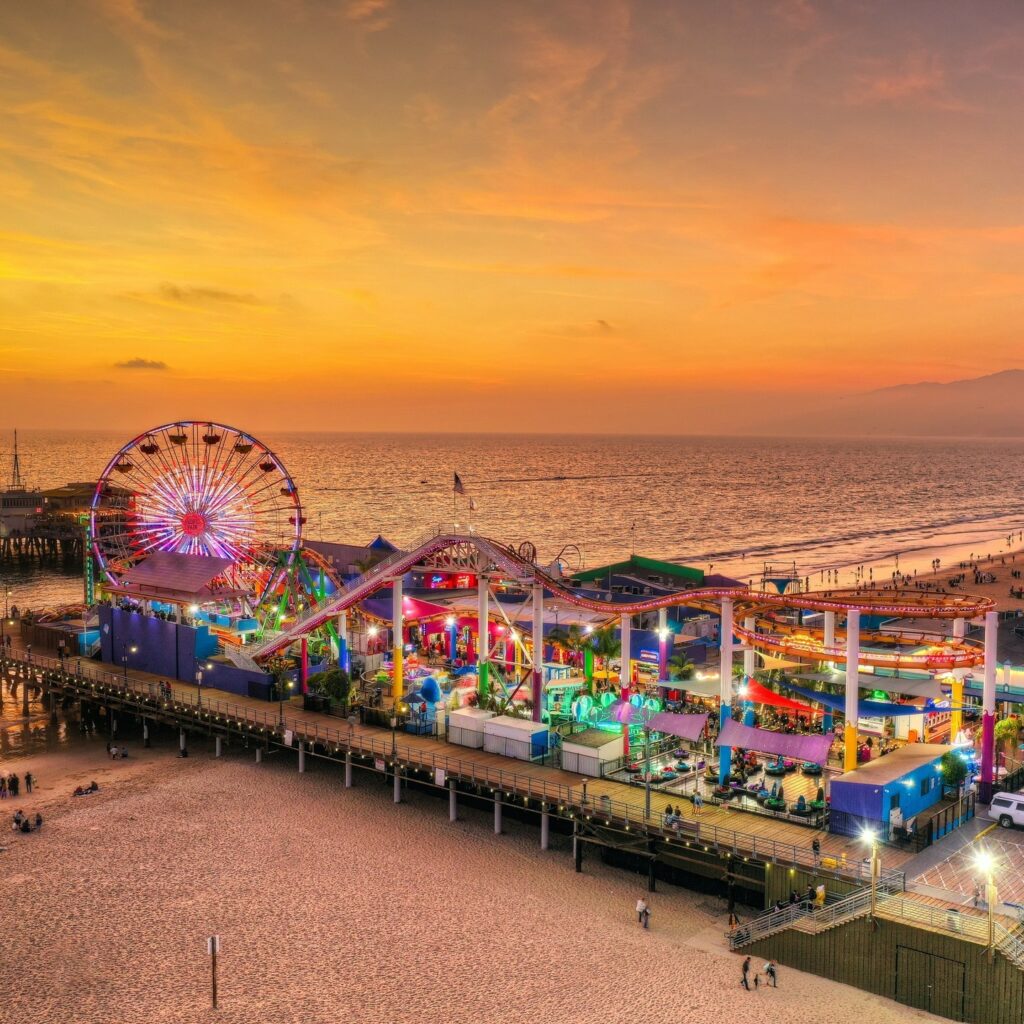 You might have heard from some that the Santa Monica Pier isn't what it used to be. I'm here to tell you that Pacific Park is just as exciting as it has ever been! The flashing lights, bustling crowds, and old-time theme park magic are sure to enchant you, making you want to stay for hours on end!
Pacific Park is an iconic slice of Americana and comes with all you'd expect from a traditional amusement park: ring tossing, water guns, punch bags – the whole lot!
Behind these traditional sources of entertainment, you also have a range of alluring rides, including the only solar-powered Ferris wheel and the West Coaster rollercoaster.
Suitable as both a day trip and an evening destination, it's a great spot for people of all ages. Younger kids will love the amusements, older kids will appreciate the buzz of the old pier.
Location: 200 Santa Monica Pier, Santa Monica, California
New attractions in 2023: In 2023, Pacific Park unveiled a new Sea Dragon swinging ride. This replaced the original version of the ride, which was used between 1996 and 2023.
Suitable for: This is a great outing for the whole family or for a first date.
Tickets: Pacific Park has free entry. However, you'll have to pay for rides individually, which tend to be priced between $5 and $12.
Tips for visiting:
On the Santa Monica Pier Pacific Park website, you can check the Live Web Cams to see how busy the pier is before you visit.
Use public transport (Big Blue Bus, Metro E Line) to avoid parking stress.
Aquarium of the Pacific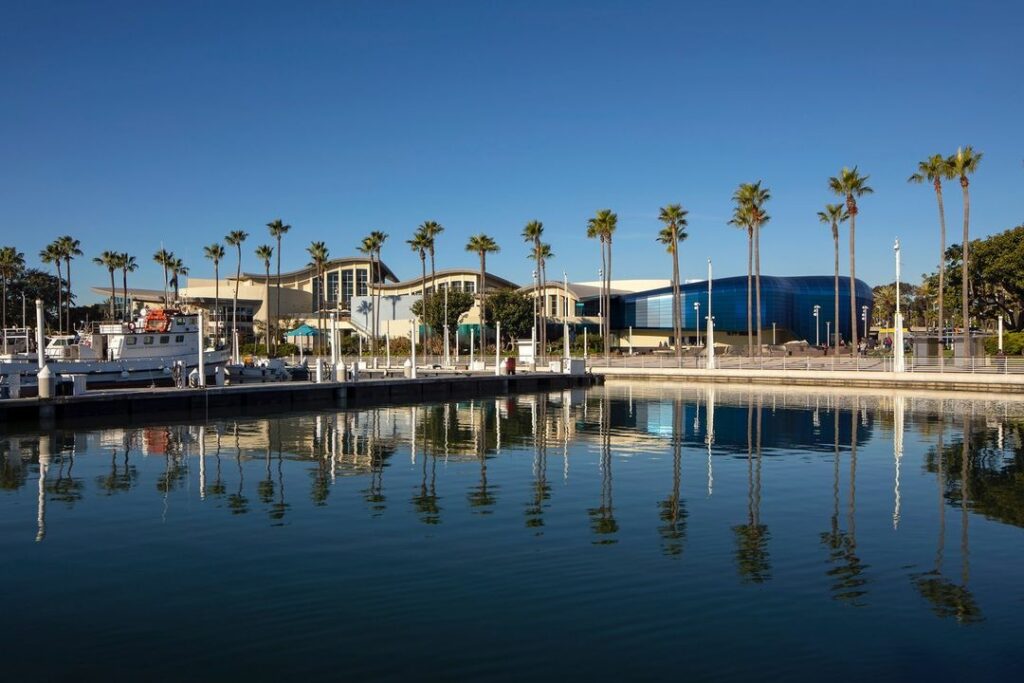 Take a look into sea life in the Pacific Ocean at the Aquarium of the Pacific, located in Long Beach. While this isn't technically a theme park, it can provide just as much fun and excitement.
Throughout the Aquarium of the Pacific's galleries, you'll get up close and personal with over 11,000 animals. This 11,000 covers an impressive 500 different species. Each gallery teaches you about the lives of these species, the seascapes of the California coast, as well as conservation measures that the aquarium supports.
Basically, if you're into sea life, marine biology, or anything to do with the ocean, you have to stop off at the Aquarium of the Pacific.
In terms of what animals you can see, you can expect to witness sharks, penguins, otters, fish, sea turtles, sea horses, octopi, and seals.
Location: 100 Aquarium Way, Long Beach, California
New attractions in 2023: To celebrate 25 years of the Aquarium of the Pacific, the Southern California Gallery was revamped with new tanks to house the likes of moray eel, California spiny lobsters, and Catalina goby.
Suitable for: Kids (of all ages) and adults are sure to be equally as fascinated by the marine galleries.
Tickets: $29.95 – $44.95
Tips for visiting:
The food is relatively expensive here, so eat before visiting.
You can't bring in any outside food.
The Wizarding World Of Harry Potter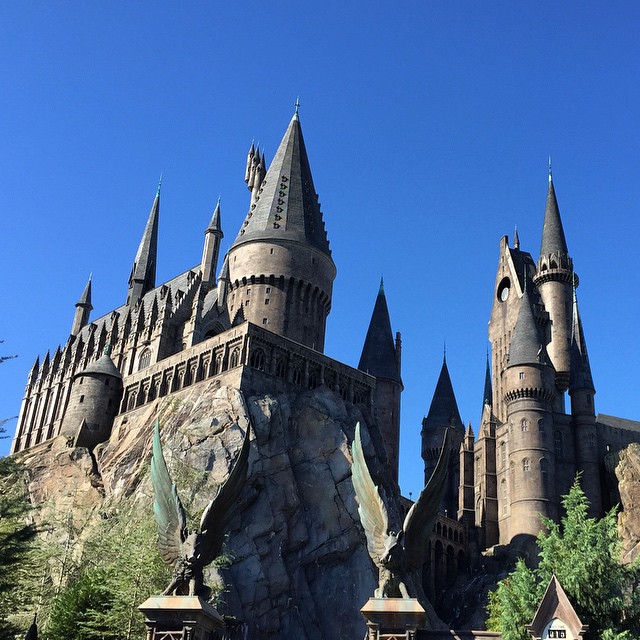 OK, while this is technically part of Universal Studios Hollywood, it deserves a section all to itself for how good it is. Especially if you're a Potterhead. Here, you can enter into the world of Hogwarts and explore the school and its surrounding grounds. Taking up over 6 acres of the Universal Studios grounds, you could definitely spend a whole day exploring the Wizarding World.
Once you've finished shopping in the Hogsmeade shops, you can jump on some Harry Potter rides, including the Flight of the Hippogriff.
Best of all: it's not only for kids. I know that the magic of Harry Potter never really leaves you, which is evident in the number of adult couples you can catch exploring the grounds.
Location: 100 Universal City Plaza, Universal City, California
New attractions in 2023: Dark Arts-themed shows have been running at the Wizarding World of Harry Potter through 2023.
Suitable for: Families, couples, and Potterheads
Tickets: $109 to $149 (comes with your Universal Studios Hollywood park ticket)
Tips for visiting:
Make a beeline for the Wizarding World as soon as you arrive at Universal Studios.
Buy an interactive wand as soon as you enter.
Griffith Park
Griffith Park is best known as the iconic observatory located on Mount Hollywood. However, it is actually a hub of activity that offers experiences suitable for the young and the old. In the observatory, you can walk around the exterior and admire the unbeatable view of the LA skyline.
Inside, you can look through telescopes, enjoy a planetarium show, and explore exhibits.
Once you're finished there, you can then explore the lush green space that surrounds the observatory, and even venture into LA Zoo. Here, you can get up close and personal with chimpanzees and meerkats, and even go on pony rides.
Location: 4730 Crystal Springs Dr, Los Angeles, California
New attractions in 2023: LA Zoo welcomed Ruppell's Sand Foxes in 2023.
Suitable for: Families, couples, solo travelers, and space buffs
Tickets: The park and observatory are free to enter. LA Zoo entrance costs between $17 and $22.
Tips for visiting:
Griffith Park is massive – be sure to have a map ready so you don't get lost.
Bring water and snacks for hiking through the park.
How to Choose the Right Theme Park to Visit in LA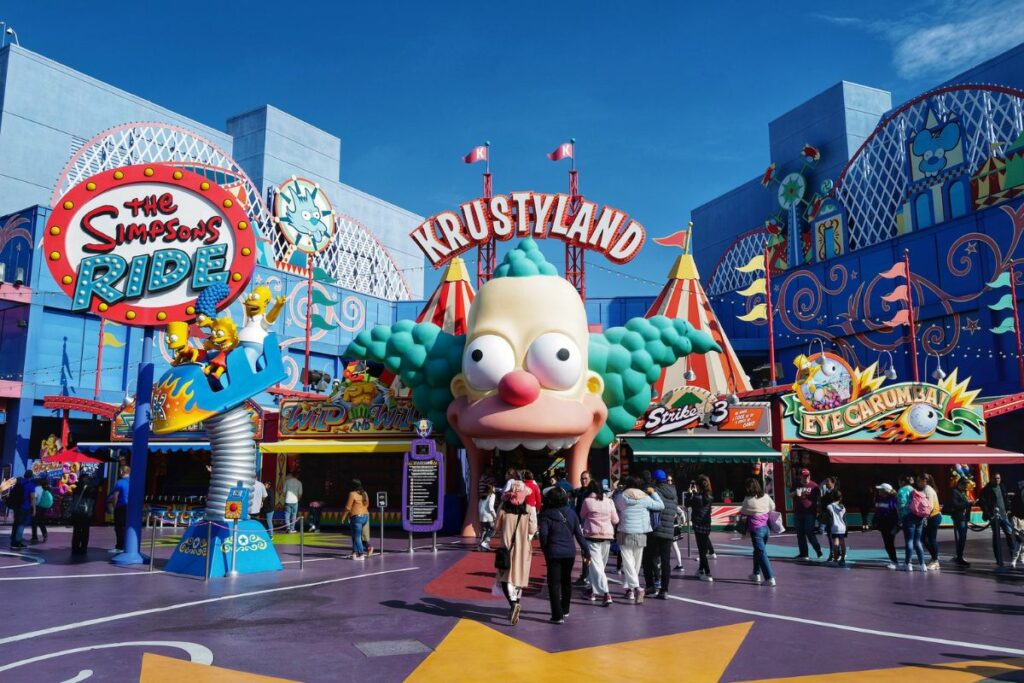 If you're visiting LA with your family, definitely choose the theme park that appeals to your kids' interests and age groups the most. This may be obvious for some – if your kids like Harry Potter, take them to the Wizarding World Of Harry Potter. For the big kids (I'm talking to you, adults) who want a thrill-packed adventure, Six Flags Magic Mountain is where it's at.
If you're not sure what park appeals most to you or your child's interests and age group, pick a park that offers the most variety. For example, Universal Studios Hollywood offers a good balance of family-friendly activities, tours, and thrill-seeking rides.
If you're looking for a fun but educational day out, choose Griffith Park or the Aquarium of the Pacific.
Tips for Visiting Amusement Parks
Once you have decided on a theme park to visit, here's some general tips to keep in mind:
Best time to visit
If you can, visit on weekdays during term time. However, this isn't always possible if you're going with your family. So, I'd recommend visiting between late September and early November. During this window, you miss out on the summer and Thanksgiving crowds.
How to save on tickets
Buying advanced tickets online could save you money on tickets, but there is no guarantee. For Disneyland, amusement park prices stay the same right up until they sell out.
Dining options
I'd recommend taking a packed lunch to most theme parks in Los Angeles, as the cost of eating at one of the on-site restaurants can be quite high. As long as you take in lunch, you can justify paying the high price at dinner.
Accommodation options near the parks
You'll easily be able to find accommodations near each of the Los Angeles amusement parks mentioned in this article. Particularly at Disneyland, which has its own resort onsite. However, these on-site hotels can be expensive, and it can sometimes be nice to stay outside of the resort while there.
For example, you could easily find a cheaper hotel around Disneyland in the Anaheim area. The Best Western, Howard Johnson, and Best Inn & Suites Buena Park are cheap alternative hotels you could book into that are within close proximity of the theme park.
Tips for a hassle-free visit
Some general tips for theme parks in Los Angeles include:
Check height restrictions beforehand.
Check the times of the parades and shows.
Check traffic prices/alternative traffic solutions.
Use public transport whenever possible.
Bring a change of clothes – you don't want to walk around drenched from a water ride!
Conclusion
Los Angeles is a bustling theme park epicenter. It is home to two of the US's most well-known parks, Disneyland Resort and Universal Studios. It is also home to some of America's best little-known theme parks, such as Six Flags and Knott's Berry Farm.
Frequently Asked Questions
How many theme parks are there in Los Angeles?
There are seven major theme parks in Los Angeles. These major theme parks include Disneyland Resort, Universal Studios, Six Flags Magic Mountain, Knott's Berry Farm, and LEGOLAND. However, there are other, lesser-known theme parks throughout Los Angeles. This includes the likes of the Scandia Family Fun Center and Adventure City.
What is the #1 theme park in California?
Disneyland Resort is often cited as being the #1 theme park in California for its immersive rides and family-friendly environment. It is also bigger and more iconic than the likes of Universal Studios. It was the first Disney theme park opened by Disney and the only one that Walt Disney himself helped design. This legacy also helps the park maintain its status as the #1 in the city.
How many amusement parks are in Hollywood?
There are no theme parks inside the limits of the Hollywood neighborhood itself. Hollywood is mostly concerned with entertainment and movie-making, rather than theme parks. However, there are theme parks close to Hollywood, including Universal Studios, Santa Monica Pier, and Pacific Park.
Do I need to buy tickets to LA theme parks in advance?
You should book in advance to ensure park entrance, particularly if you're planning on visiting Disneyland Resort. Tickets for Disneyland Resort are available 120 days in advance. These often sell out, especially close to the date you're planning on visiting.