Road Trip From San Diego To Los Angeles: Most Picturesque Route And Stops
Nadia Podrabinek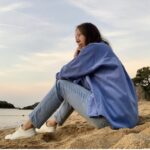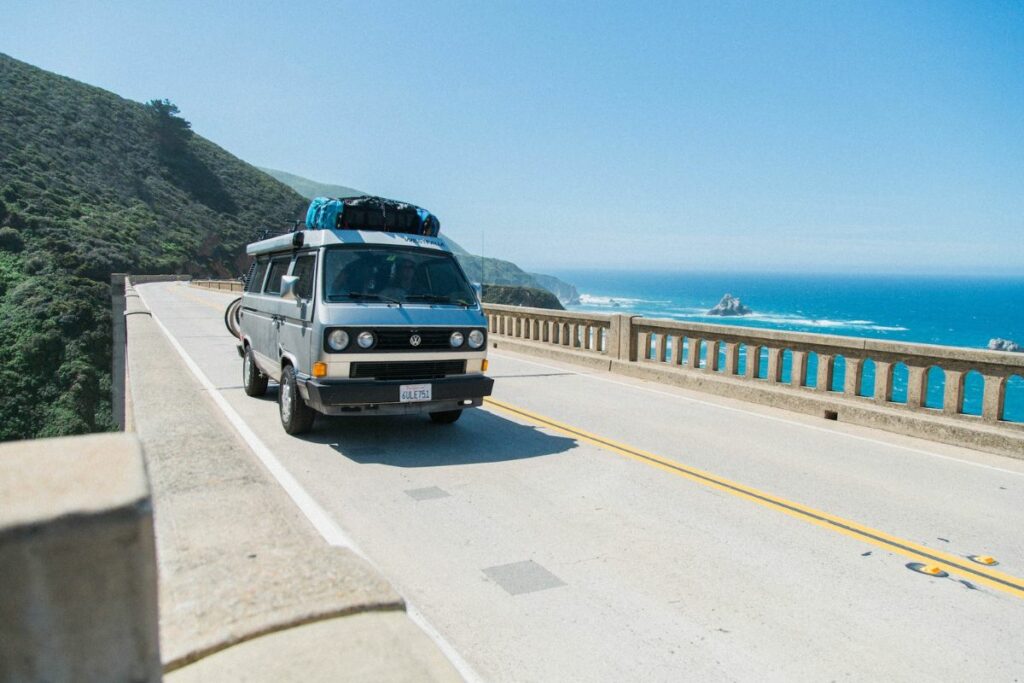 Planning any road trip can be a headache, especially if you're the only one who likes being organized!
But don't worry too much. If you're planning a trip from San Diego to Los Angeles, you're in luck – I'm going to give you some insight. I'm talking about the most picturesque route, essential stops, and much more!
So get strapped in and prepare yourself for the road trip of a lifetime!
---
Key Takeaways
The road trip from San Diego to Los Angeles is approximately 120 miles and takes around 2.5 to 3 hours without stops.
The most picturesque route is along the Pacific Coast Highway.
Key stops include La Jolla Cove, Carlsbad, Oceanside, San Clemente, Dana Point, Laguna Beach, and Newport Beach.
The best time for a road trip is during spring and fall, avoiding San Diego's June Gloom.
Other ways to travel from San Diego to Los Angeles include by plane, train, or bus.
Essential tips: Plan your route, check your vehicle, pack smart, take regular breaks, and be prepared for emergencies.
---
A Map of Road Trip From San Diego To Los Angeles
Route Overview
A San Diego road trip to L.A. is full of iconic landmarks and charming towns. The California State Route or the Pacific Coast Highway (PCH) are widely considered the best routes, and I'm inclined to agree. The route offers a bunch of stops and amazing ocean views throughout.
So, how far apart are San Diego and Los Angeles you ask? Without stops, the total distance would be around 125 miles (201 km), which would take you 2.5 to 3 hours to cover. Hold your horses though – scenic routes often mean traffic. This could be the case, but either way, there's no need to rush. You could honestly take a full day to reach California if you're enjoying all the stops along the way.
You also need to be mindful that the PCH is a road with lots of twists and turns, so it may not be the best route if you're not a very confident driver. Unless you're a passenger, that is; then you can just kick back and relax while the driver sweats.
Best Time for the Trip
The great thing about the Golden State is that its weather is fine for a road trip any time of the year. California experiences an average high temperature of 80 degrees Fahrenheit (26°C) in the summer and 65 degrees Fahrenheit (18°C) in winter, but there are still some things to bear in mind when planning this trip.
Summer seems like the perfect time right? Well, it actually might not be. From late May to early June, southern California experiences what is called "June Gloom." This is when the skies become overcast for half the day, which could put a damper on your road trip.
In winter, though, temperatures will be much milder and days will be shorter, with sunset at around 5:00 p.m. This could mean less time to see the sights along the way.
So, when we consider all of this, spring and fall start to look like the best seasons for this road trip. The weather is typically pleasant and the skies are clear. No matter which season you decide to go in, it's always best to start early in the morning to beat traffic and enjoy a safer drive.
Beginning The Journey: San Diego
First things first: don't rush! Take some to explore what San Diego has to offer. San Diego is a stunning city with beautiful beaches, vibrant culture, and lovely weather year-round.
I'd recommend starting at the city's cultural heart, Balboa Park. It's a 1200-acre expanse of verdant greenery with world-class museums and the renowned San Diego Zoo. It also has some pretty cool architecture, which can be the perfect backdrop for your Instagram story.
After this, Gaslamp Quarter is a must-see. It's a buzzing area in downtown San Diego, which certainly doesn't quiet down at night. It also has a bunch of dining options and rooftop bars, so you can go wild! Alternatively, check out the USS Midway Museum or the Embarcadero for a taste of the sea.
And, of course, you can't leave San Diego without exploring the city's beaches. Coronado Beach is a nice family-friendly option, or you can go surfing at Pacific Beach. I would also add Mission Bay to the list of places to explore before your San Diego road trip. Mission Bay is an awesome spot for water sports.
Detailed Itinerary LA-San Diego and Stops
Stop 1: La Jolla Cove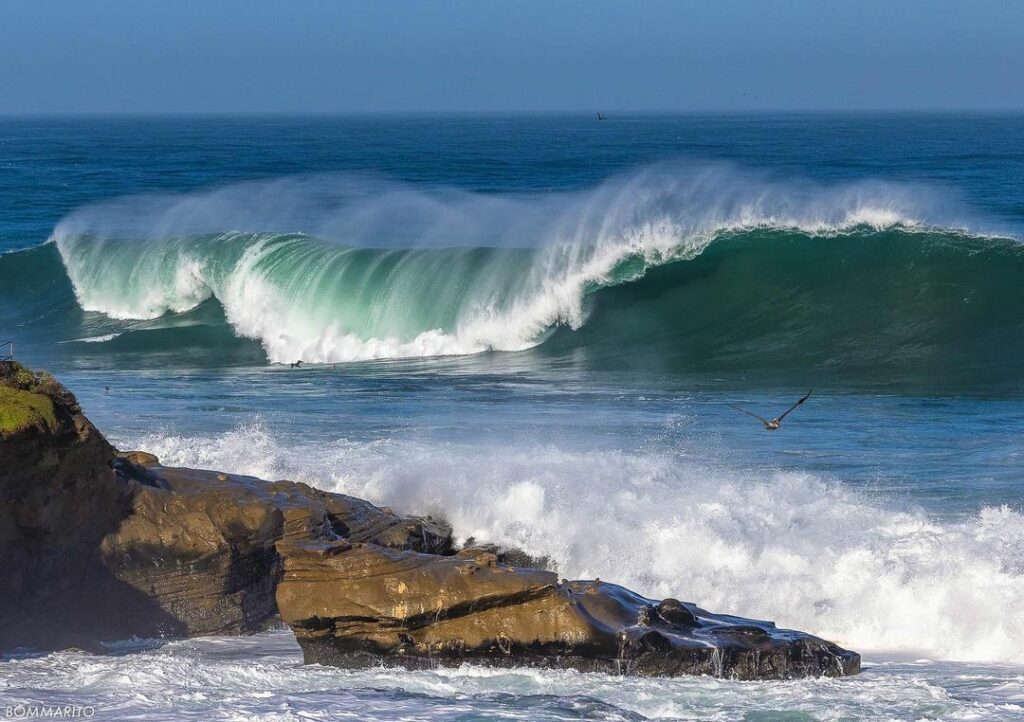 The first stop after San Diego is the enchanting La Jolla Cove; a small beach that's surrounded by sandstone cliffs. It's pretty much what postcards are made of – and I'm not exaggerating! La Jolla is one of the most photographed beaches in southern California. The beach is also home to an abundance of marine life, so it's perfect for nature lovers.
It'll take you around 20 minutes to get to La Jolla once you start your San Diego drive. All you have to do is take the I-5 N and then exit on La Jolla Parkway. The cove is at the end of the street and there's parking in the nearby neighborhoods. If you have enough time, head over to the neighboring La Jolla Shores – you can even spend the night there. La Jolla Shores also has some world-famous beaches.
Handy tip Take some snorkeling gear with you! As I said, La Jolla is full of marine critters, so it's the perfect place to spot colorful fish swimming in the blue waters. You might also spot some lazy sea lions sunbathing but do remember that La Jolla's beach is a protected area, so be respectful and avoid touching or feeding the animals.
Stop 2: Carlsbad
Next up we have Carlsbad; an easy-going coastal city that also has some beautiful beaches. It also has some screensaver-worthy lagoons and is home to the famous Carlsbad Flower Fields. If you're using the I-5 N, it'll take you about 30 minutes to get from La Jolla to Carlsbad.
If history is your thing, the Leo Carrillo Ranch Historic Park is a great place to learn about ranching in California. If you have kids or simply need to satiate your inner child, LEGOLAND California is a must-visit.
Handy tip Carlsbad is known for its dining options, so make sure you indulge at one of the local eateries. Take your pick from fresh seafood, craft beer, and gourmet pizza.
Stop 3: Oceanside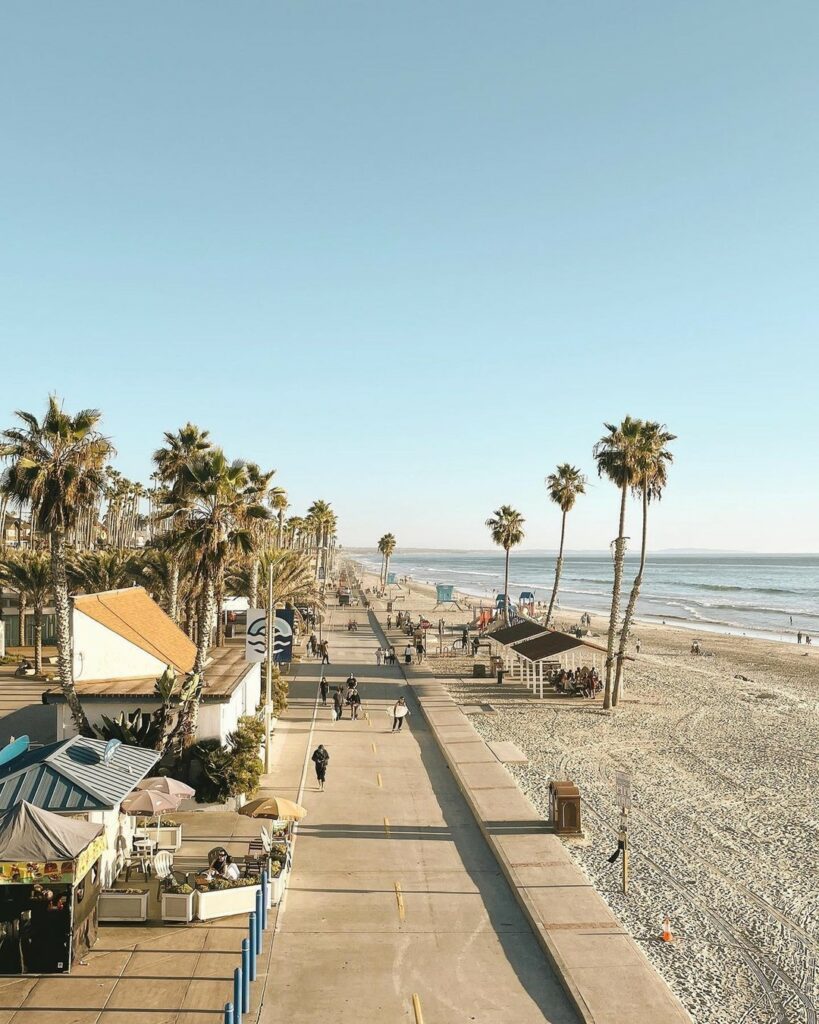 When you think of a typical beach town on the southern California coast, you're probably picturing Oceanside. This stop is 15 minutes after Carlsbad via the I-5 N and it's the northernmost city in San Diego County.
I absolutely love the wide sandy beaches in Oceanside. I'm also a big fan of the sunset views from the wooden pier, which I would say could even rival the sunset at Huntington Beach pier. It's the perfect place to saunter around and soak up some sun, so make sure you add it to your San Diego drive itinerary.
I would recommend starting with a walk down Oceanside Pier. It's one of the longest wooden piers on the west coast and is ideal for breathing in fresh air and enjoying panoramic views of the Pacific Ocean.
If you're into fishing, you can go ahead and cast your line, since you don't need a fishing license there; or you could check out the California Surf Museum.
Handy tip The craft beer scene is really popular in Oceanside, so consider stopping at one of the local breweries. If you're planning on drinking, ensure you're sober before getting behind the wheel again, or have a designated driver.
Stop 4: San Clemente
Visiting San Clemente is non-negotiable, simply because of how beautiful it is. "The Spanish Village by the Sea" is a 25-minute drive from Oceanside and is known for its Spanish look (who would've guessed?) and the well-known San Clemente Pier.
San Clemente State Beach seems like the obvious option, right? One thing about San Clemente State Beach, though, is that it can be a bit dull. Check out the San Clemente Coastal Trail rather than the actual beach, or catch some waves at Trestles Beach instead.
If you're tired of the beach, you could always visit Casa Romantica Cultural Center and Gardens.
Handy tip San Clemente also has a lot of dining options, so you could stop here to eat at one of the upscale restaurants or beachfront cafes.
Stop 5: Dana Point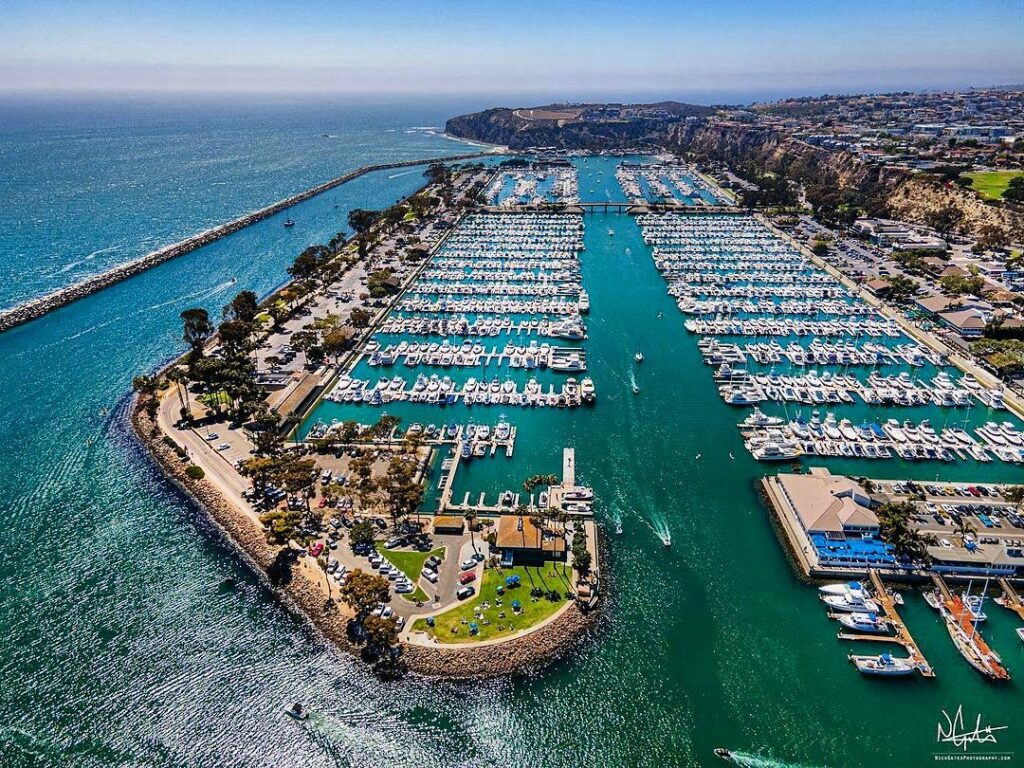 Dana Point Harbor is the jewel of Orange County and just 15 minutes from San Clemente. One of its most well-known spots is Dana Point Harbor, which has a rich maritime history, as well as some shops and restaurants. Dana Point Harbor is also the launch spot for dolphin and whale-watching tours, so add it to your itinerary if that's what floats your boat.
You can take a walk along the harbor and see what's on offer, or head over to Salt Creek Beach for some surfing.
Handy tip Plan your trip around one of the city's annual events. Good options are the Festival of Whales and the Dana Point Harbor Boat Parade of Lights.
Stop 6: Laguna Beach
20 minutes after Dana Point is Laguna Beach; a lively resort city with warm beaches and a thriving art scene. Laguna Beach is truly the highlight of any southern California road trip (in my experience, at least).
I would start by sunbathing at Main Beach, as it's a very popular soft sandy beach. If you like adventure or didn't get to snorkel at La Jolla, you could always do it at Shaw Cove. Art lovers will enjoy a visit to one of the art galleries in Laguna Beach; out of all of them, Laguna Art Museum is probably the best option.
Handy tip In summer parking can be a bit of a headache in Laguna Beach, so consider using the city's trolley service to get around. Save your petrol, it's free!
Stop 7: Newport Beach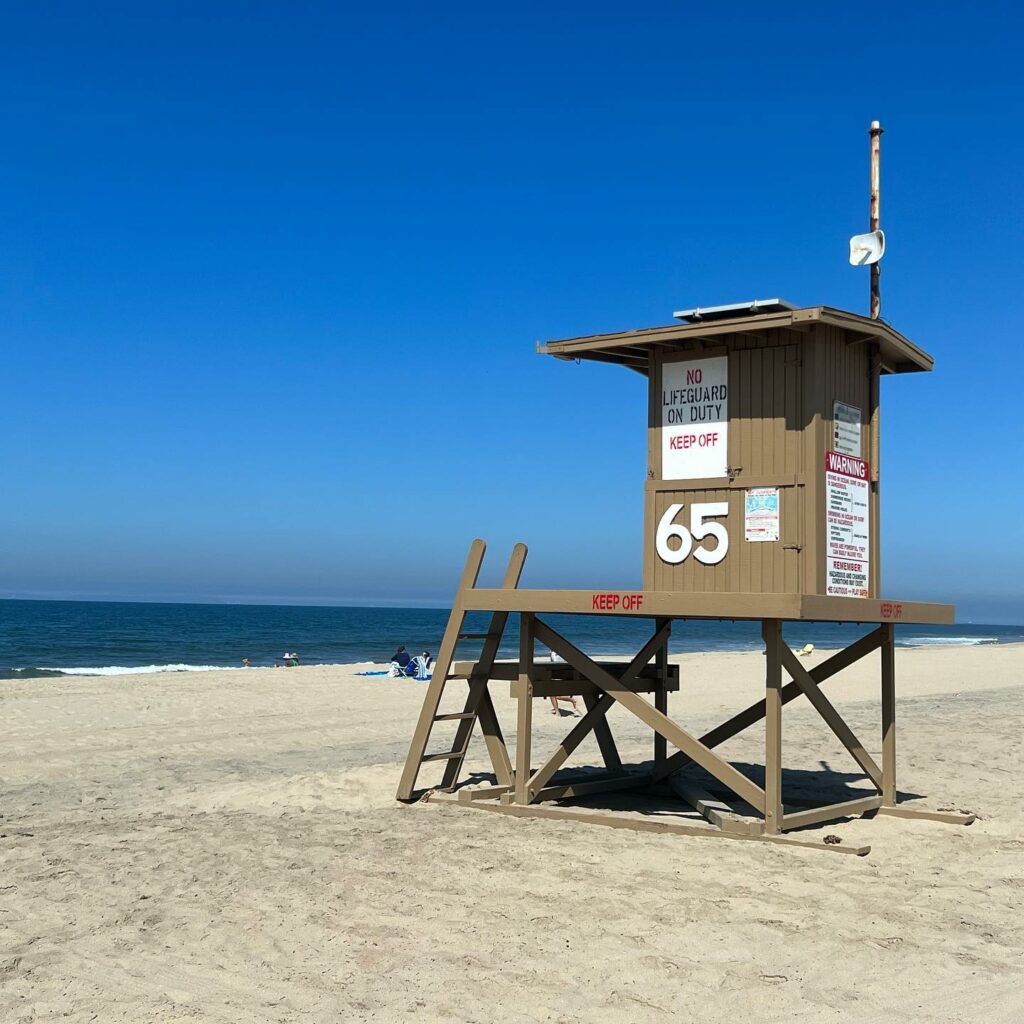 The final stop before arriving at your destination is Newport Beach. It's a sophisticated yet equally laid-back city that's another must-see in Orange County. I know Orange County has a lot of "must-see" places, but bear with me – Newport Beach is worth it. Beautiful beaches, upscale shopping, fine dining; you name it, Newport Beach has it.
I'd kick-start my Newport Beach adventures by visiting the stunning Crystal Cove State Park. It's full of long trails, sandy coves, and tide pools. This makes it a good spot for watersports or simply taking in the area's natural beauty.
Visiting Newport Beach will also give you the chance to explore Balboa Island. Balboa is a beguiling residential island with modest shops, cafes, and the Balboa Island Ferry.
Handy tip Newport Beach is arguably most famous for its seafood, especially the Dungeness crab. Try it yourself and see if it's worth the hype. I'll reserve my comments.
As your journey continues north, you'll pass through a lot of other amazing cities like Santa Monica, San Juan Capistrano, and Long Beach, so consider adding them to your San Diego itinerary too.
If you're doing a Los Angeles to San Diego road trip, you could completely switch up the order in which you see these places. You could also go past L.A. and head to San Francisco. Whatever you do, just have fun!
Reaching The Destination: Los Angeles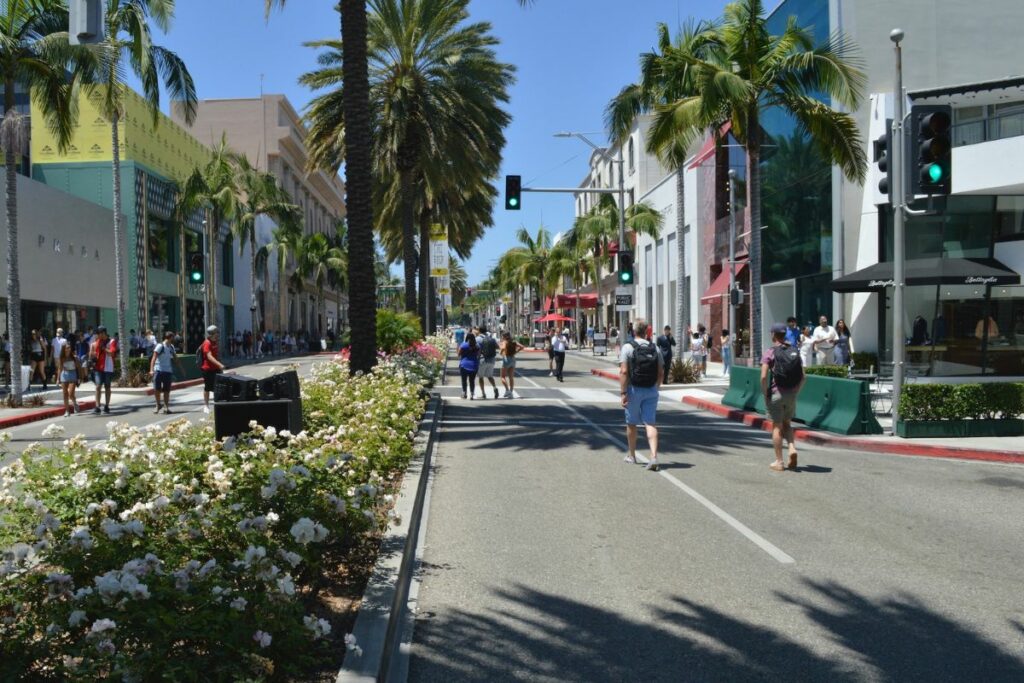 Once you reach Los Angeles, you'll be welcomed by a melting pot of cultures, an infectiously vibrant energy, and world-famous landmarks.
L.A. is a sprawling city with a lot to do. My advice would be to stay away from the really big attractions like Universal Studios on your first day of arrival. You'll probably be too tired from the trip anyway.
Instead, check out the historic Griffith Observatory that's perched on the top of Mount Hollywood. It offers truly breathtaking views of L.A. for those Kodak moments. After that, head to the Getty Center to see its unique architecture and impressive artwork. Alternatively, you can find out what's happening at Venice Beach. Spoiler alert: there's generally a lot happening at Venice Beach.
If you want a taste of the local culture, take a leisurely stroll down Olvera Street and learn more about the city's Mexican heritage. Alternatively, explore the trappings of downtown Los Angeles.
You should also make an appointment to check out one of the high-end restaurants or food trucks but, whatever you do, you have to visit The Hollywood Walk of Fame to breathe the same air as the rich and famous.
The Fastest Route
Naturally, traveling via plane would be the fastest way to get from San Diego to L.A. But, for a San Diego to Los Angeles road trip, going via the I-5 N is your best option. It's a direct highway stretching roughly 120 miles (193 km) and should take you around two hours if there's not much traffic.
This is generally the fastest route by car, but this could change depending on the time of year and weather. Besides being the quickest way to get between the two cities, it's also a very picturesque route with awe-inspiring ocean views.
I would suggest taking the famous Pacific Coast Highway. It may not be the quickest route but trust me, the Pacific Coast Highway is worth it, especially if you want to see Huntington Beach. The way I see it, the fastest route may not necessarily be the "best" route for a road trip from LA to San Diego.
Essential Tips For Road Trips
Drive safely – You should check your vehicle beforehand to ensure it's fit to be driven. Check the oil, tire pressure, and fuel. Just know before you begin the drive that a San Diego road trip can be taxing so don't drive tired. Driving can be very tiring and a tired driver is a dangerous driver. Stop every hour or so to rest, stretch, and refresh. Lastly, respect the speed limits and don't drink and drive. Luckily, because it's in the same state, the road rules won't change drastically, regardless of whether it's a road trip from Los Angeles to San Diego, or vice versa.
Be prepared for emergencies – Unfortunately, things don't always go according to plan on road trips. Especially because some people like taking their sweet time getting in the car! But on a serious note, always be prepared for emergencies. This means having a first aid kit in the vehicle and having roadside assistance contacts on speed dial.
Pack smart – Bring essentials like water, snacks, and chargers. You should also take a physical map with you in case you lose signal.
Plan your route – A detour can be fun now and again but it's best to have a general idea of your route. Use a GPS or map app to help you plan the most scenic and safest route.
Don't forget to have fun – At some point, a long drive will inevitably get boring. So, pump your favorite jams or download a lengthy podcast. This'll also help the driver stay awake.
Respect the environment – The trash in your car won't hurt you, believe me. Don't throw harmful waste out the window. Wait until you reach a stop and then dispose of any trash.
Other Ways To Get To San Diego From L.A.
Bus – Going by bus is generally the cheapest way to make this trip, and many bus companies regularly run trips from Los Angeles to San Diego California. The downside here is that this journey can be long. Depending on traffic, it could take you around five hours. You also have to rub shoulders with strangers and won't be able to play your carefully curated road trip playlist out loud. Don't get me wrong though; this is still a good option if you're on a tight budget and have some time to spare.
Train – The train can be a comfortable way to enjoy the scenery between L.A. and San Diego. It's almost like a bus ride without the traffic. But, if the train schedule doesn't align with your plans, it may be a slight inconvenience.
Plane – Going by plane is by far the fastest way to get to San Diego from Los Angeles. Your main considerations would be allowing time for airport check-in and security protocols. This means potentially having to wait in long lines and not being able to pack as much. Lastly, this is the most expensive option.
Frequently Asked Questions
Is there a train that runs from L.A. to San Diego?
Yes. Amtrak has a train service called the Pacific Surfliner that runs between Los Angeles and San Diego. The train ride offers scenic views, runs multiple times a day, and the journey takes around two to three hours, depending on the train taken.
How far is Los Angeles to San Diego by plane?
The flight distance from Los Angeles to San Diego is around 109 miles (175 km). With a direct flight, this typically amounts to just an under an hour with around 29 minutes of that being spent in the air.
How do I get from L.A. to San Diego without a car?
If you don't want to go from L.A. to San Diego by car, you can always take a bus, train, or flight. Greyhound offers bus services and many airlines offer direct flights between the two cities. Alternatively, you could always pull a Forrest Gump and run, but I wouldn't recommend it.
How much is a train from Los Angeles to San Diego?
A train ticket from L.A. and San Diego will generally cost you between $30 and $60. Prices will always vary depending on when you book and the class of service.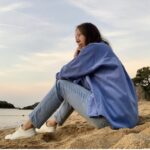 Hello, my name is Nadia.
I usually write about traveling (there are so many places to fit all the lifestyles), relocation (finding a job overseas or moving without losing an income), and living in a foreign country (adapting to a different culture and mentality). Follow me on Twitter, Facebook, Instagram, or LinkedIn!
This post might include some affiliate links. If you make a purchase through these links, I may earn a small commission at no additional cost to you. I appreciate it when you use my links to make purchases.