19 Best Hikes in Italy to Take in 2023
Nadia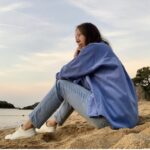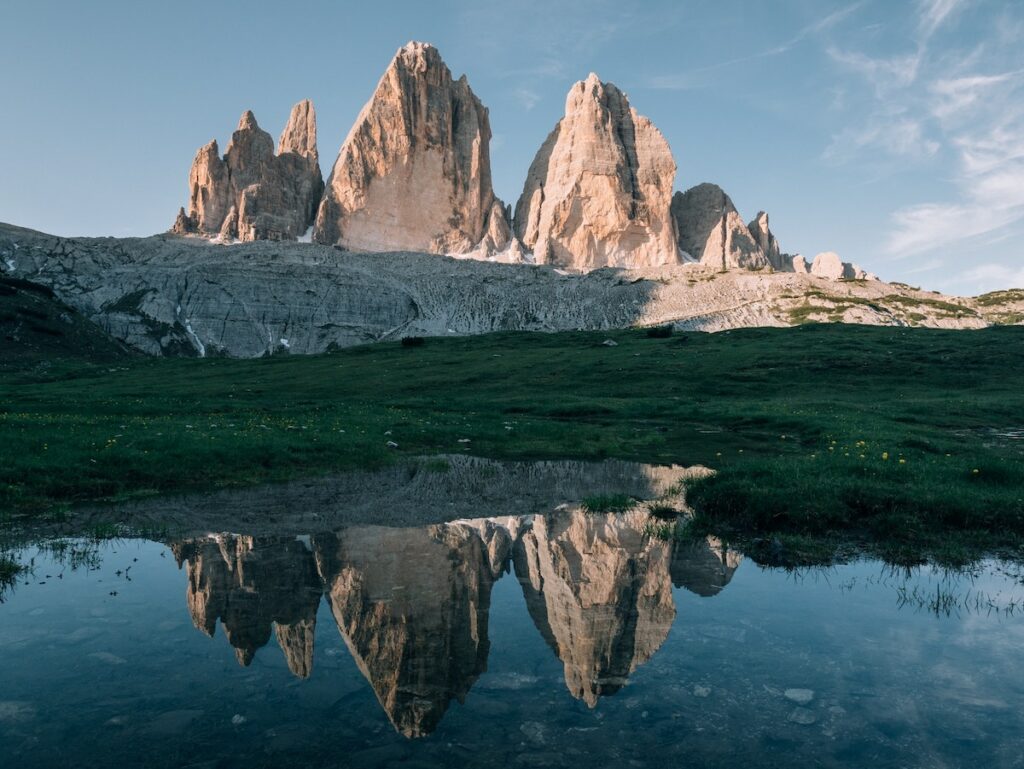 Italy is not only a country known for Rome and its Colosseum, the Leaning Tower of Pisa, and beautiful beaches, but also for the picturesque Mediterranean landscapes of Amalfi and its excellent hiking opportunities.
There are more than 13,550 hiking trails all over Italy – from challenging mountain trails in the north or volcano climbing in the south to tranquil walks in the center of mainland.
To help you in finding the best route, I have compiled a list of the 19 best hiking trails in Italy for 2023.
---
Key takeaways
The Dolomites in Northern Italy are simply otherworldly. Also, be prepared for rugged terrain, as well as Austrian-influenced culture and cuisine. For a more traditional Italian atmosphere, consider exploring areas further south in Italy.
Garda Trentino and Lake Como are also excellent hiking destinations in Northern Italy.
Cinque Terre is another fantastic hiking spot, with picturesque vineyards, castles, and breathtaking cliff roads that rival the beauty of Big Sur.
The best time for hiking in Italy is during spring and fall.
---
It's clear that Italy is an outdoor paradise, offering numerous iconic hiking opportunities. Let's begin by exploring some of the best trails to choose from:
1. Tuscany
Tuscany, a region in central Italy, offers a variety of hiking options. It is an ideal place to explore nature and embark on a journey. Some of the famous trails include:
The Apuan Alps (Mount Pania della Croce)
La Rocca di Montestaffoli – San Gimignano
Camaiore area
The Monte Riggioni to Siena hike
Mount Pania della Croce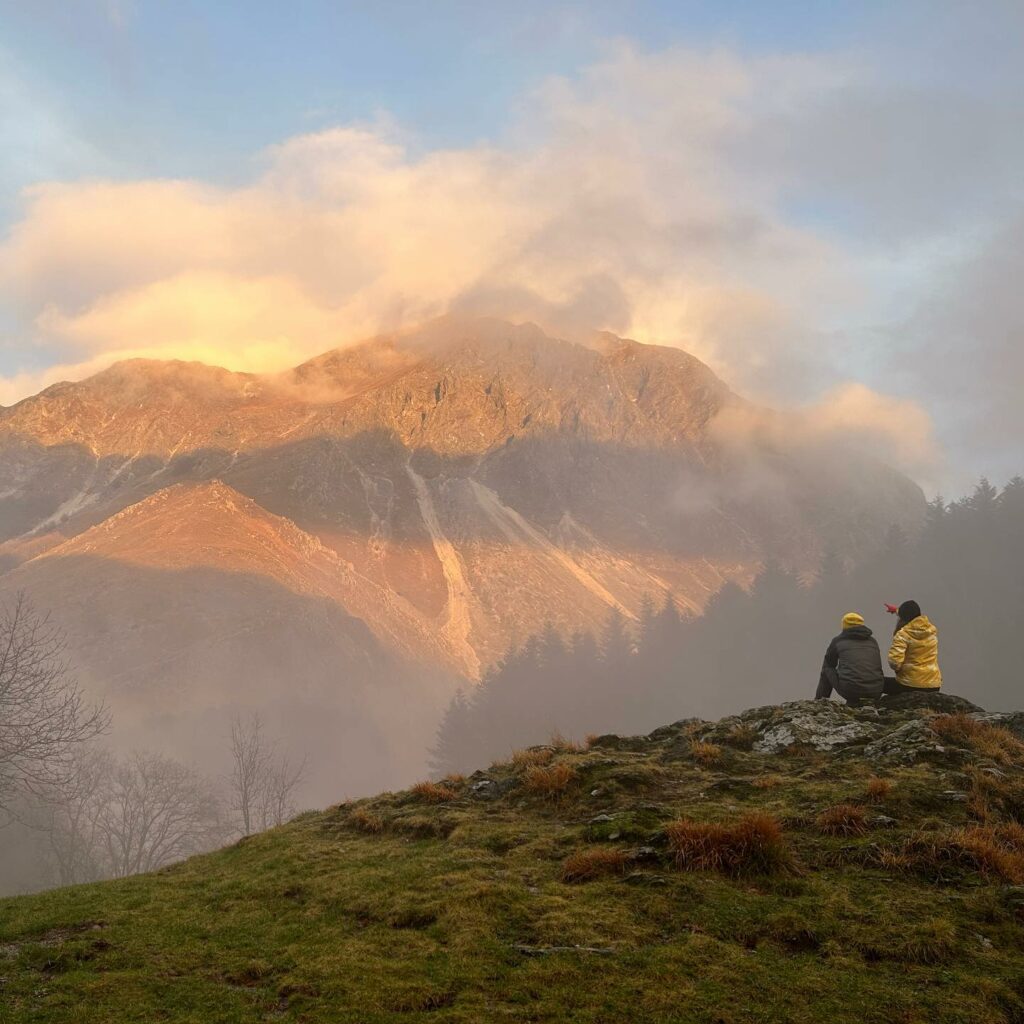 It is the most visible mountain of the Alpi Apuane in the Tuscany region, forming a barrier, separating the main northern summits of the group from the lower karst-like hill country in the south.
The mountain has two valleys: Val Torrente Turrite Secca to the north and Val Torente Turrite di Gallicano to the south. Mount Pania Della Croce can be considered the trademark of this area, as it is visible from all sides and is one of the best lookouts of the Alpi Apuane due to its separate location.
The long and tiring routes on the west and south faces can be challenging. However, the usual route is a short scramble that starts at the chapel of Piglionico and can be completed quickly.
After 5-7 hours of hiking, returning to a homemade meal, fine wine, and a swim in the pool feels like paradise.
Difficulty: 4 of 5
Preferred months: Mar, Apr, Sep, Oct
Distance round trip: 7 miles
Average Time Round Trip: 3-4 hours
La Rocca di Montestaffoli – San Gimignano Campagna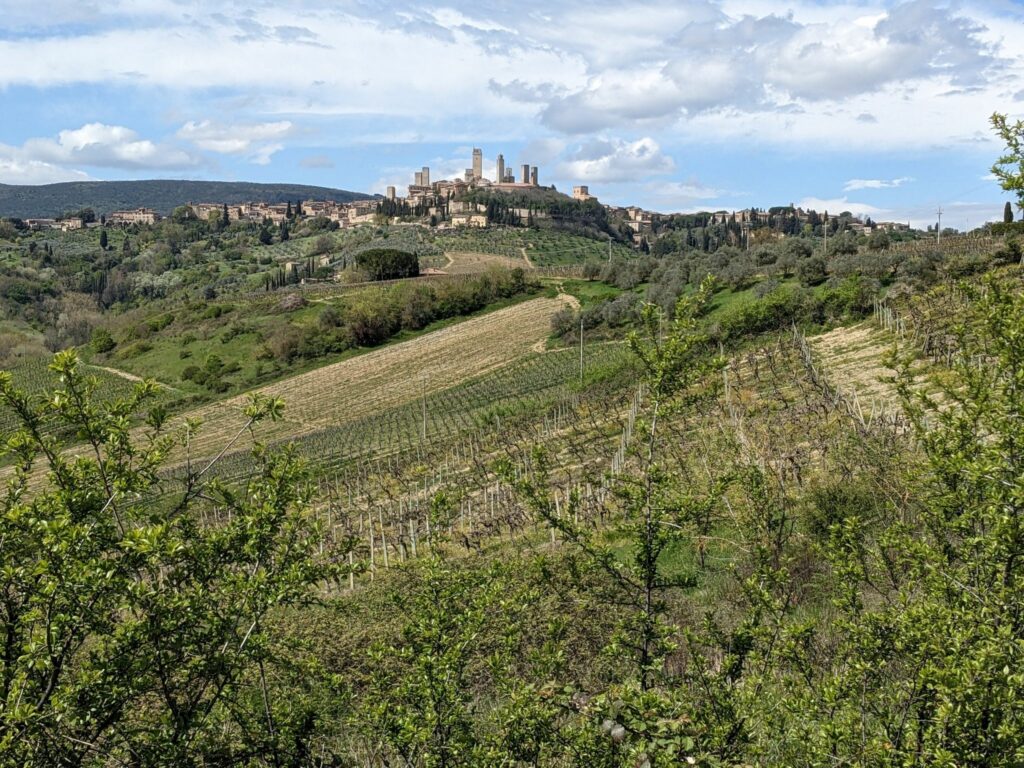 This fantastic and easy trail is located near San Gimignano, Tuscany, and is generally considered a moderately challenging route. It's a popular area for birdwatching, hiking, and mountain biking. There are many beautiful views of vineyards and the old town to enjoy.
For me, it was a long, leisurely walk with stunning views of San Gimignano and Tuscany. Also, it is an absolute must to stop at Fattoria Poggio Alloro for lunch and to admire the beautiful views looking back at San Gimignano, a true gem of this area.
Difficulty: 3 of 5
Preferred months: Mar, Apr, Sep, Oct
Distance: 6 miles
Avg Time: 3-4 hours
See on the map
Camaiore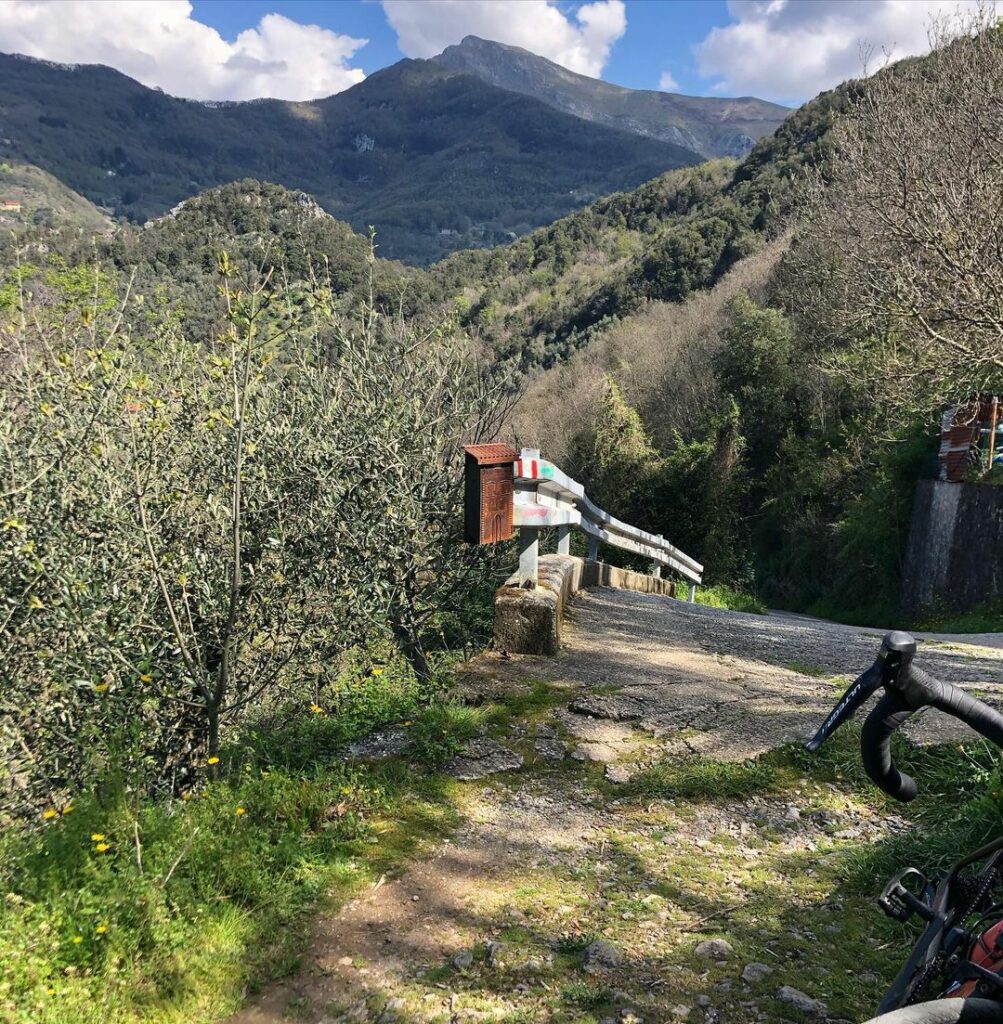 Camaiore is a commune in Italy, located in the region of Tuscany, within the province of Lucca. Hiking around Camaiore is one of the best ways to experience the surrounding landscape. The top hike near Camaiore is Via Por Santa Maria, a 2.0-mile trail. "Trekking" on this route requires a minimum level of training on rocky terrain. Appropriate footwear is necessary. The fabulous views and amazing nature will not disappoint.
Difficulty: 3 of 5
Preferred months: Mar, Apr, Sep, Oct
Distance round trip: 5 miles
Average Time Round Trip: 2-3 hours
Monteriggioni to Siena hike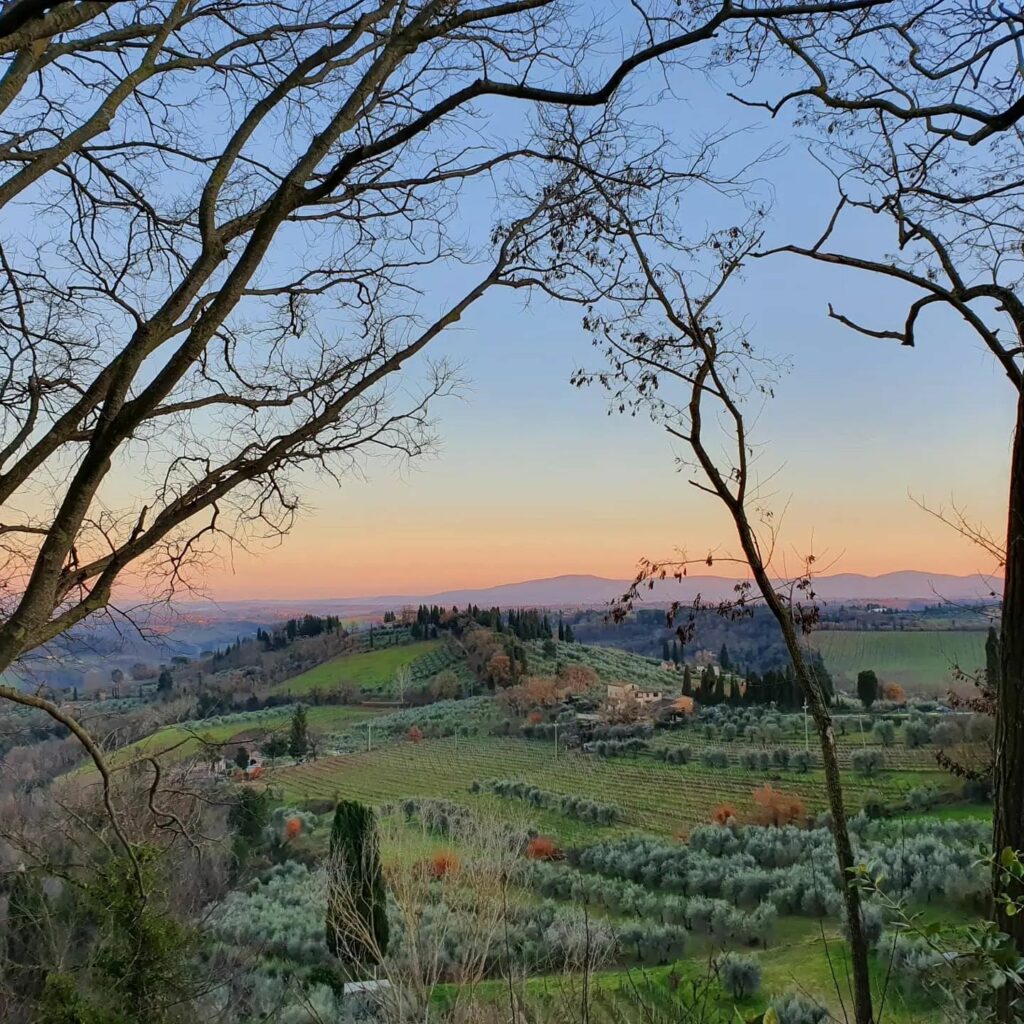 The hike from Monteriggioni to Siena is a classic Tuscan trail that follows an original pilgrimage route from Canterbury to Rome – the Via Francigena. This route can also be explored on a mountain bike.
There are a few areas where the bikeway and walking path diverge, but generally, they follow the same course. It's a good idea to pack a lunch or eat beforehand, as there are no cafes or restaurants along the trail. It took me 5 hours to complete the hike, with some breaks to enjoy a meal.
The adventure is really enjoyable, and the scent of lavender in the air is refreshing!
Difficulty: 3 of 5
Preferred months: Mar, Apr, Sep, Oct
Distance point-to-point: 11 miles
Average Time: 6 hours
2. La Spezia province
La Spezia is situated right on the border between Liguria and Tuscany, not far from Cinque Terre, Pisa, and Florence. There, you can visit the Cinque Terre National Park, a beautiful coastal area connecting five picturesque villages.
I recommend the following trails: The High Path, a 22-mile hike which will take the entire day, or Rio Maggiore to Porto Venere as a half-day journey.
Helpful tip Check the Cinque Terre park website before you go to see which trails are open, and buy trail tickets in advance.
The High Path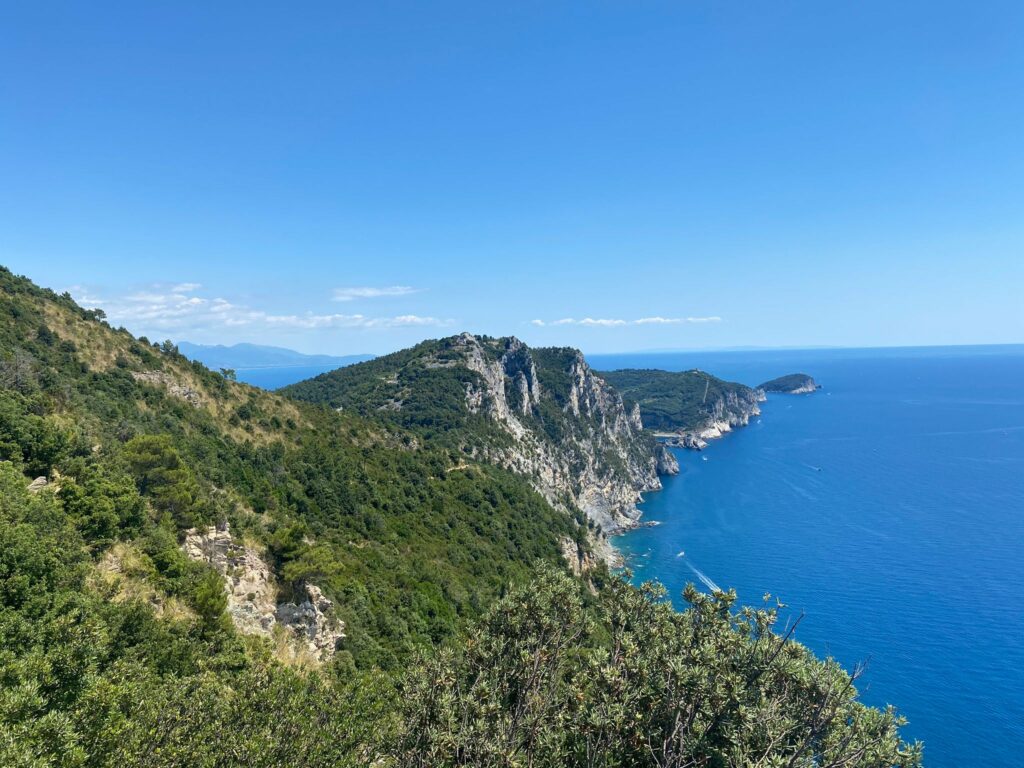 The High Path is relatively easy hiking and mountain biking path in Liguria, connecting Portovenere to Levanto. It will takes approximately 12 hours to complete, offering stunning coastal views.
On the hike, you can experience solitude during quieter times.
For those interested in visiting the villages of Cinque Terre, extending the hike may not be worth the effort (only few nice views).
Overall, the trail is easy and beginner-friendly, but you should avoid taking it in summer heat.
Also, two local eateries offer meal options along the way – Colle de Telegrafo (for the lunch) and Refugio Muzzerone (for the dinner).
The route has other names: Alta Via delle Cinque Terre,  Path Number 1, AV5T, etc.
Difficulty: 3 of 5
Preferred months: Mar, Apr, Sep, Oct
Distance point-to-point: 22 miles
Average Time: 12 hours
Riomaggiore to Portovenere (via Cinque Terre)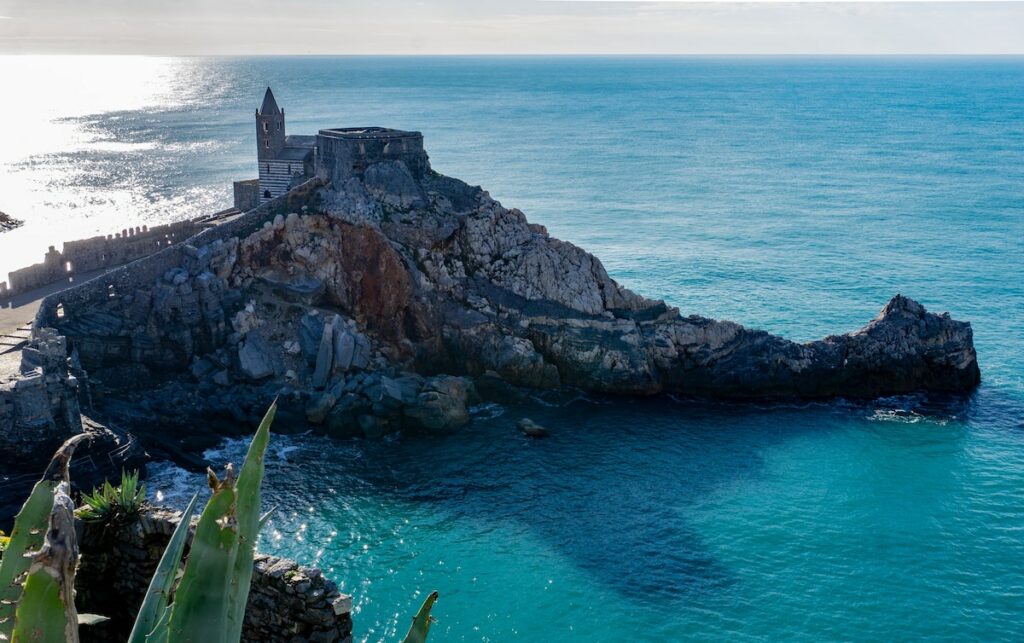 The 8-mile trail to Portovenere offers breathtaking sea views along the cliffs, with a smooth and quiet hike that becomes more challenging on narrow, steep paths. Ending near a medieval castle, you can enjoy ice cream in picturesque Portovenere.
The trail can be slippery, so proper hiking shoes and walking poles are recommended. The well-forested middle section offers different scenery.
To return to Cinque Terre, check ferry schedules as they depend on sea conditions.
This hike is recommended for those exploring the entire Cinque Terre.
Helpful tip If you want a much easier hike, then hike from Vernazza to Monterosso (and not vice versa). The trail is much easier, and Monterosso has the best beach of all five villages, where you can relax on the beach after your hike.
Difficulty: 4 of 5
Preferred months: Mar, Apr, Sep, Oct
Distance point-to-point: 8 miles
Average Time: 5 hours
3. Lake Como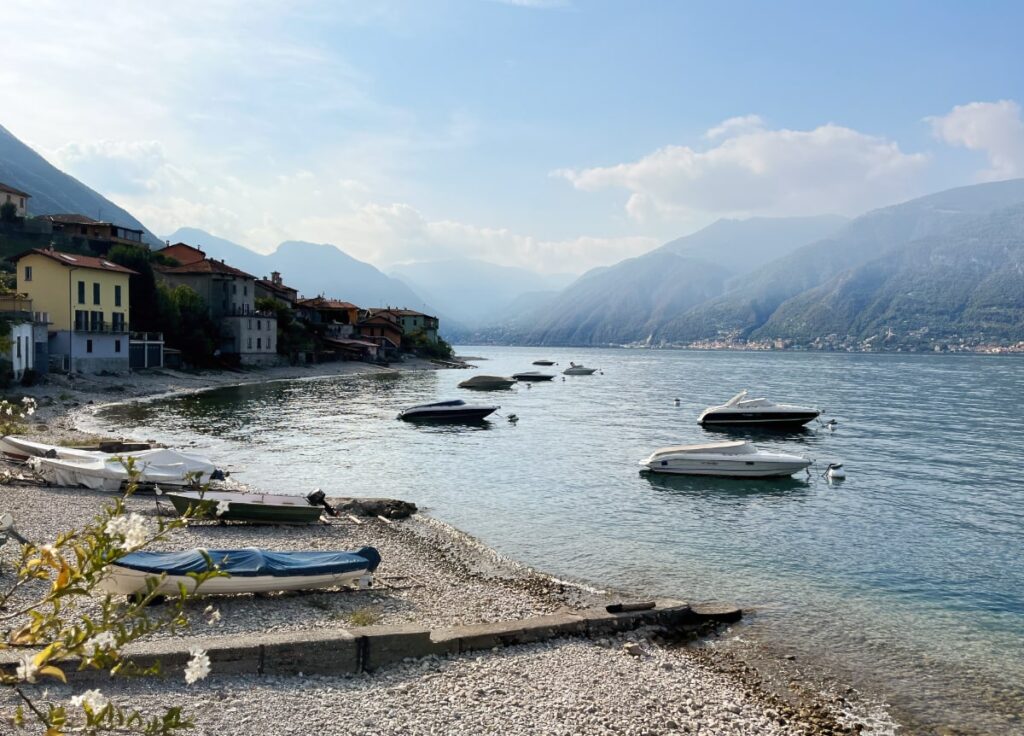 Lake Como, also known as Lario, is the third-largest Italian lake, following Lake Garda and Lake Maggiore. It is located at the foot of the Alps. Interestingly, Lake Como forms an inverted 'Y' shape, with each branch surrounded by beautiful Alpine peaks – the highest peaks surrounding the lake's northern tip.
There are many hiking trails in the Lake region, and one of the most popular along Lake Como is the Greenway. This trail, approximately 6.5 miles in length, follows the lake's western shore from Colonno to Cadenabbia along the path of an ancient Roman road. This hike is considered as easy / for beginners.
Difficulty: 3 of 5
Preferred months: April through November
Distance point-to-point: 7 miles
Average Time Round Trip: 3-4 hours
Read also: Is Lake Como Worth Visiting?
4. Via degli Dei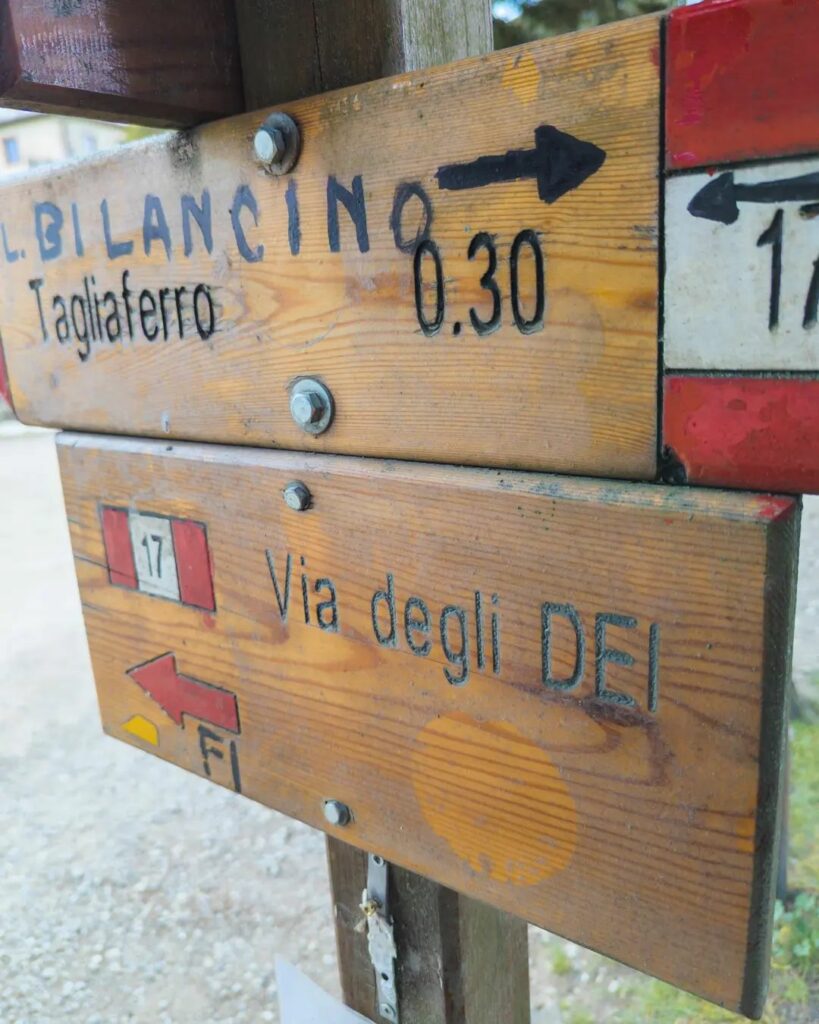 The Via degli Dei is a historic multi-day point-to-point trail connecting Bologna to Florence, allowing travelers to cross the Tuscan-Emilian Apennines on foot for centuries. It is a challenging yet popular route for backpacking, birding, and camping.
The name Via degli Dei comes from the mountain peaks surrounding the Futa Pass (Monte Venere and Monte Luario), which were consecrated to some Roman Gods. The route is about 83 miles long.
The hike offers stunning views, lovely landscapes, and quaint small towns along a well-marked path with alternate routes.
Be cautious, as the trail has substantial inclines, declines, and rocky surfaces, posing potential risks for injuries. During summer, heat and limited water sources can be challenging, so plan your overnight stops and pace carefully. By being prepared, you'll enjoy a memorable experience on this trail.
Difficulty: 3 of 5
Preferred months: Mar, Apr, Sep, Oct
Distancepoint to point: 83 miles (134 km)
Avg Time: 3-4 days
5. Sentiero degli Dei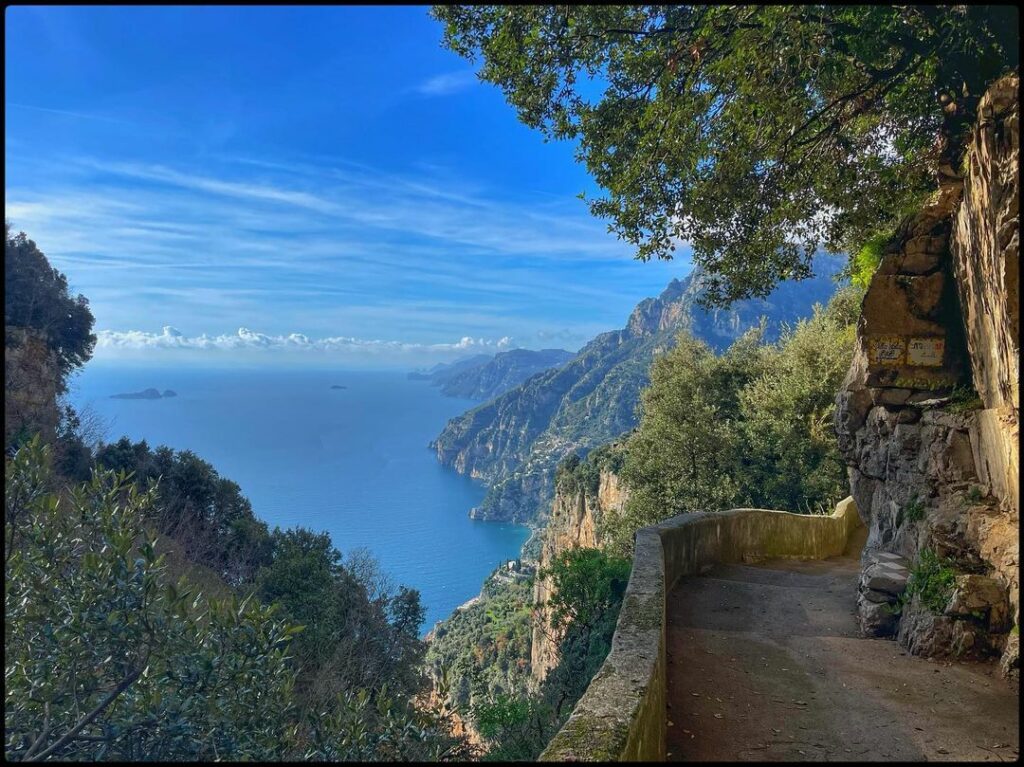 The Sentiero degli Dei, or the "Path of the Gods," is the most famous hiking trail on the Amalfi Coast. Actually, it is a set of different hiking trails in the area.
Unpopular opinion The Path of the Gods hike is more challenging than you might expect, with some vertical rocky scrambling and extensive sun exposure. While the views are spectacular, similar views can be enjoyed in Ravello while having a drink or lunch.
The trail itself may not be worth the effort, as there are alternative ways to spend your time.
If you still going there, take the bus to the upper bus stop above Positano and hike down, offering a unique experience and a warm, friendly atmosphere.
Difficulty: 2.5 of 5
Preferred months: Mar, Apr, Sep, Oct
6. San Fruttuoso Abbey – Portofino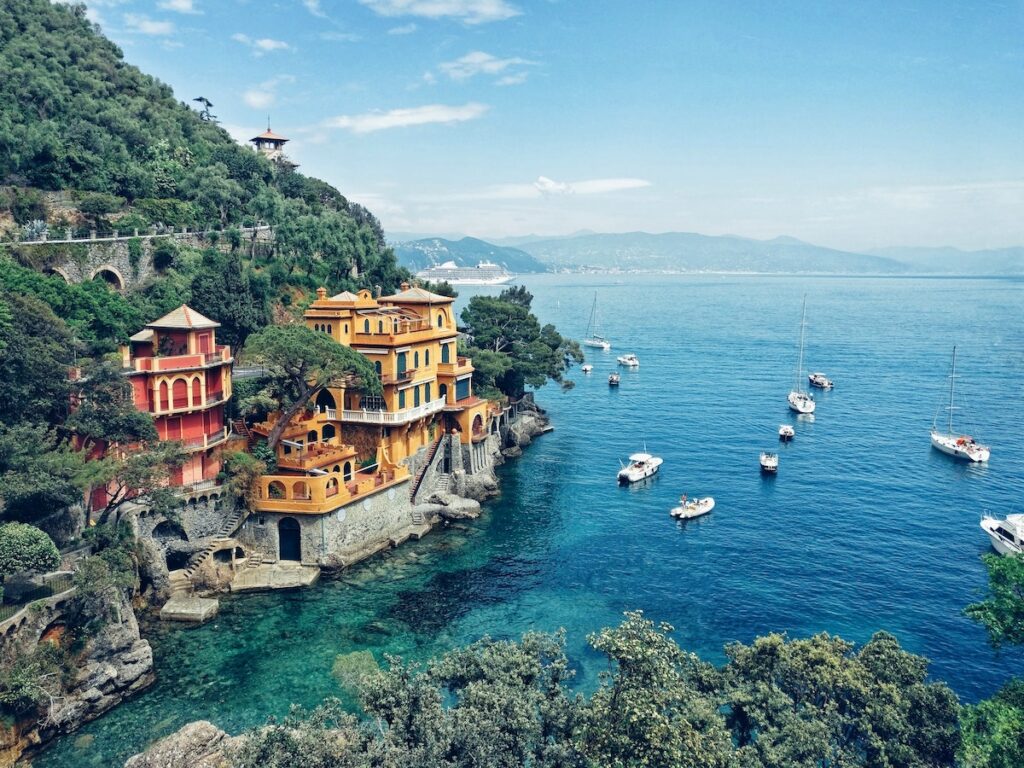 San Fruttuoso Abbey is located in the picturesque coastal town of Camogli, not far from the famous resort of Portofino.
Portofino Natural Park is an exceptional place for hiking, with many beautiful trails leading through its varied Mediterranean flora.
This well-marked hike begins in Portofino's town center, where you'll walk for about two hours along a scenic trail. Eventually, you'll arrive at the picturesque town and bay of San Fruttuoso, known for its ancient abbey.
You can also take the ferry and do a challenging hike to reach the rocky and small beach, it is well worth it! The backdrop of the abbey and the surrounding cliffs are absolutely amazing.
Difficulty: 3 of 5
Preferred months: Mar, Apr, Sep, Oct
Distance: 8 miles
Avg Time: 3-4 hours
7. Grignetta
Grignetta, or Grigna Meridionale, is a mountain near Lecco on Lake Como. From there, you have a spectacular panoramic view of Lake Como and the surrounding mountains. The hike is quite difficult, as Grignetta is very prominent and not everyone can reach that level.
Grignetta (South summit) is sadly known for accidents causing the death of many tourists and climbers. Out of the two easy (but somewhat exposed) tourist paths (the Cermenati Ridge to the summit and the Foppe path to Rifugio Rosalba), all other paths and routes require attention and "steady feet."
Special attention must be paid to the steep grassy slopes that usually end on bad-quality rock cliffs.
Overall, climbing Grignetta is a unique experience and adventure. If you are ready for extremes, you will like it!
Difficulty: Hard! 5 of 5
Preferred months: June through October
Distance: 9 miles
Avg Time: 3-4 hours
8. Parco Nazionale del Circeo, Lazio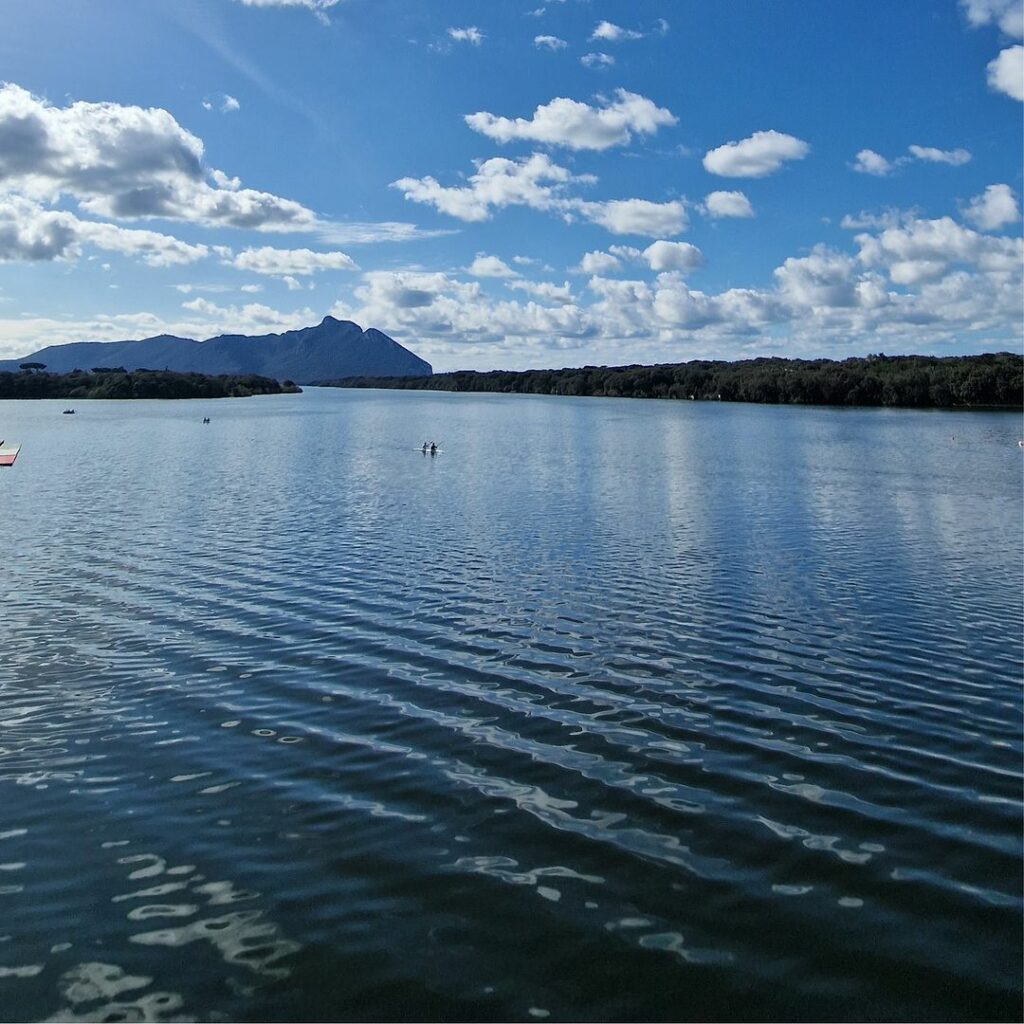 Circeo National Park is one of the 25 national parks in Italy. Located in the Lazio region, its main feature is diverse landscapes, which include mountains, forests, wetlands, and beaches with sand dunes.
Few other places in Italy, particularly within a few hours' drive from Rome, offer all of this. It is also a lovely coastal park that includes wetlands and woods. You can see beautiful flora and take a long walk on the beach.
Also, this is a paradise for bird lovers, as many species from all over the world take a break here to continue migrating South or North, depending on the time of year.
To protect the birds and other species, the park sometimes limits access to the trails without a guide, so check their website before visiting to ensure you won't run into problems.
Difficulty: 3 of 5
Preferred months: Mar, Apr, Sep, Oct
9. Other Lake Como hikes
Orrido di Bellano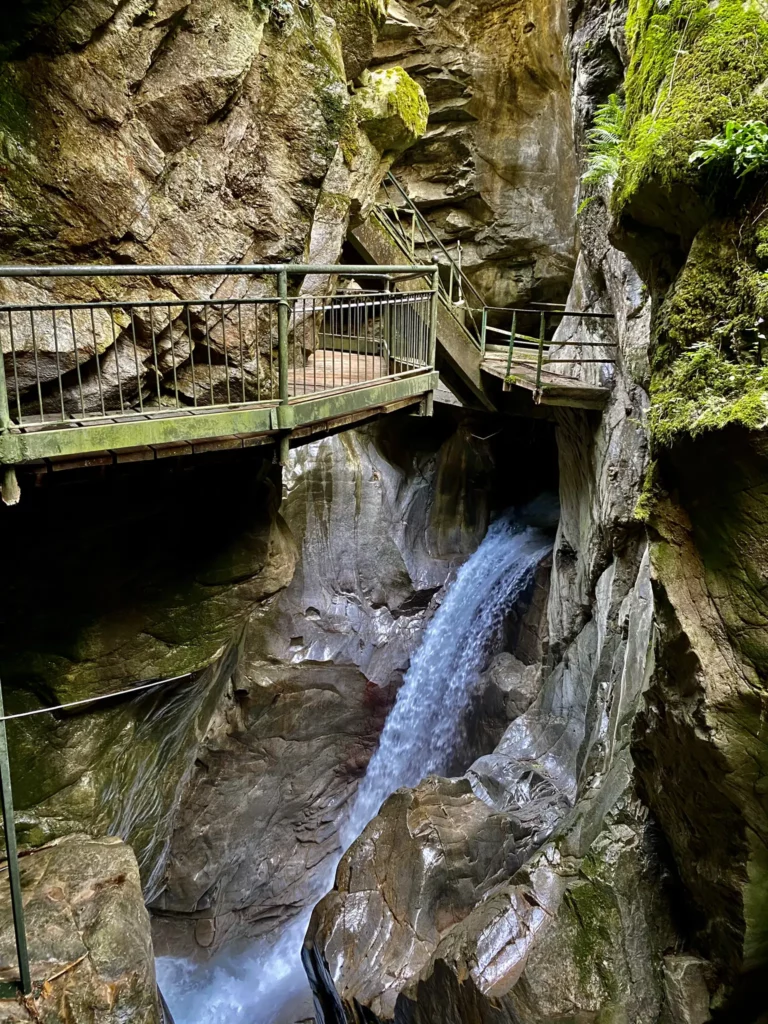 This one is considered one of Italy's oldest and eeriest canyons, perhaps due to its unique morphology or the strange legends surrounding it. This natural wonder was formed 15 million years ago by the Pioverna stream, which drew sinuous lines between Taceno, Valsassina, and Bellano.
Walking between the steep walls and the impetuous flow of the stream can be a new experience, highly recommended if you follow the Path of the Wayfarer. This is an easy hike, great for any fitness level, with easily accessible paths and suitable for all skill levels. The tour's starting point is right next to a parking lot.
Difficulty: 2 of 5
Preferred months: Mar, Apr, Sep, Oct
Monte Resegone
Monte Resegone, also known as Resegone di Lecco or Monte Serrada, is a 6,152 ft high mountain of the Bergamasque Prealps in Lombardy, northern Italy.
The trail is long and demanding, making it a whole-day trip. Breathtaking nature, dramatic views, and mysterious clouds make it one of the most beautiful placesin Italy.
On the other hand, there is a lack of trail markers, no information on the distance to the top, and steep trails. Still, the views from the peak are stunning: When the clouds moved out of the way, I could see distant peaks and Lake Como!
Difficulty: 3 of 5
Preferred months: Mar, Apr, Sep, Oct
Monte Barro
Monte Barro, a mountain in Lombardy, Italy, has an elevation of 922 meters (3,025 ft) and is more accessible and shorter than Monte Resegone. There are still places so steep that you need to use your hands.
The hike also offers a fantastic view of Lake Como, and the sky looks gorgeous over there. Reaching the top took me around 1 hour 30 minutes. The route is quite long, but it is worth a visit as the views are breathtaking!
Difficulty: 3 of 5
Preferred months: Mar, Apr, Sep, Oct
10. Tre Cime di Lavaredo, Dolomites
The Dolomites are a mountain range in northeastern Italy. This mountain range spans seven Italian provinces (South Tyrol, Trentino, Verona, Vicenza, Belluno, Udine, and Pordenone) and three regions of Italy (Veneto, Trentino-Alto Adige/Südtirol, and Friuli Venezia Giulia).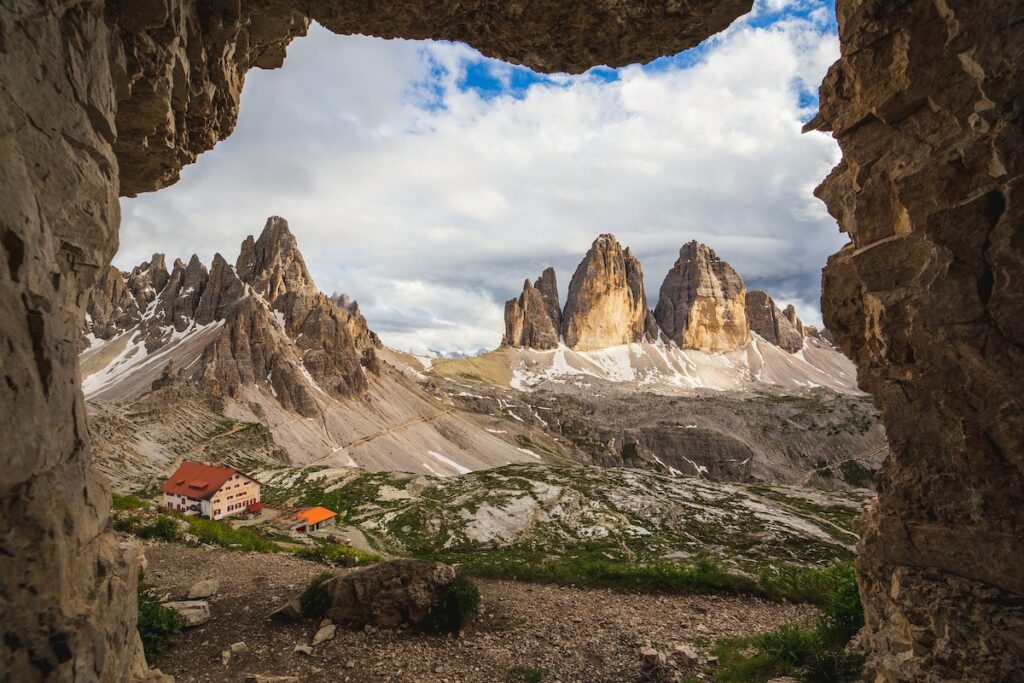 Whether you prefer short day hikes or challenging treks, the Dolomite Mountains offer hiking trips for every interest and ability level.
Dolomite is a type of carbonate rock that is very similar to limestone. The rugged appearance of these mountains results from the relatively soft characteristic of carbonate rock, which forms dramatic towers, cliffs, and pinnacles.
Tre Cime di Lavaredo
This wonderful trail is one of the most popular in the Dolomites and with a good reason. The three impressive peaks you can see on the trail are breathtaking to behold and are actually the symbol of this UNESCO World Heritage Site.
While the scenery is certainly stunning and the views are to die for, the trails can get a little crowded, especially during the summer months. In any case, the Tre Cime di Lavaredo trail is certainly one of the best hikes in the Dolomites.
Starts/ends: Rifugio Auronzo is both the start and end point of the hike
Distance/duration: 7 miles / 3-4 hours
Difficulty: 3 of 5
Preferred months: Mar, Apr, Sep, Oct
Other notable hikes in Dolomites
11. Gran Paradiso National Park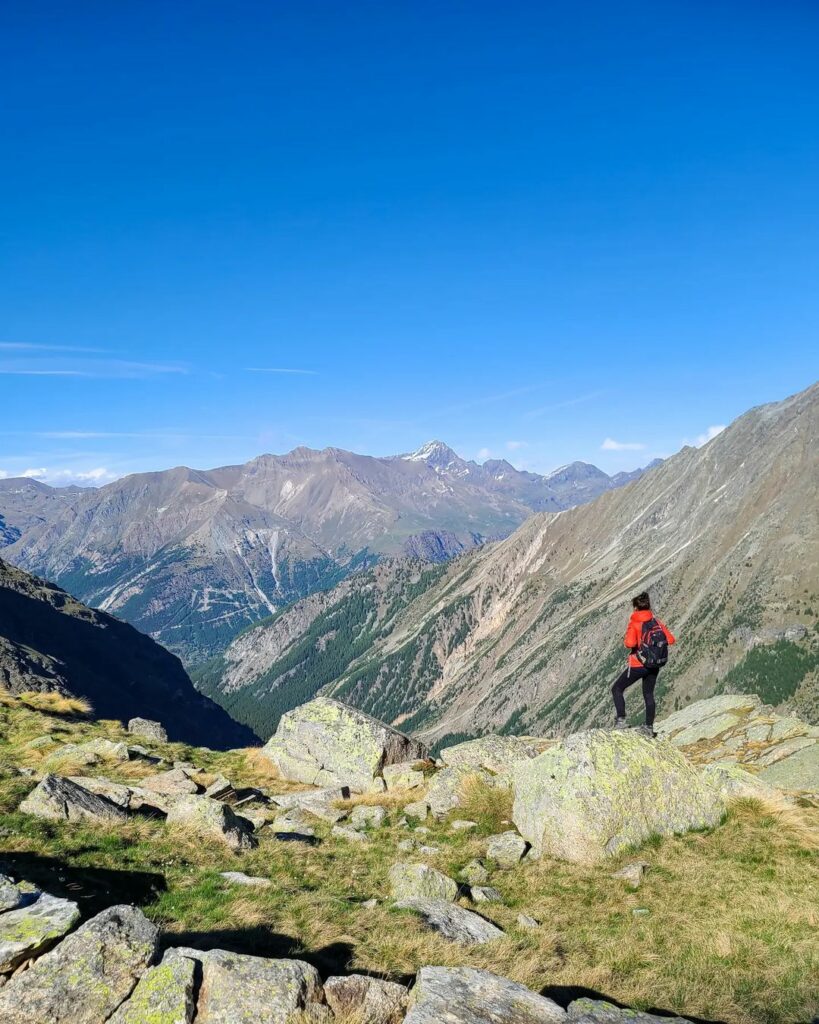 Mountain Gran Paradiso is the highest mountain in Italy and a constant snowy companion on the southern skyline from the Mont Blanc Massif. Located in the beautiful Paradiso National Park, this delightful high mountain area is set above the Italian Val d'Aosta and enjoys a delicate southern alpine climate.
There are two regular routes to the summit of Gran Paradiso, both requiring ice axes and crampons. The season for tackling these regular routes extends from June to September.
The area is fantastic: trees and small rivers are everywhere, and the Italian Alps are full of snow.
Helpful tip Exercise caution around crevasses throughout the year, but particularly during the summer months.
Difficulty: 4 of 5
Preferred months: Mar, Apr, Sep, Oct
12. Garda Trentino, Lake Garda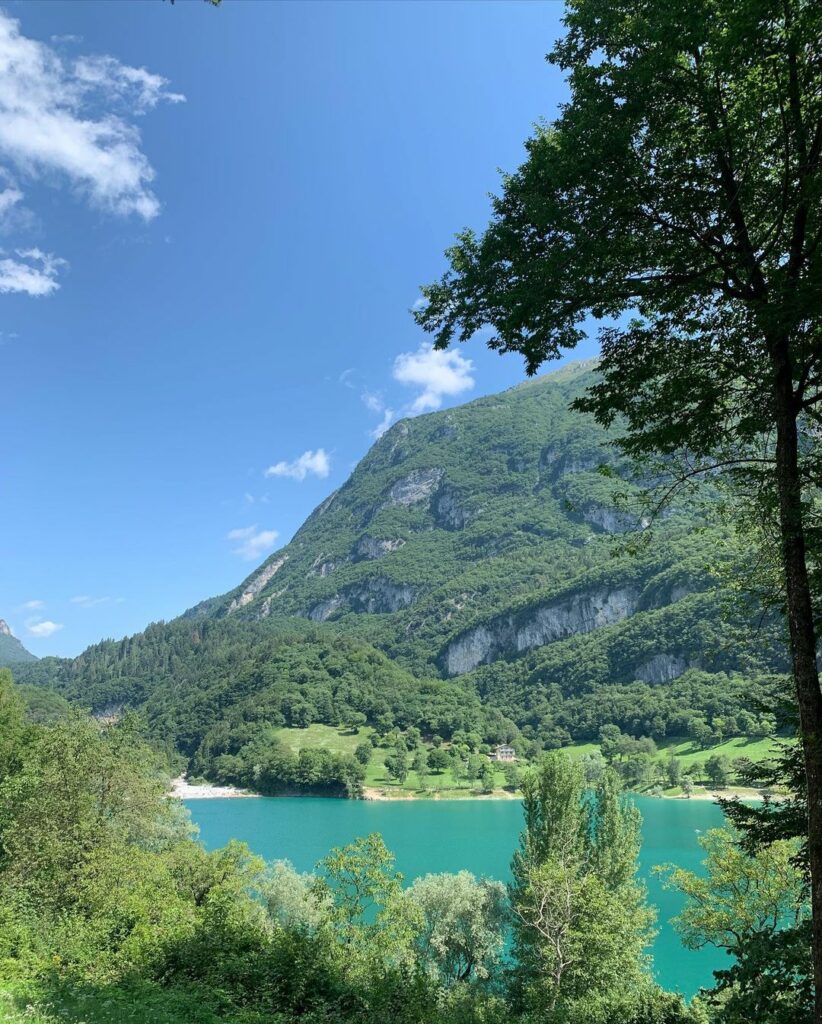 Garda Trentino is the northern part of Lake Garda, narrower and surrounded by mountains with breathtaking panoramas. It is located near the villages of Nago, Torbole, and Riva del Garda.
There is a wide range of trails, from the Marocche-le Valli della Luna path (3.4 miles of lunar landscape and even desert, across a region where dinosaur footprints were discovered) to adrenaline-pumping ones like the Sentiero Monte Altissimo-Prati di Nago (2.4 miles, 2,464 feet altitude gain), the Sentiero Castello-Monte Colodri-Monte Colt (5.8 miles), and the Sentiero Monte Misone (2.5 miles).
Hiking here will recharge you, as the beauty of these surroundings inspires your soul for the next adventure.
Difficulty: 3 of 5
Preferred months: Mar, Apr, Sep, Oct
13. Monte Soratte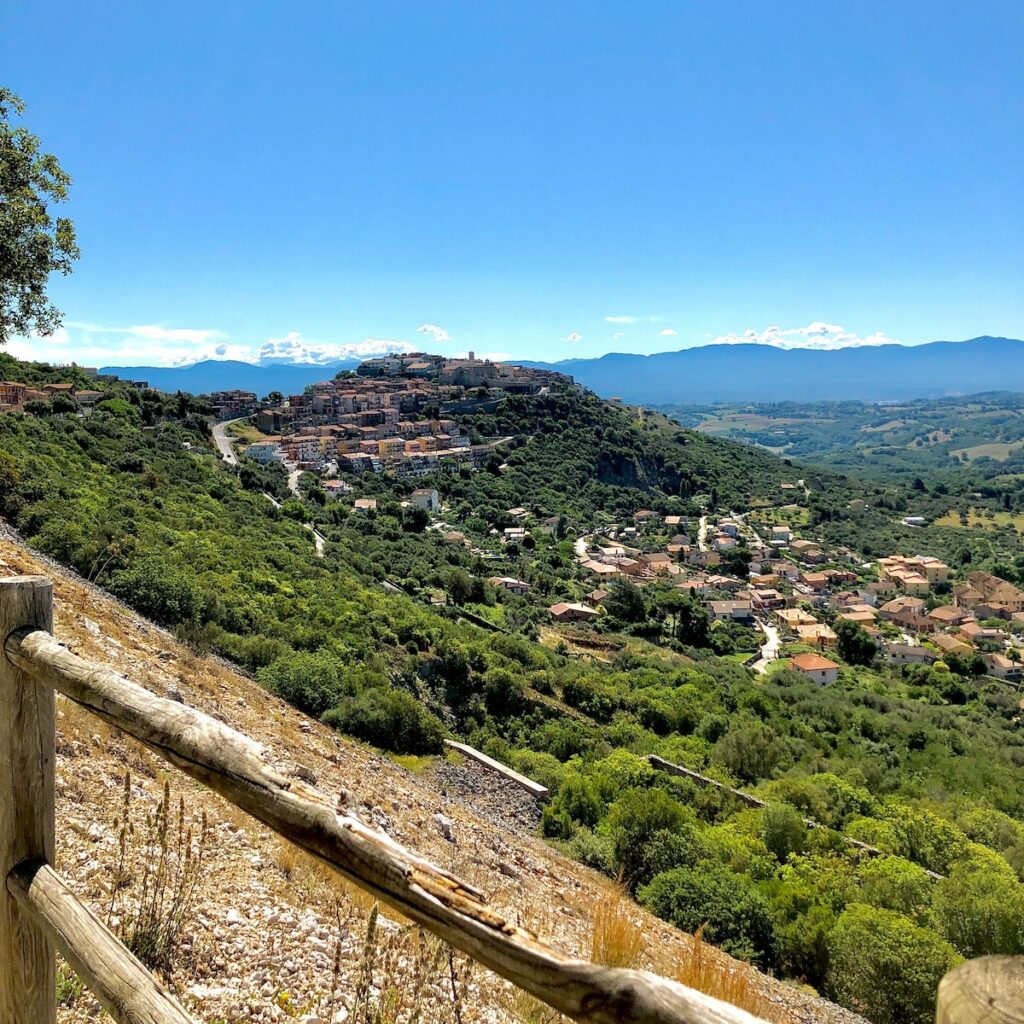 Monte Soratte National Park is located in the Lazio region of Italy, in the northern part of Rome. It is situated approximately 22 miles (35 km) north of the city center, near the town of Sant'Oreste.
It's an extinct volcano with wooded slopes that rise from the Campagna Romana (the Lazio plain). This spectacular national park offers great trails and stunning views from its several summits.
It is a spotless and well-maintained area with a small town, Sant'Oreste, halfway down the mountain, boasting nice eateries.
The stunning landscapes and rich nature make this place perfect for hiking, especially in early summer or early autumn when the weather is warm and there is plenty of greenery around.
Difficulty: 2.5 of 5
Preferred months: Mar, Apr, Sep, Oct
14. Mount Vesuvius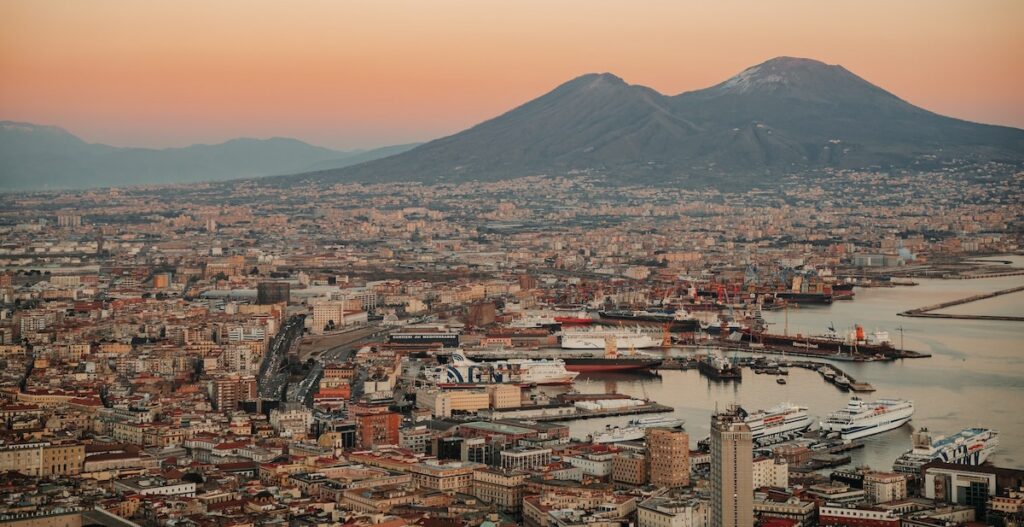 Mount Vesuvius is located near Naples and is still classified as an active volcano. The trail to the summit of Mount Vesuvius is about 2.5 miles, and it takes between one and two hours to hike there and back. If you make any stops along the way to rest or take pictures, it could take a little longer.
When you get to the top, the view of the crater and its surroundings is truly breathtaking, as you can see the crater breathing and thick steam emanating from it, making this place worth a visit!
Read also: A Perfect Day trip from Rome to Pompeii
Difficulty: 2.5 of 5
Preferred months: Mar, Apr, Sep, Oct
Distance round trip: 4 miles
Avg Time Round Trip: 2 hours
15. Manarola – Corniglia, Cinque Terre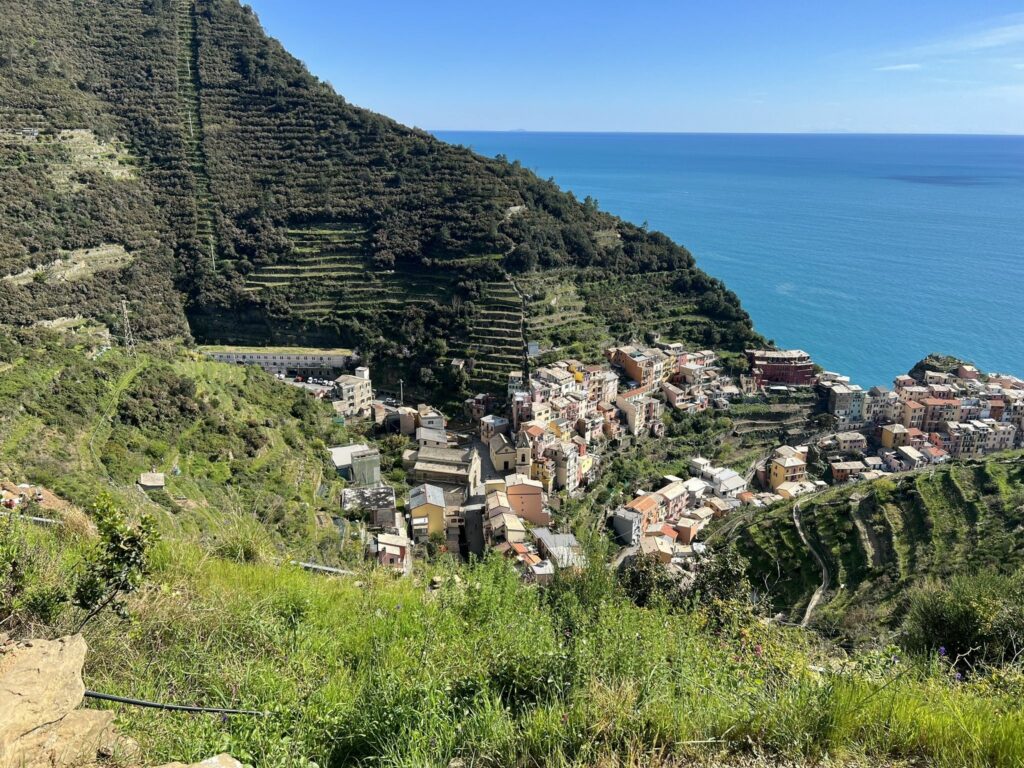 This is another popular route on the Cinque Terre land.
The trail from Manarola to Corniglia is incredibly scenic – the longest stretch of the trail winds its way along the Ligurian sea through vineyards and enters the forest, and the landscapes here are absolutely astounding!
You will see branches of chestnut trees interweaving to form a magnificent tunnel. It is truly worth a visit!
Difficulty: 2.5 of 5
Preferred months: Mar, Apr, Sep, Oct
Distance: 4 miles
Avg Time: 3 hours
16. Porto Selvaggio Natural Park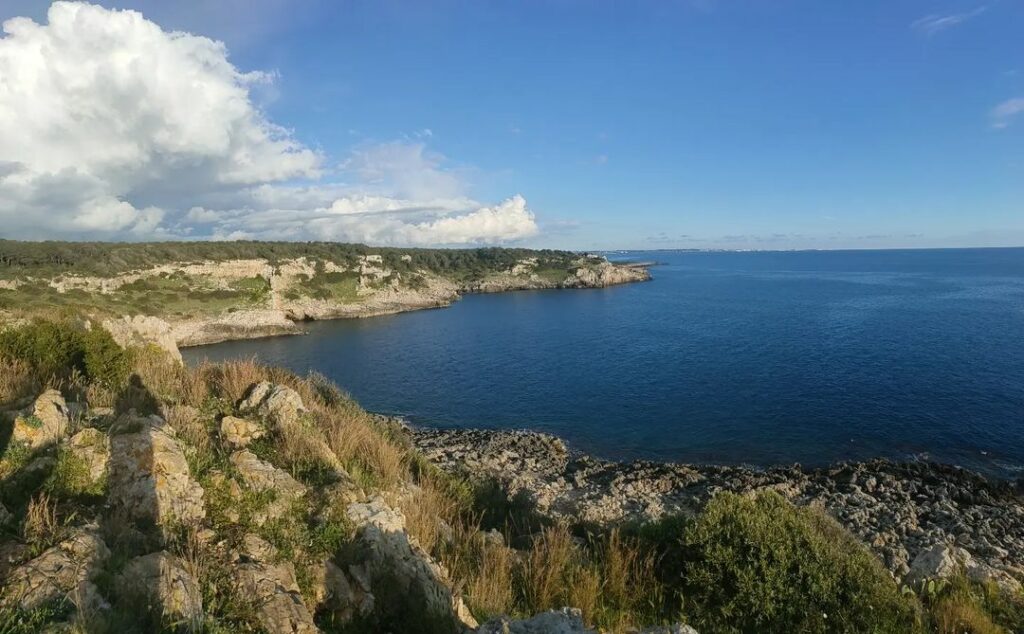 The Regional Natural Park of Porto Selvaggio is situated on the Ionian coast of Salento and is located within the municipality of Nardò. The park is a nature reserve that spans an area of about 1,122 hectares.
There are many stunning sights to see while hiking, such as the pinewood forest and the most beautiful sea caves.
The hike is not very difficult and is suitable for almost every adult. At the end of a pleasant walk among the pines and on the rocky shores, you can relax and swim in the crystal-clear waters of the Ionian Sea.
Difficulty: 3 of 5
Preferred months: Mar, Apr, Sep, Oct
17. Rifugio Marmolada – Sass Ciapel, Dolomites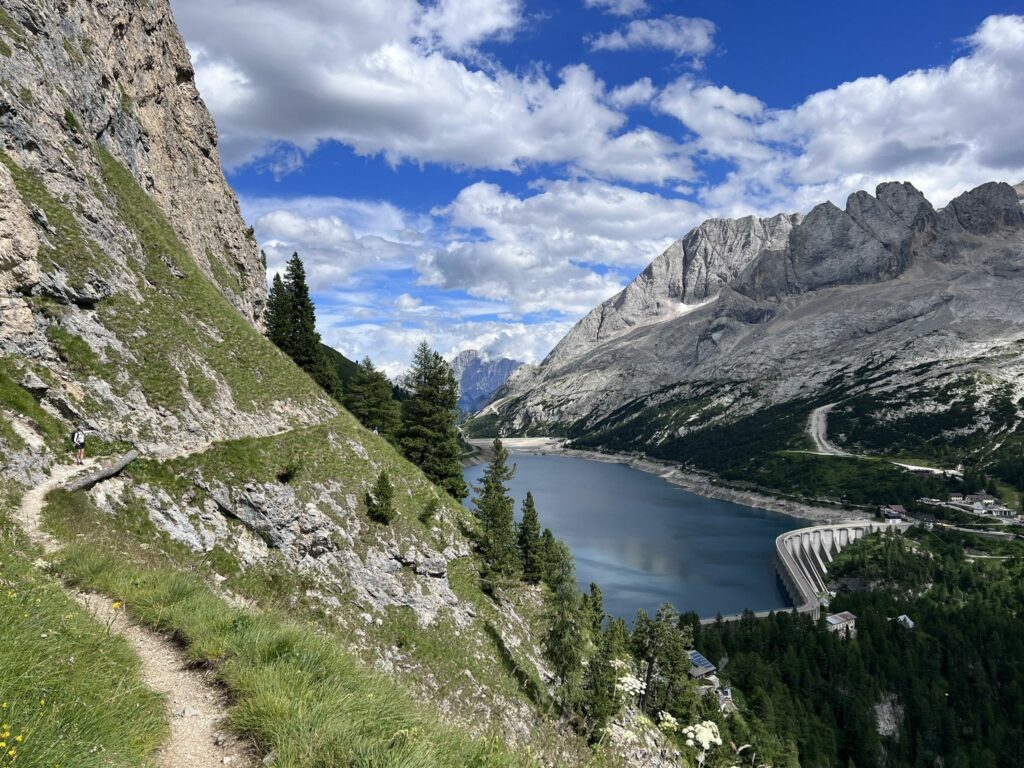 Marmolada is a mountain in northeastern Italy and is the highest peak in the Dolomites. It lies between the borders of Trentino and Veneto and is a fascinating place for hiking in Italy.
You will definitely enjoy this 5.2-mile out-and-back trail. Generally considered a moderately challenging route, it takes an average of 3.5 hours to complete. This is also quite a popular area for birdwatching and hiking, so you'll likely encounter other people while exploring.
Overall, an extraordinary panorama and a very enjoyable hike from the lake all the way up to the Marmolada glacier await you. Breathtaking views are abundant.
Yes, you will need to climb a little, but the satisfying sights are sure to be etched in your fondest memories!
Difficulty: 4 of 5
Preferred months: Mar, Apr, Sep, Oct
Distance round trip: 5 miles
Avg Time Round Trip: 3.5 hours
18. Sentiero Azzurro – Cinque Terre – Liguria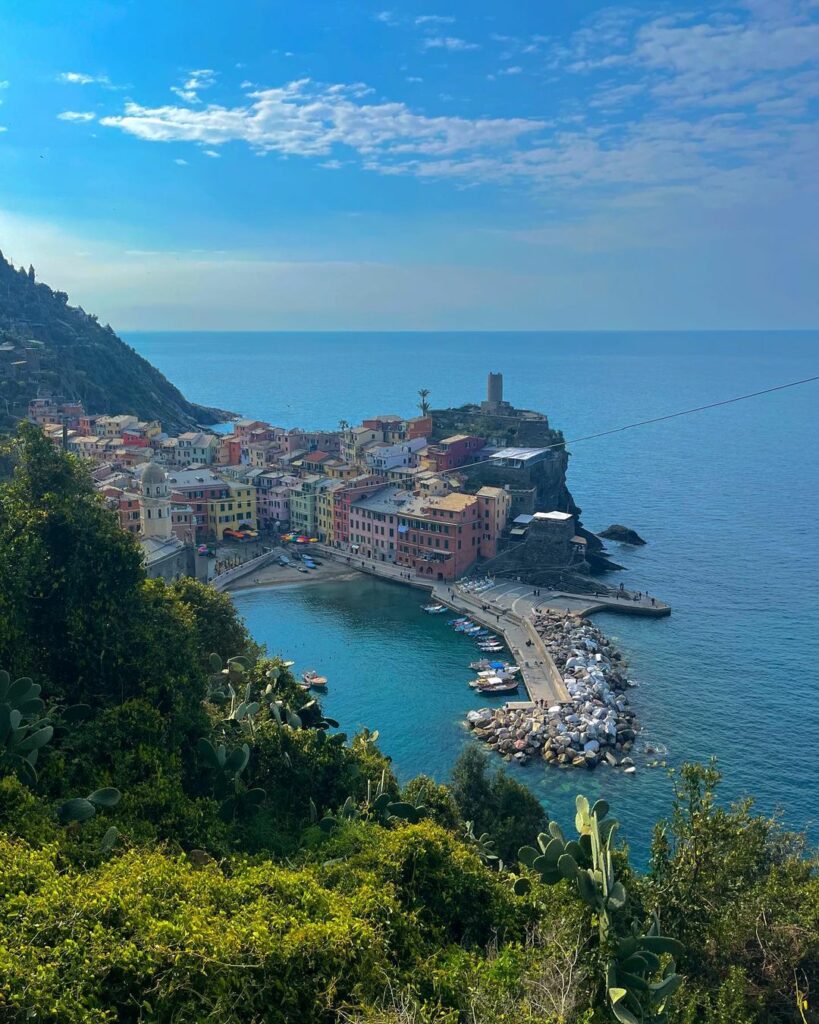 The famous Sentiero Azzurro, also known as the "Blue Trail", is named for the blue colors of the ocean visible in panoramic views for most of the route. This trail connects each of the five main villages of the Cinque Terre region: Riomaggiore, Manarola, Corniglia, Vernazza, and Monterosso al Mare.
Along the trail, you can find homegrown vineyards, meet locals, and enjoy wonderful scenery. You can hike across natural parks, enjoying unique sea views and picturesque villages. The trail is of medium difficulty.
Helpful tip Sentiero Azzuro is a quite rugged route and might feel unsafe in some places.
Difficulty: 3 of 5
Preferred months: Mar, Apr, Sep, Oct
See on the map
19. Cala Goloritze, Sardinia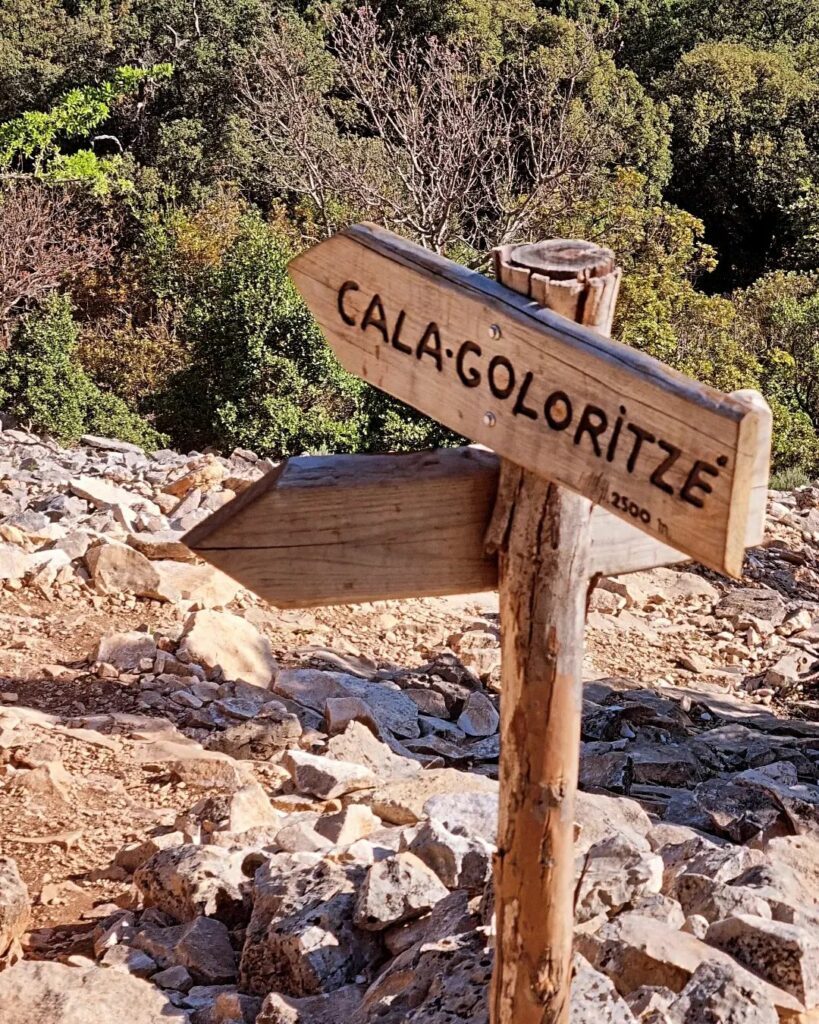 Cala Goloritzé is located in the Gulf of Orosei, on the east coast of Sardinia. It is a medium-difficulty hike rewarded by sights of beach landscapes, where instead of sand, you'll find small white pebbles and clear waters. The views of Cala Goloritzé cannot be compared to anything else – greenery mixed with rock formations makes your hike even more enjoyable!
Helpful tip The hot summer weather in Italy can be pretty overwhelming, even in the mountains. So, it is better to hike early in the morning or late afternoon, just before sunset.
Difficulty: 2.5 of 5
Preferred months: Mar, Apr, Sep, Oct
Distance round trip: 6 miles
Avg Time Round Trip: 2-3 hours
See on the map
Hiking in Italy FAQ
Is there snow in Dolomites in April/May?
Almost no. In late April and early May, the Dolomites experience warm temperatures in the lower valleys while higher elevations may still have snow, affecting the ability to hike there. While the specific conditions vary from year to year, May is a good time for hiking in the Dolomites. Also be prepared for routes limitations compared to summer opportunities.
What are the best shoes for hiking in Italy?
Firstly, don't use anything open toed for hiking. Secondly, you won't need pro hiking boots either. The best option would be a trail runner type shoes (low cut Merrills, Salomon) or anything flat soled, closed toed, and comfortable.
Final thoughts
Italy is quite an outdoor paradise where you can experience the most amazing and iconic hikes. Whatever route you choose for hiking in Italy, you will gain a lot of positive impressions, as you will be inspired by the beauty of the trails and landscapes.
This post might include some affiliate links. If you make a purchase through these links, I may earn a small commission at no additional cost to you. I appreciate it when you use my links to make purchases.