Day Trip to Pompeii from Rome: Things to Do & How to Get
Olga Sukhorukova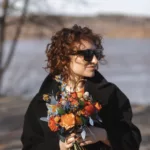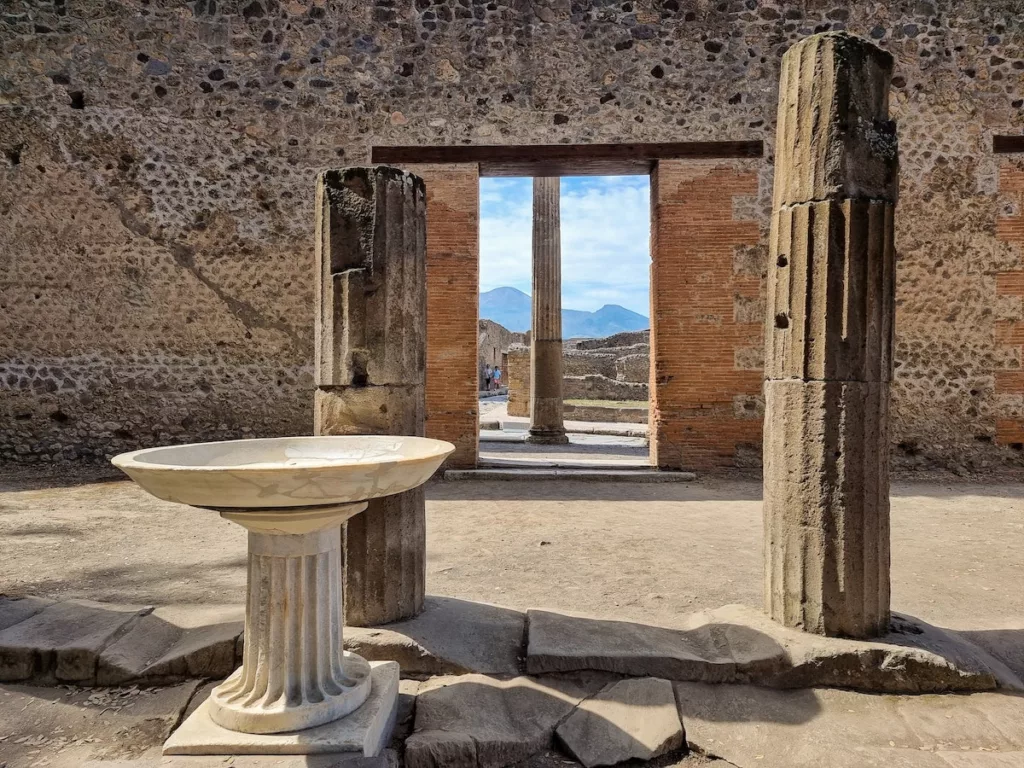 If you're traveling in Italy or taking a vacation in Rome and have a free day, why not plan to take a trip to Pompeii?
Pompeii is an ancient town located 150 miles south of Rome, not far from Naples. Two thousand years ago it was buried under lava and ashes from Vesuvius along with all the people and animals who were unable to escape its sudden eruption.
Now there are only ruins left at this open-air museum.
Have you ever laid eyes on Karl Bryullov's painting "The Last Day of Pompeii"? This artist visited the excavations of Pompeii in the mid-19th century and was so captivated that he created this gigantic piece of art, which became an instant sensation in Italy.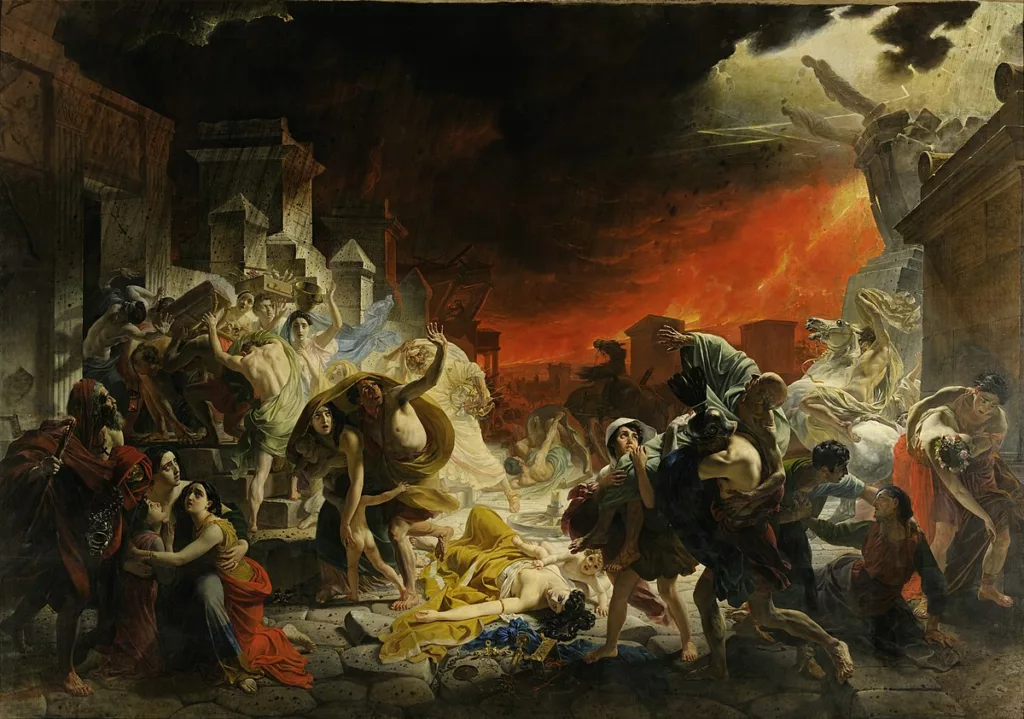 I'm not a big fan of visual arts, and I don't understand it well. Nonetheless, this picture is loud; its roar and screams are stunning! It portrays the onset of Mount Vesuvius erupting and people's panic at recognizing the impending disaster…
On one hand, in Pompeii you can feel the drama and tragedy of those forever entrapped within its walls.
On the other, it has been given a new life as a museum under sunny skies. Even after so many years since this natural disaster, we still feel compassion towards these victims who remain alive in our imaginations.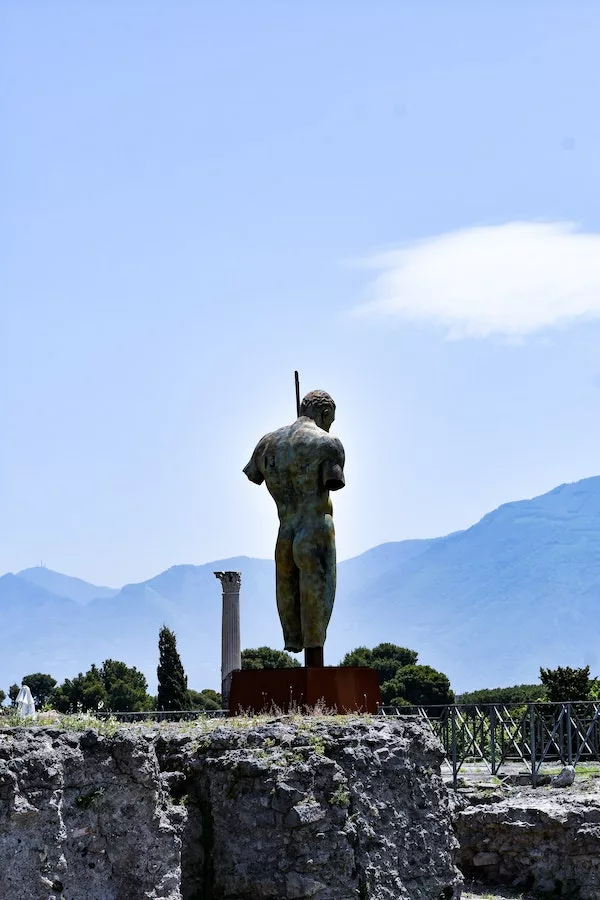 Be prepared – a day trip to Pompeii can set you either in a philosophical frame of mind, it can be just an exciting historical journey, or even provide entertainment if you're looking for variety and have some free time.
Read also: Best Non-Touristy Restaurants in Rome
Planning Your Day Trip from Rome to Pompeii
Now, I'll tell you the easiest way to get from Rome to there, what sights you should see, and where you can grab a tasty snack along the way!
Best time to visit Pompeii
Since Pompeii is now a large open area, not protected from the sun and rain, you should take weather conditions seriously.
I recommend taking a trip during spring or fall as the weather will be much milder and there are fewer visitors. In wintertime though it may become windy and rainy.
If your journey has been planned for summertime you should prepare accordingly – summer in this region of Italy can be sweltering, not to mention the crowds.
Pompeii opening hours
From November 1st to March 31st, Pompeii is open to the public from 9 am to 5 pm (last entrance at 3:30 pm).
From April 1st through October 31st, it is open from 9 am until 7 pm (with last entry at 5:30 pm). Please note that some parts of the museum are closed on Tuesdays throughout the year; for example Villa Regina and Villa Arianna.
The museum will also be closed on certain holidays such as December 25th, May 1st and January 1st.
Pompeii tickets and tours
As of writing this article, the entrance ticket to the territory of Pompeii costs $19, and it doesn't include any excursions.
Entrance is free every first Sunday of the month; however, keep in mind that there may be many people and when the museum reaches a capacity of 15,000 by noon, entry is closed for one hour.
If you're looking for a guided tour of Pompeii, you have plenty of options. You can take a two-hour group excursion (all tours are conducted in English) or opt for an all-day trip from Rome or Naples that includes transportation, the tour itself plus additional activities such as visiting Vesuvius and wine tasting. The cost for the 2-hour tour is around 40 euros ($42), while an all day trip from either city will set you back up to 200 euros ($210).
From my experience traveling in Italy, it is always better to purchase entrance tickets and tours in advance. If you are there during a more or less tourist season (which is the entire warm half of the year), lines at ticket offices for museums can be long, so it's best not to waste precious time waiting in line.
I typically use GetYourGuide to purchase tickets for all the museums in Italy; it's very convenient. Additionally, you can check out excursions on this website – there is an even wider selection of tours available for Pompeii!
How to get to Pompeii from Rome
If you prefer to travel solo and at your own pace, figuring out how to get from Rome to Pompeii is a breeze!
By train
It is the most common way to travel there. The journey typically takes between 2 and 4 hours in one direction (depending on the type of train you take), and you will also need to make one transfer.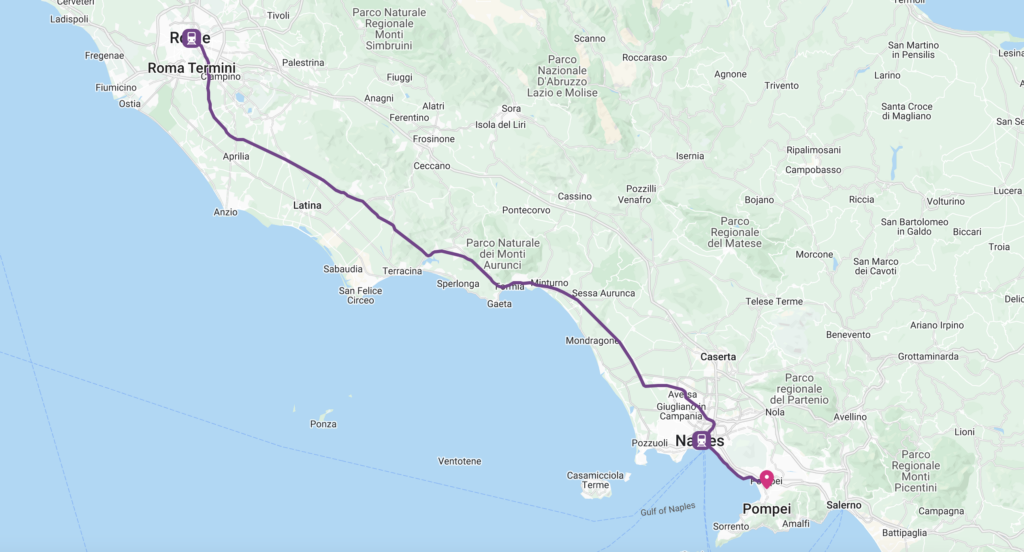 First, you need to get to Rome's central train station, Roma Termini, and take a train to Naples. You can buy a ticket at the station before boarding or in advance (it is much cheaper). There are high-speed trains that will bring you to Naples in just an hour; it costs $35 round trip if you purchase tickets one month ahead of time and 60 euros round trip if bought on the same day.
Additionally, there are slow trains which will take about three hours; the price almost doesn't change.
Both fast and slow trains run in large numbers between these cities throughout the day. For instance, you can purchase a ticket ahead of time on this website.
At Naples' train station, you'll need to head down to the Napoli Porta Garibaldi metro station and take a train to Pompeii (the stop is called Pompeii Scavi – Villa Dei Misteri); it should take about half an hour.
You don't have to buy your ticket ahead of time; you can purchase one at the station (it's around $5 for a single fare).
By Shuttle Bus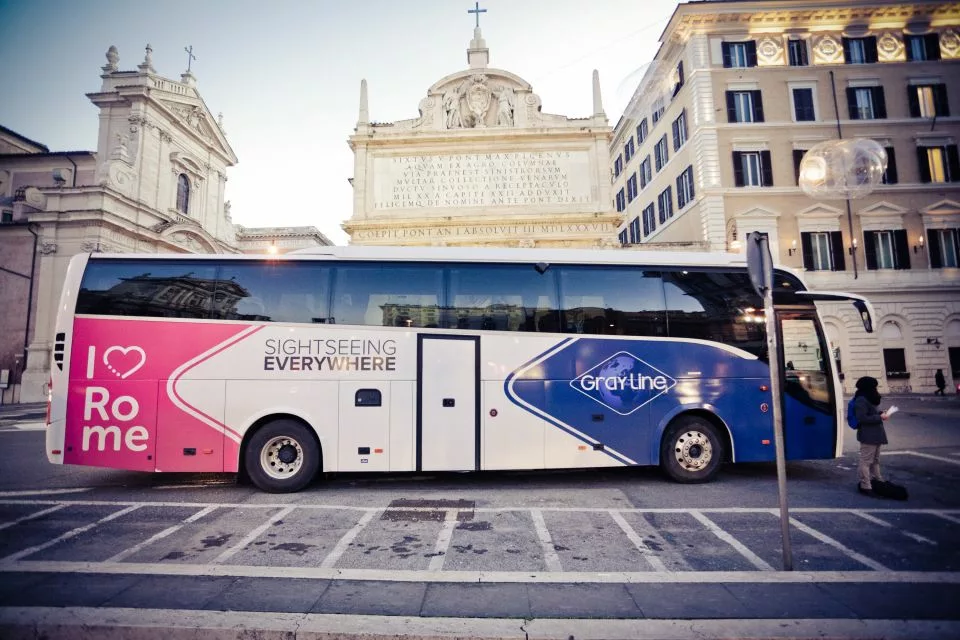 The second way to get to Pompeii from Rome is by shuttle bus. For example, this one leaves at 7:30 am, has A/C, and provides even a little bit of history along the way. A bus is the best option if you don't want to think about train tickets and finding stations, and it will cost about $80.
By Car
You can also rent a car, which will allow you to stop wherever you want (and the views along the way are just wonderful!).
However, there are significant disadvantages of traveling by car – even if it's not tourist season, parking problems may still arise.
During summertime when many people visit Pompeii this issue is especially relevant!
Additionally, roads on Italy's coast tend to be quite narrow; driving in such conditions could add stress if you aren't used to it. If your trip doesn't require a vehicle specifically for its thematic purpose then public transport or taking a tour would likely be much more comfortable and simple solutions.
To rent a car for your day trip to Pompeii, check out this website.
Read also: 13 Tips for Driving in Italy
Best Things to Do in Pompeii on a Day Trip
Explore the ruins of Pompei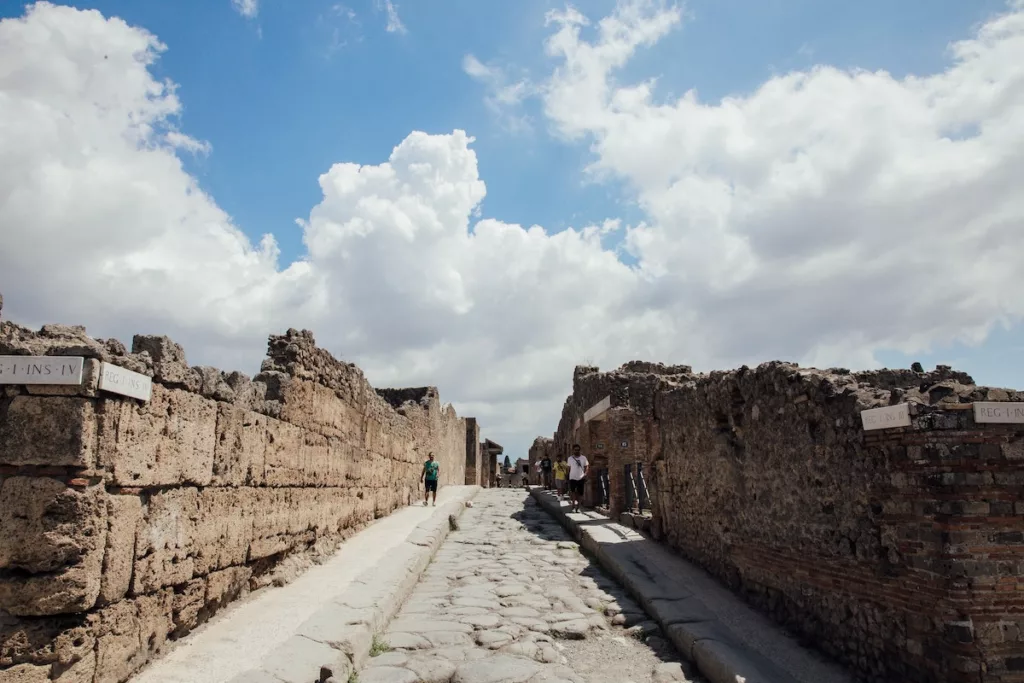 If you decide to refuse the guide's services and explore Pompeii on your own, it is important that you plan out your route carefully. With a population of around 20,000 people, Pompeii was quite a large city; its longest street stretches for a mile.
It will take all day to see everything in this time-frozen place, so make sure beforehand what exactly you would like to explore. Don't forget to pick up a town map at the entrance – there are no signs inside the museum.
Helpful tip Exploring such a vast territory as Pompeii and its rich history is much easier with the help of a guide. Alternatively, an audio guide can be rented at the entrance or you can use an online audio guide on your phone – check out this site.
Visit the Forum and Other Landmarks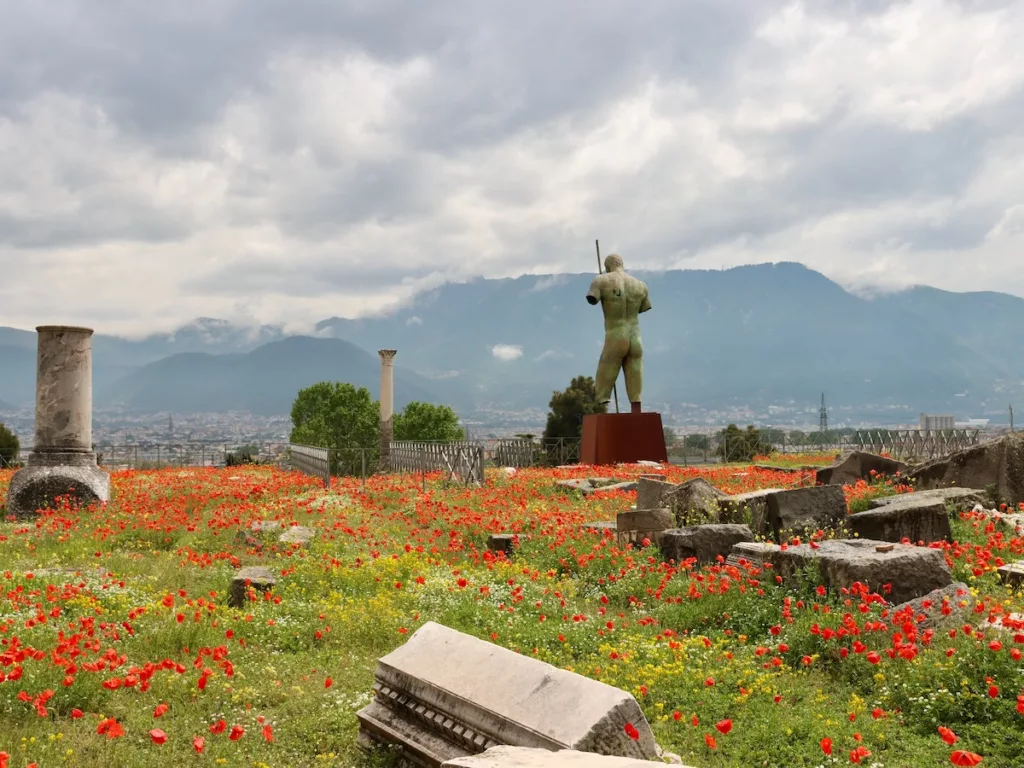 There are plenty of other exciting sights to see in Pompeii. The Forum, located near the Porta Marina entrance if you arrive by train, is one of its main attractions. Additionally, there's a cafe right next to the Forum – it's the only café in all of Pompeii so take advantage if hunger strikes unexpectedly!
On the northern side of the Forum, there are the ruins of Jupiter's temple. Adjacent to it is where the town's market used to be before Vesuvius awoke; now many artifacts and casts of those who perished in its eruption are stored there.
There are also several exciting and well-preserved mansions of notable residents of Pompeii, houses of artisans, the famous brothel Lupanare (and what amazing frescoes there are!), thermal baths, and, of course, the ancient Amphitheater where gladiator battles and bestiaries took place. The Amphitheater has been preserved intact to this day.
Learn about the history of Pompeii
If you're looking to take a stroll around Pompeii, lost in your own thoughts without any audio or other guides, I can certainly understand that. Sometimes it's nice to experience such a place in silence.
My only suggestion is that the more you know about the people who lived there and what happened on that fateful day which stopped their lives, the richer of an experience this incredible museum will be for you.
Things to Do after Pompeii trip
Eat in Naples
If you have time before your train back to Rome, why not grab a bite to eat at one of the restaurants near Naples station? You'll likely be tired by then and won't want to venture too far away from the station.
Here are some great options that don't require much travel:
Restaurant Mimì alla Ferrovia. You should try the ravioli or spaghetti there. And don't forget about dessert; it's incomparable!
Restaurant Attanasio. There is a wide variety of seafood, and the menu is quite unique. The pizza is also delicious!
Gelato Mennella. At this spot near the station, you can enjoy delicious Italian ice cream!
Climb Vesuvius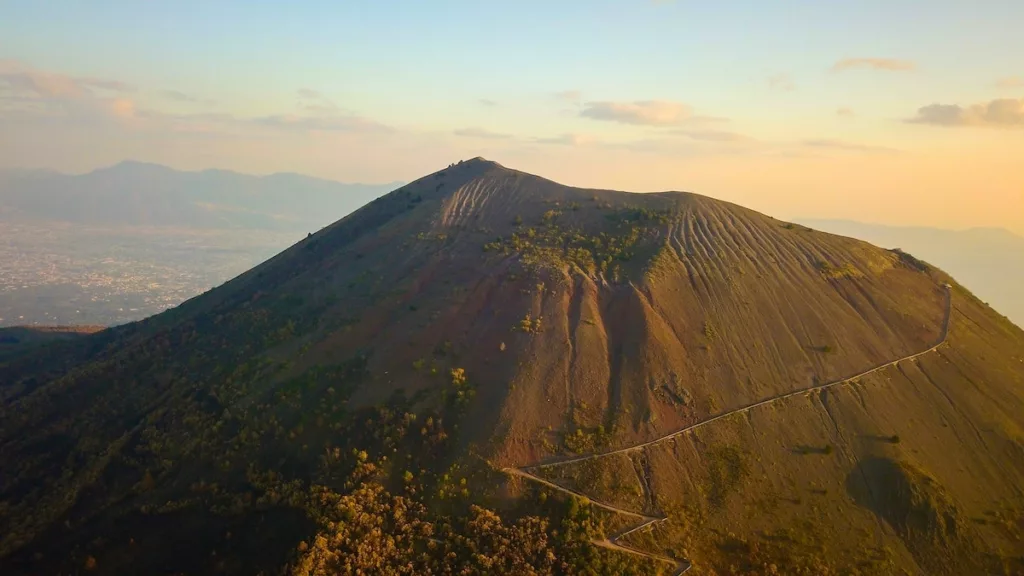 Climbing Vesuvius after spending several hours exploring Pompeii is only recommended for the most hardy! If you are one of them, it's possible to combine these two activities in a single day.
There are buses from the Pompeii Museum that go to and from Vesuvius; each way takes about 50 minutes.
Climbing up along the equipped hiking trail to reach its crater will take another half an hour. Just remember that the last bus leaves for Vesuvius at 3 pm and returns back to Pompeii by 5:40 pm.
Vesuvius is a very dangerous volcano. It has erupted several times in the past and could erupt again at any time. Its eruptions have caused significant destruction to nearby towns and villages, as well as loss of life.
Explore Sorrento and the Amalfi Coast
From Pompeii to Sorrento, you can take the metro train in the opposite direction from Naples. The trip will only take about half an hour.
It would be a pity not to stay for at least one night and explore all that this wonderful resort town has to offer with its relaxed atmosphere!
You could even consider taking a day trip from Sorrento to Capri Island.
Tips for Visiting Pompeii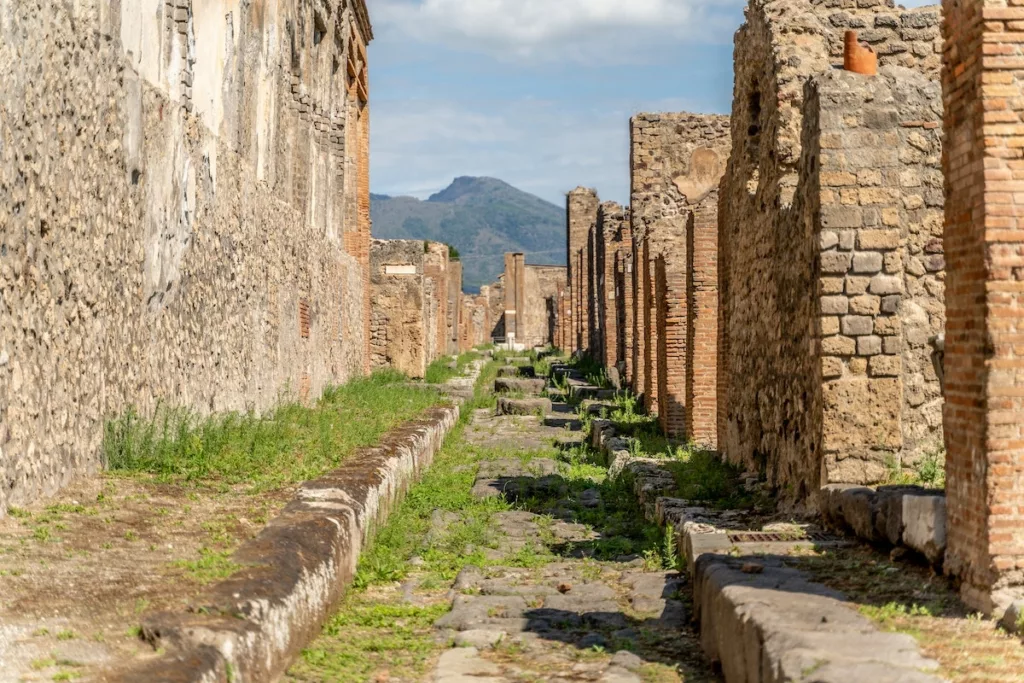 Wear appropriate shoes and clothing
The roads in Pompeii are the authentic Roman ones; they are lined with cobblestones. Shoes that would be suitable for such roads should have no heels and should be as comfortable as possible.
If you're planning your trip during the warm season, it is essential to bring a wide-brimmed hat or cap; otherwise, the sun will mercilessly fry your head!
Bring sunscreen, water, and snacks
Sunscreen is just as important in the summer in Italy as wearing a hat. It's also worth bringing along your own water bottle since the drinking fountains on the museum grounds are pretty far from each other.
Having some extra water with you would be great for those times when you can't find one of these fountains.
Bringing a light snack might also come in handy since food can only be purchased at the café near Forum Square, which is located at the entrance to town.
Be aware of pickpockets and tourist scams
This is especially true for the train ride from Naples to Pompeii; you should be cautious and keep an eye on your belongings.
Follow the rules and regulations on site
This is a universal tip that can be useful for everyone! In Pompeii, it will also help you avoid getting lost and ensure that you don't accidentally stay overnight in this city of ghosts.
Day Trip from Rome to Pompeii FAQ
Is Pompeii worth visiting?
Is is defintely worth visiting! This is a unique place with thrilling history, and if you can visit it, you are lucky!
How much time to schedule for the Pompeii trip?
If you're not in a rush, it's worth taking the whole day to explore. You could add Vesuvius or Naples in the afternoon, but that would be quite physically demanding and time-consuming.
What are the things to do in Pompeii besides the ruins?
Of course, the ruins of Pompeii are the main draw for visitors. However, not far from the museum lies modern-day Pompeii – situated at the foot of Vesuvius just like its unfortunate namesake. Visitors can also take in this living version of Pompeii and compare it to its dead counterpart.
Final Thoughts
Pompeii can be one of the most powerful reminders not only from Italy but also from life in general; it demonstrates both the power of nature and how fragile human beings are.
Memory and compassion connect us to each other even after thousands of years – isn't that encouraging?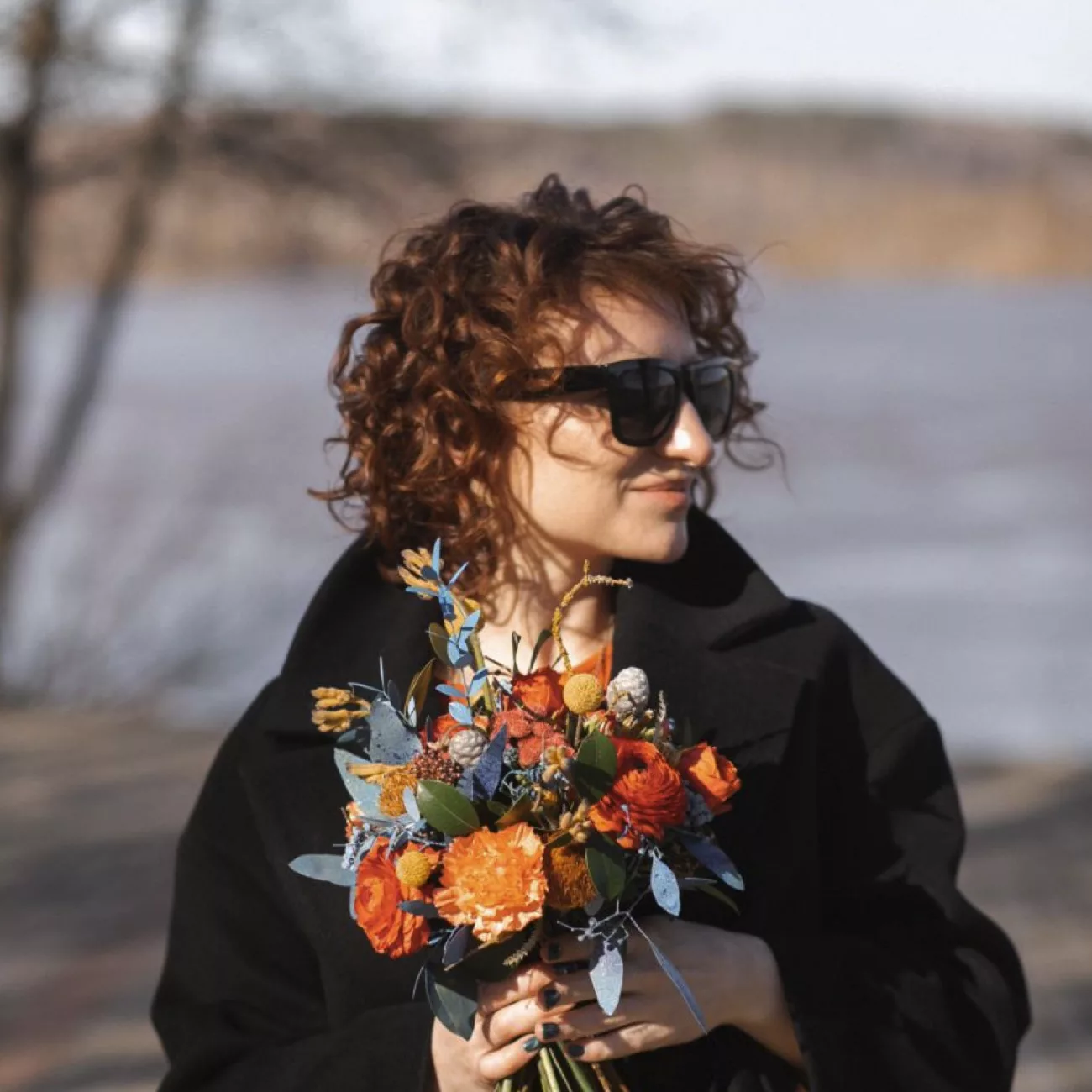 I live in Buenos Aires and write about Argentina and other places I like. For me, traveling is a great possibility not only for discovering new destinations but also for learning about myself (that is usually hidden behind everyday life).
In other words, you discover new landscapes of your soul when traveling!
This post might include some affiliate links. If you make a purchase through these links, I may earn a small commission at no additional cost to you. I appreciate it when you use my links to make purchases.